BILL'S [Somewhat] WEEKLY COLUMN/BLOG PAGE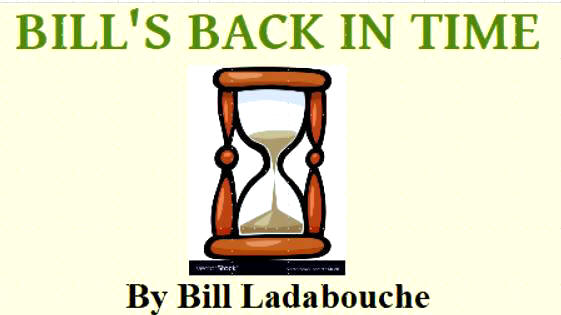 DAYS OF INNOCENCE –
EARLY CATAMOUNT PHOTOS

The story of the beginning of Catamount Stadium is far from a rags to riches, underdog – oriented tale. The founding fathers included two men with construction firms, a nationally famous sports media person with business history in Vermont, and a brash young entrepreneur from Chittenden County who had background in motor sports of several types.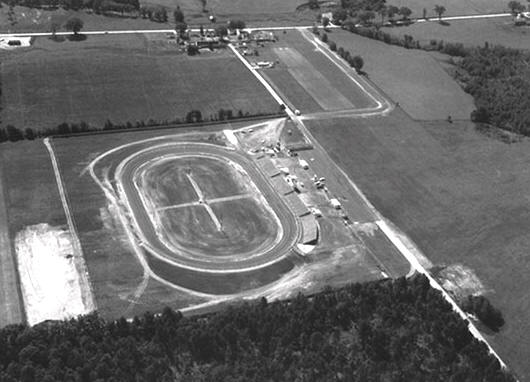 Courtesy of Cho Lee
Just recently completed and barely having found a water
source, Catamount Stadium sits ready to open.
The story is somewhat familiar to those of us who have had a lot to do with Catamount while it was running and with its history now. Rushing to complete a track in the Spring of 1965, going through an ice storm to dismantle and take home the bleachers from the LBJ inaugural parade, the desperate last – minute finding of a water source, and all of the other back stories help to embellish the myth, but the Catamount effort was really pretty sophisticated.
The first season, while somewhat tense in the sense of their not attracting a lot of cars, still had its magical moments – many of which ended up not panning out while still capturing ones fancy. Management ran that season looking over their shoulders down to Malta, NY, where the also – newly – opened Albany – Saratoga Speedway was going great guns. The Malta track, very similar in many ways, was associated with the well -established New York tracks in Islip, NY and Vernon [Utica – Rome Speedway].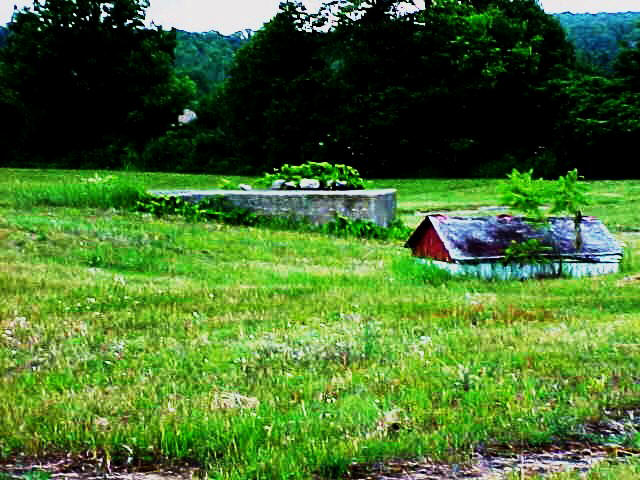 Ladabouche Photo
The cement loading ramp keeps what's left of the well house company
at the site of Catamount. That well was only established a week before the
races were to begin. Below – Action unfolds at Albany – Saratoga Speedway in 1966.
It enjoyed a faster start than Catamount, which would soon be hosting modified cars
that ran at A-S the night before.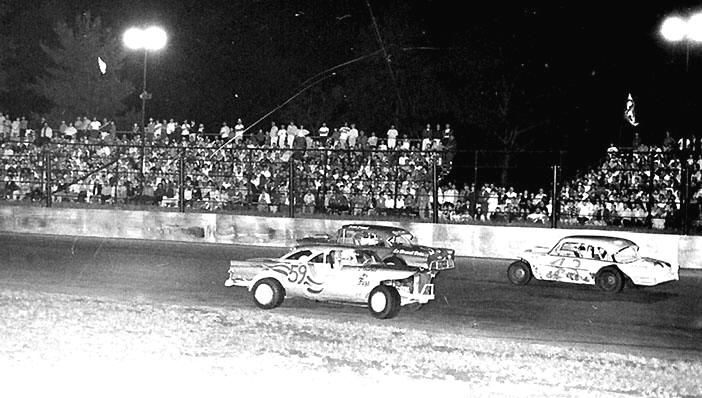 |Ladabouche Collection
Albany – Saratoga proceeded with a pit full of cars, many of which were big name teams. They had a much larger area to draw from. Catamount, at first, found itself running the same cars in more than one modified/ sportsman heat at times. Therefore, especially with the fertile promotional mind of Ken Squier involved, many ideas were tried to attract more cars and more fans.
Partner Jack Dubrul, a Shelburne speed shop operator, night club owner, sometimes stock car driver, and all around flashy entrepreneur was given the task of finding a mascot for the track. He bought an old wildcat of some sort from the Catskill Game Farm in New York. The poor old cat [named NASCAT] was trucked around for a while before people began to speak out about how inhumane it all was. Dubrul ended up selling it back at a substantial loss. Can you imagine getting away with
even trying to keep a caged animal at a sporting event in today's world ?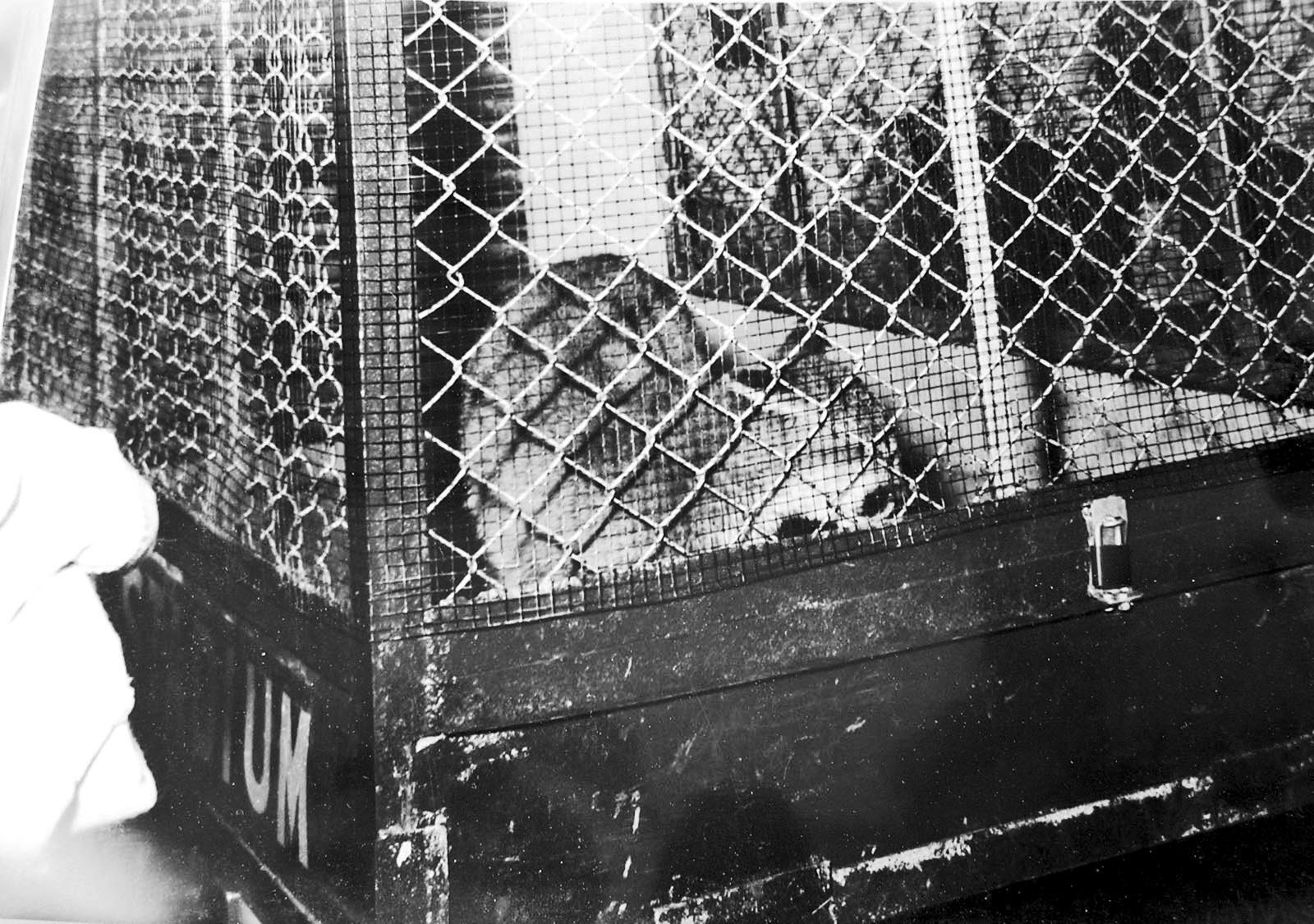 Courtesy of Cho Lee
Poor Nascat, he didn't accomplish much except making the
Catskill game Farm a little ill – gotten gains. Below – Miss
Catamount, Melissa Hetzel, didn't last much longer than Nascat.


Source Unknown
Jack also was told to come up with a Miss Catamount Stadium. Although he could have pulled out one of his "Cave girls" from his nightclub, "The Cave", he ended up securing a beauty contest winner from the University of Vermont named Melissa Hetzel. I haven't seen where she served in this capacity for very long. Who did last for years were a number of young women known as "The Catamount Kittens", who presided over trophy presentations, etc. Can you imagine getting away with
even trying to have a Miss Catamount or any other gratuitous female position in today's world [and racing was the last bastion of that] ?
One woman with whom I converse at Thunder Road once in a while told me how she had grown up in Winooski and was in the same class with Catamount notable driver Ron "Red Dog" Barcomb. Now a car owner at the Road with her husband, she said she was a Catamount Kitten in the early days for a while; but, I gather it was nothing she wanted to do for very long. Catamount track employee Linda LaBerge seemed to be the "den mother" for these kittens, sometimes doing some of the appearances herself. A lot of the having to have scantily clad girls in every photo in stock car racing began to filter out as social attitudes [and those of most young girls] changed.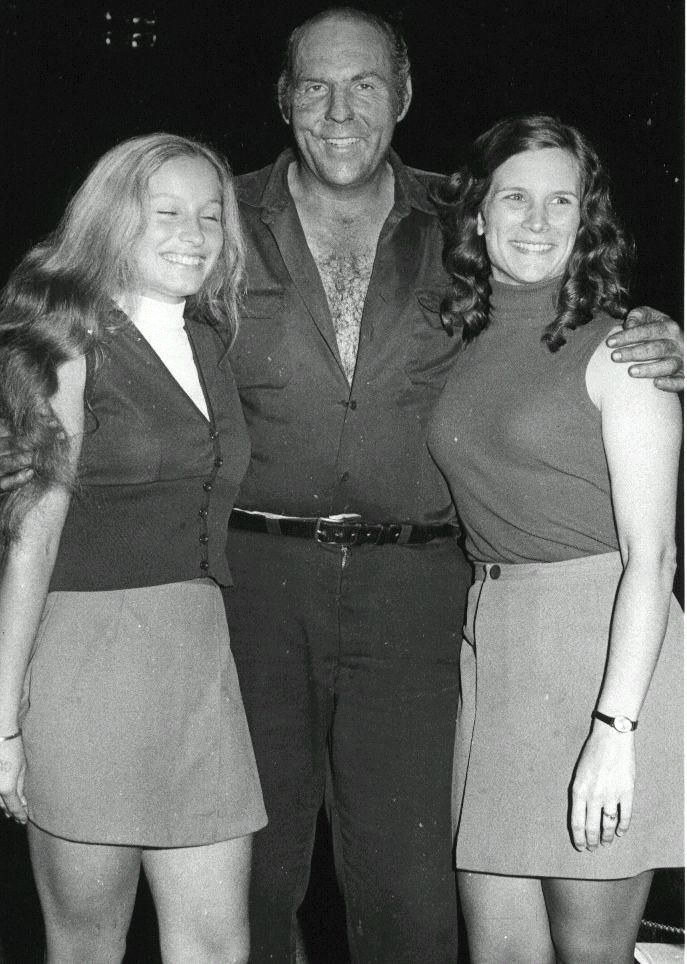 Courtesy of Cho Lee
Catamount's sparse first season fields, particularly in the headlining coupes was a mixture of existing teams coming in from New York, Quebec, and southern New England - laced with a few teams which represented holdovers from the old Colchester tracks of the 1950's. You would see Dubrul sometimes in the coupes, who himself had raced a bit towards 1960 and on, as well as a few other locals such as Harmon "Beaver" Dragon, the hometown Milton boy in the Flying Tigers. FOrmer Colchester Raceway driver Jack Anderson [who would eventually see racing in such varied classes as Late mode lsportsman, NASCAR Baby Grands, NASCAR Grand Touring, and more] had a sportsman coupe at Catamount hat first year.
Another Colchester holdover [this time from Colchester - Bayview Speedway] was Bob Riley, who had run flathead coupes, as well as midgets and sprinters in the 1950's. Then, too official Pat McGrath had been both a driver and flagger - the latter as recently as 1964. Former joourneyman [to be kind] driver Ollie Wescott, who last ran at Waltham's Otter Creek Speedway with Dubrul, also held some minor official job at Catamount. All these familiar names sought to pull in more local fnas who remembered the names.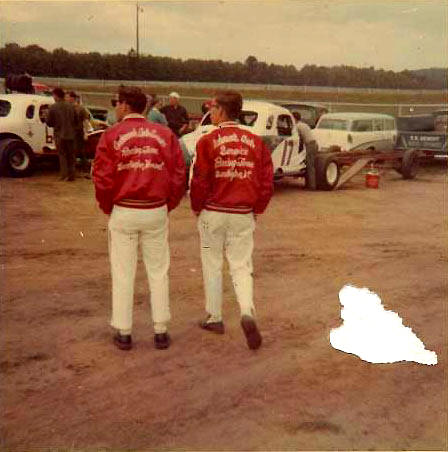 Courtesy of Jack Anderson
Jack Anderson [left] and crew chief Bill Boisvin stroll through the Catamount pits during that first
season. The car 17 in front of them belonged to Bob Riley. Below - Jack Dubrul poses at his
new race track with a car he bought from Vic Wolfe at Airborne Speedway to run at both
places.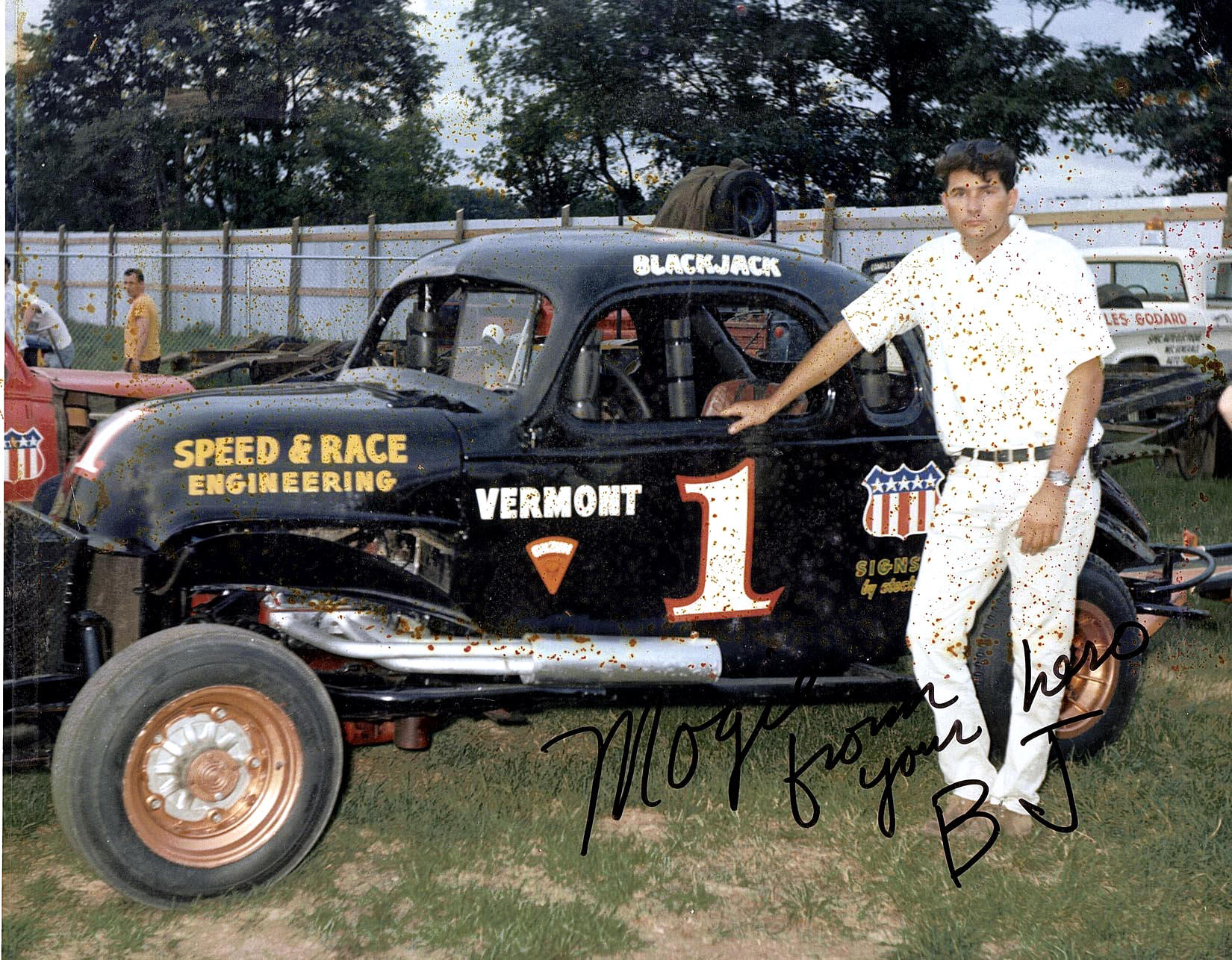 Courtesy of Jack Dubrul
Catamount would try almost anything to get people to want to try attending races in area that had gone from being saturated with stock car racing in 1951 to having no race action in over ten years. Every Spring, a giant Easter Bunny would appear on the Catamount track surface, along with Chief Pit Steward Archie Blackadar – trying to find the race track under the remaining snow that would stay because the track asphalt and cement retaining walls would act as insulated coolers for it. [I never found out who was in the bunny suit].
That first season saw some pretty unusual racing. SCODA [Sports Car Owners and Drivers Association] made its only appearance there in 1965. SCODA cars were a funny mixture of sports car and stock car – often being heavily modified and a little rough around the edges. The only other time the state had seen these cars was at the Vermont State Fair in Rutland, around 1958 or 9. I was in attendance there and neither my uncle nor I were quite sure what the hell they actually were.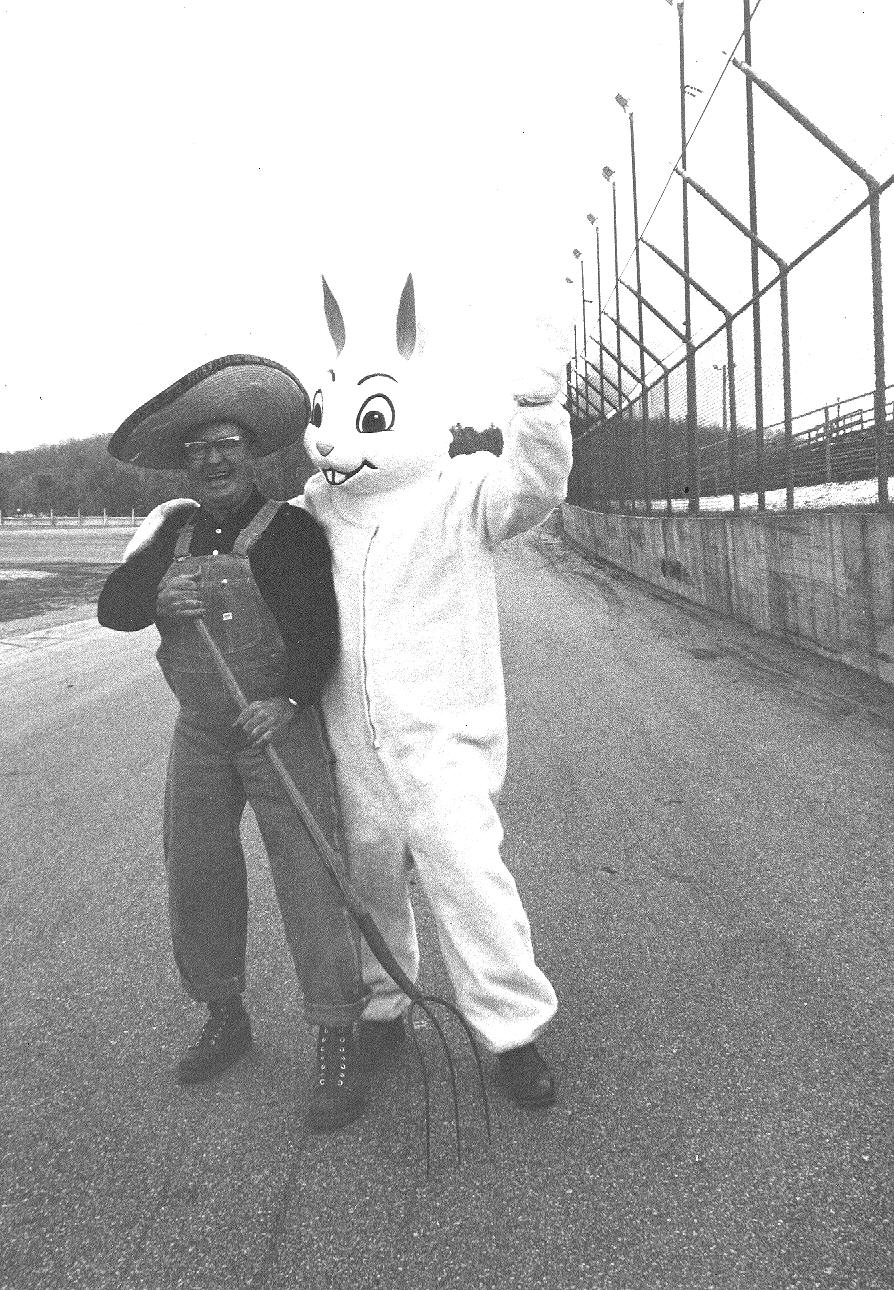 Courtesy of Chris Companion
Archie and the Easter Bunny, one Spring weekend in the early
1970's at Catamount. Below – The SCODA cars ready to roll.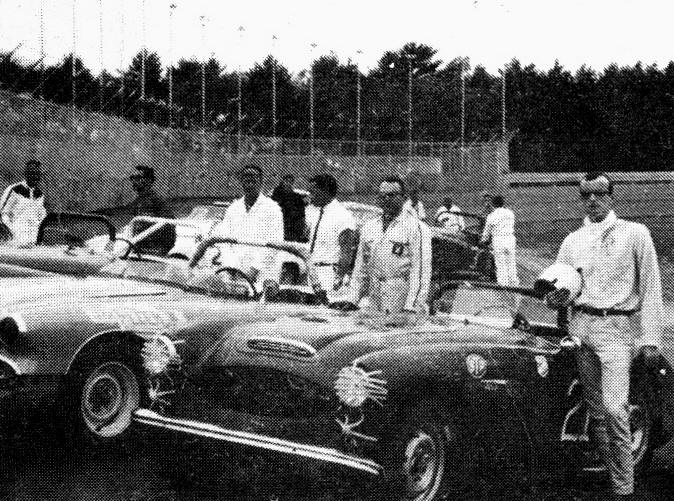 Cavalcade of Auto Racing

Also, Catamount tried having bicycles race on the third mile banked oval. These were serious bike racers who just had never happened to race on a banked oval before. Knowing how serious the sport can be [having a son who races bikes], I still would imagine the event was sort of a yawner for stock car fans – much as it they had sulky races or some other such quiet thing.
Catamount Stadium would have grocery cart races, mechanics' creeper racers, powder puff races, and anything else they could think of. Finally the track really caught on and a lot of that was no longer worth the trouble. Little did they know back in those mid 1960's, that there would be far more daunting events to visit upon the track before it expired in 1987.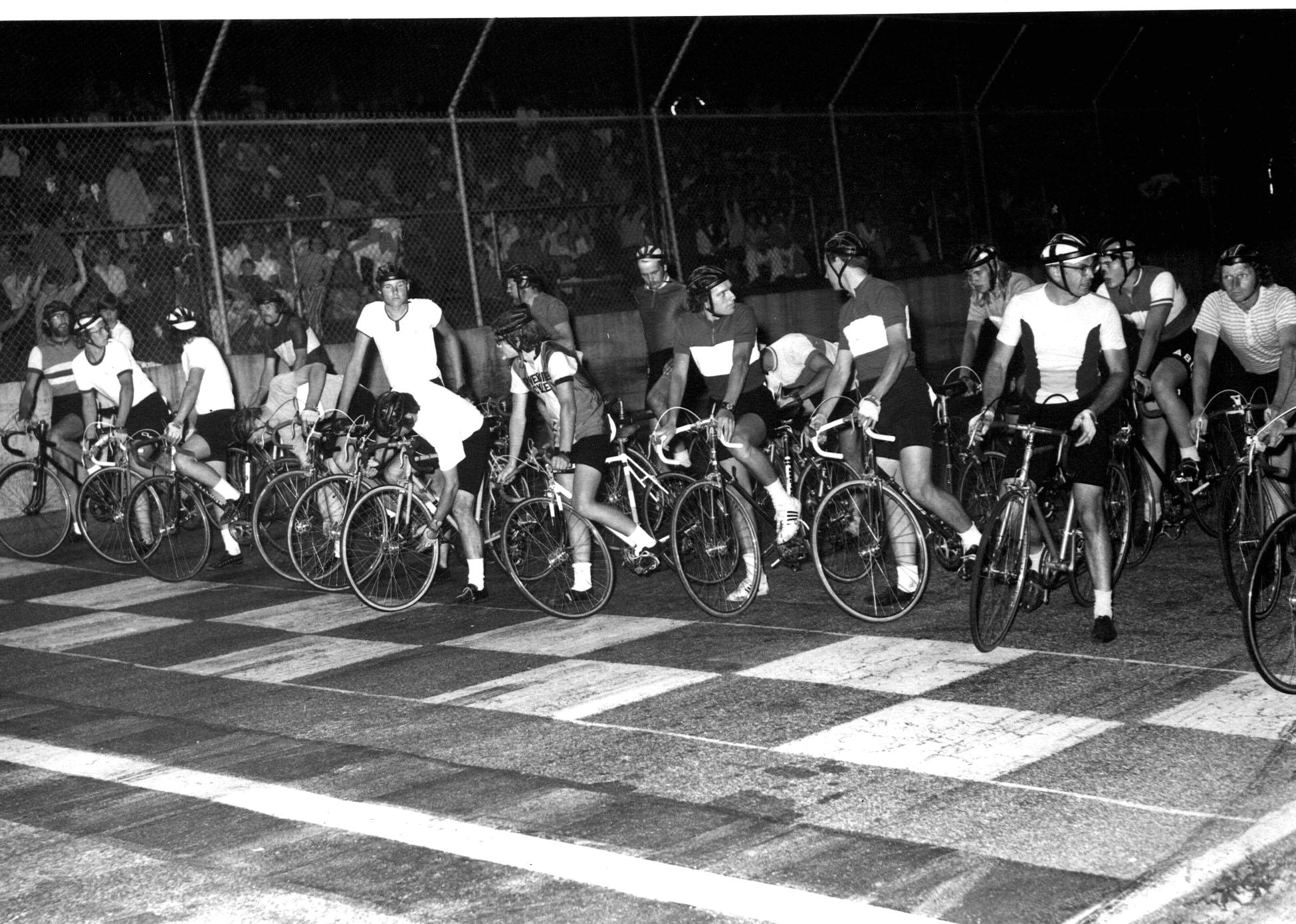 Courtesy of Chris Companion
The bike racers ready for action around 1969.
Below – Powder puff winner Cheryl Paquette.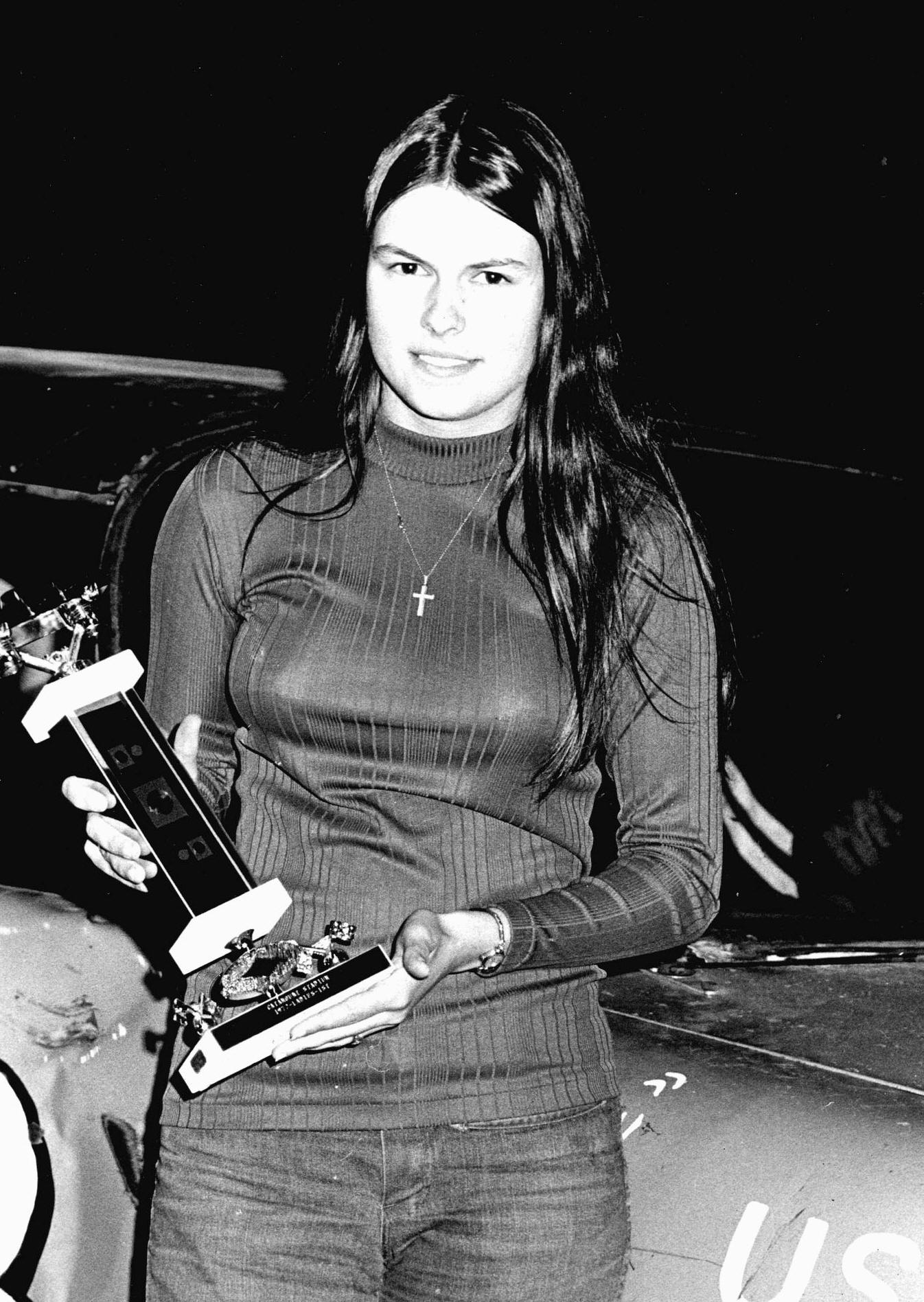 Courtesy of Chris Companion
One such trial was the fires that happened in the earlier year – particularly those of Ray Forte's sportsman coupe and Ron Perry Flying Tiger. They caused the track to go out, secure a Ford pickup [probably on some sponsorship deal with Nordic Ford] and install the biggest fire extinguisher any of us had ever seen. This looked to be able to snuff out a fire on an oil tanker from the looks. Actually, unbeknownst to most, it spent a lot time being inoperable because the powdery retardant inside would pack down and wouldn't have sprayed out if they tried.
Another problem was the infamous bleacher collapse of the earlier 1980's. As mentioned, the facility had bleachers that had come from Washington, D.C. in 1965 and had sat there for over 15 years. There had been some subtle hints that this was going to be a problem when some of the main stands started settling a bit during an exceptionally hot summer a few years before. A lot of the main stands had been replaced with higher ones from UVM's Centennial field, but the pit bleachers remained the same.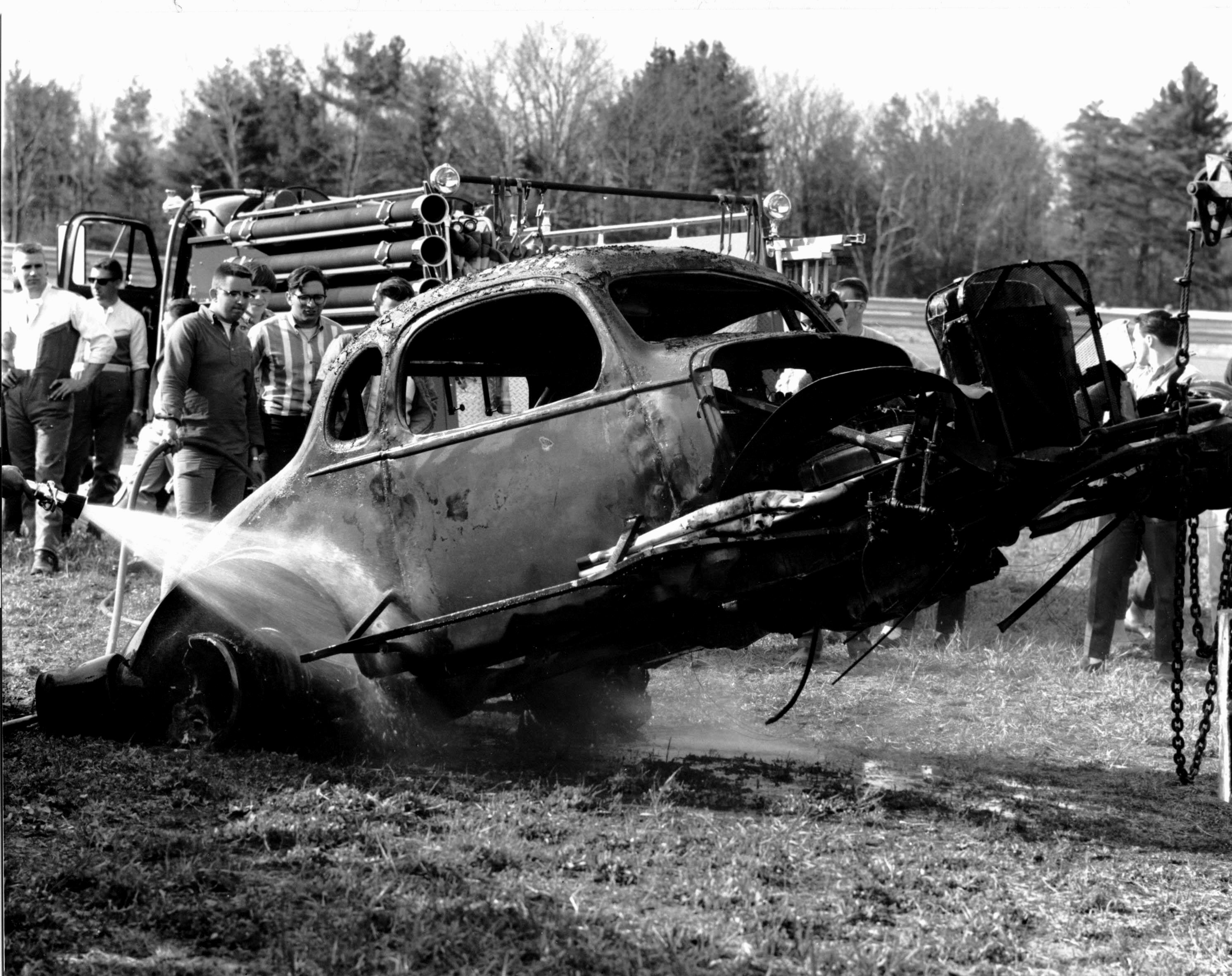 Courtesy of Cho Lee
The remains of Ray Forte's beautiful red sportsman coupe
is removed around 1966. There are rumors that he was
running "illegal fuel" who knows? Below – The famous
Catamount fire extinguisher truck.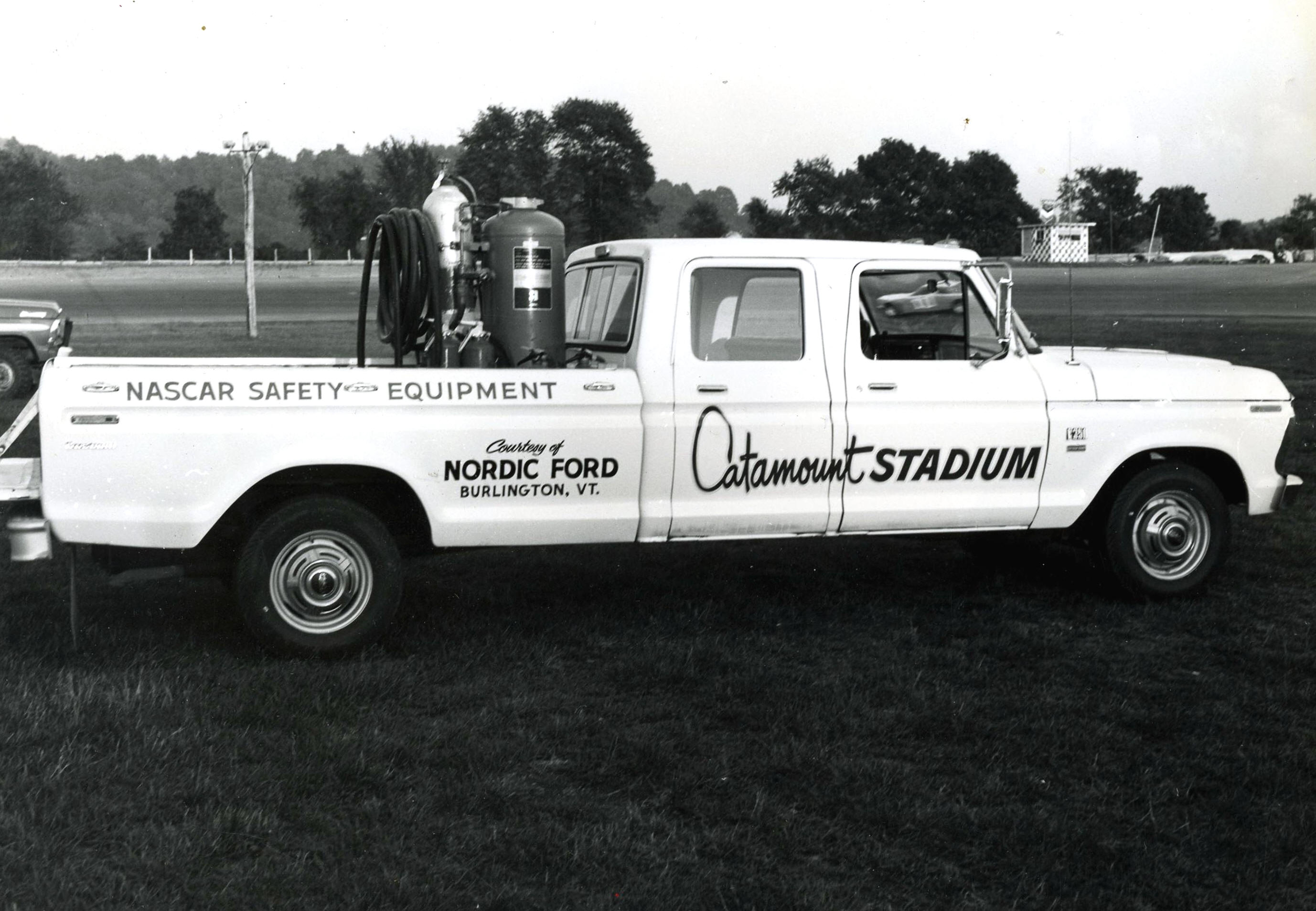 Courtesy of Paul Mascitti
Everyone was watching the early laps of a NASCAR North feature with Robbie Crouch setting the pace when the pit bleachers were felt to almost settle or clunk down a foot or so. I heard a lone voice somewhere say "oh shit !". The next anyone knew, the stands didn't really fall, they just sort of folded up. A few people near the top instinctively jumped off; most just rode it out. Some of both groups received injuries from either the fall or being pinched in between boards.
The feature was red flagged, anyone who had any rescue or first aid experience rushed in as anybody else who could help tried to lift up on board to free trapped spectators. When all were rescued and/or treated, the bleachers [now standing about four feet high in a pile] were cordoned off and the show was finished.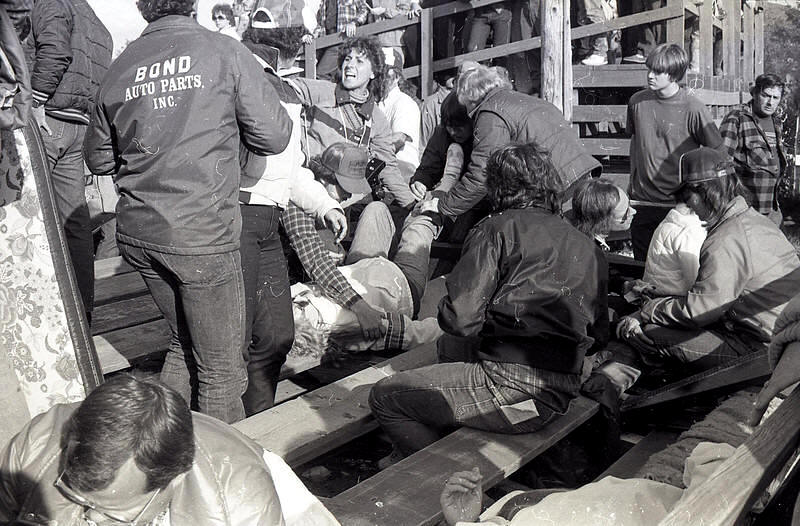 Courtesy of Cho Lee
An EMT yells for help as people scramble to extricate others
from the collapsed Catamount pit bleachers. Below – The bleacher
remain sit, off limits, as the race program is completed.

Courtesy of Cho Lee

I don't know how many lawsuits were filed, but it was a very troublesome day and possibly one of the factors in management deciding to sell off the land rights to Greater Burlington Industrial Corporation in 1982. That, in itself, turned out to be a fatal error and led to the next loss of innocence at the venue. Because GBIC now held the cards [and a five year lease with Catamount], factories and other commercial buildings began to spring up all over the Catamount immediate area.
We were used to attending races at Catamount and seeing nothing around it but things that had to do with racing or accomodating those coming to see the racing. Now, there were all these strange buildings popping up along the access road and the area around the track was shrinking rapidly. During parts of the 1986 season [already upset because of the Curley / NASCAR split] and during all of the unfamiliar 1987 inaugural ACT season, you could commercial building over the metal fence as you were in the pits or in the higher parts of the grandstands. It was like having vultures circle.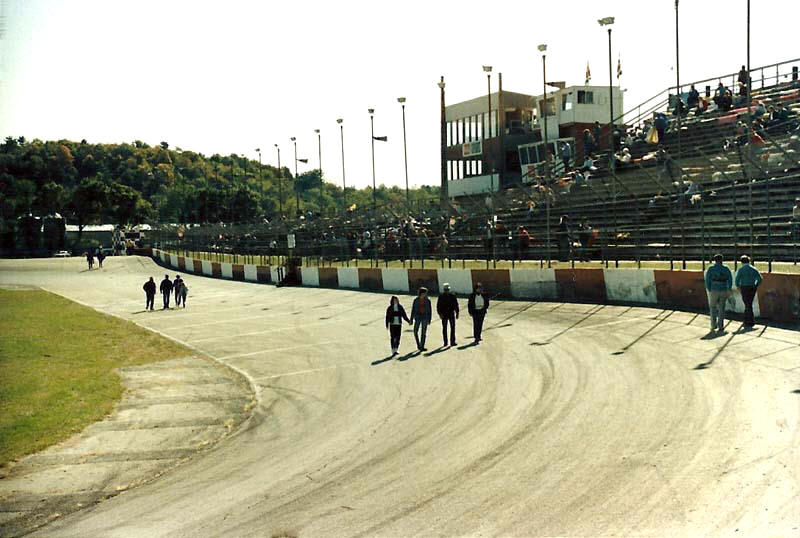 Rich Palmer Photo
Rich Palmer's shot of fans walking the track before the final Catamount
race shows a factory, seen through the trees, just off turn one. Below -
A shot of a sparse modified/sportsman field at Catamount in 1965
shows no such industrial incursion.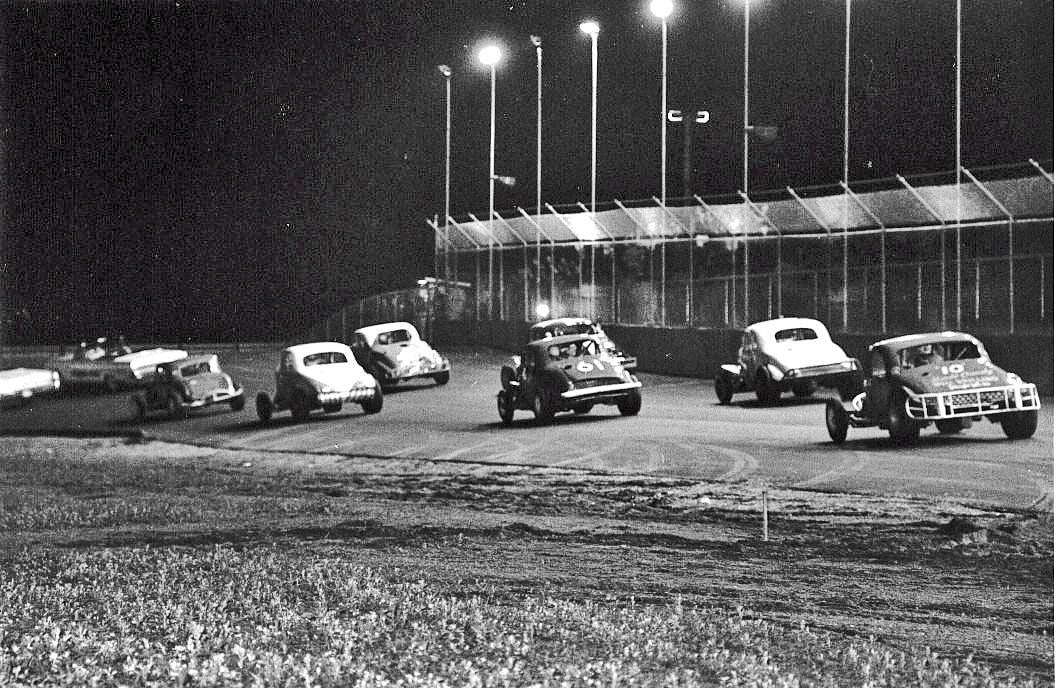 Courtesy of Cho Lee

Another event that would never be foreseen in those innocent days of 1965 through around 1972 was the Milton Hilton or the glitch in its construction. Catamount began to realize it had to cater more to corporate sponsors and bigger money spectators and supporters. Hence another tower was being constructed next to the original that would house four "luxury" suits and some more room below for vending or whatever.
The Milton Hilton, as it came to be known, was well under construction when one of Milton's local talent, hopped up on wacky tobacky, decided to fire up one of the pieces of construction equipment and see if he could knock the new tower down. Fortunately, he did not succeed [although I am not sure why]. It certainly put the build behind schedule and many of us thought of the incident every time we looked up at the Milton Hilton. [God knows I never was worthy of being inside any of the suites.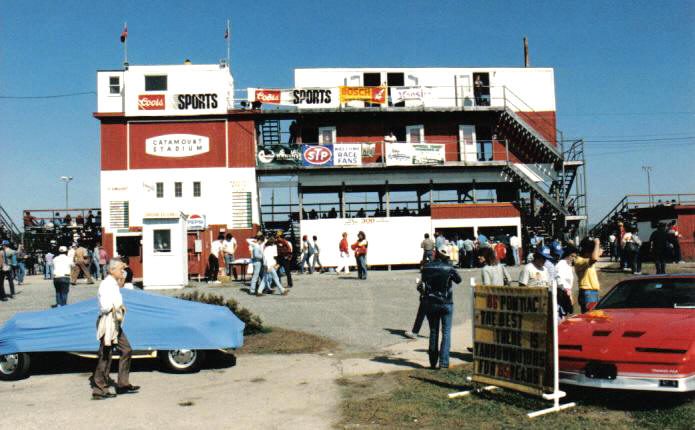 Courtesy of Andy Boright
The Milton Hilton. Below – Things are looking a little scruffy when
Al Ward took this final shot before things heated up for the
final Catamount race program in 1987.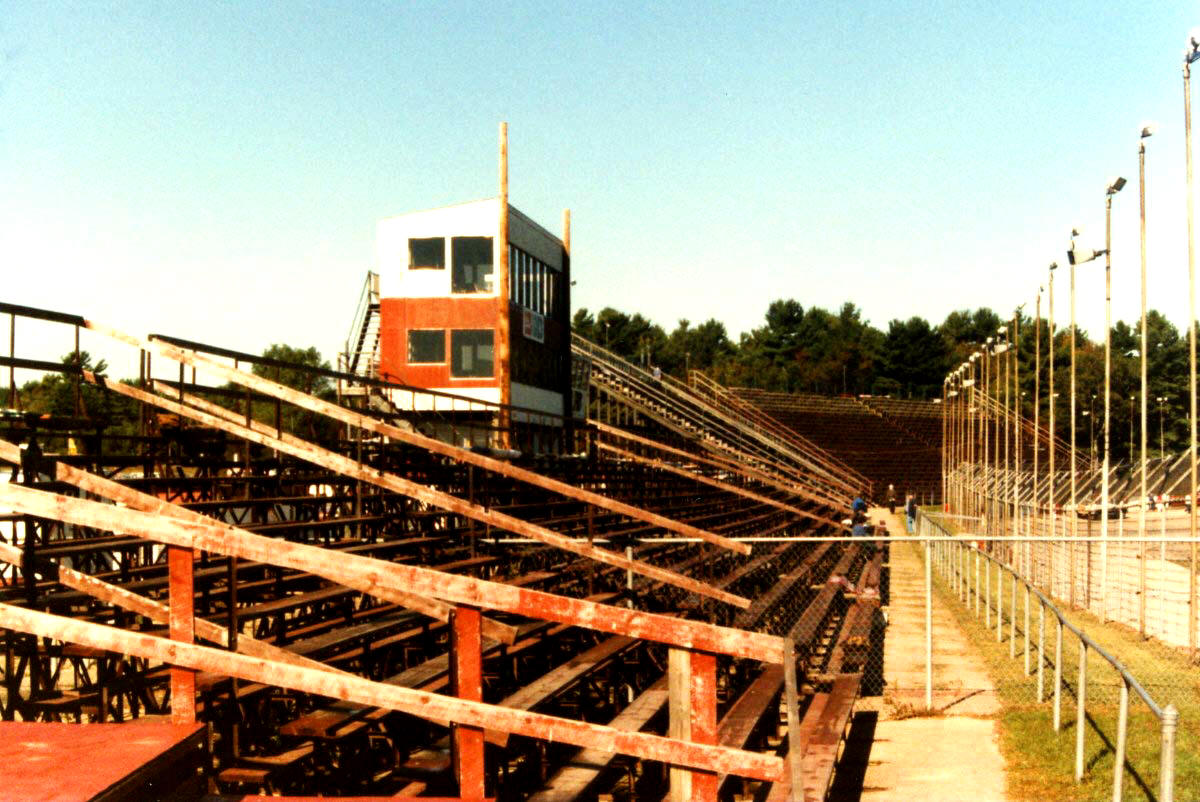 A and A Ward Photo

A lot of the Catamount original infrastructure would have had to be seriously upgraded or replaced had GBIC not refused to renew the lease in 1987. I had been delivered the original large sign out on US Route 7 around 1981 to redo at my sign shop. It was rotting and was a mossy mess; it took a lot of repair. One photo of the facility taken by someone trying to document is last program [if you don't count that stupid enduro] shows a lot of it to be pretty shabby. Why sink money into a doomed facility ? It's hard to argue whether the less flashy, but more innocent early years at Catamount Stadium were better, or whether the elaborate, higher style latter days were better. Depends on the person, I guess.
Please email me if you have any photos to lend me or information and corrections I could benefit from. Please do not submit anything you are not willing to allow me to use on my website - and thanks. Email is: wladabou@comcast.net . For those who still don't like computers - my regular address is: Bill Ladabouche, 23 York Street,Swanton, Vermont 05488.
AS ALWAYS, DON'T FORGET TO CHECK OUT THE REST OF MY WEBSITE
www.catamountstadium.com
Return to the Main Page
Return to the Main News Page
Return to the All Links Page
Return to the Weekly Blog Links Page