BILL'S [Somewhat] WEEKLY COLUMN/BLOG PAGE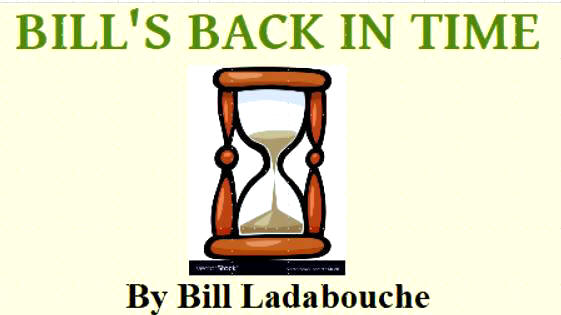 ONE PICTURE CAN TELL 1,000 WORDS IV
Tiring as the title might get, the material within one of these articles is very precious to those who can recall [or want old memories refreshed]. In this case, a pit shot of 1973 Catamount Stadium tells it all. It isn't the clearest shot, and I don't know who took it; but, what can be seen in the shot tells a lot.

Courtesy of Chris Companion
Somebody just thought a shot of the busy pits, hours before the races
would begin, was a good subject – they were correct. Hector LeClair
stands, arms splayed staring at the photographer while the up
and coming racing whiz Andy Costello fusses in the car's trunk.
Firstly, we see that the Chevron gas station that was built with Catamount eight years previous is gone, the victim of a collapse late in the 1972 season [according to Wayne Bettis who admits he and too many others were standing on it watching a race]. It appears that a handicapper or some other official is peering out a rather rustic opening in the building that has replaced the moderne style Chevron gas station.
According to lore, Ken Squier, knowing that Milton Speedway [the local drag strip that shared many of the same participants and attendees] was closing, sought to get his hands on the red and white checkerboard timer/announcer stand that stood on the site. This would not only replace the fractured gas station but it would, in some way keep Milton Speedway alive in the hearts of motorheads at Catamount. In this photo, the building looks to be not yet done, still not having the checkerboard siding re – applied. But I suspect the camera lighting just bleached out the details.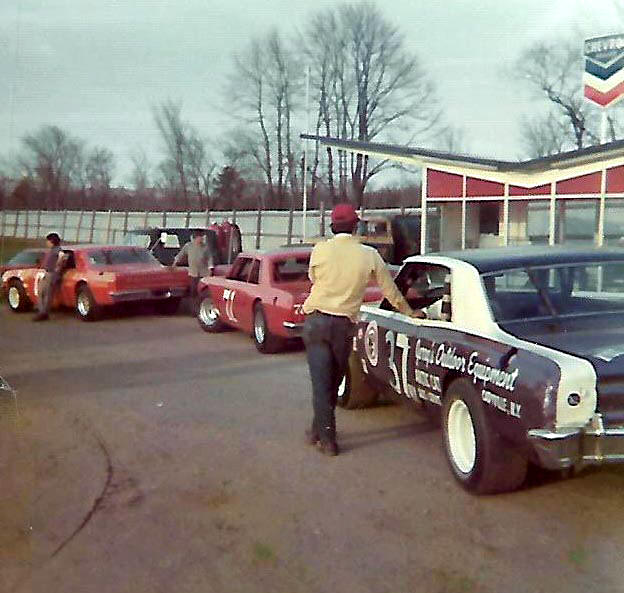 Ladabouche Photo
Brand new late model sportsman Chevelles line up for practice on practice day at Catamount in 1972. Note the Chevron
gas station at right. Below – The checkerboard tower when it was still at Milton Speedway.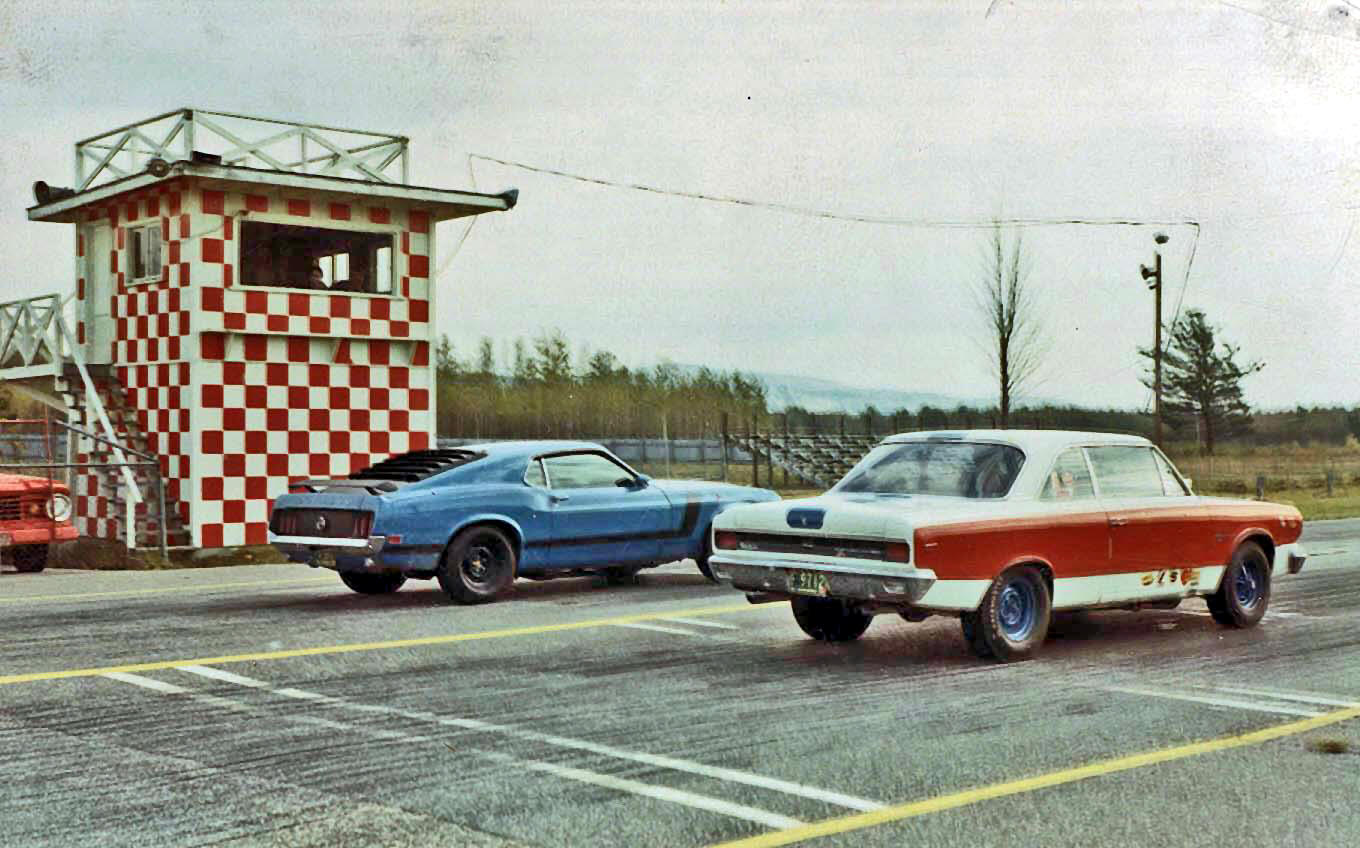 Milton Spdwy Facebook Page
The photographer here is being warily watched by Hector Leclair, a Catamount regular from Fairfax, VT who had been balancing a burgeoning real estate business with racing. This would be extremely difficult to do in 1973. Before, that balancing meant [at most] attending races at Catamount on Saturday night, Thunder Road on Thursday night, and maybe Airborne on Friday night. 1973 was the year of the insane five – track weekly schedule.
The condition of many of the cars including Leclair's give mute evidence to how grueling that ridiculous 1973 schedule was. Every car was a beat up mess. Ron Barcomb was actually running his backup car this night – a Ford Fairlane 500 09X. Leclair's car, original paint and graphics gone, was a wrinkled mess with temporary numbers. You can see that an effort was made to preserve the name of his sponsor, the now long – departed Big Ben Pizza store.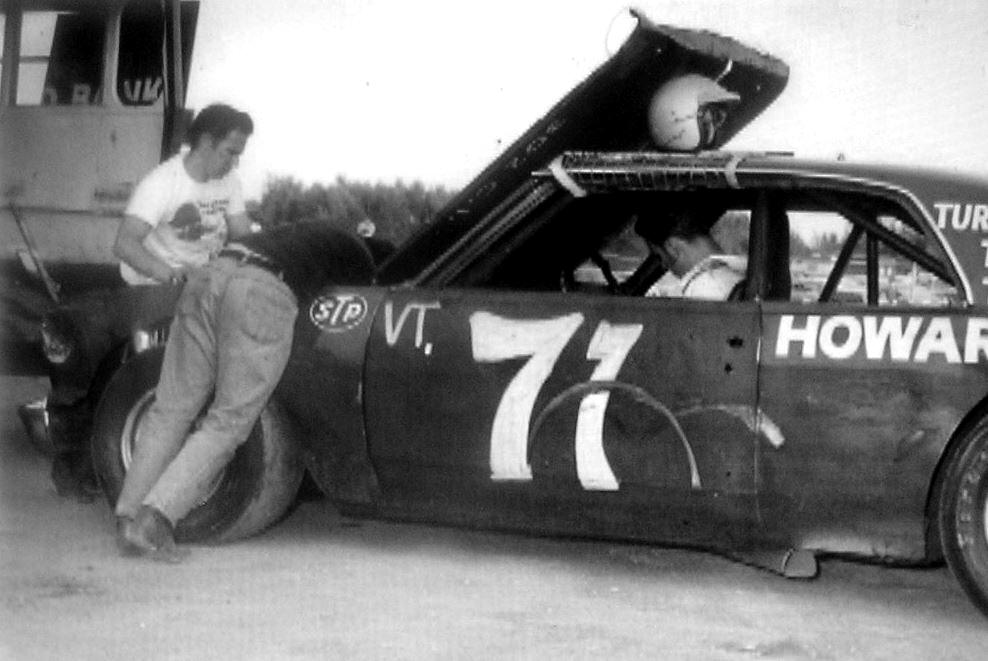 Bob Mackey Photo via Dave Brown
Bob Dragon's super winning car at Airborne, showing the strain of the
five track / week schedule. Below – Both photos show the process of
the John Rosati team changing motors in the pit area on the fly.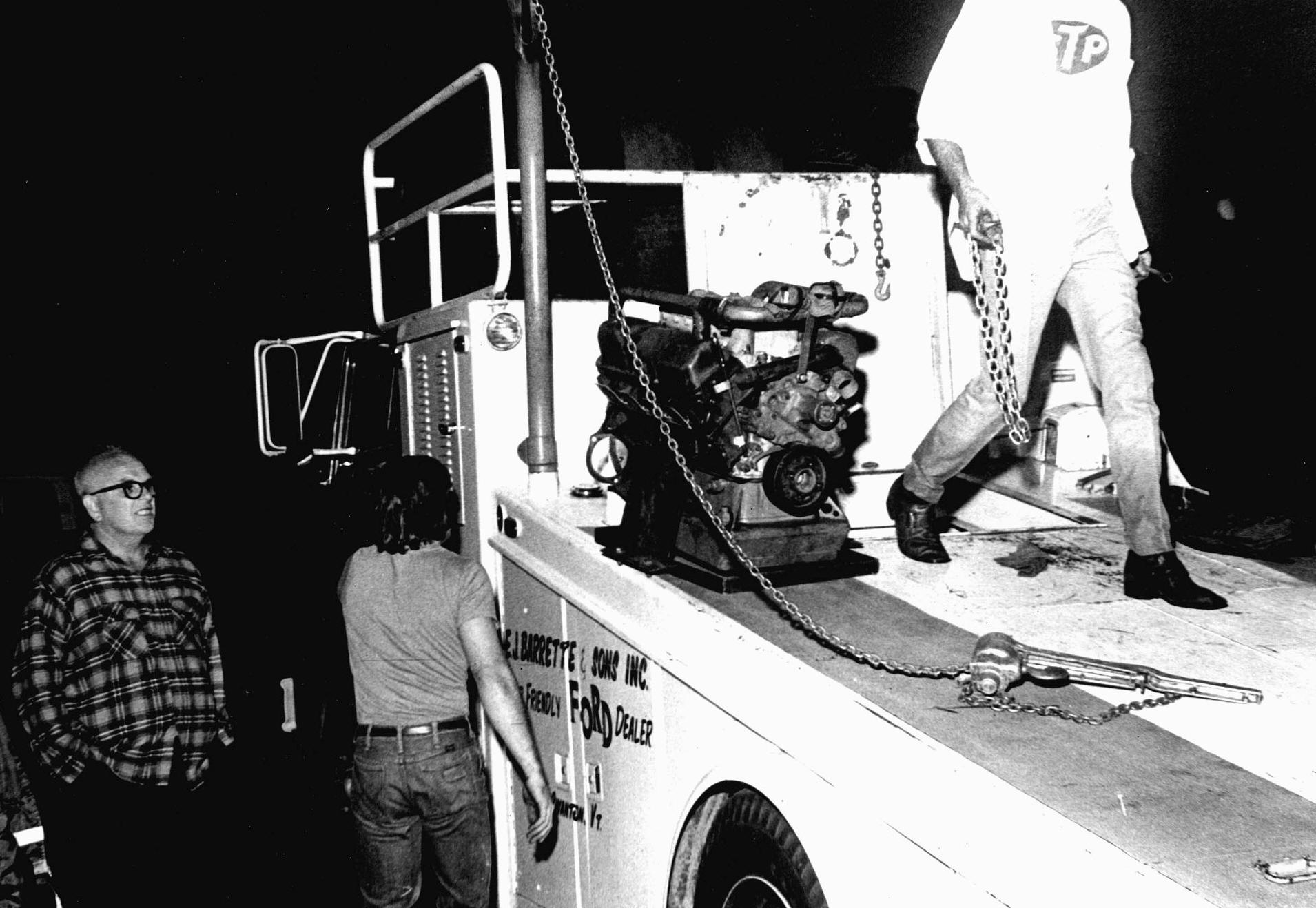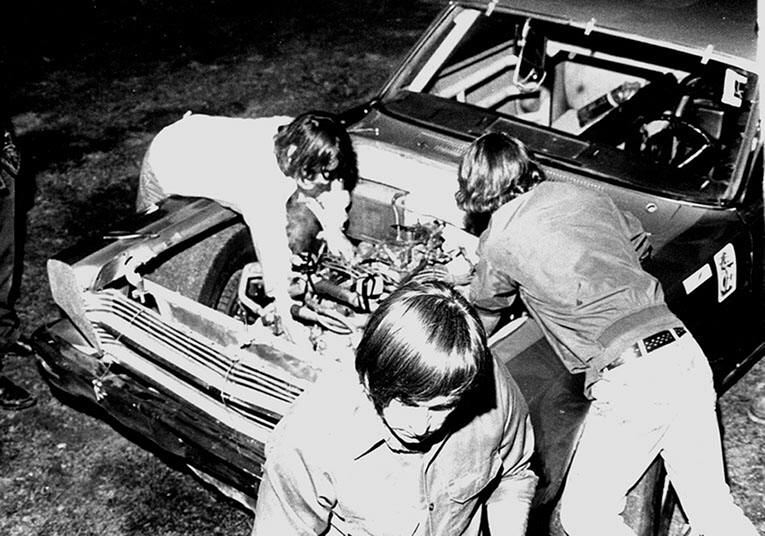 Both Photos via Chris Companion
In the distance, one can make out another Fairlane 500, that of the ultimate low – budget runner Danny Bridges of South Plattsburgh, NY. His body was in worse shape than Leclair's – not even making an attempt there to keep it one color. Steve Poulin's Bobby Allison – built Chevelle is still on the hauler, its rear sheet metal very banged up.
Many of the teams that year, if they could, had more than one car to keep up with the demand. You can see Beaver Dragon's car, the newly – built Chevelle provided for him by owners Paul Robar and Herb Everest [who can be seen standing on the deck of their modified school bus hauler. Beaver had had a hot start, winning the first two races of the season with basically a home built car.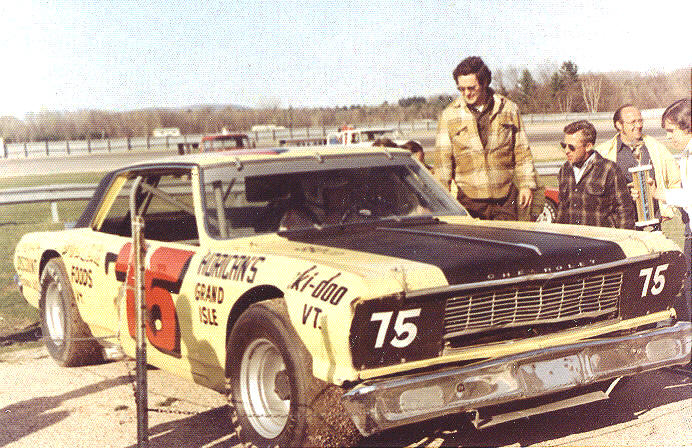 Rich Palmer Photo
Beaver Dragon pulls into Victory Lane at Catamount after
unexpectedly winning the inaugural race of the grueling
1973 season. Below – The Dragon hauler, repainted and
relettered after purchase from Ed Pelletier and Doug
Falzarano in late 1972.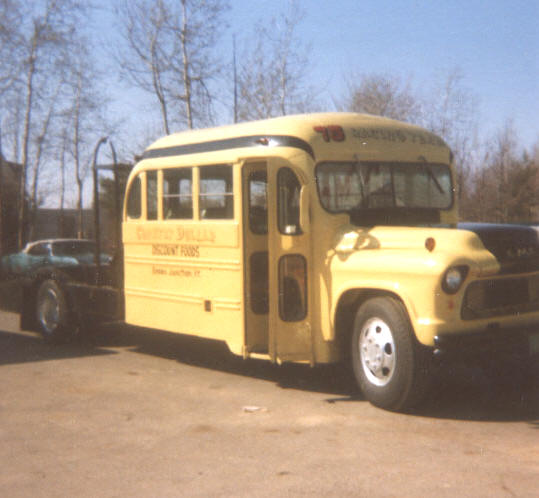 Dragon Family Photo

Also in evidence is the school bus hauler of brother, Bob Dragon, freshly painted and sporting one of the best sponsorships that would be had that year – the Howard Bank. With help from Moe Brown, the sponsorship had been sort of stolen from Bobby Giroux, who had had the "Shift to the Howard" on his blue #95 in 1972. Dragon was using "Turn to the Howard" on a Southern built car that won a ridiculous number of features in 1972 and 73.
Barcomb's ability to attract sponsors is clearly seen with Nordic Ford on his car and National Plastifab just supporting his hauler [another modified school bus]. Young Steve Poulin would be another great sponsor attracter. He had Ken Frawley's Newport Chevy dealership in 1973 and would get more, very varied sponsors in subsequent years because, as he once told me, he knew how to treat a sponsor.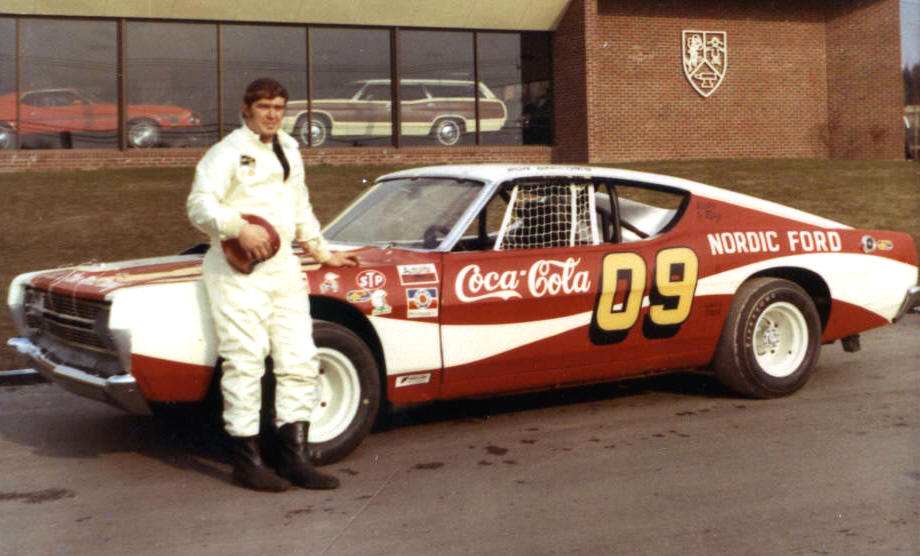 Courtesy of Rich Palmer
Ron Barcomb had the beautiful Torino, along with its
prima Nordic Ford sponsorship, back for the 1973 season.
Below – Jean-Paul Cabana, with his Sonic Chevelle. He
managed some strong sponsors consistently during that
time period.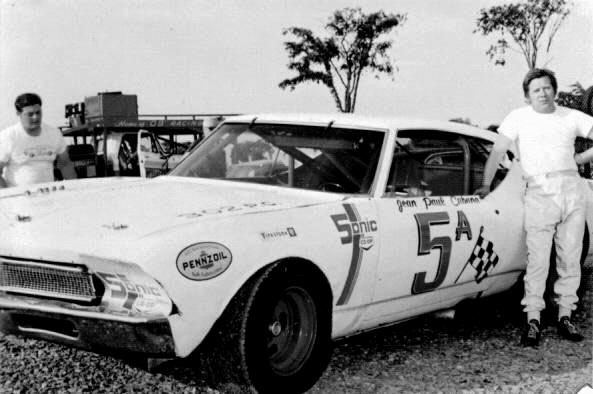 Courtesy of Andy Boright
There is more to enjoy in the Hector Leclair portion of the picture. A very young Andy Costello can be seen fussing around the rear of the car while Carl Cain works near the engine compartment. Ironically it was Andy who parlayed his engine brilliance into a lifelong career. Cain stays involved in the sport through a son or grandson's sprint car. Hector got done just before Catamount did, when NASCAR and the Tour split up and he didn't want to deal with the newer plastic – body pony cars.
There are a number of old familiar names who are recognizable despite the inherent grainy quality of the shot [which might have been blown up too much]. Official Pat McGrath, a 1950's driver and sometimes flagger – turned tech man, can be seen in a crisp striped uniform. I can make out not only Ron Bettis, but also brother Wayne [the Chevron crusher] and their dad, Roy. Going back to E.E. Bettis, that family had been active in racing since around 1950.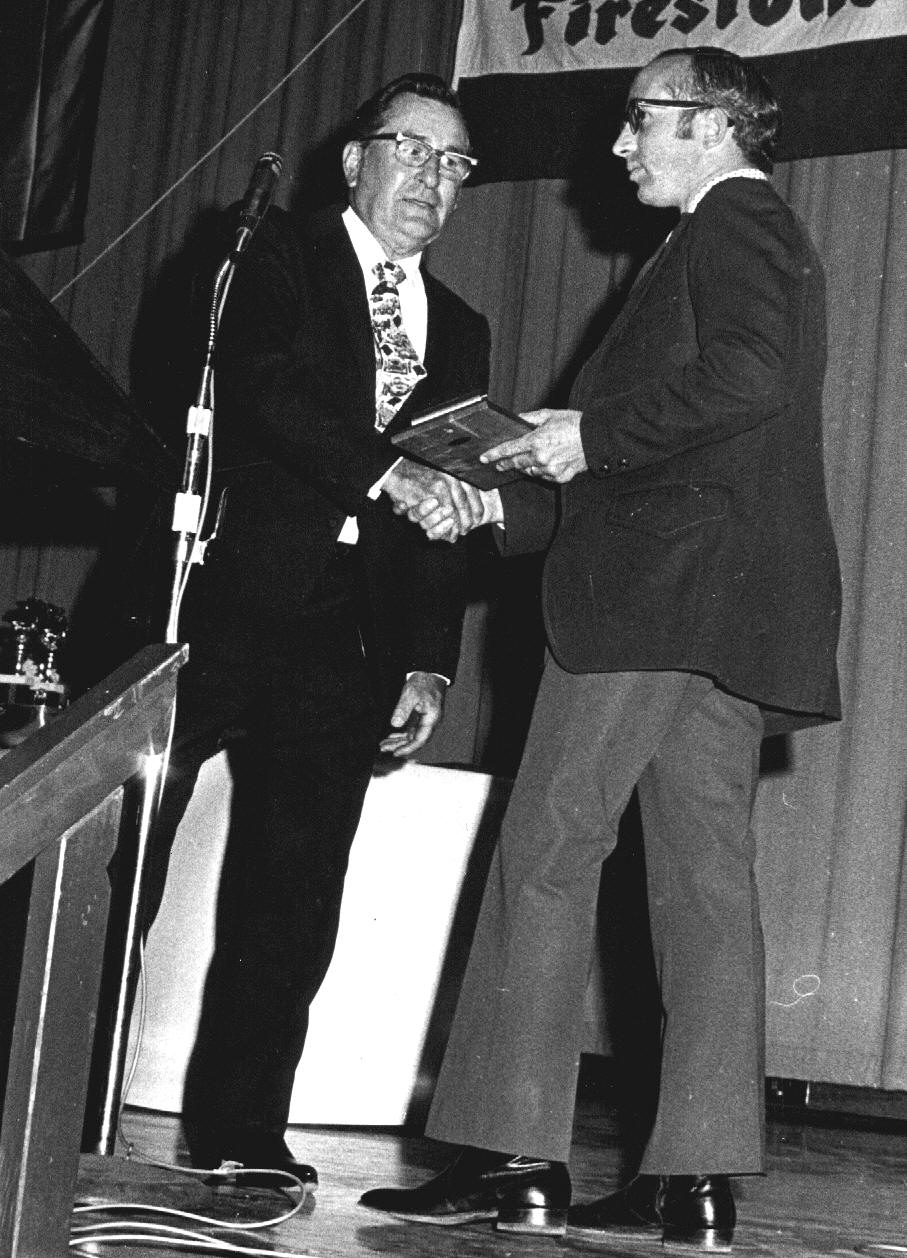 Courtesy of Chris Companion
Pat McGrath, with Archie Blackadar, upon retiring from
being a Catamount official. Below – The Bettis crew, a few
years before the 1973 season. Wayne is at right while Ron is far left.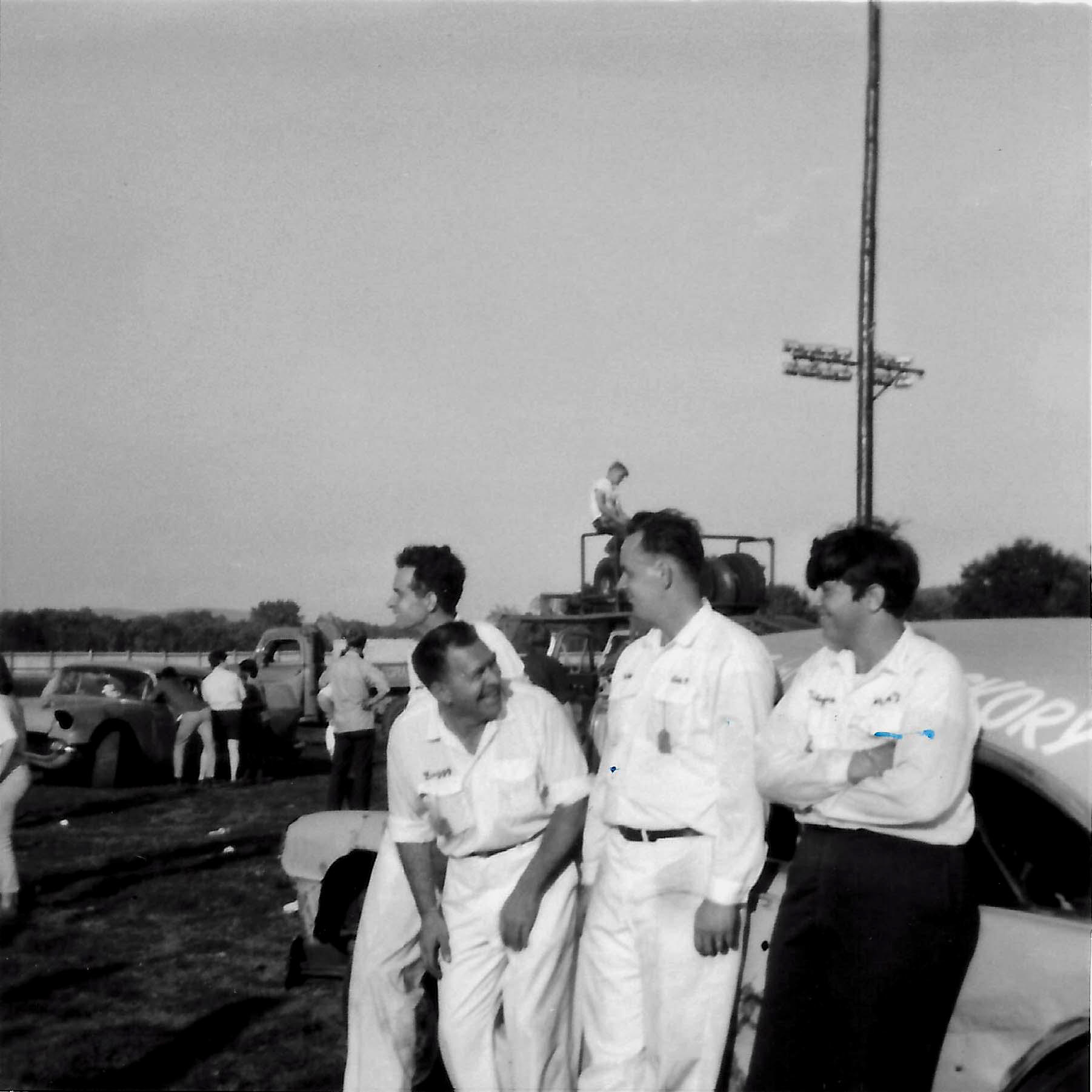 Steve McKnight Photo

Fairly near to where I saw Herb Everest standing, sat Herb Barcomb, father to Ron and owner of Malletts Bay Salavage, the business that kept his son in the best of equipment always. Herb was about the only Barcomb to not be more involved in racing than the father of the driver. Brother Walter owned the race track in Colchester near the Barcomb salvage yard, and Ernie and Leonard both drove in the 1950's.
Interestingly, the Goodyear tire dealer in the pits is Ray Beane, a Rutland outfit. I had always remembered Lynn Wood and the George Wood tire truck; but, Beane may hve gotten a foothold through Devil's Bowl, that had joined into the Northern NASCAR circuit in 1972 and was suffering through being the last race meet on the five day schedule every single week. When the cars made it to the Bowl [IF they made it] they were often depleted and in sad shape. Many drivers' race records at the Bowl from 1973 have them running races in borrowed cars.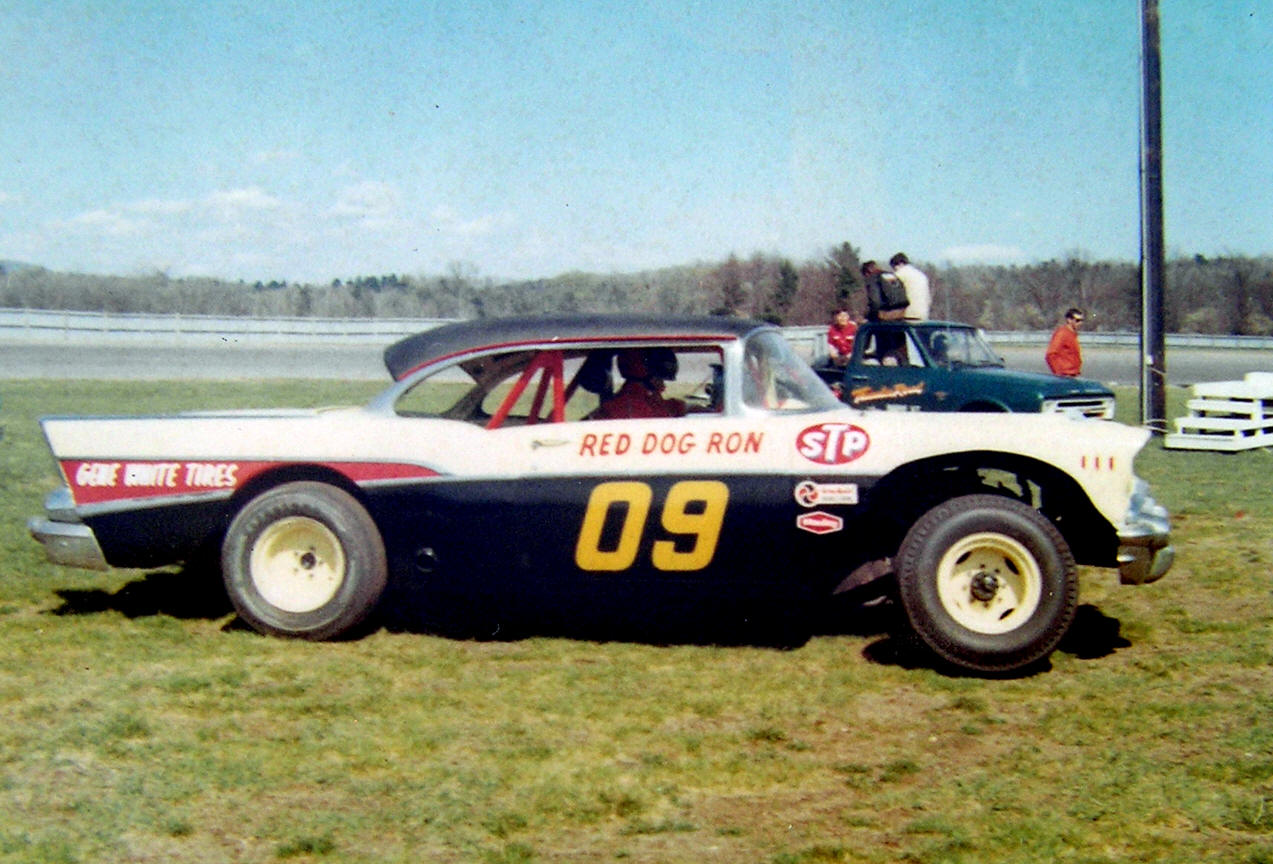 Courtesy of Phil Butler
An earlier Ron Barcomb car shows the Gene White ad. His
association with Firestone put him in direct competition
with the Ray Beanes and George S. Woods at any track.
Below – A photo at Devil's Bowl during the 1973 season
shows a depleted field and battered cars by Sunday night.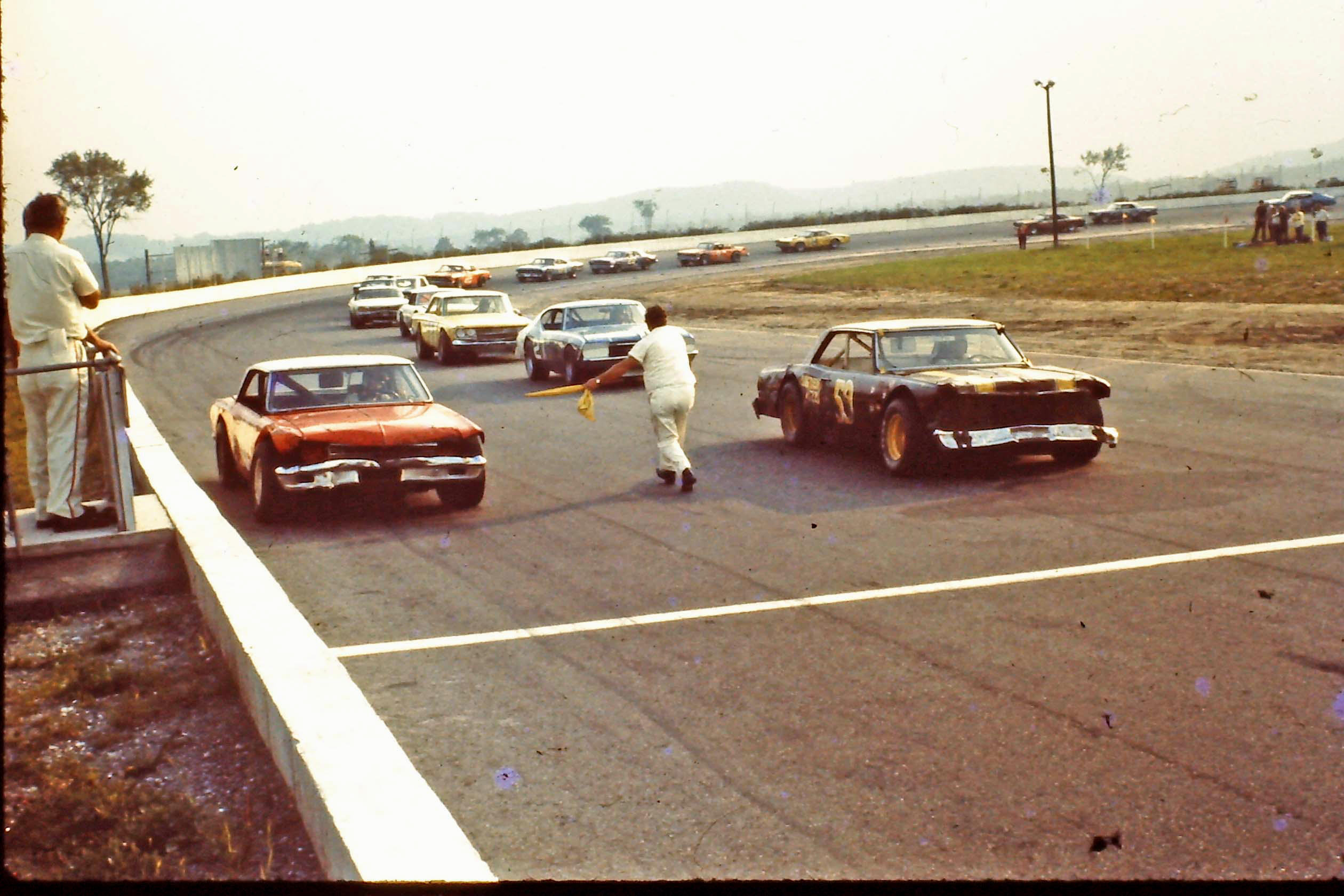 Dick Britain Photo
Ron Bettis, a former Flying Tiger driver who had departed for some military duty, had turned heads by buying the highly – successful Jean – Paul Cabana Chevelle after Cabana's dominating return to Catamount in 1971. Now, in 1973, Bettis had returned with a car of their own, sporting a flashy vinyl roof cover. That car would be pretty much destroyed in a Thunder Road wreck part way through the season. He did manage to finish out the year but they didn't much of him again until the later 1980's.
Tom Tiller, the Kentucky Colonel, tried so many cars from 1971 to 1973 that it was hard to keep them all straight. It appears here that he either has the Plymouth Roadrunner or the smaller Dodge Dart that program. Starting out in 1971 with twin 1962 Dodges, Tiller tried a Pontiac Tempest, the Plymouth, the Dart, and God knows what else. Good thing he had so many cars around with the wear and tear of 1973. Most of those cars had an unknown fate; I don know the Dart ended up sold as a six cylinder Grand American entry to Essex Junction's Wes Cota.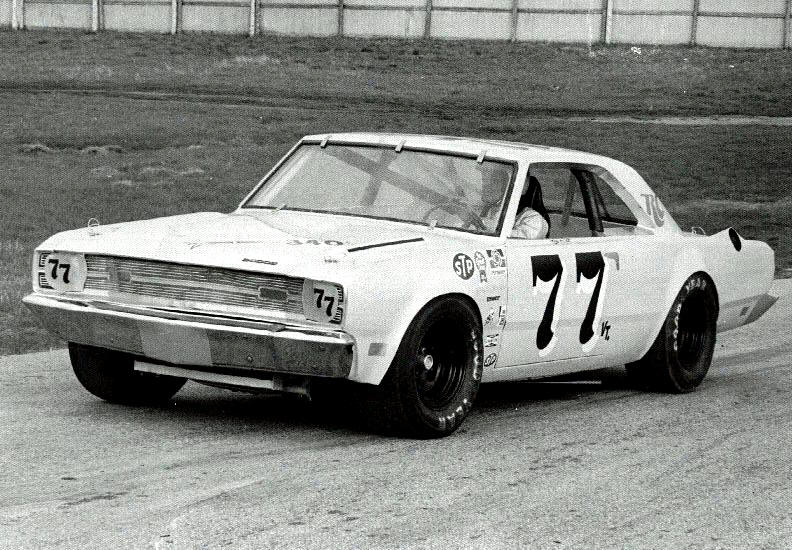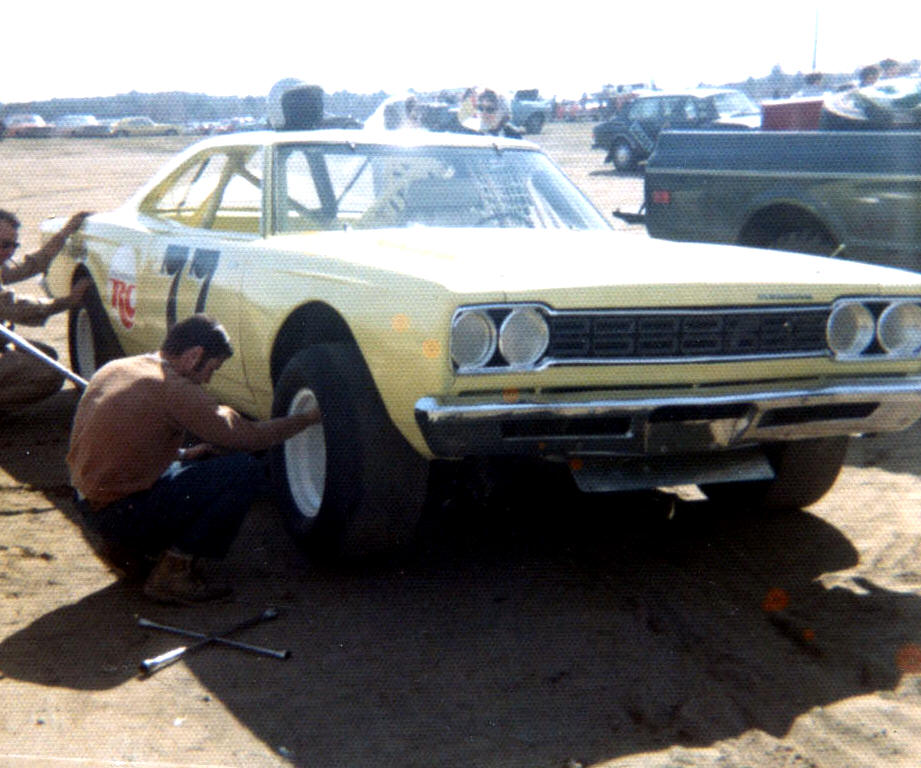 Photos via Jim Watson and Ladabouche Photo
All Tom Tiller cars during 1972 and 1973.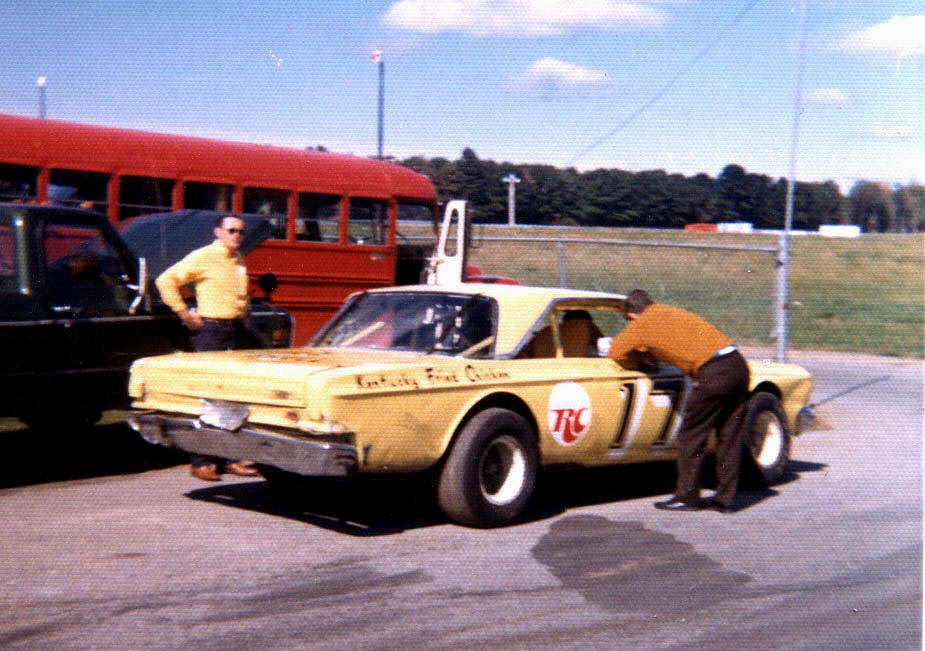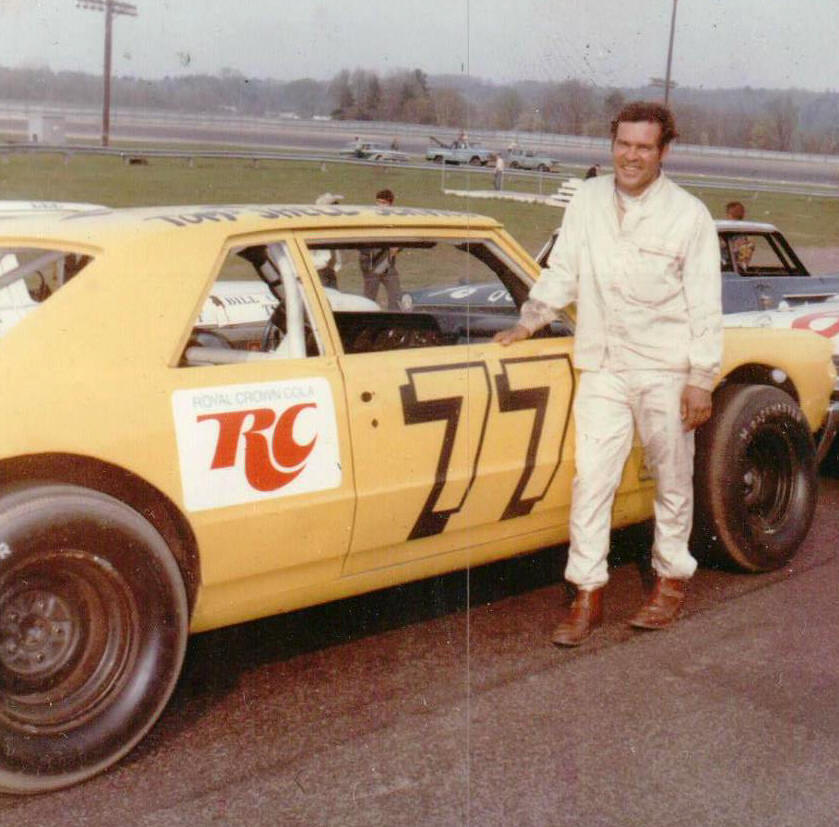 Ladabouche Photo Via Andy Boright


Maybe one of the most significant things in that photo is what you DON'T see. Over to the East, beyond the still – being constructed handicapper's stand, beyond the slightly – leaning plastic Chevron sign, and behind the ever – present sheet metal Catamount fence, you see only trees. Trees ! Trees ! Trees ! There are no damned factory buildings sitting there or in the process of being erected. You do see them in many of the pit shots from 1986 and 1987 – gloomy harbingers of Catamount Stadium's impending demise.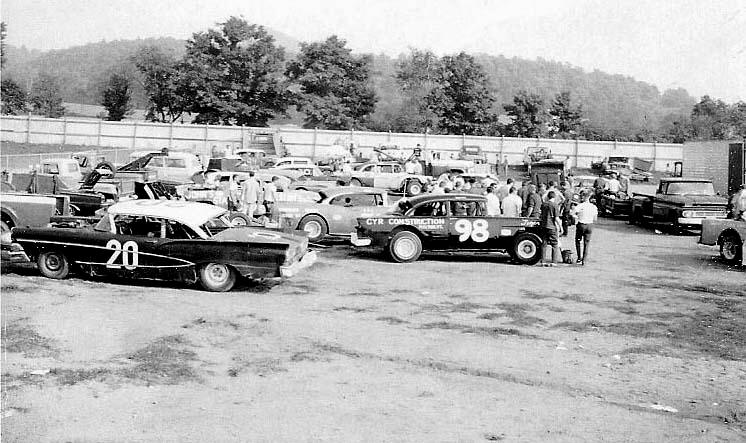 Courtesy of Chris Companion
Somebody just thought a shot of the busy pits, hours before the races
would begin, was a good subject – they were correct. Below -
Twenty years later – with the freaking factories looming behind the
fence.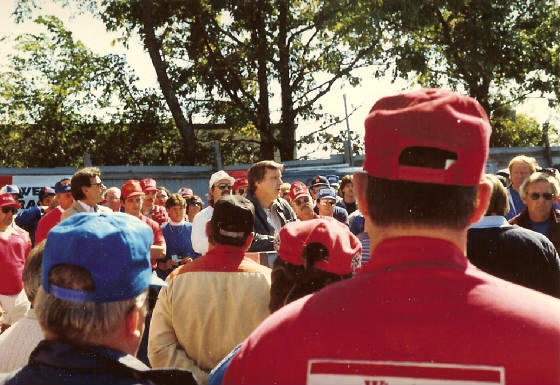 Mike Cain Photo
That was officially 1302 words, so I guess that picture is worth that if you as as long – winded as this writer can be.
Please email me at wladabou@comcast.net if you have any photos to lend me or information and corrections I could benefit from. Please do not submit anything you are not willing to allow me to use on my website - and thanks. For those who still don't like computers - my regular address is: Bill Ladabouche, 23 York Street, Swanton, Vermont 05488.
AS ALWAYS, DON'T FORGET TO CHECK OUT THE REST OF MY WEBSITE:
www.catamountstadium.com
Return to the Main Page
Return to the Main News Page
Return to the All Links Page
Return to the Weekly Blog Links Page