BILL'S [Somewhat] WEEKLY COLUMN/BLOG PAGE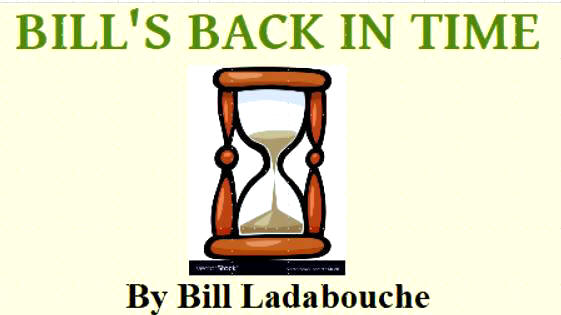 FOOLISH FRED OR DARING DARE DEVIL ?

I was looking through a 1967 article about Devil' Bowl Speedway – the one in Vermont that was opened that year. It was confusing in some ways. The article was very brief, and it almost suggested that there was a feature in which late models and sportsman cars were run together. But what was not all the news about that week in the history of what would become a very long – lasting track in our neck of the woods.
The winner of the Dare Devil feature was listed as Fred Taylor, from nearby Fair Haven. C. J. Richards, when he moved his operation from Fairmont Speedway in Fair Haven to Devil's Bowl's location in West Haven, he had made the decision to upgrade his hobby class cars to late models. Many of them didn't look a lot different but they apparently had more modifications than their ancestors.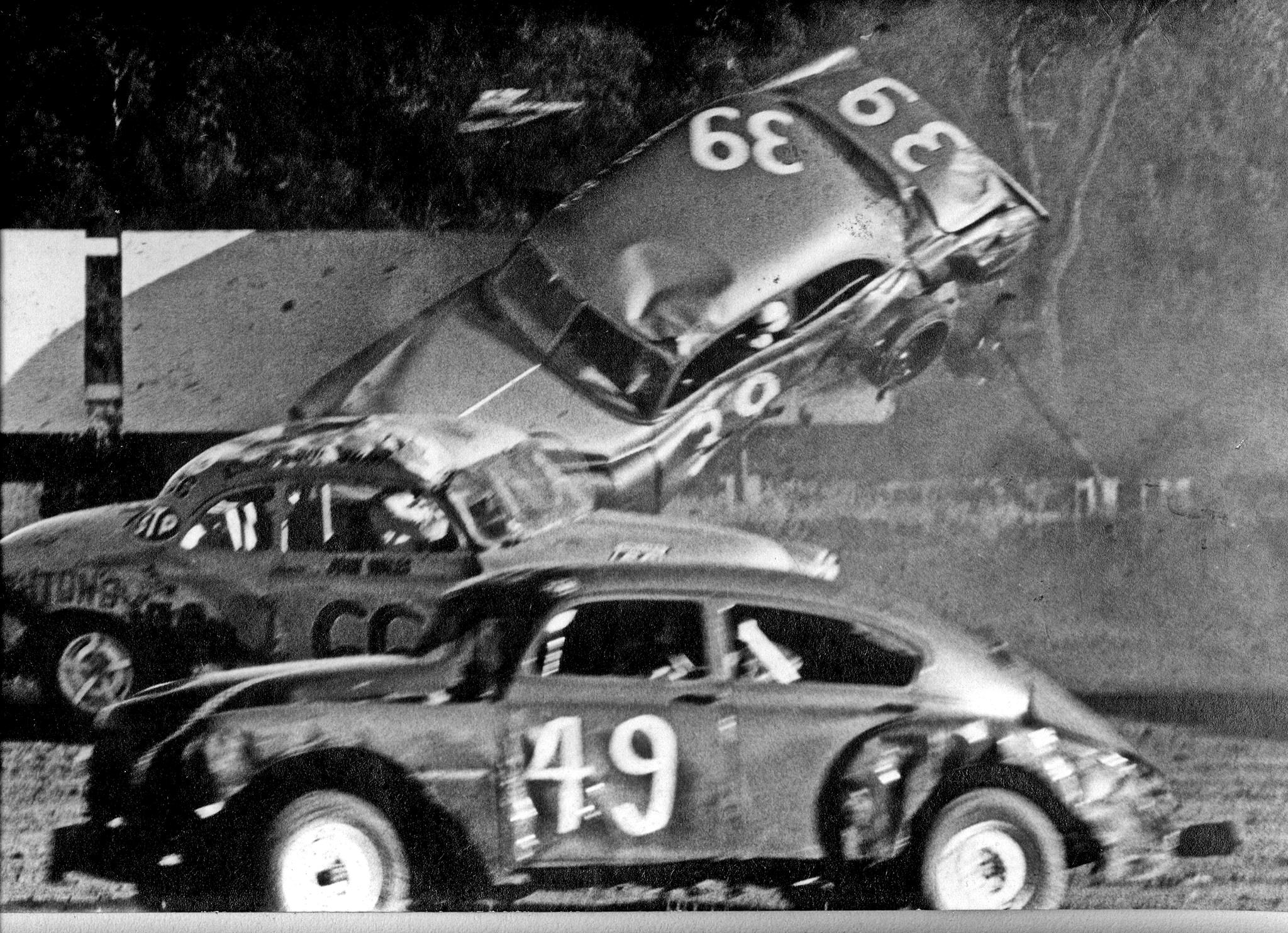 Bob Frazier Photo
This photo, more than any other, established the Dare Devils as
a racing class that people would remember. C.J.'s metal barriers
didn't last as long as the division did. That's Howard Dikeman on the
wall, with class stars Bob Ellis [49] and "Long Gone John" Wales [66].
To replace the more low – cost hobbies, he had created a third division. And, being the impressario that he was, he used the name Dare Devils to jibe with the name of his new track. The Dare Devil's were nearly stock cars, approximately 1948 to 1954, which could run only six cylinder, unmodified engines. He hoped to have a lot of them – and soon into his inaugural season.
I didn't get to nearly as many early Devil's Bowl programs as I wanted to because of college and summer jobs; but, I did get to see some racing and the Dare Devils were fun. There were a number of '53 or '54 Chevies, along with a number of 1950 Chevies. The Mopars were represented by some Plymouths, and there were a few Fords, too, that looked to be around 1950 or '51. The DD's could be wild, despite lower power, and one of the iconic photos from the first year was that of Howard Dikeman's 1950ish Chevy climbing C.J.'s new wall, tearing down some of the sheet metal he had mounted above the walls.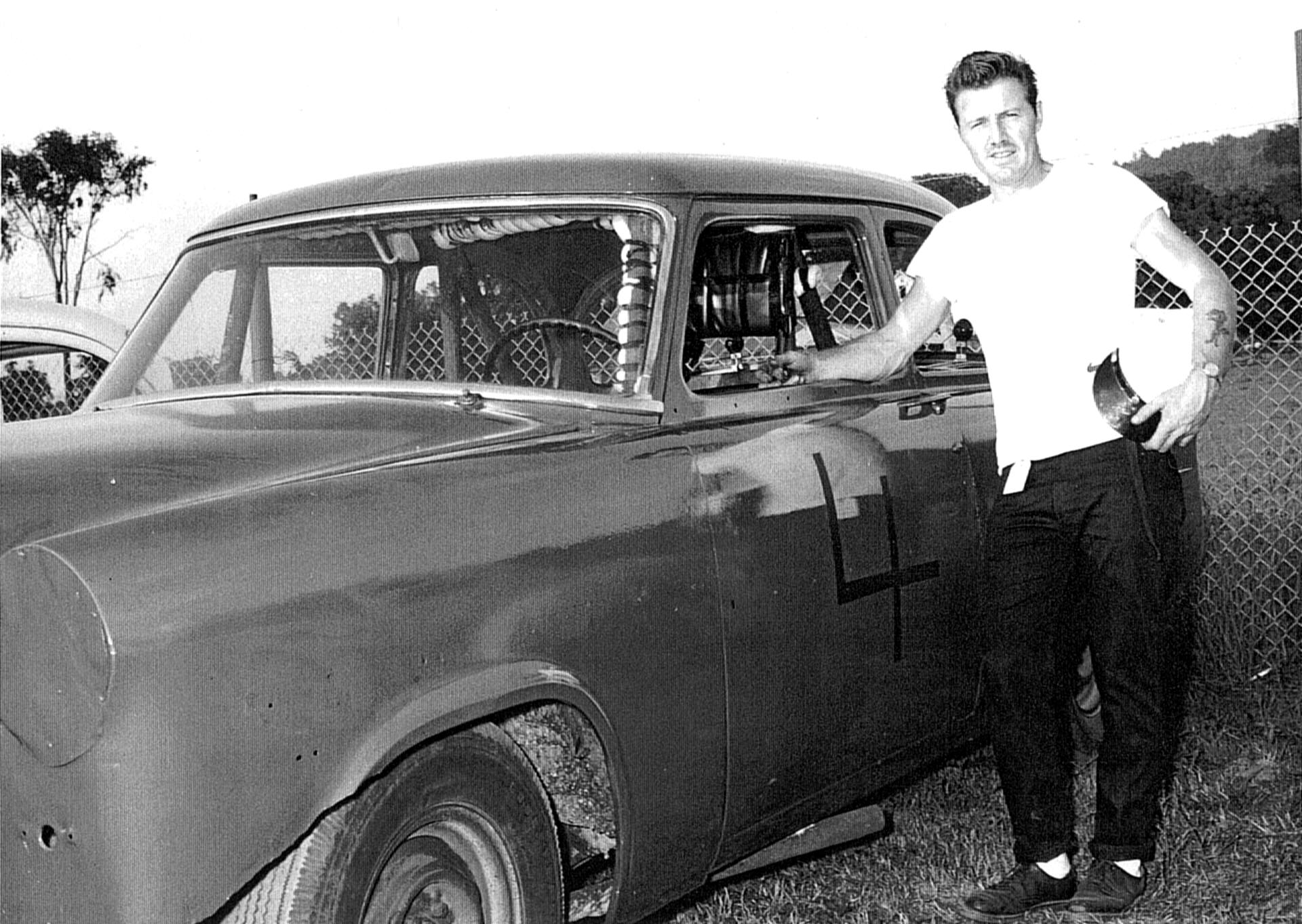 Bob Frazier Photo Courtesy of Shawn Byrne
Don Carrara, Mendon body shop owner and famous for his
oil undercfoating jobs, with a pristine Chevy. Below – The nicely painted
Grenier family Dare Devil #1 is helping with kiddie rides.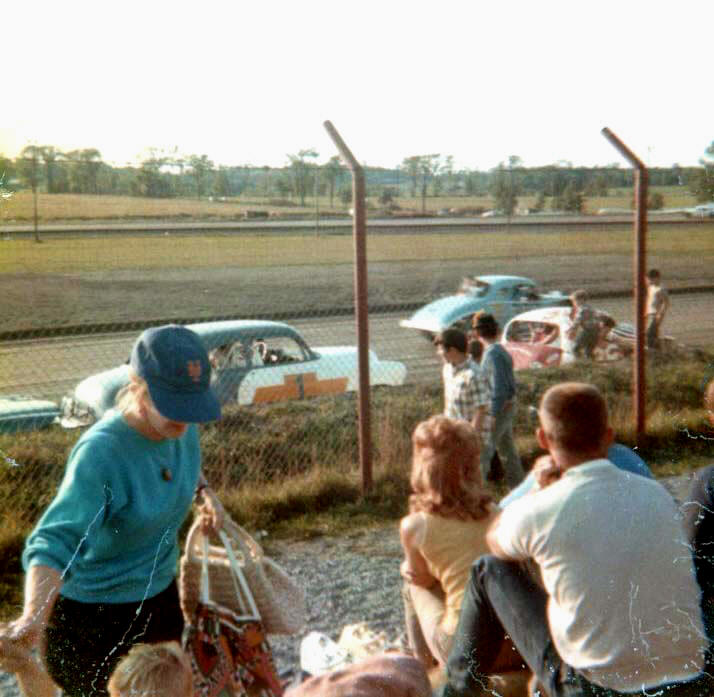 David Frazer Photo
Two things resulted from Bob Frazier's photo of the crash: 1.) It sparked great interest in the track and its support class; and 2.) It inspired management to eventually take down those unnecessary barriers in the turns. Seldom sis you see crowds thinning out for the program – closing Dare Devil feature. There were the die-hard sportsman fans and those who had to travel long distances to get home on a work night; but, most people stayed. People had family racing or maybe that neighbor down the street who kept the place awake tuning it up on Saturday night.
I couldn't get to al ot of the shows because of working at a local quarry bagging garden stone – from 4 P.M. to 4 A.M. [Sometimes they mixed it up for us by letting us 4 to 4 in the other direction; big whoopies]. What I do rememeber, though is this guy I worked with. Donnie Gallipo, Jr, some of whose relatives still race today, always said how he hated missing the races – and he meant really the Dare Devils. He always rooted for "that LaFoe guy". My home town of Proctor was never anything approaching a center of racing; but, it did have two of the top Dare Devil drivers for a while.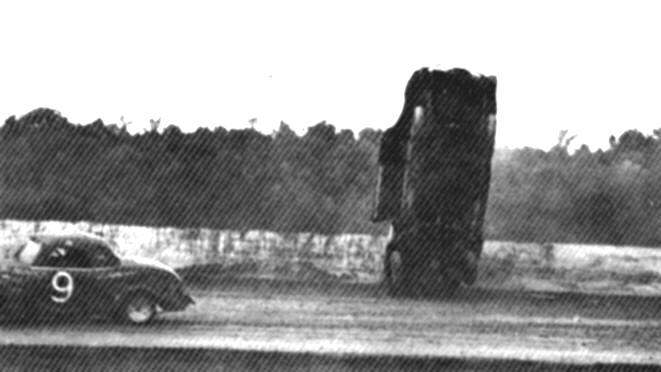 Bob Frazier Photo via Ed Fabian
There aren't many action photos of the Dare Devils,
surprisingly. This is the only shot of the class's star
Junio Fields [9], and it happens to be a lot of
action. Below - I think the #7 in the background of this Ed Allen shot
is "That Lafoe guy" Donnie Gallipo liked watching.
Below – Don Carrara and his then pristine Chevy.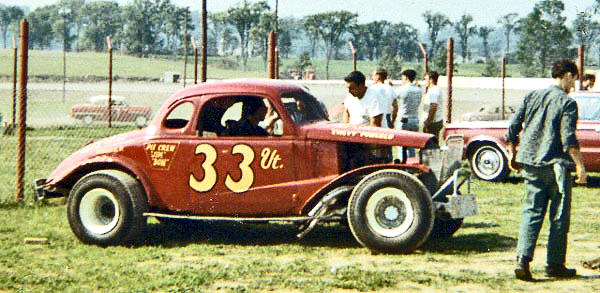 One of the first real stars in the DD's was Proctor's Junior Fields, who appropriately lived on Field Street in town. His had a late '40's Plymouth business coupe numbered 9 and was always a strong runner. His neighbor, David Murdock, with whom I had attended school, started running running soon after and was also a top driver. Fields, in particular, was a major force that first season, although he didn't manage to finish in the top three in points.
The top three finishers that season [not in order of final finish] were Bridport's "Long Gone John" Wales, who ran a bright yellow '50 Chevy; Castleton's Jim Byrne, who would go on to race in the late models for a few years; and home town Bob Ellis from West Haven, where the Bowl was located. Ellis, from a local farm family, might have been the first champ; I'm not sure, but he went on to drive sportsman cars, NASCAR late model sportsman cars, and modifieds.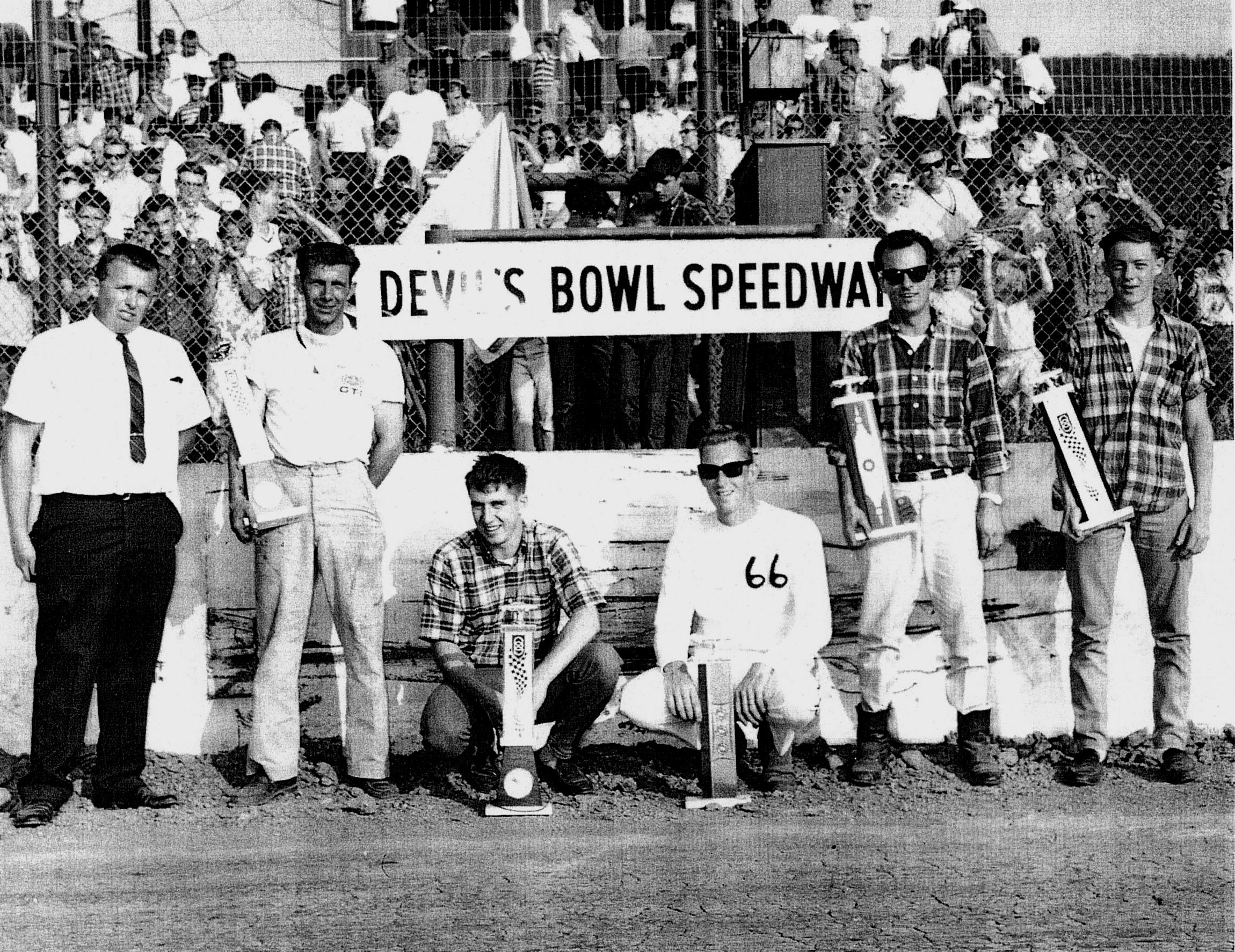 Bob Frazier Photo via Shawn Byrne
This shot taken at the end of Devil's Bowl's inaugural
season features Dare Devil standouts John Wales
[center with 66 on shirt], Jim Byrne, and 1967
Dare Devil Champion, local boy Bob Ellis.
Other Dare Devil graduates included Jay Brown, who would run late models, on and off, for many years as well as doing some pit crewing with such as the Castleton legend George Rogers. Jay, and brother, Charlie, were fixtures at the Bowl for decades. Jim Bryne would spend far more time in the late models than in the Dare Devils. His career was pretty successful, but people think of his crashes – mostly because the Bryne Family set out so many shots of Jim upside down, burning, or peering out of a wreck. He became a sponsor for the track later, and son, Shawn, drove. The racing Grenier family had members in the Dare Devils, as well.
Byrne had established his trademark number 51 with a Ford that appeared to be 1949 or 50. He was one of the top runners in that first season. Although most people think of the photo in which he is peering out from a badly wrecked car, he also can boast of some Victory lane shots, as well. Byrne would keep that nu mber 51 alive through a somewhat trying period of late model racing before the number was adopted by Lee Nutting, son of Devil's Bowl late model star Ray Nutting.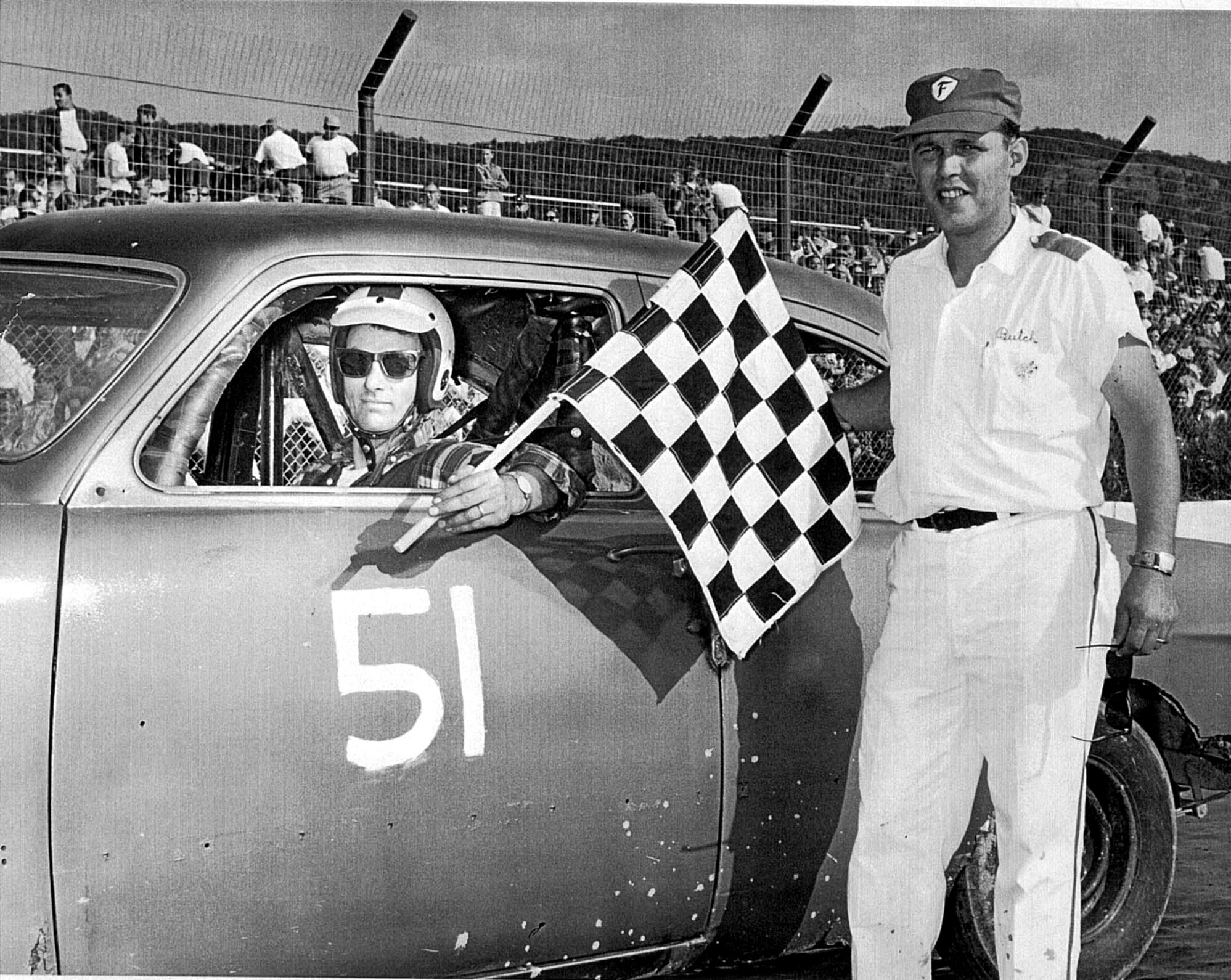 Bob Frazier Photo via Shawn Byrne
Jim Byrne's photo record of his dare Devil career shows
Some pretty severe highs and lows. Below – Did anyone
get the number of that truck ? Check out the old pits
in the background of the lower shot.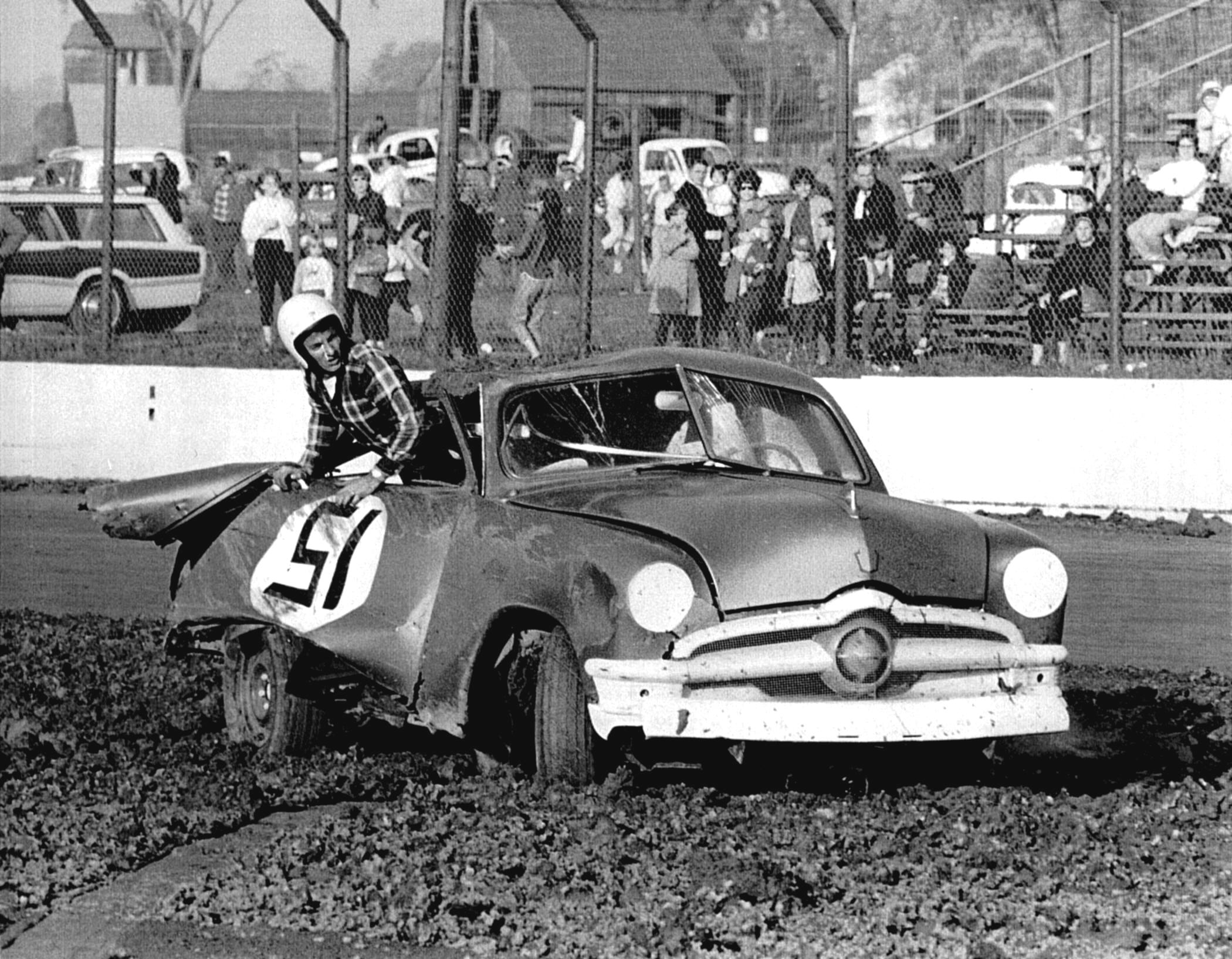 Bob Frazier Photo via Shawn Byrne
Another prominent name from the division is Ralph Bruno, whose nephew, Mike now owns Devil's Bowl. Ralph would ascend from the third class to run a number of years in late models. When the Bowl went through a rough patch and was operated as West haven Speedway [not to be confused with the original in Connecticut], Ralph was one of the stalwarts during those years. He now serves as a track official for his nephew.
Returning to Fred Taylor, he had dubbed himself as "Foolish Fred", much to the glee of the fans. He would be a good runner in the class until it was phased out a few years later. Stanley Cram, who had bought Ralph Bruno's car, would campaign the car as a white #37 for a season. Mendon's Don Carrara fielded a very clean, well – appearing '54 Chevy; however, I can't promise how long it remained looking that good. Al Cram, who is likely a relative of Stan, also had a car in the class that year.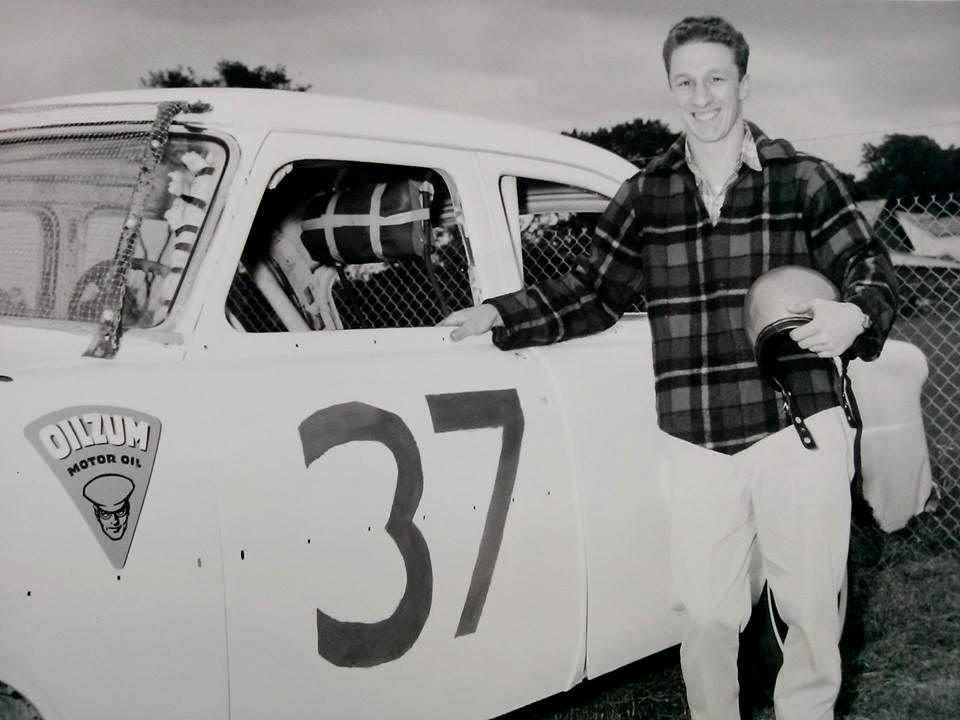 Bob Frazier Photo via Mike Bruno
Ralph Bruno [above] and Stan Cram, with similar
Dare Devil cars. Ralph insists they are not the same
car. Looks like he's right.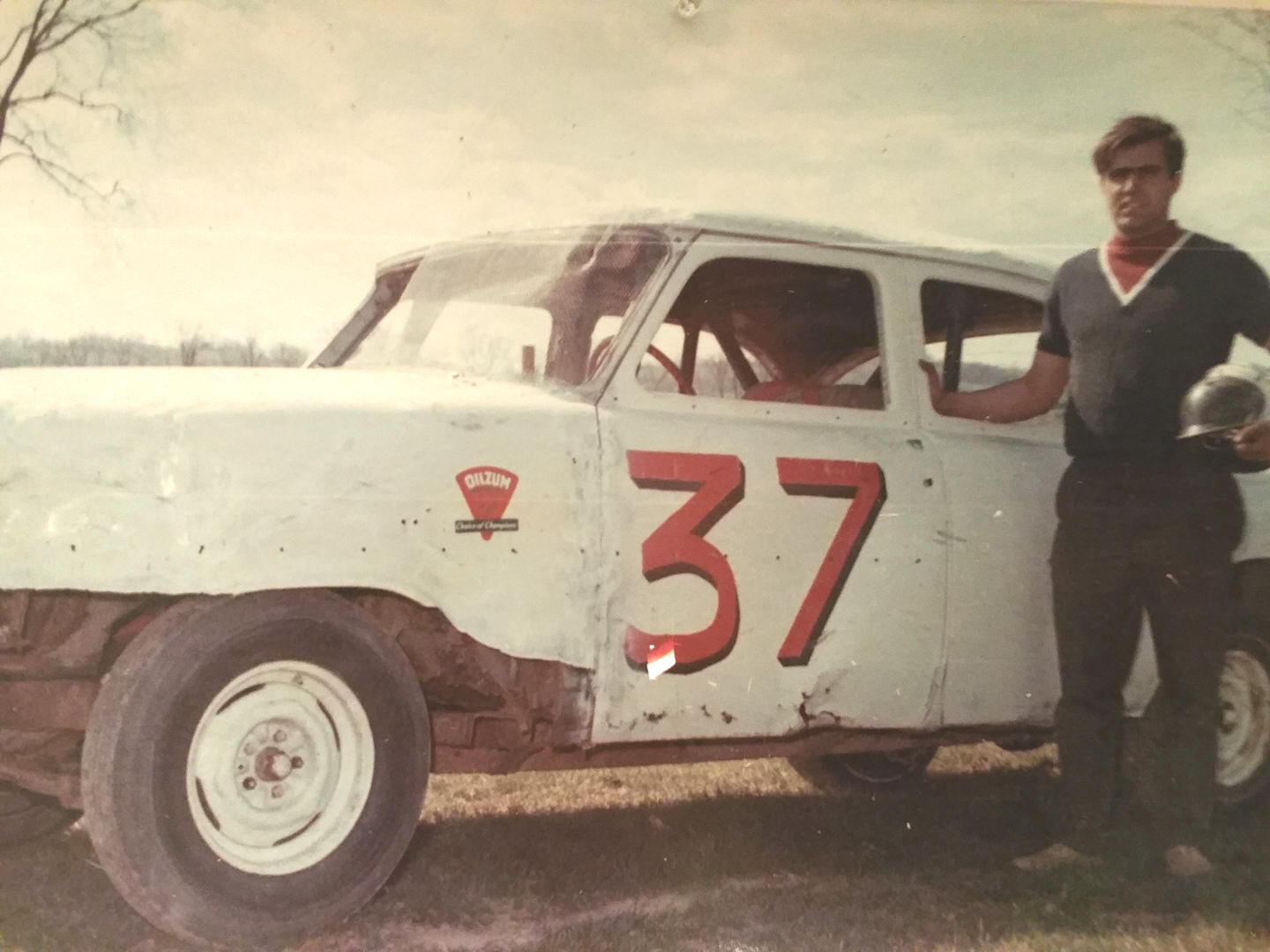 Bob Frazier Photo via Mike Bruno
Wallingford's Mike Winship would drive a Ford very similar to that of Byrne. He was using the somewhat suspicious number 13 – still considered unlucky in 1967. I think Winship also went up to the late models for a bit. The numeral 13 then fell to Foolish Fred, who might have considered himself foolish for not only racing with those wildmen but also for using a hexed number. Morgan Allen, another Chevy driver, was another name I recall. Somehow, I think his family was in touch with Vermont history when they came up with that name. I have a few Dare Devils in photos for which I have no names or records.
One of the legendary stories of that class was that of Elroy Laduc. Laduc, brother to Orwell farmer Charlie, who was now an established sportsman driver, had decided to take the family number 54 and try his luck in the devils. Son, Mike likes to relate the story of how, the first time out, Elroy wrecked the hell out of his Ford, parked it, and never tried it again. Brother Charlie would race for years, until his untimely death from a heart attack on the farm .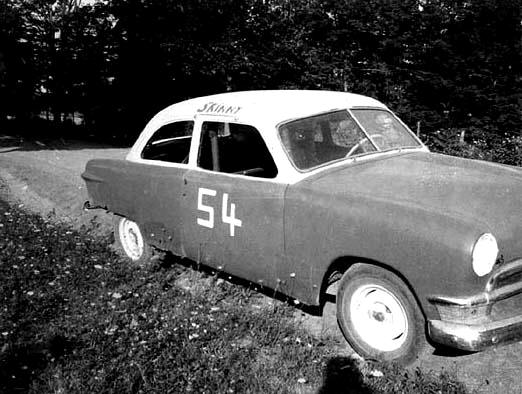 Courtesy of Mike Laduc
The newly – built 54 before the race, and [below] after.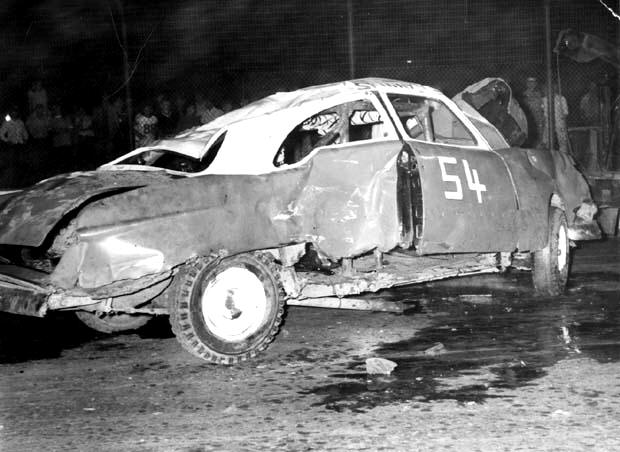 Courtesy of Mike Laduc
The Dare Devil's were the perfect thing for C.J. Richards' inaugural season. They were like nothing running anywhere else, they involved local drivers, and they provided plenty of spills to entertain the fans between sportsman races. One of the Shaws, from Bomoseen, even had an old Studebaker in the class. I remember it as being very quiet; maybe he had kept the muffler on. I actually do not know what year it was when the track wrote off the Dare Devil class, but it was truly a beloved division when it was in operation. I am still delighted when someone comes up with a photo of one of those rigs or when one appears in the background of the photo of a "more important" car. I hope they keep coming.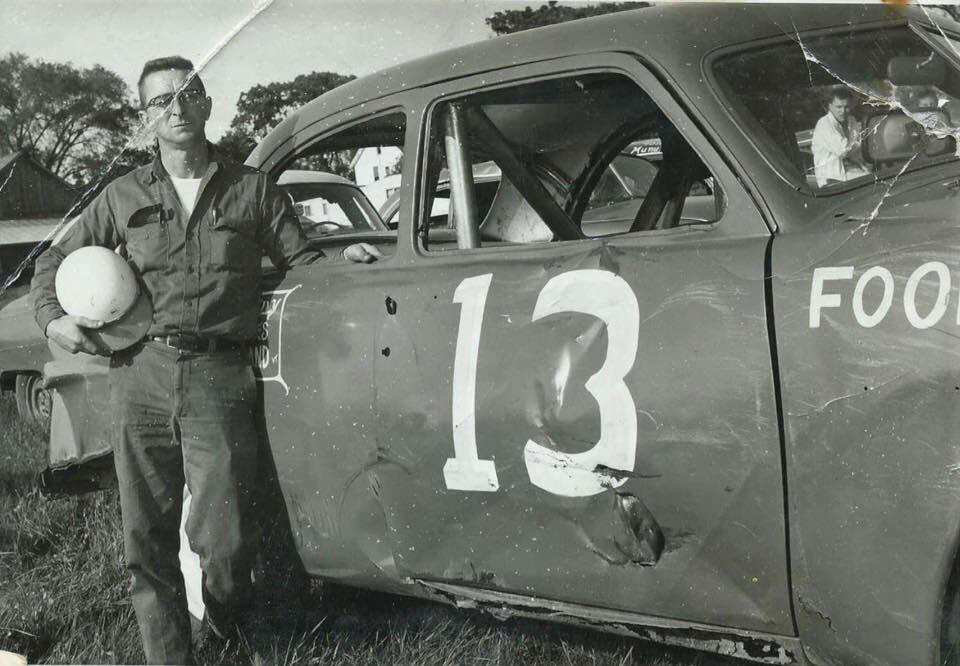 FREDTAYLOR_DAREDEVILNo13 Images 40
Bob Frazier Photo via Lauree Taylor Salamin
Foolish Fred Taylor took up the number 13 [above] after it
was first used by this Ford [below] which might have
been Mike Winship. [Further below] – the division's
lone Studebaker, on the track.



From Dan Ody's 8MM Old Speedways DVD's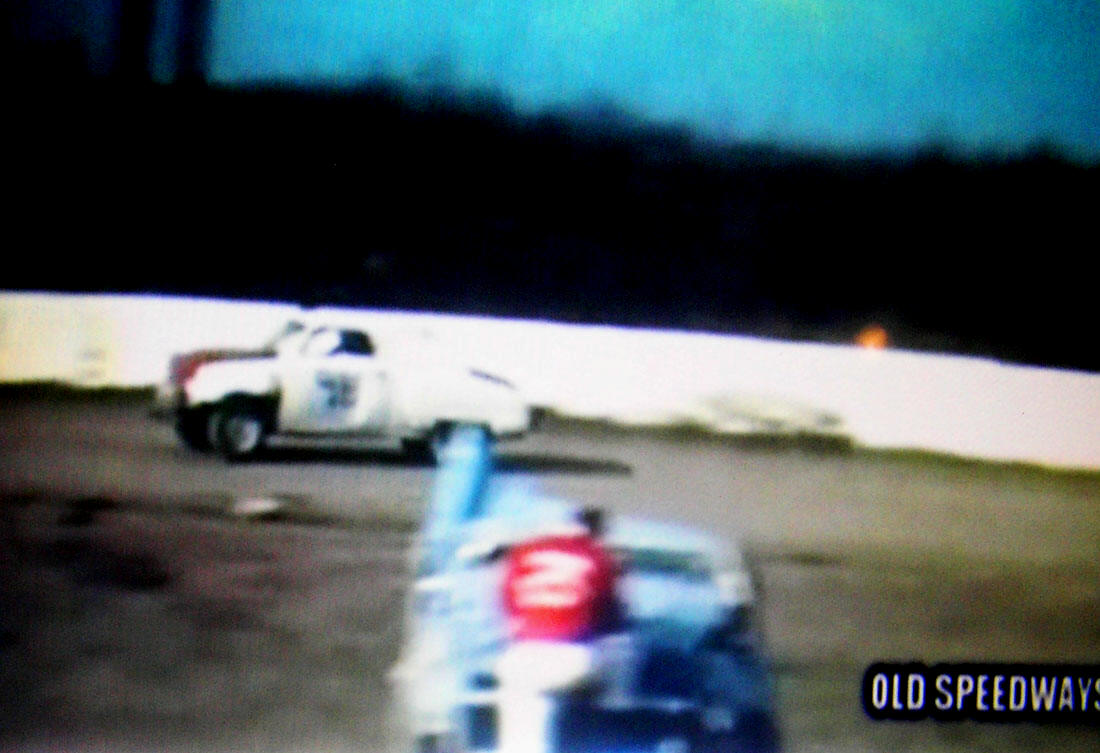 From Dan Ody's 8MM Old Speedways DVD's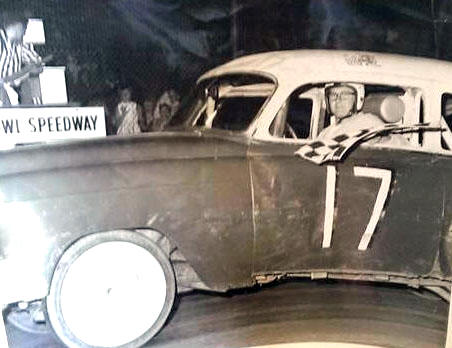 Bob Frazier Photo via Bruce Brown
Newly - found Jay Brown photo. Bruce had the photo curved when he photographed it.

Please email me if you have any photos to lend me or information and corrections I could benefit from. Please do not submit anything you are not willing to allow me to use on my website - and thanks. Email is: wladabou@comcast.net . For those who still don't like computers - my regular address is: Bill Ladabouche, 23 York Street,Swanton, Vermont 05488.
AS ALWAYS, DON'T FORGET TO CHECK OUT THE REST OF MY WEBSITE
www.catamountstadium.com
Return to the Main Page
Return to the Main News Page
Return to the All Links Page
Return to the Weekly Blog Links Page