BILL'S [Somewhat] WEEKLY COLUMN/BLOG PAGE

BILL'S BACK IN TIME
By Bill Ladabouche
BACK IN TIME WHEN THERE WAS STILL ROOM
Lew Boyd does a fantastic regular blog called "Tearoffs". One of his more recent pieces concerned an absolute character named Al "Blackie" Crockett, from Randolph, MA who made a career out of racing a battered old Plymouth sedan in support divisions at places like Hudson, Norwood, and other Massachusetts/NH area tracks. The premise was that racing, in those days, had room for some real characters. [As opposed to today, I would surmise, where the cookie cutter, spec motor era doesn't encourage much individuality any more.] This about another battered Plymouth in another venue.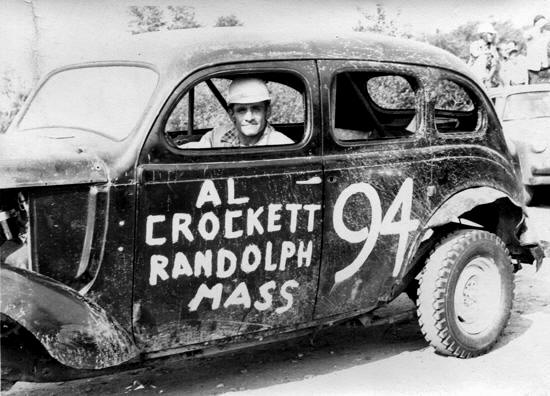 Courtesy of Lew Boyd
Al Crockett, with his famous Plymouth, at Hudson Speedway.
With that in mind, had he not departed this vale of tears far too early, I would have gotten on my pal Cho Lee do a similar piece on the very individual Chester T. Wood, from Orange, VT. Cho would have been the man who knew everything about this real character who started out at places like Northeastern Speedway and Thunder Road, and who ended a career in the more polished era of late model sportsman racing at the Road and at Catamount Stadium.
I will write what I know, but it doesn't come close to what Cho could have offered. Somewhere around 1960, just before Northeastern Speedway in Lower Waterford, VT would be put out of a profitable run by the newly – arrived, flashier Thunder Road International Speedbowl, the fifth mile track's already – large field of flathead coupes was expanded by a particularly fragile – looking heap numbered X-1, out of Vermont. That would be a stringy youngster with a homemade bowl haircut named Chester T. Wood.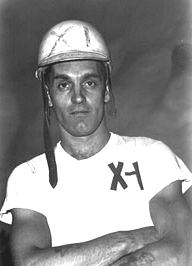 Courtesy of Cho Lee
This Norman McIver portrait catches the enigmatic Chester T. Wood with
his Cromwell helmet. Below- The Wood coupe, in the earliest days.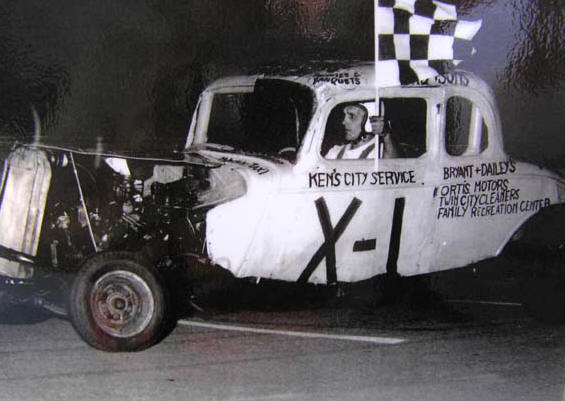 Courtesy of Cho Lee

Chet, as was often his shorter moniker and his supporters would claim that the middle initial T. stood for "tops", and he was fast. Probably lacking in power [and certainly operating budget] the Wood entry almost certainly benefited from the shorter, fifth mile track at Lower Waterford where the more powerful, larger budget cars like Andy Cote's three car team could not really use all their power. Northeastern had been built with such efficiency – with its organizing committees and concerns for safety, etc. - that an impressed young track announcer named Ken Squier had gone out and built his own track, Thunder Road, the following year. Wood would race at both.
I want to make it clear that several of the well – known anecdotal stories I will use here are not ones I can, without a doubt, prove; but, they are part of the lore of Chester T. Wood. More than one older man at the races at Thunder Road on a Thursday night have related how Wood, whom The Burlington Free Press once called "The Hope of the Common Man", came from a very rudimentary building in Orange in which his family lived in the back and he had a garage in the front. Common lore states neither section of the building had anything but a dirt floor.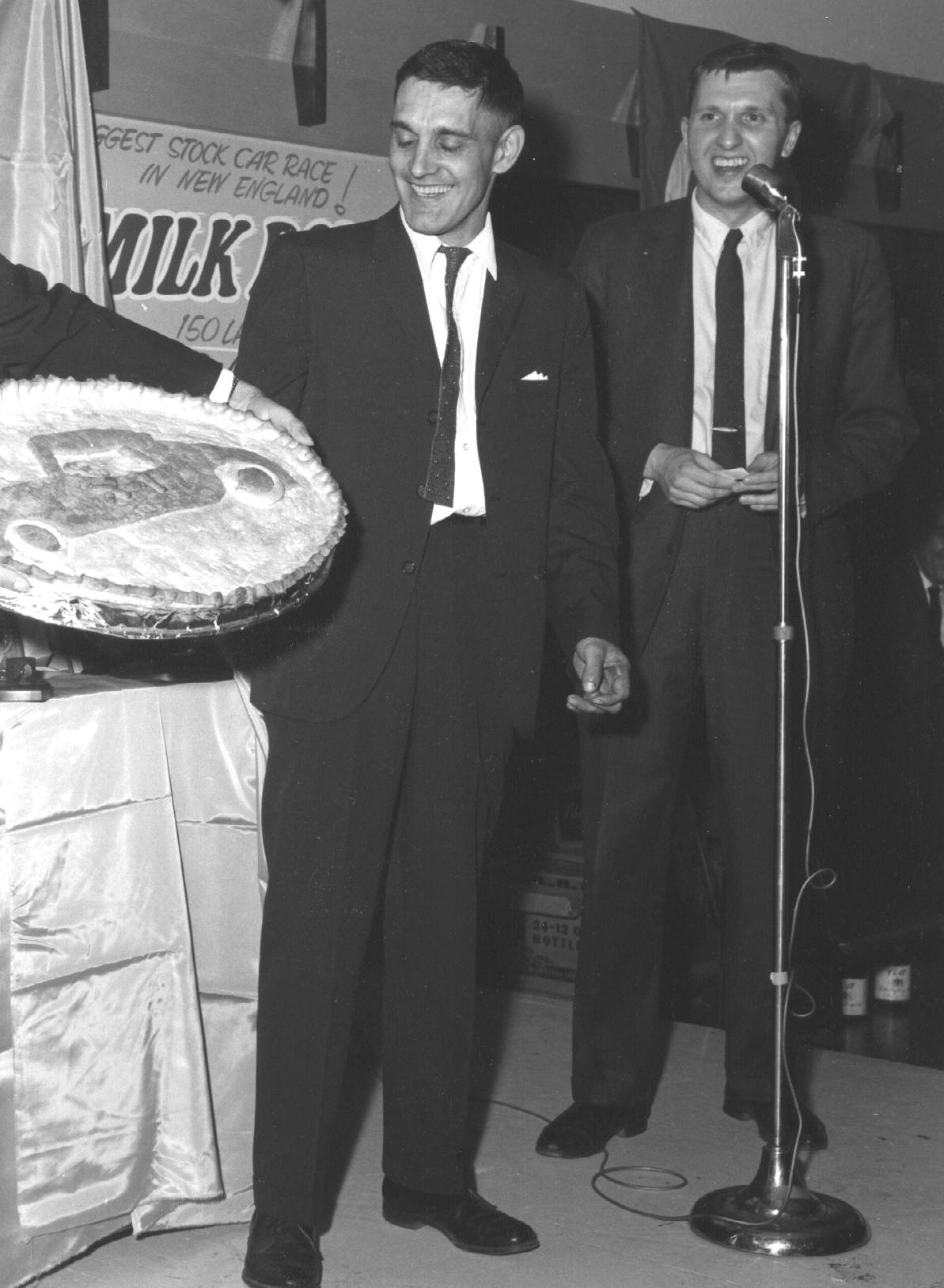 Courtesy of Cho Lee
Surprisingly, in a suit, Chester T. sports the famous haircut at an early Thunder
Road banquet, getting a cake from Ken Squier. Below – Wood, with an
unfamiliar X1 nearby, sits stunned after a T Road wreck.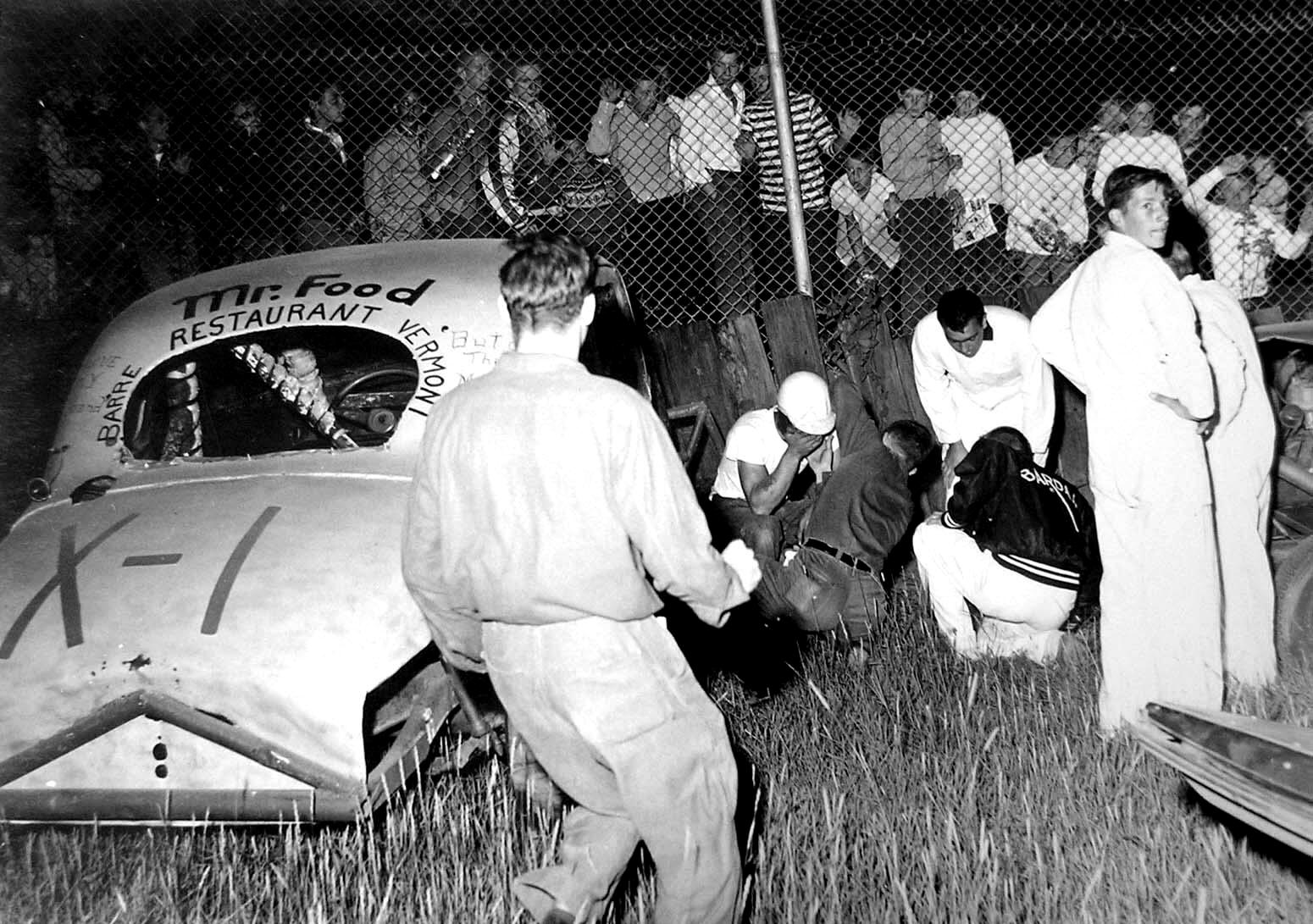 Courtesy of Cho Lee
Perhaps the most popular Wood story involves the seat in his early race cars. Although the type of farm implement was never positively established, it is well agreed that Chet Wood raced on a seat similar to what would go on a tractor or some sort of hay cutter. He always insisted he could "feel the car and the track better" with this seat. I don't doubt it; however, what he couldn't feel better was COMFORT ! A thin fellow in clothes that were just as rustic as his cars, Chester T. didn't have much padding down below to help cushion the bumps in that flat – topped [usually yellow] Ford flathead coupe.
Harold "Hardluck" Hanaford told me a story once about somehow getting talked into taking the Wood car out for a trial run during practice at Northeastern in the early years. Harold was accustomed to a decently – constructed coupe, himself, and he was about to find out what driving something less safe was about. He speaks of whizzing around the fifth mile track with every imaginable rattle and vibration, and looking down to espy the pavement flying by beneath him. The car had little or no floor. Plus, a lot of the X-1 seemed to be held together with baling wire.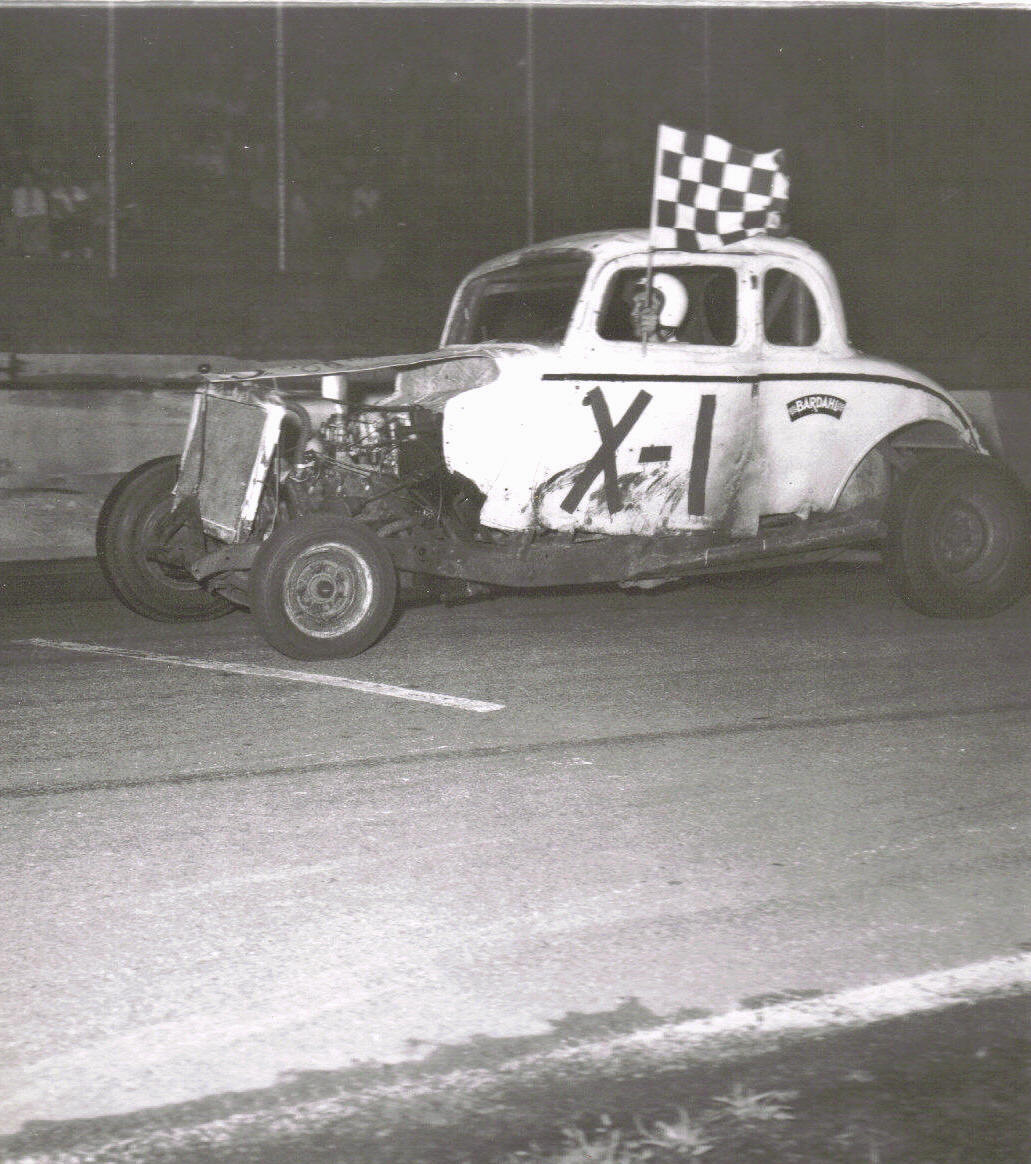 Courtesy of 176 Racing Website
A 1960 feature win for Chester T. at Northeastern Speedway.
Below – Wood runs to the aid of another driver in a Thunder Road wreck.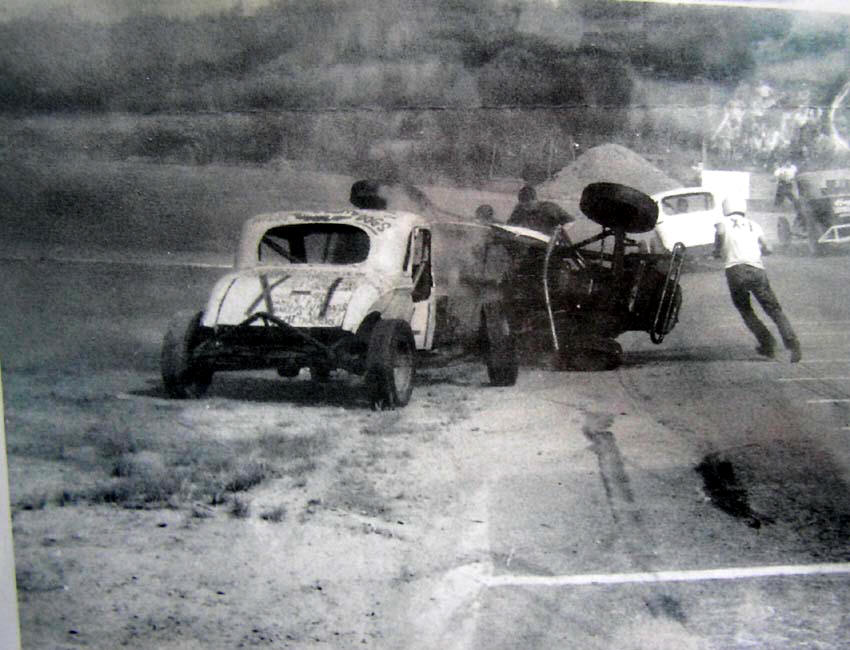 Courtesy of Cho Lee

Hanaford, somewhat shaken, pulled back into the small pit area off turn one at the Lower Waterford track and handed the car back to its delighted owner. Hana said that anyone who would regularly drive that car was crazier than he was. He did allow that the lightweight crate was very fast, however, and really didn't handle all that badly. Wood was almost always a strong contender, even in his earlier years.
One of the biggest, most imposing men to ever race at Northeastern or T Road was The Bethlehem Bombshell, the hulking Ronnie Marvin. A huge, scowling man, the balding Marvin did nothing to discourage competitors being intimidated by his presence – on or off the track. He was a very successful driver, always running a white number 13 – but he far from being the White Knight. For some unexplained reason, Chester T. Wood would often end up tangling with the massive Granite Stater – and more often – it was by Thunder Road's infamous Widowmaker wall.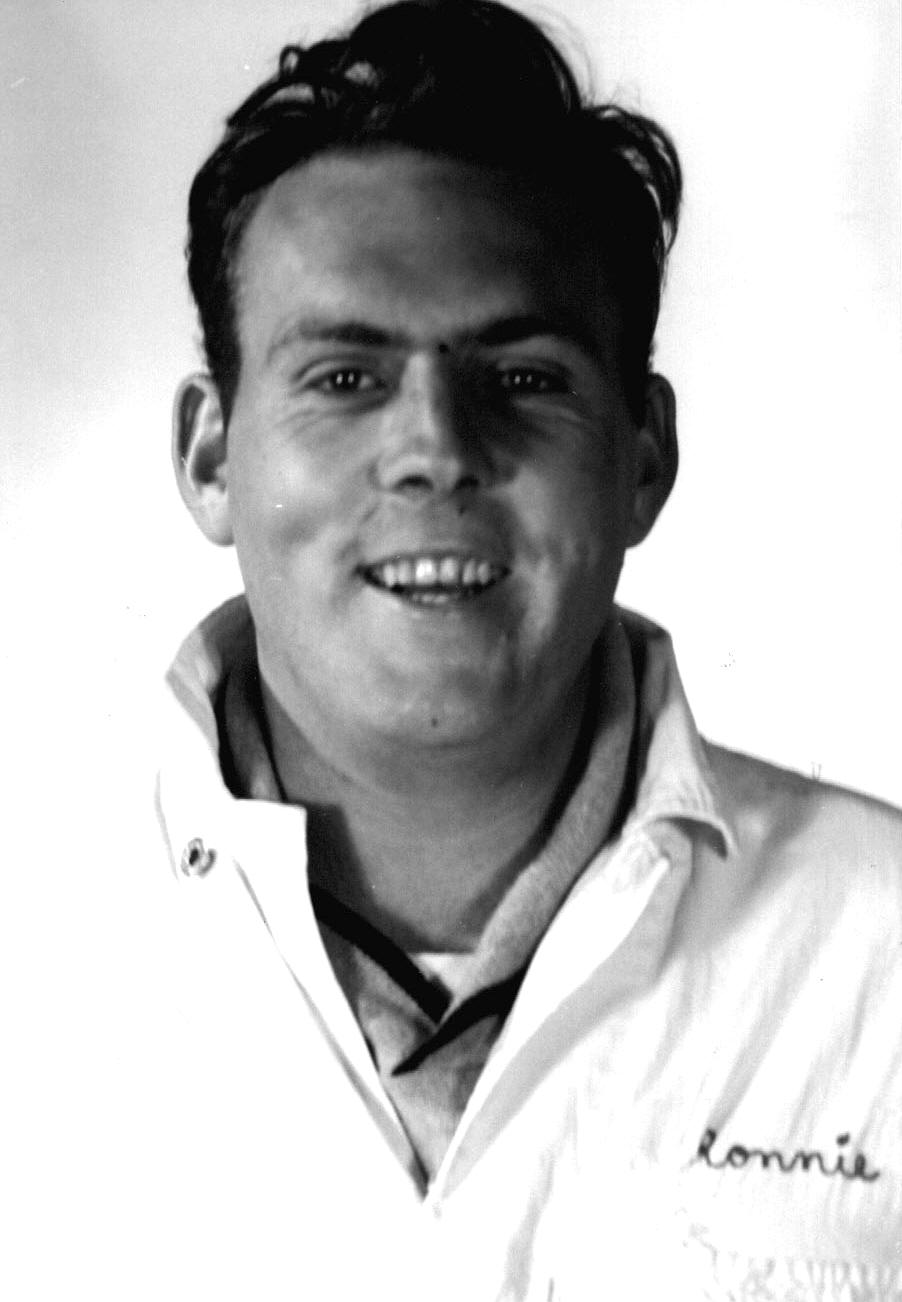 Courtesy of Cho Lee
The Bethlehem Bombshell looks harmless enough here until you see how
he could dwarf his coupe [below]. Nice smile, Ronnie.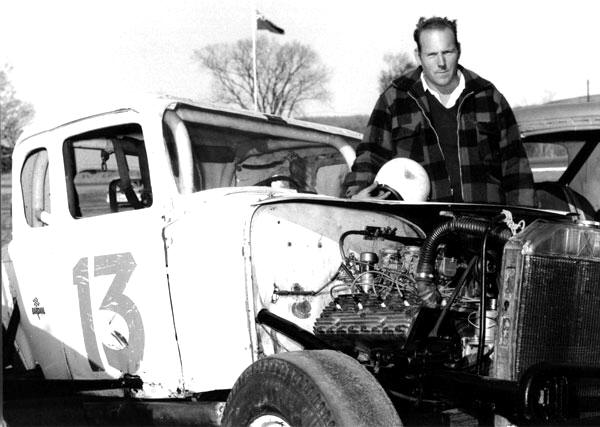 Courtesy of Cho Lee

One of the most iconic photos of the Barre, VT oval ever shows Marvin's white coupe jetting up the side of the wall, on its way to the lawn above. And, in the same picture, Chester T. Wood is also involved in the scramble. One of the track legends has Marvin leaving the skinny Chester T. in a wounded heap beside the fence in the pits after one of their dustups. A second photo, in the second year of the late model sportsman era, shows Wood's Plymouth sliding on its side along the Widowmaker while Marvin's Buick scrapes along the wall on all four wheels. You can fill in the blanks.
The minor feud did not last long into the more expensive late model era. Wood, after running a couple of seasons, retired. The huge Ron Marvin would race into the 1980's before being sidelined with cancer. Marvin, who managed to finish well into the top ten in the 1965 NASCAR National Sportsman standings was an entire story in and of itself.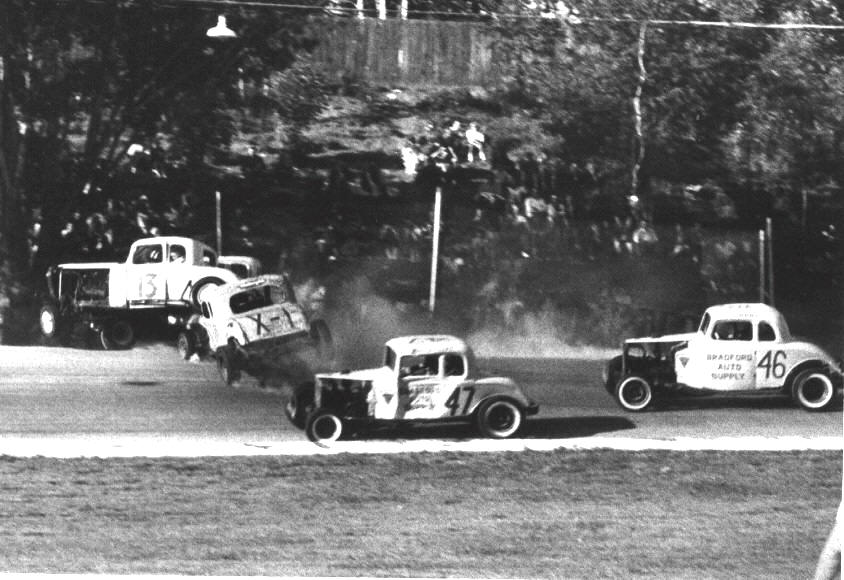 Bob Doyle Photo Cavalcade of Auto Racing
Marvin blasts off the Thunder Road track with Chester T. nearby.
Below- Chester T. rides the door of the Plymouth as Marvin completes the board check.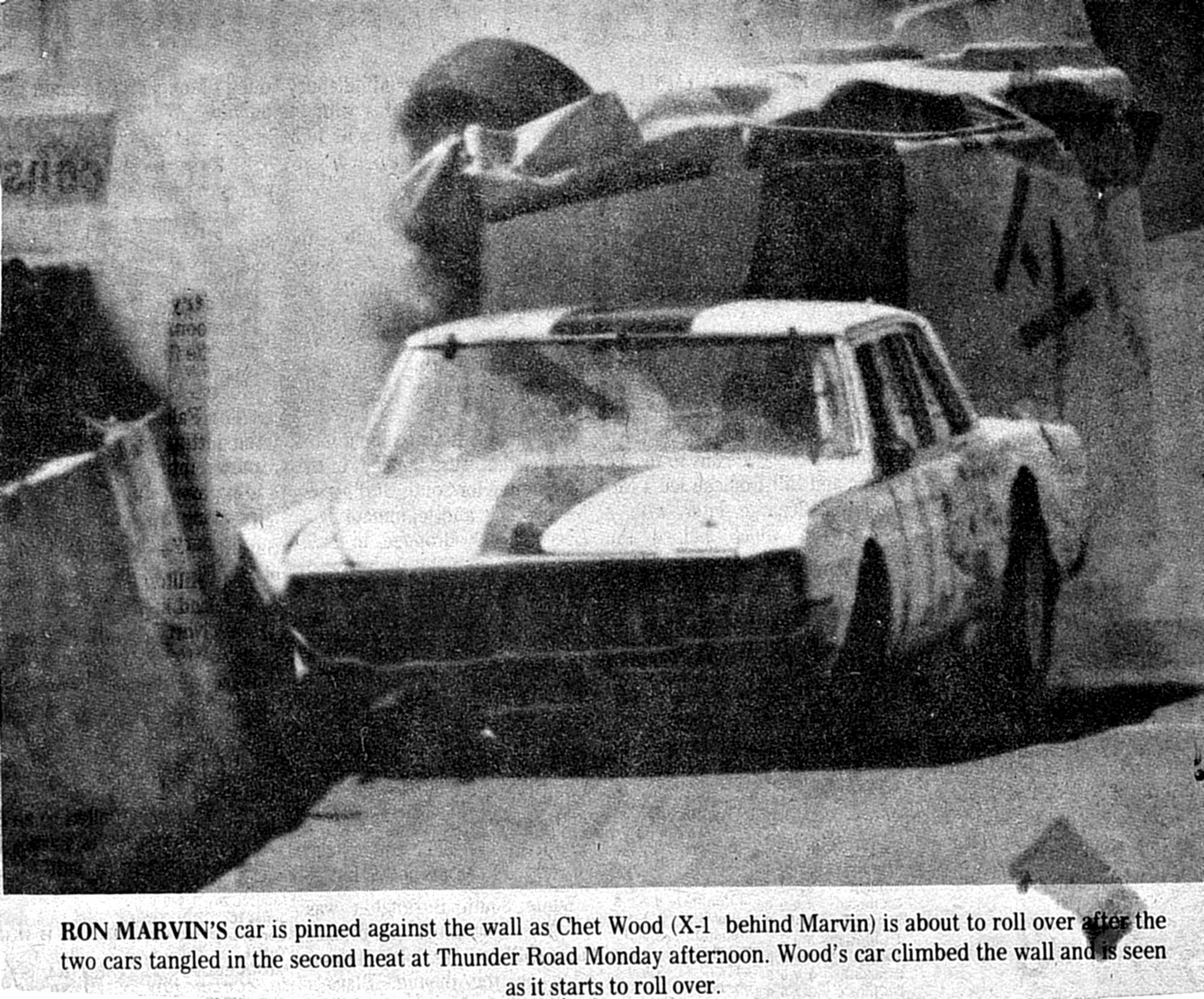 Burlington Free Press Photo

Chester T. Wood managed a number of victories in the flathead coupe era – almost entirely at Thunder Road. Eventually, he was disallowed from running the tractor seat, but his flat – top coupes never were anything too flashy. He is shown both in Victory Lane and – in other cases – sitting, stunned beside a wrecked X-1 somewhere off the Thunder Road high – banked track. As the tracked entered 1965, the overhead V-8's were allowed into the track's coupe class, as NASCAR took over. The flatheads were grandfathered for that one final season. Chester T. Wood would eventually disappear into the woodwork and he was not heard from until around 1971.
In 1971, Catamount and Thunder Road, still under the NASCAR banner, entered into the late model sportsman era. They had taken 1970 to transition from the Flying Tigers, using limited sportsman cars that year. In 1971, in somewhat of a surprise to many observers, Wood showed up again, sporting a pretty homemade – looking yellow 1962 Plymouth. While not used, the late model looked like he had left it out in a snowbank most of that winter; the homemade lettering on the body did little to dispel that impression.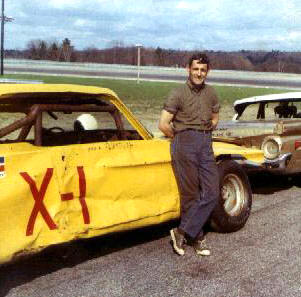 Courtesy of Rich Palmer
Wood poses with the Plymouth on the Catamount track in 1971. The
car looked like this new. Below – Wood nudges Tom Tiller's Dodge
in 1971 Thunder Road action.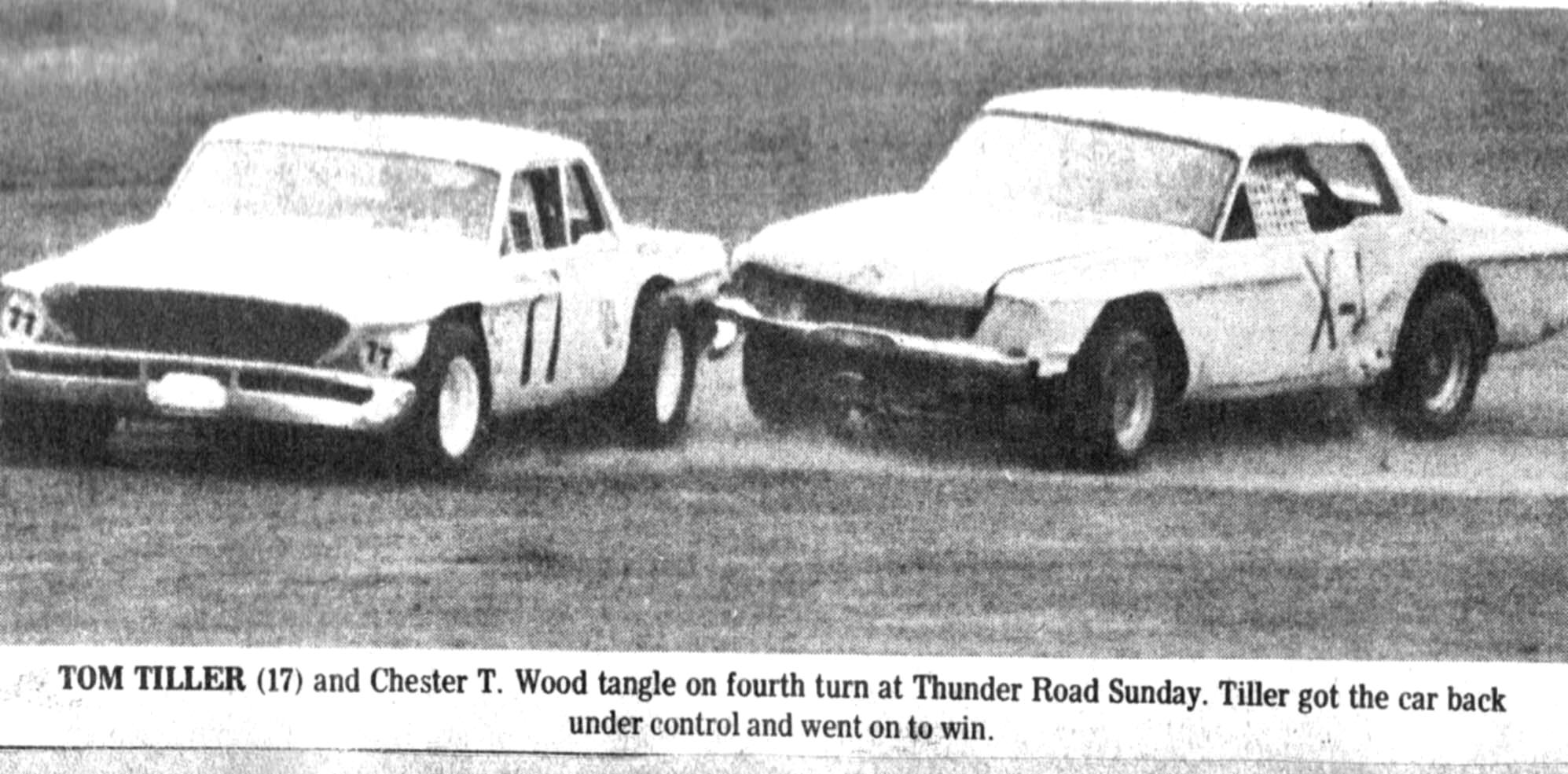 Burlington Free Press Photo Courtesy of Wayne Bettis

Chester T. still had a working relation going with who seemed to be one of his all – time lead mechanics – Calvin Frost of Hardwick, reputedly a tractor mechanic. Wood's appearance came when many of the Catamount teams coming in were well – financed, with cars having been constructed by professional builders like Fred Rosner and Banjo Matthews. Curious pit hangers actually peered into the homely yellow Plymouth, expecting to see a tractor seat.
As luck would have it, the modest Wood X-1 pit was located right near the impressive and showy newcomers, the Agawam, MA – based John Rosati #36 team. The Rosati tour de force included paid crewman Fred Rosner, two matching haulers, and two brand new Rosner – built 1967 Ford Fairlanes. We all assumed they must have money coming out their ears, but then 16 year – old crewman Steve McKnight, a Barre native, tells me today that the Rosati family [which owned a modest dump trucking business] had thrown in most of the family cards for this effort.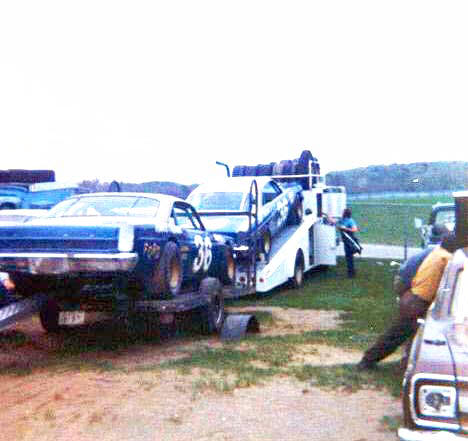 Ladabouche Photo
The Little John Rosati outfit arrives at Catamount. Below – Little John Rosati [center]
and Barre native Steve McKnight at far right.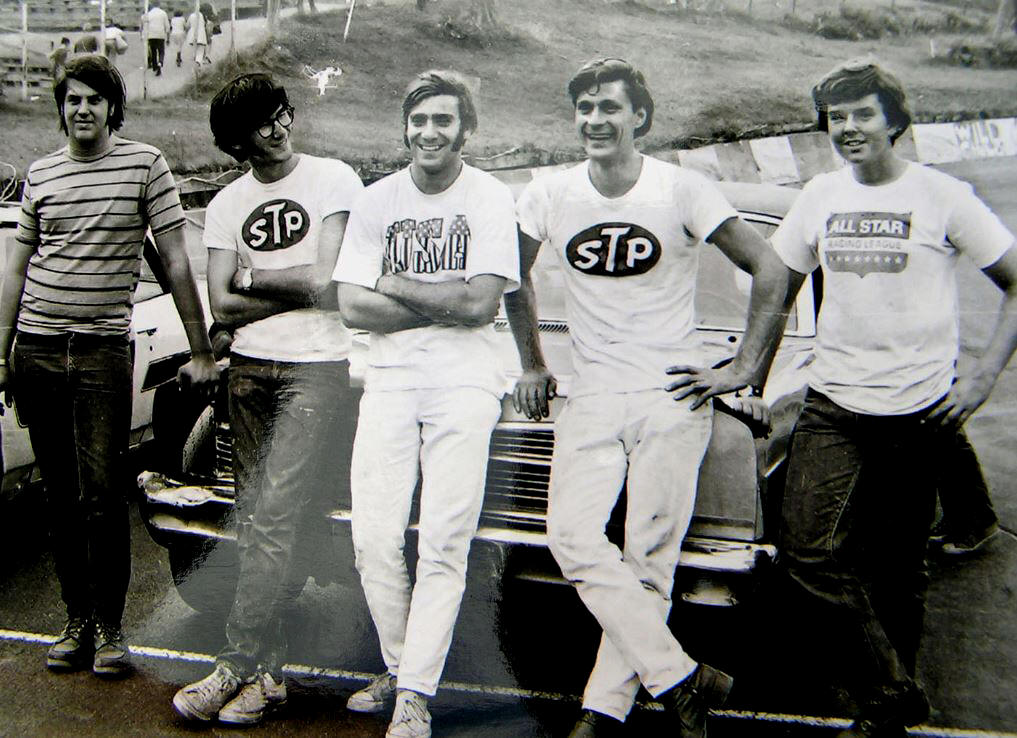 Courtesy of Cho Lee
Despite good - natured cautions by the young McKnight [who knew how Chester T. Wood could perform] the Massachusetts guys were pretty amused by the scruffy – looking Wood group and their ugly Plymouth. After some early clumsiness [after all Wood hadn't driven in at least seven seasons] and some frantic searching for needed extra spark plugs, Chester T. went out and eventually outdid his young Massachusetts rival in the first feature of that new era. I would imagine the Plymouth was again looked over, but this time with less amusement.
Wood would have his share of success in that 1971 season – enough to attract some supporters with money. The following year, he came out with a very non – Wood – like 1962 Dodge. The yellow Mopar had nice body work, better lettering, and the team seemed to have more operating assets at their disposal. Chester T. never seemed comfortable with this slicker image. He even seemed to chafe at wearing the nice new driver's suit. He didn't have a particularly great year and never came back again. The old Plymouth ended up with Alex Alexander, but I have no idea what became of the nicer Dodge.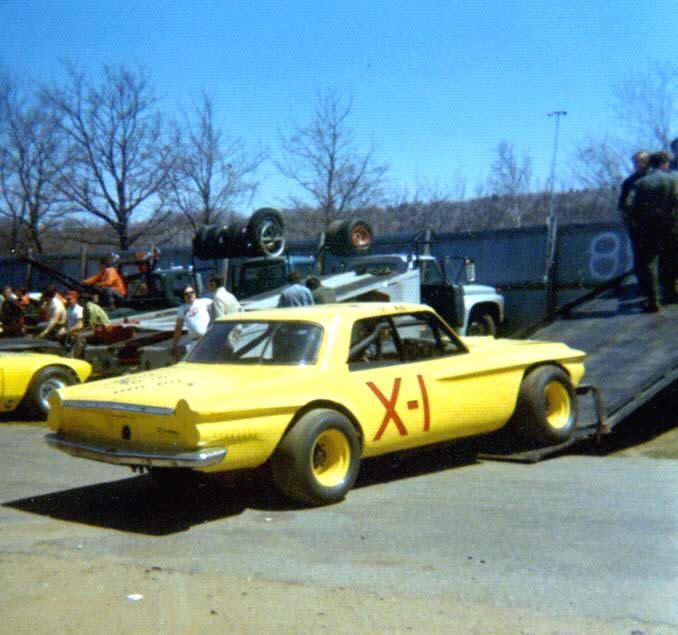 Ladabouche Photo
The final, un – Chesterly Dodge on its first outing at Catamount.
Below – The Plymouth, as it sat at Alex Alexander's place.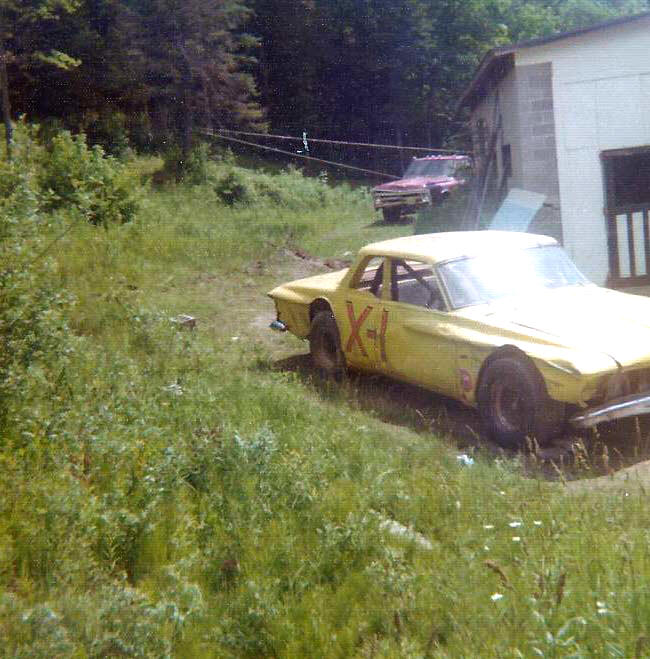 Courtesy of The Alexander Family
Chester T. Wood is gone now. He was never the type of retired veteran to hang around the tracks anyway. He leaves a legacy of those sheep shear haircuts, old Keds sneakers, baling wire repairs, and the tractor seat. He was definitely not just a character; he was a many – time feature winner particularly at Thunder Road. Those days of the 1960's and 70's offered room and a stage for characters like Al Crockett, Chester T. Wood, and even Ronnie Marvin to race. Today – probably not likely.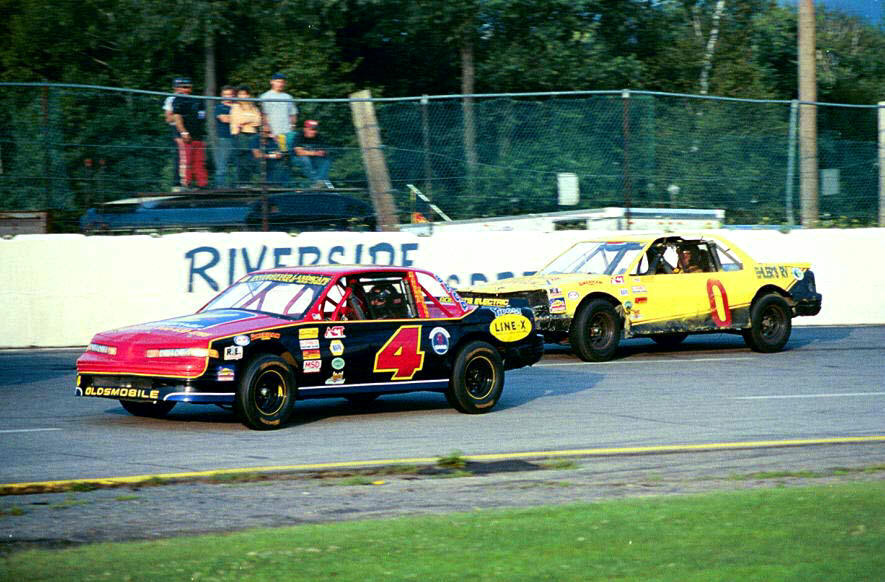 Al Ward Photo
Can characters still exist ? You betcha !

Please email me if you have any photos to lend me or information and corrections I could benefit from. Please do not submit anything you are not willing to allow me to use on my website - and thanks. Email is: wladabou@comcast.net . For those who still don't like computers - my regular address is: Bill Ladabouche, 23 York Street, Swanton, Vermont 05488.
AS ALWAYS, DON'T FORGET TO CHECK OUT THE REST OF MY WEBSITE
www.catamountstadium.com
Return to the Main Page
Return to the Main News Page
Return to the All Links Page
Return to the Weekly Blog Links Page