BILL'S [Somewhat] WEEKLY COLUMN/BLOG PAGE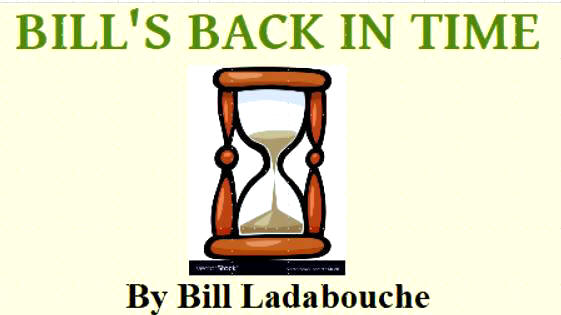 GUYS LIKE WEBSTER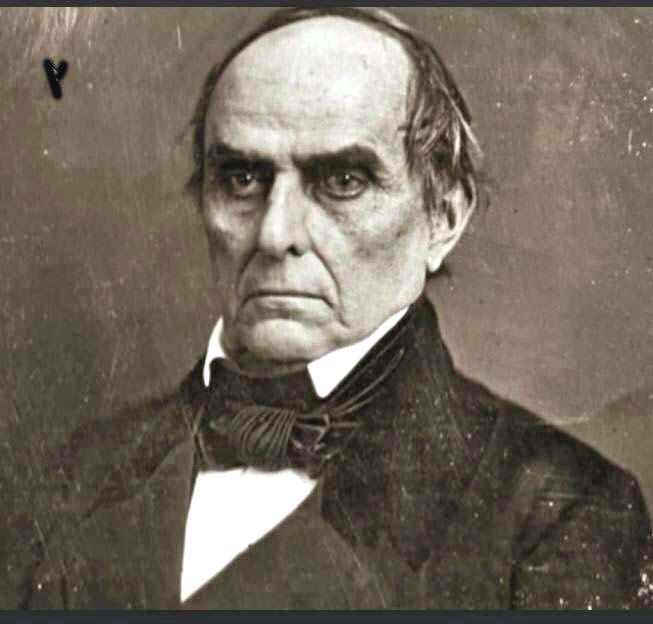 www,joshshalek,com
Daniel Webster, in what must be one of the earliest photo processes possible. I wonder if he was as much fun as he looks here.


The name "Webster" immediately sets on to thinking about Daniel Webster, the great American politician, and Noah Webster – of dictionary fame. Then there was a lovable kid on a 1983 TV comedy. But, in this case we're talking about an obscure race car driver, one of the many dozens who populated the fields of cars at Milton, Vermont's Catamount Stadium and who helped to make that great venue's shows more full and entertaining. It certainly wasn't all about Beaver and Bob Dragon, Ron Barcomb, Bill Slater, Dick McCabe, and the myriad selection of other famous drivers who were regulars at Catamount.
Webster Krupp was a round man, a taxi driver in the small city of St. Albans. A community ravaged by the virtual death of the railroads that built it in the first place, St. Albans struggled through the 1960's with remaining employers such as the Fonda Plant [paper cups, plates, and such], Leader Evaporator [ maple sugaring equipment], "the Carbon" [an EverReady plant which assembled mostly flashlights], and the greatly – reduced railroad business that still remained in a large number of like – designed brick buildings down near the tracks.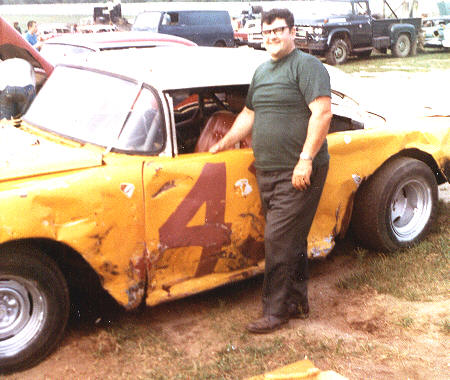 Both Photos Courtesy of Rich Palmer
Webster Krupp poses proudly a well – used #43 Chevy at Catamount.
Below – Krupp is seen dodging a catastrophe in Catamount's
turn one.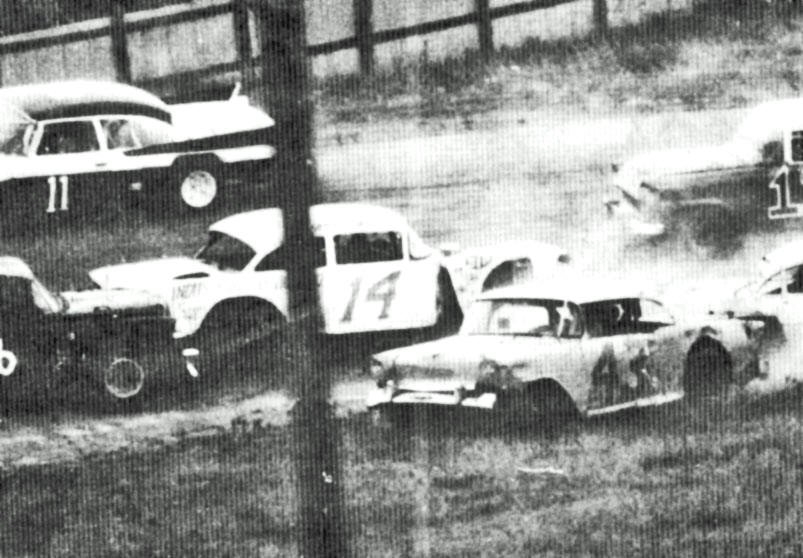 In many cases, especially the poorer of those people living in St. Albans needed to get places and did not own a car; so, it was up to Webster and a few other single – car taxi businesses to get them to the bank, the grocery store, or maybe the local VFW. He and his wife, Arline managed to make a living with the taxi and raise successful children in the process. Webster's one interest for himself was a tired – looking '55 Chevy that he ran in the Flying Tigers division at Catamount for a couple of years in the mid 1960's.
All these many years later [50 to be exact], Webster is long gone, but my wife and I have Arline at the small residential care home that we run in Swanton, north of St. Albans. A fiesty 95 year – old, she clearly recalls the racing and is delighted to point to the photo I gave her. It shows a pudgy, dark – haired man standing next to a battered yellow '55 Chevy hardtop convertible Chevy, numbered 43. She is quick to point out that the race car was expensive and it was hard to find money to keep it in tires; but, she never complains about Webster's little hobby.
Unless you were an early Catamount regular, you likely had no idea who Webster Krupp was. The title of his photo actually has the picture as being of Johnny Malone.
Neither myself [not at Cat until 1968] nor my friend, Cho Lee knew who the guy with the old yellow Tiger was. Webster managed to keep up near the top ten in points mosto f the time and that's pretty good for a low budget guy.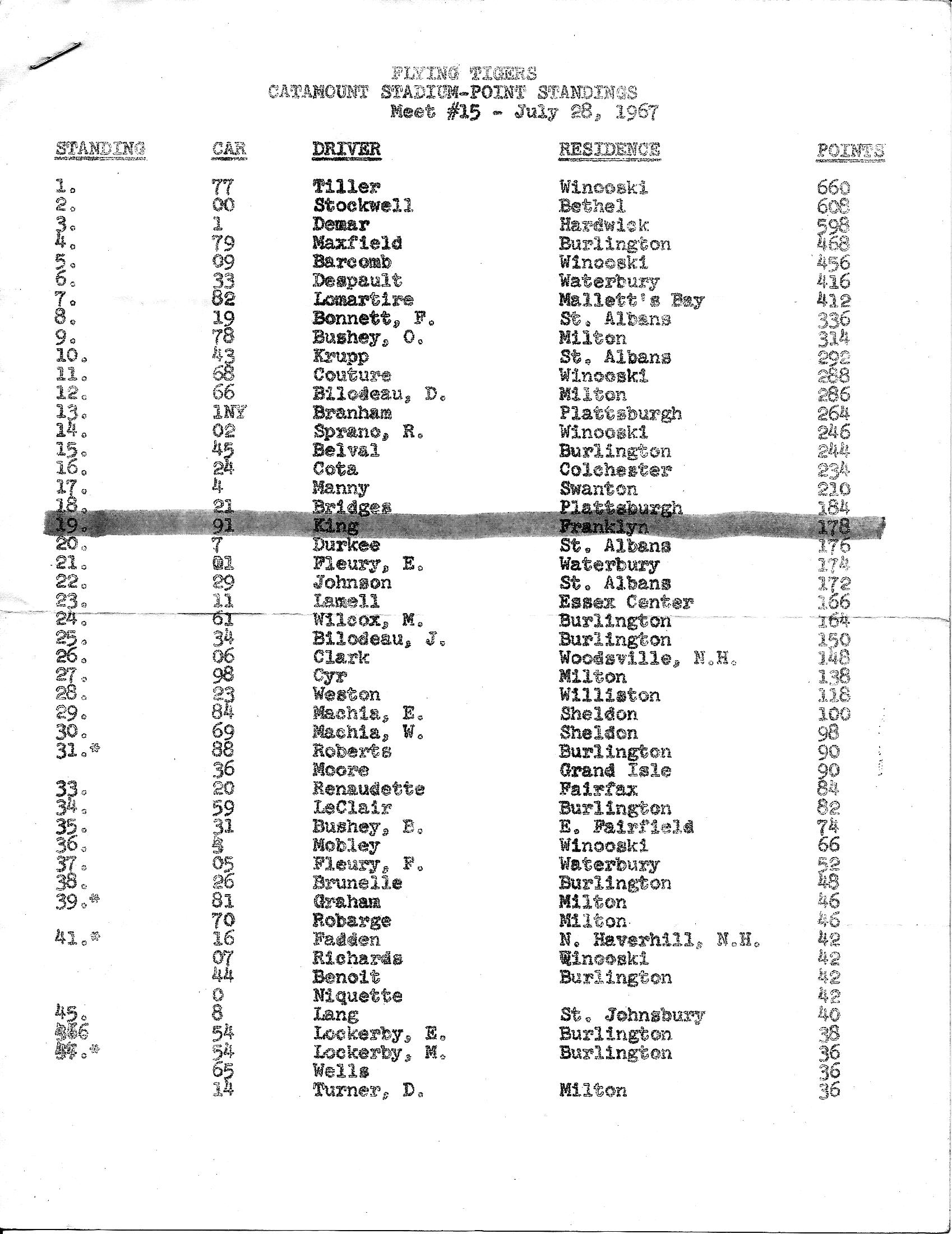 Courtesy of Andy King
This complete points sheet late in July shows Webster haging in there in the top ten. Coke Lomartire is clearly the class of our blog subjects here. Bruce King is the "highlighted" one [then in 19th]. Brunelle is also seen towards the bottom. Only Roger Rushlow is missing. He had stopped racing by 1967. Below - Mrs. Fred Bonnette, Sr., herself a mother of three racing sons and one racing grandson - found time to include a neighbor [Webster] in her notations.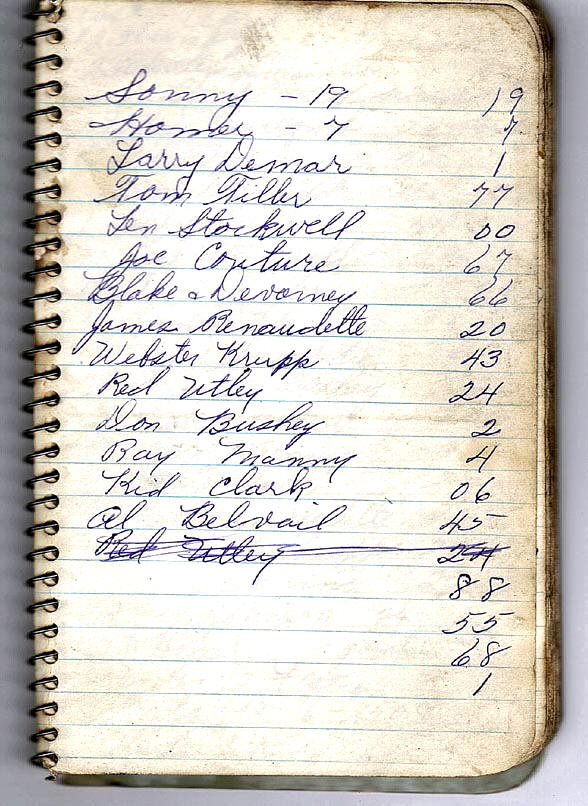 Courtesy of the Bonnette Family via Ron Bonnette


I got a copy of the 1967 Catamount late July points for the Flying Tiger division [then in its second year]. The division had settled down somewhat from the hodgepodge it was in 1965 when Catamount opened. That first year, with car counts low, the track allowed a wide variety of cars including former B Class cars from Thunder Road and Northeastern Speedway, as well as a number of cars from Airborne Park Speedway, across Lake Champlain, that were likely superior to local cars and the old B Class cars.
Webster had managed to finish tenth in the points. This was not to sneeze at, given the large number of competitors in the Tigers by then and the level of competition that was developing. By 1966, both Dragon brothers were racing, and they were joined by the likes of Tom Tiller, a Kentucky native airman stationed nearby; Ron Barcomb, a local sports star from Winooski High School whose family's salvage business left him with considerable resources; Stanley "Stub" Fadden, a North Haverhill, NH former B Class driver with high skills; Art Taylor, from Swanton, who would be the 1967 champion; Clem "Desperate" Despault, who fielding a potent Chevy with input from leading mechanic Bob Pratt; and dozens more. Then there was the champ that year – Jim LaFountaine with his fast Ford.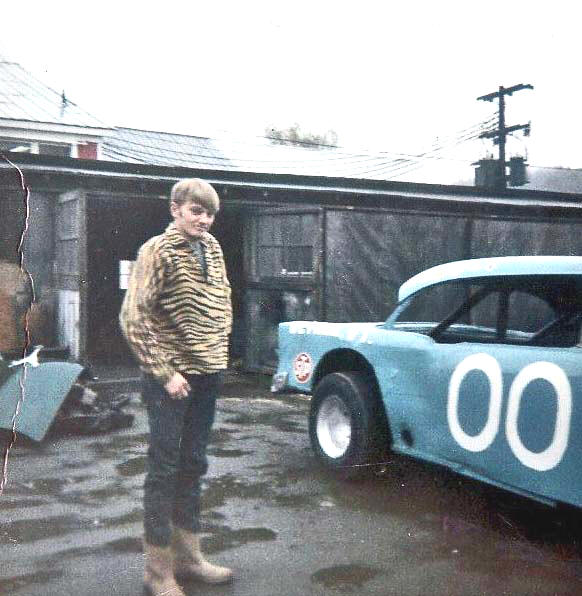 Courtesy of Mike Massaglia
Among the heavy hitters in 1967 included Lennie "Tiger" Stockwell [shown with his car at home in 1968] and Tom Tiller [below],
shown with fellow Tiger stars Norm Cyr, Larry Demar, and Stockwell. Tiller is 2nd from right; Demar, I think won the title at Catamount that year.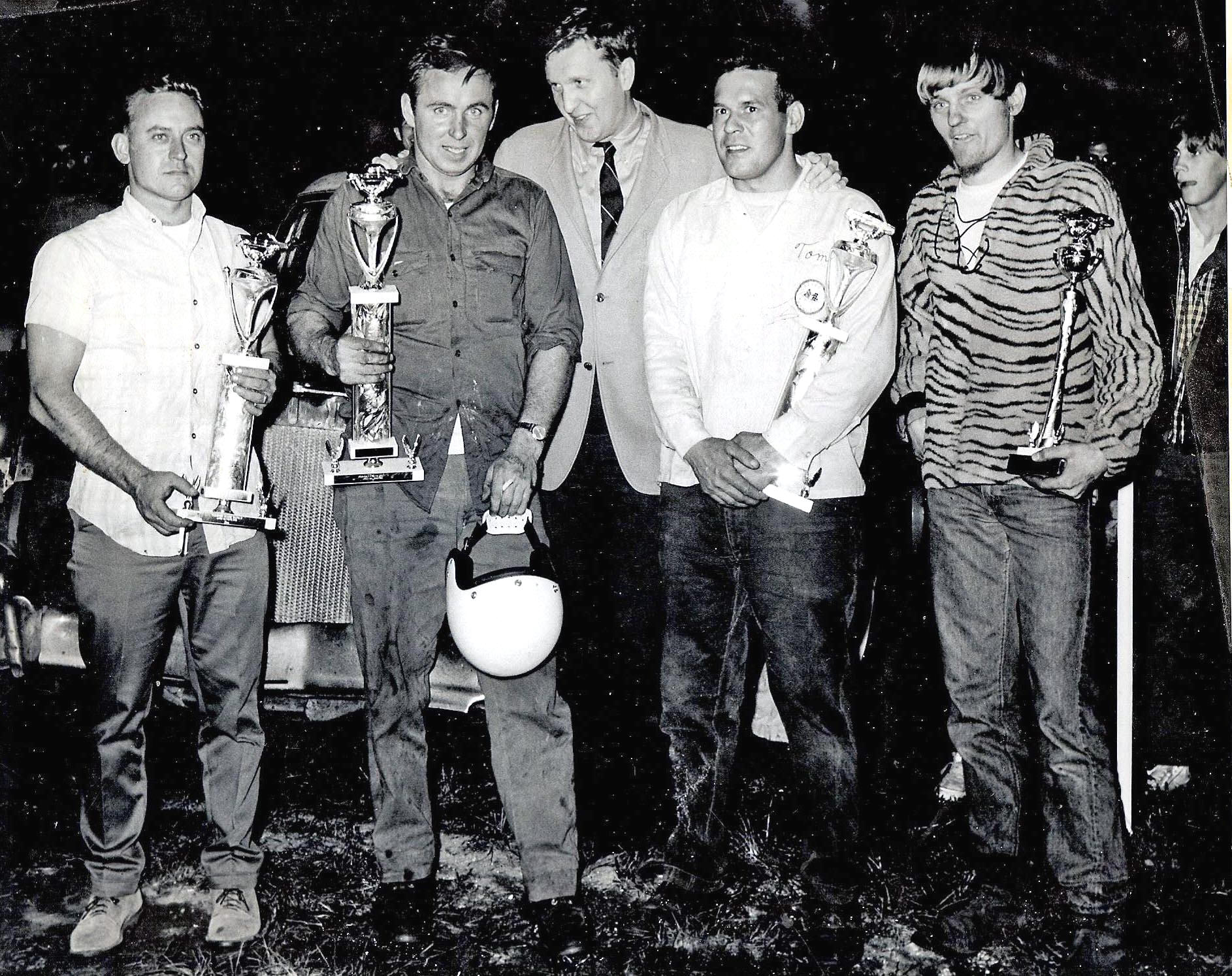 Courtesy of Melody M. Anukem
By the time I got up to Milton to teach in 1968, Webster Krupp wasn't racing much any more. In fact, until I began doing this work in 2005, I never heard his name mentioned. In fact, the one good photo I have is mis – identified as someone else. But he and some of the other dozens of field fillers and low budget operators were the backbone of the sport. By 1970, the Flying Tigers were in the process of being upgraded to the Limited Sportsman class, a designation that used to be held for sportsman coupes with smaller motors. Webster's faithful car would have seen its last days by then anyway.
Another little guy [not in stature] was Roger Rushlow. Having grown up beside the Dragon boys, the Turners, and all the other racing names in Milton, the large, muscular Roger had gotten himself a behemoth 1955 Pontiac and ran the Flying Tigers for a couple of seasons in the first few years of Catamount. He ran the car as #22 and appeared from the few photos I have of early Tiger action to be able to run in the thick of the battles while probably not winning much.

Courtesy of Cho Lee
Rushlow leads the way in this early Flying Tiger feature at Catamount.
The Sibley boys' amazing tree house is in full view here.
Below – Bob Dragon leads the field in his first year and Rushlow
runs mid field. Check out the cheapskates out by the interstate
trying to get a free show.


Courtesy of Cho Lee
Rushlow leads the way in this early Flying Tiger feature at Catamount.
The Sibley boys' amazing tree house is in full view here.
Below – Bob Dragon leads the field in his first year and Rushlow
runs mid field. Check out the cheapskates out by the interstate
trying to get a free show.

I first got to know Roger in 1970 or so. He was my trash collector, and he was one of my first customers when he had his pride and joy compactor truck lettered up with an alliterative "Roger's Rubbish Removal". While climbing around the big truck was not easy, I was grateful to have the work. Roger never mentioned that he ever raced until the 2000's, when he talked about buying an old Malletts Bay coupe and ended up trying somewhere like Bear Ridge Speedway, if I recall correctly.

Roger had disappeared from the Catamount racing scene by the time I got into town in 1968. Obviously, he had something better to sink his money into. He came from a large group of Milton boys who tried their luck in the Flying Tigers in the 1960's: Beaver and Bob Dragon, Ron Wells, Jim Barton, Donald, Ira, and Ernie Turner, cousins Steve and Timmy Turner, Roger, Don Bilodeau, John Bilodeau, Mick Wilcox, and Norm Cyr. The Tigers were just a springboard for the Dragons, but most of the rest never went any higher and most didn't race a long time.



Ladabouche Collection
In an all – Milton effort, Norm Cyr hits John Bilodeau driving
Steve Turner's car. All three were home towners. Below – Milton's
own Mick Wilcox with the 61, a number used by several Miltonians.
Again, the infamous tree house is visible.


Courtesy of Lloyd and Greg Gilbert



One of the most interesting names of that period was that of the driver of car 82 – Cosimire "Coke" Lomartire. Having grown up on one of Malletts Bay's large truck farms, Lomartire was on the ground floor of his mother, Alice's farm – competing with the larger Sam Mazza and Bigante operations. Coke ran a season or two in the Flying Tigers. Just as the Lomartire farm sort of slipped under the waves by the 1970's, so, too did Coke's racing career. Doubtless, he had better things to do trying keep the truck farm going. It used to be said that somewhere, in one of the decaying greenhouse buildings on the Lomartire property on Malletts Bay Avenue, you could still find Coke's race car. [That was a while ago now].


Courtesy of Lloyd and Greg Gilbert
Coke Lomartire, posing with his car around 1968. Below – Notes kept
Mrs. Fred Bonnette show that Webster Krupp and Coke Lomartire
managed to remain up in the standings at Catamount. Bruce King
started too late and raced too seldom to be in the mix that year. Sonny,
right under Lomartire, is the Bonnette son racing at the time.




Courtesy of Ron Bonnette

One of the shorter – career, but more successful guys in the Tigers was one Bruce King, from Sheldon. Hooked in with the racing Bonnette family from St. Albans, Bruce [another hefty man like Webster Krupp] ran a Chevy numbered 91 at Catamount and – when possible – at Thunder Road. Bruce was developing a small but very good car repair business out of a building on the family property in Sheldon, so he did have more pressing concerns than just fielding race cars for Thursday and Saturday nights.

Mrs. Bonnette, mother of the well – known St. Albans welding family that produced Catamount drivers Gene, Fred [Sonny], and Ron, kept some very close notes in a small notebook for the 1967 season. She paid special attention to son, Sonny, as well as Sheldon driver Homer Durkee and Webster Krupp. Seemingly at once, towards the end of the season, as Ford sensation Larry Demar was leading Tom Tiller and fan favorite Lennie "Tiger" Stockwell, Bruce King's name begins to appear in the notations for the first time.


Courtesy of Andy King
Bruce King, in Catamount Victory Lane after winning the Tiger
portion of the Governor's Cup race. Below – King, with
then Vermont Governor Phil Hoff. Today, you'd find the
state's governor racing on the track.




The Bonnette notebook shows over 60 entrants in the Tiger division. [Imagine that today anywhere ]. Besides Durkee, Sheldon neighbors Winston and Earl Machia are mentioned – although not with many points to their credit. It seems like immediately King was finishing up with the big boys – ahead of the more experienced friends Bonnette, Durkee, and the Machias. Her notes even chronicle a trip to Airborne Park Speedway, at which he and Sonny Bonnette finished well and got whopping purse money like $45 and $35.

The high point for Bruce King was winning the Flying Tiger version of the prestigious Vermont Governor's Cup race. He is seen in Victory Lane with then Governor Phil Hoff, having outrun Rene Maxfield and Tom Tiller . Mrs. Bonnette's dispassionate notes read:"15th race. Bruce got the Governor's cup. Gene rolled over 3 ½ times. Sonny did not make the feature". She goes on to chronicle that, on August 27, Bruce joined the Bonnettes, Earl Machia, and a Swanton man named Dave Sweeney in a team demolition derby.


Courtesy of Lloyd and Greg Gilbert
Fellow Franklin County Tiger drivers Earl Machia and Homer
Durkee [below] were part of the demo team that included King.


Courtesy of Lloyd and Greg Gilbert


Not much more is said about Bruce King, and I am pretty sure he never raced late in 1968, when I was in attendance. As mentioned, he was very serious about his car repair business that blossomed into a very impressive modern facility on Route 105 in Sheldon before his untimely death. Bruce must have been a natural at he sport because he certainly did not race for long and still managed to win the biggest race of the year for the support division. Ironically, his later used car dealership was built just mere feet from one of the two former race tracks that had been located in that small town of Sheldon in the earliest part of the 1950's.

I don't know much more about our last little guy than the others. Dave Brunelle is mistaken, in older Catamount Flying Tiger Photos for the slightly higher – profile Milo Lockerby because the latter used the same number and graphics scheme as did one of the last Brunelle cars. The earliest Catamount Tiger class had Bob Brunell, a Peru, NY native who enjoyed a healthy racing budget and enough skill to move on into modifieds and late model sportsman cars. Different spelling; different families. Dave ran several of the earliest years at Catamount – almost always with a car 26. The 54 [that got him confused with Lockerby at times] came at the end – in the Hurricane Division after 1970.


Courtesy of Dave Brunelle
Brunelle, friend Carl Bushey, and the Coke yellow #26 at
the bottling plant. Below – Dave with an earlier car. It
appears to be a mid 50's Mercury.


Courtesy of Dave Brunelle

Dave sent me a number of photos of his cars – he seems to have been a staunch Ford man, much like Hardwick's Larry Demar, a Catamount Tiger champion. I love this one particular shot when Brunelle has an all - Coke yellow #26. Like a few other early racers, he had a connection with the Coke bottler [may have worked there] and had access to that yellow paint all the Coke trucks used to have on them.

Mrs. Bonnette's notes often show Dave Brunelle. It appears that he was always in the thick of things while not registering wins. This allowed him to stay within the top twenty in points in that huge Flying Tiger class in 1967. I know he raced, on and off, in that year, as well as 1968 and one of the earliest Hurricane class years as well. Earlier than 1967 – I can't say.


Courtesy of Dave Brunelle
Dave Brunelle left the number 26 for the red, white, and
blue #54. That would continue with Milo Lockerby in the
Hurricanes. Below – Dave Brunelle.


Courtesy of Dave Brunelle



Like most of these local warriors who didn't get the media attention, the newspaper photos, and the larger legions of fans stopping by the car after the races, Dave is still fiercely proud of his racing and what he managed to accomplish with out the financial resources of a Barcomb, the experience of a Dragon, or the tech support available to folks like Bill Branham. Nevertheless, the 26 appeared and raced very admirably almost every week all season long.

It probably need not be said, but I will: it was the Web Krupps, the Roger Rushlows, the Coke Lomartires, the Bruce Kings, and the Dave Brunelles that really built Catamount and who made the sport something the average family wanted to go see. Most of the average folks were not heavy into the big names and their lore – they just wanted to see their friends, neighbors, and relatives go out there and do well.
Please email me at wladabou@comcast.net if you have any photos to lend me or information and corrections I could benefit from. Please do not submit anything you are not willing to allow me to use on my website - and thanks. For those who still don't like computers - my regular address is: Bill Ladabouche, 23 York Street, Swanton, Vermont 05488.
AS ALWAYS, DON'T FORGET TO CHECK OUT THE REST OF MY WEBSITE:
www.catamountstadium.com
Return to the Main Page
Return to the Main News Page
Return to the All Links Page
Return to the Weekly Blog Links Page