BILL'S [Somewhat] WEEKLY COLUMN/BLOG PAGE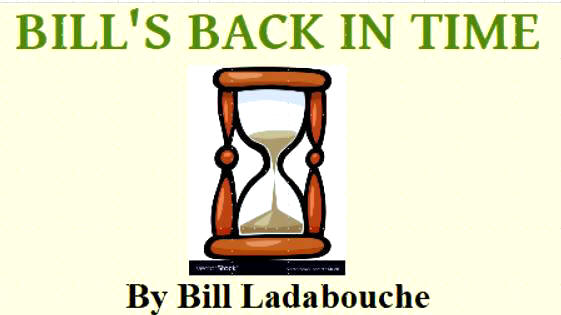 Oh, THAT Stateline Speedway !!!
To those of us around where I live [ie., Vermont, northern Massachusetts, eastern New York, and western New Hampshire Stateline Speedway was a very important and pivotal track located in North Bennington, VT – sitting partly in New York. To people of the Southern Tier New York area, and areas nearer to that, Stateline Speedway was [and is] a track in Busti, NY. Located near some other towns that had early race tracks such as Frewsberg and Jamestown, it might be somewhat near a state line, but nothing like Bennington.
StatelineBennington, as we shall call the earlier one, was established right around 1950, when the immediate greater Bennington area actually briefly had two tracks- that one and a horse track that ran a few car races out on Burgess Road. StatelineBusti was constructed in 1956, and had Jamestown Speedway, Roll – O Bowl, and Rock n' Roll Speedways in towns nearby. The two would have operated in the same years of 1956, 1957, 1958, and 1959.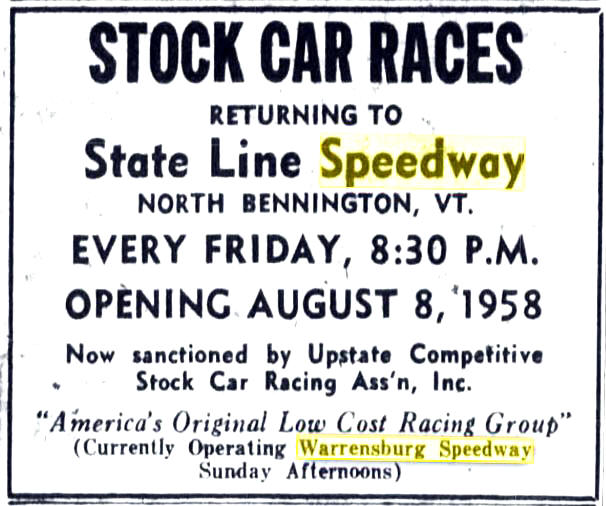 Glens Falls Post Star
This ad appeared in 1958, although there is no proof the
races ever got off the ground. Another 1958 ad promises
motorcycle races. Ironically – a year later – Busti actually
did the cycles for a while.


Jamestown Post Journal
Both venues had some loyal press support from local papers. While StatelineBennington had coverage in the Bennington Evening Banner, two Troy, NY papers, the North Adams [MA] Transcript, the Rutland[VT] Herald, and the Berkshire County Eagle, Stateline Busti seemed to depend primarily on the Jamestown Post Journal.
StatelineBennington was an existing horse track with adequate old grandstands. It belonged to a Michael Akhoury, who was reputed to be an uncle to the great New York stock car driver Pete Corey. It operated through 1950 with some moderate competition from the as – yet unnamed Burgess Road oval. Its biggest problem was being nearby to the Manchester, VT fairgrounds, which ran regular racing in 1950. Later in the 1950 season a mechanic from Holyoke, MA named Arnold Gagnon was struck and killed when a race car veered into the infield.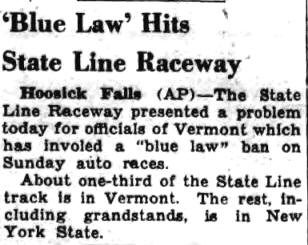 The Saratogian
The knotheads tried stopping Stateline in October of
1950 but [Below] it didn't work out. So sad !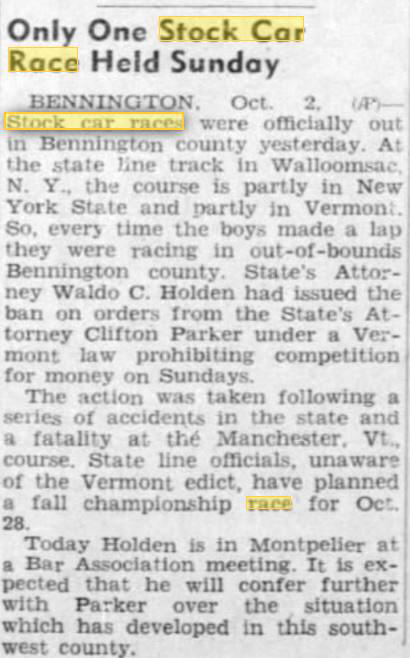 Newport Daily Express
Between that disaster and another non – fatal accident at Colchester Raceway near Burlington that same year, Vermont States Attorneys and District Attorneys went on the warpath late in 1950, using archaic Sunday Blue Laws to shut down stock car racing. With part of its track being in New York, there wasn't much the State Police could do with StatelineBennington. It continued programs. Incidentally, that same track also benefited again in 1951, when New York authorities tried the same thing. The yet – unborn Busti track never went through any of the nonsense.
StatelineBennington would be able to stage some of the Northeast's very best stock car teams. They had the usual local Vermont and New York talent from a radius around the area; but, they also had regular forays from drivers from Connecticut [particularly the Putnam area] and from areas in northern Vermont and New York as well. Even a few New Hampshire teams ran there; but often their cars were not legal for what was run in Bennington.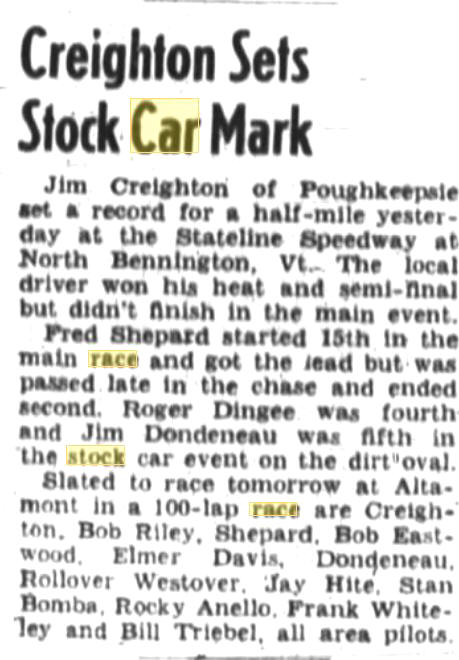 Poughkeepsie Journal
After a brief period in the first season where out of state [and
out of the area] New York drivers dominated, Stateline's local
drivers took over [Below ].Danish winning became a
familiar event.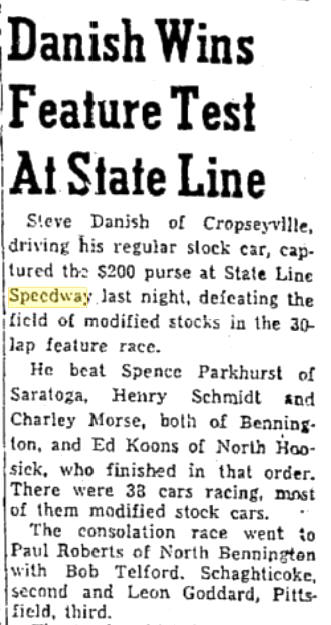 Troy Times Record
The Bennington track is somewhat synonymous with certain drivers such as the legendary Cropseyville, NY driver Steve Danish. The great Jeep Herbert, a definite rival of Danish's at a few tracks, was very successful there as was Charlie Morse, a Massachusetts runner. With occasional hot streaks from the Connecticut bunch, StatelineBennington was arguably the stomping grounds of the New Yorkers.
In the earlier years of the track, Stateline drivers also drove at tracks ranging from Empire Raceway, Menands, NY; Burden Lake Speedway, NY; Pico Raceway, Rutland, VT; Fairmont Raceway, Fair Haven, VT; Mettowee Speedway, No. Granville, NY; and – by 1953- the new tracks at Fonda, NY and New Lebanon, NY. With so many top notch tracks to run at – the immediate region could boast of having perhaps the best competitive racing anywhere around. At one point or another, there was also intermingling of racers from Stateline and Pine Bowl Speedway near Troy, NY; West Brattleboro Speedway, W. Brattleboro, Rhythm Inn Speedway, Millers Falls, MA ; the Cheshire Fairgrounds track near Keene, NH; and even the Rhinebeck[ NY] Speedway.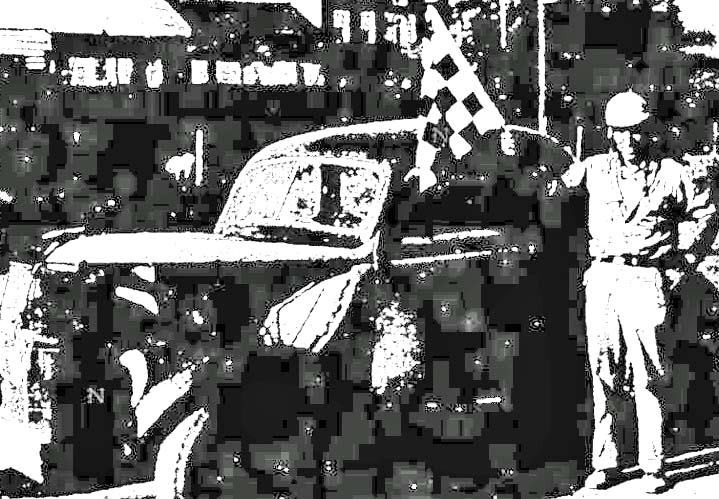 Bennington Evening Banner
Ted Langlois, from the considerable Connecticut contingent and
Jeep Herbert, a very familiar regional figure both played
prominent roles at StatelineBennington.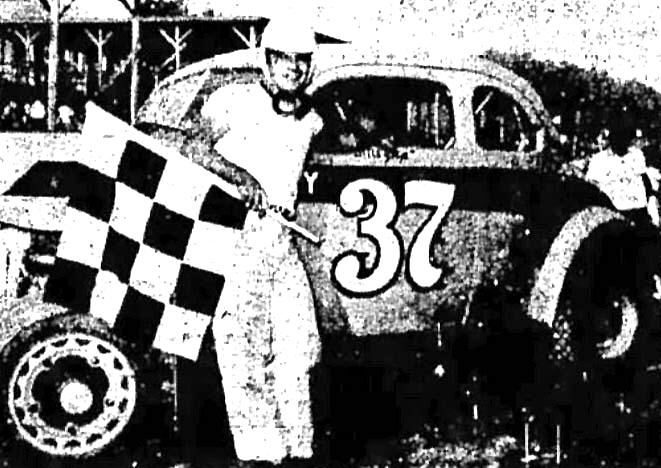 Bennington Evening Banner
StatelineBennington's layout changed little. Turn four was so close to Route 67 that they had to have a rickety wood fence just to keep dirt and stones off the road and keep motorists from stopping for a free peek. Photos of cars in Victory Lane often reveal a large brick house that seemed to be on the grounds. That was then the Five Flies Tavern and was actually across the road. Route 67 was so close to the back of the grandstands that I doubt one could have stopped and changed a flat tire in that spot. It was said some of the less genteel men at the beer stand under the grandstands would spit out through a fence onto Rte 67.
StatelineBennington had spectators go into a parking lot past the stands that was near a New York barn. For a while, a power pole right on Rte 67 had an old Chevy car suspended from it – obviously to attract attention to the track. Being "on the pole at Stateline" obviously had double meaning. There were some buildings right on the fourth turn as it emptied on to the frontstretch. These buildings might have once been stable or something; they looked like multi – stall garages for an apartment building. I have to wonder how many cars rammed into those badly – placed structures. The track alternated between old covered grandstands and equally – old looking bleachers; but I don't know which stands were there first.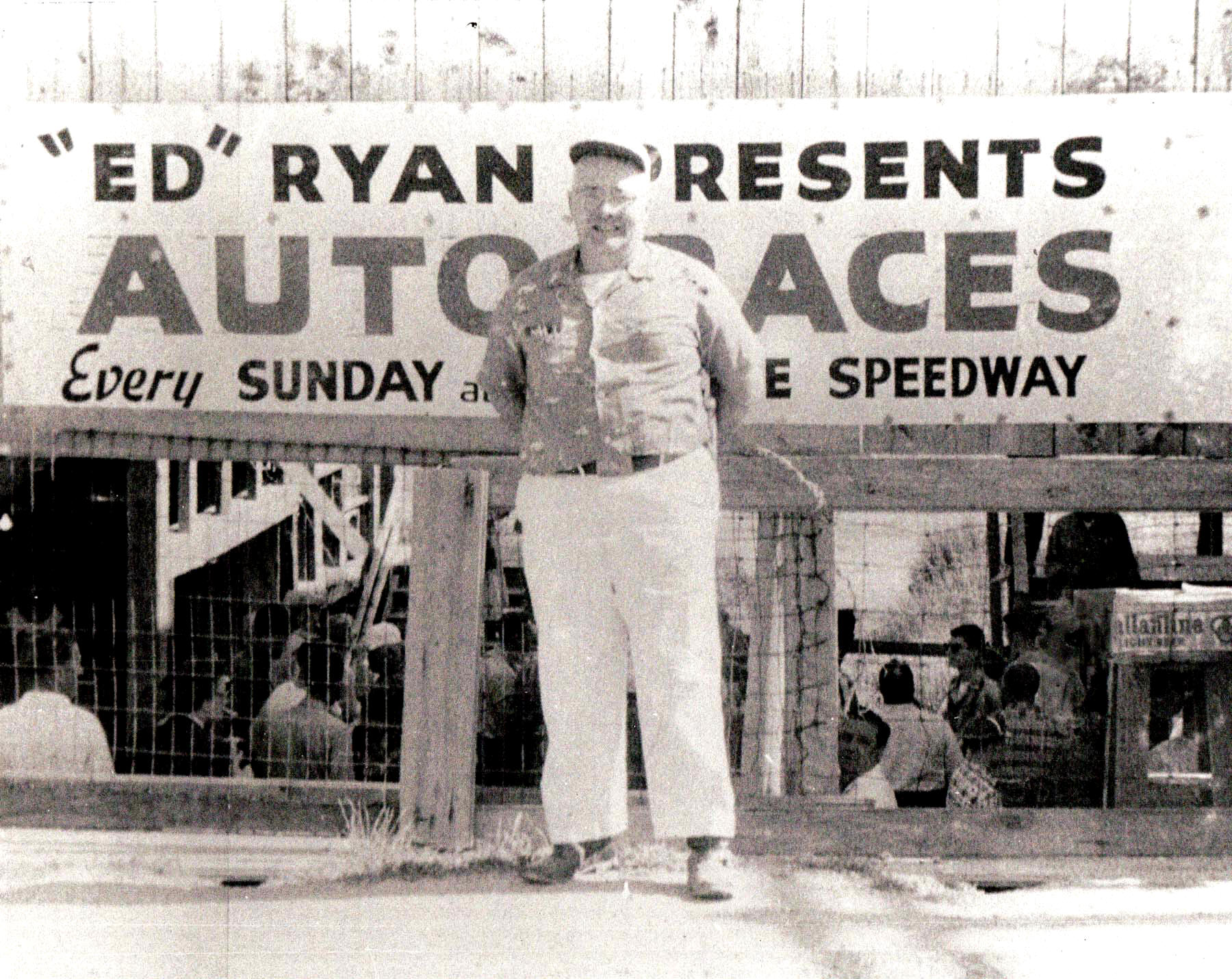 Courtesy of Roger Liller
Congenial Ed Ryan, one of the many who tried running
StatelineBennington, stands behind the grandstands, with
the beer hall below him. The pavement at his feet is Route 67.
Below – This shot of Steve Danish shows not only the strange
turn 4 structures [over and behind the roof of his car] but
also the brick tavern and how close to the track it was.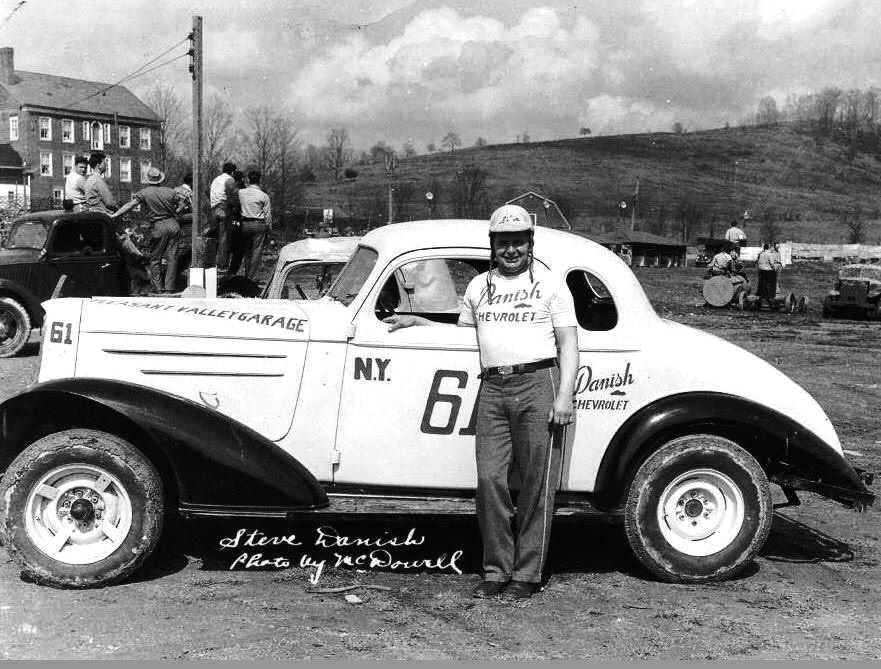 Bob McDowell Photo via Danish Family Collection
StatelineBennington went through phases of success like any other track. It was definitely affected by Fonda Speedway [1953] and by Lebanon Valley Speedway [1953] However, the latter had a rough beginning and created less problems for Stateline than did Fonda. Stateline had some leaner years – perhaps partly because of the NASCAR insistence on fining its drivers if they drove at "outlaw" tracks. It seemed to either run out of luck or run out of promoters willing to deal with it in 1959. There are a few newspaper ads for races in 1958, but I have not found anything yet on the track in 1959.
Scant ads in 1958 indicate Stateline tried running under a group called Upstate Competitive Stock Car Racing Association, Inc., which was trumpeting the fact that racing at its tracks was "low cost'. They also were trying to keep the Old Warrensburg Speedway, in the northern town of the same name running as well. It apparently worked better at the latter track. StatelineBennington, even in the early days, had seemed to like running on Friday nights; this helped with the Saturday tracks like Lebanon Valley and Fonda. Actually, news coverage of Bennington in the years 1956 and 1957 is very sparse, making me wonder if it ran much either season.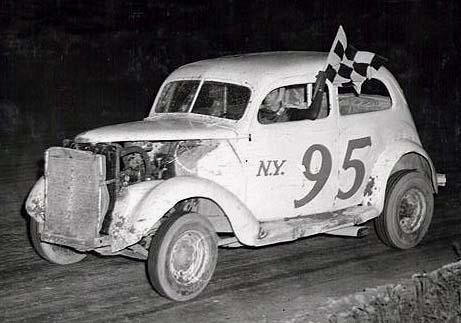 Vogel Family Collection via Ted Vogel, Jr.
Saratoga's George Baumgardner in the Ted Vogel sedan had
one really banner year at Stateline. The team also ran
other tracks in New York. Below - The Tri-City Stock Car Racing group
ran Stateline for a while. Here an offical fills out lineups.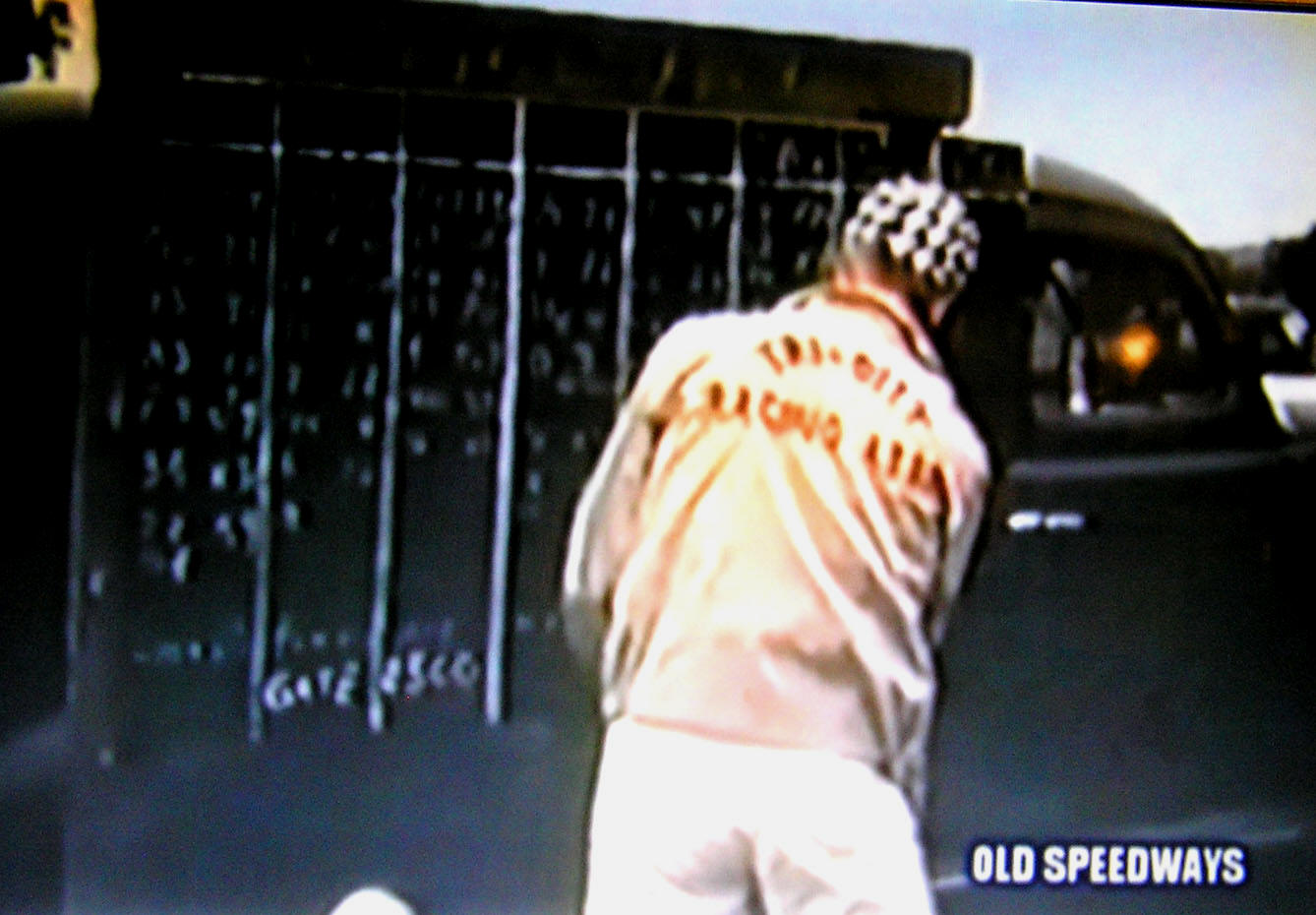 From Dan Ody's 8MM Old Speedways DVD's
1959 was a very pivotal year in my neck of the woods for stock car racing. StatelineBennington had bowed out; the last track running in Colchester [MallettsBay Speedway] was nearing the end of its run; and a new, upstart track called Northeastern Speedway was just beginning in the that far corner of Vermont. It would then bring about the Thunder Road track a year later. By now, the once – important West Brattleboro Speedway was gone; Stateline was gone; there were no tracks left in once – busy Rutland County; Chittenden County, which had once had five tracks running almost at once was down to one sputtering track; and the seminal Northfield track was taking a breather. The important Veterans' Park, Newport, VT was long silent, as well.
That was a time when, in our area, you didn't hear much about Stateline Speedway any more.
However, out in the racing – mad region of Western New York and its Southern Tier, there were sometimes more race tracks than one could keep track of. Racing out there had started in a number of ways. Roadster racing [or hot rods] was a big thing in such places as Seneca Falls and other venues in the late 1940's and earlier 1950's. They caught hell – particularly in 1951 – when New York cracked down on the dangerous roofless racers. The early tracks were really to fairly try to list.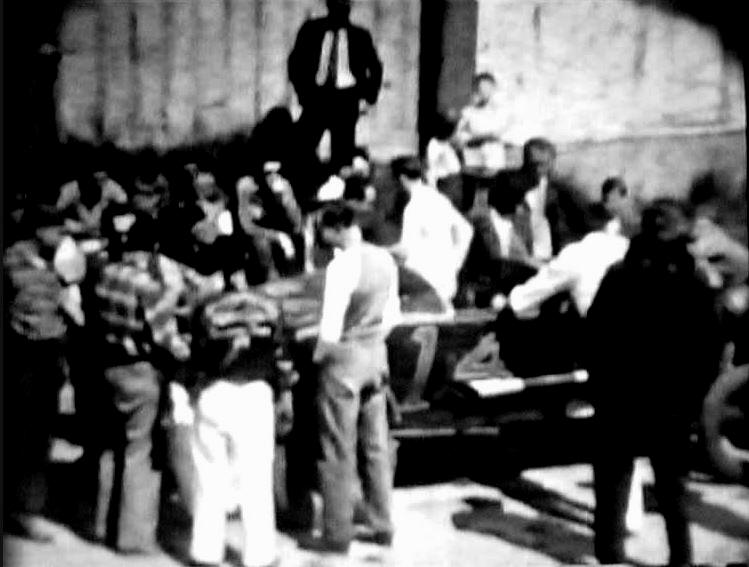 Courtesy of David Delange
In the wild beginnings out West, scenes like this at Seneca
Falls Speedway occurred. A crowd forms around the winning
roadster of Ken Meahl of Amherst, NY. Below – Somewhat less
civilized was Satan's Bowl O' Death, near Jamestown in 1939.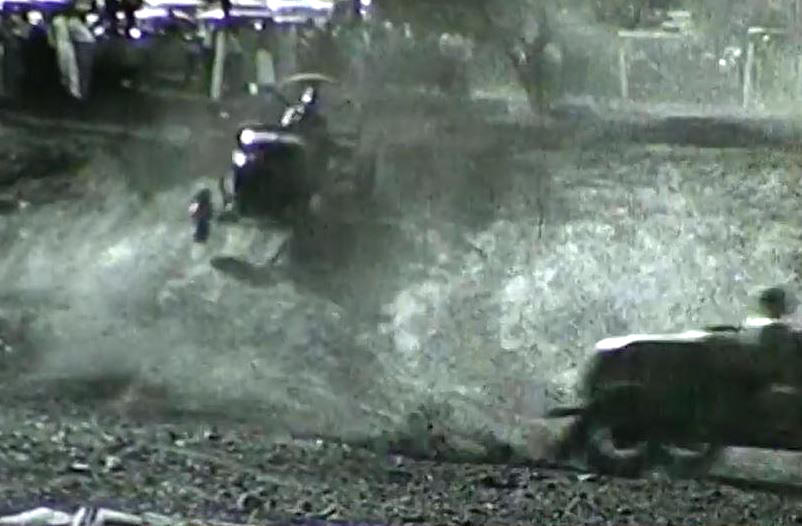 Source Uncertain - Maybe Satan Family Photo Collection
It really all began not too far from where StatelineBusti would be born in 1956. In the early [pre – WWII] 1940's, tracks like the god-awful setup called Satan's Bowl O' Death were operating; that particular one was right in Jamestown, NY. Men clinging to what amounted to automobile chassises with seats lurched up and down hills, through mud holes and lord knows what else for what I am sure amounted to little purse money. Right after WWII [the big one] racing went right through traditional open wheel racing and then to jalopies, roadsters, hot rods and eventually more reasonable stock cars.
That region, as a wide area, saw tracks everywhere from the Civic Stadium, Buffalo, NY to Naples, NY; Hemlock; Bath; Palmyra; and many more. Tracks came and went. Marjorie Marble, promoter of the short – lived Ithaca track tried defying the state troopers and the Blue Laws without success. Many races were staged at existing fairgrounds, like Genessee County in Batavia; the rather famed Palmyra fairgrounds near Henrietta, and the Monroe County fairgrounds nearer Rochester. Some of the "specially – built" tracks were really pretty bad in New York, lacking adequate spectator viewing areas and safety in general. Just like in Vermont, some of these tracks lasted a month or two before the promoter skipped town.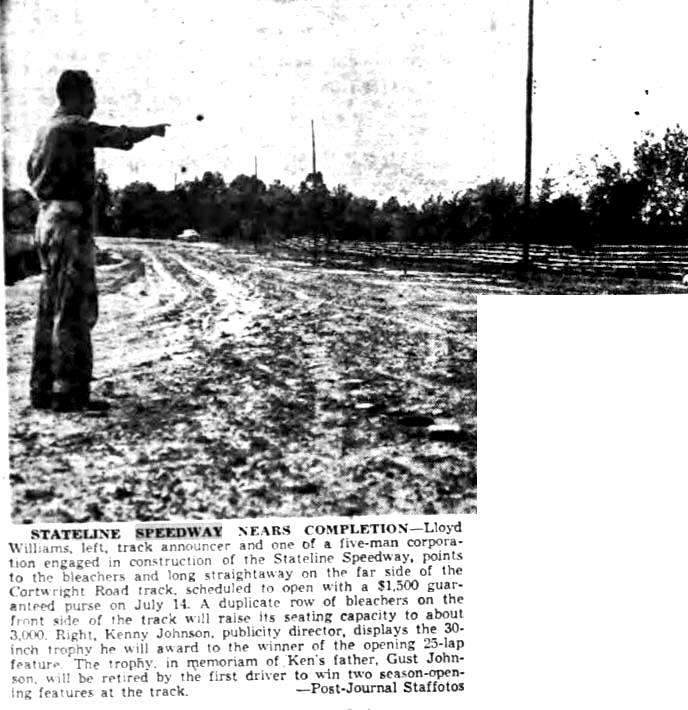 Jamestown Post Journal
Track Announcer and track ownership member
Lloyd Williams points out the location of the
stands. Below – Squirt Johns, a driver synonymous
with Stateline, with a car he would have used at
the track in 1956.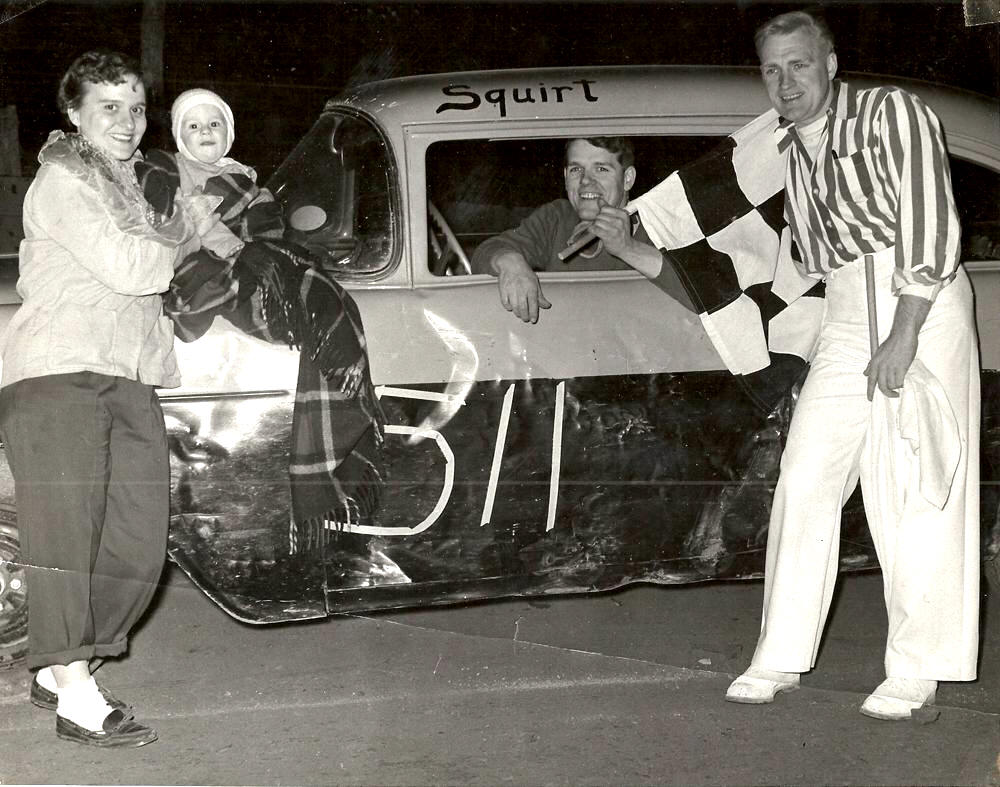 Gordon Mahan Photo via Mahan Family Collection
and Stateline Legacy.com
So, it was a pretty big deal and a real step forward when tracks like Stateline Speedway in Busti were built. 1956 is not a landmark year in stock car racing but it was for the region near Jamestown, NY -where a track that still prospers today was begin early that year. News coverage for the track is very lean until around 1958 – about the time it would be waning for the other Stateline [Bennington]. Poring through the usual supportive papers like the Olean Times Herald,the Leroy Gazette News, The Wellsville Daily Reporter and the Jamestown Post Journal there was only a few articles before 1958.
It appears that the track started out with some locals and some familiar old names from tracks like Hornell, Naples, and the like. You see references to Billy Layfield and Jim Patrick. As time goes on the stars seem to be such as Squirt Johns, Dean Layfield, Bob Schars, Bob Seeley – with Patrick was still near the top of the heap. He even won a feature in 1958 while sick with the flu. StatelineBusti also had the distinction of running a NASCAR Grand National race in July of that year. In 1959, however, after beginning the year talking about only stock cars, the track appears to have gone over to motorcycle racing – at least for a while.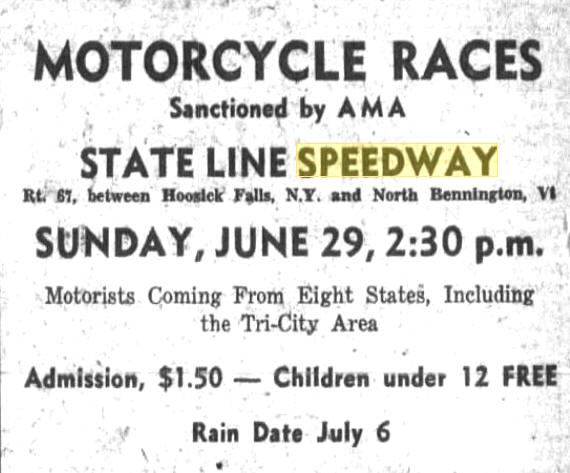 Glens Falls Post Star
Ironically, both Statelines seemed to go to motorcycle racing for
at least a while in the late 1950's. Bennington – 1958. Busti [Below]
1959.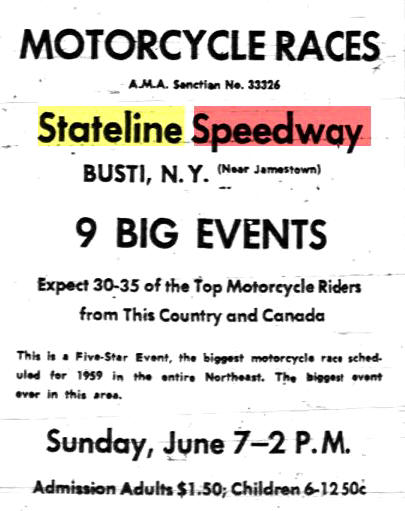 Salamanca Republican Press
By 1960, all indications are that the track was back on stock cars and has steered a steady course with them ever since. The track maintains a nice website and has all the trappings of a modern speedway. It seems as though it was, at least originally out in the country where encroaching neighbors would not be as much of a problem. StatelineBennington seemed to be the same, but it just petered out; I think it was badly overshadowed by Lebanon Valley and Fonda.
So, the name Stateline Speedway means something different to the young and those fans out farther in the Empire State than in does to us fossils in Vermont. Both tracks certainly have made their mark.

Google Maps Photo
Bennington, in recent years has basically disappeared. Busti [Below]
is still going strong.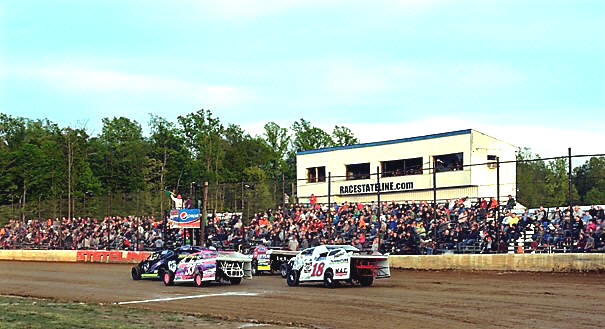 Stateline Speedway Site Photo
Please email me at wladabou@comcast.net if you have any photos to lend me or information and corrections I could benefit from. Please do not submit anything you are not willing to allow me to use on my website - and thanks. For those who still don't like computers - my regular address is: Bill Ladabouche, 23 York Street, Swanton, Vermont 05488.
AS ALWAYS, DON'T FORGET TO CHECK OUT THE REST OF MY WEBSITE:
www.catamountstadium.com
Return to the Main Page
Return to the Main News Page
Return to the All Links Page
Return to the Weekly Blog Links Page