BILL'S [Somewhat] WEEKLY COLUMN/BLOG PAGE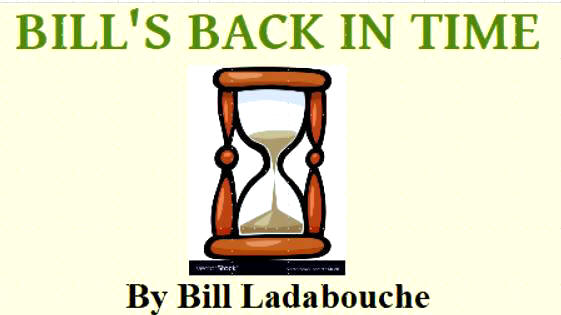 CARS THAT SHOOK UP THEIR CORNER
OF THE RACING WORLD

It's not easy in the world of racing to come up with something that hadn't been really seen before. The sport is, in and of itself, a place where there is a constant effort to come up with some innovation that puts one ahead of the competition [and fudging the rules is certainly not looked upon as severely as it might be in some other pursuits].
Stock car racing had its share of great innovators. One of the best was a mechanic [really an engineer] named Smokey Yunick. Usually wearing a trademark cowboy hat, Yunick could operate in the gray areas of a rule set better than almost anyone else. The is lore such a Chevelle Grand National car that was built exactly to the body specs of the GM floor room cars but that was supposedly a certain percent smaller overall than the stock model.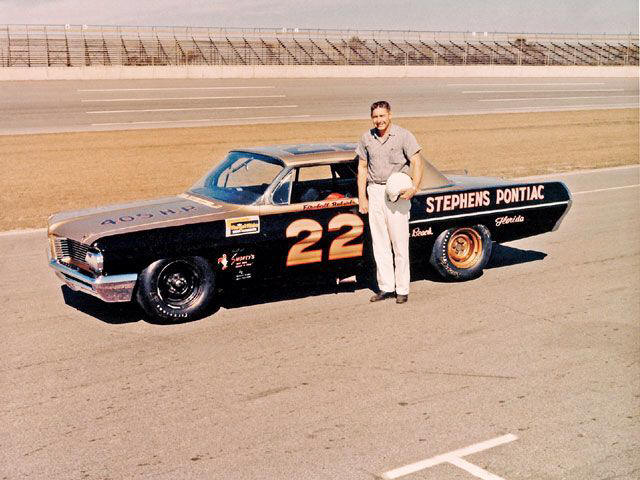 Pinterest
Fireball Roberts, posing with earlier Yunick iron. The '61
Pontiac was the Grand National car du jour at the time.
Below – The infamous Yunick Chevelle.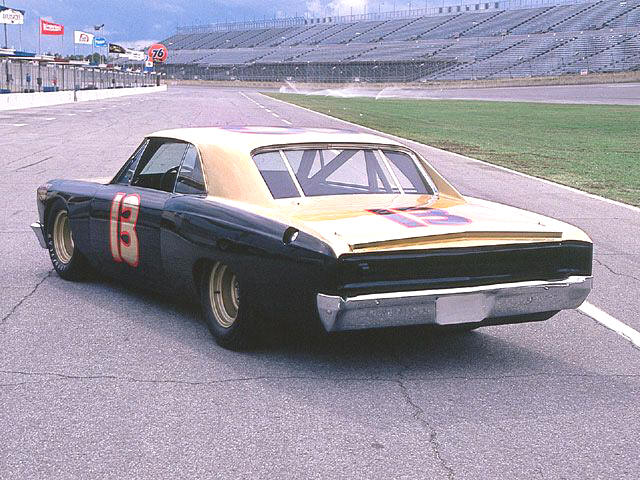 SuperChevy.com
Then there is a story about Yunick bringing one of his iconic black and gold 13's to inspection only to have it rejected, Mind you, according to legend, the fuel tank had been drained. Incensed, Yunick started up the car and indignantly drove it back, across the pits, to his garage area. In this case, however, we are not discussing stock cars or rules fudging.
Yunick was at home building any kind of race car. In 1964, Yunick developed a car that drew a huge amount of attention at Indy. This was an era when Indy was the place for many new ideas, ranging from different engines, to rear engine mounted chassis's. The classic Indy roadster was on its way out, with Bobby Grim's being the last to qualify for a 500.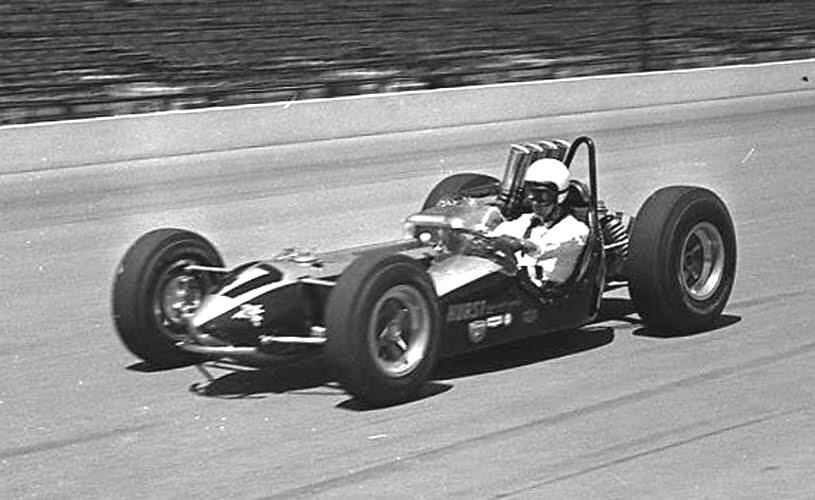 Motor Trend Photo
Yunick's Hurst Floor Shifter Special at speed, with Bobby
Johns at the controls. Below – A look at the radical car,
in color.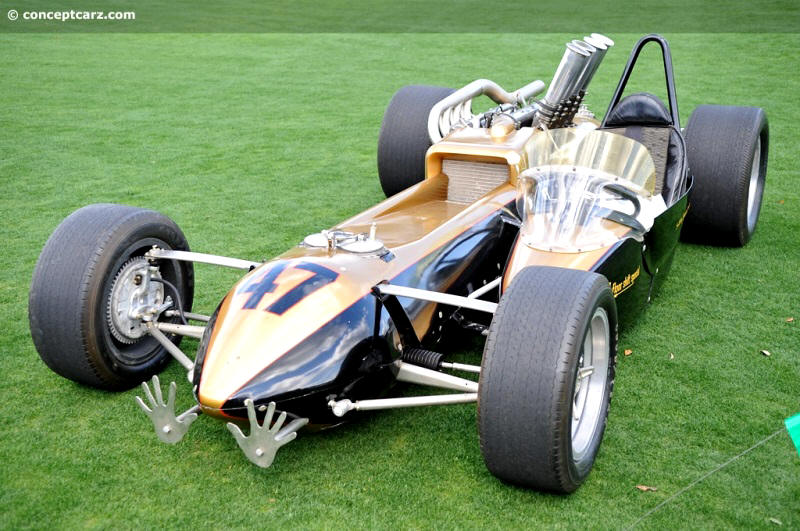 Concept Carz.com
Yunick's Hurst Floor Shifter Special looked like a torpedo with a side pod. It is said that the engine sat, mid – chassis, and the driver was in a pod, hanging off the inside of that torpedo body. The car had a four cylinder Offy, which might have been the most usual part of the whole project. Yunick had his #47 painted up in his usual black and gold scheme. Smokey couldn't resist keeping costs trimmed, using some components like Pontiac Tempest brakes which didn't perform evenly under speed.
If Smokey had a weakness, it might have been his loyalty to certain local stock car drivers. In this case, his inexplicably used fellow Floridian Bobby Johns [ a man without a huge number of wins in major league stock cars] as his pilot. Perhaps it was this loyalty to the good 'ol boys and perhaps nobody else wanted to get in and drive the seemingly rather unsafe rocket ship.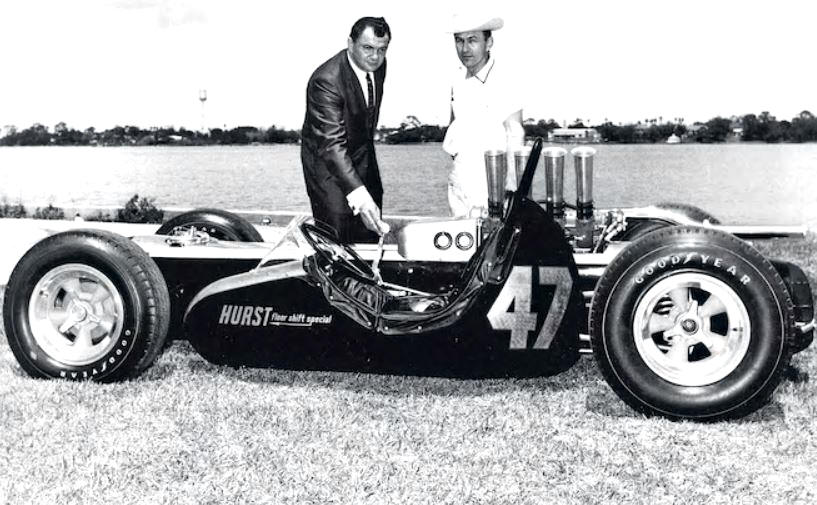 Hot Rod Magazine via Bill Maguire
Tony Hulman, Indy President, was fond of Yunick's strange little
car, which was described by one observer as looking like a
python that swallowed a piano. Below – Andy [right] with his
two turbine cars around 1968.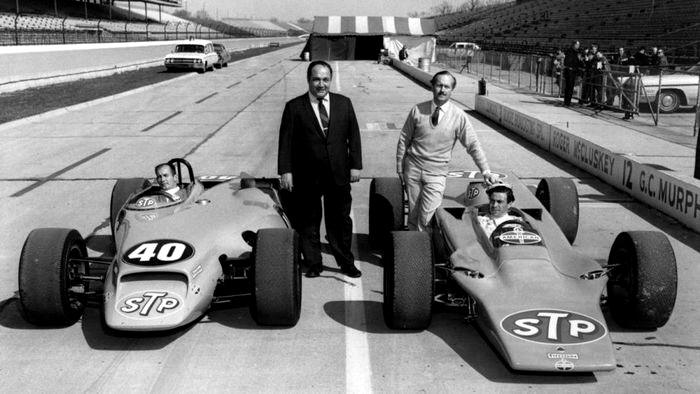 Historic Motorsports Central.com
At any rate, Johns got the thing crossed up and ended up walling it. A disgusted Yunick never tried running the car again. Who knows ? Had it turned out, with a little tweaking and a more experienced Indy driver, to be a real contender, Yunick may well have rode the strange rig all the way to that row of bricks at the start / finish line and Victory Lane.
While we are at the Brickyard, we cannot ignore the turbine car. Andy Granatelli was not only the head of the burgeoning company STP, but he was a major figure at Indianapolis for many years. A portly man, Granatelli was tireless in his pursuit of an Indy 500 win, usually trying innovative cars such as his famed Novis. He seemed always doomed to disappointment and failure despite using top talent and seemingly a very systematic approach.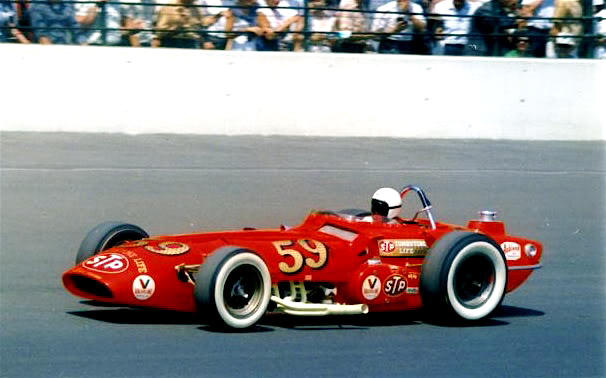 Pinterest
One of the Granatelli Novi cars – always innovative and
Never completely successful. Below – The turbine car,
ready for action with Parnelli Jones.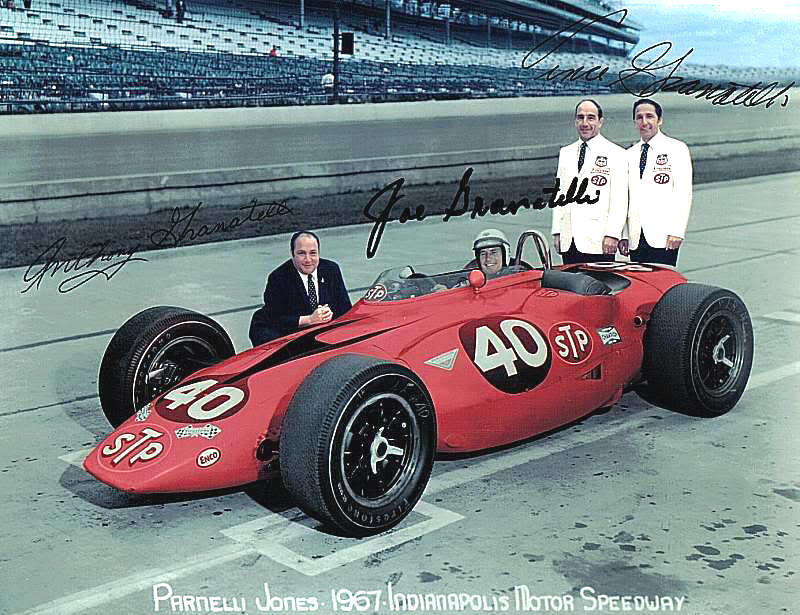 Curbside Classics.com
The STP team came out with a very radical idea – a turbine – engine - powered car. The orange #40 STP special would be piloted by one of the most famed Indy drivers ever – Parnelli Jones. The car was a high – performing sensation from the first practices, much to the chagrin of competitors who probably looked for a loophole to ban the car. It was, in a racing sense, a man playing against boys.
The car, by now dubbed "Silent Sam" was tearing the ass off the field. The combination of a gas turbine helicopter engine and a four wheel drive train had made the car dominating. I recall listening to the race on the radio, perhaps having to work that day. The announcers would have to tell the audience when Jones went by. It is said there was only a "whoosh" as it flew by – way ahead of the rest of field with its roaring and whining standard engines.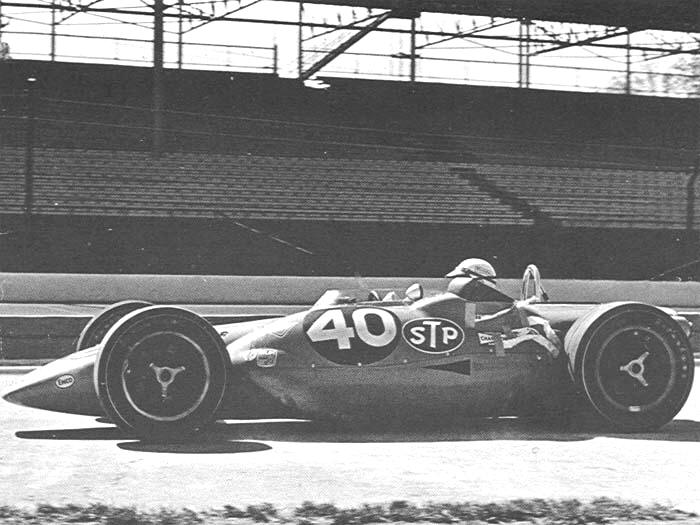 Sub5 Zero. Com
Whoosh ! Below – Andy, with one of his infamous STP suits.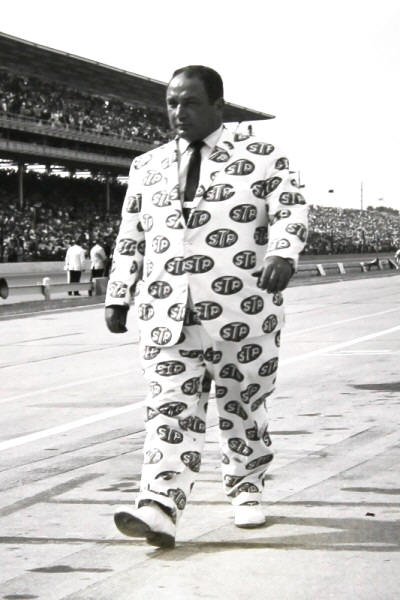 Roadside Authoity.com
And then the unthinkable happened. Jones suddenly slowed down and ended up coasting around to the pit area. I looked long and hard for the classic photo that showed the rotund Granatelli, beside himself, running behind the car to find out that his win had been stymied by the failure of a $6 bearing somewhere in the transmission. I'm sure Andy could not be consoled. Another turbine car, driven by Joe Leonard, would let him down the following year. Granatelli would finally see one of his orange STP cars piloted to victory by Mario Andretti later, but nothing will ever replace that first turbine car in Indy lore.
The next car was from the modified stock car racing world. USAC has it Indy 500, NASCAR has its Daytona 500. Formula One had its big races; and, for the world of dirt modifieds, it was the race at the New York State Fairgrounds, every year in the Fall. As the group Drivers' Independent Race Tracks [DIRT] took over, the whole affair became DIRT Week. The yearly race attracted the best of the Northeast's talent – rich modified teams, as well as some other guest drivers such as the likes of Sprint car star Jan Opperman and others.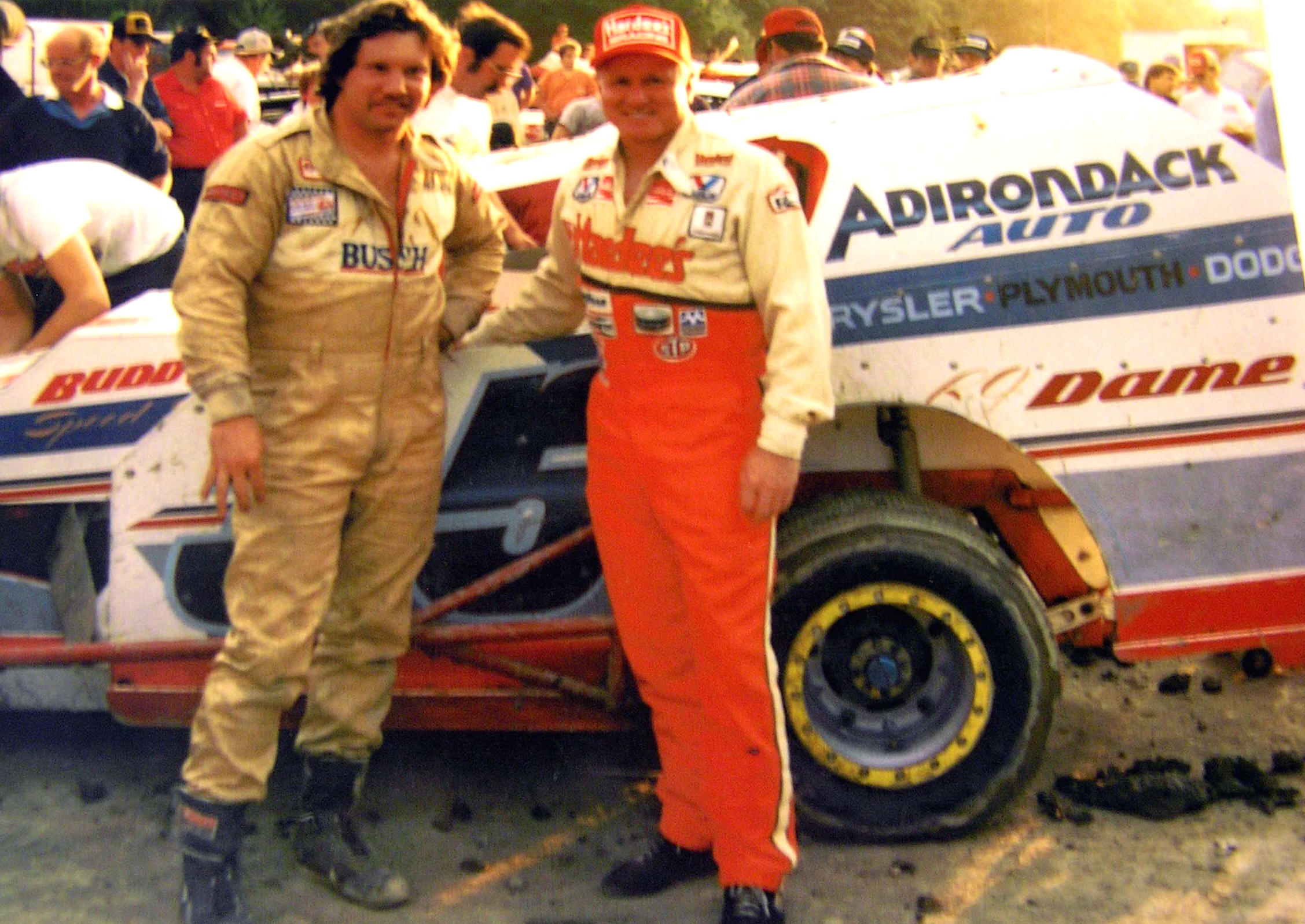 Courtesy of Wes Moody
DIRT modified regular Mike Perrotte with Cale Yarborough at
one of the Syracuse races. Below – Jan Opperman, gets some advice
from regular Mike Grbac [on scooter] and Johnny
Harroll at Syracuse.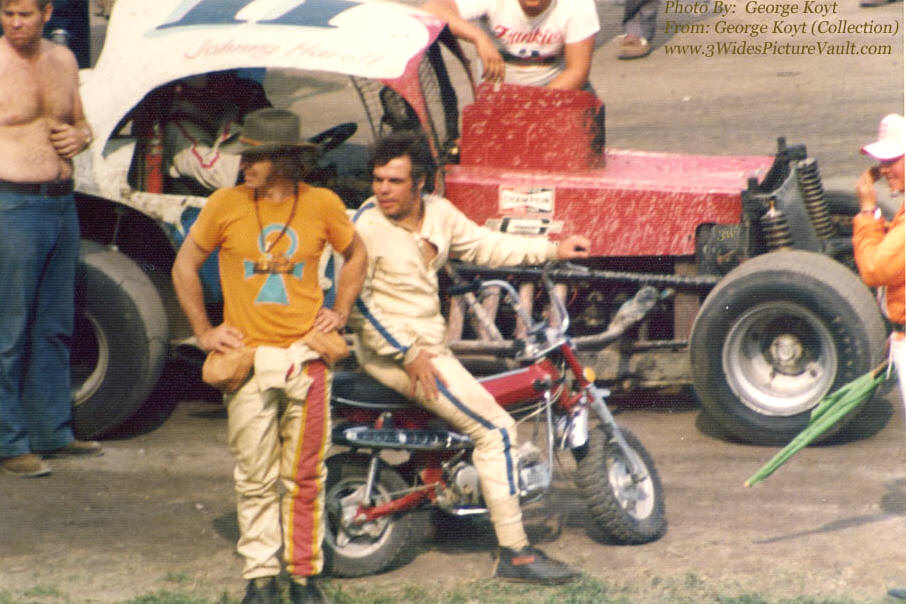 George Koyt Photo

In 1980, modifieds were beginning to evolve from the pre – World War II bodied cars that had always been used. First, we saw a move over to Falcon bodies, Vegas, Pintos, Barrcudas, and the like. Soon thereafter, race car manufacturers such as Rochester, NY's Maynard Troyer, Pennyslvania's Budd Olsen, Howard Conkey, and others began to use the popularity of the Gremlin body shape to fabricate dirt modified bodies that used scientific principles of flow and down force to augment their improved racing chassis's.
But before these Olsen Eagles, Troyer Mud Busses, Conkey Show cars, and the like were to really take flight, there was the legendary [and some say infamous] Batmobile. Supposedly a Lincoln Continental – bodied car, this unbelievable machine arrived at Syracuse and – suddenly – everyone else was preparing to try for second place. Being about the furthest thing from a mechanic, I am not going to get into a tech discussion of this car. Suffice it to say, a team of some of the best minds in racing had come together [fueled by drug money as we would all find out later] to produce the single most dominant race car, in its field, in the history of modified racing.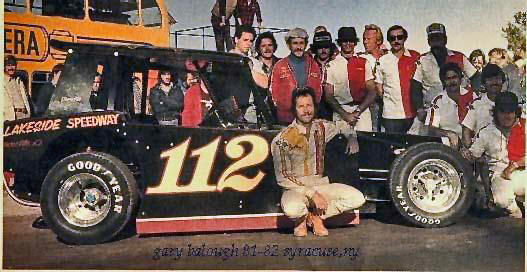 360 Nitro Site
Gary Balough poses with the Batmobile before much had
happened . There wasn't much time when the team wasn't
followed by dozens of onlookers. Below – The Batmobile,
at speed.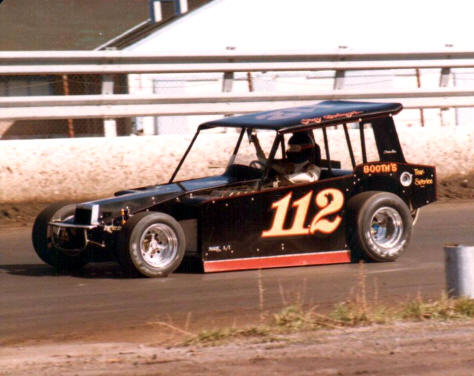 Billy Gibson via Pinterest
The team was headed by main builder Kenny Weld, and was comprised of at least 14 people, including engine builder extraordinaire Ron Hutter, Pete Hamilton [acting as a consultant], fabricator Don Brown, crew chief Ray Stonkas, and other experts in driving, aerodynamics, and the like. Hell, they had Mario Rossi just to tune the motor. With Gary Balough as the driver, the Batmobile came in and literally humiliated the best dirt mod racing had to offer.
The best part is that most people agree the car was perfectly legal. The roof was basically a wing, it had air tunnels running through the body that could be controlled by louvers, and knock off hubs like Indy cars had. I had the occasion to talk to Balough at length about the car [keeping mind most of the technical stuff he discussed might as well have been in Lithuanian].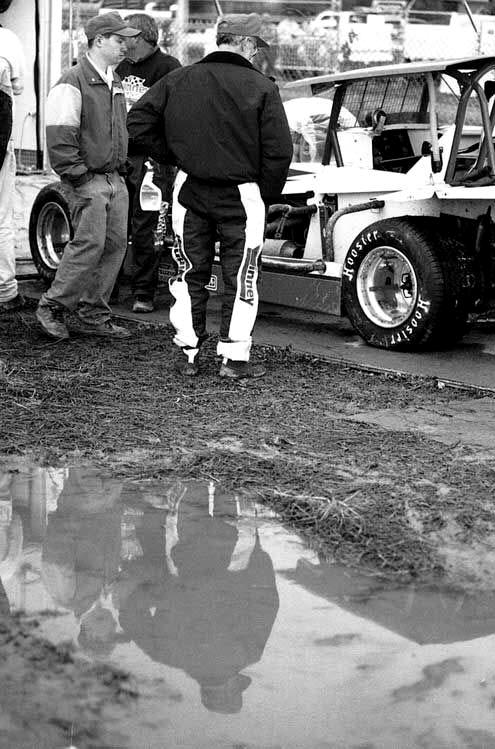 Stock Car racing Magazine Photo
The Batmobile, with some of the skin removed, draws a
crowd that includes prominent driver Barefoot Bob
McCreadie. Below – A rear view fo the car.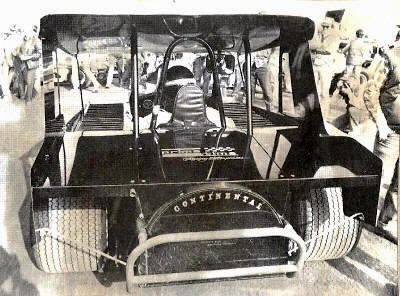 Courtesy of Ron Wetzler
Balough was working, for a bit, in my town of Swanton, VT, helping the Bartemy family with their cars – particularly a big block for Syracuse. Gary pointed out that he could not stand to be in the windowless race garage alone after having spent time in solitary confinement; so, I would go over and keep him company when I could.
What I gleaned from his comments was two main things: 1.) the car, which simply blew away the field that year, was not – according to Gary – even performing particularly well. 2.) When I mentioned I had seen the car at the Hall of Fame at Weedsport in 2011 when I was inducted for the website, he became upset, saying that it was NOT put back together correctly and that he refused to see it "in that condition".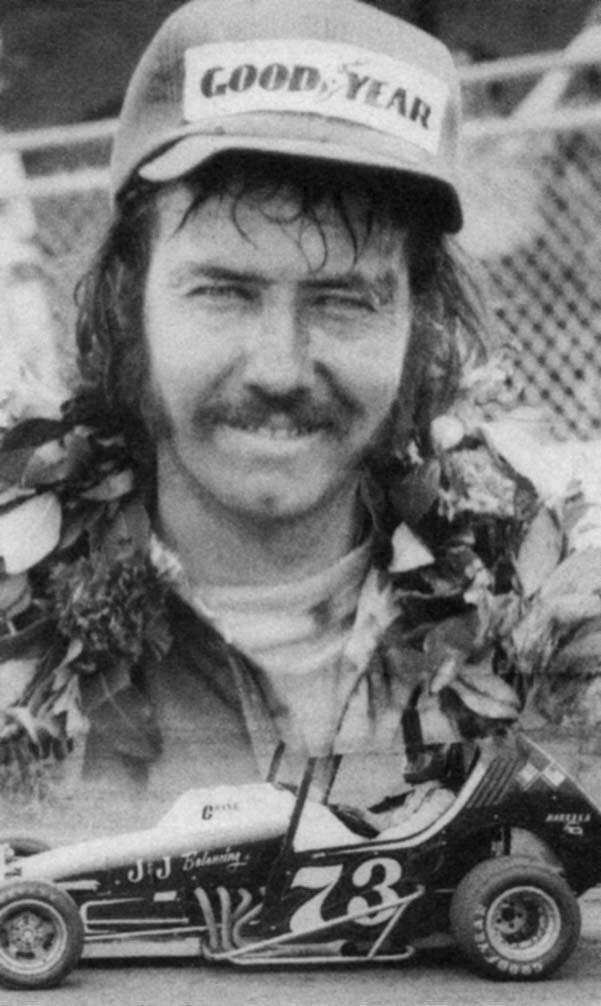 DIRT Photo
Gary Balough, as he looked a year or so before the Batmobile.
Below – Gary, in a recent photo with the car. I guess he could
at least stand to see it in its present form after all.

fr-fr facebook
At any rate, the Batmobile left a legacy of changing the way people prepared for Syracuse. There was of course also the after taste of a lot of that bunch being tried for drug trafficking. Gary took one of the hardest hits for that, in terms of prison time. It left him a very fragile man, in my opinion. No longer even belonging to its creators, the Batmobile sits in various exhibits – a mere curiosity. But it might have been the single most change – affecting race cars ever.
Another modified that – while brilliant in its own right – never came close to the same effect as the Batmobile was a particular favorite of mine, The Rutledge Rocket. I never saw this car race, but just seeing photos and hearing about it makes me consider it as very special. The Carl Rutledge team seemed to concentrate on the supermodified type of racing – such as is seen at Oswego Speedway in New York.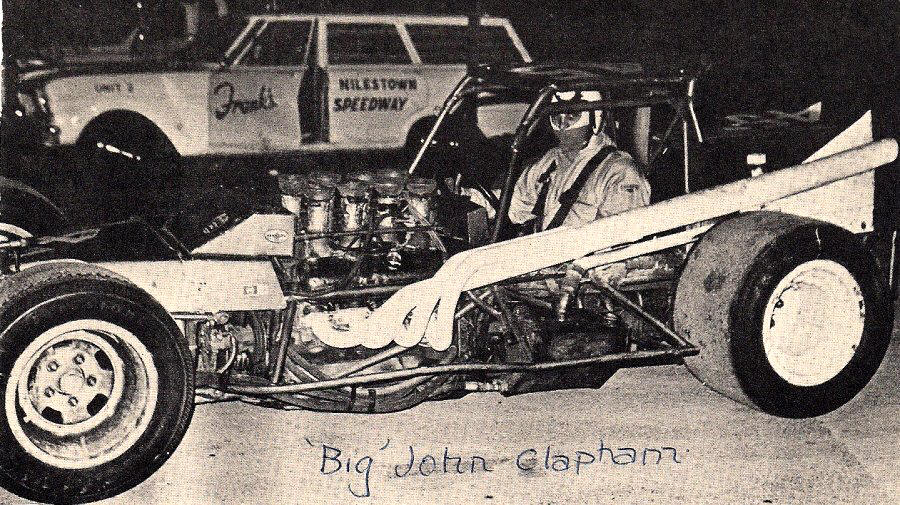 Jakes Site
John Clapham with the usual Rutledge Rocket supermod.
The Rutledge Rocket cars seemed to be driven mostly by Big John Clapham, who I think was a Canadian. The team seemed to – at one time – also have a relationship with supermod luminary Warren Coniam. However, around 1969, it appears as though the team also ventured out into the modified stock car world at least for a bit. The Rutledge Rocket I am familiar with was a modified with a Corvair body from that second generation of Corvair bodies. Both that body style and the earlier one went through a time of popularity with modifieds in the Northeast.
The Corvair driven by Clapham was like no other. He sat on the right side of the car [and I would have to assume the engine must have occupied at least some fof the left side of the compartment. Of course, in supermods, this is not unusual to have the driver sitting next to the powerplant; but, in standard modifieds it was nearly unheard of.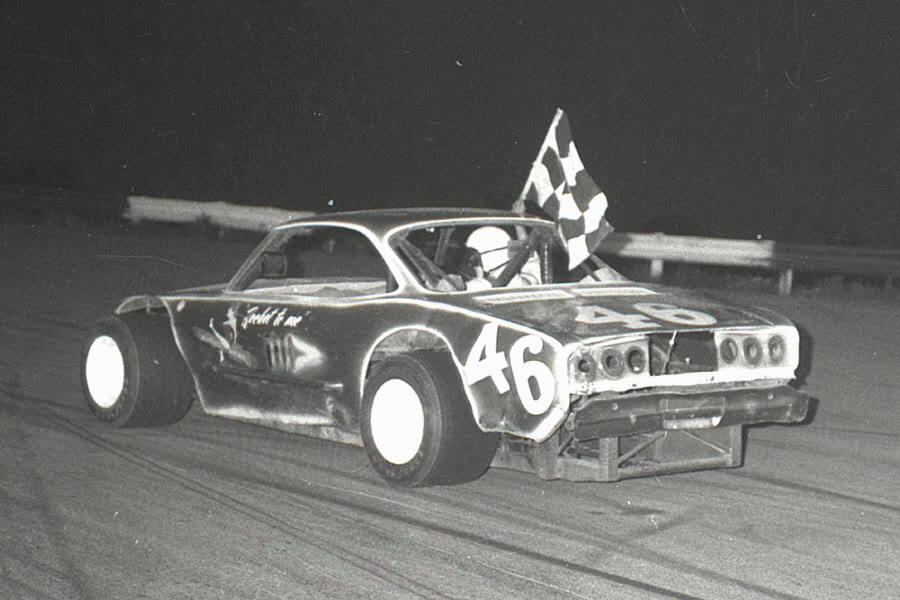 Jalopy Journal
This shot of Clapham in the car shows the unusual position in which
he sat – very supermod – like. Below – This color shot shows how
good the car actually looked in its brief tenure.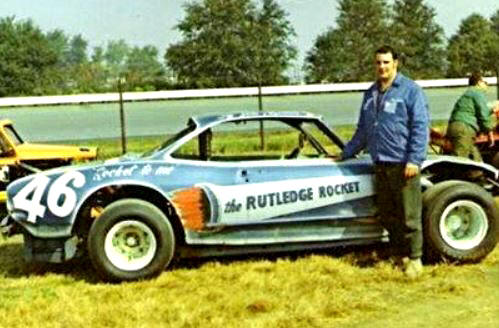 Yesterday Speedways.com
I know little about how the car did or where it was even allowed to race. I recall once seeing a caption in a Stock Car Racing Magazine article that essentially showed Clapham, helmetless abutwearing that fireproof head covering one had under the helmet. The caption said something along the lines that he was "psyching up for another record – breaking run" - whatever that meant. Two things were clear from this" the thing was fast and it ran somewhere, at least once.
At any rate, I not only loved the look of the Corvair bodied Rutledge Rocket, but, as a sign man, I really dug the graphics on the car. The Rutledges' sign painter must have relished the idea of having a little more sheet metal on which to ply his craft and his graphic ideas.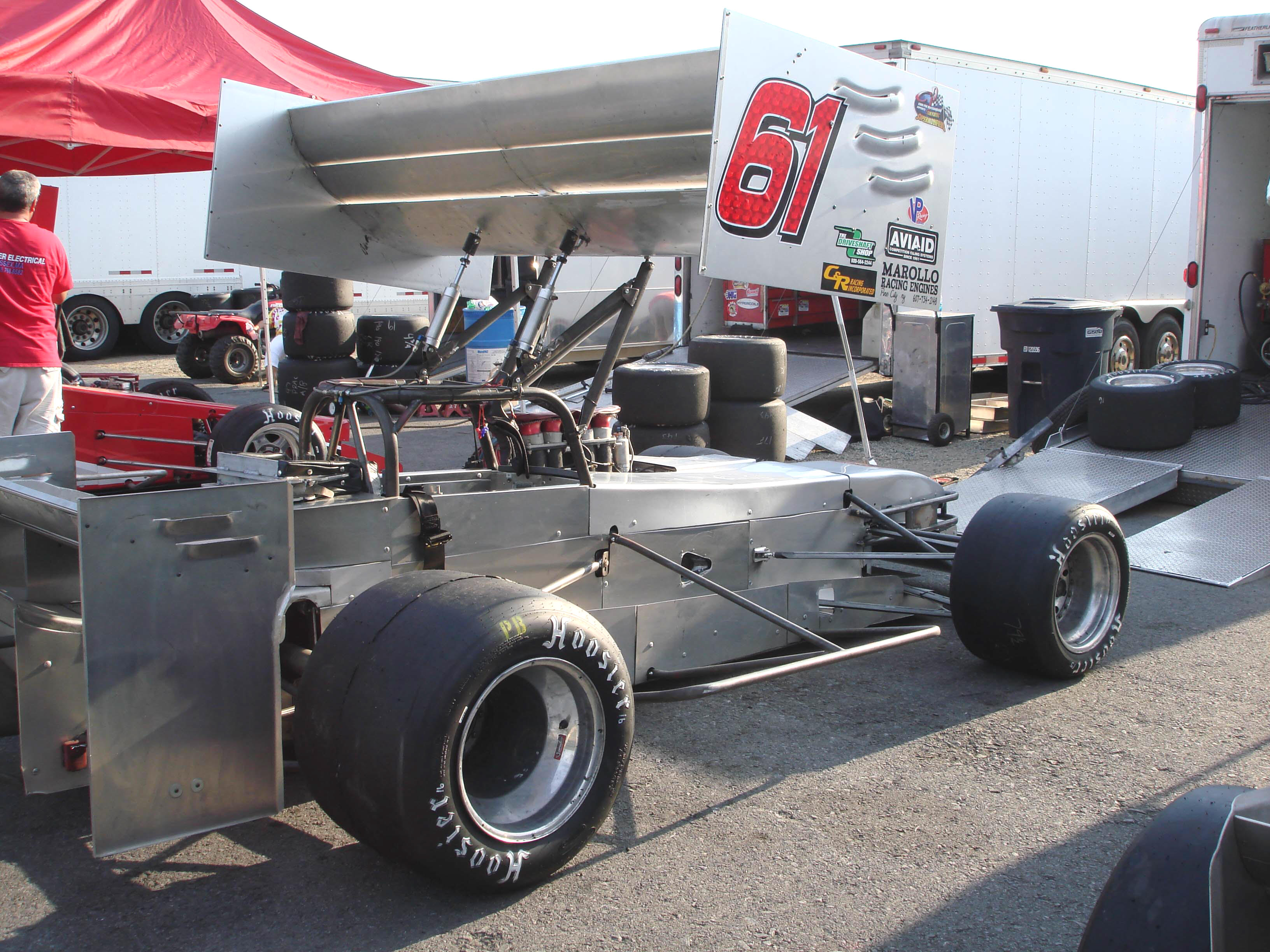 Steve McKnight Photo
The Clyde Booth super sits there, waiting to pounce on the other
unsuspecting cars. The car, at speed at Oswego.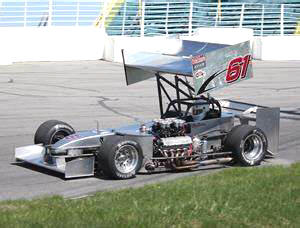 Oswego Speedway.com
Discussing supermodifieds at all. This brings me to the final car. It is pretty much a personal thing and may not have much effect on that branch of racing from which the story is derived. Around the last year that Airborne Speedway still had the paved track [maybe around 2015ish] I decided to attend a special supermodified race there. Accompanied by friend Steve McKnight, we were meandering through the pit areas of the various teams when he spotted this one car.
That car turned out to be the very noteworthy Clyde Booth entry, to be driven that day by now prematurely – departed Ted Christopher. I was only used to seeing Christopher in standard pavement mods in places like Thompson Speedway and so forth. A fierce competitor but dearly loved by those who had gotten to know him through the gruff exterior, Christopher would be lost to a plane crash and little over a year after this race we saw him in.
The Booth car, sitting in owner – imposed privacy, was definitely different than most of the other cars [totally unfamiliar to me] in attendance. It seemed to have a unpainted, stainless steel body like a DeLorean. McKnight whispered that it had just been through a series of wind tunnel sessions and that there were things Booth didn't want people examining. I could see why later.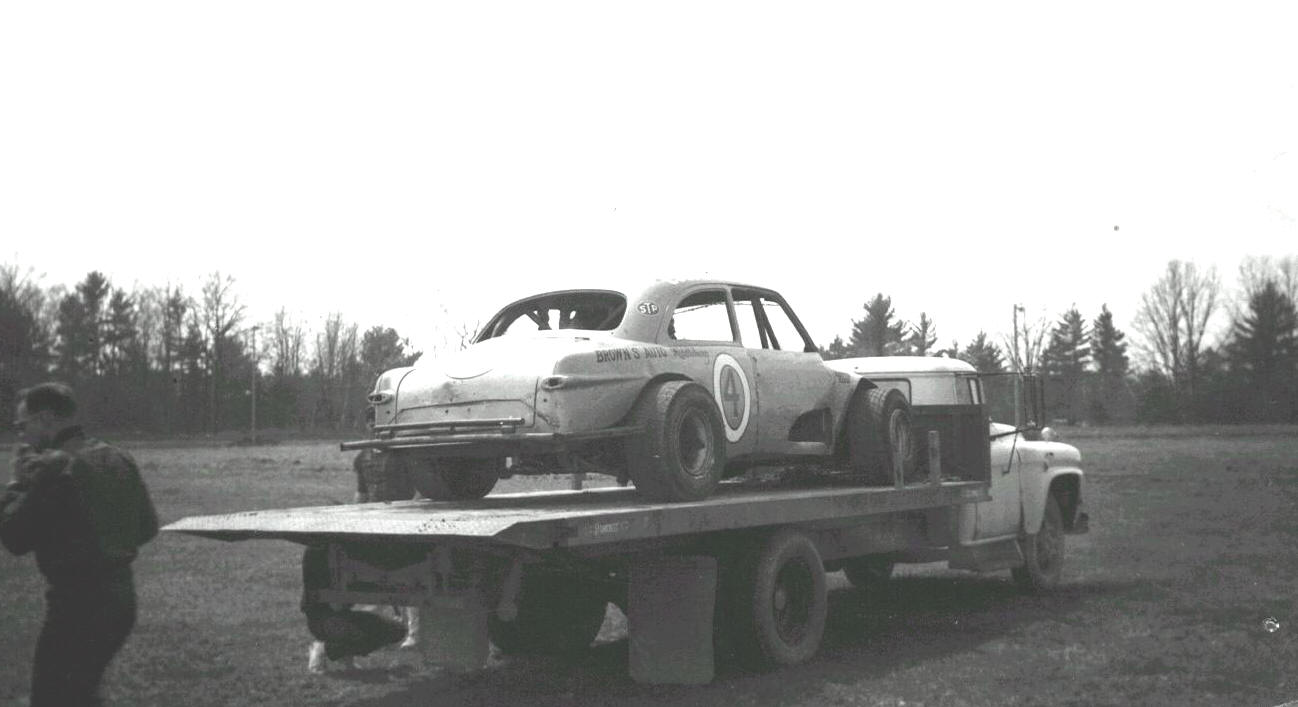 Ladabouche Photo
Graham Trudo's hobby class creation for the final season at
Fairmont Speedway in 1966 certainly deserves a section here, if
I wasn't choosing to limit the column. [Below] It was near unbeatable
that year except for the Fairmont pit mud. Looks like it was
left there to go get something to pull it out.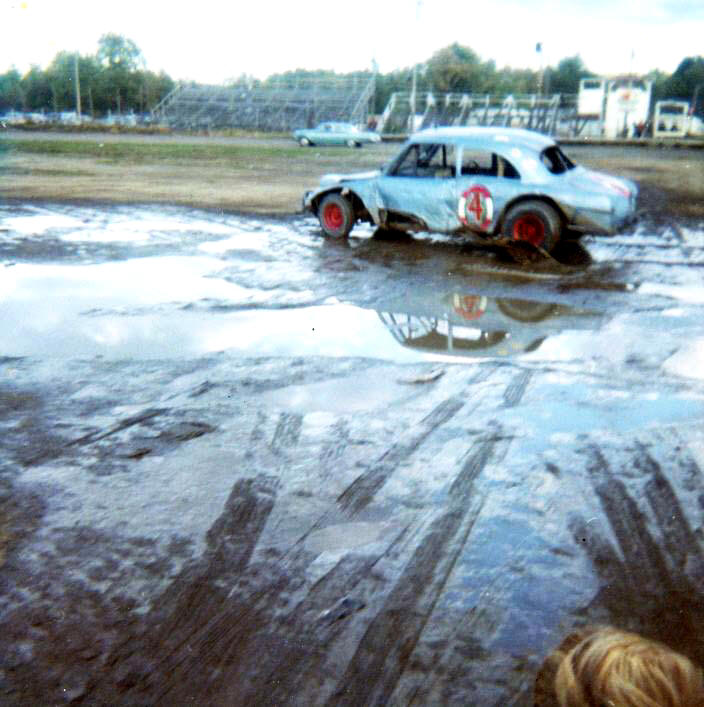 David Frazer Photo
Christopher took that silver rocket out and proceeded to blow away the field – which was not exactly comprised of patsies. The rest of the teams seemed almost as bewildered as had the teams at Syracuse after Balough first went out with the Batmobile. To my untrained eye, the Booth car seemed not to have a single area anywhere on it that wasn't serving some exact purpose. I don't know for sure, but I would have to assume a lot of changes occurred in that type of racing after they all got whammed by the unpainted silver machine.
There are, without a doubt, perhaps a dozen other cars that deserve to be in this article, but I have some semblance of a life left and I need to conclude the piece somewhere. Cars like these are what both frustrate the racing world and make it tick. Don't ya think ?
Please email me if you have any photos to lend me or information and corrections I could benefit from. Please do not submit anything you are not willing to allow me to use on my website - and thanks. Email is: wladabou@comcast.net . For those who still don't like computers - my regular address is: Bill Ladabouche, 23 York Street,Swanton, Vermont 05488.
AS ALWAYS, DON'T FORGET TO CHECK OUT MY WEBSITE
www.catamountstadium.com
Return to the Main Page
Return to the Main News Page
Return to the All Links Page
Return to the Weekly Blog Links Page