BILL'S [Somewhat] WEEKLY COLUMN/BLOG PAGE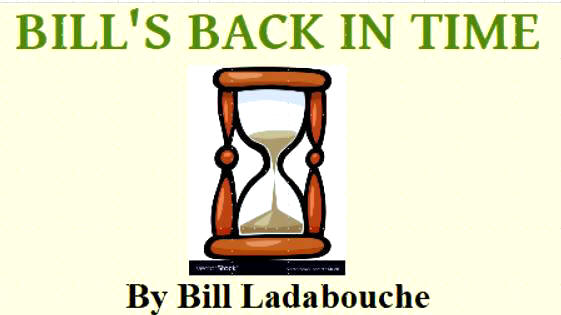 MOTOR OIL WARS – THE BATTLE TO
CONTROL EARLY STOCK CAR RACING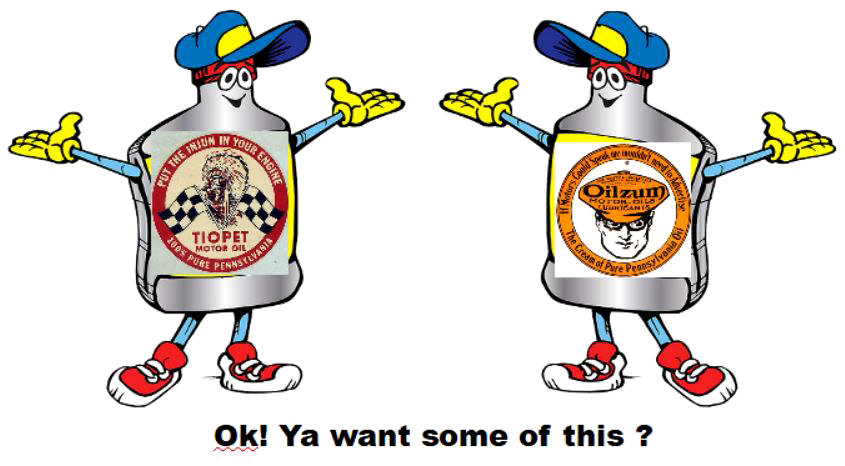 There is certainly no reduction in advertising in stock car racing today; if anything it's more prevalent. And decals on a race car today are light years different in the emphasis upon them. Organizations from the huge NASCAR, to the more local [American – Canadian Tour in the Northeast strictly govern where and how decals are displayed, having to bow to the sponsors who are paying good money to support a series or a part of that series.
In most cases, it didn't used to be that way. I have dozens of earlier photos of race cars with rather prominent product stickers or decals on the car for no other reason other than the guys who built the car thought they looked nicer or more important with some decal like Oilzum, STP, or whatever. Sometimes, it was just their favorite beer.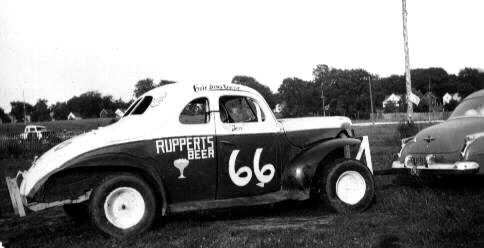 Courtesy of Rick Parry
It is very unlikely that this St. Lawrence Valley Speedway
car got a major beer sponsorship but at least Henry
Jarvis [below] was maybe getting free meals from the local A&W.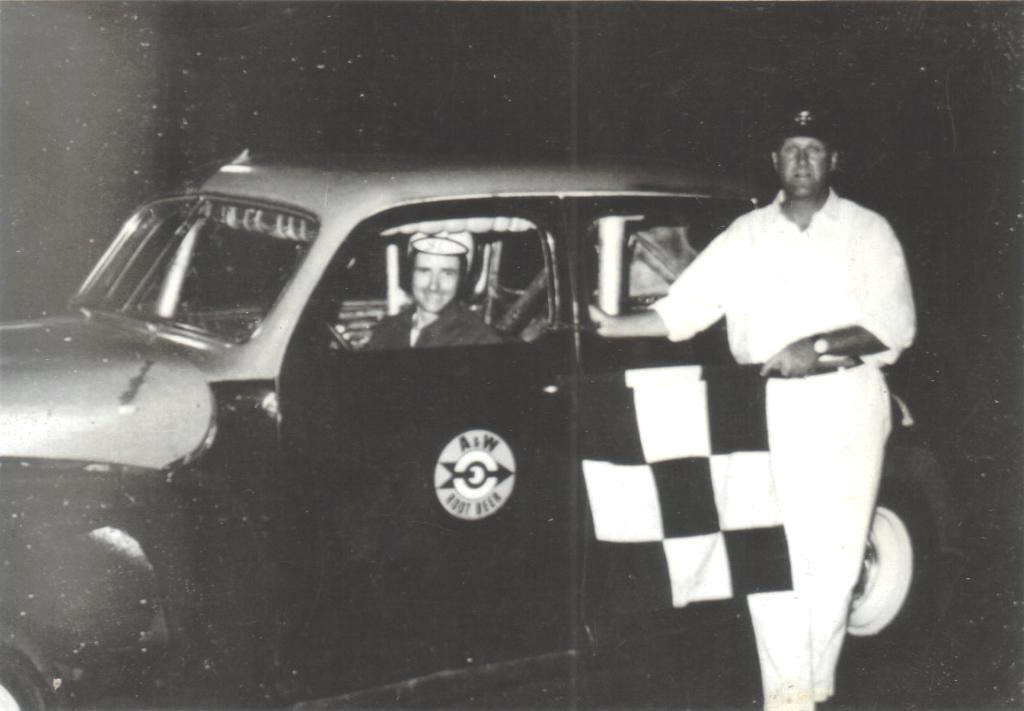 Bob Mackey Photo via Bucko Branham


You did get the few who had a method to their madness. I see Henry Jarvis' brown and orange #77's in the earlier days of Airborne Park Speedway near Plattsburgh, NY. Henry always had a big A&W sticker on the car; but, after all, the local root beer stand was handing him a few bucks to race. Bear alignment stickers could be found on cars like the sharp #22NY Chevies of owner Vince Barbuto because his garage probably featured that kind of alignment machine.
Then there were downright spoofs. The late great Don MacTavish had a professionally – lettered Trojans ad on the truck lid of his green Circle J car. It said "Symbol of Safety" and was strictly tongue in cheek [as was the "circle jerk" reference in the car number]. He was really quite a character. However, not all of the decals and such on earlier cars were quite so frivolous.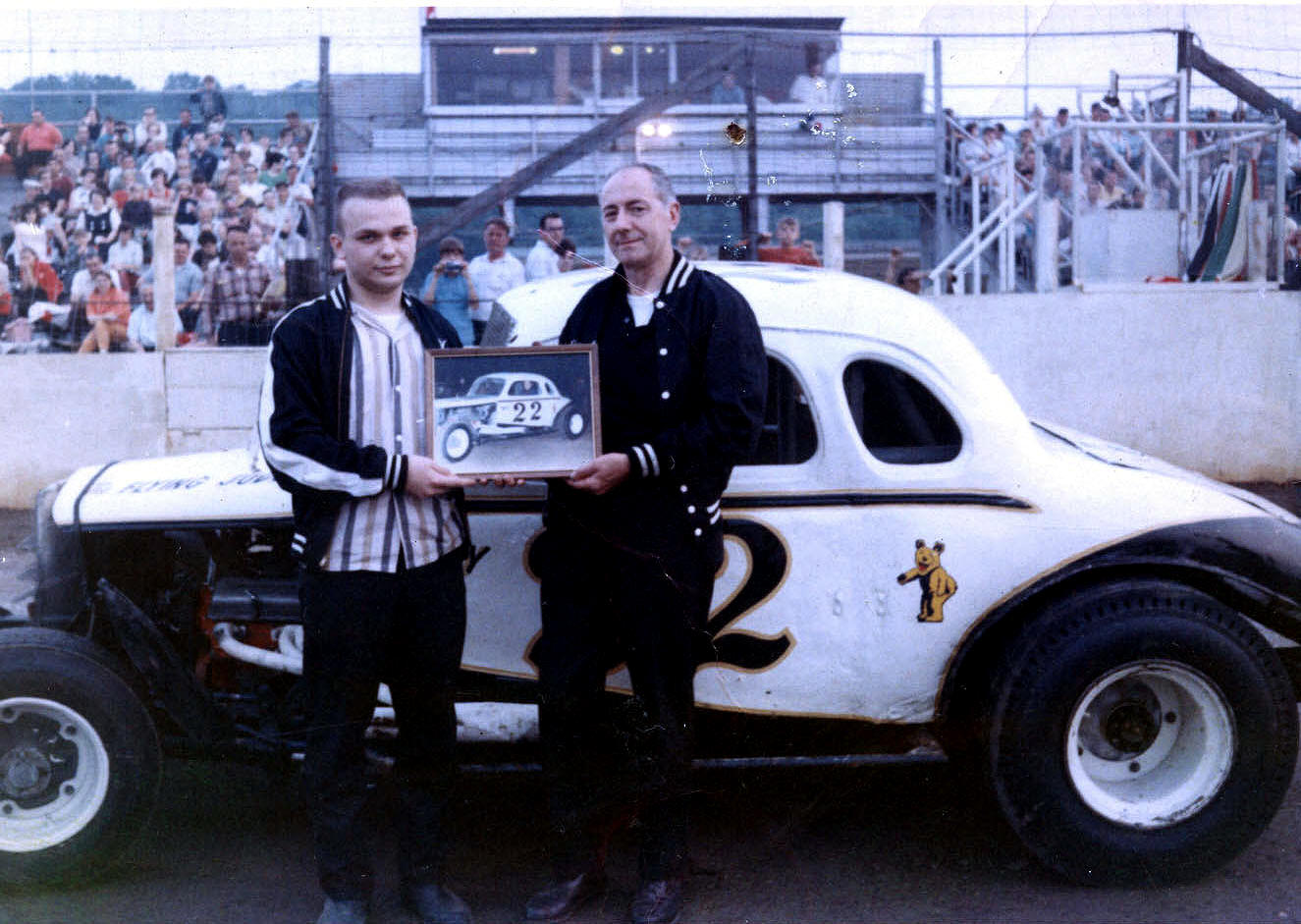 Source Unknown
At least the Bears on Jack Farquhar's Vince Barbuto 22 referred
to the owner's equipment. That's Vince, getting an award at the Valley
Below – Beaver Dragon's first Flying Tiger car belonged to Texaco
garage owner Johnny Bourgeois.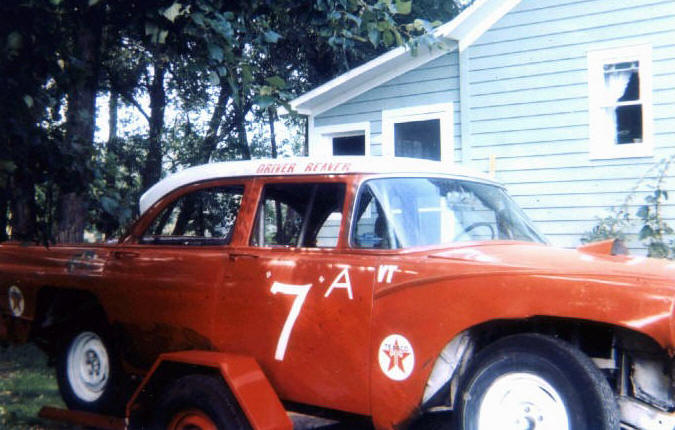 Dragon Family Collection


Various brands of automobile motor oil did a lot of advertising and financial support in stock car racing – especially where it paid them back the most returns. If you wanted a hand in one of the most impressive, dominating, and widespread racing regions, you looked to that eastern Pennsylvania/ New Jersey/ southeastern New York area, with its many dirt race tracks and major drivers. In the 1960's and 1970's, you had particular dirt racing regions, sometimes competing with one another through venues like the big postseason races like Langhorne or through experiments like the All Star Stock Car Racing League.
While central and western New York surely had some impressive racing, the PA/NJ/NY area probably had the upper hand in terms of not only the rich corps of local talent but also the many southern invaders who had come up north to set up modified shop and chosen to run there. While that bunch certainly did not rule the roost, they certainly won more than their share of races where everyone was invited.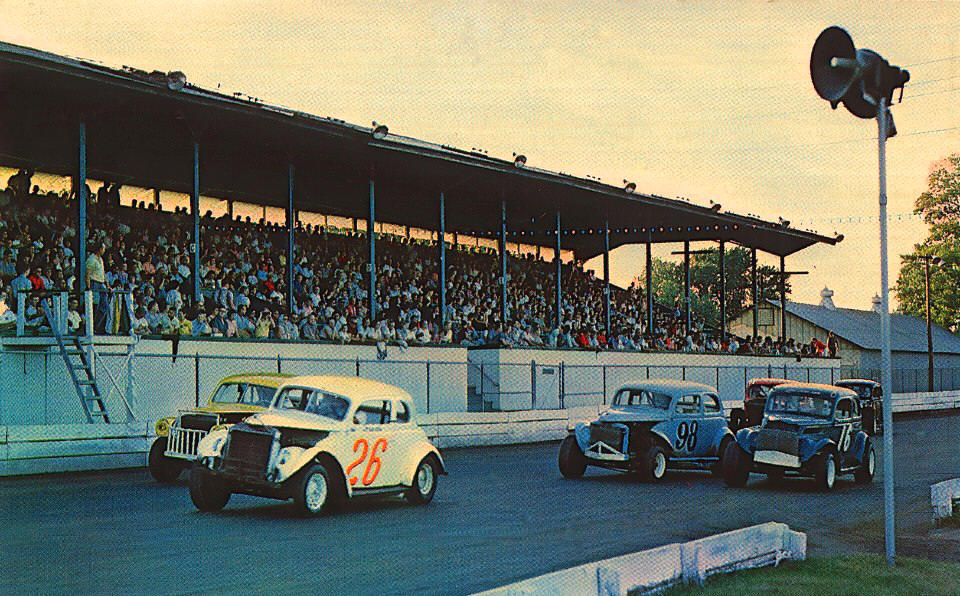 Flemington Historical Society
Tracks like the well – cared – for Flemington Speedway in New
Jersey and Orange County Speedway in Middletown, NY offered
wide open old fairgrounds ovals.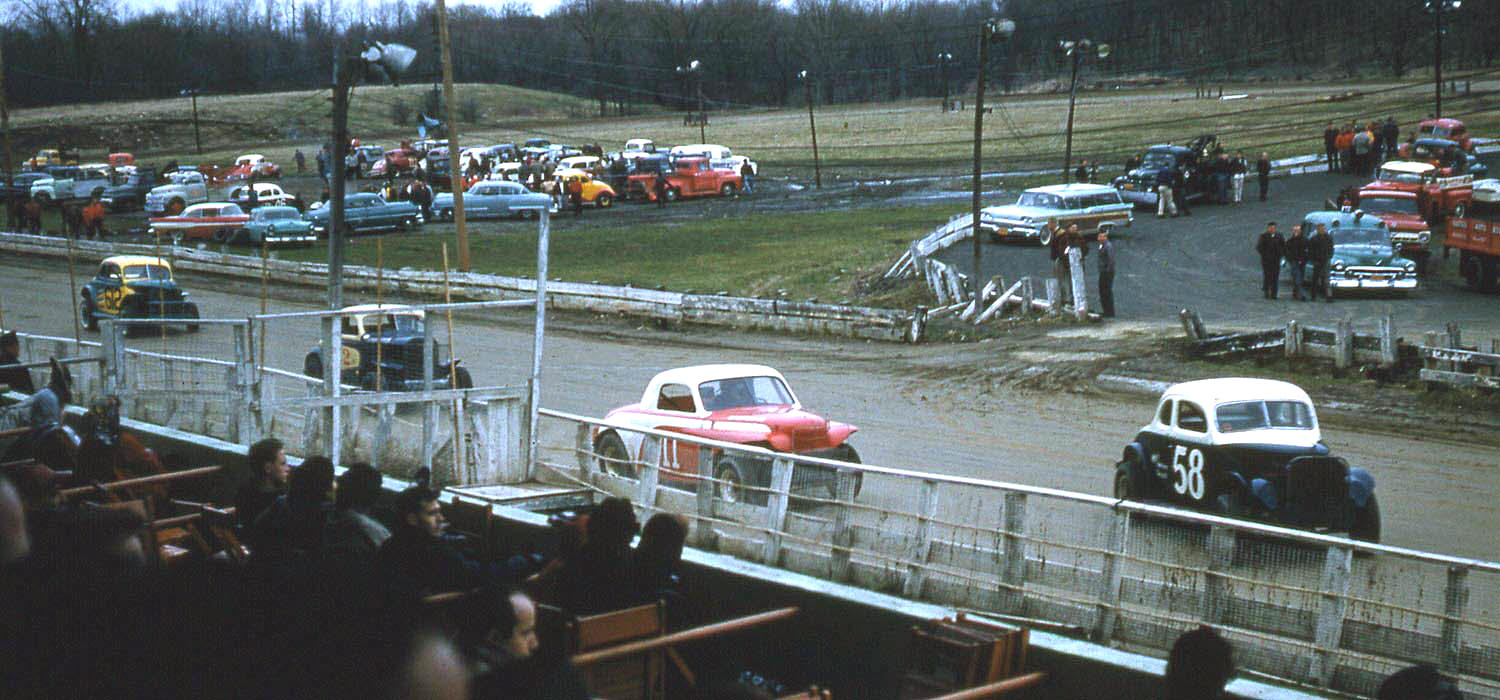 Courtesy of Otto Graham

Featuring such great tracks as the fairgrounds at Flemington, NJ and Nazareth, PA, the fairgrounds at Middletown, NY. And other venues like Old Bridge and Vineland Speedways [to name some], this area of modified racing was featuring local talent like Frankie Schneider [modified legend and driver in NASCAR's Short Track Division], "The Wild Man" Elton Hidreth [also a NASCAR driver for a while]; the great Al Tasnady; Wally Dallenbach, Sr. [future Indy driver]; Budd Olsen [future car builder extraordinaire]; Sam Beavers, Fred Adams; Bob Rossell; and many more.
Add to this list, a number of southerners who moved up to run northeastern modified racing for a living: Will Cagle, Bruce "Pee Wee" Griffin, Herb Tillman,
Buzzie Reutiman, and others. That area, full of stars and race tracks for them to run on was a perfect point of emphasis for motor oil companies looking to make their mark on the sport. The one that seemed to make the biggest mark, in the earlier days, was a local outfit that offered Tiopet Motor Oil. The decals appeared on numerous prominent cars of that time.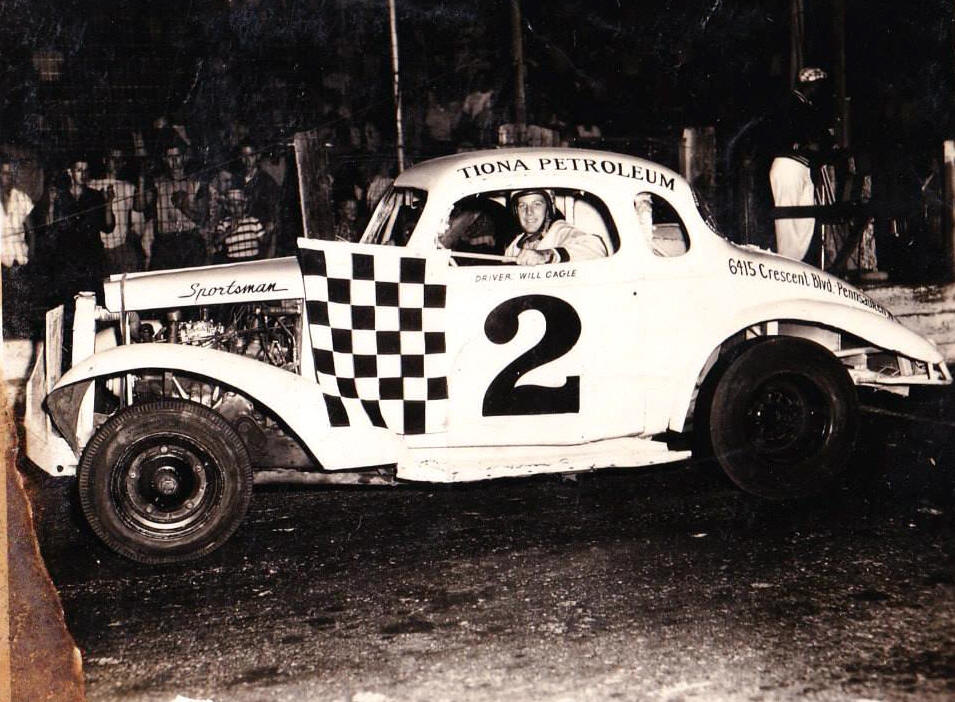 Courtesy of Ricky Gosney
This Lucky Jordan car, driven by Will Cagle, has the ad for
the Tiona Petroleum Company. Below – Al Tasnady's 327
has the standard Tiopet decal.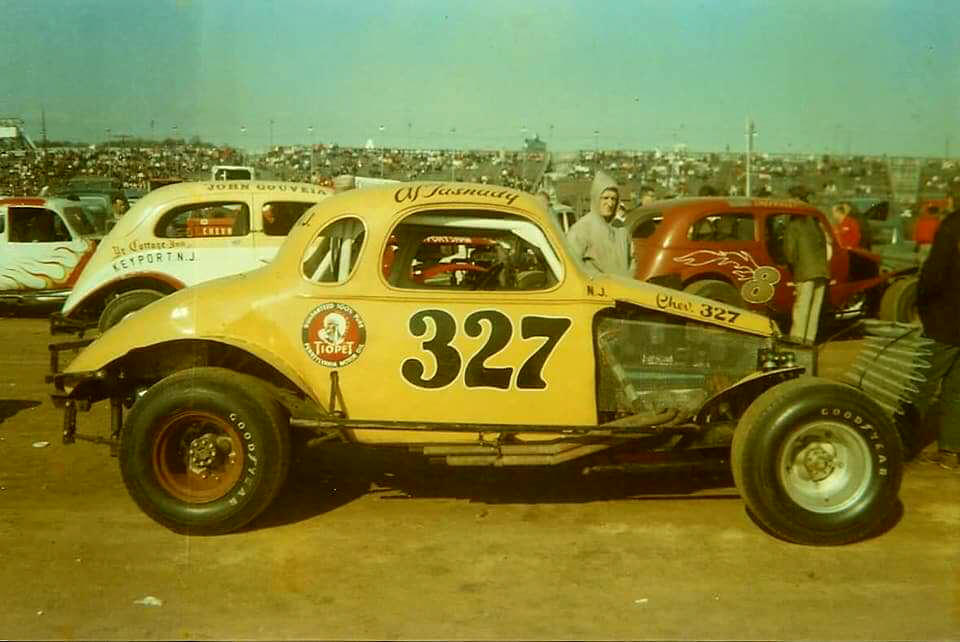 Courtesy of Edward B. Brown III

If one tries to research Tiopet, one will find a bunch of vintage oil cans that collectors can buy off the internet, but not much else. They were very graphically pleasing containers, featuring a Native American with full headdress. The message was not always very culturally sensitive. One Tiopet decal read "Put the injun in your engine". The decals were attractive and easily recognized. Apparently, the company producing the oil and trying to distribute it was Tiona Petroleum out of Pennsaucken, NJ.
A number of the PA/NJ/NY boys were running the decal. Lucky Jordan, a prominent car owner with his white "deuce" cars, had "Tiona Petroleum" across the roof above the door where you would usually see the driver's name. Most others just had decals. I have seen the ads on cars of Cagle, Jackie Evans' Lux 77, two cars of Jackie McLaughlin, and the great Budd Olsen, to name a few. The oddest Tiopet decals discoveries were on cars of Rene Charland and Maynard Forrette – because they seldom if ever raced in that region.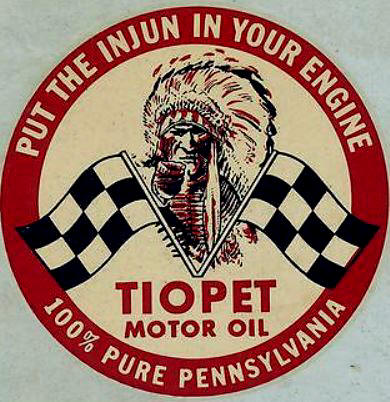 Pinterest
A 1950's Tiopet decal. Nothing insensitive about
that ! OK, it was the 1950's. Below – A highly
collectible Tiopet oil can.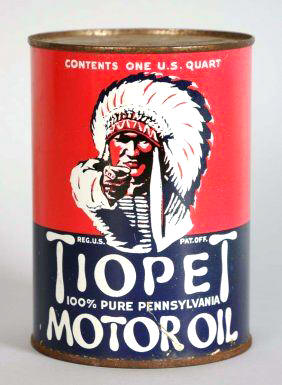 Pinterest


Charland was such a wide traveler and such a wheeler dealer, that he may have been running at Langhiorne or some such place and just struck up a deal wit the Tiopet guy. Forrette, who was always close with Charland, was driving for former Charland wrench Godfrey Wenzel with those famous Reardon Garage 03's; that is likely how they ended up on his cars. After running through a lot of photos, it became clear that the Agawam racing community [Charland, Rosner, Wenzel, Geroge Rettew, Maynard Forrette, etc] had some sort of connection with Tiopet. Not only did the Charland – driven Czepiel 888 have a Tiopet decal, but I have seen them on Wenzel's 03, Richie Mazza's cars, the Holdiay Magic 1 of George Rettew, and more.
I think I have seen Tiopet ads in some All Star league materials, and I know I have seen in a number of trade papers. Considering, the oil business was wrapping up in Pennsylvania by this time, the decals eventually disappeared. Others, especially Oilzum, were still going great guns by the time Tiopet was slipping away.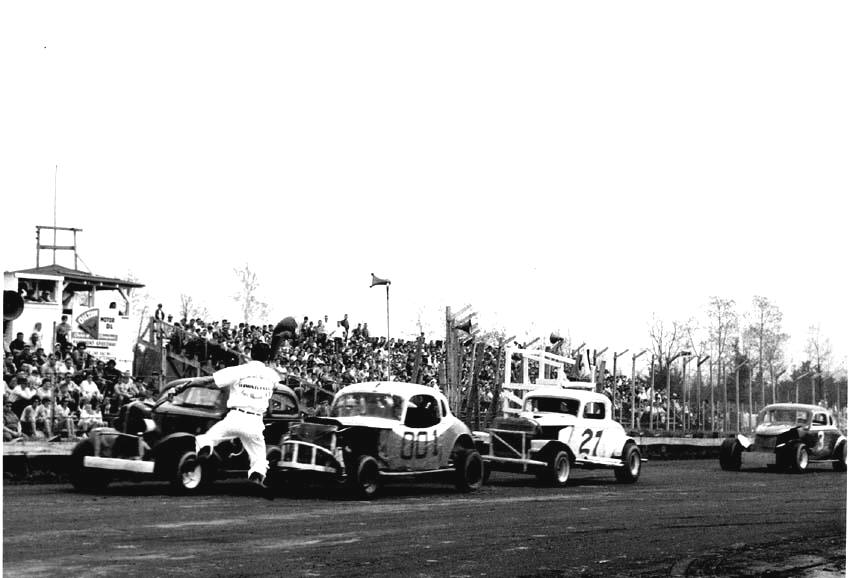 Bob Frazier Photo via C.J. Richards
C.J. Richards was in with Oilzum to the gills. You can see the track sign he got in the
background above and [below] Oilzum advertised on the back of his
early programs. Probably, he handed out Oilzum decals liberally.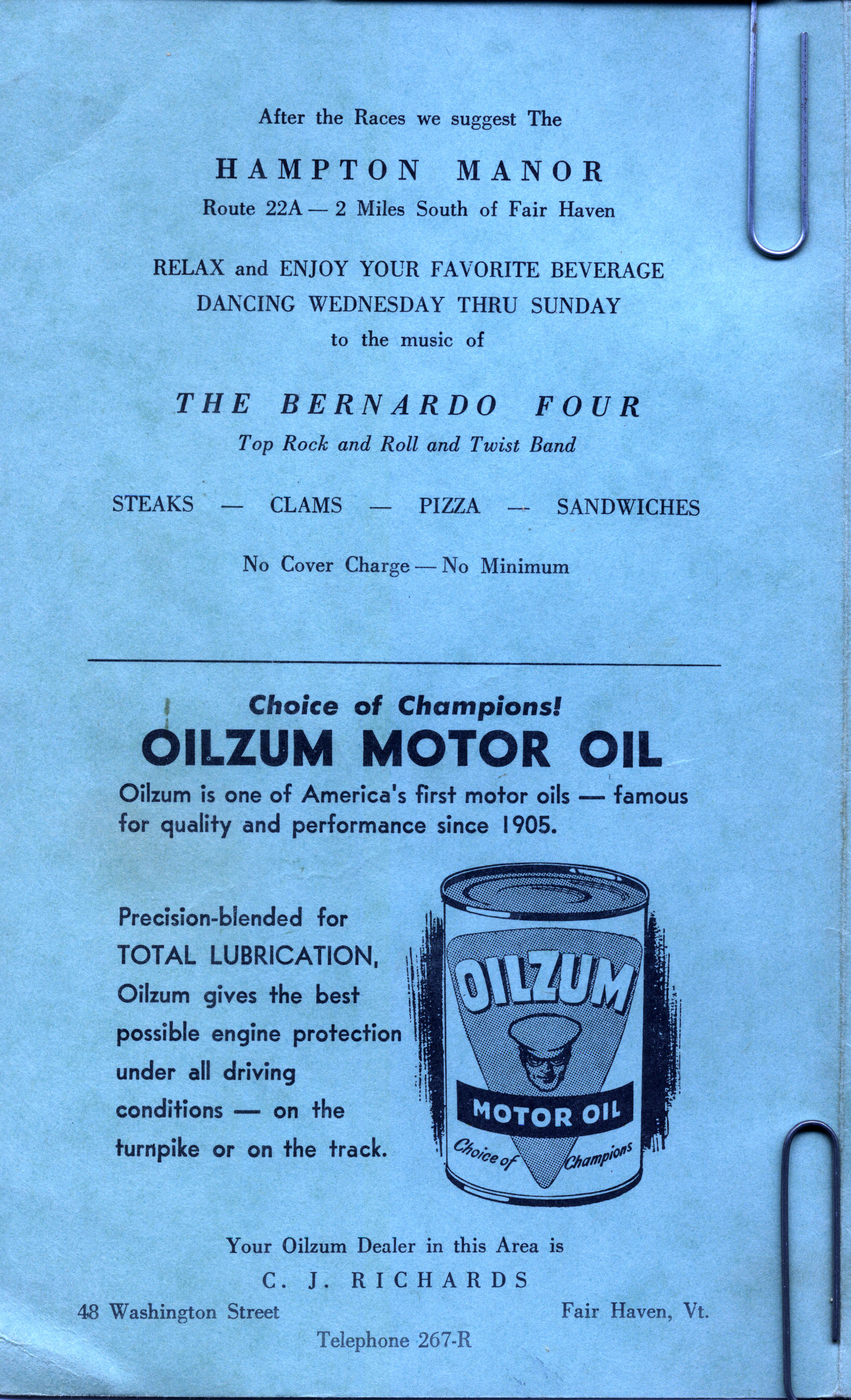 Ladabouche Collection
Up further in my neck of the woods, the two big compeitors were Oilzum with its Oilzum HP Racing oil, and Bardahl. Oilzum was coming from the White & Bagley Company out of Worcester, MA. It was getting its message out through the usual decals and also by offering Oilzum sign blanks to speedways, on which they could have the name of the track lettered.
Perhaps, however, Oilzum's biggerst coupe for a few years was the creation of the Cavalcade of Auto Racing. It began as a once – a – year publication that featured tracks all over who would pay to have photos of their participants shown. The first issues had high quality glossy covers and good quality printing on book quality paper. It morphed in a more frequent periodical on newsprint and then finally petered out. But, issues of that Cavalcade make super reference sources for those of us in the racing history trade.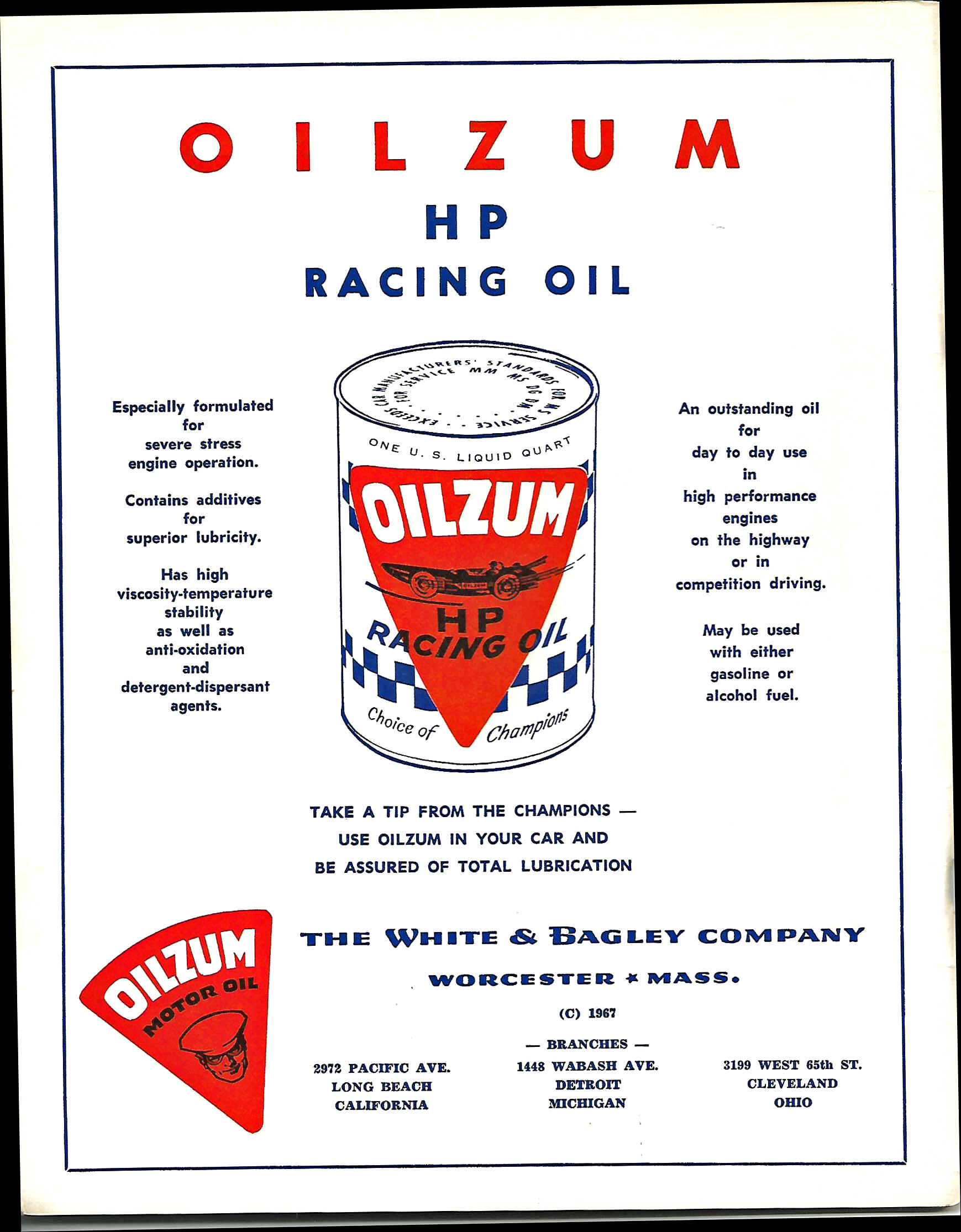 Ladabouche Collection
One of the splashy ads for Oilzum in its Cavalcade of
Auto Racing Publication. Below – Bill Threw must have
gotten one of Cj's Oilzum decals.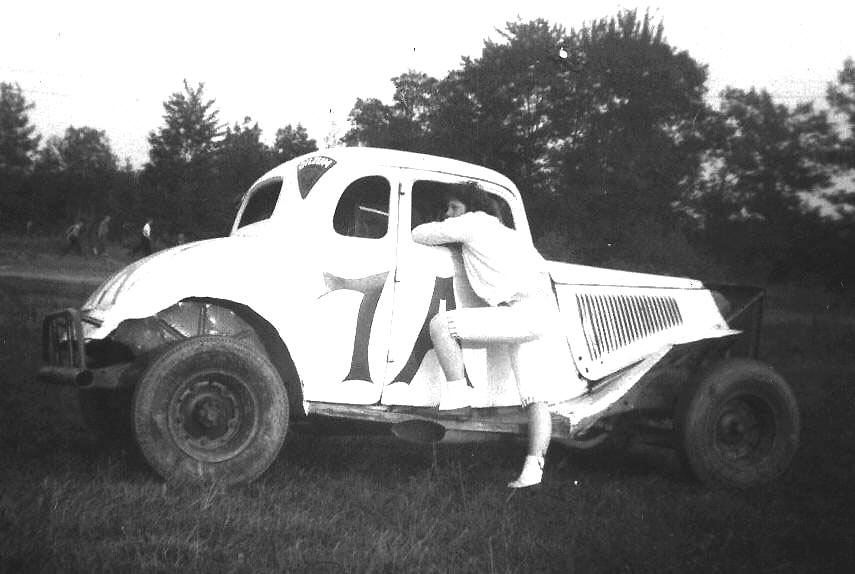 Ladabouche Photo

The other oil brand, Bardahl, has less information on it. Up here in Vermont, we knew it implicitly because of famed Bardahl distributor Bob Doyle, Doyle, who also ran a part truck and was often the track photographer, ran a distinctive black and white van that sat in the pit area at many tracks for years. I had a clse friend who drive me to a lot of races when I was younger, A huge man, he would seek out Doyle every so many years to order a Bardahl jacket because Doyle could jackets in really large sizes.
Named for its founder, Norwegian immigrant Ole Bardahl, the company was headquartered in Seattle, Washingtonj; so, it was not going to make the inroads in the Northeast that the New Jersey – based Tiopet or the Massachusetts – based Oilzum had made. However, thanks to Doyle, it was the dominant product at places like Northeastern Speedway, Thunder Road, and later – Catamount Stadium. Bob Doyle would remain very active within our immediate racing region, participating in track banquets and so on.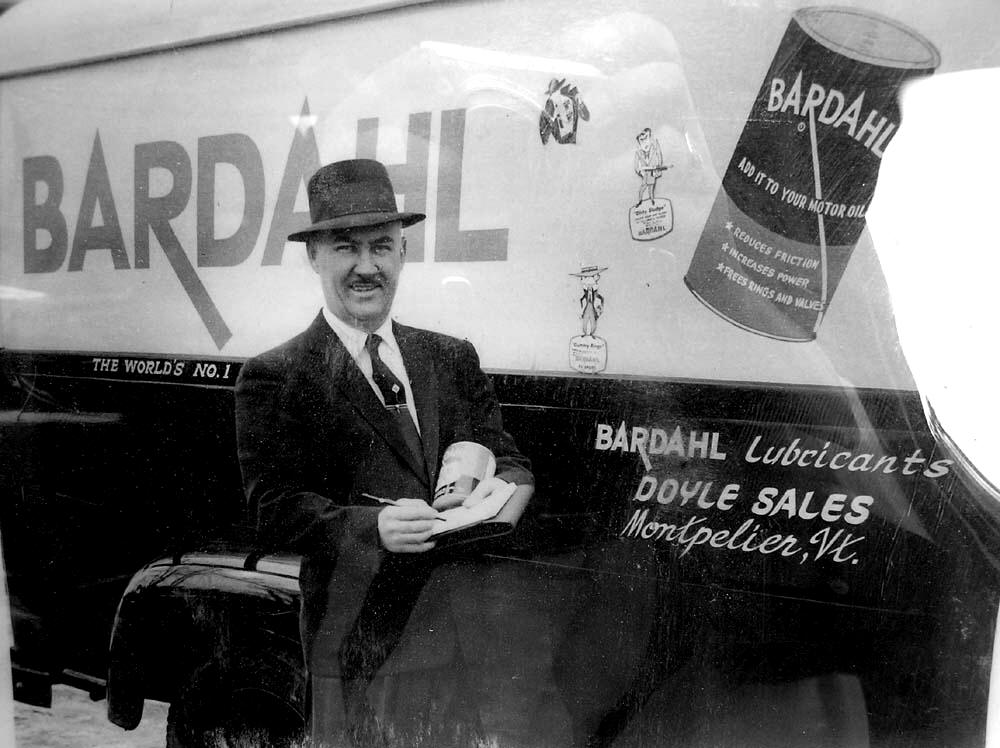 Courtesy of Cho Lee
Bardahl man Bob Doyle, unusually dressed up by his
familiar Bardahl truck at Thunder Road. Below – This Northeastern
Speedway car was fully sponsored by Bardahl – no mere decals
for us !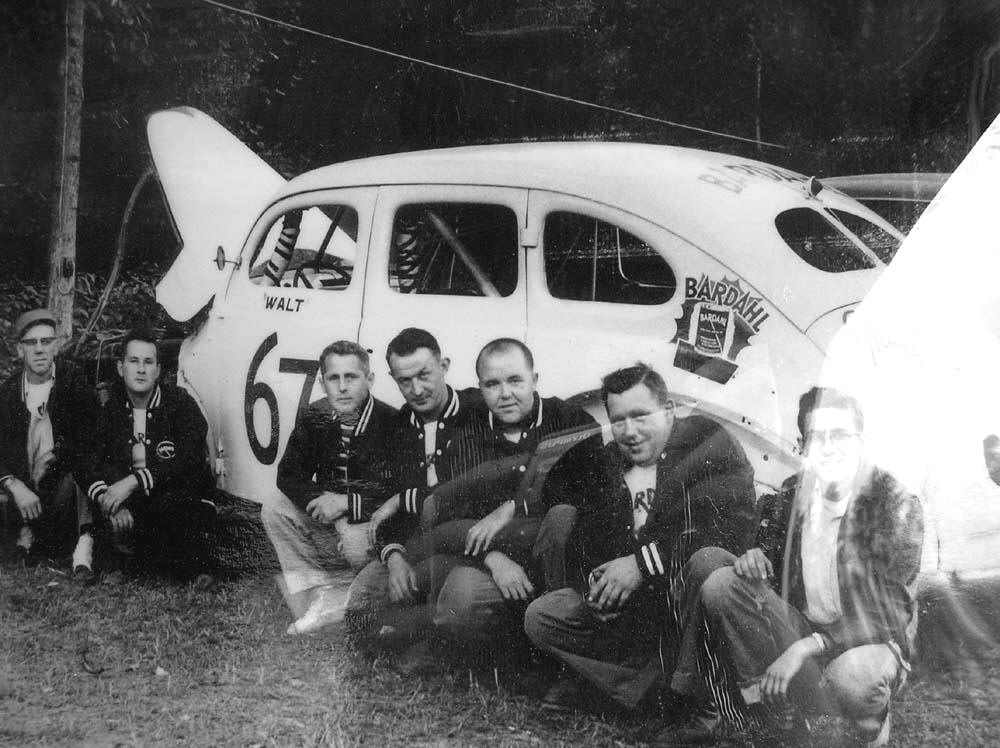 From the Northeastern Speedway Site
From the Northeastern Speedway Site
So, when you see older older coupes or sedans bearing decals from Tiopet, Oilzum, or Bardahl [to name these few oil brands], you have to know that there is probably a lot more to the story than just some guys having a sticker and deciding to put in on old Betsey. These motor oil companies were the small equivalents of today's monstrous corporate sposnors. As a youngster heading up a dusty dirt road to see racing at Vergennes, Vermont's Otter Creek Speedway, I would see the track name on the Wolf's Head Motor Oil Sign and realize there was another brand trying to get a piece of the racing pie.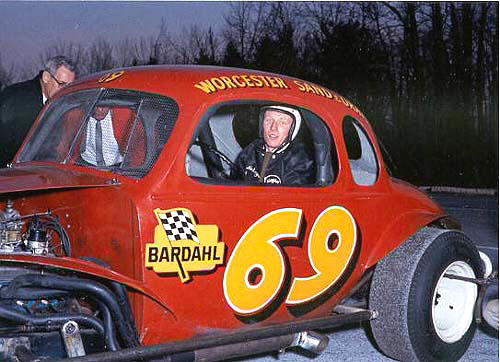 Courtesy of Jeff Ackerman
Pete Hamilton's Worcester Sand & Gravel 69 had a hookup
with Bardahl despite being in the back yard of Oilzum. Below -
Jean – Guy Chartrand was in a distinct minority sporting
a Castrol decal.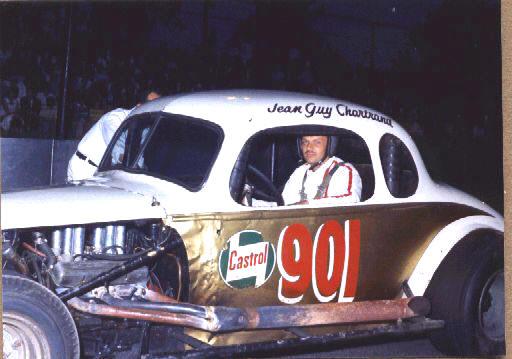 Source Unknown
Please email me at wladabou@comcast.net if you have any photos to lend me or information and corrections I could benefit from. Please do not submit anything you are not willing to allow me to use on my website - and thanks. For those who still don't like computers - my regular address is: Bill Ladabouche, 23 York Street, Swanton, Vermont 05488.
AS ALWAYS, DON'T FORGET TO CHECK OUT THE REST OF MY WEBSITE:
www.catamountstadium.com
Return to the Main Page
Return to the Main News Page
Return to the All Links Page
Return to the Weekly Blog Links Page