BILL'S [Somewhat] WEEKLY COLUMN/BLOG PAGE

BILL'S BACK IN TIME
By Bill Ladabouche
GEORGE'S HORNETS
I had been going into the pits at Catamount Stadium for about a year by 1971. You just couldn't appreciate the race scene sitting up- in the stands with your cooler. I had actually gotten to help with the Hurricane race effort of Milton's Norm Cyr, whose Thunderbird virtually dominated the first year of that division before he lost interest and sold the car.
I was beginning to play a different role trhe following year – that of a sign painter who loved to letter race cars. That year, I noticed a big old orange Pontiac that appeared in the Hurricanes. The family that ran it was interesting, to say the least. The McRaes, at that time, consisted of the driver and eldest son, George, his brother Gordon who was even larger than the massive George, and the youngest- Barney – who was clearly going to be up there with the other two in a year or so.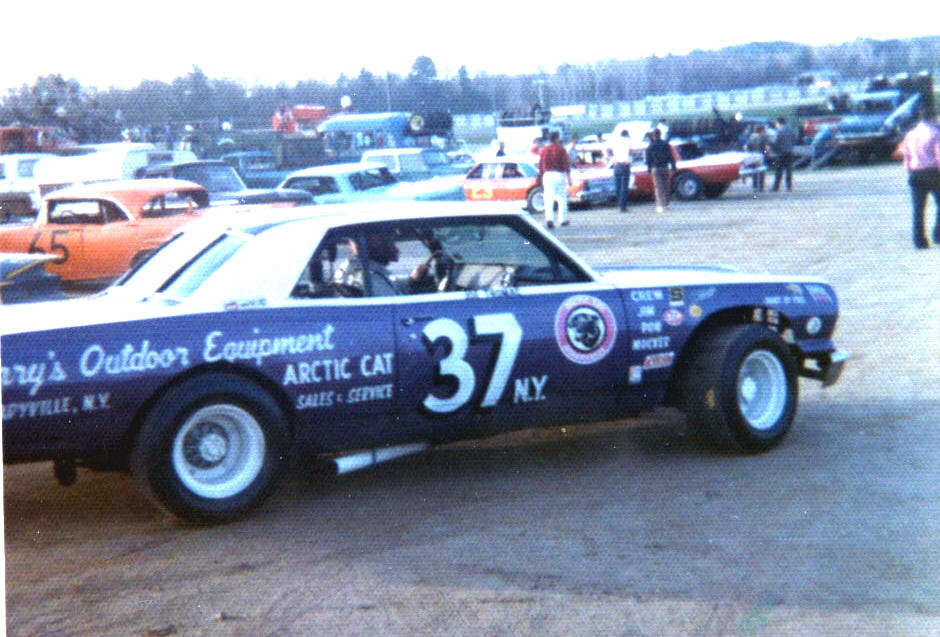 Ladabouche Photo
This shot I took of Joe Thomas in the Jimmy Guynup LMS ended up getting
the McRae Pontiac Hurricane in the background. Below – This shot of Barney
and wife, Fran at Catamount captures Mr. McRae in the background, looking
at the tow vehicle.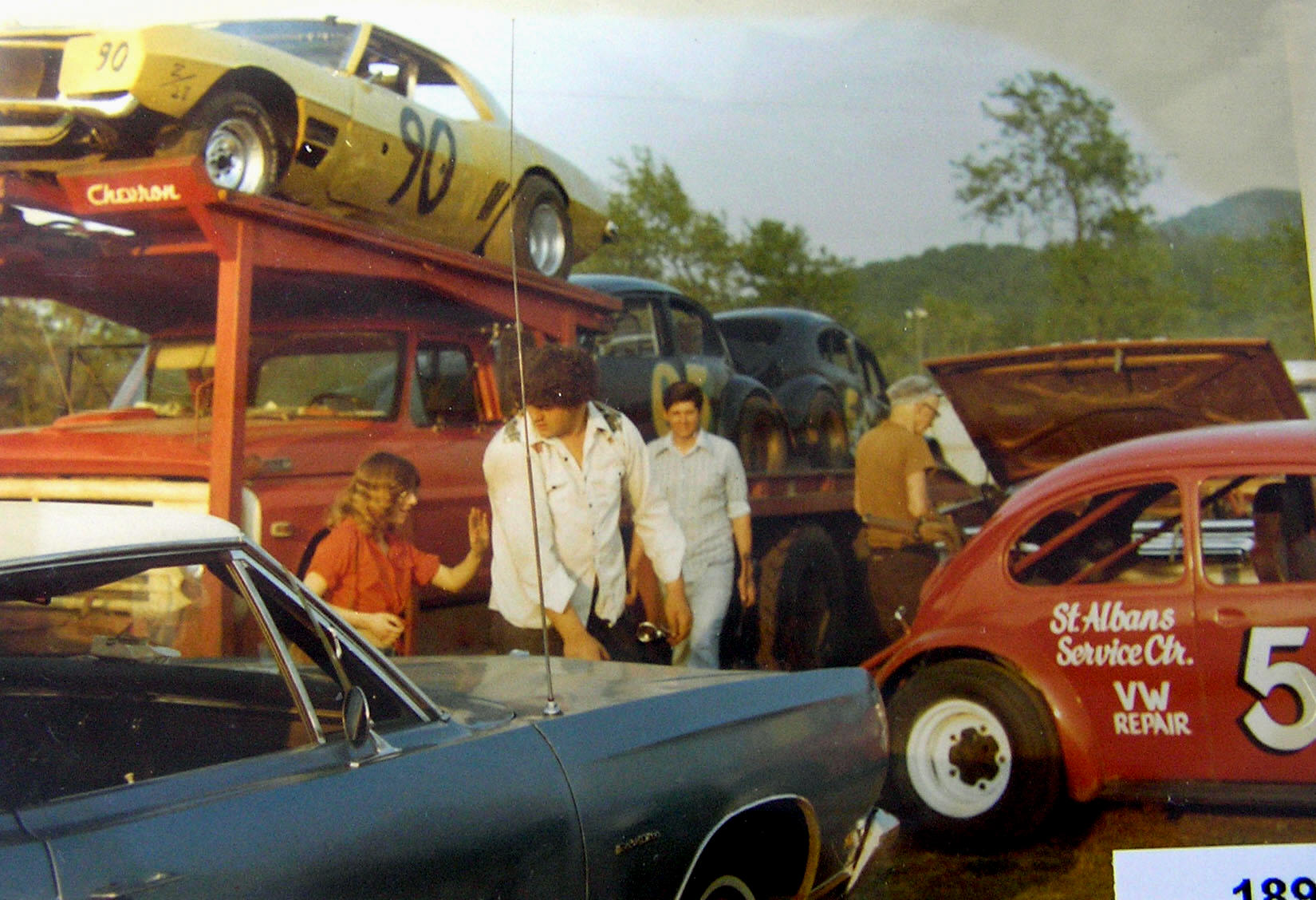 Courtesy of Cho Lee

The family patriarch clearly did not supply the genes for the size of the boys – the mother did. Mr. McRae was a very slender older man who was dwarfed by his big boys, but still clearly in charge. Mrs. McRae was a strapping woman, and the boys took after her. The family all helped with the orange behemoth of a race car, and Mrs. McRae kept everyone well fed all evening with food she had packed.
The division was beginning to develop better - performing race cars, and was also developing a new batch of stars to race them. George McRae was not quite in that category that first year, but he put in a respectable first year with the orange #65, the color and number of which would become a trademark for years to come. He had built the car mostly at home, and I suppose the paint was something he came by for little money.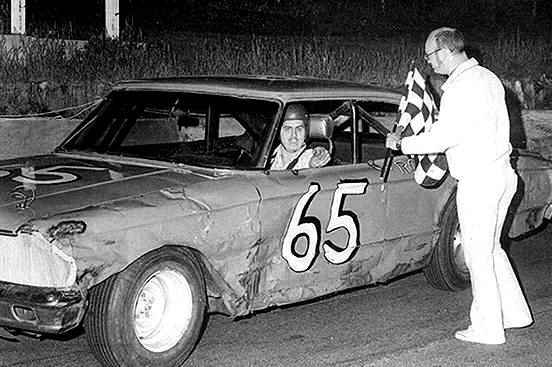 Courtesy of Cho Lee
This is the only shot I have of the Ford, which George hauled all over
and with which he won a number of races. Below – Barney, meanwhile, began with this VW
shown pitting as John Mascitti takes a victory lap at Catamount.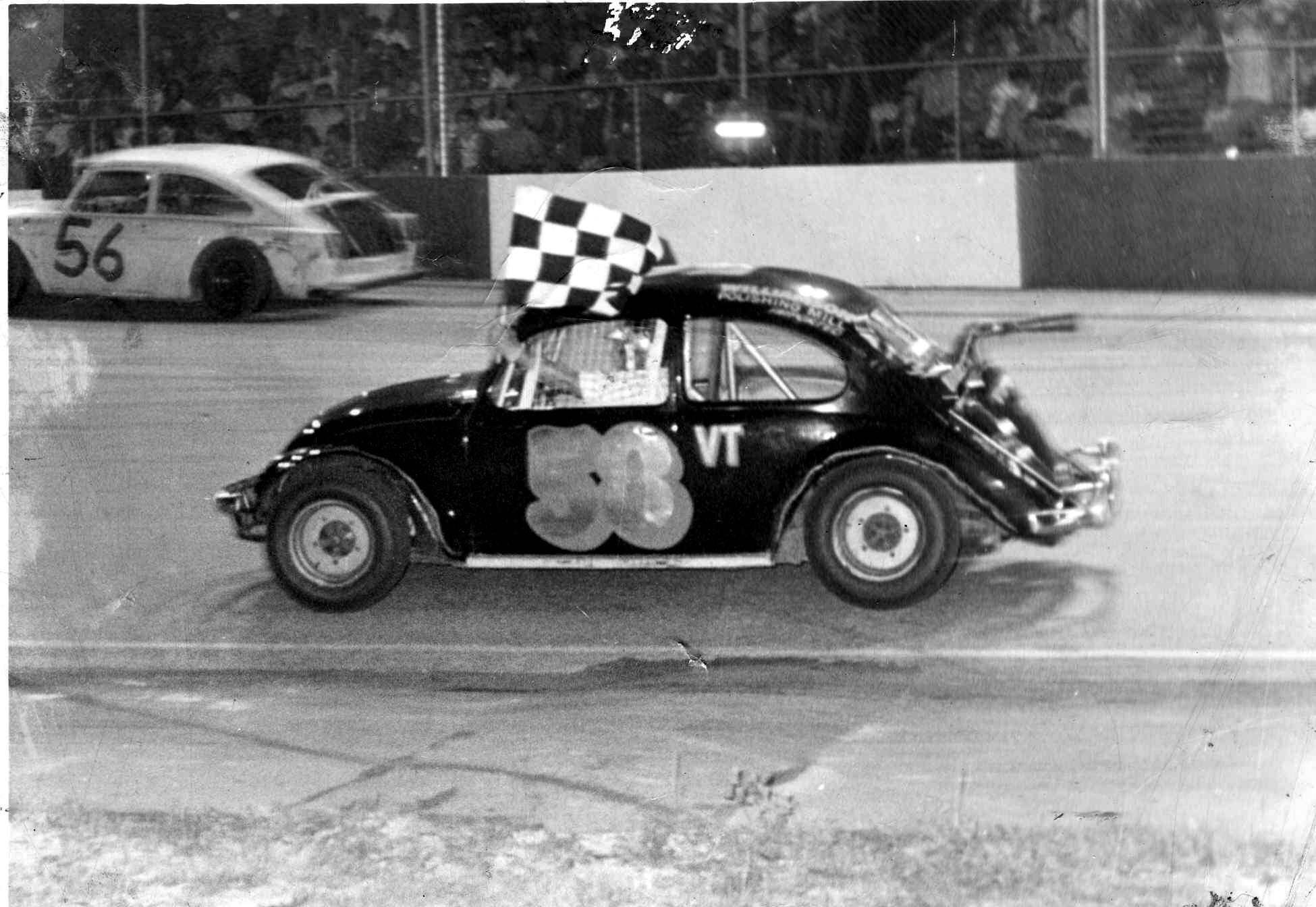 Courtesy of Paul Mascitti
As did most of the Hurricane teams, the McRae race effort improved greatly the following year. George now had a 1964 Ford Fairlane to run, and he was much better. Built at Rocheleau Motors, a St. Albans AMC dealership where George was working, it was a much more competitive machine. The Hurricanes were beginning to run a very ambitious race schedule by the mid 1970's according to George, and – besides Catamount and Thunder Road – they could be running at such farflung places as Sanair, Airborne, Devil's Bowl, and at Champion Speedway [a Little track located on some salvage yard property outside of Bedfor,d Quebec.
Airborne and Devil's Bowl were also running automatic transmission cars [like the Hurricane], called Chargers,. This class had been developed for the Albany – Saratoga Speedway in Malta, NY, a track that was cooperating with the then – paved Bowl and Airborne. I recall Jim Cayea, Ron Bonnette, and George as the main competitors from Catamount who ran the other two tracks. The Bedford track welcomed the Hurricanes and treated them like a top tier class.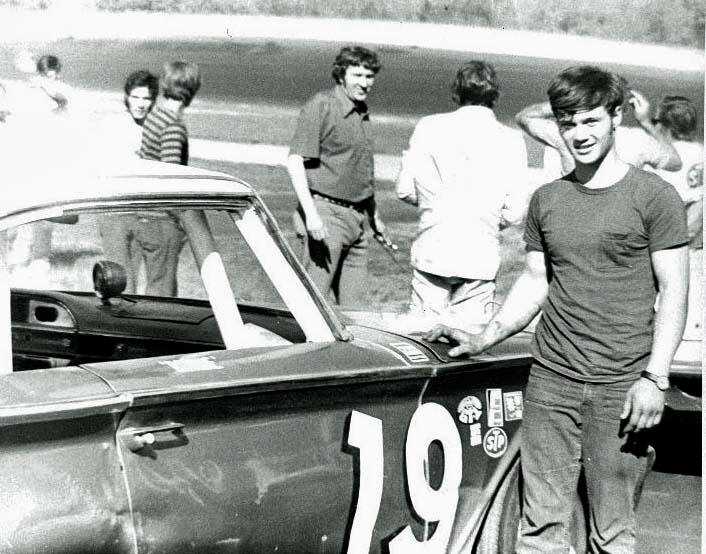 Courtesy of Cho Lee
Ron Bonnette, then known as the "16 Year – old Sensation" would often travel with fellow St. Albans native George McRae to
Devil's Bowl or Airborne. Above, he is posing with his Hurricane at Catamount as Ken Squier keeps a watchful eye in
the background. Below – with the same car as a Charger at Devil's Bowl.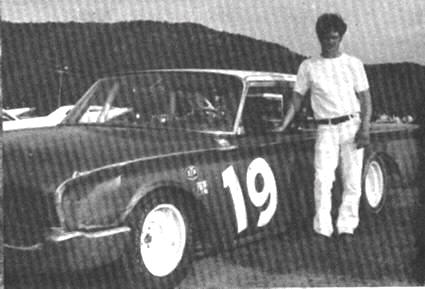 From the Devil's Bowl Program
George would run the Ford until around the end of the 1975 season. Now working with Milton's Paul Robar, co – owner of the Beaver Dragon Country Dollar late model sportsman, George was convinced to try fielding an AMC car. Robar and Steve Hibbard helped McRae get an AMC Hornet and rework the frame as much as rules allowed so that any flexing worked in their favor.
The first Hornet was McRae's characteristic orange, with the number 65. George had discovered Clifford King Engineering in California, a speed shop that specialized in AMC race car and which was very intrigued in what he was doing. While the King shop worked mostly on AMC road racing cars, it did send for the AMC engine [and those engines never lacked for power].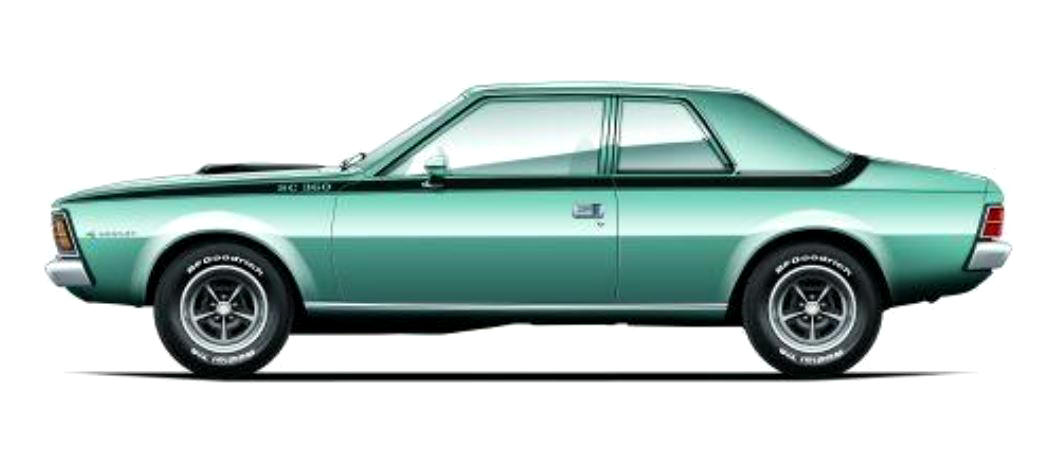 Hemmings Site Image
I don't have a photo of the first Hornet, but it may have looked something like this when it was new.
With a lot of influence from Hibbard, the purchased Hornet had gone through intensive preparation. Hibbard insisted that the frame be scraped to remove the AMC factory under coating, and that the frame be re-configured. In mid construction, Hibbard left he scene and a man named Bill Hazen came in to help. George says the front end geometry on this Hornet was like nothing anybody else had. With different A frames and no sway bars, the setup allowed the car to keep the weight on the front end balanced even under speed in the corners. This, more than some super engine gave George the edge he seemed to have with the car.
The Hornets had a 258 C.I. engine,and some loophole in the way AMC motors were configured allowed McRae to have a Holley 650 two barrel carburetor, which allowed more air to to the cylinders than most of the GA cars could get.
I recall getting getting the newly – finished Hornet to letter before the season. It was to create quite a stir, as did Dave Gibb's Javelin, as Catamount was converting over to eventually having its support class be six cylinder cars. That transition season, the Northern NASCAR organization returned to using the term "limited sportsman", as it had the grandfathered eight cylinder Hurricanes and the six cylinder pony cars running together.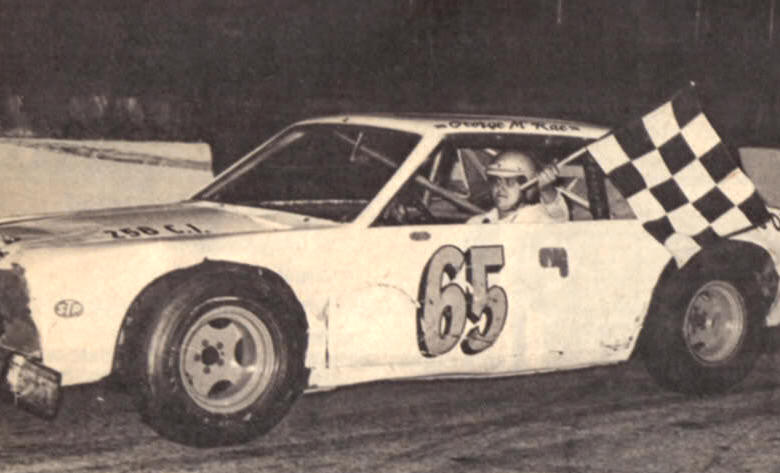 Helen Owen Photo via Andy Boright
George claims to have won less in the white Hornet than the orange one.
However, I have three separate win photos of the white one. I have no photos of the orange one when it was first out.


Courtesy of Walter Newell
Drivers who started out with a six among the huge thundering Hurricanes included George, Jim Barton, Larry Caron, Gibbs, and a few others. It wasn't that easy, as the resentful Hurricane teams were as rough on the smaller cars as they could get away with. They tended to give the tough – as – nails Barton a bit wider berth than the rest, but the final champion, Norm Andrews, was driving a Hurricane.
By the following year, 1977, the class was called Grand Americans, and the huge Hurricanes were history. George would run the Hornet against the likes of Richard Buzzi and Tom Waters with their potent Camaros, Jay Yantz with a fast Mustang, Paul Donahue, who was trying to get a Mopar straight six competitive, and dozens more. Woodstock's Bruce Jaycox actually fielded a full – sized Ford Fairlane with a six cylinder motor.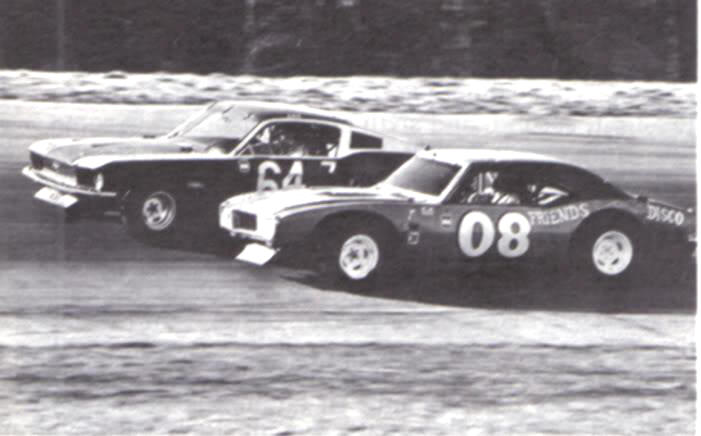 Courtesy of Andy Boright
Some competition for George came from the likes of Joe Myers [the Ray Lasnier – built 08 Firebird]
and Jay Yantz in his potent Mustang. Below – the full – sized Jaycox six cylinder Ford.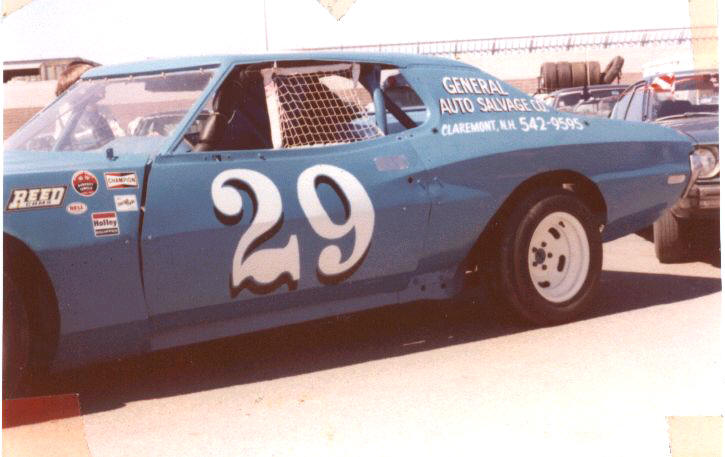 Courtesy of Mark Austin

George's Hornet was a rocket, and he won features that season at Catamount and at Thunder Road. By now, while brother Gordon had distanced himself from the family and from racing, Barney had been racing in the mini stock division for at least a season by now. At the end of the 1977 season, George had been talking extensively with Milton garage operator Frted Paulette, who convinced him to build another Hornet. While the orange Hornet had been built mostly at Robar's B&R Motors, this one would be built at Paulette's.
However, things soon went South, as there was not adequate funding for the project as Paulette had envisioned it. George moved out and managed to rent space in one of the barns on the Sonny Barrett property, out in Checkerberry Village not far from where the Milton dragstrip had been. McRae would maintain that space for quite a while and develop a close friendship with the Barrett family that lasts to this day.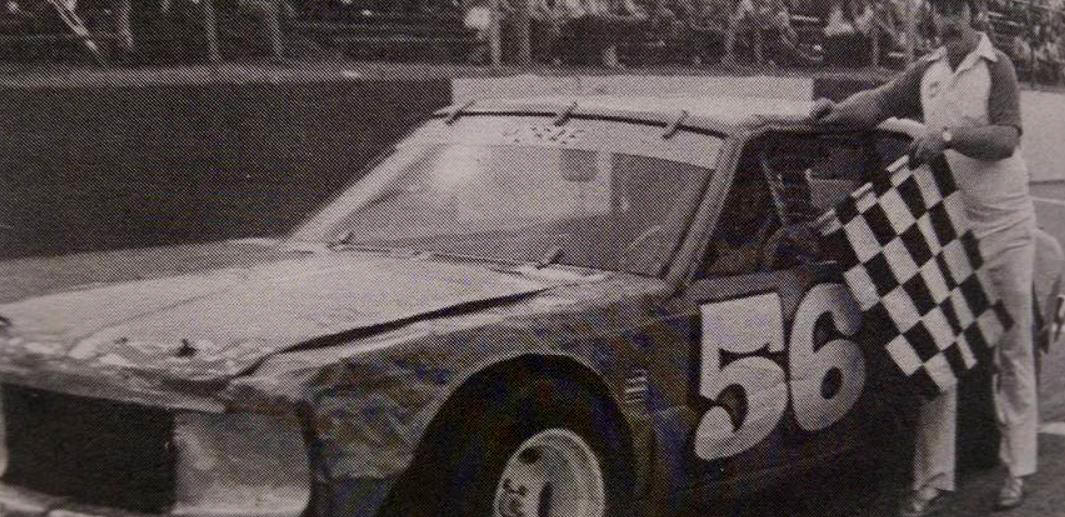 George McRae Collection
Ho hum, another win for the Hornet. Below – The reconfigured Hornet when Barney ran it.
The new car, being quite different in design from the original orange car, was painted white and brought to me for lettering. He had secured Buyers' Digest, a local shopping paper, as sponsor. The original car was not dismantled, but was put out to pasture. It was a good thing as George never liked the handling characteristics of the white car as much. Built more solidly than the orange car, it was less flexible; he did, however win a race or two with it. George says that, at this time, he also tried driving a car John Merrick had built working with convicts at the local prison. It may have been a Valiant.
Some time in 1978, Barney decided to give a different division a try and the orange Hornet was dragged out of the weeds, fixed up, repainted orange, and christened with Barney's #56. Barney was at his wit's end with car. He had developed driving habits with the Volkswagens in the mini stock class and was trying to drive the Hornet the same way with no success. With the VW's, you lifted in the turns; but, with that flexible AMC, you couldn't [and really didn't need to].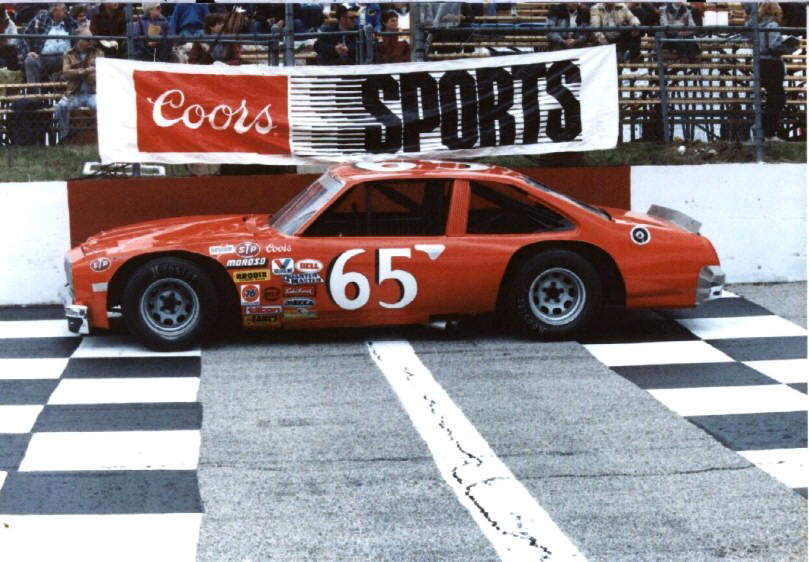 Ladabouche Collection
George would eventually try this Zervakis car that had once been
Bob Dragon's dominant AutoMaster Honda entry. Below- The
Nova taking off after a pit stop in the Catamount infield.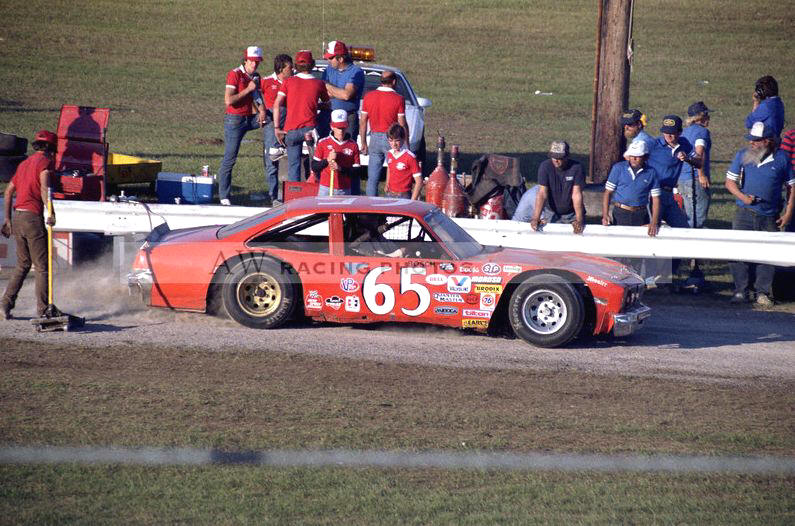 A and A Ward Photo

Finally an exasperated George took the orange car out to prove his point and won the first race he was in. At the end of the season, they were holding a three part race similar to a Milk Bowl for the Grand American cars. George took the car out and won both the heat and the semi feature. Barney was leading the feature when it rained, and the race was never continued. By the following year, Barney was looking to move up to the late model ranks, and George was too busy trying to grow his garage and wrecker business to race. One of the Hornets was sold to Mark Austin, who [with Barney] put the body from the other Hornet on the better frame.
This was Barney's last ride was that car before he began a long relationship with Henry Thibault. They would obtain a Pontiac Ventura late model sportsman and begin several years of running with the big boys. George would, one day, buy Bob Dragon's Emmanuel Zervakis – chassised Chevrolet [the Automaster Honda car] and try racing once again. He had gotten the car from Blair Bessette, who had it for a brief while as a blue #55.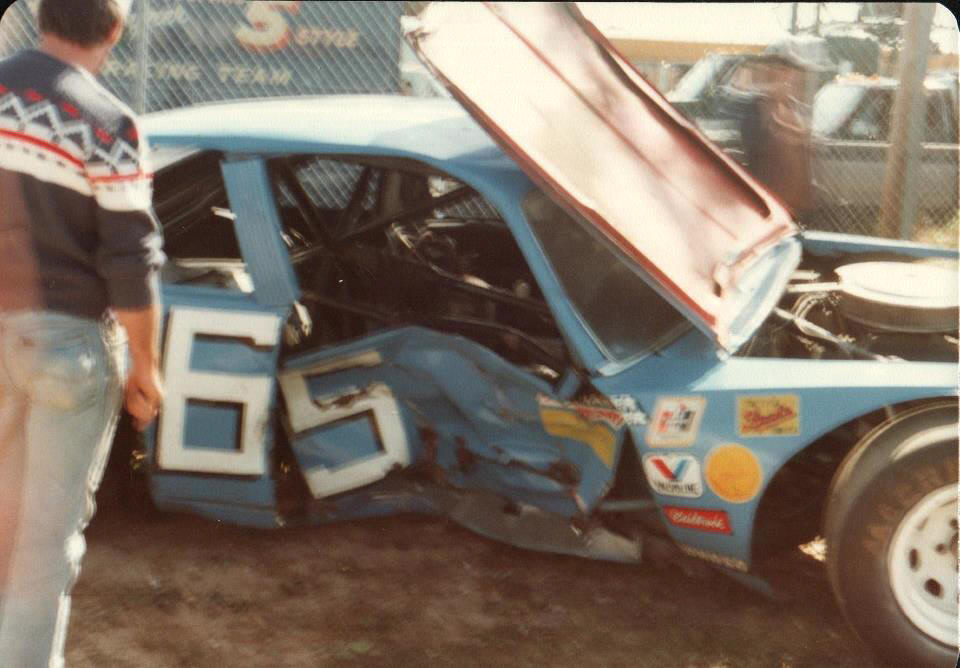 Courtesy of Aaron Maynard
I don't know if this is the bad Oxford crash or not, but it sure as
hell qualifies as a BAD crash. Below- George had this late model
towards the very end of Catamount.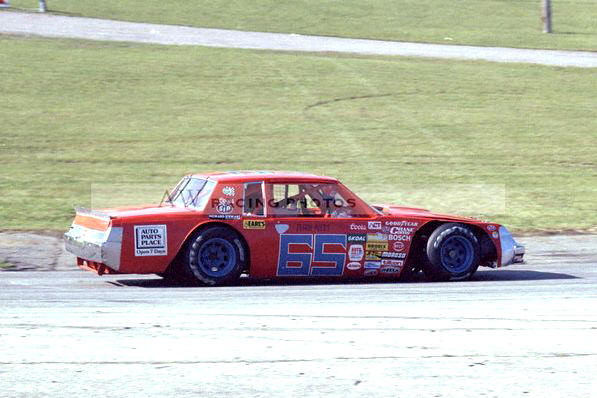 A and A Ward Photo

George was running the Nova – bodied car at Oxford Plains Speedwsay in one of the Oxford open races when he was involved in a bad wreck. Apparently Zervakis had installed tubing that was not large enough for specs but looked OK to the naked eye. The car folded so badly George said he was left sitting in the car, with one arm hanging out the right window and one hanging out the left. [He's big, but not that big].
George says Dragon was horrified at what had happened and had said that – had he know n this about the car – he wouldn't have felt safe competing in it. That car still sits out back of McRae's business today. George was convinced he had no more business racing, as he had a business to run that was not going to survive waiting for him to recover from injuries or trying to share his resources with a race car.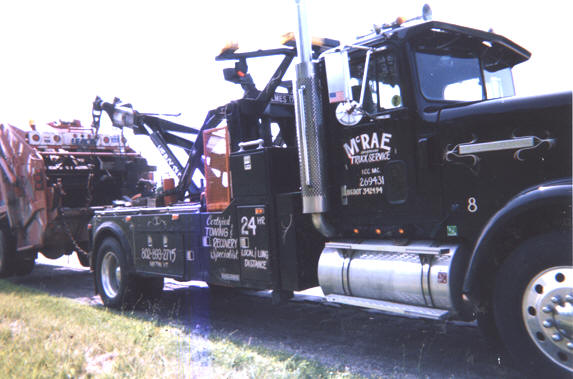 Source Unknown
This is the trademark McRae look now.


And, true to form, he has a fine business today. The huge black wreckers that simply say "McRae" on the door can be seen far and wide. The garage also does well. His wife and stepson are involved in the operation of the business, as well. The George McRae AMC Hornets are some of the best – remembered cars from the long – closed Catamount Stadium. Sometimes, it just pays to take the road less traveled -[even in the race business].

Please email me if you have any photos to lend me or information and corrections I could benefit from. Please do not submit anything you are not willing to allow me to use on my website - and thanks. Email is: wladabou@comcast.net . For those who still don't like computers - my regular address is: Bill Ladabouche, 23 York Street, Swanton, Vermont 05488.
AS ALWAYS, DON'T FORGET TO CHECK OUT THE REST OF MY WEBSITE
www.catamountstadium.com
Return to the Main Page
Return to the Main News Page
Return to the All Links Page
Return to the Weekly Blog Links Page