BILL'S [Somewhat] WEEKLY COLUMN/BLOG PAGE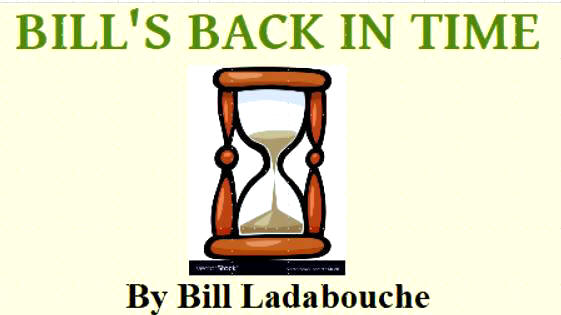 A Chance Meeting of Names and Gradual Change
When the old Fairmont Park Motor Speedway first set up business with promoter Hugh Young at the old Fairmont Park horse track, there was no chance of running anything close to a late model division because-[ heck – a lot of hat we called late models, later on, had not even come into production yet. One unexplained photo from the old track shows what appears to be a demolition derby [or a really destructive race] and, in that photo, there are cars like Hudson Hornets and so forth.
But, it is safe to say that stock car racing – except for the newly – formed NASCAR, was strictly pre – WWII coupes and sedans everywhere. After a running a few cars in 1949 including those hazardous NY roadsters, Hugh Young ran regular stock car races in 1950 [competing with nearby Mettawee Speedway in North Granville, NY] and the further away Stateline Speedway near Bennington, VT. Young would then try another season in 1951; but, by then he not only had Mettawee and Stateline to deal with but also the very nearby Pico Raceway that opened in Rutland, VT. Between the competition and the death of a local man who had sneaked into trees near the track to watch free racing, Young folded his tents after 1951.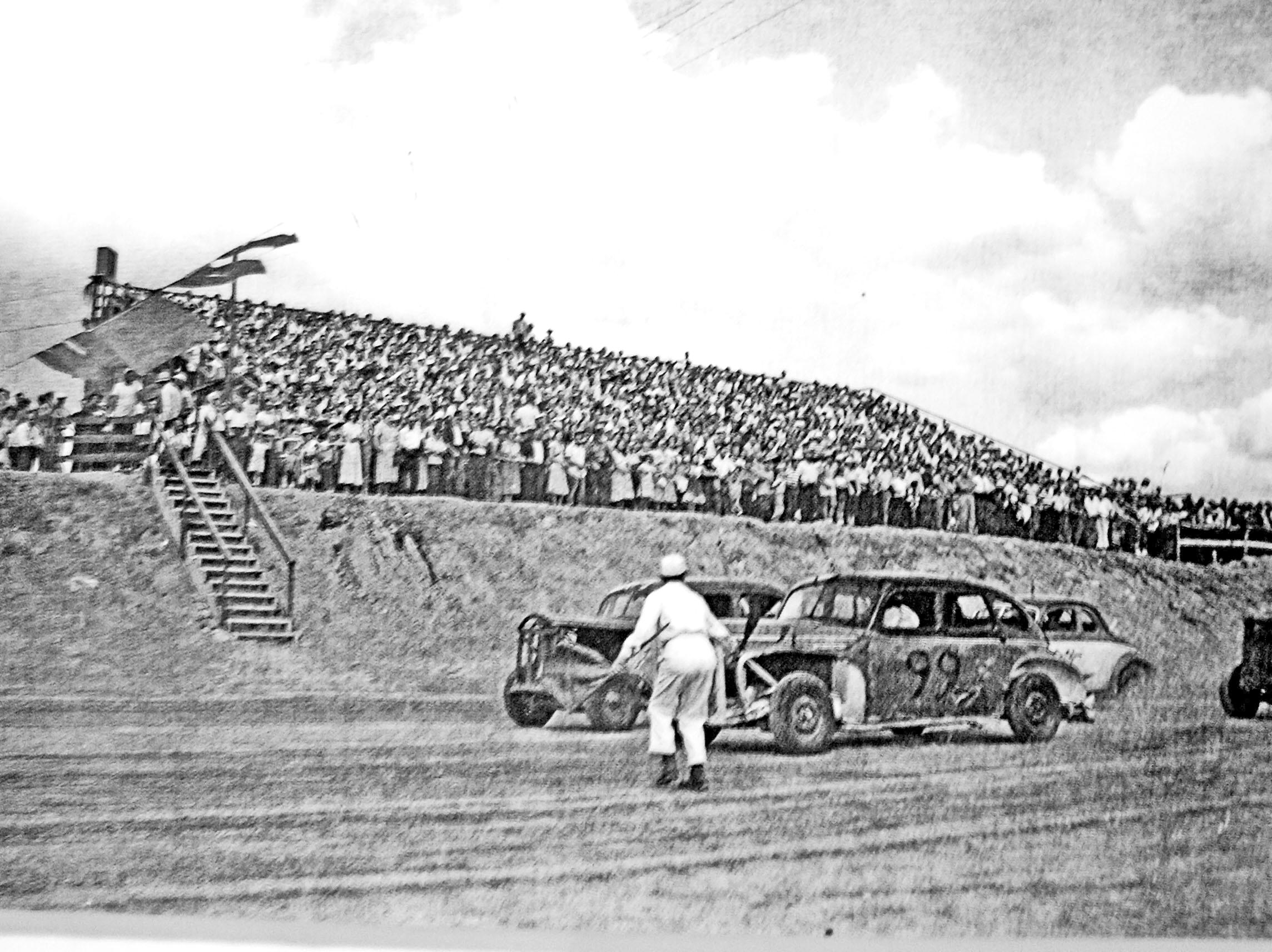 Aldo Merusi Photo via Rutland Historical Society
Until almost into the '60's there were few "late model" cars running northeastern tracks because the cars were too new.
This shot of a '48 Chevy at the inaugural program at Pico Raceway is hard to figure, as #99 would only been around 3 years old at the time.
Below – An early Fairmont Park Motor Speedway shot shows a motley collection of cars including a roadster, a jalopy, and regular stock cars.
Stars Spence Parkhurst, Steve Danish and Dave Brooks trail the mixed bag of other cars.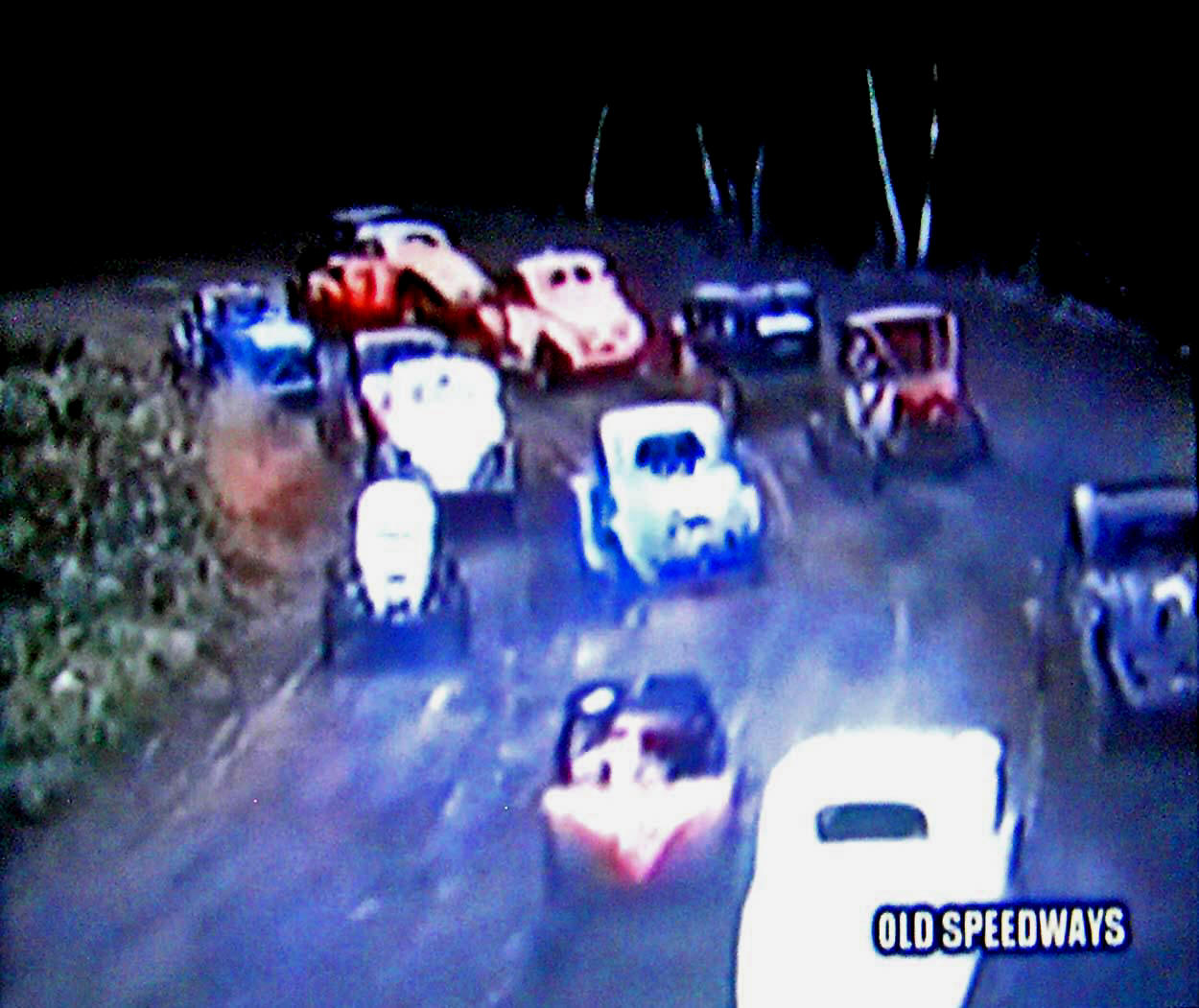 From Dan Ody's 8MM Old Speedways DVD's

The old fairgrounds venue would sit dormant from 1952 to 1962 when a local man named C.J. Richards, having seen races there as a youngster, re – opened the venue, shortening the name to Fairmont Speedway. The savvy Richards had watched the reception that a race at the Vermont State Fair in Rutland had enjoyed in 1961. He may have even had a hand in that show which was staged by the Lebanon Valley Speedway. So, when Fairmont opened on a hot Memorial Day in May of 1962, he had a full house and a lot of enthusiasm despite the show struggling with organizational problems.
For Richards, who was then calling his operation Fairmont Auto racing Association had not yet gone to his trademark Champlain Valley Racing Association [CVRA]. He knew he could draw from a number of sources to get cars, and he also was aware that both Stateline and the track in Warrensburgh, NY were no closed. Young had also had to compete somewhat with the track near Keene, NH, at the Cheshire County fairgrounds; and that was also closed now.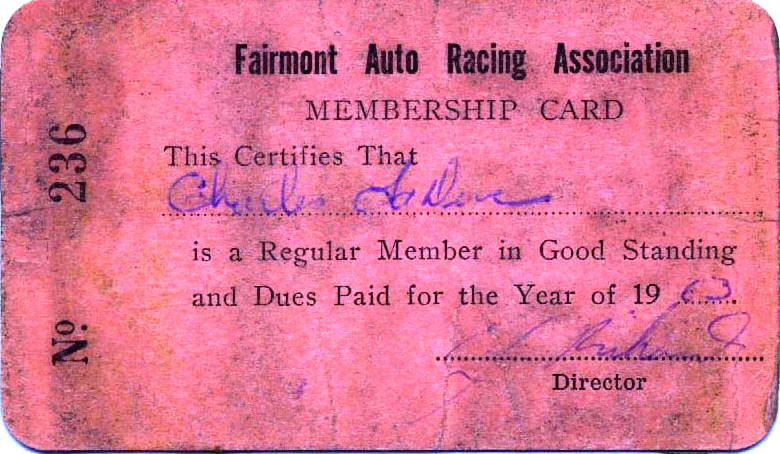 Courtesy of the Laduc Family
This 1963 membership card belonging to Charlie Laduc not only shows the name of C.J.'s first organization but
lends evidence to the beginning of the hobby class, which Laduc would be a star in by 1964. Below – This 1962 opening
day photo shows the overflow crowd at Richards' first show.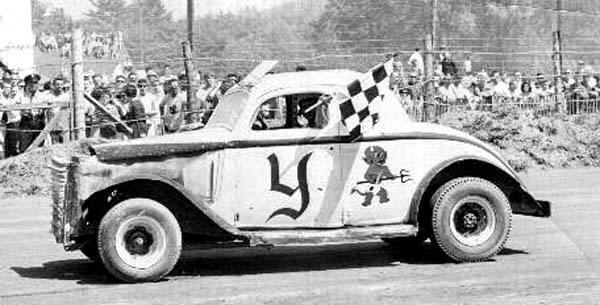 Bob Frazier Photo Ladabouche Collection

Richards would seek to draw competitors from Lebanon Valley ,to be sure, as Rutland County fans had just seen a fairly impressive show by that group the year before. He put some articles in the Rutland Herald promising prominent drivers from the Valley like Johnny Flach, Butch Jelley, and Jelley team mate Frank Hatch. Richards also knew he would draw some of the lightweight, flathead powered cars from the Claremont [NH] Speedway.
A little time before Fairmont re-opened, there had been a loose confederation of the Warrensburgh track and the Whites Beach Speedway near Ballston Lake, NY. With Warrensburgh closed and Whites Beach unsteady, CJ would attract a number of top rate cars from New York and a lot of second raters who could fill his fields. Finally, Richards hoped that a few of his old Local Vermont drivers, such as Gene Tetreault of Manchester Depot and Castleton, VT's George Rogers and George Pritchard would return. Fair Havenite Vic Love, a former Rogers team mate, was also approached.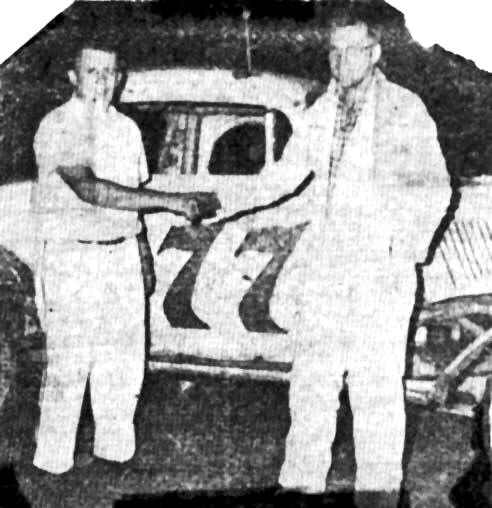 Bob Frazier Photo – Rutland Herald
C.J. put material like this in the Rutland Herald, promising stars that Rutland County fans had seen in 1961 at the Fair.
[Above] Johnny Flach and Butch Jelley [seen in photo above]. Below – One of the only locals to appear at first was Gene T
etreault, in a borrowed Julius Mestyan car.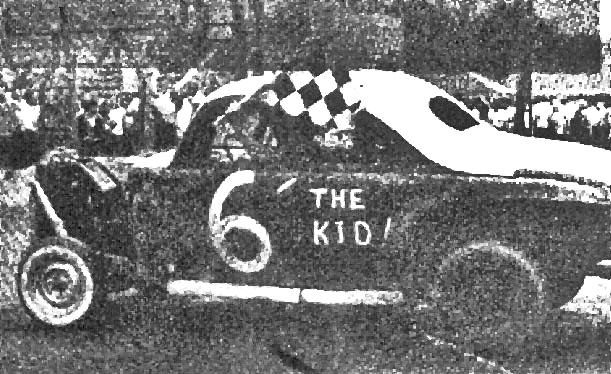 Bob Frazier Photo Courtesy of Norm Vadnais
So it was that Richards' first season featured a large roster of teams that particularly pitted the New Yorkers from Warrensburgh and Glens Falls against the New Hampshire teams. After Buddy Bardwell [Keene, NH] won the first feature and Bill Threw [West Glens Falls, NY] blew them away the following week, the challenge was on. I guess one could say the Granite Staters got the best of it, with Bardwell, Cecil Bosworth, Art Cody, Ted Brown, and Sonny Rabideau winning the lion's share of the 1962 features.
Richards staged a hugely – successful race at the Vermont State Fair that September. Despite some dust problems, the show attracted the largest crowd for a sporting event in Vermont up to that point and that figure would stand for decades. But he had his ear to the ground as he always did. Richards knew, for one thing, that late model cars would appear at the fairgrounds in 1963 in the presence of Harvey Tattersall's United Stock Racing Club's Grand American division. The lumbering late models, a poor copy of NASCAR Grand Nationals. Struggled at the old horse track, with one spectator being seriously hurt.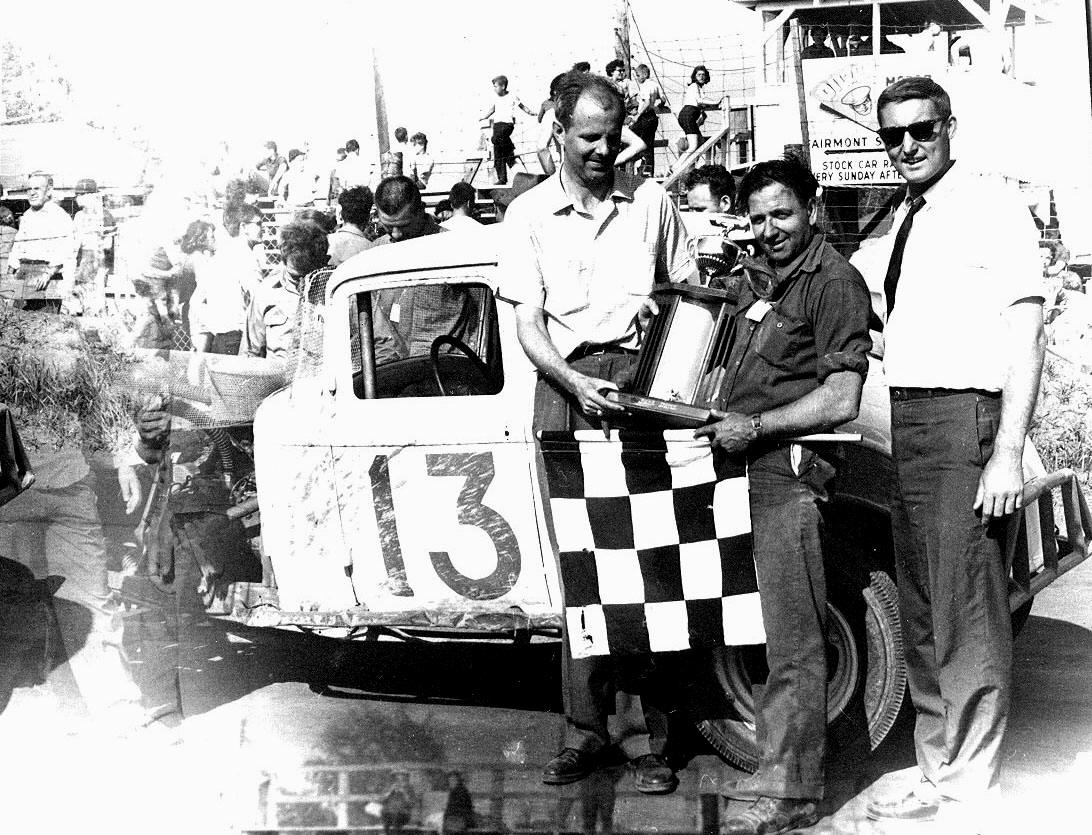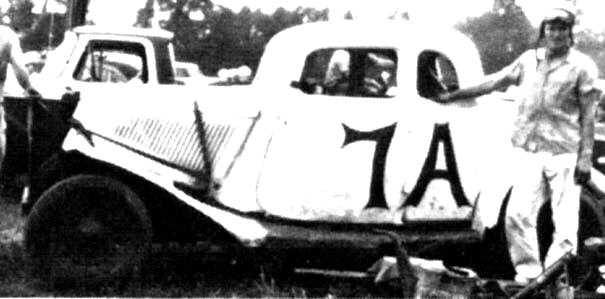 Bob Frazier Photo via C.J. Richards Bob Frazier Photo via the Vince Qunneville Book Thanks to Norm Vadnais
At first, Keene, NH's Buddy Bardwell carried the banner for the
New Hampshire contingent while West Glens Falls driver Bill
Threw led the New York state contingent at Fairmont. Below -
This shot of the feature start of C.J'.s fair race in 1962 shows the
huge crowd filling the stands and every other nook and cranny
near the track.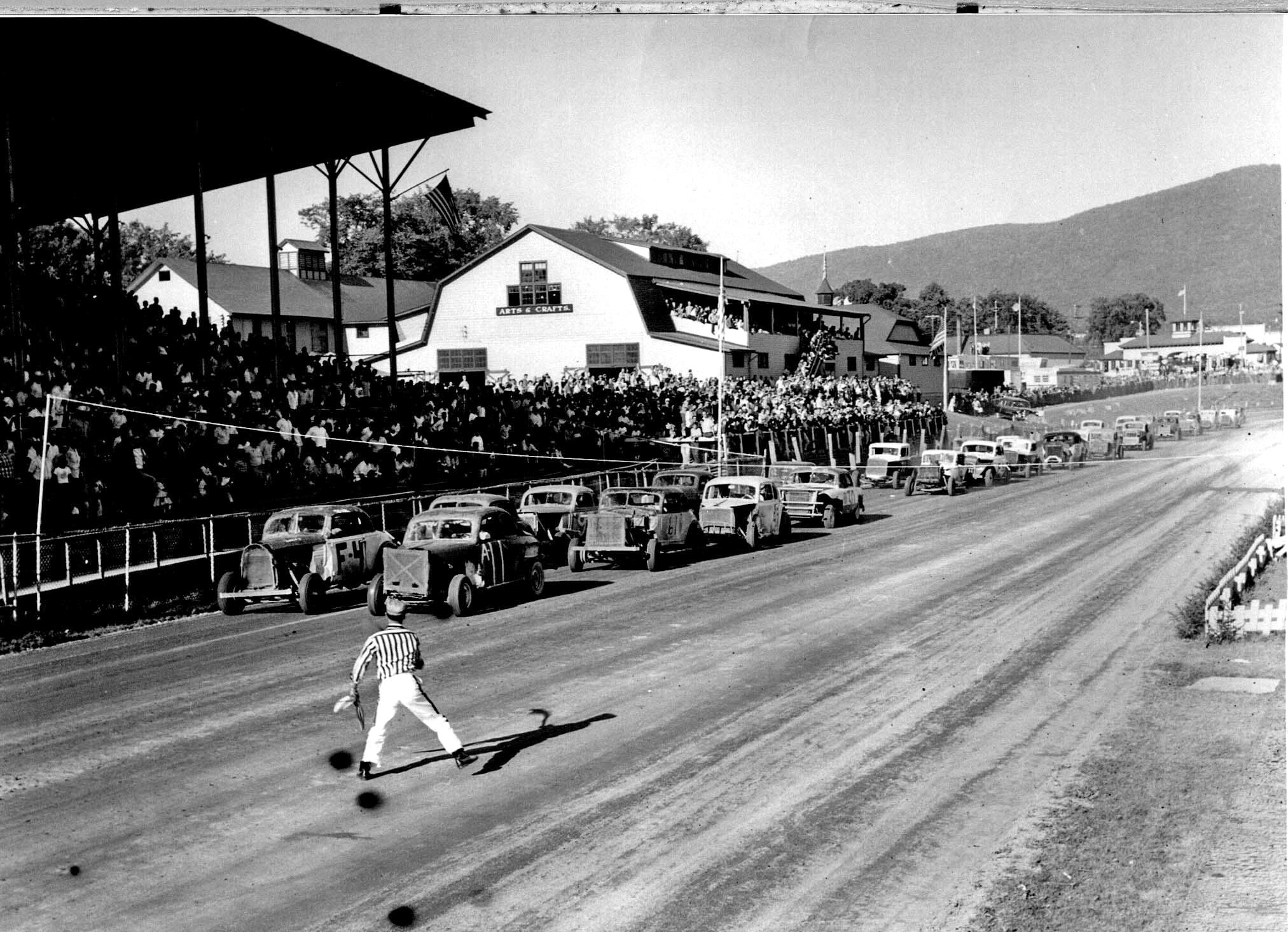 Bob Frazier Photo via C.J. Richards

C.J. also had noted that some northeastern tracks were beginning to use later model cars as support divisions. He realized that it was difficult and expensive for beginning drivers [or even drivers coming back after a long hiatus] to just jump into the lead division at Fairmont. So, over the winter, Richards came up with the idea of a hobby class that would be made up of cars mostly from the very early 1950's with strong limitations on the modifications they could have.
When the 1963 season debuted, there would be a smattering of these hobby class cars showing up. I don't recall many of the very first cars; however, I am fairly certain that his first hobby car came from Brandon, VT and was driven by a skinny kid named James Blackmer. The 1953 Ford, handpainted yellow was numbered 97 and nicknamed "Shamrock". Fans were somewhat skeptical – mostly because they struggled around the track and there weren't many of them at first.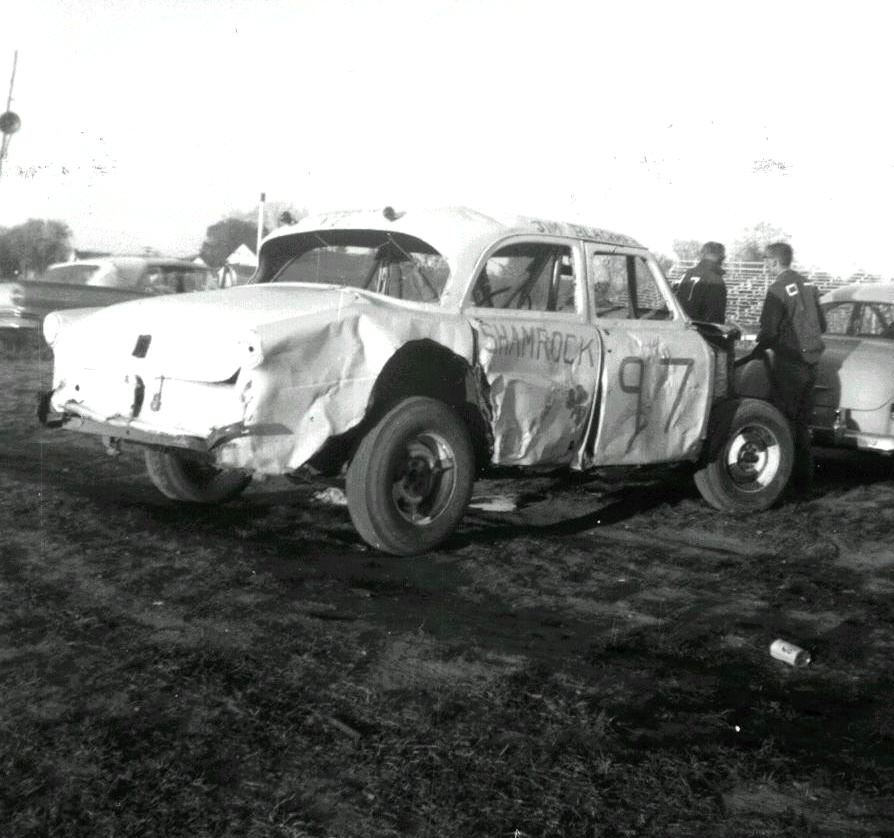 Ladabouche Photo
This photo is all I have on Jim Blackmer, shown here on the right loading up the battered original hobby car after another
long afternoon at Fairmont. His father, at left, was about the only help he ever got. Below - A fuzzy amateur
shot shows the hobby class later in the 1963 season. Blackmer is on the inside pole and future stars Charlie Laduc[54] and Tim Baker
[ahead] can be seen.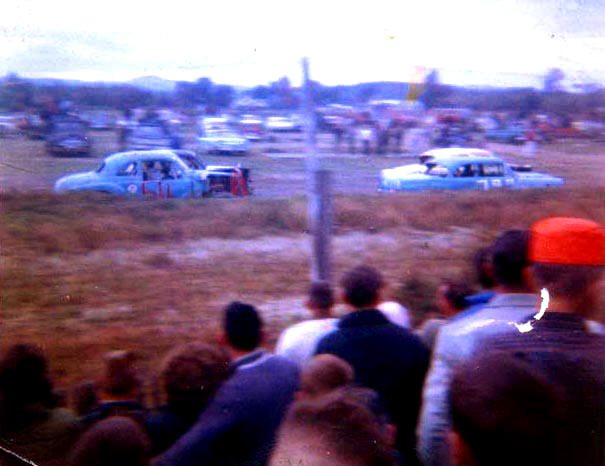 Courtesy of the Laduc Family

A few tracks had these cars before Fairmont and Richards allowed a few cars in from outside the association. Blackmer would struggle mightily, chasing the likes of Junior Ballard of Hoosic Falls, NY, driving a huge black 1955 Buick. The class began increasing, week after week, and James Blackmer soldiered on, always following in someone's dust In his non – too – powerful Ford. It always amazed us how he could survive in that car in the dust because the skinny, bespectacled kid drove every moment of every race with his mouth wide open.
That first season would see the forming of a core of future stars in the persons of Tim Baker, Charlie Towslee, and more. Also, Hank Schmidt, a veteran of 1950's racing with his F40 cars, had returned from Gansevoort, NY with a slick looking white 1955 Chevy numbered 95. There were a few late '40's cars in the class which, at first, were quite dominant. The Wood brothers, Ronnie and Lennie drove cars like these. The track eventually seemed to pause these cars out as they looked too much like the lead division cars.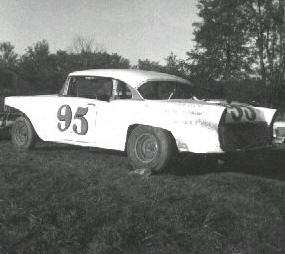 Ladabouche Photo
Hank Schmidt, soon to be a Fairmont official, fielded on of the first
technically sound hobby cars in 1963 after returning from retirement.
He had starred in the '50's in cars numbered F40 [below]. This shot
was at the old Fairmont track, with Gene Tetreault in front of him.
Tate would drag that car out of mothballs by the end ODF the 1962 season.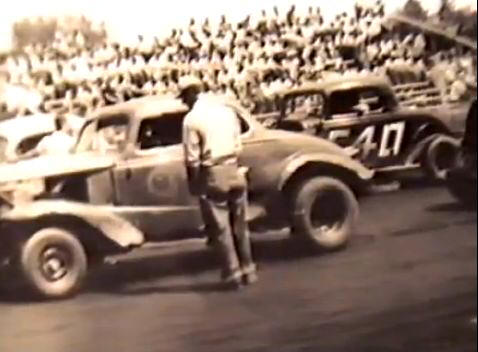 Courtesy of Bud Brooks

The Manchester / Dorset area became the focal point for stars in the hobby class, with Tim Baker [79Jr], Charlie Towslee [7UP], Gene Hoard [55], the Woods, and others. Through it all, Jim Blackmer soldiered on and kept on improving. The crowd was beginning to adopt him as a sentimental favorite and he would manage some fairly decent finishes while being totally outclassed in the equipment.
By 1964, as more stars came in such as Charlie Laduc and Dexter Dorr, Jim Blackmer began to fade out of the picture. His car was still no more developed than it was that first week in May, 1963, and he and his dad could not afford to keep up. Soon, we didn't see the 97 Shamrock anymore. But he had started the whole thing, and that division would grow into late models and later pro stocks at Devil's Bowl.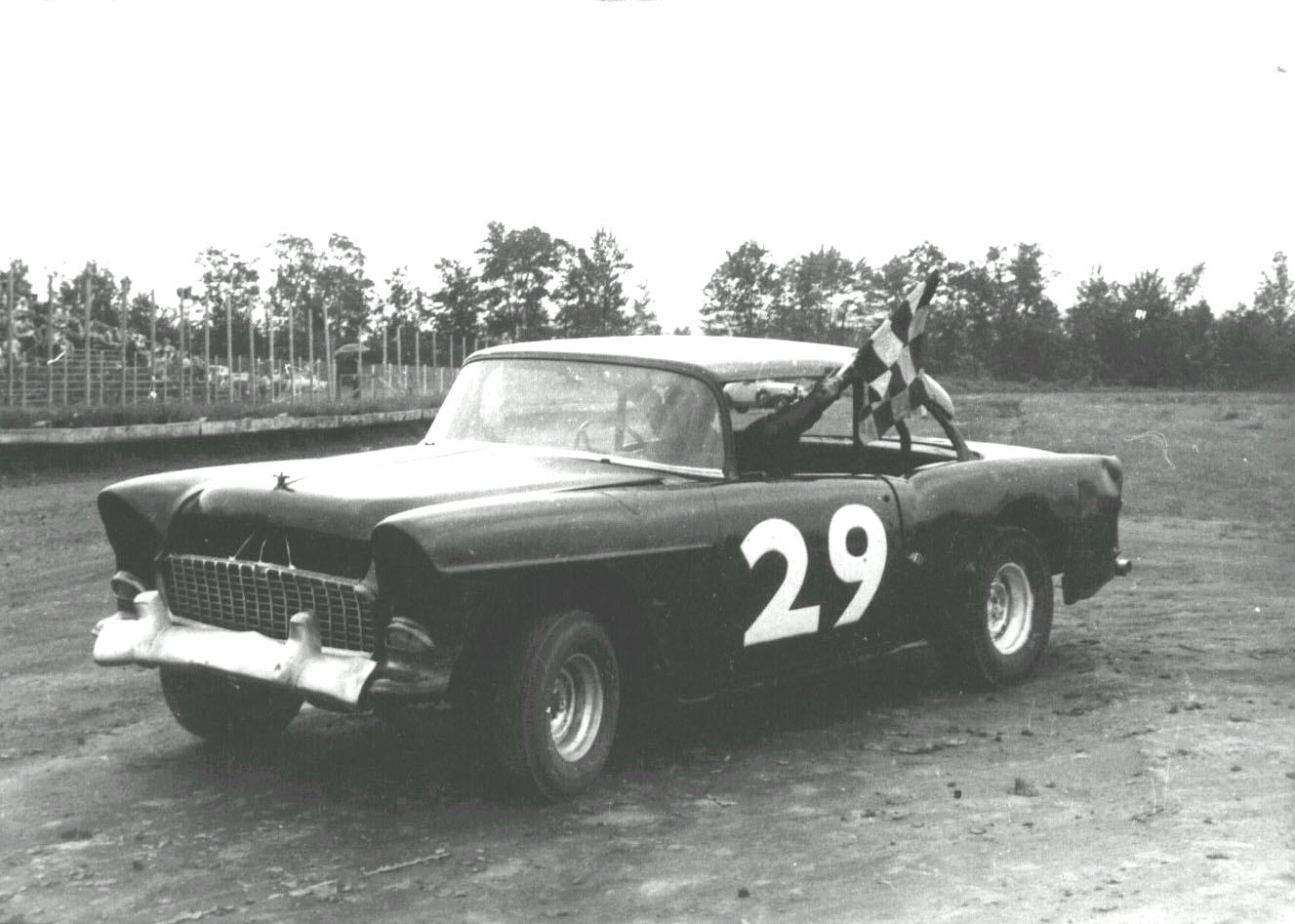 Bob Frazier Photo Ladabouche Collection
By the time the really hot hobbies came in, like Dexter Dorr's center steer
Chevy [above] and the Unbeatable Lennie Wood began being, well,
pretty unbeatable – Jim Blackmer was gone.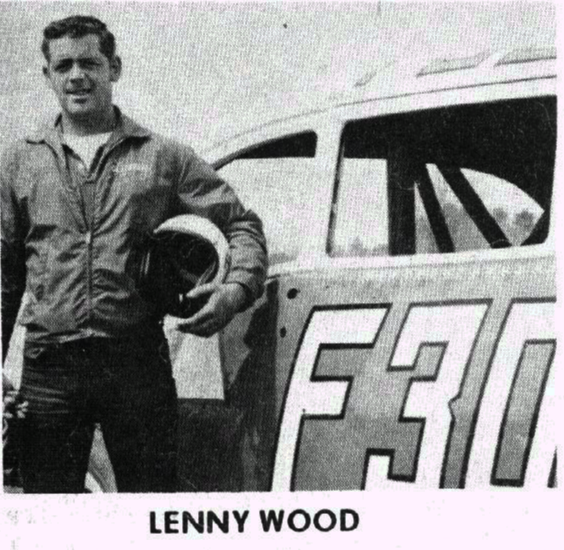 Bob Frazier Photo via Cavalcade of Auto Racing
About the time James Blackmer disappeared, the Blackmer brothers arrived. I really don't think they were related, but they had towed in an unlovely blue and white '55 Chevy number 777 in 1964. The brothers had retained the driving services of a local named Vern Hall, who had shown flashes of ability with a substandard Ford coupe in 1962. Vern was a character, driving with a cigar sticking out through an immense gap in his teeth, caused by a bad wreck at Fairmont.
Contending with Dexter Dorr's flashy Chevy, the onset of Lennie Wood's "unbeatable" period, the hugely improved Towslee and Baker, and others – the Blackmers and Hall would field their dented Chevy and absolutely hold their own against far better financed operations. Being a local from nearby Castleton Four Corners, Hall was a crowd favorite. Even if you couldn't tell whose car it was, you'd know it by Hall, driving leaned back in his, grinning with that cigar coming out through the gap. They won a few features that season – no small accomplishment.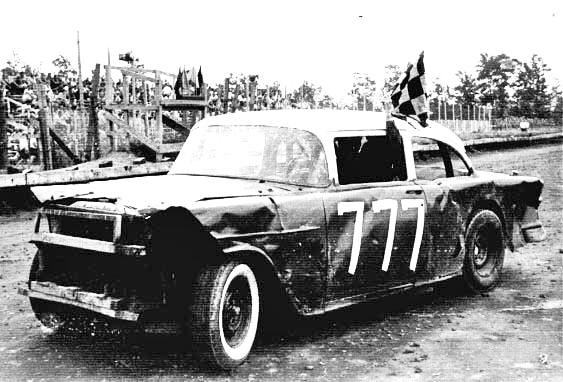 Bob Frazier Photo Ladabouche Collection
Jim Blackmer was gone – and in came the Blackmer brothers
with their driver Vern Hall to battle the increasingly
technical hobby cars like Charlie Towslee's improved 7UP [below].



Dick Britain Photo


1965 was year of change for Fairmont, C.J. jacked the lead class up to the overhead V-8 sportsman car, using small V-8 engine. His hobbies became more and more sophisticated. By 1966 they had been through the Unbeatable Lennie Wood era [1965], in which he and owner John Maguire didn't lose a single race when running – against legal hobby cars. Also, the controversial Graham Trudo car came out in 1966, and it probably should have run with the lead class.
Certainly by this juncture, there were no more Blackmer cars in evidence. In a way it is too bad. They were able to field a successful car without breaking any bank. C.J. was able to take the momentum from his sportsman class and the improvement of the hobbies to start Devil's Bowl in 1967. So more refined were the hobbies by then that he had to rename the class as Late Models and begin over with a fundamental stock class called Dare Devils. Then, others like the Blackmers could start again.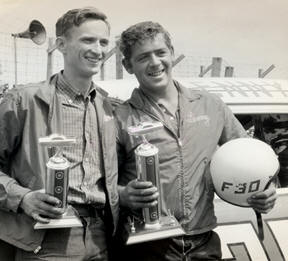 Bob Frazier Photo Wood Family Collection
What most people remember about all four years of the Fairmont hobby
class was the unbeatable combo of Lennie Wood and car owner John Maguire [above], and Graham Trudo's
controversial Ford "hobby Car" of 1966 [Below]. But people like the Blackmers were the backbone of that division.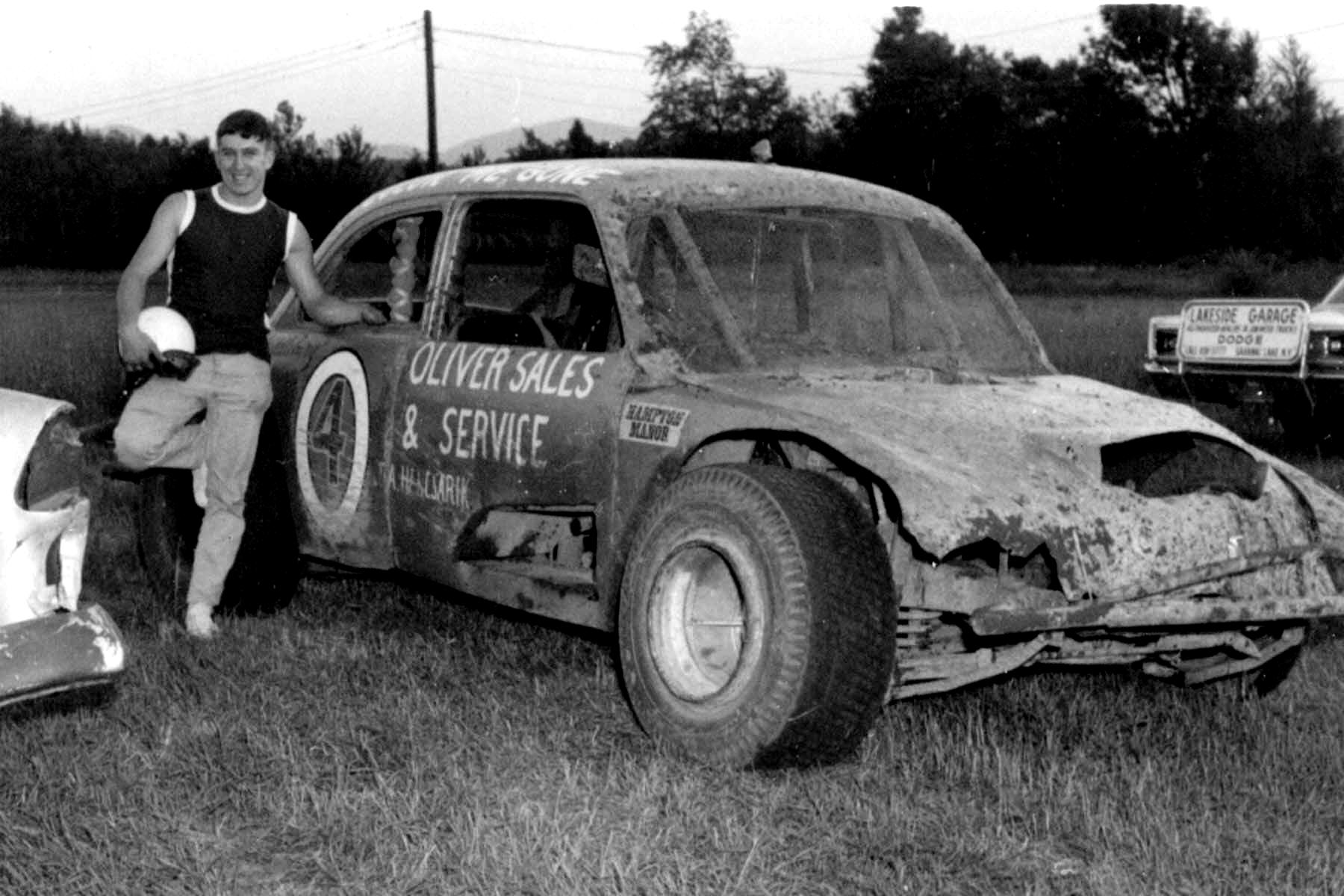 Bob Mackey Photo via Mike Watts, Sr.
Please email me at wladabou@comcast.net if you have any photos to lend me or information and corrections I could benefit from. Please do not submit anything you are not willing to allow me to use on my website - and thanks. For those who still don't like computers - my regular address is: Bill Ladabouche, 23 York Street, Swanton, Vermont 05488.
AS ALWAYS, DON'T FORGET TO CHECK OUT THE REST OF MY WEBSITE:
www.catamountstadium.com
Return to the Main Page
Return to the Main News Page
Return to the All Links Page
Return to the Weekly Blog Links Page