BILL'S [Somewhat] WEEKLY COLUMN/BLOG PAGE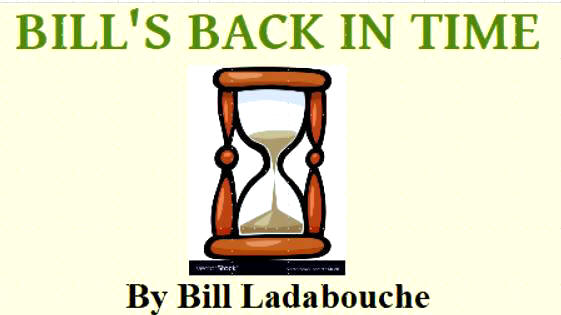 BACKAND FORTH WE GO
The Battle Between Airborne and Devil's Bowl
Word had reached largely receptive ears that Devil's Bowl Speedway will be placing some of that great clay on its property right onto the pavement of its main track for the final program of the 2017 year and for next season. That's nice because, as a native of that part of Vermont, dirt racing is how I will always think of the farm land track C.J. Richards built in 1967 and which Mike Bruno now endeavors to preserve and lead forward in a tough era for racing in general.
This changeover signaled another of the track's many eras it has already been through since 1967, a fairly long lifetime. However, it pales in comparison to Airborne Park Speedway of South Plattsburgh, NY – a track that was established in 1954 by a consortium that was headed by Maurice Broderick, an area auto dealer. The difference between the two tracks is considerable; but they share the fact that each has gone back and forth between dirt and pavement eras in an effort to survive.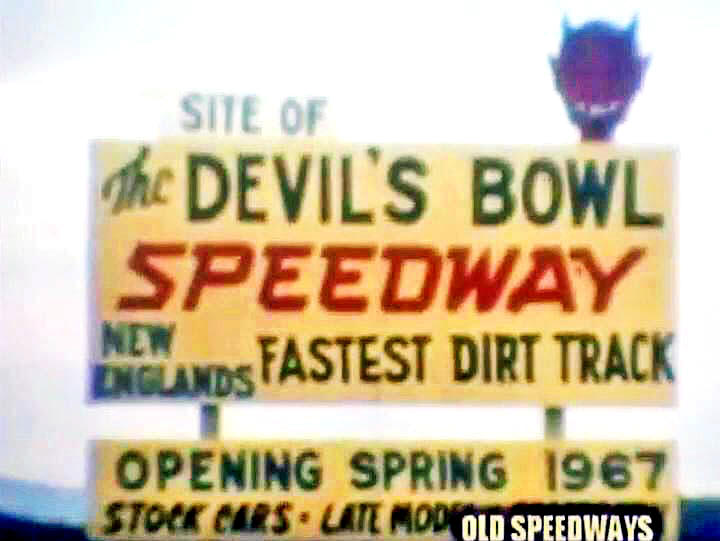 From Dan Ody's 8MM Old Speedways DVD's
The sign announcing the arrival of Devil's Bowl in 1967
arose fourteen years after the signs below went up
for Airborne Park Speedway.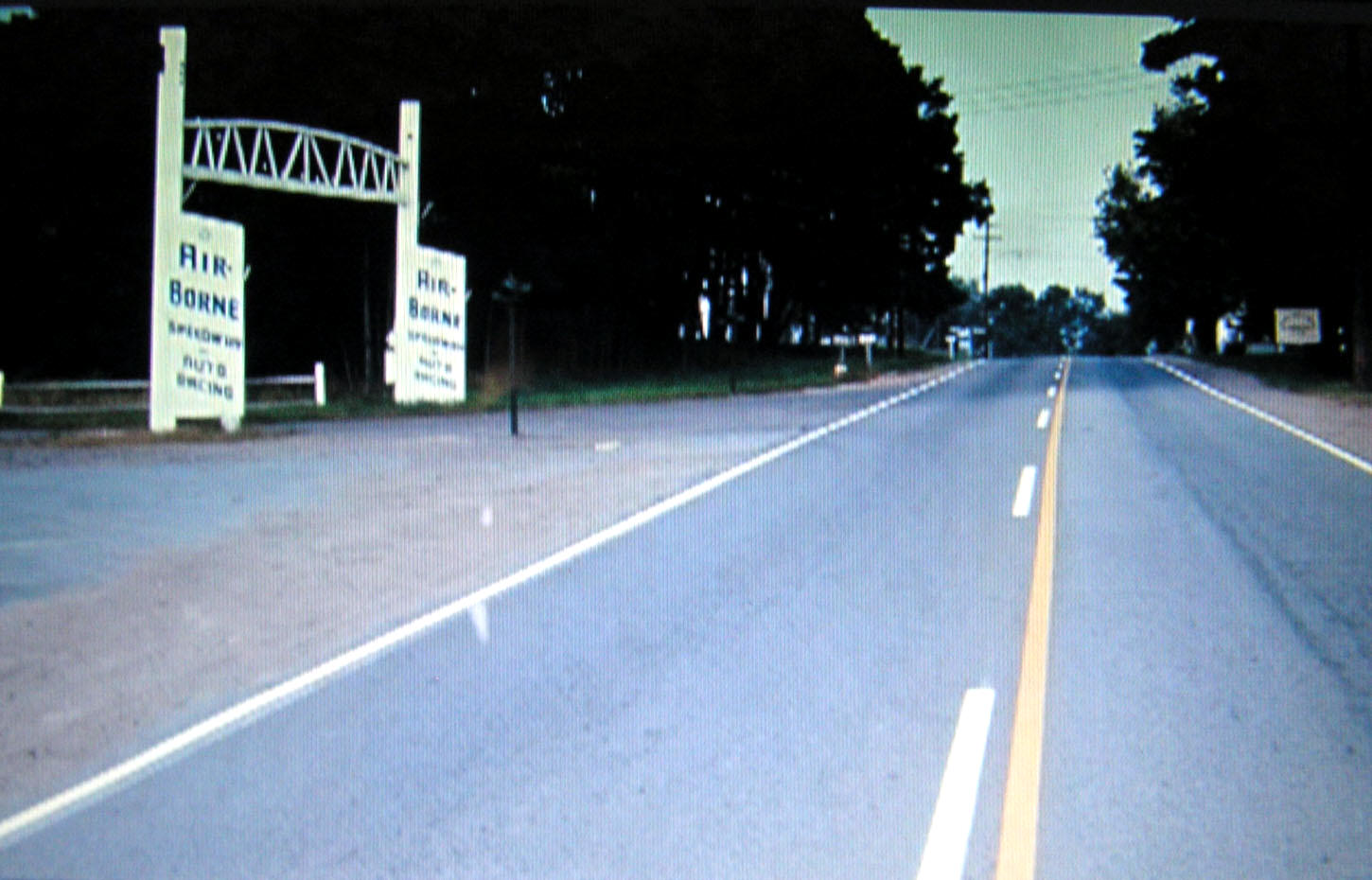 Bob Mackey Photo
Unlike Devil's Bowl, which was created to allow promoter C. J. Richards to move his racing operations [Fairmont Speedway] from a hostile town [Fair Haven], Broderick, Bert Blake and a man named Lyman Burnell built Airborne to succeed Moffitt Park Speedway [later, Border Speedway], whose location allowed it little chance of a future. Moffitt Park, located roughly in the area of the Channel 5 TV station, the Cumberland Head exit of the Northway, and an area a little West, was more a horse track and its controllers wanted it back for that purpose.
Both tracks began as dirt tracks. Broderick's group knew no other way back there in the infancy of stock car racing. They had the land, and the little township gave them no trouble, once they figured out to do admissions well into the property – thus eliminating the huge traffic jams on Route 22. The New York track had few local racing veterans, and the first season was fairly much dominated by outsiders – primarily Vermonters from the Colchester, VT race tracks which had been in existence years longer. The track's first star, Bob Bushey, still holds the record for the most feature wins in a season [much like Steve Danish had accomplished at Fonda the year before].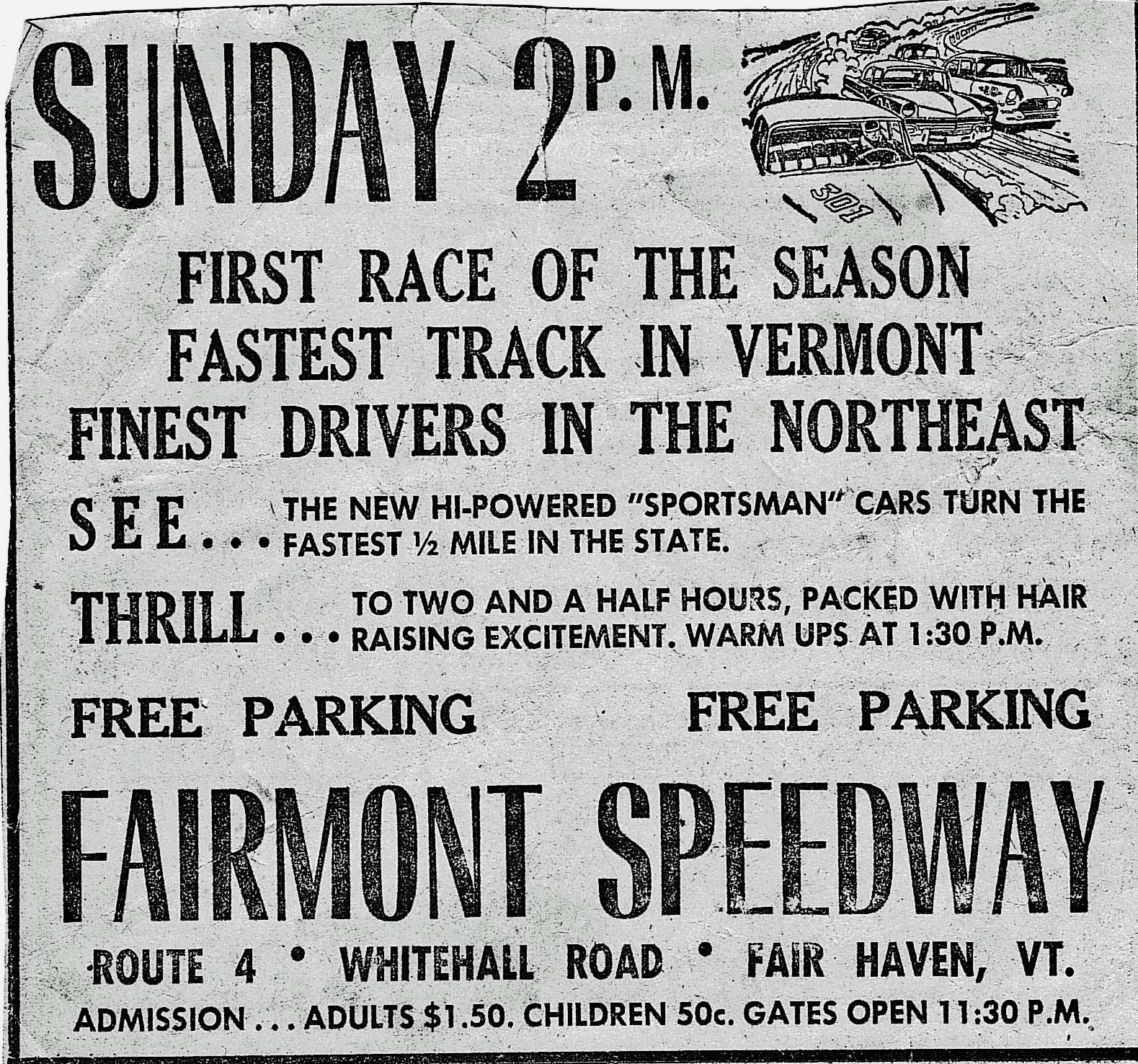 Courtesy of Mike Richards
Devil's Bowl was conceived as a result of Fairmont's
Speedway's deteriorating relationship with Fair Haven.
Below – Airborne was actually responsible for the
demise of predecessor Border Speedway.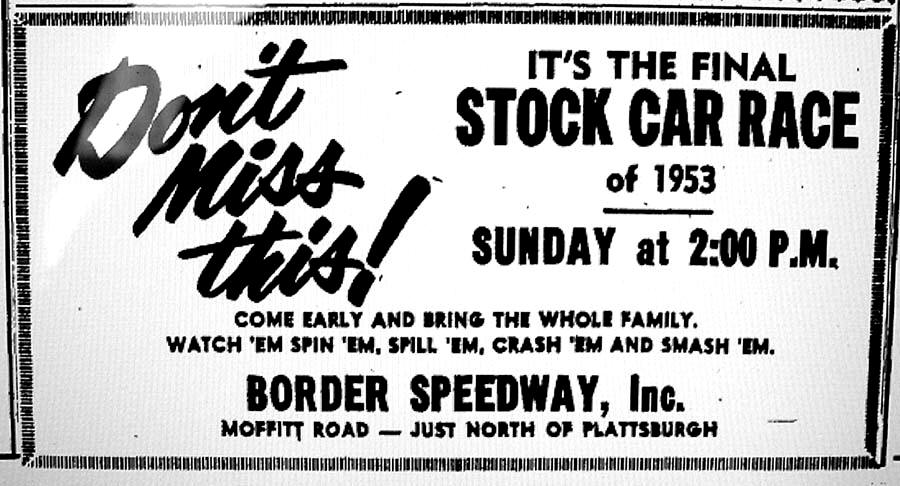 From Plattsburgh Press Republican

Airborne would operate as a dirt track until around 1959 or thereabouts when it was paved. The track's management had the good sense to go with a NASCAR sanction about a year later and the venue was put on the map, with a strong reputation as a good asphalt track. The track would remain paved until around 1983. It would enjoy three separate great periods of history during that tenure of dirt followed by asphalt. The earliest period, beginning with 1955, still attracted the competitors from the first season, now joined by a number of prominent teams from the Fonda Speedway area. Victoria Speedway, located near Fonda, had not yet opened to fill the Friday night slot; so, Airborne was seeing great fields that included the likes of Steve Danish, Jeep Herbert, Jim Luke and more to battle the established local teams and remaining Vermont invaderfs.
The second important time came when the track first paved and then went with NASCAR. Again, some Fonda area teams would show up, now joined by the likes of four – time NASCAT National Sportsman Champion Rene Charland, future national modified champ Ernie Gahan and more. The reigning champ Charland would face Bill Wimble and Dick Nephew, both of whom had been national champs previously. By now, the track had transitioned over to a late model support class that would begin developing some future stars, as well.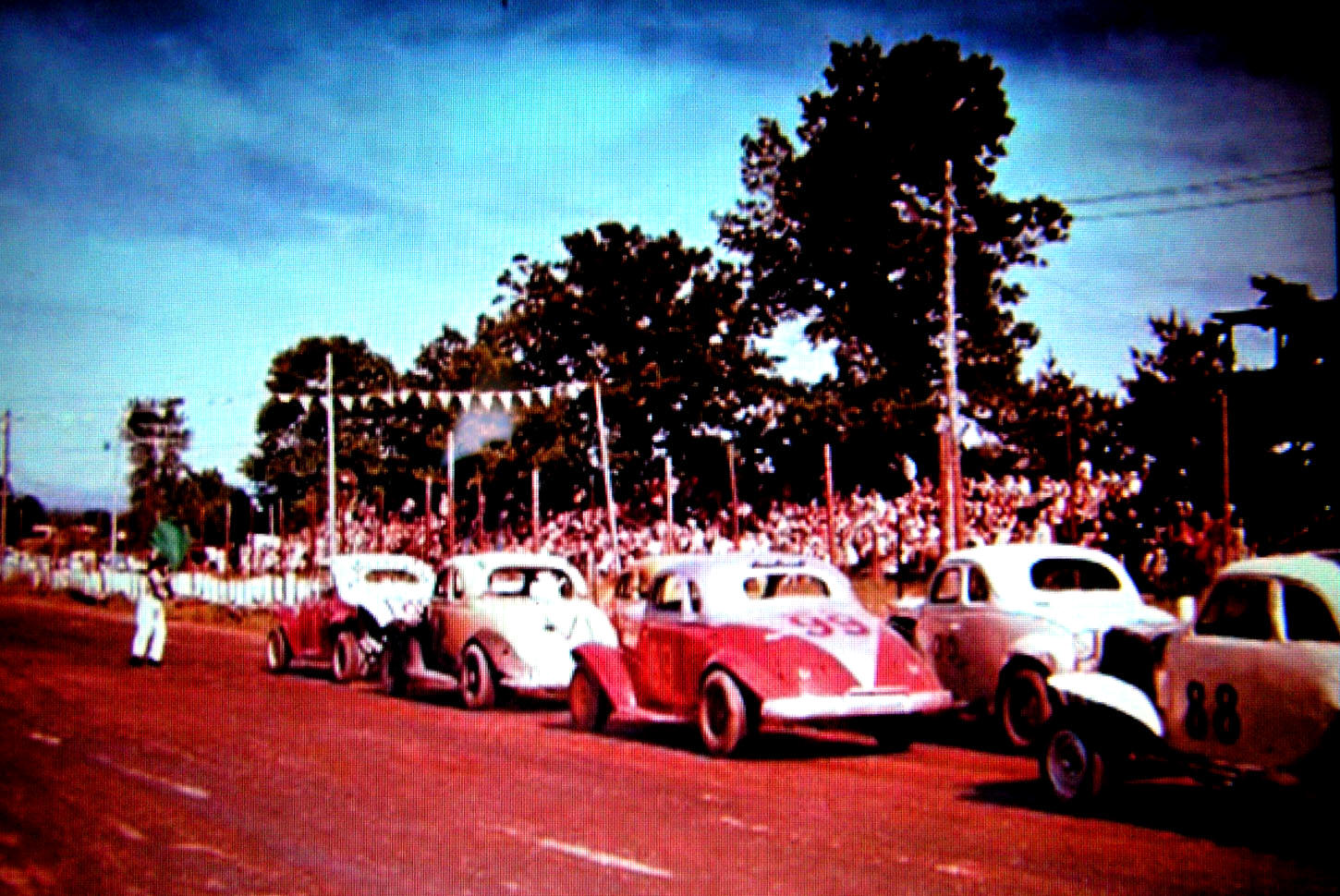 Bob Mackey Photo via Mike Watts, Sr.
A high quality early sportsman lineup on the Airborne dirt around
1955. Below - A field of New York sportsman cars and one
Vermont car in the middle speed along on Airborne's new
pavement.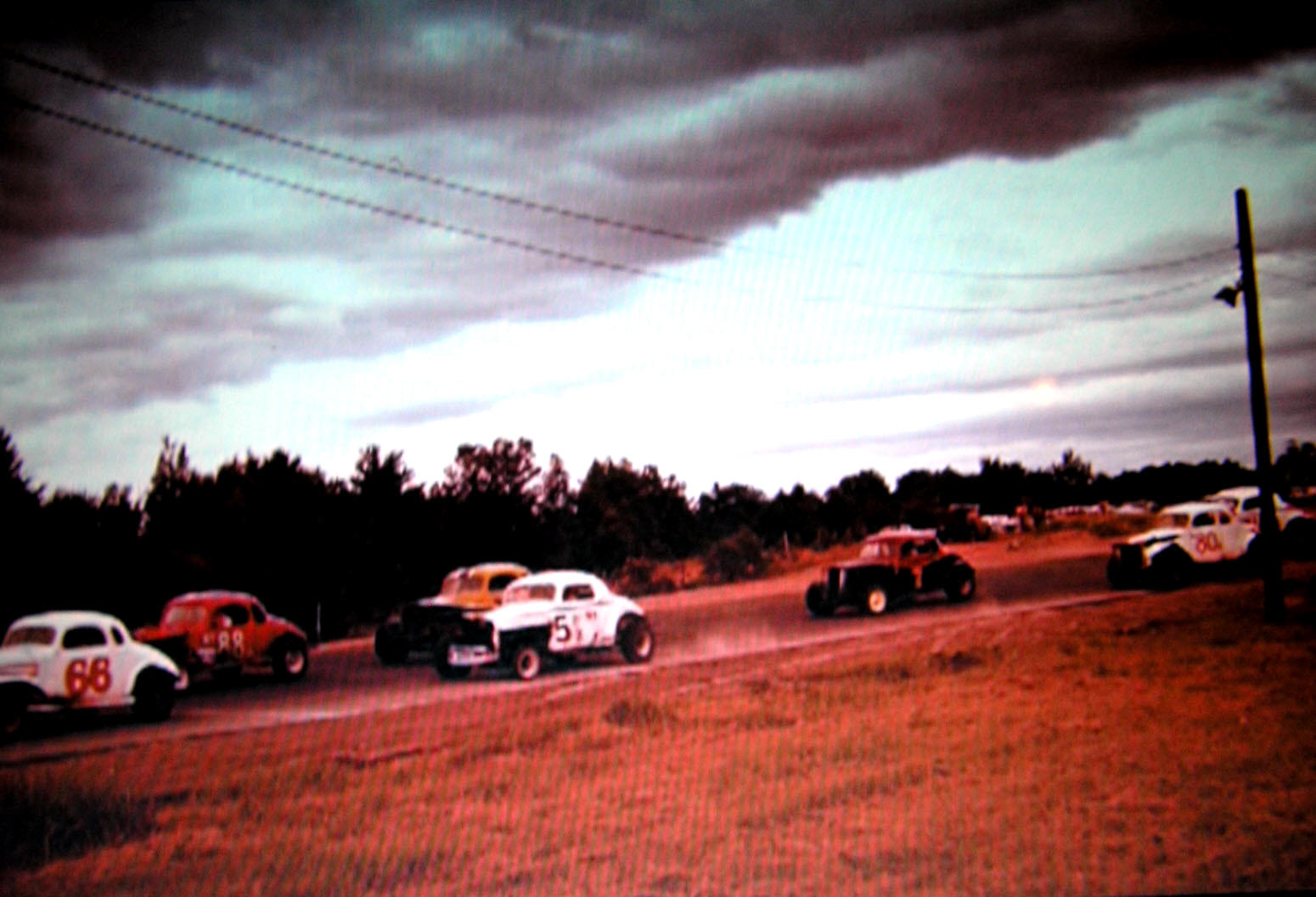 Bob Mackey Photo via Mike Watts, Sr.
Around 1971, with Devil's Bowl having paved and with the existence of already – paved Albany – Saratoga Speedway and Catmount Stadium, Airborne cashed in on what was arguably its best pavement modified time of all. Asphalt modified teams were making a regular circuit that included Airborne on Fridays, Devil's Bowl [or maybe Utica – Rome Speedway] on Sundays, and Catamount on Saturdays. The fields could include, on any given week, the likes of Guy Chartrand [with Ed Cloce's Hemi Cuda], Jerry Cook, Lou Lazarro, Richie Evans, and dozens of others to join Nephew, Charlie Trombley, Wes Moody, Bob Brunell, Bob Bruno, and other local drivers in some great shows. This ended when C.J,. Richards, now running Devil's Bowl and Airborne, went to the late model sportsman cars of Northern NASCAR.
Leaving Airborne sitting on Friday nights in 1973, let's look back to Devil's Bowl. As previously stated, Richards had been basically annoyed out of Fair Haven by a town unwilling to endure a little traffic, noise, and dust in exchange for the revenue that came with a weekly influx of hundreds of cars full of race fans who might need gas or somewhere to eat. C.J. obtained some Richards family farm land, up Route 22A in the little town of West Haven. Now while C.J. did have to put up with some resentful relatives on the farm next to he track for a while putting up with a little manure spreading on race night was little enough to pay for getting out of Fair Haven.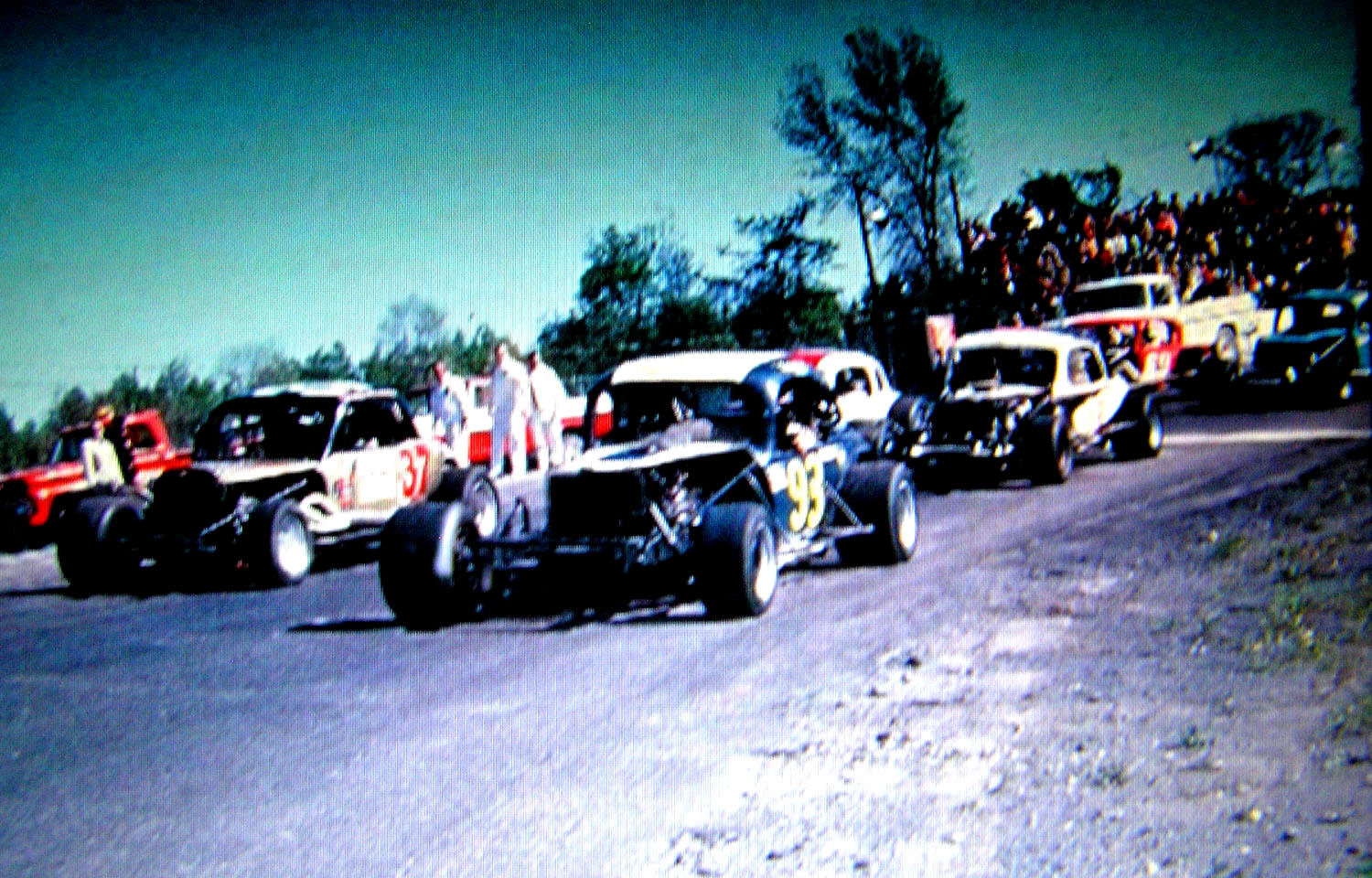 Bob Mackey Photo via Mike Watts Sr
An impressive lineup of pavement mods at Airborne around 1970.
The same cars would appear at Devil's Bowl on the next evening.
Below - Cars come out of turn four at Fairmont Speedway
in 1965.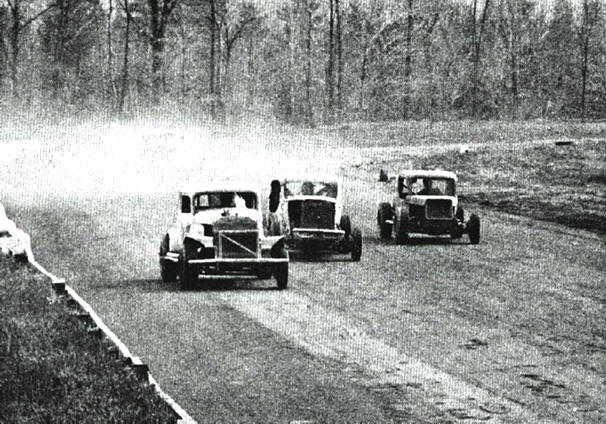 Bob Frazier Photo
Devil's Bowl was built as a dirt track on some of the finest clay to be found in the region. Walking through the Bowl pits after a rain, you could have a loose shoe pulled right off your foot by the stuff. Richards had built the track before all of the frost was out of the ground that year, and he did have a tough time with surface quality at first. Devil's Bowl had a great foundation with the various sportsman and late model teams that had developed at Fairmont in 1965 and 1966 after heh had switched to the overhead V-8 in his lead division.
To add to that base of names like Mert Hulbert, Vince Quenneville, Sr., Chet Doaner, Charlie Laduc, Roger Gauthier, Dutch Reed and more, Richards – using Sunday nights now – was attracting a number of Lebanon Valley teams, Fonda teams, and even a few from the paved Albany – Saratoga track. Spending some time on the Devil's Bowl dirt may have helped prepare some of the A – S late model teams for when Fonda Speedway started that class the year after.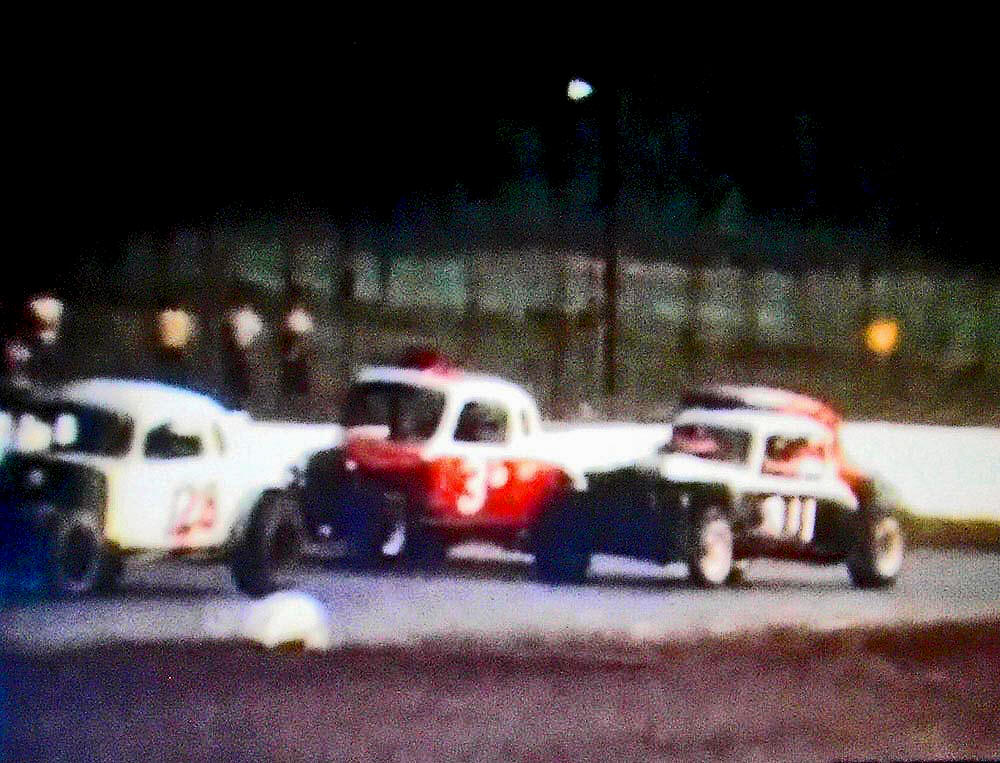 From Dan Ody's 8MM Old Speedways DVD's Images 56
This 8MM freeze frame shows the nature of D Bowl in 1967.
The new local sportsmans of Roger Gauthier [128] and Vince
Quenneville [3], with old Fairmont car Sonny Rabideau [311].
Below – Charlie Laduc's Henry J became synonymous with
the Bowl's first season.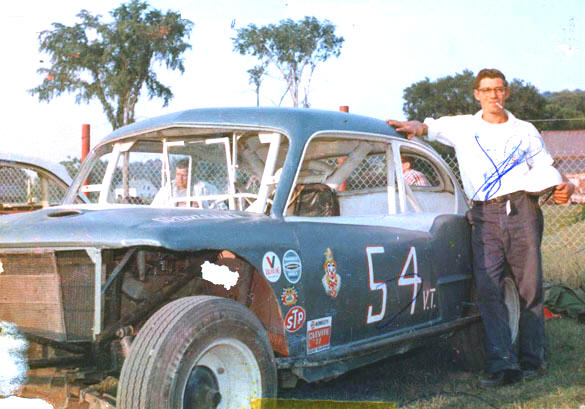 Laduc Family Collection
By the time Richards made the unpopular [and somewhat unexplainable] decision to pave the Bowl after 1970, his track was on the map in the dirt world, having many of his teams active at Lebanon Valley by then. The interesting and controversial span when Will Cagle came in to race a Bob Rossell – built sedan through a stretch where he was almost unbeatable did a great deal to focus attention on Richards' Sunday night race programs in the West Haven pasture. By then, he had a core of stars like Quenneville, Eddie Allen, Chet Doaner, Wes Moody, Hulbert, Eddie Foley, the two Ryan brothers cars with drivers du jour, and many visiting teams which came and went.
For whatever reason, 1971 dawned and the track was paved; all of those headliners [save a few] disappeared and Richards had to depend on unfamilar pavement stars like Marcel Godard, Eddie Pieniazek, Nick Ronca, Guy Chartrand, and a few semi – familiar names to the few Bowl spectators still attending such as Dick Nephew and occasionally Wes Moody. Then, after that one year with that great modified circuit that also involved Airborne and Albany – Saratoga, even he mods were sent on their way. Richards hooked up with Ken Squier and the Northern NASCAR late model sportsman circuit for 1972.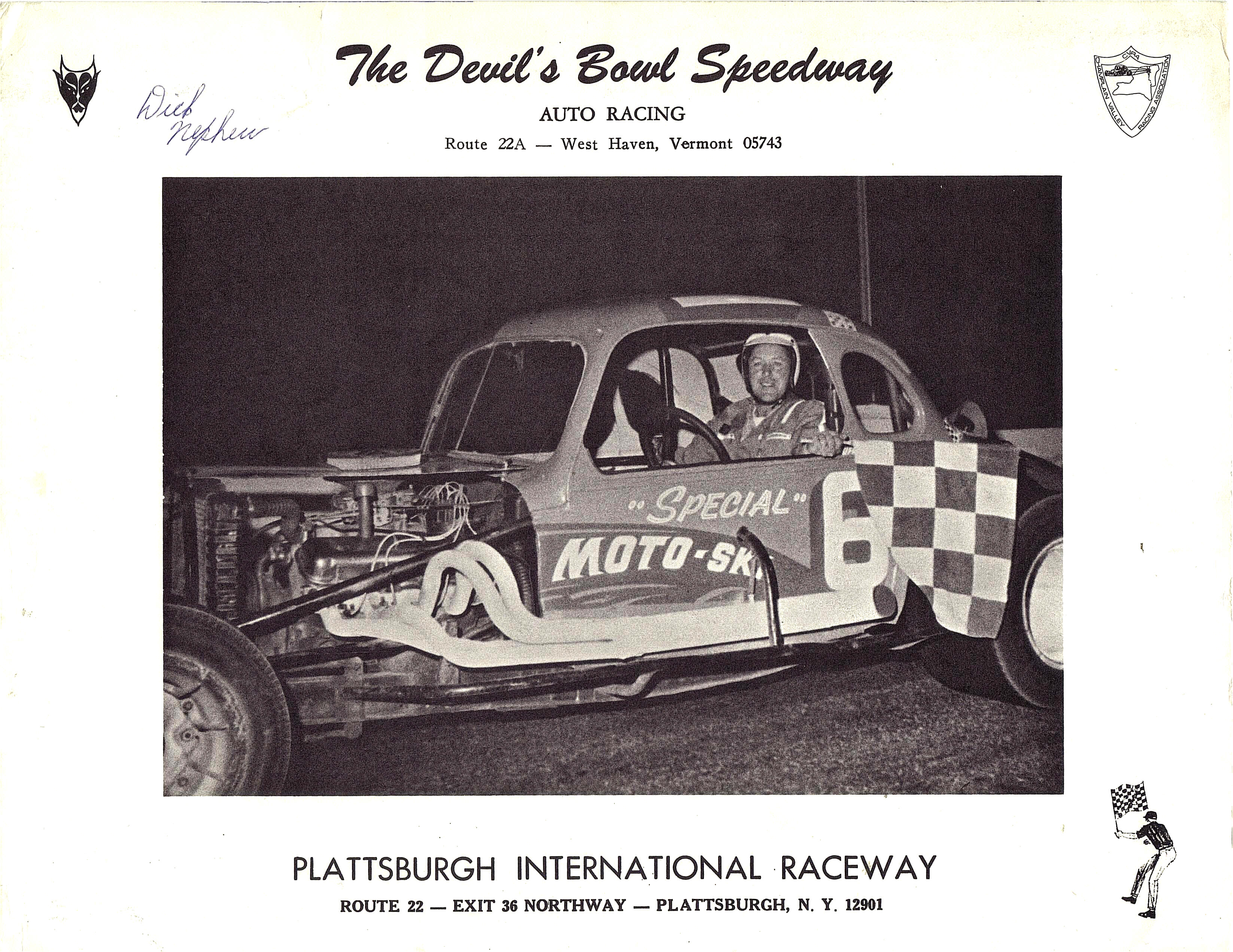 Bob Frazier Photo Ladabouche C ollection
CVRA put out these promo pieces to try and
drum up interest in its new pavement program.
Note both tracks are included.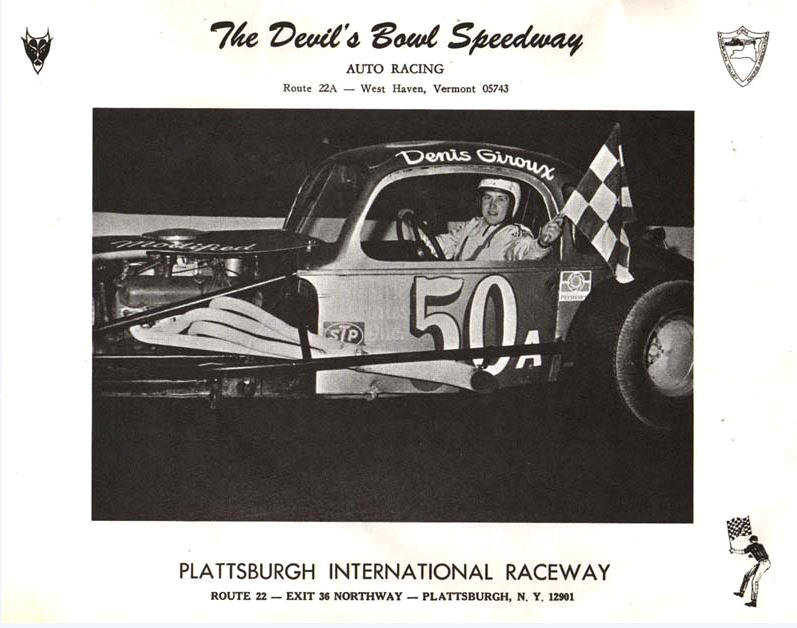 Bob Frazier Photo Ladabouche Collection
So now, the dirt was gone; the modifieds were gone; and just about no traditional Devil's Bowl supporters could be found. Luckily, Northern NASCAR had a fairly good core of die hard late model fans who would travel around to see their cars at the Bowl, at Airborne, and – of course, at Catamount and Thunder Road. A few of Richards' old dirt teams tried to make the transition; but only Vince Quenneville [with strong financial suppport andtechincal help from Richards] was able to do much of anything. Along with Vince, Chet Doaner tried a late model as did Jay Brown, Johnny Bruno, Donnie Drown, Charlie Laduc, and Ray Richards.
1973 saw the insane five track per week Northern NASCAR grind. Sanair in Quebec got Wednesday nights; Thunder Road usually drew Thursdays; Airborne had its familiar Friday night; Catamount stayed with Saturdays; and Richards got his usual Sunday. Trouble was that – by Sunday, attrition had often thinned the available field or reduced some of the cars to lower levels of functionality by then. Also, to make things worse, Thunder Road would sometimes run a Sunday afternoon program, leaving the teams to then load up frantically whatever was left of their car and make the hour – long trek to poor C.J. to run what was left to an already resentful audience.
Richards and Devil's Bowl tried to trade on the fame of Northern NASCAR and its ability to market its luminaries like the Dragon brothers [once Bowl regulars]. Dave Dion, Ron Barcomb, Tom Tiller, Robbie Crouch, John Rosati, Bobby Giroux, Moe Dubois, Joey Kourafas, and dozens more. It worked only in the sense that Northern NASCAR faithful would make the trip to see their heroes and join the very few locals who would dare to attend in the face of scorn from their neighbors.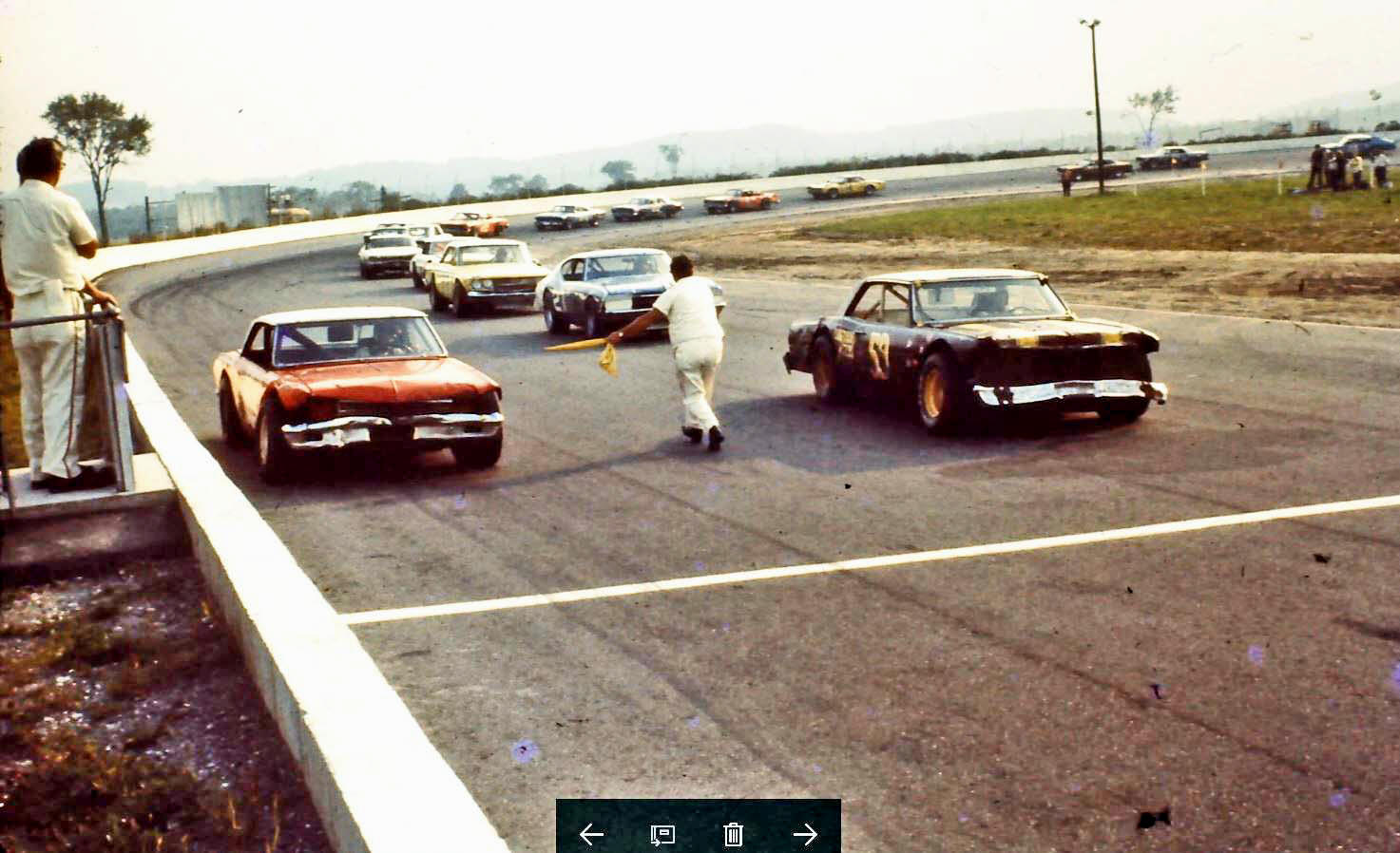 Dick Britain Photo
A battered field of NASCAR late model sportsman cars is
lined up by starter Jim Frye in 1972 at Devil's Bowl. Below -
This Northern NASCAR Tour lineup at the Bowl includes
the cars of Airborne regulars Mack Miller [99], Bob
Brunell [17] and Danny Bridges [2].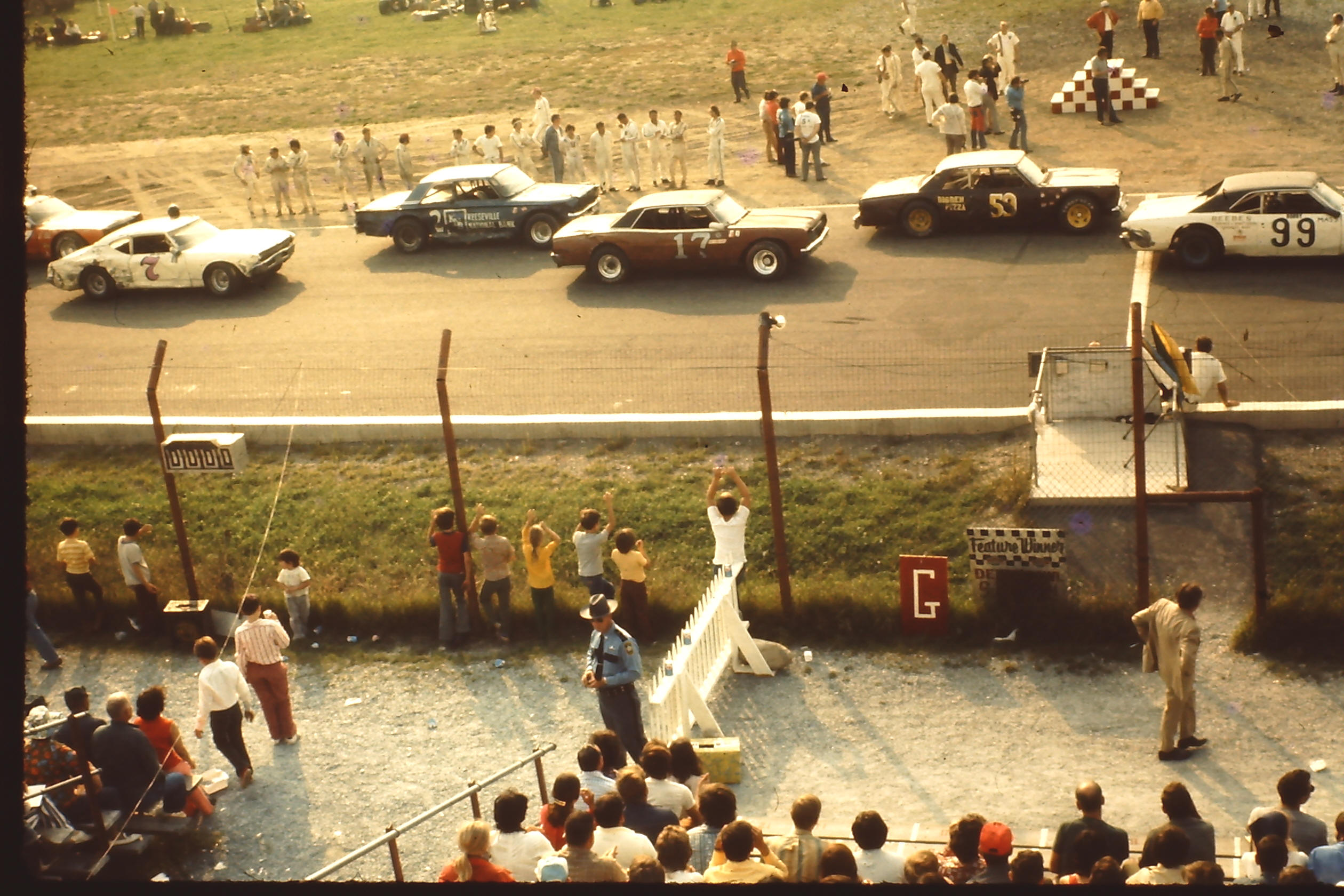 Dick Britain Photo

C.J. had had it and ran only about one more season. He tried running some Claremont Speedway – type modifieds for a season before tearing up the pavement and going back to dirt. By around 1980, the Bowl had seen three track surface eras and Airborne was close to doing the same. The old, flat, paper clip shaped Plattsburgh oval was showing its age by then. Heck, as far back as 1972, crews had to pick pieces of asphalt out of the "back seat" sections of their cars after every race. Airborne was not in good shape. Locals were trying to keep it going with their own, local late models and a few occasional visits from some NASCAR late models. There were the old names like Trombley, Bruno, Bridges, Branham, Brunell, Nephew [at times], and more; but, the track was going nowhere. Crowds were small, and sometimes so were the fields of racers.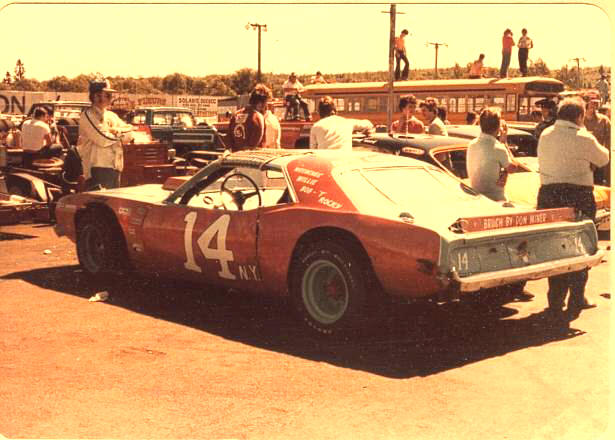 Source Unknown
Airborne tried soldiering along with a limited field of
their own, non – NASCAR later models for a while. Above -
Bernie Griffith's car. Below - A car Dan Bridges drove
during this period of Airborne's history.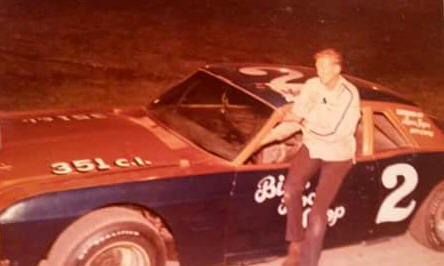 Courtesy of Joe Bouyea
Eventually, the decision was made that the old track had to go. Long, flat, and poorly lit, it had not really been adequate for a while. A shorter, more banked dirt track was carved out from within the area of the old track. Some claim C.J. Richards was behind the scenes for this and others say not. After a year [around 1981] in which the track lay dormant, locals had to settle to the fact they were either going to run on dirt, not run at all, or try to compete in the expensive NASCAR late model series across the lake.
Once again, Devil's Bowl and Airborne reached out to each other to keep from sinking. C.J. Richards ended up running the track [and supposedly owning it] by 1983. He told me he had put money into building new infrastructure and finishing up track design then when a group centered around original track owner Maurice Broderick tried to seize the track back. Used to confrontation and legal wrangling, Richards fought off the takeover bid and ran shows there that year. The track really took off in 1984 when he hired popular local driver Wes "Slugger " Moody to promote the place. Now aligned with DIRT, the track had a reasonably successful season, developing local dirt drivers and also using many teams from the sister Devil's Bowl and Albany – Saratoga tracks.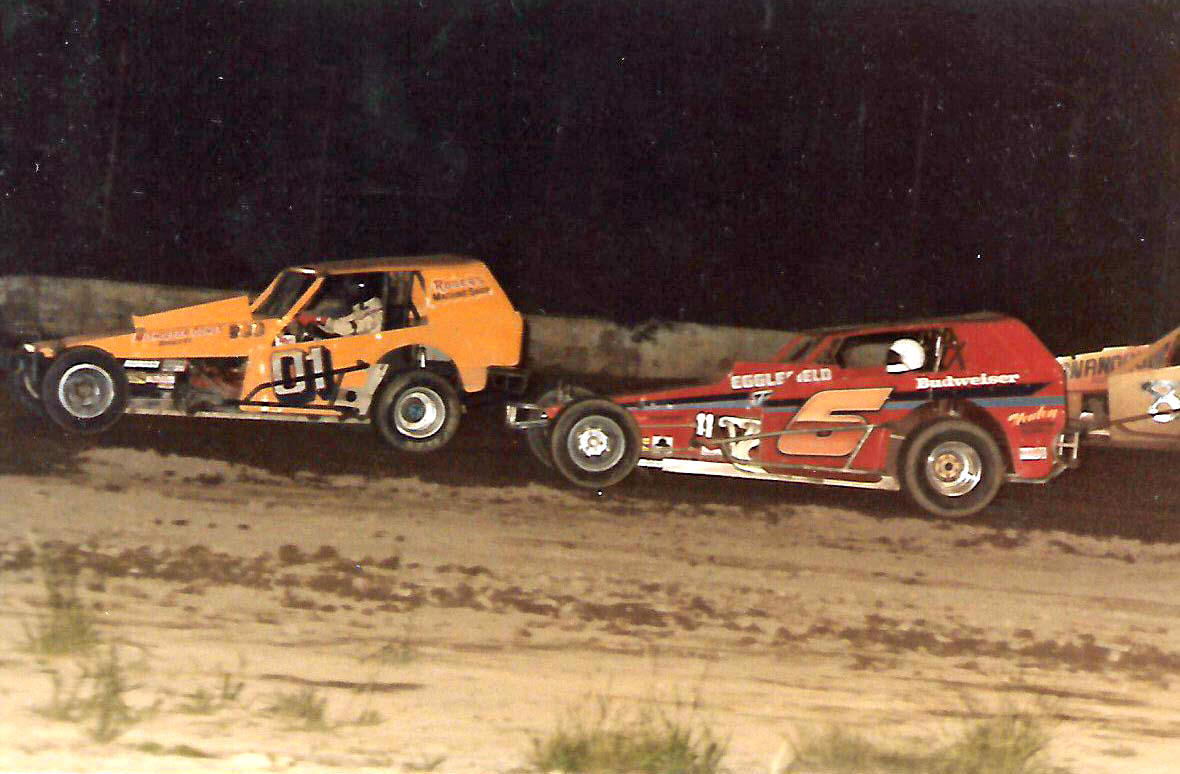 Richard Pratt Photo
C.J. used some of his CVRA regular modifieds like Matt
Waite [01] and Dick Nephew, as well as [below] some
developing locals like Dominic Rascoe [71] and Glenn Ormsby.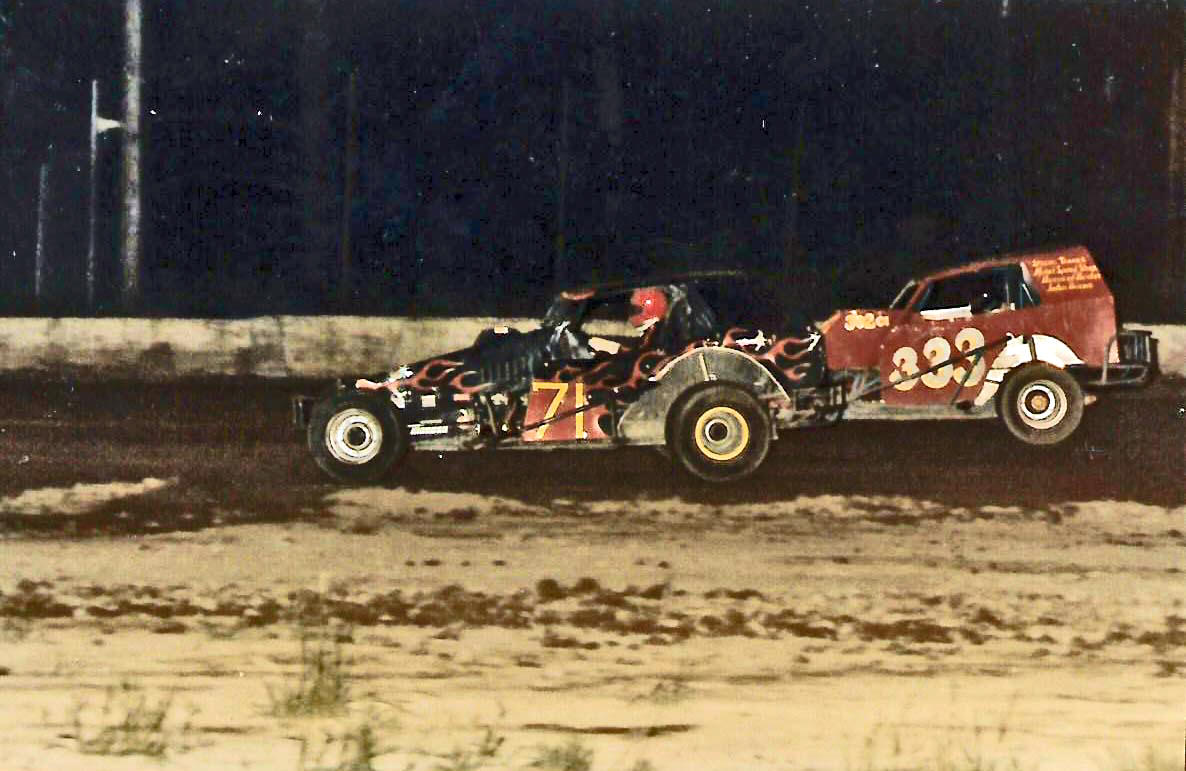 Richard Pratt Photo
For whatever reason, Richards parted ways with Moody the following year and almost anyone connected with the Moody era [including yours truly] were summarily ushered out. Richards continued to have success with his three – track circuit and the sanction from Glenn Donnelly's burgeoning DIRT organization. This seemed to go swimmingly for both Devil's Bowl and Airborne until the end of the 1980's. At that time, the dirt era ended when C.J. sold the track to Tom Curley and his American - Canadian Tour [ACT}. Again, the Airborne teams had the rug puiled out from under them, having to either make the long trip to Devil's Bowl and Malta or start over junder the autocratic rule of Curley and ACT.
Devil's Bowl continued to breeze on through the years on dirt. The only bump in the road came when Richards, concerned over rising racing costs and shrinking fields, decided around 1986 to drop the big block modified motor and go to exclusively running 358 C.I. powerplants with iron blocks and other lower cost parts. After at first suffering a sharp drop in cars and fans, Richards' CVRA tracks rebounded nicely and continued on their way. Not he same could be said for Airborne after the CVRA departure in 1989. Back they had gone to pavement.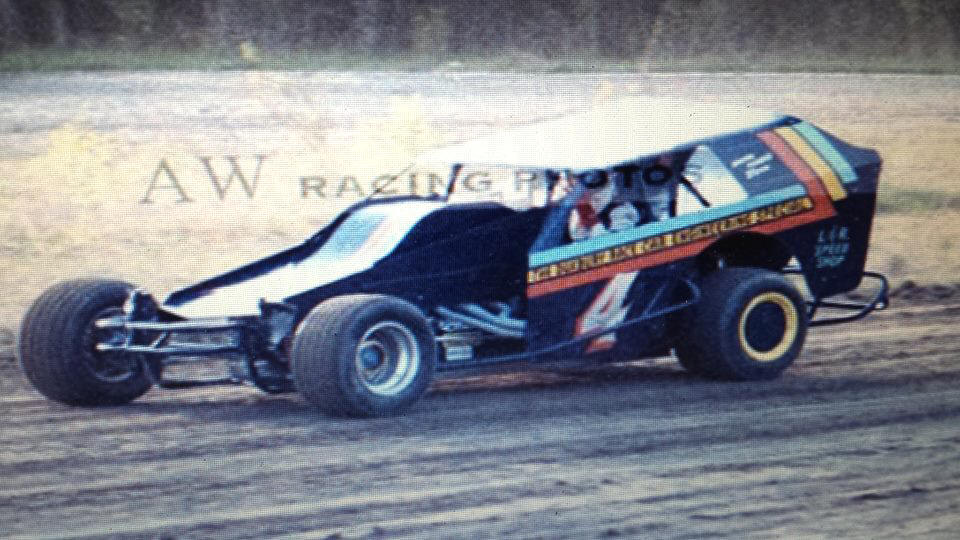 Al Ward Photo via Mike Laduc
Despite developing promising young talent such as Vermont's
Charlie Wilbur [above] and occasionally featuring big name
modified stars such as Barefoot Bob McCreadie, [below] C.J.
got out of Airborne at the end of the 1980's.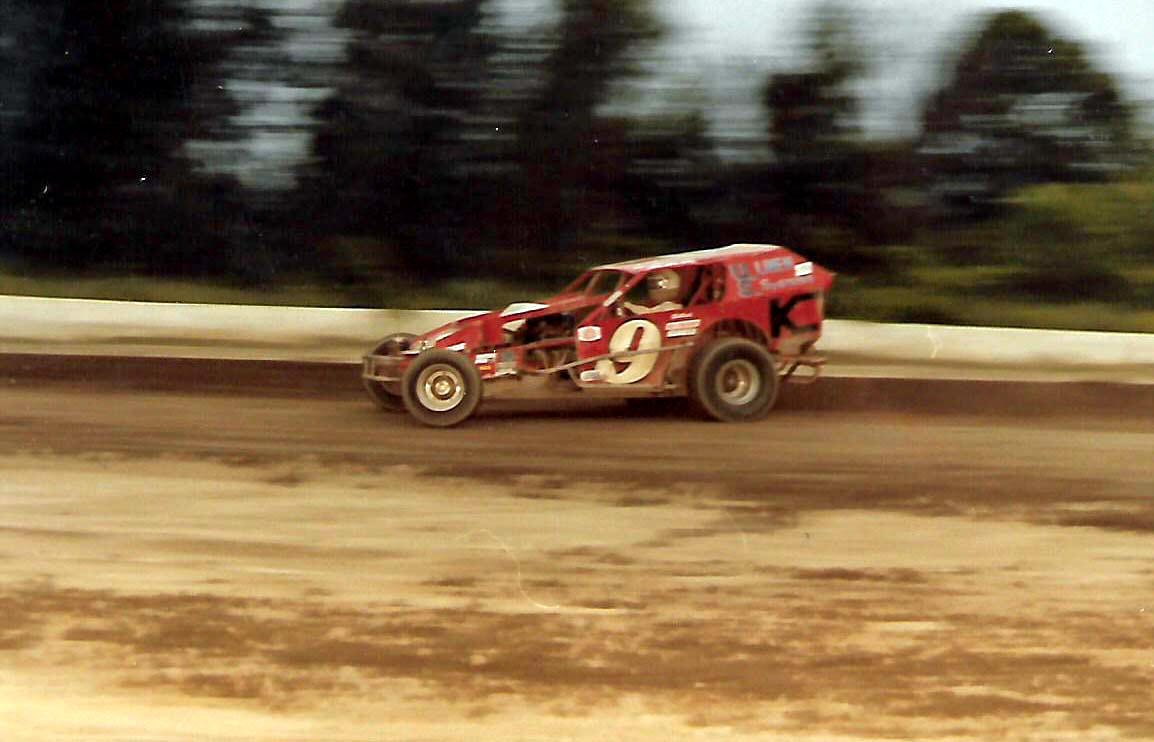 Richard Pratt Photo
The rough and tumble Airborne regulars and the autocratic, often abrasive style of Tom Curley were on a collision course soon after the first ACT season began. Curley and staff could not get used to the constant fist fighting and brawling at Airborne or being told to go screw off on a regular basis [and that was just the women]. Curley did have a new bunch of locals start in the support classes, some of whom still race today; but, his lead division depended heavily on his ACT regulars from across the lake. Airborne did get on its feet again and had a number of good years in that next phase of its life.
Devil's Bowl would move along, through the dirt modified years, changing only in the types of cars were in vogue. Its second class, the Pro Stocks or late models always struggled to field decent sized races but everything else seemed to be well. Airborne, especially not having to compete with the recently – departed Catamount Stadium, enjoyed a good ride on the coattails of ACT and flagship, Thunder Road. Those tracks rose up oin the shoulders of the prospering New Flying Tigers division, eventually developing a strong class of late models that were born from the first "plastic cars" in the inaugural ACT season of 1987.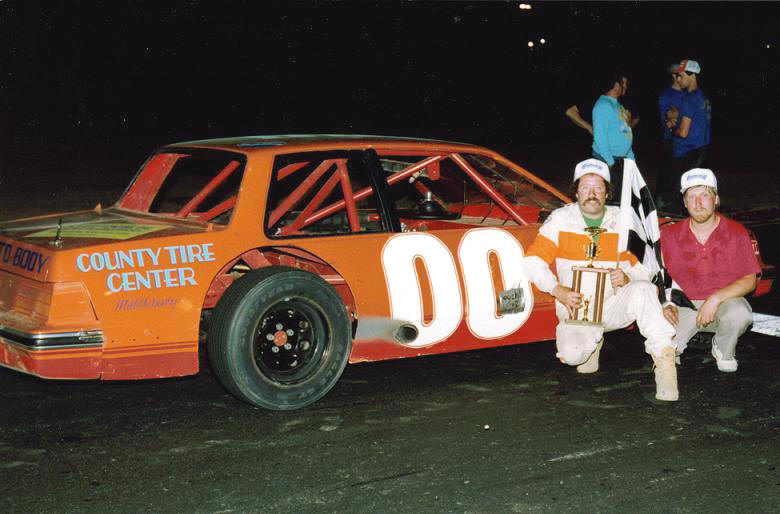 Courtesy of Andy Boright
Tom Curley had to bring over many of his ACT
regulars such as Tiger Spportsman star Steve Miller
[above] who would later be a Devil's Bowl official.
Below – Airborne locals did begin to fill the ranks of
Tiger Sportsman class, and few such as Bucko Branham
even tried the late models. None of them enjoyed the Curley style.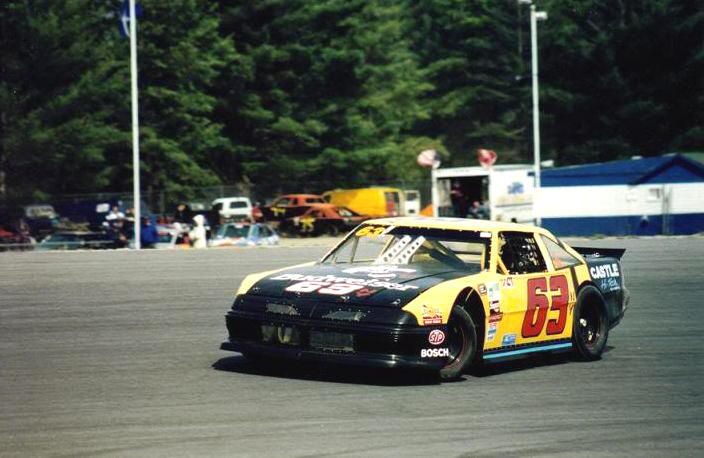 Courtesy of Justin St. Louis
Finally, the always – uneasy relationship between Tom Curley and Airborne folks became too much for Tom to abide and he sought to sell off he Plattsburgh oval. The track seemed to be wallowing again when long – time Airborne driver Mike Perrotte came up with the idea of taking dirt modifieds and running them on pavement, like a few DIRT experimental programs had done in the recent past. Starting with a few mods and a bunch of Tiger Sportsman cars and four cylinder Hornets, Perrotte built the program up to be very impressive.
Perrotte's longtime car owner and sponsor, former Airborne driver George Huttig, an Elizabethtown car dealer now famed for his commericials in the car with his wife, stepped in to help keep the track afloat during this time. Eventually, the facility was bought by a partnership of excavating contractor Steve Fuller and electric infrastructure contractor Jamie Atkins. Things were moving along swimmingly, with fields increasing every season; and, across the lake, this was being closely watched. The CVRA tracks were now being run by the children of C.J. Richards – Bruce, Tim, Sharon, and Jerry Richards. Now it was their turn to see a downturn in track fortunes.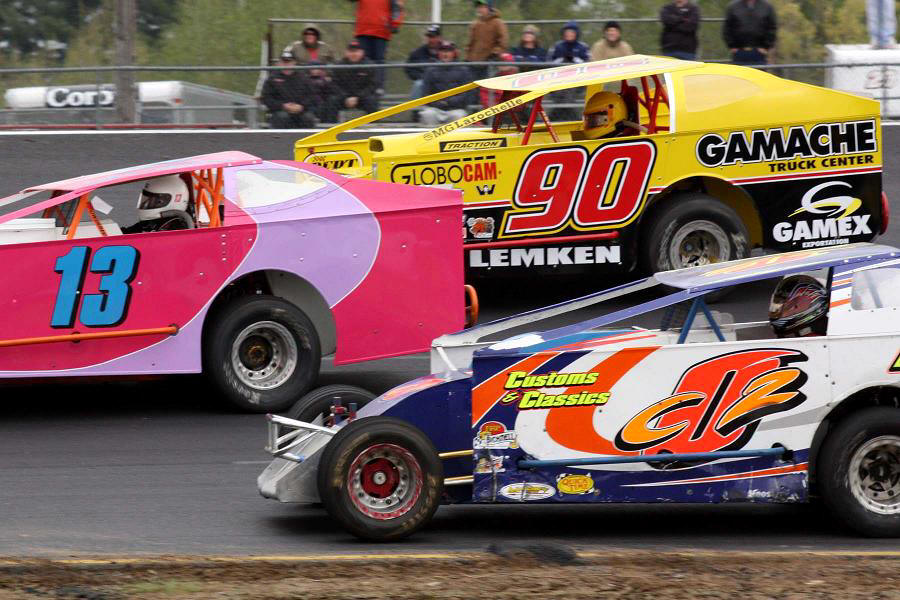 Leif Tillotson Photo
Airborne was experiencing a revival running what appeared to
by dirt modifieds on pavement. This photo shows female driver Collen Salisbury
passed by Martin Roy, who went on from an Airborne title to race in the
NASCAR truck series. Below – Support classes like the
Tiger Sportsman, Renegade, and Mini Mods kept the locals
particuarly involved.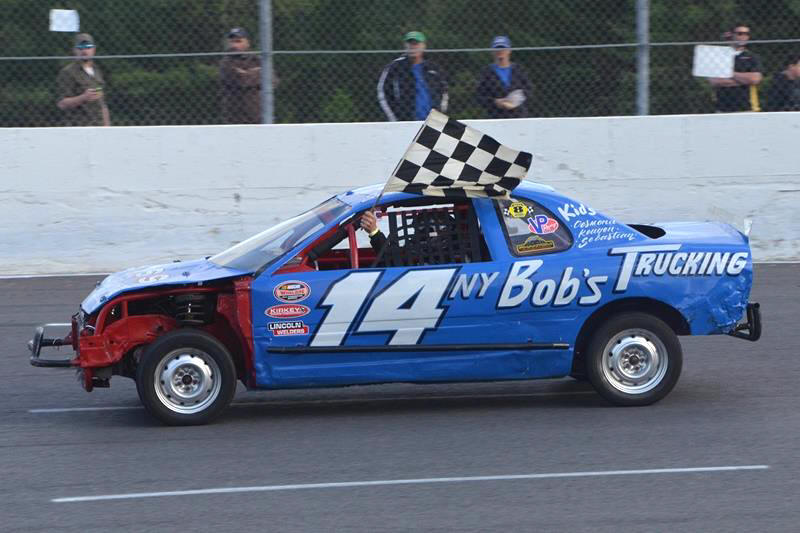 Dave Brown Photo
Without getting into details why, the Richards family CVRA tracks were seeing a downturn. They were aware that Airborne's unlikely risk had paid dividends with the "pavement dirt mods". Considering this, and the fact that they had been advised that a paved track would sell more readily than a dirt one, the Richards decided to pave both tracks. I'm guessing it was around 2010 or 2011. It was not a rousing success. Perrotte did reach out and was seen at Albany – Saratoga's first pavement practice session, talking to Bruce Richards.
There was some cooperation and sharing of cars between Airborne and the CVRA but the latter was struggling mightily. While Airborne was seeming to move along seamlessly, the Bowl and Malta were playing to small crowds with few cars. By now, Devil's Bowl had been through four eras, with two different racing surfaces twice each; Airborne was still running on Curley's pavement. Around 2012 [a guess] Fuller repaved Airborne and changed the banking patterns. The track could now even handle high – powered, ultra – fast supermodifieds which came one summer. But everything was not roses for Airborne either.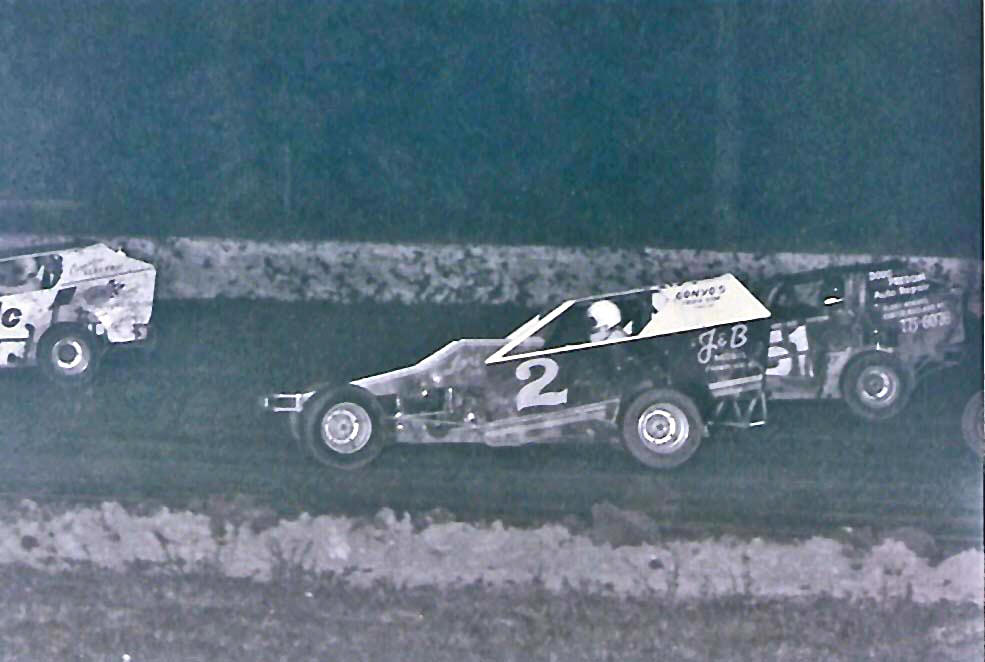 Richard Pratt Photo
One man who faithfully ran both tracks was Leon Gonyo, seen
above running Devil's Bowl on dirt and later [below]
plying the pavement of Airborne.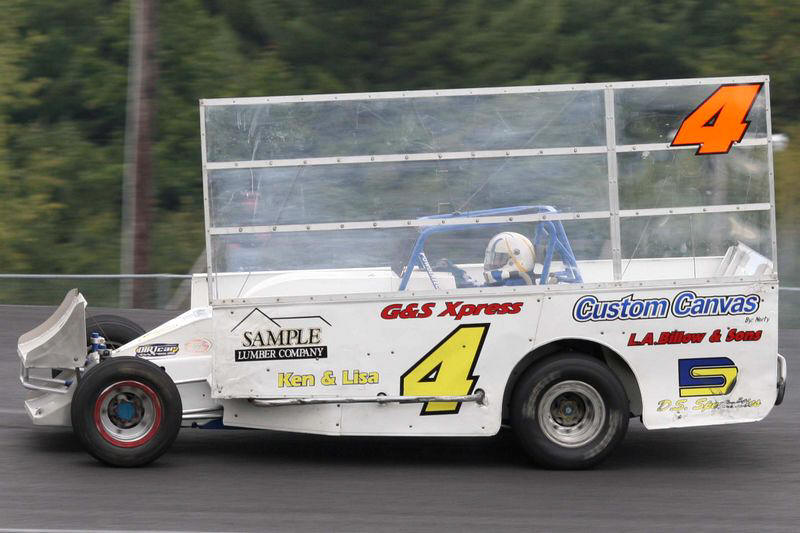 Dirt Track Digest Photo
Airborne management made at least two major errors, in my opinion [and both involved popular Canadian driver Pat McGrail]. The well – heeled Quebec car dealer and former off road racer first arrived at Airborne, one season, with a very expensive motor [358's were in vogue] which was rumored to cost over $30,000. The next year, McGrail obtained a special Troyer modified that looked like a dirt mod but was totally pavement setup underneath. Soon about five teams had these Troyers, and everyone else was competing for sixth place, barring one of the Troyers wrecking.
Airborne fields began to dwindle – both in the modifieds and in the Tigers. Racing costs were simply too much. They tried "dumbing down" the Troyers, but the damage had been done. The Tigers were changed into "limited late models" which did nothing to address the cost of racing. Both classes continued to shrink. The next idea to be tried was switching the modifieds from 358's to 602 spec motors which were profoundly less expensive. It was too late. Small field of racers were racing in front of crowds sometimes as small as 200 people. The track was going to expire.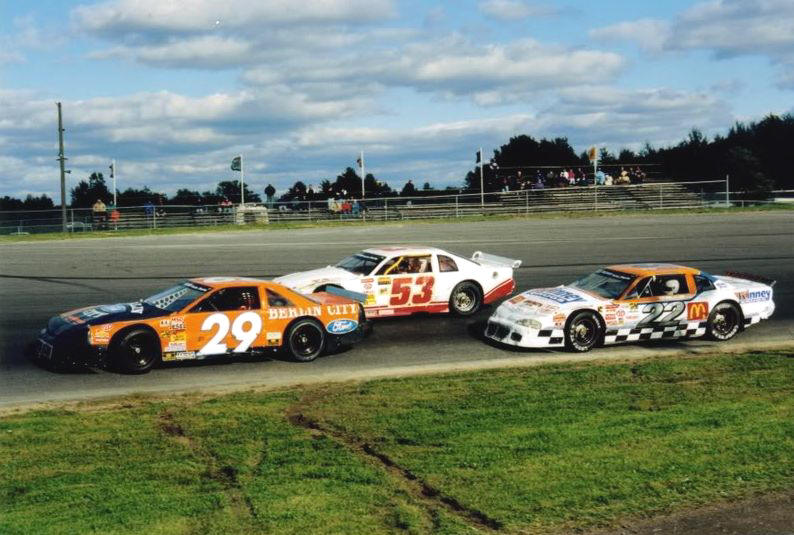 Via Justin St. Louis
Mike Bruno, who ended up buying Devil's Bowl, had run an
ACT late model on both tracks and, later, ran a dirt
modified on both tracks and both surfaces.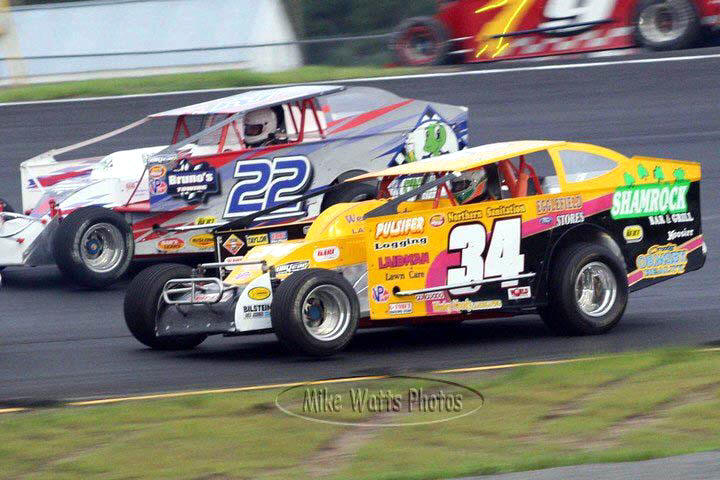 Mike Watts, Sr. Photo
Meanwhile, across the lake, Devil's Bowl was taken over by former Airborne and Devil's Bowl driver Mike Bruno, a second generation Bowl denizen. Malta was also taken over by the management of Lebanon Valley. Returned to dirt, the Malta track was restored to absolutely undreamed – of success while the Bowl, sticking with the pavement mods, was always plagued by small fields. For whatever reason [and again it is debatable], Bruno would not [or maybe could not] put that wonderful West haven clay on the Bowl's main track.
As Airborne struggled along to the North, Devil's Bowl made some impressive infrastructure improvements but still had small fields. Finally, Bruno created a dirt track inside the main Bowl oval. He would run the dirt racing on a Sunday night and would start to see some encouraging signs there. His pavement shows had tried Fridays and later Saturdays, but nothing was really working. Finally, for the 2017 season, John Walker [now running Airborne for the owners] decided to return he track to dirt, equalling the number of surface changes that Devil's Bowl had seen.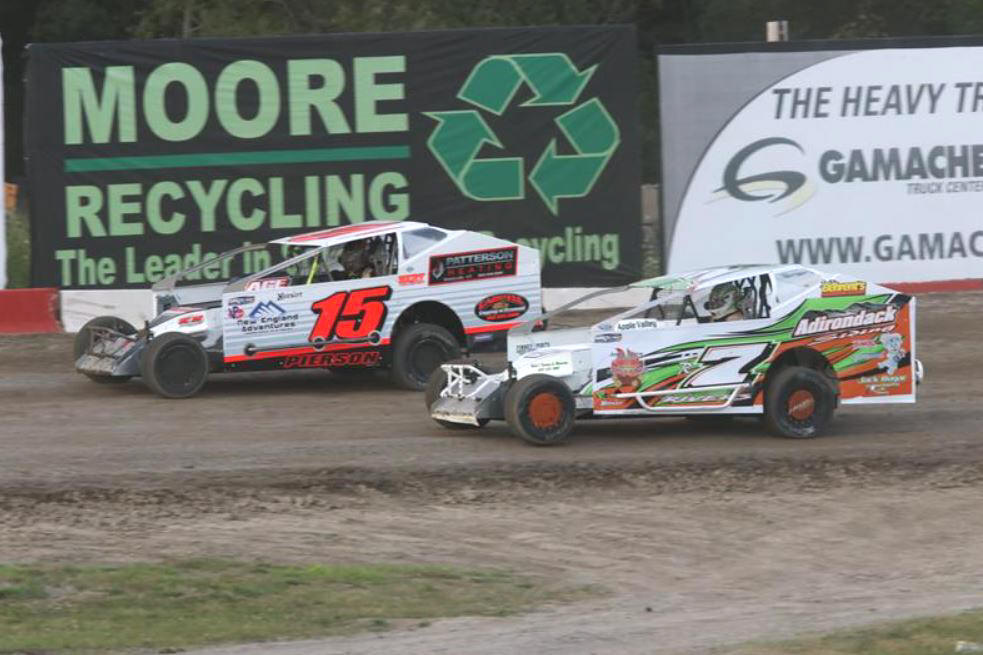 Source Unknown
Adam Pierson[15], formerly a Bear Ridge regular, starred at both Airborne
and Devil's Bowl in the pre-pandemic days. Below – The names of Tim
Laduc [54] and Kenny Tremont, Jr. are synonymous with Devil's Bowl
and dirt racing. The Bowl's schedule change will mean losing
Tremont in 2021 for the time in decades.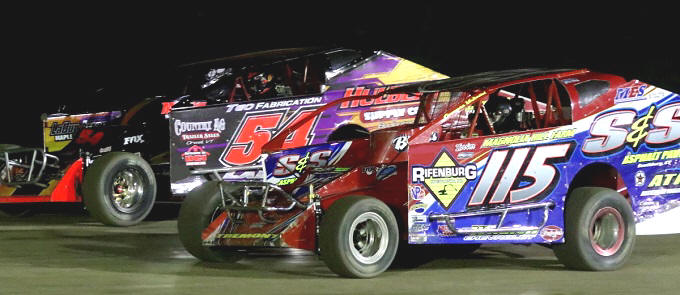 Devil's Bowl Photo

The results for Airborne were very encouraging. Some nights, the stands had more fans than the whole 2016 season had seen. Ironically, Walker had retained Bruce Richards to do track prep and grading as Bruce's father, C.J., had passed on his expertise. Meanwhile, the 2017 saw even worse fields for Bruno at Devil's Bow l on the pavement. The dirt program on Sundays was more or less making its own way. Thus, at the end of the season, Mike made the announcement that the track would return to clay on the main track for 2018. This will put the Bowl one up, now having seen five surface changes in its life of 50+ seasons.
The return to dirt worked well for Bruno and the Bowl. I could be wrong, but it seems that Airborne Park Speedway and Devil's Bowl Speedway must be some sort of record setters as to surface changes in a lifetime. Both tracks treat me very well, and I wish them the best for the future; but the pandemic seems to have all but put Airborne out to pasture
Please email me at wladabou@comcast.net if you have any photos to lend me or information and corrections I could benefit from. Please do not submit anything you are not willing to allow me to use on my website - and thanks. For those who still don't like computers - my regular address is: Bill Ladabouche, 23 York Street, Swanton, Vermont 05488.
AS ALWAYS, DON'T FORGET TO CHECK OUT THE REST OF MY WEBSITE:
www.catamountstadium.com
Return to the Main Page
Return to the Main News Page
Return to the All Links Page
Return to the Weekly Blog Links Page