BILL'S [Somewhat] WEEKLY COLUMN/BLOG PAGE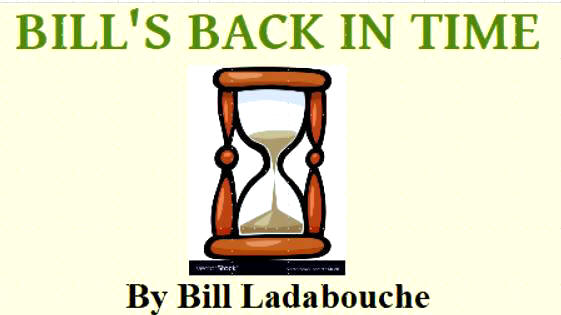 TRAVELS WITH BOB N' VAL
When I was getting along into the lower grades in high school – and my wonderful uncle got where he didn't always want to drive to all the race tracks, I was lucky enough to strike up an unlikely friendship with a pair of men [race fans through and through] who were at least twice my age. I had known Bob Allard for a few years, hanging around Nello [short for Lionello] Lertola' s Gulf Station in Proctor, where he worked.
Ironically, that little gas station turned into a rather important Toyota dealership for Nello's son, and – later came to be owned [along with the former Fredette Chevrolet on the other side of South Street] by the LaFond brothers, who would sometimes display someone's restored stock car inside on the display floor. Bob would have loved to see that when he was older and didn't get around as much.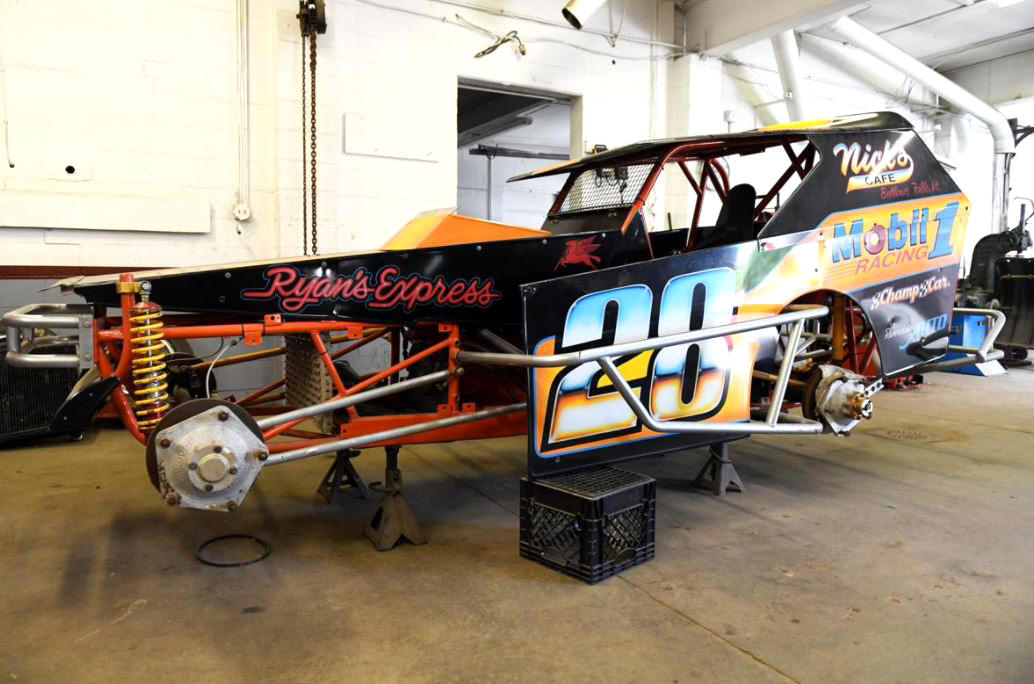 Robert Layman Photo via Tom Haley
A car that may have been the last driven by the great Vince
Quenneville, Sr. sits,under restoration at one of the
LaFond buildings in Proctor.
Bob was a giant of a red – headed man, well over three hundred pounds, with a quick, dry wit and an endless stream of one – liners. I had remembered him from being around the high school as kid because were "borrowing" a classroomduring elementary school renovations. Bob had always worked after school with the custodians and – despite regular jobs at various gas stations – he would help out the high school custodian when he was needed.
Bob and his racing pal, Val, had been tooling around to stock car races in Bob's massive Mercury. I recall sitting in the front seat, about two miles from the dashboard as Bob would have the seat back where he could comfortably drive. He often joked about the behemoth car which he said would make a great race car.
"Yup", he'd say, "Take 'er around the track for a lap and then head in to gas up". The car probably got about 8 miles to the gallon.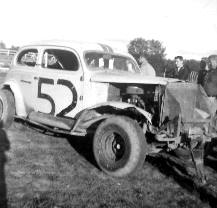 Ladabouche Photo
Bob Allard [far right] looks over the George Proctor car
in amazement after Proctor had come and swept his
races at Fairmont in 1963. His brother, Bill whose pit
card I would use two years later, is next to Bob.
Now Val was piece of work in his own right. Valentine Blicarcz by name, he lived in a huge manorial house next to what had become the College of St. Joseph The Provider, in Center Rutland. He had become one of the caretakers of grounds there. He lived at the house with his elderly father, whom Bob had pronounced as a "one crazy old man". When we'd drive into the large driveway that looped under an impressive porch by the front door, he would often come out and stare at us with a withering glance, eliciting a few mumbled comment from big Bob.
I went through the remainder of high school and on into college, going to race with these two characters. We would nearly die laughing most of the time – either at some comment Bob had managed out of the side of his mouth or one of Val's malapropisms [he could murder the English language]. The other hilarious thing about Val was he could not remember any of the racers' names. So, he'd substitute something that came close to the name in his mind.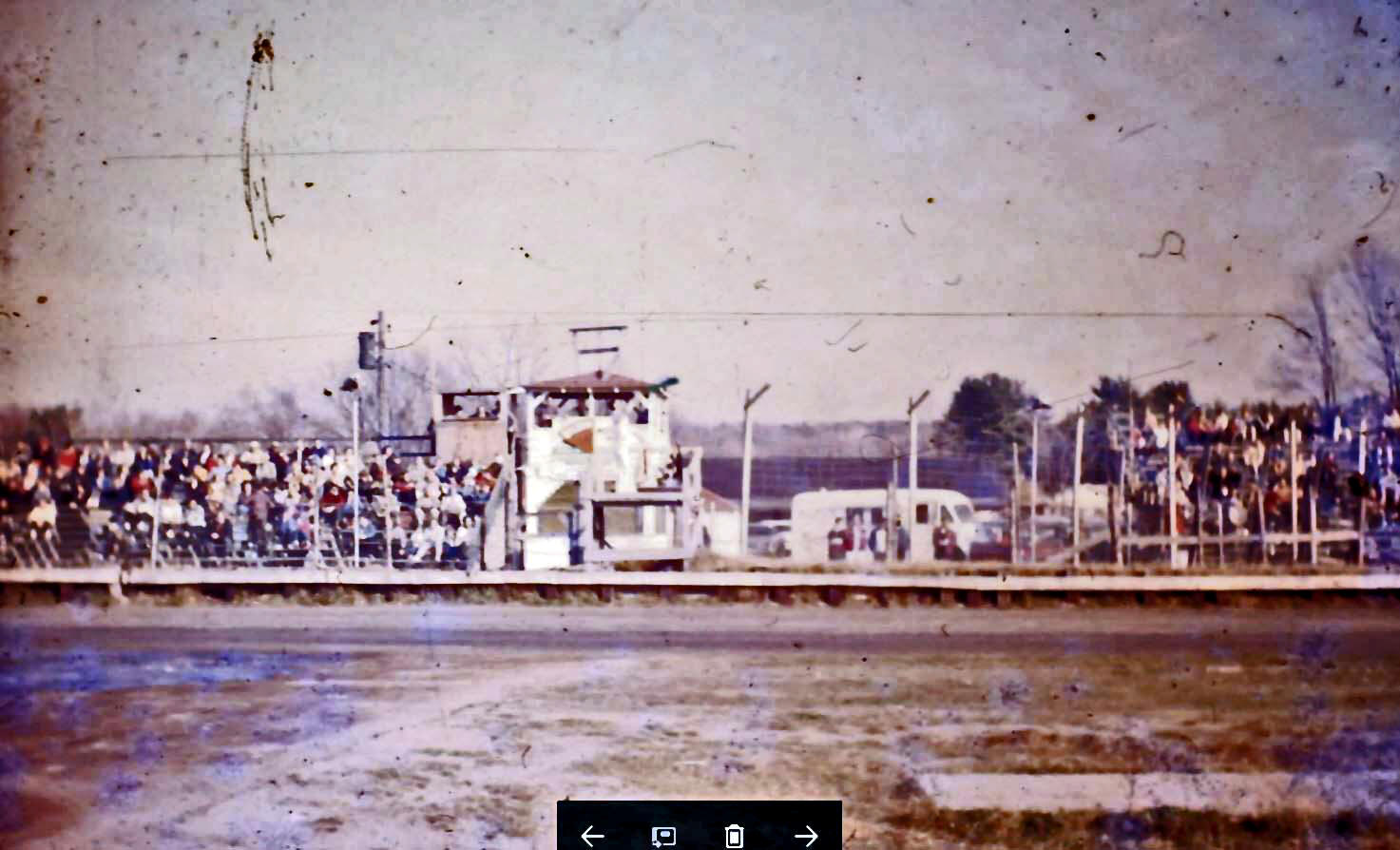 Dick Britain Photo
A Fairmont crowd looks on in 1964, as seen from across the
infield and pit area. Below – This 8MM shot from 1962
caught my uncle [my real uncle] watching races. I must have been
just out of sight. He is the prominent gray head with the
glasses. He was my original [and favorite ] ride to the races.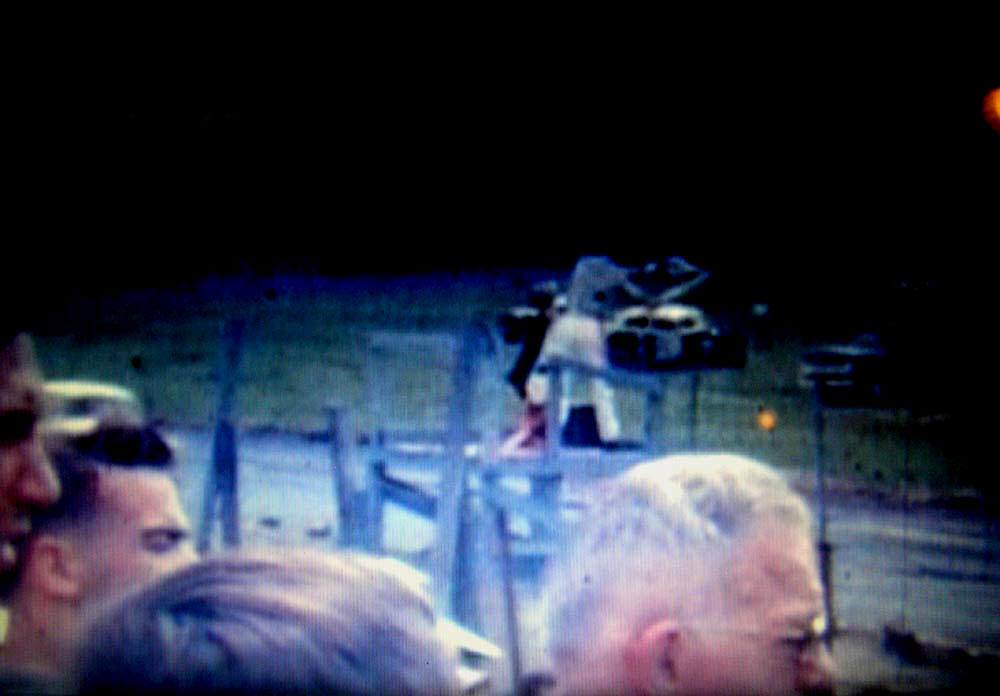 From Dan Ody's 8MM Old Speedways DVD's


At first, I went mostly to Fairmont Speedway with Bob – then with Bob and Val. I don't know if had more fun watching the races or listening to Bob's incessant commentary on the colorful characters who paraded around the grandstand area during the races. Stock car races around the Fair Haven, VT / Whitehall, NY region did not exactly bring out the Kentucky Derby crowd.
One of Bob's favorites was a man he called "my uncle". The man would wander, back and forth, in front of the stands staring up, mouth agape as if looking for someone. He NEVER looked at the races and I don't think he knew exactly what he was looking for; but, he was there every single week. Another favorite target was this very quirky but nice old couple, Pa and Ma. They called each other those names; it was nothing Bob came up with.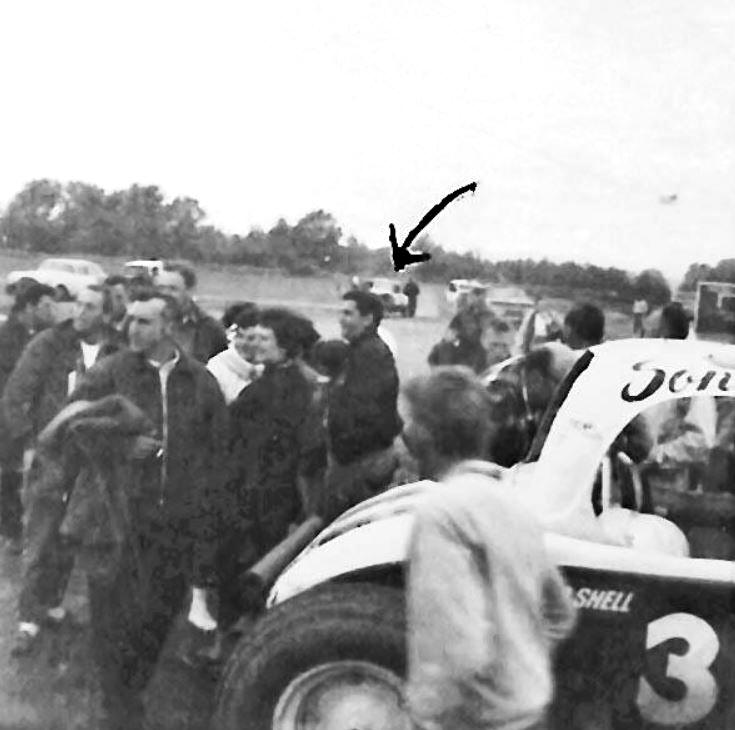 Ladabouche Photo
Sonny Rabideau, one of the fastest of the Claremont cars,
meets with fans after winning the 1962 Vermont State
Championship. He was on a roll, having just won C.J.
Richards' big program at the fair, as well. This crowd
was a pretty regular – looking bunch. Below – This shot
of Butch Jelley shows what Fairmont fans would put up"
with to see a race: crowding up to a rickety fence or
sitting on the roof of an old stables building.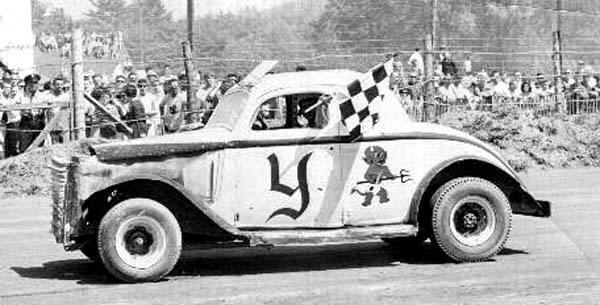 Bob Frazier Photo
Ma was the vocal one of the pair. If a race was flagged off she turn and yell in this piercing voice "Lookit 'em go ! Lookit 'em go ! Yahoo !" Ma kept a running dialogue going with the spectators nearby whether or not she was getting any replies. Pa was always dressed in paint clothes, just as covered with a variety of colors as the old eye glasses he wore. They seemed like really nice people, from the Vermont equivalent of the Ozarks, I'm sure.
Bob, in particular did have his favorites on the track. A few times, Fairmont attacted the yellow #52 sedan of George Proctor, from New York. We loved the name because, after all, we were FROM Proctor, VT. Proctor had this big old sedan with what I think he told me was a Plymouth motor and he was geared exactly right for the half – mile Fairmont oval. Each time he came, he would fairly run away with the feature. I still see George today at Devil's Bowl and remind him how much we liked watching him go.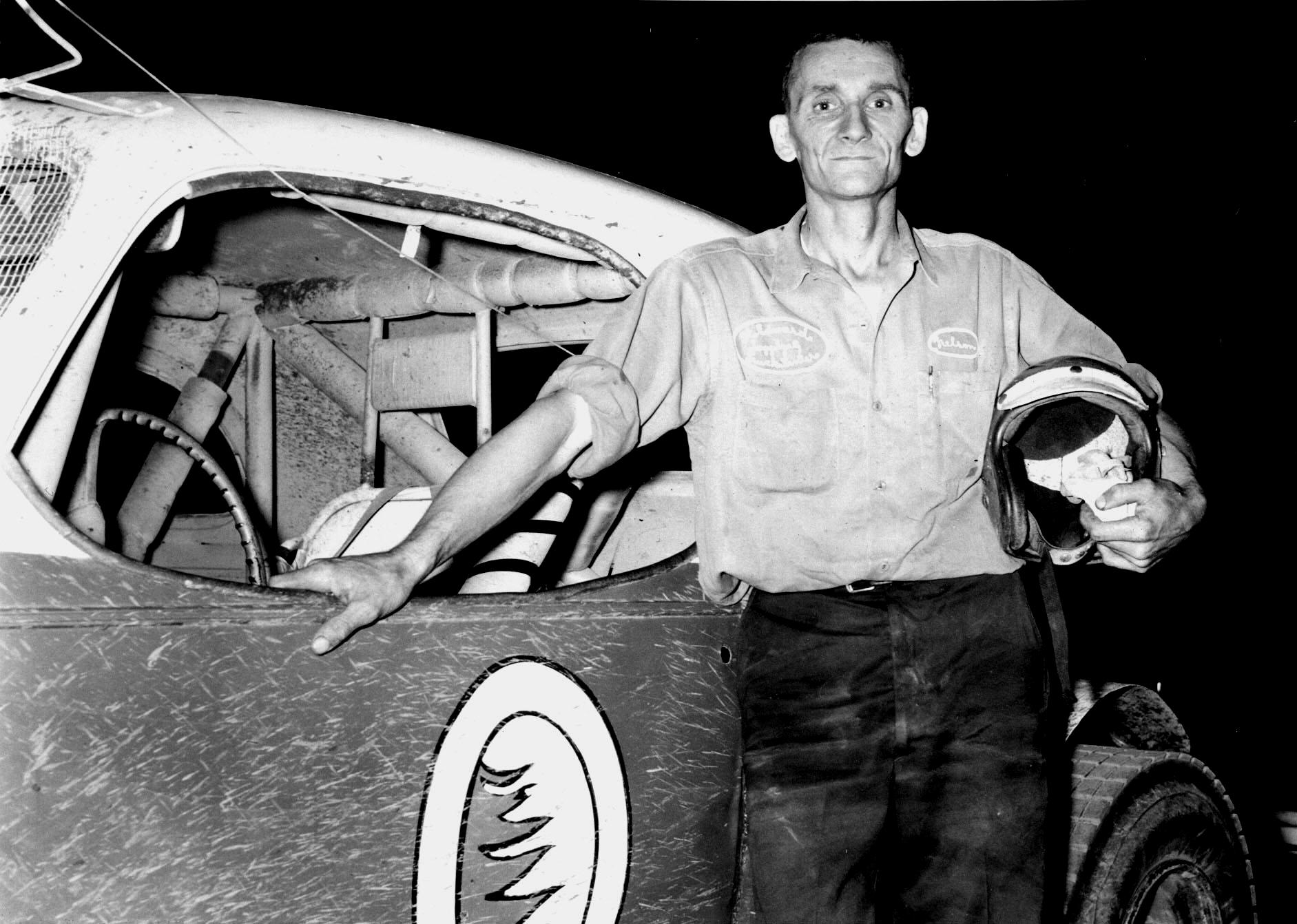 Bob Frazier Photo via Norm Vadnais
A young Nelson Moore, with the Taggart 0,
at Fairmont Speedway around 1965. Below – Nelson, with
some of the Loomis family at Fairmont in 1963.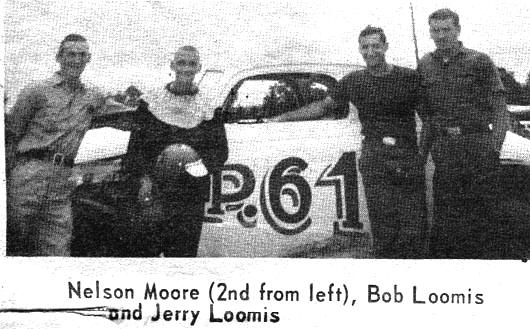 Bob Frazier Photo Courtesy of Barb Laduc
One Fairmont regular Bob especially identified with was Nelson Moore, from Gansevoort, NY. A truck drive for the Fort Edward Motor Express, Moore was very friendly and cordial to fans and was one of the better New York drivers. [Fairmont, was a constant battleground for the New York teams, the New Hampshire teams, and a rapidly – developing group of local stars]. Bob sometimes drove a mail truck had said he would often run into Moore, fueling up his Fort Edward Motor Express tractor trailer truck somewhere in the area.
As Fairmont got into the 1956 season and had graduated to its lead division being overhead V-8 sportsman cars, I was then attending college nearby. We were now going the infield pits – and that was a whole different world than what you experienced in the bleachers. I would go in as "Bill Allard", because Bob's brother had bought a Fairmont Racing Association pit pass but wasn't going to many shows.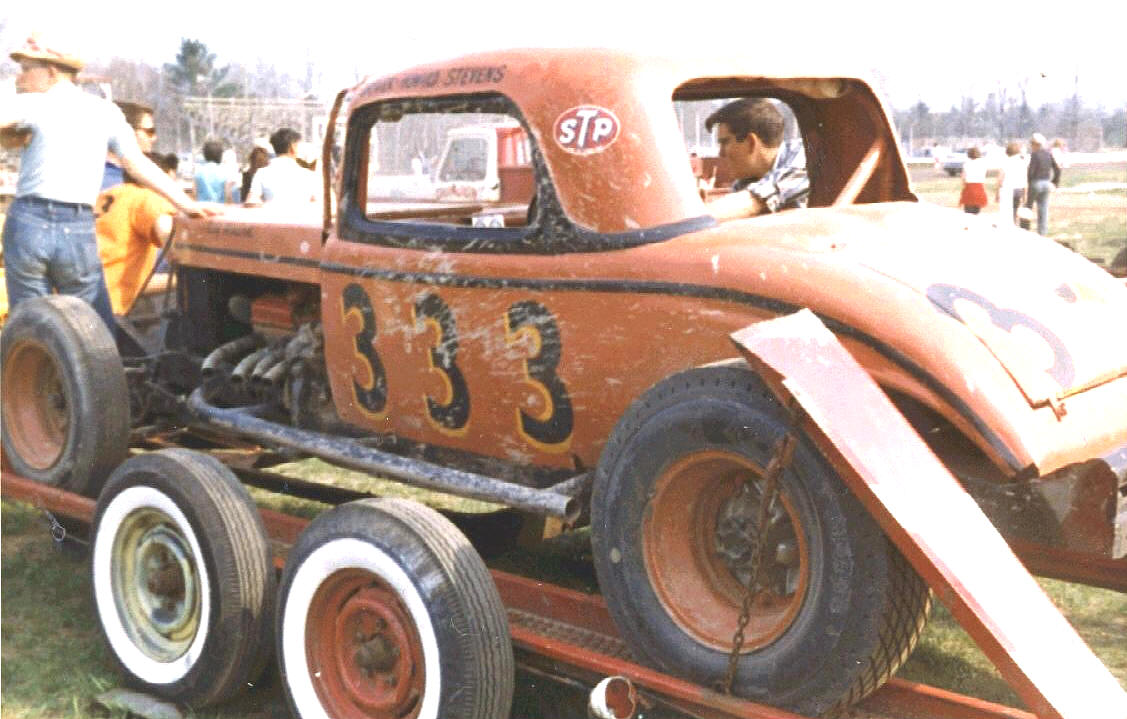 Ladabouche Photo
The Rutland – based 333 team of driver Howard Stevens
and owner Leo Vallancourt would put up me "helping" in the
Fairmont pits. Below – the Chet Doaner team, on the other
hand, was not all that receptive. Oh well.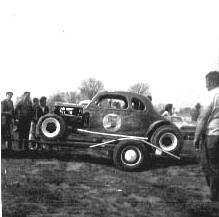 Ted Vogel, Jr. Photo
In the pits you not only could see more about what went on but you could the teams yelling to [and at] each other, particularly during pit stops under caution. It was fairly dark, and you could occasionally hold a flashlight for someone or hand in a wrench. That was big deal. I also recall being told a few times to please get the f-!@# out of the way.
We also got where we were traveling to some other venues. Some of the most hilarious rides were over to Claremont, NH to track there. Claremont, at that time, was a very crude affair, hollowed out what looked like sand pit. Many of the best teams at Fairmont were Clarement cars,; so, naturally we wanted to see where these fast, light flathead Ford coupes were coming from. It was clear, upon seeing a little of the action, that we were already the best Claremont had to offer in Vermont; the rest were some pretty humble equipment.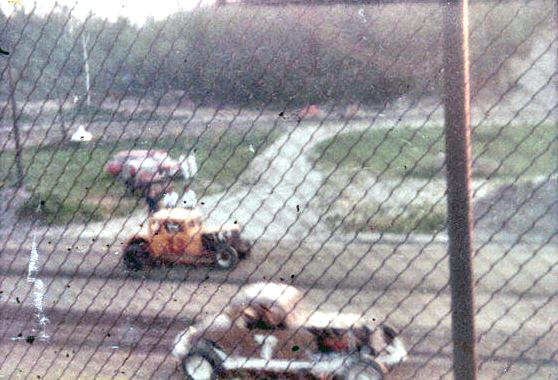 From Ed Wylie via George Hill
Art Cody [33], seen here on the track at Claremont, was very
familiar to us from Fairmont. Below – While many of the
Claremont track were fast and dominant, some of the cars
they left home ? ...well..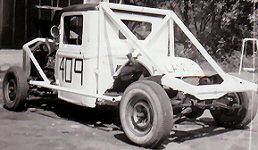 Brown Family Photo
Val would regale us with whom he was most looking forward to seeing when we got there; but, the names were certainly not clear. He remembered "Punky" [Caron] as "Sticky", for example. There were several other last names, in particular, that were liberally substituted for whatever he could come up. Bob would just about drive off the road, laughing. We had more fun than real people.
One of my fondest recollections was making the two – hour drive, mostly up US Rt 7, to Milton, VT to see that brand new race track Catamount Stadium. We knew Ken Squier had involvement in it and my favorite NASCAR sportsman driver from Vermont, Jack Dubrul, was also involved. All three of us had seen Dubrul run a dirt sportsman car at the bucolic Otter Creek Speedway near Vergennes, so we were familiar.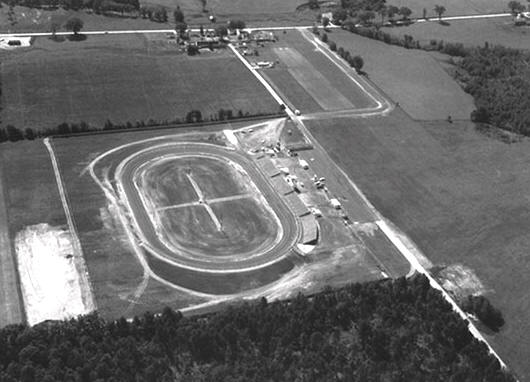 Source Unknown
Catamount Stadium sits, scarcely finished and still with no water
supply, just before its inaugural program in 1965. Below - Russ Ingerson
poses behind the Catamount stands with the color themed
track name in plain view. At first the whole facility was color
coordinated in Vermont colors.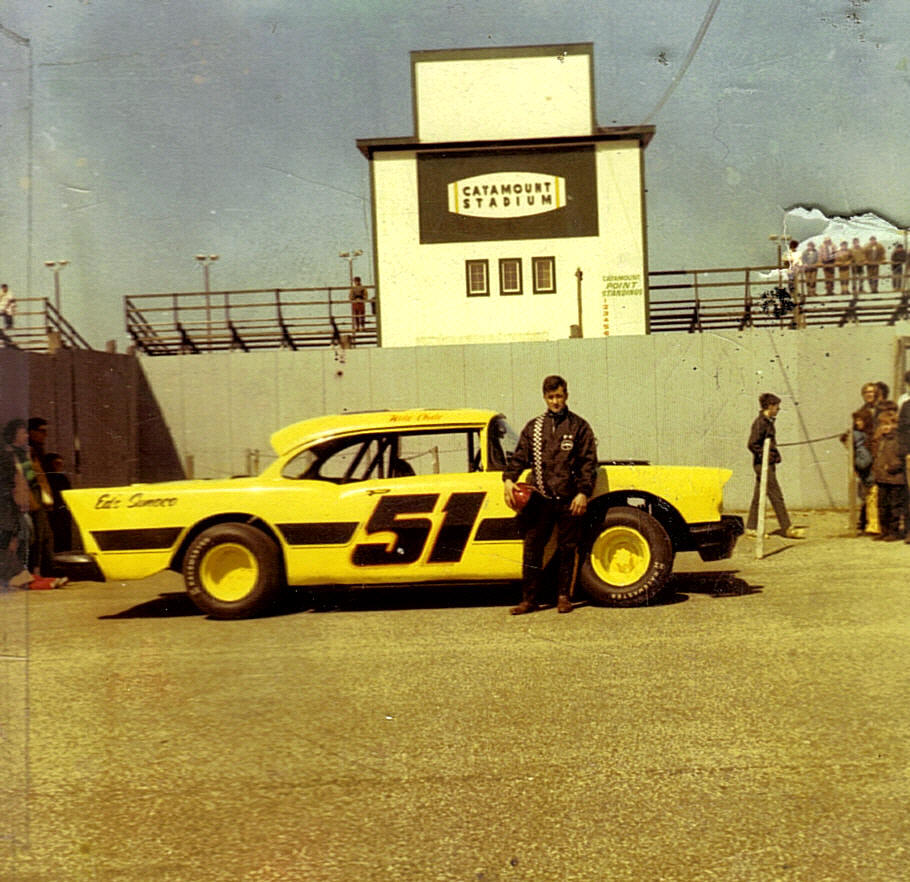 Courtesy of Rich Palmer
I am not sure either Bob or Val had ever been to a paved track. I had been to Weissglass Speedway on Staten Island and to Norwood Arena – both with my uncle; and he and I had been to a 1959 race at Colchester – Bayview Speedway [the former Malletts Bay Raceway], which I think had been blacktopped by then. But I was certainly not familiar with how paved tracks worked.
We got there, having run for several miles up Interstate 89 and finding it came to a dead halt right at the Milton exit in those days. We arrived at the track, with its towering announcer's stand, brand new buildings, and Vermont green and yellow color themes all over. We didn't know what to think. The fact that the infrstructure was actually PAINTED, was one thing; but, having eveerything color schemed was tough to fathom.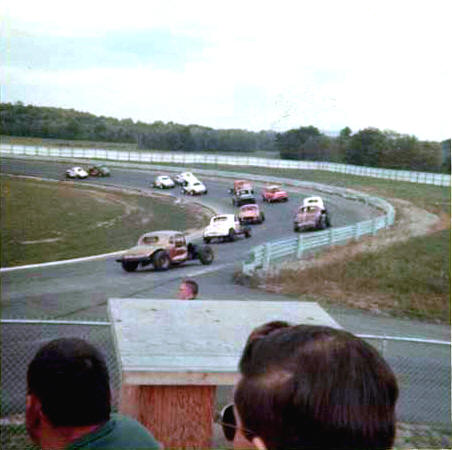 Courtesy of Jack Anderson
What we first saw was a state – of – the – art paved track with
what seemed like endless practice time. Below – This first – year
photo shows a modest field of sportsman cars at Catamount. There
are New York and Canadian cars, primariy with a few locals
like Bob Riley's 5 and Tom Curley's 2 in the rear.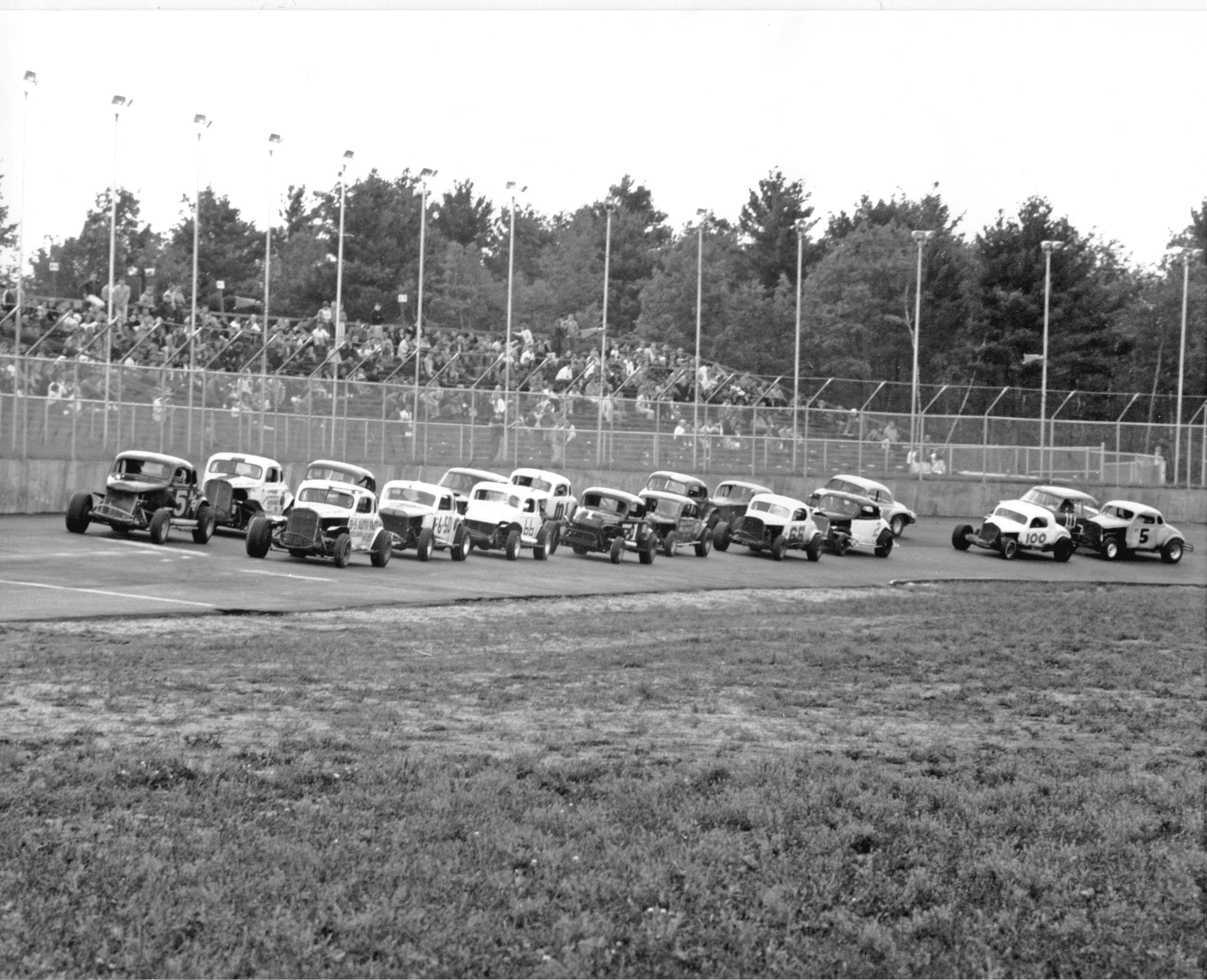 Courtesy of Cho Lee
One thing that people who have seen only dirt racing have to get used to is the interminable practice laps on paved track, somewhat necessitated by what is now commonly referred to as "cycling in the tires". On our tracks, cars got about four laps of practice if they were lucky – for the whole program, because the track was usually heavier then and was subject to surface disruption.
Everything seemed pretty fancy for Bob's taste as we stood by the railing in front of the none – too – full grandstands. There were massive stands, having been purchased from the Lyndon B. Johnson inaugural parade and brought to Vermont in an ice storm in the winter of 1964-65. Then Bob went ballistic.
"Did you just see that !?" he yelled at us, over the road of the practicing sportsman cars.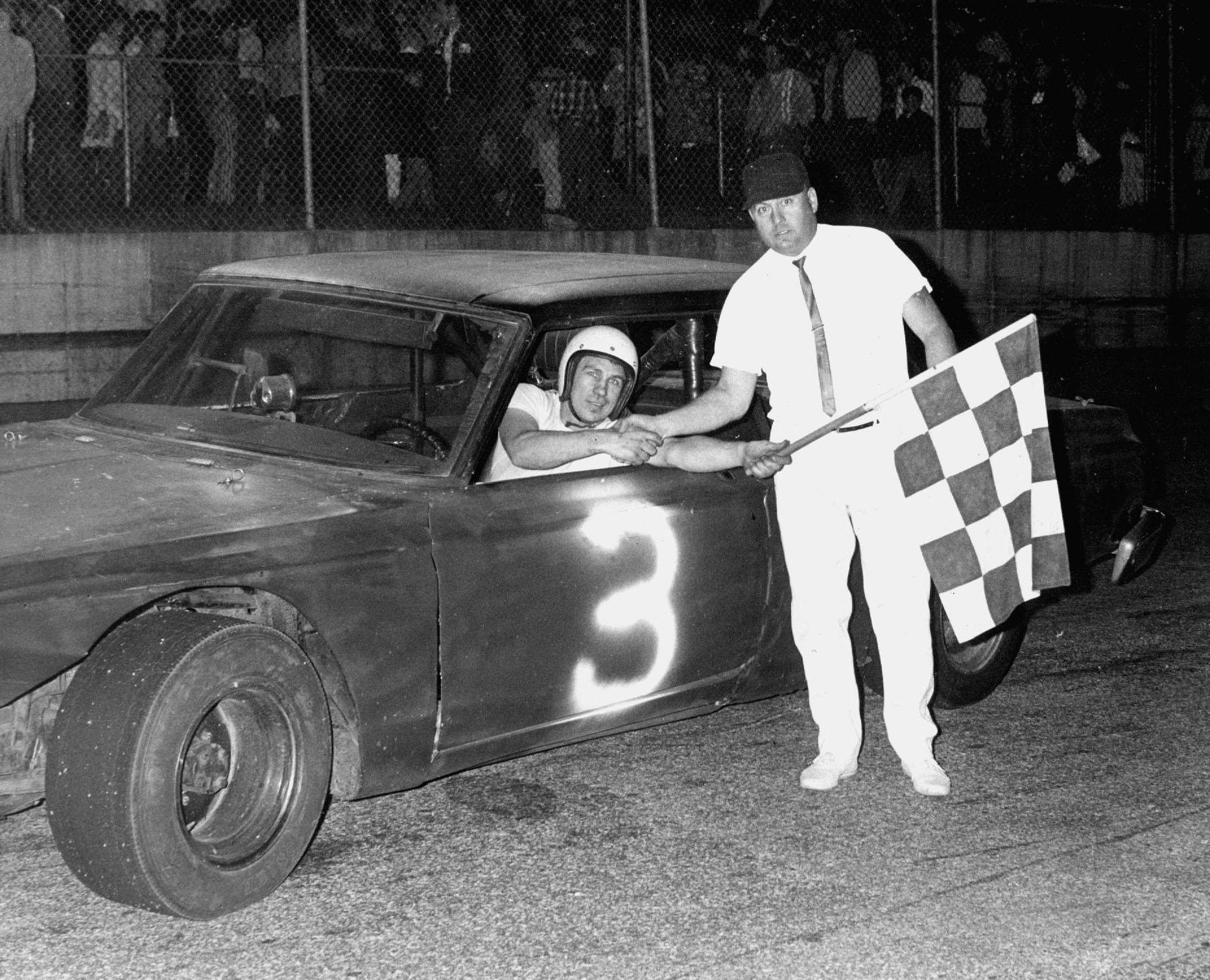 Courtesy of Chris Companion
Jeez ! Even the flagger's got a damned tie on ! [Jack Paradee
with Clem Despault in 1971]. Below – Jack Dubrul, shown here
with his Catamount car around 1966.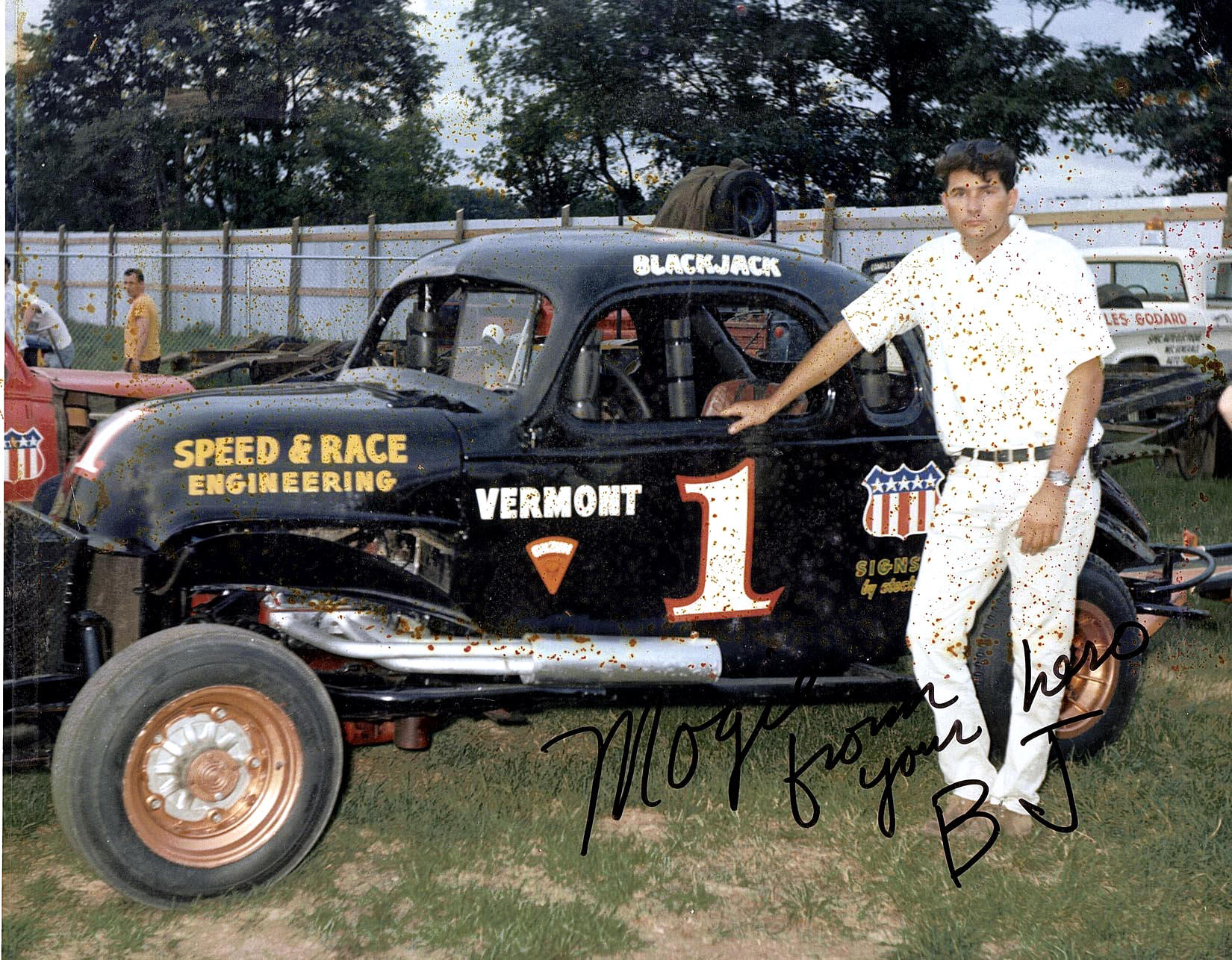 Dubrul Collection
He pointed to one particular coupe, circling the track, indicating for us to check out the driver. Sure enough, the guy whizzed by, wearing a dress shirt and necktie under the harness system. What the hell ? Bob had also noticed that the announcer in the tower [mostly likely Ken Squier] and the flagger were both resplendent in neckties, as well. At our Fairmont, the flagger did have a costume of sorts and the officials did have uniforms, but this was over the top for Bob and Val.
It turned out that the driver was Dubrul, taking a moment from his duties as part owner of Catamount to try driving one of the cars for a few laps. Starters Jack Paradee and Bob Quinn did wear clip – on red ties for a season or two before giving up on that. We were somewhat disappointed in the whole affair, as the new track was struggling to get many cars either in the modified/sportsman class or in the support division called the Flying Tigers.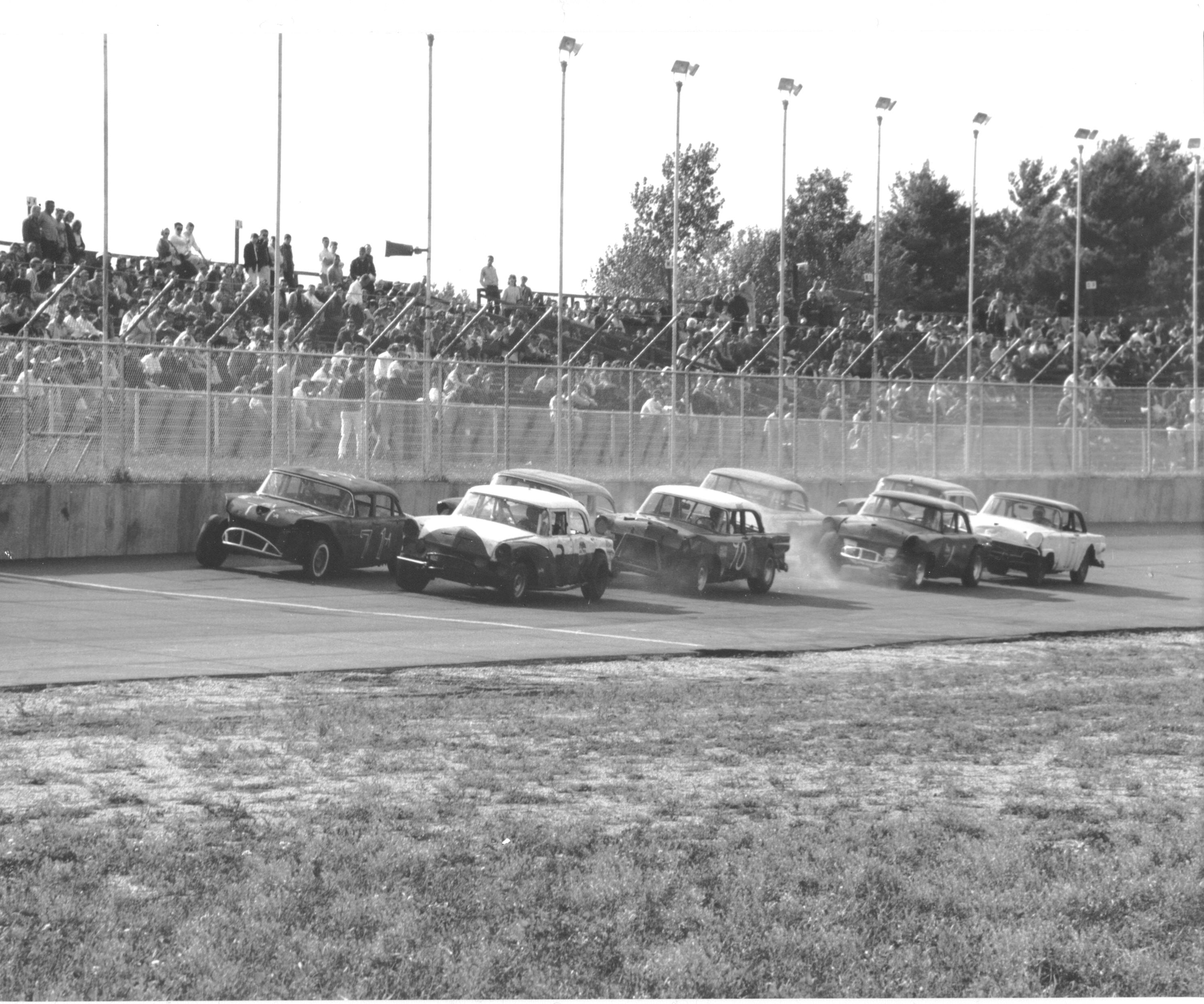 Courtesy of Cho Lee
An early Flying Tiger field that included a smoking Beaver Dragon,
Bob Brunell, and Jim LaFountaine, the high point car. Below - By
1968, the Tigers were all that remained at Catamount.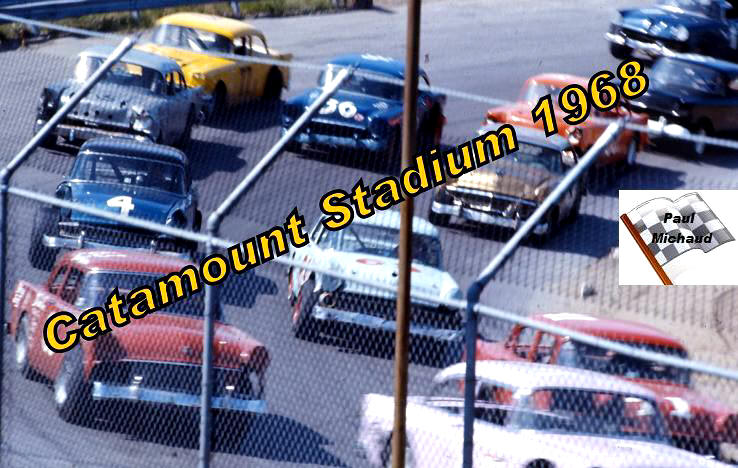 Paul Michaud Photo
We did note some cars and drivers that we recognized from our racing newspapers and we did note this guy named Beaver Dragon, who had taken his '54 Ford down to Fairmont one week to try his luck at our "Unbeatable Lennie" Wood, who went through the 1965 season undefeated. What we did recall was that #7A John's Texaco Ford, coming down there with no experienced and fairly chasing Wood across the finish line that Sunday. We also enjoyed the fact that the Tigers had a couple of Studebakers, and that Marcel Godard went off turn one and almost climbed a tree that night.
But, given the fact that they were having to run some of the same cars I more that one qualifier due to shortage, I couldn't get the boys to go up there again. I never saw another race at Catamount until 1968 and – by that time – the track had sent the coupes packing, keeping only the Flying Tigers.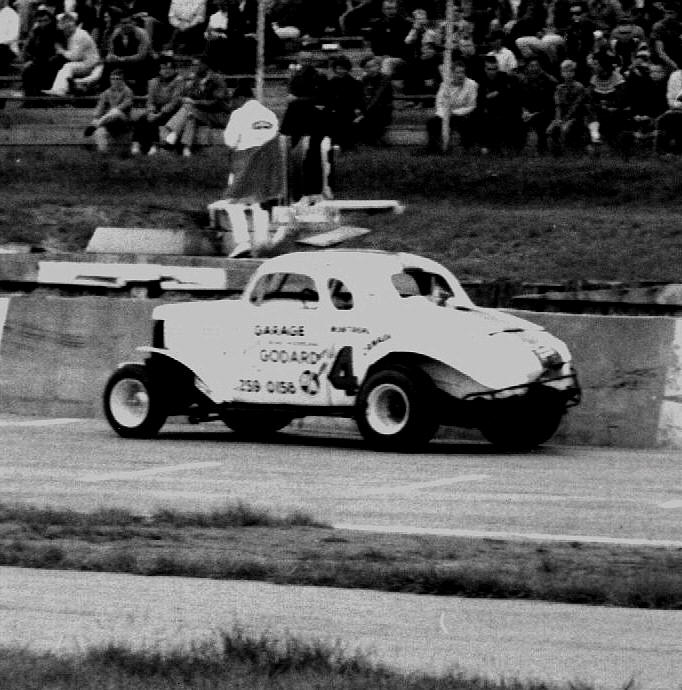 Source Unknown
Marcel Godard, shown here on Catamount, did an
eye – goggling track departure just mere feet from
where is in this shot. Below – This Tiger shot shows
Norm Burl's quirky – looking 7UP Studebaker at
Catamount Stadium.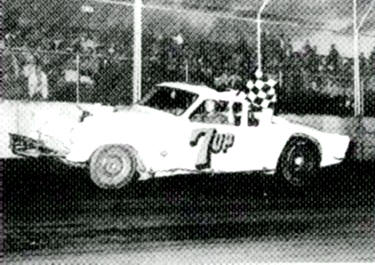 Courtesy of Cho Lee
Eventually my time with Bob and Val tailed off. College was taking more of my time, and I had more demanding summer jobs that didn't always allow for much nighttime race attendance. [Then too, there was drinking and those there girls]. We had some trips over to the newly – constructed Devil's Bowl Speedway, and I think we hit Albany – Saratoga Speedway a few times, as well.
One of the things about the Bowl [if you have never attended] is the fact that it is down in what is sometimes called Vermont's "Inland Sea" a flat area along from below Fair Haven all the way up past Vergennes. It is thought that the already – large Lake Champlain used to be much larger [hence the sea reference] and it left the valley flat and with wonderful clay. When I first went there with Bob, C.J. Richards was still struggling to get his tacky track under control, and there were bumps in turn one that could engulf a battle ship.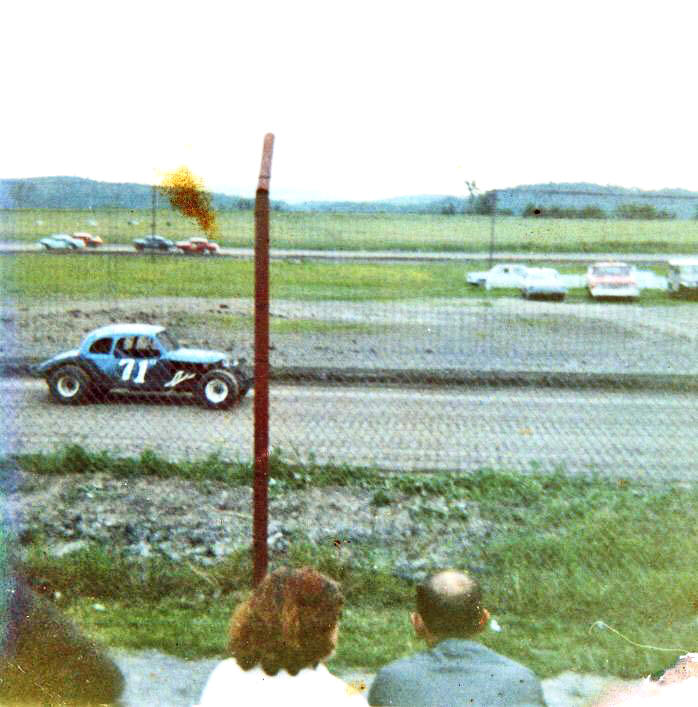 David Frazer Photo
This shot of Harry "Boo" Duffany in 1968 shows the flat
expanse beyond the backstretch, at Devil's Bowl. Below -
In 1967 you could see stars like Beaver Dragon [43],
Wes Moody [unlettered] and Vince Quenneville before
running like hell to beat the rain.

D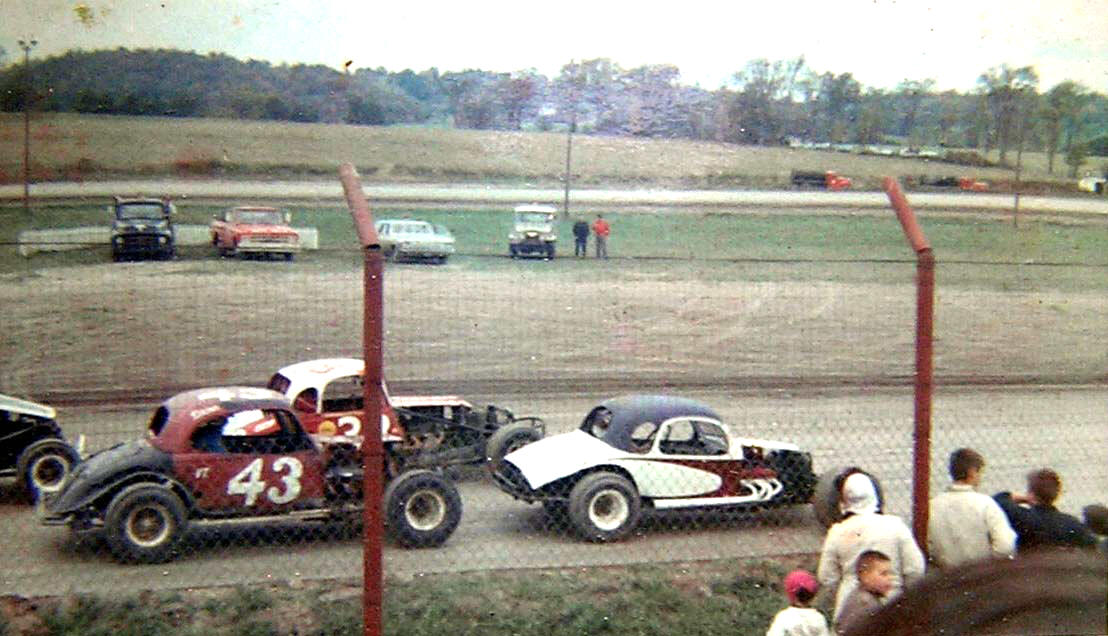 David Frazer Photo


Well, with that flatness comes an ability to see weather coming. Long - time Bowl official Paul Cummings always said if you could not see a particular local hill, off in the distance, get ready to run to the car. I recall the early Sunday evening when I realized it was looking really foggy in the pasture out beyond the backstretch; then I realized it was rain coming.
Thank God, Bob had lost a great of weight by that time and we could book it towards the parking lot in time to get into the car. The thunderstorm was so close behind us that our backs were a little wet, but the not the fronts. They say that it came so fast, cars in a heat race successfully motored through turn one and then went straight off turn two as is having hit grease. It came that fast.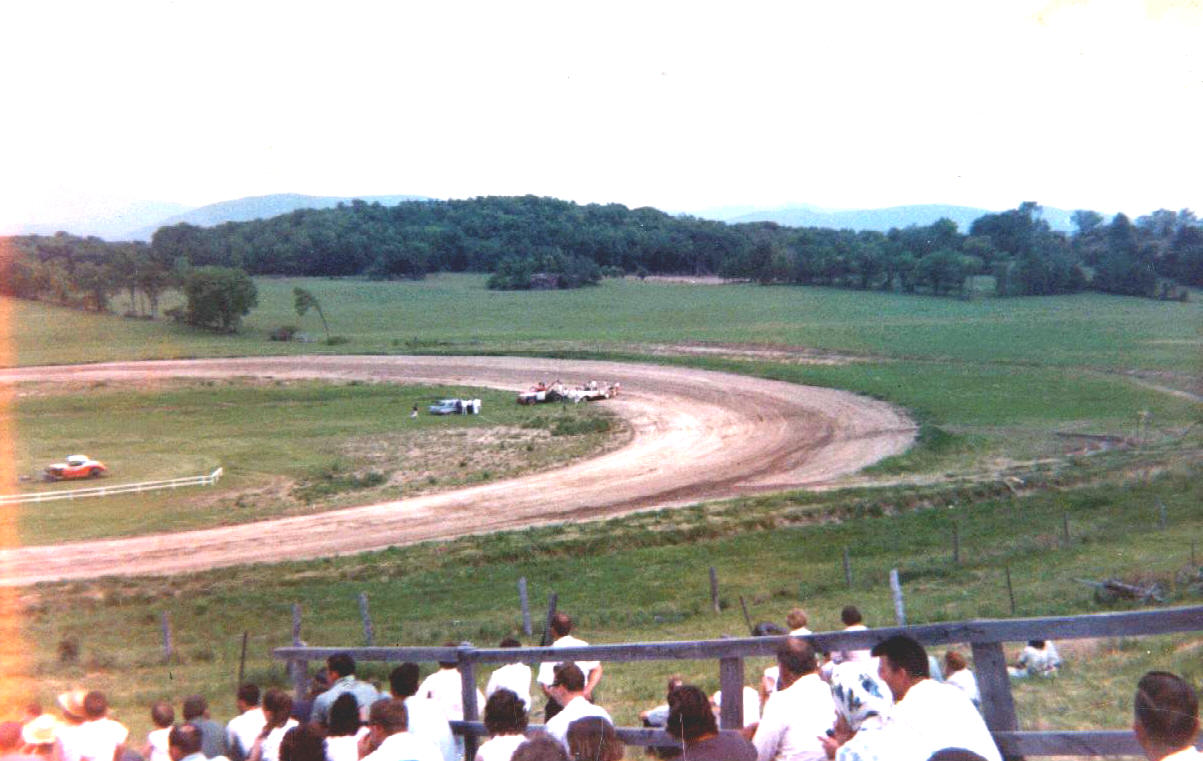 Val Blicarz Photo
I never got a photo of Val, but here's one he took at
Otter Creek in 1962.
I have done columns whose themes were getting to the races were as much the battle and being there or racing. We lost both Bob and Val. I used to visit Bob in his home, and he was a little interested in the latest news, but his health had left him not able to see any more races. In this case, getting there was more than half the fun when those two were still going. So many racing fans are just like our little group was – seeing the racing is one thing; but who you attend them with is even better.
Please email me at wladabou@comcast.net if you have any photos to lend me or information and corrections I could benefit from. Please do not submit anything you are not willing to allow me to use on my website - and thanks. For those who still don't like computers - my regular address is: Bill Ladabouche, 23 York Street, Swanton, Vermont 05488.
AS ALWAYS, DON'T FORGET TO CHECK OUT THE REST OF MY WEBSITE:
www.catamountstadium.com
Return to the Main Page
Return to the Main News Page
Return to the All Links Page
Return to the Weekly Blog Links Page