BILL'S [Somewhat] WEEKLY COLUMN/BLOG PAGE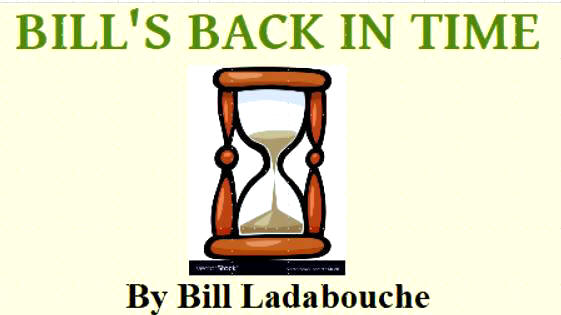 WEARERS OF MANY HATS [OR SHOULD I SAY HELMETS]
In its all – too – brief life span, Catamount Stadium saw the existence of a number of racing divisions. Beginning with primarily sportsman and a late model support division called the Flying Tigers, the track was also attracting top modified teams until 1968, when it eliminated the sportsman and modifieds all together. After a season with just those late model Tigers, the organization upgraded them to limited sportsman – with an eye towards again upgrading to regular late model sportsman cars by 1971.
After that, at various times, the late model sportsman class was accompanied by: automatic transmission Hurricane cars; Mini Stocks; again Limited Sportsman [which was a mixture of the older Hurricanes and upcoming six cylinder cars; six cylinder Grand Americans; eight cylinder Street Stock; and finally New Flying Tigers [which began as refugees from the Grand Americans and Street Stocks mostly]. The track closed out its life in 1968 with plastic – bodied pony cars similar to those in the ASA and ALL PRO series.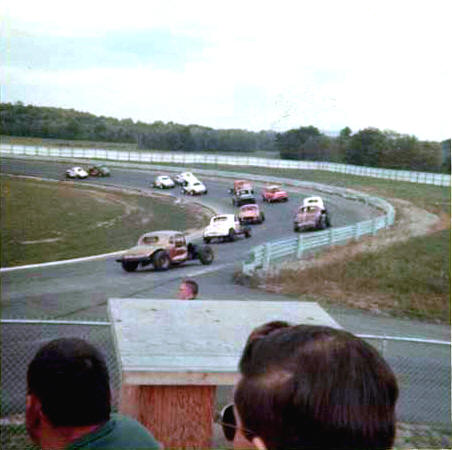 Courtesy of Jack Anderson
Catamount began with these [early sportsman heat in 1965] and
unpopular ARMCO barriers.[Below] ended with these
plastic – bodied late models in 1987 [and no barriers for years].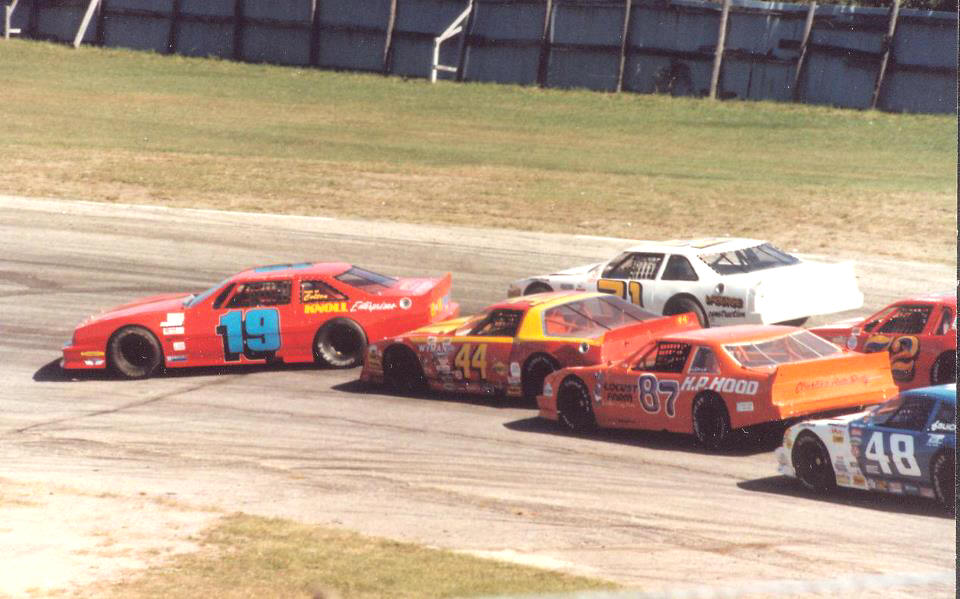 A and A Ward Photo
To my knowledge, there does not exist one person who drive in all of those various classes of race cars at Catamount Stadium; although, a few folks came close. If I can depend on the information in what we commonly call the Catamount history program [put out around 1986], there were a few racers who did manage to compete in five of the possible 10 classes [if you count the plastic cars as different from the original steel body LMS cars]. To a person, these were guys who had "Made their living" in the numerous support classes that came and went at Catamount.
Our first "jack of all trades" turned out to be a patriarch of a racing family that extends even to today's racing in the state. Charlie Benoit came from Colchester's Prim Road, near the part of town called Malletts Bay. He came out for some Flying Tiger racing prior to 1970, although I don't recall actually seeing him in that class. When the Hurricanes came out around 1970, Charlie showed up with a 1963 Buick numbered 74. That class was very popular with a large contingent from Colchester and northern Burlington; the group often supported one another's race efforts.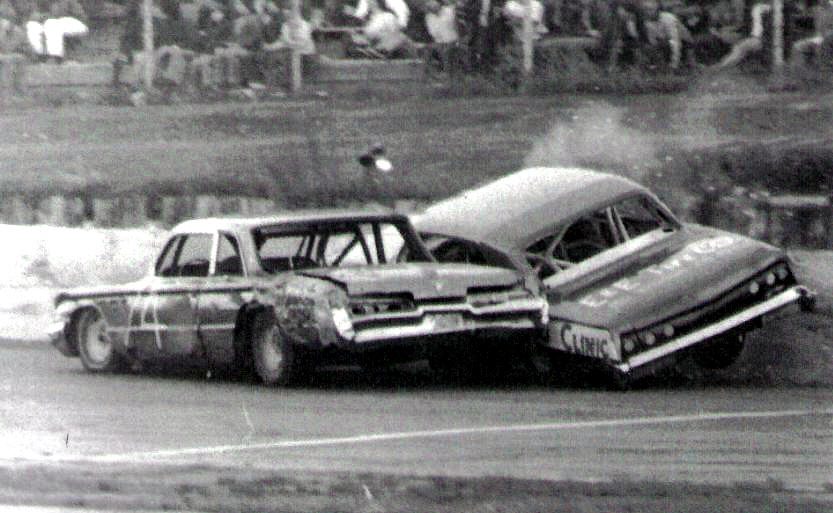 Courtesy of Andy Boright
Charlie Benoit's big Old Buick goes into the wall with Larry Caron.
Below – Benoit's more familiar Chevy Hurricane.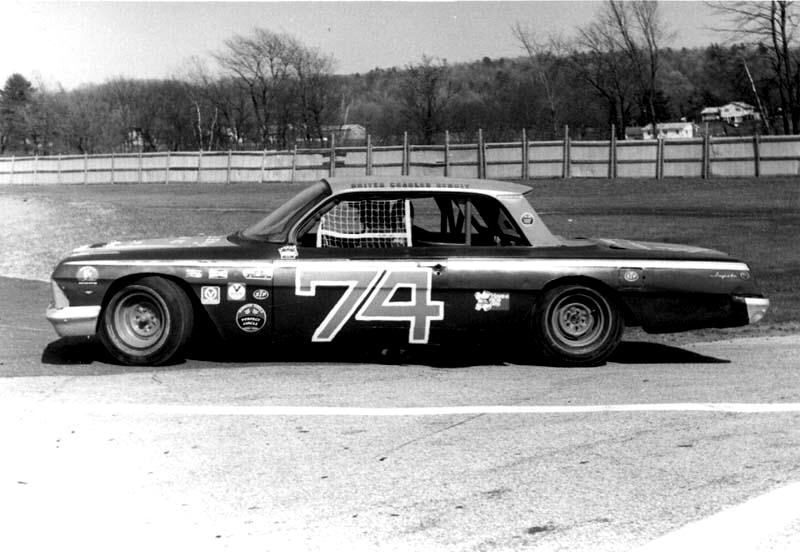 Courtesy of Cho Lee
Benoit, who had at least five sons that I know of, would race in the Hurricanes, the Limited Sportsman class that spanned between the Hurricanes and Grand Americans, the Grand Americans, a bit in the late model sportsman class, and finally in the Street Stocks. The bulk of Benoit's racing appeared to be in the Hurricanes. He did, however inspire son, Danny, enough to have a considerable racing career of his own while fathering two racing grandchildren, one of which is current Devil's Bowl star Joey Roberts. At least two of the other Benoit boys tried racing, as well.
The next entries are a brother act. Jim Barton was a very familiar figure around Catamount racing and tour racing for decades. Brother, Rick, while not as frequent a competitor, was usually around in support of his older brother. Both men managed to compete at least some in five different racing classes at Catamount, as well. The single difference between them [besides Jim's considerable more track time] was the fact that Jim raced in the original Flying Tigers [actually driving his car to Catamount down the yet – uncompleted Interstate 89 at times] and Rick drove in the New Tigers.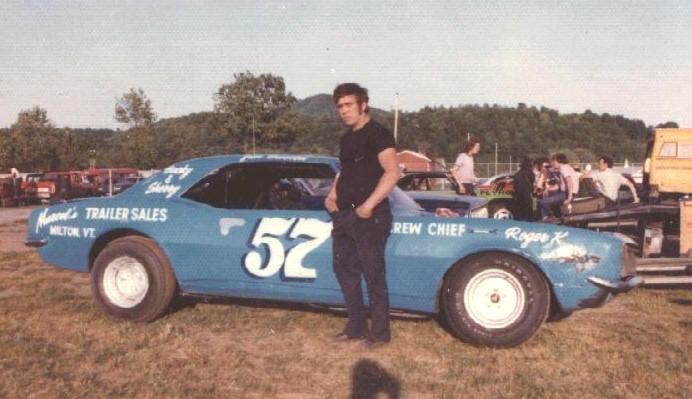 Ladabouche Collection
Jim Barton with perhaps his best known car, one of the
original Grand Americans. Below – The well -used
former Caron Grand Prix that brought Jim a
Street Stock title.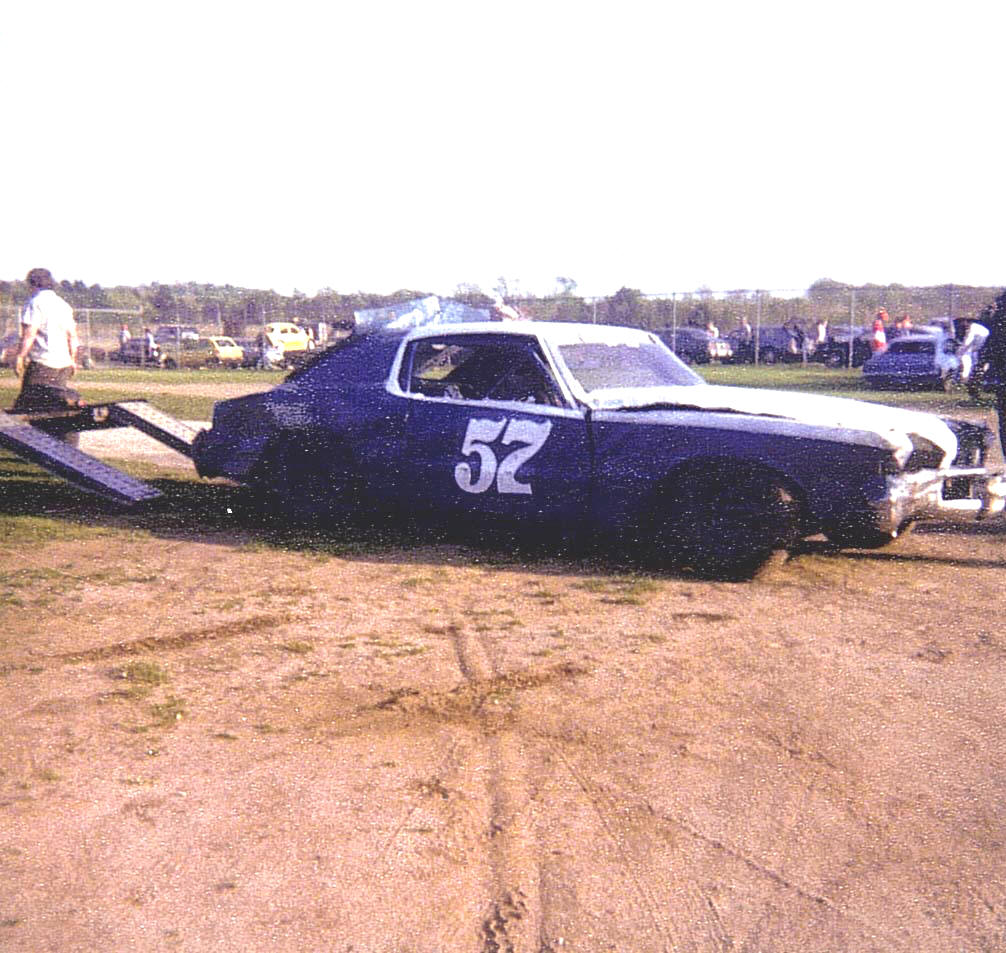 Ladabouche Photo

I was not yet up in Milton when my future close friend Jim drove that Tiger, but I was there, sign painting brushes in hand, to deck out his Hurricane when he bought it from Dave Companion around 1973. The next year, Jim built one of the very first six cylinder Camaros to run in the then -called Limited Sportsman class that led into the Grand Americans the following year. If you are not familiar with the history, that Limited Sportsman mixed class gave the established overhead V-8 automatic tranny Hurricane one more year to run their cars before they were phased out. Ricky Barton took advantage of that to get an old Flying Tiger car, add in an automatic, and run in his brother's class. Rick pulled off one of the more spectacular end for end rollovers in that car, ending his racing for a while.
Jim would run the same Camaro for another few years in the Grand Americans, changing up to a new body around 1978 or so. Rick would drive someone's car, as well, but he was not a frequent or regular drive in that class. After a brief hiatus, Jim would buy the title – winning Pontiac Grand Prix Street Stock of Richard Caron, have me do up his familiar #57 graphics, and would have a good run in that class for a year or so. Rick Barton would also drive occasionally in this class. Barton would have put a pretty good beating on the Grand Prix before selling it over to David Turner, Sr.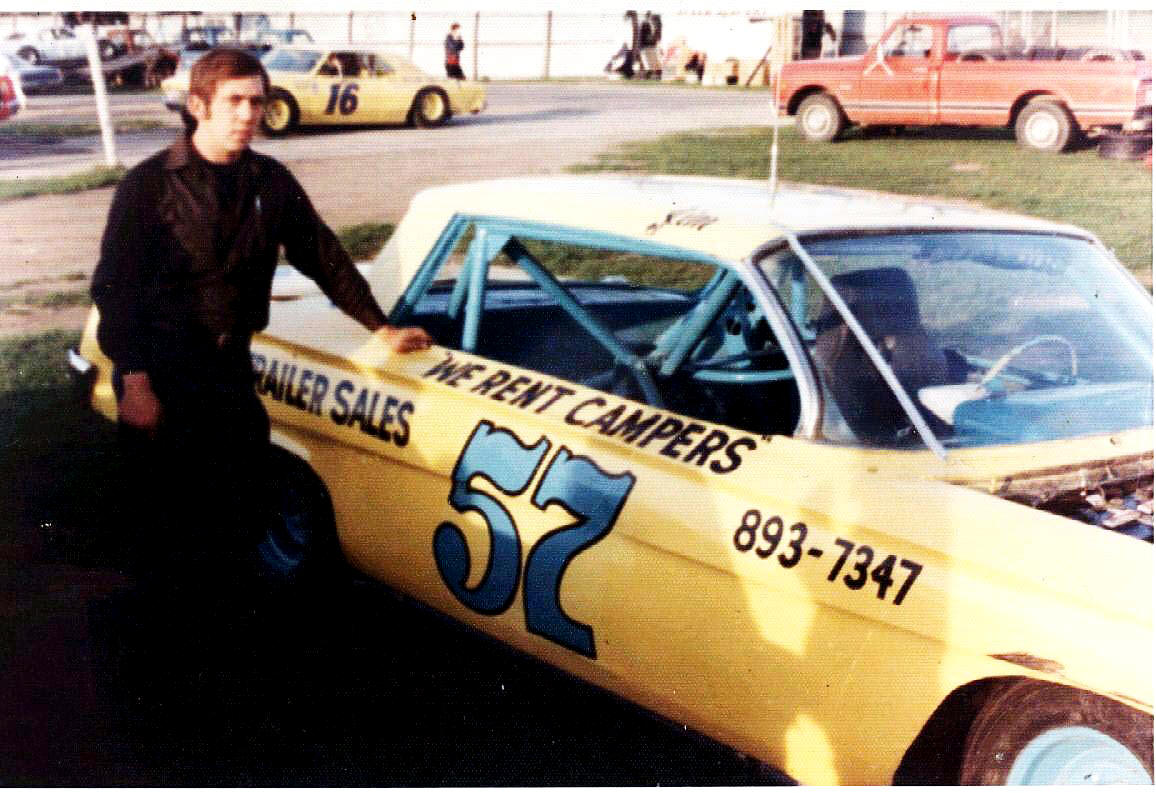 Ladabouche Collection
Above – Jim's first Hurricane car. Below – One of his last cars.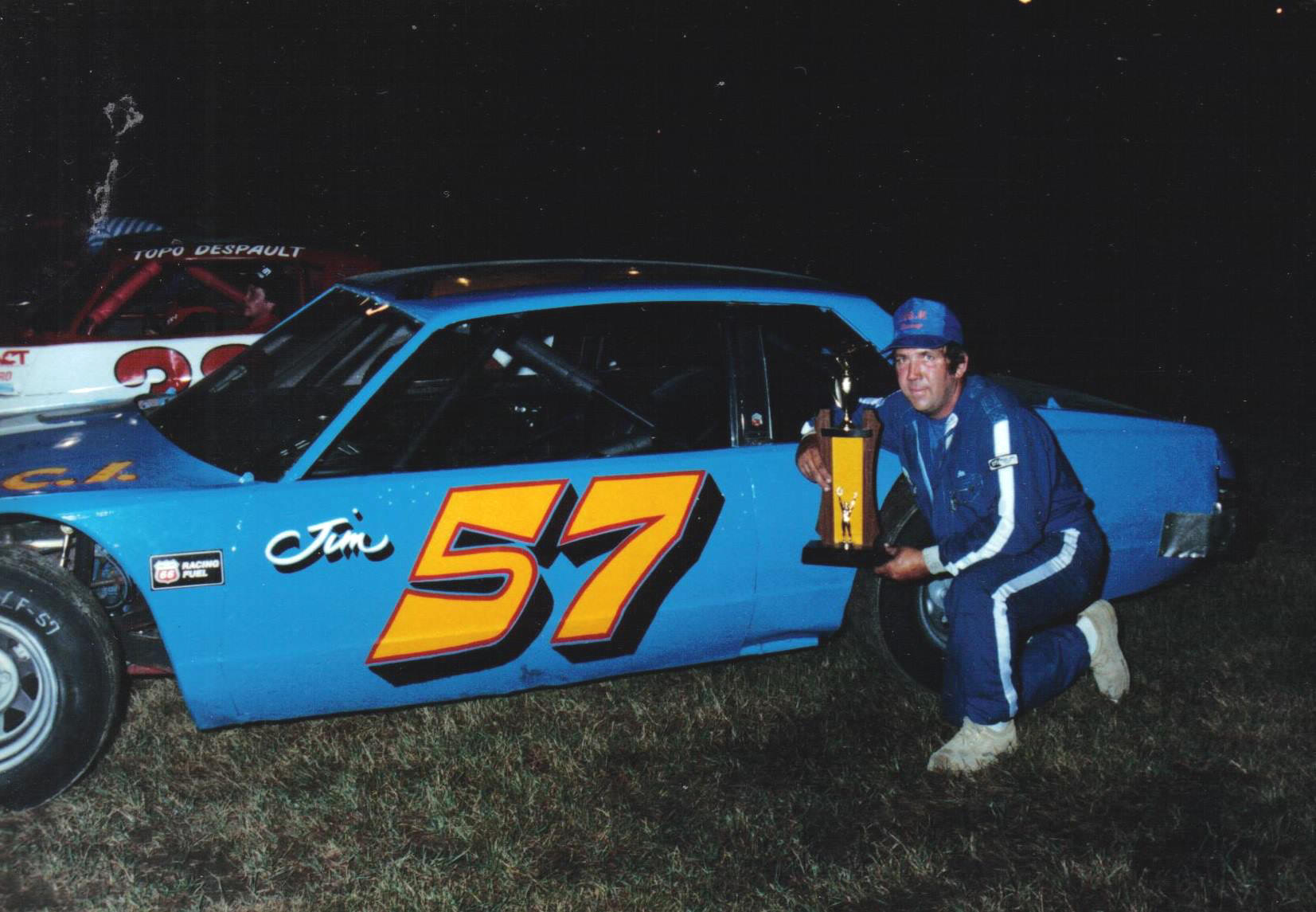 Courtesy of Andy Boright

Jim Barton's last class was late model sportsman. He had some cars of his own in that class before leaving to address increased business demands. Although it does not apply to this Catamount article, Jim Barton would also run cars in the "New Tigers" before business demands and the onset of serious health issues sidelined him for good. Rick is recorded as having driven a late model sportsman at least once and I would bet he had a new Tiger or two before he left to live down South. Both Bartons were very good friends. Jim was the tough guy with a heart of gold whose name is still remembered on some of today's race cars.
Another tough guy who hit many Catamount divisions was Essex Junction's Wes Cota. A part – time amateur boxer as well, Cota is another guy listed as an original Flying Tiger driver. He showed up around 1971 with a Hurricane and remained a force in that class for years. The Hurricanes were an interesting class to hand around and watch, with Cota, Barton, Norm Andrew, Perry Poquette, and a couple of other guys who were all tough enough to chew nails and spit out rust. Cota, who usually used the number 95, started out running Chevies and ended up tending towards the Mopar. He generated some interest when he bought the former Tom Tiller Dart LMS and converted the six cylinder Grand Americans. Cota is also credited with having run, at least some, in the Street Stocks and Late Model Sportsman cars.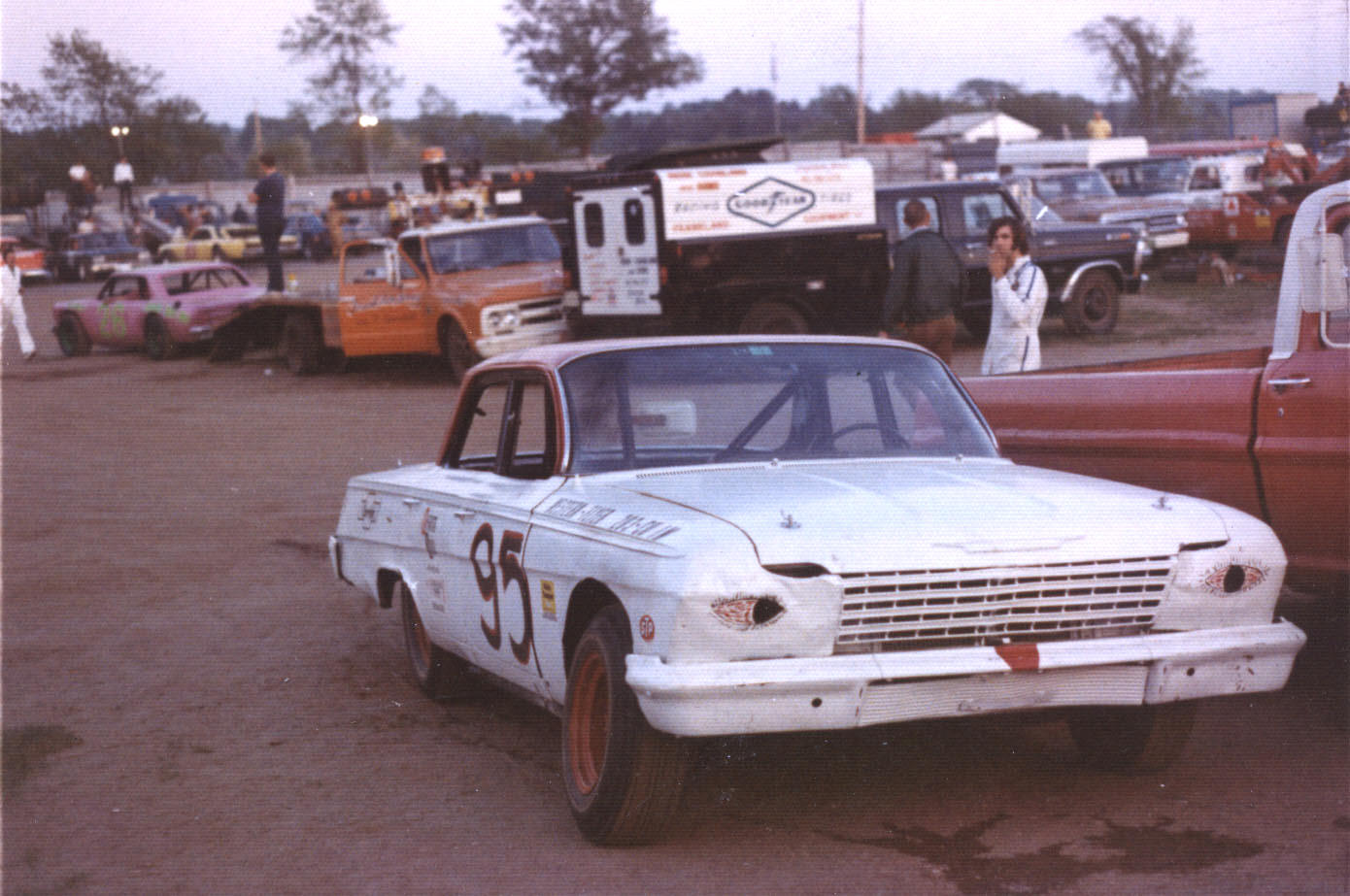 Courtesy of Cho Lee
Wes Cota's first Hurricane car, around 1971. Below -
The former Tiller Dart, which he ran as a Grand
American.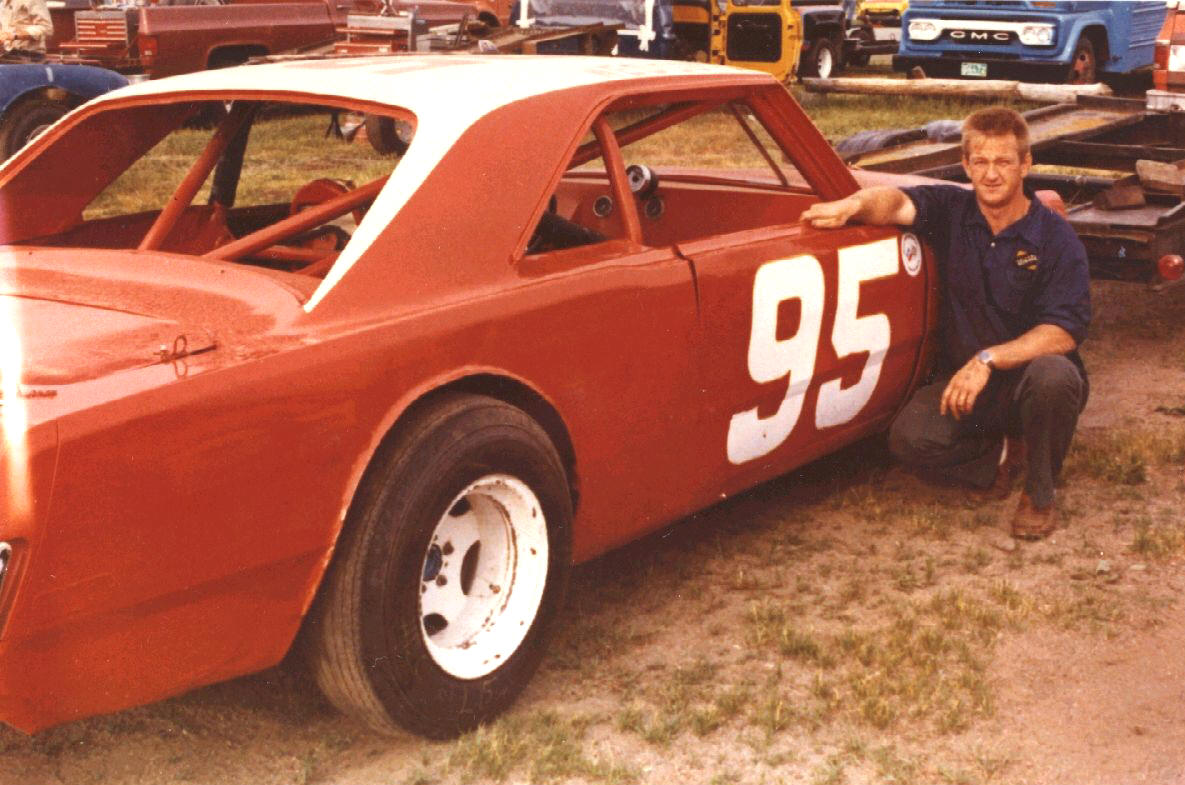 Ladabouche Collection

Our final runner may have managed to run in six classes. Westford's Dave Gibbs was a popular redheaded guy who started out with a Mopar in the Hurricanes. Dave carried over to the Limited Sportsman transition class with the Mopar before developing a Ford Mini Stock, He would not only run in that class successfully, but he fielded cars for wife, Mary, for a while. [We just lost Mary very recetnly]. Dave then began to experiment [along with George McRae] with the possibilities of the AMC cars. He had a Javelin [I think] in the Grand Americans and ran what I think was a Hornet in the late models at he time when the lesser LMS teams had the Friday shows at Catamount, in which they could compete among themselves without many of the bigger teams. Dave is also listed as running in the New Tigers at Catamount. Like most of these others, he continued on at Thunder Road when Catamount was gone.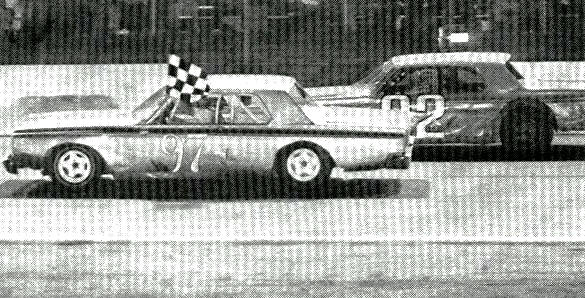 From Catamount Program
Dave Gibbs, with a Mopar – the car to beat in the Hurricanes.
Below - Dave was either the only [or one of few] people
to try an AMC in the late models.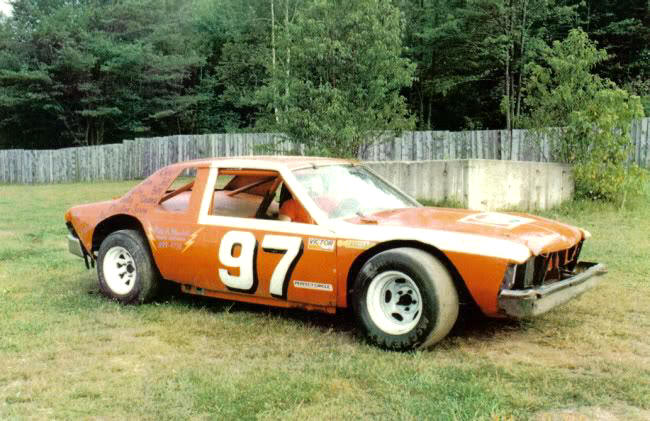 Courtesy of Andy Boright
There were a number of competitors who managed to appear in four different classes at Catamount. These include Ford stalwart Jay Yantz, from Monkton who did most of his driving in the Hurricanes and Grand Americans. His GA Mustang was very noteworthy, doing well against some very high dollar teams in that class. Female driver Barbara Jean [BJ] Willard also appeared in five divisions. Debuting with Mopars in the Hurricanes and finishing with Mustangs, Willard hit the Hurricanes, the Limited Sportsman, the Grand Americans, the New Tigers, and a shot in the Late Model Sportsman ranks. Fellow female star Linda Alexander actually drove in more classes – but most weren't at Catamount.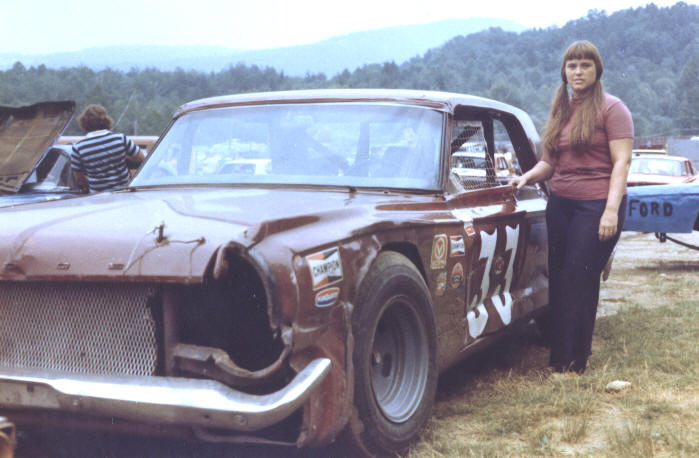 Courtesy of Jim Watson
B.J. Willard with her huge Mopar Hurricane. Those big Dodges and
Plymouths were all the rage when she started. Below – Don Turner's
big old Plymouth easily converted from a late model to a
Hurricane.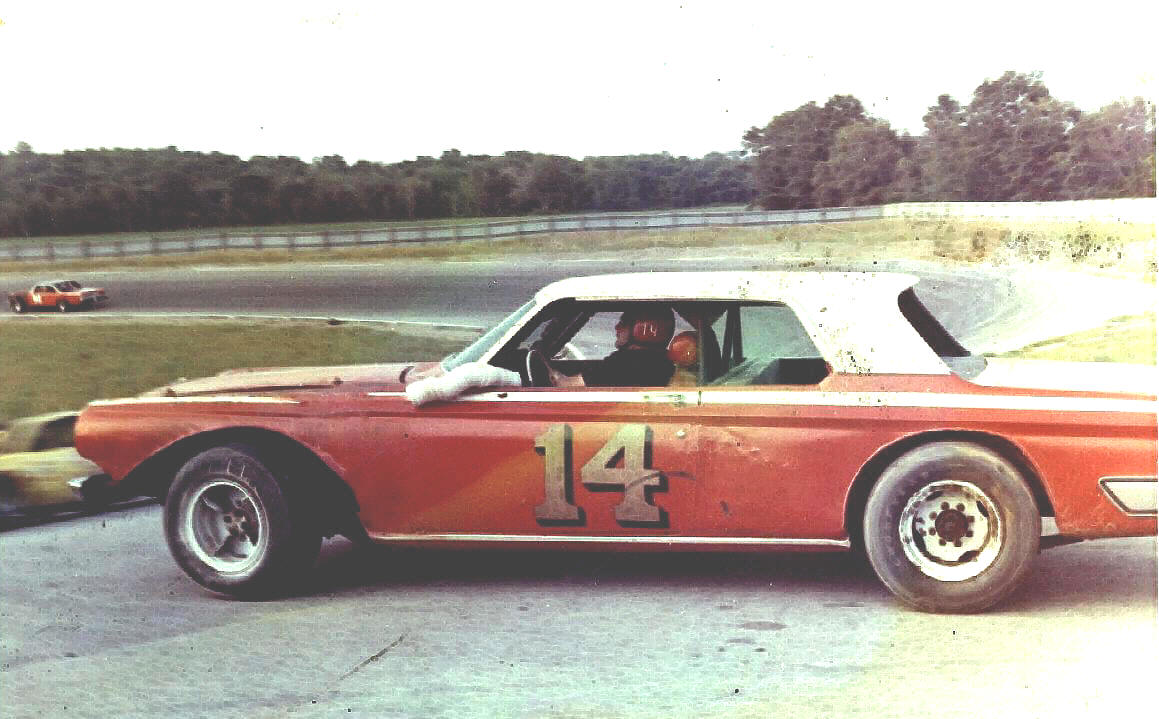 Bob Doyle Photo

Another competitor in five classes was Milton's Don Turner, Sr. Always running on a shoestring, Turner ran at Catamount primarily, but managed to hit the Original Flying Tigers [as the Flying Milkman}, the Hurricanes, the Limited Sportsman, Late Model Sportsman, and Street Stocks. The father of Vermont's legislative minority leader and 2018 Lt. Gubernatorial candidate Don, Jr [also a former driver], Turner was the most prominent driver of three racing brothers – himself, Ernie, and Ira. Brother, Ira, did leave a legacy of son, Rich, grandson, Richie, and enduro specialist Doug.
Graniteville's Paul Donahue, who began briefly in the Hurricanes, went on to feature Mopars in the Limited Sportsman, Grand American, Late Model, and New Flying Tiger divisions. Donahue's Dodge Charger was one of the best looking cars ever to run in the Grand Americans. Another racing family patriarch, his son, John was a star at Thunder Road and grandson, Stephen is now coming up to his own in the late models at Thunder Road and other venues.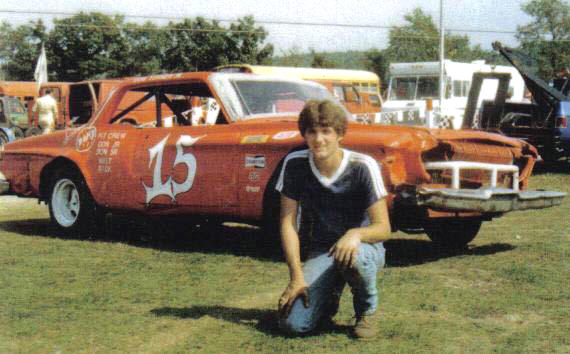 Courtesy of Andy Boright
Don Turner, Jr. with the family Hurricane/Limited Sportsman that
was built by Jim Cayea and previously campaigned by Dad.
Below – One of Paul Donahue's beautiful Mopar Grand Americans.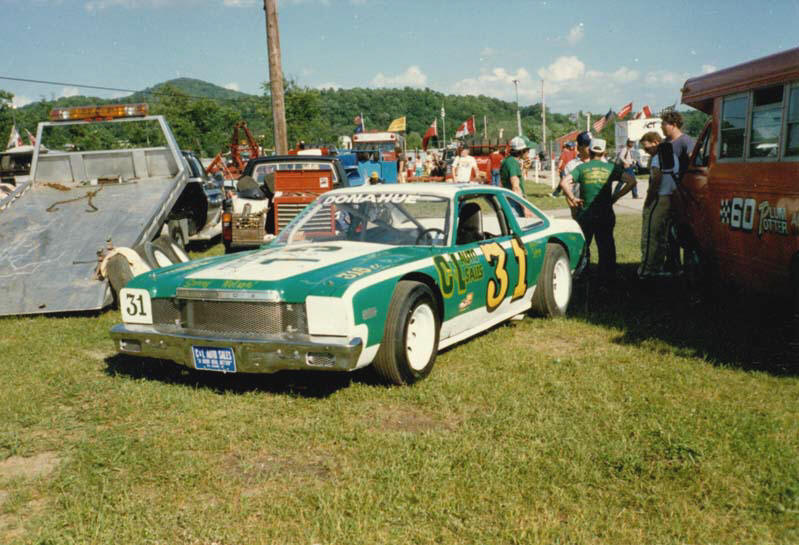 Ladabouche Photo
Two men who began careers as regulars in the Hurricane class were Norm Andrews of Warren and Guy Brown, from Hardwick. The two were contrasts of one another. Andrews favored a thundering, king – sized Mopar while Brown favored smaller Fords, Both would run the Limited Sportsman year with Andrews grandfathering out his big #01 and Brown converting over to a six cylinder Mustang. Having a six, Brown could go on into the Grand Americans while Andrews tried running Late Models with a former Darrell Owen Nova. Eventually, Norm would trade cars with Joe Myers, ending up with the Pontiac Firebird originally built by Ray Lasnier. Both would finish out Catamount careers in the New Tigers. They both continued on at T Road later, with Andrews still owning s late model.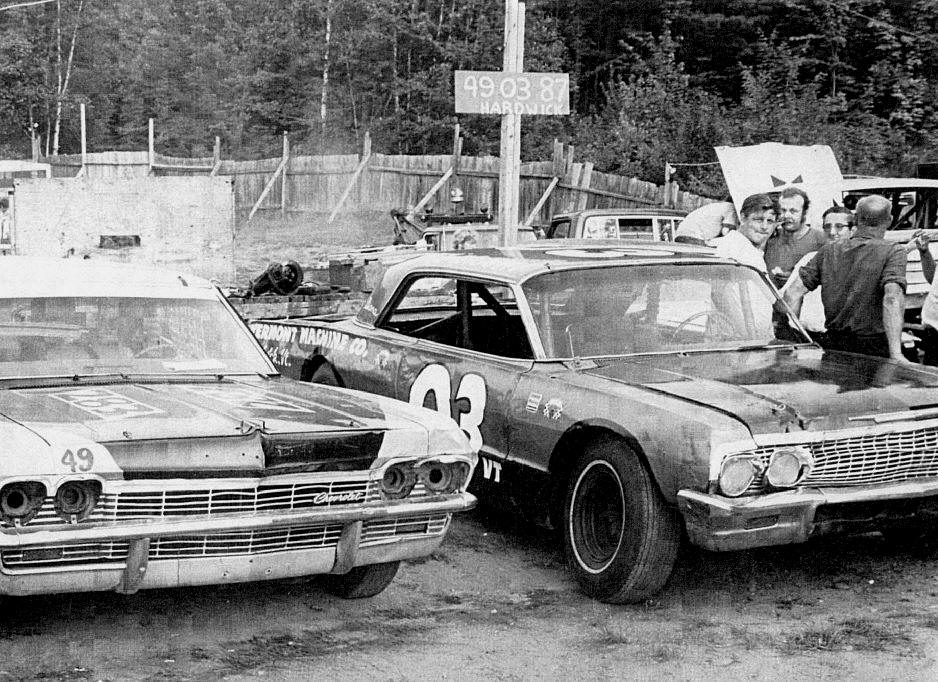 Courtesy of Cho Lee
Guy Brown's absolute first Hurricane seen at left at T Road.
Future LMS driver Milt Wright is at far left and Hardwick's
famous mechanic Calvin Frost [glasses] faces the camera.
Below – Stormin' Norman Andrews ran this nice - looking
LMS Chevelle after years of utter dominance in the
Hurricane division.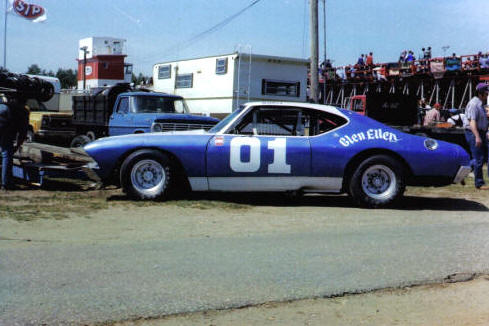 Courtesy of Andy Boright

Our last five timer is one of the most unique people, period, to ever run at Catamount. West Topsham is right in the neighborhood of Bear Ridge Speedway. Many Ridgers – being so close by – were also fairly involved with Thunder Road. West Topsham's Rapid Ralph Baldwin came on the scene with a brief run in the Hurricanes with a big old Mopar that was only grandfathered for that initial season. Baldwin would have a potent Mopar six which he used in the Limited Sportsman and Grand American classes. Eschewing any late model involvement, Baldwin would run for years in the New Tigers before hanging up the helmet in favor of a pilot's license. From what I've heard, there wasn't much he hadn't tried.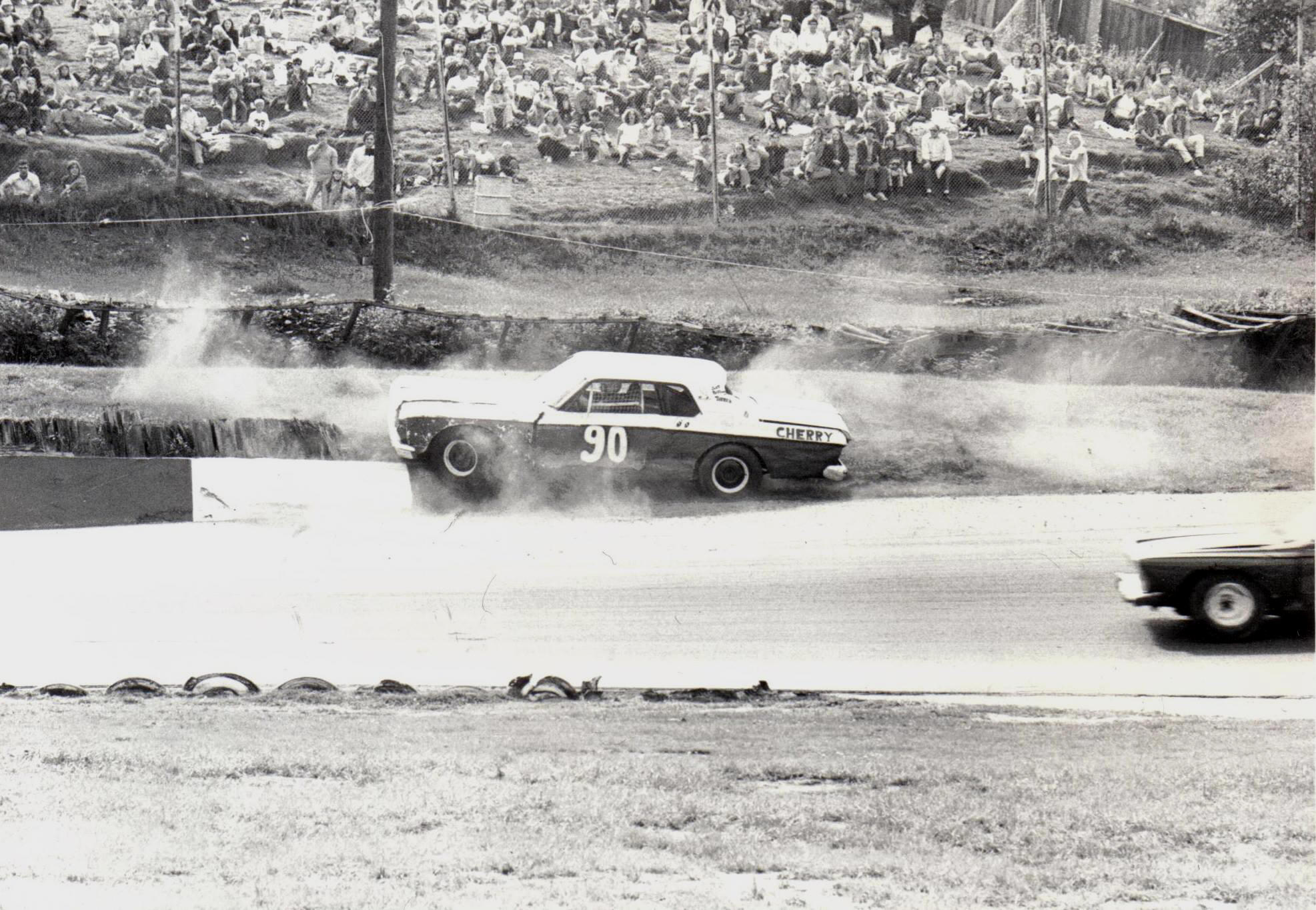 Courtesy of Andy Boright
Ralph Baldwin, with his Hurricane, finding the T Road wall.
Below – Baldwin's very effective Mopar Grand American car.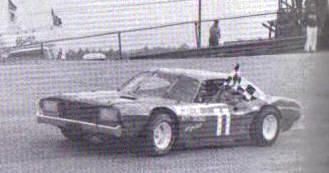 Source Probably Andy Boright
So, when you contrast men [and women] like these to guys like Milton's Chris Towne, who showed up once at Catamount with an old Flying Tiger and didn't make the show – you have to admire what it took for these people to compete in so many different classes of race cars. More impressively, some of them raced in up to four classes by converting THE SAME CAR. It is a good thing I am not including T Road in this because there would be a ton more entries and – no doubt – someone would have run in seven divisions.

Please email me if you have any photos to lend me or information and corrections I could benefit from. Please do not submit anything you are not willing to allow me to use on my website - and thanks. Email is: wladabou@comcast.net . For those who still don't like computers - my regular address is: Bill Ladabouche, 23 York Street,Swanton, Vermont 05488.
AS ALWAYS, DON'T FORGET TO CHECK OUT THE REST OF MY WEBSITE. WHAT THE HELL- YOU'RE ALRESDY IN IT.
www.catamountstadium.com
Return to the Main Page
Return to the Main News Page
Return to the All Links Page
Return to the Weekly Blog Links Page