BILL'S [Somewhat] WEEKLY COLUMN/BLOG PAGE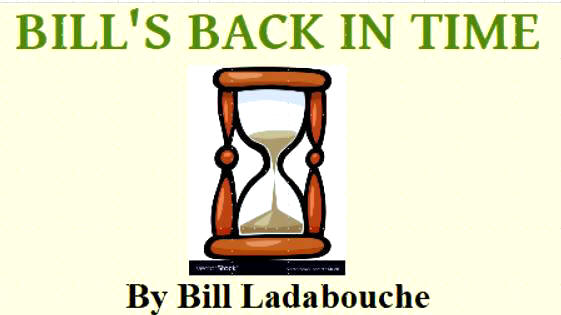 WAS IT REALLY THAT MUCH CHEAPER ?
"Ayup, yoosta cost a dollah !" I heard that comment coming from behind me on the pit bleachers one night. I looked around and – judging from the apparent age of the speaker, racing should have cost him a drachma or a Roman coin of some sort. But I got to thinking about going to races "in the day". The old fellow was making a point about how it's harder to afford anything these days – and he's probably right. The days of the wages of the American worker keeping pace with the cost of living are over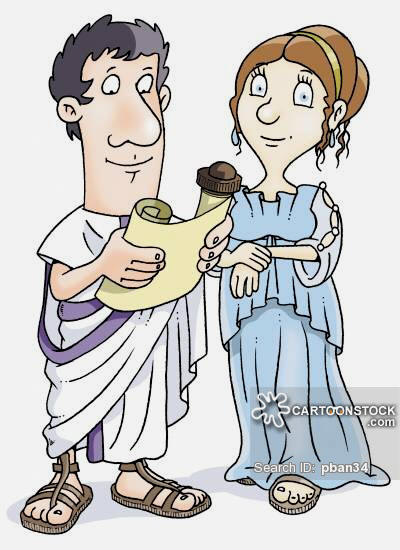 Source Unknown
Got a denarius hon ? I wanna go to the chariot races.
However, race car people, being their own worst enemies, don't do much to make their lot in the racing life any easier either. We've all seen the guy who races mostly locally but still has to have a $600,000 double stacker car hauler. Then there's that urge to buy the most expensive motor available in the western hemisphere and other great moves.
Anyway, it must seem to most of us fossils like it was cheaper to go to the races when you pulled up to some guy wearing a nail apron who sold you the ticket for that single dollar. Damn pricey whippersnappers ! I saw a ticket to Busti, NY's infamous Satan's Bowl Of Death race track for 25 cents [of course that was in 1949]. In retrospect, they should have paid YOU to go to a place sounding like that.
Many folks have put images of tickets up online that actually cost a dollar. That lasted up into the 1960's.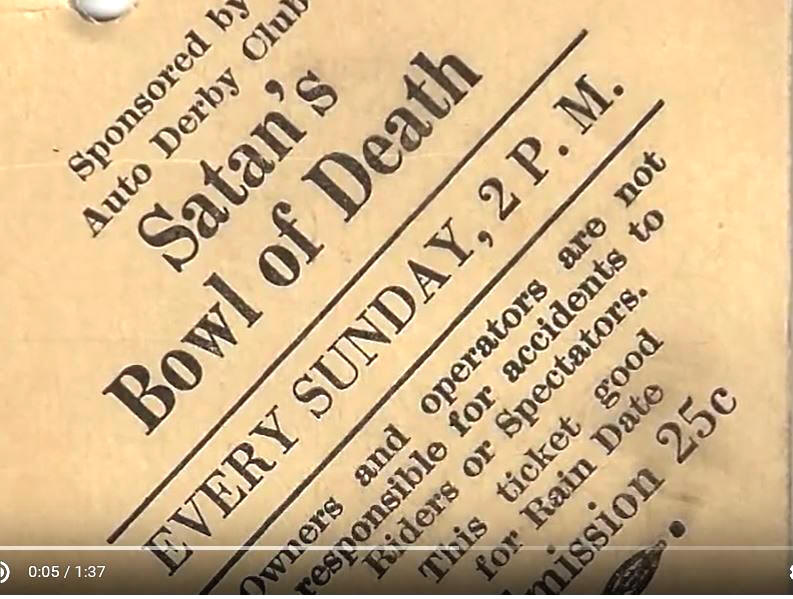 From Old 8MM Footage
A quarter would get you a ticket to Satan's Bowl of Death. Below-
a roadster – like jalopy lurches through the irregularly – shaped
track. Only 25 cents a pop, but a lot of people hesitated to do
business with the devil.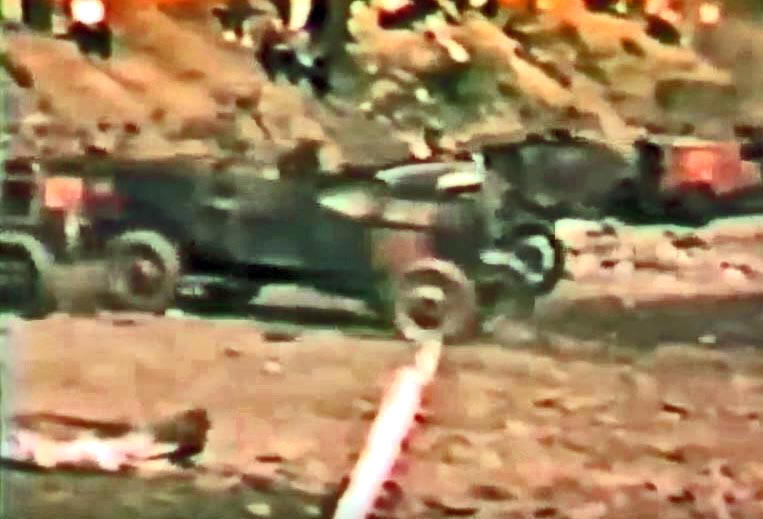 From Old 8MM Footage
I recall going up to Otter Creek Speedway near Vergennes, VT around 1962. Then NASCAR – sanctioned, the rustic half mile in one of Hi Monroe's cow pastures was holding a special program with "the sportsman". Several New York NASCAR sportsman teams would go to Otter Creek to pick up easy NASCAR national points, not facing the kind of competition they would face at a Fonda or Victoria Speedway. This time, the Otter Creek nail apron guy proudly announced into the driver's window of my uncle's '53 Chevy that the price was TWO dollars, "'cause of the sportsman !" Uncle Jake giggled a little and paid the price.
The following year, My Uncle, myself, and friend Bill and Bob Allard were headed to the big extra distance race being held at Fonda. About halfway into Broadalbin [mostly there, in other words] I discovered in the racing paper that they would be charging $3 dollars to get into that one. The car erupted. Most working folk weren't making much over a dollar an hour then. The show, won by Steve Danish in one of his last triumphs, was well worth it [but still that was unprecedented].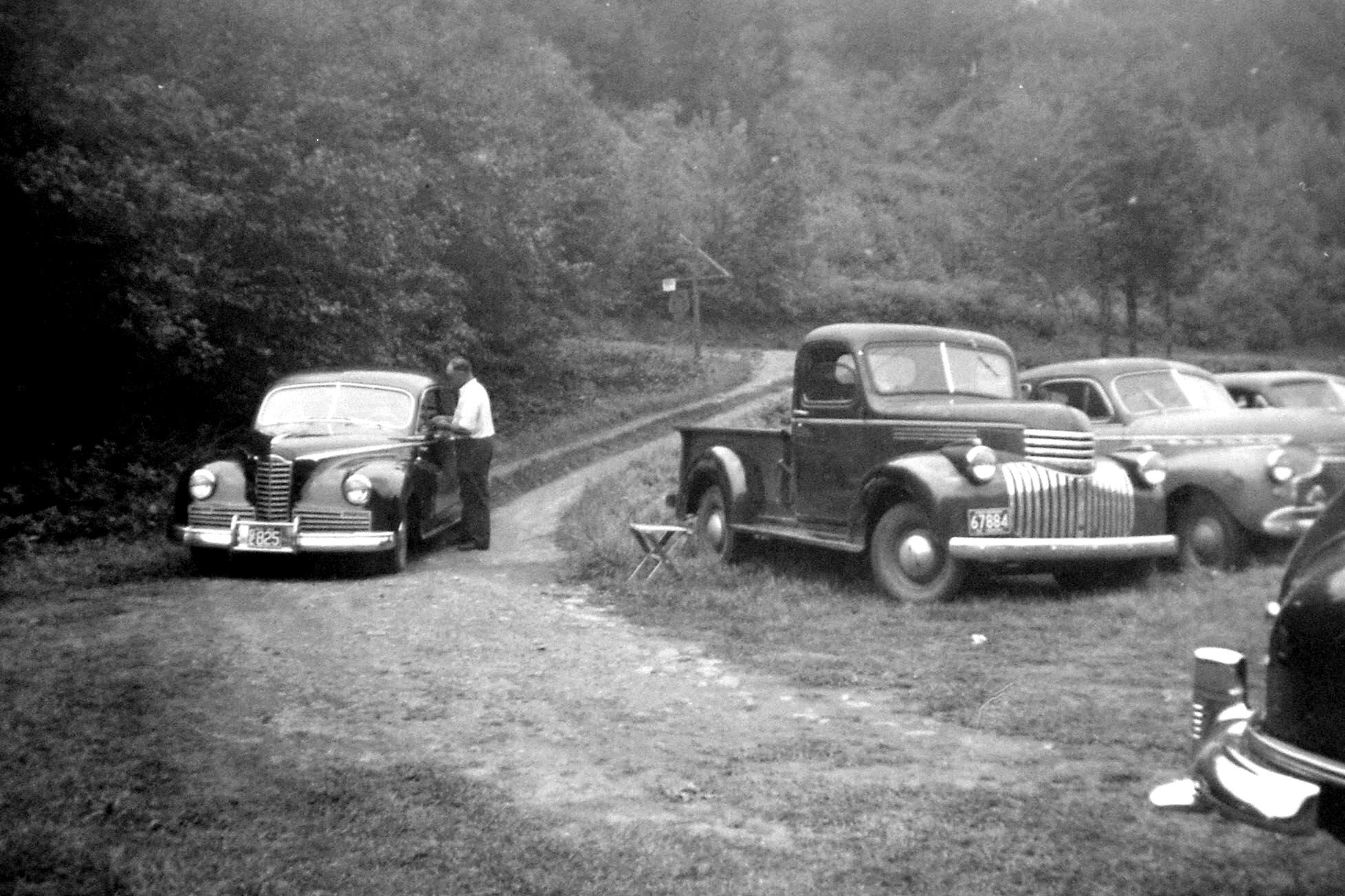 Courtesy of Ed Gould Via George Hill
A family in a Packard is appraoached by the guy with the nail
apron – this time at Boltonville, VT's Ge-Jo_Clin Speedway.
Below- The Royce Tucker 14VT at the $2 sportsman show
at Otter Creek in 1962.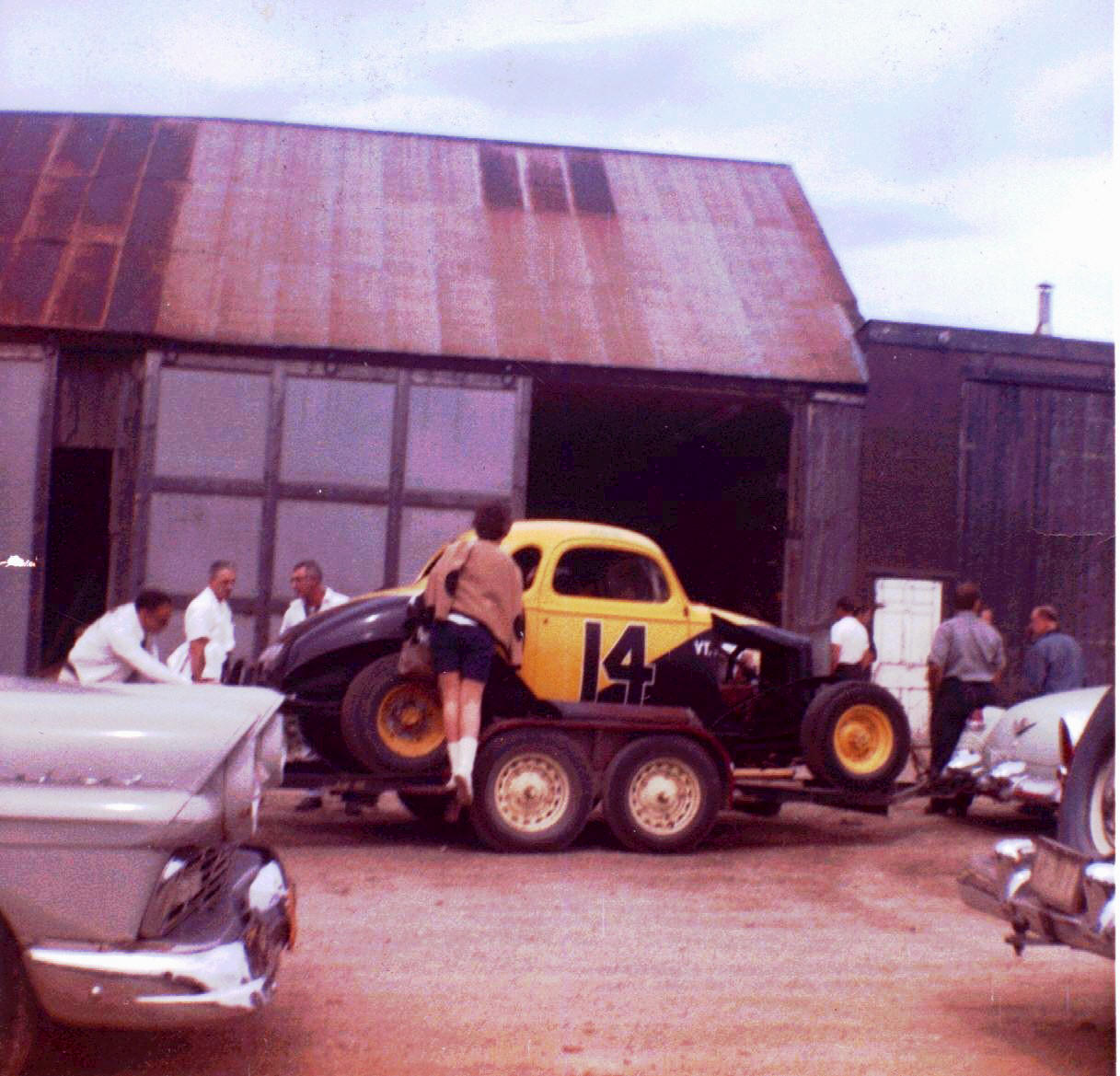 Ladabouche Photo

By the time you get into the Catamount Stadium ticket stubs [or those from Albany – Saratoga – they both opened in 1965], you weren't seeing the single buck much any more. Even back in the 1960's, the big races like Langhorne or Trenton were far costlier. My friends the Starin family of Johnstown, NY kept about everything they ever used at the many tracks they attended. Their Trenton ticket was $5.50, even in 1967. By the early '70's, a Seekonk ticket was up to $3, and – by the end of that decade, you paid a five spot to get into Catamount.
Then there were the other costs. Most places had a ton of pasture or other grass – covered parking space that came with the price of the ticket. A few venues, like Staten Island's Weissglass Stadium found parking space to be a real premium. They even had to use a lot at the local Chrysler dealer for one of their pits. I think I recall my uncle having to pay to park there. A small town policeman for years, he was very very nervous about our having to walk a considerable distance outside to get into the old Depression era stadium [to relative safety :)].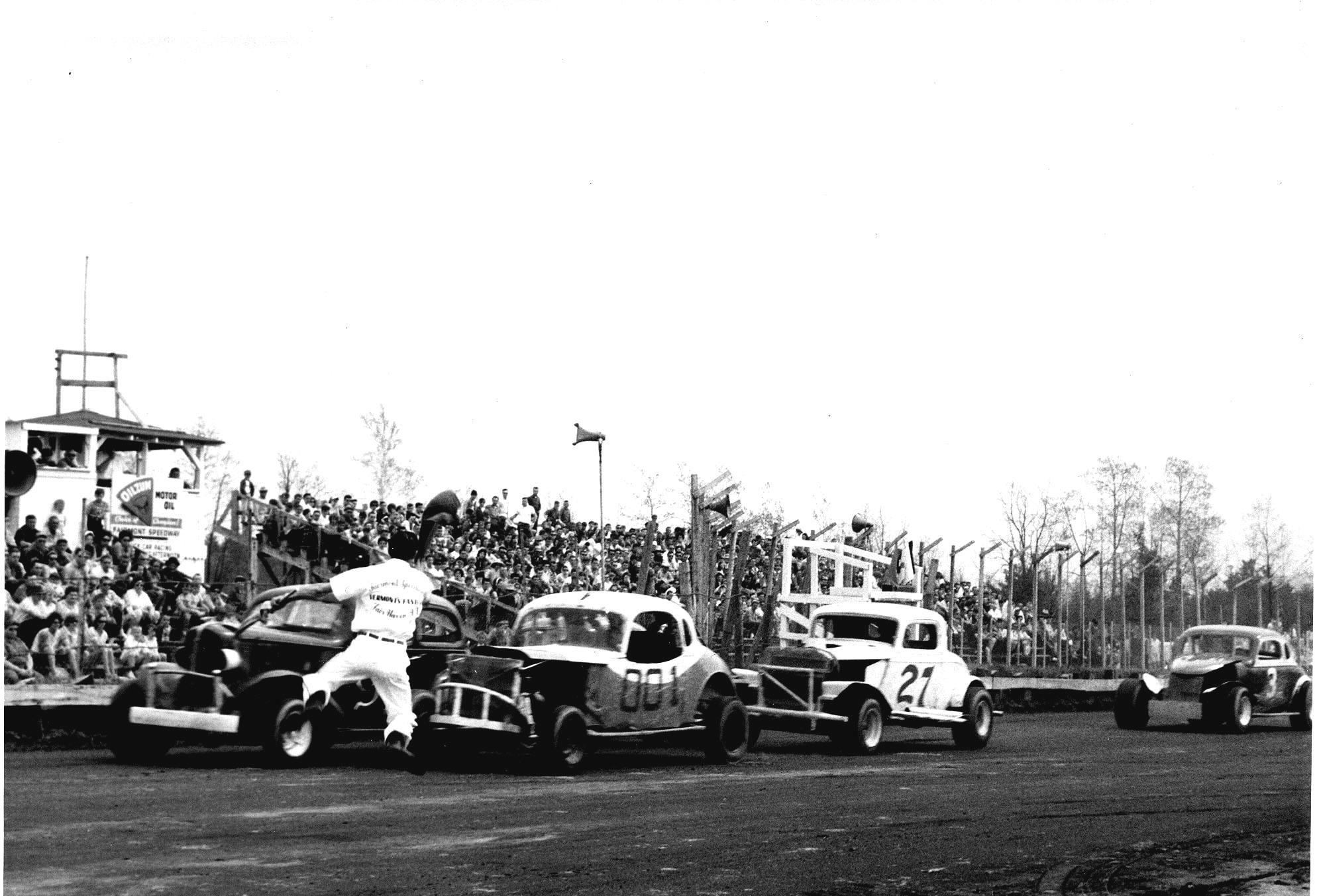 Bob Frazier Photo Courtesy of C. J. Richards
Older tracks in poorer areas like Fairmont, in Fair Haven kept ticket prices
down to stay in business. Below – Newer tracks in more prosperous
regions like Catamount in burgeoning Chittenden County could charge a dollar or so more.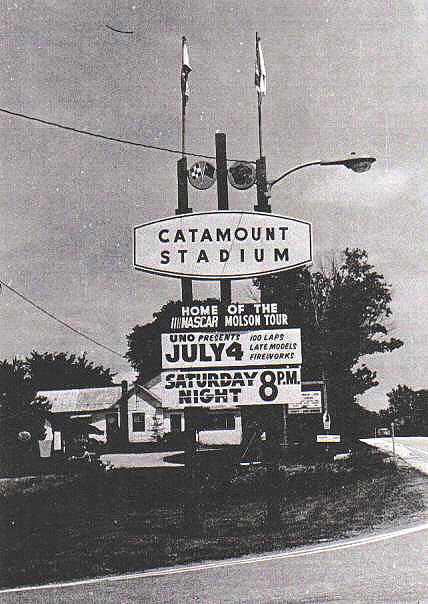 Ladabouche Collection

Old Weissglass competitor Curt "Metal Man" Giventer likes to say that being able to fight was a necessity at that Port Richmond track. He also likes to display his little plastic 1937 Ford stock car toys that were sold to the kiddies at the concession stand. I think about every somewhat organized 1950's race track had those for sale, all plastic and in a myriad of colors. I got mine from the stand at Pico Raceway, Rutland, VT, around 1952. Those little cars [which rarely survived a few weeks after purchase] cost somewhere around the princely total of a quarter.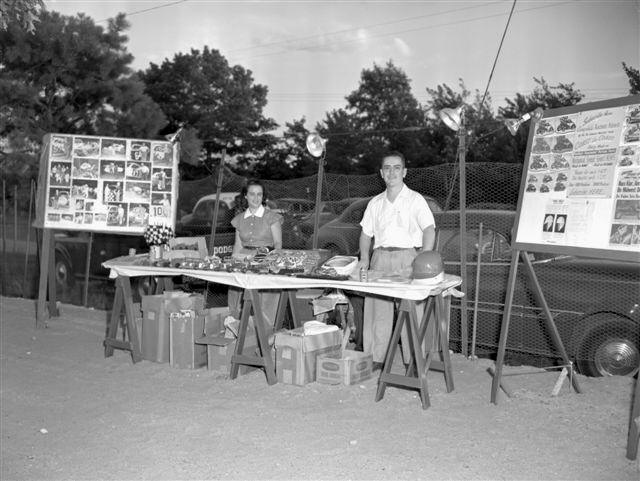 Courtesy of Chip Cormier
The Renner family operated a little souvenir stand at Rhythm Inn
Speedway near Millers Falls, MA. Below – A typical plastic
souvenir Ford stock car toy as bought at most tracks in the '50's.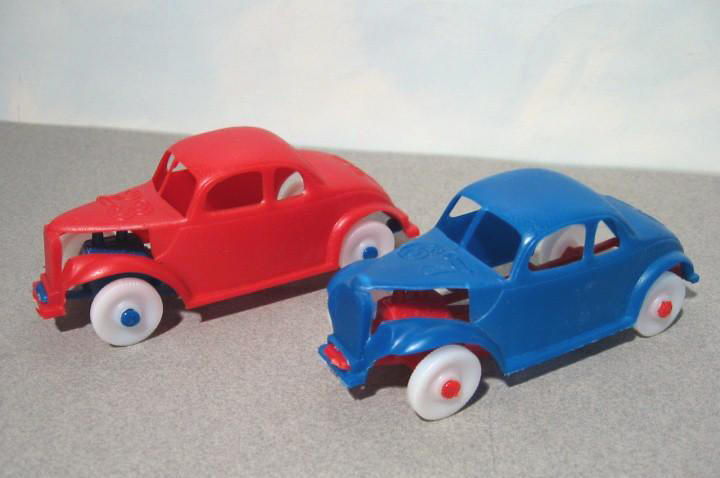 From Mybisi.com Page
You don't see much of those little cars anymore, but you still see the little checkered flags that were sold right beside the little Ford stock cars. Little kids today still do the same thing we did, all those years back. They stand as close as they are permitted and wave those little flags furiously and incessantly at the roaring cars on the other side of the catch fence. I recall having my checkered flag for years after someone bought it for me at the old Fairmont Park Motor Speedway in Fair Haven, VT around 1951. A long as I had it, it had a stain on it from the mustard off a hot dog. Today, I doubt those little flags go much cheaper than around $2.50 a pop.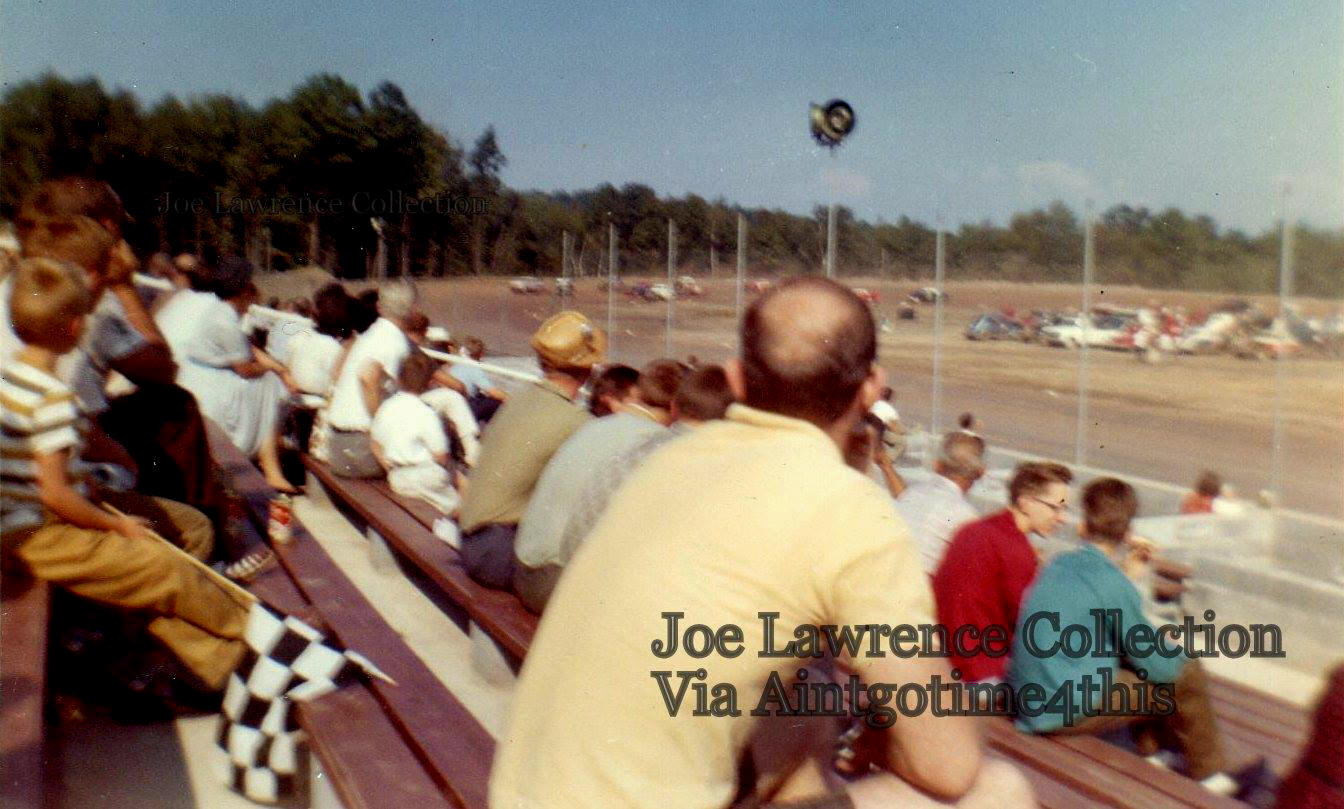 Courtesy of Chas. Hertica
A boy holds onto a little souvenir flag in the stands at Onteora
Speedway, Olive Bridge, NY in the early '60's.
Food ? You gotta have food – even at the most informal race track. Race track fare, particularly in the 1950's with the limited food stand equipment of the day, consisted mostly of hot dogs and soft drinks. Of course, until most tracks got sick of the hassle by the 1970's, the grownups might also adjourn to "the beer tent". All Star League bigwig Lou Figari operated a large enterprise that handled concession stands at tracks like Fonda and Islip; but one of the best management figures to ever take on the task of feeding the race fan was Vermont's C.J. Richards, promoter and head man at the Champlain Valley Racing Association.
Richards always told me that a well fed race crowd was content and less apt to react negatively to any shenanigans a promoter might pull in the course of an evening's race show. After honing his craft at the old Fairmont Speedway, Richards opened up Devil's Bowl Speedway in West Haven [a few miles to the north] in 1967. I worked for him in 1984 and saw, first hand, how he took particular interest in the quality of the food.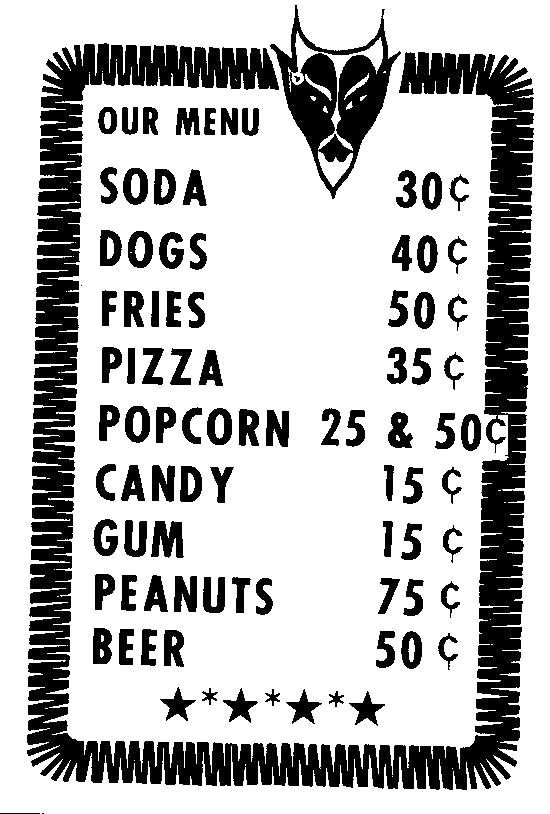 From Devil's Bowl Program
C.J. 's 1973 food prices with them expensive peanuts. Below – The staff
at the concession stand at the Pine Bowl Speedway, early '60's.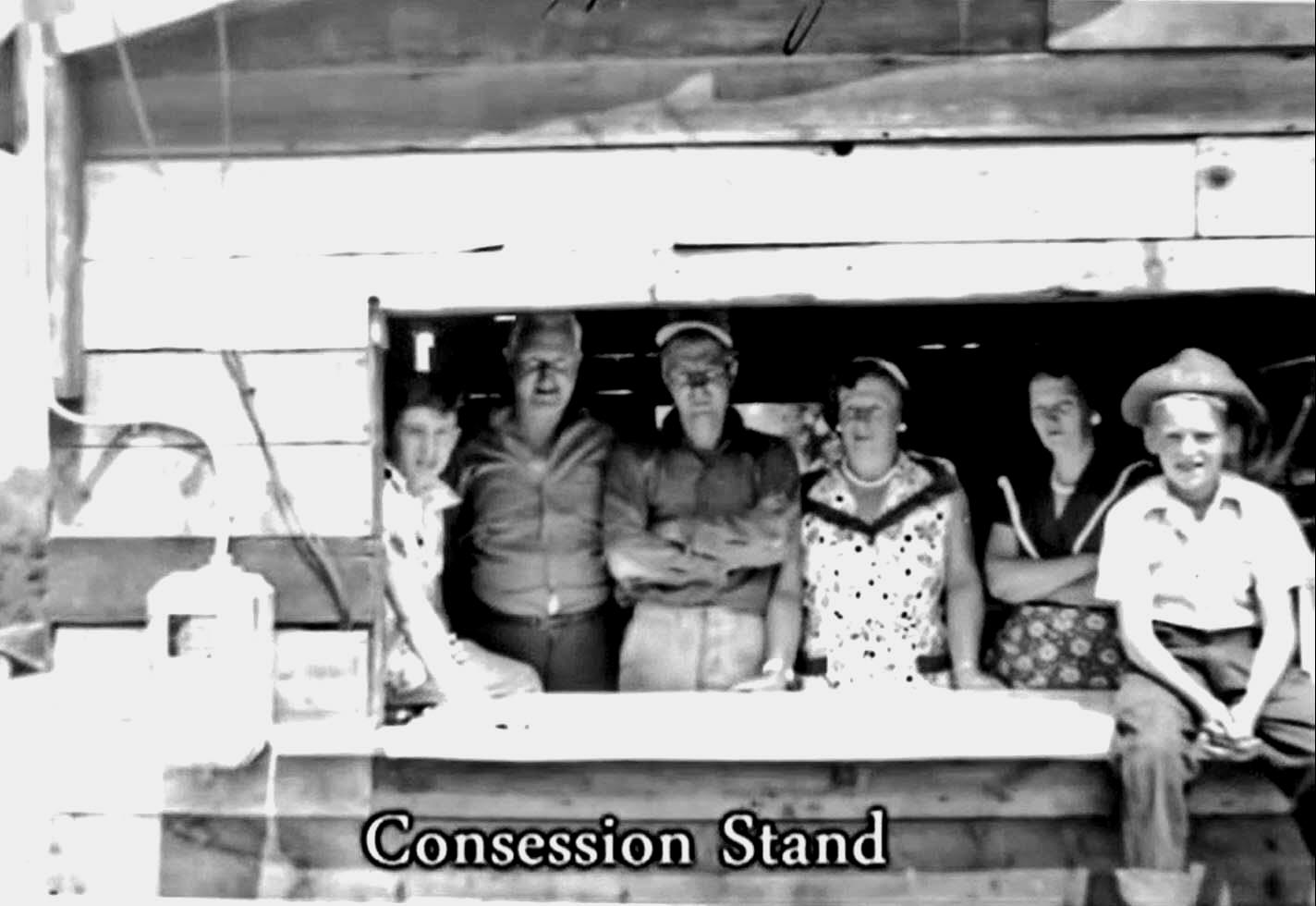 Courtesy of Dan Ody


I have a photo of the track menu from one of the earlier years at Devil's Bowl - as Richards thought to have it in his excellent track program. The 1973 menu featured a few things other tracks of that era weren't offering such as pizza. With forty cent hot dogs, fifty cent fries, and thirty cent sodas, a person could get a meal of sorts there for $1.30. Richards still had a beer area back then, and the beers were among the most expensive items at half a buck, eclipsed only by the 75 cent peanuts that kept the customer thirsty for more beer.
Richards also had a knack for how the food was prepared. Since he started promoting at Fairmont in 1962, he had used relatives, including his mother, to prepare a lot of the food items at the track. Looking at a lot of local farm women, complete with house dresses and full length aprons, made the customer feel like this food was going to be good. Every track he ran had one of those devices in the building somewhere that hand cut large potatoes into french fries; and they were some of the best I ever had. All tracks in those days [and even today] had the same shortcoming – no way to keep the stuff warm.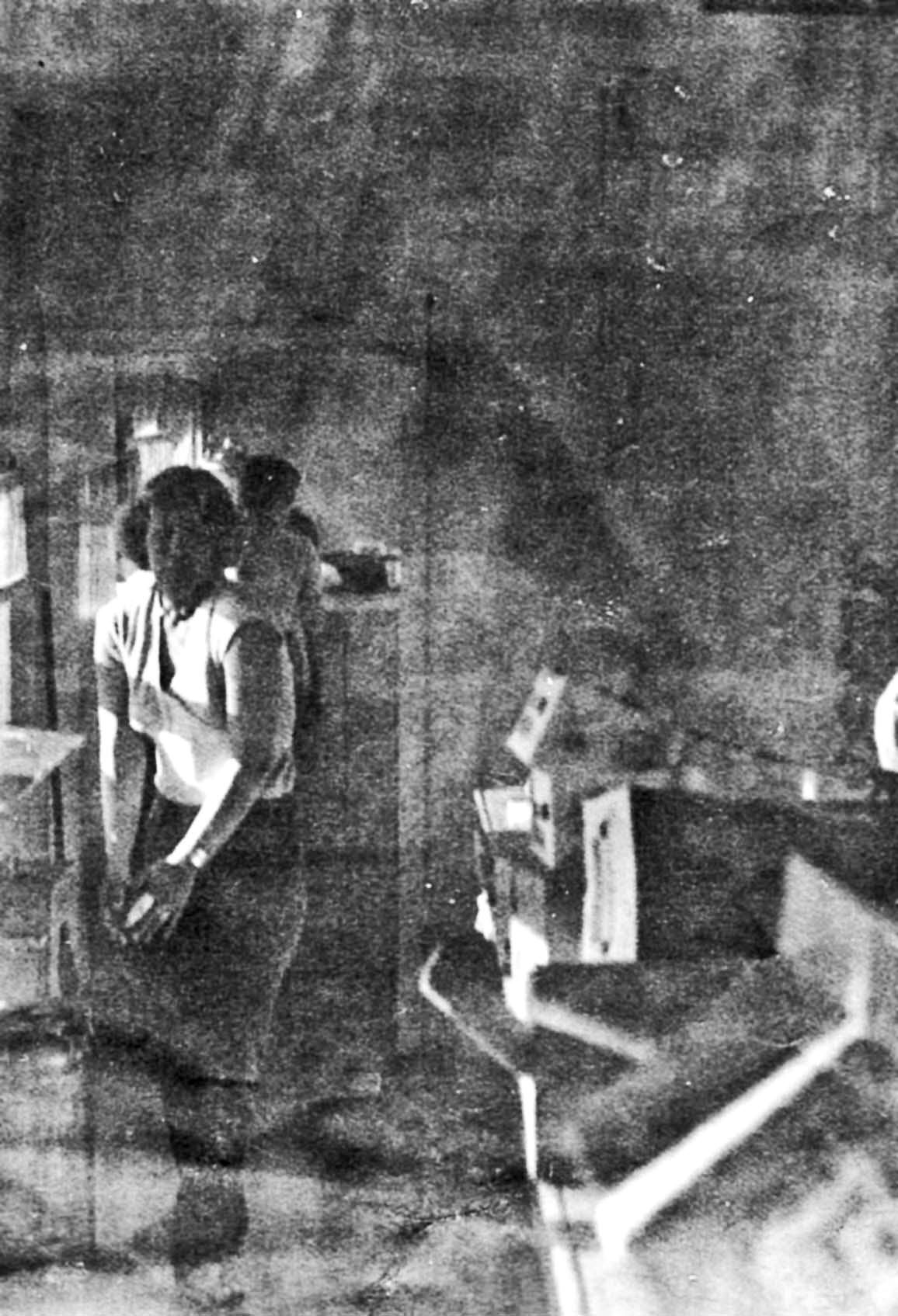 Courtesy of Mike Richards
This grainy old shot shows one of the Devil's Bowl hot dog
ladies, likely from a local Richards family farm. Below – Huge
intimidating Ronnie "The Bethlehem Bombshell" Marvin
samples track food at Thunder Road. Would you give this
man a cold hot dog ?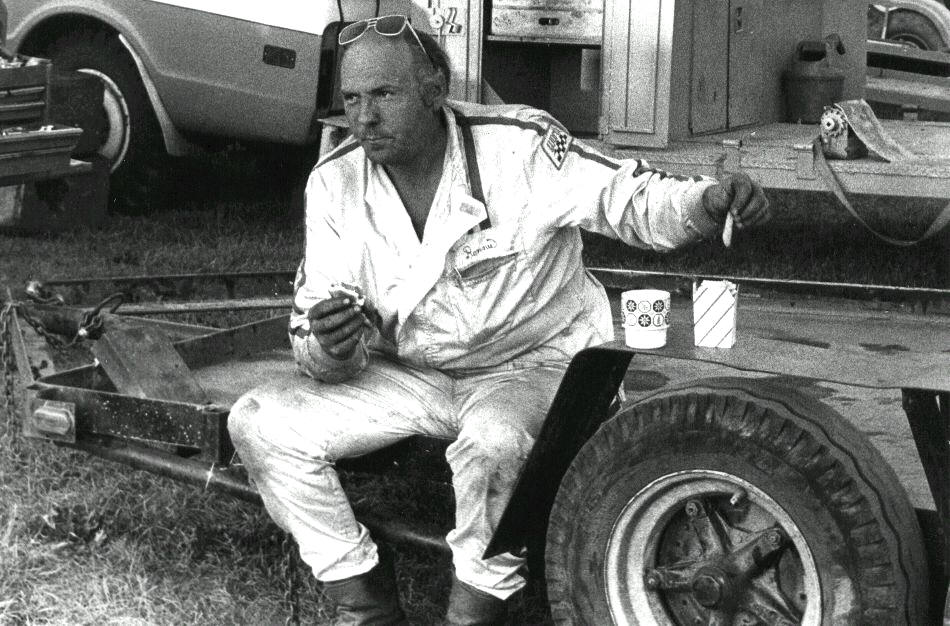 Courtesy of Cho Lee
All in all, going to the races in the 1950's and 1960's perhaps did not yield the higher tech, more evenly matched racing we see today with the strict rules keeping the field fairly evenly matched, but we sure enjoyed it as much and ate well in the process. The other concession that has survived into this era was the sale of race photos. While action shots were not as readily available in the early days, one could buy black and white [and later, color] shots of one's favorite driver – usually for fifty cents or a buck. Many of the photos I get for this website come from such purchases made "in the day".
And, dammit, I miss all of it !
Please email me at wladabou@comcast.net if you have any photos to lend me or information and corrections I could benefit from. Please do not submit anything you are not willing to allow me to use on my website - and thanks. For those who still don't like computers - my regular address is: Bill Ladabouche, 23 York Street, Swanton, Vermont 05488.
AS ALWAYS, DON'T FORGET TO CHECK OUT THE REST OF MY WEBSITE:
www.catamountstadium.com
Return to the Main Page
Return to the Main News Page
Return to the All Links Page
Return to the Weekly Blog Links Page