BILL'S [Somewhat] WEEKLY COLUMN/BLOG PAGE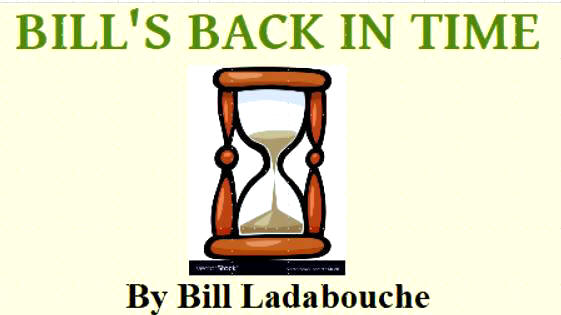 THE UNBEATABLE

"The Unbeatable" is a pretty heavy sobriquet to carry around for the better part of a racing season; but Lennie Wood did it. Hopefully, I have not covered such a compelling subject as Lennie Wood before, although it would be amazing if I hadn't. Trouble is, while knowing the main stuff on the surface that makes him legendary in his brief time in racing, I don't know much more.
Few people realize that they had not seen Lennie Wood for the first time in 1964, when he arrived, along with friend John Maguire, with a red and white '55 Chevy hobby car numbered F30. Lennie had not only appeared in a cameo role in 1962, but he had spent some time in the very earliest weeks of the Fairmont Speedway hobby class following the lead of older brother Ronnie.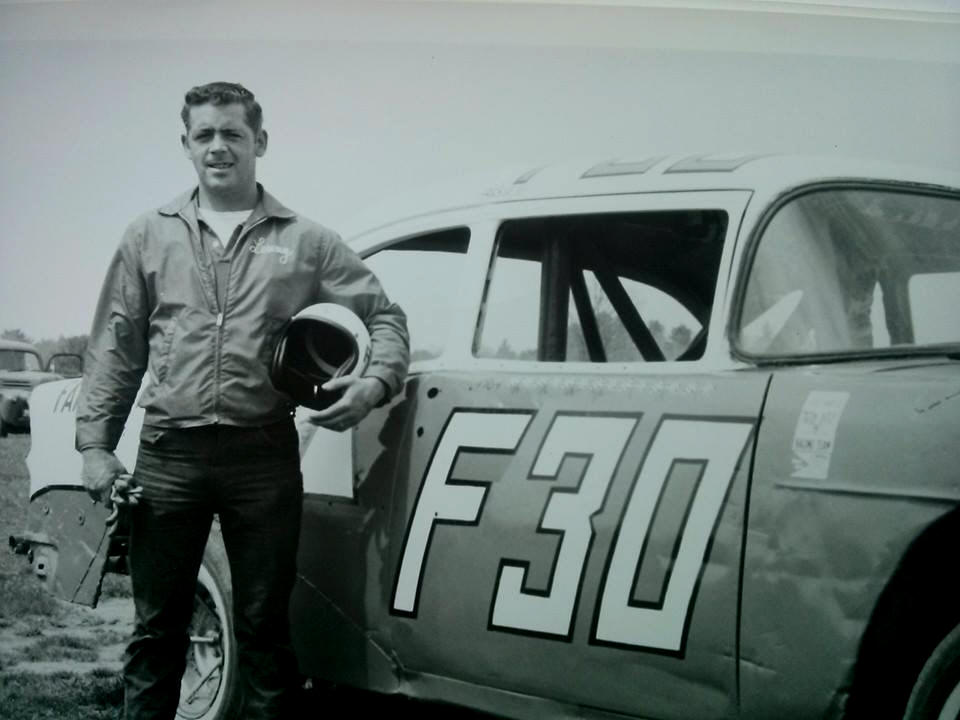 Bob Frazier Photo via Mike Bruno
Lennie poses for Bob Frazier in 1964, just before the "Unbeatable" era began.
Coming from somewhere in that neighborhood of East Dorset, Danby, and Manchester, Lennie Wood had run in C. J. Richards' big Rutland State Fair show late in 1962 – but that fact has only come out in the last five years or so. When C.J. Richards, still a young and fledgling race promoter, took on the task of staging a stock car on fair week in Rutland, he was following on the heels of a very successful show staged by the management of Lebanon Valley Speedway just the year before.
While very trying and difficult, the effort was monumentally successful for Richards, attracting the largest crowd to witness a sports event in the history of Vermont; and, that figure [over 10,000 people] stoode for decades afterward. After surviving the threat of the Vermont State Police shutting down the program due to high dust and two big pileups, Richards managed to pull it off as the sun was failing in the west.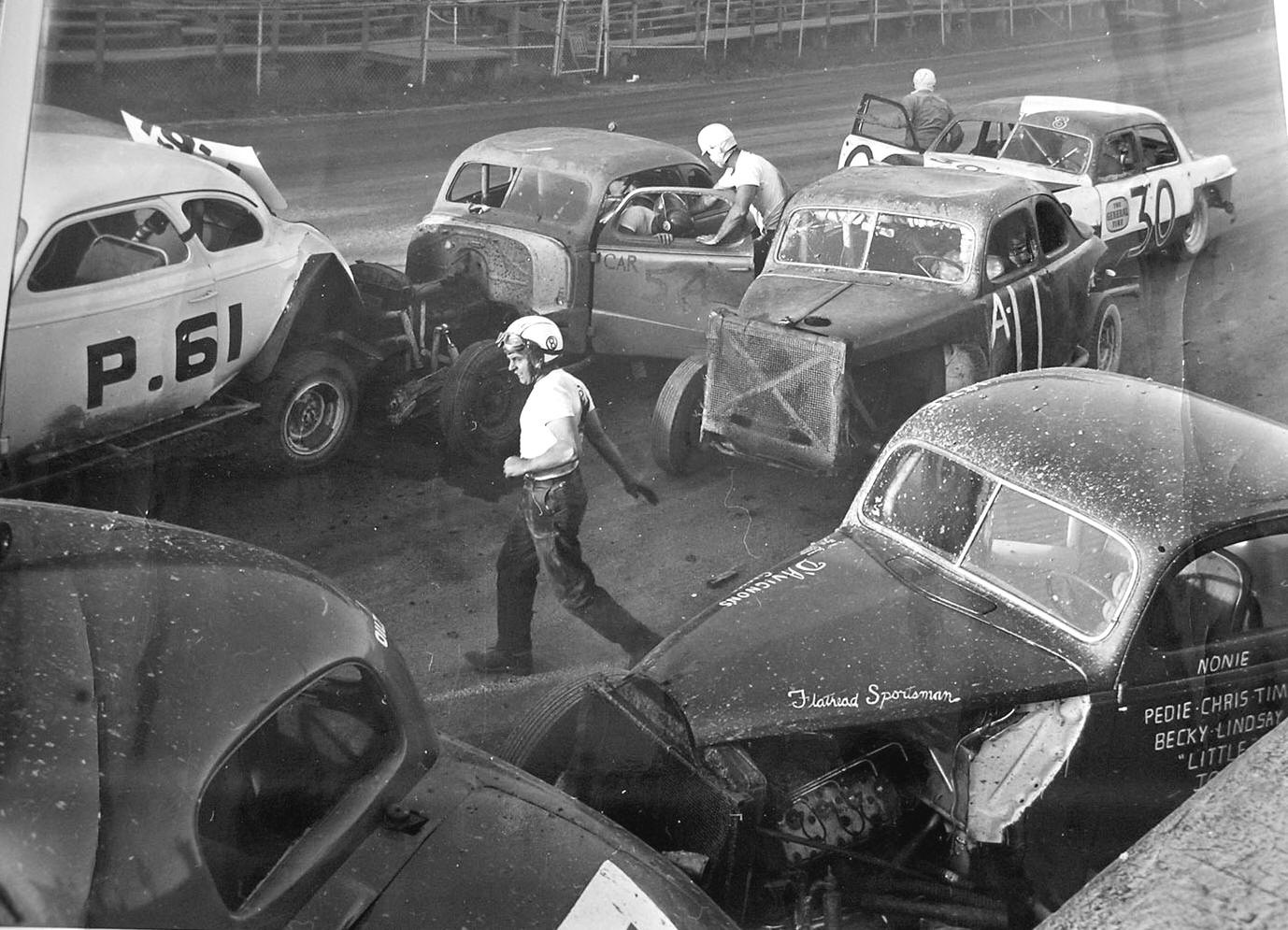 Bob Frazier Photo via the LaFond Family
Nobody paid much attention to the greenish blue A11 as it
quietly made its way through the fair show of 1962. Others in the
photo include P61 Bob Loomis; Car 54 Ken Delong; an
unknown car 30; Johnny Spafford's 77 [foreground]; and Joe
D'Avignon [walking away]. Below - Lennie was up near the front at the
start of the big fair race. Inside pole ain't bad !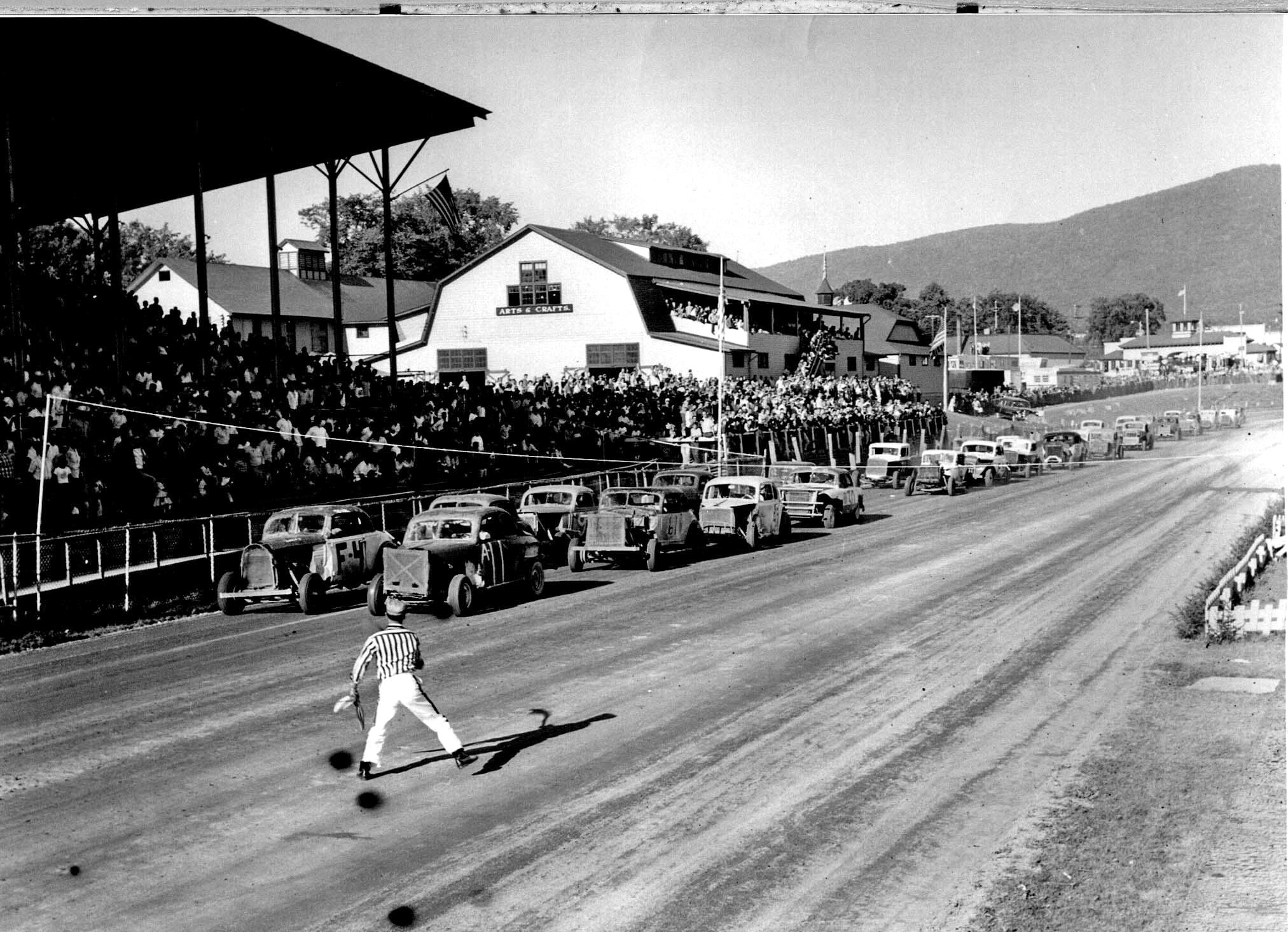 Bob Frazier Photo via C.J. Richards

Keeping in mind that Richards "opened" this race up to teams which didn't ordinarily run his shows [providing the running gear was legal], there appeared at least 15 teams that Rutland County race fans had not seen before. Nonetheless, I have managed to identify almost every competitor except about three by now. One that took a very long time to figure out was this nondescript 1941 Ford coupe, with homemade number A11 on the side.
Various pundits, including Richards himself, pronounced that the car "came from Glens Falls" but that was all anyone could offer. Finally someone came forward in 2016 [and I apologize for forgetting who it was] telling me all about that A11. The driver was a young Lennie Wood, and the car came from Ralph Morse of Sunderland, VT – who happened to be the brother of famed 1950's racer Charlie Morse of North Adams, MA.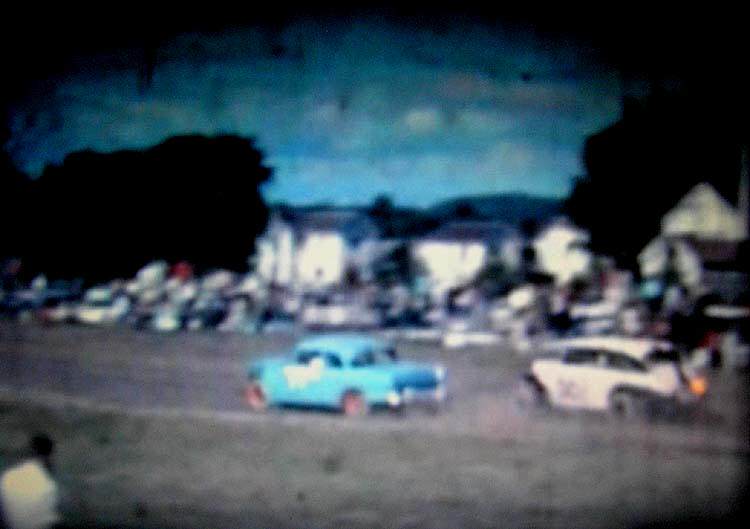 From Dan Ody's 8MM Old Speedways DVD's
This grainy old 8MM movie frame shows future hobby and late model star Tim Baker [blue car] races with one of
those mysterious old late '40's sedans [numbered 661] that C.J. allowed in the earlier days of the hobby class.
Below- A distant shot of a hobby lineup in 1963 shows one of those big old sedans that is likely one of the Wood cars.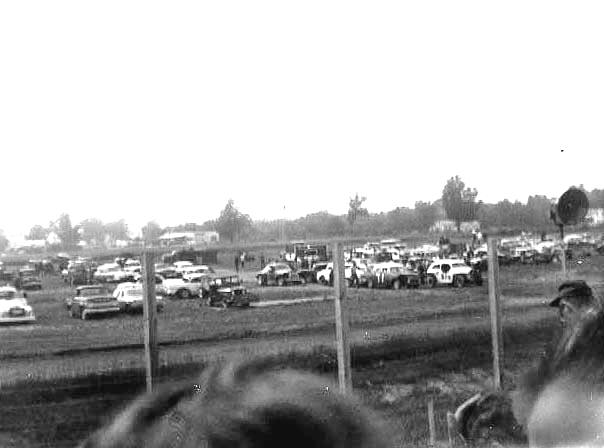 Courtesy of Barb Laduc

Lennie didn't make much of a dent that day – except maybe in someone's quarter panel; but, he would blow the socks off Fairmont in a few more years. When Fairmont Speedway introduced its hobby class around 1963, late model cars could be joined by those big old sedans that came out in the '40's after WWII. One such team that was doing well was the #3 of Ronnie Wood.
Ronnie never achieved the notoriety of his younger brother, but he raced first, and he raced longer than Lennie. Ronnie began with that big old Ford sedan, would run an X-96 hobby car around 1964, and would run later, as Devil's Bowl had opened in 1967. Wood, then driving a 50VT, would also appear at Fonda and maybe at Malta around that time.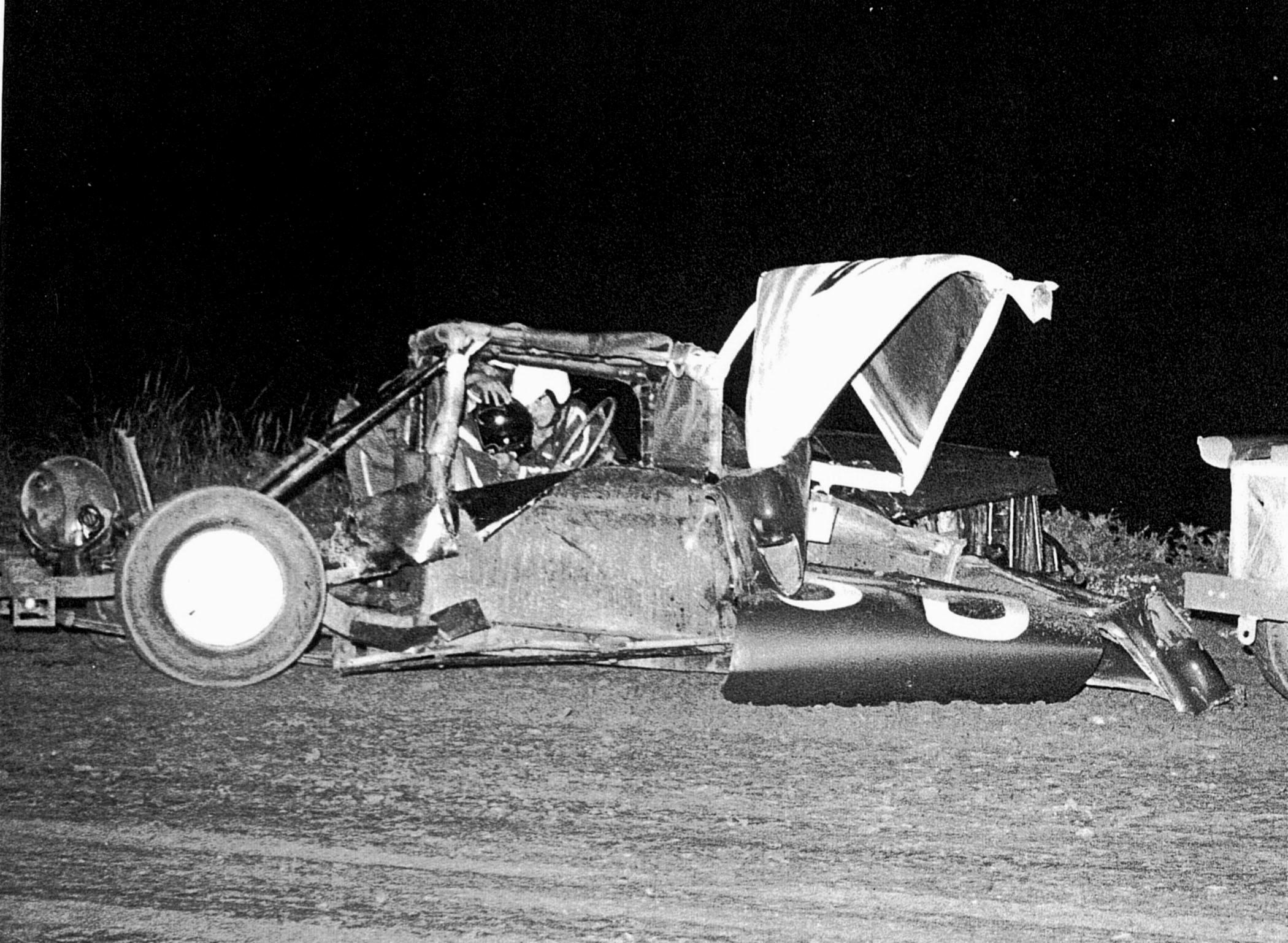 Bob Frazier Photo via Shawn Byrne
Ronnie Wood would race some time after Lennie left the sport. This Devil's Bowl wreck [if it was he]
might have been one of his last hurrahs. Below – Old 8MM footage shows a primered Chevy
I believe to be Ronnie, at Devil's Bowl in 1967. Looks like he won one.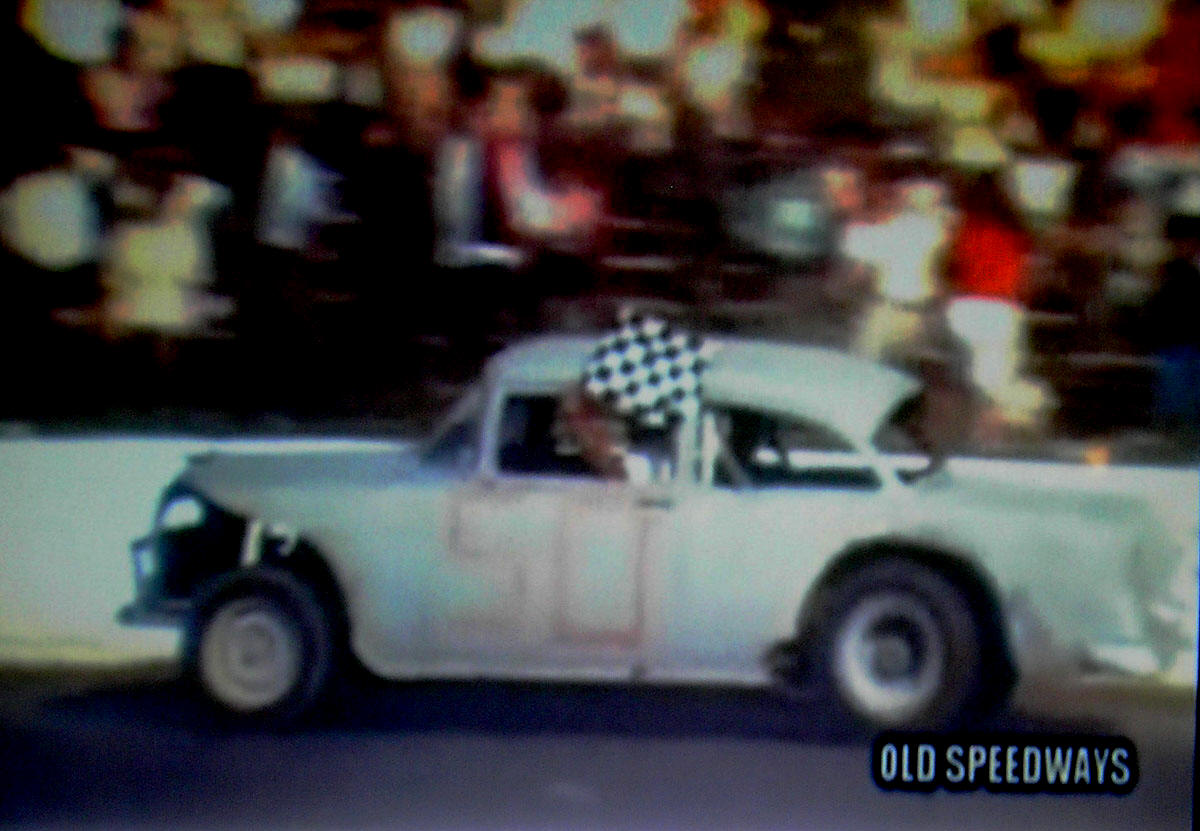 From Dan Ody's 8MM Old Speedways DVD's



Ronnie is somewhat known for a spectacular wreck at the Bowl. "Somewhat" comes from the fact that it is widely debated whether it was he or Jack Harrison who went end over end on the backstretch that night. Terry Keith and Shawn Byrne maintain that Jack was driving a borrowed Wood car while Dave Wood insists it was Ronnie. At end rate, the wreck left that driver sitting, stunned, in only the chassis of the car.
Younger Wood sibling Dave "Woodie" Wood tells how the Wood family was large, and it was a challenge to stand ones ground and make one's own mark in this rough and tumble environment. I don't recall what the father did for a living, but the boys grew up tough, ready to take care of themselves, and often interested in motor sports.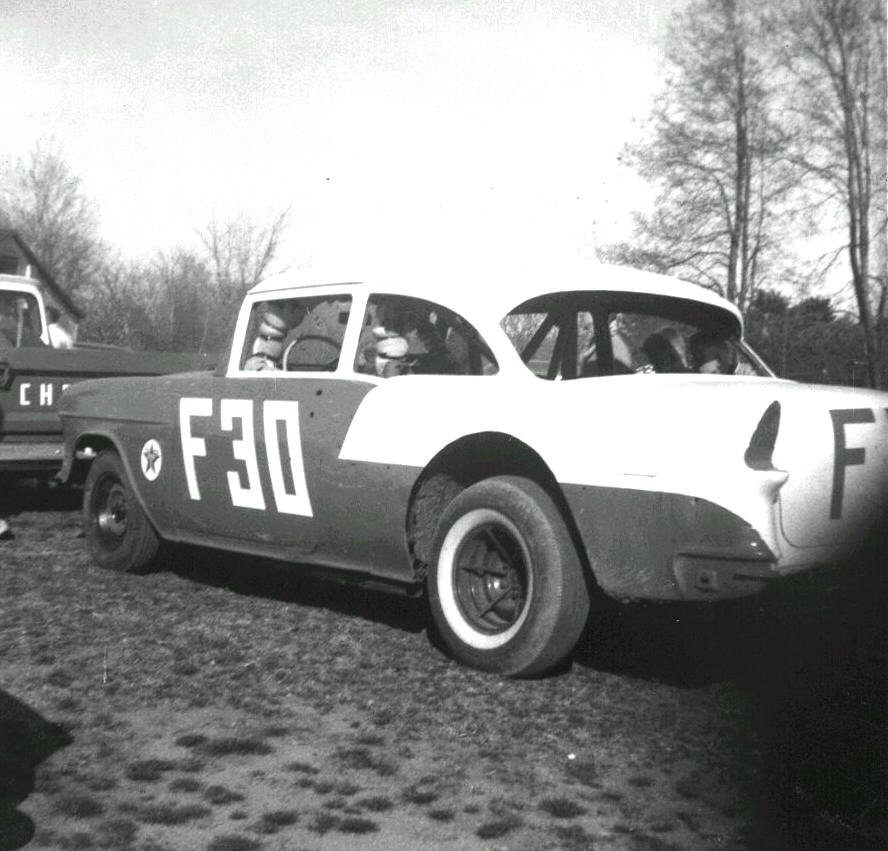 Ladabouche Photo
When Lennie and John first showed up at Fairmont they were
definitely beatable; he had to learn just like everyone else. Below -
The outlining on the numerals suggests this shot was taken in
1965, when he was in the unbeatable run. No bullhorns now.
A sometimes abrasive bespectacled tough guy from the Danby / Dorset area, Ronnie Wood piloted his huge sedan against a class that was mostly early to mid 1950's late model cars. Some of the future big stars in the class such as Charlie Towslee, Tim Baker, Vern Hall, and others were just getting started – giving Wood and a few others like Ray Richards the chance for considerable dominance for a while. Finally, towards the end of the 1963 season, a second Wood appeared in another sedan [marked M3]; that would be Lennie.
In 1964, Lennie and Pawlet's John Maguire showed up at Fairmont with a sharp – looking 1955 Chevy numbered F30. It would eventually sport bullhorns on the roof, a big fan favorite and reminiscent of flathead star Buddy Bardwell's Hudson #13NH. Wood and Maguire did pretty well in '64, getting progressively stronger as the season finished out. Dave Wood points out that Maguire had a small Chevy dealership in Pawlet and that their advantage probably came from his knowing about everything there was to know about the workings of those small Chevy overhead V-8's the hobby cars could use.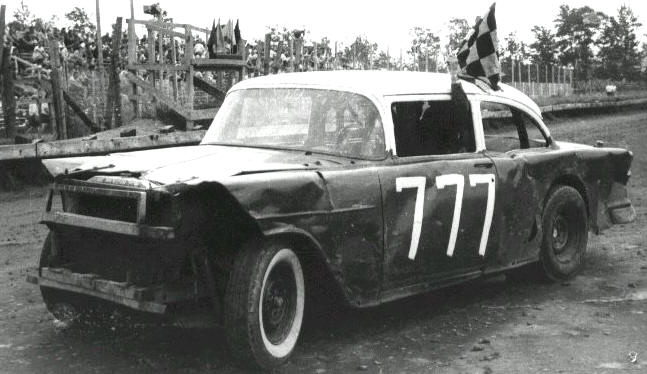 Bob Frazier Photo Ladabouche Collection
Vern Hall, with the Blackmer 777, was one of Lennie's major competitors,
as was the innovative future car builder Dexter Dorr [below].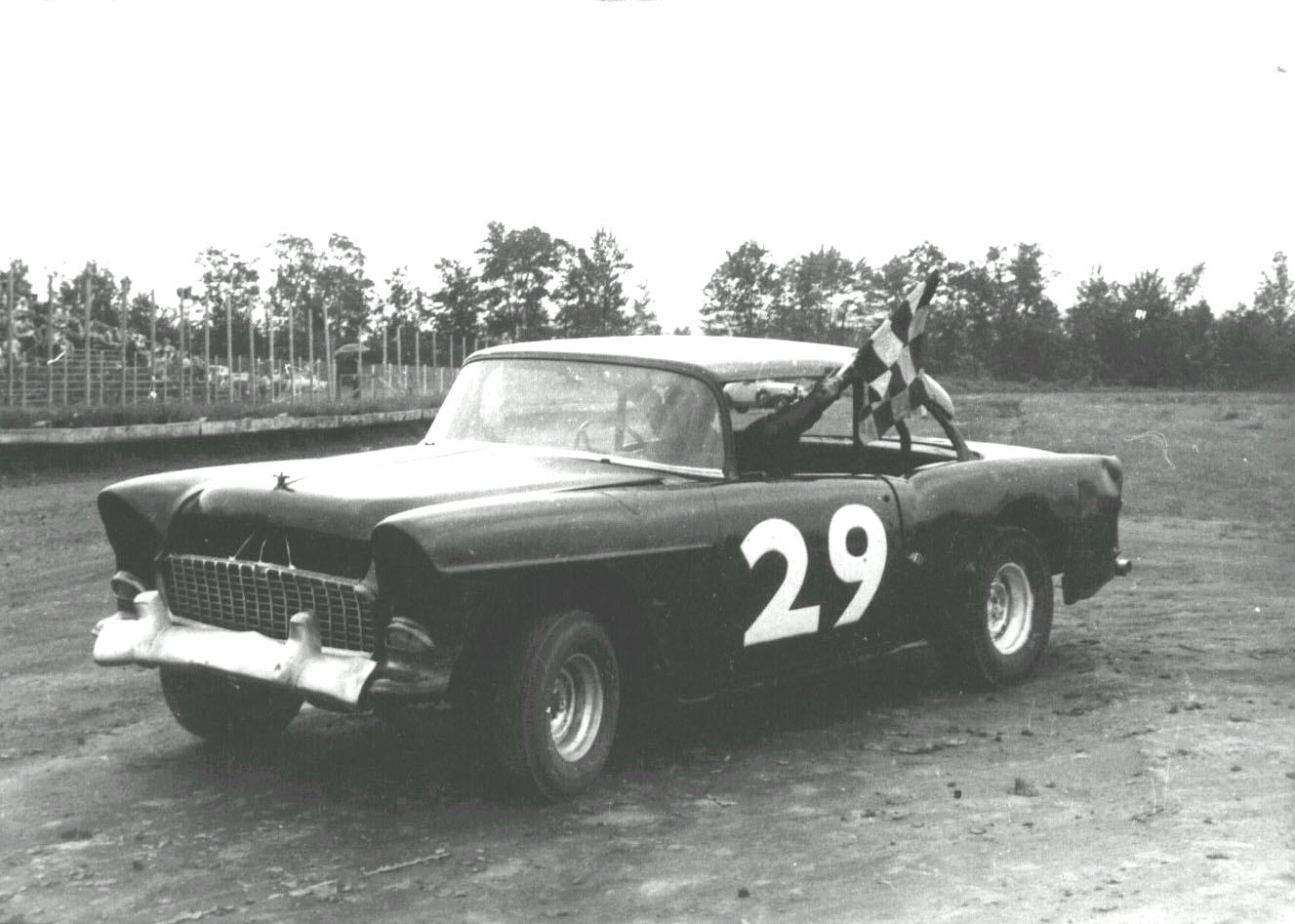 Bob Frazier Photo Ladabouche Collection
In 1965 the duo returned, with the only apparent change being more graphics on the car that seemed to be done professionally. But there was a big difference. Lennie appeared to never lose, unless he wasn't at the races or if he had suffered a mechanical breakdown. People started watching this with great interest. Into the middle of the season and on to Saturday night racing; no change in the F30 fortunes. Now the nickname "The Unbeatable Lennie Wood" came into full play.
Wood was a loud, larger – than – life kind of guy, as I have often related to younger brother Dave. I recall the time in the Fairmont infield pit area when I ventured over to the this tiny hot dog stand C. J. had installed by the road where they lined up the cars. The stand was "manned" by a very young and wet – behind – the – ears teenaged boy. As I arrived at the stand, Wood had strolled in there with the subtlety and presence of Hurricane Florence.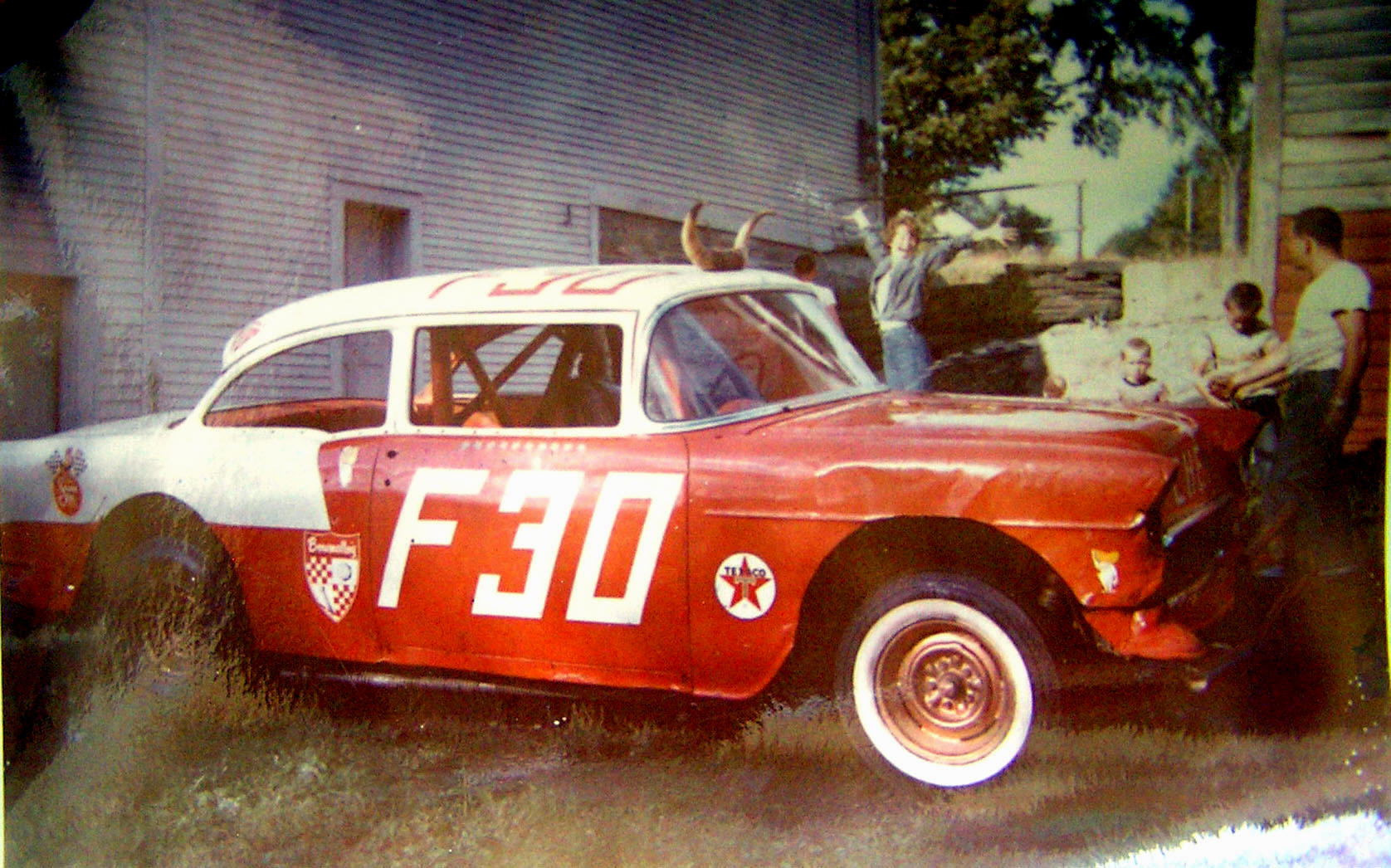 Courtesy of Dave Wood
An earlier shot of the F30, at home in Pawlet, with the bull horns in
place. This is a 1964 shot, but look at all the victory stickers even then.
Below – The F30 gets trophy from CJ Richards at Fairmont during
the 1965 streak. C.J., Lennie, John Maguire, and starter Danny
Rumpf.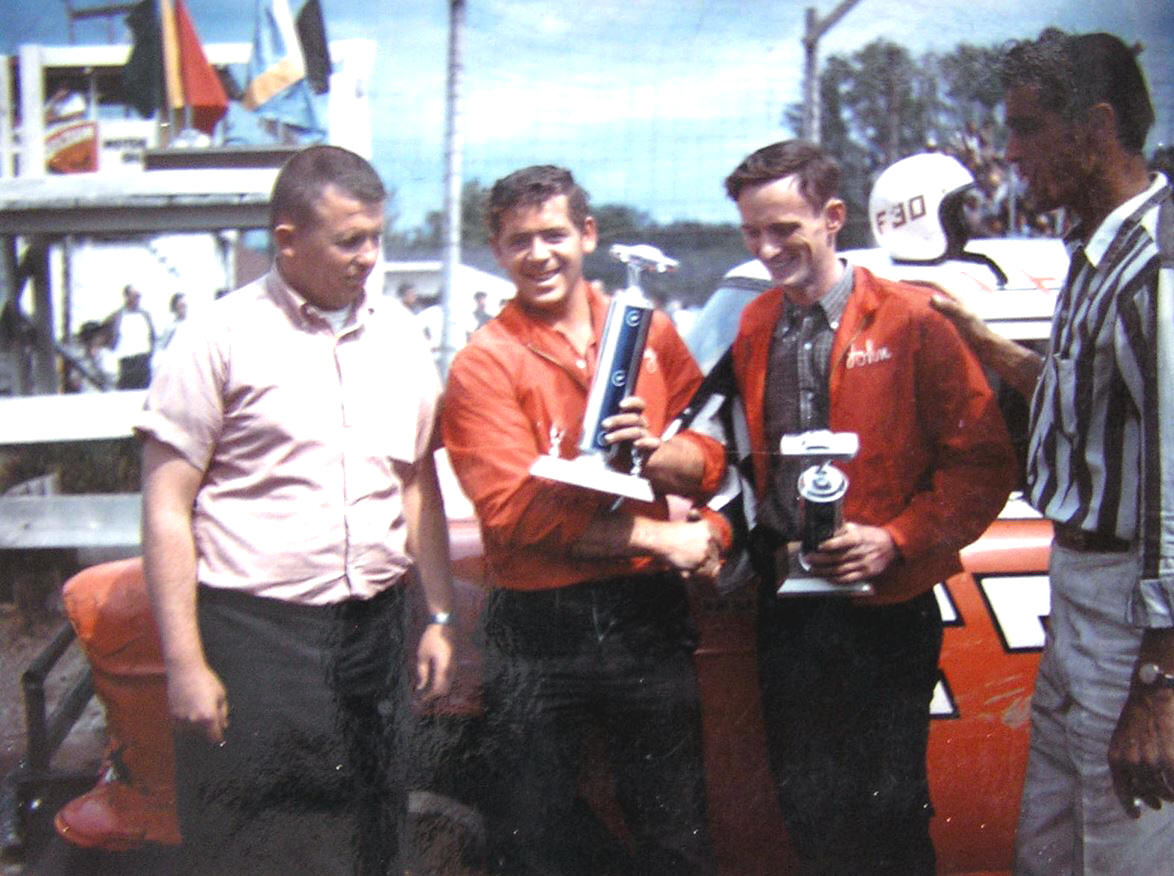 Bob Frazier Photo via Dave Wood
Yelling over whomever was in line ahead of him, Wood roared, "Gimme a hot dog and make it pretty f%@##* - ing soon!"
The kid gulped, people laughed nervously, and I always sort of thought he absolutely meant it. The dog came forward - and pretty f%@##* - ing soon. I don't know if the poor kid even thought to charge him for it. Woodie thought that sounded about like his big brother. Throughout the summer and even with occasional sorties up to Otter Creek Speedway [now being run by Richards], Lennie Wood didn't lose any race he finished.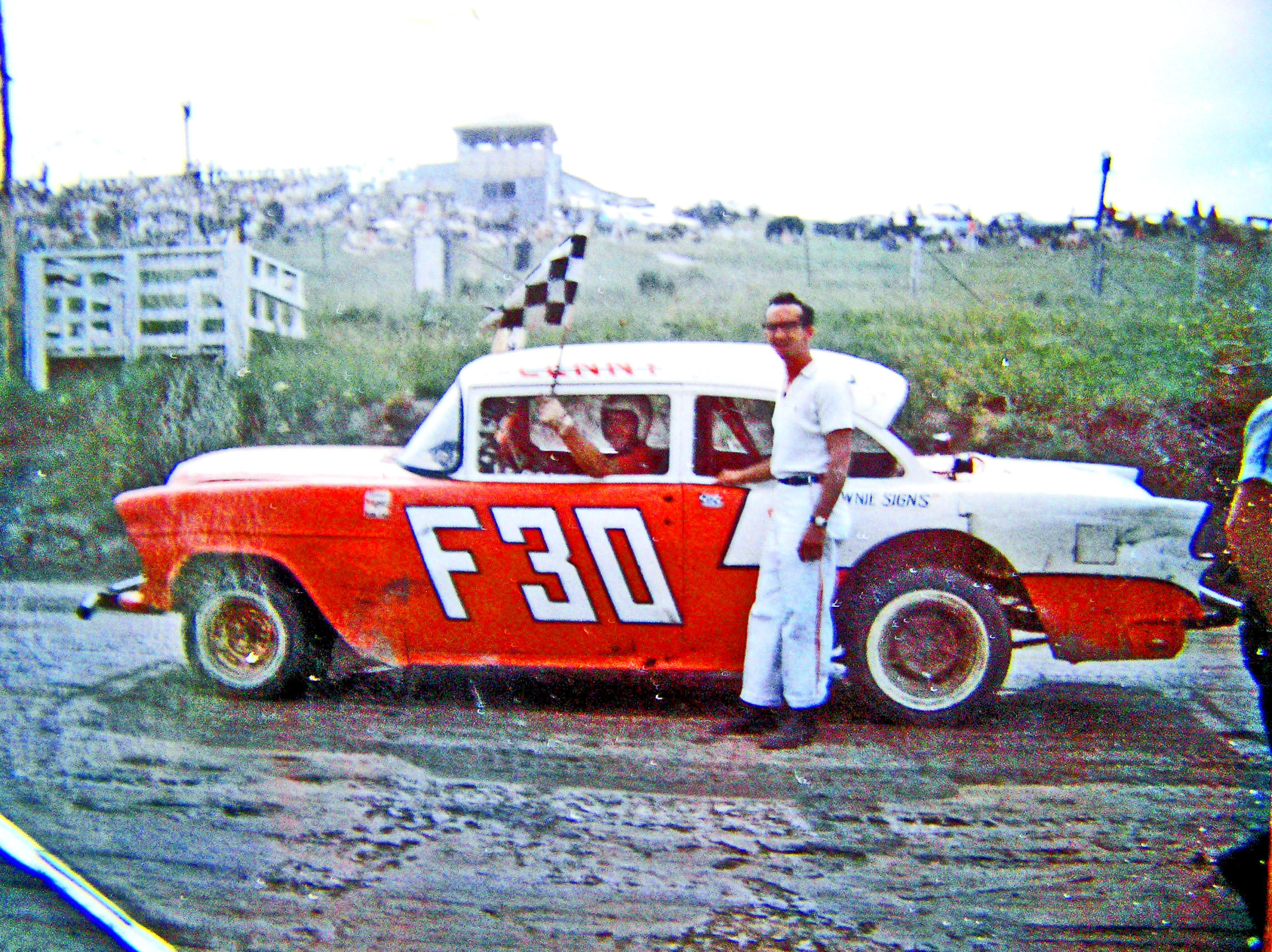 Bob Frazier Photo via Dave Wood
Lennie, with flagger Pat McGraff, at Hillside Raceway in 1965.
Below – This 1964 blurry shot shows Lennie at speed, at Fairmont.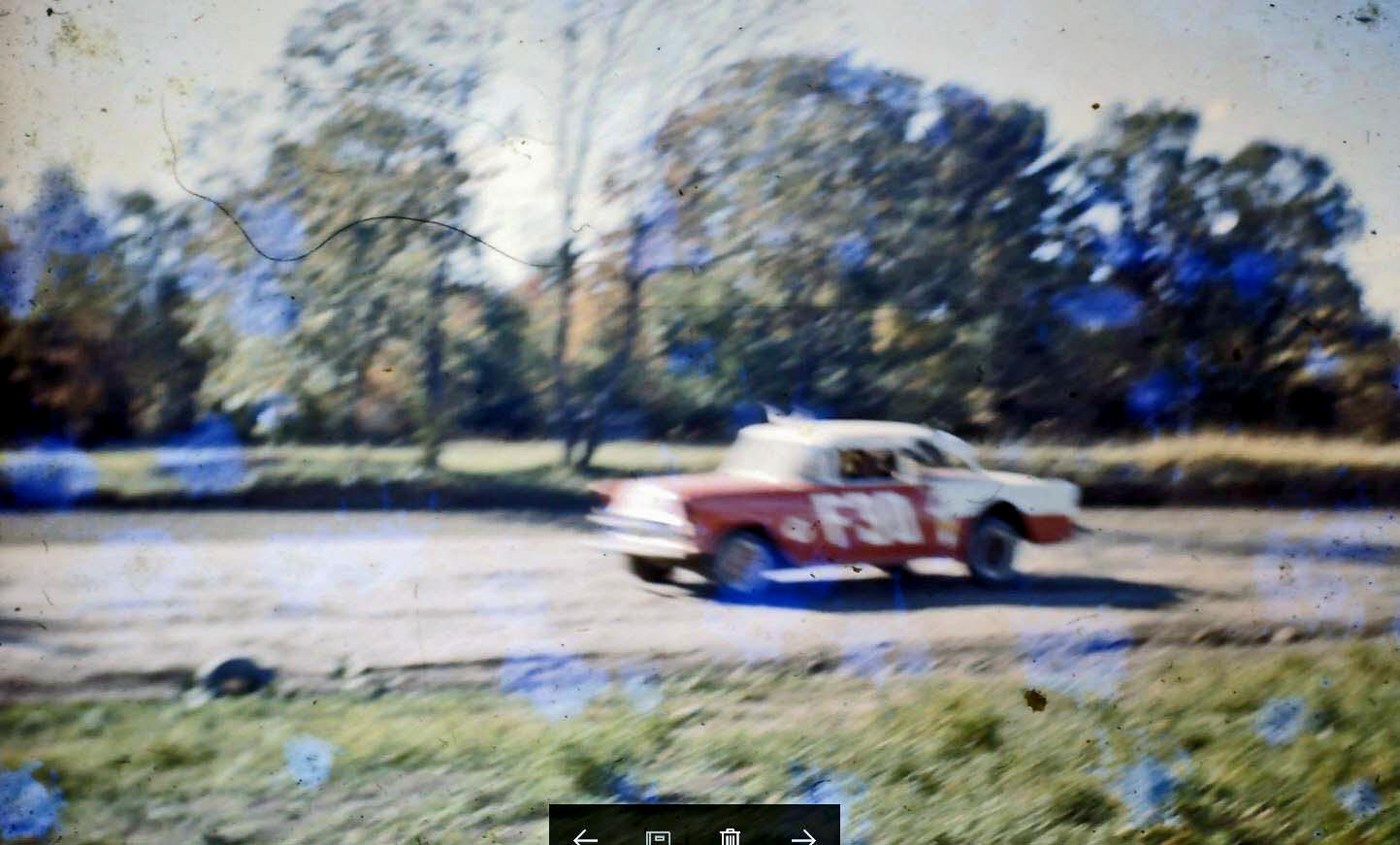 Dick Britain Photo
It got to be late in the 1965 season. A strange Ford showed up at the track: a number 7A, driven by a Beaver Dragon or some such odd name. I remember thinking to myself and probably saying out loud "who or what the hell is a Beaver Dragon?" The car [somewhat cheated up as we would find out years later] was nothing much to look at.
Little did I know that this guy with the seemingly impossible name would become a close friend for whom I would write a book some 40 years later and for whom I would letter several nice late model sportsman stock cars. The strange Beaver guy, never having seen the Fairmont track before, proceeded to come up through a field that was no slouch and literally chased Wood across the finish line; but, the string was unbroken.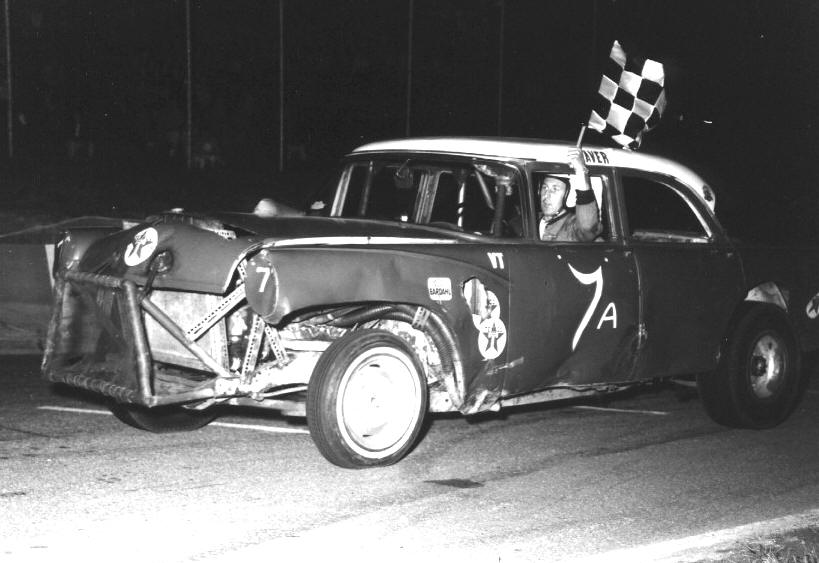 Courtesy of the Dragon Family
Above – What the hell is a "Beaver Dragon" ? Below - The Chuck
Ely Casper car – that brought an end to the unbeatable streak in
controversial fashion.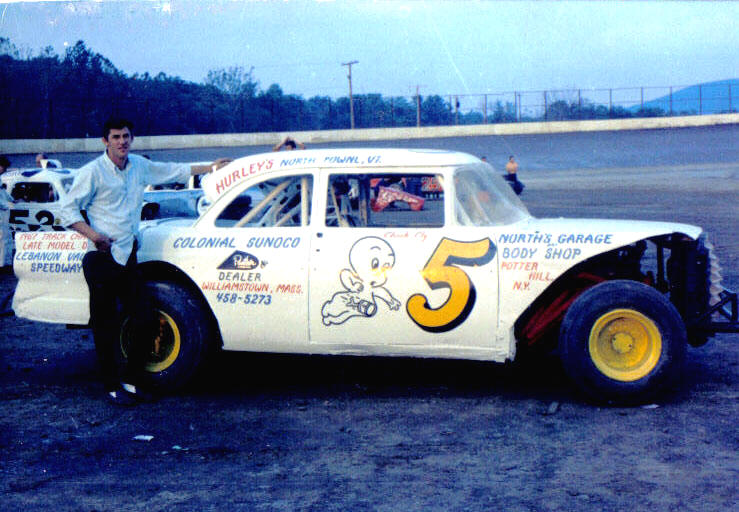 Courtesy of Arnie Ainsworth
It got to that part of a C.J. Richards season when he would allow in cars that ordinarily would not pass inspection with his Fairmont Racing Association cars. One such car was a former original hobby class driver named Chuck Ely, from North Pownal, VT. Ely had a '55 Ford [the famed Casper the Ghost car] but it was far more technically advanced than the Fairmont hobby cars. He was still put in to race in the hobbies with Lennie and the others.
Wood put up a helluva fight, but the Ely car was too much for the F30. Many in the pits were in an uproar, insisting that Lennie's streak should not be considered broken. Even Ely sided with this argument. Such a ruckus broke out between C.J. Richards and the F30 team that the latter were banned for life. Lennie Wood did not live a very full life, but John Maguire was banned from Devil's Bowl or any other CVRA track until the Richards offspring finally sold the tracks around 2012 or so.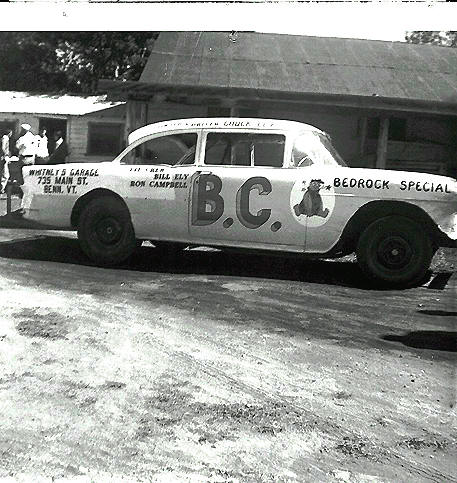 Ladabouche Photo
When Lennie was trying his hand at the hobby class in one of those
big late '40's sedans, Chuck Ely arrived with one of the class's first
respectable – looking cars. Below – More like a modified than a hobby,
the Graham Trudo car would have been a real problem for Lennie, had
he raced in 1966.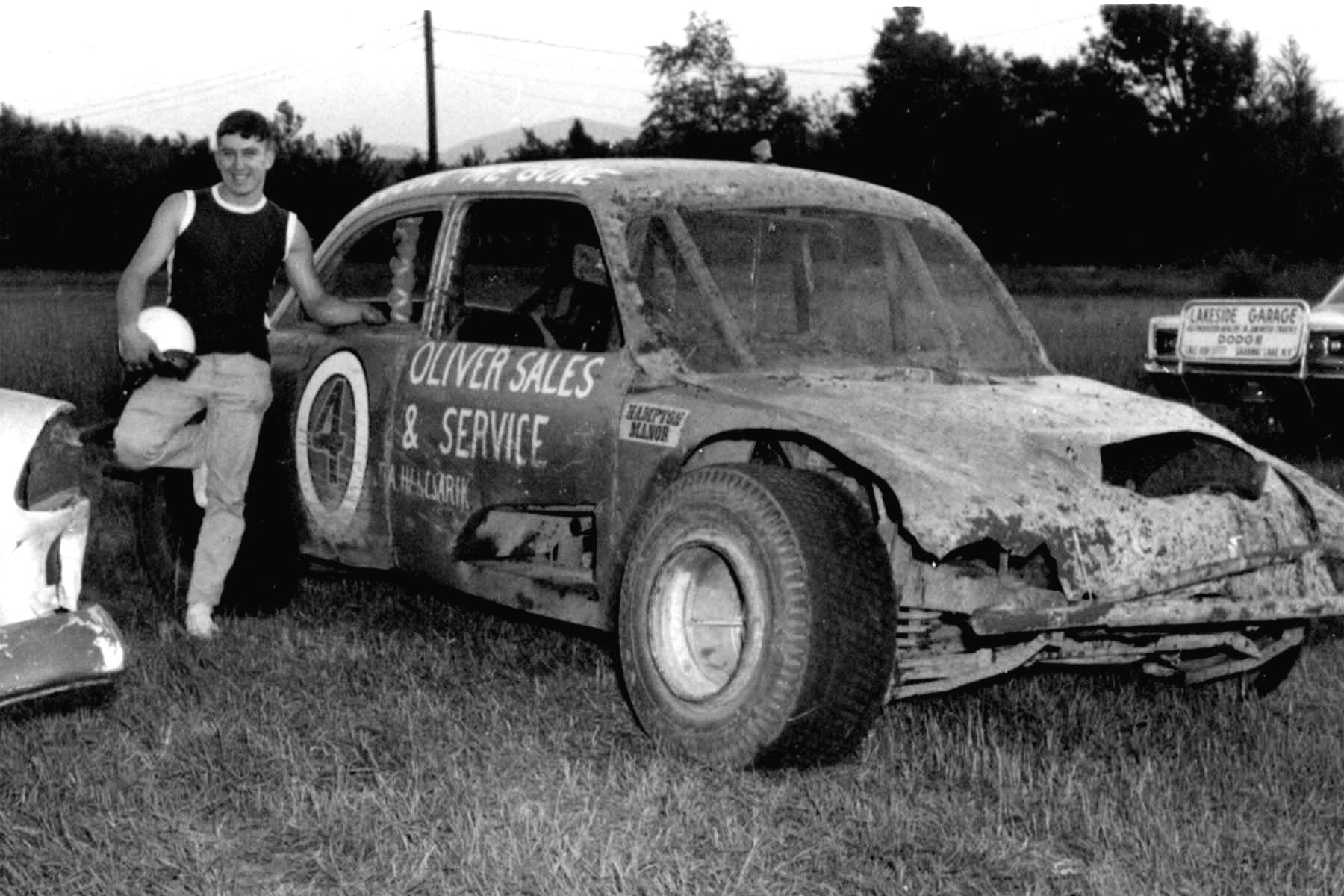 Bob Mackey Photo via Mike Watts, Sr.
There have not been a whole lot of teams over the years that went whole seasons undefeated. With a little help from Dave Wood, this is still a widely discussed thing at Devil's Bowl today. I think I recall that the F30 was sold to someone named Hart who renumbered it and couldn't drive it out of a wet paper bag. 1966 was the Graham Trudo year at Fairmont and he was almost as unbeatable as Lennie had been. Wouldn't that have been a fun thing to watch ?
According to Dave Wood, Lennie and John won twenty – eight of the first thirty – one races they were ever in. It wasn't to path to riches, that's for sure. Dave said he remembered Lennie winning a hobby feature at C.J. Richards' final Rutland fairgrounds show. He pulled down a hefty $11 for the win.
Lennie and John would have had to burn some midnight oil before the '66 season if they were going to contend with Trudo. The local lad's '50 Ford was much more like a modified than it was like a hobby car. Trudo sat in the backseat and the motor was almost entirely in the front seat. But, you never can tell. Wood had survived the famous Dexter Dorr purple #29 Chevy, was also loaded with innovations; so, who knows ?
Please email me if you have any photos to lend me or information and corrections I could benefit from. Please do not submit anything you are not willing to allow me to use on my website - and thanks. Email is: wladabou@comcast.net . For those who still don't like computers - my regular address is: Bill Ladabouche, 23 York Street,Swanton, Vermont 05488.
AS ALWAYS, DON'T FORGET TO CHECK OUT MY WEBSITE
www.catamountstadium.com
Return to the Main Page
Return to the Main News Page
Return to the All Links Page
Return to the Weekly Blog Links Page