BILL'S [Somewhat] WEEKLY COLUMN/BLOG PAGE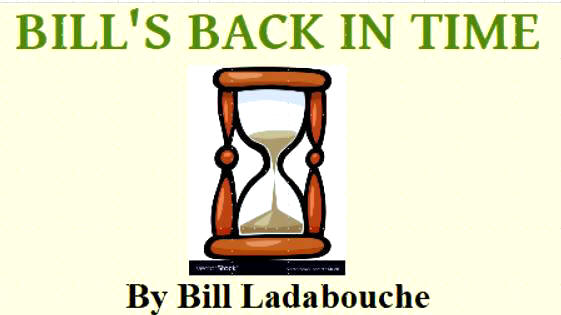 THOSE WERE TERRIBLE TIMES !
The history of stock car racing is loaded with those big stories everyone has read about – like this star who started off sweeping floors at the local garage or the one who won some big race despite having a wheel falling off. We have seen enough moves of that sort of thing.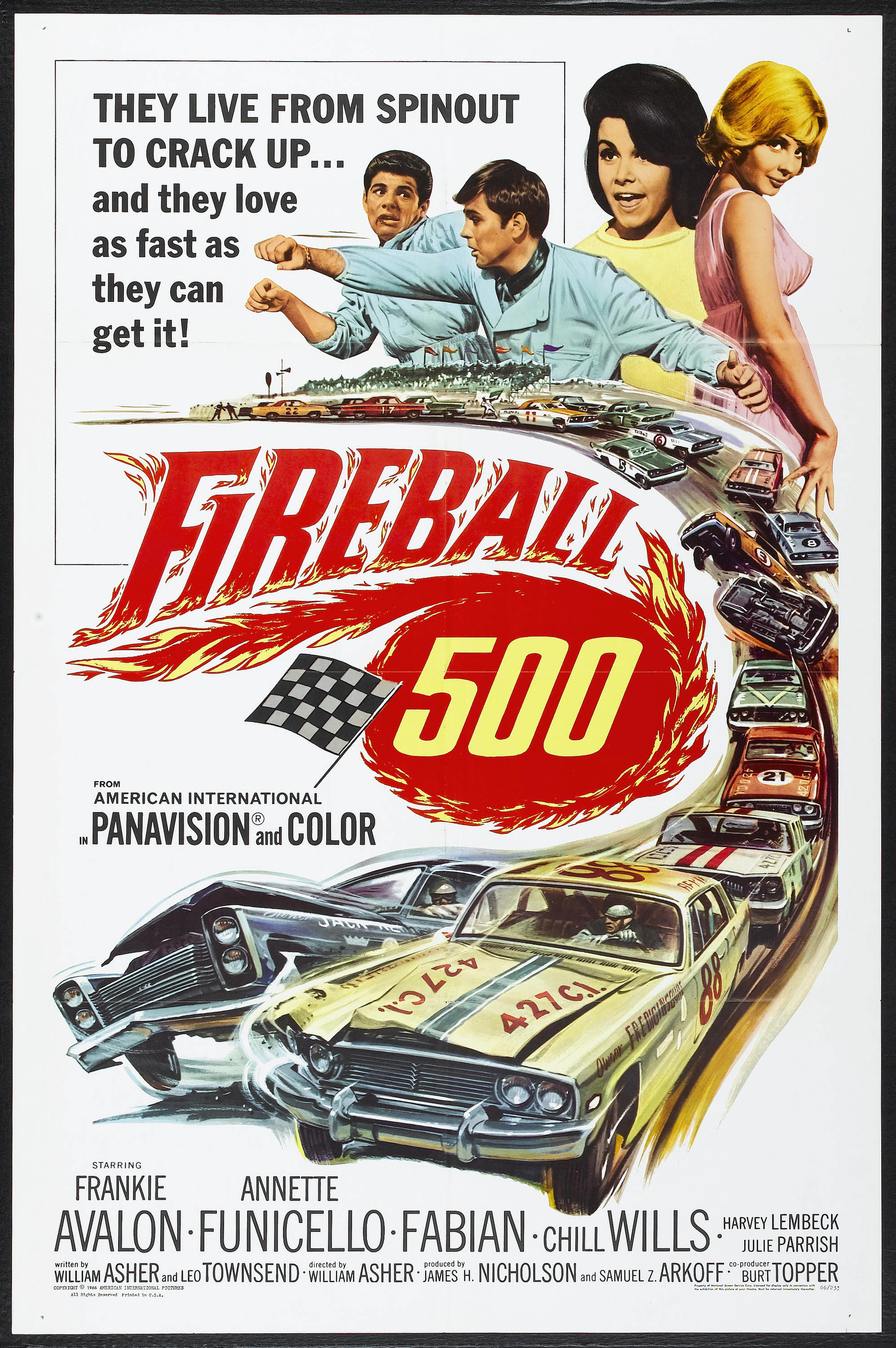 wrongside of theart.com
We've all seen movies full of bull crap about racing. But the real
anecdotal stories are the best.
I often see Robbie Crouch, longtime holder of records for most wins in the American – Canadian Tour when he is at Thunder Road [the soul surviving ACT track]. We were marveling at the fantastic improvements made to the facility by the new ownership when I happened to interject one of my more oft – repeated comments about how it used to be more interesting back in the day when drivers had a choice of tire brand to run.
"Those were great times,", I reminisced.
"Those were terrible times !", Crouch shot back.
Kind of stunned, I gave him a funny look. After enduring a few moments of awkward silence and my blank facial expression, he proceeded to explain his comment. First, a little background.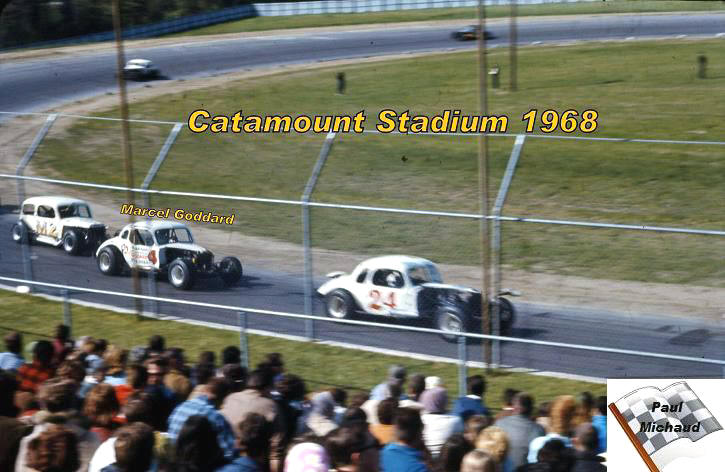 Paul Michaud Photo
Catamount Stadium had phases out the modifieds in 1968. This meant the loss of watching MacTavish, Cleary, Godard,
Cook, Stevens, and many other legends. Below – They were replaced by the Flying Tiger support class, with plans for upgrade by 1970.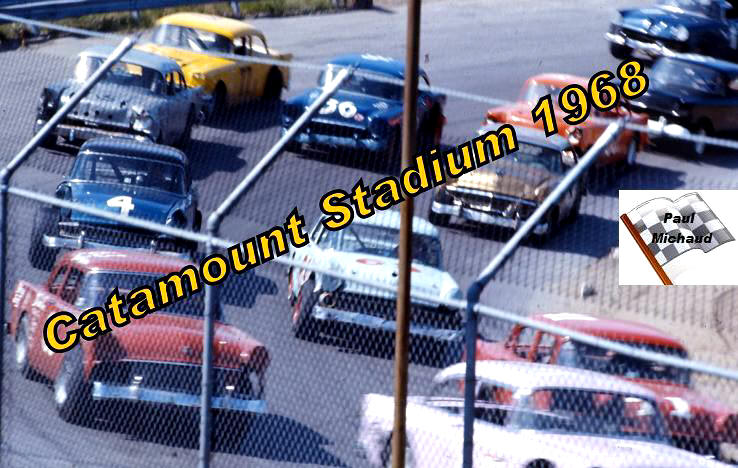 Paul Michaud Photo

After Catamount had dispensed with the modifieds in the midst of the 1968 season [Thunder Road had ushered most of them out three years before], the two track circuit had proceeded to develop their Flying Tiger class, which had started out as B Class support later model cars. By 1972, the class was into a first season as full – fledged NASCAR late model sportsman cars.
The dividends for his risk were already apparent in the huge fields Ken Squier was drawing. Not only had the Catamount and T Road regulars had mostly fallen in line and had built or bought late model sportsman cars, but some of the Canadian stars who had left with the modifieds had come back. Couple this with drivers who were coming out of Massachusetts and other Northeastern states, and you had a burgeoning program going there.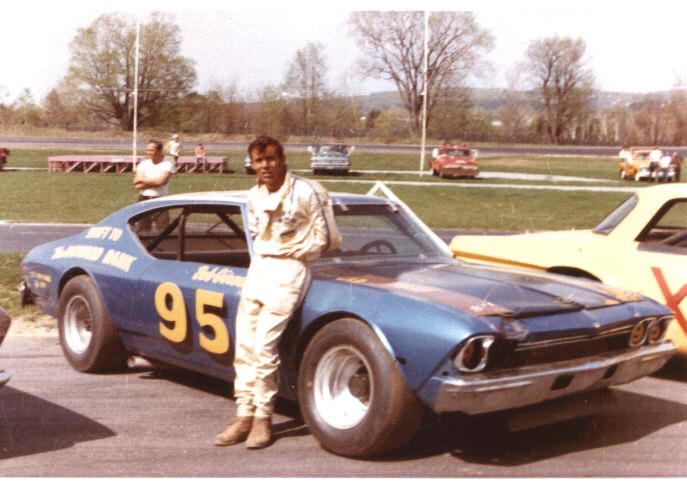 Courtesy of Dan Nolin
Catamount Tiger regulars like Bobby Giroux blossomed out with
new late model sportsman entries – and often bigger sponsorship.
Below – Team like the Rosatis began flooding in from the
Bay State.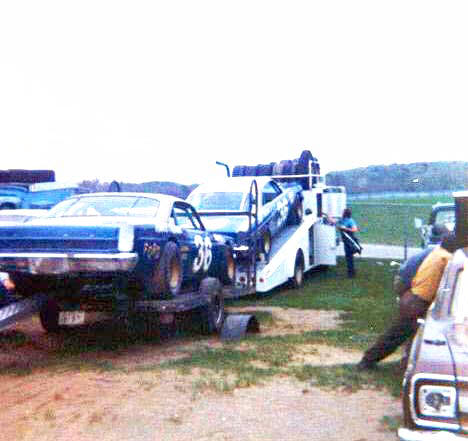 Ladabouche Photo
Robbie Crouch, by the way, had arrived [at age 16] with father, Clarence, later on in the 1971 season. Settling at first in Fair Haven, practically in the back yard of Devil's Bowl Speedway, he and C.A,. felt a connection with the recently – paved Rutland County track.
It was a magical time. While a vast number of the LMS cars then were Chevelles, there were Mopars, various sizes of Fords, and a few other varieties as well. To go with that variety, one could choose from at least five tire brands if one was of the mind to do so.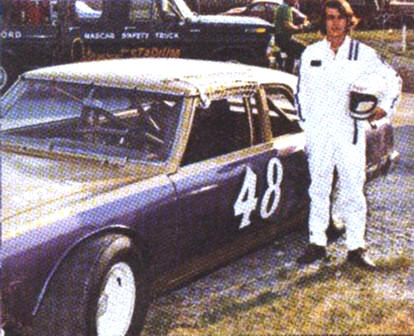 Bob Frazier Photo
Then along came a 16 year - old Robbie Crouch, hair and all. Below - Jim Prides Mercury Cyclone added to the great variety of cars that
ran the earlier Northern NASCAR circuit. Beside it is the Holman - Moody – powered, but disappointingly heavy Paul Norton 04.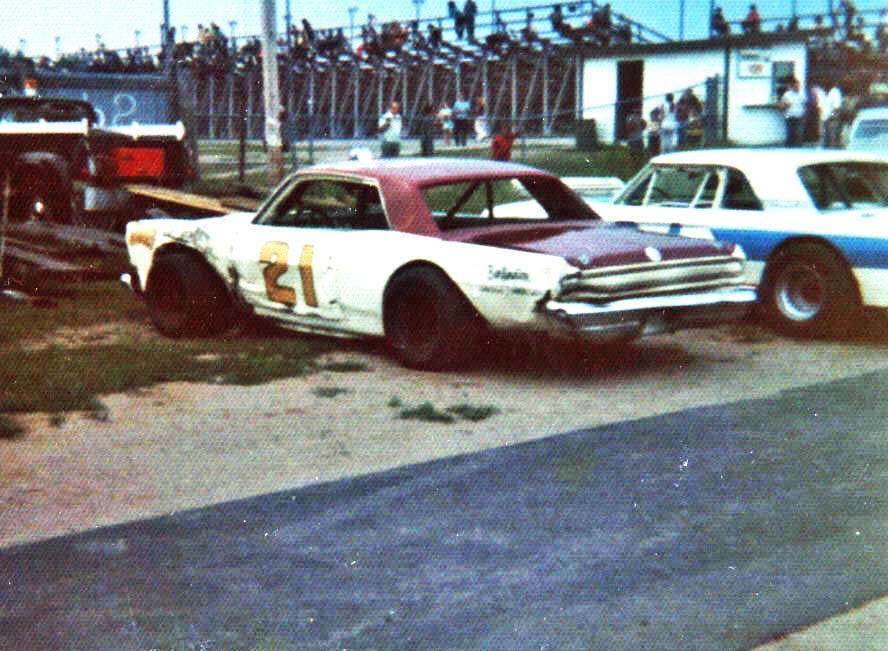 Ladabouche Photo

The track was sort of in cahoots with Goodyear. St. Albans, VT Goodyear dealer George Wood was sending a Goodyear tire truck and Lynn Wood to the track to sell and mount tires during those years. Goodyear hats were seen being worn all over the place. The brand certainly had the largest contingent in the early 1970's.
Ford driver Ron Barcomb, still closely associated with father, Herb's Malletts Bay Salvage business, had struck a deal with Gene White Firestone and was selling that brand to particular competitors and running them himself on his fancy Torino #09. Norfolk, Massachusetts tire dealer Dave Lind, like Barcomb, was racing a Ford sportsman [although a Fairlane 500 body], and he was selling McCreary tires to whomever wanted them.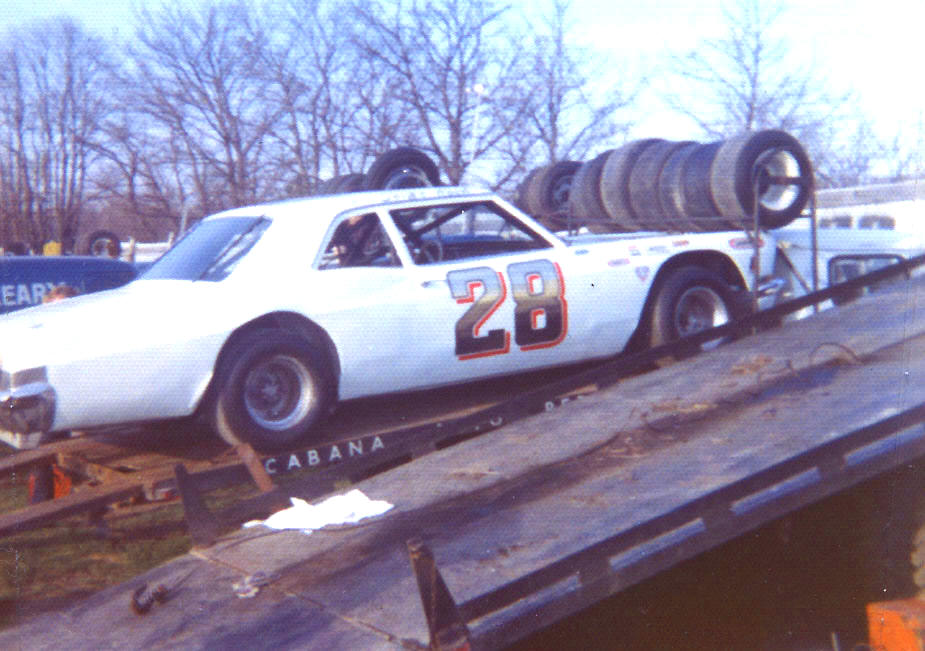 Ladabouche Photo
This shot of Serge Roch shows Dave Lind's McCreary van in the background. Below – Charlie Smith, who went on to
become a crew chief, working with the George S. Wood tire truck which worked some seasons at Catamount.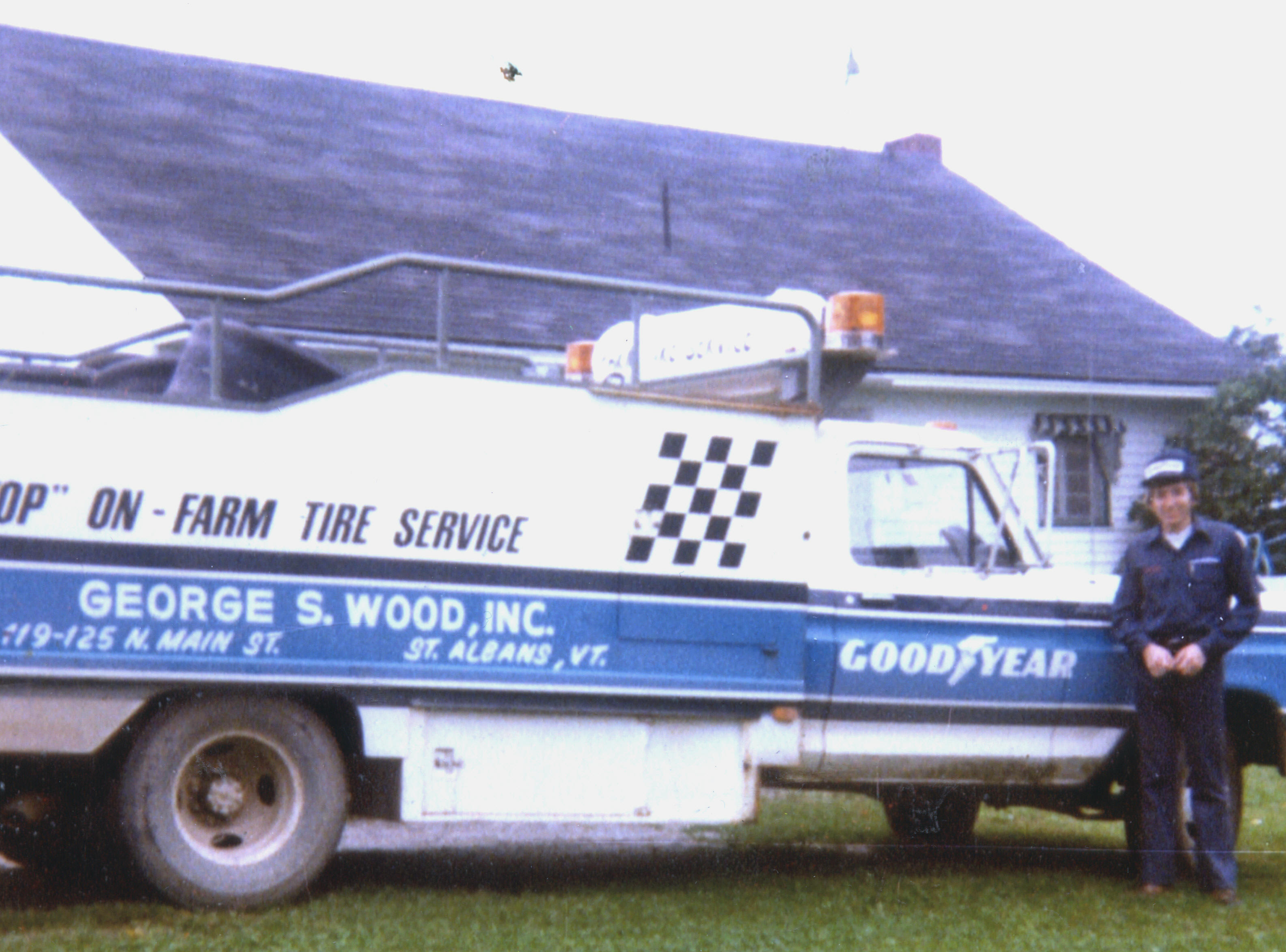 Courtesy of Charlie Smith

Add somebody hawking Hoosiers and even throwing a few of Marvin Rifkin's M&H's into the mix and you had another rivalry to keep track of besides certain drivers or your various car makes and models. It seemed to be a high water mark in the success of not only the still – new Catamount but also the often – changing Thunder Road venue.
Eventually, Goodyear would become the official tire, as Northern NASCAR [and late NASCAR North] management began the trend that would lead to today's total uniformity of about everything in ACT racing, stopping just short of mandating the type of underwear the teams use.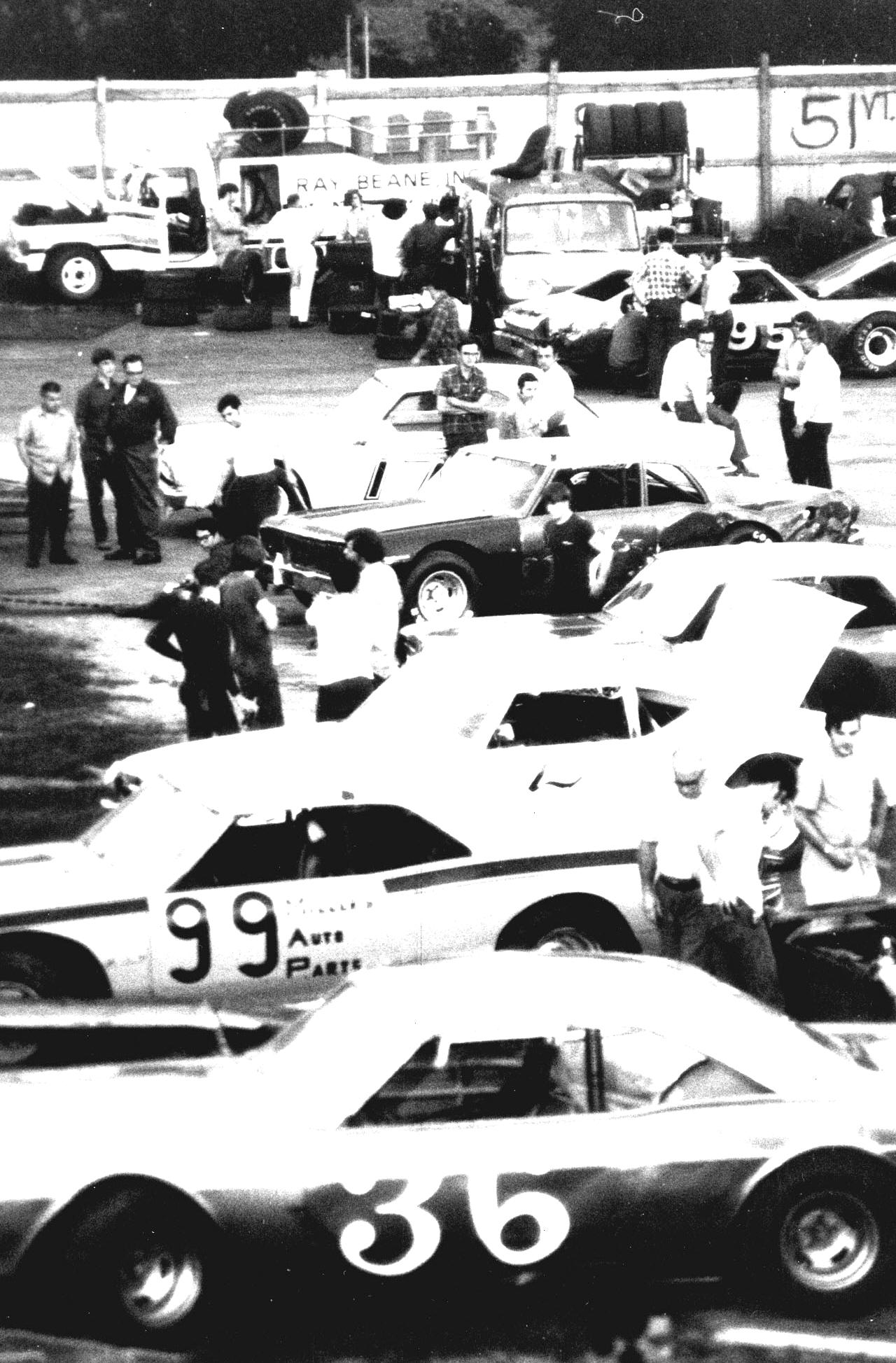 Courtesy of Chris Companion
This Catamount pit shot shows Rutland tire dealer Ray Beane's truck
installed and in business. Beane probably got a foothold in by working with CJ at Devil's Bowl. Eventually the more
regionally - located Wood truck would take over.
To add the growth and the interest, by 1971, Airborne Park Speedway was in the circuit, running Friday night, and Devil's Bowl [having recently paved] had grabbed Sunday nights. So now you have five tire brands, run by old Tiger drivers, newly arrived Canadians and southern New Englanders, and track regulars starting to trickle in from Airborne and the Bowl. Four night a week [soon to be five] and very heady times !
This is what the young Crouch and his amiable father had jumped into, having decided to throw their hats in upon arrival from Tampa, Florida in the midst of the 1971 season. Back to Robbie's story. Sometime later in the 1971 season, the Northern NASCAR management had arranged for a race at Ste- Croix, Quebec – one in which tour points would be awarded. Apparently C.j. Richards, at Devil's Bowl, had agreed to that Sunday off.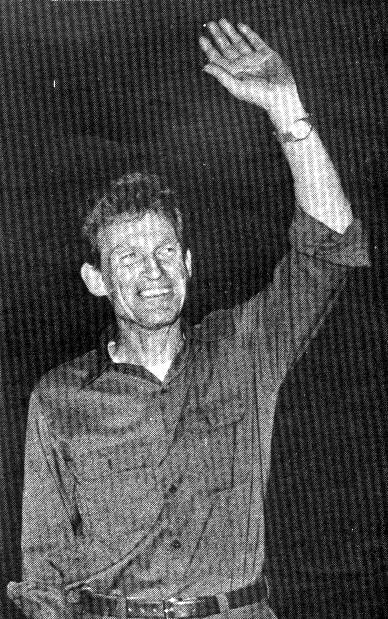 Courtesy of David Turner, Jr.
Clarence "CA" Crouch was a favorite in the pits among anyone who ever knew him. Below – Robbie, with
that first Chevelle. A magnifying glass inspection reveals this car has Firestones on.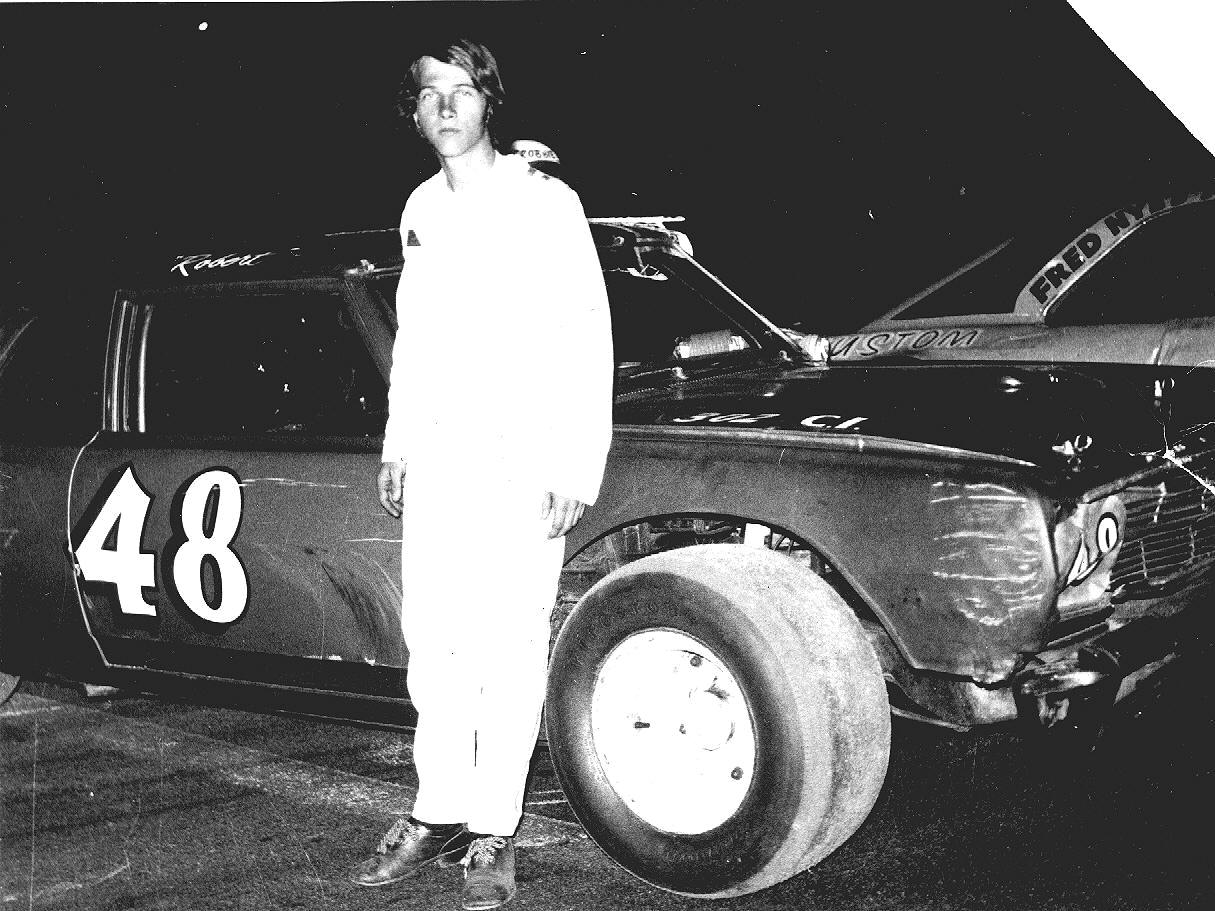 Courtesy of Chris Companion
Robbie says that, somewhere along the line, C.J. had changed his mind and decided to run a race at the Bowl. Perhaps he was just C.J. being C.J. or maybe he hoped some of the more fanatical teams would pack up from the afternoon show and beat feet all the way down to the circuit's southernmost track. All the big teams headed for Quebec. The Crouches chose to stay and run for C.J.. It likely suited their budget better, too [a budget that was buying and running Firestones].
Bobby Dragon had gotten wind of Crouch's choice to remain at the Bowl. Having run two years at the Bowl in 1969 and 1970, Bob was almost unbeatable there 1971 - 3. He made a deal with the Crouches to run their car after Quebec and he would give them a set of new tires in advance, which he did – Goodyears.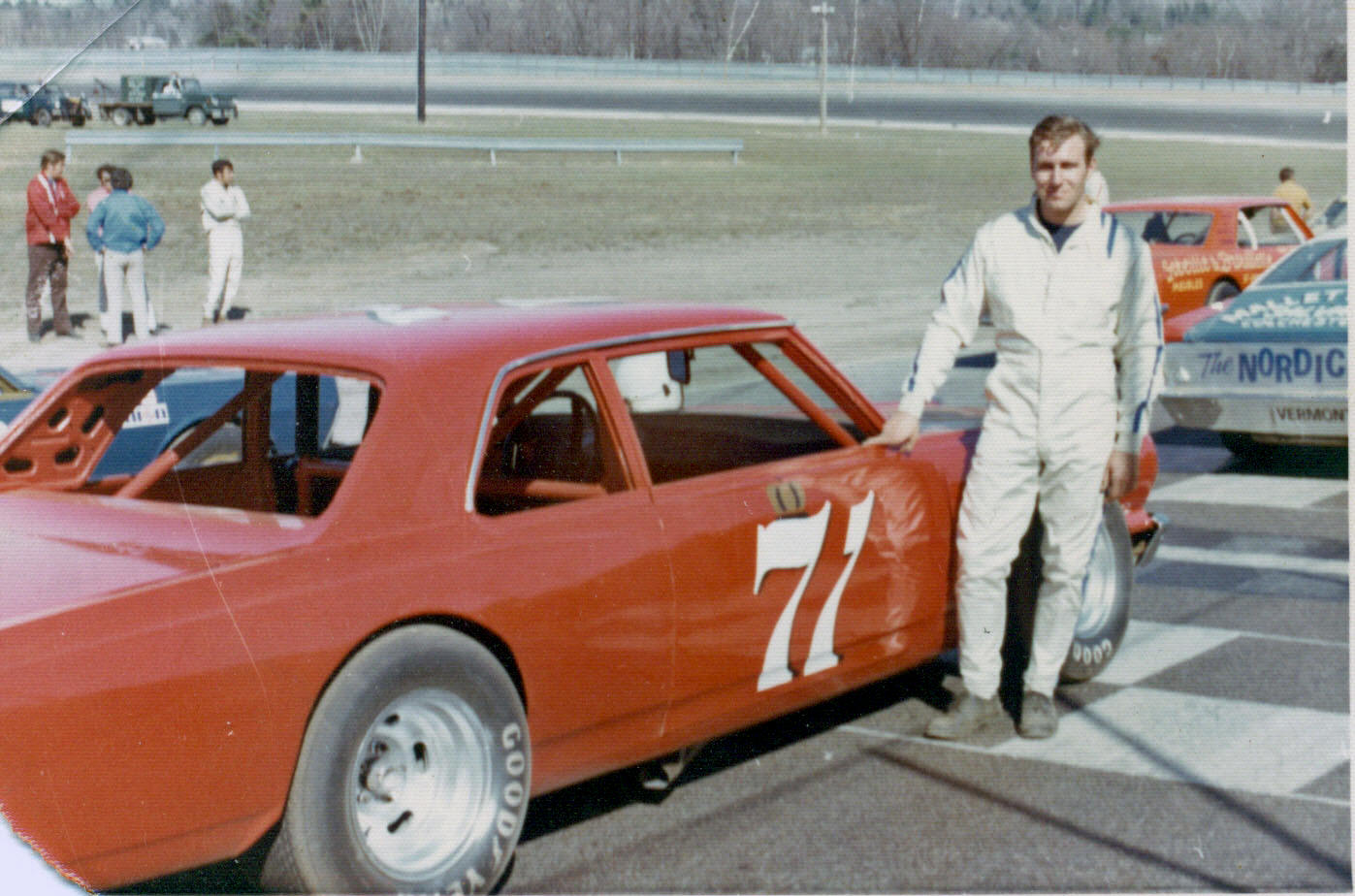 Courtesy of Steve Pecor
Bob Dragon poses at Catamount in 1972 with the highly – dominant
Allison car he ran dozens of wins. The Goodyear tires are very
obvious. Below - The busy grounds of today's Circuite Riverside Ste-Croix must have had more unused space
to land a plane back in 1971.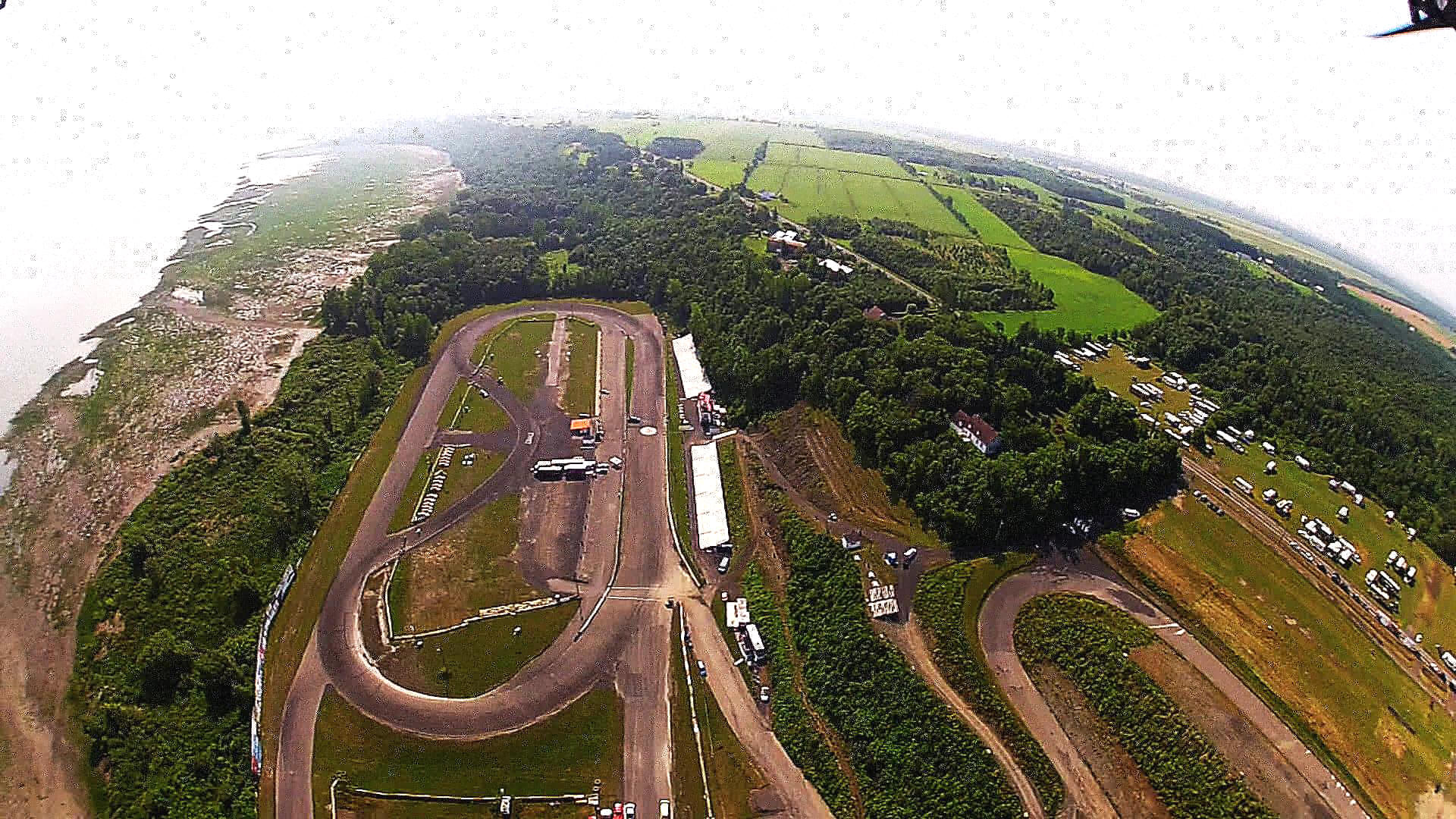 From the Track Site
The story has it that Robbie had the Goodyears mounted and tried them out, finding that it was like an entirely car. He points out that he could stick anywhere with those one. Elation ! Meanwhile, the races at Ste-Croix finished and Dragon was to have a private plane land in a pasture beside the track, pick him up, and fly him to the Rutland, VT airport [around 20 + minutes from Devil's Bowl].
As these things often go, it became very windy and the pilot could not land near the track. They had to depart from the Quebec City airport. Now behind schedule, the plane arrived to find it was getting dark and the Rutland airport had no runway lighting. So, they had to fly to Albany, NY, with someone in a car in close pursuit. By the time Bobby Dragon got to Devil's Bowl the cars were packing up to go home.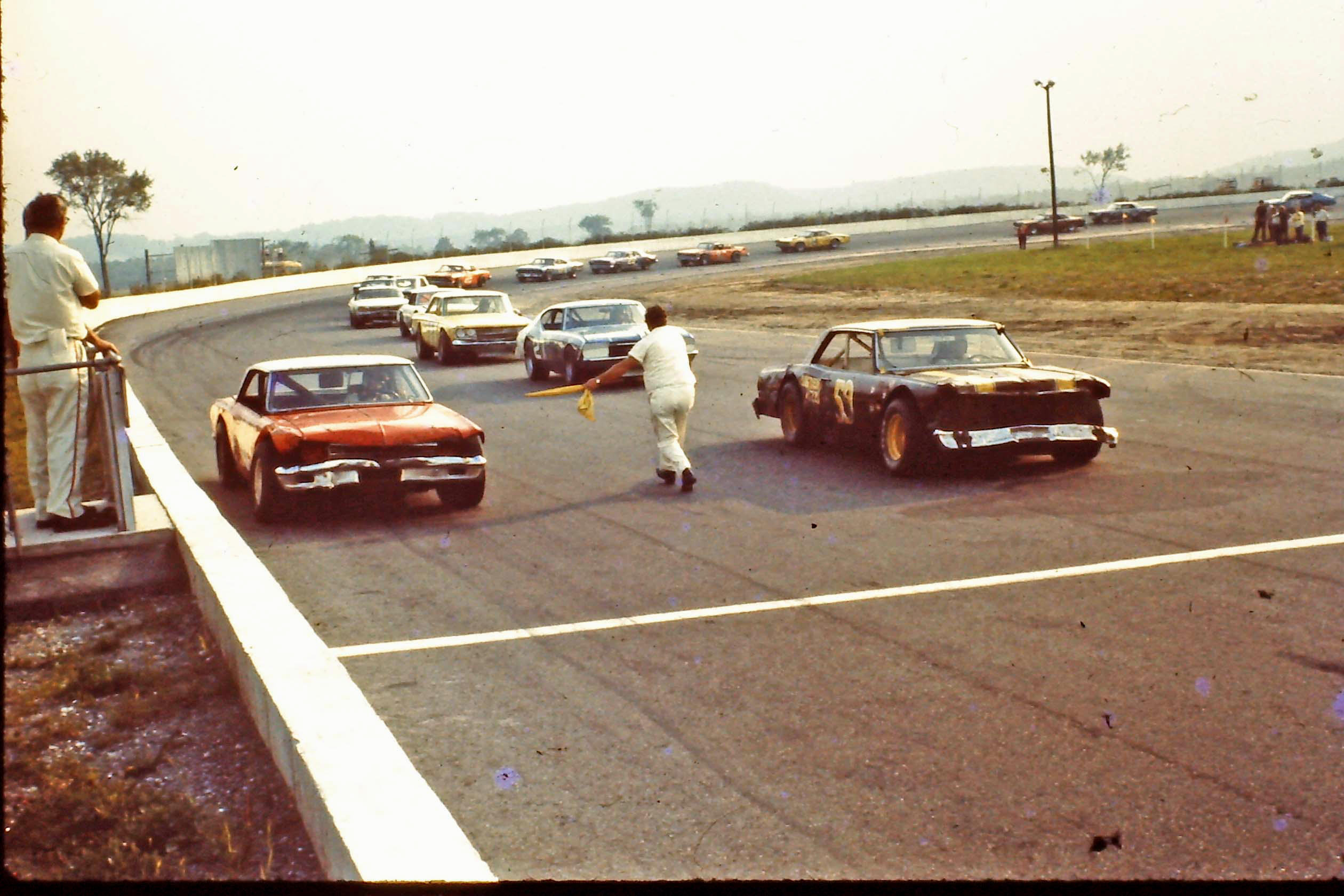 Dick Britain Photo
Jim Frye relines a Northern NASCAR field at Devil's Bowl in 1971. No Britain shots of this day show Robbie; so, probably he
and Clarence had not arrived yet for the year. Below - Horrible spelling notwithstanding,
this clipping covers that first Robbie Crouch victory.


Courtesy of Mike Richards

Robbie did not elaborate on how many cars ran that day at Devil's Bowl or what the quality of the competition was. A clipping suggests at least some top teams, such as Ron Marvin, Joey Kourafas, and Dave Dion were there. Others apparently successfully flew down.
Suffice it to say, the newcomer, Crouch was still in the lower echelon of the big circuit, himself, having more recently - arrived than most of the others and being so young. At any rate, with those Goodyears on the gold and purple #48 Chevelle, he had outclassed the field and won. Robbie took a slight pause to add that this was his very first victory in the state of Vermont.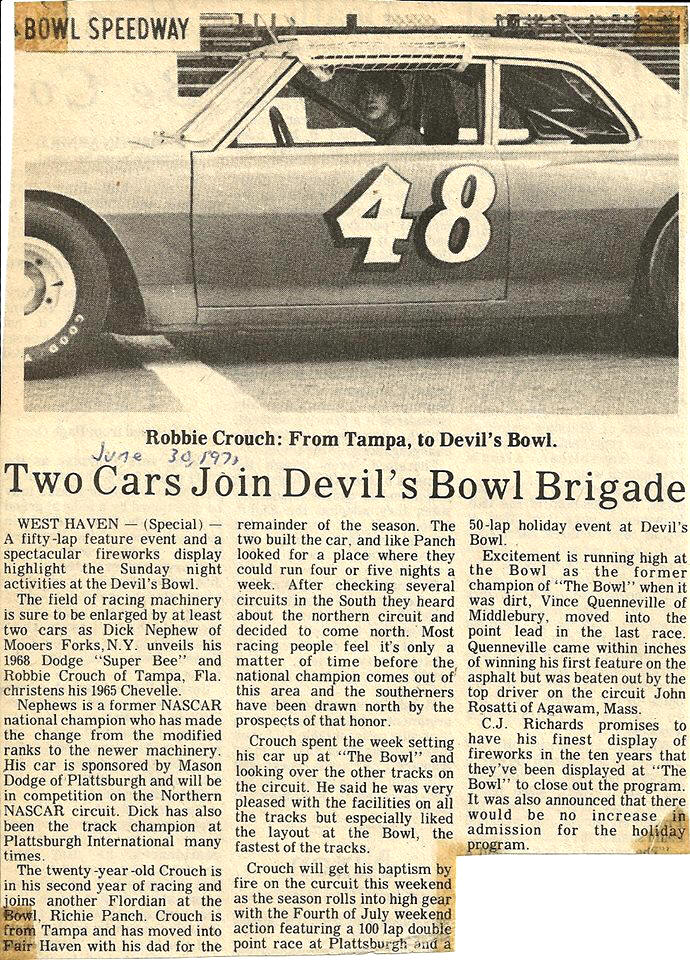 Courtesy of Marty Kelly, Jr
This article from Marty Kelly hints that the Crouches arrived late in the
1971 season. Below – Dave Dion, at the Bowl in 1971.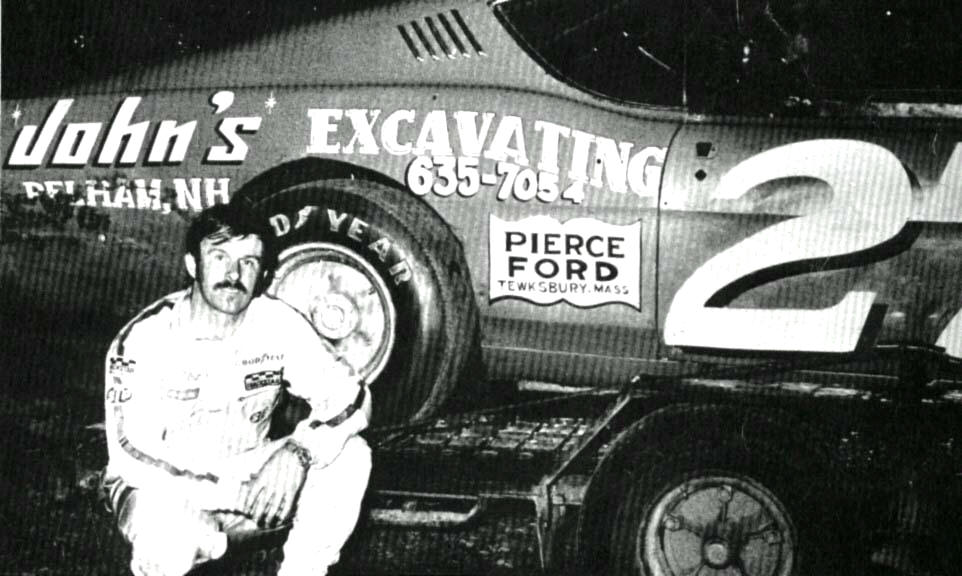 Source Unknown

Of course, the Crouch career went on the numerous win in the Northern NASCAR tour, the NASCAR North Tour, and later, ACT. He would drive a car that was keeping for owner Bob Curtiss at my sign shop in Milton, having lettered it for Bob. I would go on to do more work for his dad , C.A. [one of the most wonderful men I ever met].
Robbie would race for decades; we lost C.A., sadly, along the way; and I finally faded out of the racing scene for almost twenty years before getting back in and doing this work around 2005. In all those years, that story of the first win had never been told to me before. Finding out that racing against the Goodyear tire may have been terrible times for Robbie, but they were interesting for the those of us watching.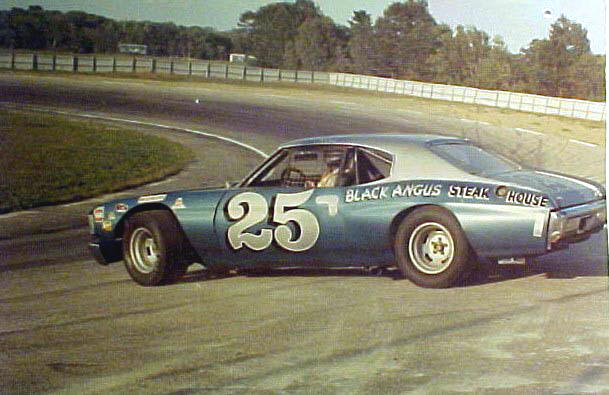 Bob Doyle Photo
Robbie, around a year later, when he spent a season in Bob Curtiss' 25.

Please email me at wladabou@comcast.net if you have any photos to lend me or information and corrections I could benefit from. Please do not submit anything you are not willing to allow me to use on my website - and thanks. For those who still don't like computers - my regular address is: Bill Ladabouche, 23 York Street, Swanton, Vermont 05488.
AS ALWAYS, DON'T FORGET TO CHECK OUT THE REST OF MY WEBSITE:
www.catamountstadium.com
Return to the Main Page
Return to the Main News Page
Return to the All Links Page
Return to the Weekly Blog Links Page