BILL'S [Somewhat] WEEKLY COLUMN/BLOG PAGE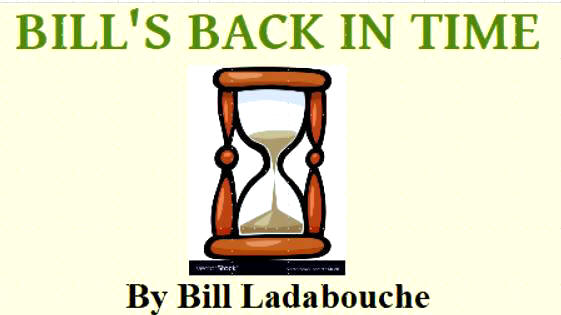 OL' ZERO PICKED UP ANOTHER ACCOLADE
Buffy Swanson just announced that the Northeast Modified Hall of Fame has chosen Ray Brown to enter its ranks. The last blog I did on Ray Brown has turned out to be a mess because – like so many others – I didn't realize there were two really good stock drivers named Ray Brown and both raced in the same era.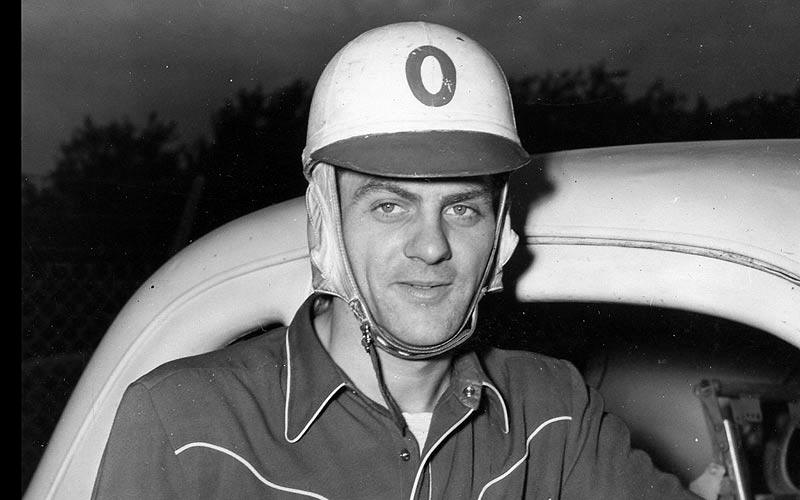 Ginny Ross Collection via Dick Hansen and Otto Graham
Ray "Zero" Brown
Coming from around the Poughkeepsie and White Plains area of New York, Ray "Zero" Brown was given that moniker both because of the helmet he often wore with a big "0" on it and because it distinguished him from the other, New England – based Ray Brown. Chances are the two may have competed on the same track somewhere like Riverside Park Speedway or another similar early '50's oval.
Seeing as Ray did much of his stock car racing in the 1950's, it seems to have taken a long time for him to make the hall of fame here. The thing is, he had an equal [if not better] career in open wheel racing after he had run the cars with roofs for a number of seasons.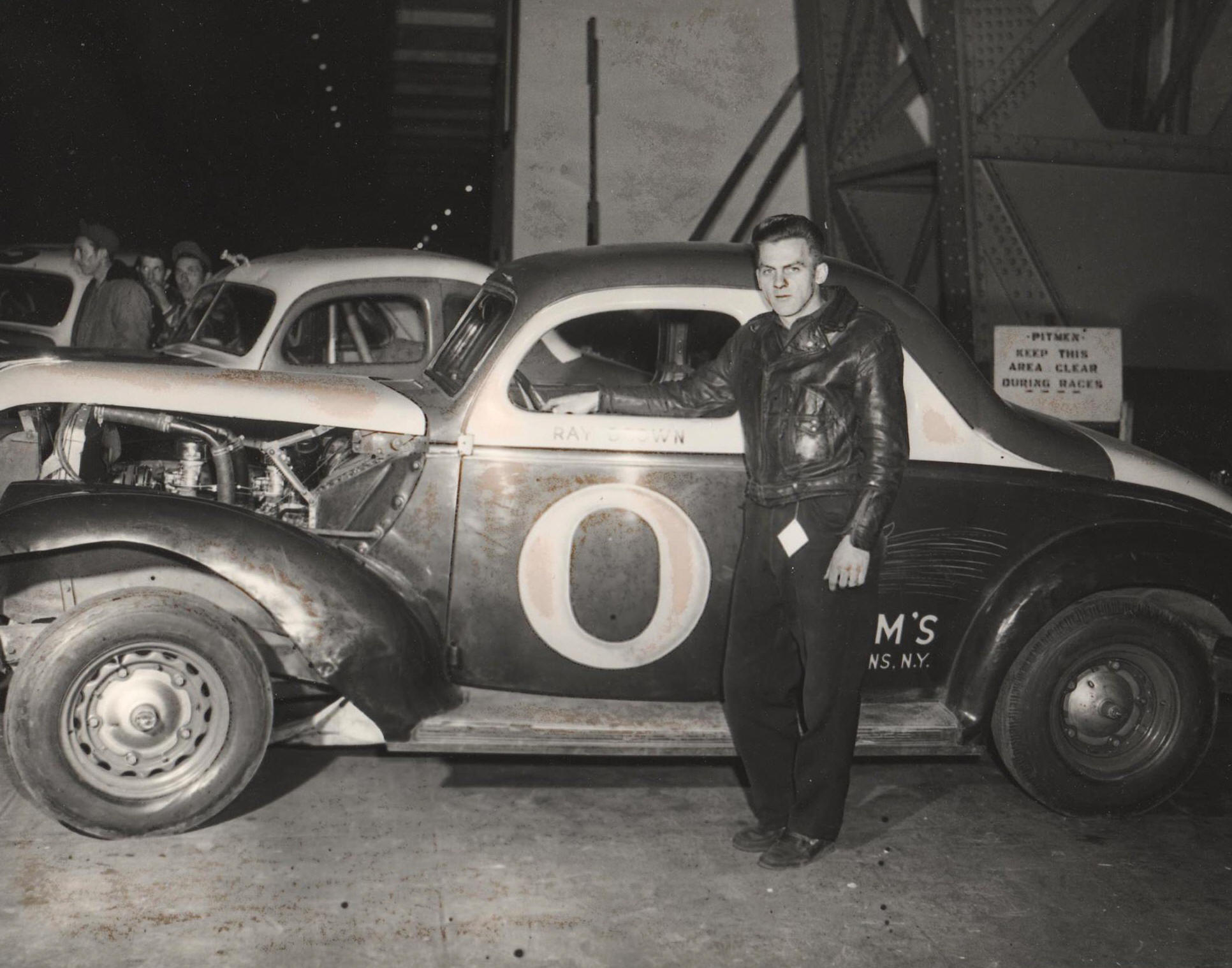 Courtesy of Doug Post
Doug Post, Ray Brown's constant companion in the earliest days
of the Zero career, offers this shot of Ray at the Kingsbridge
Armory in 1949. Below – Zero, as winner with Jokko Maggiacommo at his right.
Ray has the Santandre 356 and Jokko would have the Ross 19.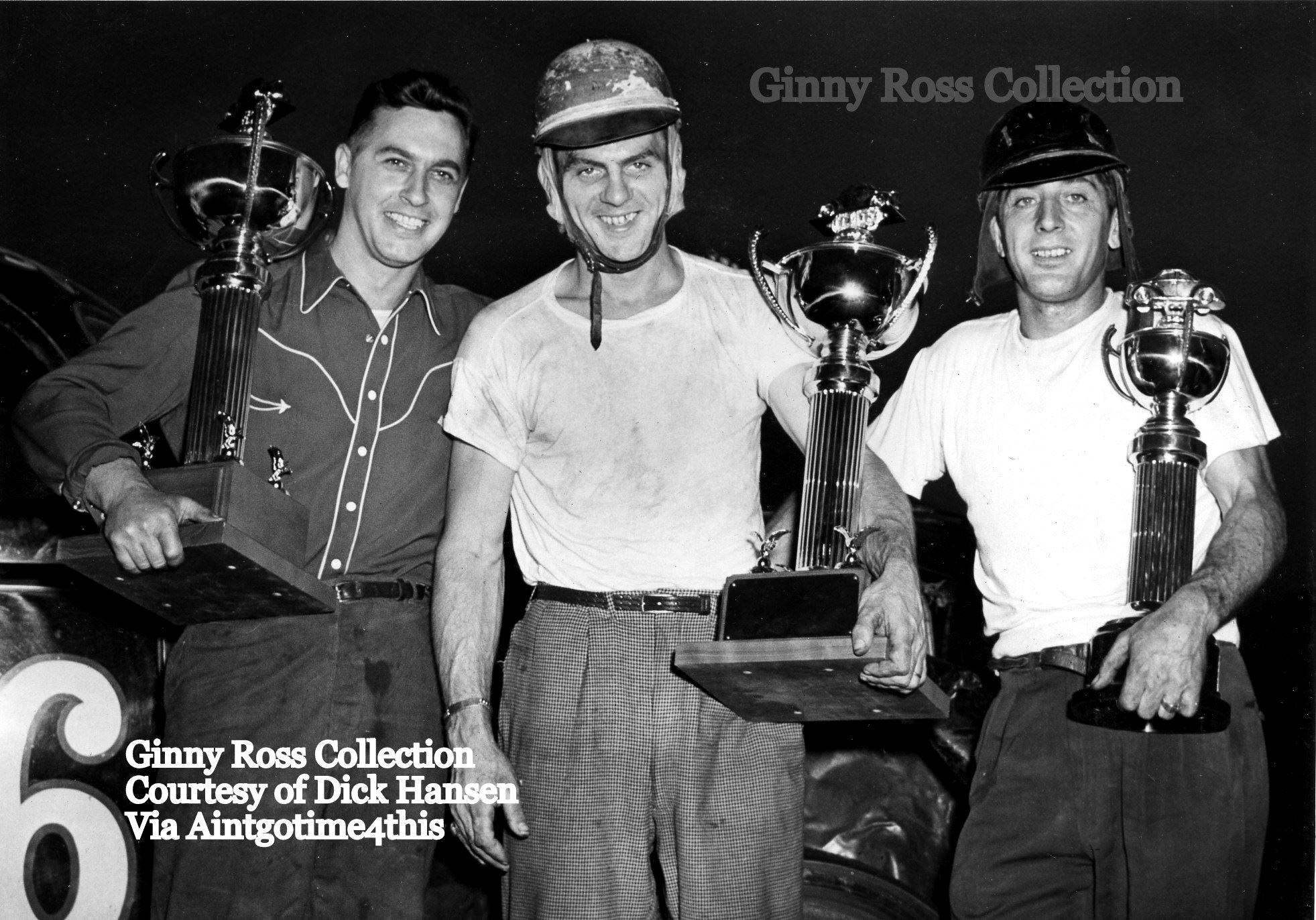 Ginny Ross Collection via Dick Hansen and Chas Hertica
My previous blog states that I finally figured out that is was not Zero who ran cars like the B1 at track in the Triangle Racing Association that sanctioned such tracks as Rhythm Inn Speedway, Millers Fall, MA; Cheshire County Fairgrounds [Safford Park Speedway], Keene, NH; Brattleboro Speedway, West Brattleboro, VT; and Claremont Speedway, Claremont, NH. That Ray Brown would go on to a pretty great career, but almost entirely in New England.
Ray "Zero" Brown really got around in those early years. Bob Marlow, in his wonderful article on Brown says – about that itinerary: "And there were many: At long-gone New York tracks like Empire Raceway in Menands; Freeport, Long Island; Rhinebeck, Peekskill, Arlington and others. Candlelight Stadium in Connecticut. Nazareth Raceway in Pennsylvania. Morristown, NJ, and particularly Old Bridge Stadium, where Brown aced the track's inaugural race in 1953, was crowned the track's first champion, and won 15 events in a scant two years. "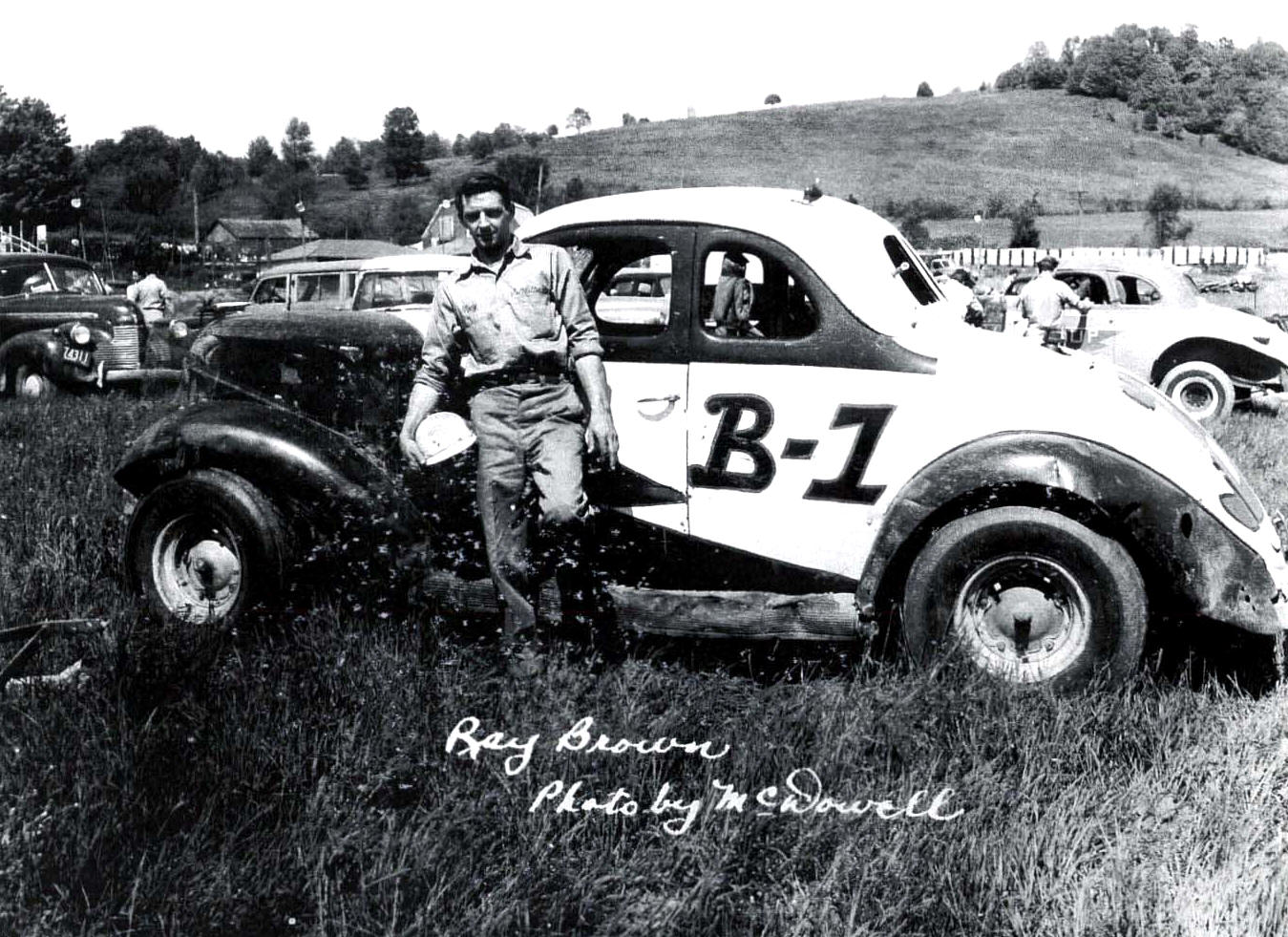 Bob McDowell Photo via Phil Miller
"The Other Ray Brown" or, as I call him "Springfield Ray Brown"
at Stateline Speedway in the early '50's. Below – That Ray Brown
won the first stock car race ever held at the Rutland Fair – in 1951.
If the two ever competed head to head, it would have been somewhere
like Pine Bowl or Rhinebeck.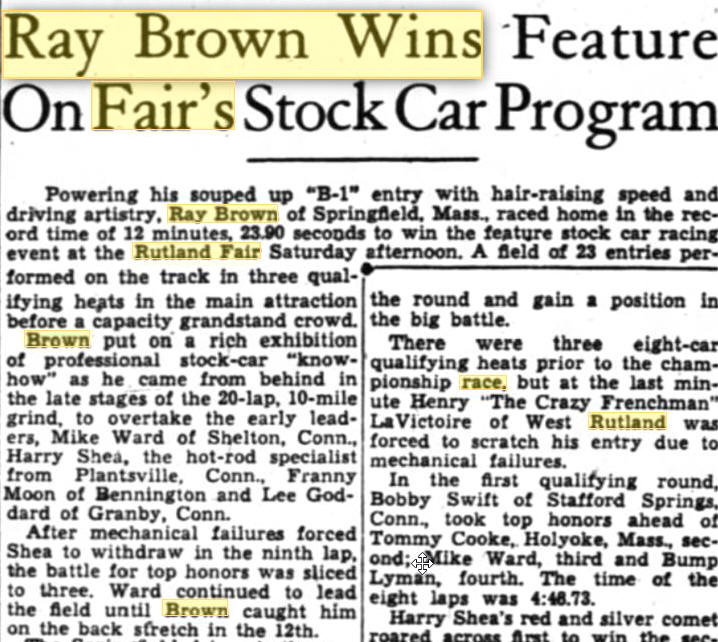 Rutland Daily Herald
But, it was at one particular track near home that he was at his best – the track at the Orange County Fairgrounds in Middletown, NY. Called by various names over the years, the long horse oval was simply referred to as "Orange County" by most racing folks. Although, there were shorter tracks created on the site, Ray Brown did best on the "big track", which I suspect was at least one half mile.
Earlier rides included the car ), which I think might have been his own, the Andy Santandre 356, the Gill Dollar Sign wrenched by Henry Strada, and the Daubert brothers 46. All three of these would be campaigned at some point, by Ray Brown at Middletown. He raced there from 1951 until 1959. He compiled 43 feature wins, track championships in 1952, 1953, and 1957 – and he still sits in sixth place in all – time wins despite not having raced there for sixty years.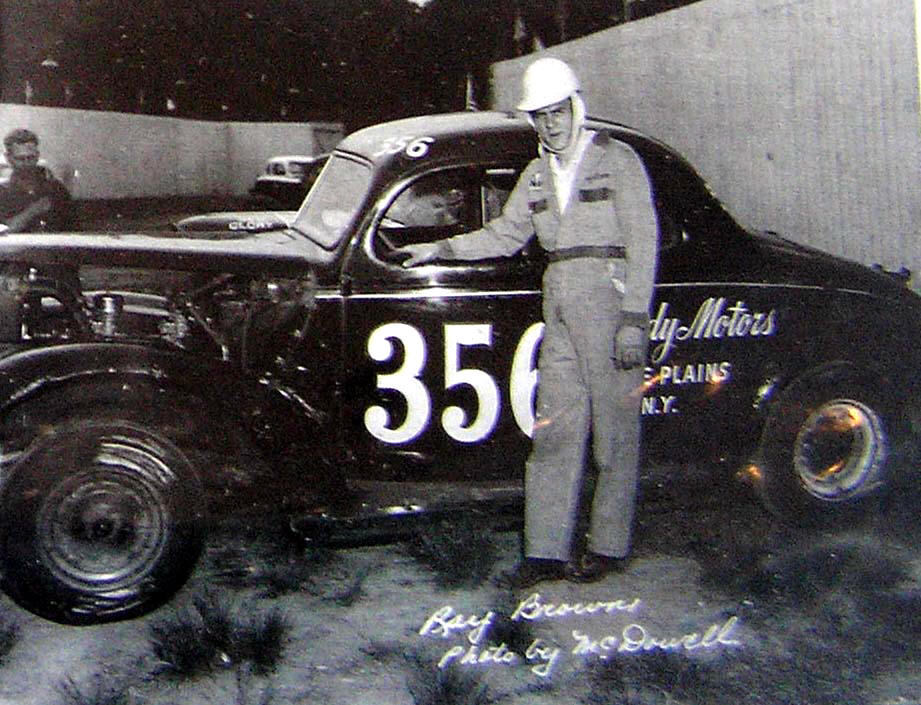 Bob McDowell Photo Courtesy of Dan Ody
Ol' Zero with the Ray Santandre car, with which he had the
most success at Middletown. Below – The Henry Strada
Dollar Sign.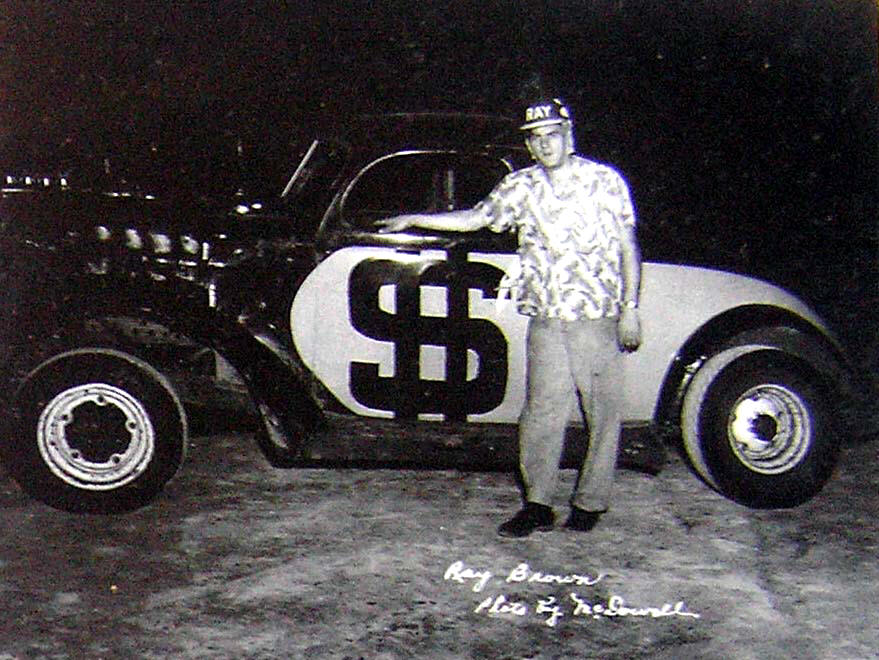 Bob McDowell Photo Courtesy of Dan Ody


This is no small accomplishment given the endless list of all – star modified stock car racers who have run there either frequently or on a regular basis. Starting way back, you range from the likes of Frankie Schneider, to Will Cagle, to Bob Malzahn, to Buzzie Reutimann. to Sonny Strupp, Bobby Bottcher, on to all of the more recent stars like Brett Hearn, Jimmy Horton, Chuck McKee, and zillions more. Perhaps, the level of competition is one reason Ray's number of wins is hanging in there, but he is clearly recognized as one of the grand old track's true dominators.
In those earliest days, toting along the son of his late friend, Ray Brown raced seemingly everywhere. He even was given one of the most prestigious rides in the neighborhood of his namesake, the New England Ray Brown. Ray Zero Brown spent some time in the Gordon Ross 19. It was likely then that he and the other Ray might have rubbed a few fenders as Ross cars frequented Riverside Park Speedway at a time the the other Ray was running those car #207's.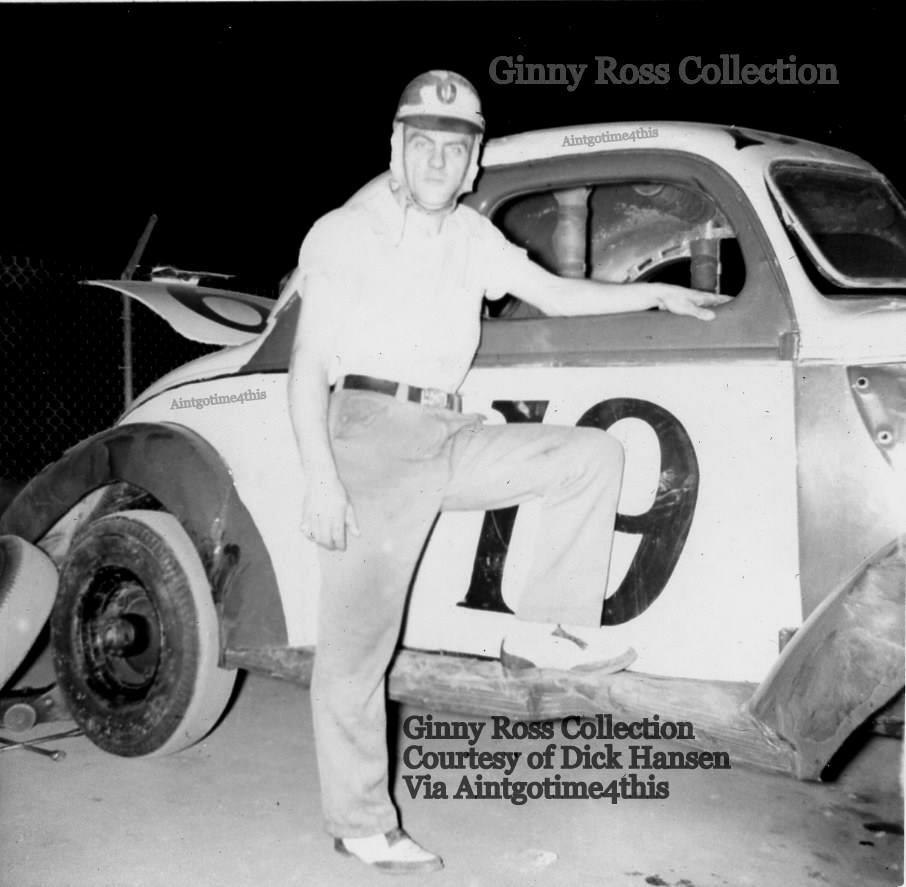 Ginny Ross Collection via Dick Hansen and Chas Hertica
Ray Zero Brown with the prestigious Gordon Ross 19. Below -
Just like Springfield Ray before him, Ray Zero won a race
at a Vermont fair. This one was 1960, and at the
Champlain Valley Exposition.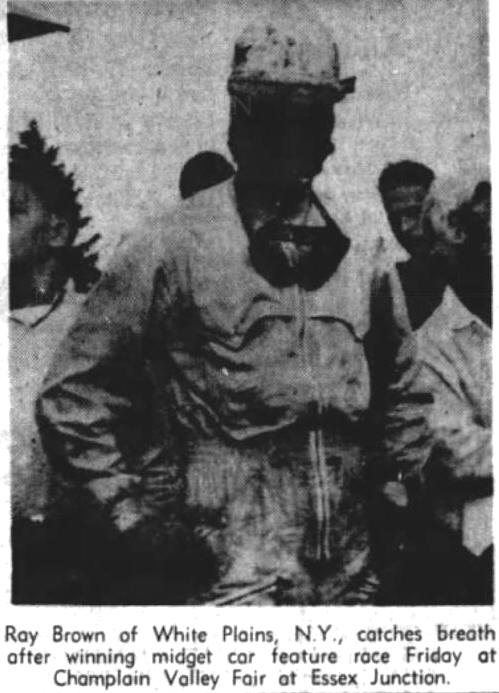 Burlington Free Press


One of the strangest venues he ever tried was the massive Kingsbridge Armory in the Bronx, New York City. Kind of an early prototype of today's big all – purpose arenas, the armory was large enough for adequate bike racing and perhaps some midgets. The latter is probably where Brown got the idea to go to a race with his own car 0 in 1949.
Kingsbridge Armory racing events were inexplicably well attended, given that inadequate ventilation caused fumes to build up to a point where most of the spectators bent over puking by the time the race was over. Ray would run his own 0 all over the place while using the 356, 46 and $ more at Middletown. He would eventually get the urge to go midget racing – still a very huge thing in the United States at that time.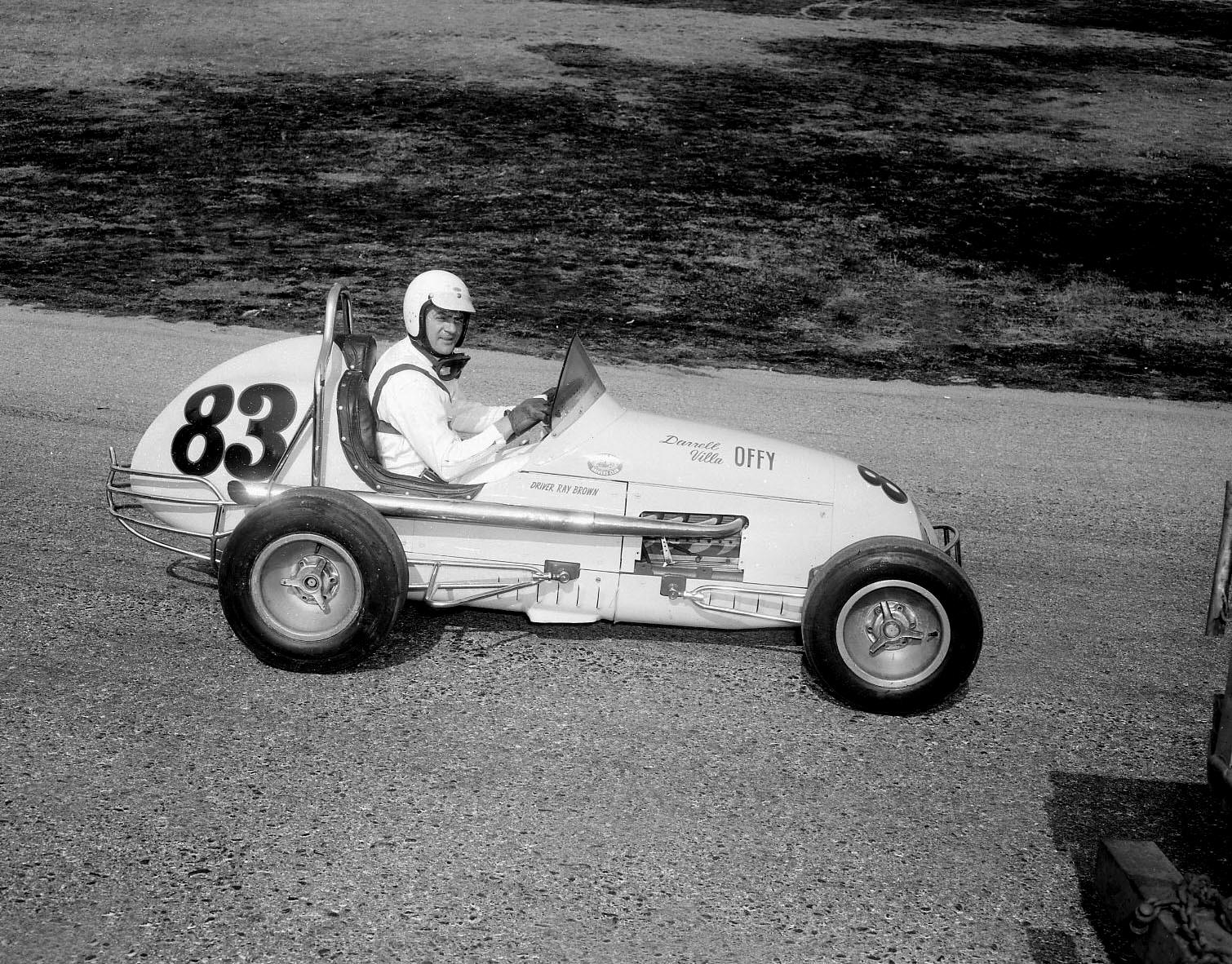 Courtesy of Robert Marlowe
Zero Brown, in the Darrell Villa Offy at Danbury Racearena in 1962.
Below – Springfield Ray, at RIverside, with drivers that Ray Zero
may well have also competed with.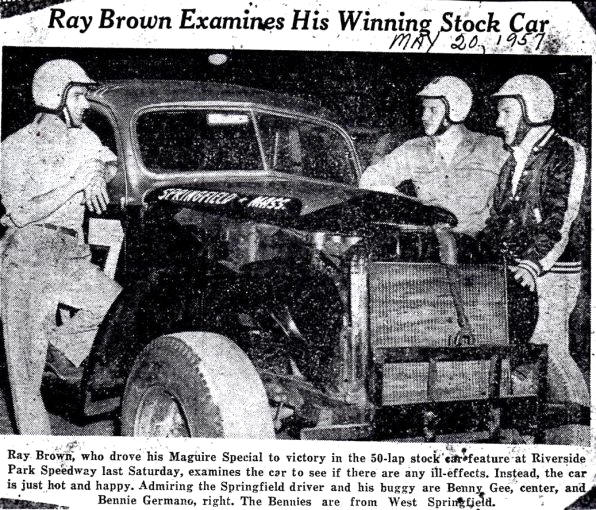 Courtesy of Flemke.com

It wasn't like Ray had been running against second rate drivers in his stock cars. At places like Empire Raceway, Menands, NY and at Rhinebeck Speedway at the Dutchess County fairgrounds in Rhinebeck, NY he was competing against the likes of Ted Tappett [who would go on to race at Le Mans], against the professional W.O. Taylor team of Al Keller and Tommy Coates out of Paterson, NJ; against Wally Dallenbach, Sr, Jim Reed of Peekskill, NY who would go on to be NASCAR's Short Track Divison champion, and all of those hall of famers – to – be from New England like Krebs, Bergin, and others who would come over to Empire from the Riverside park area.
Marlowe writes of an example that best shows the kind of stock car driver Ray Brown was. He had won the Langhorne Qualifier at Middletown in one of the earlier years [1958] of that track's featuring local stock cars. The dreaded tack had the nickname "Puke Hollow" because it was so dangerous and so hard to master. Ray Zero Brown had never seen the place before, let alone run any laps on it.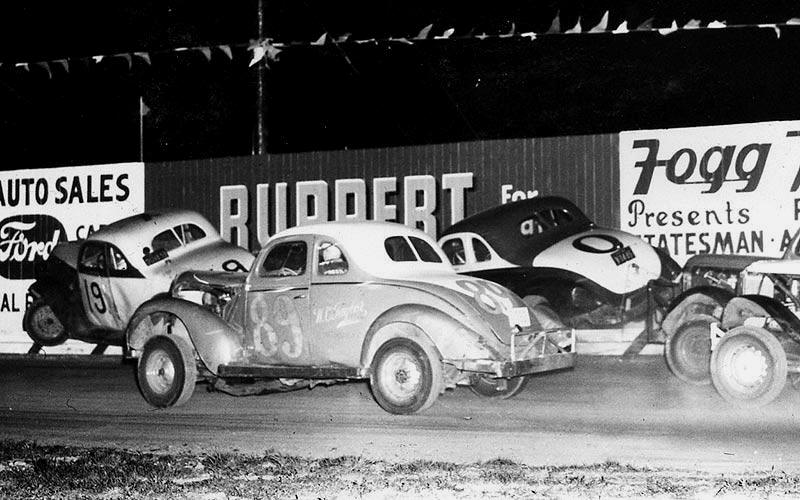 Bob McDowell Photo via Ginny Ross Collection
This shots shows Brown in his Zero having the same
problem as Bob Tator [another sometimes midget
driver] in the Gordon Ross 19. Al Keller [89] completes
this shot from Empire Raceway or maybe Rhinebeck. Below –
Zero at Langhorne with the Santandre entry.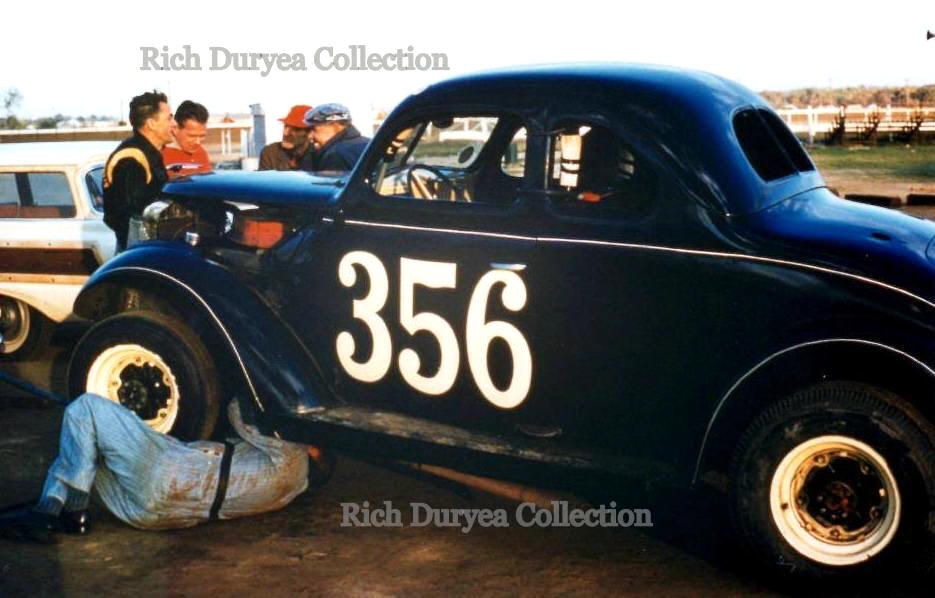 Rich Duryea Collection via Chas Hertica
He went to Langhorne that year and promptly set the fast qualifying time; he was said to love long tracks. Marlow goes on to state that Brown didn't waver from the qualifying time and was leading the race consistently when a fan belt failed on the car. Despite this, he still finished sixth in that most prestigious of stock car races. The eventual winner was Jim Delaney that year. The Brown performance had to have turned many heads; but he had only a season left in the stock cars by then.
Although it is not for open wheel racing that Ray Zero Brown is going into a modified hall of fame, what he did in that part of the racing game speaks volumes of what kind of great driver he was. In 2016, wrote :" Scarce photos I have found show Brown in the American Race Drivers Club [ARDC] primarily, and also in the Northeast Midget Association. The ARDC was a tough place to win, running against the likes of ARDC President Dutch Schaeffer, Len Duncan, Tony Bonadies, King Carpenter, Bob Harkey, Tiny Romit, and Jiggs Peters. Carpenter, like Brown, had spent some time running stock cars. He actually took a turn in Bud Messier's 50 at Thunder Road in the early 1960's. Brown's tenure in the ARDC was described as very successful while never quite managing to win a championship."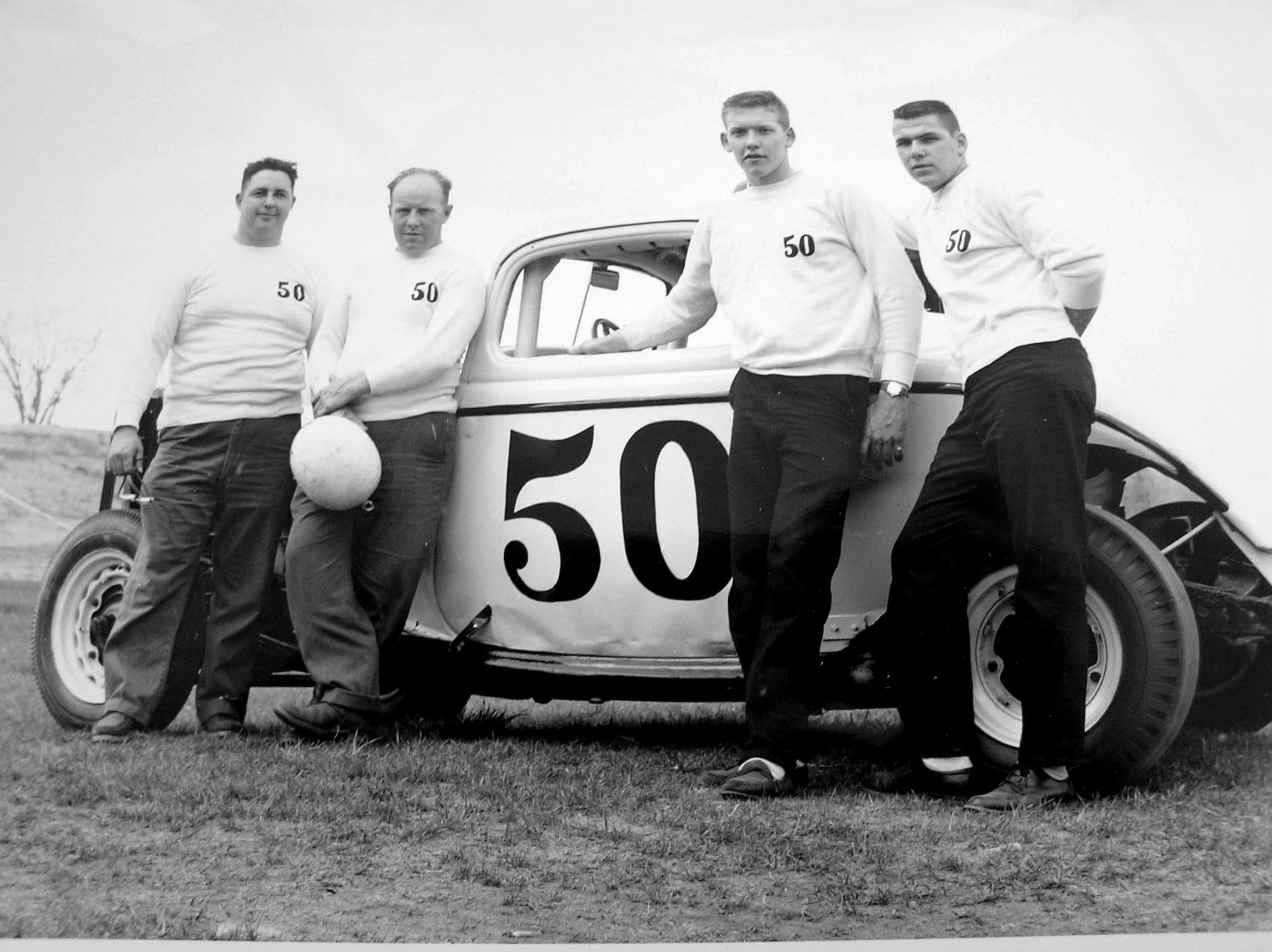 Courtesy of Cho Lee
The Bud Messier 50 – shown here with NH star Mike Cody
as driver – not only was driven by Ray Brown but also fellow
midgeteer King Carpenter. It also featured such other
luminaries as Jean – Paul Cabana and Larry Granger.
Below – Ray Zero Brown was not averse to wheeling
a sprint car, either.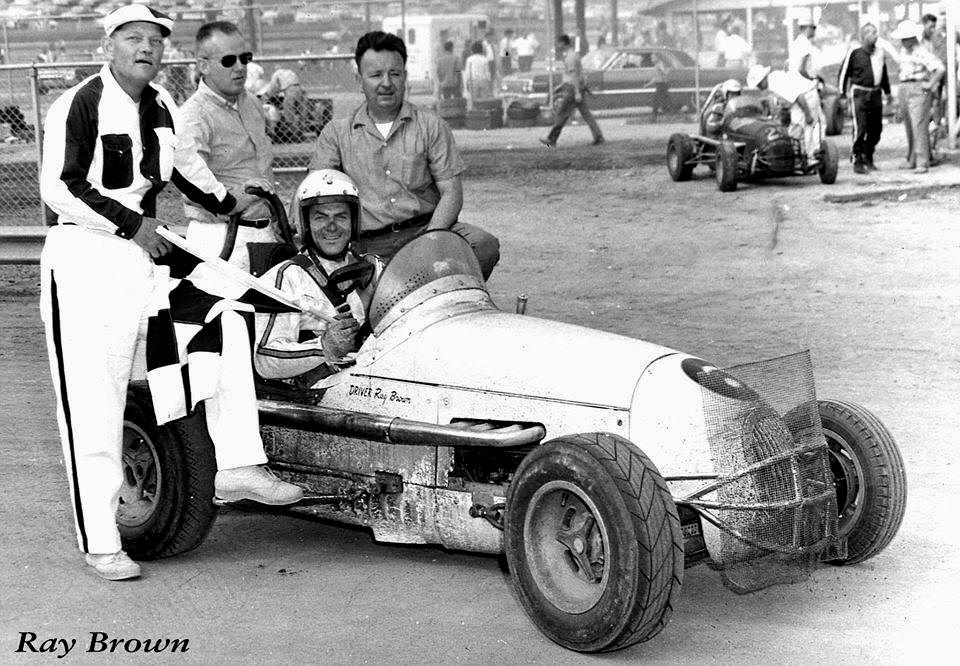 Courtesy of Chas Hertica
The Darrell Villa 83 and an Offenhauser – powered car 98 were two of the cars Brown competed in during his open wheel time. By his first midget season, he had won at least two features in the American Race Drivers' Association, one of the toughest circuits in that type of racing. He would rack up twenty – seven feature wins in midgets. I am pleased to say his second feature win that first season was at the Champlain Valley Expostion in Essex Junction, VT, my local fairgrounds.
One great story involves midgets and his beloved Middletown. Car owner Ken Brenn relates how the only time his cars beat Brown was with Jimmy Carruthers, Brown's familiarity with Middletown made him nearly unbeatable; Carruthers had to risk life and limb in a daring lap – second pass to achieve the win. An accident later on a motorcycle would result in some serious leg injuries that contributed to Zero's retirement.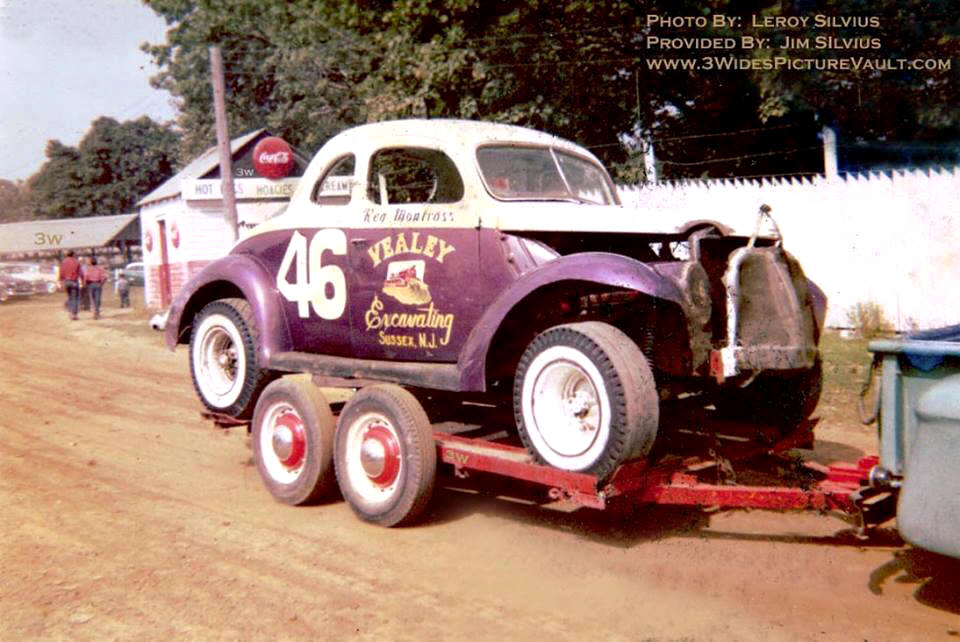 Leroy Silvius Photo from Jim Silvius via 3 Wide and Chas Hertica
The Daubert brothers' 46 was a great ride for Zero at Middletown.
I have once received an email from Ray Brown, Jr. thanking me for the other blog and for the page on my website that features the two Ray Browns. Brown, Jr. had the following comments in Marlow's article:" "What is remarkable about my dad's accomplishments is that he did what he did in a very short time span, compared to the drivers listed ahead of him in all-time wins," Brown Jr. observed. "If he had five decades or more of racing like many other well-known drivers, I am sure he would have been at the very top."
I agree with all of it and I am proud that I am in the same hall of fame as Ray, one of my heroes. For those who don't know, the Northeast Dirt Modified Hall of Fame used to be called the DIRT Hall of Fame. My only regret is that, to the best of my knowledge, I never saw Ray Zero Brown race.
Please email me at wladabou@comcast.net if you have any photos to lend me or information and corrections I could benefit from. Please do not submit anything you are not willing to allow me to use on my website - and thanks. For those who still don't like computers - my regular address is: Bill Ladabouche, 23 York Street, Swanton, Vermont 05488.
AS ALWAYS, DON'T FORGET TO CHECK OUT THE REST OF MY WEBSITE:
www.catamountstadium.com
Return to the Main Page
Return to the Main News Page
Return to the All Links Page
Return to the Weekly Blog Links Page