BILL'S [Somewhat] WEEKLY COLUMN/BLOG PAGE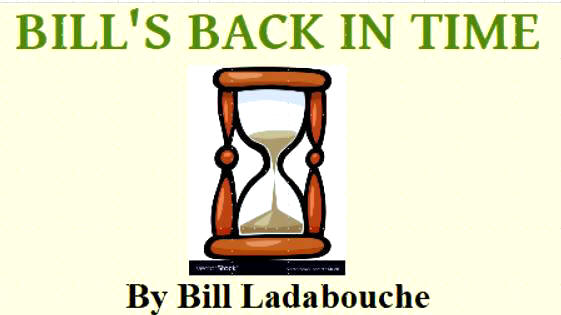 IF DRIVING WASN'T BAD ENOUGH


Especially when considering the old days of stock car racing, there wasn't much that could turn a mother or wife's blood chilly cold more than hearing that their man in question was headed out to race cars. Even today, with greatly enhanced safety measures in place, it is more than most women can stand. I particularly recall one such woman, who had actually been a fifth grader in my earlier days teaching in Milton, Vermont, who was nothing but a nervous wreck when any of her three racing sons was in action – in a relatively calm division.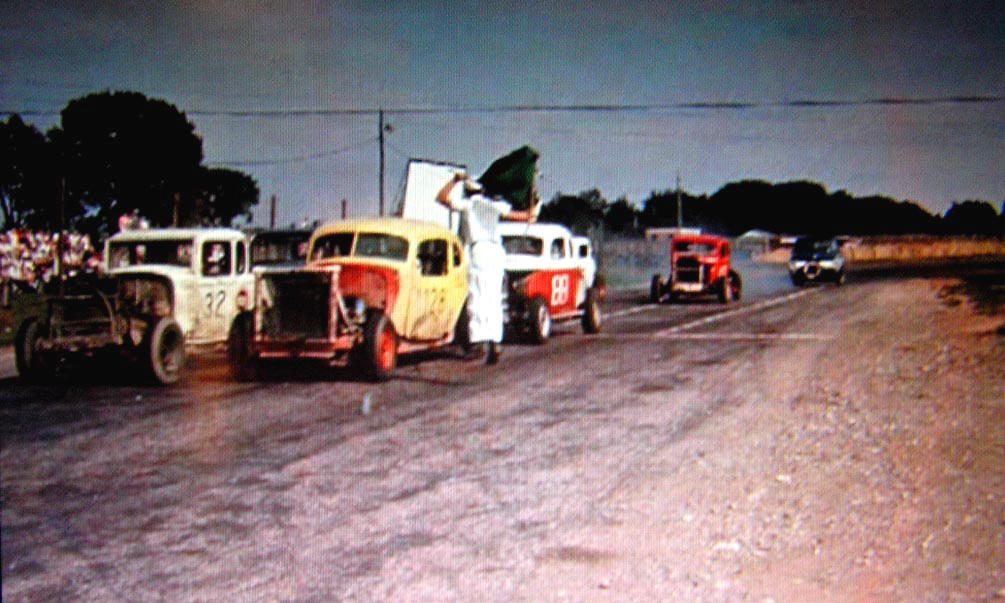 Bob Mackey Photo Courtesy of Mike Watts, Sr.
The flagger [possibly Bucky Barlow] starts 'em right on the track at
Colcheste – Bayview Speedway in Colchester, VT in 1959. Not
much space for error here by oncoming cars.
So consider how the fairer sex must have taken it when their beloved was going to go out in an early, often – poorly – braced stock car [or, worse yet, an uncaged roadster or open wheel car]. Given that, it must have been even worse when the man wanted to stand out with two lines of snarling stock cars, often stand nearly in front of them, and wave little colored flags at them. Hell, in those days, anyone could drive and a fair share of them weren't exactly cold sober.
Flagging goes back as far as the history of the sport of racing itself. Probably due to the lack of anything more technological at the time, well – dressed men would stand by the track in the earliest events and frantically wave flags, hoping the exhausted men in the severely vibrating "racing cars" could see what the hell he was trying to convey. The colors of the flaggers set were developed quickly out of necessity.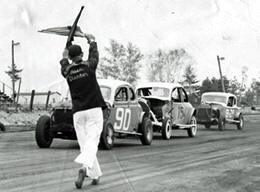 MVRCA Photo
Maine flagger Lefty Ellis stands right beside the track as speeding cars go by and signals halfway. Below- The starter at the inaugural program of
Pico Raceway in Rutland stands inches from a starting heat, with drivers he doesn't know.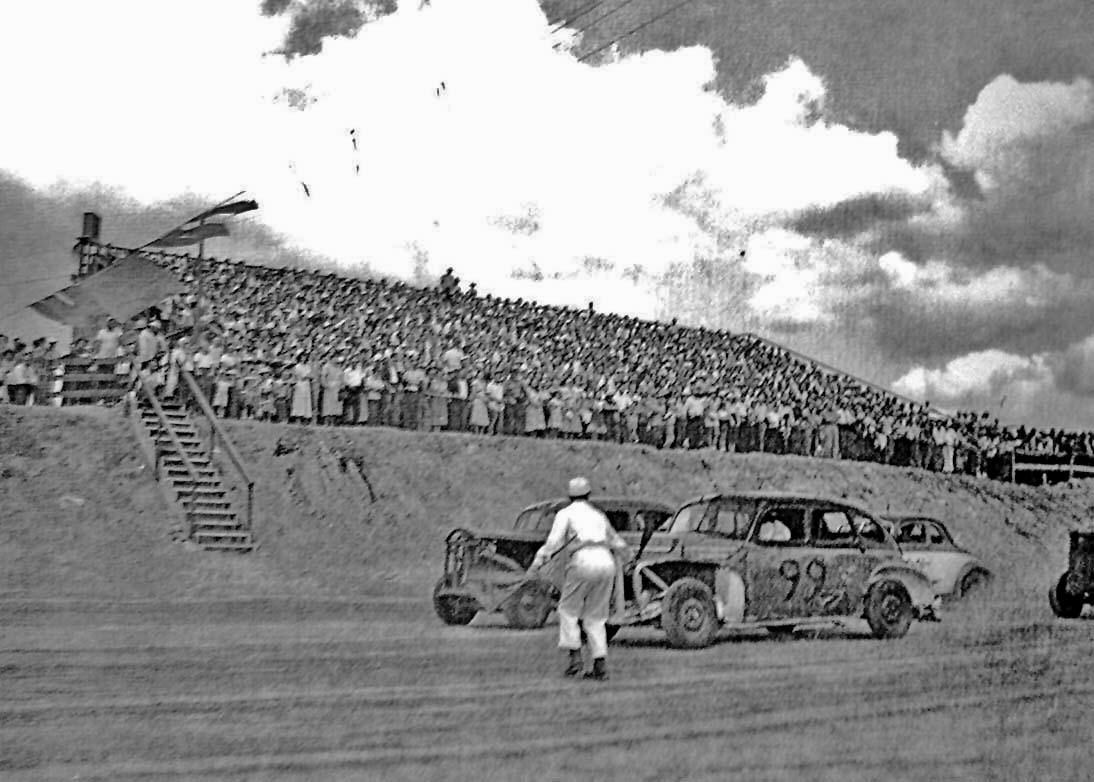 Aldo Merusi Rutland Herald Photo
This particular writing seeks to look at men who started out as drivers and – in most cases – made their names later when they took up up the flags. Now, while flamboyant and popular flaggers like Chet Hames of Saratoga Springs, NY and his protege, Danny Rumpf were examples of excellent flaggers who didn't have driving careers, this particular look is at those who did start behind the wheel first. Up North, flagger Archie Blackadar started there and moved up to Chief Pit Steward at Catamount Stadium.
Our first example is the legendary flag man Tex Enright. Most people know of Tex, with his showmanship and attention – catching outfits, from seeing him in action at any number of New York and New Jersey tracks. Although it is widely debated, Tex is said to have a good percentage of Cherokee blood and he dressed accordingly. Part of the trip to one of his tracks such as the variously – named oval at Middletown, NY in Orange County was to see what Enright would have on that night. I know my one trip to that track, I strained for a long time to catch a glimpse of Tex.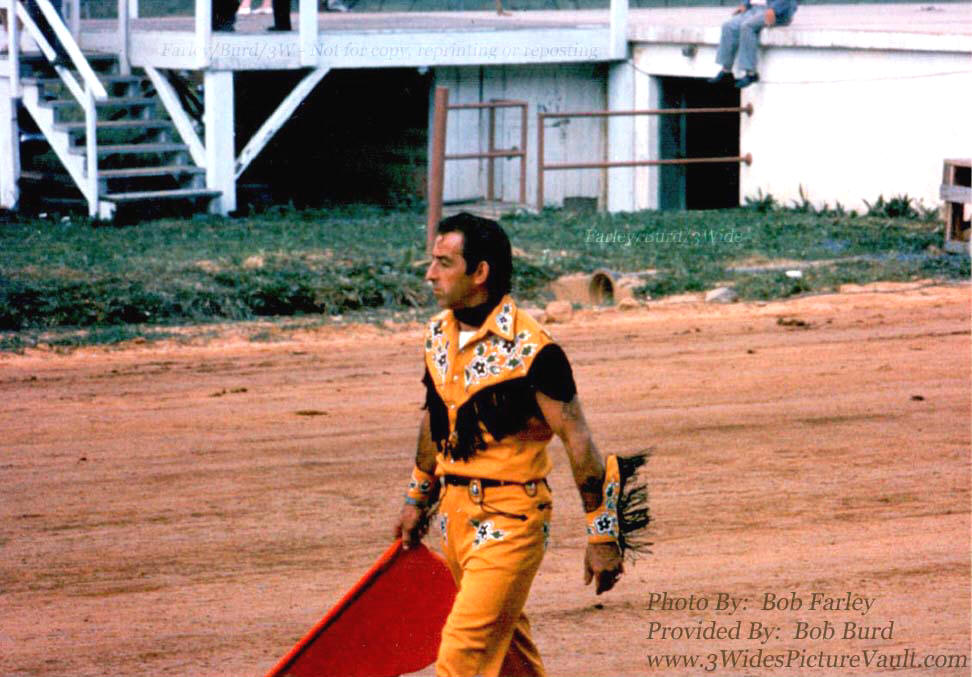 Bob Farley Photo
Colorful and in charge, Tex strides confidently at Nazareth. Below – Tex and a friend pose while apparently working on one of his race cars.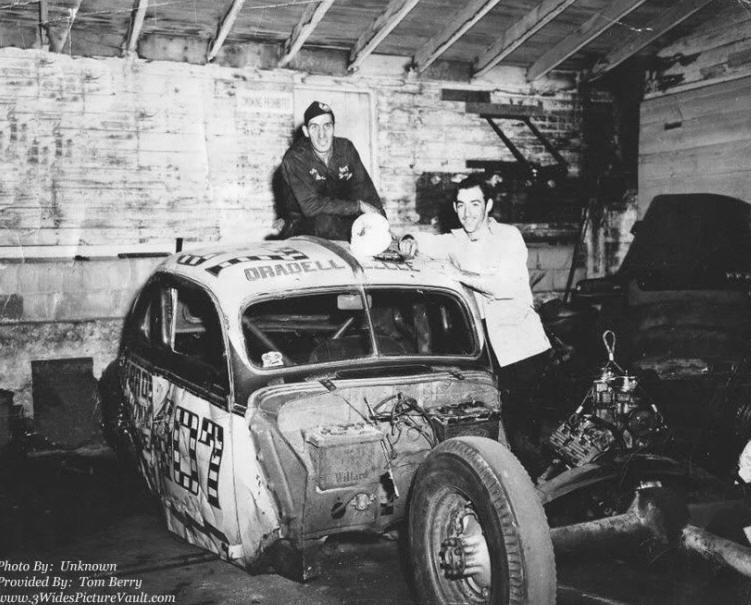 Tom Berry Collection
A nice article on the EMPA site says that Enright, soon after moving to New Jersey from native Texas, had begun racing midgets. According to the article, when the post war midget boom began to calm down and the newly – blooming sport of stock car racing began to take root, he drove a modified a tracks like Middletown. In fact, he won his only stock car race there in 1950 – early in the season – on the fifth mile track they had inside the bigger oval.
A construction worker by trade, Tex actually had more and scarier injuries at work than he did standing right on the track with flying stockers going by. The EMPA article says it beautifully : "His flagging style was also quite different as he disliked the starter's stand and preferred to do his job while standing right on the speedway's front stretch. He also used his colorful signal flags to start, control and end races in a manner that had all the razzle-dazzle of a symphony conductor or a drum major. In his early years as a starter his race-day outfit was usually a sharp and snappy official's white – along with a black and white checkered floppy cap – which helped to make him more visible when he was trackside."

Sophie Hertkorn Photo via 3 Wides Picture Vault
Tex clowns around with what looks like a cardboard outhouse. Below -
Enright trots across Nazareth track as a field of premier modifieds
rumbles by.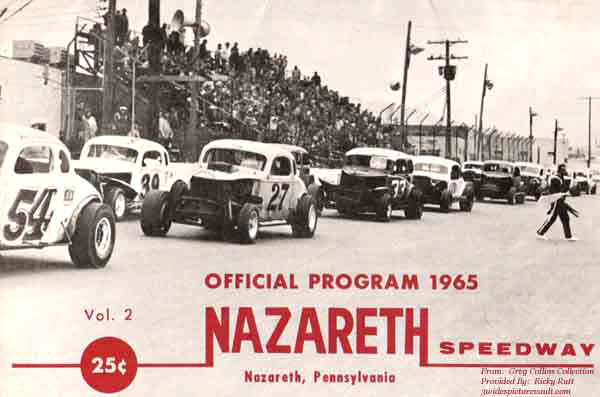 Greg Collins Collection Courtesy of Ricky Ruff via 3 Wide
Tex Enright would flag at a great number of tracks, keeping a sharp eye and a firm hand on such as Will Cagle, Frankie Schneider, Fuzzy Van Horn, Bobby Malzahn, and dozens more of the best modified talent in the Northeast. His career spanned twenty – five years. Besides the high – profile Middletowns and Nazareths, he flagged at earlier and lesser – known places like Hinchcliffe Stadium as well. So devoted was Tex as a flagger at Nazareth that he and his wife actually lived in a trailer on the grounds there for six months.
Tex was actively involved, when Ken Shoemaker wanted to establish a track at Cairo. He actually participated in building the old fair location into a modern modified track. When the town forced the closure of the operation not long after it opened, Tex flagged at a couple of other venues including Accord. He eventually fell victim to cancer and died in 1979 at only 57 years of age. He, as flagger, Ace Lane, Sr. as photographer and numerous drivers from that circuit of New Jersey, Pennsylvania\, and New York became legends in the sport. He well deserves it.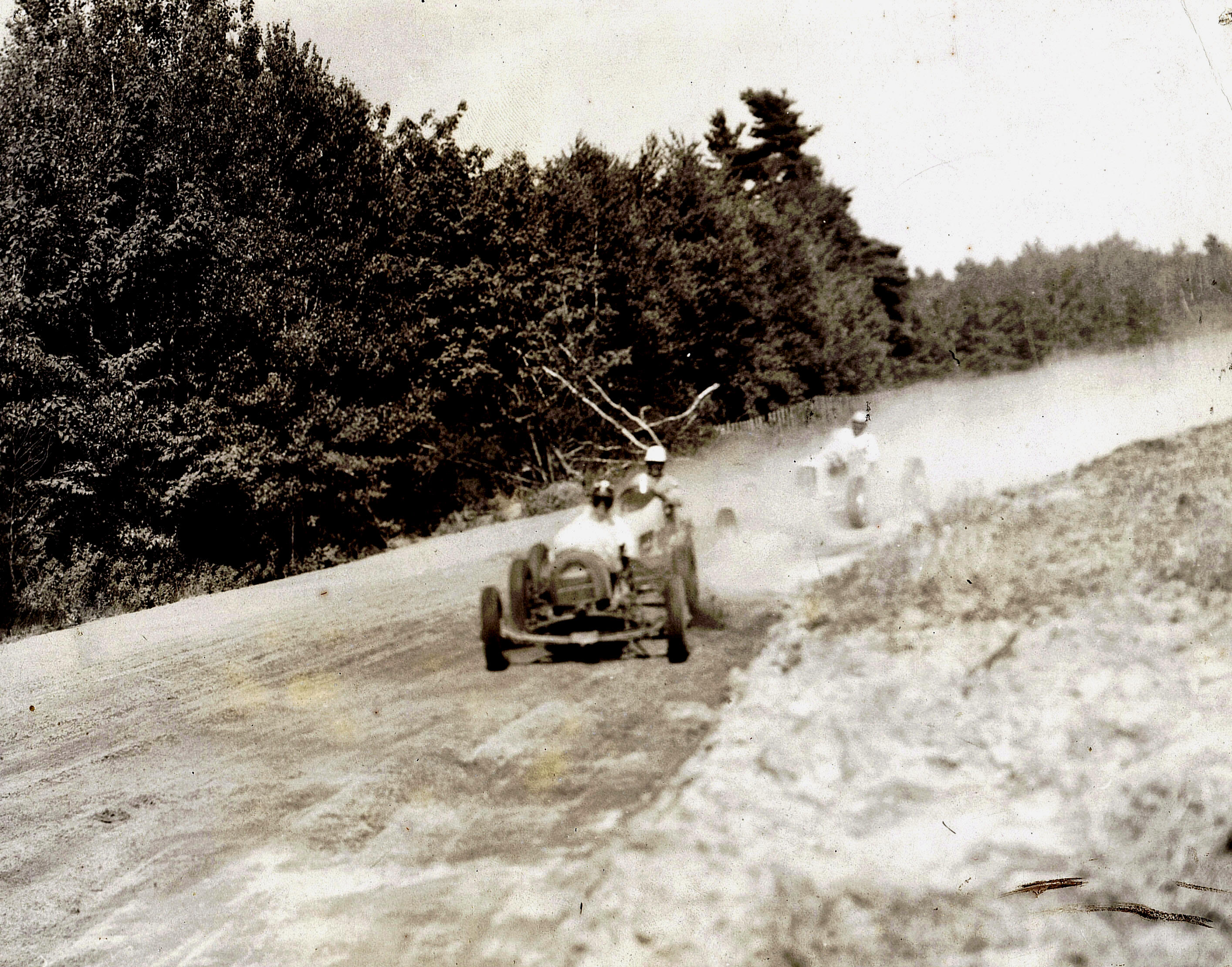 Williamson Photo Peterson Collection
Art Prairie runs his sprint car in second place, just ahead of Jackie
Peterson at the short – lived Green Mountain Speedway in Sheldon, VT.
Below- Art enjoys Victory Lane at Saranac lake Speedway with old
friend and sprint car rival Jackie Peterson.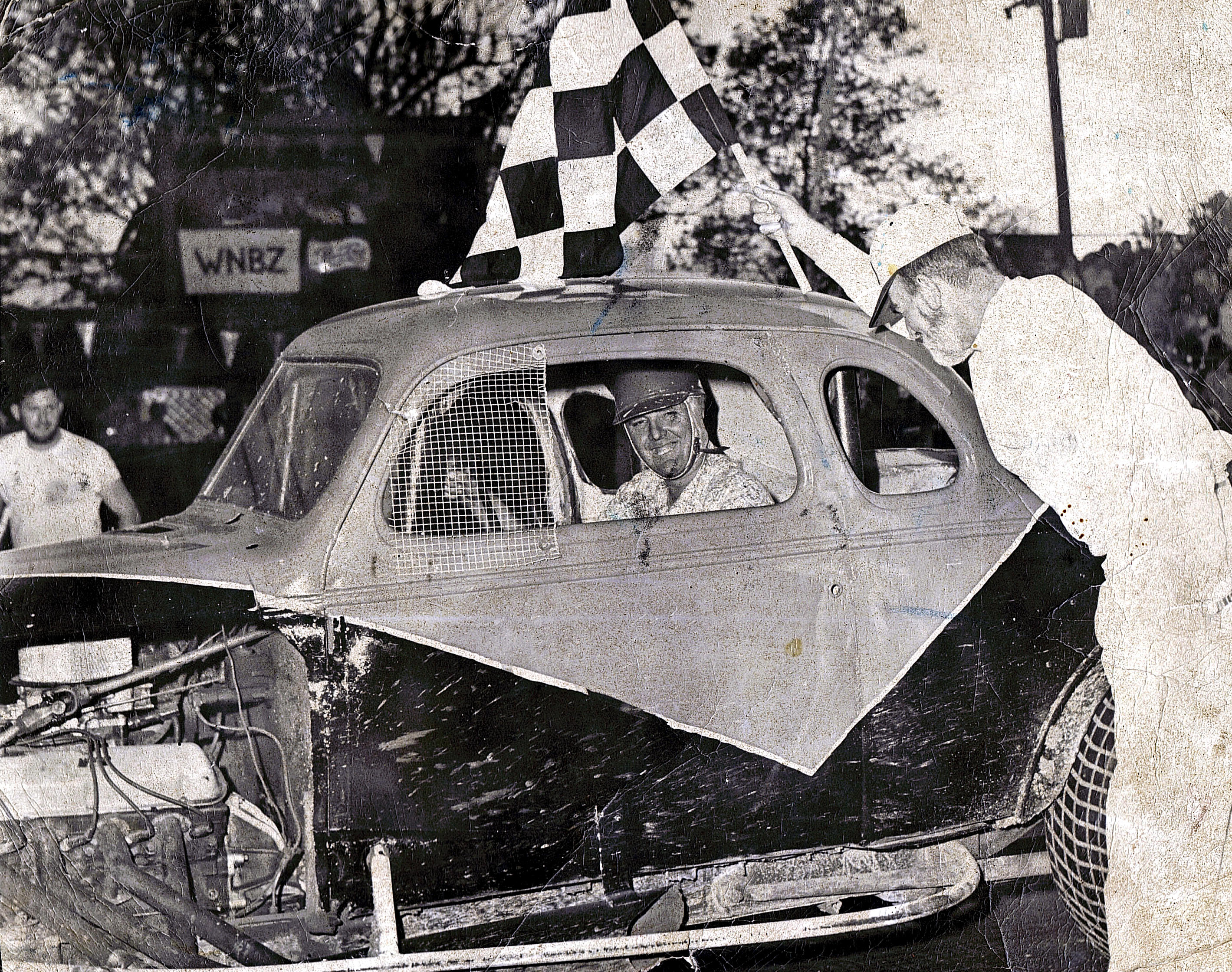 Peterson Collection
A second former driver to grab the colored flags was a lesser – known man named Art Prairie. Operating primarily in northern New York, northern Vermont, and southern Canada, Prairie was racing a class similar to sprint cars in the late 1940's. 90 year – old racing veteran and former Vermont State Champion Jackie Peterson, himself a crazy son of a gun, marvels at some of the Prairie antics during his years as a driver and then as flag man for tracks like Airborne Park Speedway and Saranac Lake Speedway.
Peterson says he ran a sprinter [or maybe a "big car"] against Prairie in venues ranging from the large horse tracks in Quebec like Richelieu Park – to virtually unknown places like the Green Mountain Speedway in Sheldon, Vermont and Ticonderoga's Champlain Speedway in the 1940's. Jackie would regualrly race Prairie, Kenny Gallup of Albany, NY, the racing Soper family of Bouquet Valley, NY, and whomever came along to try their luck.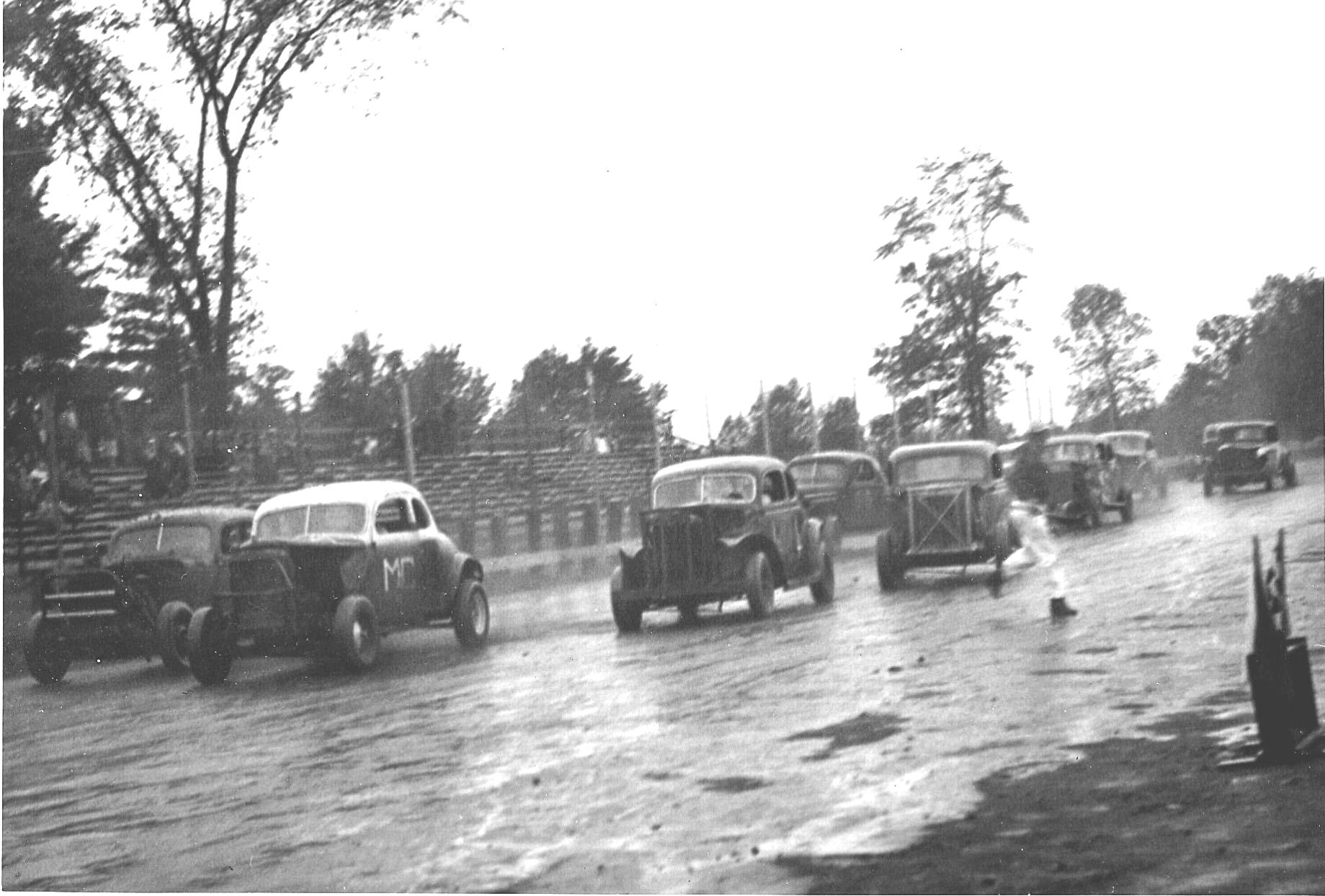 Bob Mackey Photo via John Rock
Art scurries off a very wet track in the early days of Airborne Park Speedway. Below – Art gets a major laugh at a furious Bud Besor after a
race "misunderstanding" of some sort.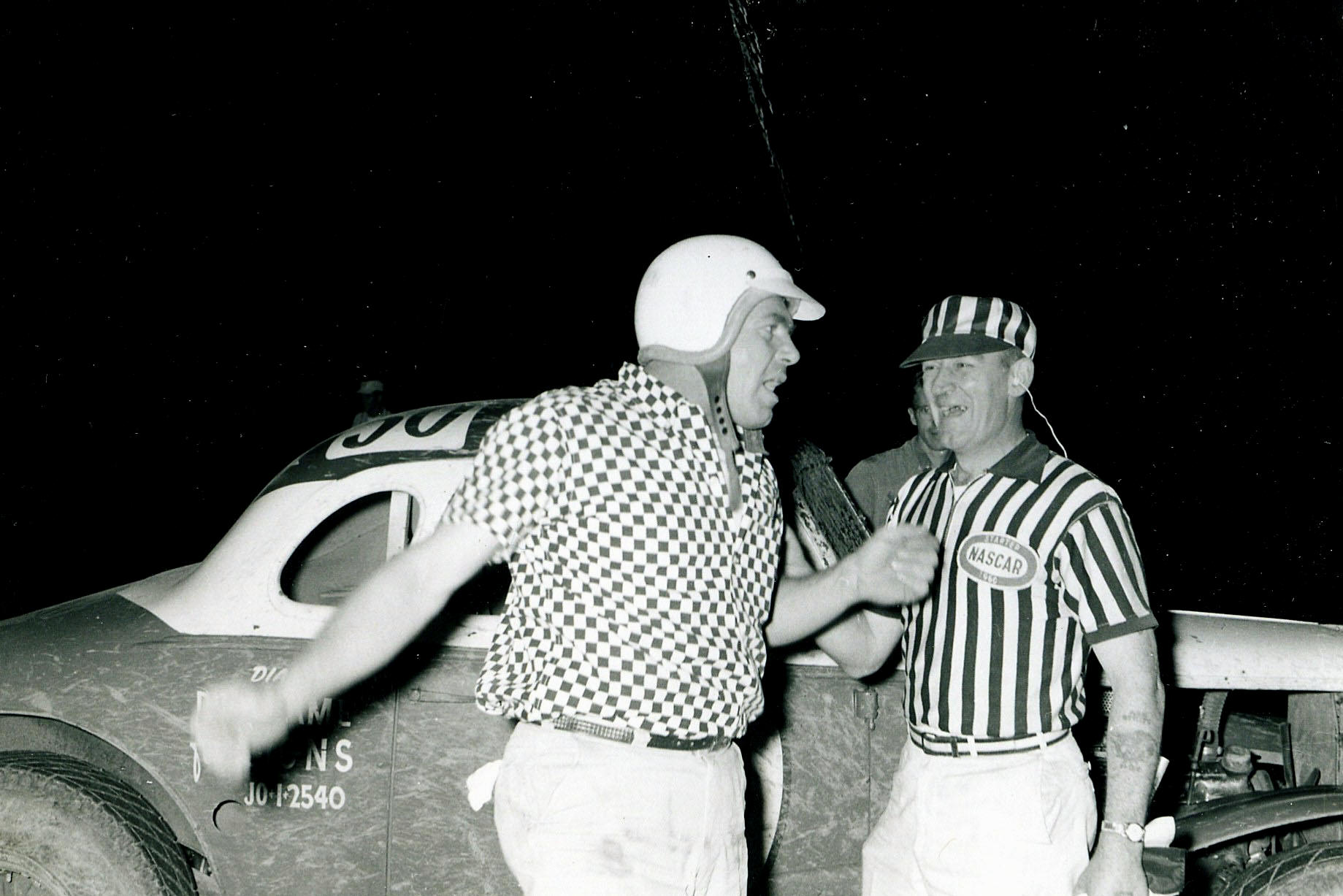 Bob Mackey Photo via John Rock
Peterson particularly recalls two things about Art Prairie whose wife according to some Quebec newspaper articles, also raced sprinters a few times. Firstly, Prairie managed to take down a large portion of fencing at the Richelieu track, causing automobiles to be banned from the track for a period of time. He also likes to talk about Prairie as the flagger at Airborne when it first opened. He told of how Art and the drivers had a game going whereby they would see just how close they could come to him when he was flagging off a race. [Wicked close, apparently].
Art relished his flagging job after the open wheel racing seemed to die out with the long – gone tracks like Champlain, Moffitts Park, Trout Lake, Green Mountain, and more. Photos show him delightfully enjoying a racer's moments in Victory Lane or grinning hugely as some enraged driver exited his car to head for that of another, offending opponent. It was apparently not uncommon in the early 1950's for drivers to double as automotive stunt men if the need arose to do some promotion at a certain track. One article reports that Prairie apparently drove something through a "wall of fire" on at least one occasion.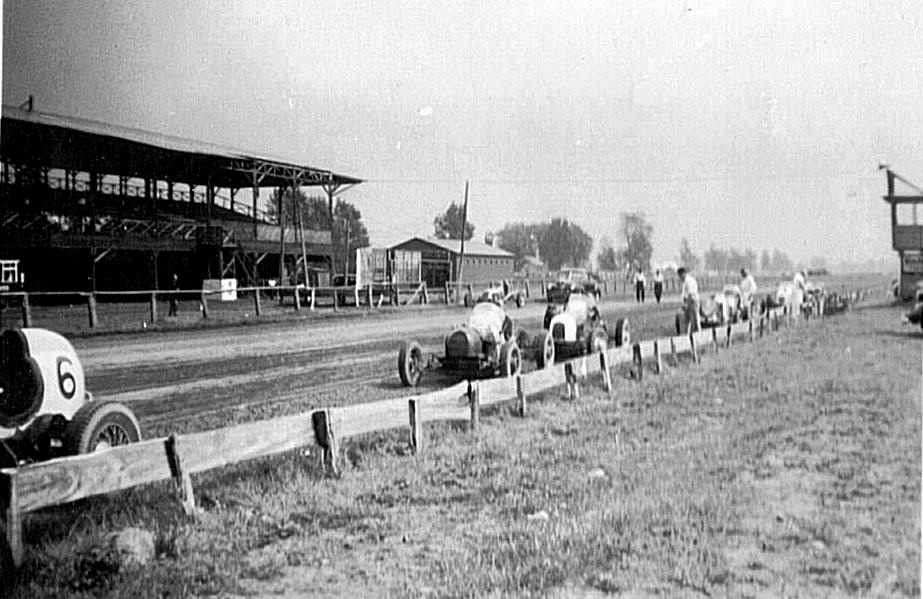 Peterson Collection
Sprint cars line up on the track at Quebec's quaint old horse track,
Richelieu Park. Art is one of these cars and he did some redesigning
of this inadequate old fencing.
Most drivers of that earliest of eras did not survive into the more modern 1960's era. While Prairie fell out and took up the flags, his friend Jackie did go onto race until around 1965, himself being somewhat older than many of the emerging drivers of that decade. Art is now best remembered in Victory Lane shots from Airborne and Saranac Lake.
We go further out west in New York for our next driver – turned flagger. In the earliest days of racing in western New York, there was no shortage of race tracks or talented drivers in that corner where one was close to southern Ontario, Pennsylvania, and even not far from Ohio. Early venues like Lansdowne park in Ottawa, Civic Stadium in Buffalo joined holes in the wall like Seneca Falls, NY and Naples, NY.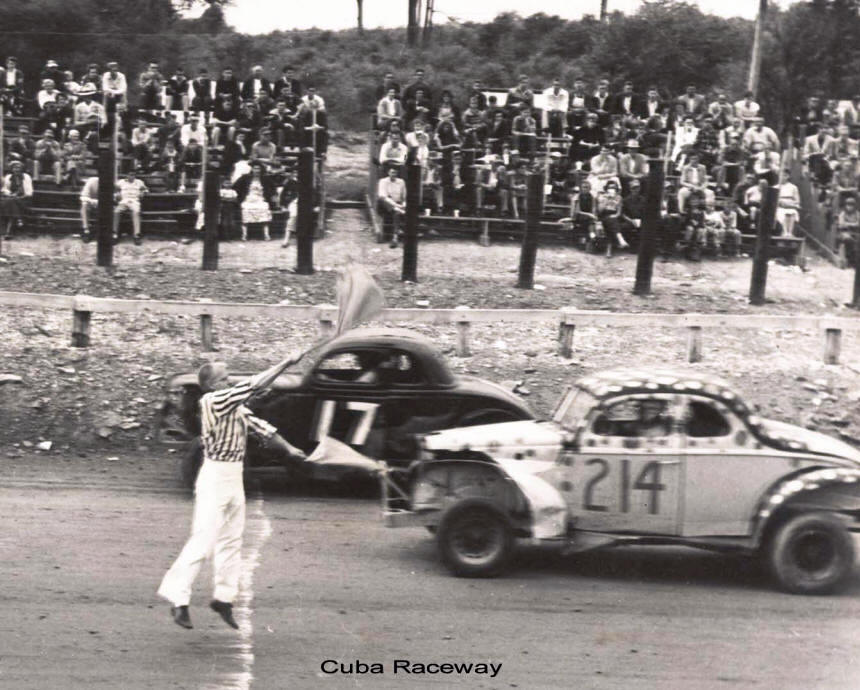 Gorsuch Collection via Dee Wallace
Whitey, this time at Cuba Lake Raceway, starts the race
right on the track surface. Below – That didn't always work
well. Here he is in the ambulance at Olean Speedway after
being hit by a car.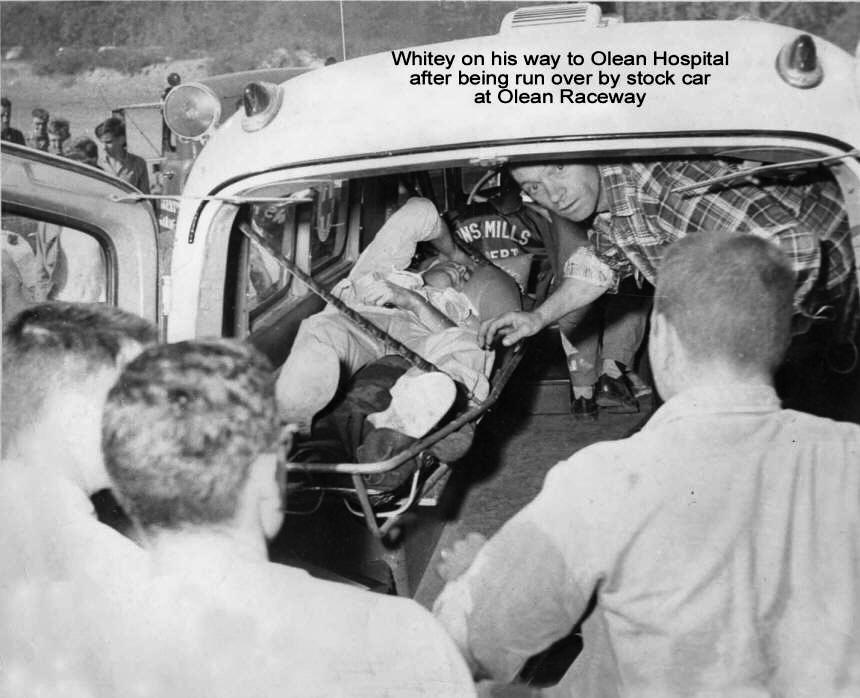 Gorsuch Collection via Dee Wallace
Early tracks saw a few developing stars like the great Ken Meahl and Jack Soper. One man who performed on their level was "The Flying Dutchman", Whitey Gorsuch, originally from Altoona, PA, grew up in the New York town of Wellsville, itself a venue for one of the earliest ovals in the region. Like so many others, there was a tenure in the military; but, when he got out, he was involved in stock car racing fairly soon.
Whitey's daughter likes to tell how her father was very willing to barrel roll his car in front of the bleachers on a weekly basis. This reminds me of one Myron "Rollover Ronnie" Farnsworth, who would do the same thing for a fee of $5 at some of the tracks in Colchester, VT at the beginning of the '50's in Vermont. The car was #13 in both cases. Gorsuch would begin his driving career at places like Wellsville and the track at Naples.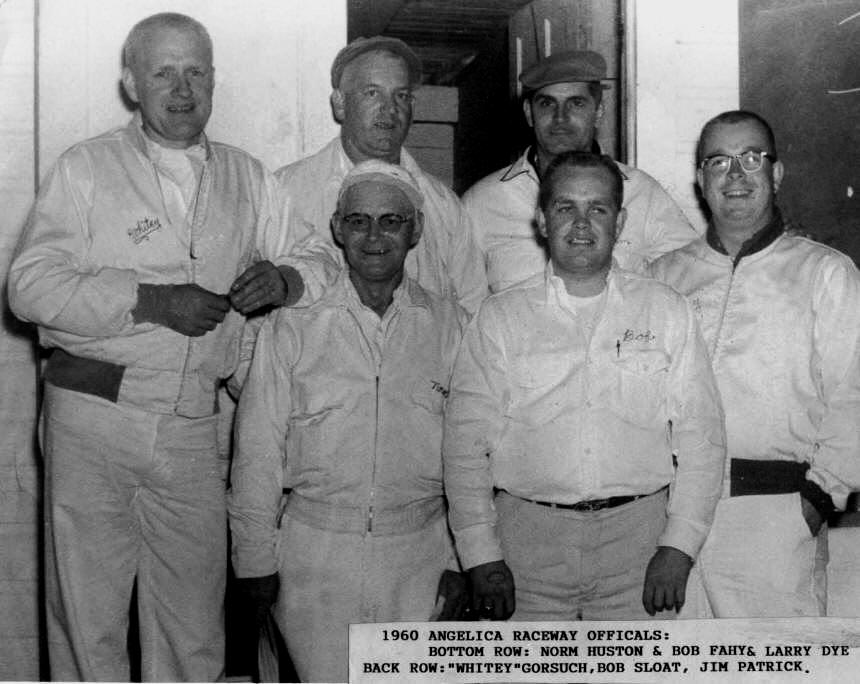 Gorsuch Collection via Dee Wallace
Whitey, with the other officials of Angelica Raceway [yet another track].
Below – Whitey's familiar pose with another race winner in western
New York. This one was Billy Layfield at Hornell Raceway.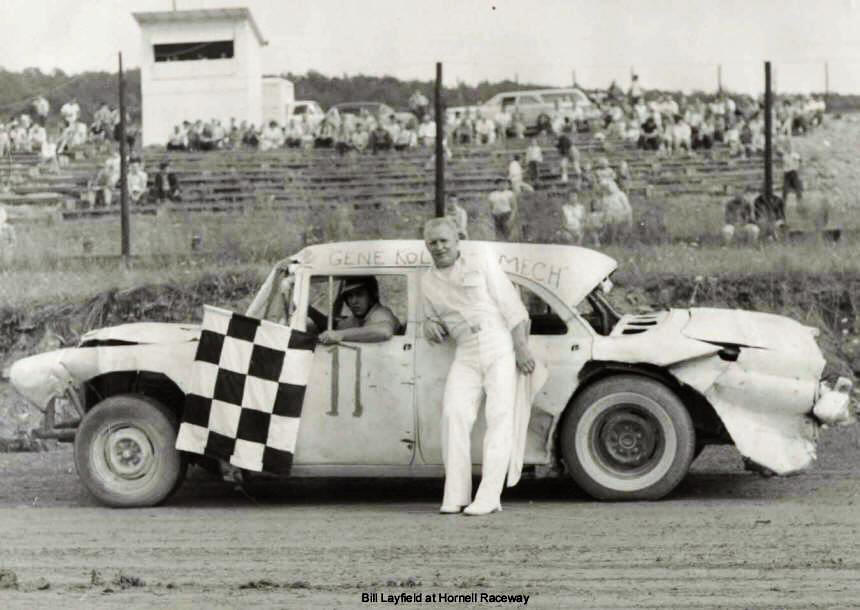 Gorsuch Collection via Dee Wallace
Dan Hall says, in an excellent article about Whitey: " he would like to be a starter. Whitey decided to give it a try and retired from driving. Whitey was the starter at Wellsville, Cuba Lake Raceway, Olean Raceway, Angelica Raceway, Hornell Raceway, Hunt Raceway, Smithport Raceway, Perry Speedway, North Collins Speedway, and Holland Speedway. Whiteys wife, Lila, started working as scorekeeper at Cuba Lake."
Hall points out that Gorsuch, another one who would flag much of the race right on the track, was struck by cars more than once. He once barely ducked down in time to avoid having a barrel – rolling car come down on top of him. A greater danger to on – track flaggers like Gorsuch was the occasional car which would jump out of starting formation too early. Like most other early flaggers who were not confined to a stand and who did not have some race director screaming in their headsets, Whitey Gorsuch was colorful and completely in charge. There was so much racing in those days, he often flagged at more than one track in the same day.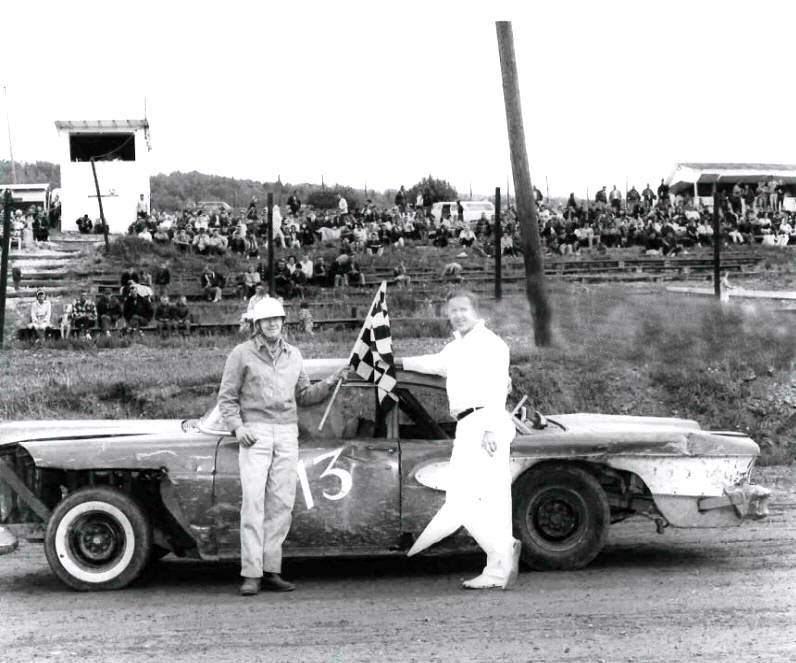 Gorsuch Collection via Dee Wallace
Whitey, in his familiar place with hobby winner Basil Schutt and some sort of gigantic stock car. Notice, there is no starter's stand in the background.
Below- The pleasant duty of awarding powder puff winners Nellie
Geist and Betty Elder at Cuba Lake.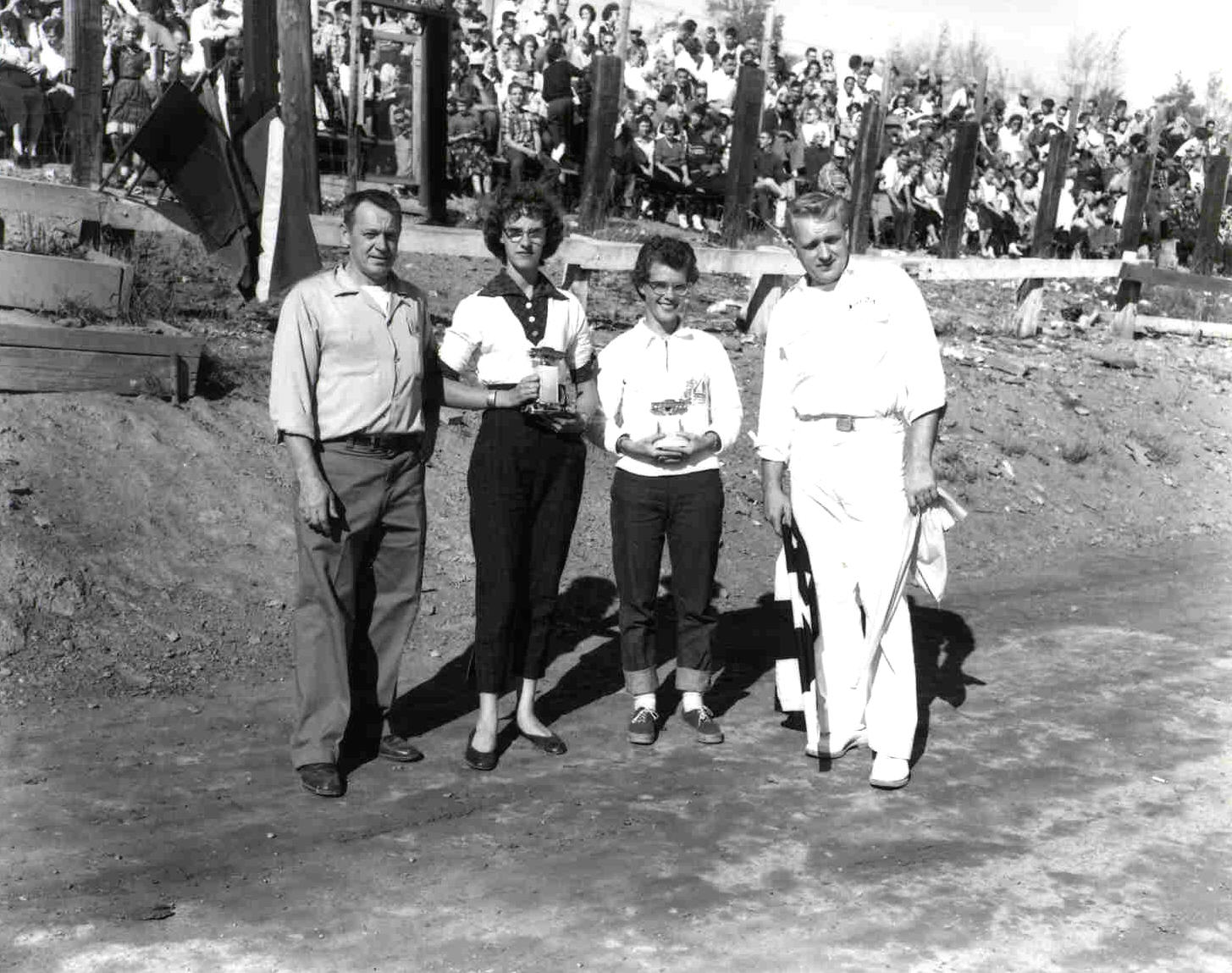 Gorsuch Collection via Dee Wallace
Whitey, later in his life, began to have health issues that no longer made it possible for him to start races. He retired in 1969, and was a fixture at track reunions and a candidate for honors for years after. Perhaps no other flagger, and that includes Tex Enright, flagged at more race tracks than Whitey; and certainly none would do it as many times a week as he did.
Our last man was different in many respects. He was a much more proficient and successful driver than the others in their time, and he did not have a long flagging career. Schenectady, NY's George Welch was a well thought of driver. Captial District car owner [and Pine Bowl official] Jim Brush once used George Welch as his driver. The Brush Radio 27, which appeared at Stateline Speedway, Dutchess County Speedway in Rhinebeck, and the Pine Bowl [to name a few] never had a driver on any regular basis who was not regarded as top shelf.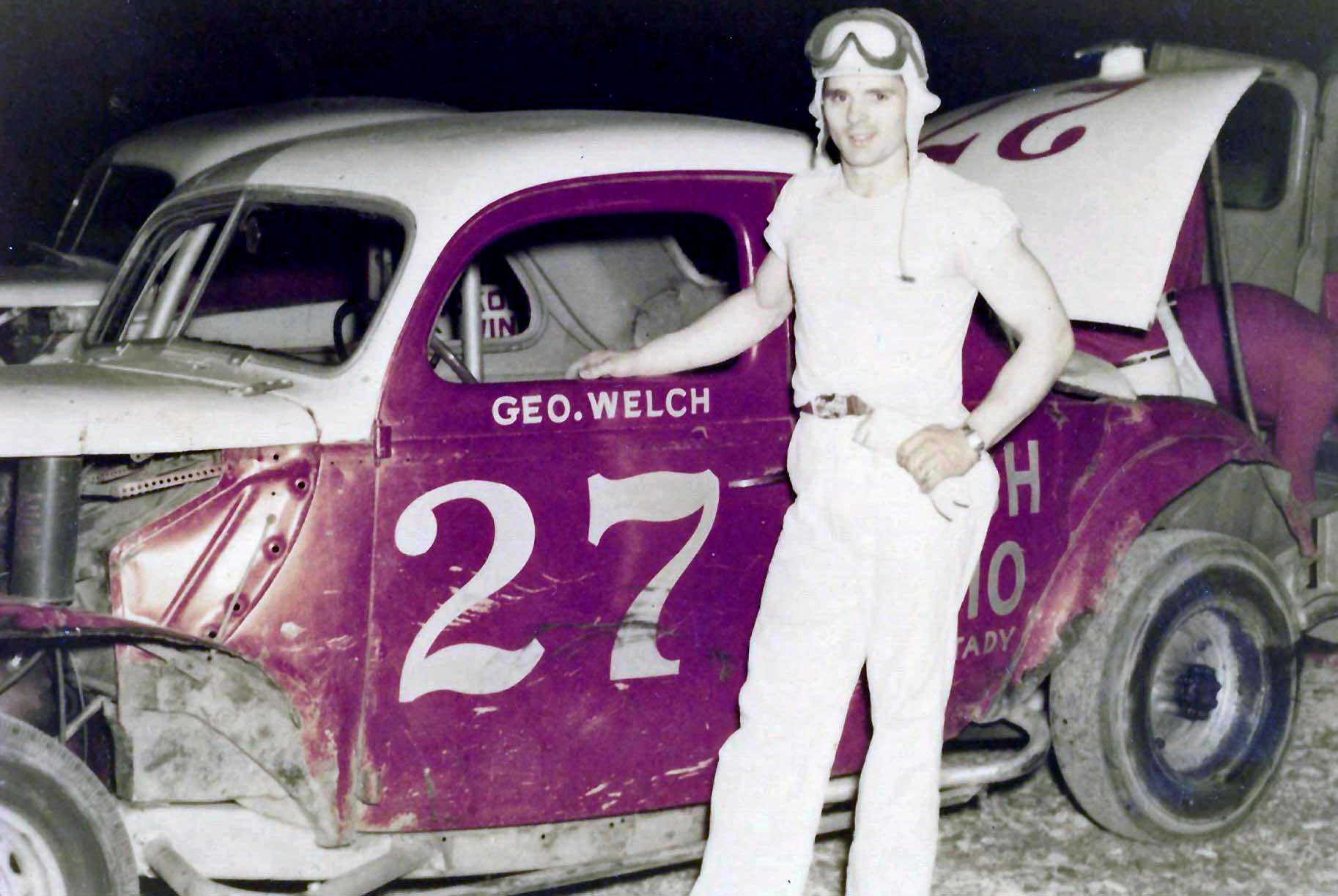 Walter Mateer Photo Courtesy of Donna Kreeber Mateer via Joe Grossetti
A young George Welch with Jim Brush's potent 27 at the
Coxsackie Speedway. Below – Welch, with his own sportsman car
with a heat win at Fonda.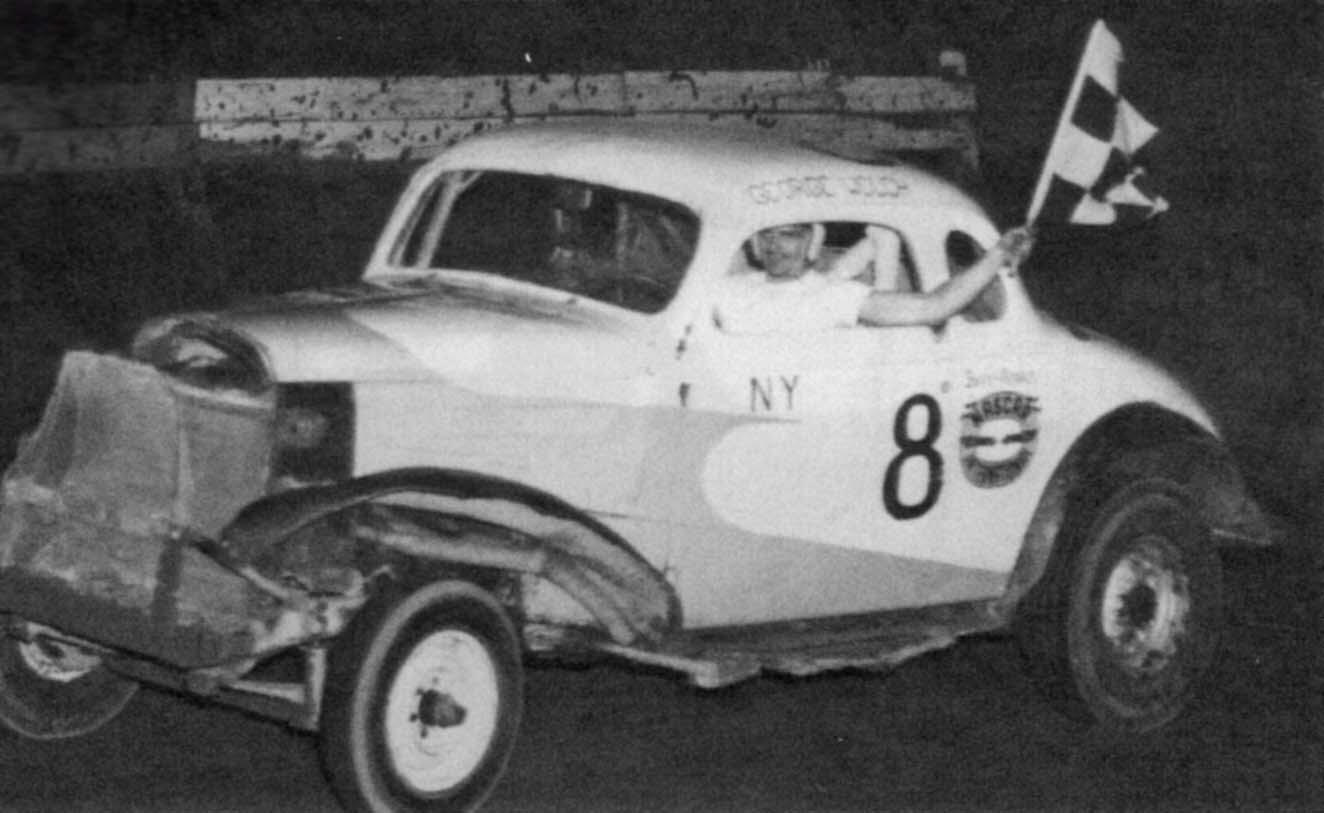 Source Unknown
The young Welch joins Link Pettit and Ollie Palmer as a graduate of that prestigious Brush 27 ride. Eventually George Welch wanted to climb the ladder in racing, and that – to him – meant NASCAR and Fonda Speedway. Welch apparently was a great admirer of resident Fonda superstar Steve Danish. He kept his Chevy coupe well prepared as did Danish, and he referred to it as the Welch Chevrolet, much like the storied "Danish Chevrolet" trademark of Steve. Also, like Danish, the Welch crew had "Welch Chevrolet" T -shirts and always were well appearing.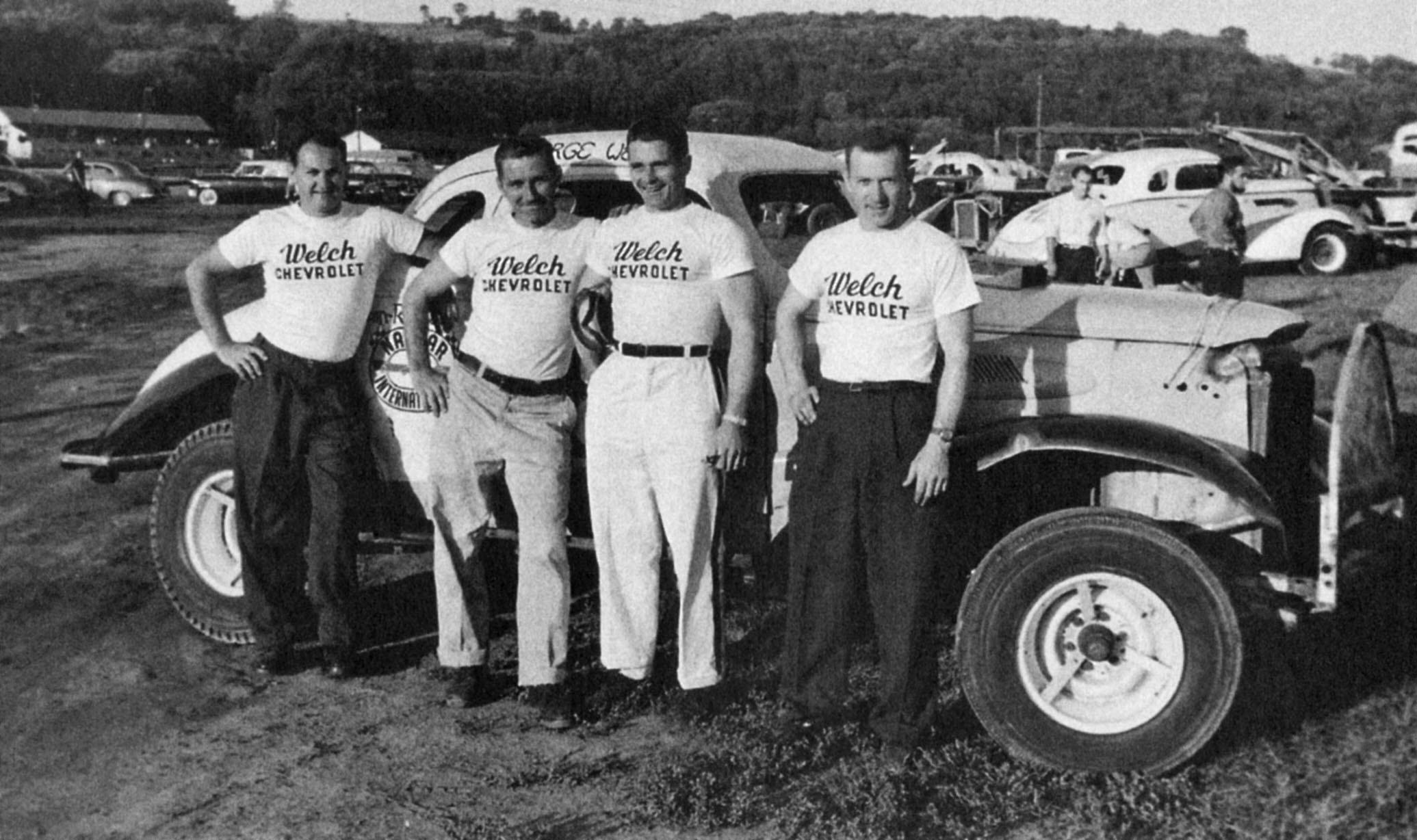 From the Shoemaker Book
The Welch Chevrolet crew, with matching Welch Chevrolet shirts,
ala Steve Danish. Below – George, with his flags, at Empire.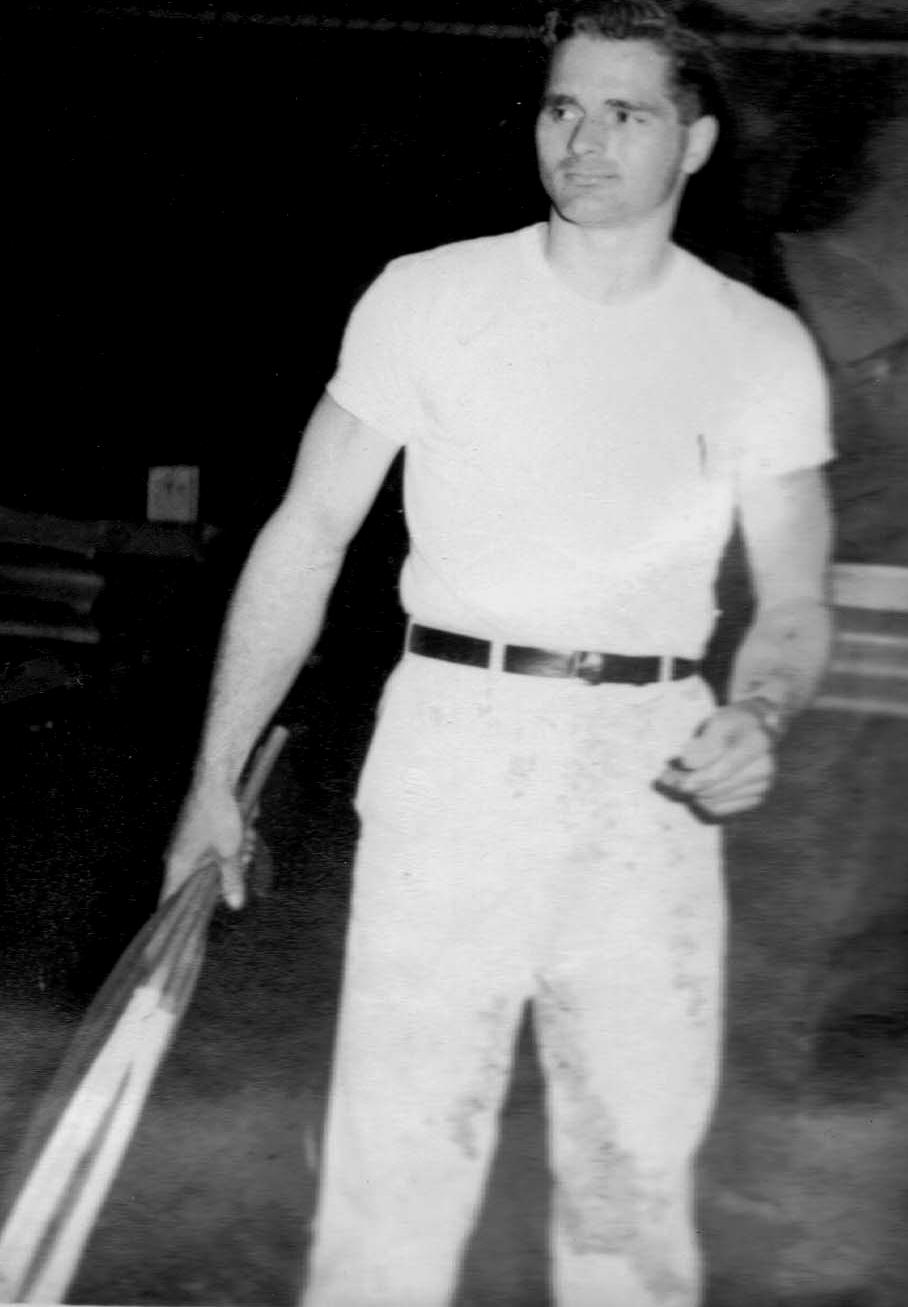 Courtesy of the Starin Family
For whatever reason, George Welch began moonlighting as the flagger at the paved Empire Raceway in Menands. Once the venue of some of the best racing talent in the East, the raceway was on a down turn, which would end with its property being sold off for a Two Guys Department store – in that era when chains like that, Zayres, Ames, and more were invading fom further south. On a race evening some time in the early 1960's, Welch was struck by car driven by Lauren Meigs and subsequently died, leaving a young family fatherless.
The regard with which he was held was evident by a number of George Welch Benefit race programs that were held at places like Fonda. It is clear that Welch had a great future career ahead of him – just not in flagging.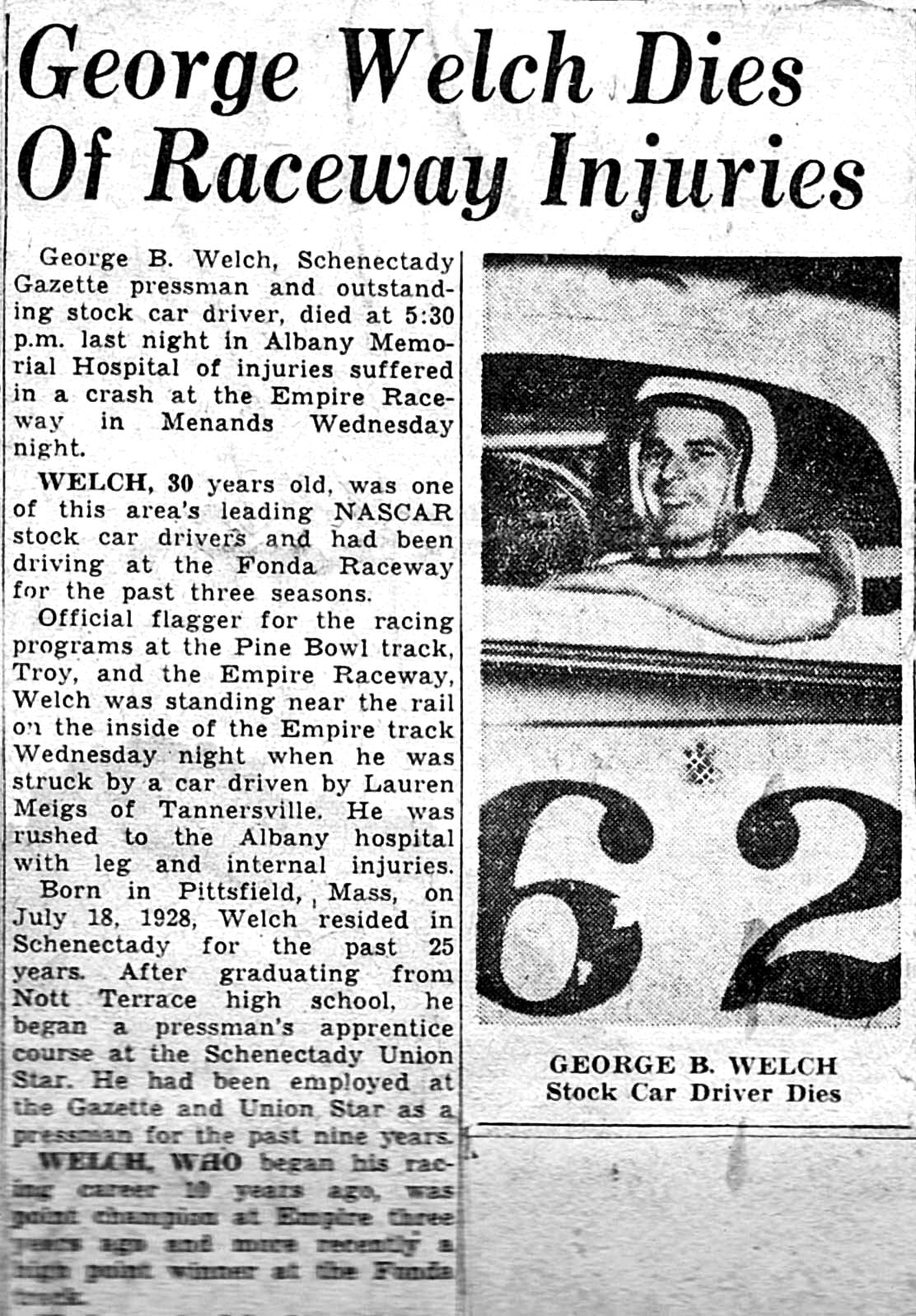 Courtesy of the Starin Family
The local racing world was crushed when the popular Welch was killed
while flagging. Below- A group of drivers from non – Fonda tracks who showed up for the Welch benefit
race held at Fonda. Empire held a similar event.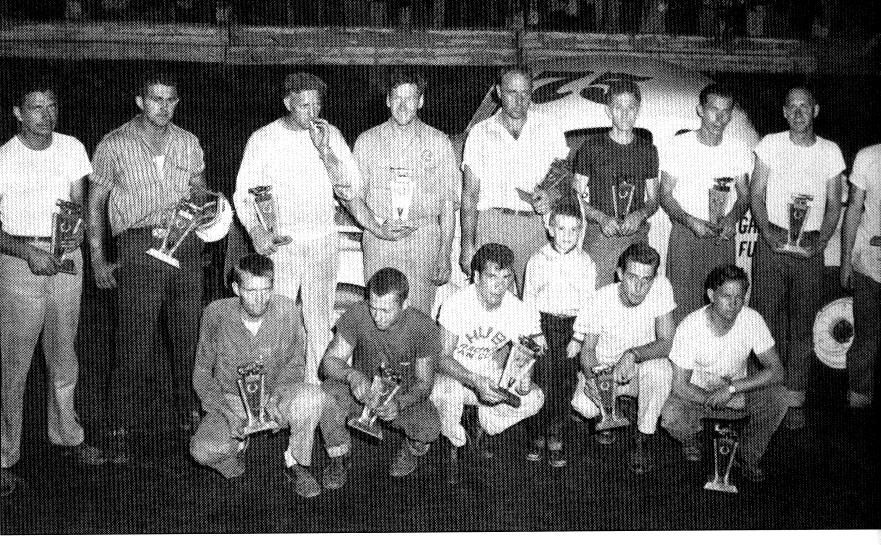 Feuz Collection From the Fonda Book


Former drivers are probably ideal for flagmen. They see things differently than one who has never raced. They surely made for some interesting race starters. Utica – Rome's starter Cliff Kotary, was a driver who virtually owned the Syracuse race for a while and was dominant in several different cars. The eldest of thrree racing brothers from Rome, NY, Cliff, by far the most accomplished of the three, once won the Syracuse race six times in a row in the flathead era.
Brother Tom raced for a number of years – for a number of teams including some family cars. A veteran of WWII, his PTSD and physical problems from the war limited his effectiveness. He was a canny businessman, running a successfukl scrap metal business in Rome. Robbie, the youngest and the skinniest, also drove family cars and did drive for owners such as Ward Petit and Bill Fowler. He had some success [including two Fonda wins with Petit] but nothing like Cliff.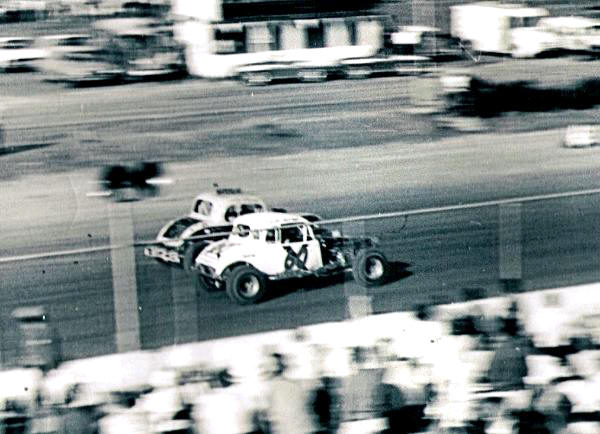 Midstate Club Photo
Cliff Kotary, on the Syracuse track during his six year domination
there. Below – Cliff throws the Mike Suraske 10-10 into turn one at Stateline Speedway
on his way to winning the Don Hendenberg Memorial race. Farther below -
Cliff, at Utica – Rome Speedway in Victory Lane with Rene Charland.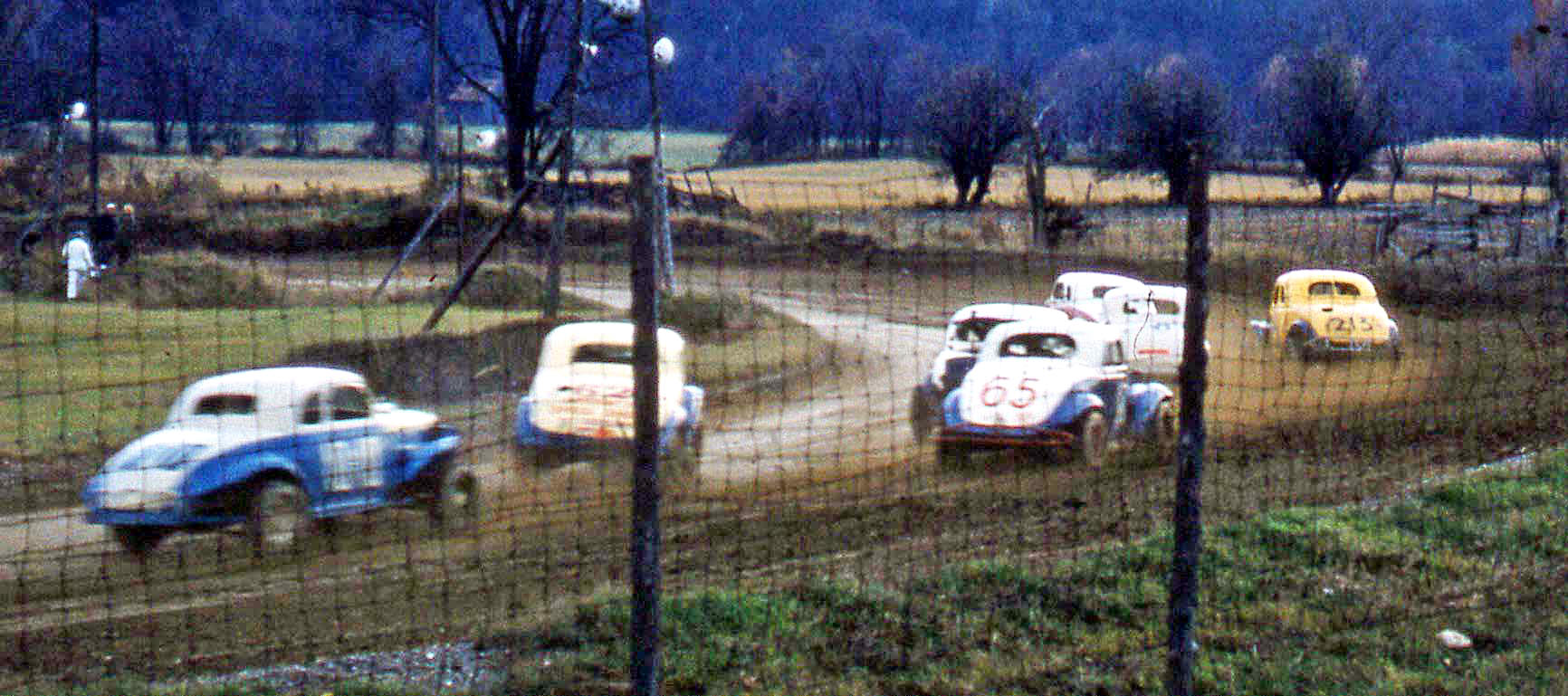 Maynard Johnson Photo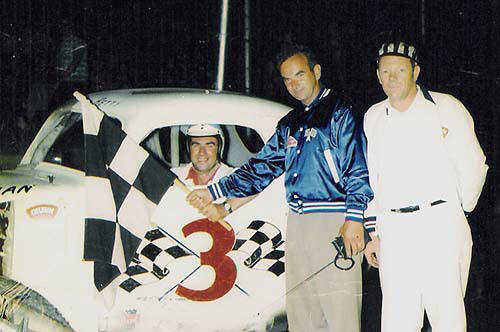 Source Unknown


Known as "The Copper City Cowboy", Cliff ran his own cars and had stint in Mike Suraske's 10-10 Studebaker. During this tenure he drove the car with a broken foot and still won races. I don't know a lot about Cliff as a flagman. But, the fact that he was hired at a track such as Utica – Rome [in the pavement days] meant he could obviously do the job. He is seen in many Victory Lane photos in that era of U-R with drivers like Eddie Flemke, Sr. and the like. One such shot features Robbie Kotary, driving a top modified out of New England.
I have left off some obvious others like Pat McGraff, a local driver and flagger; but, we can't get 'em all. Many kids never want to be anything else except a flagger. The still play a pivotal role, even in this time of race directors yelling into drivers' ear pieces.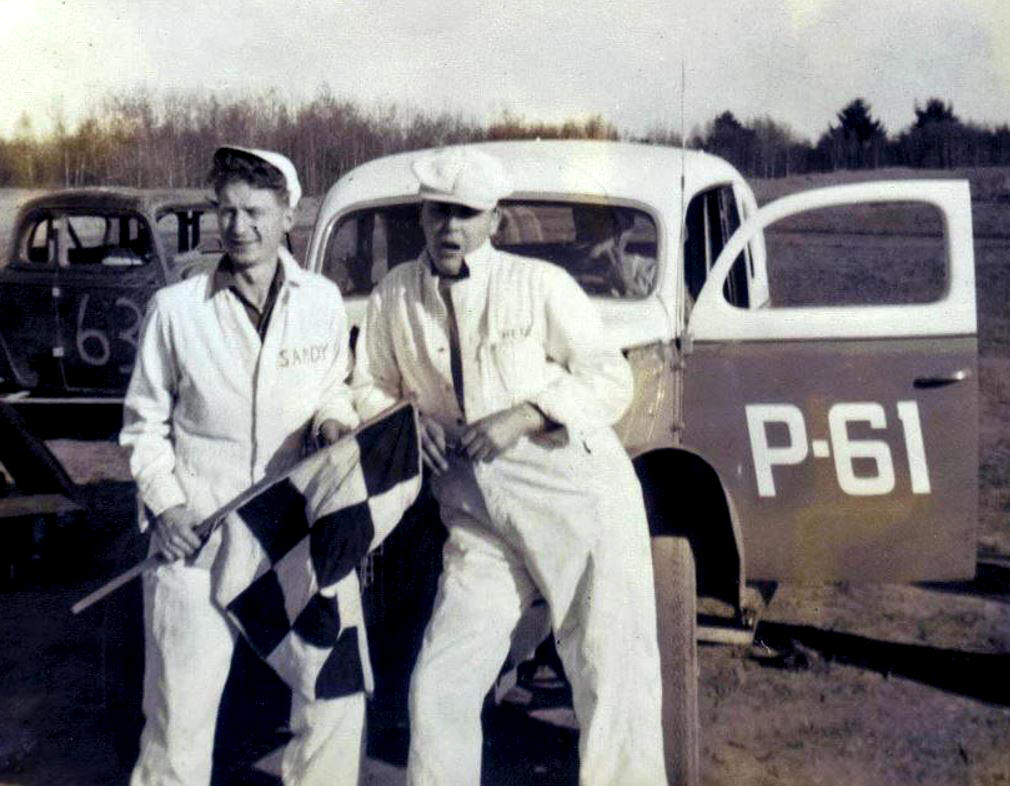 Courtesy of Joe Staiger
Frank Staiger [left] stands with Chet Hames at McGregor Speedway.
After this photo, Staiger was struck while flagging, making the
highly – intelligent decision to leave the flagging to Hames. That
kickstarted a brilliant career for Chet, but he looks bored in this shot.
Please email me at wladabou@comcast.net if you have any photos to lend me or information and corrections I could benefit from. Please do not submit anything you are not willing to allow me to use on my website - and thanks. For those who still don't like computers - my regular address is: Bill Ladabouche, 23 York Street, Swanton, Vermont 05488.
AS ALWAYS, DON'T FORGET TO CHECK OUT THE REST OF MY WEBSITE:
www.catamountstadium.com
Return to the Main Page
Return to the Main News Page
Return to the All Links Page
Return to the Weekly Blog Links Page