BILL'S [Somewhat] WEEKLY COLUMN/BLOG PAGE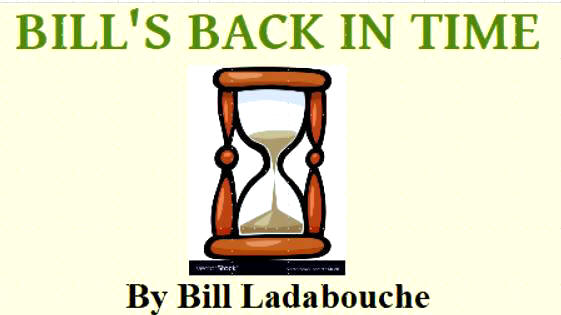 WAS 1965 POSSIBLY THE MOST IMPORTANT YEAR IN
VERMONT STOCK CAR RACING HISTORY ?

There have been a number of pivotal years in the history of stock car racing in the state of Vermont. One that comes to mind is 1959. In that year, while the important tracks Stateline Speedway [North Bennington] and Colchester – Bayview [formerly Malletts Bay Raceway] in Colchester closed soon after. At the same time, this was the year that Northeastern Speedway in Lower Waterford began what looked like a very promising life.
Other years might include when Thunder Road went under the ownership of Tommie Kalimiris, which was close to when Devil's Bowl fell on hard times and spent a few sketchy years as West Haven Speedway. But it is very hard to match the year and season of 1965, when big changes came both in tracks and in what was running on those tracks.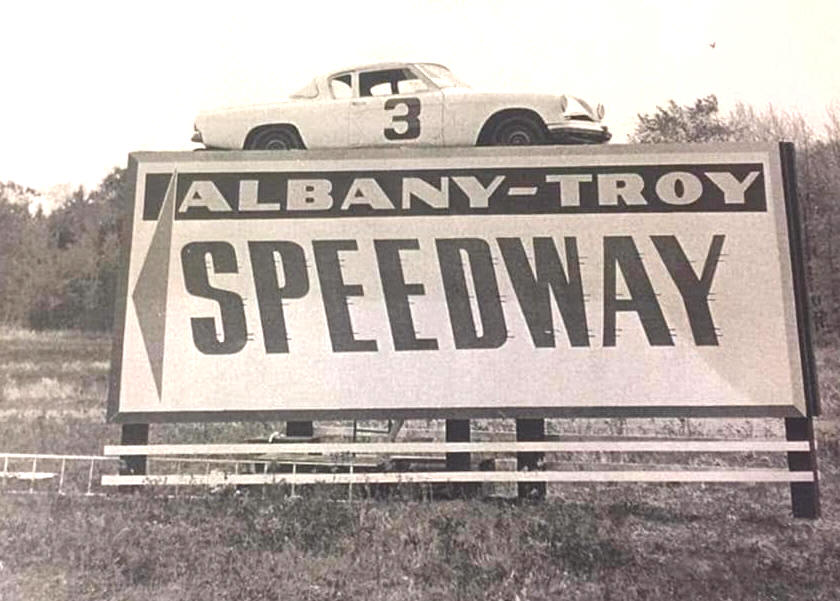 John Grady Photo
Starting out [before it opened] as Albany - Troy Speedway, Albany - Saratoga was built the same year as Catamount
Stadium and it often shared divisions with Catamount in the earlier years. A sister track to Utica - Rome, its sign
[changed to the right name later] bore a race car shell on top just like the U-R facility. Below - This Illustrated
Speedway New article heralded the new track a year before it opened.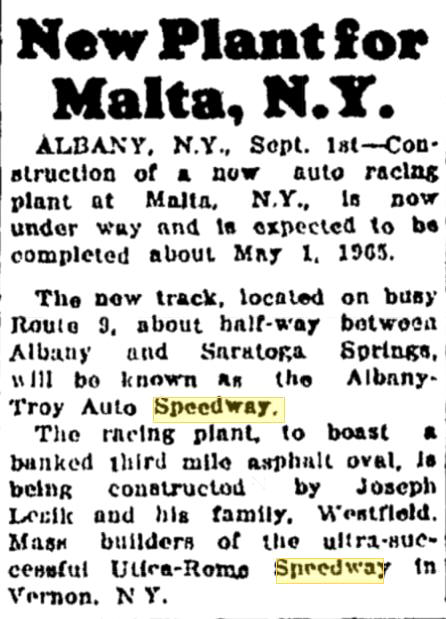 Illustrated Speedway News
For starters, 1965 was the year that both Catamount Stadium and Albany – Saratoga Speedways began operation. Catamount is obvious, having been in Milton Vermont; but, the Albany – Saratoga plant in Malta, NY also has played a strong role in Vermont racing for decades, too. Then there was a major changeover in what motors were being used on Vermont tracks.
Catamount had been in a somewhat brief planning stage by the management of the already – successful Thunder Road International Speedbowl in Barre. Racing thinkers realized that, with the demise in 1959 of the last Malletts Bay track, there was no racing in Vermont's most populous county. A parcel of land that had apparently first been considered by IBM to place its Vermont factory was selected by the ownership group of Ken Squier, his T Road partners the Cooley [Construction] brothers, Vermont racer and businessman Jack Dubrul, Milton's Jack Campbell, Sr., and Gordon Fitzgerald, a car owner at T Road.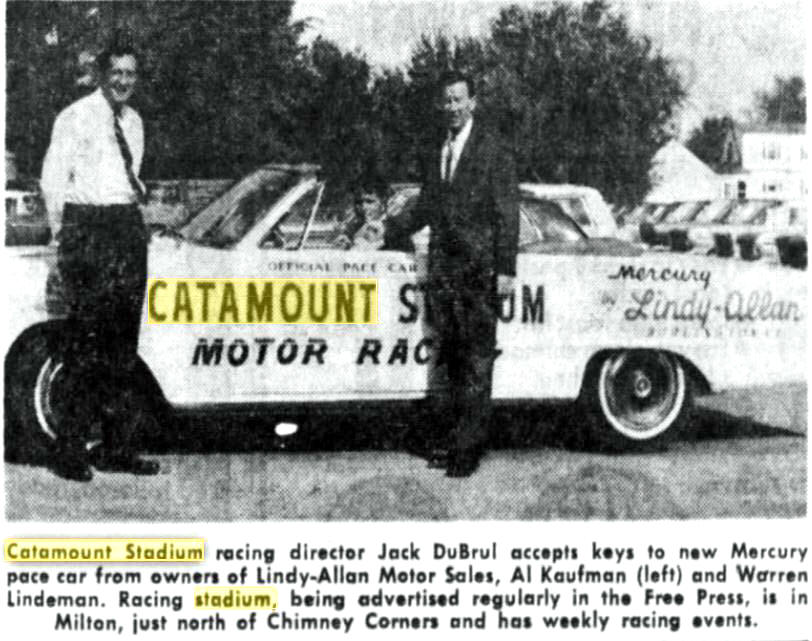 Burlington Free Press
Catamount had all the plans and promotions down pat, such as this flashy Mercury pace car. However, unlike
Albany - Saratoga, it struggled mightily at first, not attracting enough race cars. Below - Catamount's
coupes were roughly in line with Albany - Saratoga's, and the wild and crazy Flying Tigers [below]
were slightly less sophisticated versions of Malta's Semi Late Models.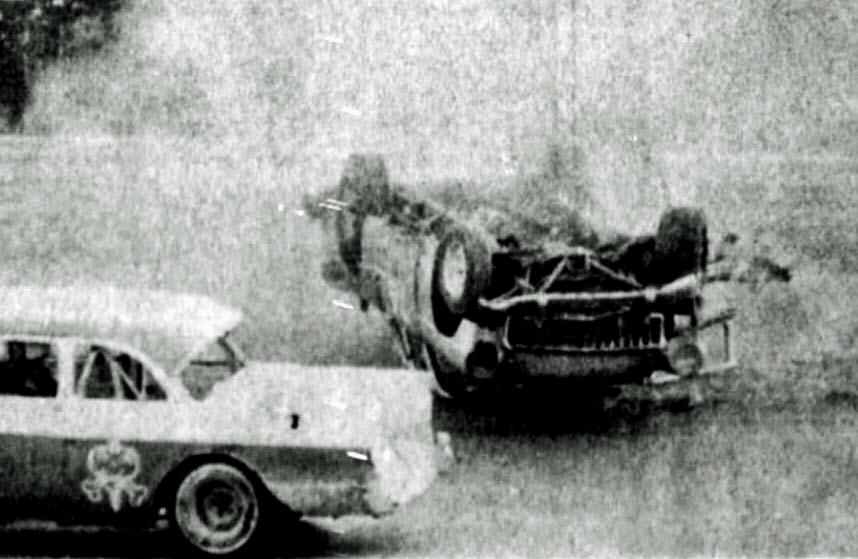 Burlington Free Press
Catamount would be constructed, somewhat hurriedly and was set to operate in the early summer of 1965. After a slow start running sportsman coupes and a late model support division [the Flying Tigers] which came from T Road's old B Class division, Catamount would become an important stop on the modified circuit for a while before dropping the mods and going forward to a mega – successful run with NASCAR late model sportsman cars. Its life was shortened by questionable decisions in the early 1980's and was gone by 1987.
A group that already ran the Utica – Rome Speedway in New York had seen the small town of Malta as a great spot to build a similar track that woyuld run similar classes of cars. First considered to be the Albany – Troy Speedway, Malta opened as Albany – Saratoga Speedway in 1965 and still operates today. Ironically, it served as a principal paved track in a very dirt – oriented part of New York for decades; however, it is important as a very healthy and successful dirt track closely associated with Lebanon Valley Speedway.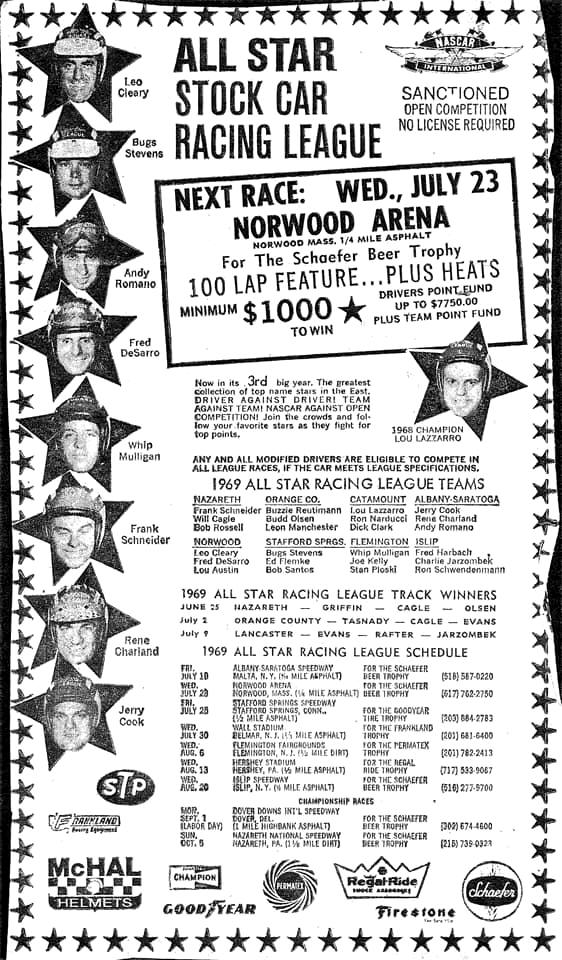 Courtesy of J. Chris Grady
Both Catamount and Albany - Saratoga had All Star League teams in 1969, as the poster above shows. A-S finished 3rd, one ahead of Catamount.
But only the latter had modifieds by then. Catamount ran only its Flying Tiger class that year, in preparartion for a switch to late model sportsman cars.

Whether as pavement or as dirt, Malta has always influenced Vermont racing. In the earlier days, some of it competitors would run both on the dirt of the new Devil's Bowl Speedway and the asphalt of the almost – as – new Catamount. D Bowl got both Malta support division drivers and a few modifieds while Malta and Catamount were parts of a very impressive modified circuit for a few seasons. When the Milton track dumped the mods, the only thing it had in common with Albany – Saratoga was their membership in the All Star League of Stock Car Racing [1967 – 73]. Oddly, Catamount belong to this modified league when it no longer ran the mods.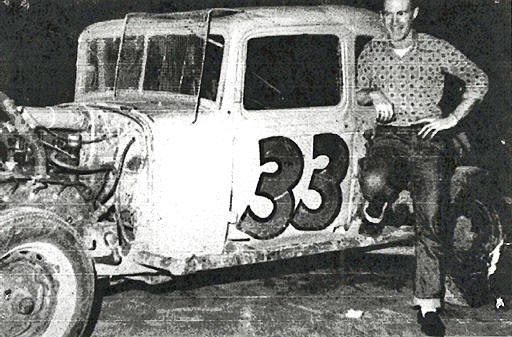 Cavalcade of Racing Photo
Fairmont Speedway [as well as tracks like Claremont] moved from the flathead and six cylinder cars like Art
Cody's flathead above - to the small overhead V-8 sportsman car in 1965. SOme tried to stay the course with
their old engines; some dropped an overhead in the old car. Others, like Vince Quenneville's Dundon team
[ shown below] went out and bought a sportsman.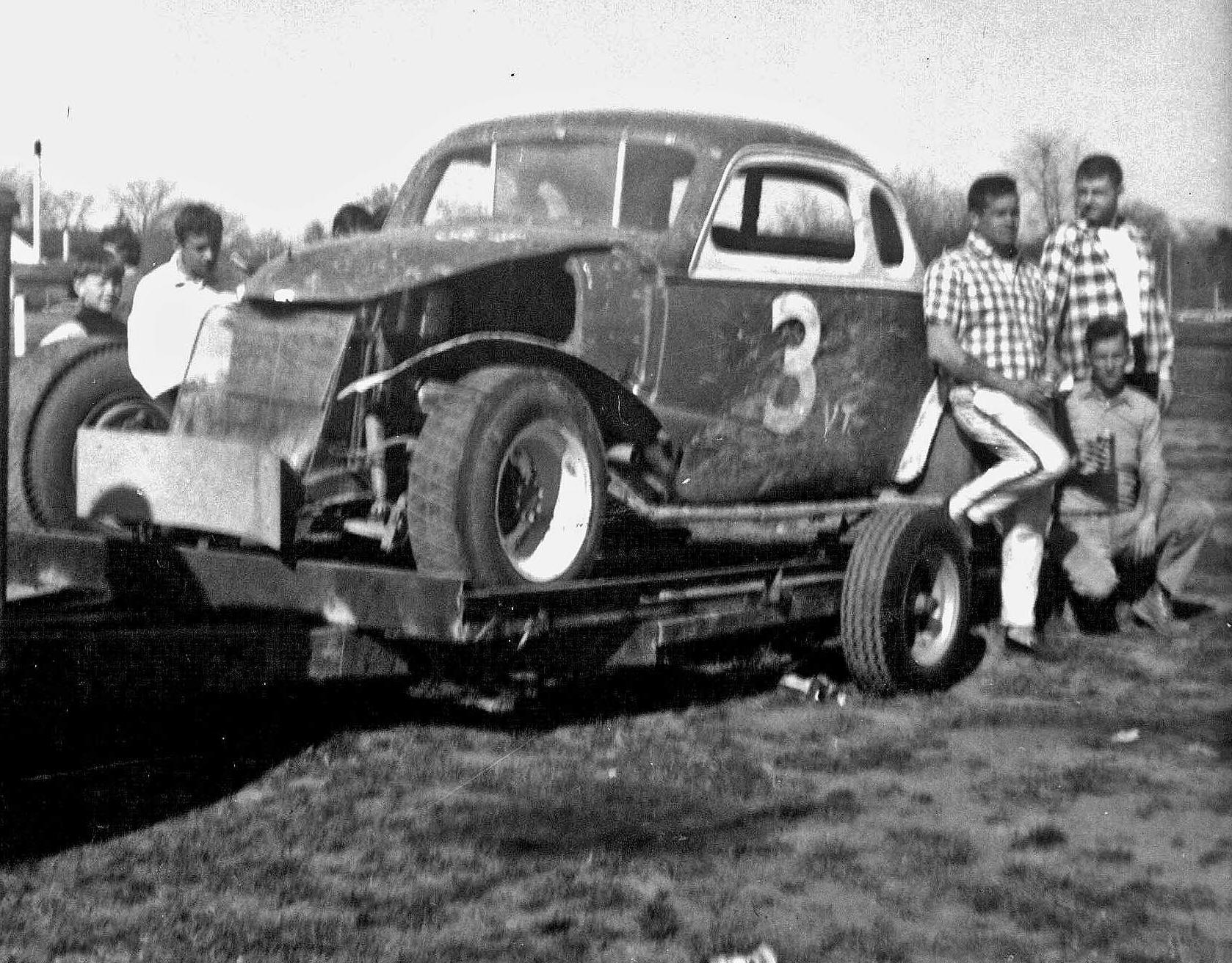 Ladabouche Photo
The fortunes of the Malta track and Devil's Bowl would then become conjoined when C.J. Richards of Devil's Bowl bought the Malta track and laid clay on the clay surface to run it as one of his Champlain Valley Racing Association speed plants. The Richards family would not let go of the track until well into the 2000's. Today, many Vermont dirt modified and modified sportsman teams run regularly at Albany – Saratoga Speedway.
Until 1965, almost all racing on Vermont tracks was powered with the flathead Ford V_8's or GMC six cylinder engines. Fairmont Speedway had opened in 1962 and ran only those engine types; Thunder Road, opening in 1960, went with the strongly – established flathead coupes and ran them in its first four seasons. The only place where the overhead V-8 engine was seen racing in Vermont was in those first two years of the operation of Otter Creek Speedway, in Waltham. Track mangement Hi Monroe and Lee Tucker had aligned with NASCAR and some of the New York sportsman teams would come to Vermont for easy points in the dusty, bumpy, half-mile pasture track through 1962.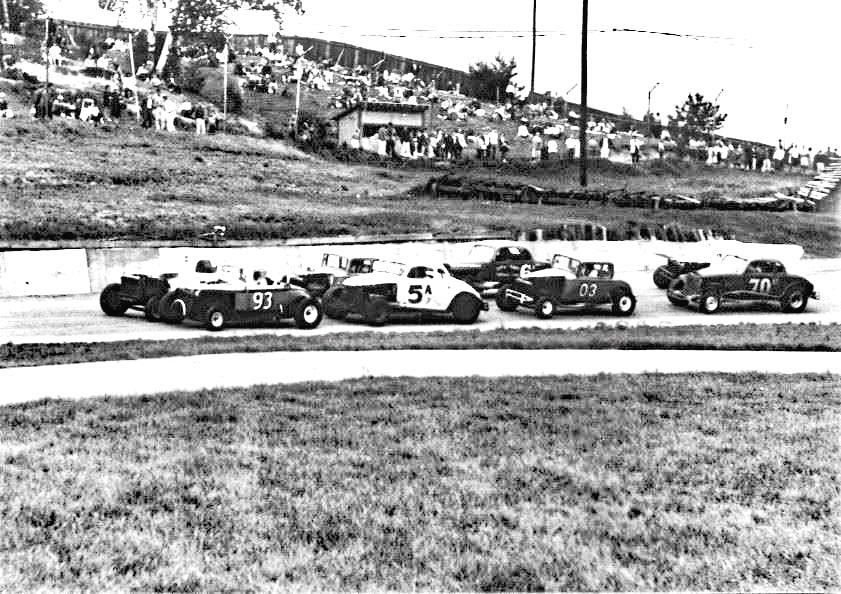 Courtesy of Chuck St. Cyr
Ironically, Tunder Road, that bastion of the flathead race car, had [for a while] inherited the overhead V-8 cars
due to joining NASCAR along with Catamount. This shot shows sportsman cars Dick Nephew [6], Jean -
Paul Cabana [5A] and Ernie Reid [70] in with the flatheads like Paul Martell's 03 and Larry Granger's 93. By
mid - seasom T Road had tossed them out, becoming a Hobby Class - only track.
In the 1965 season, all tracks still running in Vermont went to the overhead V-8 as the motor for their headlining divisions. It is not clear who started it first; clearly, decisions were made in the winter. My best theory is that the savvy C.J. Richards saw what was going to happen all around him, with the Malta track opening to overheads, as well as Catamount doing the same. Fairmont Speedway went to small overheads in 1965 while still allowing the previous motors as well.
Thunder Road, that bastion of the flathead Ford – powered coupes, was told by NASCAR that its flatheads were grandfathered through the 1965 season, having to run against the invading NASCAR overheads from New York and Canada. Thunder Road would throw out the overheads during the 1965 season, as they were clobbering its home track heroes with their flatheads. So, in 1965, the overhead valve coupes were the headliners at Fairmont Speedway, Hillside Raceway [Otter Creek], Catamount Stadium, and Thunder Road International Speedbowl.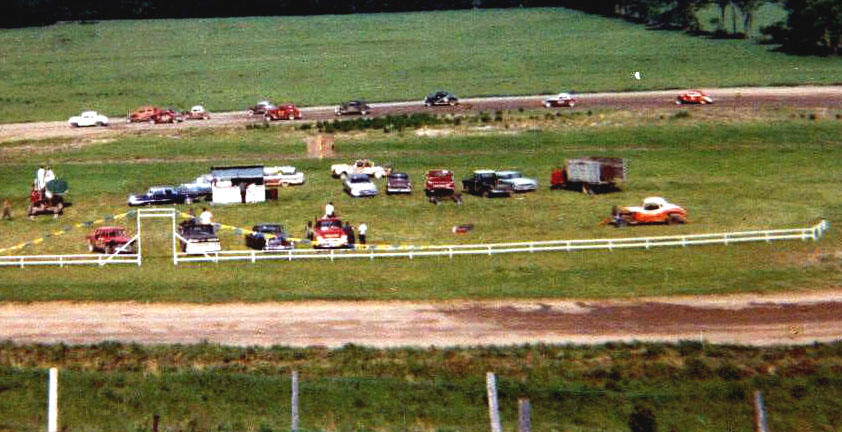 Val Blicarcz Photo
This photo from the distant vantage point of the Hillside Raceway bleachers shows overheads like Quenneville's
3 [far right] Tetreault's six [maroon sedan] and many flatheads [like Rabideau in front of Quenneville]. C.J. Richards
helped Joe D'Avignon run the track to attract more overhead V-8 sportsman teams to Vermont in 1965. Below -
Big John RIchmond is one of the out - of - state teams who were attracted to Richards' tracks.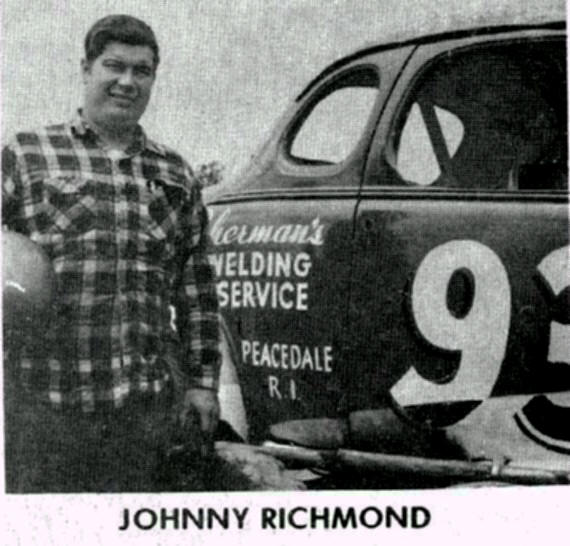 Bob Frazier Photo - Cavalcade of Auto Racing
Things would not stand pat for long. By the end of the decade, Catamount and T Road were running only the support division Flying Tigers, the Fairmont operation had moved to Devil's Bowl; a new track called Bear Ridge Speedway had opened in Bradford as a haven for displaced flathead cars; and the former Otter Creek track had closed for good. Today, add Catamount to the list of lost tracks and Vermont soldiers on with three tracks – all currently doing pretty well.
To state it simply, a lot of things changed the Vermont racing landscape in 1965.
Please email me at wladabou@comcast.net if you have any photos to lend me or information and corrections I could benefit from. Please do not submit anything you are not willing to allow me to use on my website - and thanks. For those who still don't like computers - my regular address is: Bill Ladabouche, 23 York Street, Swanton, Vermont 05488.
AS ALWAYS, DON'T FORGET TO CHECK OUT THE REST OF MY WEBSITE:
www.catamountstadium.com
Return to the Main Page
Return to the Main News Page
Return to the All Links Page
Return to the Weekly Blog Links Page