BILL'S [Somewhat] WEEKLY COLUMN/BLOG PAGE

BILL'S BACK IN TIME
By Bill Ladabouche
The 1960's Was a Time for Some Serious Car Fires
[And the '50's and 70's Weren't Much Better]
I doubt the 1960's had any claim to monopoly on stock car fires, but it seemed like that was the decade for so many prominent ones that were brought to my attention. For many who followed the modified / sportsman racing in that time period, the infamous Rene Charland "French Barbeque" fire seems to be the poster child. However, a good many of the prominent sportsman and modified coupe drivers of that very era can say they had a beauty of a fire themselves. It seemed to be a time for the beginning of stronger fuel, maybe bigger gas tanks, but not many strides in fire safety at the same time. I witnessed few of these major fires [thank God] and I have to rely on second hand information on who suffered from which fire where.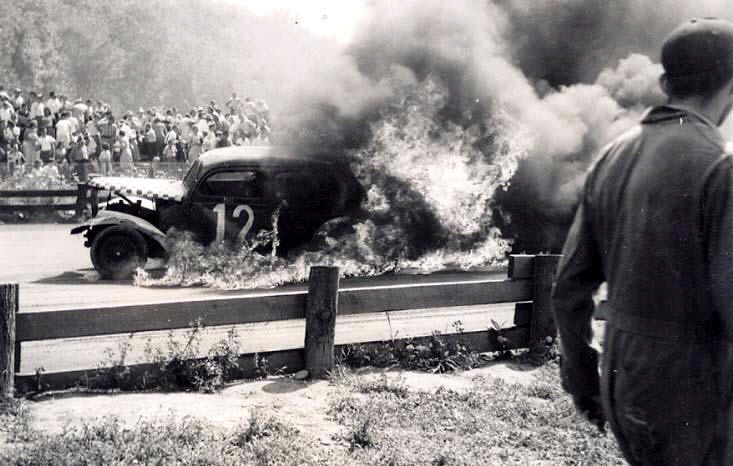 Courtesy of Dean Wright
A car blazes away, undisturbed, at the early – 1950's track in Naples, NY.
Below – Reggie Caldwell's car is fully involved.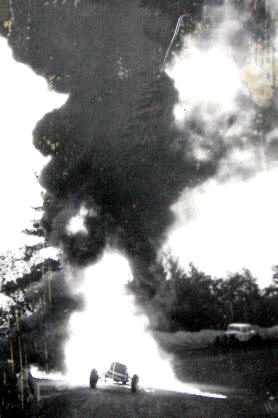 Courtesy of Scott Haskell

We have all seen photos of fires from earlier years. The old, short – lived Naples Speedway in New York has, at one of its few documentary photos, a car burning to the ground while all around stand helplessly by. Usually, however, the drivers weren't held in by much and most of them would jump out to safety. The only shots I have found, thus far, of Franklin, NH's Hurricane Road Speedway feature a car of Reggie Caldwell fully involved. As was often the case with 1950's accidents, the driver is shown standing, seemingly delighted, by the wreck after.
A lot of stock car fires were minor affairs, often with the flames coming from the carburetor. Sometimes, if no crew were available, a driver would leap out, himself, extinguish the flames with a rag, and return to the fray. I once watched the notable Canadian Frank Hodge, trying his luck at the old Fairmont Speedway in Fair Haven, VT, driving a former Bob Bruno #66 Chevy. Hodge would pit and do exactly what I described. We tried to help, but he was so angry after the thrid trip in, he simply parked it. Except for full engagements, most stock car fires were nothing or, perhaps, caused minor repair expenses. But, the big ones left a mark on ones memory.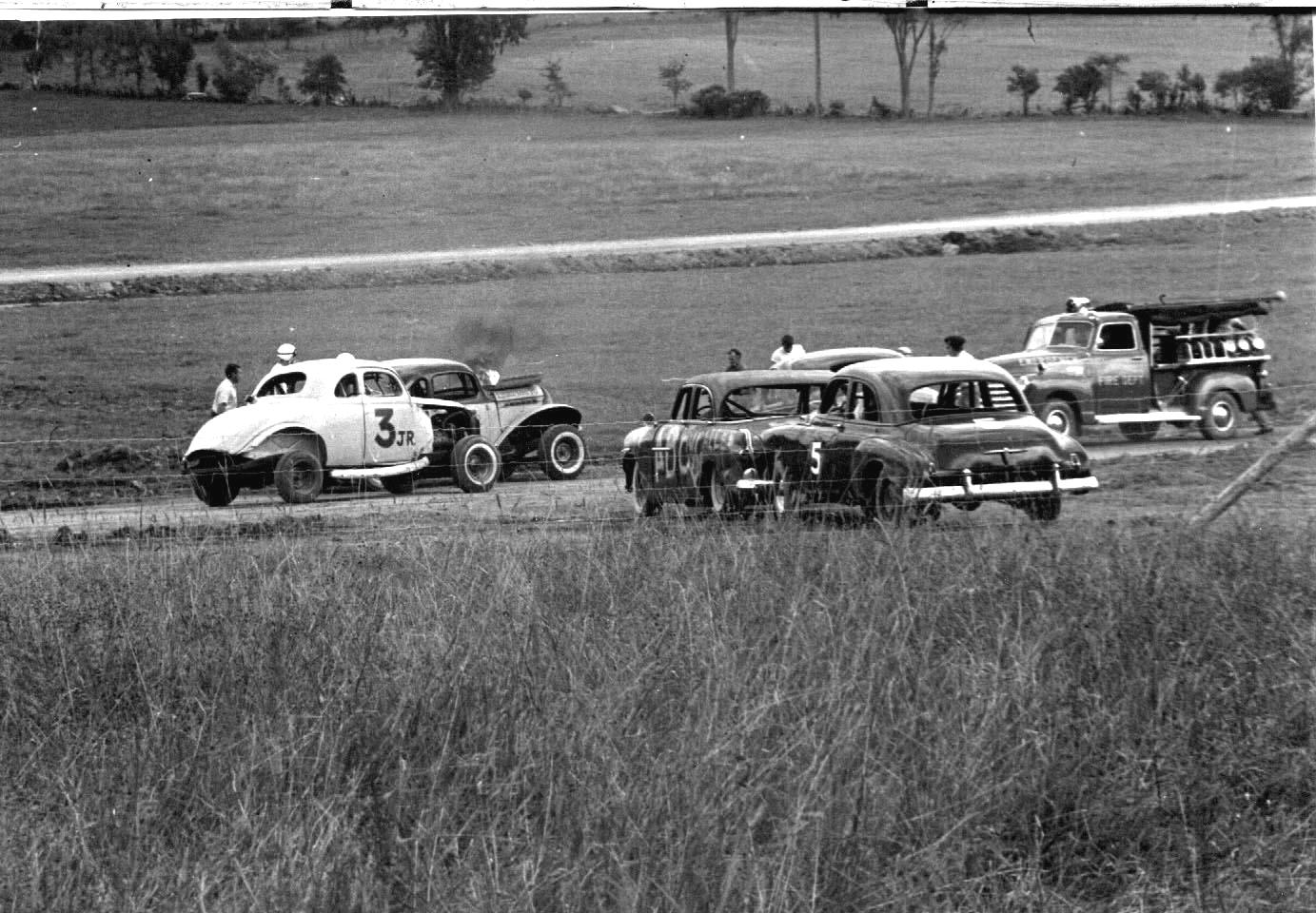 Courtesy of Cho Lee
Response from a local fire department is a little slow as a carburetor fire starts on:Wayne Chandler's 3Sr Hudson at Otter Creek
Speedway in 1961. Below – Frank Hodge and his troublesome coupe, that night, at Fairmont Speedway in 1966.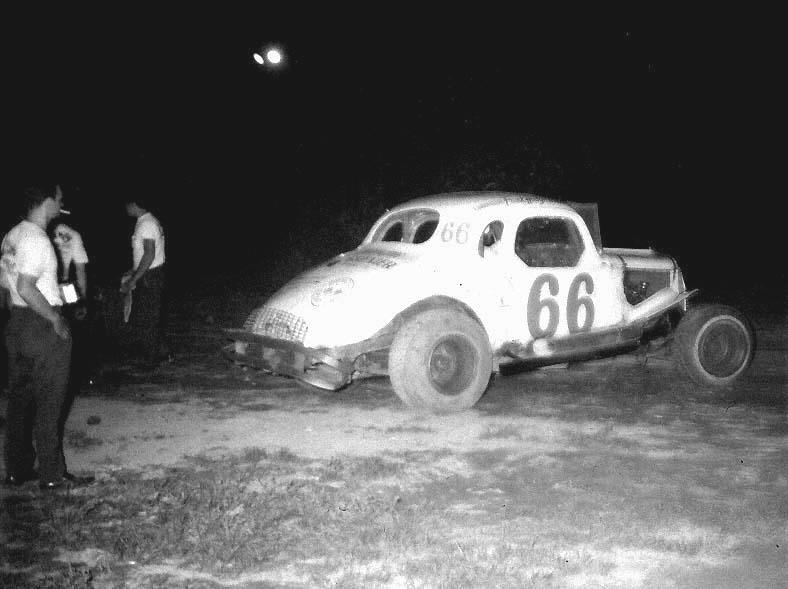 Ladabouche Photo

There is old 8MM footage of the 1951 National Championship stock car race at Langhorne, PA in which the central focus seems to be on a huge fire. This must have been traumatic for first – time Langhorne promoters Irv Fried and Al Gerber. There is one section of that or another similar film in which an accident seems to start coming out of the fourth turn. Apparently, nobody thought of stationing men around the track with yellow flags to warn of such events. So, car after car – literally dozens, came piling into the wreck, sending some plumes of smoke high into the air. Still, what seemed like a full minute after the initial crash, cars kept coming. Dumbest thing I ever saw. Rescuers trying to reach guys in burning cars kept having to jump away, to save their own lives. It looked like something out of a B racing movie from the 50's. Cars just kept piling in for what seemed like a full minute.
Racing legend Dutch Hoag, a man whose name is synonymous with success at Langhorne, recalled that day – actually the first such National Open race there : "That was the race where they had the big fire. The car right behind me was the last one to get through. He hit a car and when it spun, the track was blocked. When we came around, there were 15 or 20 cars in there and Wally Campbell got burned really bad. They finally cleaned it up and we went on." Pittsburgh racing legend Dick Linder was one of the cars that got caught up in the accident. It's mostly what people remember about that first Langhorne race.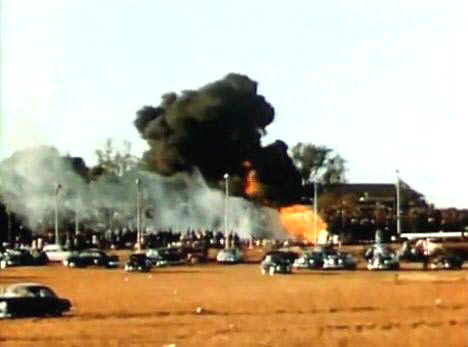 Unidentified Internet Source
One of several blazes at the 1951 Langhorne open race sends a huge, black cloud into the sky in front of the grandstands.
Below - 8MM footage of that big 1951 fire at Langhorne shows this car ended up in the middle of it all.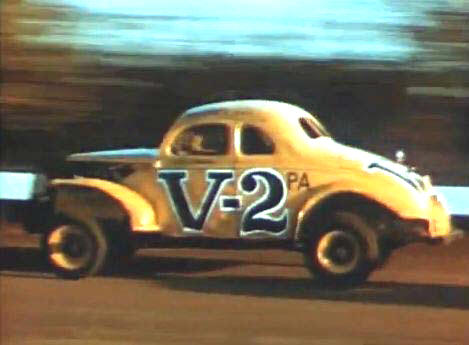 Unidentified Internet Source


Maybe after that disastrous Indy 500 fire that killed McDonald and Sachs, some folks began to seek a way to reduce fire danger in race cars; but, of course, the lower the budget, thee less a team was going to invest in such equipment. Mr. Coleman, founder of the racing safety product company of the same name, once told me at Thunder Road that he had a fire suit available for years, but few stock car drivers wanted to spend the money on it in the earlier days. And then, with some of the more expert and crafty guys playing fast and loose with their personal well – being to sneak more gasoline onto their car anywhere they could hide it ….. well, you see the picture.
Webmaster and racing historian Dave Dykes wrote this about the Charland fire: "In later years it was jokingly referred-to as "The Great French Barbeque". At the time, it was hardly funny..... This fiery crash ended Rene Charland's bid for a fifth NASCAR National Sportsman title in 1966 as he was seriously injured on Memorial Day weekend at Malta, New York. He was forced to sit out the rest of the season but had already earned 5,700 points, enough for a third – place finish in the title chase." I would add to that, given the way Charland could earn points in huge bunches, he was – up to that point – a shoo – in for another title.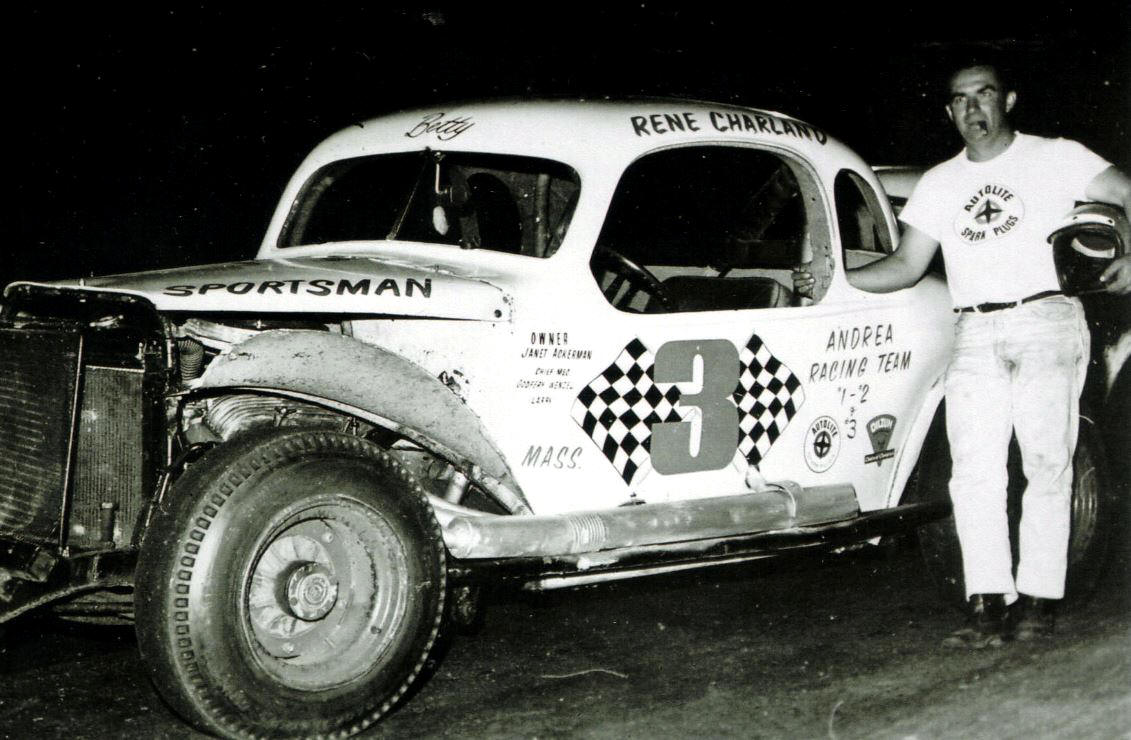 Bob Mackey Photo Courtesy of John Rock
Charland poses at Airborne with the barbeque coupe, obviously before the fire at Malta later that season.
Below - One of the most familiar shots of the French Barbeque.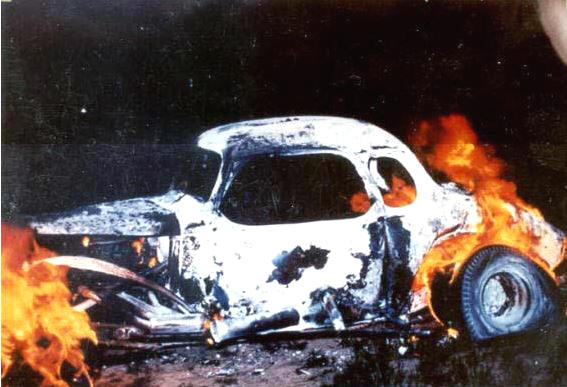 John Grady Photo
John Grady, hall of fame photographer lists as the single biggest memory in his racing career, that fire: "Unfortunately, it was Mr. Rene Charland's French Barbeque at Albany – Saratoga. That led to the story of the bravest thing that I have ever seen in my life when Eddie Flemke, who weighed all of 125 pounds at the time, ran into a big ball of fire that was Charland's car and pulled Rene from the flames. I have never seen anything like it in my whole life. Afterwards, Flemke shrugged it off and said: 'Well, Rene would have done the same thing for me to which I jokingly replied – don't count on it".
Dave Dykes' discomfort with the term "French Barbeque" notwithstanding, I am pretty sure it was the seldom – serious Charland, himself, who coined the term. Charland continued on to be a strong force in racing for years to come. The injuries did not seem to cause the ex – marine any post - trauma stress problems. Jean – Paul Cabana, another one of the legendary drivers from that era, recalls Charland coming up to Quebec to run in a good – paying long distance race at one of NASCAR's tracks there. This was well before the Malta fire. Cabana said that – given the length of the race everybody had to pit for gas..... everybody except Rene.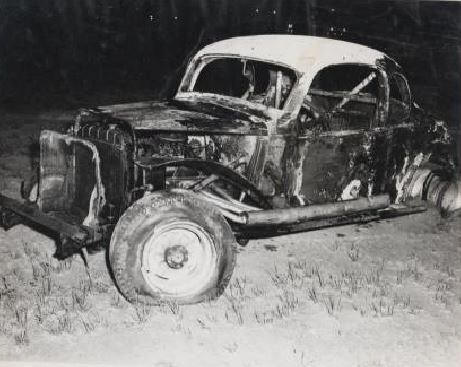 Off a Chat Site, From Monks Fan
A good look at the car after the Malta fire had been put out. Below – He had a similar fire at Thompson at around that national points chase era.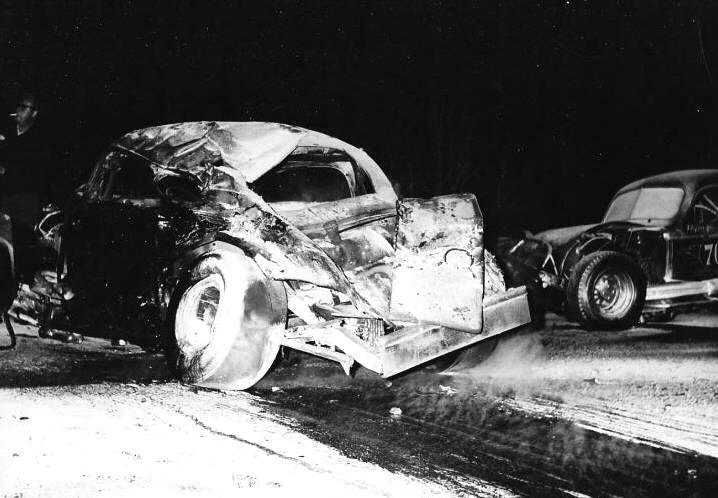 Courtesy of Ron Wilson
Charland had been puttering around the race in the middle of the pack somewhere, was seemingly in no rush to push the issue. Probably this was wise given that he was definitely an interloper at a pretty tough track. Charland, of course won the race because no one could do a fast pit stop in those cars in the early '60's. Cabana, clearly frustrated, had to wait almost 20 years to find out from Charland how he accomplished this finish. Rene said it was simple – the entire roll cage served as an auxiliary gas tank. It kind of puts the French Barbeque into some perspective, doesn't it ?
Another terrible fire was experienced by the Vic Wolfe #66NY teams out of Plattsburgh, NY, with talented driver Bob Bruno. Not long out of the limited sportsman ranks, the team with its clean white coupe had decided to go to the big Syracuse race after winning the Syracuse qualifier during that 1962 season. I would suppose they might have put in a different engine, but I am not sure [Bruno and Wolfe are both gone now]. At any rate, they knew that, while they were stars at Airborne Park Speedway in Plattsburgh, NY and absolutely kings at the Saranac Lake Speedway down the road, they were going to be relatively small fish in a big pond at Syracuse.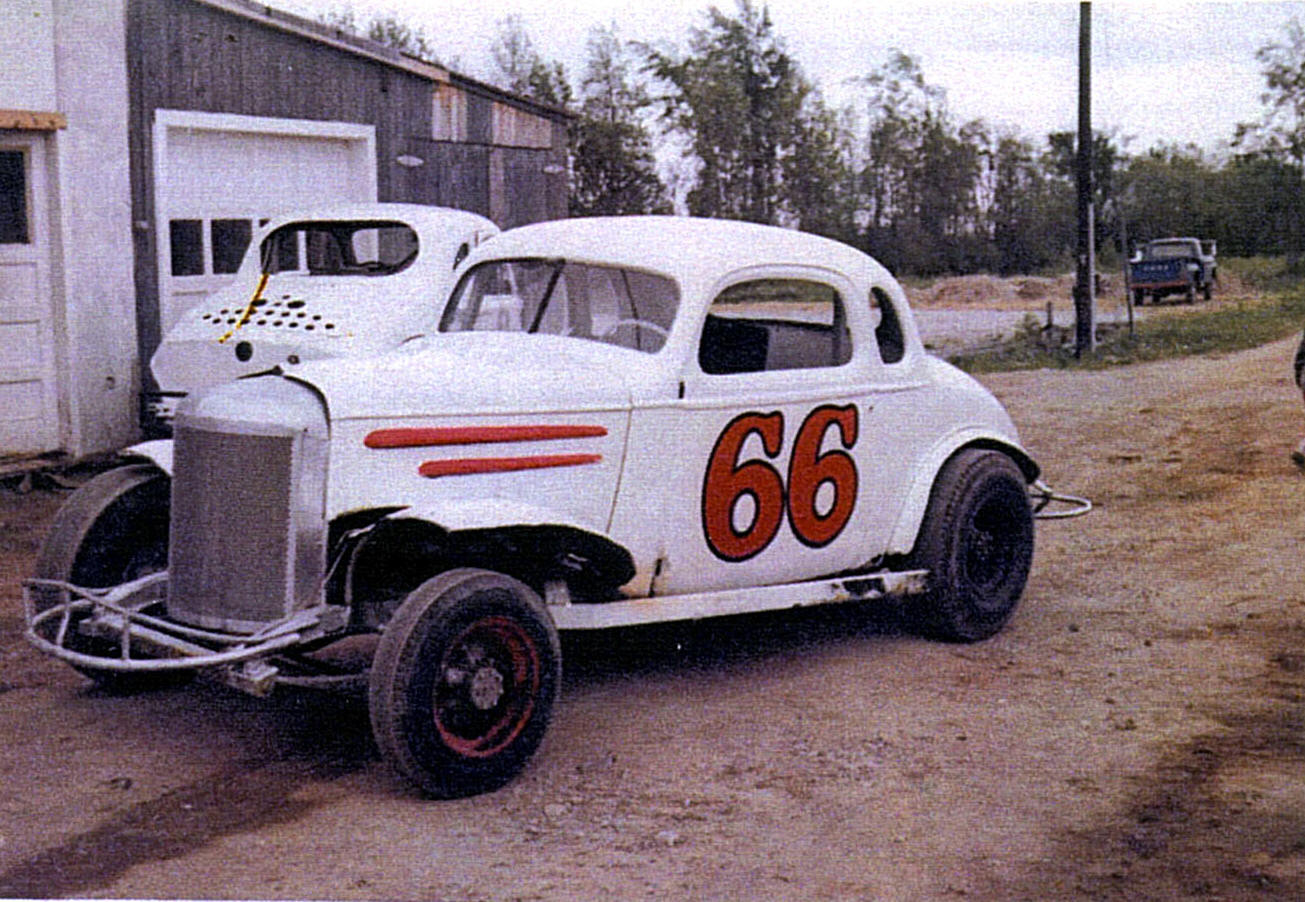 Bruno Family Collection
Vic Wolfe's nice coupe, as it sat at their garage earlier in the season. Below – The burned remains
show the force of the impact, which could have killed Bruno had he not vacated the car already.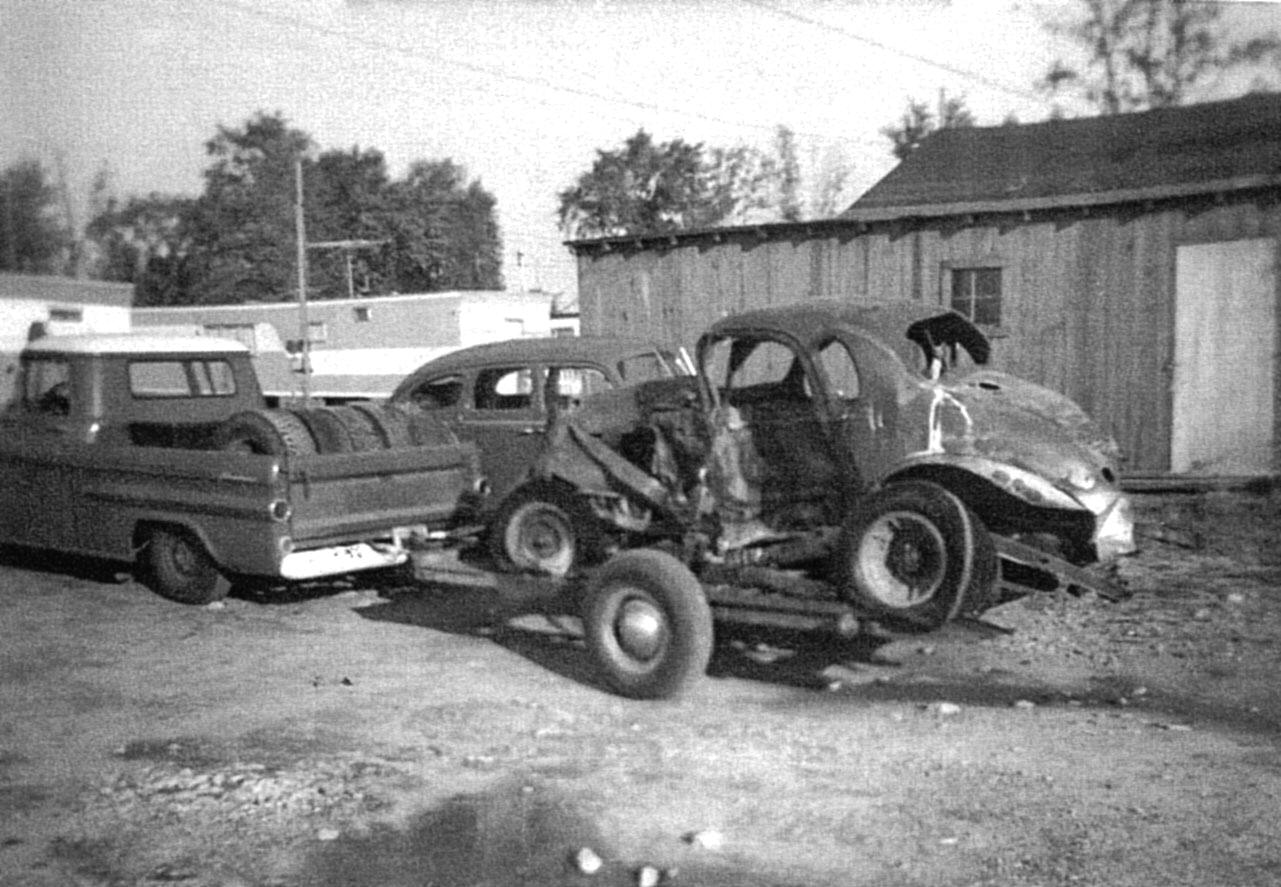 Bruno Family Collection
According to what Bruno had told me some years back, he was going along just fine in the feature when the car broke down. For some unimaginable reason, Syracuse officials decided the white coupe was far enough off to the side to just eave it on the track. They leaned out and retrieved Bob, who was objecting strenuously at leaving his beloved car there. As one would expect, not long after, another car came steaming along and straight into the 66. If Bruno had not yet vacated the car, he would have been killed.
The car sat outside Wolfe's modest garage in Plattsburgh, approximately where the Champlain Centres Mall is now. Amazingly, by that Saturday night, they had another car ready to run at Airborne. Bruno was no dummy. Besides being a teacher and principal, he served in very political positions around his town of Morrisonville. He was flabbergasted at the Syracuse officials' inept decision – making. Sadly, that kind of lax safety was all too common until well into the 1970's. People in the Wolfe circle doubtless considered some sort of legal action, but they probably wouldn't have had much luck.
Many of the worst fires seem to happen in the pits, under hurried fueling conditions. I personally recall the instance at Fonda Speedway in 1963 when the track was hosting one of its first long – distance national champion – types races. The hot ticket at that time was Kenny Shoemaker and the Chis Drellos #111. Shoe was in virtual tie for the track points lead with legend, Steve Danish, and – that night – he had time trialed a lap of 24.28, far and away the quickest time among scores of top flight teams.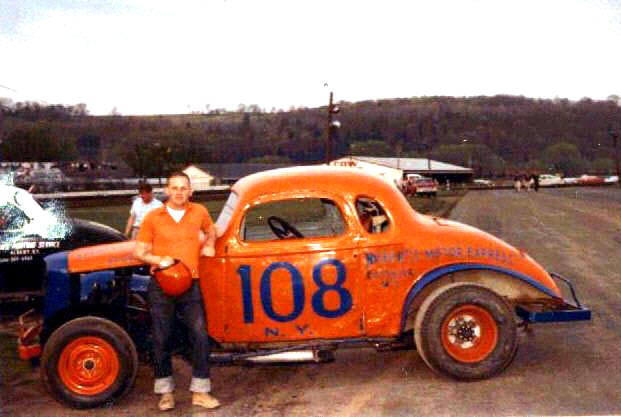 Ladabouche Collection
Jerry Townley experienced a fire at Fonda, as well, with this Thomas
Chewins – owned, lower – budget sportsman coupe – around the same year.
The 200 lap race was for the sportsman cars only; but, even with their smaller motors, no one was going to complete the race without a pit stop for gas. Somewhere in the second half of the race, Shoemaker edged his red and white Chevy coupe into the Fonda infield for a few more gallons of gas. There were no teams in that era, at that level of racing, with a team of rainbow warriors to do the pit stops. Probably, Drellos chief mechanic Ed "Shortstroke" Wright and somebody else grabbed a can of fuel and hoisted it up to whatever filler opening was being used. Somebody tripped, spilling about half the load into the car through the rear window – all over Kenny. Some went down the outside and hit those hot exhaust extensions on the side rails.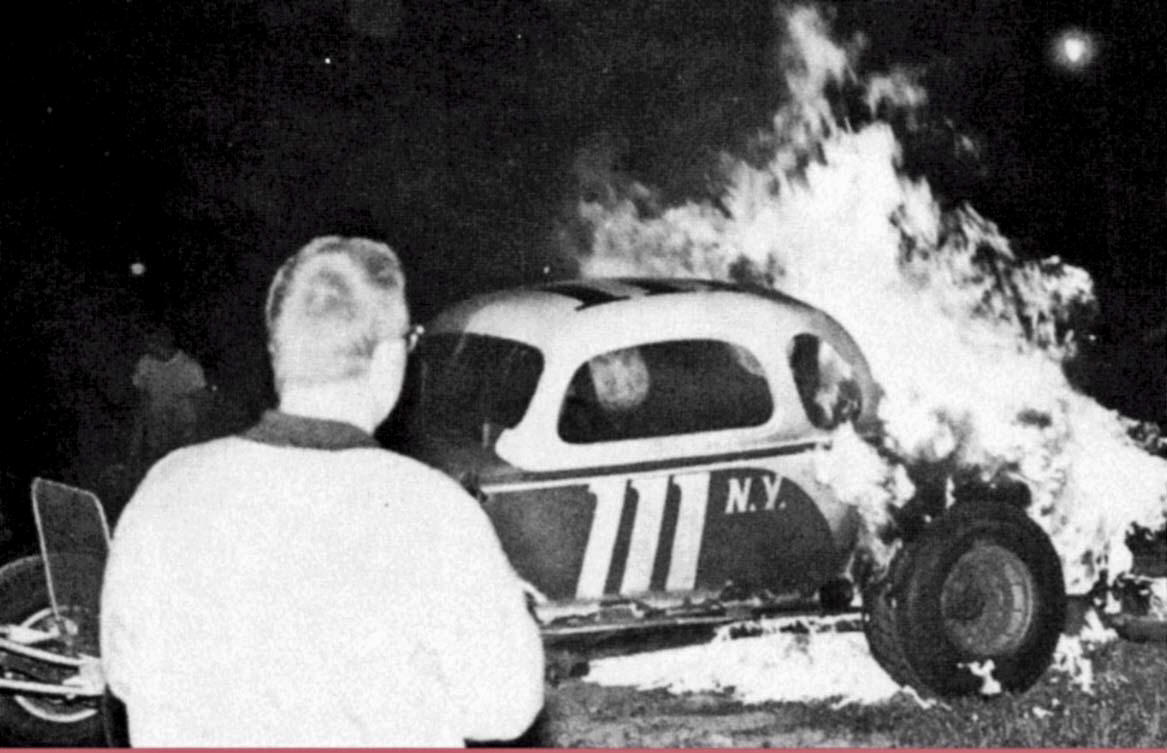 Lew Boyd Collection, Fonda Book
Shoemaker's Drellos 111 is fully involved here, bringing the Fonda race to a halt. I am not sure what car this was,
as his usual 111 looked quite different. The usual ride [see below] had holes in the sides, an antenna mount on the roof,
a red light, and roof openings for running at Lebanon Valley. The burning car has none of this. In the below shot, his flag
is covering the vertical row of holes.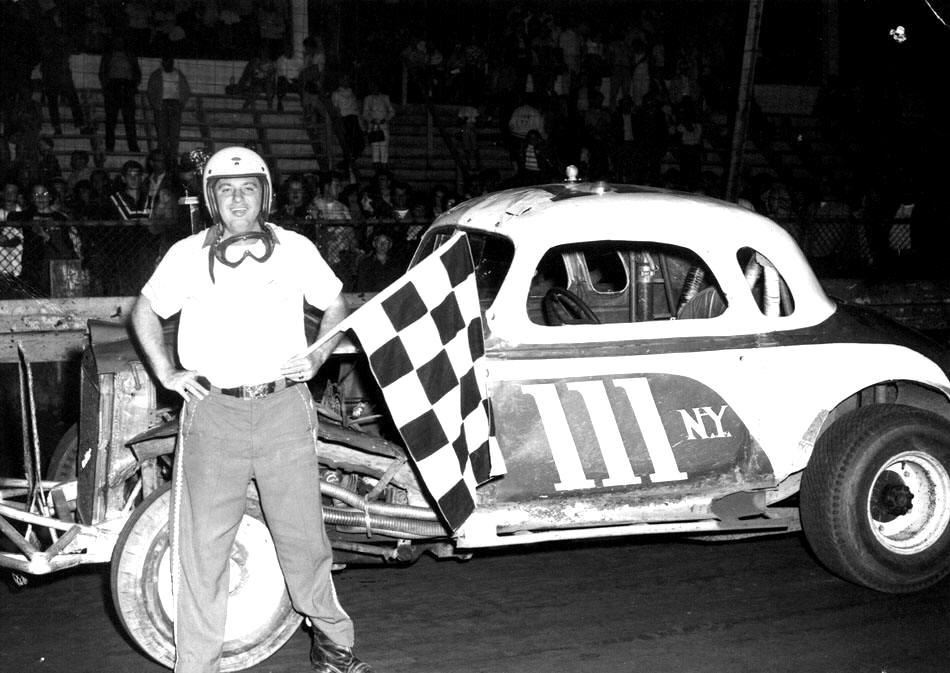 Ladabouche Collection
There was an audible gasp from the huge crowd in the covered grandstands where I was sitting and I looked around to see a big fire in the pits. Someone yelled that it was Shoemaker. The roly poly Shoemaker struggled to get out of the car with the terrible harness clasps of the day giving him a hard time. Meanwhile the car, in neutral, was rolling out towards the track. Shoemaker, who finally got out the passenger side window, did a textbook stop, drop, and roll was nearly struck by race traffic. The fully engulfed car rolled right to the edge of the track. Shoe spent a few days in the hospital but was racing again in two weeks.
Another such refueling fire came at one of the big shows – at Langhorne. Jerry Cook, probably towards the beginning of his driving career, was pitting at the big race when something caused his car to catch fire. I know little about this fire except that some early color photos show a huge column of black smoke rising from the pit lane towards the fourth turn. It looks like that first car he drove, a 1936 Chevy he built and which Ken Meahl drove until Jerry was old enough. After witnessing this fire, it might have occurred to the Cook parents that they might have made a mistake. Jerry went on to a great career with multiple national championships.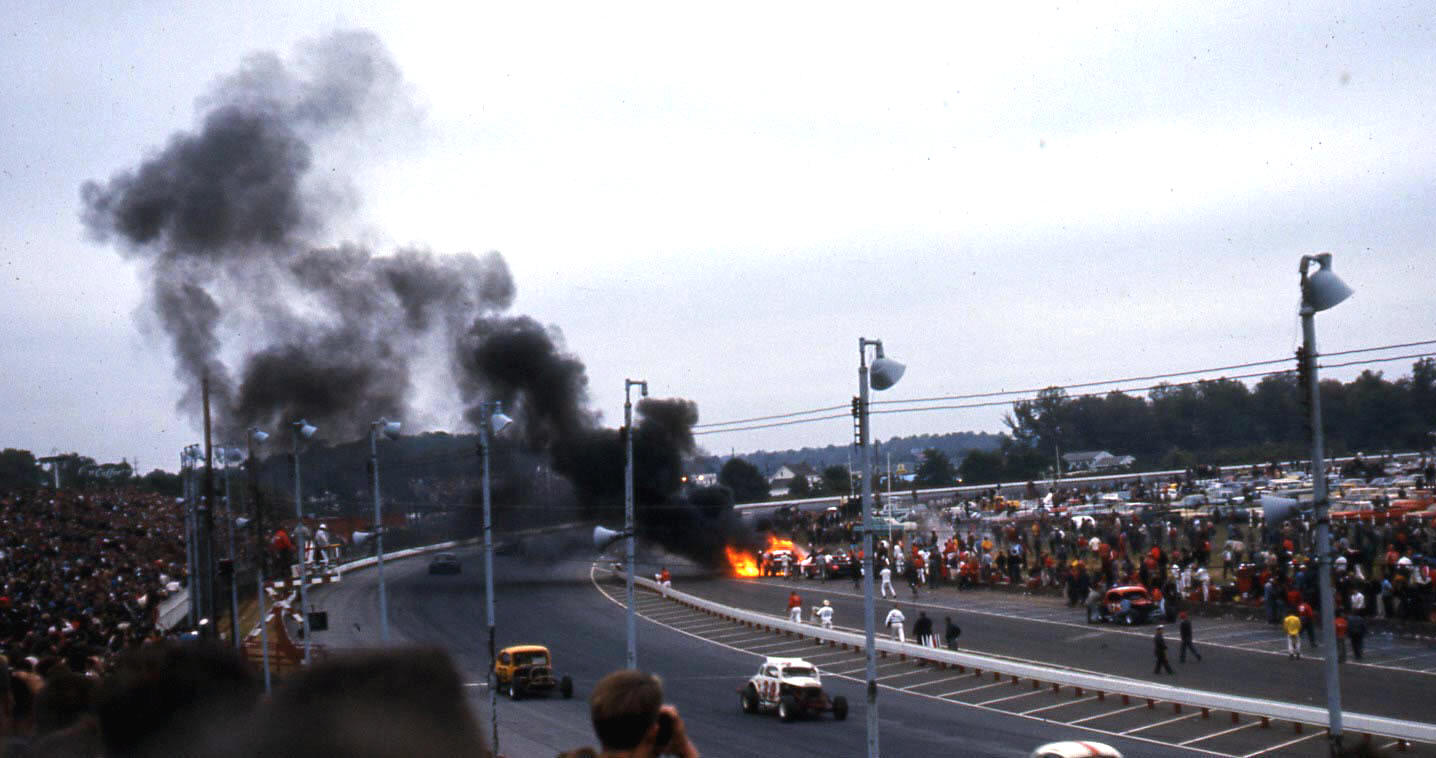 From the Dirt Track Digest Site
The huge plume of smoke is very obvious from the Cook car. Below – this fire at the small
Claremont Speedway was no less upsetting to Ernie Hastings [622] and whoever it was whose car was toasting his.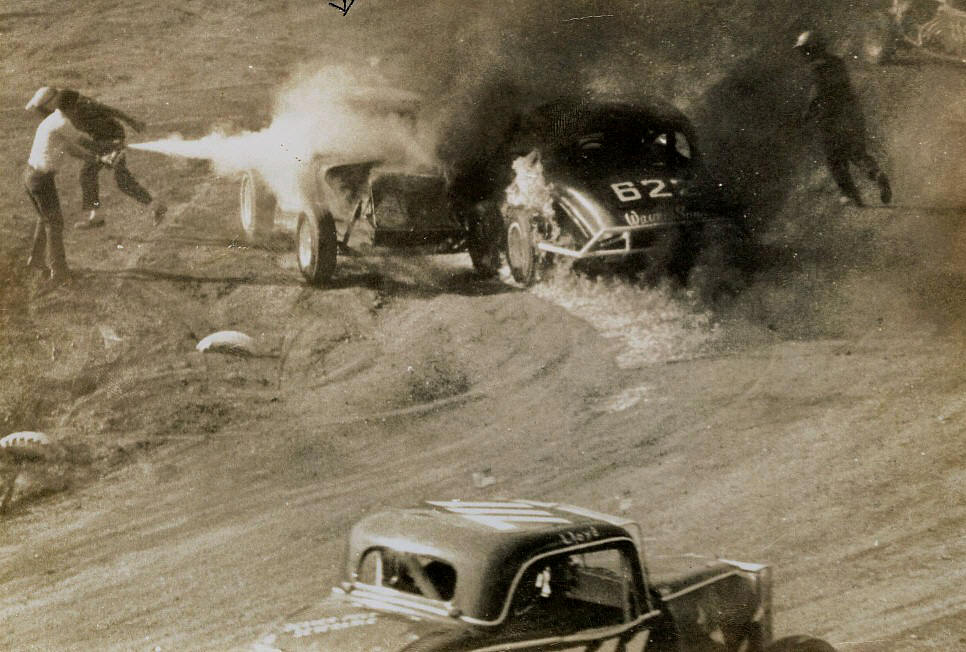 Ladabouche Collection

Langhorne did not have a monopoly on the refueling fires. The late season race at Trenton, NJ had its share, as well. One of the big names in the pavement modified world in the sixties was Wild Bill Slater, driver of familiar black coupes numbered V-8. The Connecticut Valley Rocket, as he was called, got about as hot as an Atlas at one of those national championship races when something ignited gas being poured into his car. The photo tells the story well. The rear half of the car is fully engulfed, and – hopefully – the offending gas man has already jumped away.
People in or near the Slater pits, on the other side of the ARMCO barrier, are in various stages of scrambling for fire extinguishers or whatever they could use on the blaze. On the other side of the car, Slater is seen on the asphalt of pit lane, having seen the conflagration and bailing out. In the next pit stall to the right, guys are busy refueling somebody's Studebaker, and seem to have no idea of what is transpiring behind them. It was probably hot and noisy – and they were intent on their jobs.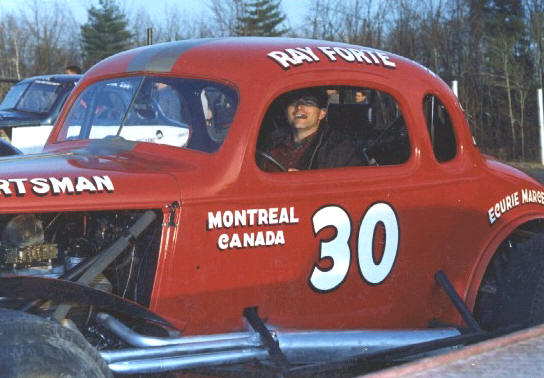 Ladabouche Collection
Ray Forte proudly smiles from his beautiful coupe, perhaps the same day as the fateful fire. Below – Beaver and
Bob Dragon stand by the open door of the Milton fire truck as fellow firemen mop up after Forte's fire.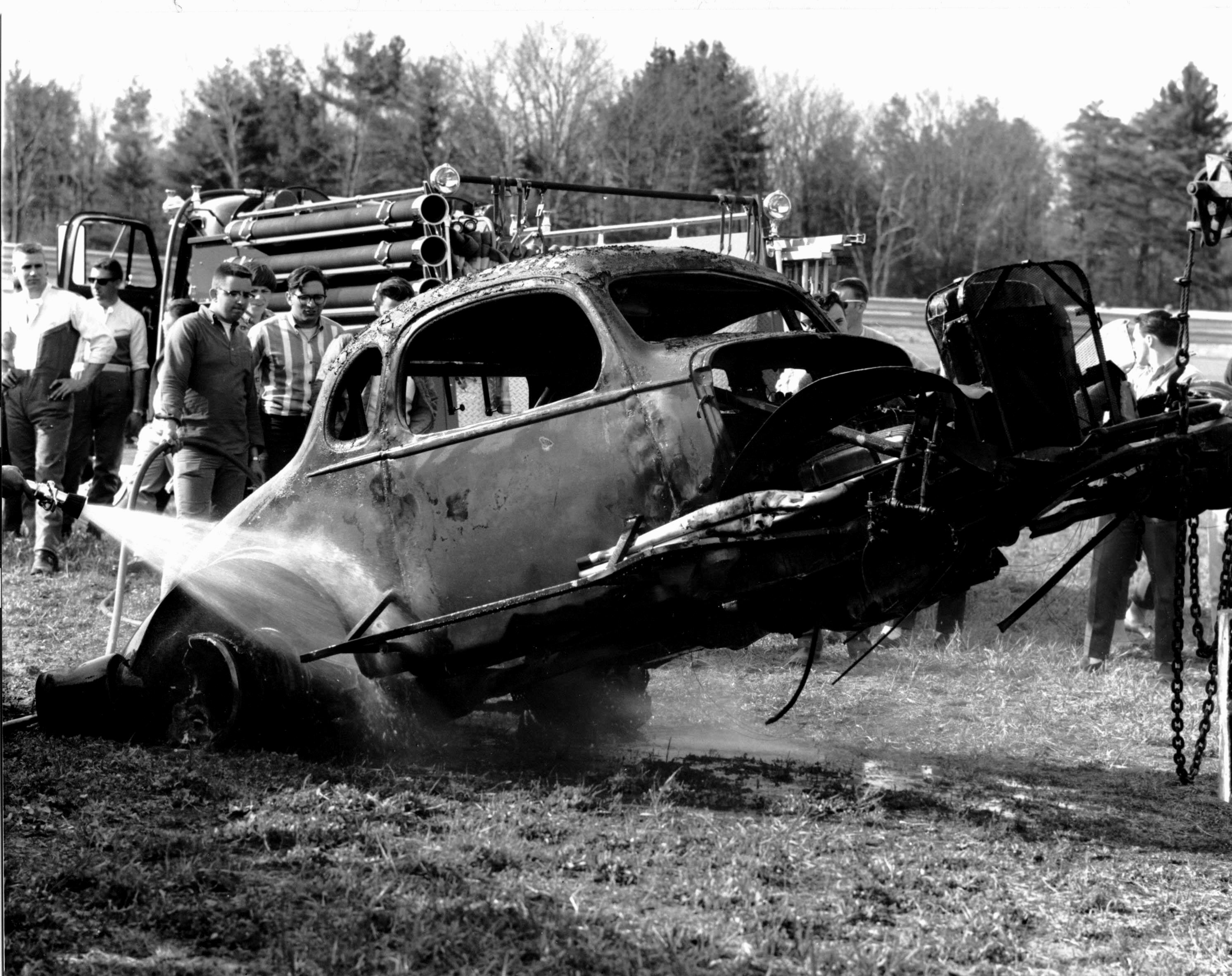 Courtesy of Cho Lee
Up our way, one of Catamount Stadium's most famous fires was that of Ray Forte. Forte came to Catamount in that period of 1965 – 68 when the modifieds and sportsman coupes were the headlining division. He had, at the time, a beautiful red #30 Chevy coupe. In the course of the racing action, Forte may have tangled with a little – known driver named Vic Blair, and the result was a blaze on the Forte car. There was very little fire fighting capabilities at the early Catamount; this was a bit surprising given the efforts to make it such a modern facility. The beautiful car burned to the ground while they waited for a fire truck to come in from Milton. Milton fire fighters Beaver and Bob Dragon could only stand by in their driver's suits and watch.
Later, in about 1969, when the track was running only late model Flying Tiger cars, local driver Ron Perry from Milton crashed his four door '57 Chevy and – again – the thing became fully engulfed while the track management had to send out for the Milton Fire Department again. This about hacked it for all involved. Catamount was more or less forced to get a giant fire extinguisher that was, from that day forward, mounted in the back of a white Ford pickup. Rumor had it that, after a few years, the chemicals in the huge extinguisher would settle to the bottom and harden it, rendering it virtually useless. It was never really tested, so no one knows.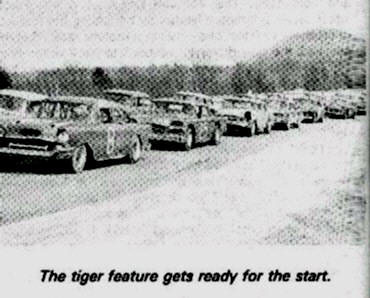 Ladabouche Collection
Ron Perry's Flying Tiger leads a lineup of those cars at
Catamount in 1968. Below – The infamous Catamount fire truck.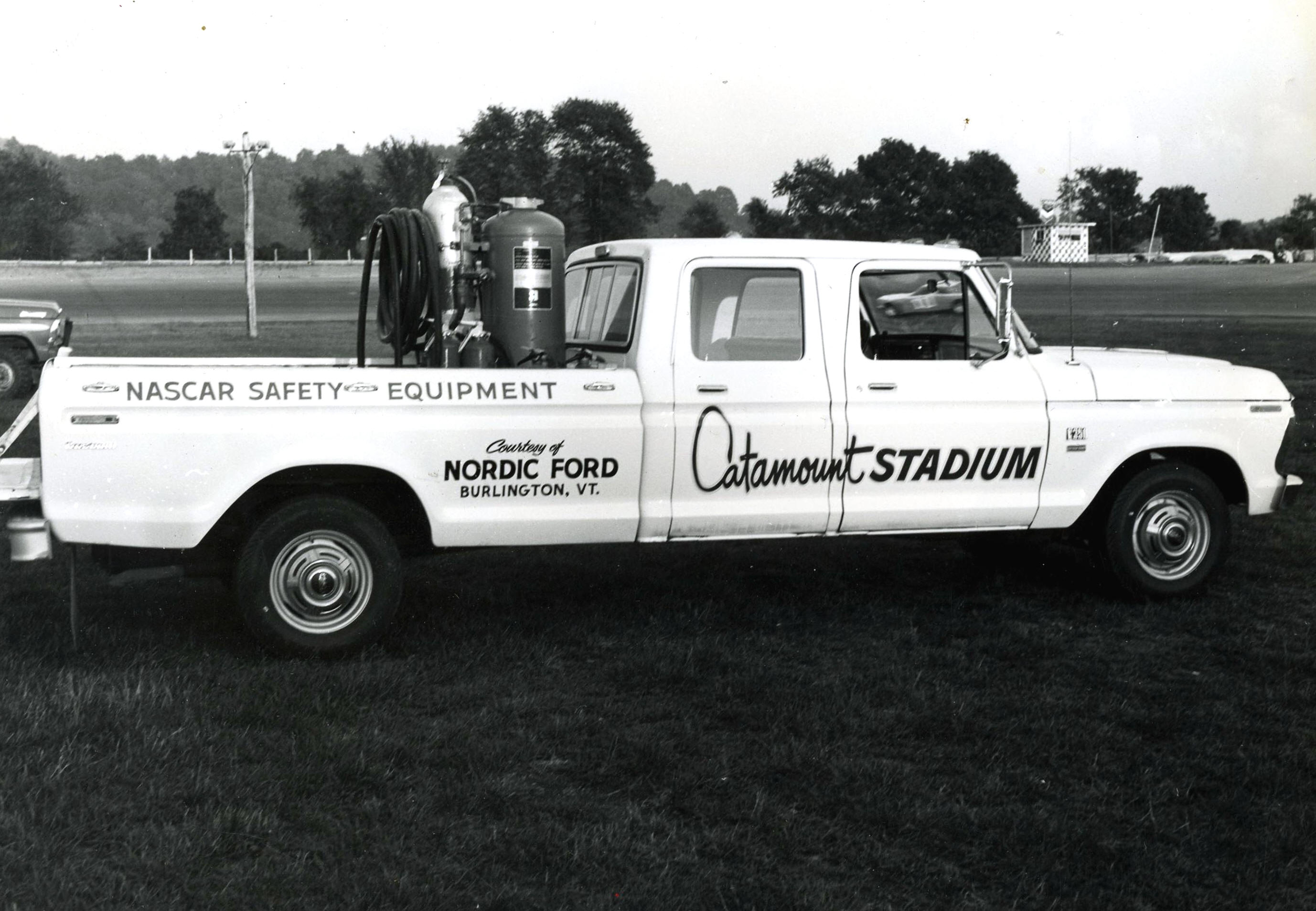 Courtesy of Paul Mascitti
Bob Dragon and Beaver were both missing for that second fire, as they had exiled themselves to Devil's Bowl by the end of the season. Ironically, Bob would be involved in a sort of fire – related side story. As the Bowl was paved in 1970, he decided to buy a modified and compete in the same division as Beaver. The car was a Bill Wilson coupe, from the dirt – oriented Pennsylvania / New Jersey circuit. It was always a bit upright for pavement, but it had an early attempt at a fuel cell – to reduce fire danger.
The "fuel cell" was nothing more than a homemade metal box that contained "compartments" made from five gallon plastic gas cans with the tops sawed off. I don't recall if it had any foam rubber or how the gas would get from one compartment to the next, but Dragon ran the car in 1970 and part of 1971 before returning to Catamount for the late model sportsman racing that was being developed. [And those cars had real fuel cells by then].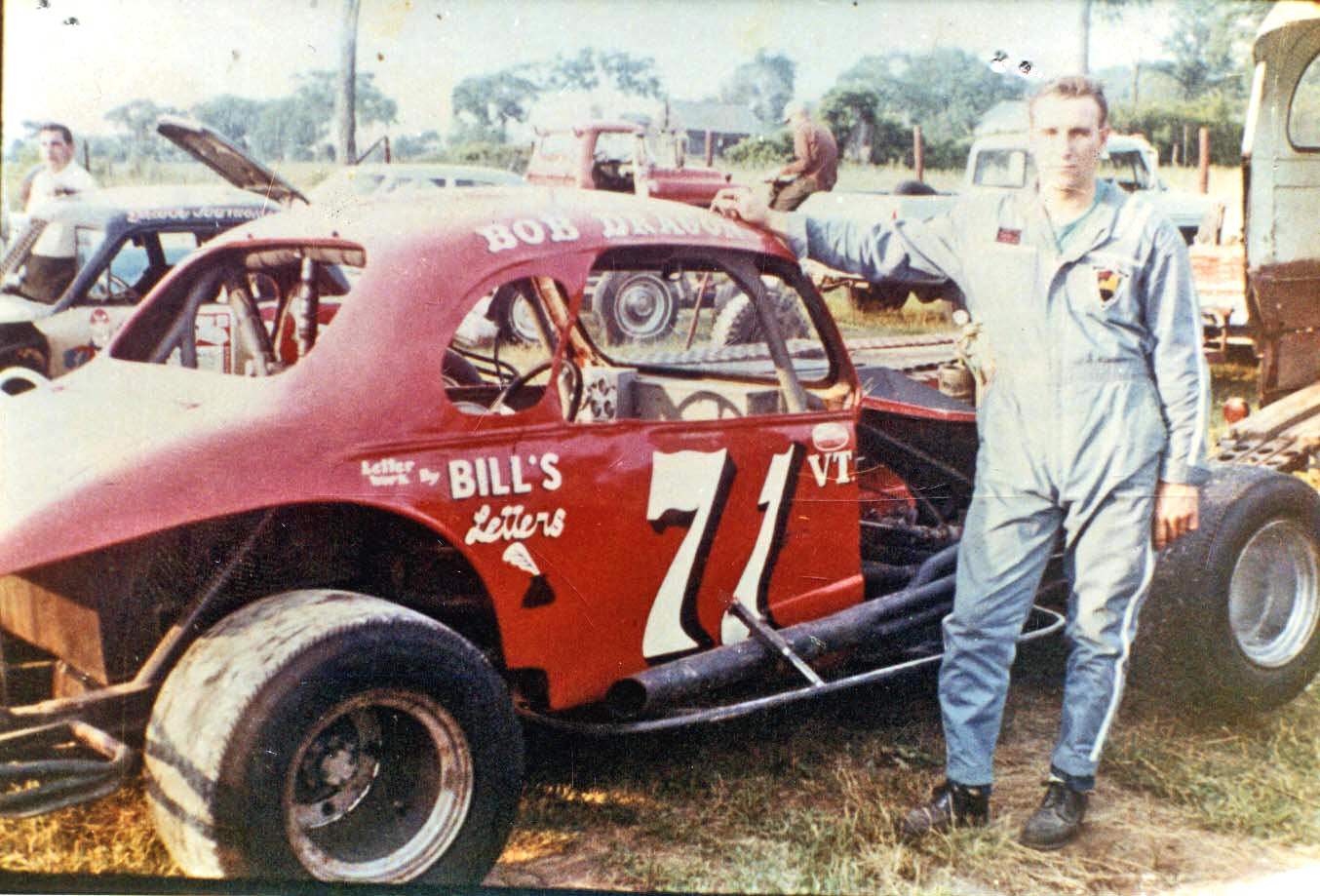 Courtesy of Rich Palmer
Bobby Dragon and the former Wilson car, with its visible "fuel cell". Below - This shot of legendary
Steve Danish shows him and the crew wearing Wellington boots. Early driver thought the
leather show would take longer to burn in a fire.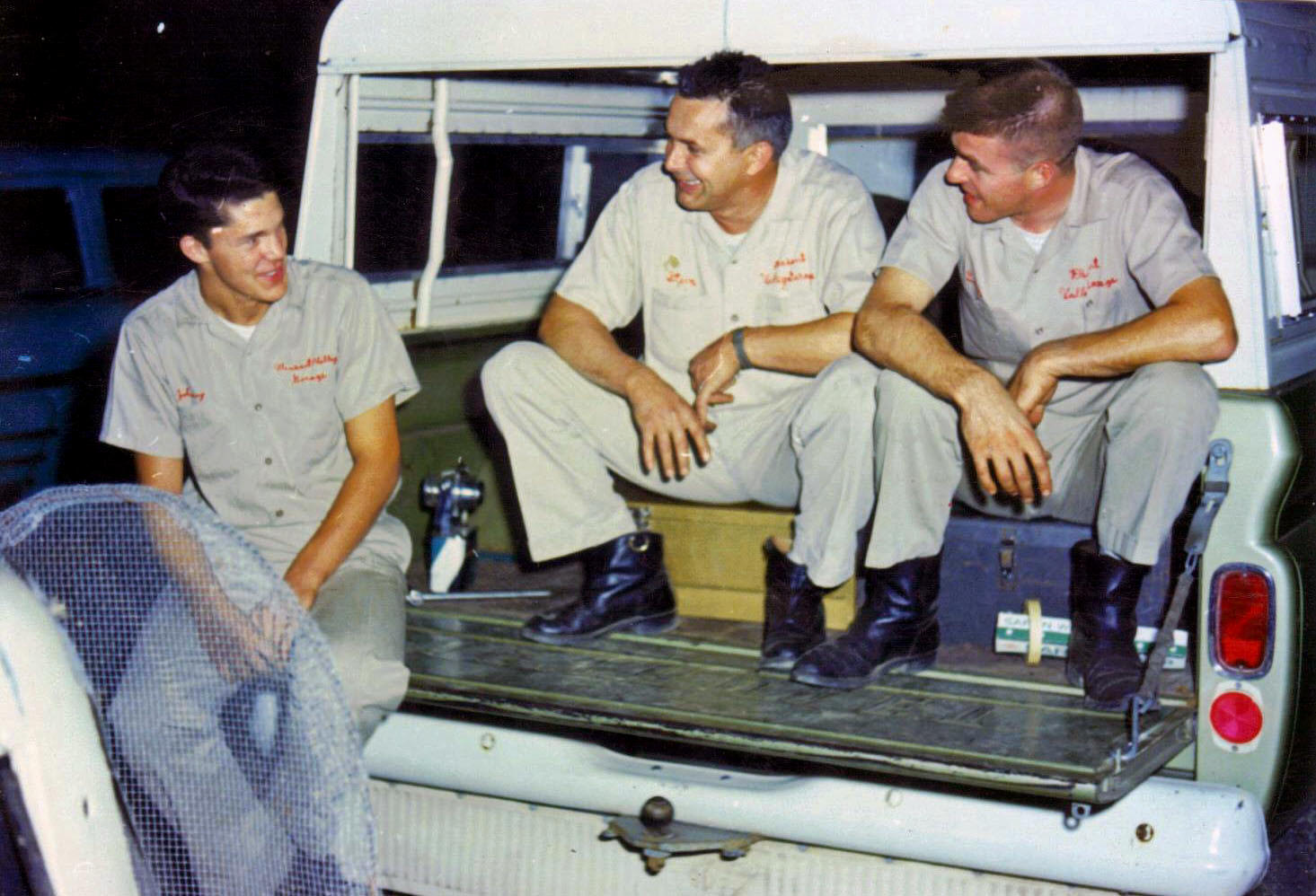 Courtesy of Dan Ody

There is still nothing that can make the hairs stand up on the back of your neck like seeing somebody's car go up in smoke – particularly if you haven't seen them get out yet. But, back when there were no fuel cells, firesuits, and decent extinguishers, it was about the most terrifying thing you could see at a race. I have known absolutely fearless race drivers who greatly feared fire. I don't blame them a bit. There seems to be a lot fewer incidents today; and thank God for that !
Please email me if you have any photos to lend me or information and corrections I could benefit from. Please do not submit anything you are not willing to allow me to use on my website - and thanks. Email is: wladabou@comcast.net . For those who still don't like computers - my regular address is: Bill Ladabouche, 23 York Street, Swanton, Vermont 05488.
AS ALWAYS, DON'T FORGET TO CHECK OUT MY WEBSITE
www.catamountstadium.com
Return to the Main Page
Return to the Main News Page
Return to the All Links Page
Return to the Weekly Blog Links Page