BILL'S [Somewhat] WEEKLY COLUMN/BLOG PAGE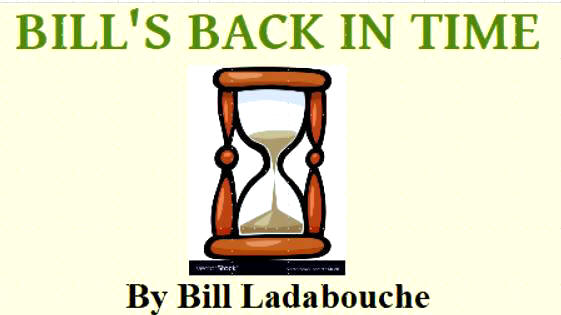 WHATEVER IT WAS, IT RAN AWAY AND HID
What a Couple of Photos Can say
I was lucky enough to stumble across a s bunch of photos that I thought had long been lost, when cleaning out our attic in June of 2017. Right there with a number of personal documents and other lost treasures was a nondescript, padded manila shipping envelope chock full of photos. While most were from the year I worked at Airborne all summer [1985], a few were from earlier days at Fairmont Speedway.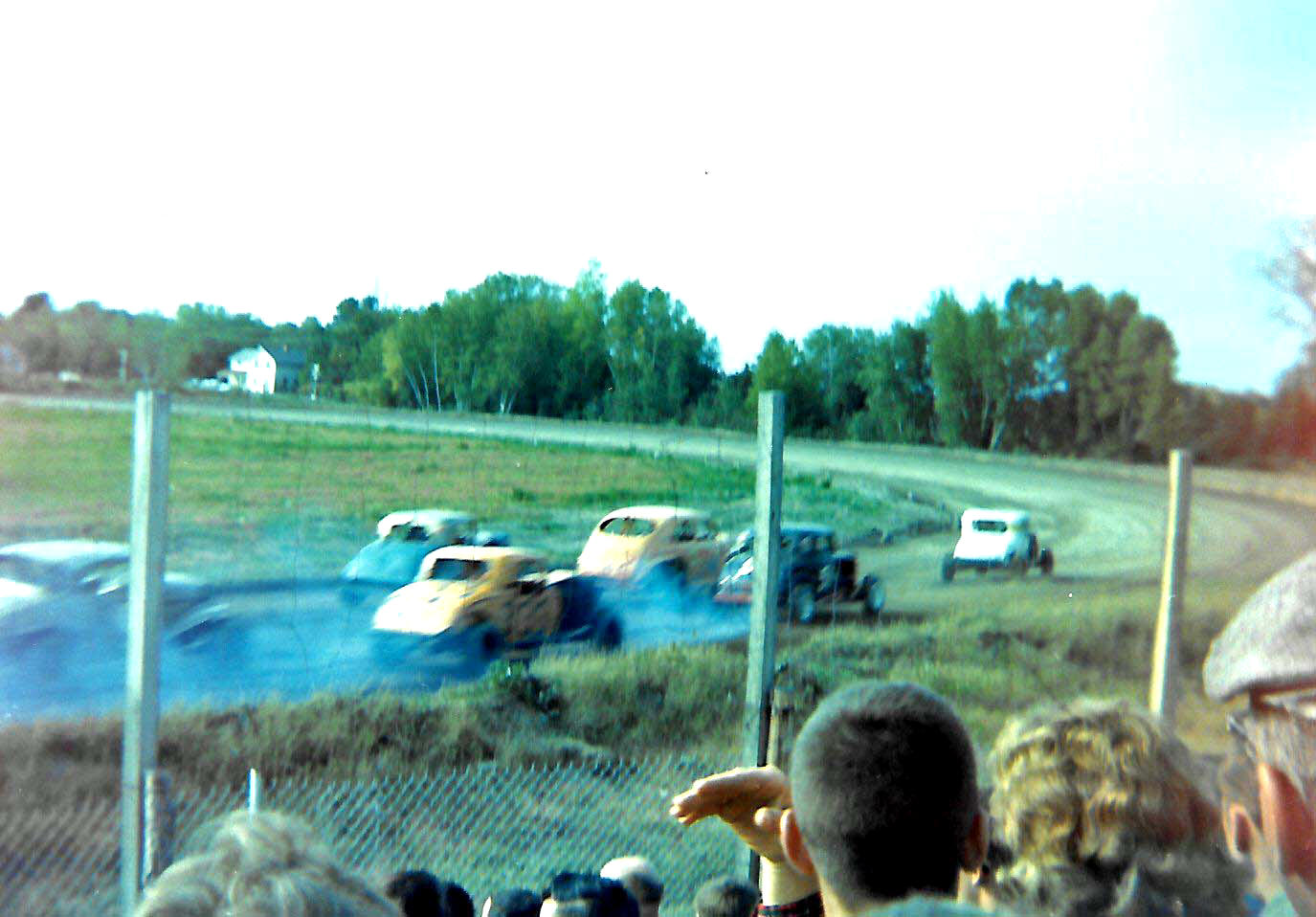 Dick Britain Photo via James Howard
This shot shows the head of the field, apparently right after
Danny has displayed the green.
One particular pair of snapshots, the taker of which I have no idea, seemed to depict nearly the same moment in time – a feature start at Fairmont in 1964. You can tell this only because a couple of cars looked different then than they would in 1965, when C.J. Richards made the overhead V-8 the engine of choice at his track while Joe D'Avignon [operating the track for Richards] did the same at the old Otter Creek Speedway – now renamed Hillside Raceway.
The field is shown, in both pictures, starting to lumber off into turns one and two. They did kind of lumber then, being that the old Ford flatheads and GMC six bangers did not exactly leap to top speed in a small instant of time. Heck, even the smaller overhead V-8's they would have the following year were not exactly taking off like funny cars. Engine size and the fact that chief starter Danny Rumpf like slow, orderly starts were largely responsible for this phenomenon.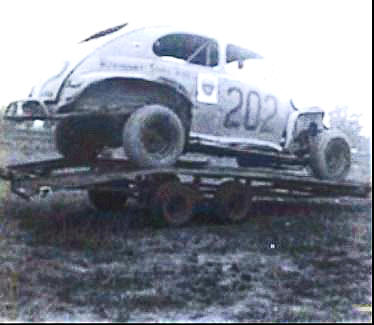 Ladabouche Photo
There were no other photos of infrequent Fairmont visitor
Bob Ridgeway and his big sedan until this one joined my shot.
Below – George Pritchard's gold No. 9 was a retreaded Jim
Spaulding car – likely a '38 Chevy.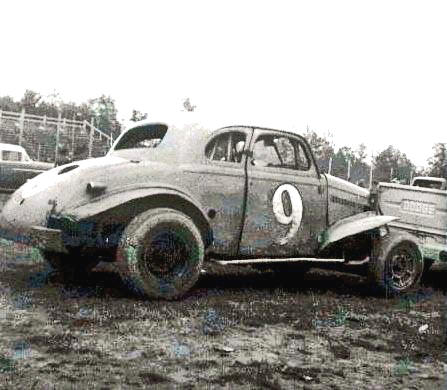 Ladabouche Photo
The first [and wider angle] of the two shows the head of the field, on the gas, heading into turn one. Although trees had grown up, buildings are still visible across U.S. Route 4 – by Young's Farm Equipment. Hugh Young, a man who had promoted races there a decade before, was no doubt still somewhat interested in the outcome of Richards' programs. Realizing pretty decent success with the old fairgrounds track, Richards had far more bleachers than Young and had moved the old judges' stand from the infield to beside the bleachers. Other than that, the place was still about the same.
Photo One shows a small, unidentified flat top white coupe taking off from the pole position. I have racked my brains as to who that was: Henry Abbott ? [doubtful, the car was sold by then], Vic Love ? [too fast and too high a body], or Rudy Charbonneau ? [no, he's back further in the pack then]. At any rate, he had that advantage and – if the second photo taken a second or so later is true to form – he would take that advantage to run away and hide [At least at the beginning of the race].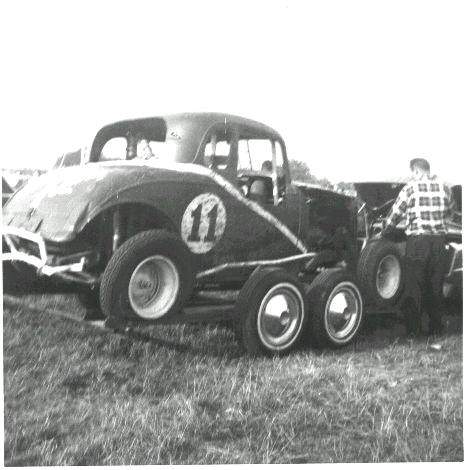 Ladabouche Photo
The Golden Jet wasn't taking flight much that day. Below – Howard
Stevens, another Claremont driver, would come on strong with
the 333 that year.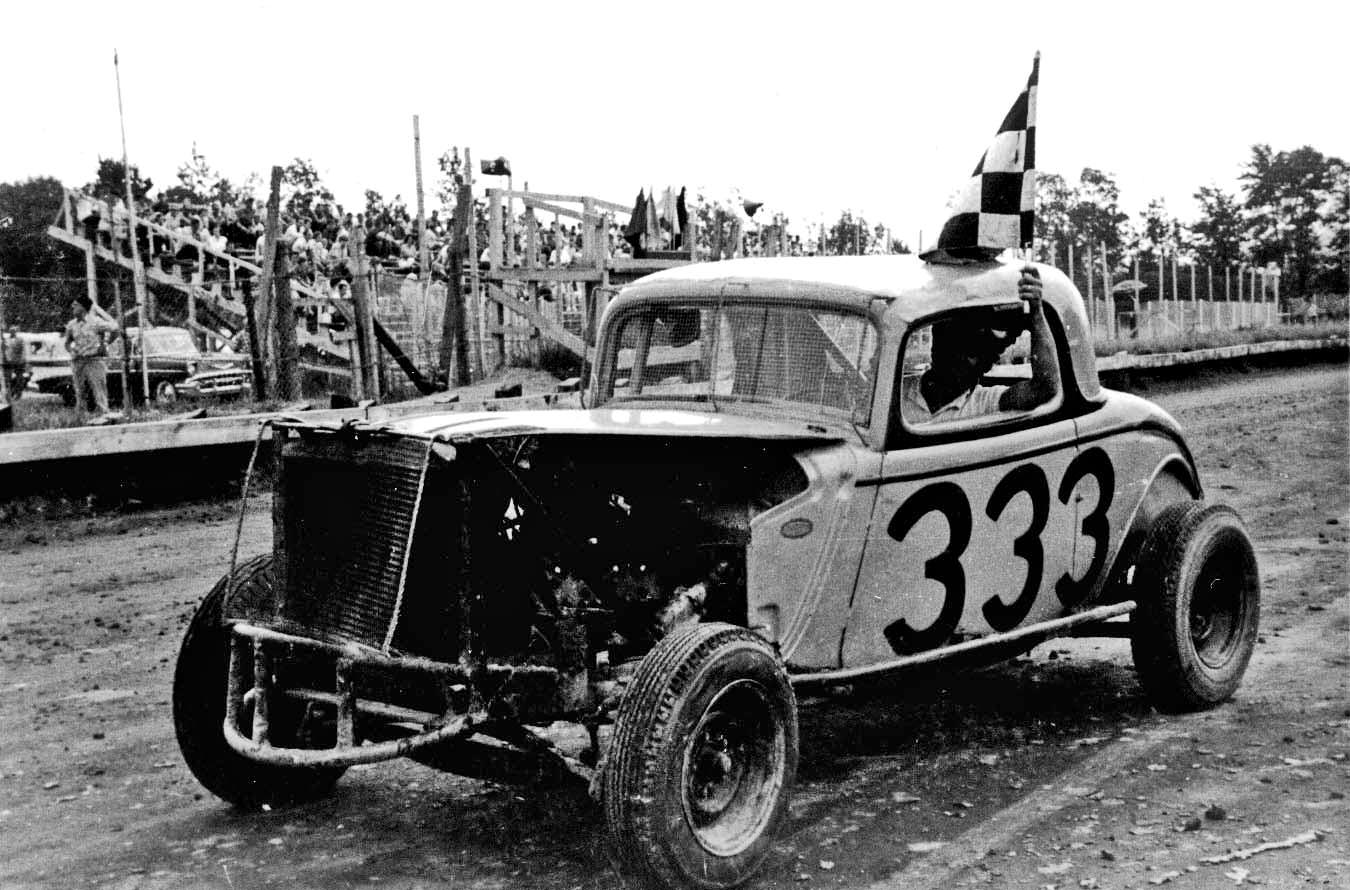 Bob Frazier Photo via CJ Richards
Behind the fleeting white coupe were Bob Ridgeway and Don Miller. Ridgeway, practically a once – only competitor at Fairmont, had a huge yellow Ford sedan numbered 202. The type of car and the Schenectady address would suggest he came from a lesser New York track like Pine Bowl, Whites Beach, Empire, or Route 66. I don't recall him doing too badly that day; I remember his one time there.
Miller, on the hand, was "The Golden Jet". A well – heeled Windsor, Vermont driver who ran usually at Claremont Speedway, Miller had the knowledge and means to field good cars and he was known to be a skilled engine man, as well. But, in this shot, the "Lucky 'Leven" [11] was smoking up a storm. Miller would have several good cars including the one he sold to Clayton Ryan that would become the "Shelby's Cobra" #11. Miller, I am told, ended up at some point in partnership[ with the reknowned Bill Alsup in a racing engine business. I guess he got them to stop smoking.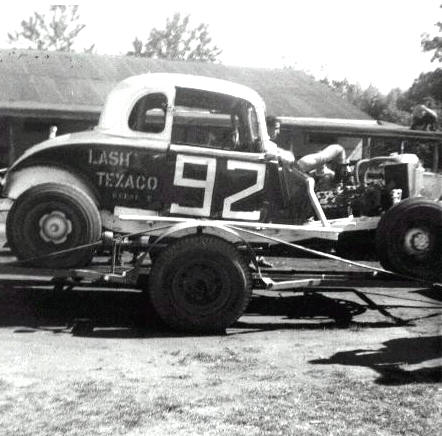 Ladabouche Photo
The familiar Lash Texaco 92 of Ted Brown, towing into Fairmont.
Below – The second photo of that 1964 start – deeper into
the field. George Rogers is the car barely coming into the shot.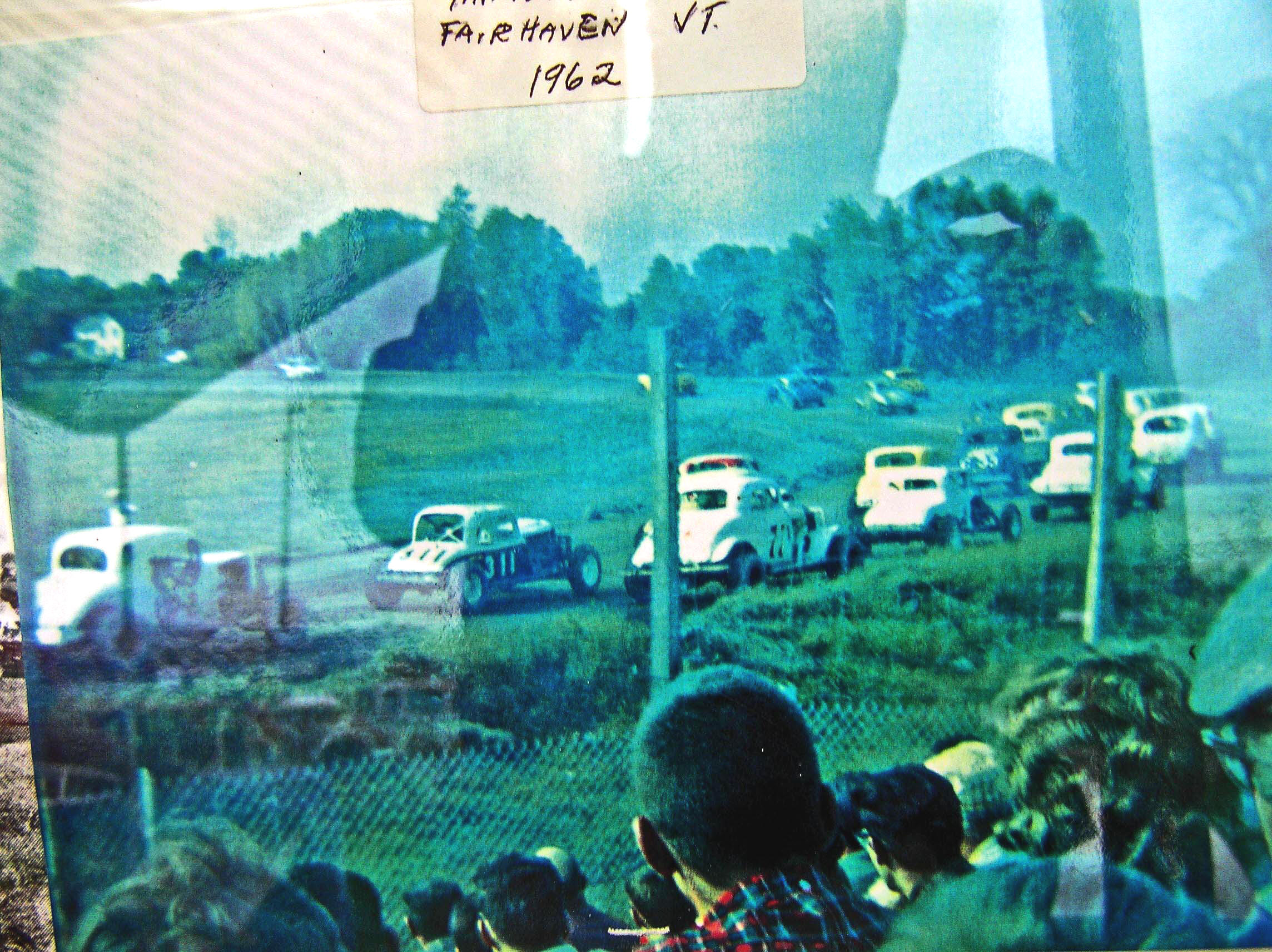 Dick Britain Photo via James Howard
The car on the inside of the next row is hard to figure out. It looks like it might have been the 92 of Keene, NH's Ted Brown, but I can't be sure. On the outside was a fascinating new team that had popped up that year. Claremont, NH's Howard Stevens was the driver of Leo Vallancourt's orange and black 333. The pleasant and easy – going Stevens quickly became my favorite, the point where I would show up at races with an orange 333 shirt just like the crew wore. Stevens and Vallancourt would win a few that year.
The following season, the 333 would re-appear, still as a flat top coupe but now sporting a small overhead V-8. Stevens would guide the car to a lead in the point standings in the middle of the 1965 season, only to have Vallancourt unexpectedly sell the car off to Sonny Rabideau, whose long – time car owner [Frank "Stroker" Smith] had apparently tired of ruining his flat head motors trying to keep up with the overheads. That would largely be it for Howard at Vermont tracks while Vallancourt would go on to field cars for Rabideau several times at Devil's Bowl.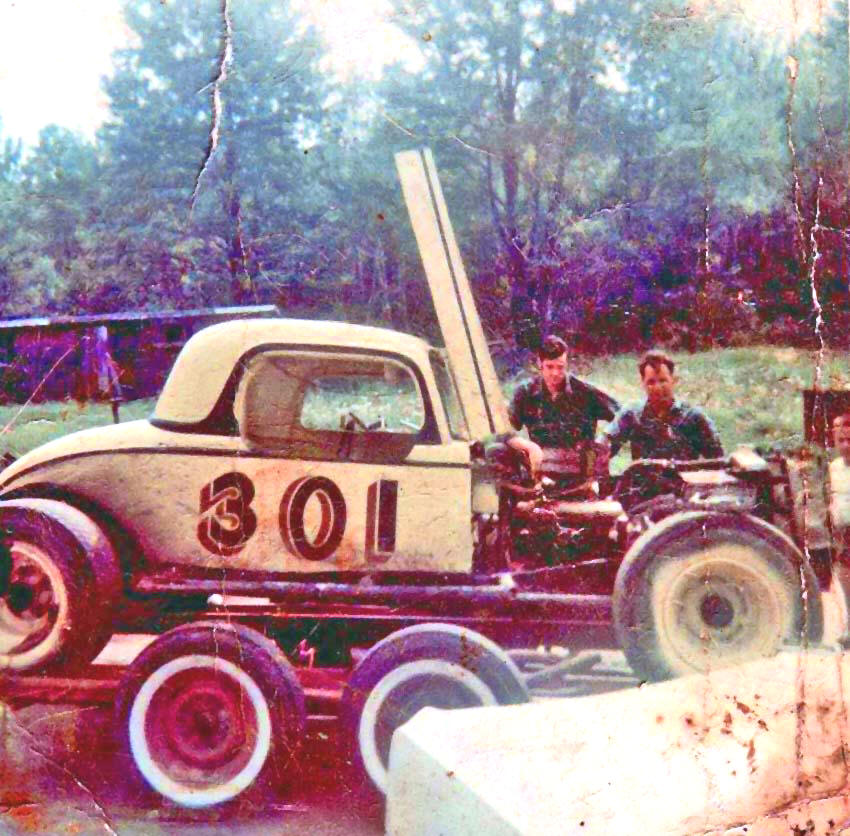 Courtesy of the Davis Family
The former Vallancourt 333 as it looked after having been
purchased by Rabideau. Below – Sonny Rabideau, with the the familiar Frank Smith 311
he had driven at Fairmont through 1964.

Courtesy of R.A. Silvia
Just coming into the picture in that first photo we see a large gold '38 or '39 Chevy coupe. George Pritchard had bought the car from Jim Spaulding, a local Fair Haven driver who would be going on from his own equipment to drive, on and off, for Ray Richards, brother of the track's promoter. The huge Pritchard had been a figure at Fairmont since the track's 1951 season when he drove his won #37 there. George had painted the maroon Spaulding 11 into his own gold #9. He never amounted to much with that car that year.
The complete a circle of sorts, Pritchard had driven a car for Ray Richards in 1962 at the big racing program at the Vermont State Fair in Rutland. The C.J. Richards – directed program would attract the largest crowd to ever attend a sporting event in Vermont then- and for quite some time later. Pritchard won a heat race handily with the white Chevy coupe numbered "RR" fir its owner. But, in the early laps of the feature, the RR was involved in the first of two huge pileups and the frame was irreparably twisted. Richards would later use the body again, however.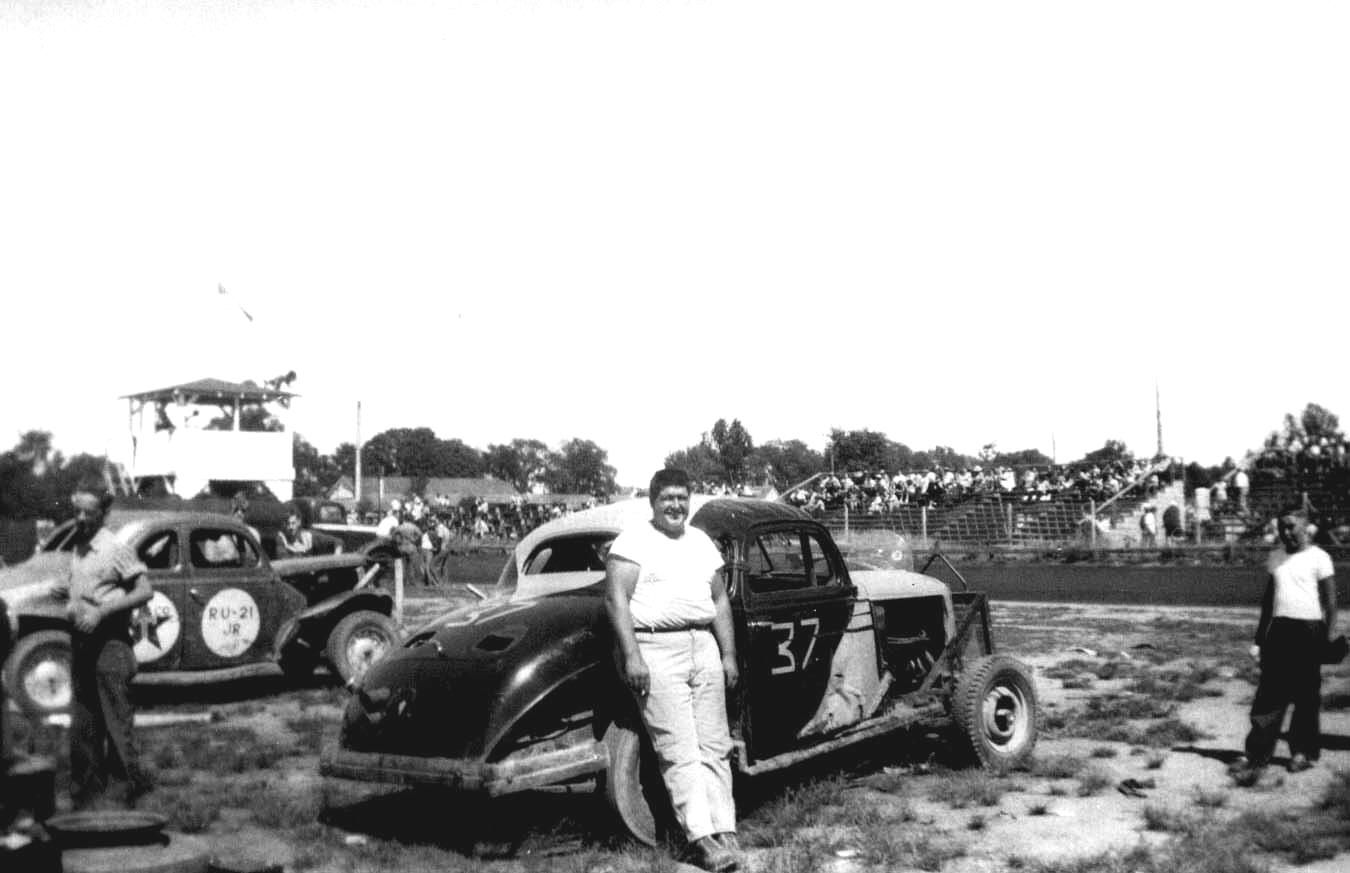 Courtesy of Mark LeFrancois
A young George Pritchard poses with his car at the
old Fairmont Park Motor Speedway in 1950. Note a
version of the Van Vricken RU21 team is in background.
Below - Pritchard winning a qualifier at the 1962
race at the Vermont State Fair.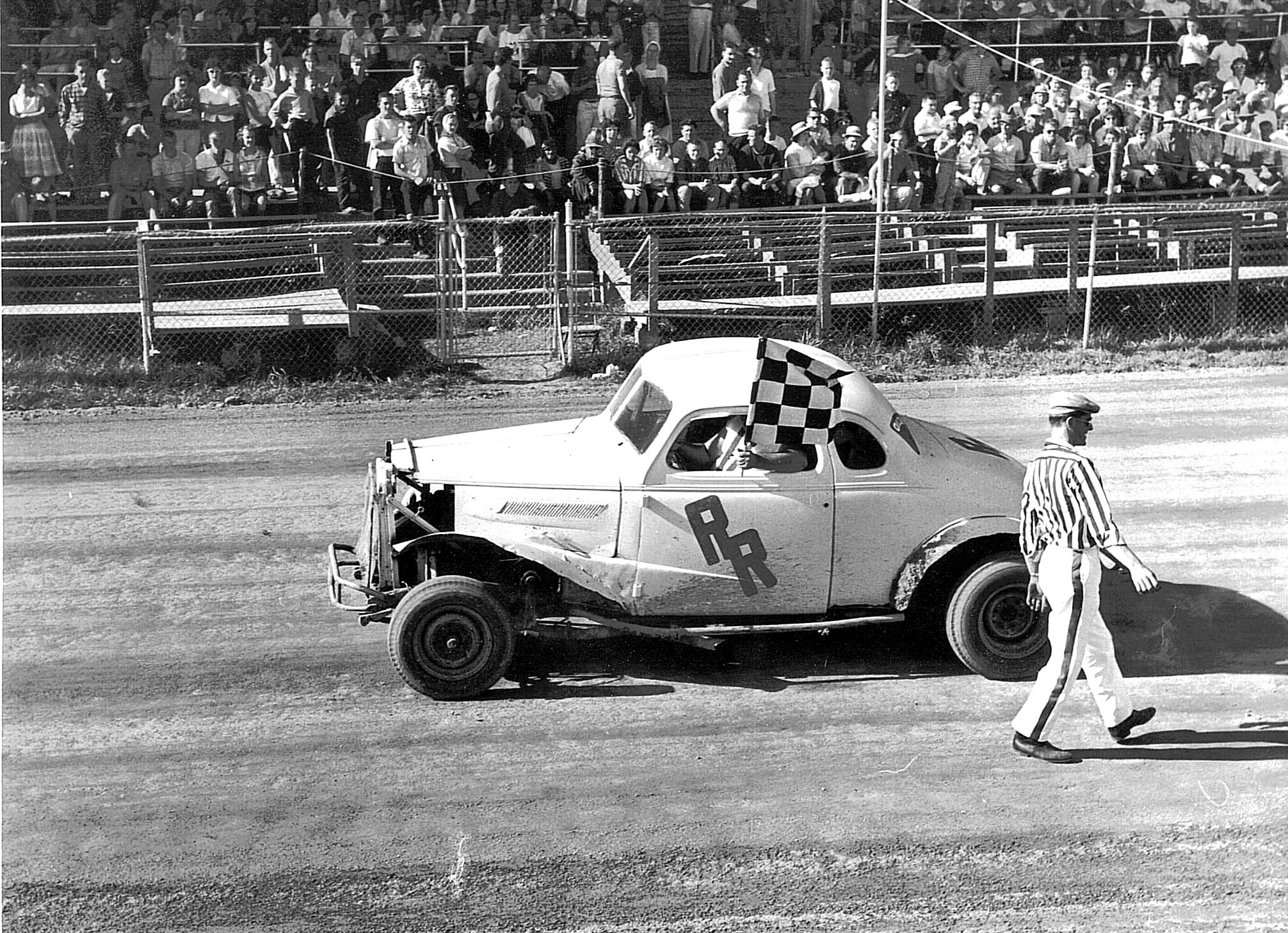 Bob Frazier Photo Courtesy of Mike Richards
The second photo of that feature start is a wider angle shot, taken further away from the cars. It does, however, show most of the rest of the field that qualified that day in 1964 on a Sunday afternoon. The cars we just discussed are seen off, in turn two, breaking away from the pack and vainly chasing that little white coupe in the lead. Some of those in the middle of the pack are impossible to id, as they are too blurry and not the subject of the camera's focus. The big Ridgeway sedan is making ground while Stevens is stuck behind Miller, who is having a very uncharacteristic slow start. There are a number of white coupe, both pre and post 1936 in that pack I cannot see well.
The furthest car up that can be made out is that of Manchester, VT's Lefty Casey. New to Fairmont in 1964 but a veteran of some 1950's racing, Casey had built an attractive black #C33 Chevy coupe and was enjoying a reasonably good season, running in the shadow of mentor and fellow Manchester driver Gene Tetreault. Casey is supposedly seen in early 1950's photos of Warrensburgh Speedway with a car numbered KC. It was typical of Warrensburgh cars to bear the initials related to their driver or owner.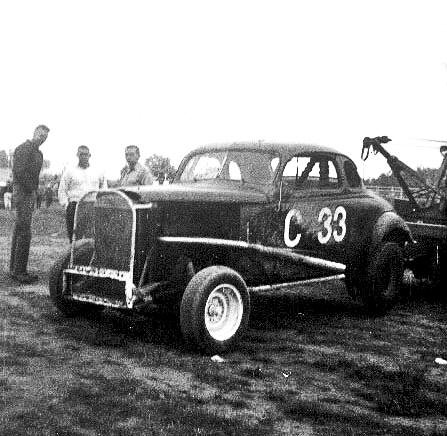 Ladabouche Photo
The sharp Lefty Casey C33 in its usual off track perch,
behind his wrecker. Below - Gene Tetreault stands behind
the sedan he built for the 1964 season at Fairmont. He
would lower it in 1966, its final season.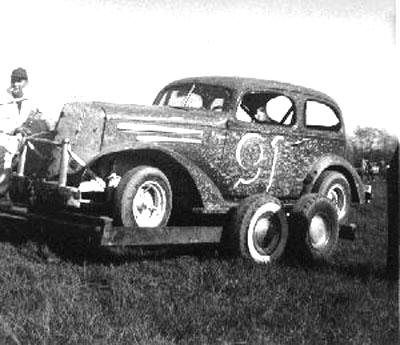 Ladabouche Photo

Just behind Casey, on the outside, is the white 77 of Stan Wetmore. Wetmore had cut his teeth crewing for the legendary Johnny Flach and was now driving a car just like Flach's on the Ridge Runner Racing Team from Oak Hill, NY. Flach had a brief association with C.J. Richards having assured him that he would be at the opening race at Fairmont in 1962; but, he was not present that day. Wetmore team mate, former Flach crew member, and son of the team's patriarch was young Lou Searing, a few spots behind Wetmore and running a #27 that looked extremely similar to Wetmore's car.
The team had ties with Rutland County racing that went back to 1961, when the Lebanon Valley Speedway organization had staged a race at the same Rutland fairgrounds. Johnny Flach was there, as was team owner Fred Searing, a veteran of nearly ten years of racing by then. Many people believe the Valley show, which was won by Joe Messina, was encouraged by Richards, who wanted the county's appetite for racing to be whetted for his own track the following year. I asked CJ about that, but he would only smile and not answer.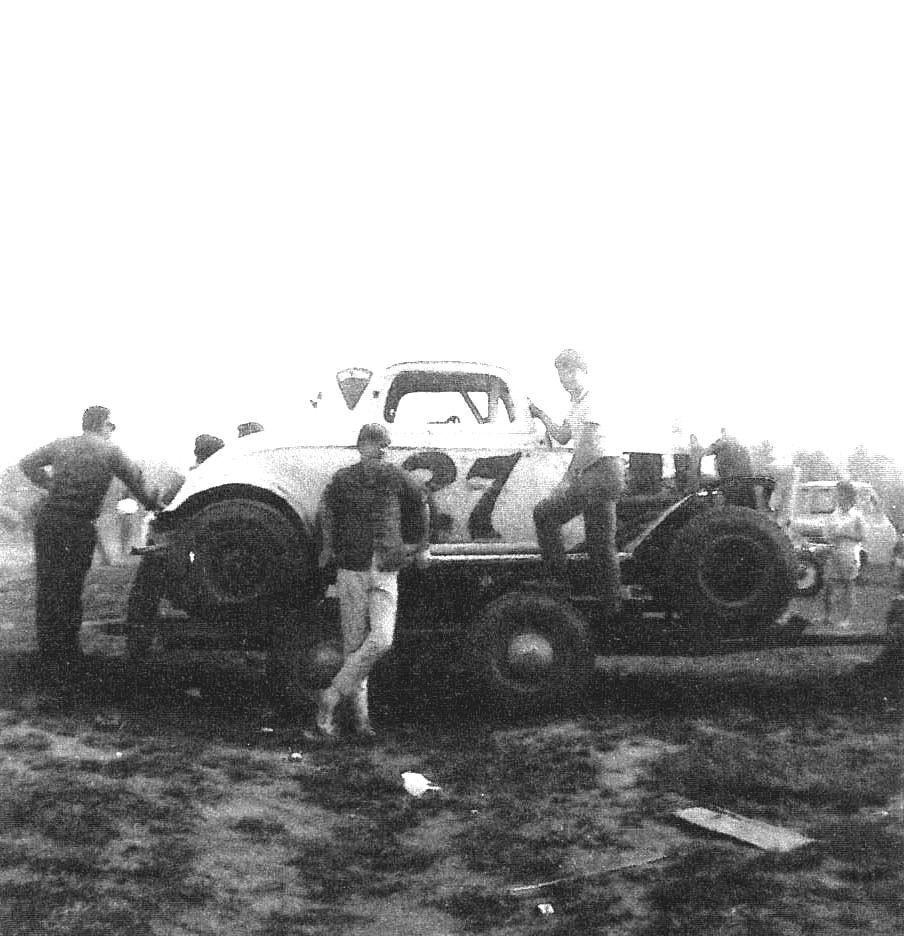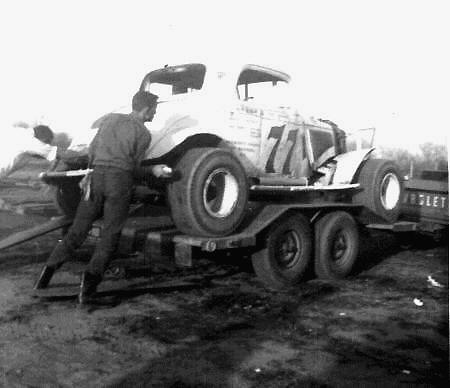 Ted Vogel, Jr. and Ladabouche Photos
Some of the Lou Searing poses for a shot in 1964. Right – The
Stan Wetmore crew loads a similar white Searing coupe. Below -
Promoter – to be C.J. Richards recruits Legendary Johnny Flach
after the 1961 Lebanon Valley show at the fair.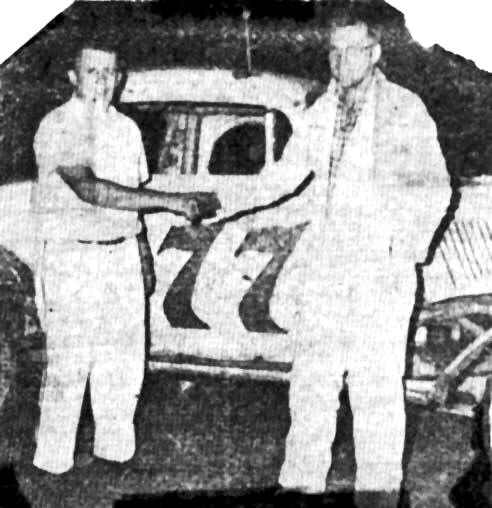 Bob Frazier Photo via Rutland Herald
In between the Ridge Runner cars was the low slung white #4 of Rudy Charbonneau, from Whiting. Having grown up a classmate at the tiny Whiting school to Vince Quenneville and car owner Norm Scarborough, the dimutive Charbonneau had helped with Ed Foley's car and others and now wanted his own car. This was his second season and he would be the surprise winner of the Vermont State Championship at the end of the season.
Barely visible on the inside is the maroon sedan of Gene Tetreault. The Manchester Depot native called his 91 "The School Bus" and was – at that time a major figure at Fairmont. He had raced all through the 1950's at venues such as the Manchester fairgrounds, Stateline, the old Fairmont track, Warrensburgh, Mettawee Speedway in Granville, NY, and Rutland's Pico Raceway. He was even a regular at the early days of Lebanon Valley. Except for the Valley car, he consistently fielded #91's with at least some maroon on the color scheme.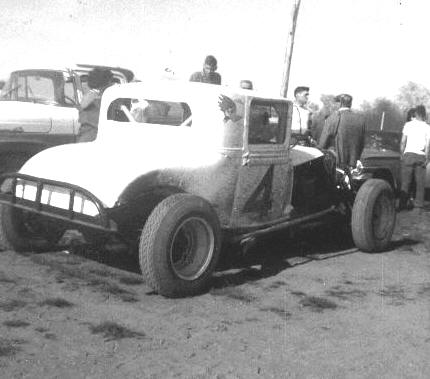 Ladabouche Photo
Rudy Charbonneau had streamlined his car and won the 1964
Vermont State Championship race with it. Below – The
older, less sophisticated car he ran at first.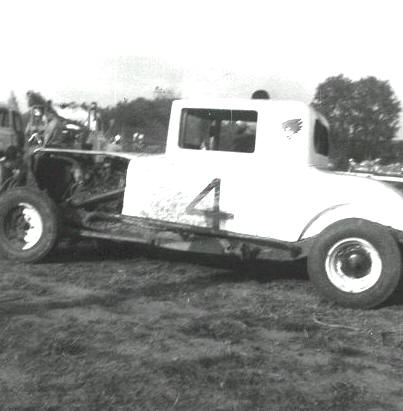 Ladabouche Photo
Tetreault would appear at Fairmont in the first year of the Richards promotion and would re -start his driving career driving a rather substandard '40 Ford coupe for Fair Haven's Julius Mestyan, who had wanted stepson Kenny Martin to drive the car. Martin would learn from watching Tetreault, who finally put the black and silver #6 end for end at Fairmont and went to dig out his old 91 coupe to complete the season. Martin would drive, on and off but not amount to much expect for having some fun. Mestyan, who lived close enough to drive his cars to Fairmont, built at least six cars over the period from 1962 to 1964.
Then comes Sonny Rabideau, in the cut down Stroker Smith 311 out of New Hampshire. Rabideau was another Vermont State Champion and the winner of many features who had dared to go among the Lebanon Valley regulars in 1961 and ended up embedded under the turn one fence for his troubles. Valley drivers were infamous for their resentment of outsiders. Rabideau, an excellent machinist from Brattleboro, had begun racing in family cars before moving over to a more competitive ride around 1952.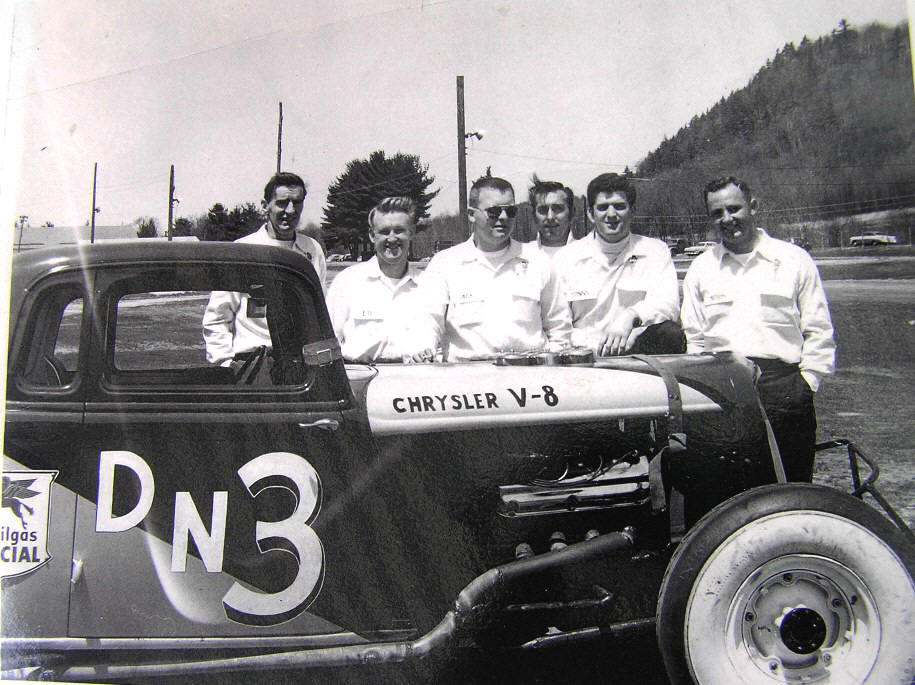 Courtesy of Cheryl Snape
Before the Smith 311 Rabideau had strapped on the Cazcinin brothers DN3, straight outta Northhampton. MA.
Nicknamed "The Beast", the car had a thundering hemi, pictured below. In the bottom shot, a young
Sonny is at far right in all white while former DN3 driver Lionel Arel is in the white clothes with the cigar.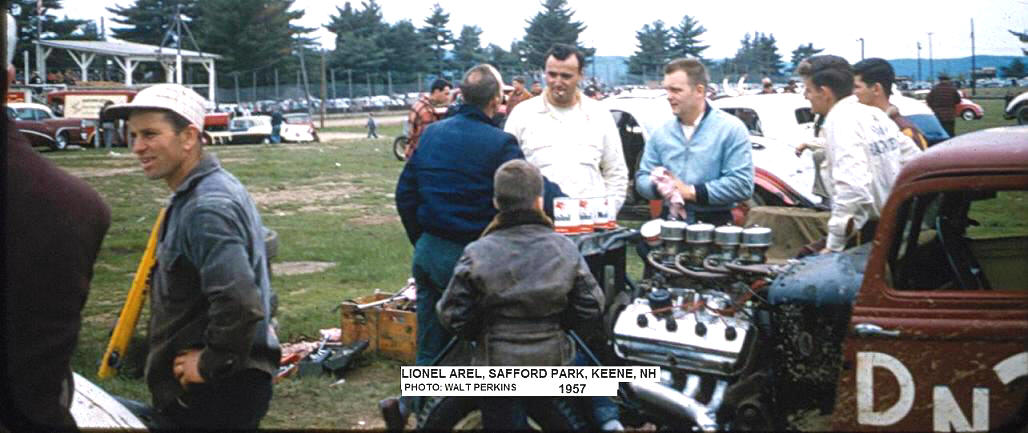 Courtesy of Walt Perkins
Sonny took over the wheel of the extremely potent Cazchini brothers DN3, out of Northampton, MA. He was following noted driver Lionel Arel, who went on to race sportsman cars at Stafford Springs Speedway in Connecticut. Rabideau did well with "The Beast" at the Safford Park Speedway, Keene, NH, at Brattleboro Speedway, and at the Rhythmn Inn track in Massachusetts before moving over to Smith's 311. The Smith 311 flat head car was a juggernaut until about every track had gone over to the overhead V-8. Rabideau [sometimes with Smith] would finally have to make the same changeover after no amount of machining could keep a flathead together against the overheads.
Barely seen coming into the picture is the 1934 Ford coupe #UP2 of George Rogers. The Castleton, VT driver had been driving at local tracks since 1950. He had begun racing at the Richards – promoted Fairmont track having dug out one of his 1950's race cars – a white '36 Chevy coupe that rode high off the ground. Rogers, an excellent welder as well as a good driver, had built the smaller coupe for the 1964 season as he was sensing that he needed to be more competitive against increasingly better fields of cars at Fairmont.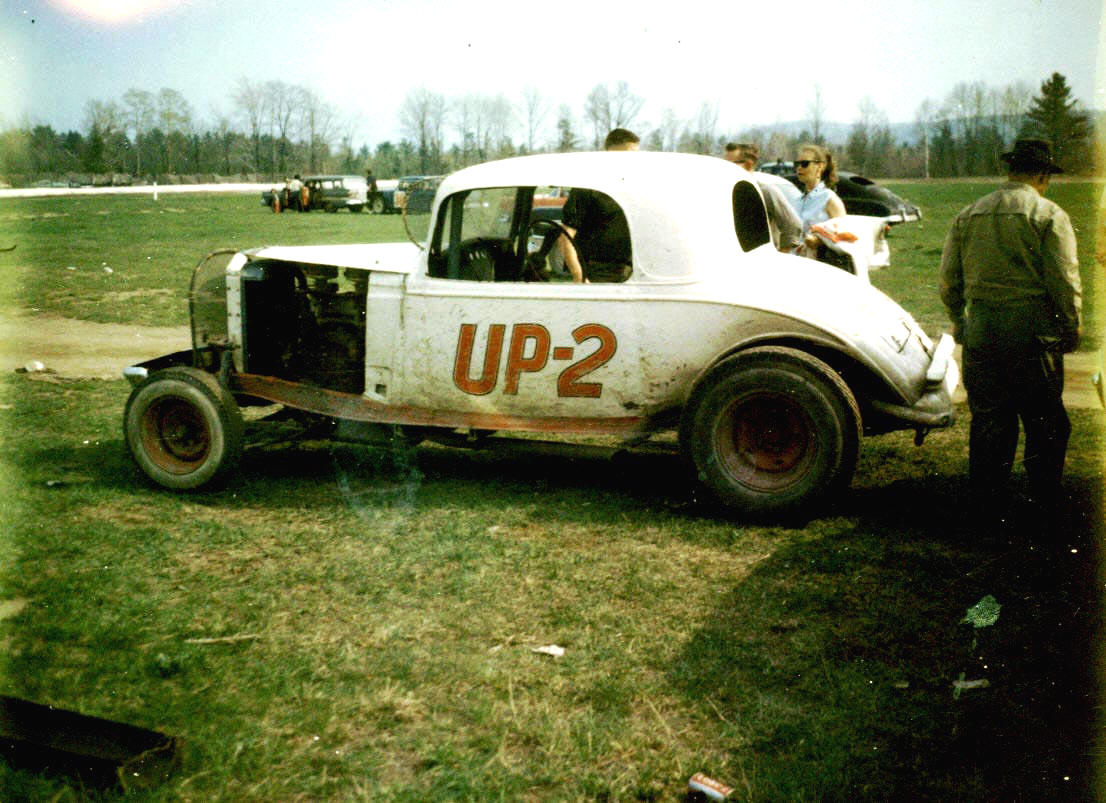 Val Blicarcz Photo
George Rogers had put together this super lightweight Ford coupe
after having run a large, high – off – the – ground '36 Chevy
coupe the two seasons previous. Below – Vince Quenneville, Sr.
unseen in either photo, would have had this, his first Gael
Dundon – owned car in that race.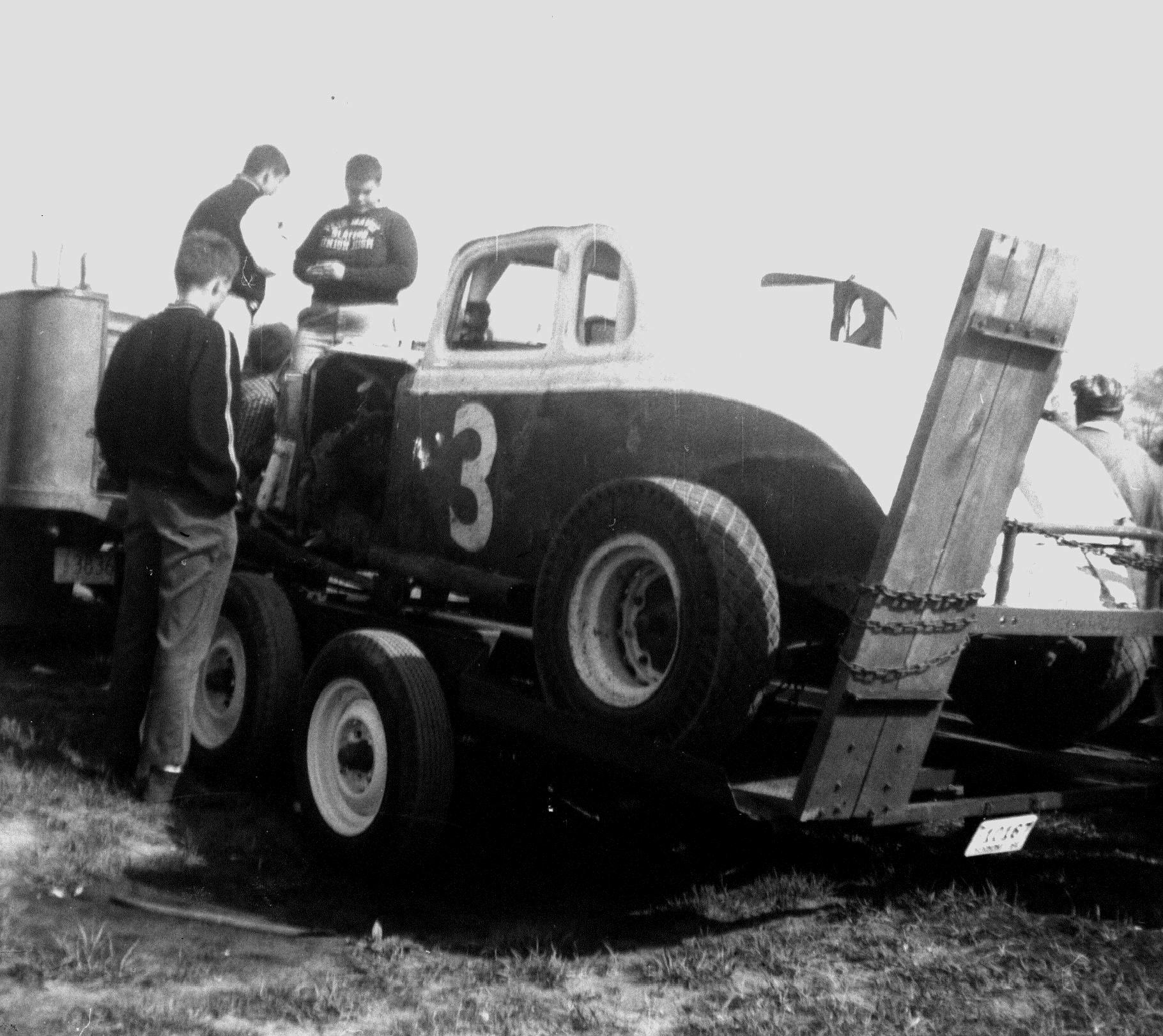 Ladabouche Photo
The latest UP2 whose strange number came from a toddler outside the Rogers garage yelling "You pee, too; you pee, too" to his father, was a very hollowed – out, lightweight job that used his characteristic GMC 6 engine in 1964 but which would sport an overhead V-8 the following year. The fiery Rogers would seem to disappear for a bit when Fairmont was closed in 1966. He would re – appear late in the 1967 Devil's Bowl season with that V-8 in a 1956 Chevy late model car. Though seriously ill, he would manage to win the Vermont State Championship in that class in 1967 before having to retire.
Who we don't see in these shots includes Vince Quenneville, Sr, who would have been running his first Gael Dundon owned #3 by then. We also don't detect Buddy Bardwell [13NH] or Art Cody [33NH], two of the Claremont cars that were so dominant in Fairmont's first seasons. Also, standout Chet Doaner, driver of the #5's from Rutland, is not seen in these shots. It is likely all of these drivers were somewhere, either in that unidentifiable mass near the front or further back, behind George Rogers.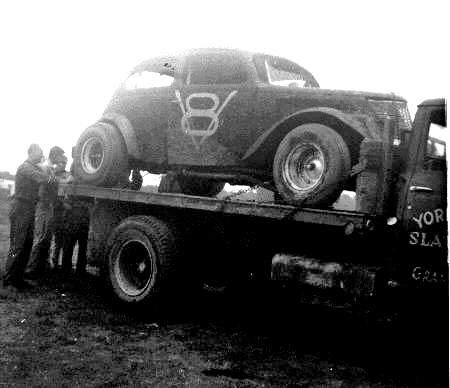 Ladabouche Photo
Taken in failing light, this Marty Warner sedan was fairlyimpressive in its few runs at Fairmont during the
1964 season. Below – The Warner car is seen pacing the field in another 1964 feature.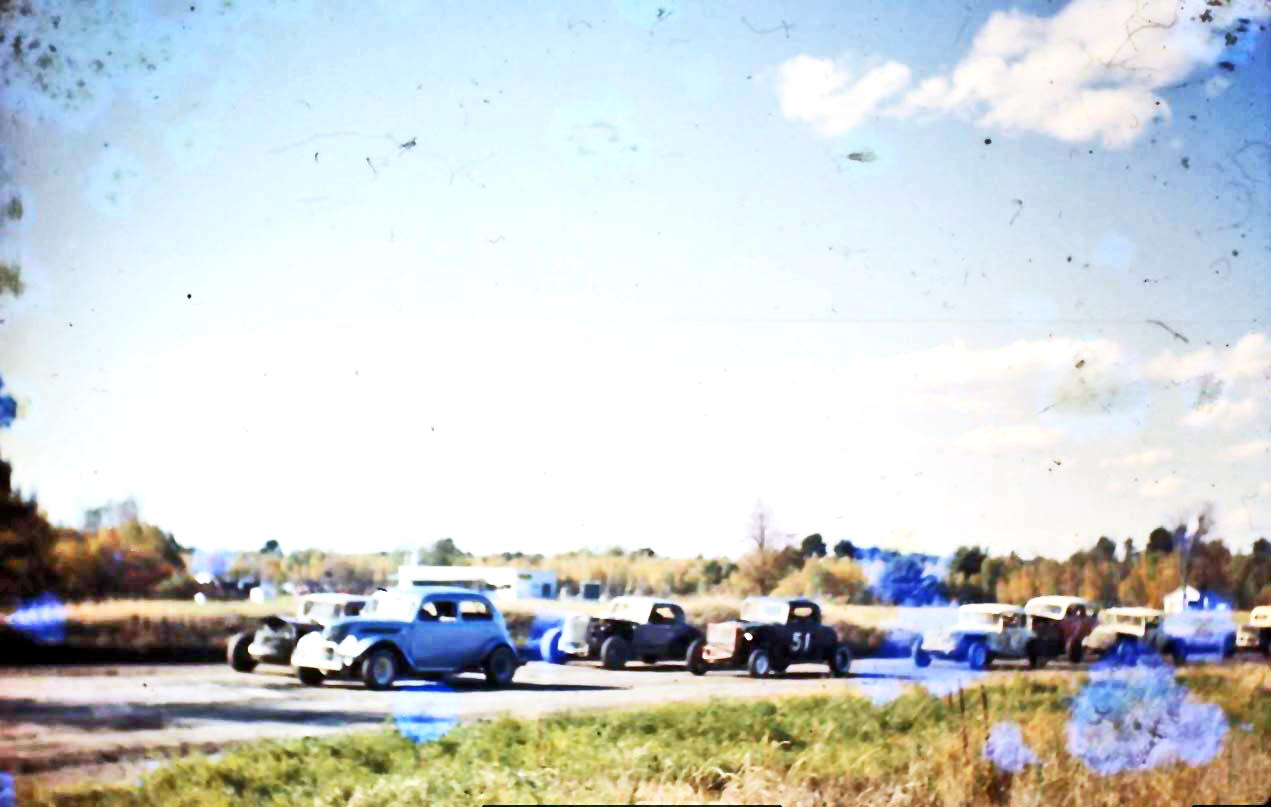 Dick Britain Photo
1964 was a fantastic year for Richards at Fairmont. This would be the last time he would promote shows at the fairgrounds in Rutland. He would see the handwritng on the wall [he was extremely adept at that] and would convert his lead division to the overhead V-8 sportsman cars by 1965. In two more seasons the cranky Fair Haven community would have driven him out of town where he would build a much nicer track in West Haven – Devil's Bowl. These two old color photos [whose source I am guessing was Marlborough, NH native James Howard or maybe Dick Britain] are fine archives of that great year.
Please email me if you have any photos to lend me or information and corrections I could benefit from. Please do not submit anything you are not willing to allow me to use on my website - and thanks. Email is: wladabou@comcast.net . For those who still don't like computers - my regular address is: Bill Ladabouche, 23 York Street,Swanton, Vermont 05488.
AS ALWAYS, DON'T FORGET TO CHECK OUT MY WEBSITE
www.catamountstadium.com
Return to the Main Page
Return to the Main News Page
Return to the All Links Page
Return to the Weekly Blog Links Page