BILL'S [Somewhat] WEEKLY COLUMN/BLOG PAGE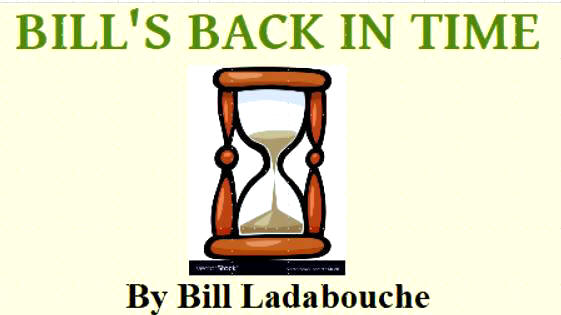 GETTING THERE COULD BE HALF THE BATTLE
Sometimes a Battle You Could Do Without
We historians often talk about the old days of racing in terms of bizarre cars, unsafe old tracks, and real characters involved in the sport; but, sometimes one of the most "interesting" aspects was simply getting there with the race car – all in one piece. Being that elaborate haulers did not exist and there were few if any thruway – types roads available to the average racer sojourning around the Northeast, getting there wasn't always easy.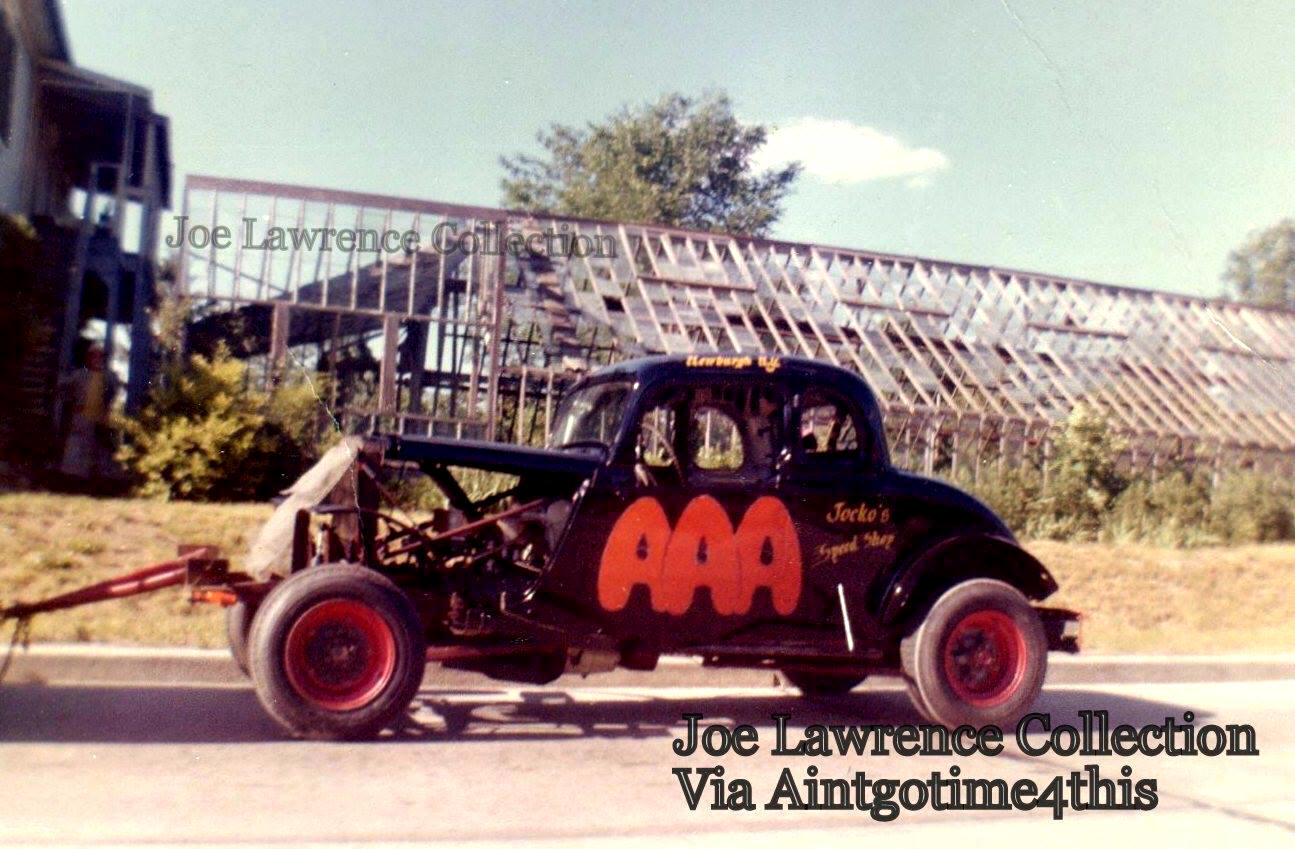 Lawrence Collection Photo
The highly – successful Joey Lawrence – wrenched AAA of D.D.
Rebel Harris was always flat towed. Below – Albany _ Saratoga
Speedway semi late mode ldriver harry Coonradt lived so close
by they would pull the car with a chain, with a man inside driving.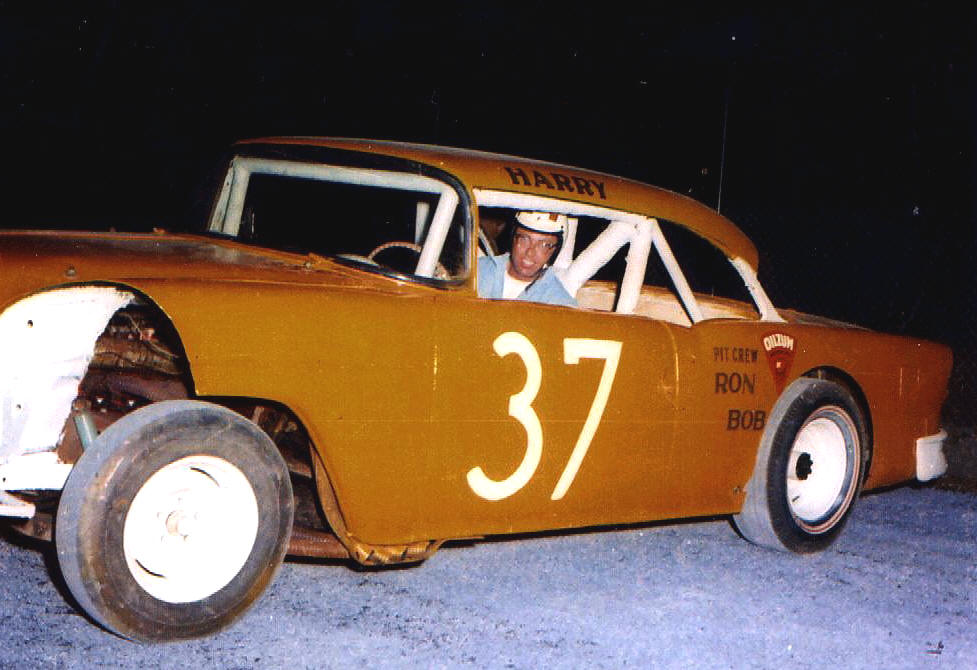 John Grady Photo
Most of the old hands can share at least one story of a hairy experience while towing to some far - off race venue. Peter Dupree, father of current Airborne driver Patrick, has a multi – phase tale while crewing with Bill Edleberg's 42 at Fort Covington Speedway. They had spent a ton of time building a late model car, bending tubing around trees and other back yard, shade tree mechanical methods.
They had flat towed all the way from the Saranac Lake area to Fort Covington only to find it rained out. Disgusted, they decided to make a lap on the rain – soaked track that might have had the best river bottom clay anywhere around. The car unhitched and slid into the infield, becoming totally mired, It had to be extricated with bulldozers; the speedway management was thrilled.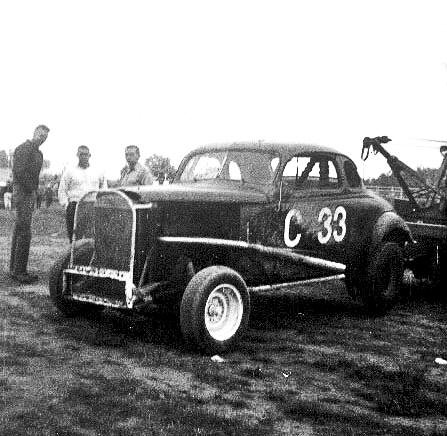 Davis Family Photo
Manchester, VT's Lefty Casey took car of travel by hooking
up to his wrecker. Below – Al Sanders finds that flat towing
was always as simple as it seems.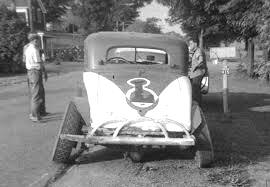 Courtesy of the Midstate Club
On the way home, likely very early in the morning, they were driving along tossing down a cold beer as they entered the very unsettled Adirondack Park region. Suddenly, the car unhooked as the pickup truck bumper came off and passed the surprised occupants. The F150 did a 360 and the car disappeared into seemingly unfathomable woods. It took at least an hour to locate the car in the dark, as it had not followed a straight path. Needless to say they arrived home about in time to go to work, having had to tow the car home hitched directly to he truck's frame.
There had to be something about towing to the Fort. Charlie Draper of Wilmington, NY was headed to races there one night and lost his car. The car passed Wes Moody and Fran Kane. When the two racing teams finally tracked down the errant coupe, Wes had to find a local garage nearby to help Draper get the car fixed up enough to compete.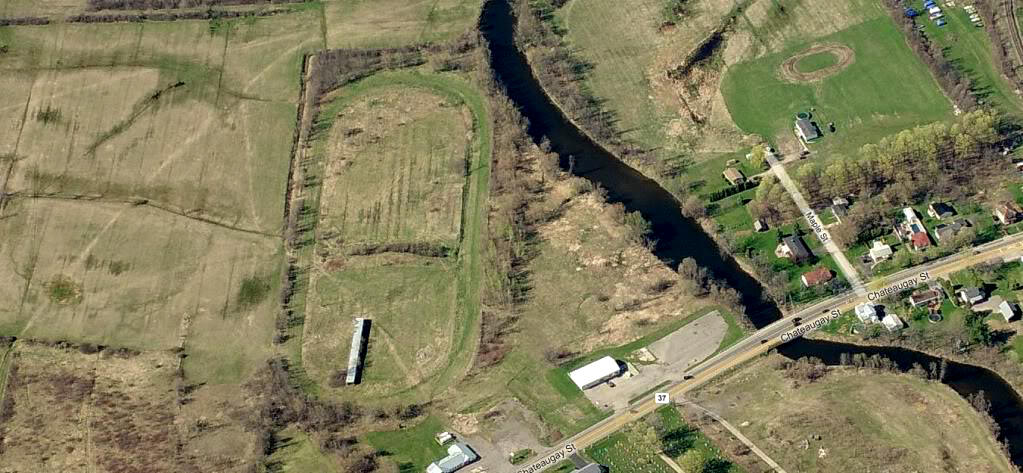 Half Fast Video Photo [maybe]
Today, the Fort Covington track site is rapidly disappearing
from view. Back in the day, some of its cars used to do that
en route.

Apparently, towing anywhere with 1950's and early 1960's star Jackie Peterson was not for the faint of heart. Almost stone deaf from an early age, Peterson had his own way of doing most things including effectively tuning motors by touch. He was almost as crazy behind the wheel on the highway as he was on the race track – according to anyone who has discussed him. At age 94, he had even managed to crash in the NY State Trooper cruiser on a bicycle.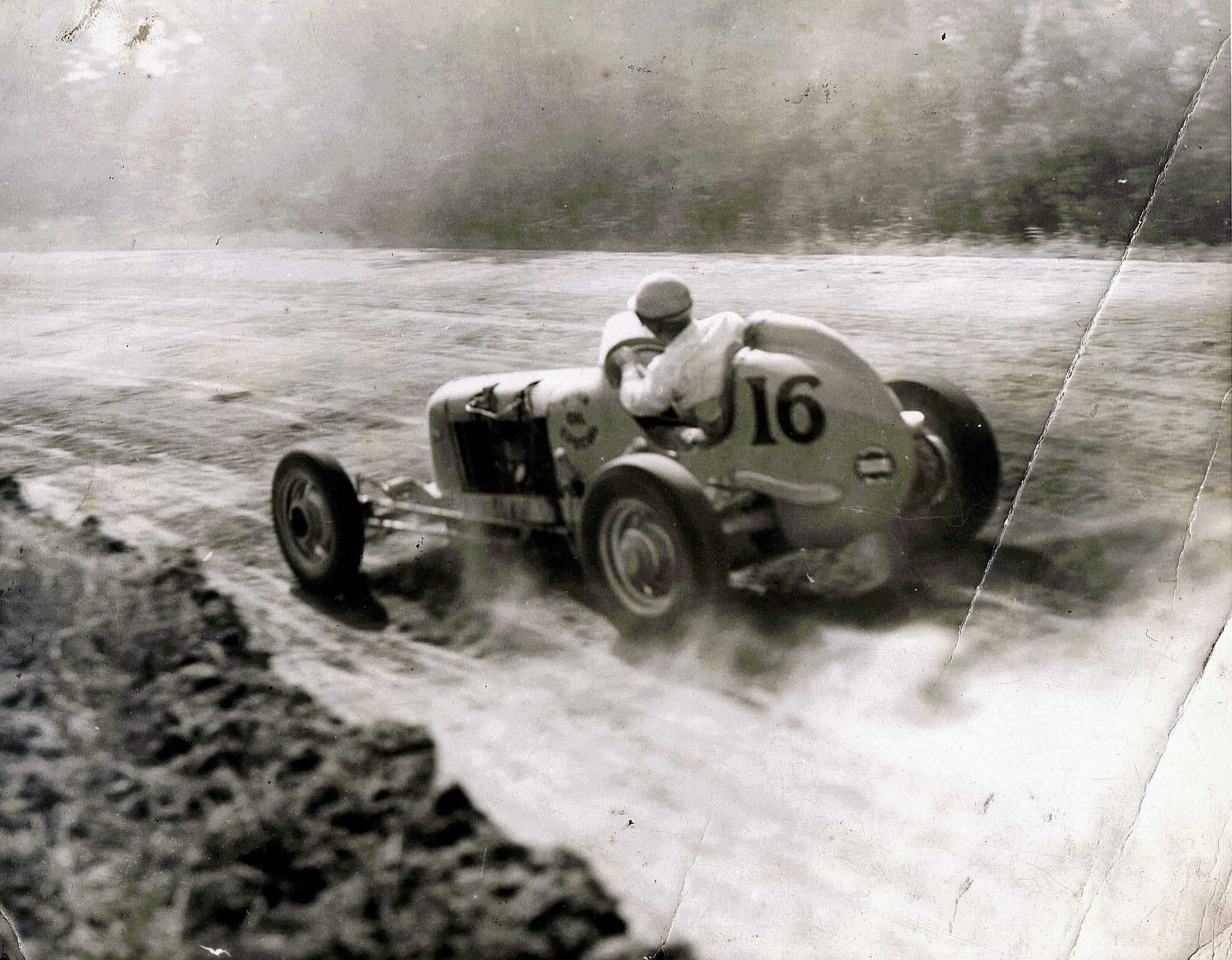 Courtesy of Peterson Collection
Jackie Peterson, at speed, with his homemade sprinter at Sheldon,
Vermont's Green Mountain Speedway in 1949. Below – Jackie and
one of his haulers – potential for real excitement.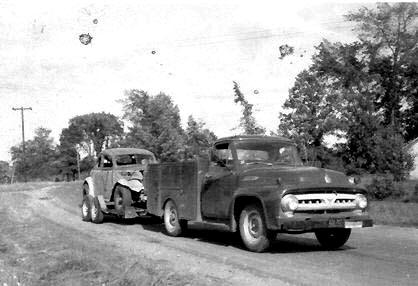 Bob Mackey Photo

One time, Jack and Jimmy Guynup were returning to Plattsburgh, NY with a race car – headed to Charlie Guynup's Amoco station. Peterson had apparently been running the car, a #V7, somewhere in Canada. Peterson was never exactly known for letting any moss grow under the wheels of a tow vehicle, and Guynup [ a died – in – the – wool Ford man] was probably white knuckling it in the passenger seat.
Suddenly, Jimmy was jolted back to complete attention as the pickup, with car in tow lurched off the highway into a ditch, dirt and rocks flying and slamming up against the fenders of the truck. Back, onto the road, careened the truck, car still following.
"Jesus, Jackie !", yelled Guynup," What the hell just happened !?"
Peterson mumbled back through that characteristic smirk he often had, "Damn near hit that turtle !"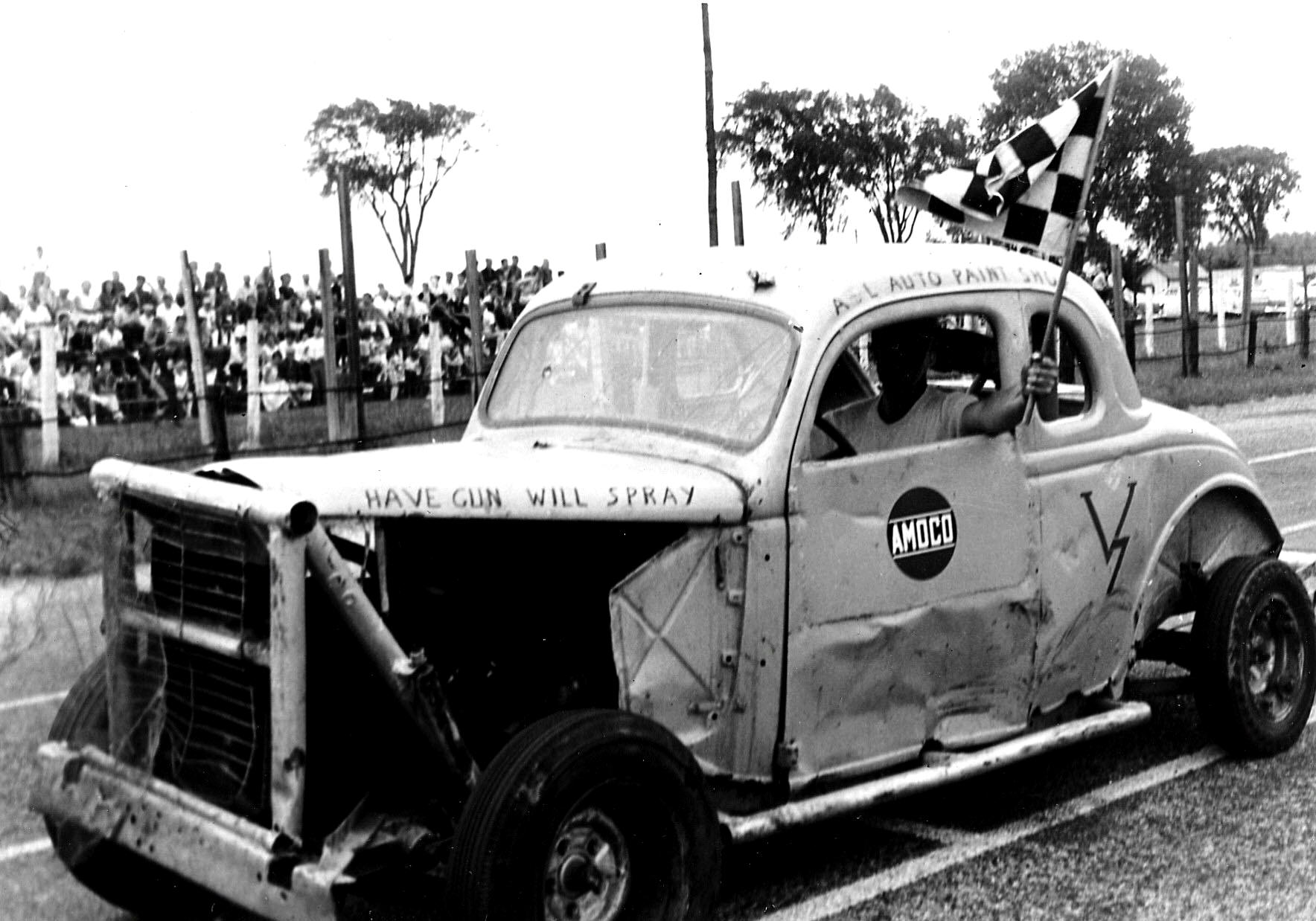 Bob Mackey Photo via John Rock
Jackie, with the aforementioned Charlie Guynup V7. Below - Jim Barton,
hometwon driver at Catamount, was known to drive his race to the track
on an unfinished Interstate 89. He also drove this car home once in 1974.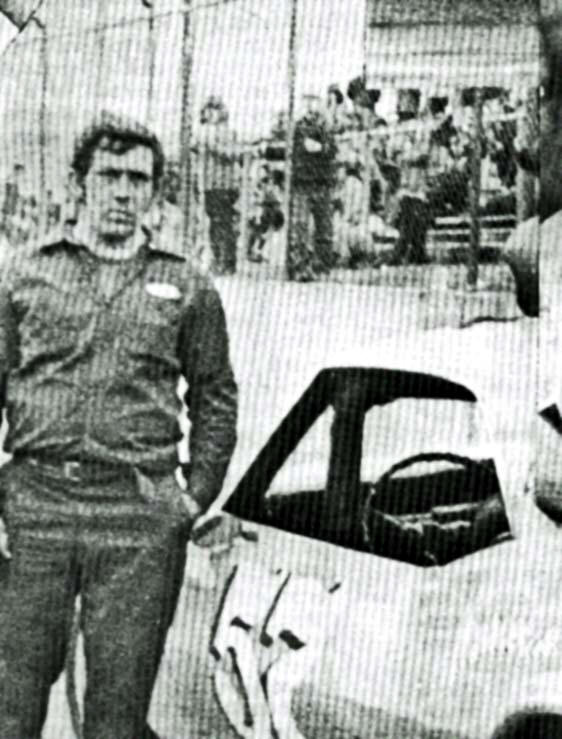 Ladabouche Collection
Another time, Jackie was again driving the tow vehicle back from races somewhere. It had not been the greatest race he ever had, it was late, and he was still having to drive despite being tired and probably sore from banging around on some bumpy dirt track. The crew was apparently giving Peterson a hard time time and perhaps even thinking they could get away with jokes at his expense because he supposedly couldn't hear them.
Suddenly, a large bus appeared to be pulling out onto the highway – perhaps having to go over into the lane of the oncoming tow vehicle a bit. Brakes squealed, the car fishtailed, the pickup rocked and headed right at the bus for a split second. Jackie whipped the wheel and the careening tow vehicle and car slipped by, with the passengers yelling out loud.
Jackie was overheard to mumble to himself, "They ain't laughin' no more, are they?"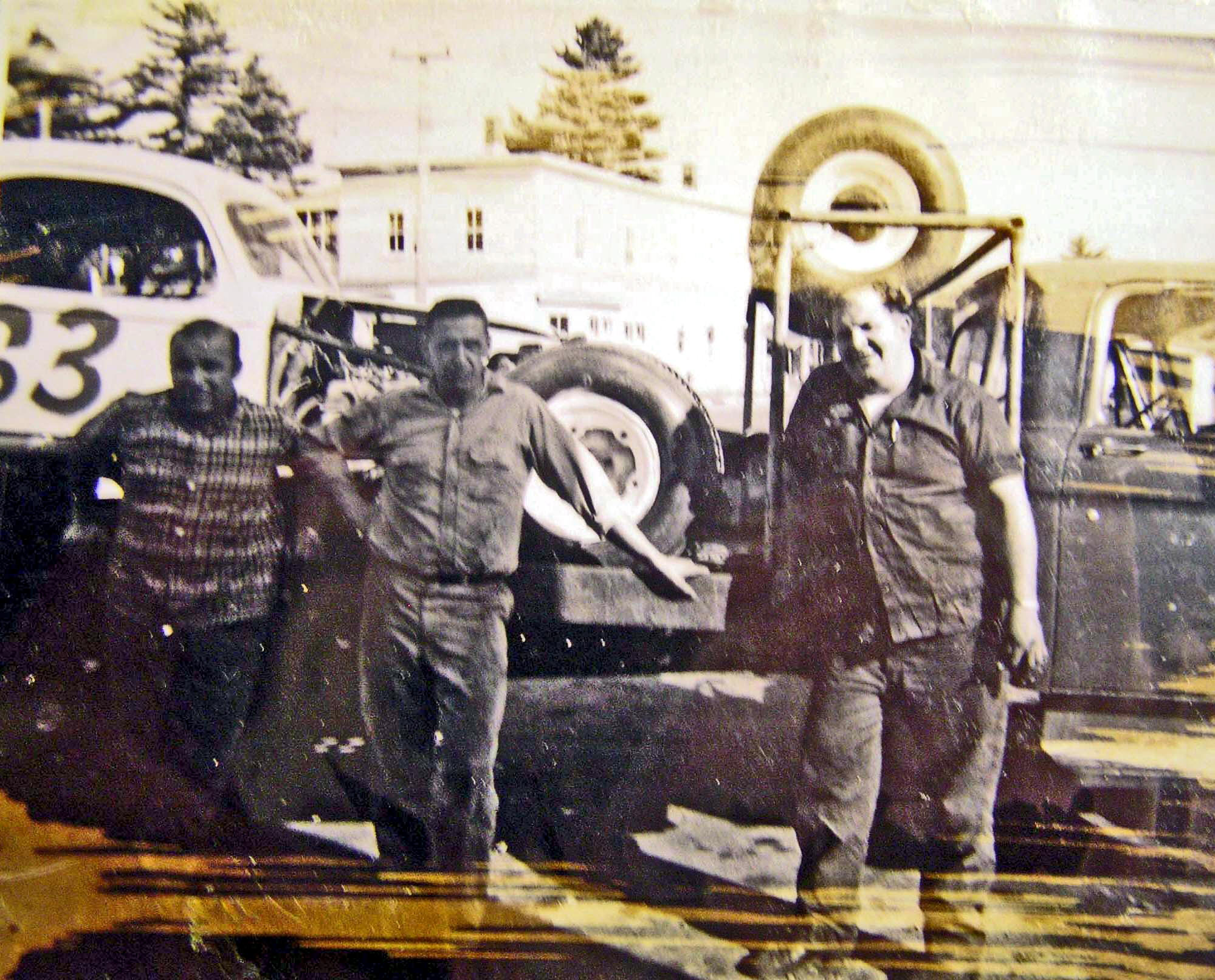 Wes Moody Collection
Fran Kane [ctr] Denton Dow [rt] and another unsuspecting crew
member stand in front of the Wes Moody hauler that went down
Rte 22A without a driver one night. Below – Wes, perhaps
psyching up for another exciting run with the pickup and
trailer and at another church.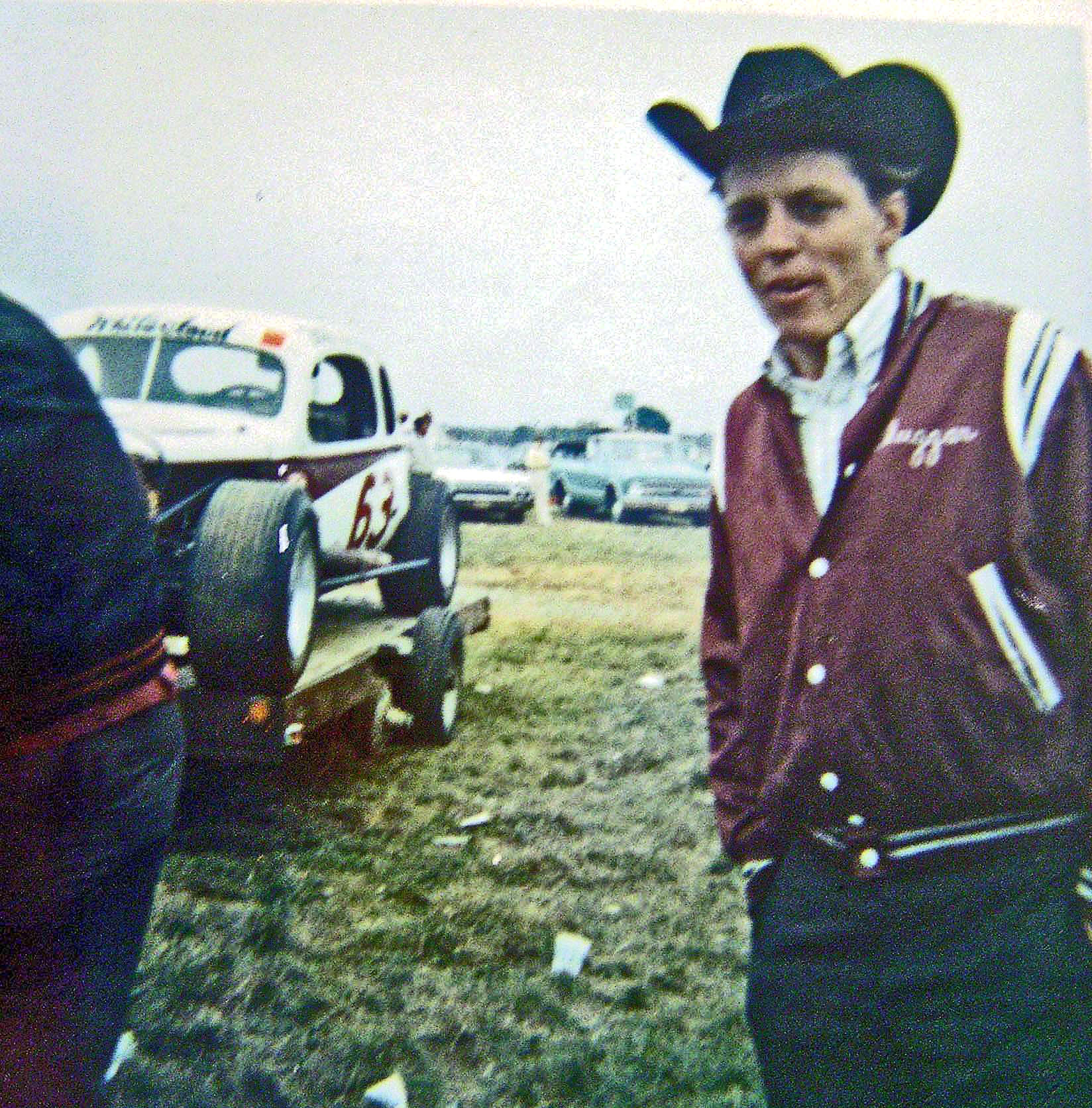 Wes Moody Collection

Wes Moody has incredible stories concerning just about everything he ever did; he couldn't do much in a calm, normal manner. Seeing as he spent several years almost making a living traveling all over the Northeast running modifieds – he spent a lot of time on the road. From the earlier years of traveling from Saranac Lake to places like Devil's Bowl and Fonda – to later hitting tracks as far away as Lancaster, Shangri – La, and more, he had way too many opportunities to get himself in trouble.
The trips to Devil's Bowl could be last minute and very frantic. Fran Kane tells the story of riding down a narrow, winding Vermont Route 22A, one particular Sunday night, when Wes became annoyed with a plastic funnel that was dancing up and down in the wind, in the back by the modified. At first, Moody just kept glancing back and swearing under his breath. Finally, the driver's door flew open and Moody simply left the cab, with the truck going at least 70 M.P.H. Down the road flew the driverless truck,, with Fran or Denton Dow struggling to reach the wheel.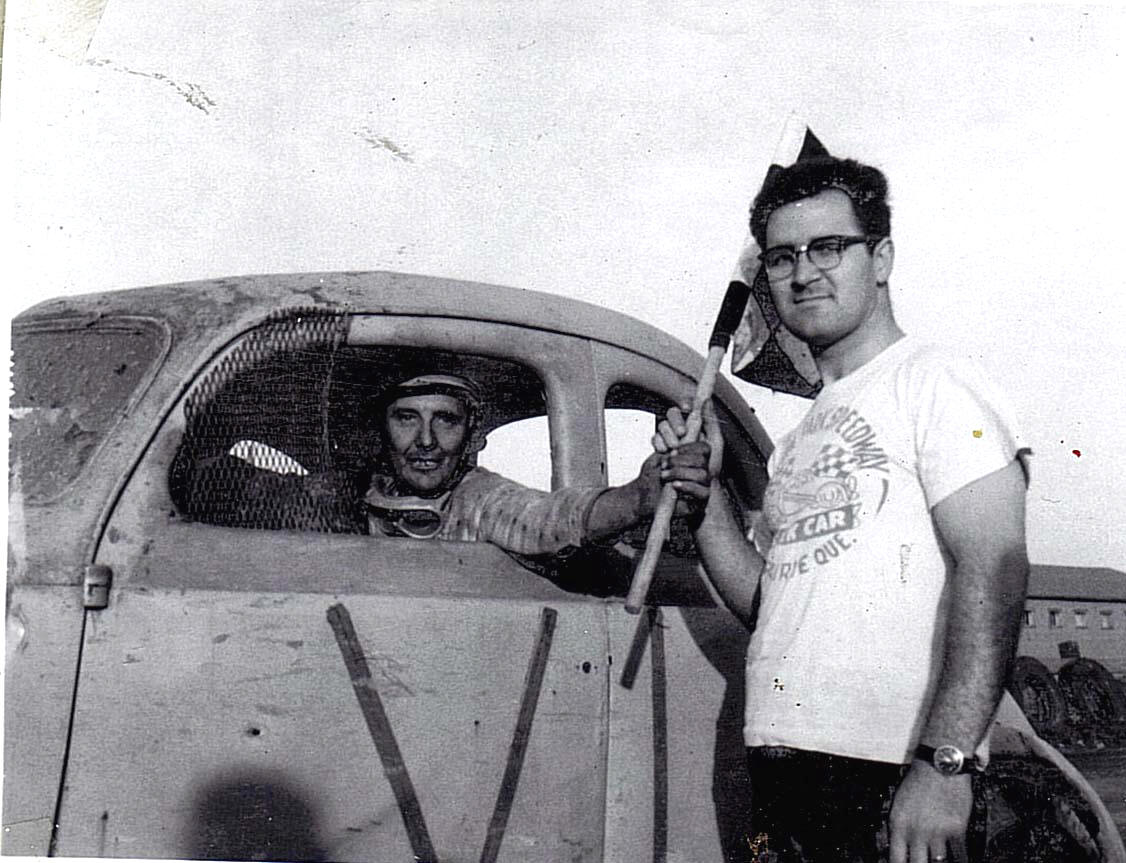 Peterson Collection
Jackie Peterson [above] and many other New York and Vermont drivers
would make the haul north to Noel Raceway in LaPrairie and other Quebec tracks.
Below - Charlie Draper figured into some interesting race car
hauling stories. Here, he stands by the slant bed hauler he used
to load in a very exciting manner.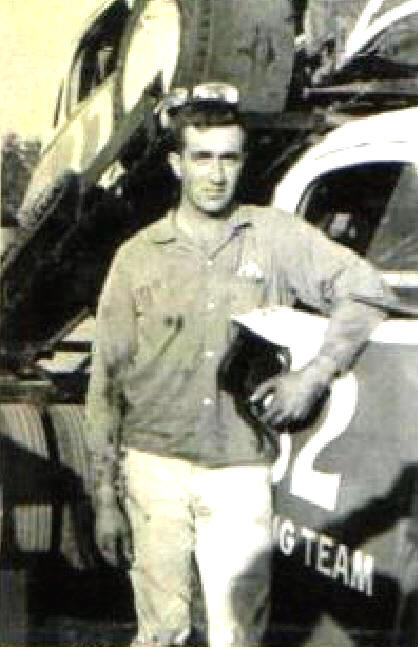 Bob Mackey Photo via John Rock

Moody, meanwhile had climbed out, onto the deck with the coupe and was angrily trying to get his hands on the offending funnel. Once done, he climbed back into the cab to observe absolute chaos, screaming yelling, and such. "What ?" he simply said and continued on down the road to Devil's Bowl. His crew was not speaking to him for hours.
Another earlier time , the same three guys were taking the coupe up, through Champlain, NY to race in Quebec at LaPrairie. Going by a church that was in midst of a service on Sunday, the trailer jumped off the ball and headed for the church grounds which was packed with cars. Unable to react immediately, the three watched in the mirror in horror, waiting for the rig to ram either parishioner cars, parishioners, or maybe both. The trailer flopped and wove wildly, right through the parking lot on the only road they had not filled. It never touched a car, wedging into a copse of trees. They did need a wrecker to dislodge it, but that beat having to scrape parked cars off from it.
There have been a number of stories of where tow vehicles just couldn't cut the mustard. Barb Laduc told me a tale of when Charlie first started running an old Oldsmobile in the hobby division at Fairmont Speedway in 1963. Crewman Tom Williams had something like a 1952 Chevy farm pickup that would do just fine flat towing the car TO the track. It was coming home that would pose a problem.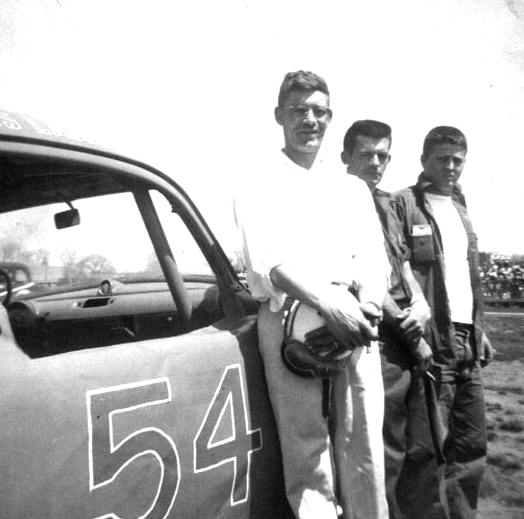 Courtesy of the Laduc Family
Charlie Laduc and Tom Williams load up in 1963 for another trip
to Fairmont Speedway and another push home by the car.
Below - A man stares at the Steve Danish car at Langhorne. Danish had
the job of flat towing down to an art form, using dolly wheels
in back to spare the rear end.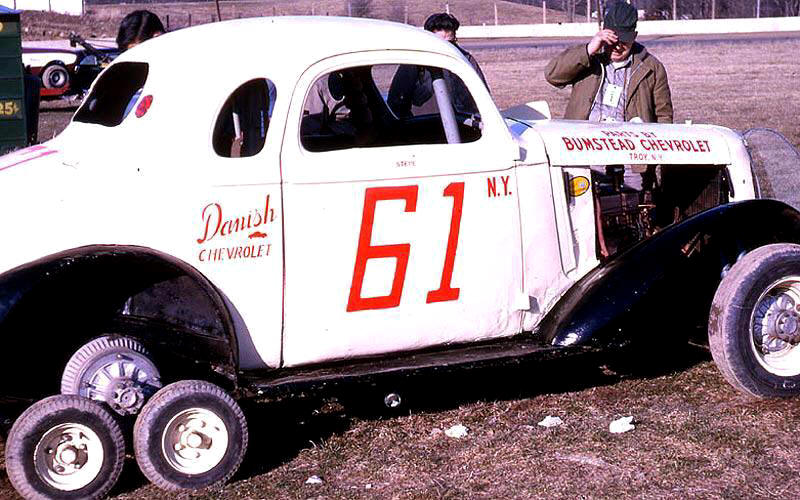 Maynard Johnson Photo


The Laduc farm was up a hill, well out in the country in Orwell. Going to the track meant going more downhill than up; but coming home was the opposite. Barb said they would get to the dirt road that led up to the Laduc farm and the old six banger couldn't make the haul. Charlie and Tom finally knew enough to just stop in this one spot, unhitch the car, and use the car to push the pickup up the road to get back to home base.
A similar story is told by Bob Wallace, whose father Shirley Wallace ran the low budget but highly effective 1NY racing team out of Jay, NY. Whatever the Wallaces had for a hauler, it could generally make it back up the hills to get it back to the Wallace garage – in the mountains near Lake Placid. However, when they raced at Otter Creek Speedway near Vergennes, Vermont, the pit area was down a very steep hill, beside the race track that was in one of the owner's pastures.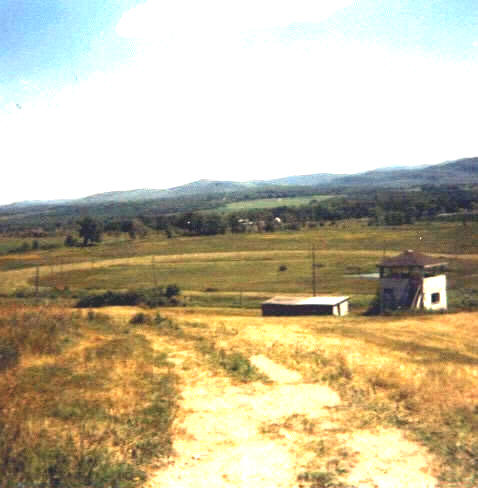 Ladabouche Photo
This shot, taken on July 4, 1976 shows the long gradual road down
to the pit area at what used to be Otter Creek Speedway. Someone had cut
the hay around the former track that day, making it easy to find.

Bob says the old V8 just couldn't climb that hill to get out of the facility, so he would have to take his six banger pickup along to pull the whole rig up the hill so they could get home. Loading cars was another story. Charlie Draper, one of Wallace's drivers, had a rig similar to a U Haul recovery slant bed. It was weekly entertainment at Saranac Lake or Airborne Speedways to watch Draper, who would get a running head start, crash up onto the rig, and hope to stop before ending up on the roof of the truck. He did it twice a week.
The aformentioned Jackie Peterson had a different experience after one race at Colchester – Bayview Speedway [the former Malletts Bay Raceway] in Colchester, VT. For most of his racing life, he was married to fiery, petite Corliss, and the two argued constantly and epic proportions. In the midst of such an animated discussion, Jackie was loading the car onto a trailer. He ended up so angry and so distracted he shot up on he trailer and right through the back wall of the pickup cab.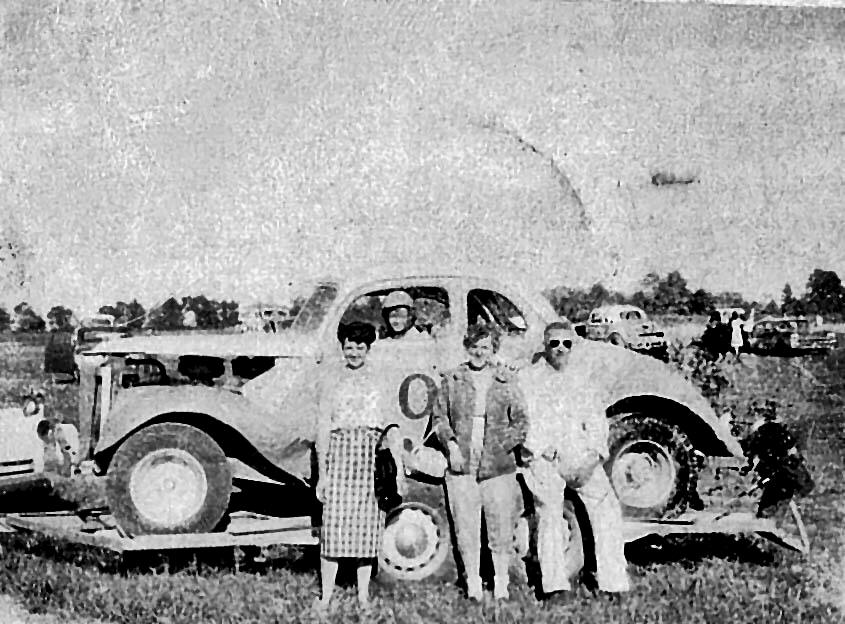 Peterson Collection
Jackie [in car], Corliss, and Royce Tucker, one of his car owners.
Things were calm here then, much to the relief of Royce and
Mrs. Tucker.
Racing in the early days might have been hairy, but it wasn't restricted just to the race track. However, there are a number of stories about the frenetic attempt of Northern NASCAR teams in 1973 to reach Devil's Bowl a Sunday evening show after they had already raced an afternoon show at Thunder Road. This meant flying down Interstate 89 to Exit 3, getting off for a wild, winding ride through a river valley through the nearby mountains, and then taking US Route 4 through Rutland and over to West Haven as far as they dared go.
Photographer Al Ward just told me one story about himself and others , en route to the Bowl after taking photos at T Road. He said the otherwise usually vigilant Vermont State Troopers must have been told to look the other way, as hauler after hauler would literally fly by them [and they weren't letting any moss grow under the tires either].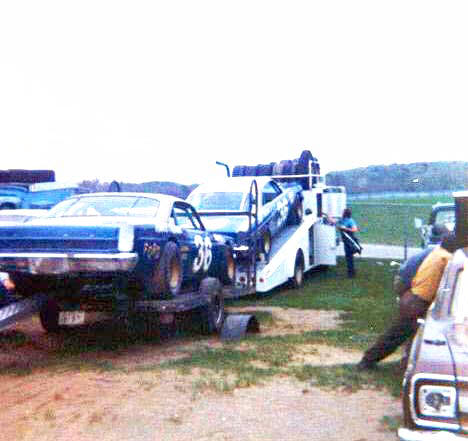 Ladabouche Photo
Many of the Northern NASCAR teams, such as John Rosati's [above]
had adequate haulers to get from Barre to West Haven in a hurry.
Others, like Devil's Bowl regular Charlie Laduc, did not. He would stay
home and skip T Road to get to Devil's Bowl with his old Chevy hauler.
Here, they arrive from the farm with wife, Barb and family aboard.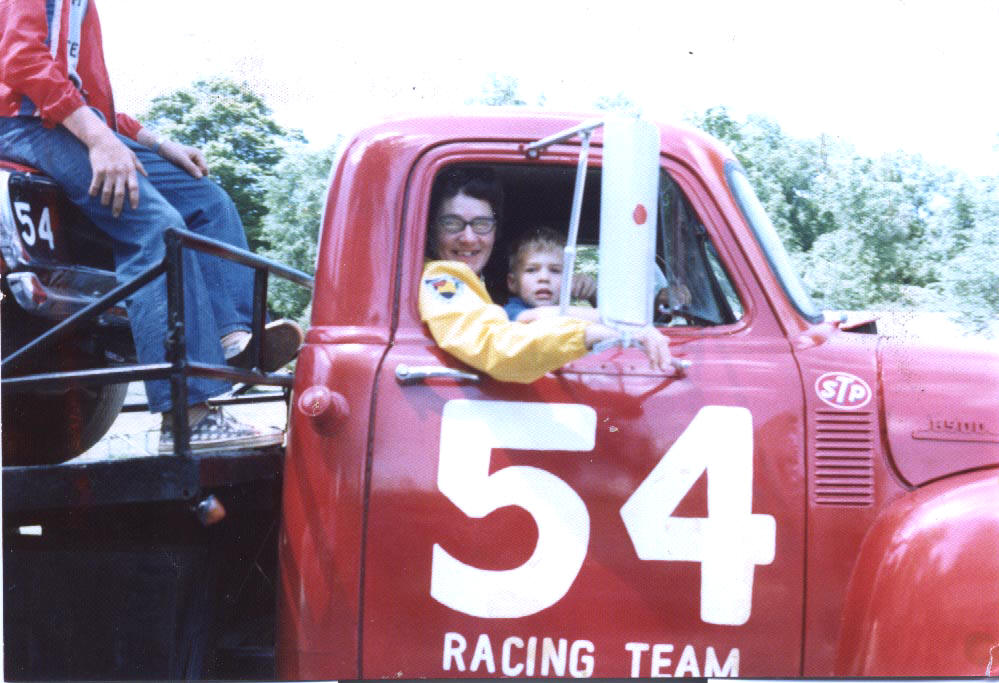 Courtesy of the Laduc Family
The circuitous road, which was absolutely washed out – 38 years later - in 2011, would wend its way through metropolises like Stockbridge, Pittsfield, Mendon, and Bethel on the way up to Route 4. 4, itself, was also destroyed in 2011 as it too followed rivers going downhill off Killington Mountain. The trailers, haulers, and converted school buses would teeter and practically go on two wheels in some sections as the teams hurried, trying to make the second show which had already begun usually.
The best story for Ward was the time they saw a hauler looming in the distance behind them. As it sped by, it was the Ron Bettis rig, and Ron himself, was riding along, strapped inside the race car. Al figures that was the only way they could get into the lineup for the consi at the Bowl in time. I have seen the Tremont team arrive at the Bowl, years later, with the car running in the hauler – but not with the driver inside.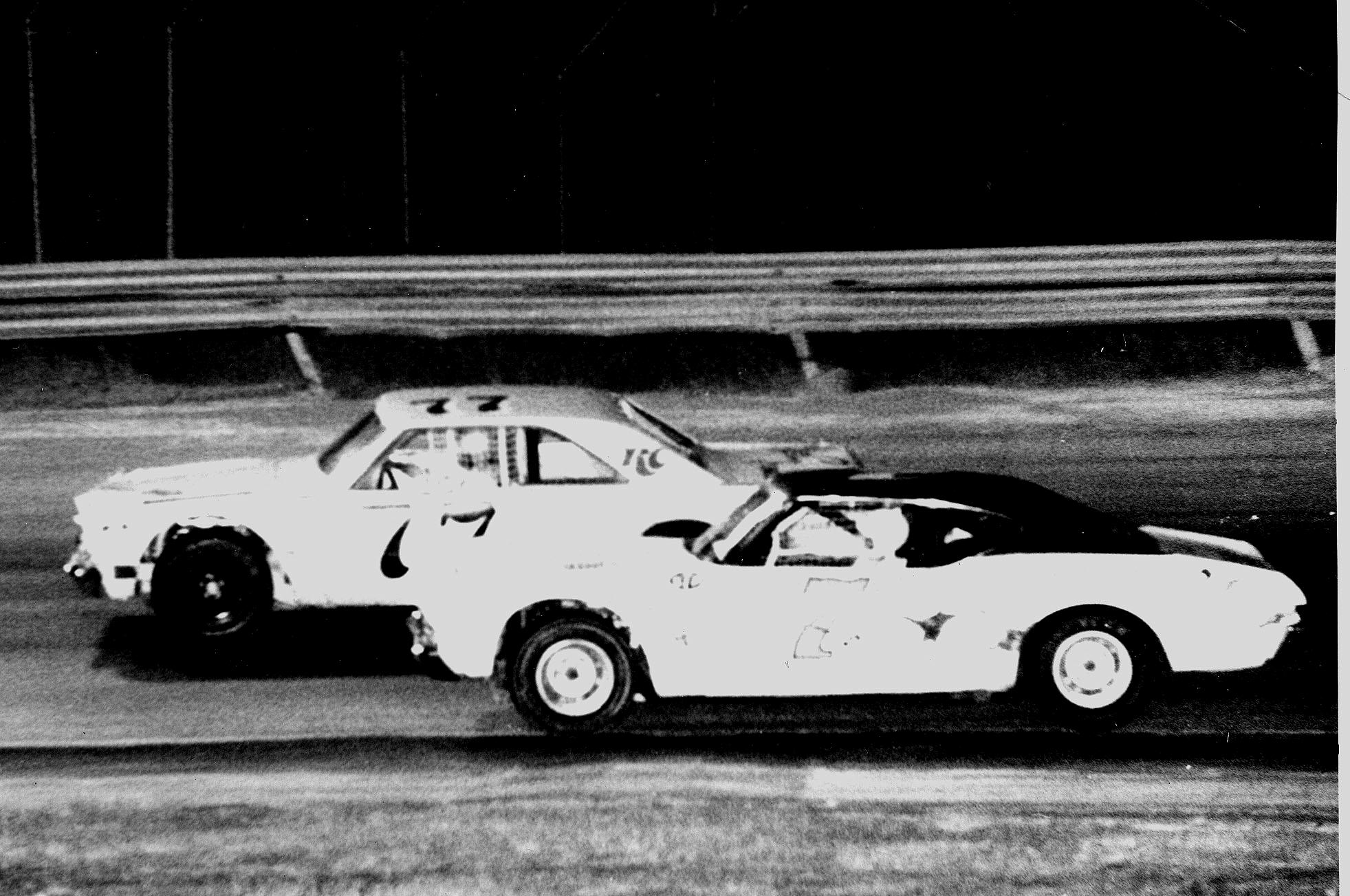 Courtesy of Chris Companion
Ron Bettis races the Dart of Tom Tiller at Devil's Bowl in
1973. He must have made that one OK. Below - Bob Ellis [left] and Ray Richards [ctr] were recipients of an expensive jack courtesy of the frantic
chase from Barre to West Haven. Mike Richards is not shown; he's taking
the photo.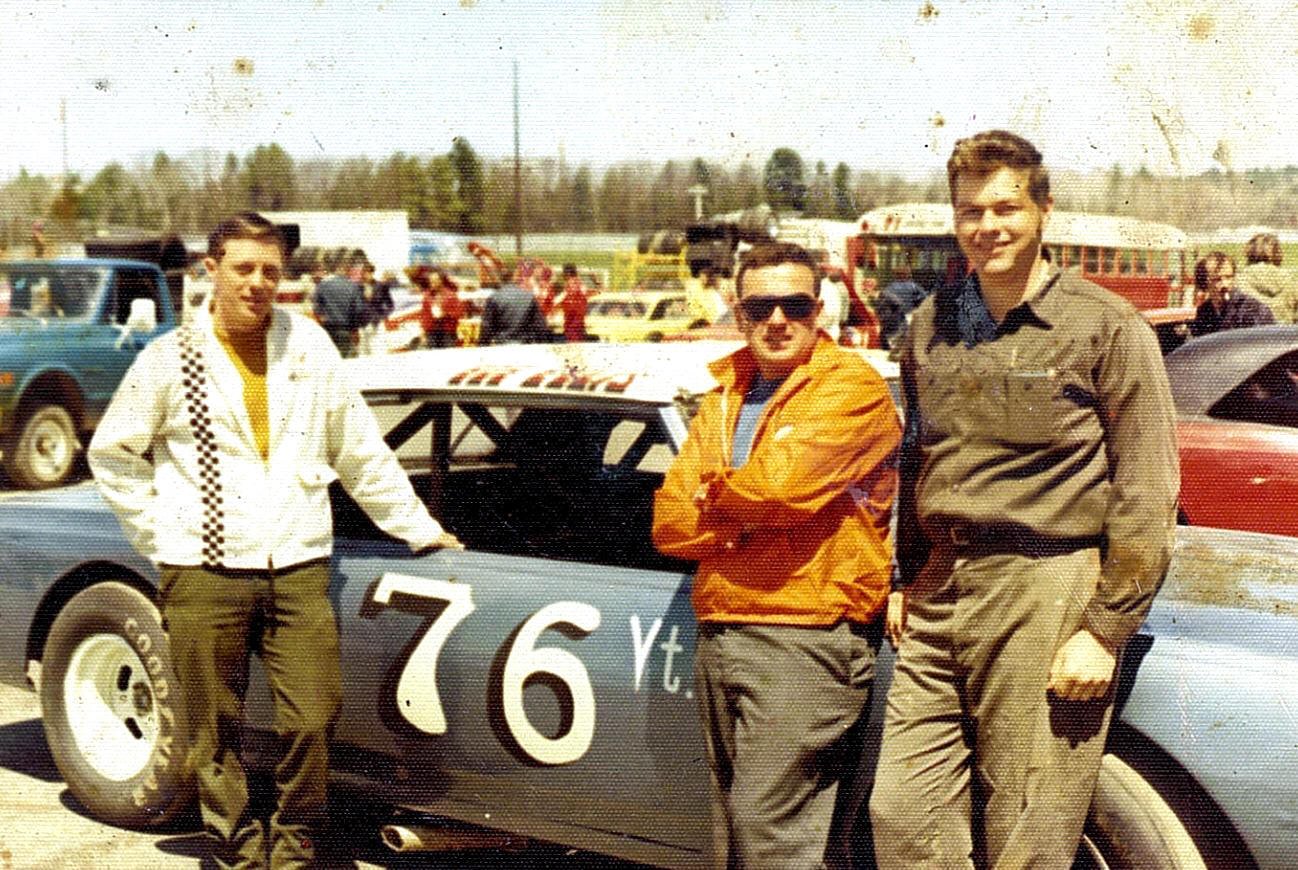 Courtesy of Mike Richards

You can well imagine the condition of the cars by that time – having run anywhere up to four times that week already. Mike Richards, then crewing for his dad and 1973 Northern NASCAR Rookie of the Year Bob Ellis, tells the story of starting out for his uncle's track, leaving T Road right behind Tiny Lund. The South Carolina bunch soon left the Richards bunch in the dust. However, as they were driving along outside of Bethel, an object appeared in the road. It was a very expensive, lightweight racing jack [likely dropped off the flying Lund hauler]. The low budget Richards team suddenly had a very expensive piece of racing equipment – free ! Mike figures they either never noticed it fall or were in too much of a hurry to stop.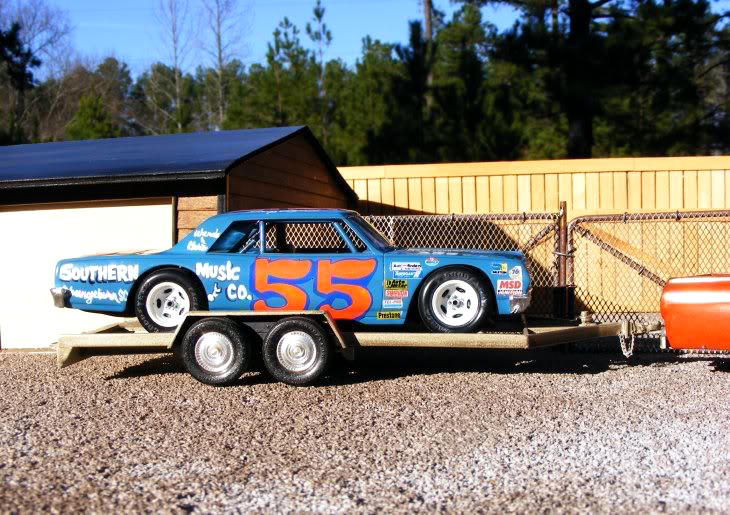 VT Edition Photo
The restored Chevelle Tiny Lund would have used in 1973
in Vermont. I doubt the hauler is the same one.
It's hard to convince younger guys today, tooling along in the double stacker on great roads, what any of this was like, back in the day. [Probably more fun].
Please email me at wladabou@comcast.net if you have any photos to lend me or information and corrections I could benefit from. Please do not submit anything you are not willing to allow me to use on my website - and thanks. For those who still don't like computers - my regular address is: Bill Ladabouche, 23 York Street, Swanton, Vermont 05488.
AS ALWAYS, DON'T FORGET TO CHECK OUT THE REST OF MY WEBSITE:
www.catamountstadium.com
Return to the Main Page
Return to the Main News Page
Return to the All Links Page
Return to the Weekly Blog Links Page