BILL'S [Somewhat] WEEKLY COLUMN/BLOG PAGE

BILL'S BACK IN TIME
By Bill Ladabouche
THE WILY ONE IN THE FROZEN NORTH
– FROM MY PERSPECTIVE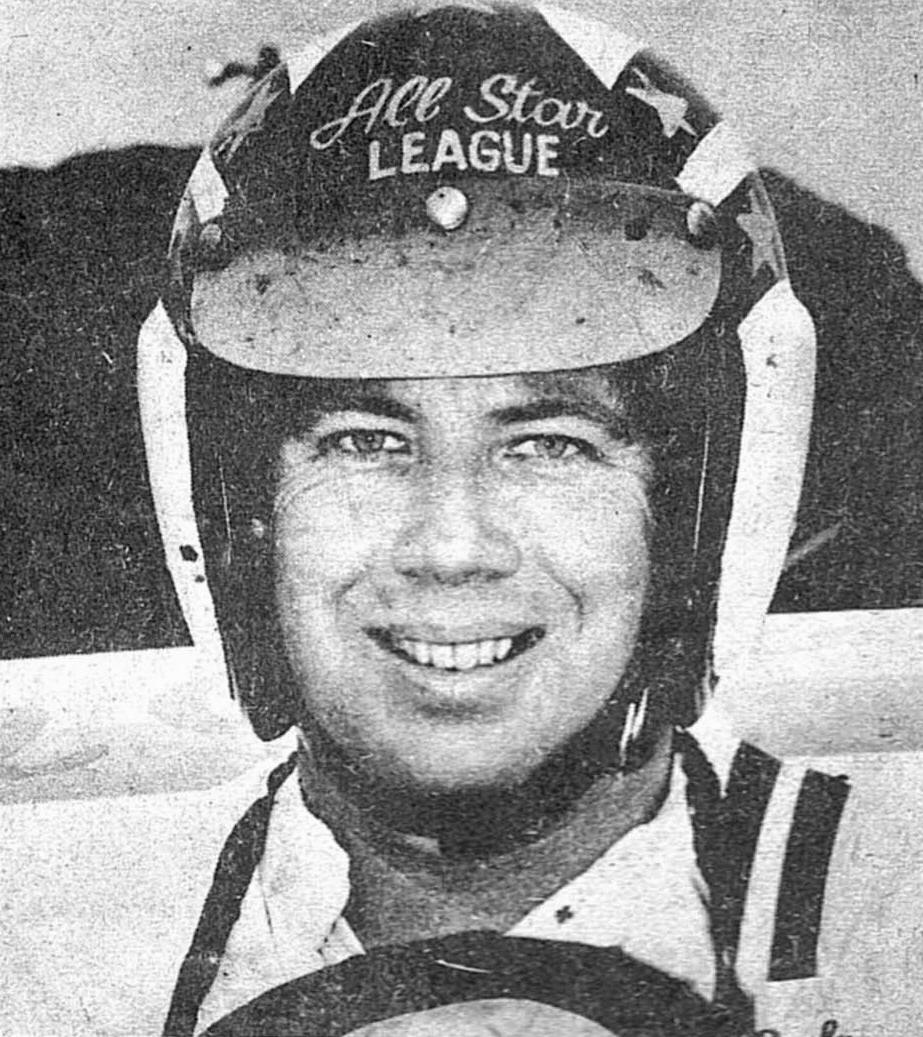 Courtesy of Mike Richards



No one needs to tell the life story of Will Cagle. Numerous people, the most recent being Lew Boyd, have done a nice job of that. The thing is, Will spent a goodly amount of time in my neck of the woods despite being always known as a Tampa Floridian. He had a strong effect there – particularly at Devil's Bowl Speedway.
For my readers who don't usually spend much time on modified drivers who were primarily from that tough New Jersey / Pennsylvania/ New York modified circuit with such tracks as Flemington, Nazareth, East Windsor, Orange County [Middletown, NY] and the like, I will borrow from Boyd and others and give a little background on man most called "Wily Will".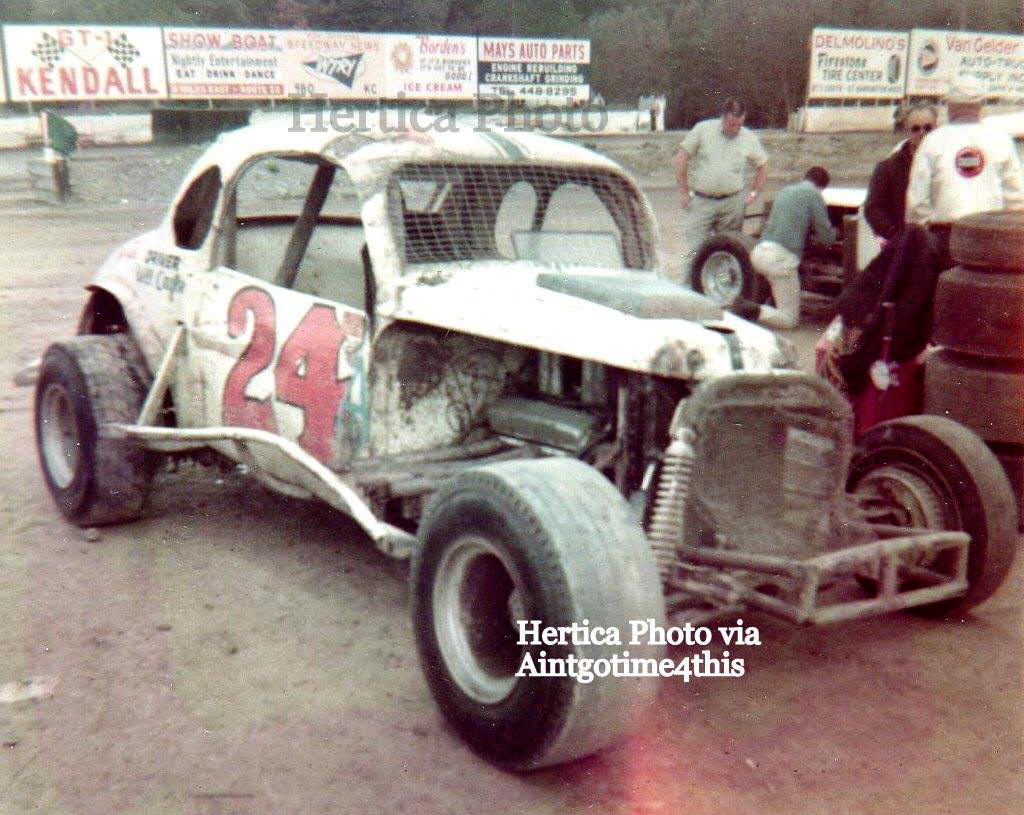 Courtesy of Chas Hertica
The condition of this body at a Lebanon Valley 200 tells us two things:
1.) Cagle wasn't much for show cars; and 2.) competition where he came
from was pretty tough. Below - Bob Malzahn, of Matamoros, PA
was a principal Cagle competitor.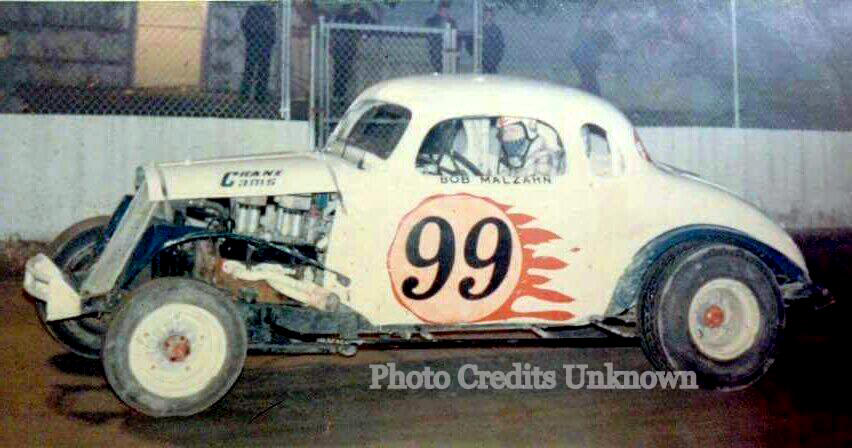 Courtesy of Chas Hertica


A Florida native raised by a single mom at a time when that was nowhere near as common as it is now, young Will had an uncommonly competitive nature and it seemed to be aimed towards a future in auto racing. Lew Boyd points out that Cagle was entered, at a young age, in a huge Soap Box Derby program that included fellow legend – to – be Buzzie Reutimann.
According to Boyd, Cagle smoked the field at an event that was apparently nowhere near as scrutinized as the Derby is today. It came out that the ultra – competitive kid had added a weighty object, located in the just the right spot, to enrich his racer's use of gravity a bit more than the others.
Stories about Cagle go on to mention that he began racing not in modified stock cars but in open wheel cars. He tried racing in the Midwest at a very young age and came out broke. He was racing for small purses in Florida when somebody told him that, in the Northeast, they paid a lot more to win races and that the pickings were good up there.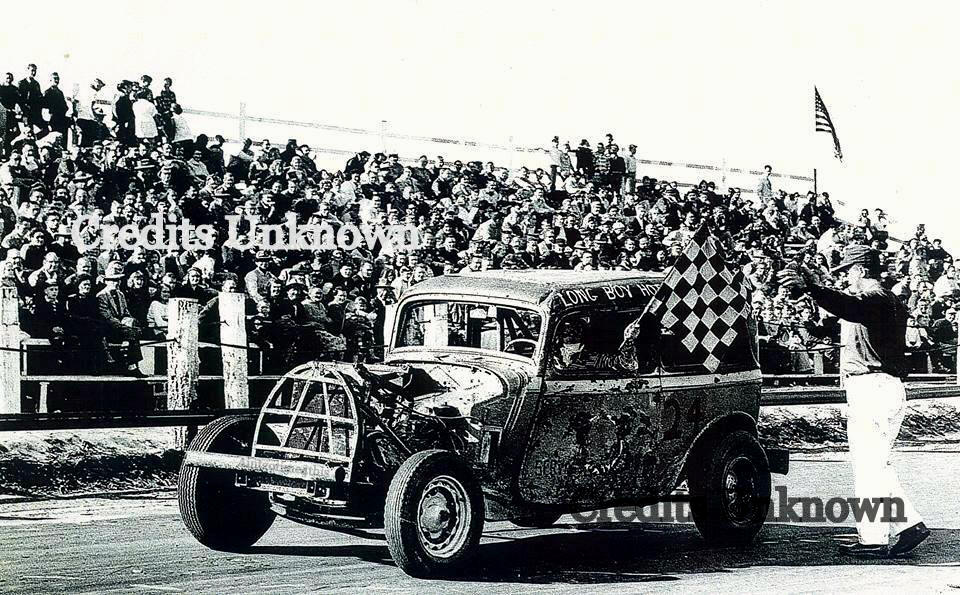 Courtesy of Chas Hertica
This is said to be one of the [if not the] earliest race cars
of Will Cagle. I can't prove it: Lew Boyd says he did open
wheel first. Below – Will, with this car in Florida suggests he
did have open wheel leanings at times. Florida tracks ran these
and supermods, at times.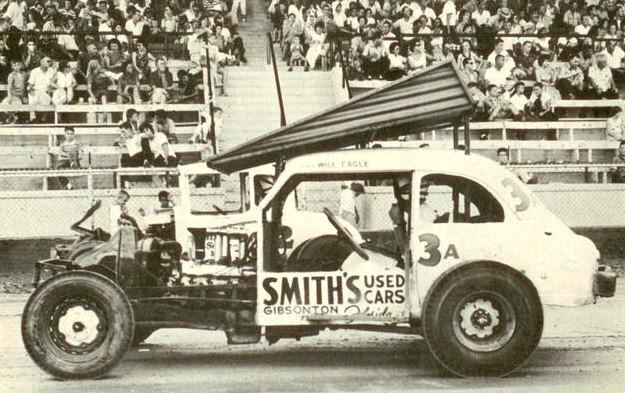 Courtesy of Dave Westerman
Having taken off for those better pickings, he had – by then – a wife and son to consider. He wasn't exactly lighting the entire open wheel racing world on fire when he had the good fortune to run into Lucky Jordan, owner of a white coupe numbered 2 [that was always known as the Deuce]. Jordan warned Cagle he would have about two weeks to pan out or someone else would be piloting the potent car.
The rest is history. Cagle and Jordan were fantastic and Will found a way to do what he loved and support a family – Northeast modifieds. It was a rough and tough, mega – competitive area to race in. That area that encompassed eastern Pennsylvania, parts of Southern New York, and a lot of New Jersey had many dirt tracks at which to compete; but is also had arguably the most talented batch of owners and drivers as well.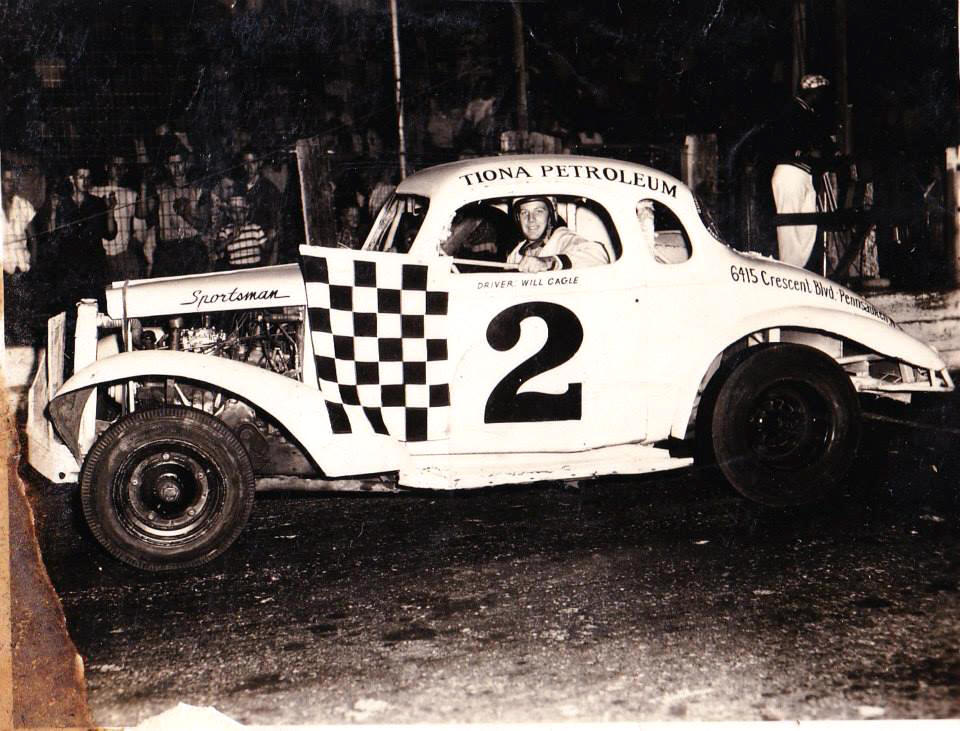 Courtesy of Ricky Gosney
Cagle, with an early Lucky Jordan car – obviously successful.
Below – A Jordan car, renumbered to suit Cagle, sits at a
Langhorne race in the 1960's.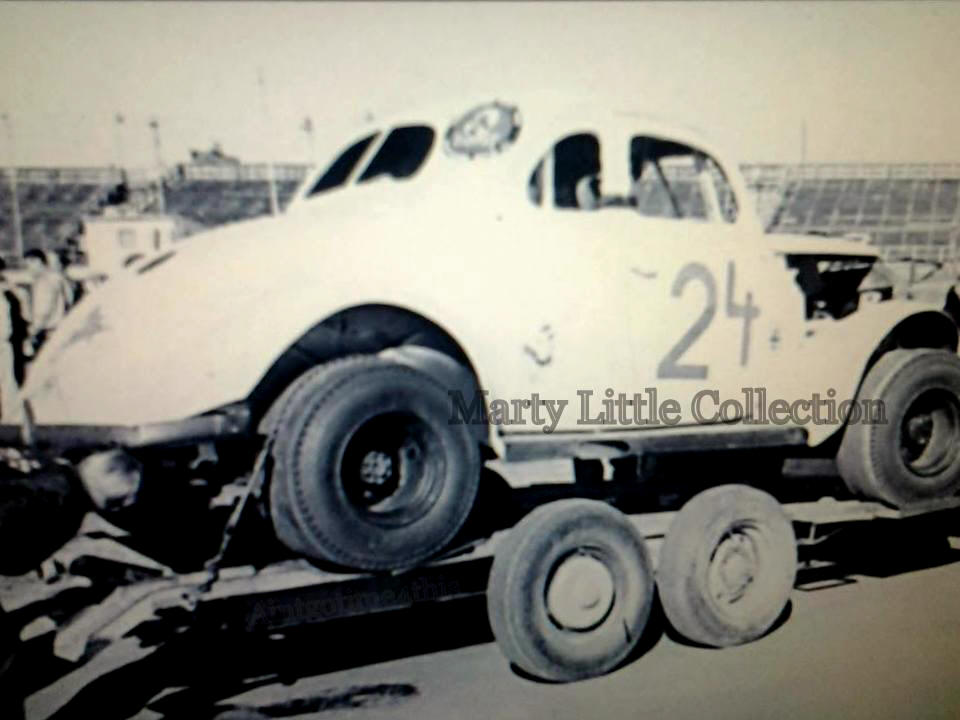 Courtesy of Marty Little via Chas Hertica

Wally Dallenbach, Sr., Frankie Schneider, Bob Malzahn, Al Tasnady, Elton Hildreth, and Dick Tobias were just a mere few of the locals who butted heads weekly with transplanted Southerners like Cagle, Pee Wee Griffin, Herbie Tillman, and Reutimann. The best known weekly venues seemed to be Flemington, NJ, Nazareth, PA, and Orange County Speedway in Middletown, NY. But there were also tracks in Harmony, NJ, East Windsor, NJ, and others. Then there was the mighty tracks at Langhorne, PA[ and later, when pavement played more of a role – Trenton, NJ]. In all, very good pickings if you were really good at what you did. You'd have to be because a lot of the competition surely was.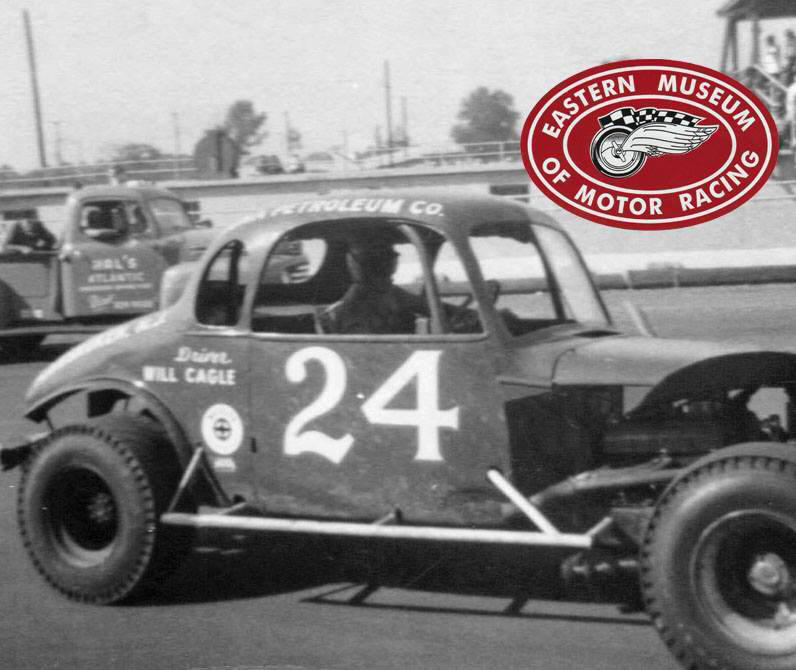 Eastern Museum of Motor Racing
This looks to be an earlier Cagle – owned mod coupe. Below -
Most of his cars for years looked like this one.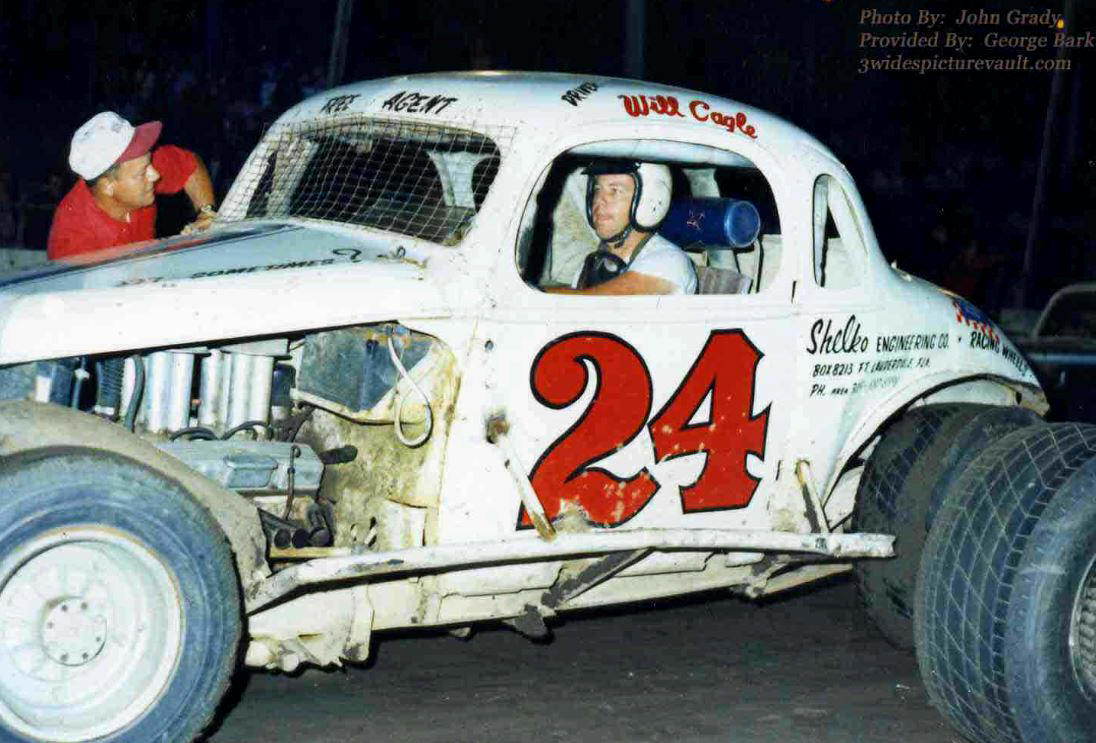 John Grady Photo via Three Wide Picture Vault


Cagle began fielding his own equipment, early on, and they always sported the number 24. He was an excellent race technician himself, but his racing intelligence and strong competitive drive also led him to realize that there were experts who knew more than he did in certain areas and could build his cars better than he. The person I know of in this case was Bob Rossell, himself a driver, who prepared some fantastic sedans for Cagle around the late '60's and early '70's. Will did use other builders, as well.
Cagle would touch our world up here in the frozen North on a few occasions. Having become close friends with Fairmont and later Devil's Bowl promoter C.J. Richards, Cagle had appeared at a couple of Richards' "all star" shows at Fairmont Speedway in Fair Haven, VT before C.J. Moved his operations out to West Haven, VT and devil's Bowl. Richards, who was running flathead Ford engines and GMC sixes at his track, would get the fans interested in the overhead V-8 car before going over to those at his track in 1965.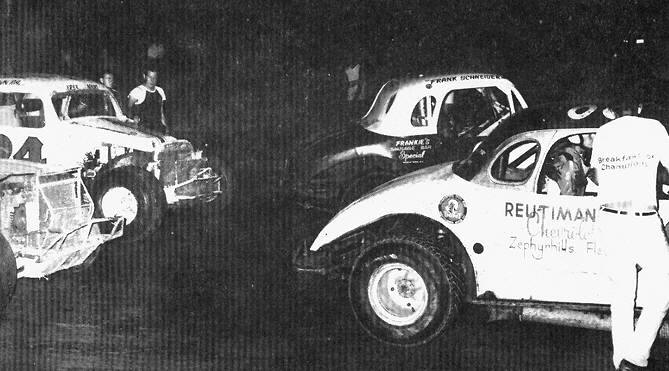 Bob Frazier Photo Courtesy of Ed Fabian
Cagle's 24 sits with Reutimann's and Schneider's at one
of CJ's Fairmont All Star shows around 1965. Below -
Future Valley Open opponent Butch Jelley was at the 1961
Valley show at the Rutland Fair in 1961.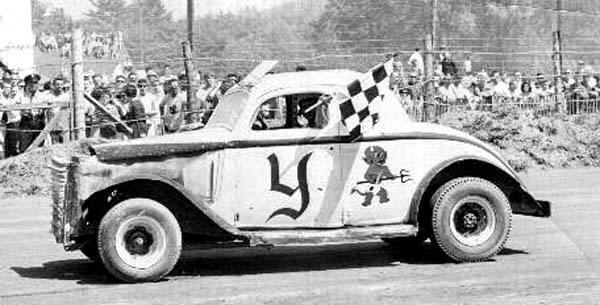 Bob Frazier Photo via Ladabouche Collection


Richards was also very wily and everything he did, no matter how it might have seemed to be random, always had a purpose. [Just like Will Cagle]. Richards had set up in promotion of the old Fairmont track [to be re-opened in 1962] by helping to encourage a show by Lebanon Valley Speedway cars at the Vermont State Fair in Rutland in 1961. Bringing in Cagle, Ron Narducci. Ken Shoemaker, Pete Corey, Buzzie Reutimann, and others to run these once – a – year shows at Fairmont always had multiple reasons for being done.
Cagle, also a prominent member of the All Star Stock Car Racing League that sprung up in 1967, also would appear at those shows when held up my part of the world. With three of Cagle's regular tracks in the ASL as charter member teams, he was always in those mid – week programs. He was very loyal and regualr attendee of ASL race programs – and those included Fonda Speedway in New York, Albany – Saratoga Speedway in Malta, NY, and my adopted home track Catamount Stadium in Milton, VT.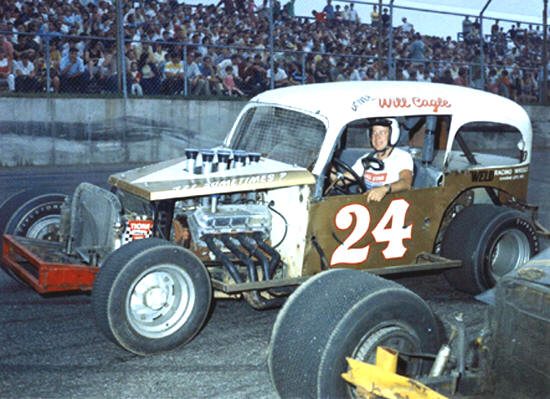 Ladabouche Collection
The famous gold sedan photo at Catamount around the 1970 ASL
show. Below – The other gold sedan sits, jacked up at a dirt
ASL event with the partner car trailered in the background.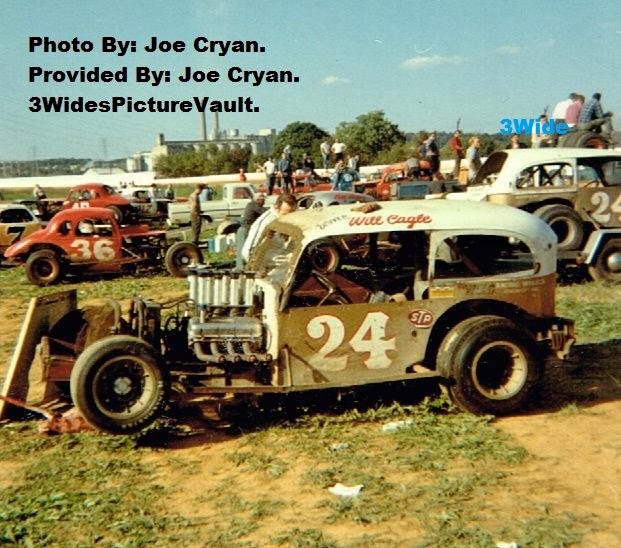 Joe Cryan Photo via Three Wides Picture Vault
One of the more familiar photos is him in one of his gold and white colored 24 sedans, on the asphalt surface at Catamount. Around 1970. While it was ironic that Catamount had a team then [because it had not featured modifieds since 1968], it was not ironic he was there because he seldom missed a race. He had two identical – looking gold and white coaches at that time and I think one was only for asphalt ASL racing. I don't know if they were Rossells or not.
Cagle spent two separate times in residence at Devil's Bowl. In the late 1960's, he was such a regular at the pasture track out on Rte 22A in West Haven, VT that he actually left a Rosell sedan at a local place of business so that he could run it at the Bowl every Sunday night. The thing was damened near unbeatable. This gets into where the Cagle influence on that neighborhood of racing in my region gets interesting.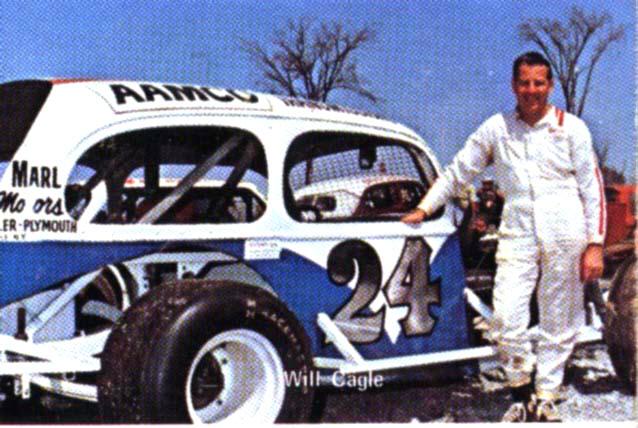 Bob Frazier Photo From Devil's Bowl Program
Will poses with the troublesome Rossell sedan that reigned
terror upon Debil's Bowl for months. Below – the same car,
then driven by Butch Jelley. Note the square tubing in the construction.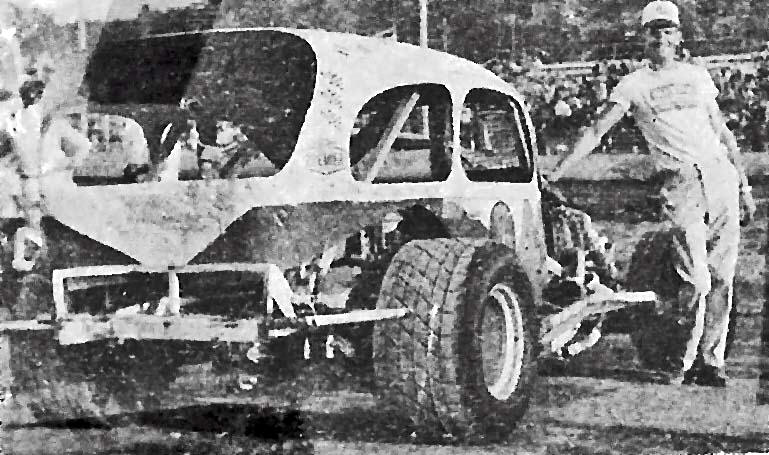 Gater Racing News Photo
The Cagle sedan was damn near unbeatable for a particular period of time during this, the first Cagle residency at the Bowl. The car, built with Rossell's characteristic square tubing, was cleaning up at the Bowl. Now, this might imply that there wasn't much for competition. Nothing could be further from the truth. This was a golden era of sorts for Devil's Bowl with the likes of Vince Quenneville, Sr., Mert Hulbert, Eddie Allen, Chet Doaner, the Tremont cars, Rudy Charbonneau, the Ryan cars, and many more top teams to give Cagle strong competition. But the Wily One went though the field like a hot knife through butter – for a while.
The it gets to be a lot of local lore and not always everyone agreeing on what transpired next. Well, obviously he was Wily Will so he HAD to be cheating. Pretty soon, Vince Quenneville's rotund and cranky car owner Norm Scarborough could be seen walking around the Cagle mount frequently. It is said he was not only looking at the Rossell car but that he was actually pacing off measurements.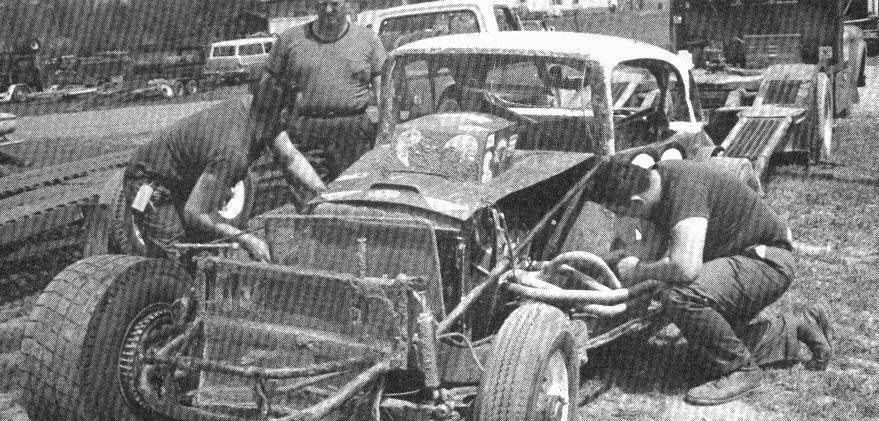 Bob Frazier Photo via Ed Fabian
Norm Scarborough supervises work on the car that he and
Vince, Sr. took the Devil's Bowl title with in 1968. But that was before
Cagle and the sedan. Below – The newly – constructed Cagle
Killer sedan. Did it actually win ?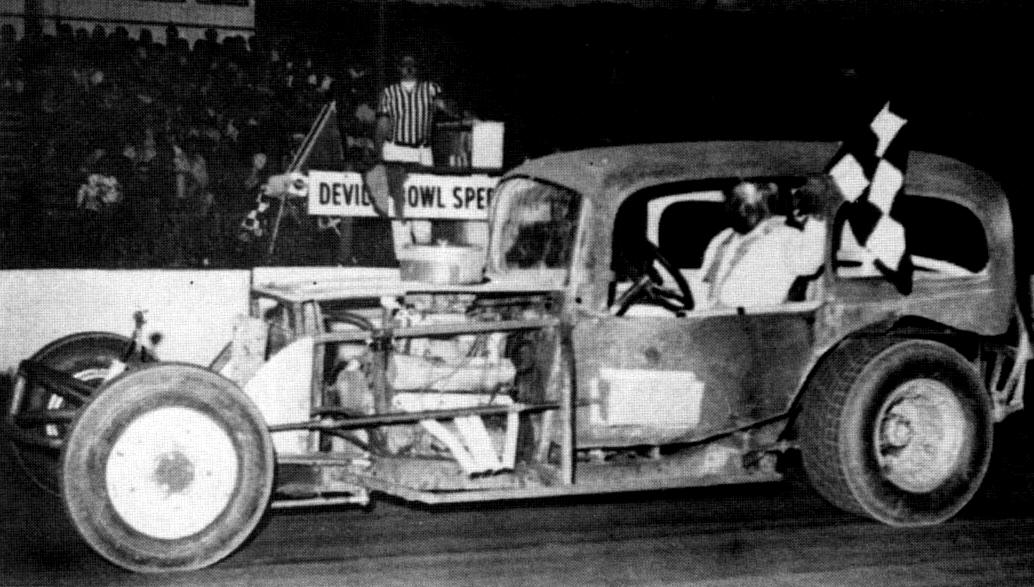 Bob Frazier Photo via Norm Vadnais


Then there is the story that Vince and Norm actually made their way into the local business building in which the Cagle car sat very week, covered up and waiting for the next slaughter at the Bowl. According a source close to that building, more measurements were made. I am leaning toward the opinion that Cagle and Richards even knew about his. After all, Cagle was quick to sell off that sedan later in the year.
At any rate, after great welding, hammering, and other creative noises were heard coming from the Scarborough garage in the tiny hamlet of Whiting, VT, a strange – looking sedan emerged and was hauled into Devil's Bowl one fateful Sunday evening. With Quenneville at the wheel, the Scarborough sedan proceeded to defeat Cagle. There are those today who insist Richards set up for Cagle to be sure and lose. In other quarters of that area, you could be drawn and quartered for such a suggestion.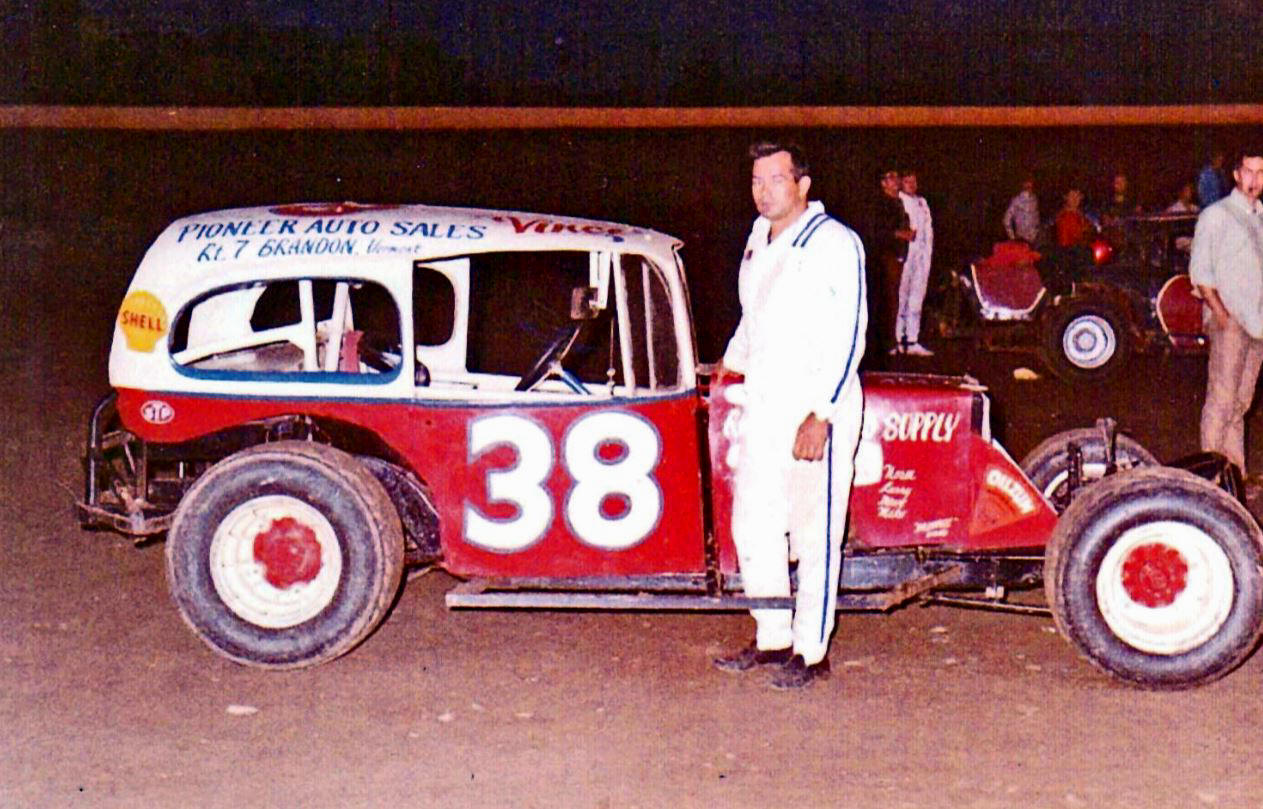 Bob Frazier Photo via Woody Woodbury
Vince, with the Cagle Copy [Cagle Killer?] whatever sedan when
he and Norm were running it in 1970. Below – There aren't any very good
photos of when it was the Dickerman Banana Wagon.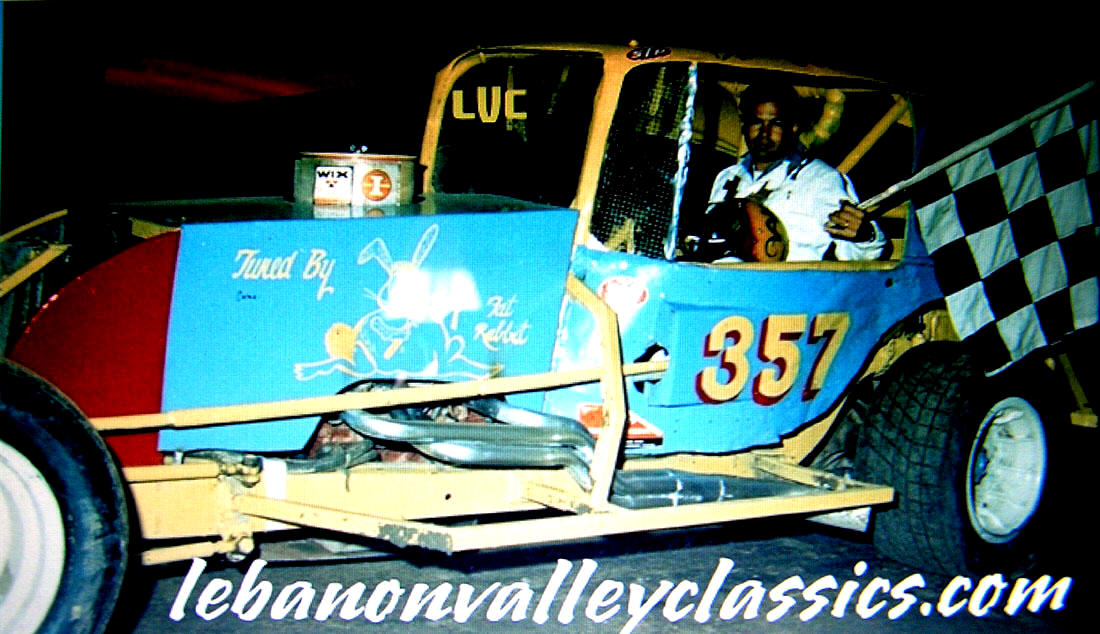 Lebanon Valley Classics

Cagle would soon sell the Rossell car off to Brandon businessman and Quenneville neighbor Curt Prescott, who had already been fielding a car he had bought off from Ed Foley and which was now being driven by Tommie Corellis. The Scarborough / Quenneville combo would run the "Cagle Killer" for a while in their familiar red and white #38 scheme at the Bowl and the Valley. Later, the car would be bought by flmaboyant Brandon car dealer Austin Dickerman and repainted bright yellow and blue. Dickerman was smart enough to retain Norm and Vince, and the "Banana Wagon [#357 then] would terrorize the Bowl, the Valley, and even parts of Canada.
The best part of the story is what happened next with the newly – sold Cagle sedan. Having bought it partly because of his strong conviction that the car was cheated up, Prescott first had his new prize torn down – far more thoroughly than anything Richards' tech men would have done. To everyone's exasperation, the Cagle car was not only legal – motor and all – but it actually did not contain even all the allowable bells and whistles that some of its competition had. I imagine Prescott was not pleased.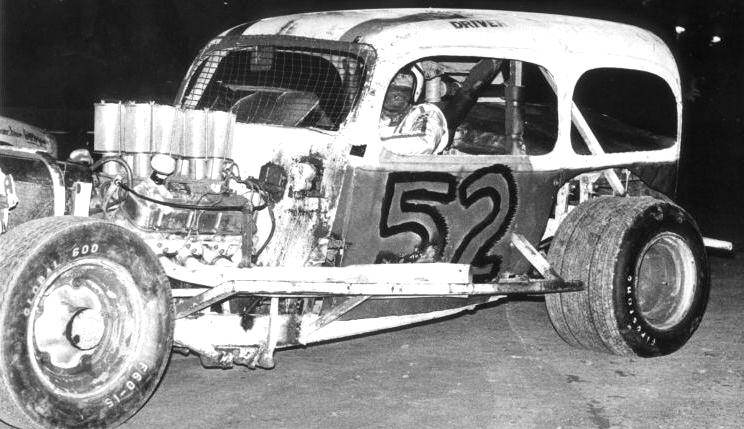 Lebanon Valley Classics
The final landing spot for the Cagle sedan was with Arnold Fleury and driver Bob Leach. Below- Sedans
at the Valley continued to confuse the issue for years. Below – These shots show the actual former Cagle car.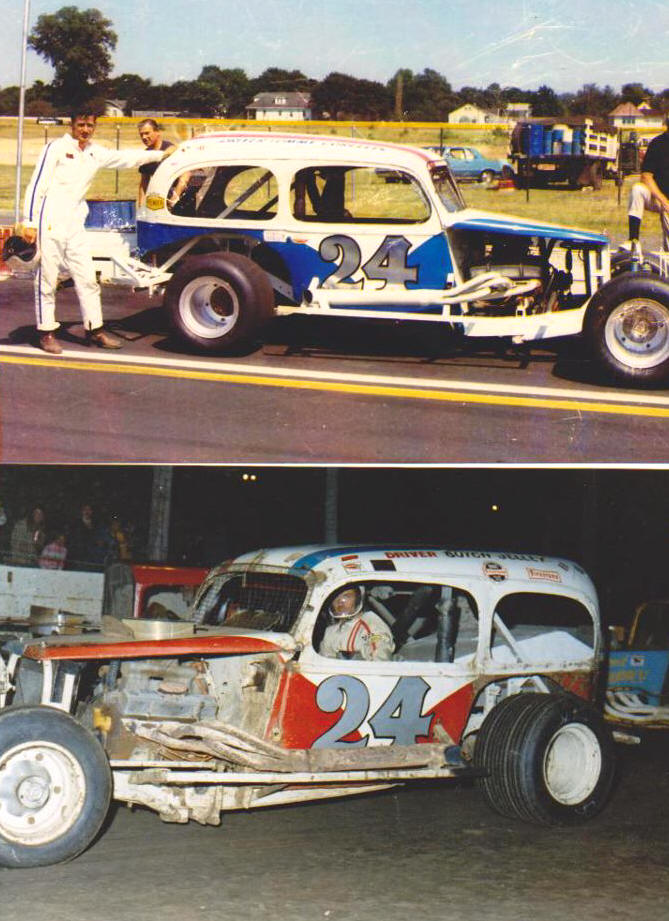 Courtesy of Arnie Ainsworth


It gets complicated from here, but I think Prescott used Butch Jelley [and maybe Corellis] to run the sedan mostly at the Valley. Later, Ken Tremont, Sr. tells me he Jelley allowed him to examine the sedan to build one for himself and Chuck Ely if Ken would build a second one. That second one became the Young – owned Warren Construction 28 Corellis drove. At some point, the Rossell car was sold to Arnold Fleury who ran it as #52 with drivers like Bobby Leach.
Although I was working for C.J. In 1985, at the time of Cagle's last "residency" at Devil's Bowl, I don't remember much about it. I do recall having to go to the Richards residence in Fair Haven one day for something to do with either the Bowl or Airborne Speedway and – while I stood in the living room – down the stairs came the Wily One. Only then did I understand just how close friends he and C.J. were.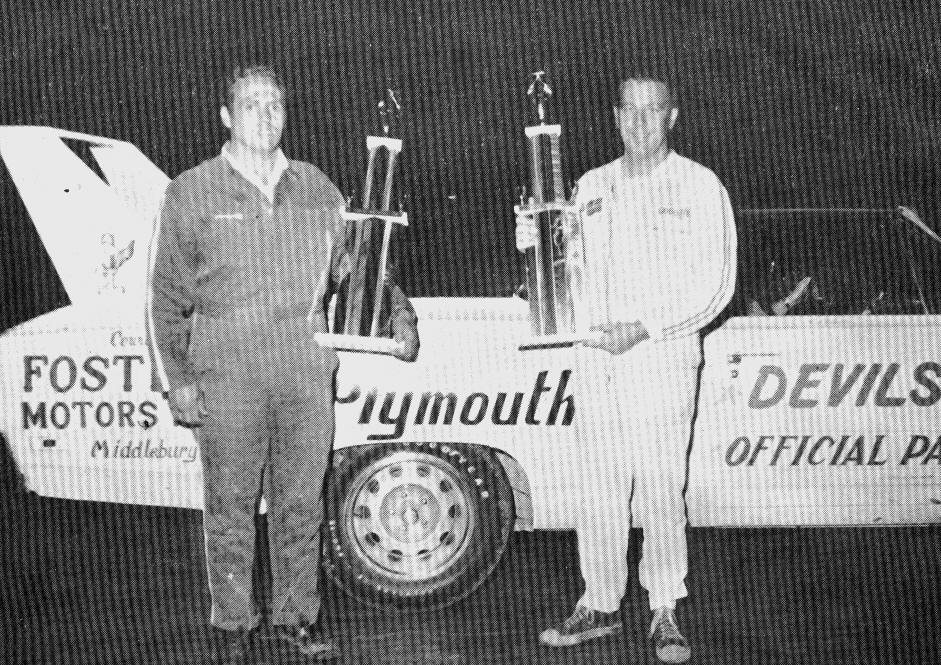 Bob Frazier Photo via Ed Fabian
This shot shows Cagle [after the glory year] and late model
champion Tim Baker by CJ's Superbird pace car with
their trophies. Below – A later Cagle car on the cover of
SCR shows he was still on top late in that career.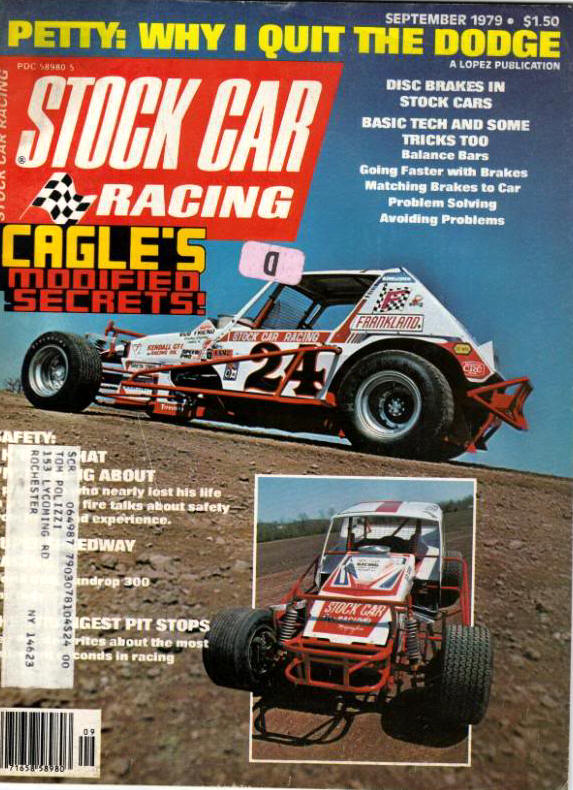 Courtesy of Little Lee Racing Fan

It was not long after this that I think Cagle had the accident and bad leg injury that convinced him he had had enough racing and called it a career. But considering the sedan era that was ushered in [particularly at the Valley] and the lessons that his competitors up our way could learn from sharing he track with him, I would have to place Will Cagle as one of the most influential racing figures of our region – even though he came from far away and did the bulk of his racing elsewhere.
Please email me if you have any photos to lend me or information and corrections I could benefit from. Please do not submit anything you are not willing to allow me to use on my website - and thanks. Email is: wladabou@comcast.net . For those who still don't like computers - my regular address is: Bill Ladabouche, 23 York Street, Swanton, Vermont 05488.
AS ALWAYS, DON'T FORGET TO CHECK OUT THE REST OF MY WEBSITE
www.catamountstadium.com
Return to the Main Page
Return to the Main News Page
Return to the All Links Page
Return to the Weekly Blog Links Page