BILL'S [Somewhat] WEEKLY COLUMN/BLOG PAGE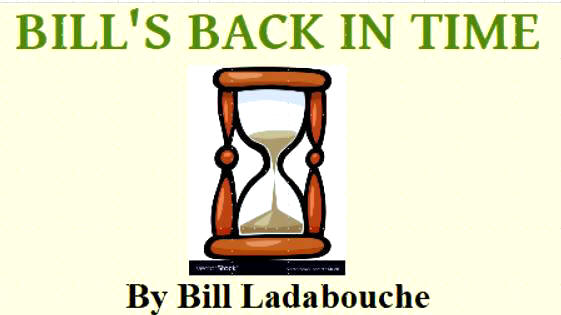 AND THERE WERE THE TWO OF THEM
I have heard numerous people offer reflections and tell all kinds of stories about that fascinating year – 1961, when Dick Nephews of Mooers Forks, NY and Bill Wimble, from Lisbon, NY tied for the NASCAR National Sportsman Championship. The two have been somewhat joined at the hip – at least as far as that event went – ever since. My uncle and I had been happily journeying up to Waltham, VT [near Vergennes] to watch races at a newly – opened Otter Creek Speedway. It was our first oppportunity since watching a race at Malletts Bay in 1958.
We benefited from the fact that racing at that bucolic, bumpy, dusty track in Hi Monroe's pasture meant easy national points for the various New York sportsman teams who thought they had any chance at the national title that year. Wimble, the defending national champ, hailed from a town only about an hour or two from Nephew, who lived practically on the Canadian border and spoke with a noticeable French accent. We'd see both there that brief, late – season run for Otter Creek; but, not at the same time.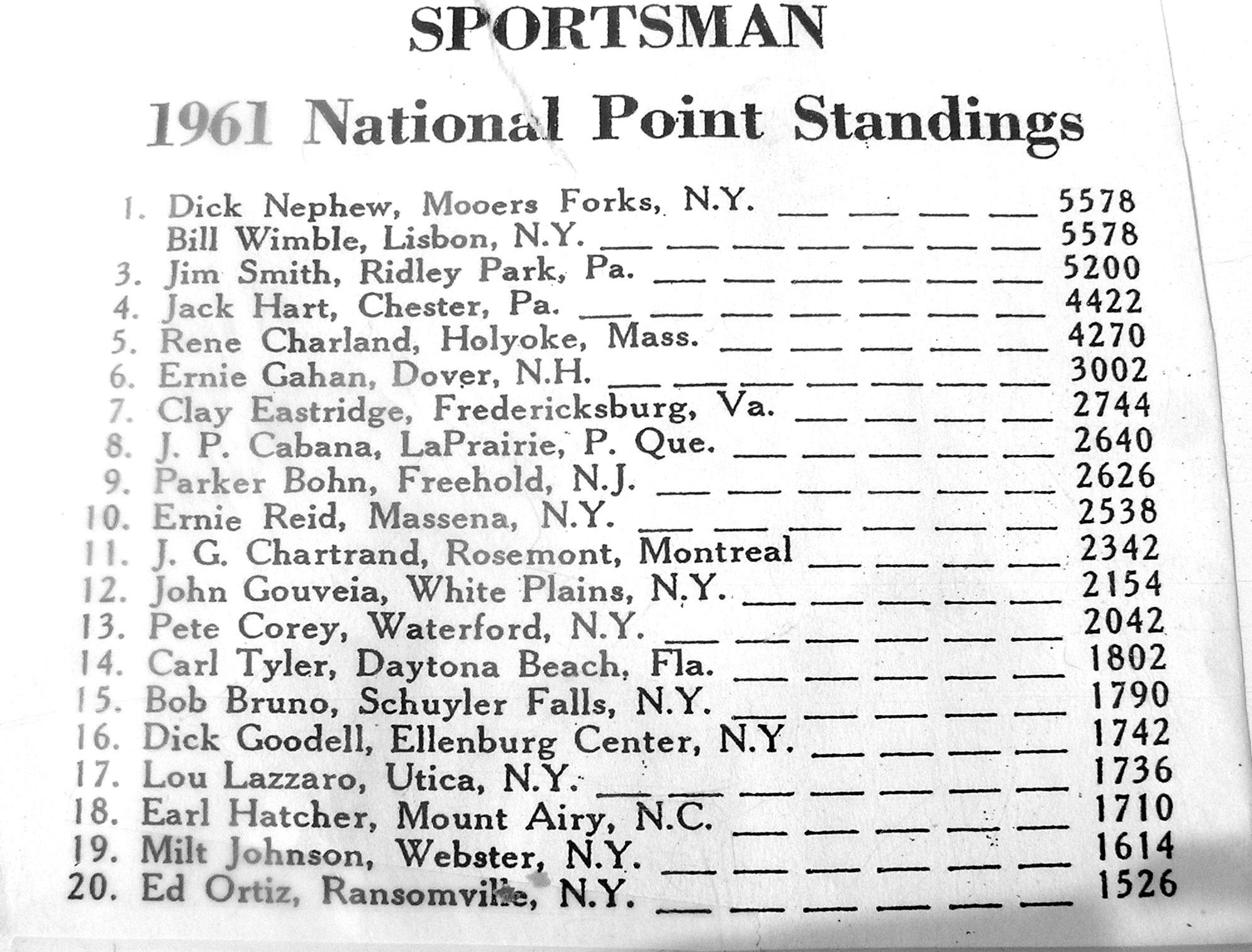 Courtesy of Gary Nephew
Above – The amazing final point results from the 1961 season. Below -
The Otter Creek points show that both men used the track and its
chance for easy points, but Wimble made the trip [and it
was much longer] more often than Nephew.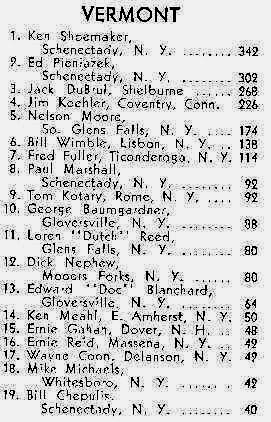 Ladabouche Collection
Despite getting the NASCAR newsletter in the mail every month, neither of us was aware of the close points battle going on that year. This was a time when the New York NASCAR sportsman teams enjoyed an advantage over the South [for a change] because there were so many tracks in the region at which they could run and get points. Otter Creek was a bit of drive for most teams, but the lack of much competition there was a strong attraction.
Team vying for a national title then were used to contending with high – pressure tracks like Fonda Speedway, Victoria Speedway, Montgomery County Speedway, and others in New York. They welcomed the relatively easier pickings at Otter Creek and at the equally – rural Saranac Lake Speedway, near Lake Clear, NY. Besides these dirt tracks, NY contending teams would also take to the asphalt at Airborne Park Speedway and Utica – Rome Speedway. [In fact, that year, nine of the top twenty national finalists ran regularly at Airborne; it's regulars made liberal use of Quebec NASCAR tracks like Riverside Speedway to add onto the points totals].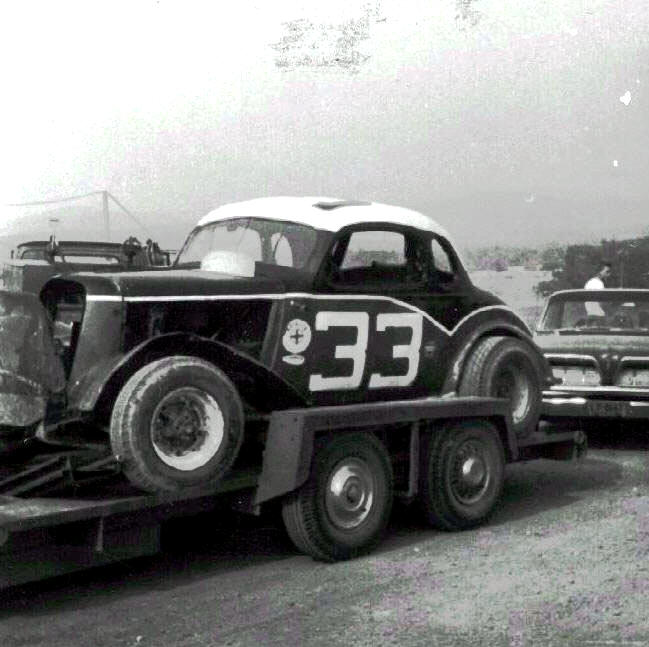 Ladabouche Photo
I snapped Wimble and the McCredy team leaving Otter Creek
but never caught Nephew. Below – This shot shows some NY sportsman
cars starting in the rear of a feature with hobby class cars up front.
Among those hobby cars were Ed Foley, Vince Quenneville, Sr., and
-at times - Beaver Dragon.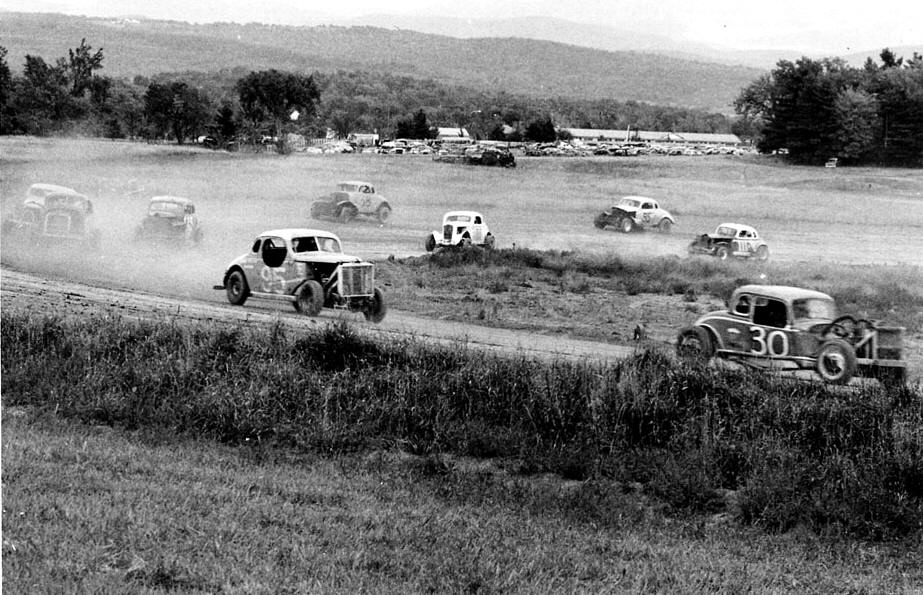 Bob Mackey Photo via John Rock
As it turned out, Wimble and Nephew finished, deadlocked, at the top with 5,578 points apiece. After them were Jim Smith and Jack Hart, two guys who ran around Pennsylvania and New Jersey. Then came Rene Charland, who would go on to win the title the next four years in a row; Ernie Gahan, who would win the national modified title in 1966; and finally you got to an actual Southerner. Then, came Jean – Paul Cabana and Ernie Reid [two Airborne regulars] with another rebel sandwiched between them in ninth. The second ten places were similar, and included Jean – Guy Chartrand, Bob Bruno, Dick Goodelle [Nephew friend and neighbor], as well as other New Yorkers in the persons of Pete Corey, Lou Lazzaro, and Ed Ortiz.
Among these 12 aforementioned drivers, all ran Fonda Speedway at least sometimes and the same could be said for Airborne Park. I never got to talk to Wimble about the campaigns, but Nephew made it very clear that winning a national title was as much about being free to travel all over the East to enter every race you could as it was about consummate skill. I also could not find out much about this from the ultimate master of this practice, Charland because he was virtually impossible to interview in his older years; he couldn't be serious long enough.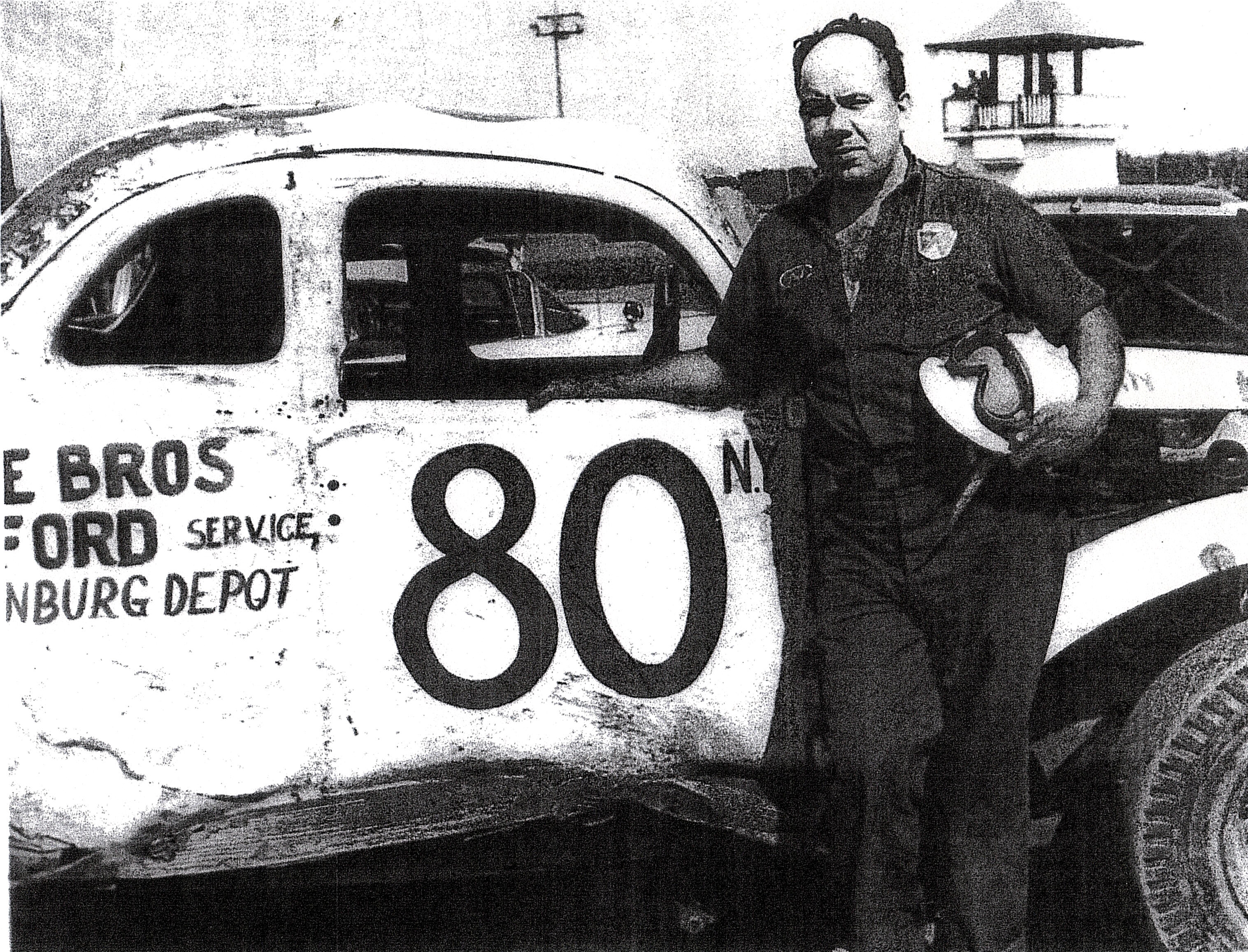 Courtesy of Cam Gray
Dick Goodelle, a Nephew neighbor, finished 16th in the nation that year.
He also had a connection with Wimble as he took over the Gaylord Rowe
T-800 [below]from Wimble after the 1955 season. Incidentally,
Goodelle's 1961 ride was the Gaylord Rowe 80NY shown above.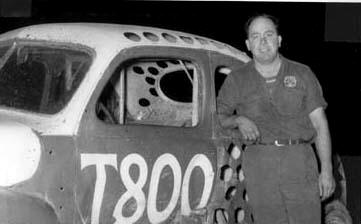 Bob Mackey Photo via John Rock
Nephew told of running a busy race schedule at places like Airborne, Saranac Lake [when with NASCAR], Riverside, Fury and other Quebec NASCAR venues, and making occasional stops at the Fondas, the Otter Creeks, and the like. But, he pointed out emphatically, that wouldn't do it for you. He said that, many times, he'd jump on an airplane and fly somewhere in the Deep South or the Mid Atlantic region to run in a borrowed car and get extra points.
Standing with Dick in his trophy room in Mooers Forks, I got to see the NASCAR National Sportsman trophy. Dick was talking about how he didn't think he could have done it if he did not make his living with his own excavating business, giving him the leeway needed to just take off and race at some faraway location whenever he could. Personally, I don't know how Wimble managed it, seeing as he was supposedly a dairy farmer. From what I could glean from his book, he had to have people work the farm in his absence quite a bit.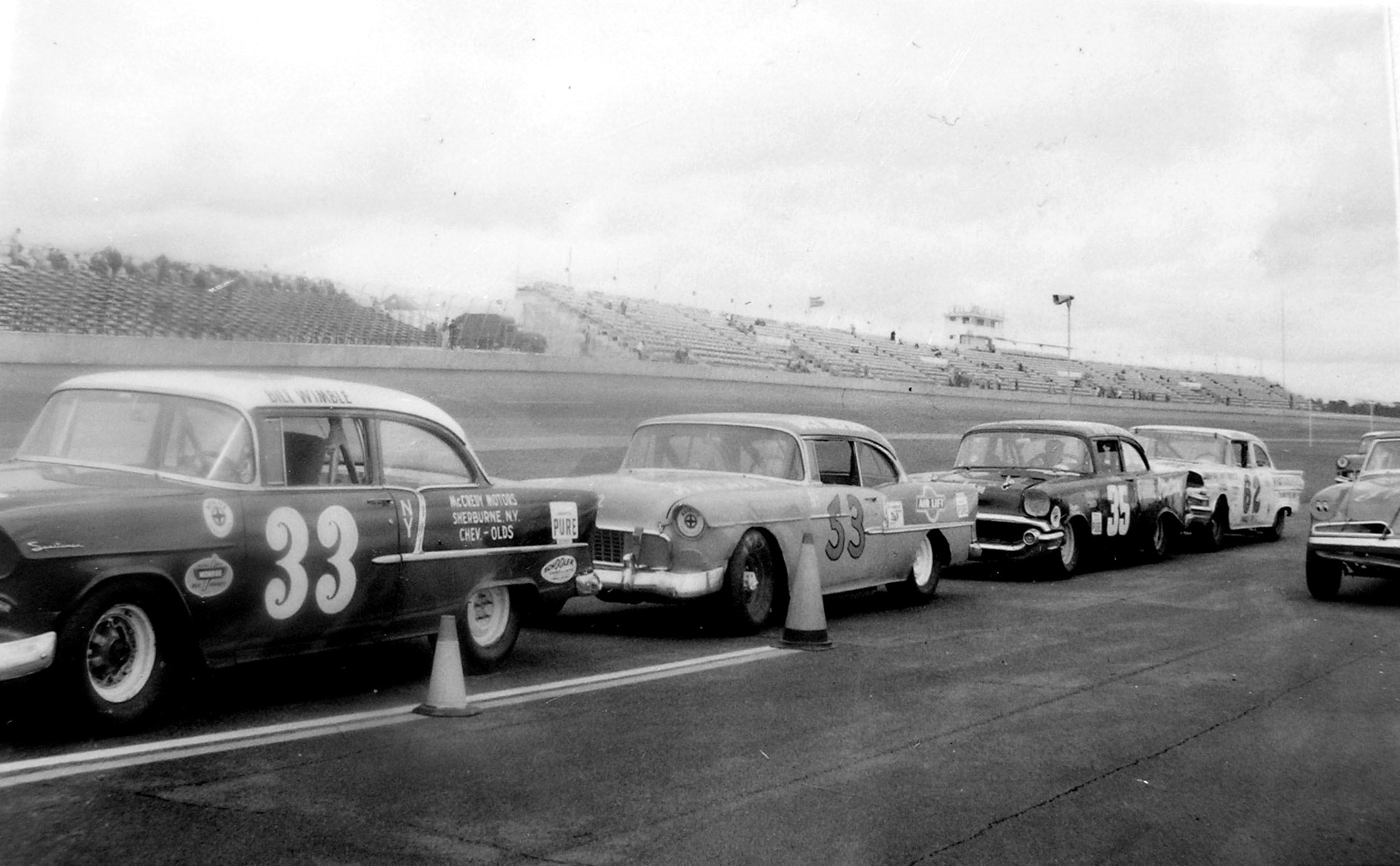 Courtesy of Gary Nephew
Both men knew there were a lot of points to be had during NASCAR
Speed Weeks. Above – Wimble [McCredy Chevy] is lined up right ahead
of Nephew [Allie Swears Chevy]. Below – Nephew, having won a race
at one of the Quebec tracks around this time.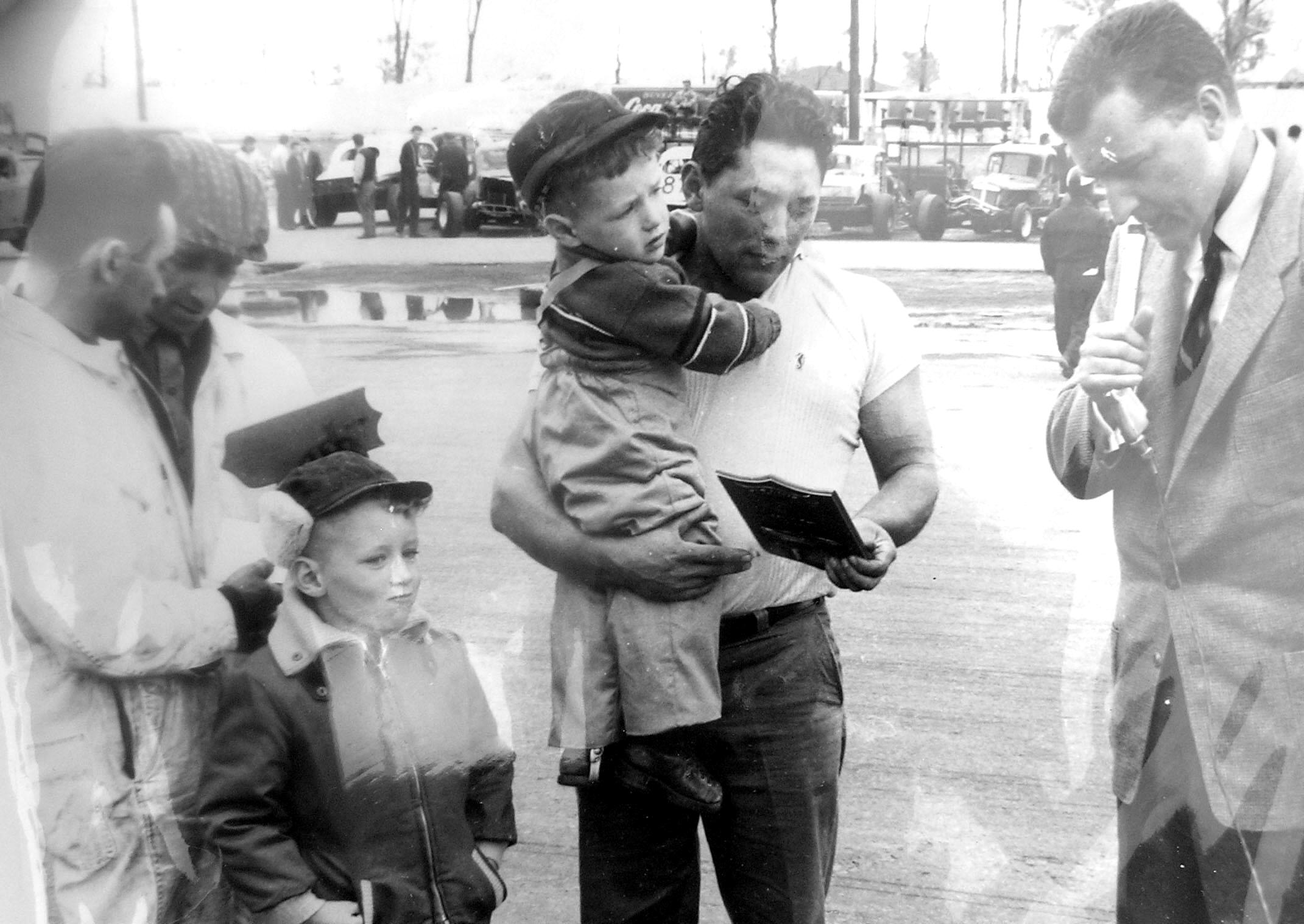 Courtesy of Gary Nephew

Getting back to the stories about the 1961 run for the championship, I heard a number of versions; but, I always kept Wimble's and Nephew's versions closest to my heart. When I interviewed Dick, in 1984, I took my young son, Seth with me. He never quite recovered from discovering the remains of a fawn, sitting in a huge jar of formeldahide [sp.] in the Nephew trophy room. No idea why he kept it there. At any rate, the burly Nephew was animated, adamant, and emphatic as he told me how he felt NASCAR manipulated the final points to allow Wimble to catch up to him. Wimble, when I spoke to him around 2013, told a very similar story, only that it was Dick who got the preferential treatment.
Nephew's version was in much more detail, but I cannot lay my hands on those notes, these 34 years later. I certainly remember both cars that year. Nephew had chief wrench Ross Reil [who would be killed a few years later towing home through Vermontville, NY on Route 3 – returning from Saranac Lake Speedway. Wimble had chief mechanic Fred DeCarr. Nephew, while carrying sponsorship from Vic Jubert [a wholesale meat dealer in the North Country] had the burden on owning his own car – an all red '36 Chevy numbered 6.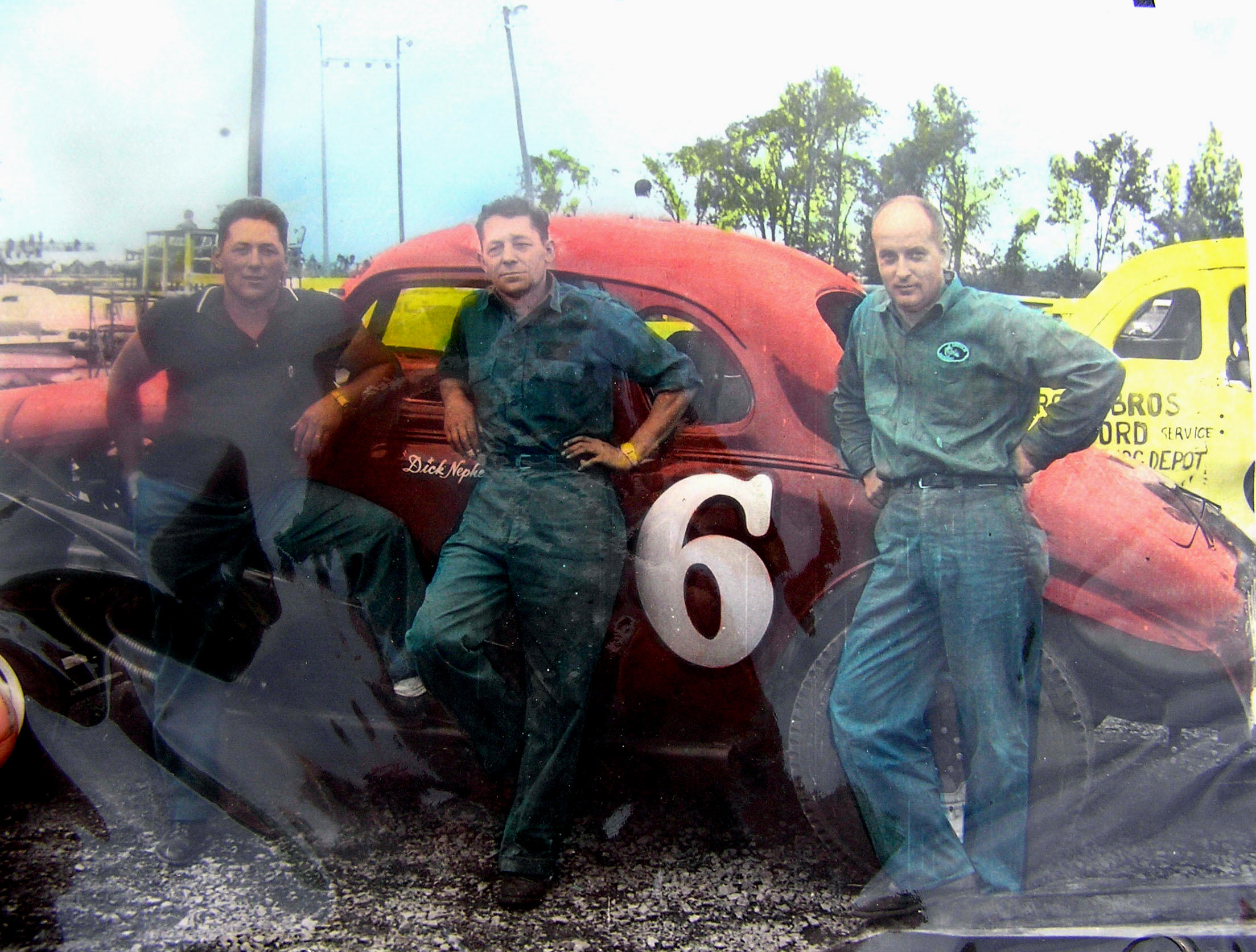 Courtesy of Gary Nephew
Dick Nephew [left], in that championship era. I am thinking Ben Nephew is in the center
with tinvaluable mechainc Ross Reil at right. Below – Fred Decarr [standing], working in the
McCredy shop during that era.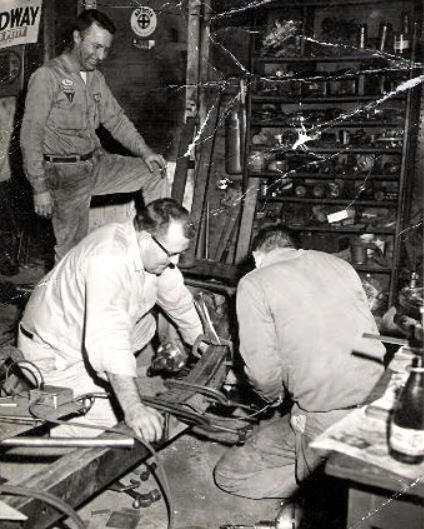 Courtesy of Otto Graham
Wimble, while having his black, white and maroon '36 Chevy #33 owned by Sherburne, NY car dealer Dave McCredy, did have the farther commute to get to most of his racing that year [by along shot]. Getting to Fonda more that the farther – away Airborne, I saw more of Wimble than Nephew. Various storytellers have different viewpoints on who led the points chase when and by how much. All anyone knows is that, when the dust cleared, the two were tied.
Now here's where it all takes a funny twist. Obviously, both men would have to travel to Florida [probably during the 1962 Speed Weeks] to be awarded the national title trophies and any other loot that came with it. They were awarded directly by Big Bill France. While Wimble had had the experience in 1961 [for the 1960 title], I'll bet both men were somewhat in awe of the moment and the who tie thing probably received an undue share of attention from France's handpicked media members.
At any rate, it you look carefully at the presentations photo, after all that fuss and effort neither man noticed that he was clutching the other's trophy. The person telling me the story paused for drama and said, "And there were the two of them, holding each other's award and thinking how much the rival didn't deserve to be there !" I am told they went home with the cups before discovering the mixup. It must have provided at least one light moment for the pair, who probably otherwise were not on each other's Christmas card list.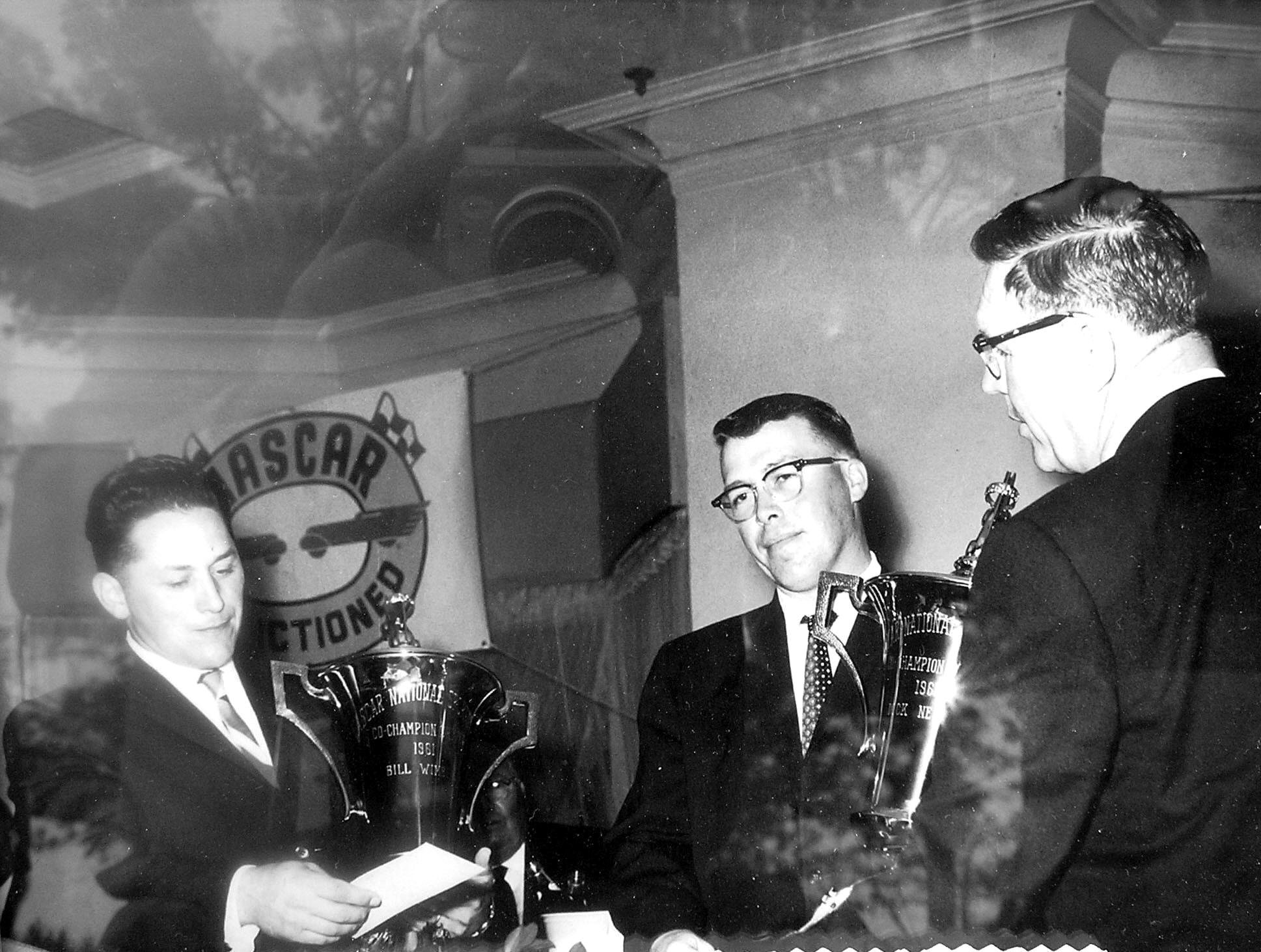 Courtesy of Gary Nephew
The infamous trophy photo with Big Bill. If you can
make out the trophy engraving on the one DIck has, you'll see it.
Both men would race on into the next decade, both starting to concentrate more and more on paved tracks. I recall Nephew being a regular C.J. Richards' CVRA circuit of Airborne and Devil's Bowl [when both were paved] around 1970. Wimble and McCredy began fielding cars that definitely looked more like pavement rigs than dirt. I think that one of the great ironies of the late '60's and early '70's was that neither man either chose or were invited to be on an All Star League team [other than Wimble's being on the championship Fonda team in the inaugural year of League].
Nephew did leave racing only to make a brief comeback around 1984 and 1985 in dirt modifieds. Wimble, of course, went on to establish a successful business career and left racing for good after a bad accident at Lebanon Valley. That 1961 points chase will go down as one of the best ever, no matter who might have interfered with what [or not].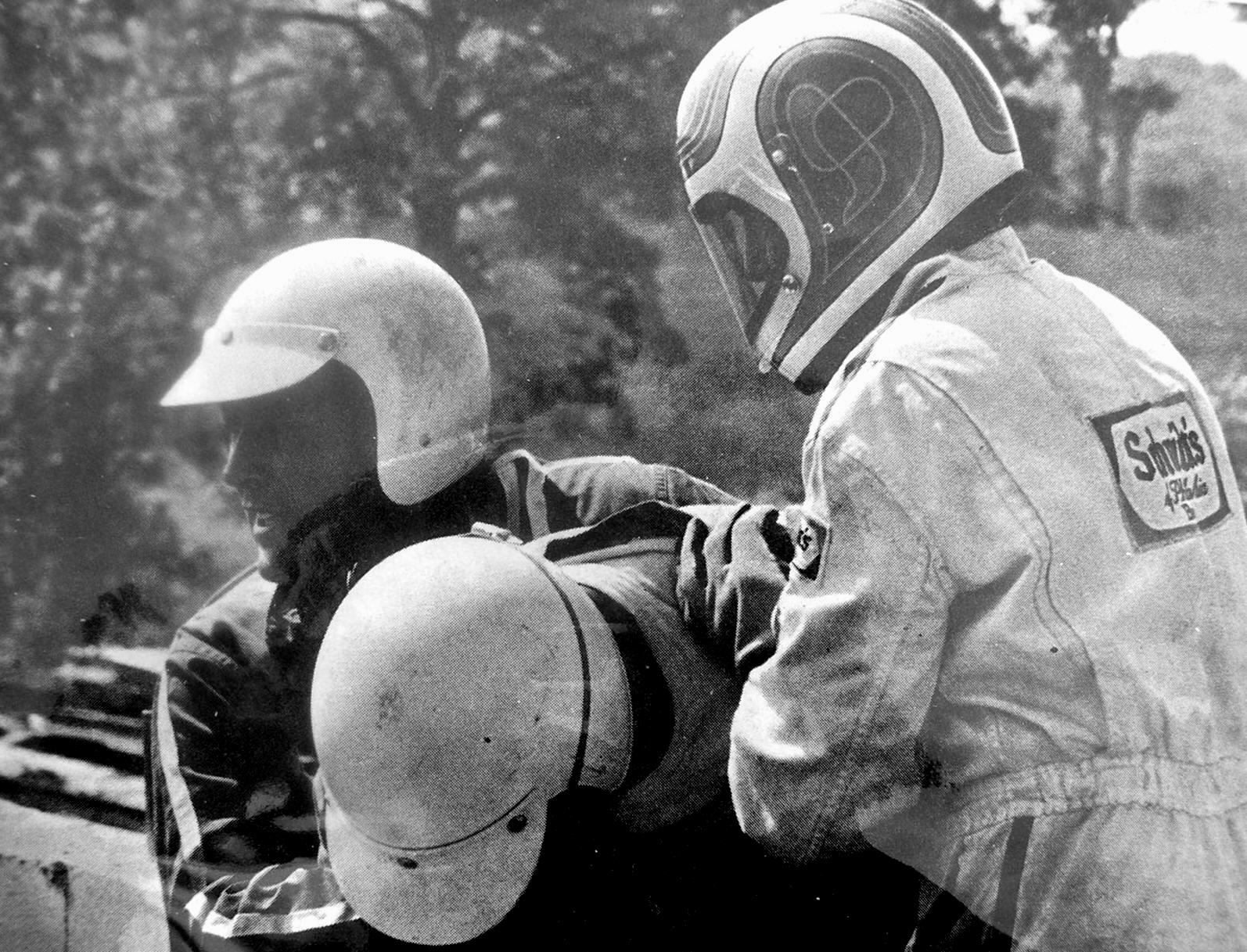 Courtesy of Gary Nephew
Ironically, both men – some time in their career – participated in
dangerous rescues of driver from fiery cars. Above – Dick and
Wes Moody rescue a driver named Goodspeed at D. Bowl.
Below – Wimble [far right] poses with fellow rescuer Ernie Gahan
with some of Marvin Panch's group. The two, along with Tiny
Lund, pulled Panch from a fire at Daytona.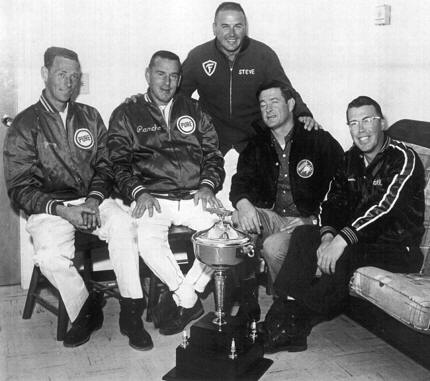 Panch Family Photo
Please email me at wladabou@comcast.net if you have any photos to lend me or information and corrections I could benefit from. Please do not submit anything you are not willing to allow me to use on my website - and thanks. For those who still don't like computers - my regular address is: Bill Ladabouche, 23 York Street, Swanton, Vermont 05488.
AS ALWAYS, DON'T FORGET TO CHECK OUT THE REST OF MY WEBSITE:
www.catamountstadium.com
Return to the Main Page
Return to the Main News Page
Return to the All Links Page
Return to the Weekly Blog Links Page