BILL'S [Somewhat] WEEKLY COLUMN/BLOG PAGE

BILL'S BACK IN TIME
By Bill Ladabouche
The Other Race in Racing
Our Northeastern African American Racing Pioneers
I am writing this with the knowledge that I have already written a similar column before; and, given that is an important topic – here goes again. There is probably not a serious race mature fan alive who is not familiar with Wendell Scott and his struggles to participate in what was certainly held to be a white sport, particularly in the South. I have a 2015 blog on the site that takes one newspaper issue that covers his only Grand National win and how he had to wait until the spectators were gone to be recognized as winner. Pretty pathetic stuff.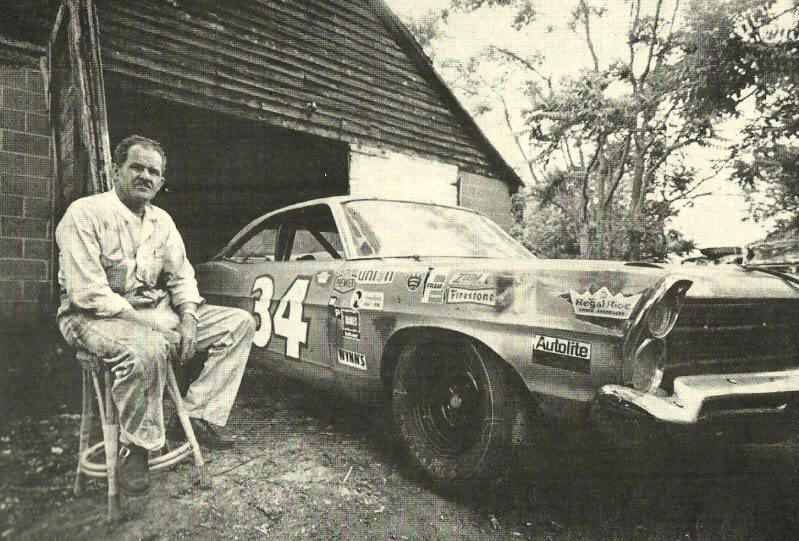 Scott Family Photo
It all started with Wendell.
I have no way of knowing if pioneering black drivers in our northeastern corner of the nation put up with as much guff as did Wendell; but, they were still very few and far between – running in a sport that was over 99% white – at least in this area of the U.S. People who have spoken of one or more of these few African – American stock car figures are unanimous in their respect for them.
The first man with whom I was made familiar by friend, Russ Blake, was Bo Green. Bo almost always ran cars numbered 0. He seemed to do most of his racing near the Lebanon Valley Speedway, in New Lebanon, NY. There were surrounding tracks that preceded – and fed into – the Valley; and he also did some running at those. Names like The Pine Bowl Speedway, Snyders Corners, NY; Route 66 Speedway, Averill Park, NY; Stateline Speedway, North Bennington, VT; Burden Lake Speedway, West Sand Lake, NY; and Empire raceway, Menands, NY were a few of the many 1950's tracks in the vicinity. Bo very likely ran at these tracks before the Valley started up.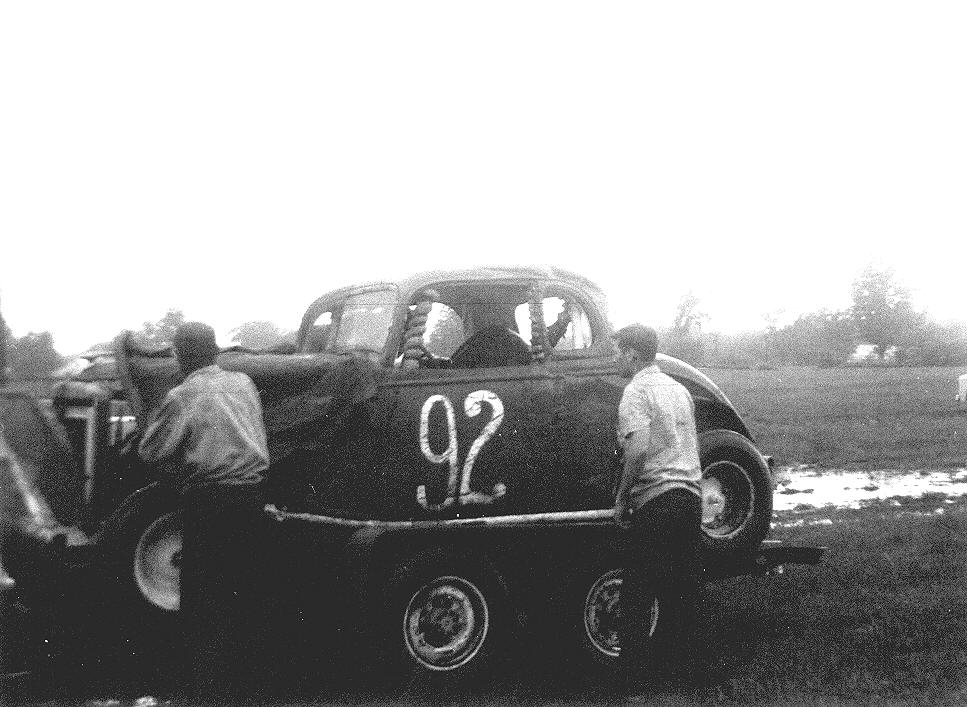 Ladabouche Photo
The battered Russ Blake car is attended to after races at Fairmont Speedway around 1963. Bo Green [left] and Jumbo Williamson
are doing the honors. Below- Bo Green gets into line at an early Valley show.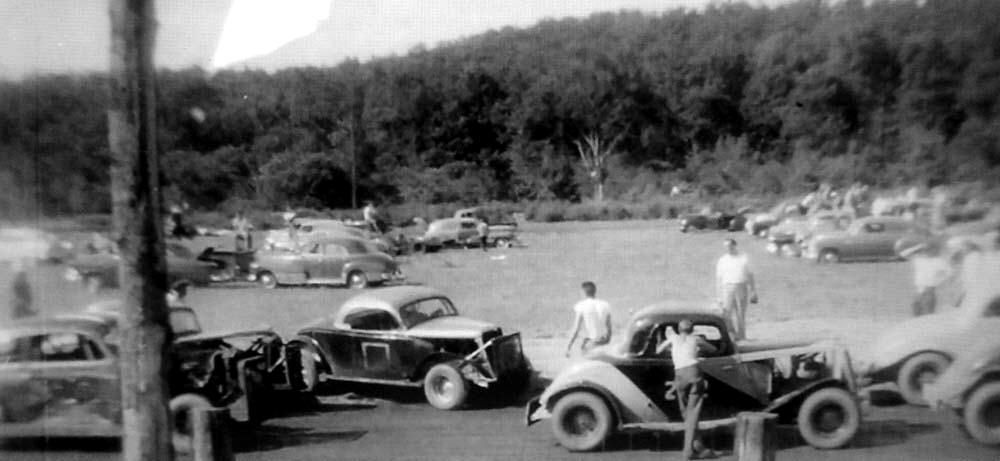 From Lebanon Valley Classics
Bo's name first came to my attention when Blake excitedly pointed out that a photo of his #92, on a rare visit to Fairmont Speedway, Fair Haven, VT, had also captured Bo Green. Green was an eager supporter to other drivers in his area and had made the trip up from Pittsfield, Massachusetts with Blake to run the somewhat beat up – looking coupe that day. Russ doesn't remember too much about that early car of his, but he was delighted to see Bo Green next to it in the shot I took with my trusty Brownie Hawkeye box camera.
The web pages called Lebanon Valley Classics, which feature tons of vintage photos of Valley competitors and cars, have a few shots of Bo Green. He seemed to run primarily in the 1950's, although I did once [in the 1960's] see a car at the Valley called "The Square Zero". The car, alternately driven by drivers Will Coville and Barry Reynolds, may very likely have been fielded by Bo Green, who used that square zero label. It is hard to know just how he did because Bo came from that era of Valley racing when record keeping wasn't the greatest.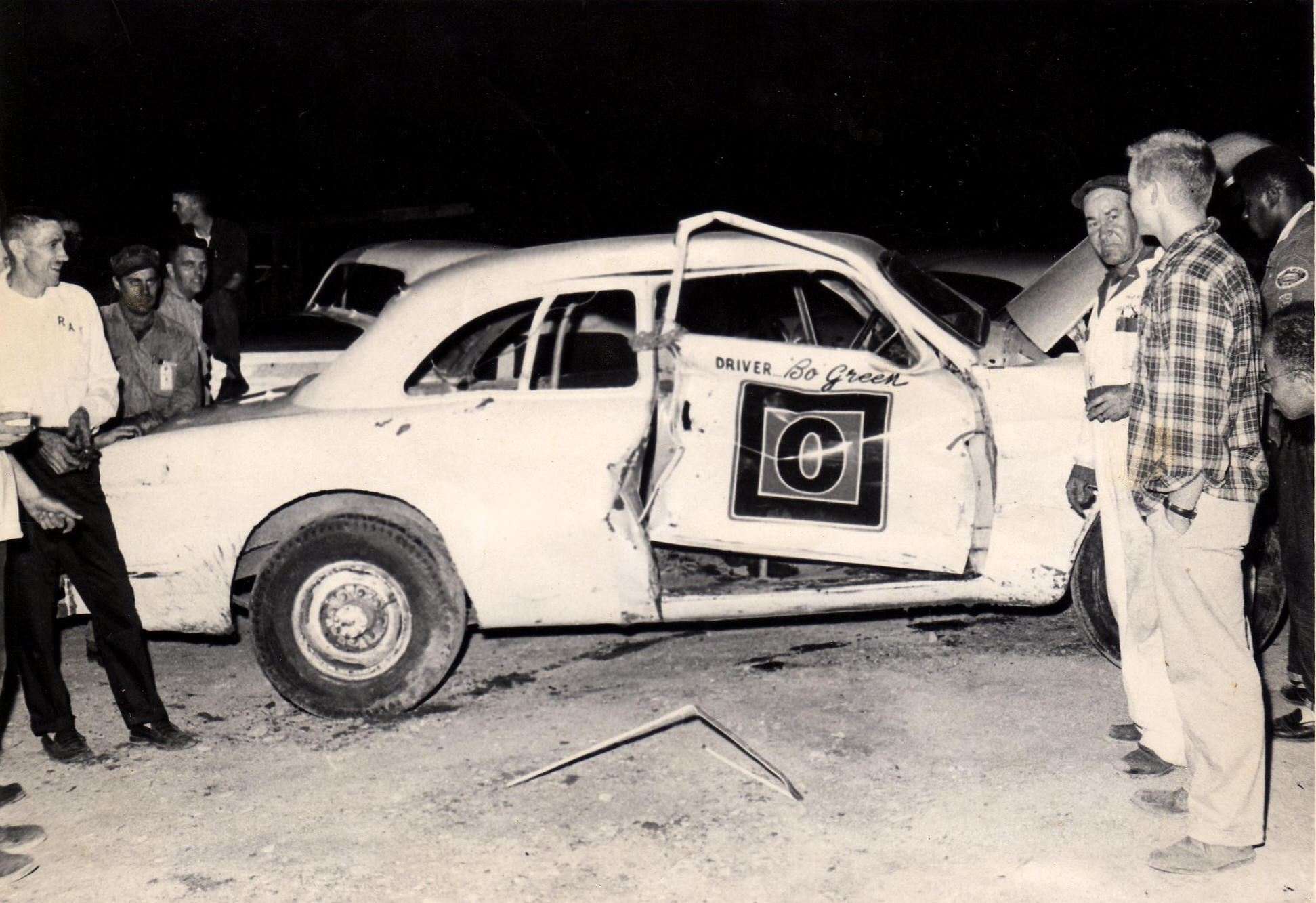 Lebanon Valley Classics
Lebanon Valley officials including Bob Whitbeck check out the damage to Bo's snappy Ford in the
1950's. Below – Bo probably raced against fellow racing pioneer, Johnny Kettel.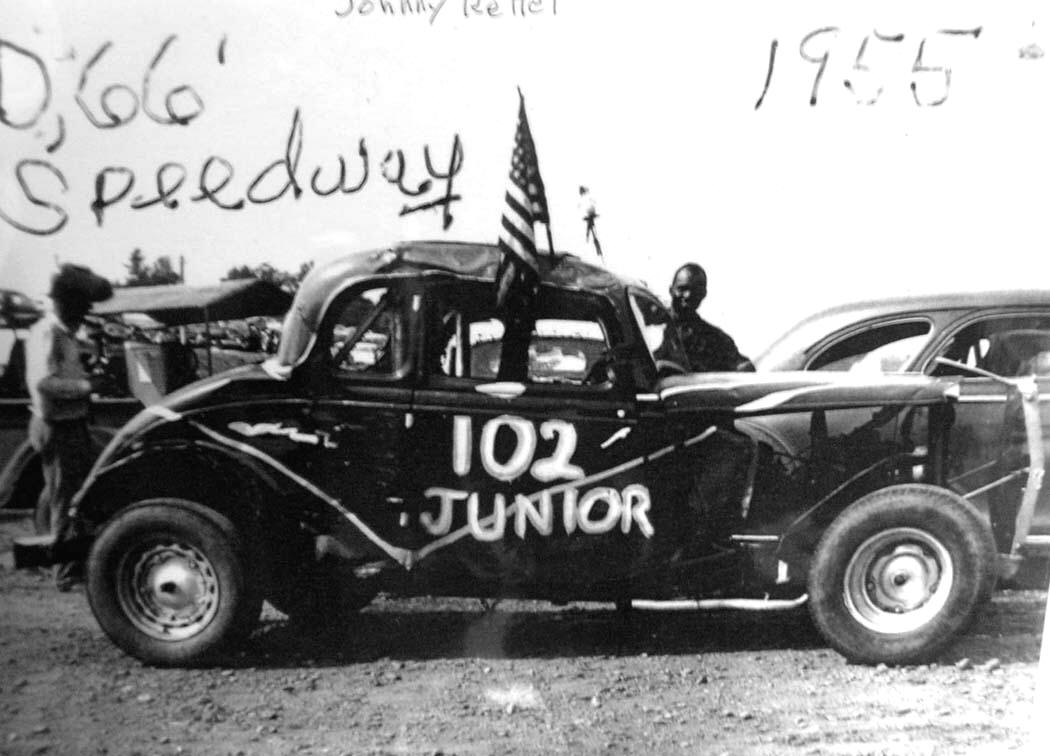 Courtesy of Ken Gypson

The best known photo of Bo Green seems to be one in which he had managed to wreck up a pretty snappy – looking 1950 Ford. The professionally – lettered Ford was being attended to while Bo looked on, to one side. The other discernible photo shows him in a coupe, apparently lining up on the old Lebanon Valley track [which was much flatter than today's version].
Another man from that immediate vicinity was one Johnny Kettel. Primarily running at Route 66 Speedway, Kettel had a black and orange #102 Junior, a flat top coupe that sported hoemmade lettering, as did most cars of that era. From the battered looks of the car, he didn't shrink from mixing it up with the other drivers, although I don't know if he was treated any rougher than the rest.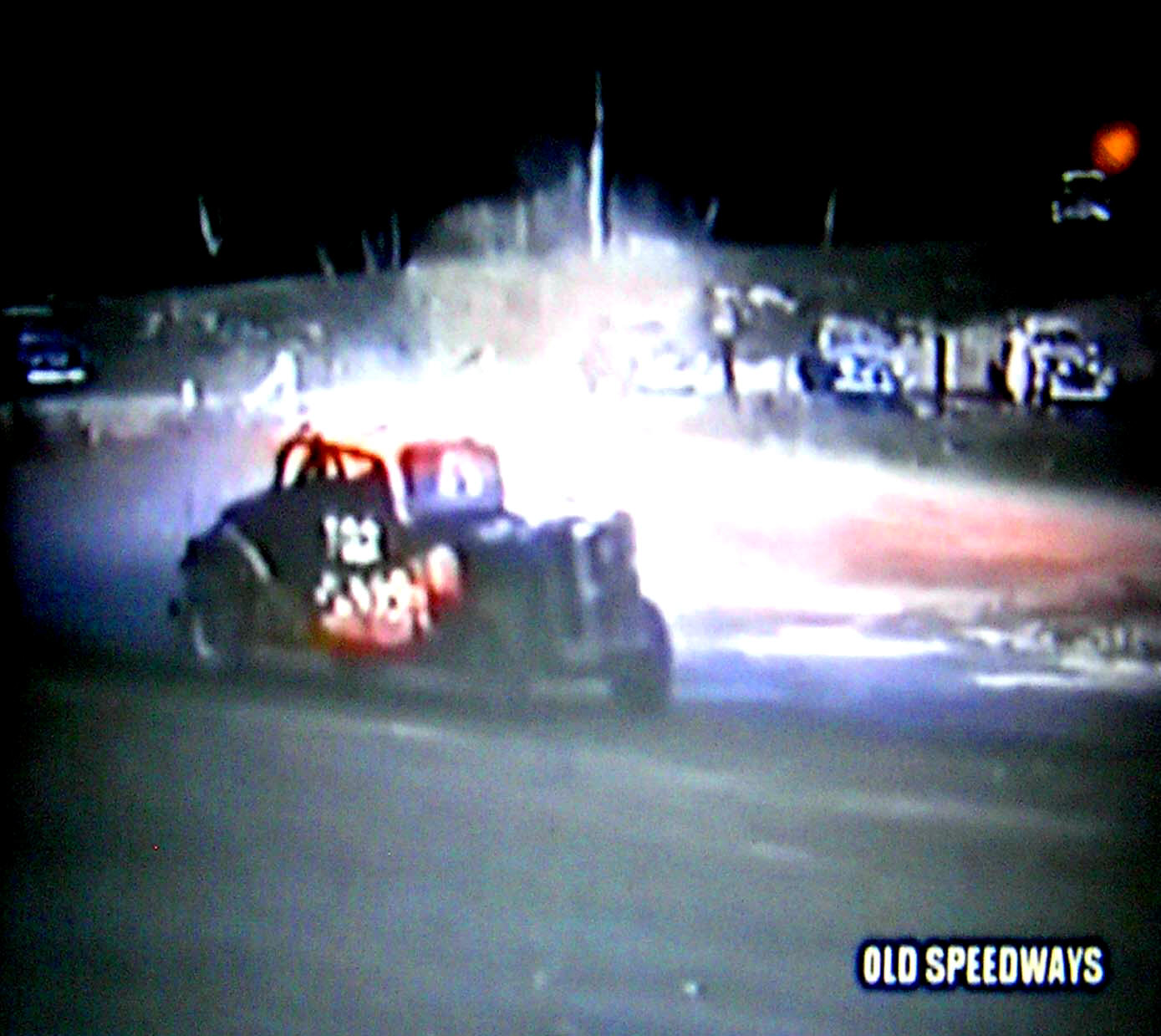 From Dan Ody's 8MM Old Speedways DVD's
Johnny Kettel forges ahead in a Route 66 Speedway race. Below- Kettel flies the Red, White, and Blue on the Route 66 track.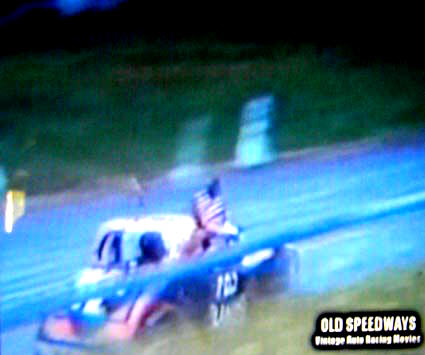 |
From Dan Ody's 8MM Old Speedways DVD's
Kettel, who appears to be a short, stocky man in his rare photos, seemed to be always flying the American flag on his well – used coupe. Captured on some 8MM, mid – 1950's footage at Route 66 Speedway [later Hollywood Bowl], he looked as if he was right in the thick of the action. I see no mention of his making it as far as Lebanon Valley Speedway by the end of his career. He and Green both would have run against the likes of Fred Searing, George Gowie, Howie Westervelt, and the numerous other early stars of fhe time.
A new name that has popped up since I started keeping track of these guys is that of Chuck Bennett. A regular at Coxsackie Speedway, one could say Bennett came from the same approximate area as Green and Kettel. The color photo found of Chuck at Coxsackie shows a typically muscular, trim man with the old tortoise shell – type helmet in red, standing beside a very well – appearing, professionally – lettered '37 Ford coupe numbered 01. Although the car bore no apparent sponsor -at least not on the right side, it did show a prominent reference to Millbrook, NY, likely his hometown. There is absolutely no more available information on Chuck Bennett, as of this writing.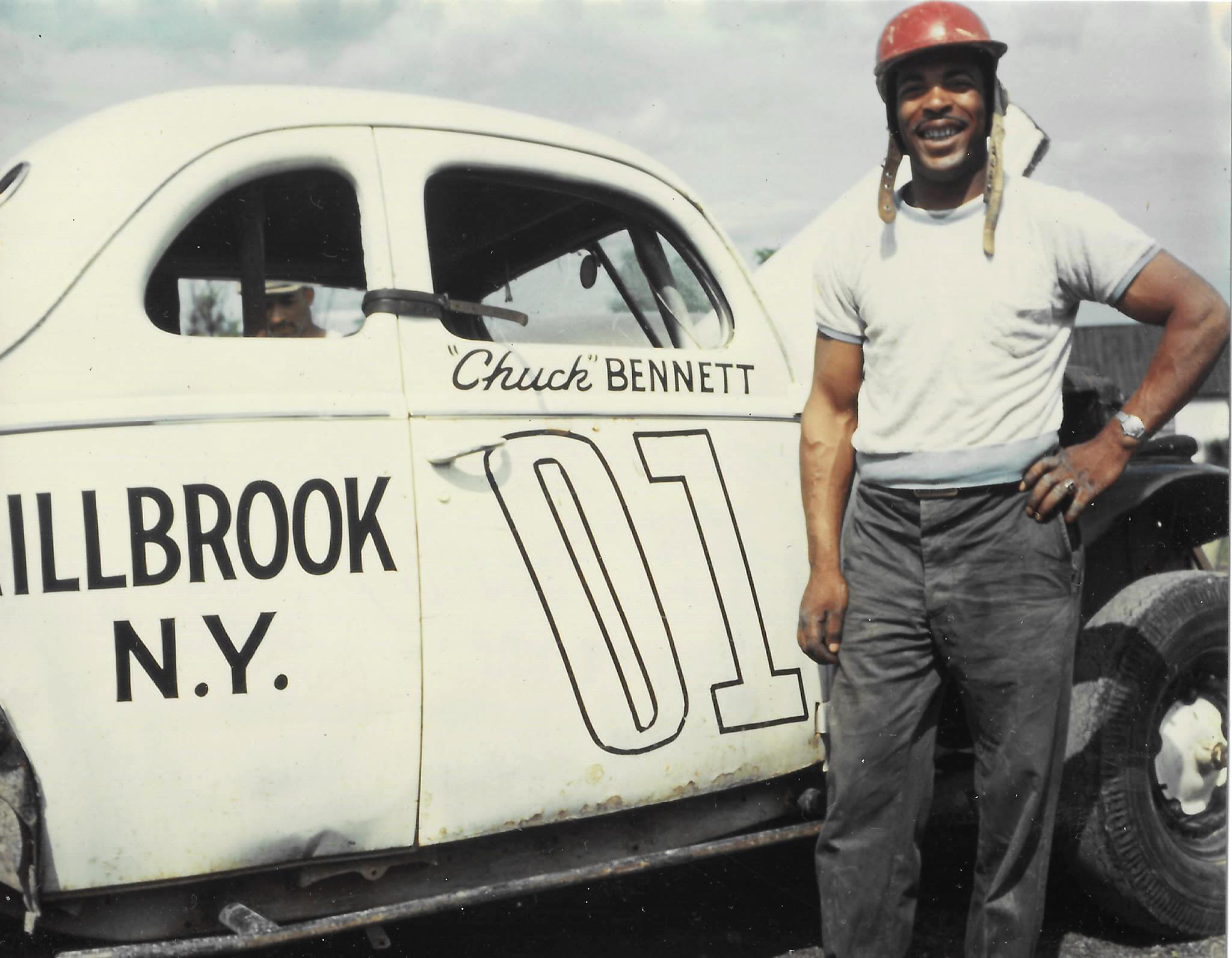 George T. Morgan via Donna Kreeber-Mateer
Chuck Bennett, with his clean – looking car at Coxsackie. Below-
Benny Myers, in the action at an early Beech Ridge program.
[White car circled in 2nd place].


Myers Family Photo Courtesy of Myrna Myers via Benjamin Myers, Jr.
Back in the mid 1960's, when I was lucky enough to be able to buy those great publications Cavalcade of Auto Racing – put out by Oilzum – I tried to pay attention to even the tracks with which I had no familiarity. One such track is now a premier racing facility – Beech Ridge Speedway in Scarborough, Maine. It did not escape my attention that, in that most white of states, Beech Ridge had a competitor named Benny Myers who was definitely not in the state's racial majority. In the Vic Richards photo, a stonily – confident Myers is sitting on his coupe's nerf bar holding a cigar, flanked by his pit crew.
From other photos since, I get a picture in my mind of a very effective Myers, not only keeping his modest equipment competitive but also seeming to lend a hand to other Ridge drivers. I have never read or heard of Myers- and it is apparently a son or other younger relative who has been putting a few Benny photos and old Beech Ridge photos up on the internet lately.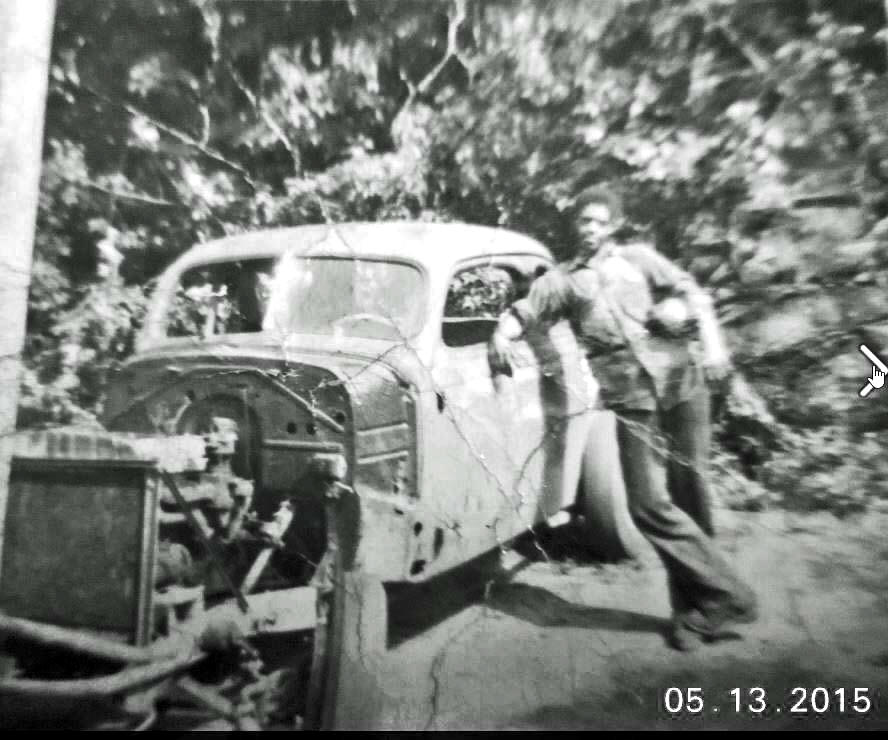 Myers Family Photo Courtesy of Myrna Myers, via Benjamin Myers, Jr.
Benny Myers poses in 1961 with his first stock car. Below - Benny was
often seen interacting with his or someone else's motor at the track.
The man in the middle is a Myers crewman.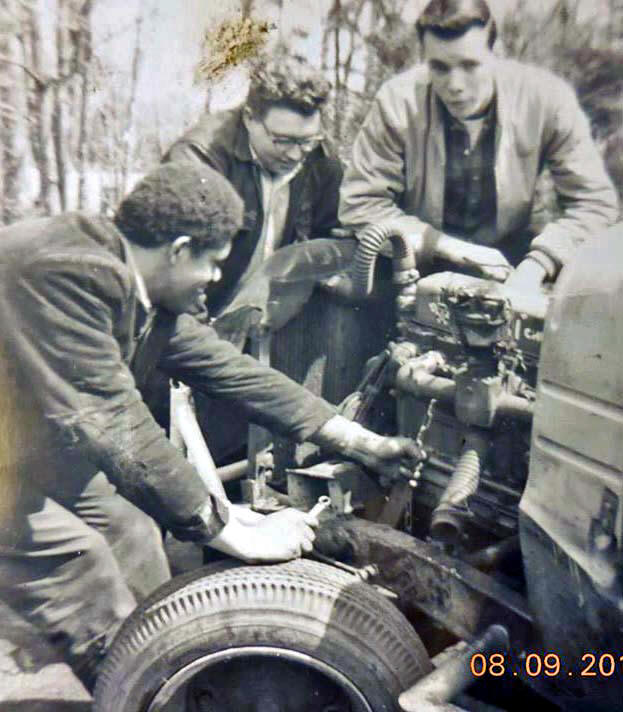 Myers Family Photo Courtesy of Myrna Myers, via Benjamin Myers, Jr.

I'd have to draw the conclusions that Benny did not race much beyond the decade of the '60's and that, at best, he had modest equipment at his disposal. Given with enormous pride, the photos of Myers and his cars at Beeech Ridge usually show him with pretty simple cars, in an era when that track was beginning to have quite a few supers. Myers would have to contend with the Libby brothers, Dick Garrett, Dick Wolstenhume, Homer Drew, and many other Maine legends who called Beech Ridge home at the time.
The final man made it into the NEAR Hall of Fame. Booker T. Jones, who shared the name of the more famous musician, drove modified #27's in an area of New England and in an era that was more conducive to receiving due credit for accomplishment. And, it was just that much further away from those lousy, racially – charged early days of stock car racing. There are far more photos available, as well.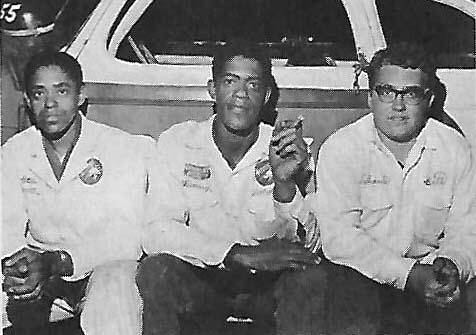 Vic Richards Photo via Cavalcade of Auto Racing
This Beech Ridge photo said "Benny Myers and Crew". Below – Booker T. Jones shared a name with
another Booker T. Jones, but never enjoyed that guy's thick wallet to help with his racing.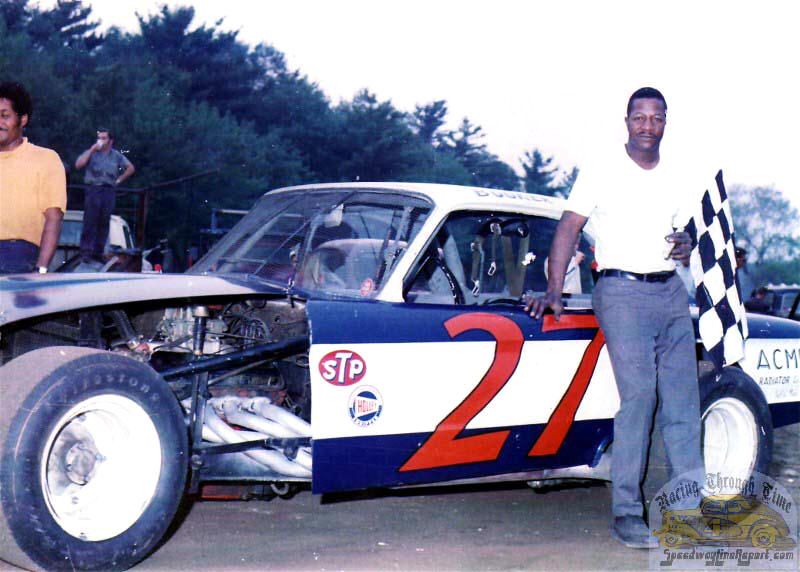 John Grady Photo
Booker seemed to be a pretty big guy, and I have never heard anything but positive remarks made about him. His earlier modifieds were often red, white, and blue, and always seemed to carry that #27. While he waas most prominent later on, he did begin racing at the old Rhythm Inn Speedway in Millers Falls, Massachusetts, where he did receive a raft of crap from some resentful opponents until he buttressed up his cars and pushed back. Eventually, he was just another of the racers.
His NEAR HOF bio states " Booker was one of the original low-buck back yard racers but competing against big dollar teams and names like Geoff Bodine, Richie Evans, Bugs Stevens, and Ron Bouchard, Booker proved that he could be consistently competitive. With the help of a handful of good friends, including Ray Anderson, Rick McNally, and Bruce Bentley, the cars and motors Booker put together at his Springfield auto repair shop ran up front with the high dollar teams."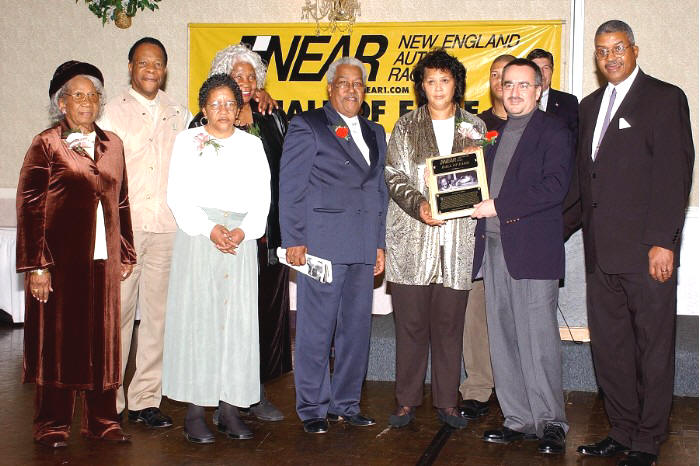 NEAR Site Photo
The proud Jones family celebrates the induction of Booker T. Jones into the NEAR Hall of Fame. Below- Booker, with
New England racing legend Steady Eddie Flemke.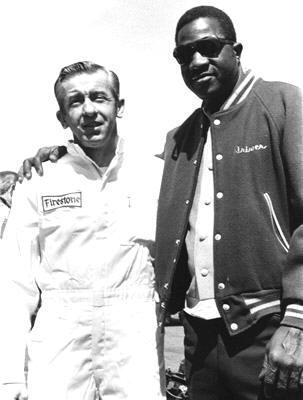 Source Unknown
The bio goes on to tell two small, but important anecdotes: the first, details the disappointment he felt when the NASCAR Grand National tour came North and ran at Utica – Rome, where Booker happened to be running. His hero, Wendell Scott sought to find Jones and meet him, but the two never crossed paths that night. The second tale tells of how Booker gave up his car to Pete Hamilton, one night, and those points may have sealed Pete's winning of a national sportsman title.
It sounds as though Booker T. Jones did not have quite as big a struggle with either prejudice or with the obscurity brought on by lesser equipment, but he is no less of a pioneer than Myers, Kettel, and Green. There is still not as much of an opportunity for aspiring drivers of color in the sport – as much by economic factors as anything else. It's too hard now for guys [or gals] of any race to be as successful coming out with junk yard equipment against spoiled little poops with half million dollar haulers and their fathers' fat wallets.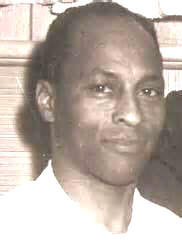 From empaonline.com
Ace Lane, Sr. was one of stock car racing's premier photographers. Below- A tribute to Ace from son, Ace, Jr.
Ace, Jr. has followed inthe footsteps. His fathe, I am sure, encountered the same koind of ignorant crap
as did Scott, Kettel, Green, Bennett, Myers, and any other African - American trying to have a fair
chance in the racing world. He did it well and on a grand scale.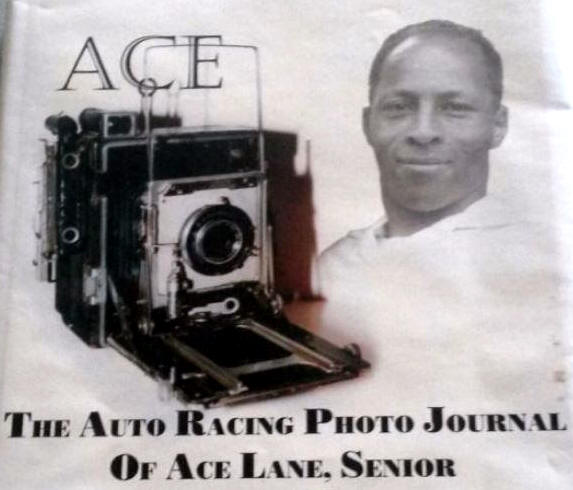 Please email me if you have any photos to lend me or information and corrections I could benefit from. Please do not submit anything you are not willing to allow me to use on my website - and thanks. Email is: wladabou@comcast.net . For those who still don't like computers - my regular address is: Bill Ladabouche, 23 York Street, Swanton, Vermont 05488.
AS ALWAYS, DON'T FORGET TO CHECK OUT MY WEBSITE
www.catamountstadium.com
Return to the Main Page
Return to the Main News Page
Return to the All Links Page
Return to the Weekly Blog Links Page