BILL'S [Somewhat] WEEKLY COLUMN/BLOG PAGE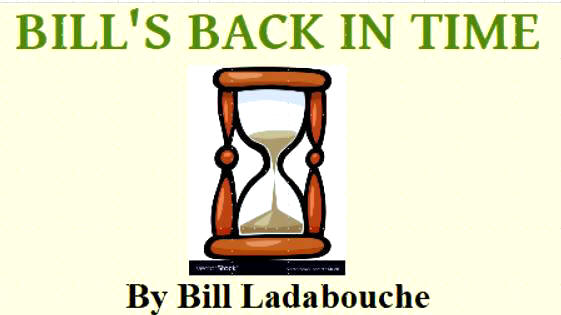 ALL THAT WAY FER NUTHIN' !

Today, traveling to races is still not all that much fun; but, compared to the way it used to be done, long road trips to distant race venues is a trip to the day spa in comparison. Stiff hitching a car was not easy – on the rear end of the race car or the tow vehicle if it was the family car. Probably the family car was more comfortable than some of the ratty old trucks they used to have to flat tow.
I haven't traveled to race tracks with a car as much as some, but I have experienced what it feels like to have a truly crappy time riding somewhere for a long travel time. I can recall heading up to Thunder Road in support of Milton's Flying Milkman, Don Turner, Sr. [father of the minority leader in the Vermont legislature]. Don had this flatbed he was using at his then – business, Milton Wood Pallet. We were hauling his Dodge late model sportsman, an incredibly heavy tank of a '63 Dodge.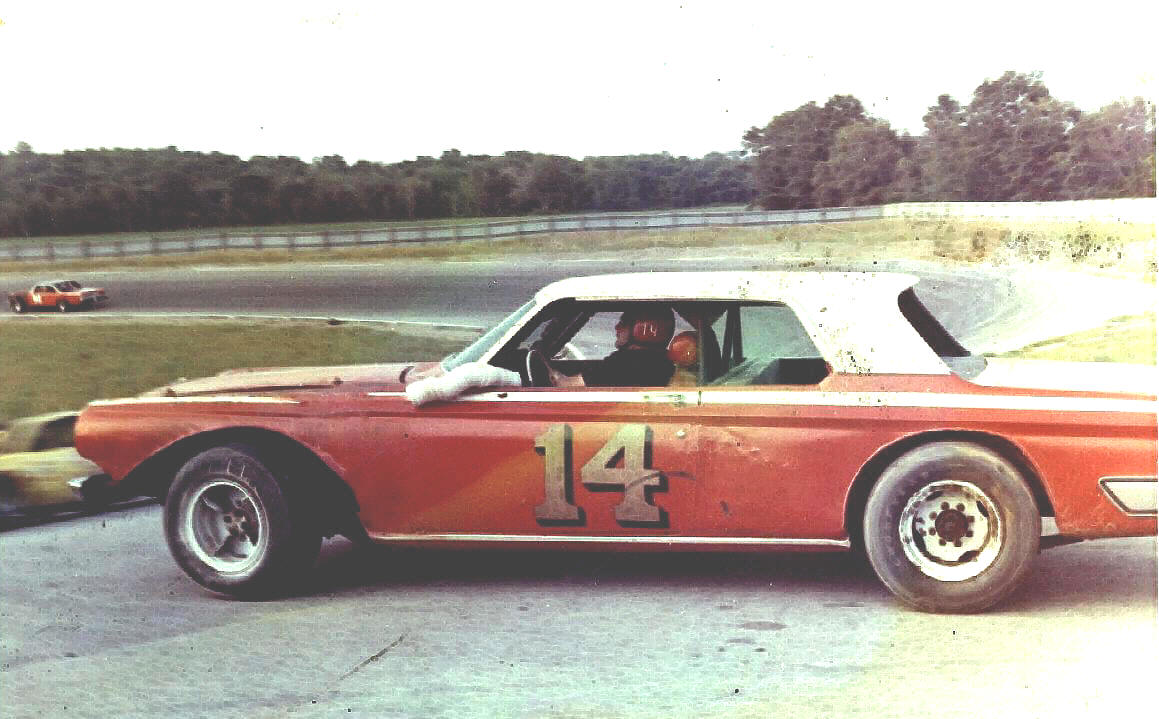 Photographer Unknown Ladabouche Collection
Don Turner, Sr. enters Catamount around 1971 with his
Dodge powered tank. The metal he used in the dashboard
alone outweighed some people's rear tinwork. Below -
Jim Barton, whose tow vehicle far outpowered the
race car.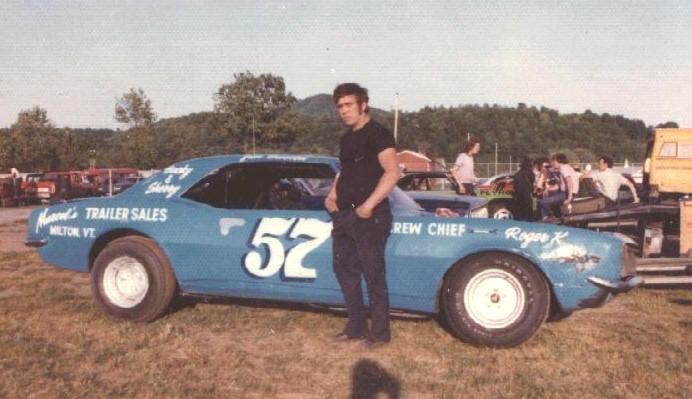 His wife, Nancy was riding in the middle, white – sneakered feet on the drive shaft hump. As Don would call 'er to go up an incline on Interstate 89, smoke would start coming up through the floor. Nancy's sneaks didn't stay white. I questioned if we'd get there at all. He still chuckles about it today when he sees me; he insists it was the best hauling arrangement he ever had to get his low budget racers to any track. Litle did she know it then, but she also raising a future candidate for Lieutenant Governor of Vermont in Don, Jr.
Another Miltonian, the late and much beloved Jimmy Barton, would tow a trailer with this Dodge pickup truck that must have had a hemi in it. The motor exhausted out the side pipes like a lot of the race cars of the era. Noisy ! On a few occasions I would be relegated to sitting in the truck bed with brother, Ricky Barton. I would be lucky if could even hear a brass band up close by the time we got to Thunder Road.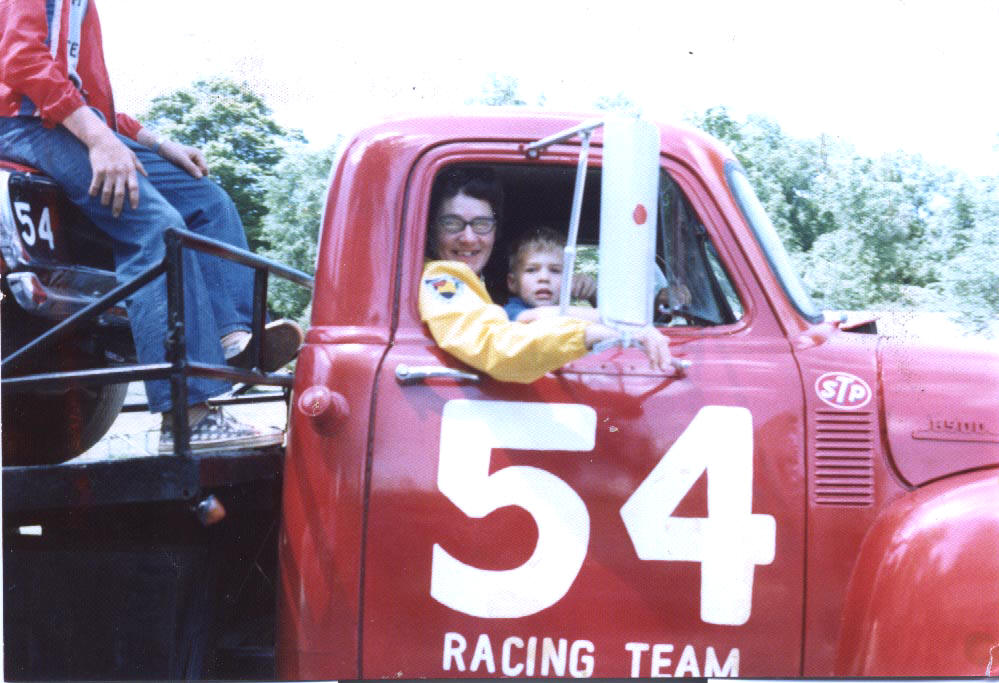 Laduc Family Photo
Barb Laduc, like Nancy Turner, spent many hours in a less - than - ideal car hauler over the years.


Probably compared to these two stories, some of the conditions under which many other owners, drivers, crewmen, and family members rode to races were considerably worse. To add to this, there were no apps whereupon the track could alert the traveling teams to postponements or delays like there is now. So, once a team got going, they were headed all the way to the destination unless someone could somehow stop them or they started to see race cars headed by them in the wrong direction.
So, for various reasons, there have been some really unfortunate and totally waste – of – time long trips taken over the years. The first one to come to my mind was around 1962. My uncle and I had begun to take occasional sojourns down to that mecca of stars, Fonda Speedway. It wasn't too bad for him to drive – maybe a couple of hours; but, for one particular team it had to really suck that night.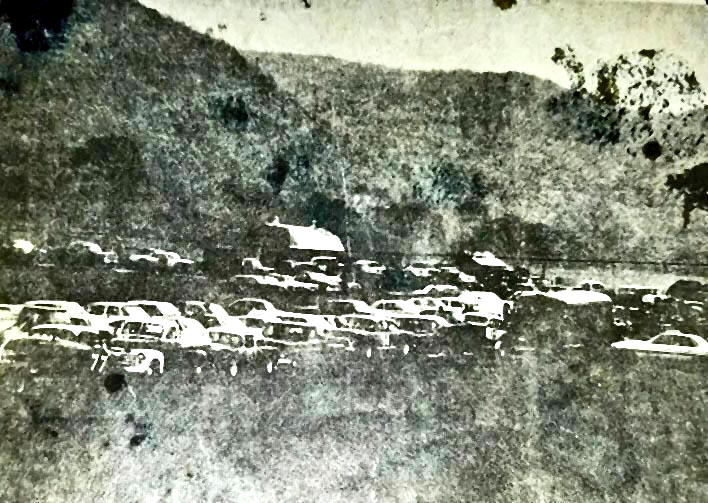 Michael O'Neal Collection via Mike Laduc
This grainy Rutland Herald photo shows a lineup of exasperated Devil's Bowl competitors, finding out they're
rained out for the third straight week, This was in the loate 1960's. Below - The Bill
Fowler car shows up at Fonda in 1963. Look at the sky and guess what happened soon after.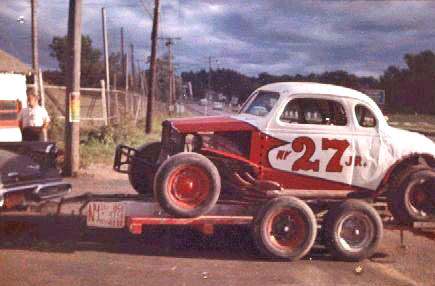 Ladabouche Photo
It never looked very good, weatherwise, that day but my uncle had the night off and we were determined to go, hoping that the weather all that way over to Fonda was better than what we were seeing. By the time we had gotten off the newly – built Interstate 87 [The Northway] into Saratoga Springs, it was pretty clear that New York was having what we were having back home. We stopped to eat at Shirley's, on the west side of Saratoga like we always did because Jake would always tell me as if I never heard it before that the people who ran the place were from Rutland originally. [All of fourteen at the time, I would proceed to eat the largest turkey dinner you ever saw and then fart the poor man to death most of the remaining was on Route 49 the rest of the through Rocky City Falls, Galway, Broadalbin, and all the rest of the towns before Fonda].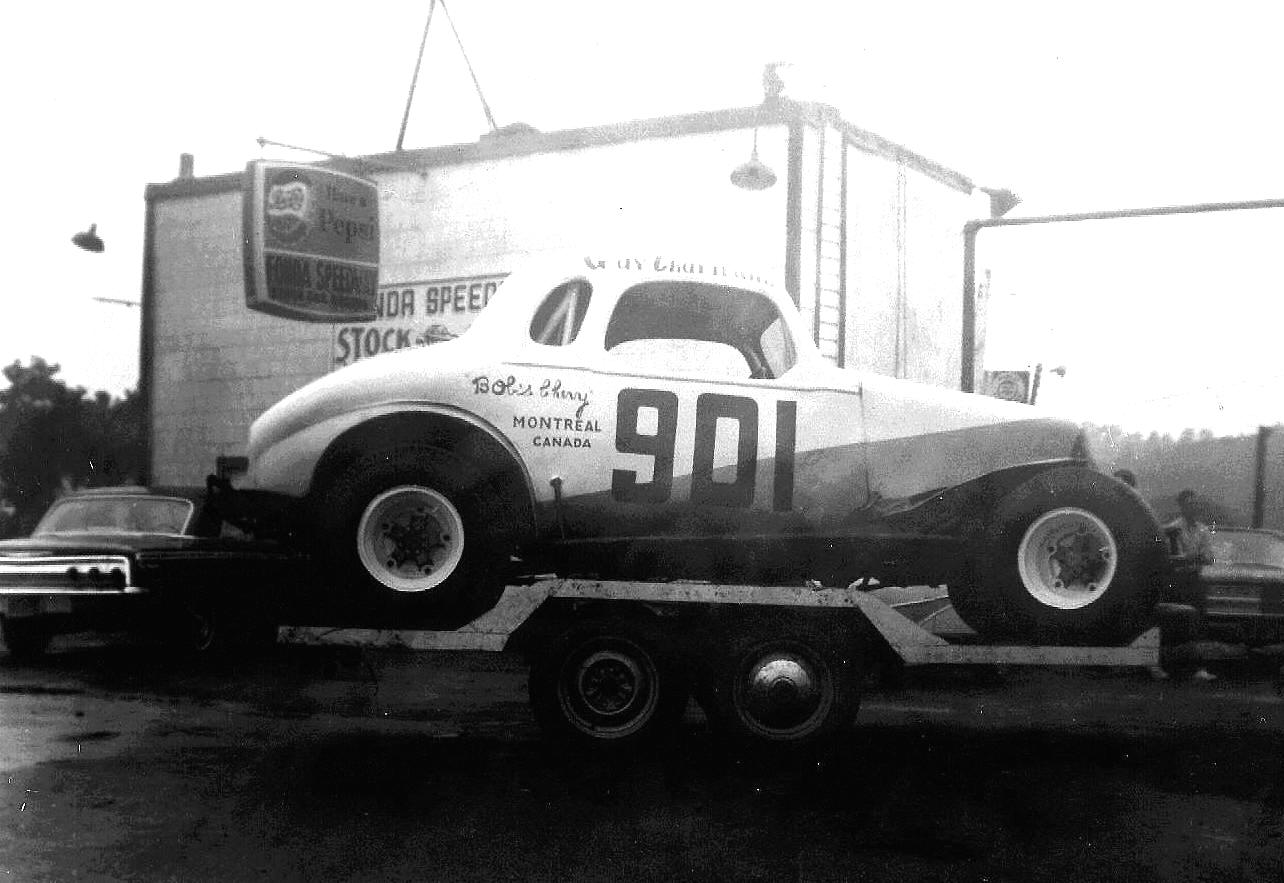 Ladabouche Photo
Jean Guy Chartrand's sad arrival at Fonda after the rainout.
We arrived at Fonda in what could only be described as low ceiling and slight drizzle. Nobody there; it had been called some time before. We sat, disappointed, kind of staring at the entrance when I could see a race car hauler coming up Route 30A. I thought it was sort of odd as all the other teams were long gone. It turned out to be the 901 of Montreal's Jean Guy Chartrand. The simple white car had a "Bob's Chevy" ad on the side, which I thought didn't seem like it would come from such a French city.
I had not ever seen Chartrand race, but had noticed his name on Fonda program rosters, along with a few points indicating he had been there before. Well, they couldn't have been all that happy, and we sure as hell weren't. Nobody got out of the Chartrand hauler cub. I jumped out of Uncle Jake's '53 Chevy and got a snapshot – not bad considering how bad the light conditions were. It was a long ride home, punctuated by another stop for eats. I imagine he Chartrand trip was longer. I never saw him race until he ran a long distance race at the old Fairmont Speedway and lost the race on lap 98 when his rear end broke. I figured this was the most bad luck driver I'd ever seen.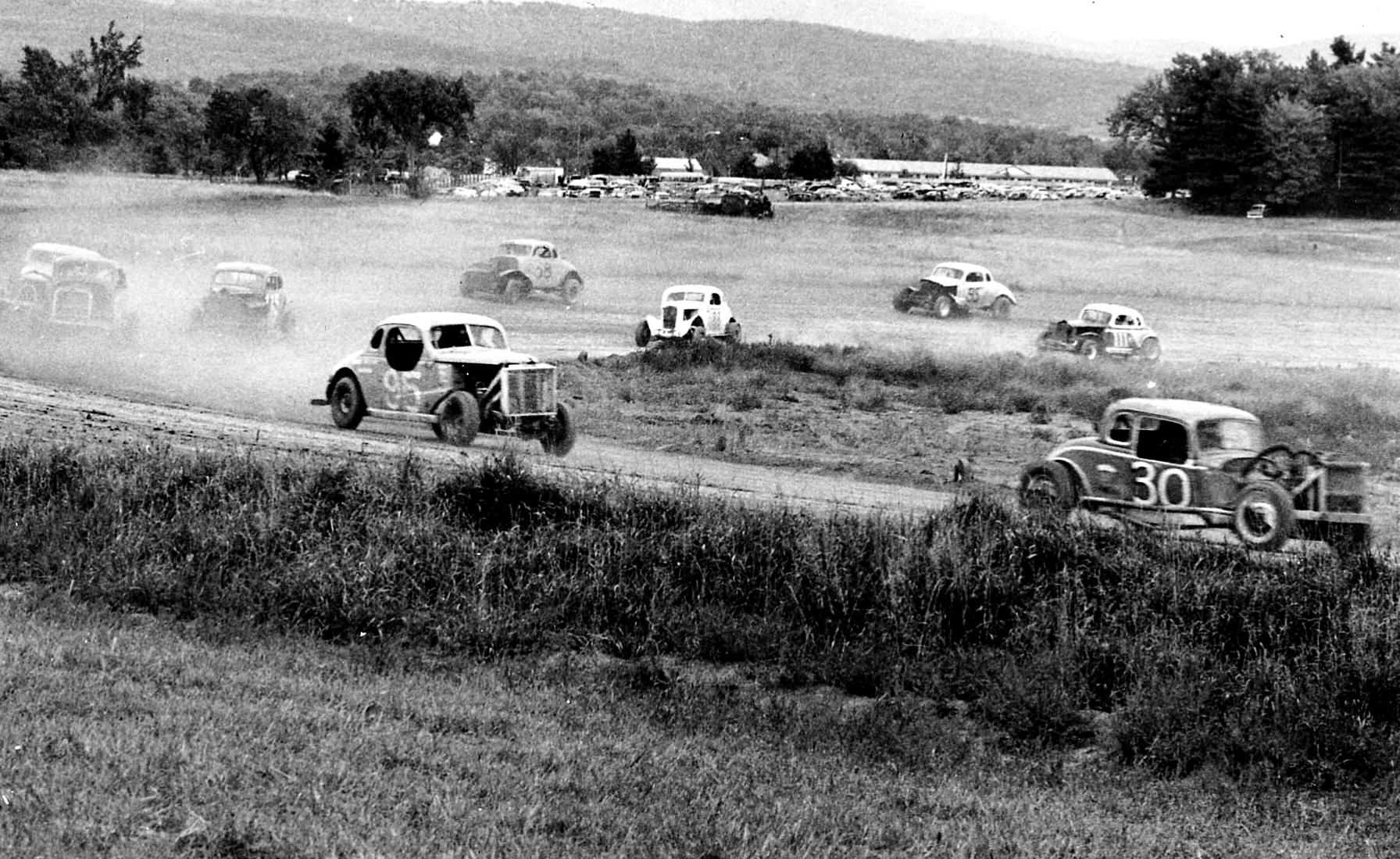 Bob Mackey Photo via John Rock
Typical early '60's action at Otter Creek Speedway. Future Devil's Bowl and Valley star Ed Foley leads the way in a hobby car.
NY sportsman cars seen coming up include Ken Meahl in Jerry Cook's 38 [topmost], Bob Bruno in Vic Wolfe's
all white coupe, Doc Blanchard's 95 [2nd to last] and Shoemaker's Drellos 111.
The second story involves at least as long a ride and, most likely, considerably less comfortable riding conditions. We spent quite a few Sunday afternoons at the long dirt track, Otter Creek Speedway in the middle of Vermont. Snactioned by NASCAR at the time, the bumpy, dusty track with the water that ran across the fourth turn incessantly would attract New York NASCAR sportsman teams, there for the easy national points, racing against a few of their division and a whole lot of "hobby" cars from the area. Very easy pickings !
One time, in 1963, after the last year of the NASCAR sanction, they were running a special sportsman race – special because the regulars from Fairmont Speedway were now also the Otter Creek regulars and C.J. Richards didn't want his flatheads and GMC six bangers competing with 327 overheads. C.J. used the spectators desire to see the sportsman cars they wee used to watching to have a "special" race, meaning the usual $1.50 admission would be a whole $2.00 "because of the sportsmen" as the admission guy wearing the nail apron solemnly told us.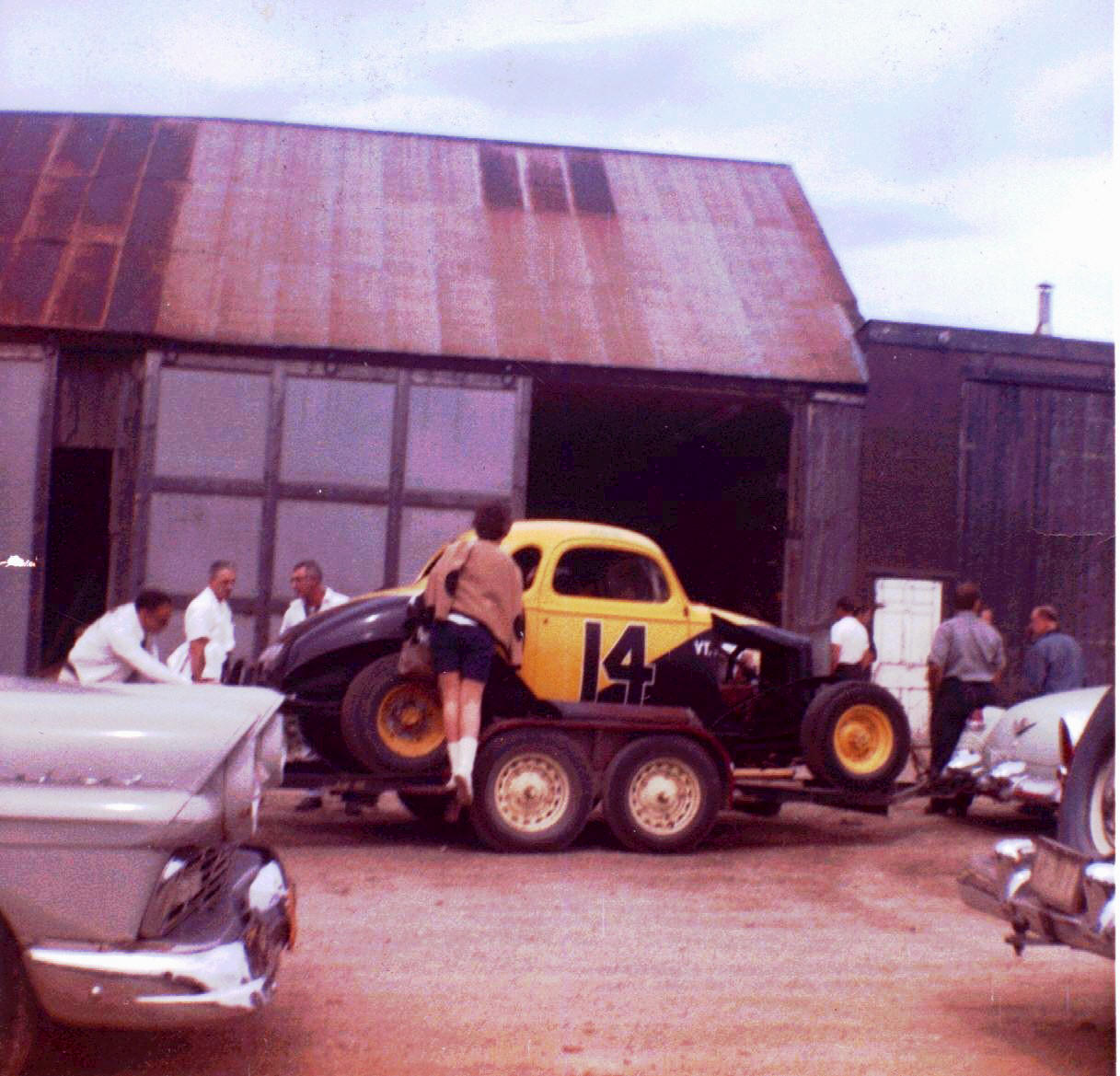 Ladabouche Photo
Sportsman cars there that day included the Royce Tucker 14VT, an Airborne regular, and [Below] A mysteriously -
primered Frank Trinkhaus 62 NY, a Fonda Car shot in failing light upon departure.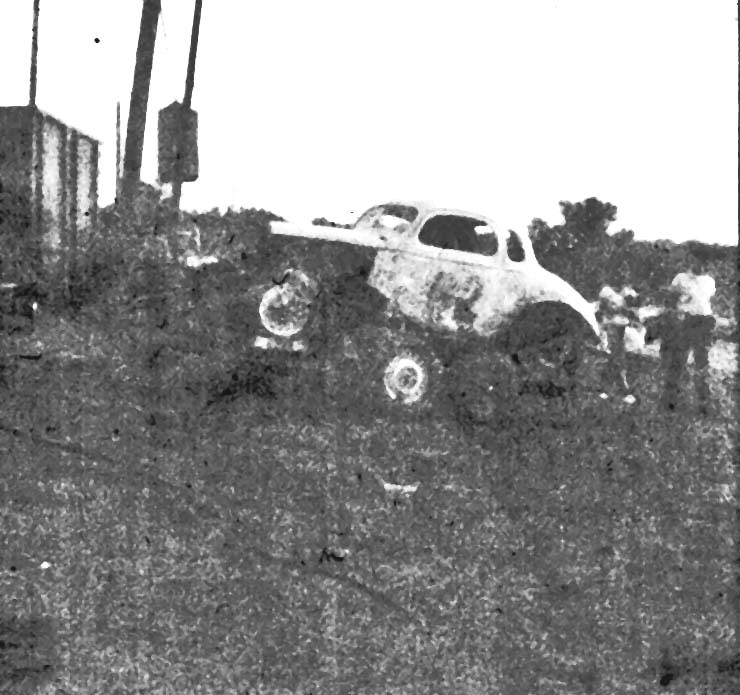 Ladabouche Photo
The usual sportsman teams were there. Ken Shoemaker, with the Drellos 111 NY lead the contingent. In his book, Shoemaker allowed as how he really loved that track in Vermont. George Baumgardner, with the Ray Vine 75 NY had been at the track practically since it opened in 1961. Allie Swears' 51 raced that day with the driver du jour. Bill Wimble, the NASCAR National Sportsman Champion in 1960 and 61 was there, as was a primered Frank Trinkhus 62. Doc Blanchard, a fringe Fonda driver, fielded a silver 95, and Joe Romano had the 97 there with Tom Kotary driving. Eddie Pieniazek ran the Richard Welch 77.
Vermont had a contingent, well. Royce Tucker, who had won the first race ever at the track with Dutch Reed driving, had Black Jack Dubrul in the 7VT. Tucker's breathtaking second car, the yellow and black 14VT was also there. Harley Chamberlain had the former Howie Miller U2, as well. With little notice or fanfare, another car – a yellow and purple #81 was carried down the hill to the pit area by an incredibly ramshackle old flatbed Chevy. Didn't really see much of it after the first [and only] practice session.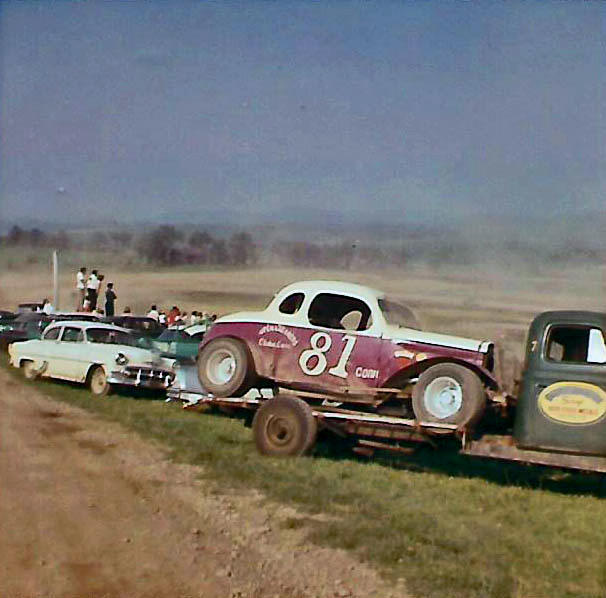 Ladabouche Photo
The Narducci 81 sits forlornly on its dilapidated hauler
at Otter Creek after not making it into the race for whatever
reason. Below – The car, at Stafford in happier times.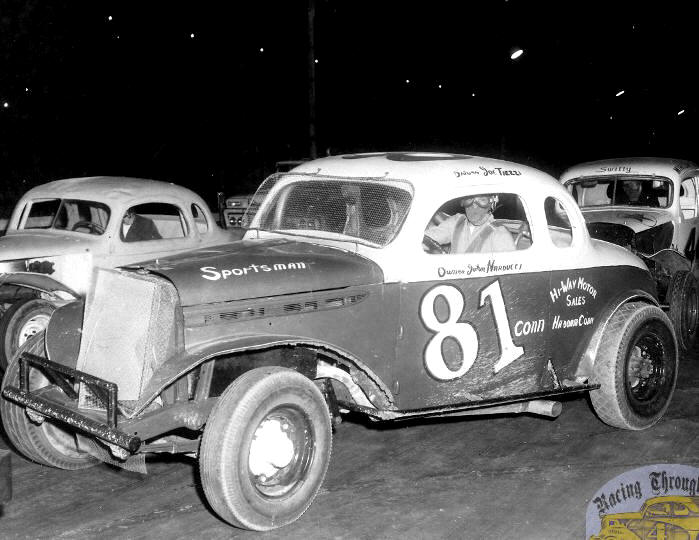 Shany Lorenzent Photo via Dave Dykes

By the time racing started in earnest, the coupe was back on the ramshackle flatbed and parked up the hill, behind the bleachers and the announcer's tower. I took a color picture of the car on the truck with my trusty Koday Brownie Hawkeye box camera and I had that photo until 2013 or so before I had any idea who those guys were. It turns out the 81 CT belonged to John Narducci, who was either father or uncle to the famous Ron Narducci. His driver was Joe Tiezzi, from Ivortown, CT whose name I had seen once on a Fonda program roster.
I will probably never know why the car didn't compete that day. Mechanical breakdown is the most likely reason; but it could have failed inspection. At any rate, it had to have been a terribly long ride on a hot day in that beauty of a hauler. The thing seemed to be about 100 years old, with some sort of sign work on the side that had been somewhat blacked out. It must have had no ventilation, seats with the springs popping out, and was likely noisy as hell. An incredibly unpleasant long ride for absolutely nothing save maybe a little appearance money and maybe a couple of points for showing up. Then they had to drive all the way back to Connecticut.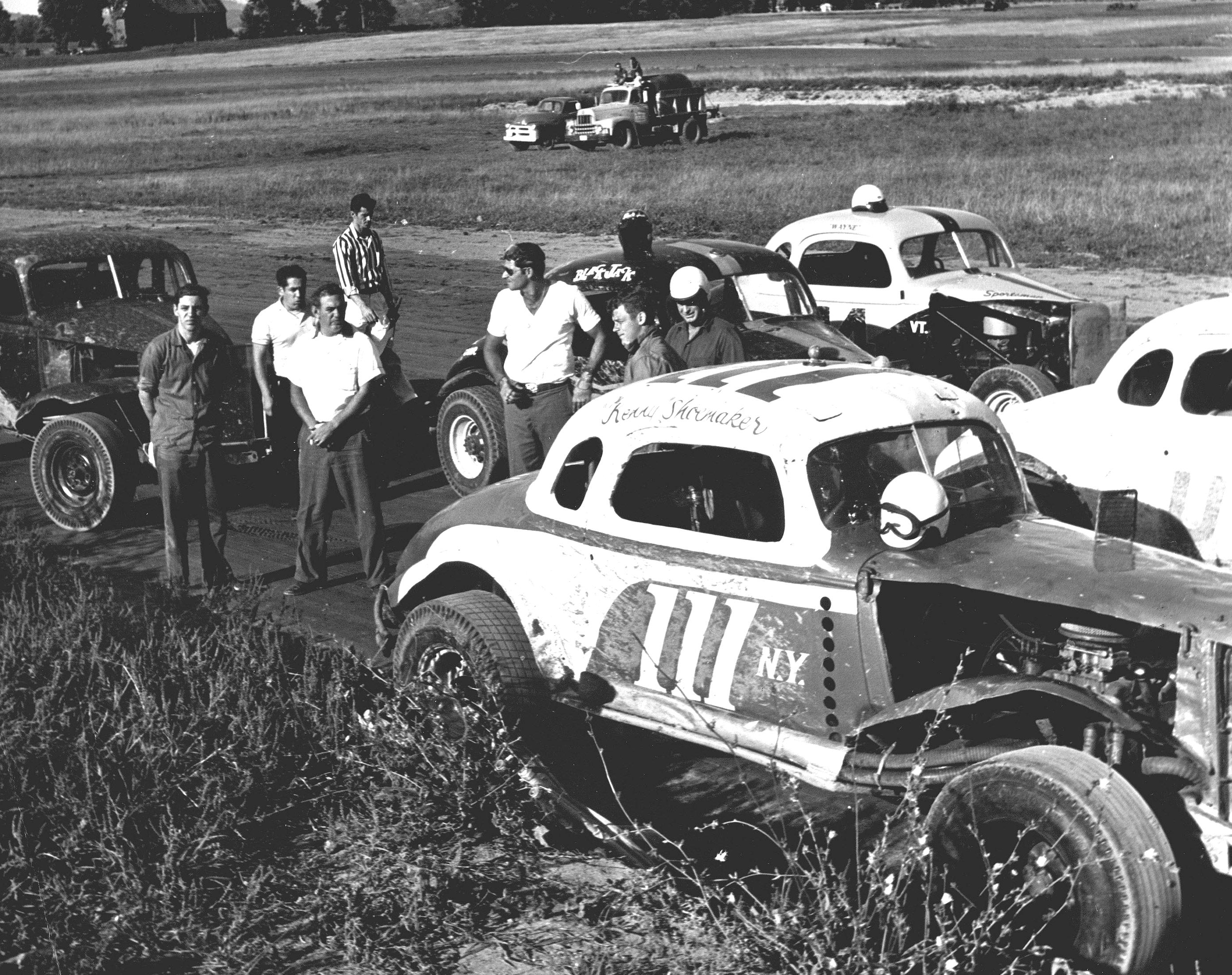 Courtesy of C.J. Richards
Ken Shoemaker stands on the track at Otter Creek at one of
his favorite venues. [Below] Only, that day, the Shoemaker
plans were foiled as the race was won by virtual unknown Ken
Meahl [seen leaving with the hardware] driving for
Jerry Cook, who was too young to drive yet.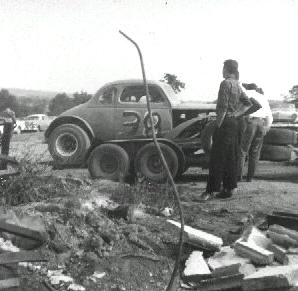 Ladabouche Photo
Another fairly frustrating journey came with at least a better hauler than Narducci's. Catamount Stadium had converted its limited sportsman cars over to full fledged NASCAR late model sportsman car by 1971. Competitors flooded to there and Thunder Road, sometimes also trying Airborne Speedway on Friday nights. Catamount's regulars were many in number and several teams had come out with very good LMS cars. But then, in came at least seven top shelf Canadian teams, as well as many coming from formerly running Norwood Arena in Massachusetts.
The stars quickly came to he fore: Bob Dragon, the track's home son; Stub Fadden, from New Hampshire; Canadians Jean – Paul Cabana and Andre Manny; Dave Dion, from Hudson, NH; Little John Rosati with a Fred Rosner – built pair of '67 Fairlanes; and literally dozens of more top rank teams. Eventually the new circuit would even swallow up Devil's Bowl, even though the dirt – oriented Bowlers never caught on except for Vince Quenneville.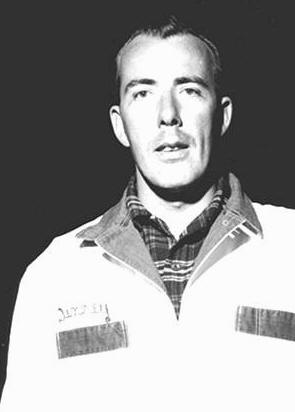 Norman McIver Photo via Cho Lee
Former Thunder Road flathead star and former Jack Kochman
hell driver, Denny Dearborn [Below] tried out a massive former Super
Speedway Pontiac at Catamount [Below].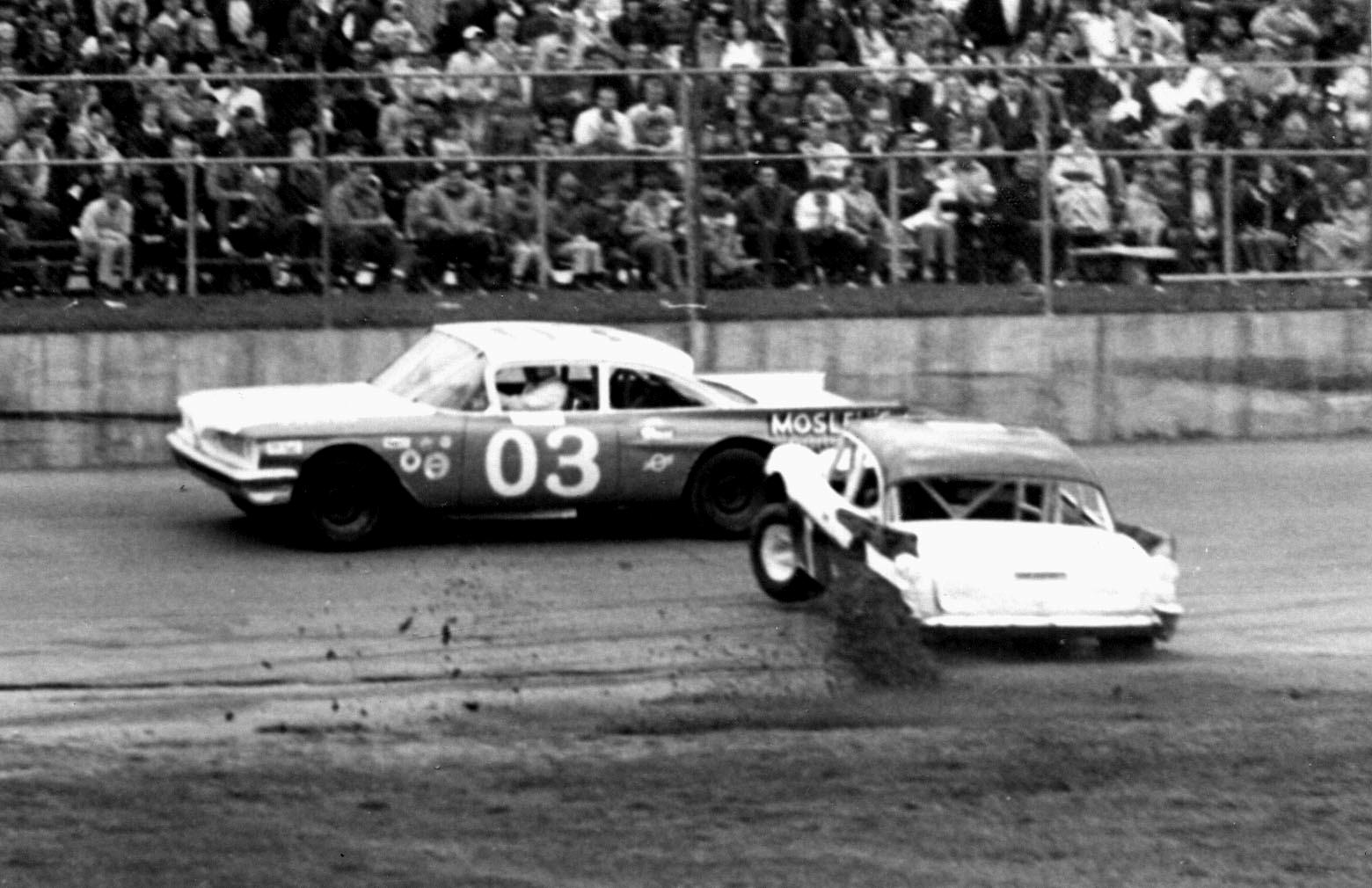 Ladabouche Collection

A number of rather creative attempt were made at entering the Northern NASCAR fray with unusual entries. Denny Dearborn showed up with the same '59 Pontiac GN car that Cabana and Jack Dubrul had tried at Daytona. A few Mopars began to appear, about a year after those cars had broken in at Oxford Plains Speedway in Maine. Several guys tried beefing up their old Flying Tiger cars, but that didn't pan out at all because they weren't set up for the additional horsepower and so forth.
At the beginning of the season, a car hauled into Catamount on a New Jersey hauler. People thought it looked kind of familiar but few could place it. It turned out to be a 1961 Ford that had been run by Tiny Lund and still bore the same color scheme. A man named Johnny Johnson, from Ramsey, NJ, had bought the car, retained the scarlet and white scheme, and re-numbered Lund's 55 to 47. He had apparently figured that a car as good as that would be a great one to compete in the very challenging Northern NASCAR circuit.


Ladabouche Collection
Dearborn's Pontiac and Al Burbank #81 have just managed to
wad up the entire field at Catamount. Denny had had it with the
behemoth car by then. Below – Johnny Johnson's ex – Lund
Ford in the Catamount pits in its only appearance there.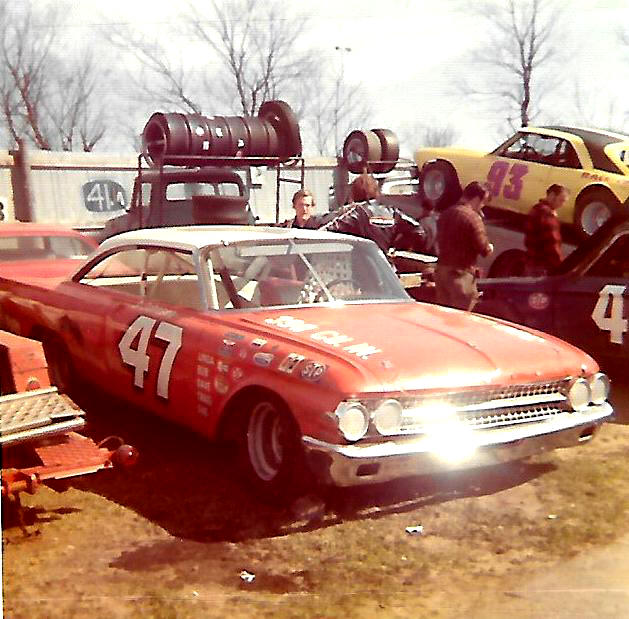 Ladabouche Photo

However, just like the big old Pontiac of Dearborn, the Johnson Ford was heavy as all get out, made for super speedways. Dearborn had told me in the pits after wrestling the Pontiac for twenty – five laps at Catamount that the car had power but it didn't want to slow down and turn. Johnny Johnson must have experienced the same thing. I don't remember but he think he headed back for the heavily – populated Bergen County town noted for its malls and was never seen in Vermont again. I beleive that Lnd car was used - either before or after the Johnson debacle - by Gerald Chamberlain at Trenton. It was probably fine on that larger track.
As someone who used to make the drive to Mahwah [the next town over from Ramsey] a number of times a year to see in – laws, that was not a fun trip for Johnson and crew to make having accomplished nothing. I don't think anyone else ever considered acquiring a super speedway car to try and compete on a late model sportsman track again – at least not in Vermont. For these three futile, long trips to a race track – there has to have been thousands, many with far more discouraging stories. Racing is on an equal par with golf in terms of potential frustration; but they still rush in by the thousands.
Please email me at wladabou@comcast.net if you have any photos to lend me or information and corrections I could benefit from. Please do not submit anything you are not willing to allow me to use on my website - and thanks. For those who still don't like computers - my regular address is: Bill Ladabouche, 23 York Street, Swanton, Vermont 05488.
AS ALWAYS, DON'T FORGET TO CHECK OUT THE REST OF MY WEBSITE:
www.catamountstadium.com
Return to the Main Page
Return to the Main News Page
Return to the All Links Page
Return to the Weekly Blog Links Page