BILL'S [Somewhat] WEEKLY COLUMN/BLOG PAGE

BILL'S BACK IN TIME
By Bill Ladabouche
NAMES FROM A 1989 NEWSLETTER
I seldom ever get into subjects after 1987, but I found some particular files in my Images 9 folder to be quite compelling. In 1989, C.J. Richards and the Champlain Valley Racing Association put out a considerable newsletter that, in one fell swoop, covered a good share of their history while detailing life since the CVRA had bravely scrapped the big blocks in favor of the now – entrenched 358 C.I. Modified motors.


All that – and it was free !
The historical article, alone, was enough to write some considerable material; but, this is about the large rosters they had printed towards the end of the publication. The modified roster was huge, obviously using the same license as tracks have done for years – listing anyone who made an appearance the following year or who even talked idly about attending a race the next season. But, it is the support divisions that we are discussing this time. What an interesting bunch !
The CVRA was featuring the Pro Stock [late model] class, four cylinder Amateurs, and a Pure Stock class whose specs I am not sure about, but hey were larger cars. These classes were a mixture of old hands [some of whom went back to the founding days with C.J. And the CVRA] and a bunch of names who were really going to make their mark in northeastern racing. And, as was true with the headlining mods, the roster were impressively long – much larger than any promoter could even dream of [or fabricate] in today's sparse race count world.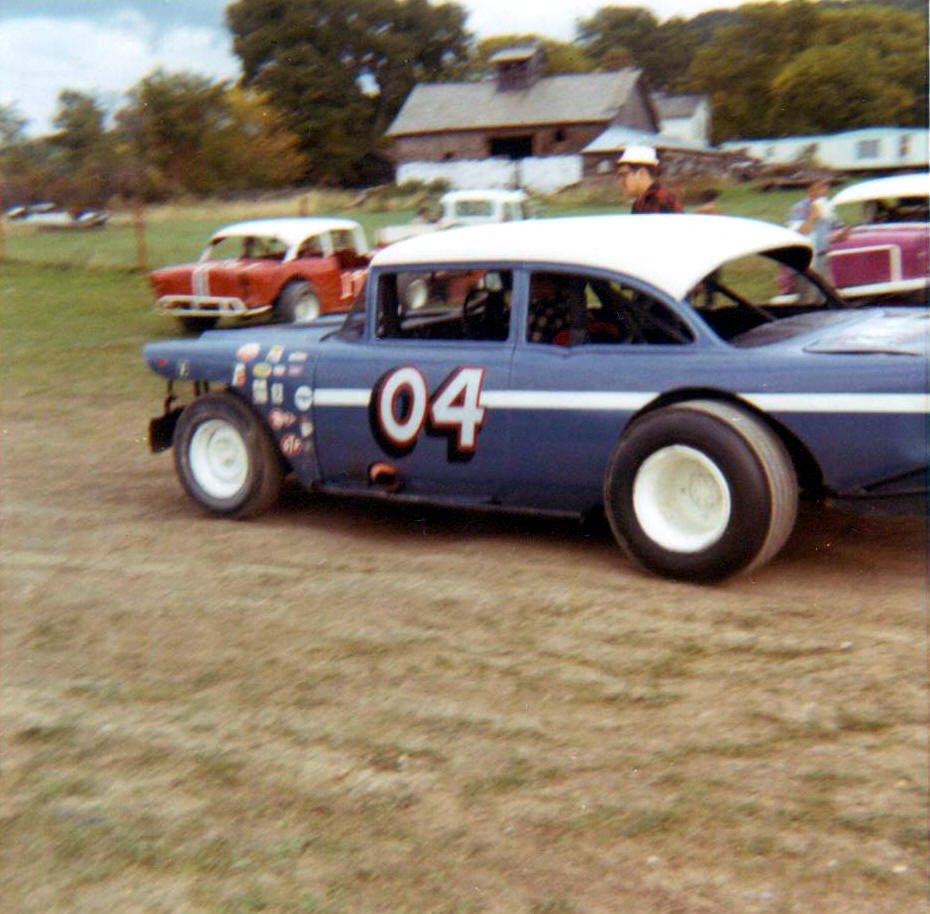 Courtesy of Louie Senecal
Tim Baker's Dexter Dorr – built late model was typical of the early days of Devil's Bowl. Below – Jay Brown with
the Johnson car, typical of the era we are discussing. In the background of Jay are Jean – Paul Cyr,
Ricky [RPM] Paya, and Norm Cyr.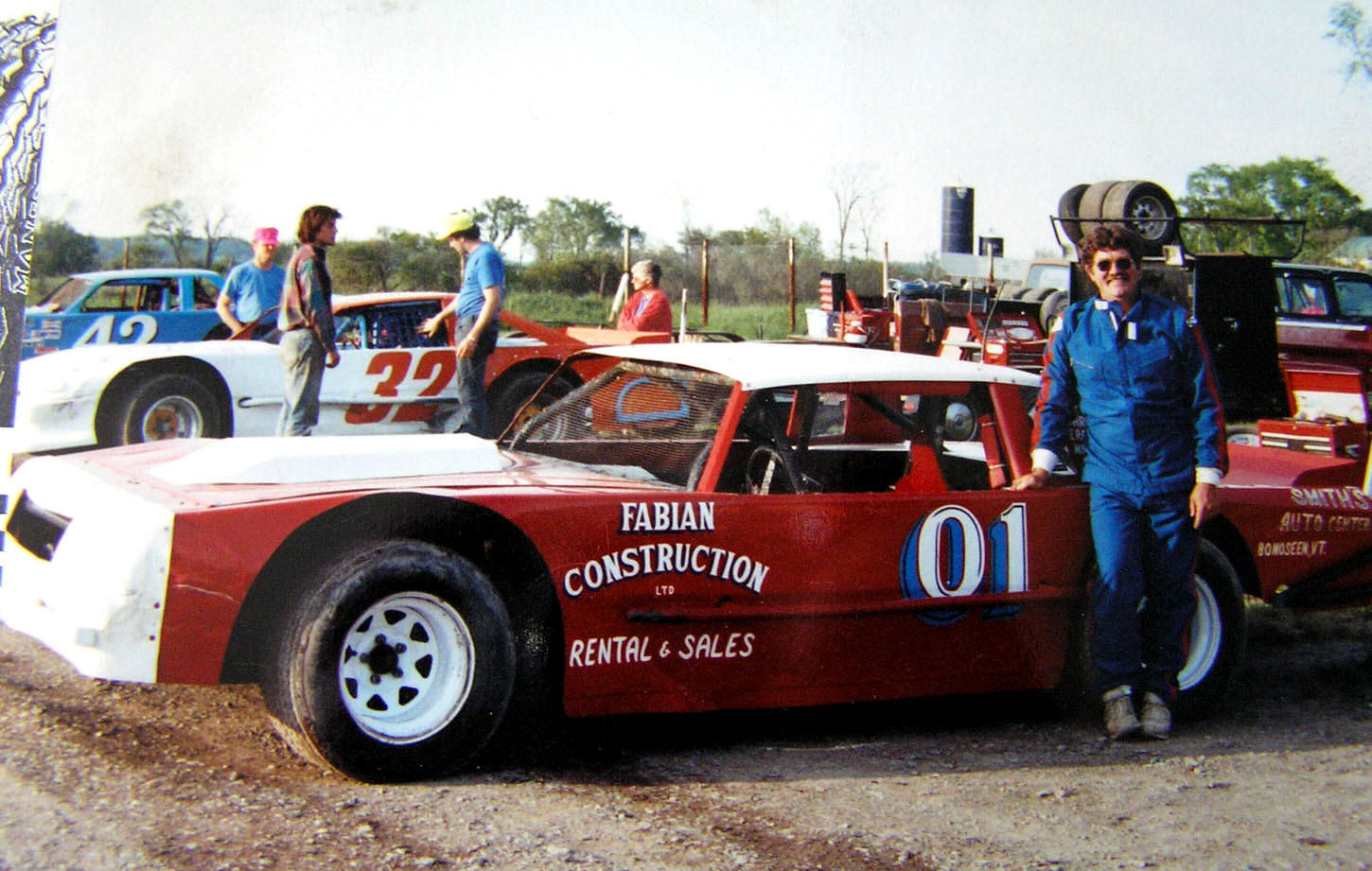 Courtesy of Mike and Tom LaFond
The Pro Stocks were a hoot to watch. The cars had been developed since he started the class as the Fairmont Speedway hobby class around 1963. Thanks to innovation and a push for quality from guys like Dexter Dorr, Tim Baker and also due to influence from the Lebanon Valley late models. The Pro Stock class had really ascended. It is too bad that the class shrank and virtually disappeared by the 21st century. What began as a class with dozens of cars ended up with shows in the mid 2000's where 6 cars would show up.
The Pro Stock roster began with Carl Johnson' s 01, out of nearby Bomoseen – driven by veteran Jay Brown. Johnson's cars were good enough to even travel down to the Valley and be competitive. Brown, along with brother, Charlie, had risen through the ranks, once driving the class when it was dominated by Valley cars and by the Butch Rogers – built, central steering Camaros of the early '80's.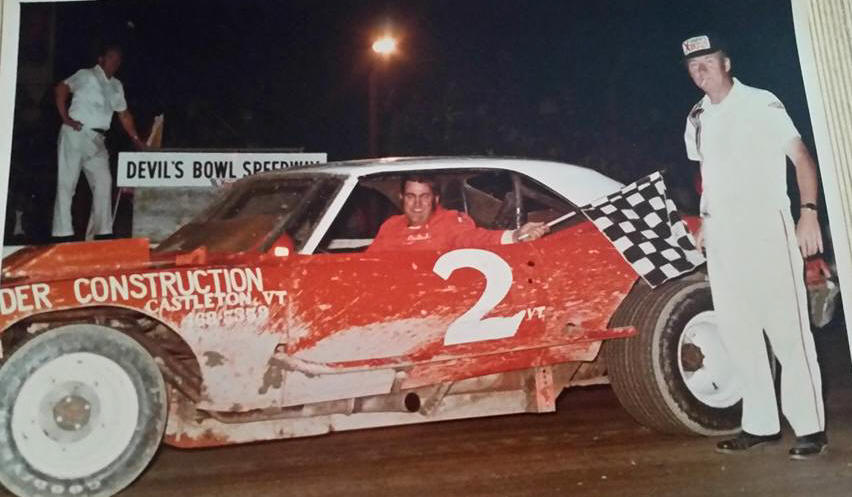 Courtesy of Tim Rogers
Butch Rogers' center , chain – driven steer cars were inspired by the Dexter Dorr #29
hobby car that came out in 1964. Below – Carl Vladyka came into the class in this era and
stayed the course until it was phased out around 2009.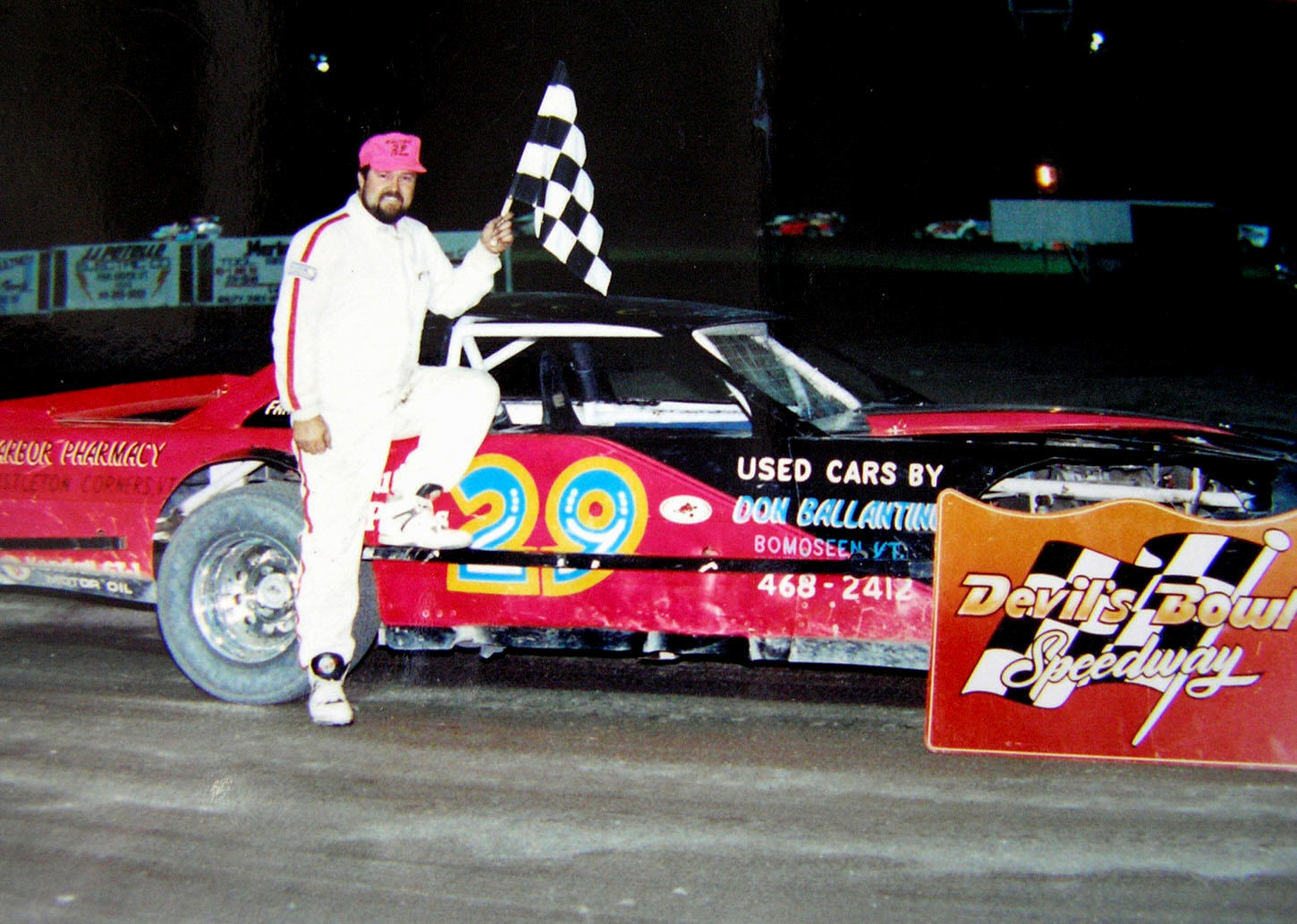 Courtesy of Mike and Tom LaFond
George Johnson was still a hot ticket running his #5NY out of Granville and Wild Warren Pease of Rutland, arguably one of Devil's Bowl's all – time most colorful drivers, was still running his #7. One night, as Johnson was beating the field, Pease drove from the rear to the front of the field three times, only to be sent back for roughriding every time. Frank Hoard, Jr. was beginning in this class that year as was who I believe was Jack Harrison's son, John driving the familiar family number, 10.
Bennington's Alan Strobridge, once a Rookie of the Year candidate on the vaunted Northern NASCAR late model sportsman circuit up north, was driving in the CVRA. Fort Edward's famed Roger Gauthier had two sons running the Pro Stocks for C.J. Roger, Jr. and Scott [one of whom was nicknamed Chip] were running out of Granville, NY – close to where they grew up. Roger, Sr. had been a prominent driver all over the area, including Fonda until he sustained a broken neck in Canada subbing for Beaver Dragon in Ray Richards' #75.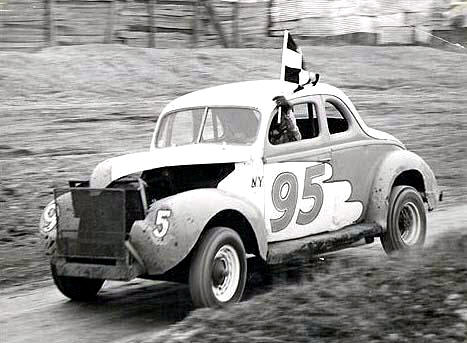 Courtesy of Vogel Family
We lost Ted Vogel, Jr. in 2015. He used his dad's unusual graphic scheme and number [above] on one of
his late models. He lived quite close to other second generation drivers, the Gauthiers. Below – Middlebury,
Vt's Carl Murray started out in the lower divisions and ended up in the CVRA modifieds before retiring.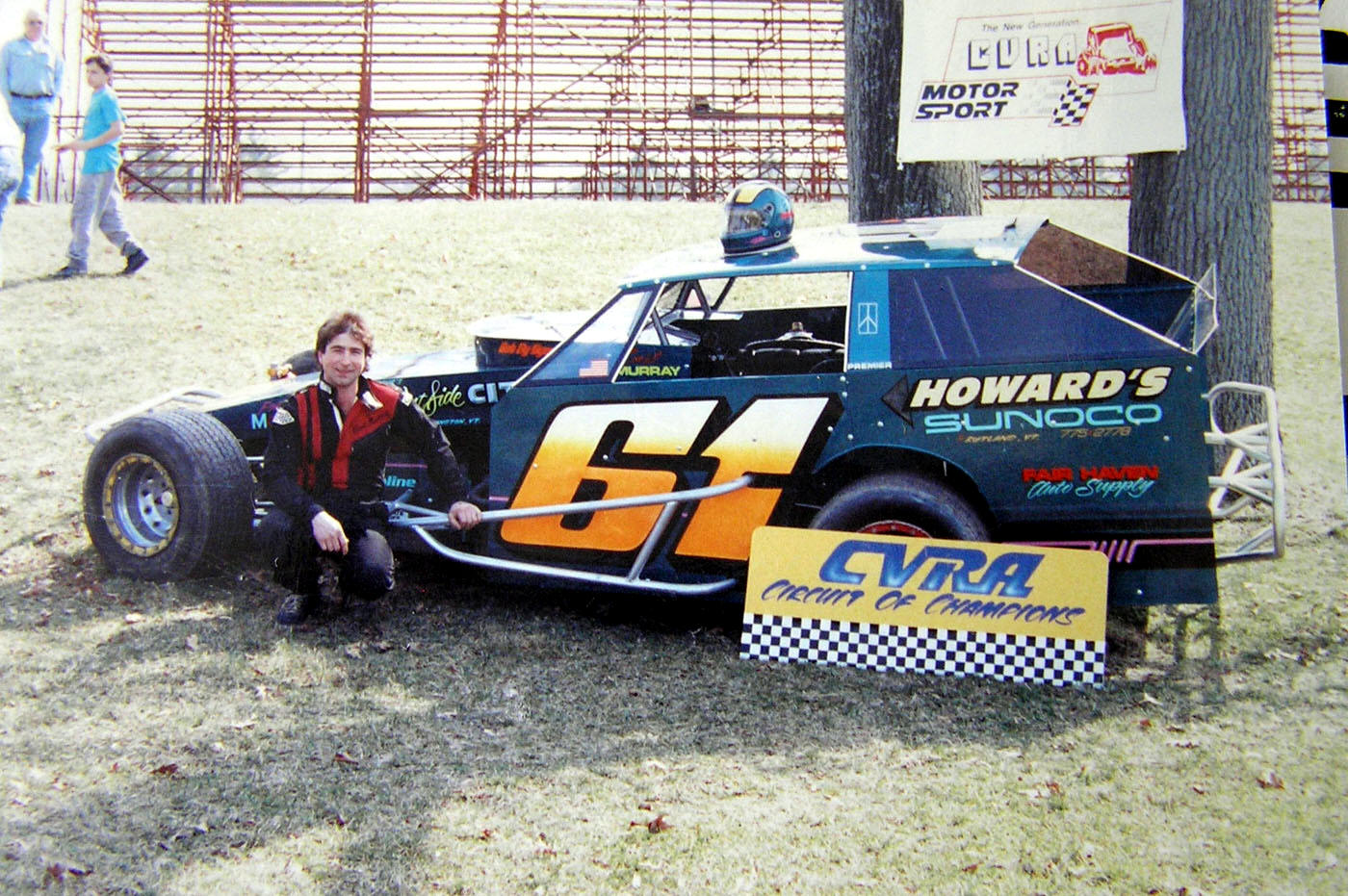 Courtesy of Mike and Tom LaFond

Up and coming future modifed stars Brian Whittemore and Carl Murray were running against Old Guard drivers from back at Fairmont Speedway like John Luleck, Bruce Loomis, and a car backed by Harold Guilder from Corinth, NY. All three had either driven some or crewed in the very first season [1962] that C.J. Operated the CVRA. Sayles Casey, a huge name in New York racing in the 1950's had Kenny Van Wert [also a racing newspaper columnist] running a car for him. Flyin' Jimmy Ryan, connected with Whiting's racing Ryan family, was starting his trade in the Pro Stocks before a long and good career in the modifieds.
Milton's Jean – Paul Cyr and younger brother, Matt, came down the road two hours every week, from under the shadow of Catamount Stadium, to run in the Pro Stocks at the Bowl. Jean – Paul went on to huge accomplishments with the ACT late models while Matt did not pursue racing for long. Carl Vladyka of Hampton would go on to be one of the division's biggest names, running until the class was discontinued; Ray Nutting of Rutland [the famous used car man] was winding down a good career in deference to his son, Lee's eventual emergence.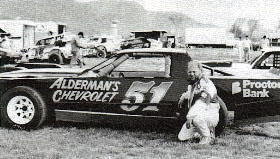 Courtesy of Shawn and Jim Byrne
Ray Nutting began with a George Rogers – built late model in 1968 and was still around 11 years later with this Pro Stock.
Below - Todd Stone since returned occasionally to the late models, but he ran them the most in the mid 2000's.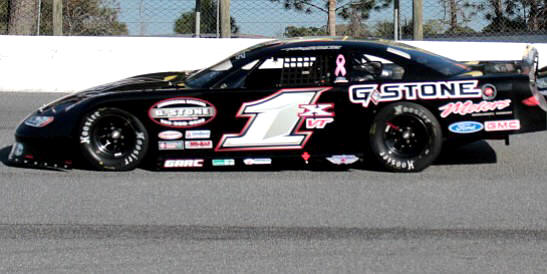 From the Addison Eagle
In the four cylinder Amateurs, two names – one after the other – really grab one's attention as both would become prominent late model sportsman and then modified drivers within a few years. Mike Bruno, the future owner / promoter of Devil's Bowl, was listed with his father's familiar number 22. [Dad was still active in the modifieds that year]. Using number 25, right behind Bruno, was Middlebury's Todd Stone. Arguably, no one in any of C.J.'s support classes that year made anywhere near the splash in racing that these two drivers did . Both would be on the American – Canadian Tour soon.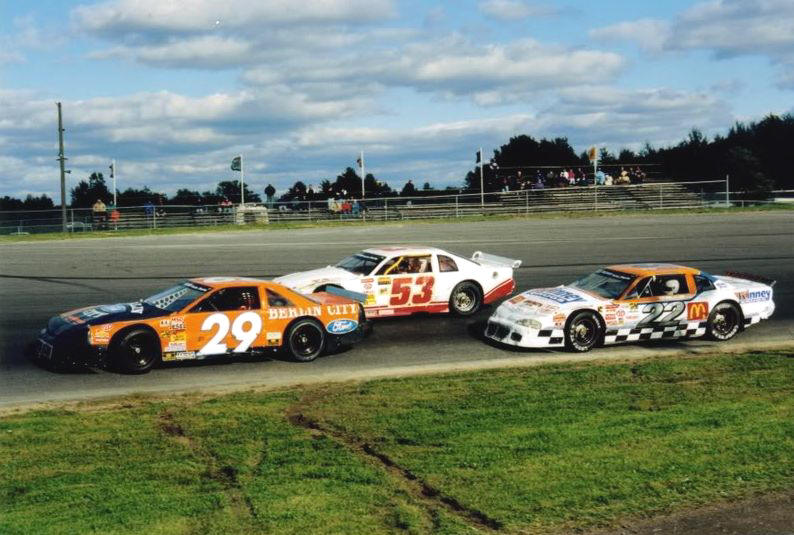 Courtesy of Justin St. Louis
Mike Bruno chases the legendary Dave Dion in a mid 2000's ACT race. Alongside is current ACT official Dan Beede.
Below – One of the all -time greats in the Amateurs was Bill Ladabouche, who one the only four – lap race he was ever in.
[Shameless self promotion]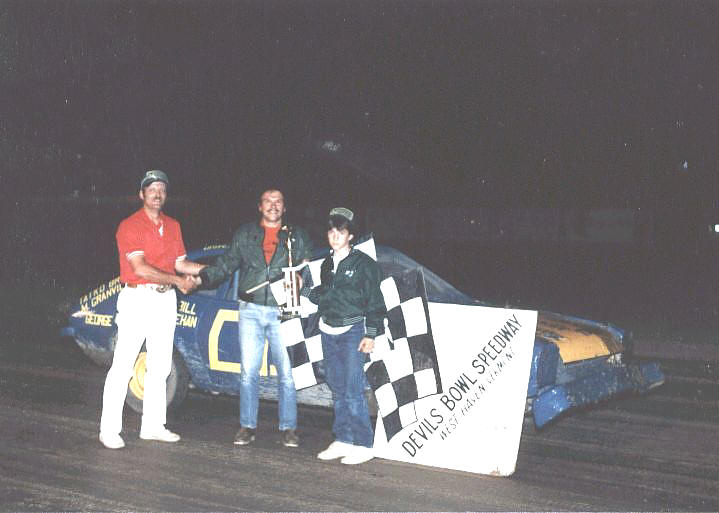 Sharon Richards Photo


Future CVRA stars Fast Freddie Little [Pro Stocks and Modifieds] and Ed Thompson [Pro Stocks], started in the Amateurs. Brandon's infamous Hall brothers, Tony and Seeley, fielded a car for Vince Quenneville's son, Cale. Cale never did stick with the sport as long as brother, Vince, Jr. has. Vince, Jr.s's current car owner, John Danyow [Champlain Construction] was trying hand at the little cars that year before becoming a successful car owner. The firm and the Danyow family had backed Mert Hulbert as the first Devil's Bowl track champion in 1967.
Some of the other familiar racing surnames in that large roster included Martindale, Cram, Wood, Sitterly, Paquin, and Coon. This crop produced rookies of the year in various organizations, track champions, championship car owners, a future promoter, and a huge number of guys who never advanced any further in the sport, daunted either by driving limitations, the cost, or both.but, below them, in the Pure Stocks, there were still a few more names to notice.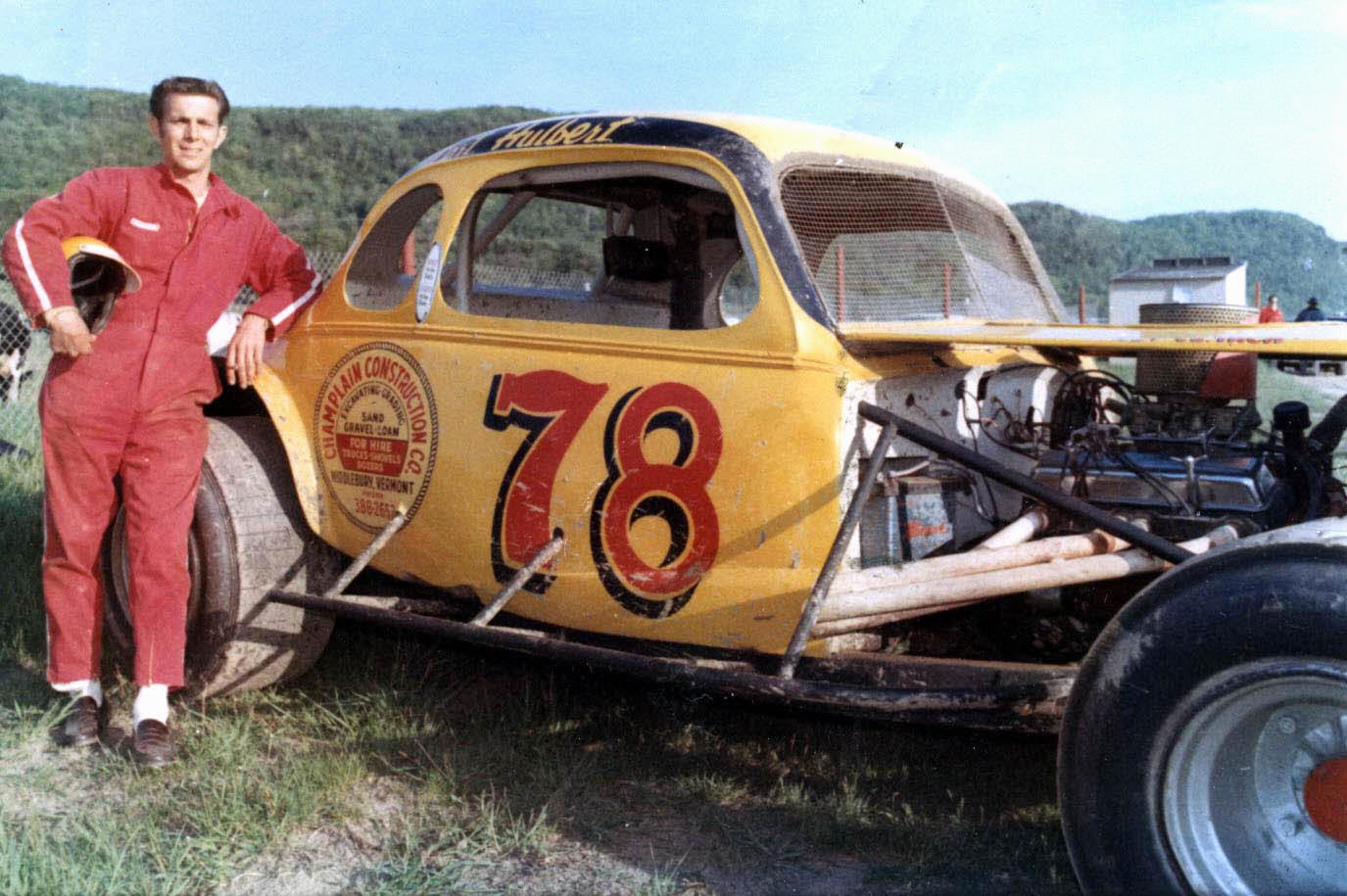 Courtesy of Norm Vadnais
The Danyow family's Champlain Construction was prominent in the 1967 Hulbert effort. But, the younger Danyow prefers to stay
in the background with the wrenches with the Vince Jr. effort. Below - Dave Wood [Woodie] comes from the racing
Wood family that included Ronnie and the Unbeatable Lennie. He is at left with Bob Barrett.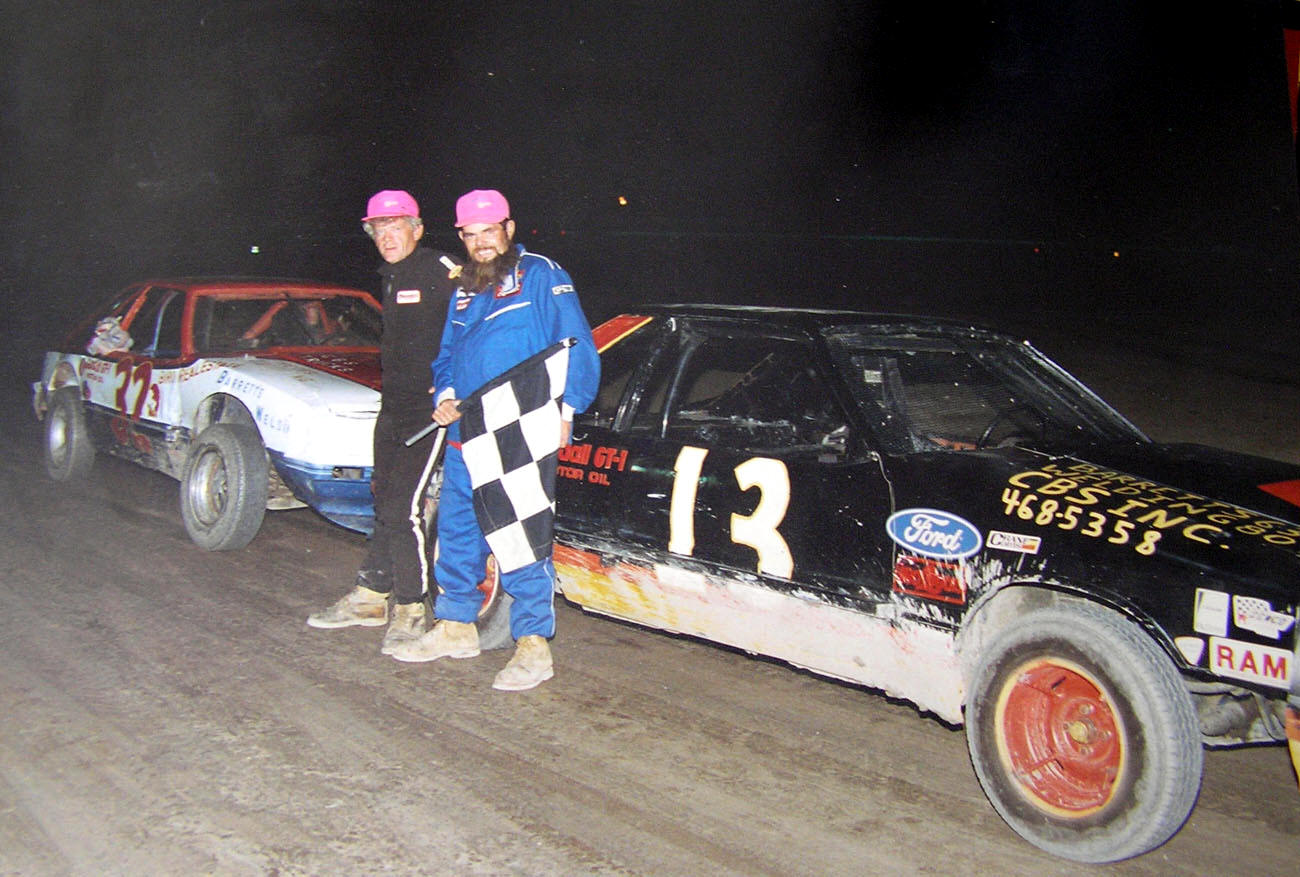 Courtesy of Mike and Tom LaFond

One name I noticed right away goes back all the way to 1962, when he bought the potent Henry Abbott #44, changed it to #10, and tried his hand at the most difficult race of the eyar – the big program at the Vermont State Fair in Rutland in the Fall. Harry Hale, Sr. of Weston was seen in photos of the the numerous mixups that were caused by dusty track conditions, a lowering Autumn sun. and just too many cars on a bad track. I had not heard much about him until his name appeared first on the 1989 Pure Stock roster due to his number, 01 [a reversal of his 1962 car number]. I hope he fared better this time.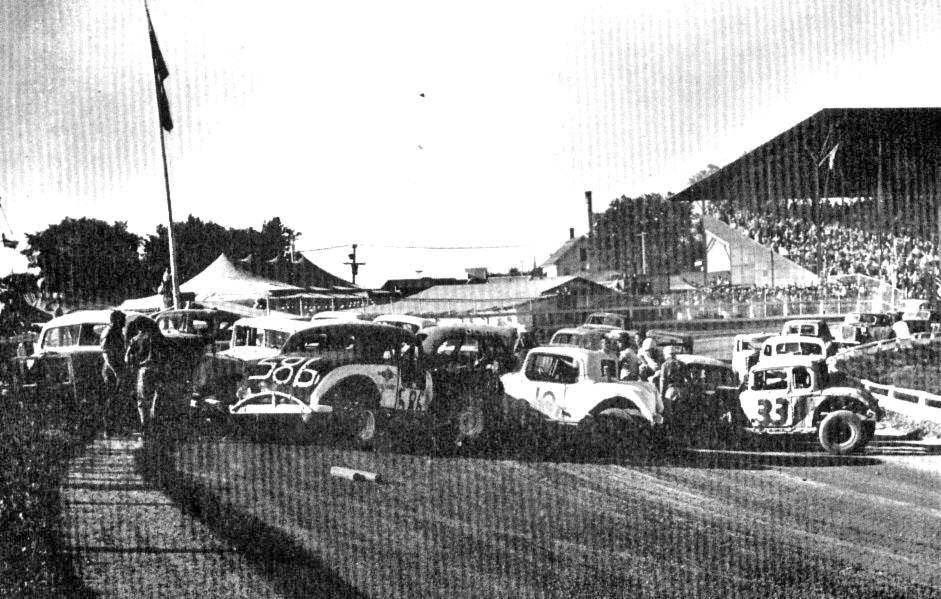 Courtesy of Ed Fabian
Harry Hale's 10 sits in the middle of the snafu that caused the second big pileup of the 1962 fairgrounds
show in September. It is not clear what role he played in the mess. Below- Fast Freddie Little,
now a Devil's Bowl official, is best known for Pro Stocks, but he did run a modified, too.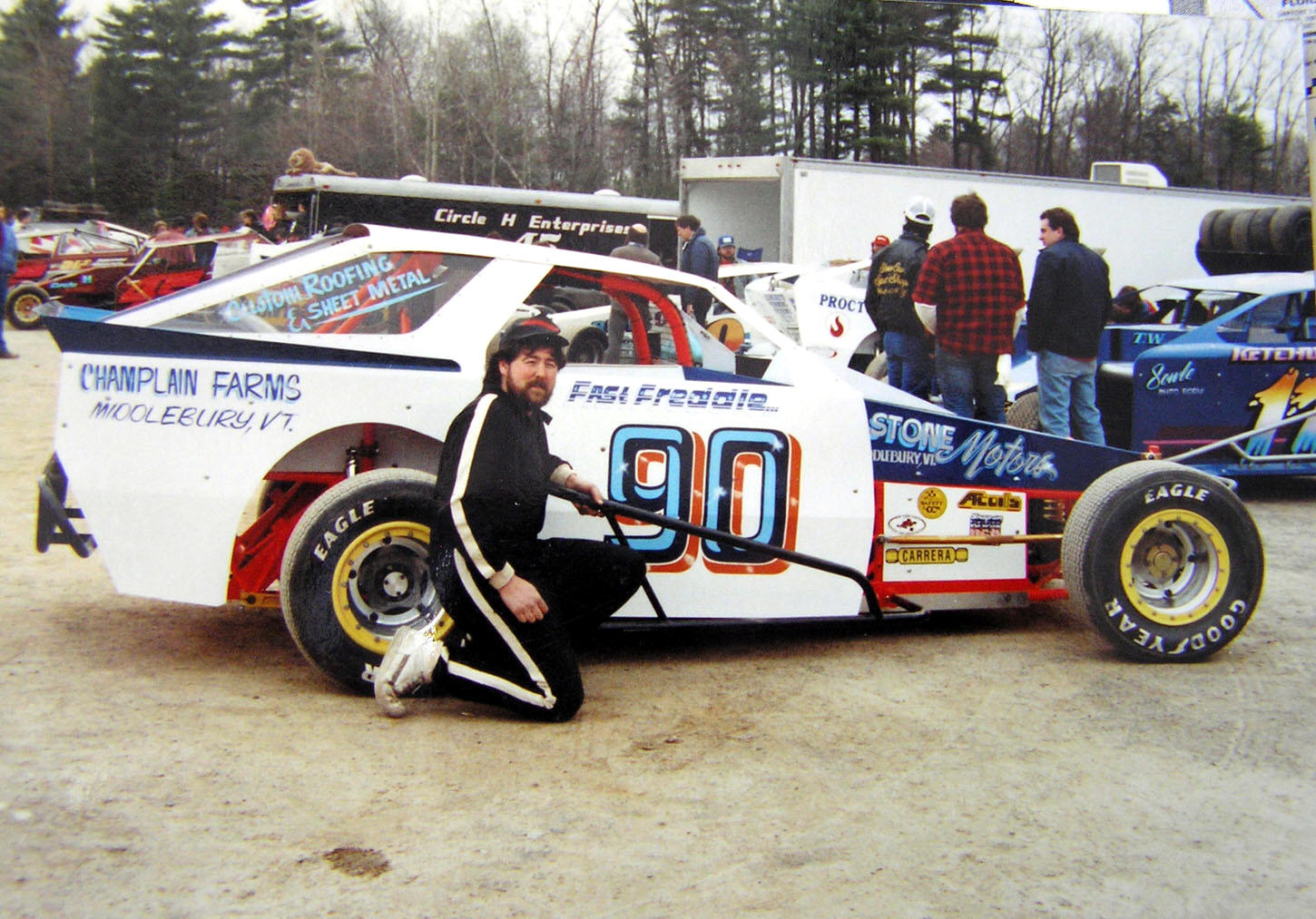 Courtesy of Mike and Tom LaFond


The most noticeable name in that short roster [CJ's fourth divisions seldom prospered] was that of Mike Lussier of Brandon, even then sporting his familiar #49. Always underfinanced and under-powered, Lussier made a career of competing by doing tremendous broadslides – particularly through turns one and two,. He never had the power to compete with his six against the V-8's. Mike had the budget to do great in the Pure Stocks, but I don't think the class survived for him.
Future CVRA official Ronnie Carlson of Bomoseen ran in the "pures" in 1989. A name of interest to me was that of Granville's Jeff Warner. His Mustang had been the scourge of the Amateurs in past years. I actually raced against his car in Bernie Emery's Pinto in 1986. Now, three years later, another Emery had Bernie's 05 and Warner was in the pure stocks. Some familiar surnames in this class included Guilder, Warner, Mattison, and Rheame. As one might expect, few of these names ever became very prominent, as the class was often for drivers to see if they even had the interest or ability for a further career.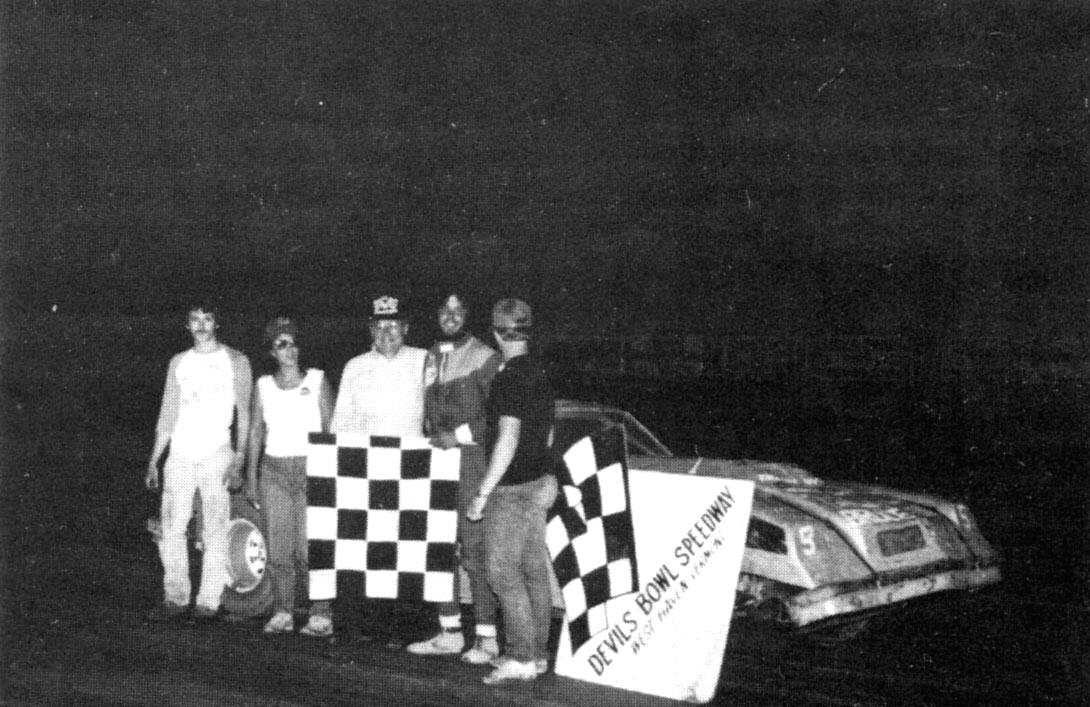 Source Unknown
After a quiet start, Granville's George Johnson became a very hot item in the Pro Stocks for a few seasons in a row. Below –
John Luleck came and went went C. J.'s tracks up into the 1990's. This shot is from 1963 – at Fairmont, with a Julius Mestyan car.
A young John is at right.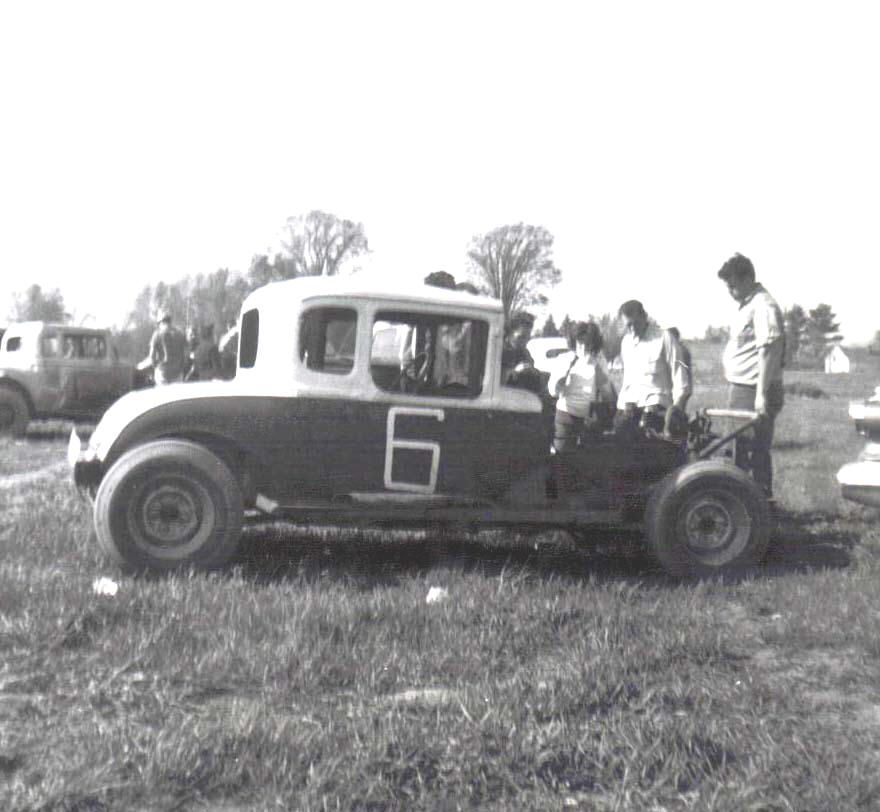 Ladabouche Photo

C.J.'s 1989 newsletter, by itself, was a remarkable document for the serious fan or student of racing in that neck of the woods; but, the rosters were a marvel to behold. Today, any promoter would salivate at the prospect of having almost two hundred drivers signed up to race at his place.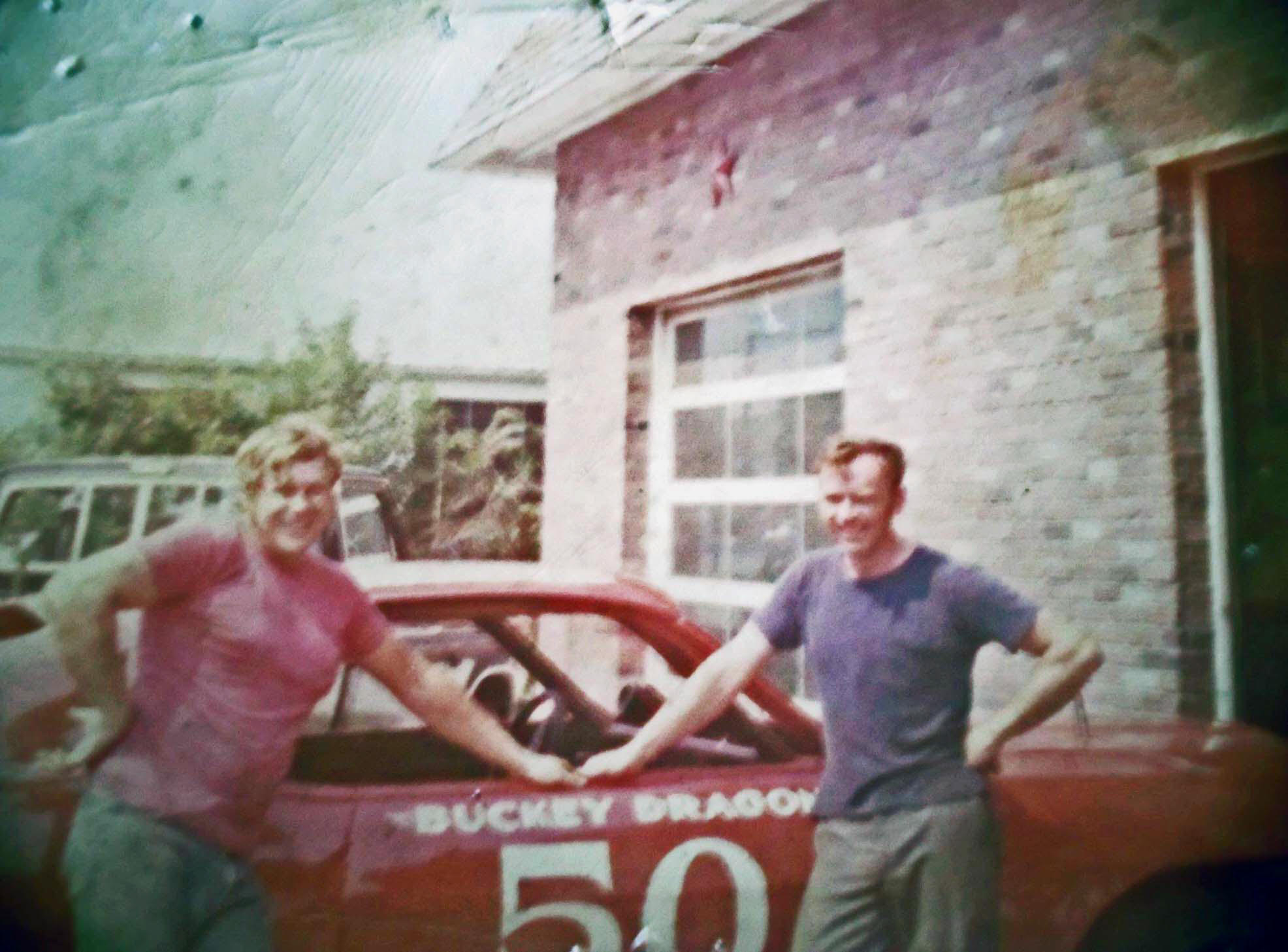 Source: B
Enigmatic Ripton, VT logger Robert E. "Bucky" Dragon [left with friend John McDonough] may have been arguably
Devil's Bowl's most interesting support divison figure ever. Below - Another real piece of work was
Rutland's Wild Warren Pease [nicknamed by yours truly "War and Peace".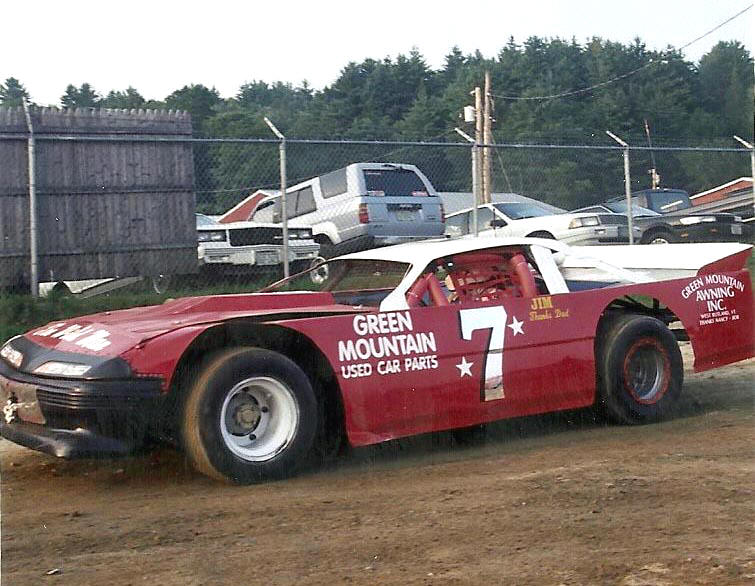 Marty Kelly, Jr. Photo
Please email me if you have any photos to lend me or information and corrections I could benefit from. Please do not submit anything you are not willing to allow me to use on my website - and thanks. Email is: wladabou@comcast.net . For those who still don't like computers - my regular address is: Bill Ladabouche, 23 York Street, Swanton, Vermont 05488.
AS ALWAYS, DON'T FORGET TO CHECK OUT MY WEBSITE
www.catamountstadium.com
Return to the Main Page
Return to the Main News Page
Return to the All Links Page
Return to the Weekly Blog Links Page