BILL'S [Somewhat] WEEKLY COLUMN/BLOG PAGE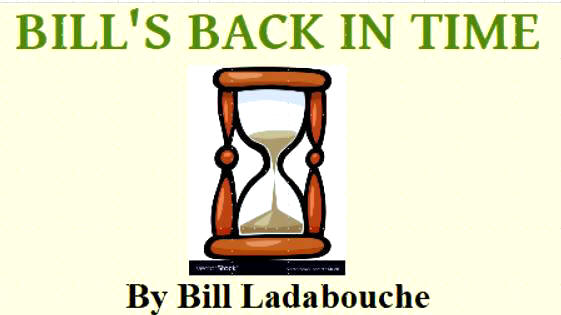 ANOTHER PICTURE THAT'S WORTH 1,000 WORDS
The saying is very old. Today, it might be more appropo [or at least understandable to the millenials] if I said that the picture is worth 1,000 tweets or some such nonsense. At any rate, as I often do, I was looking through one of my 44 image folders when I came upon a shot of Ed Ryan, proudly posing as track promoter beside a sign outside of the Stateline Speedway [which straddled the Vermont / New York state line outside of Bennington, VT.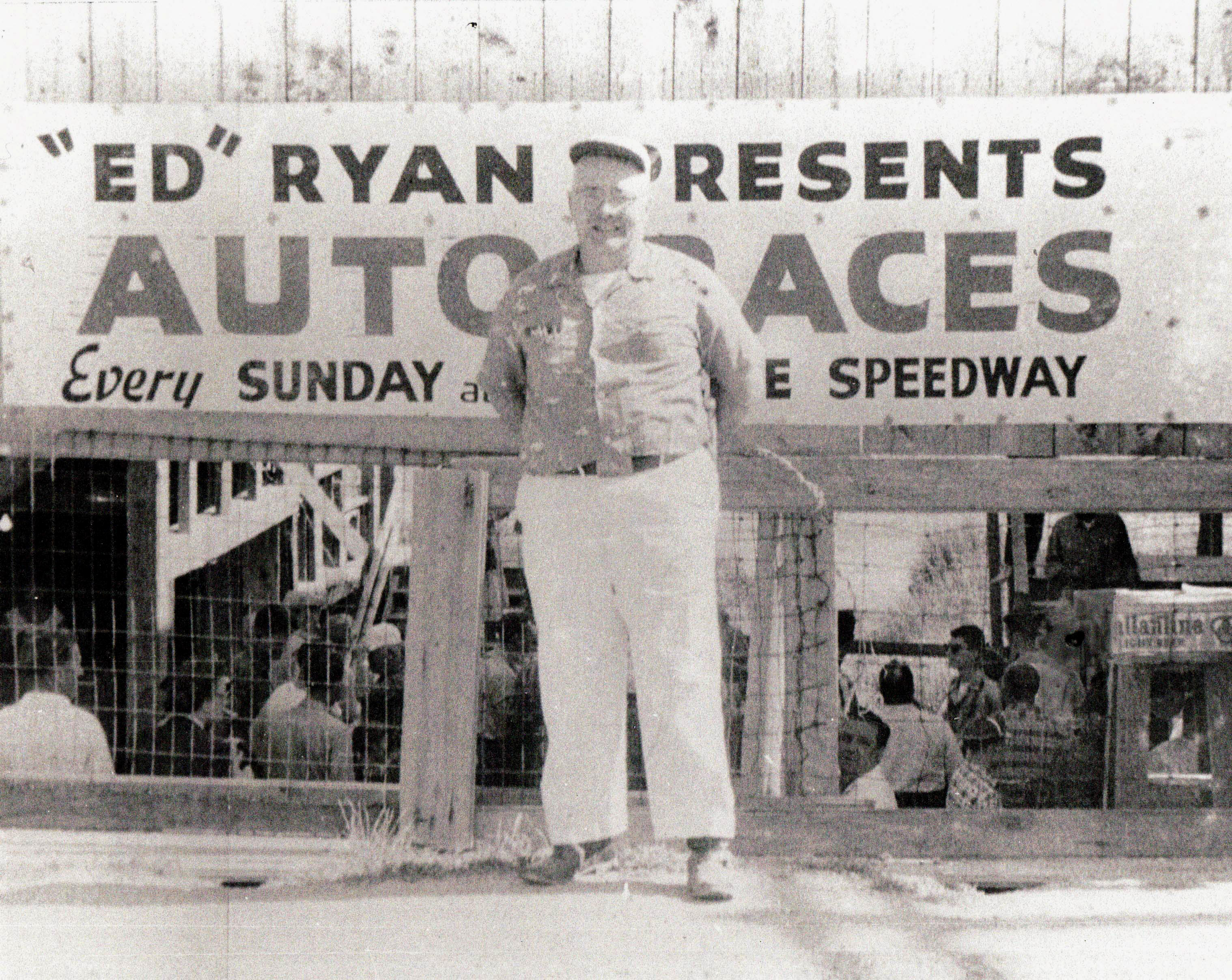 Courtesy of Roger Liller
Ed Ryan, complete with the obligatory white pants they all wore to the races in those days, takes a moment
from running his show at Stateline to pose for someone like maybe Les King or Russ Bergh.
Stateline was said to be originally created as a horse track by owner Mike Akhouri [sp?], rumored to be an uncle to Pete Corey. I know little of Mike except that he saw the potential of car racing early on and was one of two tracks that appeared in he Bennington area [the other being a brief period of the "Griffin" race track, on Burgess Road – another horse track that still actually exists. One or both of these tracks saw roadster racing before the stock cars took over.
First of all, the sign he is standing in front of says:


"ED" RYAN PRESENTS
AUTO RACES
EVERY SUNDAY at STATELINE SPEEDWAY
As a former sign painter, I took more than a little while just looking at the sign – just like I look at the graphics on a race car while everybody else is looking at the motor. Good – sized sign ! Two full sheets of plywood, at least. The sign made obviously made an effort to keep costs down by using freehand and by keeping it simple: no shadowing and probably just black and red lettering.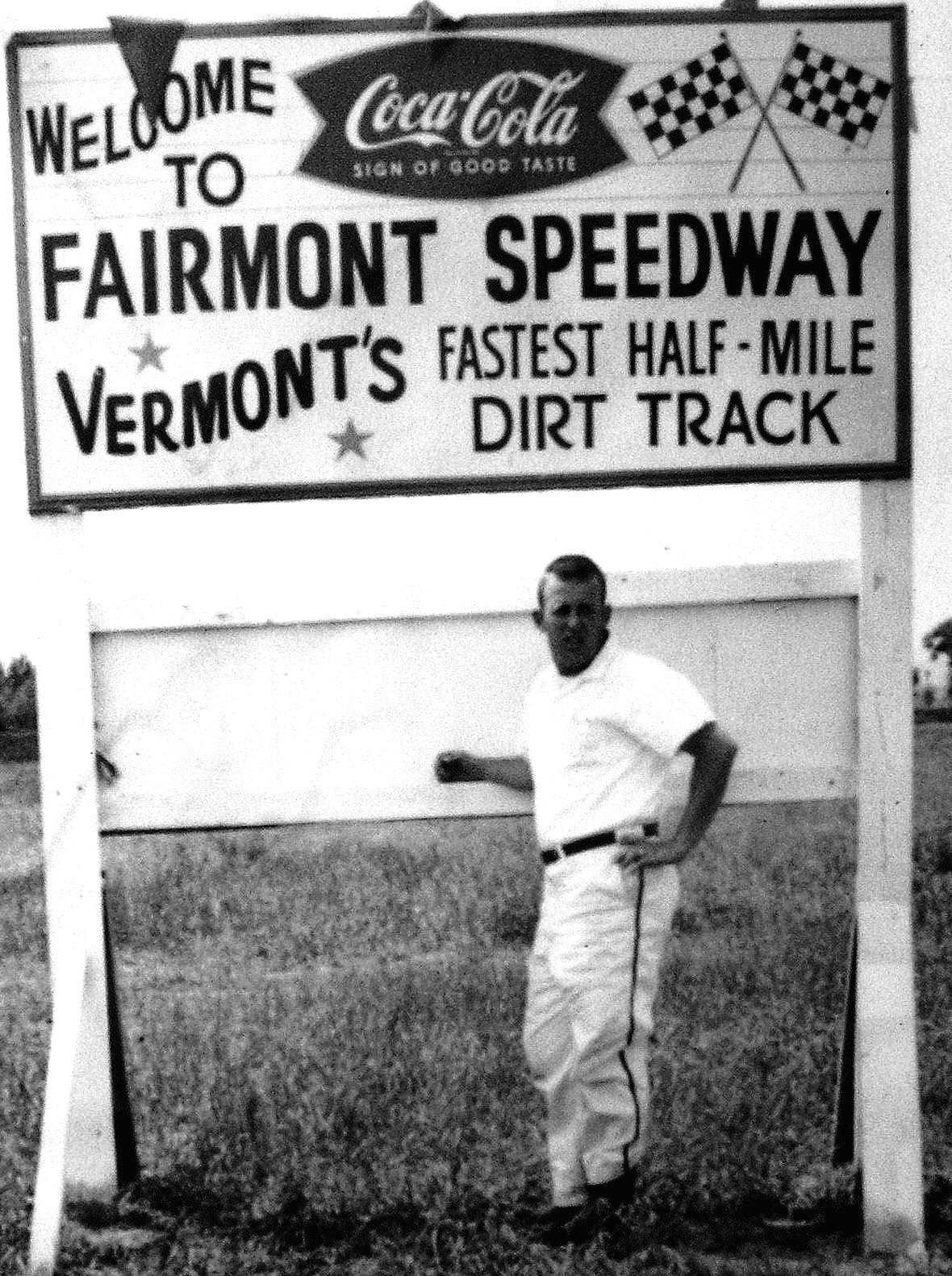 Courtesy of C.J. Richards
Some guys, like the ever – savvy C.J. Richards, got someone like Coca – Cola to provide their track sign
for free advertising. I bet he also carried Coke products in the concessions. Below – Nearby Pine Bowl Speedway
must have shelled out for their sign, as well. They were all hand lettered in those days.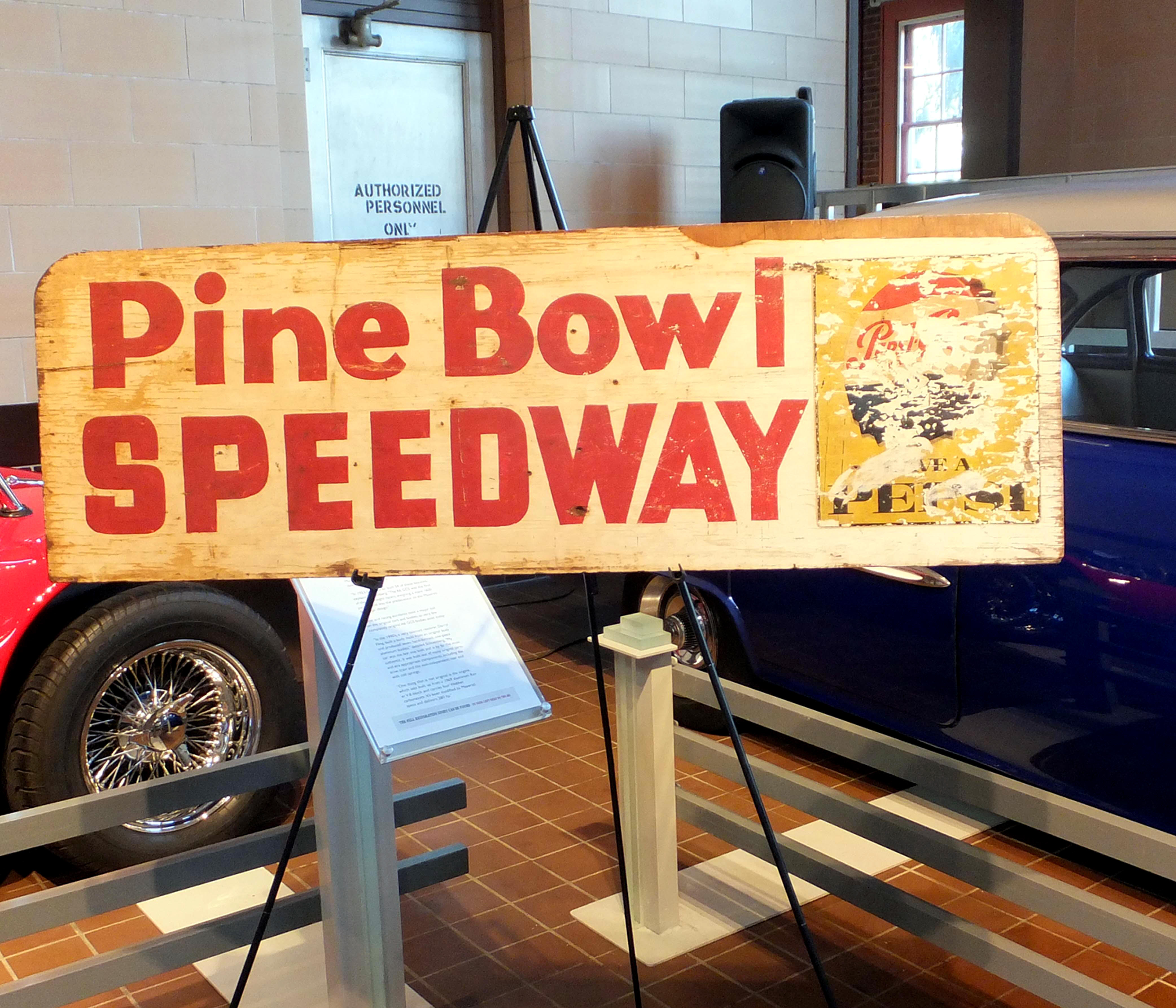 Courtesy of Ken Gypson
The sign said what was necessary, in terms of what a motorist speeding by would need to see; obviously, it was Stateline and I'm not sure Ed needed his name on the sign. But, it was his dime so what the hell. I see he was smart enough to use Sundays, which did keep him out of competition with most major speedplants in the region; however, afternoon racing meant more of a dust problem.
I know Ed Ryan did other promotions – perhaps at places ,like the Pine Bowl; but, I don't know too much about him. Besides promoting, he had been a flagger and the likely the track publicist, as well. He goes back to that old – time promoter model begun by the likes of Harold Garstang and others. I really don't know if he had anything to do with Tri – City, a prominent sanctioning group in that region. Run by Mssrs Thompson and Ruopp, Tri – City Racing Association did promote Stateline at one time.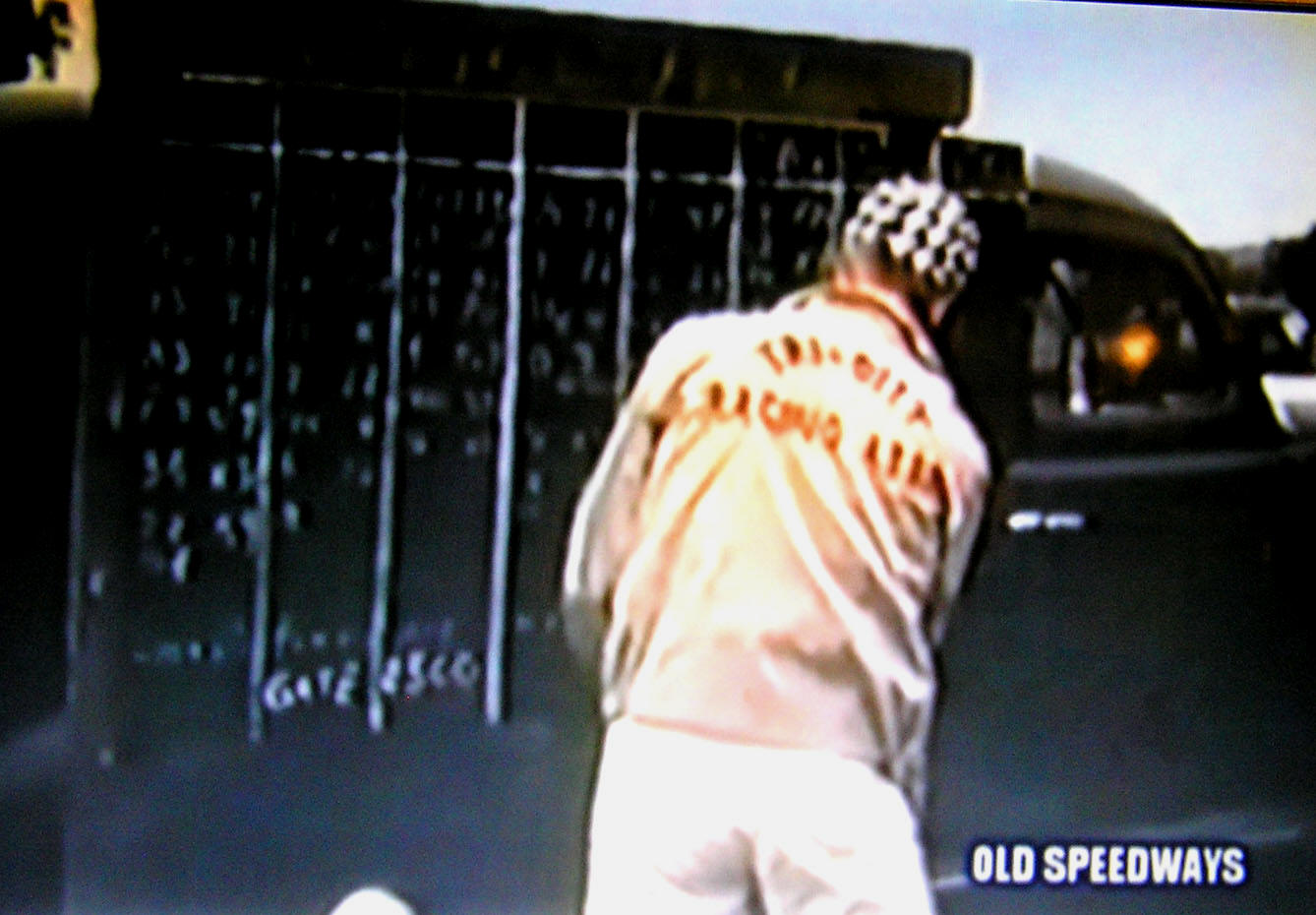 From Dan Ody's 8MM Old Speedways DVD's
A Tri – City Official fills out starting lineups at Stateline sometime in the 1950's. Below – The Pine Bowl
beer booth [another Ryan track] was certainly the last word in subtle elegance.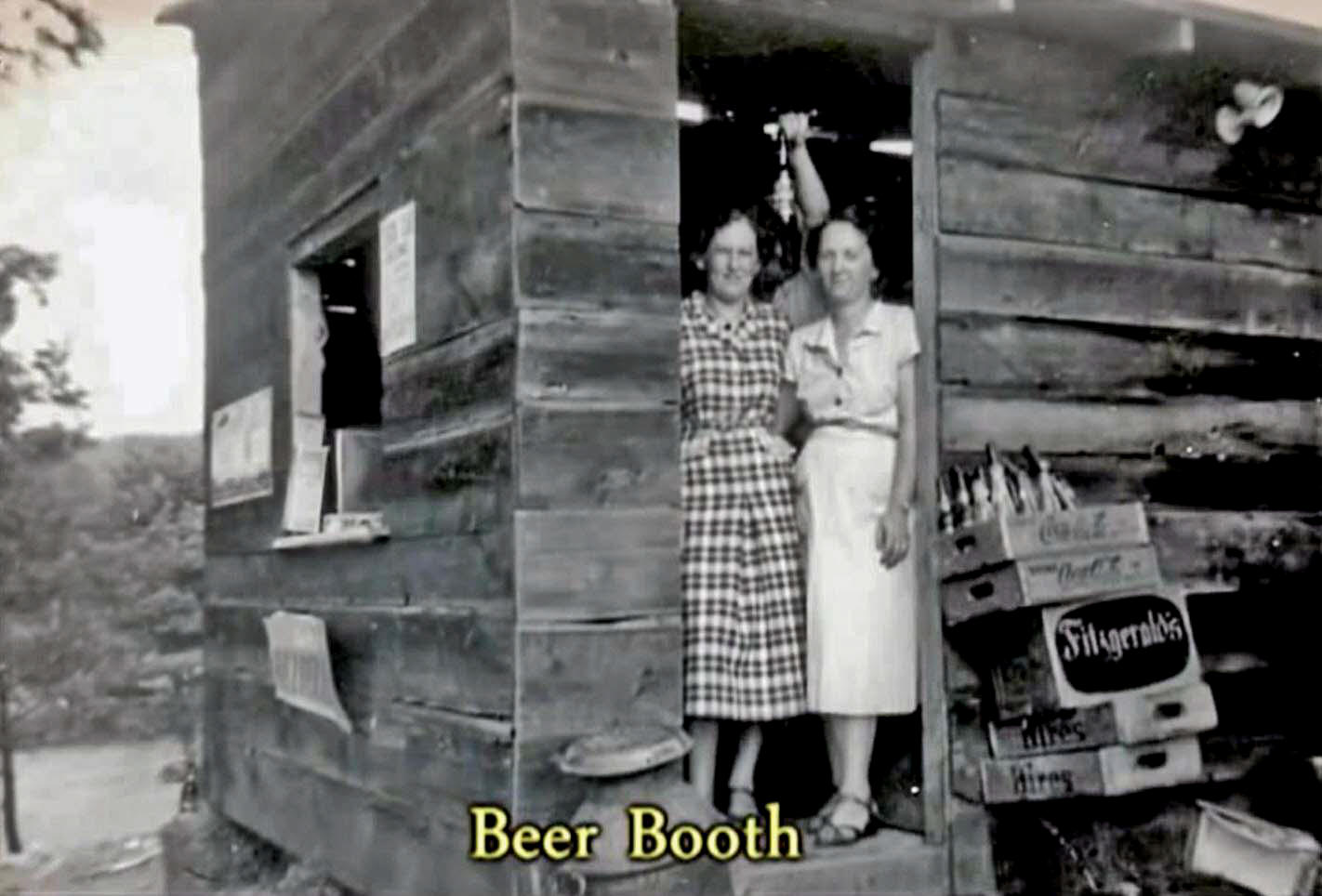 From Dan Ody's 8MM Old Speedways DVD's


One thing is for sure, just like Garstang, Ryan knew the road to bigger profits ran through the "beer tent", beer booth, beer shack, beer stand, or whatever it was called at any given venue. The beer – serving area is very recognizable and is seen just behind Ed's generous posterior in the photo.
The only sign that can be made out in the photo [besides Ed's giant one] is that of Ballantine Beer. All these modern brews be damned, guys back then around New York drank Genessee, Ballantine, Dobler, Ruppert's Knickerbocker, and other such manly beers. Nobody fruited their freakin' beer, and nobody ever heard of anything like Corono or a microbrew. Gimme an Old German, dammit, and make it quick !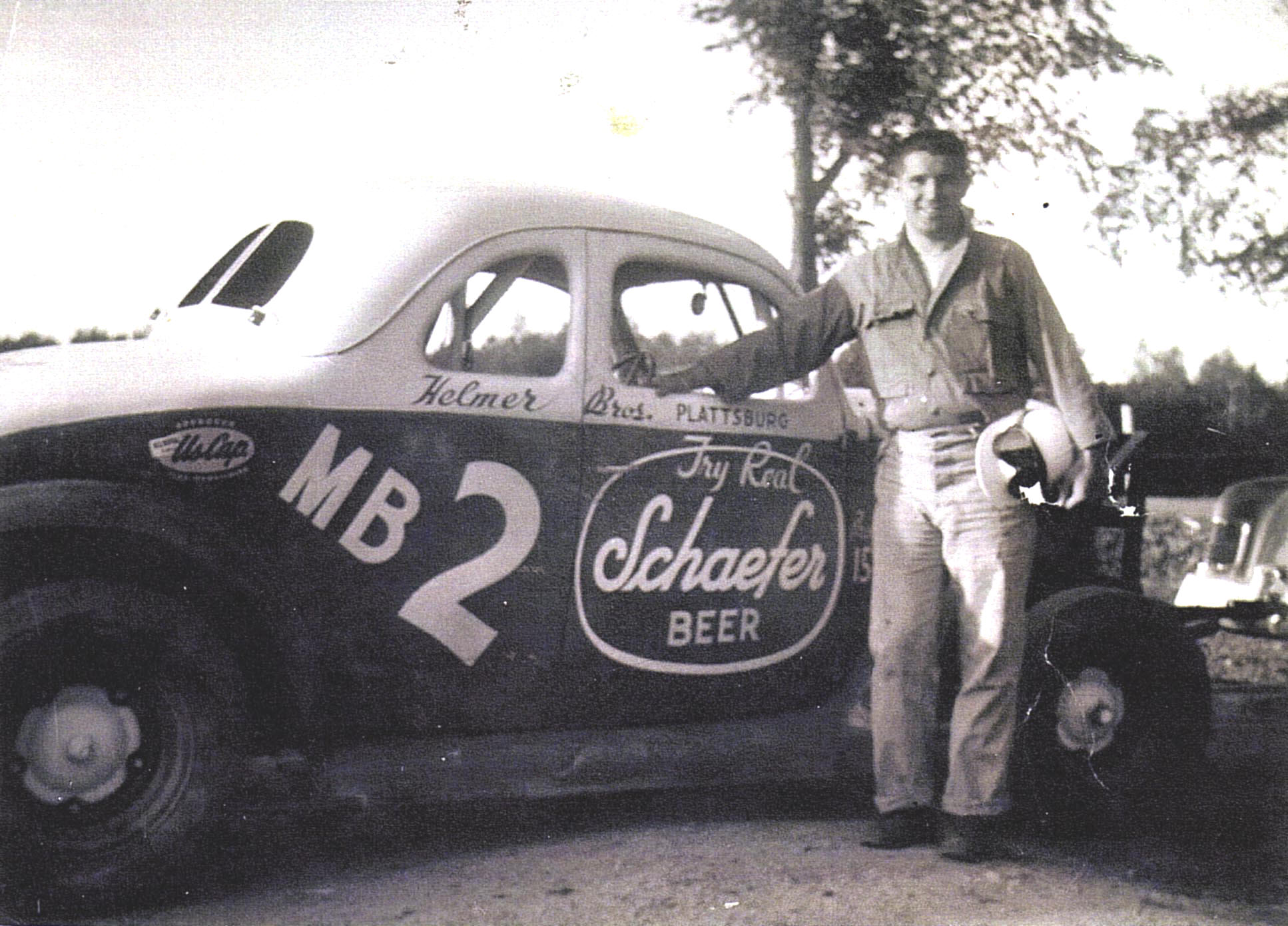 Bob Mackey Photo Bruno Collection via John Rock
Bob Bruno's McGee/Bridges MB2 had landed a good beer sponsorship in
the 1950's at Airborne Park Speedway. Below – Not so sure about this guy at Ast.
Lawrence Valley Speedway, Canton, NY in the same era.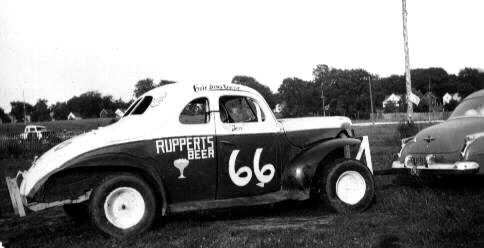 Courtesy of Rick Parry

I know that the sale and consumption of beer made it a nightmare for track officials and the track cops. I recall when Catamount Stadium finally had to dispense with the beer tent off the fourth turn there after altercation #459 or so. And, we all have stories of beer bottles and cans flying out of the stands at various times at Fonda. [Some were not empties]. Ed had to weigh profits with liability, I am sure. [OK, we're up to 648 words already :)]
From what I know about the location, Ed [not a tiny man] could not have had much room to stand in this photo. According to what folks have told me, the stands for the track [especially the covered version] were so close to state route 67, that a car having a flat tire could not have pulled off the highway until it got past the grandstand area. It does look like Ed is right against the wire mesh fencing that had to be there to keep people from simple walking along Rt 67 and crawling under the stands into the track.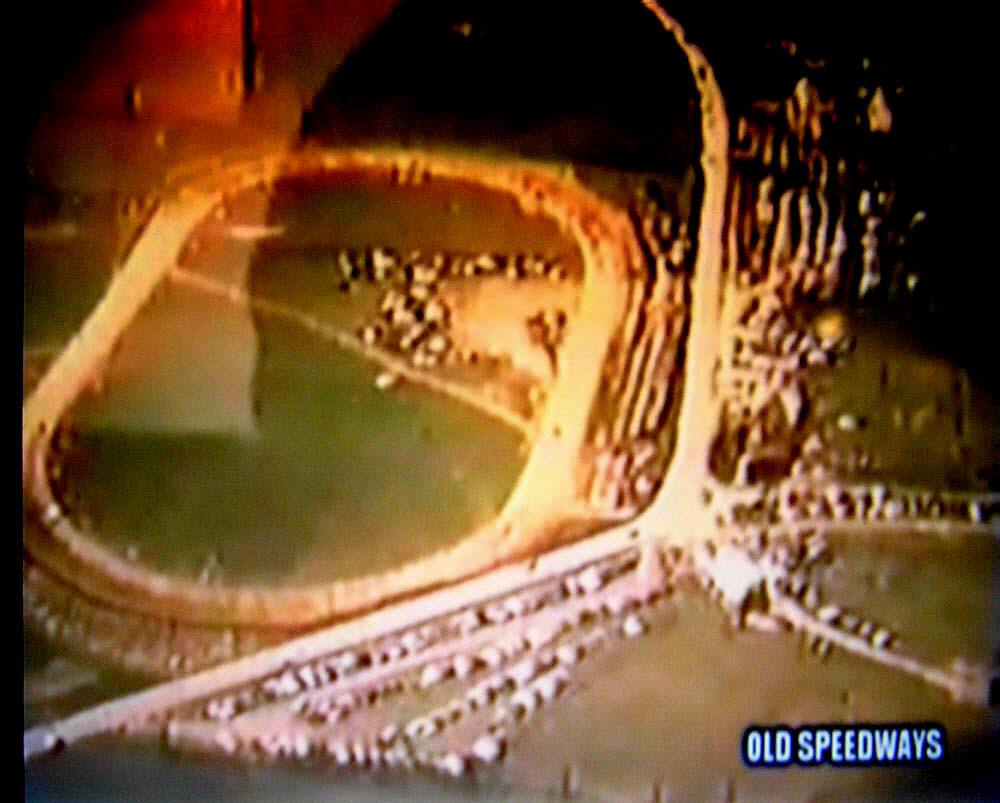 From Dan Ody's 8MM Old Speedways DVD's
This aerial view, frozen from ancient 8MM footage, shows how close Stateline was to Route 67
in two places. Below – Jeep Herbert, taking a victory lap in Bob Mott's potent 3 around 1952. Note the always
rickety fence keeping the track separate from Rt 67 on the east.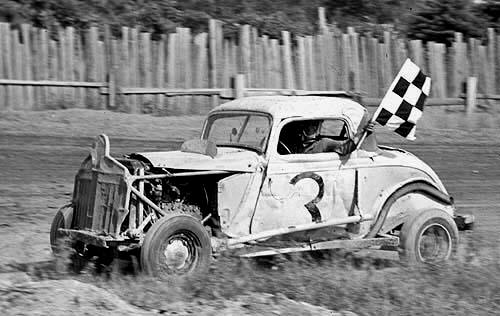 Courtesy of the Herbert Family
Stateline Speedway was remarkably close to the highway, a situation that would absolutely never fly today [especially in ridiculous, anti – business Vermont]. Not only were the stands so close to the road that it looks like Ed has his back right to the stands and his feet almost ON Rt 67. In addition, the fourth turn was so close to 67, as well, that the track always had a crude board fence at that spot – as much to keep debris from flying off onto the highway as it was to discourage rubberneckers from watching races for free.
Many old tracks had a tough time with freeloaders. Stateline had the proximity to Rt 67; Fonda had the people on stepladders off the first and second turns on Rt 30A; Saranac Lake and Victoria had too many places people could just sneak in [ and they did]; Catamount and Devil's Bowl had neighbors with hay wagons. From appearances, Ed had it pretty well in hand. Even patrons of the Five Flies, a bar so close across the road that it often appears to be on tracks grounds, had to struggle to see much free racing action.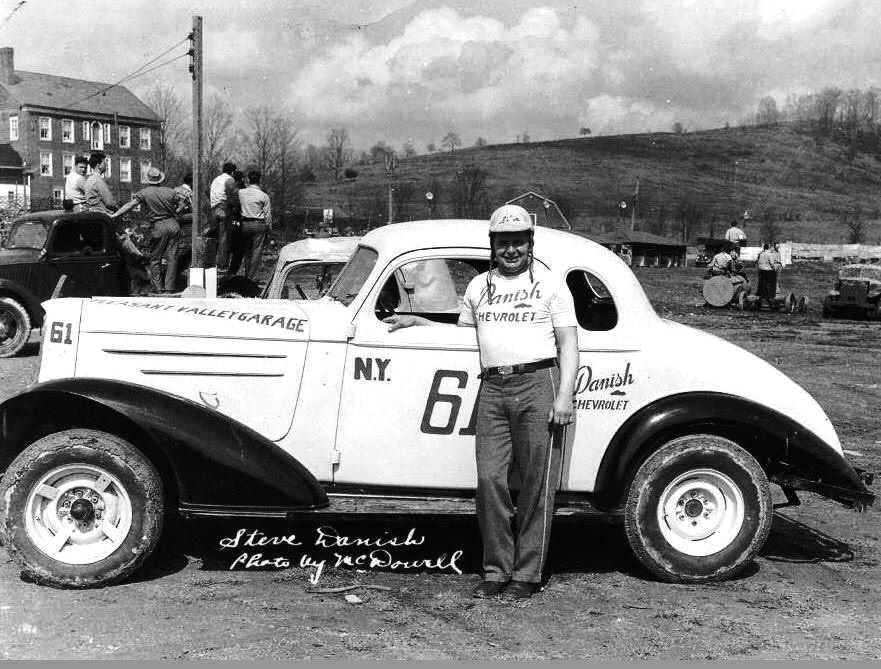 Ladabouche Collection Bob McDowell Photo
This shot of Steve Danish early in the 1950's shows the large brick house then known as the
Five Flies bar as appearing to be right on the track grounds. It is actually across Rt. 67. Below -
At one point, according to an old family friend, Stateline fields were small and Joe Wunderlich was the king there.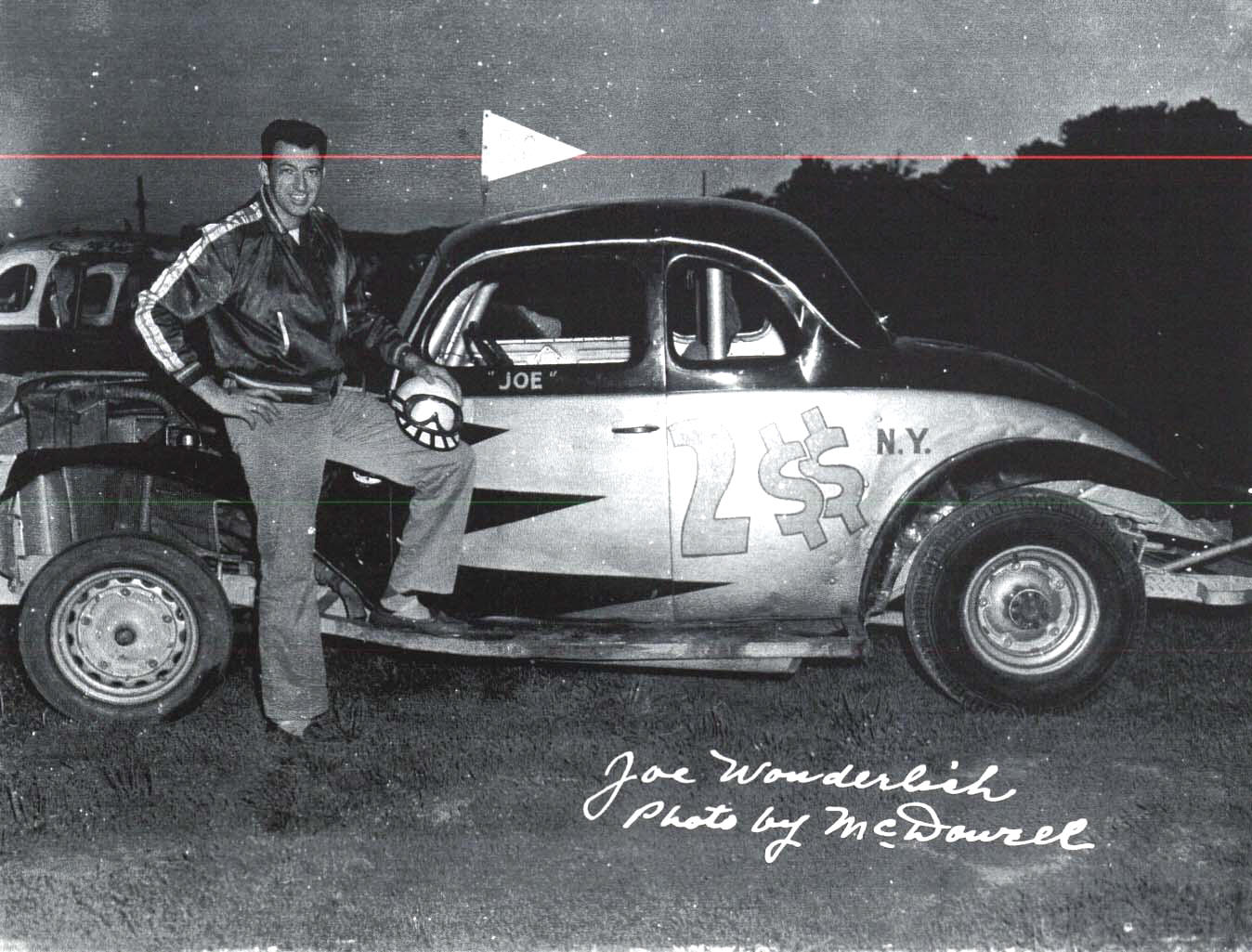 Phil Miller Collection Bob McDowell Photo

When Ed had Stateline he may or may not have known that the unique, border – straddling track was not going to last out of the 1950's. The track had flashes of importance and also periods where it was just hanging on by a thread. Much of the fortunes of the track were tied to the whims of NASCAR, which ran Fonda Speedway with an iron hand.
The track's history shows many very prominent drivers and teams. It can boast of major races like the Don Hendenberg Memorial race [whose three abreast lineup is immortalized in a photo hundreds of people still have]. In that magic time in the 1950's before sanctioning bodies like NASCAR and even Tri – City began to compartmentalize who raced where, tracks like Stateline and the Pine Bowl [not far away near Troy, NY] could attract drivers who, in some cases would become nationally famous.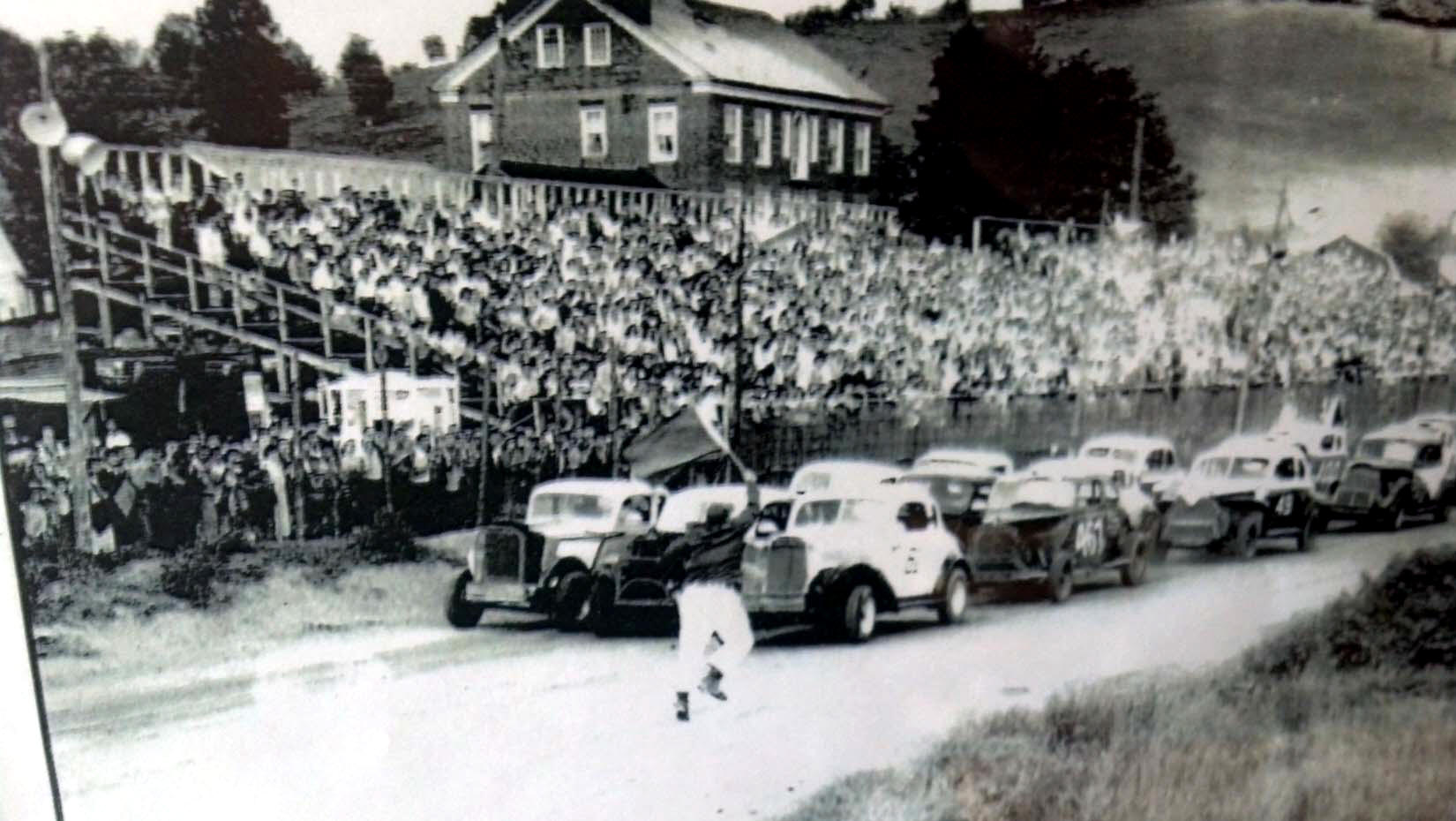 Courtesy of Steve Hibbard
This famous shot of a three abreast lineup might be from the
Don Hendenberg Memorial race. But the open stands suggest it
was a later race. Below – This quality Maynard Johnson shot is definitely from the
Hendenberg race – note the covered stands here.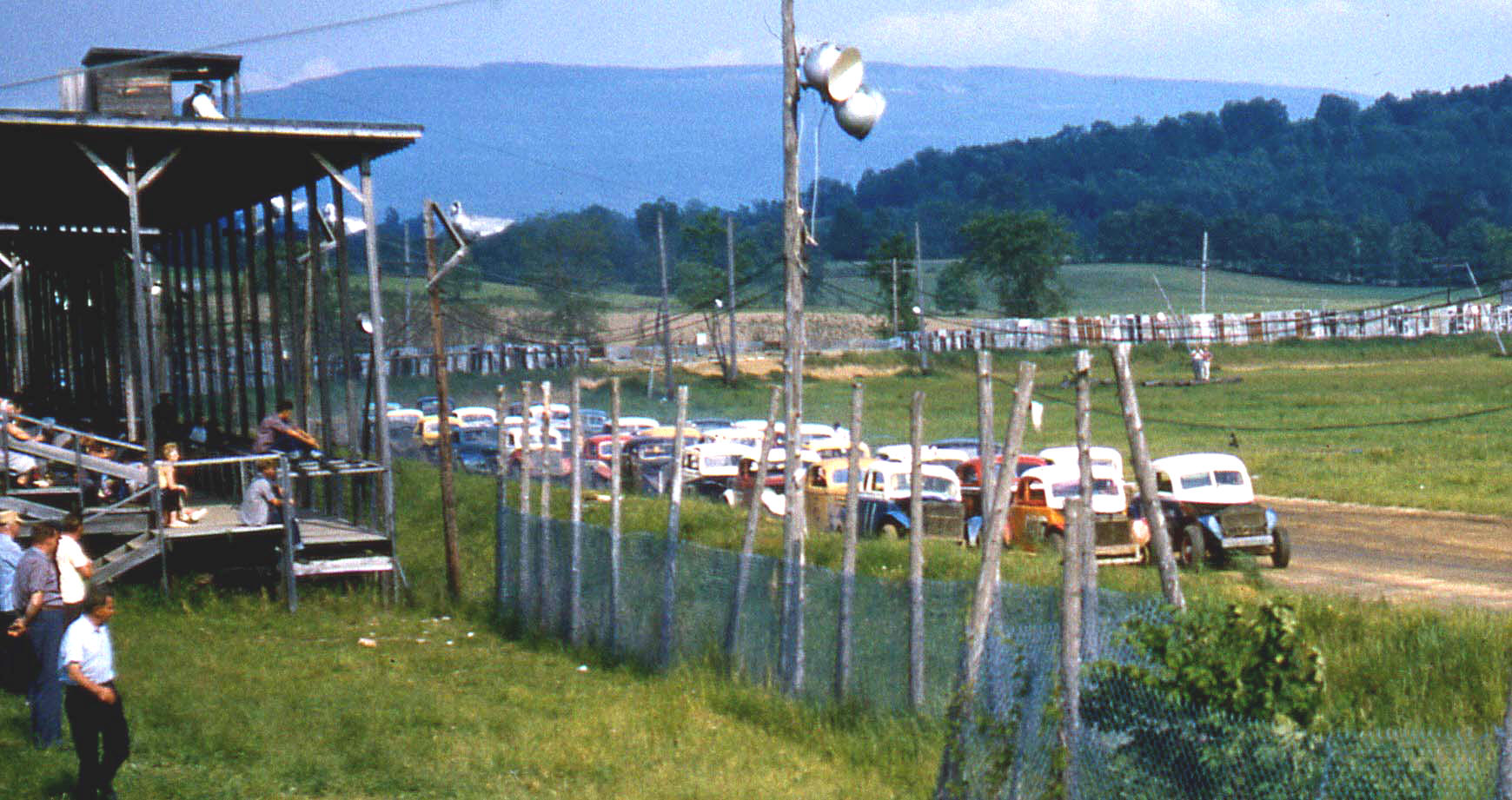 Maynard Johnson Photo

Along with those big names, many of whom began careers running that talent – rich area that encompassed the Pine Bowl, Riverside Speedway [Agawam, MA], Stateline, Empire Raceway, Menands, NY, and more, tracks could enjoy the likes of legendary Steve Danish, Pete Corey, Buddy Krebs, Don Rounds, and literally dozens of more Northeastern stars. Stateline could boast fields of these names; other years, it could field only second rate teams – and not always many of those.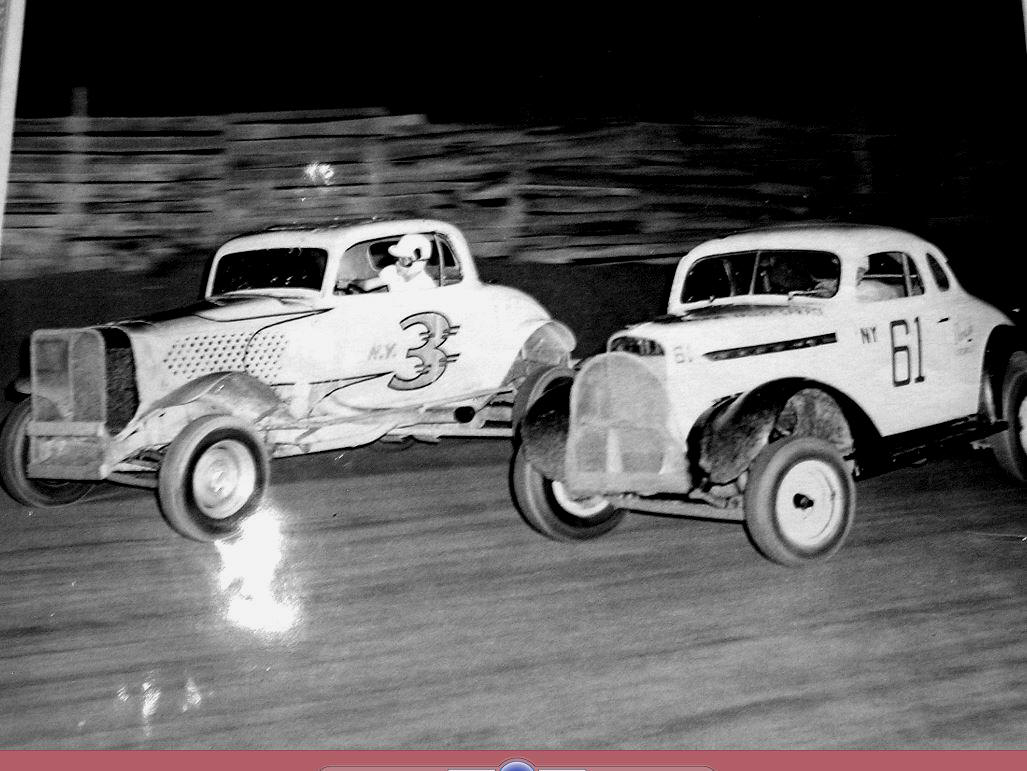 Courtesy of Ken Gypson
Although Stateline could brag of years of stars like Jeep Herbert [3] and
Steve Danish, guys like Bob Elliott [Below] formed the backbone of the
track, as well.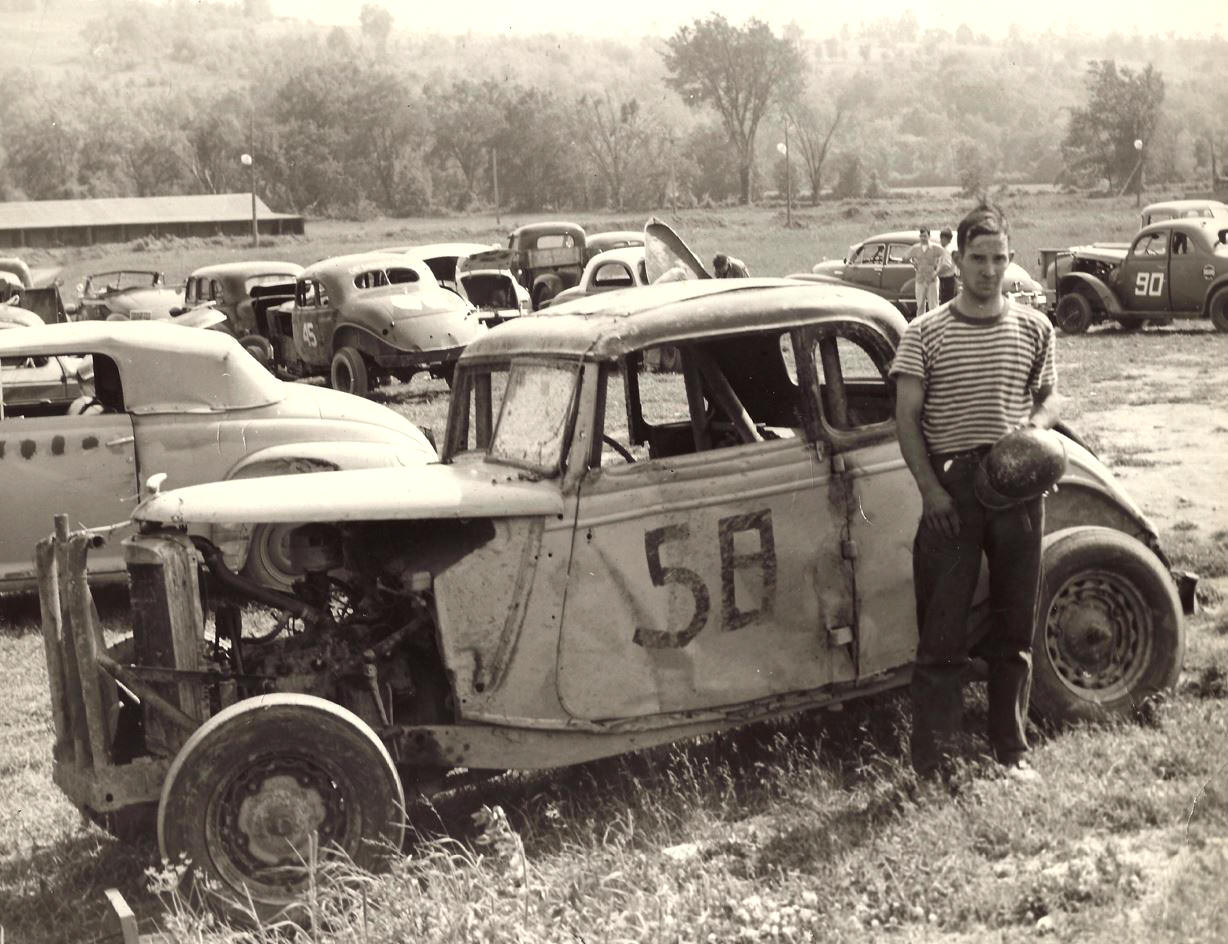 Courtesy of Bob Elliott
That photo of a proud Ed Ryan speaks to the hopes he had for a great year with a track that played a huge role in racing in that busy corner of New York, Vermont, and Massachusetts. Today, Lebanon Valley Speedway is still benefitting from that draw. We wouldn't have racing today – probably at all – were it not for the Ed Ryans of the world. Thanks Eddie !
Please email me at wladabou@comcast.net if you have any photos to lend me or information and corrections I could benefit from. Please do not submit anything you are not willing to allow me to use on my website - and thanks. For those who still don't like computers - my regular address is: Bill Ladabouche, 23 York Street, Swanton, Vermont 05488.
AS ALWAYS, DON'T FORGET TO CHECK OUT THE REST OF MY WEBSITE:
www.catamountstadium.com
Return to the Main Page
Return to the Main News Page
Return to the All Links Page
Return to the Weekly Blog Links Page