BILL'S [Somewhat] WEEKLY COLUMN/BLOG PAGE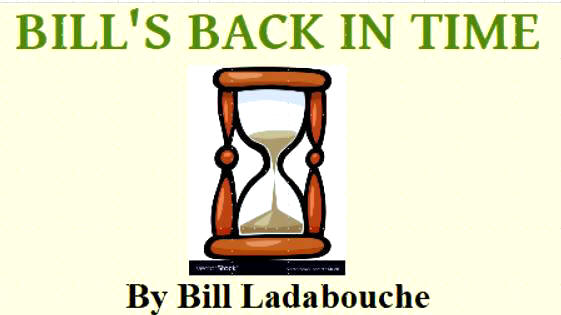 THE SPEED CORPORATION OF AMERICA – A PIPE DREAM
EXPANDED FROM A PREVIOUS ARTICLE: DON'T SPARE THE HORSES


I want to give credit for much of the material in this article to the authors of the Fonda book and to NJ historian Jeff Hardifer. They, indeed, did their homework on a topic that offers very little information.
It used to be a standard line in old movies about the olden days to have some king or rich guy get into a fancy carriage and yell out, "To the castle, Carruthers, and don't spare the horses !" This pretty much suggested he wanted haste and he didn't particularly care about the toll it took on his minions or horses.
While this is not a direct parallel to the two subjects of my writing this time, it still has a familiar ring to it. We have two cases where in overly – ambitious planning without much attention paid to reality, definitely stressed the minions and their modes of transport at the time.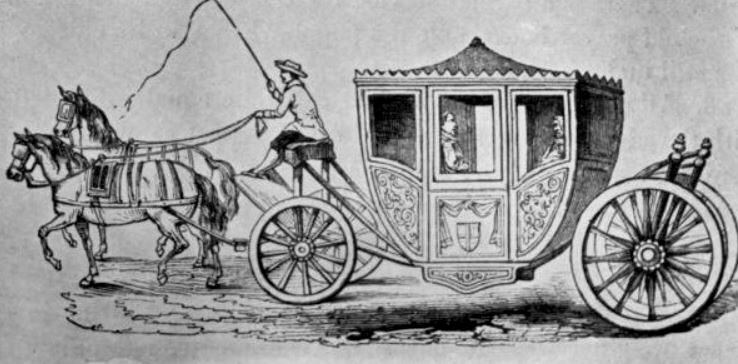 Clip Art Source Unidentified
Don't spare the horses, Carruthers ! Below -
Open wheel cars like these midgets at Pottstown, PA were
barnstormers and were, therefore a lot more used to
constant travel. But even they were not forced to run
five or six nights a week in widespread places.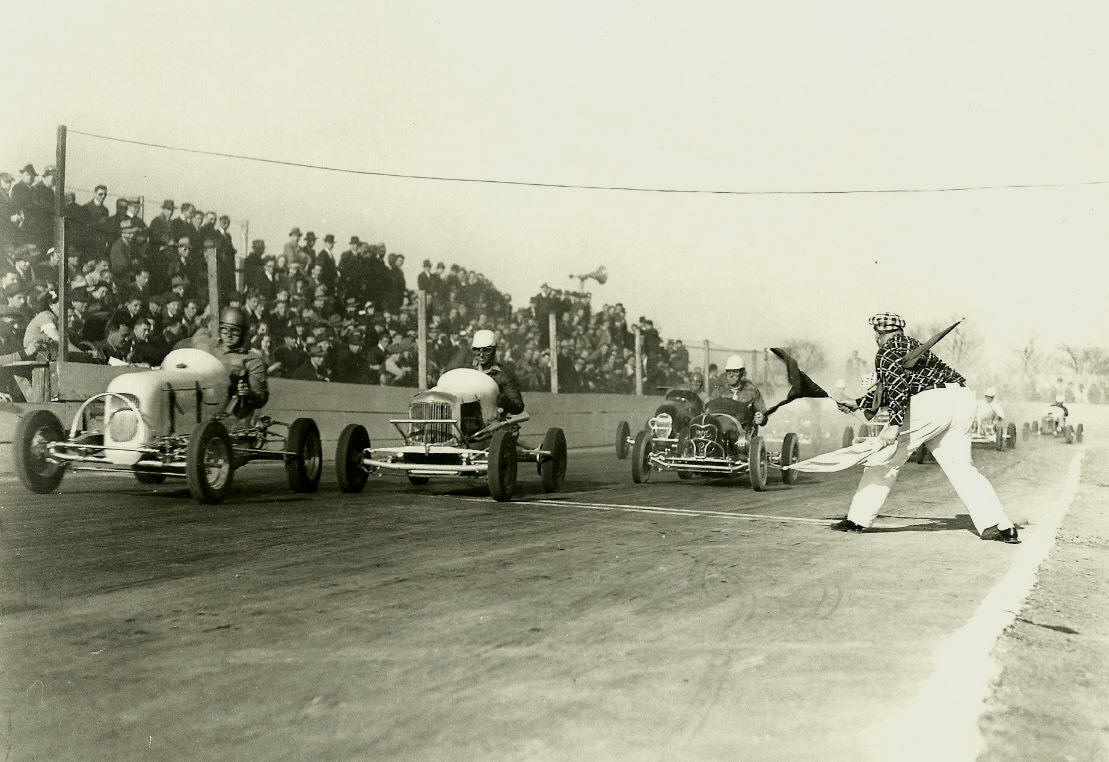 Frank Smith Photo via Jeff Hardifer
Our case has to do with a big – thinking promoter and thrill show operator from New York by the name of Jack Kochman. I recall seeing the Jack Kochman Hell Drivers put on a show at the Vermont State Fair in Rutland, Vermont right around 1957. The show had pretty much the standard auto thrill show fare with drivers wheeling new 1957, big – finned Plymouths and a few guys crashing junkers in various manners.
What I recall from that afternoon was one particular driver named Bobo Canupp, who managed to roll one of the new "Plyms" off a ramp. I remember seeing him standing there, his face contorted with anger. In retrospect, Kochman probably made him pay for the damage. However, it is not the Lucky Teeter stuff that we are looking at Kochman for.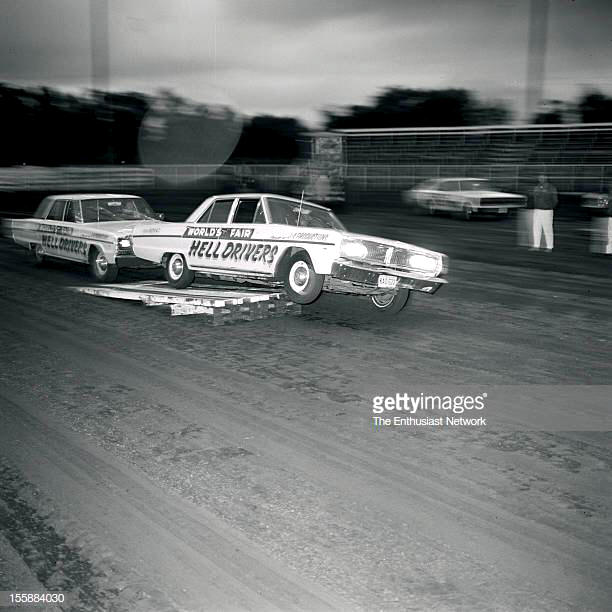 Pinterest Photo

In 1947, the sport of stock car racing [barring jalopies] was just being born. It is somewhat overdone [but yet true] that the booze – running moonshiners of the Deep South had really sort of invented the sport, having already taken the common American passenger car and modified it into a fast, powerful, well – handling piece of equipment to outrun government "revenuers" who pursued them with the intent of stopping the un – licensed and therefore untaxable production of corn whiskey.
When those good ol' boys started to stage races to decide who had built the best cars powered by the hottest "mills', the sport of stock car racing was born. Early efforts were being made to organize the new sport by visionaries like Big Bill France, and Jack Kochman [who already running his thrill shows] had witnessed an event organized by France and run at the Langhorne track in Pennsylvania.
One race involving "stock cars was as early as 1939, meaning a lot of those coupes and sedans were not even old yet.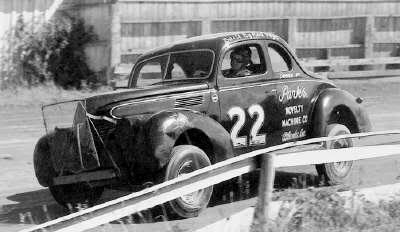 Source Uncertain
Red Byron flies around a track with the potent Raymond
Parks – owned, Red Vogt – wrenched 22 Ford coupe.
Below – One of the Tom Grbac - owned cars from
New Jersey, driven by Southerner Frank Munday in 1947.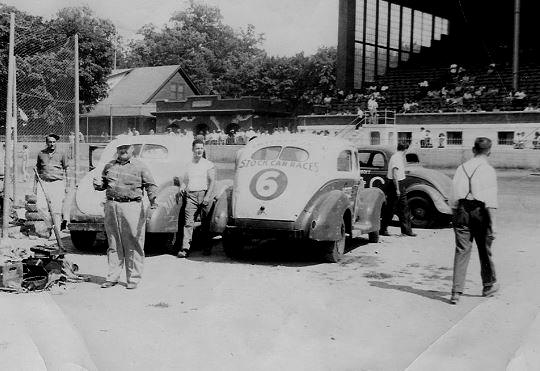 From the Tom Alfrey Collection via Jeff Hardifer
Racing with full bodied stock cars with modified engines was held in Allentown, PA as early as 1946; similar races with many of the same drivers were also held in 1947 at the Flemington, NJ fairgrounds and at the big track in Trenton, NJ. Car owners such as Tom Grbac, Sr [no doubt a relative of famed modified driver Mike Grbac], W.O. Taylor of Paterson, NJ, Wally Marks and his prominent #1's, and even Southern legends like Red Byron with the legendary Raymond Parks – owned, Red Vogt – wrenched 22 cars that were likely little more than moonshine cars lettered up to race.
An organization sprang up in 1947 for, as the wikipedia article puts it "the betterment of the sport". The American Stock Car Racing Association was formed in the Trenton, NJ area and would have seemed like a futile competitor to Bill France's emerging NASCAR save for the fact that the New Jersey/ Pennsylvania area was almost as big a hot bed for modified racing as was the South. In fact, many of the South's bigger names regularly journeyed North to race northeastern equipment.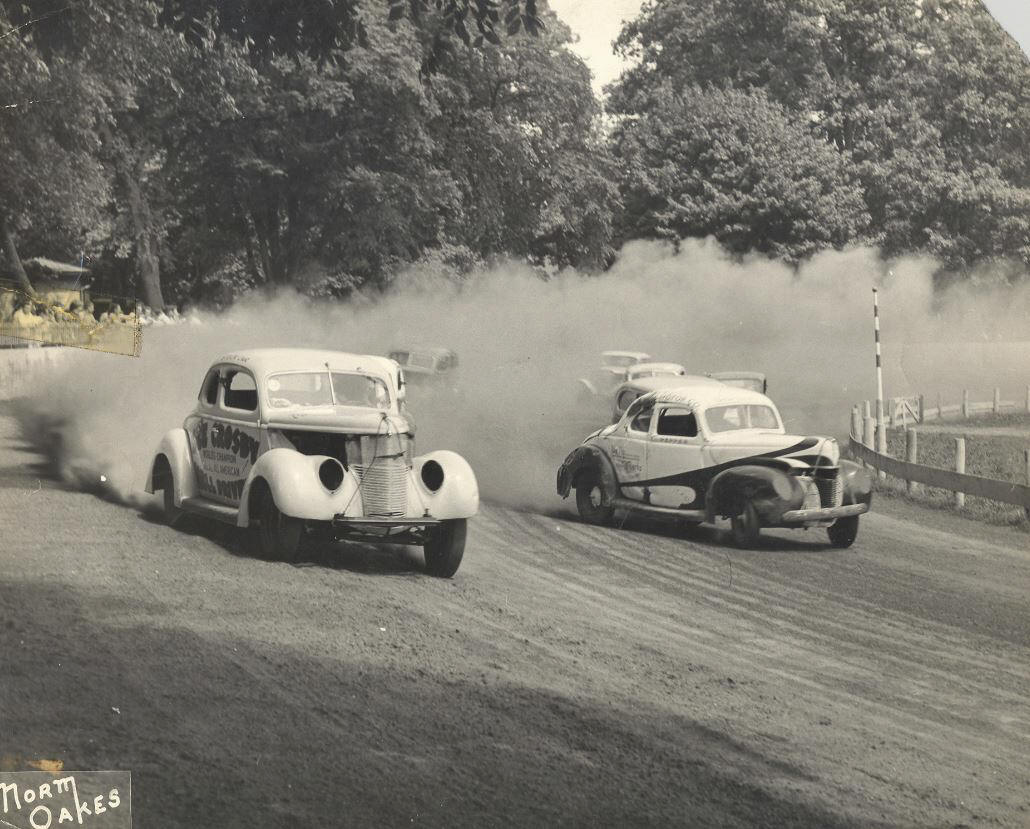 Norm Oakes Photo via Kuhn Collection and Jeff Hardifer
Pepper Cunningham wheels Lee Crosby's car against
outside of Tommy Bradshaw at Allentown in 1947, just
before SCOA started up. Below - Southerner Frank Munday
was on the scene in the late 40's, apparently running both
SCOA and ASCRA events.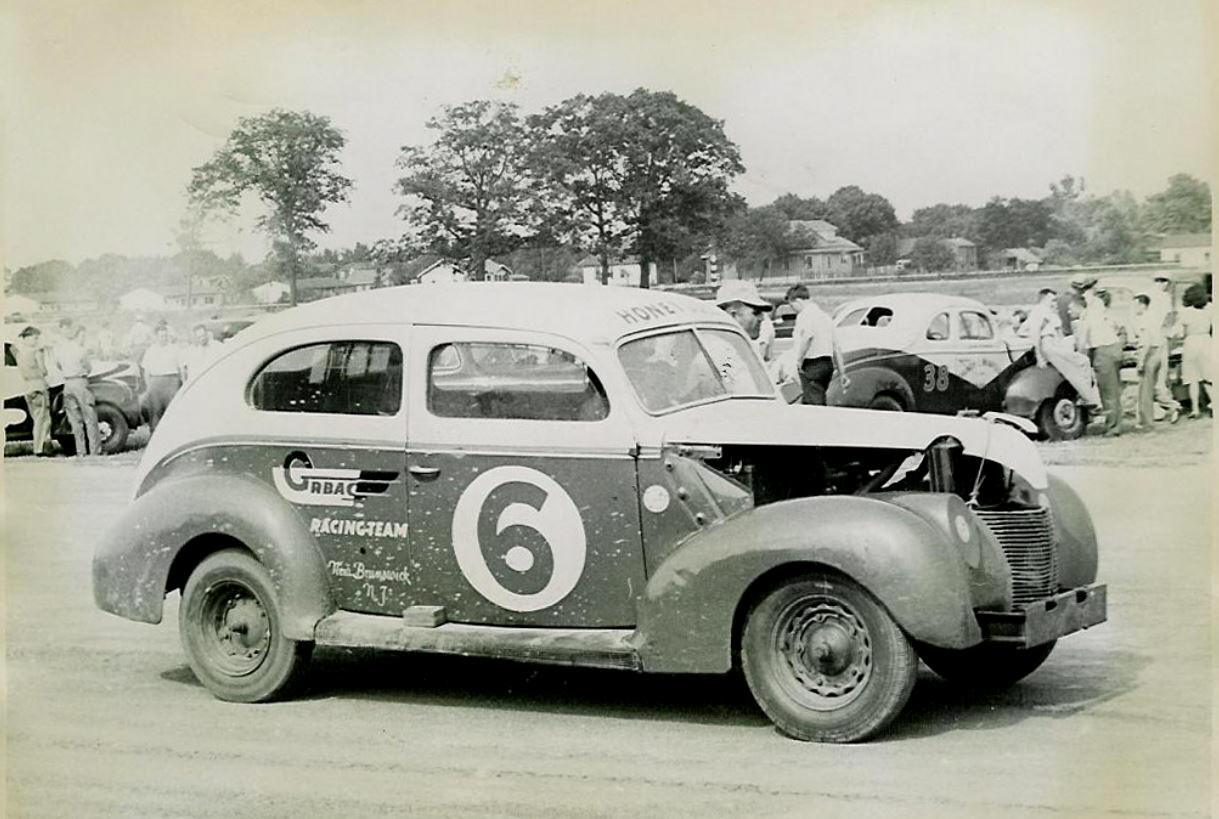 Tom Alfrey Collection via Jeff Hardifer
This circuit boasted Northeastern stars like Wally Campbell, Tommy Coates, Frankie Schneider, Roscoe "Pappy" Hough, and Tommy Bradshaw with his eye – catching car owned by Hell Drivers promoter Lucky Lee Crosby. Add to this mix two of the Flock brothers from down South, as well as Buddy Shuman, Bill Snowden, Frank Munday, Johnny Grubb, Glen Dunaway, and others – and you had a racing scene that would have even been top shelf had it been forming south of the Mason – Dixon Line. Throw in locals like Rhode Island's Sammy Packard and the stage was already set for something big.
The ASCRA had, as officers, Leon McBride President, Paul Barbiche First Vice President, Charles DiNatale Second Vice President, Rocky DiNatale Treasurer, and William Streeter Secretary. Lee McBride not only owned a modified coupe, but he seemed to also own a thrill show. DiNatale also was a driver while Streeter was more of the executive type. Barbiche was a driver, too, I think. The first ASCRA sanctioned race was held at Flemington in 1947 and was won by Tommy Bradshaw, one of the area's hottest drivers.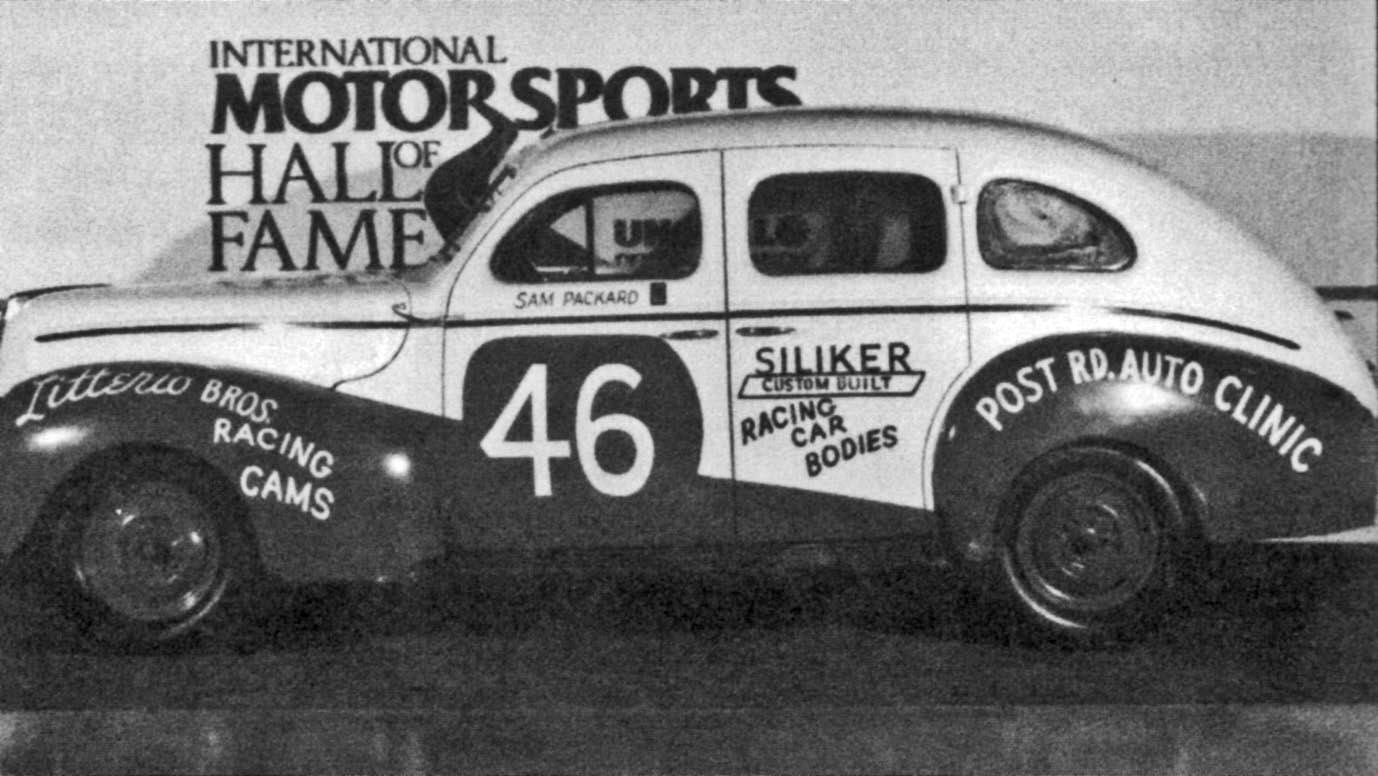 International Motorsports HOF
Rhode Island's Sammy Packard and his sizable sedan was in
both the pre -SCOA racing and in SCOA. He also finished
fourth in the first NASCAR race. Below – Fonty Flock poses
at work on a car at Trenton in 1947.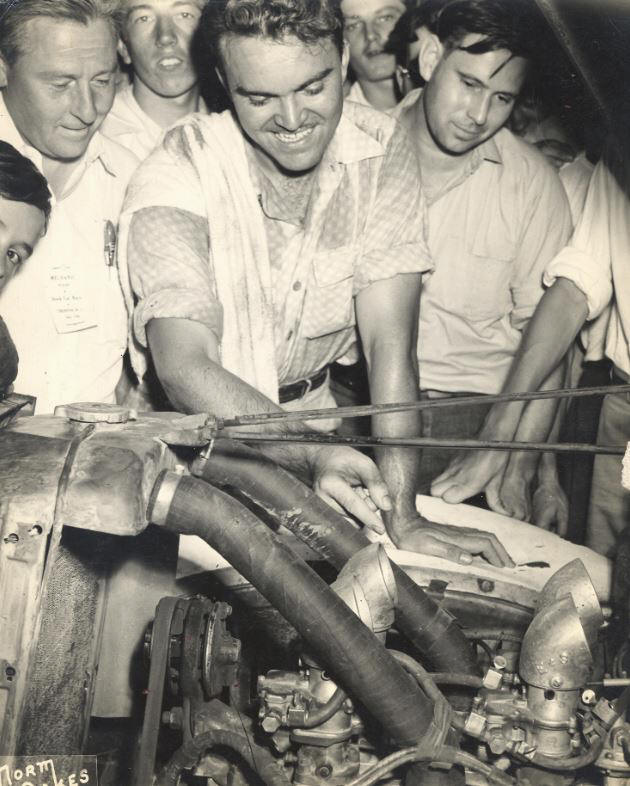 Norm Oakes Photo via Kuhn Collection and Jeff Hardifer
After WWII, when things with stock car racing had gotten going again, and eyeing the big doings going on in the NY/PA/NJ area, Kochman decided to form the Speed Corporation of America – using those same full bodied modifieds and that mix of Northern and Southern drivers as was the ASCRA. Backed by NYC venture capitalists, he came up with six northeastern fairgrounds venues which would form a circuit on a weekly basis.
Racing would commence in 1948. While this was going on, NASCAR was forming down South. Kochman would immediately arrange for a NASCAR sanction for his "stock cars", under which rules would allow for some modifications to motors. [Hence, the term "modifieds" stuck.] The tracks involved were Allentown, PA; Kingston, RI; Lewiston, ME; Fonda, NY; Palmyra, NY; and Dover, NJ. Later news articles dropped Dover and included the Honesdale, PA Wayne County fairgrounds. They were all old, established fairgrounds tracks with covered grandstands.
The Speed Corporation of America, or SCOA, as a business, was filed in May of 1948 as a "New York Foreign Business Corporation" with its "domestic state" listed as New Jersey. Even though it was not to succeed, it remains listed to this day – with headquarters and addresses listed as Fonda Fairgrounds, Fonda, NY. Even this is odd, as that venue has usually been called the Montgomery County Fairgrounds.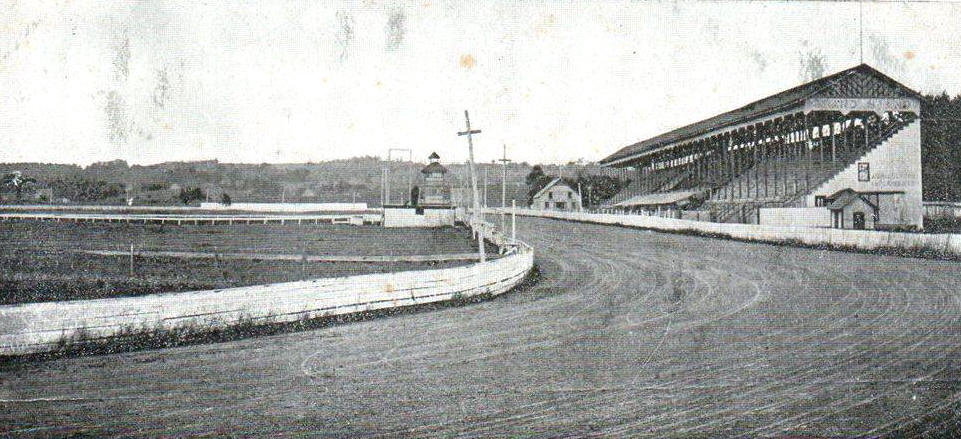 Lost Maine Tracks Facebook Page
The Maine State fairgrounds at Lewiston was the most remote
of Kochman's tracks. Below – The Allentown, PA fairgrounds
were probably the most established for stock car racing of the
six tracks. Here Tommy Coates pushes the Johnny Sabatini
#69 convertible around the old track in 1947.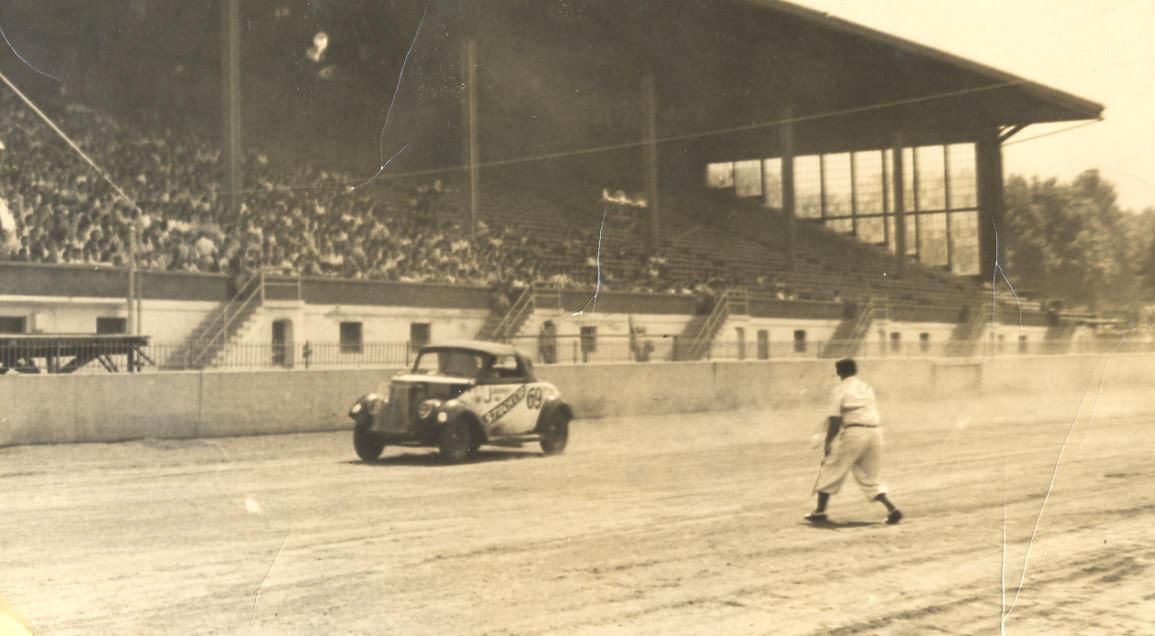 Via Jeff Hardifer

The strenuous and unrealistic schedule would spell trouble for the group, affecting car counts and eventually killing off the idea. Allentown on Tuesday night; 5 hours to Kingston for Wednesday; a number of hours up to Maine for Thursday night; 10 hours to get to Fonda for Fridays; four hours to Palmyra; and then an all – night drive to get to Dover for Sunday. This was to go on, officials and teams alike, for four months.
Southern star Frank Munday stated that the schedule was brutal. People on each team would take turns driving; seldom did they get to stay in a motel or even get a regular meal or bath. Munday said that, after a fashion, no one could stand the smell of anyone else. It wasn't much easier for the team of officials: announcer, Jimmy Roberts; flagger, Craig Mellinger; or chief steward Bob Sall. Mellinger was flagging all over the Northeast at the time, and Sall was always a big name in the ranks of NASCAR. [It may have been partly Bill France keeping an eye on what Kochman was up to]. One news article also identified one Jack Moscow as a "director of promotions".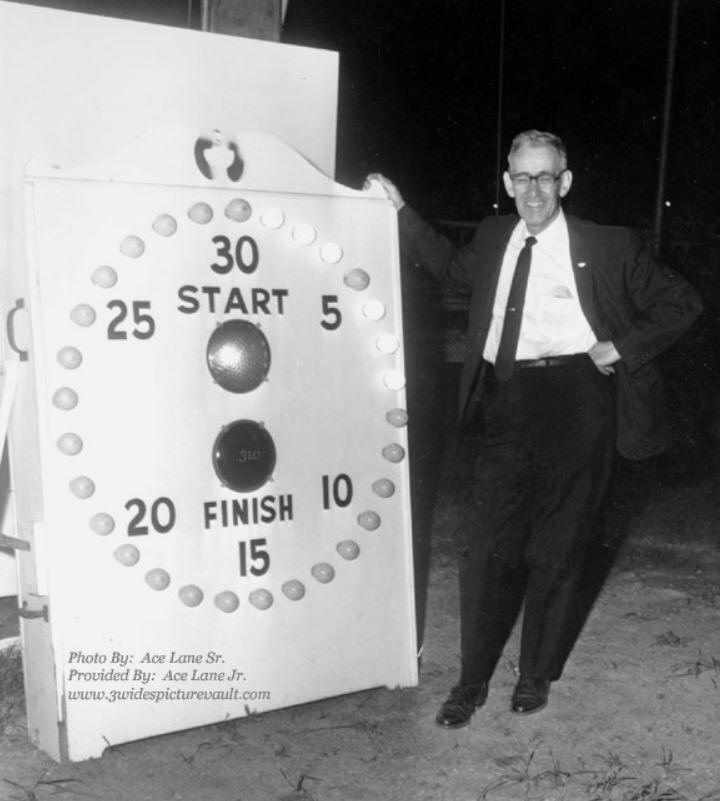 Ace Lane Sr Photo via 3 Wide's Picture Vault
Bob Sall, seen here having definitely more fun than he had with SCOA. Sall was quite a driver,
himself in earlier years. Below – Jack Kochman.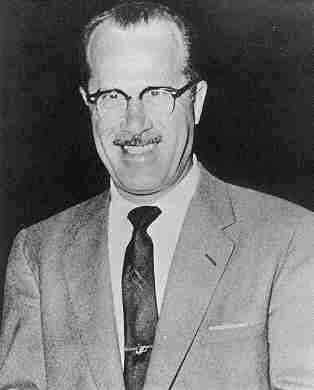 Fortune City.com
Things went wrong right off the bat. Fonda was to have the first show on May 21, 1948, which was canceled by rain. The following week, when the make-up show opened, only seven cars showed. A nine car crash at Allentown, road arrests in Maine, and other factors thinned the field, and the show had to be canceled again. Had all of the ASCRA teams been interested in the SCOA deal, Kochman would not have had this problem; but several teams could see the folly of the overextended travel schedule.
Material seems to suggest that the ASCRA had a much less extended, but very busy schedule of its own. In 1950, the year for which I have any information, it raced from early May to late October, having racing in Pennsylvania, New Jersey, and even Maryland. New York was notably absent for whatever reason. Wally Campbell would be champion, with Frankie Schneider as runnerup. The 1950 ASCRA points and results showed a lot fewer Southern drivers than was evident in the the 1947 and 1948 racing for either ASCRA or SCOA.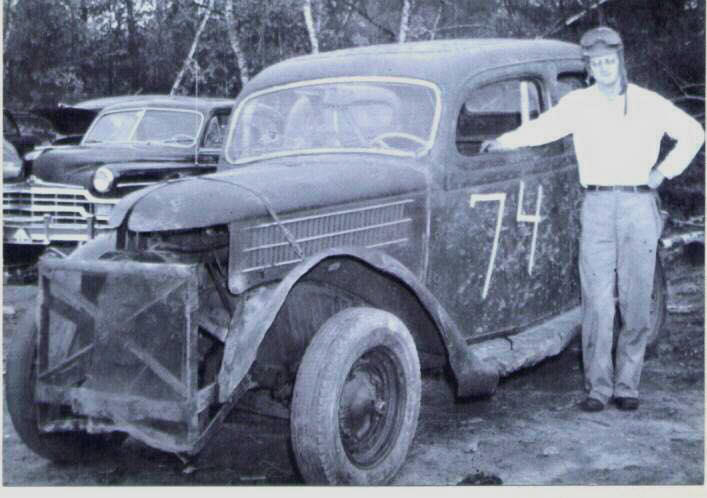 Courtesy of Steve Pellerin
Most of the teams and cars which did run the SCOA programs were
far superior to what was being run in the far Northeast at the time.
Lewiston, Maine's Ken Littlefield did very well in SCOA despite
equipment that was not as good as what his rivals had. Below -
This article shows he went on to race back in Maine for a while after
the SCOA experience.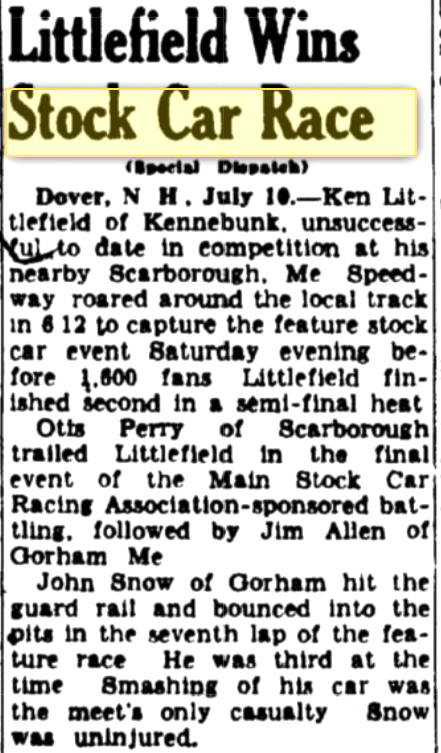 Portland Press Herald
However, in 1948, it appears that the ASCRA could and did present problems for Kochman and his farflung shows. A prime example of this seems to be for the Palmyra, NY venue. In the first place, it was a ridiculous choice for his circuit. Set nearly all the way out to Rochester, NY, it was probably the furthest place for teams to haul to. To make matters worse, ASCRA was running successful shows at the Vernon Fairgrounds [not far from Utica, NY], considerably closer to the area where they were all trying to get teams from.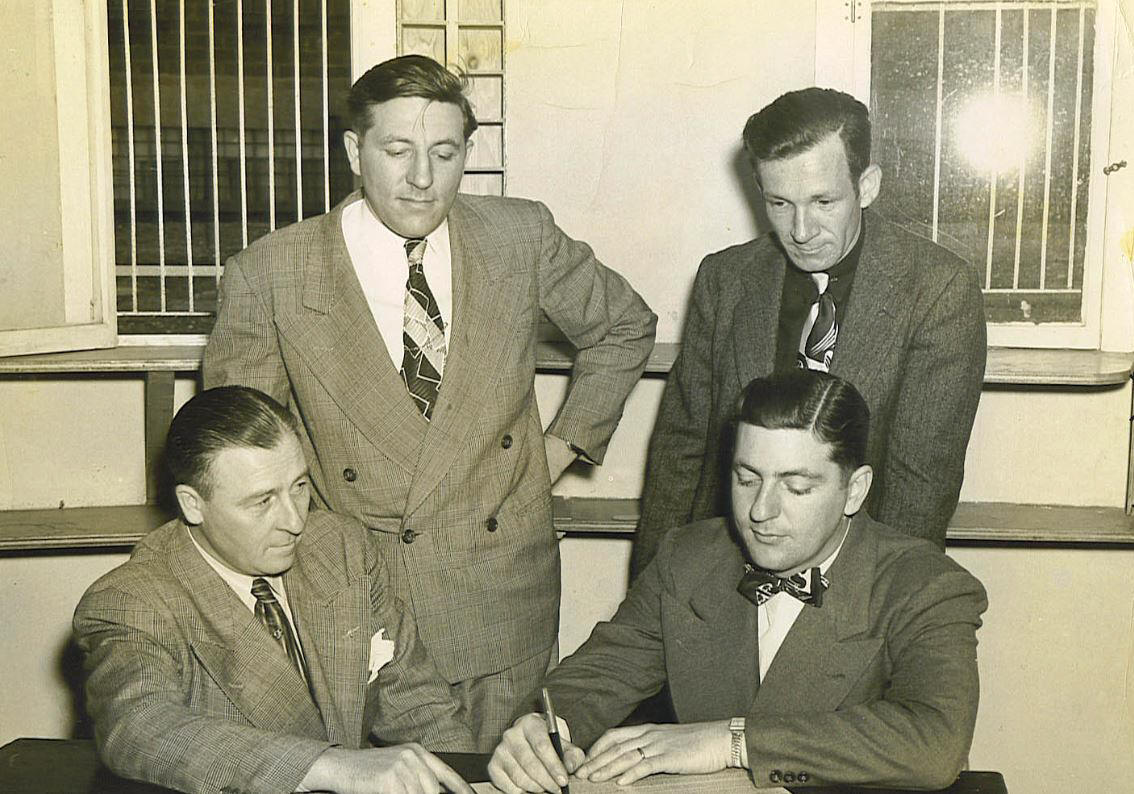 McBride Collection via Jeff Hardifer
The American Stock Car Racing Association signs in with
mighty Langhorne Speedway, right in the back yard. Bill
Streeter and Lee McBride, are seen with Langhorne's
Babcock brothers [center]. This photo of the pits at Vernon in 1948
shows Pepper Cunningham's Lee McBride owned 11 and
Wally Campbell's Wally Marks - owned 1 are in the foreground. If they
were at Vernon, they likely weren't going to make Palmyra.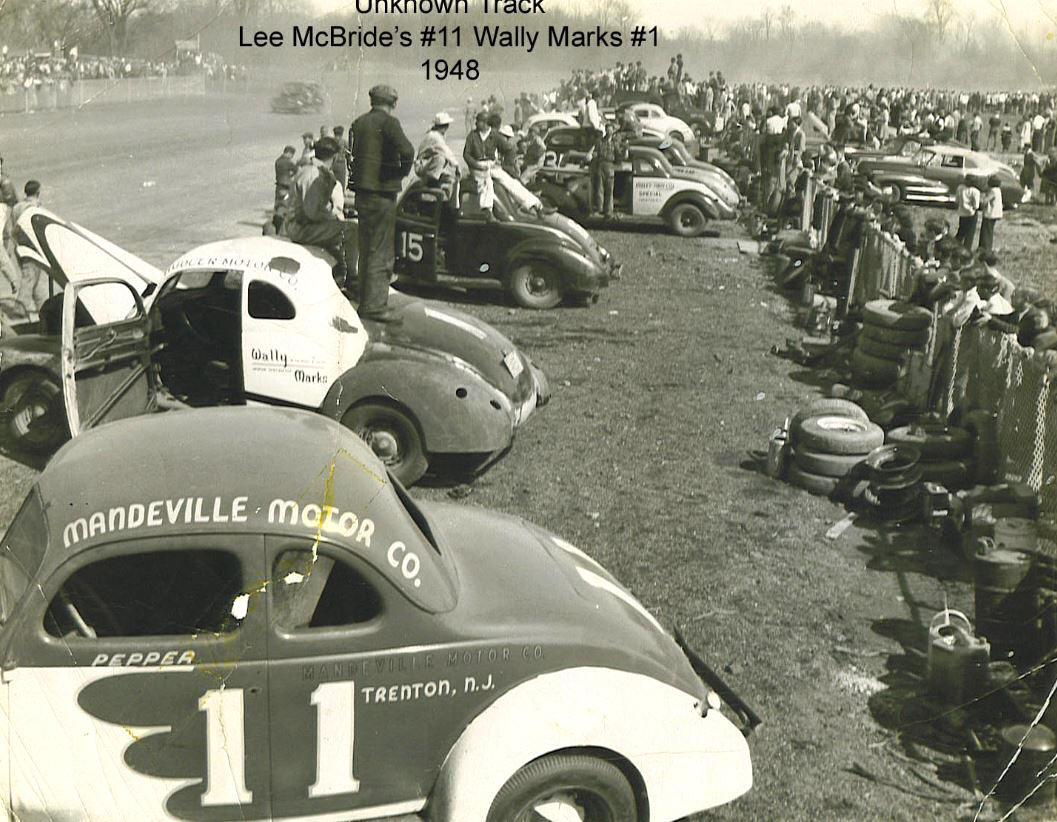 Jeff Hardifer Collection


Fonda finally got in a show – between the raindrops – on June 4, 1948. Frank Munday, Joe Ledogar [LI], and Wally Campbell [NJ] won heats. The class of the circuit was Buddy Shuman, whose car was said to be one of his actual moonshine – running vehicles converted for racing legally. The red, white, and blue alcohol – powered #4 Ford was, by far the fastest one there. As strange as it seems, unlike most of the other tracks in the circuit, Fonda did not have its local drivers to draw from. Largely, what there was for any local racing would have been jalopies or roadsters – and there were few of those right around the Fonda venue.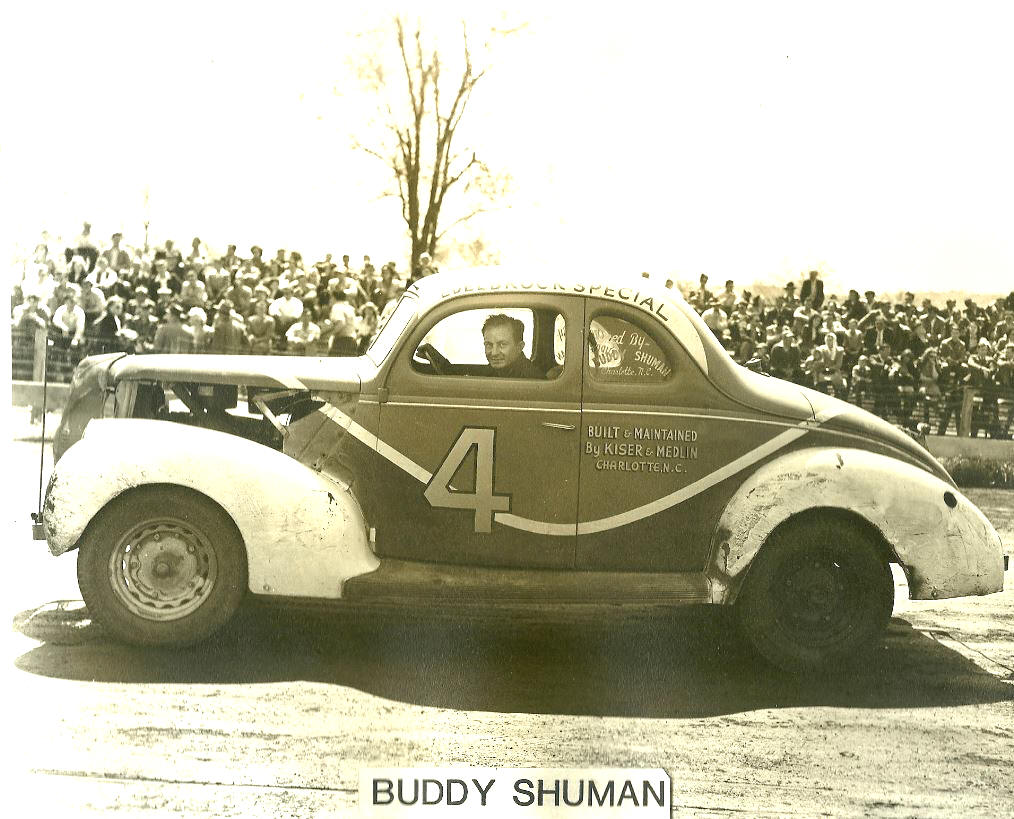 EMMR/NOTARC Collection via Jeff Hardifer
Buddy Shuman was said to have the fastest cars at many of
the SCOA races. It was simply a numbered moonshine car.
This shot is at a SCOA show in Dover, NJ in 1948. Below –
A tired and happy Shuman emerges after a win
in Fonda's first SCOA show.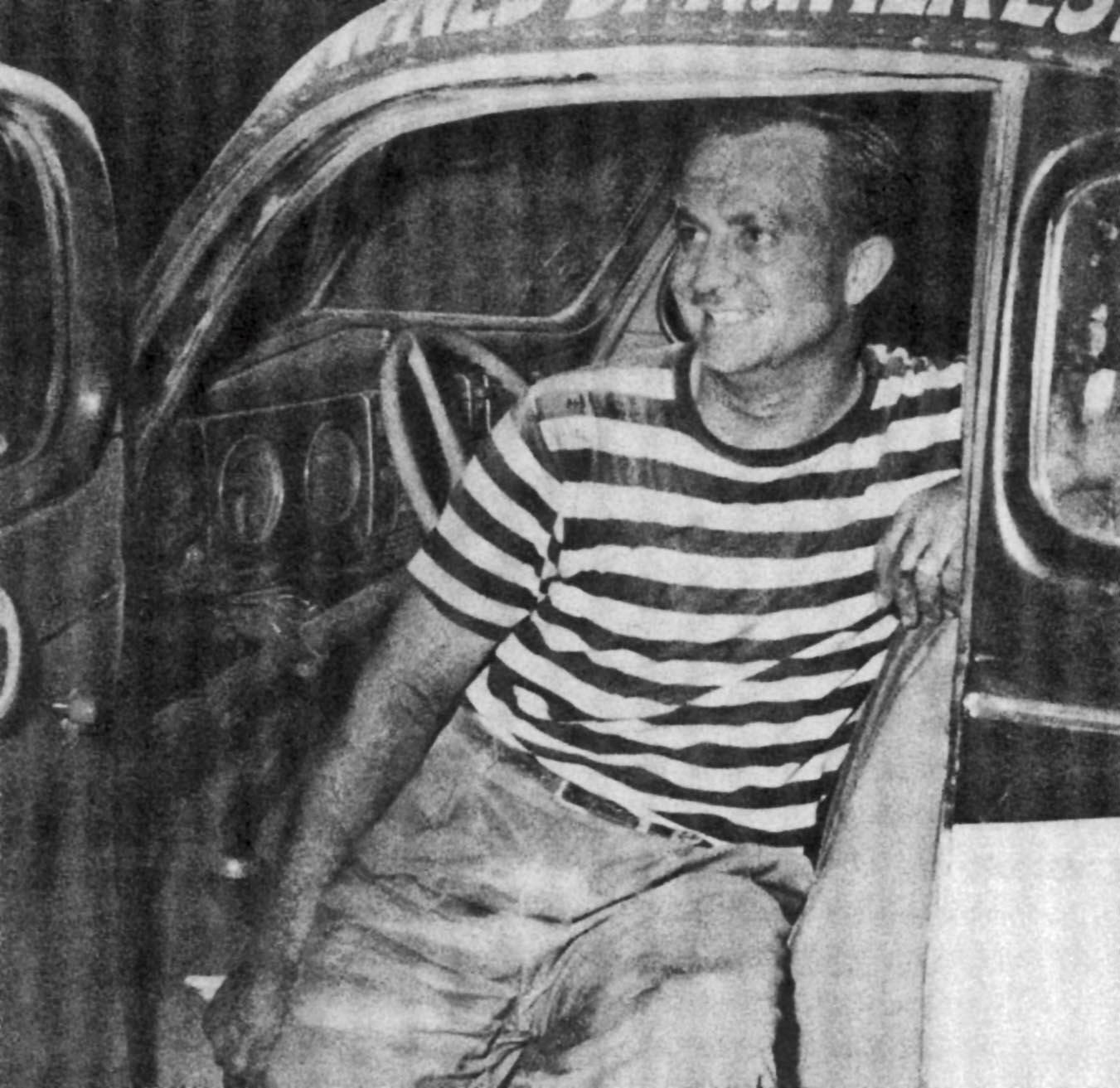 Samples Collection via the Fonda Book
The W.O. Taylor Paterson, NJ – based team of Wally Campbell [90] and Johnny Rogers [89] were second and third. Sammy Packard [RI] was 4th, edging Mainer Ken Littlefield. Packard drove a full – sized 4 door Mercury. Florida driver Bill Snowden fielded a brand new #15. The Taylor team also sometimes had a car 91 driven by Tommy Coates. The Littlefield car was older and cruder, by comparison.
The Fonda shows, at least, were supposed to be supplemented by a "hot rod" class – which was basically roadster jalopies from tracks like nearby Canajoharie. I have no usable roster of the modifieds, but – besides the names already mentioned, Ben Cannaziaro, and Ernie Palmer could be added to the list. After a thin showing, the hot rods were eliminated out of the programs. With tracks all around Fonda running roadsters, particularly the Perth Speedway, it is unclear why more were not available. Perhaps it interfered with points at their tracks.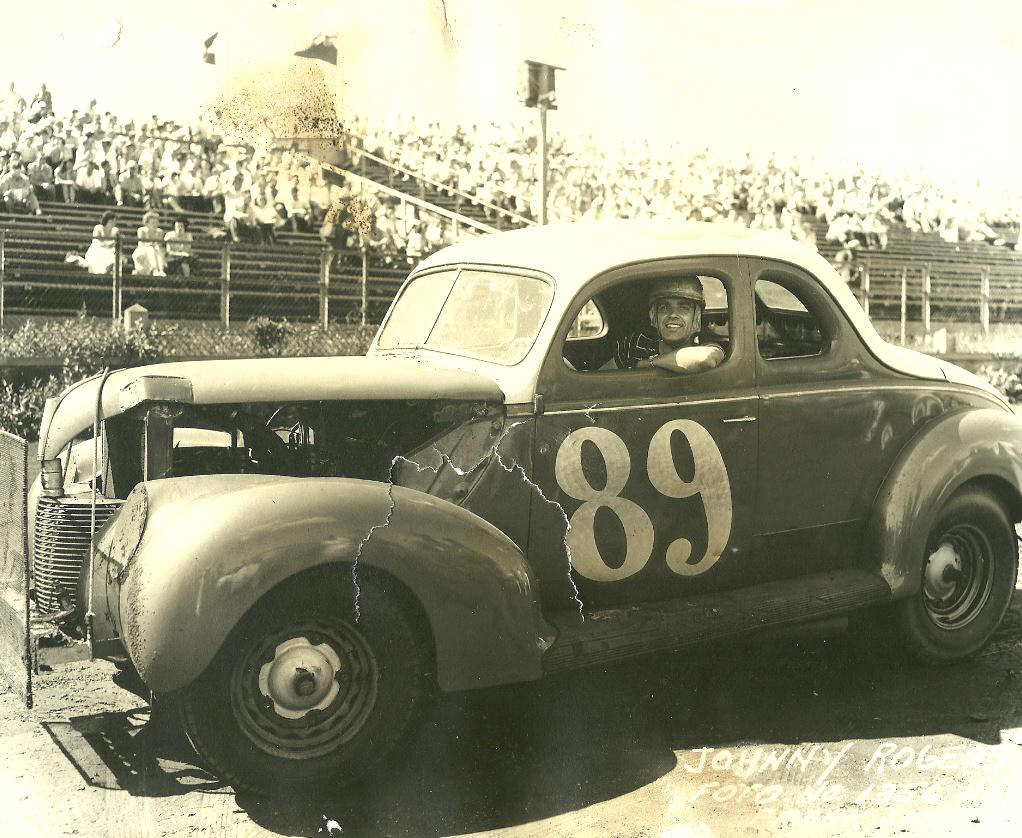 EMMR / NOTARC Collection via Jeff Hardifer
Southern star Johnny Rogers got the seat in one of the
W.O. Taylor cars from Paterson, NJ. Al Keller would
also drive that car the same year. Below – This hopeful
article heralded Fonda's SCOA show.


Cooperstown Freeman's Journal
After only a month, Sammy Packard once said both the equipment and the people were wearing out fast. Strains were also created when sometimes, teams would decide not to flat tow their cars and would simply drive the car to the next venue. Packard missed the June 11 show because his Mercury had blown up driving along in Springfield, MA, coming down from Lewiston, ME.
The Monroe County venue near Vernon [which likely is what they call Palmyra]was the first to fall out of the circuit. Fonda could not continue by August, while tracks like Kingston had enough local racing support to go on. Kochman soon folded the tents entirely, leaving some of the lighting, guardrails, and other improvements behind at Fonda. Kingston, RI survived, having built up a following of local drivers and fans. Besides Kingston, the tracks of Allentown and also Dover, NJ were offering more support for these stock cars. Besides the famed Langhorne track, whose stock car race a few years back had inspired Kochman, there was Harrington, Delaware, Williams Grove, and other venues where the racing was promising enough to keep some of those Southern NASACAR hot shots sticking around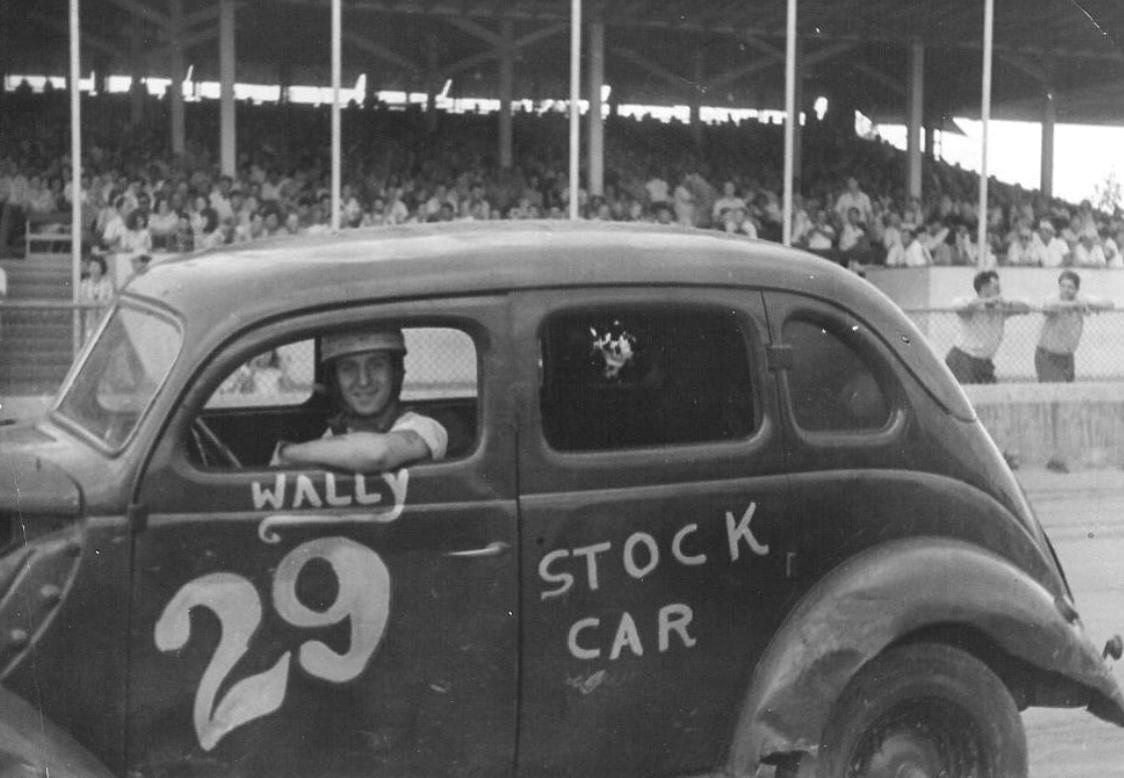 Tom Alfrey Collection via Jeff Hardifer
The great Wally Campbell, in his first race car, at the
Harrington, Delaware track in 1947. Below – Tommy Coates took
time from the SCOA grind to win at Williams Grove in 1948.
Here he is with promoters Bill Streeter and Roy Richwine.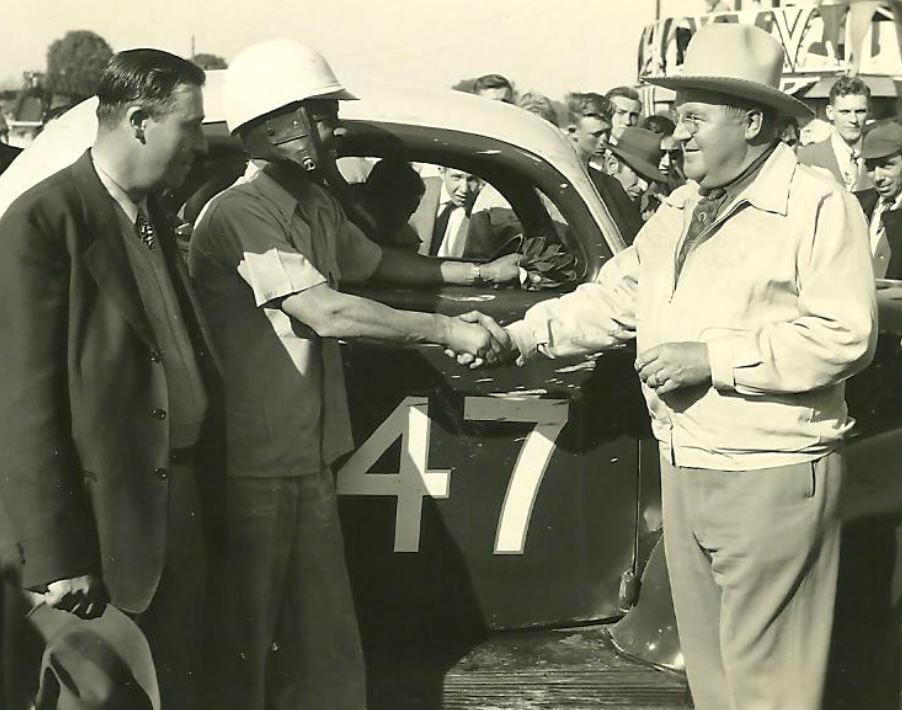 Bradshaw Collection via Jeff Hardifer

As it would turn out, SCOA managed about 17 attempts at race programs. Besides the original six, the newest track, Wayne County Fairgrounds, Honesdale, PA received more than its share of media coverage. Of the 17 attempted programs six never took place – canceled due to rain, poor track conditions, or low car count. Fonda, Allentown, and Dover all got in two shows [although Fonda had to also cancel two others]; Kingston got in one; Palmyra saw one show with two rain cancellations; Lewiston had one show; and Wayne County also had one show.
Allentown and Honesdale certainly got the most newspaper coverage due to very supportive and sympathetic rags like the Allentown Morning Call and others in that region. While Fonda got a little coverage, the Rochester Democrat and Chronicle [which always gave the fairgrounds shows at Palmyra good support] had a number of articles leading up to its very limited SCOA showings. Poor isolated Lewiston, ME got one bit from the Portland Press Herald, but apparently not much from the Bangor Daily News, a paper that would come out as Maine's most stock car – friendly daily.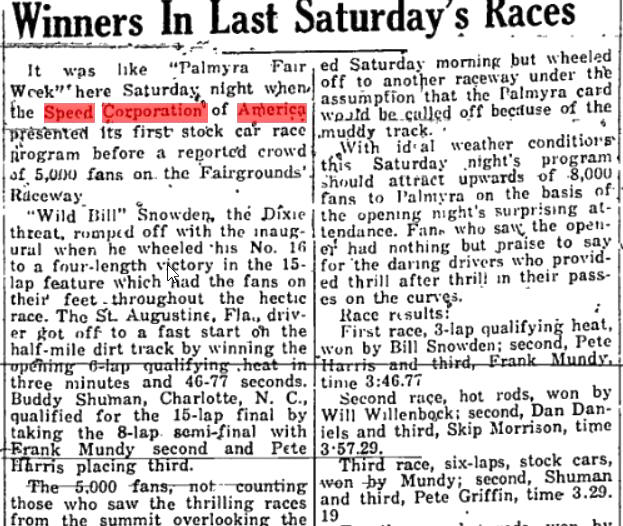 Palmyra Courier Journal
Race results for the few SCOA events that were actually run
were very hard to find. Kochman's group was more into pre-
program promotion than the end results. This one from the late May
race at Palmyra fairgrounds is one rare example.

Buddy Shuman won four of the races, with Bill Snowden winning two. Other races were won by Red Byron, Chick DiNatale, Ken Littlefield, and Johnny Rogers.
Southerners won all the races except two. Shuman finished in at least the top three in 9 of the eleven races. Bill Snowden had three such finishes, while Johnny Rogers and Chick DiNatale had two each. Little is known about the single race in Lewiston, Maine.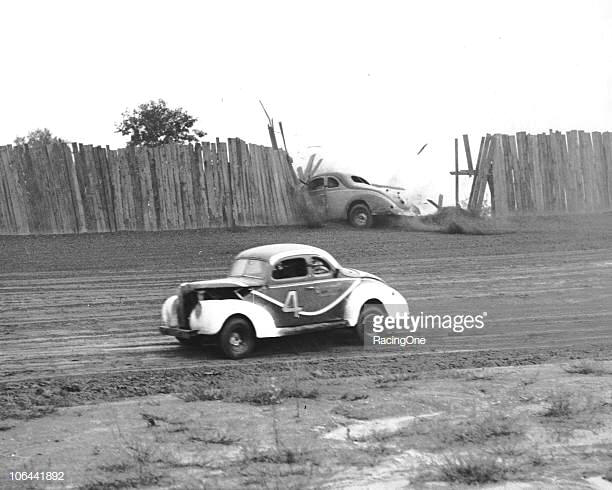 Getty Images
Buddy Shuman [4] was the mainstay of Kochman's brief experiment.
Below - Bill Snowden, less known in the North than Shuman,
was the second most accomplished finisher.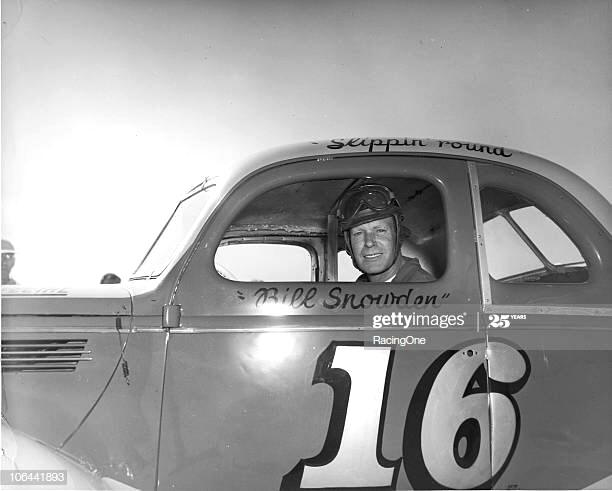 Getty Images

Fonda would remain in limbo for more than four years. Kingston, RI would go on to more racing, given the large pool of teams to draw from and the growing other tracks in its area. Lewiston, Maine would open as Lewiston Speedway, but it was never much of success. I am not clear, even now as to what track exactly was "Palmyra" in New York. Many references call it by Montgomery or by Vernon. I know one track out there had other major NASCAR racing and the Montgomery County fairgrounds had a speedway for a number of years.
I don't much about the Dover, NJ facility or how long it went after the SCOA debacle. Allentown, as a venue, seemed too well established to let something like the SCOA failure affect it. Nothing more was heard of Kochman's idea, although modified racing prospered both in the Northeast and the South. The SCOA experiment made perfect sense in today's atmosphere where teams might have several cars, leaving them in the various states.
The Fonda history book makes it clear that SCOA racing at the Montgomery County fairgrounds was over after that July 11 show. Actually, the Speed Corporation of America was essentially over by July. Had it not been, human fatigue, equipment deterioration, and spotty attendance would have soon put it out of its misery. And, had Kochman survived all that, the 1948 spectacular at Langhorne in August would have sapped all of the SCOA competitors save a few.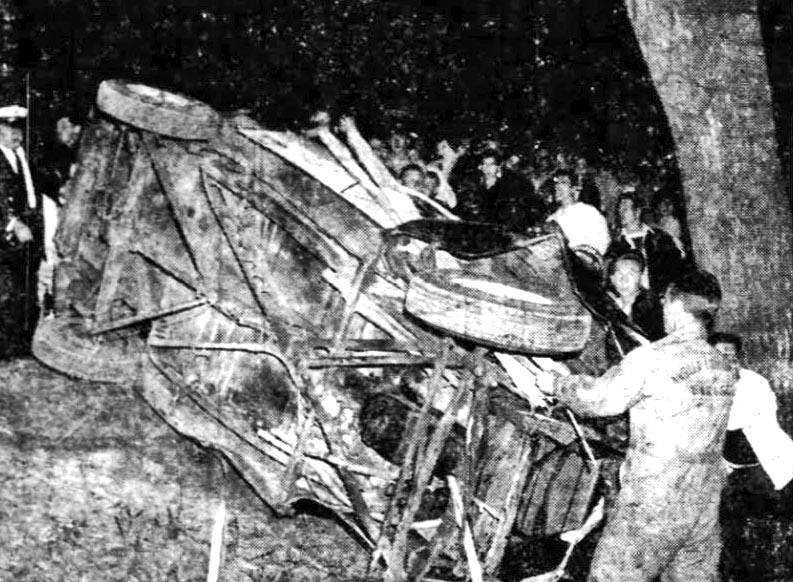 C. C. Miller Photo Allentown Morning Call
This photo of Frank Dower's crash at Allentown in late May
is one of the only photos available of SCOA programs [and
it was taken by a private citizen, not a SCOA official].
An article on the Langhorne 200 at what the local papers were calling "Babcock's Speedway at Langhorne" read like a who's who of stock car racing at that time. With all that talent, Midget driver Al Keller had some going on that the other stars didn't; he won the race by ten laps over next finisher Buck Barr, an Ohionan about whom I know nothing. Finishers included Southerners Tim Flock, Curtis Turner, and Red Byron while Northerners like Al Garz. Len Brown, and Vince Canazaro were in there, as well.
The non-finishers' list was no less impressive, including Northerners like Tommy Coates, Pepper Cunningham, and Tommy Bradshaw, along with big name Rebels such as Bob Flock, Fonty Flock, and Speedy Thompson. The great Wally Campbell finished far down the list with mechanical failure. Coates had won the pole for the race. Had the SCOA group still been functioning, they would have had to defer their schedule to this huge racing event.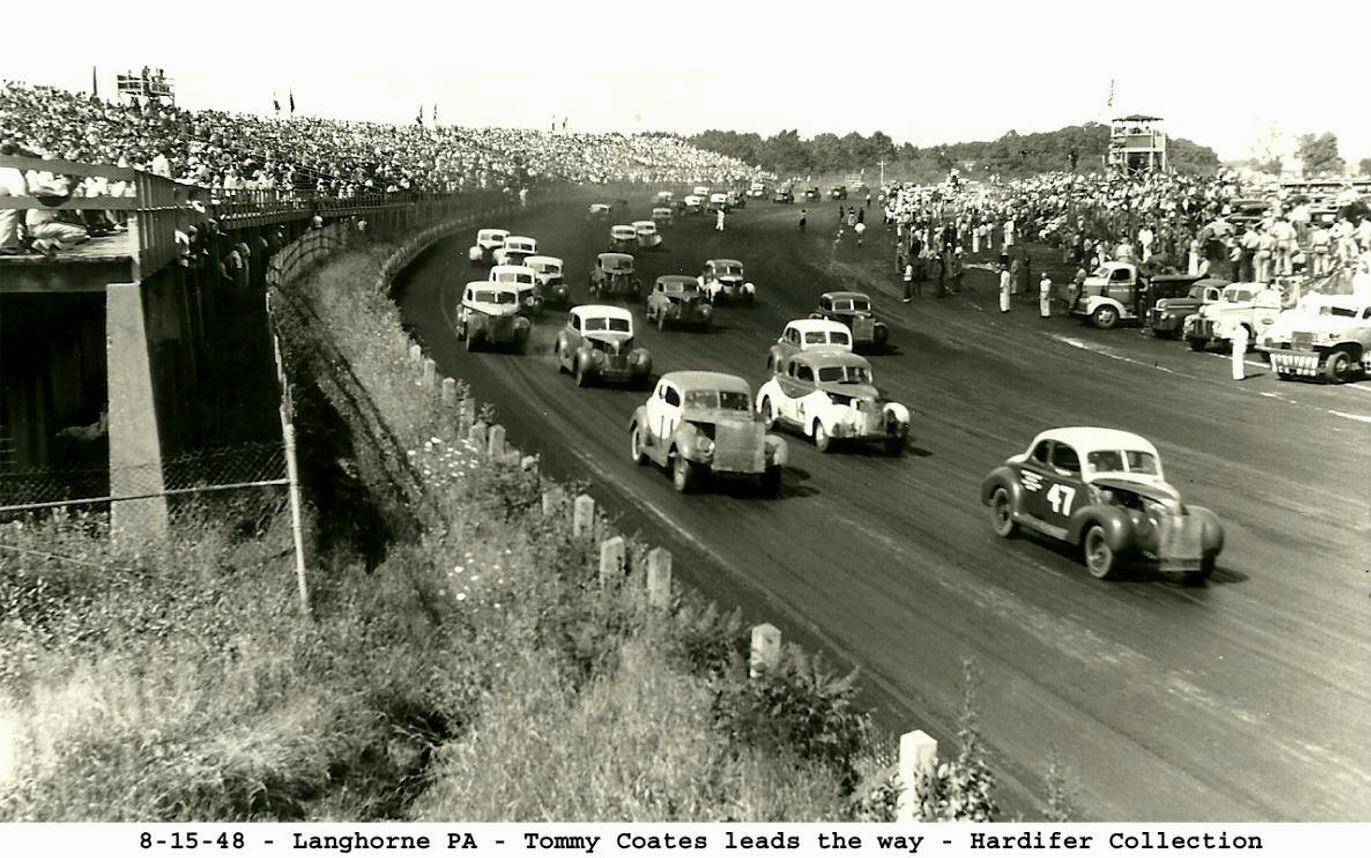 Jeff Hardifer Collection
Tommy Coates leads as the August 1948 Langhorne race
begins. This event would have derailed anything SCOA would
have been still running that week.
The American Stock Car Association, sailed on at that time, expanding its racing influence after what was perceived as a huge success at Langhorne. Racing moved into places like the Washington, Pa fairgrounds, Conococheague Speedway in Maryland, Altamont, NY fairgrounds, Lonsdale, RI, and Yellow Jacket Speedway, at a football stadium in Philadelphia – to name a few. Eventually, I imagine no small amount of strong – arming from Bill France drew most of the Southerners back below the Mason – Dixon Line. Had NASCAR not finally risen so far and so powerfully, ASCRA might have been our preeminent sanctioning body today.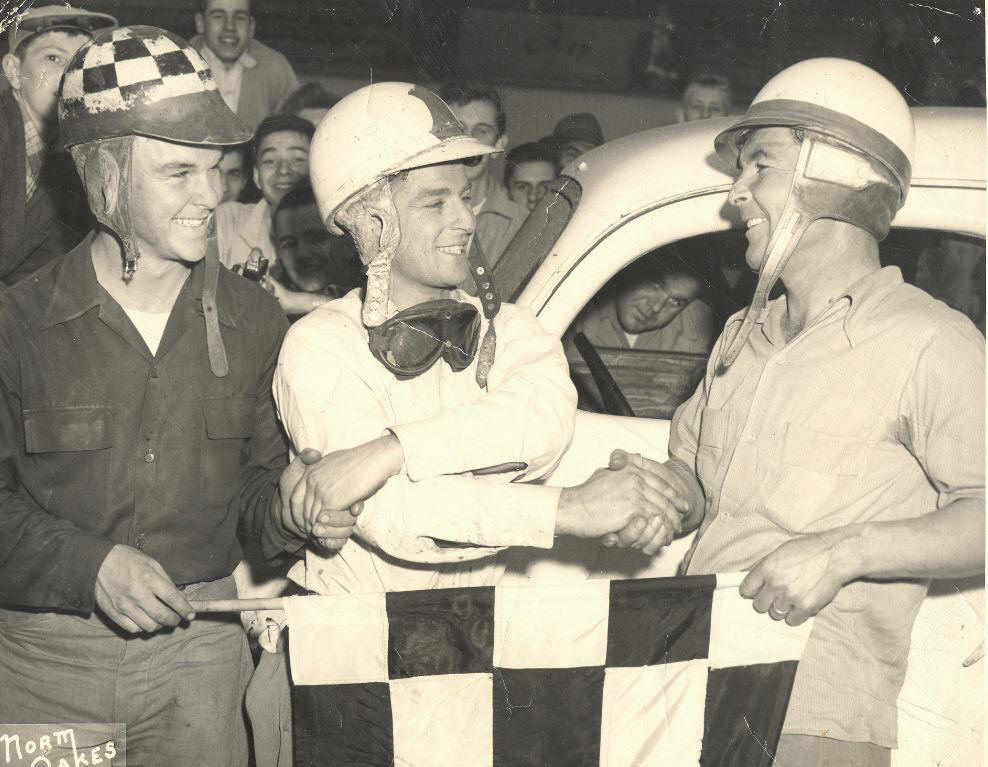 Jeff Hardifer Collection
This classic photo at Flemington in 1950 shows how the
Sport was alive and well in the PA/NJ area well after SCOA:
Wally Campbell is congratulated by Frankie Schneider and
Tommy Coates. Below – The W.O. Taylor team continued to run in
the ASCRA region as well as far North as Menands, NY. Note how
the 91 [here with Coates] was starting to trim the fenders more.
This is Philadelphia's Yellow Jacket Stadium in 1949.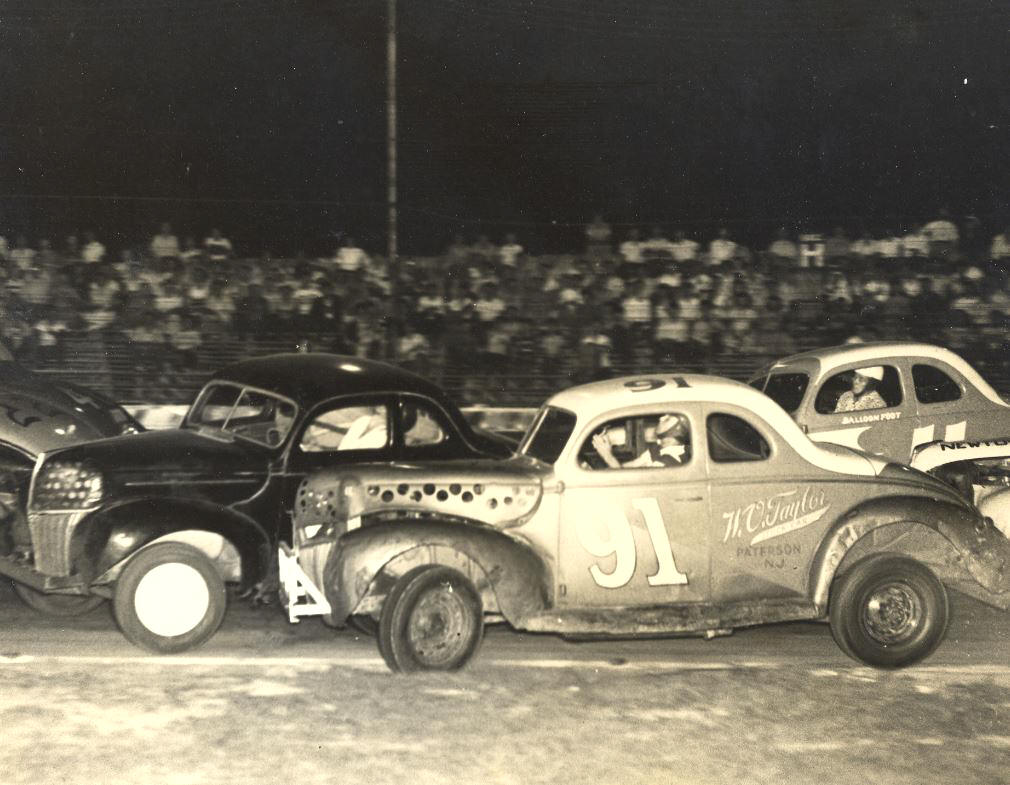 Jeff Hardifer Collection

Today, the preponderance of super highways and the availability of double stacker haulers would make the SCOA schedule considerably less challenging. Although, I still don't think they'd have included Lewiston or those New York tracks. Rather, I could envision Kingston, Dover, and Allentown being joined by some of those great area tracks like Flemington, Williams Grove, or maybe even Harrington, Delaware.
It absolutely amazes me that there is almost nothing on the Speed Corporation of America experiment. I can't even search it on the internet and find much. Some people might compare it, in some ways, to the 1967 – 73 All Star Stock Car Racing League. But even that usually only involved one track a week. I'm not sure what Kochman was thinking, but the visionaries don't always stop to consider the logistics of their schemes. Kochman and his partners had spent considerable money on lighting for his SCOA venues and other improvements; those improvements likely just stayed there, to the benefit of whomever ran races there later.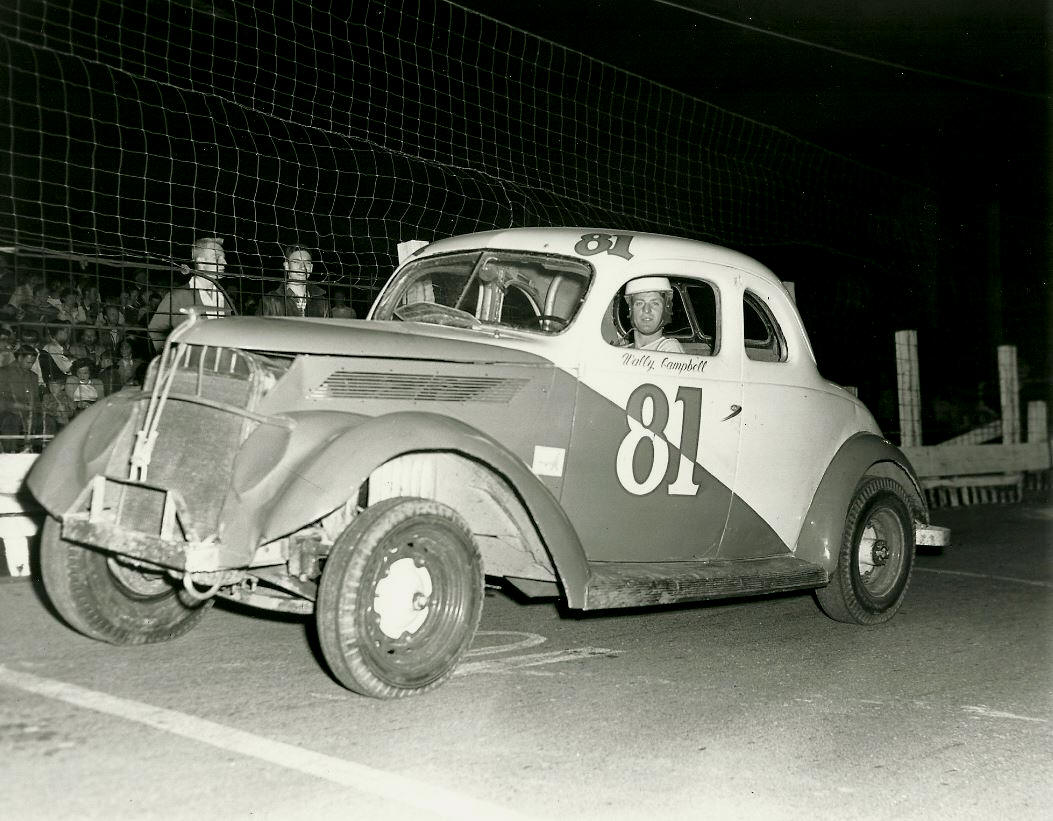 Courtesy of Jeff Hardifer
This 1953 shot of Wally Campbell in 1953 shows that the full -
bodied modifieds that were prevalent in the late '40's were
Still hanging in there in some places. Below – Up North. The modified
coupe, however, was beginning to be cut up more in the body. This is
Chuck Kotwicka winning the first race held at Fonda since the
SCOA failure – 1953. Note the modified body on the car.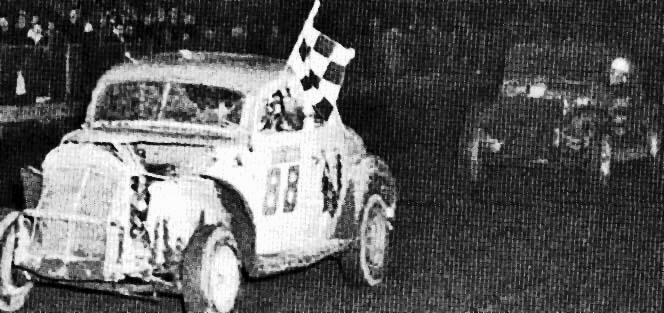 Russ Bergh Photo Ed Feuz Collection

Please email me at wladabou@comcast.net if you have any photos to lend me or information and corrections I could benefit from. Please do not submit anything you are not willing to allow me to use on my website - and thanks. For those who still don't like computers - my regular address is: Bill Ladabouche, 23 York Street, Swanton, Vermont 05488.
AS ALWAYS, DON'T FORGET TO CHECK OUT THE REST OF MY WEBSITE:
www.catamountstadium.com
Return to the Main Page
Return to the Main News Page
Return to the All Links Page
Return to the Weekly Blog Links Page