BILL'S [Somewhat] WEEKLY COLUMN/BLOG PAGE

BILL'S BACK IN TIME
By Bill Ladabouche
WHAT A TANGLED WEB WE WEAVE

When a particular region of a particular state is intensely involved in a particular kind of activity, events concerning this activity can become very intertwined over the years. Quite a while back, I did a blog on the racing community that centers around the Vermont town of Whiting and its surrounding neighboring towns. Considering how small the population is in that area, it is amazing not only how many people involved in stock car racing come from there – but also how large an impact these people made while largely being fairly unheralded.
One very interwoven plot centers loosely around three guys named Curt. Two of them are large players and the third is related to motors and racing, but not the stock car racing the rest of his extended family follows. However, his recent passing has caused his name to come in discussions an inordinate number of times. Not having ever heard his name until his passing, this speaks to me about how important he was to the others in the story.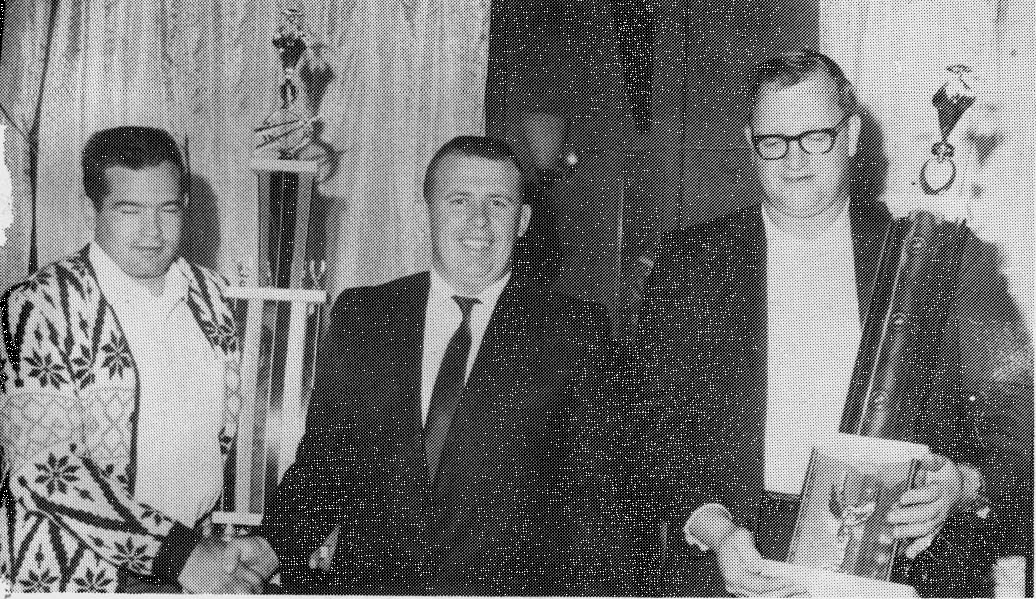 From the Quenneville Memorial Program Courtesy of Norm Vadnais
Norm Scarborough was the one of "The Whiting Three" to not take up driving the stock cars, but he was a technical genius behind the scenes.
It all seems to be grounded in that area of Vermont centered around the tiny town of Whiting, known in the racing world as the place where Vince Quenneville, Sr., Norm Scarborough, and Rudy Charbonneau went to the same grade in the town's tiny public school. The "surrounding area" extends to the communities of Brandon, Salisbury, Orwell, Shoreham, Benson, and West have [where Devil's Bowl Speedway resides]. Considering how sparse the population density is in these mostly farming towns, the hundreds of people who came from there to participate in stock cars racing all over the Northeast is all the more impressive.
The region produced a Hall of Fame driver; a flamboyant car owner who provided competitive cars all over several states and Canada; at least two Vermont State Champions, two or three rookies of the year; numerous winners of a large number of features at Fairmont Speedway, Devil's Bowl, Lebanon Valley, Fonda, and more; a number of prominent other car owners; a leading engine builder of drag racing and open wheel cars; a Hall of fame racing promoter; and the list goes on.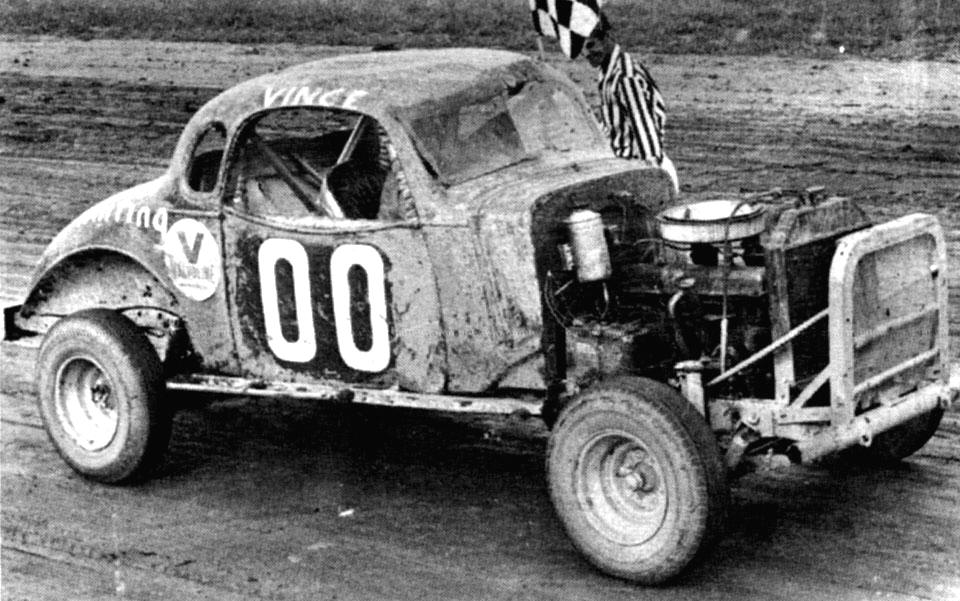 From Quenneville Memorial Program Courtesy of Norm Vadnais
That first Scarborugh / Quenneville car was nothing to look at,
but is was highly effective. Below – Norm oversees pitwork at
Devil's Bowl during the 1968 championship season.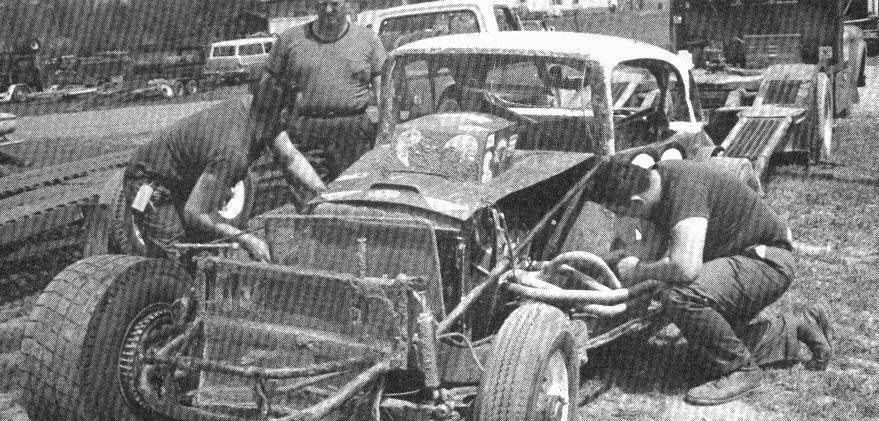 Courtesy of Ed Fabian

Besides guys named Curt, the Scarborough family is arguably the real center of this tangled web. As far as racing is involved, that family has produced nationally famous drag racers, as well as very prominent Northeast stock car racing personalities. When we think of Scarborough, the name that usually comes to the top of list is that of Norm Scarborough, a large, heavy, redheaded, cranky, genius of a car builder known to most who knew him best as "The Fat Rabbit". Norm had mastered the art of acting the part of a local rustic while actually being one of the sports most clever and innovative race car builders.
He seems to have first surfaced at the Otter Creek Speedway, near Vergennes, VT, in 1961. An unobtrusive 1936 Chevy coupe crudely numbered 00 had appeared there in the hobby class towards the end of the season, driven by a man the announcer called Vincent Quenneville. The debut was inauspicious, but the car re – appeared in 1962 at Otter Creek as well as at C.J. Richards' newly – re-opened Fairmont Speedway. Scarborough and Quenneville would go on to buy and improve Bob Hoffer's X9 1940 Ford in 1963 after the latter's unfortunate highway death in Quebec.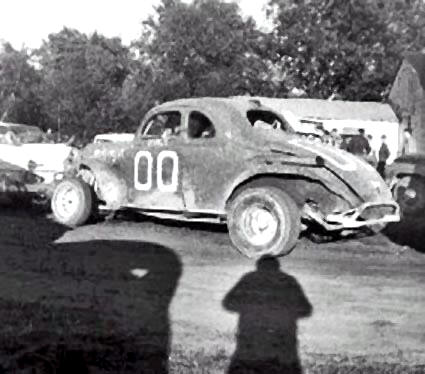 Ladabouche Photo
The former Hoffer car sits near the Fairmont payoff booth after races. No doubt, the payoff wasn't bad, as
they usually finished well. Below – The Former Wylie 107, wheeled into Fairmont in 1964 for Roger Gauthier.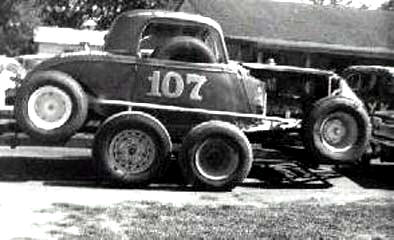 Ladabouche Photo
Norm and Vince parted ways by 1964 and Vince went on to drive for plumbing and heating contractor Gael Dundon while Scarborough acquired a Claremont Speedway car and put New York driver Roger Gauthier in it That worked pretty well, too. The car, a #107, was the subject of all kinds of conversation on Facebook recently because – due to the fact there had been about three of them, it was hard to ascertain which one was the blue Scarborough / Gauthier "Moonlite Gambler" car.

The Quenneville / Dundon combo lasted until 1967, the first season at Devil's Bowl while Scarborough returned in 1965 with a big Chevy sedan and unpredictable rookie driver Russell "Rube" Shaw. By 1967, the Scarborough stable had been through the red #24 sedan, a red #24 coupe, and a very head – turning white #24 Mustang. Norm tired of Shaw, who was very hard on equipment and had moved over to veteran Roger Gauthier of Hartford, NY., with whom he had enjoyed that success with the 107 car before. Ultimately, Shaw, Gauthier, and even young Graham Trudo had driven the car; but, Quenneville may have been the last driver in it – in a cameo appearance.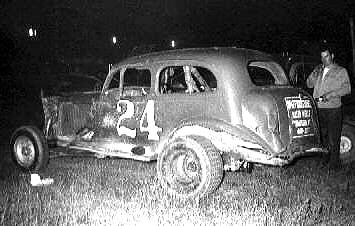 Ladabouche Photo
Norm hadput together a potent Chevy sedan for Russ Shaw for the 1965 season. Here fellow car owner Clayton Ryan is eyeing it warily.
The unpredictable Shawcould be counted upon to make it very exciting. Below – After the sedan
was destroyed, Norm briefly purt Shaw in this coupe in 1966 before going to the famous Mustang [Second Below].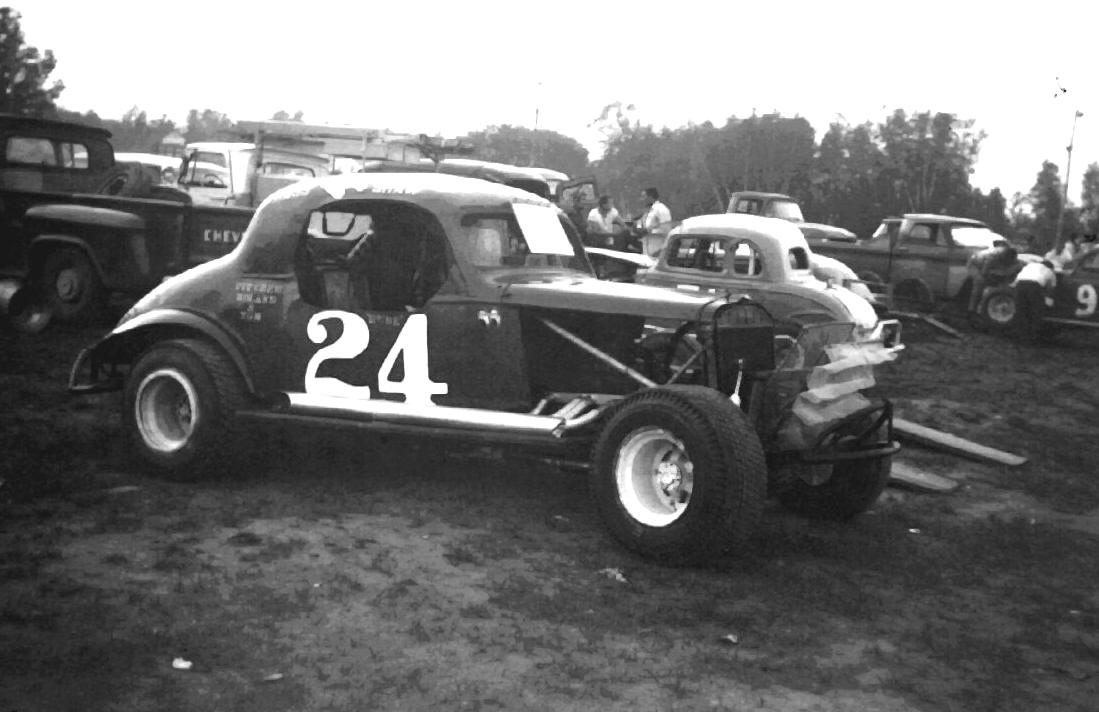 Ladabouche Photo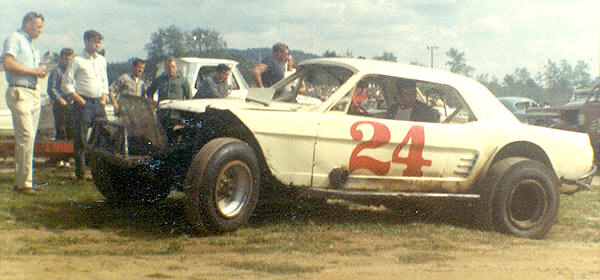 Ted Vogel, Jr. Photo

Things happened and Quenneville moved back over with Scarborough by 1968. The Rabbit built a long – framed Chevy coupe and Vince won the track championship that year. Time to bring in the first Curt. Curt Dragon was known to us fans as a New Hampshire car owner, who seemed to always have silver and blue #31 early '30's Ford coupes. While usually looking like death traps, the Dragon 31's were devilishly fast. His cars appeared in 1962 and 63 at Fairmont and Otter Creek with Leo Howland, and then re – appeared at Fairmont in 1965 with Art Johnson and legendary Ted Brown.
According to popular lore, Curt Dragon was related to people in Salisbury, VT. This is not hard to imagine as the aforementioned region we are talking about in Vermont is loaded with Dragons [none of whom are at all closely related to well – known northern Vermont brothers Beaver and Bob Dragon]. It causes me to recall being at Otter Creek in 1961 and having the announcer announce that the white #7 hobby entry was "Herman Dragon, from Middlebury"]. Beaver's name is Harmon and if the announcer only scanned the entry list, Milton could look a bit like Middlebury.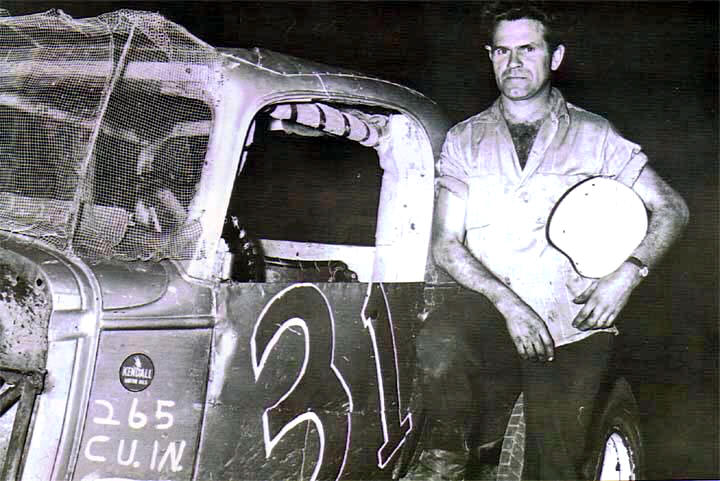 From the Racers Bored ChatSite
NH Star Ted Brown poses with one of the lovely Curt Dragon 31's around
1966. Below – The Dragon 31 [left]sits in the Fairmont pits by Quenneville's and Duffany's cars during the time
he was using Art Johnson as driver.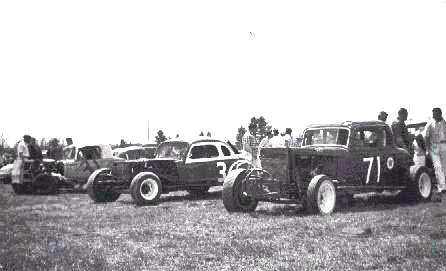 Ladabouche Photo
Curt Dragon's basic connection here besides family, is that his cars often competed with those of Norm Scarborough and – later, with the second Curt – Curt Prescott of Brandon. Prescott, who I think owned a company called New England Tower had made his money erecting radio antennas and the like. He appeared at Devil's Bowl around 1969, buying the car of another of our well – known drivers – Ed "Peanut" Foley of Leicester. Operating first out of the Brandon Scrap Metal property in Leicester [operated by the Pidgeon family], Foley had run at Otter Creek when Beaver Dragon, The Curt Dragon/Leo Howland 31, and the Quenneville / Scarborough 00 were running. Foley, who would run on a limited budget with pit crew help from the two Pidgeon twin sons Allen and Arlen, managed to finish second in the points race at Otter Creek by 1962.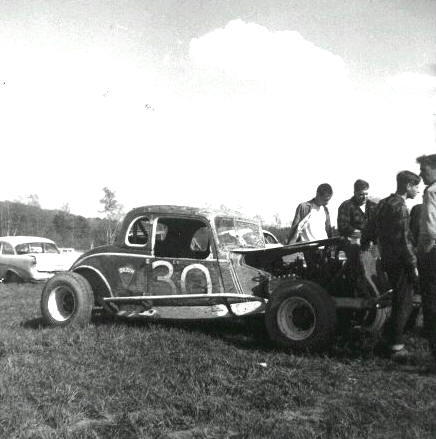 Ladabouche Photo
Ed Foley's original car [the only one numbered 30] sits in the pits. Ed is far right. The Pidgeon boys are at far left and next to Foley.
The other man was always with Foley in the early days. Below – Foley had changed to his familiar #2 and had built a really fast coupe for
Devil's Bowl with help from John MacDonough.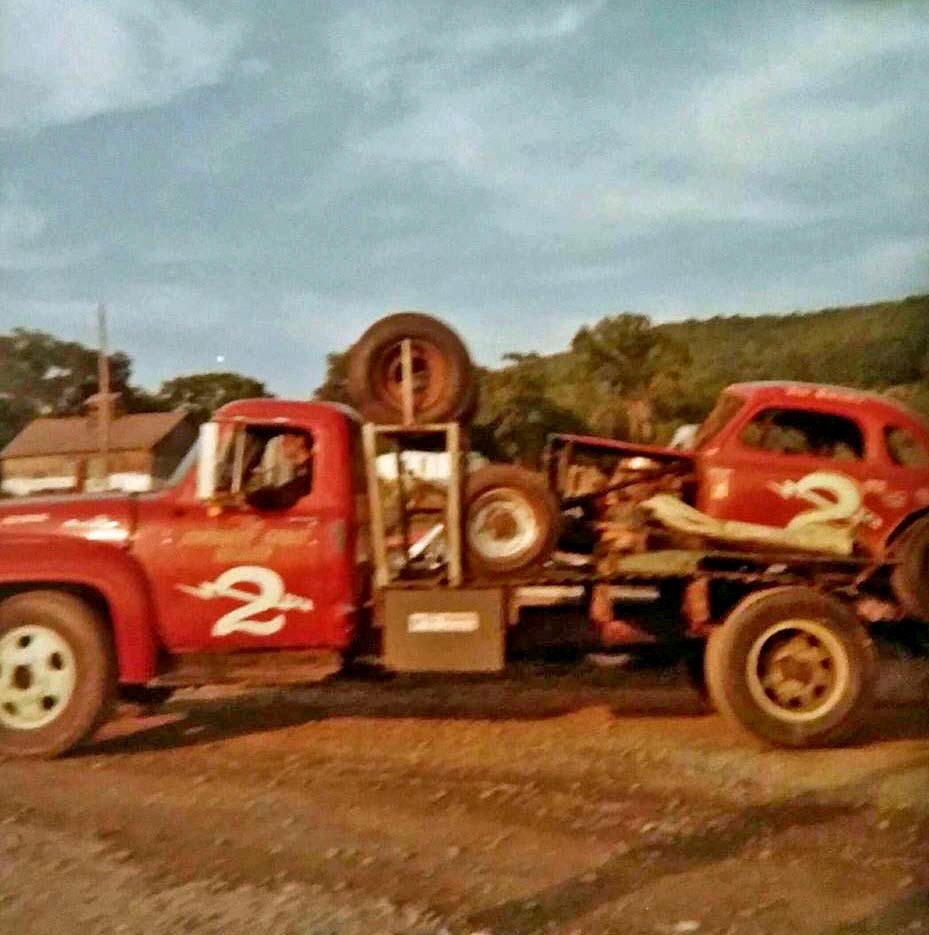 Courtesy of Mike Bruno


By 1969, Foley had run increasingly well and – although he still lived on the Pidgeon property, had acquired financial support and a better garage from the MacDonough Texaco in downtown Brandon. [To add to the confusion, MacDonough would later help Bucky Dragon, one fo Curt's relations with is racing ]. Foley's red #2 coupe was fast at Devil's Bowl when Brandon neighbor Prescott convinced him to sell the car. I don't know if there was any understanding about driving, but Foley was soon replaced by Lebanon Valley's rising star Tommie Corellis. Foley would bounce around, often driving for Clayton Ryan, another of our prominent car owners from the region. Foley would drive at the Valley and the Bowl a lot, going fast but developing a reputation for being hard on equipment.

It was about this time that Will Cagle, a professional stock car driver originally from Tampa, FL, moved into Devil's Bowl to race for his friend, C.J. Richards. Cagle had a fabulous Bob Rossell – built sedan, complete with Rossell's trademark square tubing in the cage, and he almost could not be beaten. The Prescott 2VT with Corellis seemed to fade into the background and even the mighty Scarborough / Quenneville 38 could not keep pace. According to local lore, the crafty Scarborough would spend a lot of time pacing around the Cagle sedan [people claim he was measuring] and it is said that he and Vince were given access to the garage where Cagle assumed his car was stored securely during the week.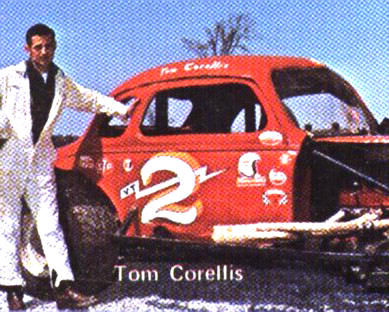 Bob Frazier Photo – D Bowl Program
Corellis, with the #2 coupe after it became Curt Prescott's New England Tower Special.
Below – The infamous Cagle Rossell creation. Note Rossell's trademark square tubing.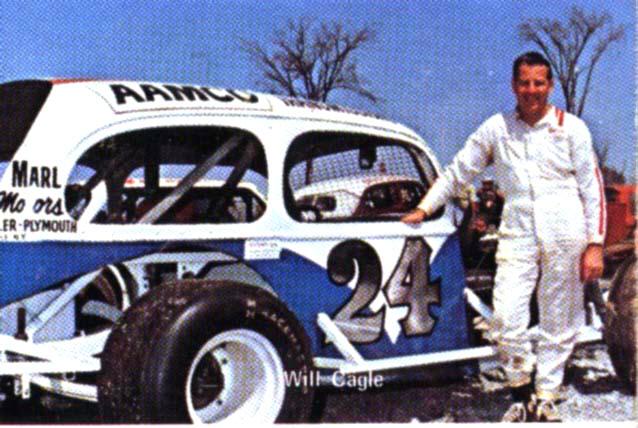 Bob Frazier Photo – D Bowl Program


By the end of the season, a peculiar – looking sedan was hauled out of the Scarborough garage in Whiting. It has been roundly debated whether Quenneville and "The Cagle Killer" actually beat Cagle or whether Richards had paid his friend to lose. At any rate, the new sedan was deadly fast. It ran as the Rutland Auto Parts 38 for a while before Norm sold it to Brandon's flamboyant used car dealer Austin Dickerman, proprietor of Dickerman's Motor City [Money Talks; Nobody Walks] on US Route 7 in Brandon. Norm and Vince stayed on but the car became a bright yellow and light blue #357, immediately gaining the nickname "The Banana Wagon".
The Cagle sedan went back to being a holy terror, and the Banana Wagon ran both at the Bowl and at the Valley very competitively. The Dickerman team added fancy equipment and a very state of the art hauler, now running also in Canada. Re – enter Curt #2. Prescott had been seething about the Cagle car, and now with the second fast sedan, he had had enough. He made Cagle an offer he couldn't refuse and bought the blue and white 24. Many say Curt was more determined to prove the Cagle car was illegal than anything else. When torn down, the Brandon group was dismayed to find the Cagle equipment didn't even reach the limits of illegality – it was just a good car with a good driver.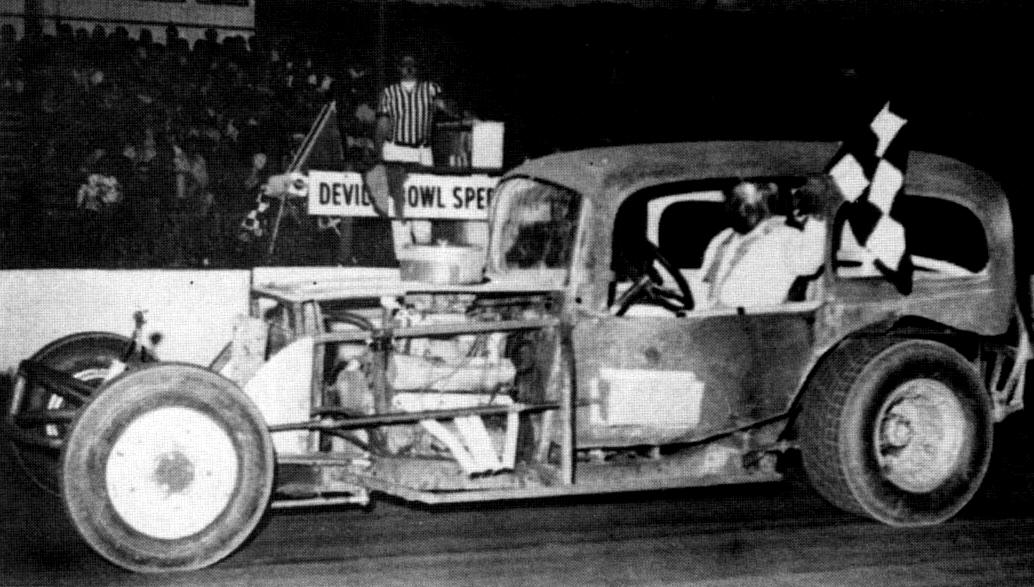 Bob Frazier Photo via Norm Vadnais
Quenneville, winning the feature with Scarborough's sedan creation. Below - The Cagle sedan, would be run by Butch Jelley for Cagle for a while.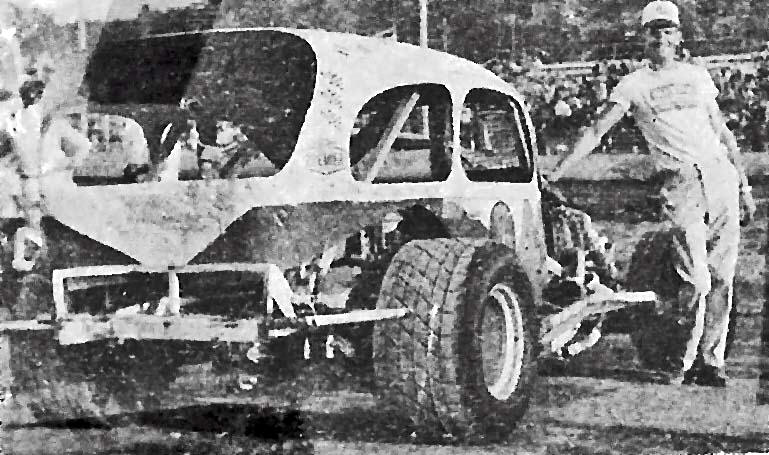 Gater Racing News Photo


The purchase of the Cagle car starts a tangled web of its own. As the Prescott car started running at Lebanon Valley, it ushered in the "sedan era" there. Eventually, besides the Prescott car, Ken Tremont had gotten permission to build two sedans. Scarborough is also said to have later built other coupes, too. It became very confusing, especially with Corellis and Butch Jelley jumping back and forth among these sedans, to tell which sedan was the old Cagle dominator. Then, too, Will had blossomed out with two nearly identical gold sedans [ one he'd use at Dirt All Star League races and the other was for the pavement shows].
Re-enter Ed Foley. Quenneville had moved on to drive for some other owners, especially in Canada at this time. So Dickerman returned to one of his old familiar drivers – Ed Foley. According to recent conversations, Foley wrecked the original Banana Wagon at the Valley. It was now up to Scarborough to get another sedan up and running. The project would call for another frame, and that came in the form of a Chrysler station wagon frame from that same Pidgeon business, on which property Foley had once lived.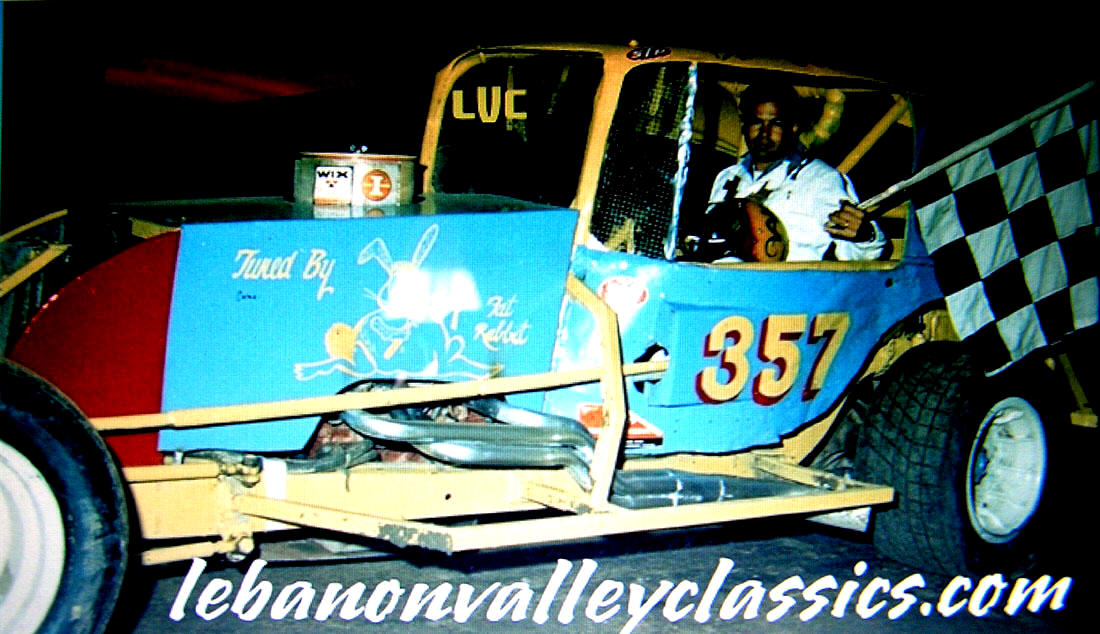 Lebanon Valley Classics
Vince, with the Banana Wagon as the Scarborough creation became known after it got Dickerman colors.
Below – The Prescott sedan ended up running the Valley before being sold to Arnold Fleury.
The lines start to get blurred at this time as to which sedan was which. This supposedly the Prescott sedan, next to
Bill Young's 28 sedan, made similar to the 24 by Ken Tremont Sr.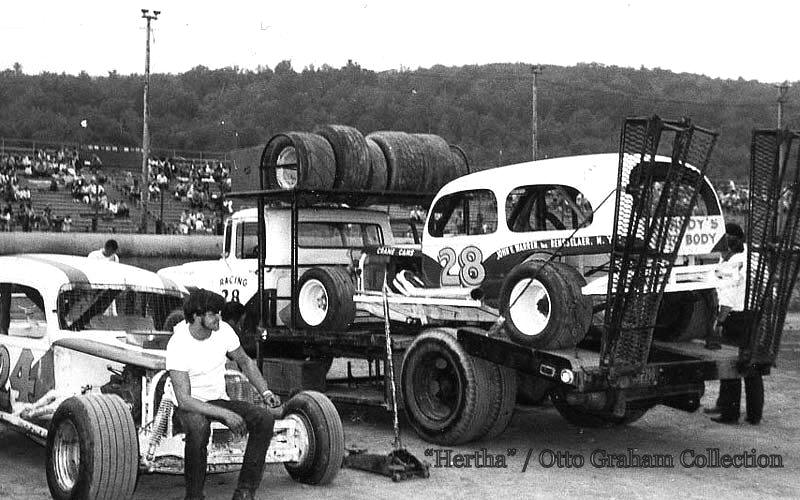 Courtesy of Chas Hertica
Scarborough and Dickerman went back to racing, although I don't know who was driving by then. A third sedan built by Scarborough went to Curt Dragon, who apparently ran it at Claremont Speedway. Foley did not race much after the dismissal from the 357 team. Dickerman did briefly try running a NASCAR late model sportsman Chevelle for Foley, a car which had been built by famed Jean – Paul Cabana and last owned by Jack Dubrul. The NASCAR experiment was brief and the car was sold to Ray Richards , whose driver Bob Ellis won the 1973 Northern NASCAR Rookie of the Year title.
The Scarborough family also boasted member Curt, our third Curt. An expert with racing motors, Curt was well know for building engines for drag cars and some open wheel racers. Finally , the real surprise comes in the form of perhaps the most famous female drag racer ever. It is well know that Shirley "Cha Cha" Muldowney began a hall fo fame drag racing career at Milton Speedway, located on the former north / south runway of the long – closed Milton Airport. It is equally well known that her husband, Jack, was an ace mechanic and critical to her rise through the drag racing ranks in her early career. It turns out that Shirley's mother was a Scarborough, from Whiting. Small world.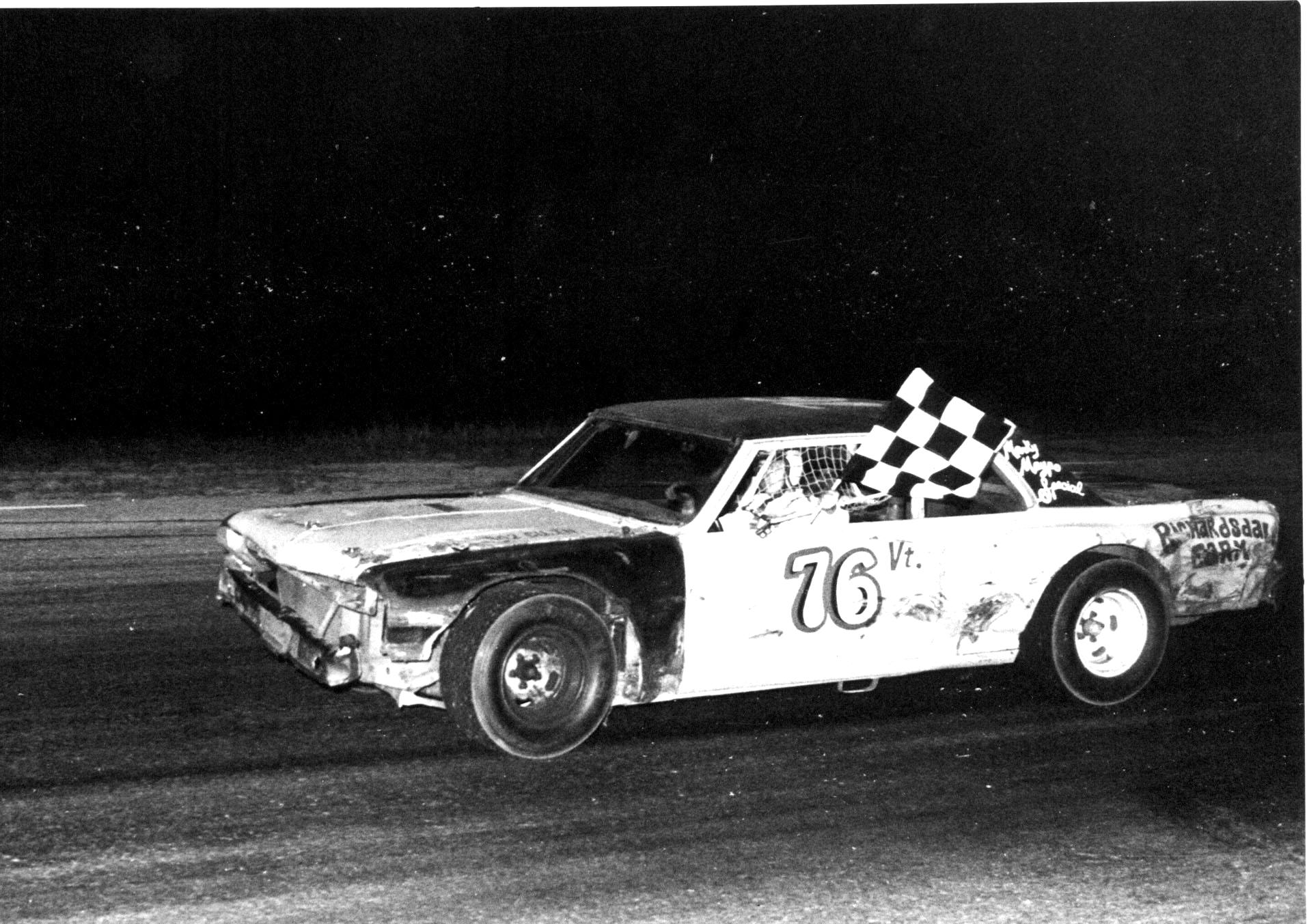 Courtesy of Chris Companion
There is no available photo of Dickerman's Chevelle, but it was then sold to Ray Richards, whose driver
Bob Ellis won the 1973 Northern NASCAR Rookie of the Year with the car. Below – Cha Cha and Jack Muldowney
shown at a rare visit to Milton Speedway [the dragstrip] after they had become famous.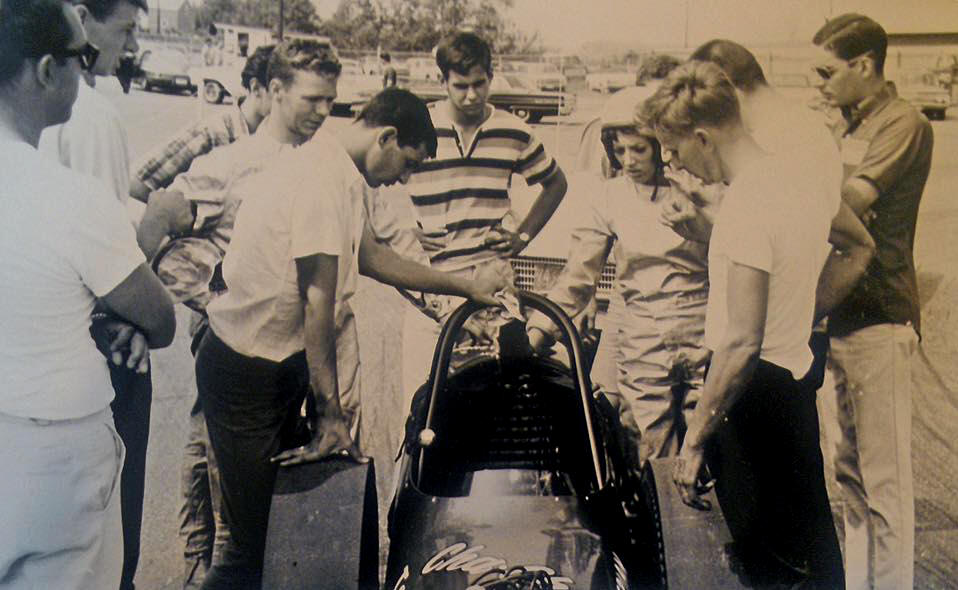 Courtesy of Tom McCormick
So as all this information swirls around on the screen and in your head, I must list as many of those Scarboroughs as I can. In addition to Norm and Curt, Don Scarborough of Brandon is a well – known modified driver and winner of titles; Don's twin sons, Smokin' Joe and Snaky Jake are now developing as dirt modified stars themselves. Bomoseen's John "The Jet" Scarborough is currently driving in the mods at Airborne Speedway; but, his main accomplishments came at the highly – challenging Fonda Speedway before he was seriously burned in one of the most frightening accidents ever there.
Curts ? Scarboroughs ? They are just a small part of that hugely important section of central and western Vermont that has kept particularly the dirt racing community stocked with stars and key figures for decades. We have lost a ton of the original cast: Norm and Curt Scarborough are both gone; Austin Dickerman has past; we recently lost Ed Foley; Vince Quenneville, Sr. Was lost to a traffic accident while working as a truck driver; Al Ryan, another car owner from near Whiting also recently passed; diminutive former state champion and former Scarborough / Quenneville classmate Rudy Charbonneau is gone; Tom Perry, friend to all and former track official; and Orwell farmer Charlie Laduc, "Old Reliable" is an equally huge loss to Devil's Bowl.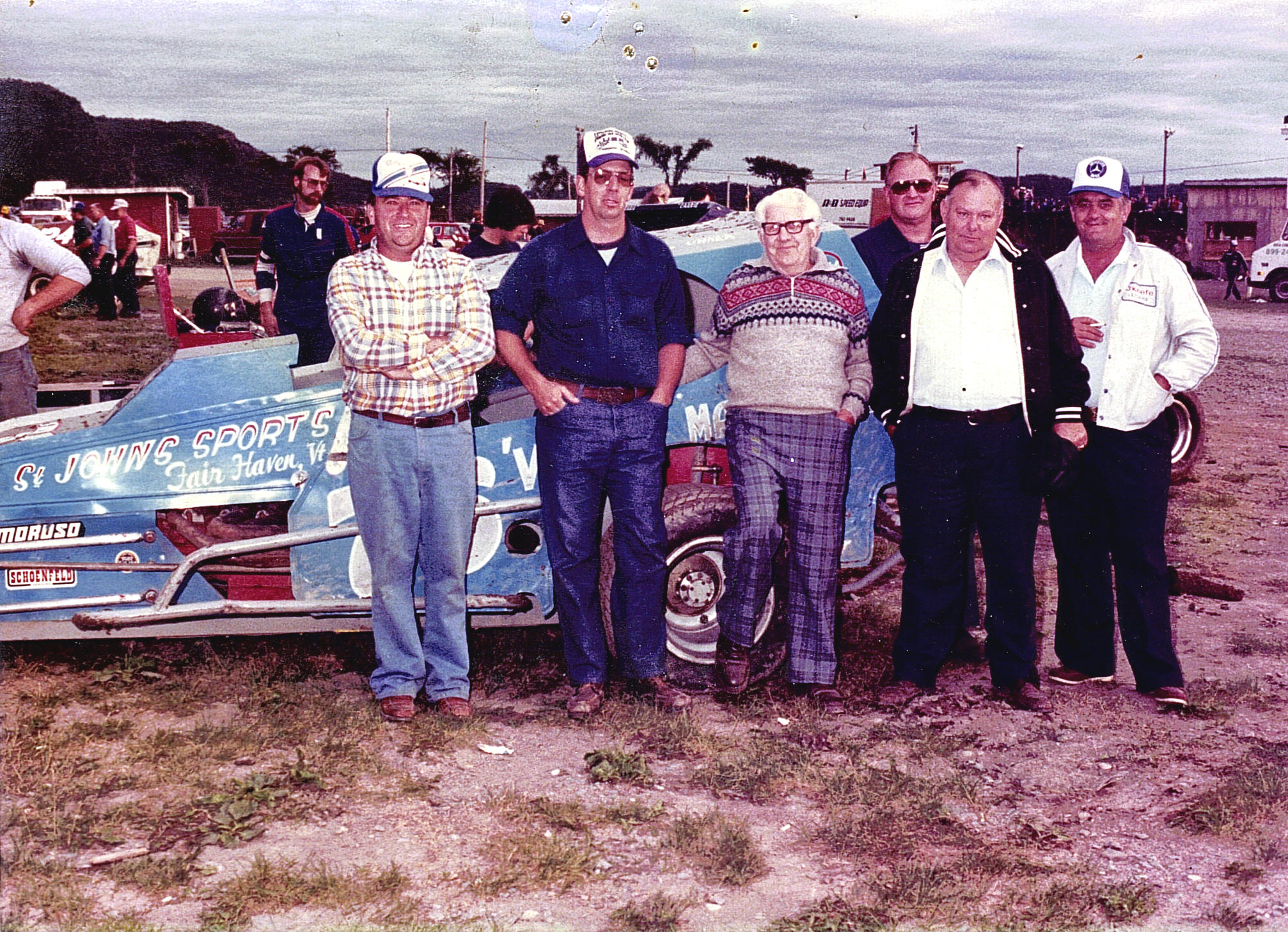 Bob Frazier Photo via Mike Richards
This photo at Devil's Bowl hits some of the people mentioned in this
blog: [from left – Ray Richards, Eddie Allen, sign painter Mal Brown,
Norm Scarborough [behind], Al Ryan, and Austin Dickerman. Below – How's this for a tie -in ? Foley,
in Dickerman's car, built by Scarborough and lettered by Mal Brown.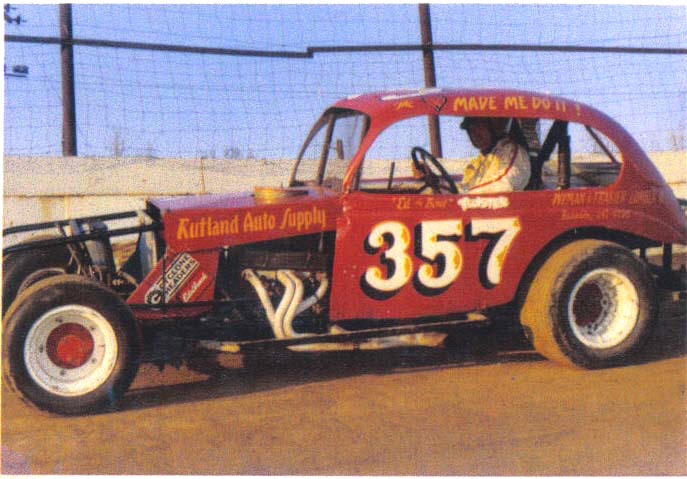 Courtesy of Arnie Ainsworth


I didn't even get to other Scarboroughs, other Charbonneaus, next generation Quennevilles, other Dragons, Laducs, Lussiers, or the myriad other important names who made or make racing in this part of the world so special. I'm writing this on Memorial Day – it's kind of appropriate in this small part of our world. And we all appreciate the sacrifices of all of our veterans, living and dead, made for our freedom. It's also my best effort to be accurate, having only sketchy information on some of the aspects of the article. So, bear with me.

Please email me if you have any photos to lend me or information and corrections I could benefit from. Please do not submit anything you are not willing to allow me to use on my website - and thanks. Email is: wladabou@comcast.net . For those who still don't like computers - my regular address is: Bill Ladabouche, 23 York Street, Swanton, Vermont 05488.
AS ALWAYS, DON'T FORGET TO CHECK OUT THE REST OF MY WEBSITE
www.catamountstadium.com
Return to the Main Page
Return to the Main News Page
Return to the All Links Page
Return to the Weekly Blog Links Page