BILL'S [Somewhat] WEEKLY COLUMN/BLOG PAGE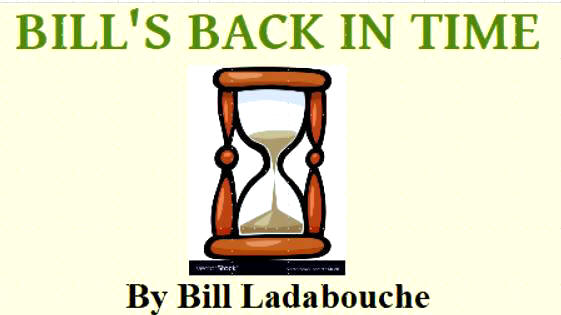 Phantastic Phacebook Photo Phinds
[Better Known to the Rest of the World as …
Fantatic Facebook Foto Finds]
This is larger than most blogs, as it is two articles blended into one.
I have been doing this racing history stuff, on and off, since the 1970's when I discovered my Speedway Scene columns got way more response when I did nostalgia. The other columns, which dealt with the very current racing, might occasionally attract some pissed off soul who didn't like what I said about his car owner or whatever. But, when I would do one on the old days – people would actually rally [multiple letters received in one week] - especially if I had just request information on some lost race track or the like.
Given that long involvement, I only recently discovered Facebook. Some friends I know were sitting with me in the pit bleachers at Devil's Bowl maybe around 2014 when one of them produced a photo, the subject of which I had been trying to deal with for decades. After I expressed the appropriate amount of surprise and envy for his having this treasure, he looked at me as if I had three heads and inquired why I didn't just acquire it myself on Facebook.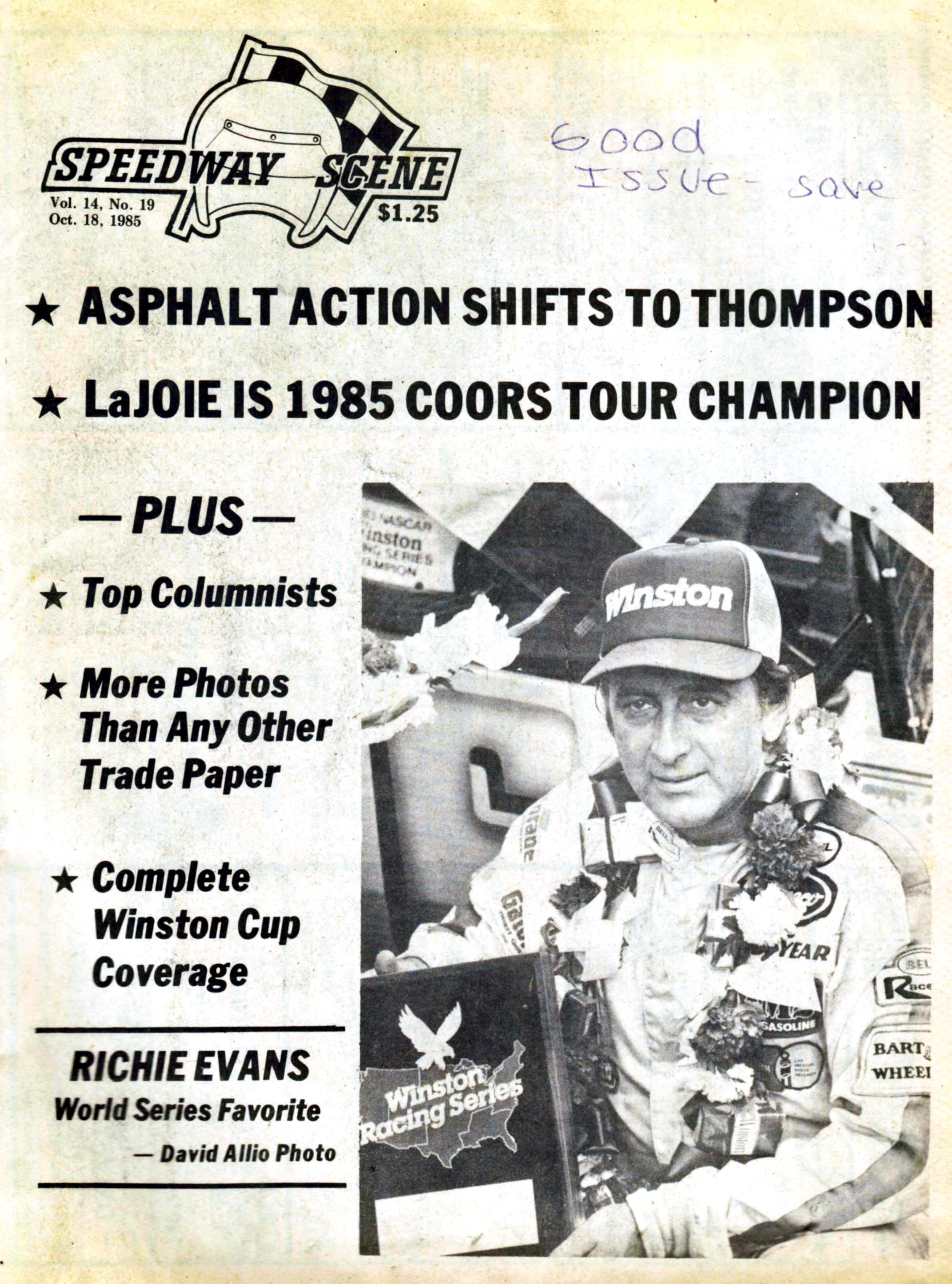 Ladabouche Collection
Keeping up with the rumors was fine, but nostagia fed the bulldog.
Below - And now, to head for Auntie Linda's page to see the latest
photo of her cat, Wuggums. Good times !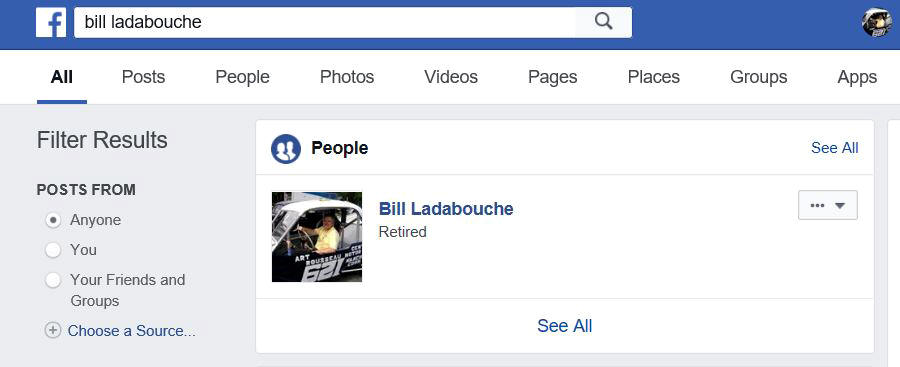 From My Facebook Page


For the longest time, I paid no attention to Facebook, figuring it was mostly a place people showed millions of family gathering photos, their dog Phoofey, figuring it was mostly a place people showed millions of family gathering photos, their dog Phoofey, and photos of what they had for dinner the night before. While all that is probably right in many case, I stumbled across the gold mine that includes Facebook pages on nostalgic racing themes. From there, I was able to see stocks and venues whose photos I would otherwise have never had access to. Eureka !While meaning no offense and all due respect to the Phoofey posters, I have stopped to consider the most exciting and valuable finds I have come across while participating on several of these sites. I occasionally add stuff to the pages, but I figure a 650+ page website might be enough to carry my load in the campaign to preserve vintage racing memories. Here are a few of those unexpected treasures.
It all started about Charlie Brown's car. I had been looking for any photos [besides mine] of those unique Camaros built or inspired by Butch Rogers for use mostly at Devil's Bowl. I had driven people nuts around the Bowl – particularly Charlie Brown, a close Rogers friend and buyer of Butch's first car.When turned on to the previously – unknown to me Devil's Bowl Speedway Old Time History and Photos page, I soon came upon photos not only of the Brown car but ones of it whenRogers had it. True gold ! I still am looking to get the second Rogers Camaro once it had been bought by Lee Nutting. Then, too, there's the Bruce Milo and Reggie Lussier car that were totally inspired by the Rogers cars.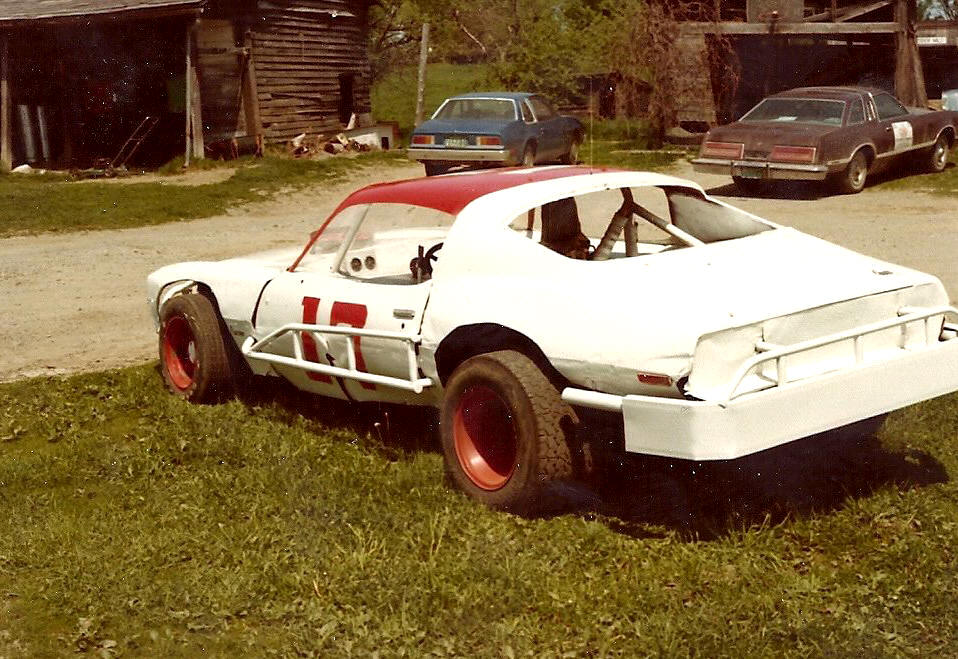 Courtesy of Bud Dunham via Marty Kelley Jr.
The Charlie Brown 17 [Rogers Camaro #1] was a real force
at Devil's Bowl. Below – Butch Rogers's second Camaro was also
a winner, and that's why it was bought by Lee Nutting later.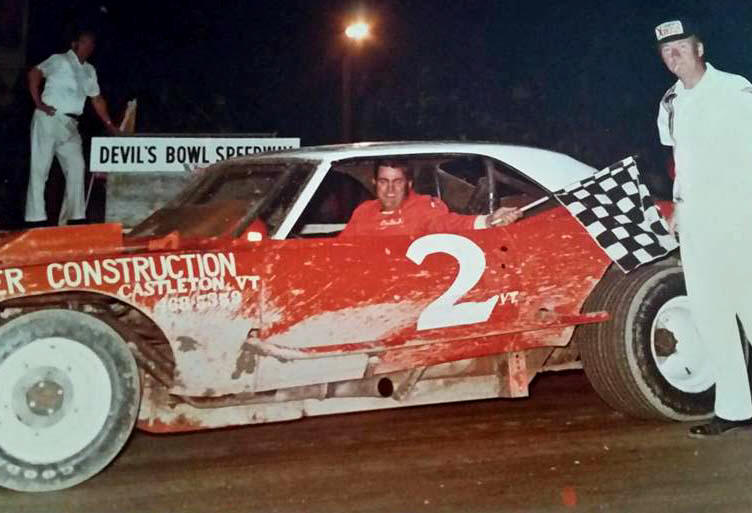 Courtesy of Tim Rogers

The Facebook page, and a whole lot of patient explanations from Charlie, Tim Rogers, and others, has allowed me to finally get the tangled story of all those Camaros straight enough to attempt a blog about the same. I bet it still isn't completely straight. [Maybe]

The next photo is not only personally meaningful, but it came as quite a surprise to those tuning into the particular Facebook page on which it was submitted. When I had attended the Lebanon Valley – staged race at the Vermont State Fair in 1961, and then – the following year – when C.J. Richards re – opened Fairmont Speedway, I was struck by this car Y driven by someone with the unusual name of Butch Jelley. I bought a photo of this car at the opening program at Fairmont and I love it so much I did an entire blog on it recently.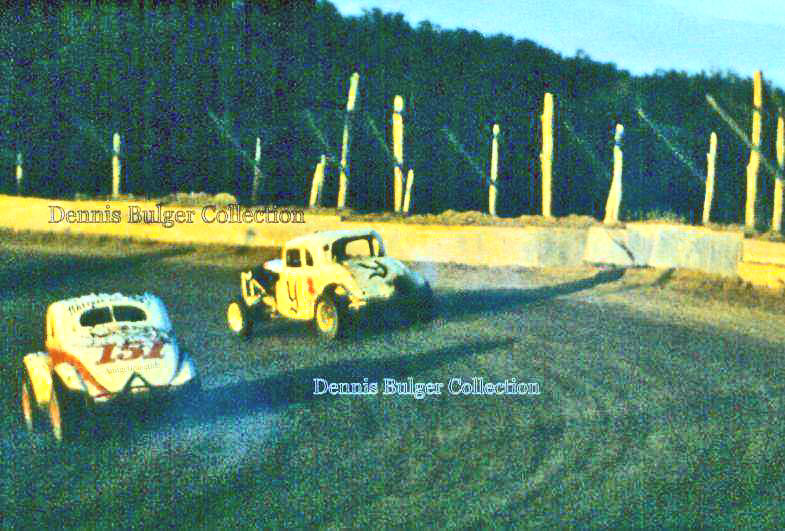 Courtesy of Chas Hertica
Butch Jelley takes the unfamiliar Y car through the turns at Lebanon
Valley. Don Leffler takes to the inside. Below – This is the car I always
associated with early Jelley racing.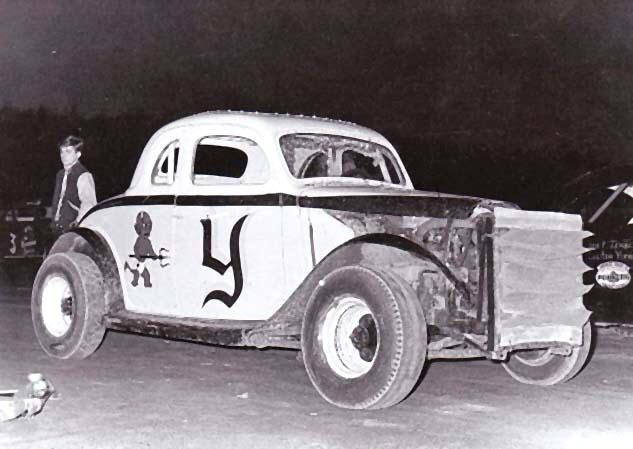 Arnie Ainsworth Collection

What I didn't know [nor did many others who didn't frequent Lebanon Valley Speedway is that the pale yellow and White '37 Ford #Y with the devil cartoon on the side was not the first Y. This pair of photos came out showing a 1934 flat top Coupe in the same color scheme and number. One showed it on the track,. The other showed it smashed to pieces. I really like Butch Jelley; I did my first column on him after my return to racing in 2005, but I didn't know the "37 Ford wasn't his first Ed Winn – owned Y. If I am lucky enough to run into him in Rutland as I sometimes do, I'll be asking about that one.
But then, I chanced to notice the other car in the shot. It was Don Leffler's 152, from East Greenbush, NY. I had seen the Leffler car, a few times, at the old Fairmont Speedway around 1962; but he didn't run much or particularly well there. I likes the '40 Ford with red and white graphics enough to build a model of it, but I never saw it again. Now, here it was, in living [albeit dark] color, at the Valley ! All I can remember about the car was that it stated the names Jim Breen and Jim Canfield on the side; likely, they were owners or mechanics on the team. I have always had a fascination with the less – familiar teams racing in the old days, and that was a wonderful instant memory jog for me.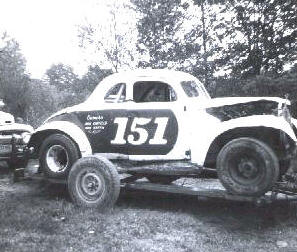 Ladabouche Photo
Don Leffler's car, as I snapped it leaving Fairmont in 1962.
Below – The car did make a sneak appearance in this
shot Neal Davis took of Wilfred Gerard's car in 1962.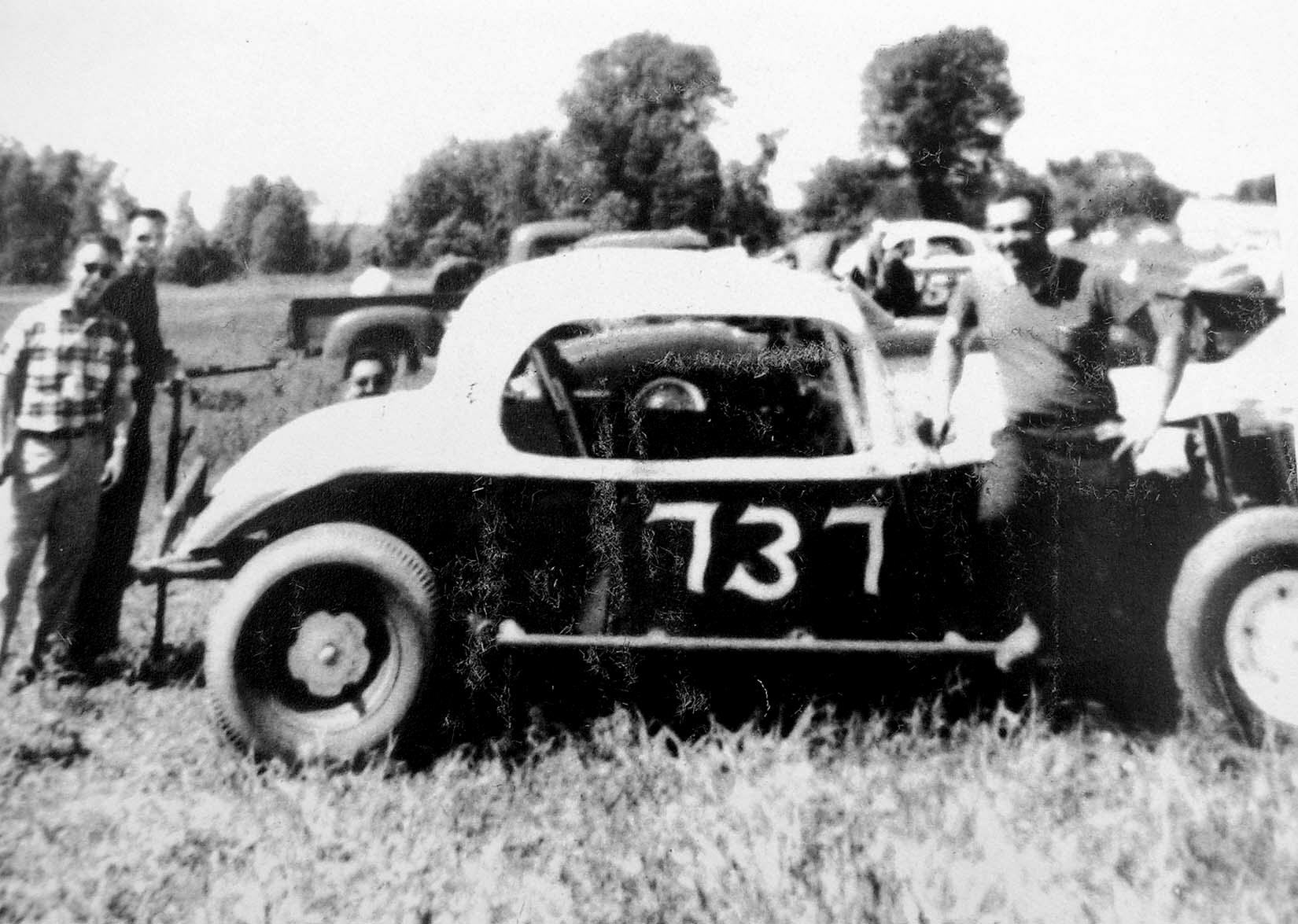 Neal Davis Photo
Another prize to me was a shot of Paul Marshall, posing with Bill Fowler's 27Jr. At Fonda. I never saw the big man drive this car; by the time I got to see it, it had been shortened up in the rear and was in the hands of Jolly Ollie Palmer, a 1950's Fonda star. I have no way of knowing for sure, but it would appear that the 27Jr was somehow an offshoot of the Brush Radio #27 team of Jim Brush. Both teams seemed to be based at the Pine Bowl Speedway, Brush also being a track official.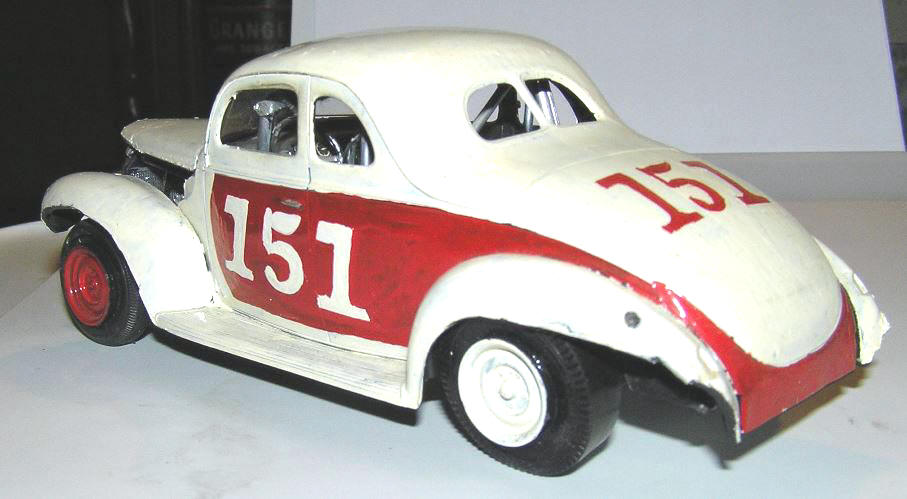 Ladabouche Photo
The Don Leffler model. Below – The Paul Marshall photo
picked up on Facebook. It shows that first Fowler 27Jr
with the body fully intact.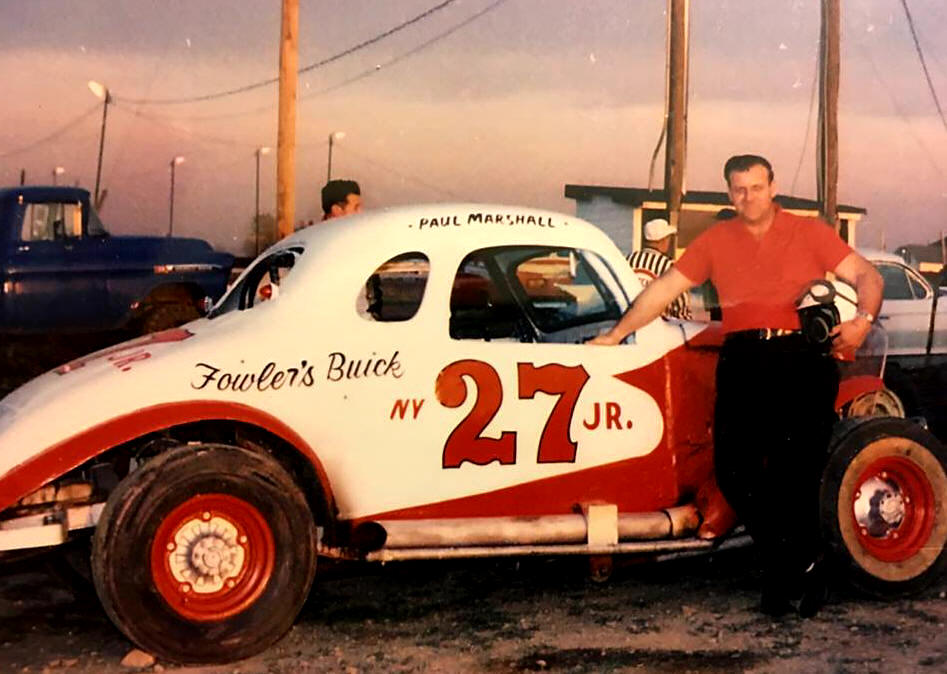 Courtesy of Rick Parry

At any rate, I went to Fonda around 1963, already familiar with Ollie Palmer because he had driven one of his #J-O cars at our long – gone Pico Raceway in 1952 and the car stuck in my mind because it had no numerals. So, when Palmer was introduced at Fonda with the 27Jr. I associated the number with him, not knowing who Fowler was yet or that Marshall had the car first. The car also made an end – of – the – year appearance at Fairmont that year [likely 1963], with Palmer still the driver.
Ollie would have a bad spill at Fonda with the 27Jr, almost in the identical place and manner that he had spilled one of his J-O's years before. It seemed to put an end to his career. The Fowler cars would then be driven by both Tom and Robbie Kotary, before going modified and being handled by the likes of Rene Charland, Jerry Pennock, and Ken Shoemaker – to name a few. I know the team ran into at least the very beginnings of the 1970's, but I cannot definitively follow it much further. It was a favorite car, for sure; but I had never seen that version of the first car until Paul Marshall appeared on a Facebook page.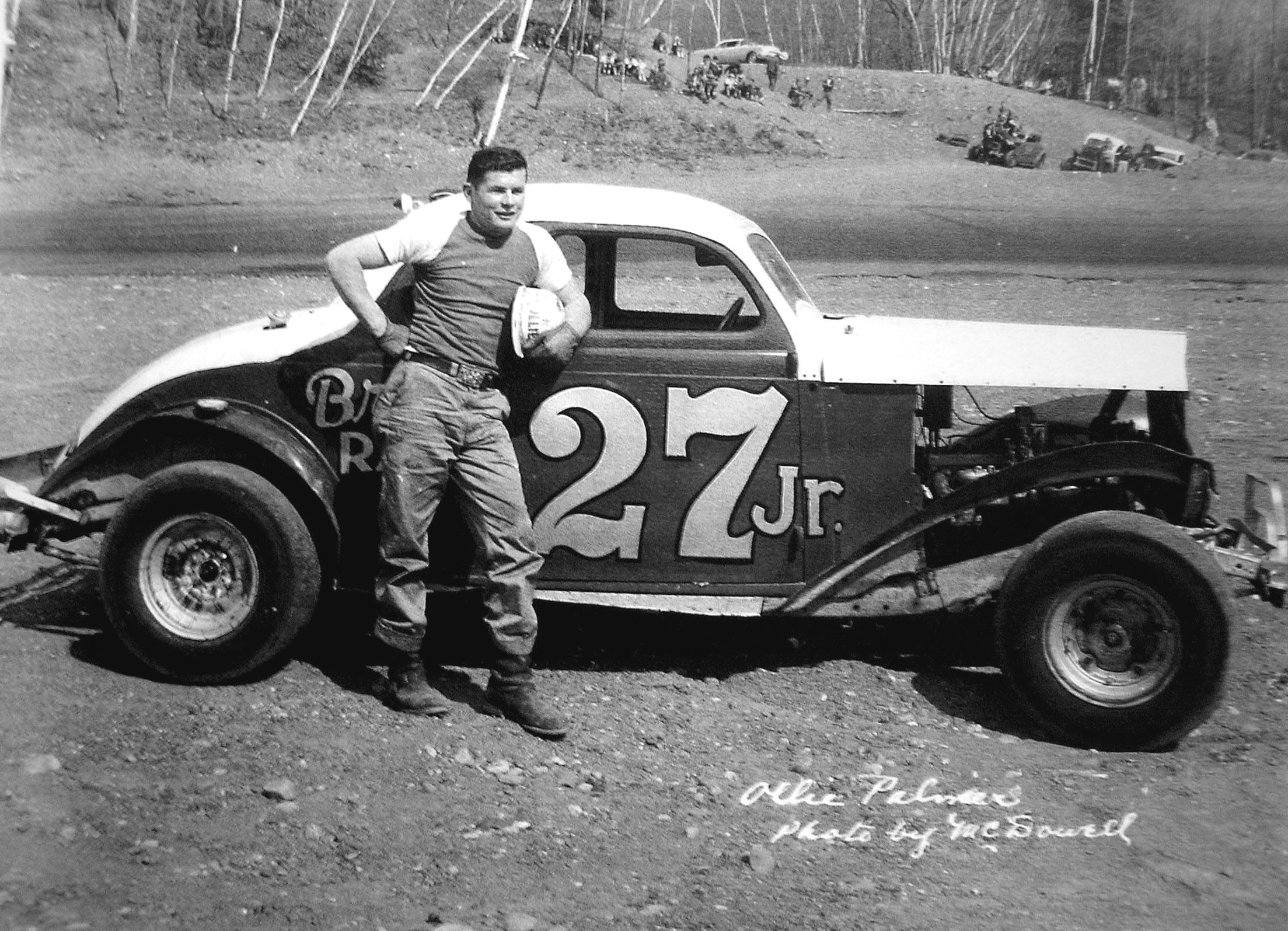 Ken Gypson Collection
Palmer's association with the number goes back to Pine Bowl
and this photo suggests the team was once part of the Brush
Radio team. Below – I shot the Fowler car in 1963, the shot
shows the modified, shortened rear body work, but it was
getting dark.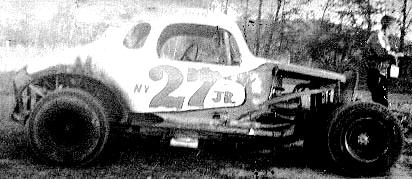 Ladabouche Photo

One car I had not captured with my trusty Kodak Brownie Hawkeye camera at Fairmont was Bob Taylor's 151. The car, a longtime Claremont entry, had been purchased and brought to Fairmont by Chet Doaner for his rookie season. Doaner, having realized more success than he had envisioned, came out with another, better Claremont car the following year. Apparently, he had sold off the rookie year car to Chittenden's Bob Taylor, who painted the car yellow and black added ones to Doaner's #5 to make it #151.
I don't recall much about how the big guy did with that old flathead coupe, but I certainly remember his dumping it, end for end – thus cutting that career to a halt for a few years. I would meet Bob later, as the Leo Vallancourt / Howard Stevens 333 team let me hang around, wear the team shirt, and "help out" a little in 1965. I recall the night when we found out [while leading in track points] that Leo had sold the car to Sonny Rabideau. I can still see Bob sitting there, broken hearted. Never saw him or his car again until that photo was put up on Facebook.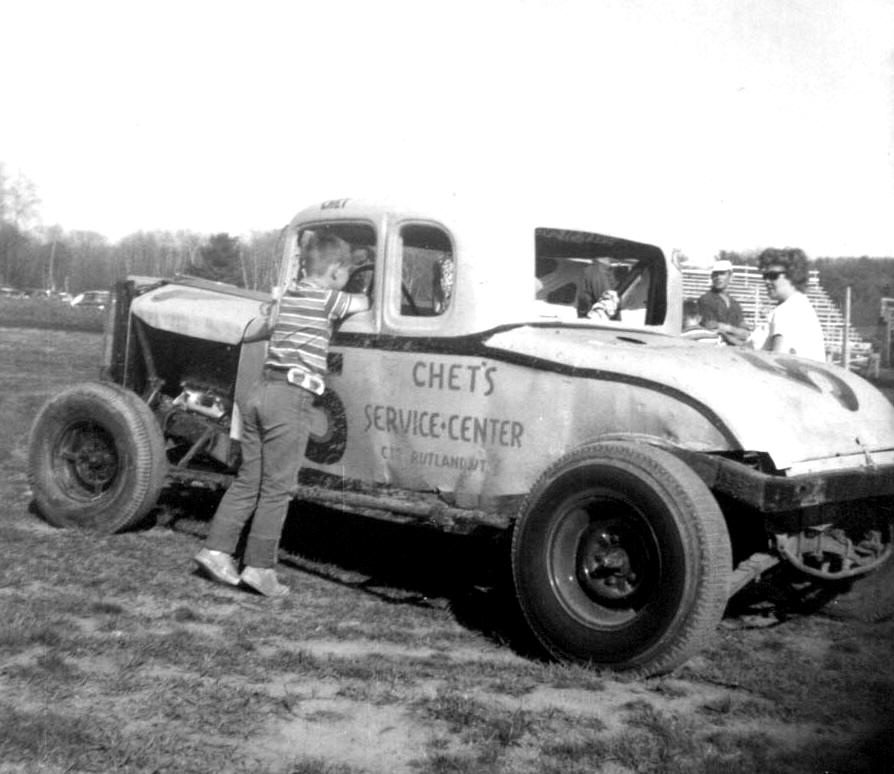 Ladabouche Photo
A youngster and his mom check out Chet Doaner's #5 that he was having a
strong rookie season with in 1963. Below – Bob Taylor [rt] and a
crewman pose in the center of Chittenden village with his
re – numbered former Doaner 151. He would soon dump it.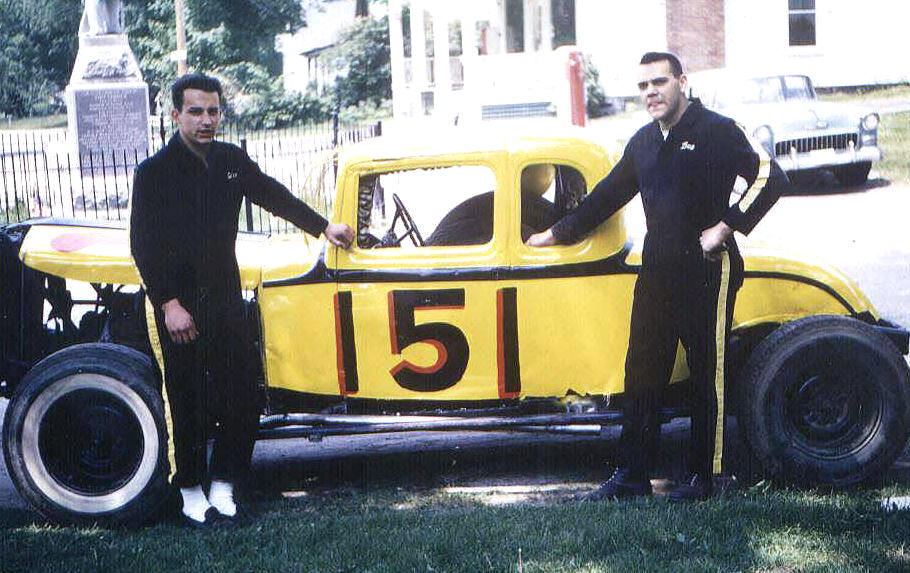 Courtesy of Woody Woodbury
The next one is from an entirely different era than the rest. Throughout the 1950's, all the way into the 1970's, we heard about the successes of cars wrenched by Cliff Wright, with mechanical and sponsorship support from Bob Zautner of Toll Gate Ice Cream, Slingerlands, NY. I think brother, Don Zautner was also involved in the various team cars numbered anywhere from 9A, to 24, to 48. The team had dominating winners at Fonda, Lebanon Valley, and other venues. It is known that the team closed up operations in grief after their driver at the time, Don MacTavish, was killed at Daytona.
However, my friend historian Sam Barlow recently came out with a photo that seems to take the involvement to well before those Fonda, Lebanon Valley, and even Pine Bowl exploits. I have been aware, for a while, of a roadster era driver from Albany named Del Moak. I photos of him driving his famed "Deep Six" roadster at old late '40's tracks like Champlain Speedway, Ticonderoga and Burden Lake Speedway near West Sand Lake. Sam says the roadster shown in his photo is Moak, and it is the first Cliff Wright – wrenched car. I seem to think he also involved the Zautners in that car although I see no Toll gate Ice Cream ad on the car.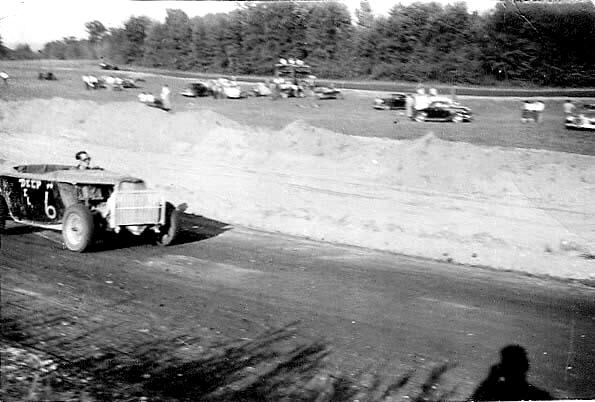 Courtesy of Dan Ody
Del Moak, no helmet to be seen, plies the irregular, oil – soaked track
at Burden Lake around 1949 or 50. Below – The newly – found Moak shot
of the car supposedly with Wright / Zautner involvement. This car
is clearly more technical than the one above.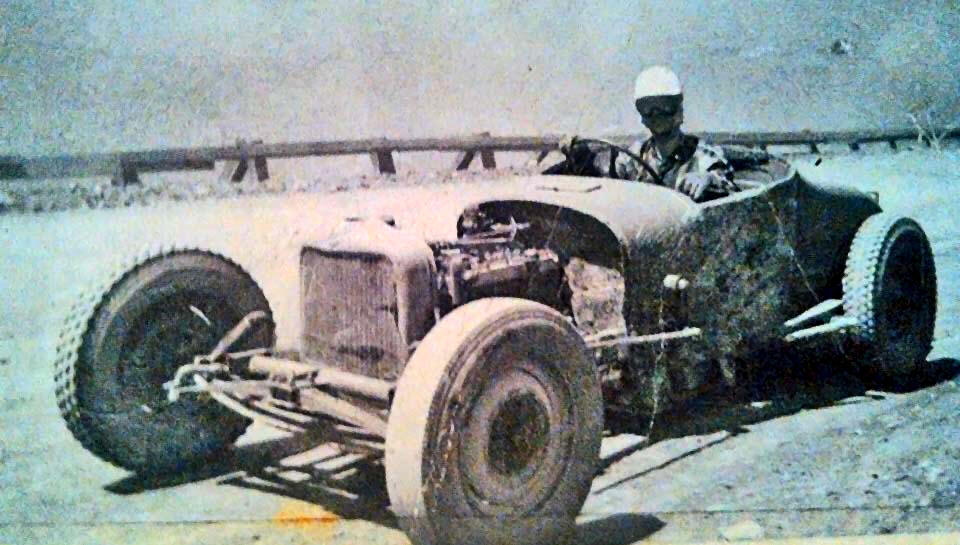 Courtesy of Sam Barlow
Roadsters were a story all unto themselves. Dangerous, roofless, cageless cars whose drivers often didn't even wear a helmet [Moak was one of those]. After the death of a driver in a high profile roadster car out of Corinth, NY, the New York State Troopers shut down any track featuring these cars and they died out. Some of the roadster drivers went on to stock car careers; Moak seemingly did not. Obviously, the Wright / Zautner combo did, in spades.
Another unexpected treasure came when a Ted Brown photo was put on the Devil's Bowl vintage page by Tim Rogers. The car, which was being run by Brown as a regular at Claremont [which had converted to the overhead V-8 cars finally], was most certainly an old Irv Taylor car that had always struck my fancy when it was run at Fonda and Victoria. Irv and a team partner whose name I don't know, had built this somewhat unique – looking 1937 Chevy coupe which was numbered 1 – Irv's preferred numeral [when he was not running for someone else.].
Taylor, who I had the privilege of going into the Hall of Fame at Weedsport with, was an extrordinary mechanic and driver. In fact, he was one of only a handful of men the great Pete Corey would accept into his inner circle and drive Corey cars. This yellow T&M sportsman had one races at Fonda and at Victoria. He likely might have also found Victory Lane at Stafford Springs, as well. The car was a rocket ship for a couple of years in that most competitive of areas.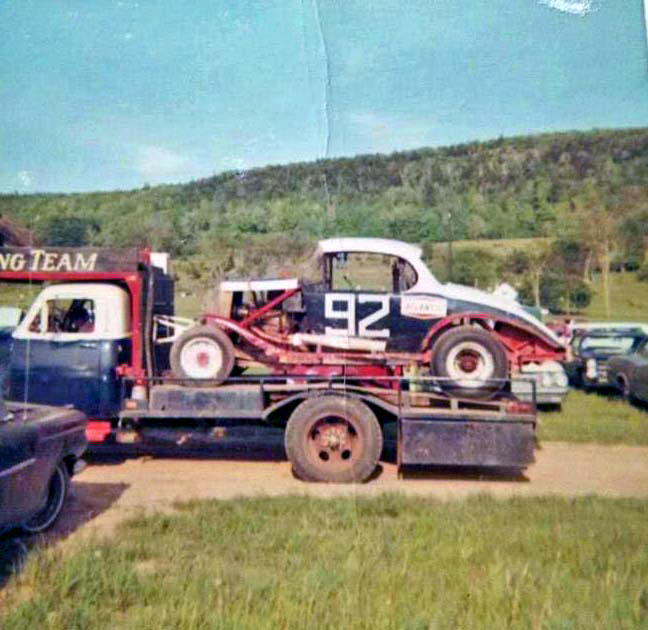 Courtesy of Tim Rogers
The Ted Brown tour de force shows up at Devil's Bowl around 1968
with the Taylo9r – built sportsman. Below – This shot of Irv, winning
with the car, is not an uncommon sight. Further Below – Lefty
Casey with the car at D Bowl in 1967.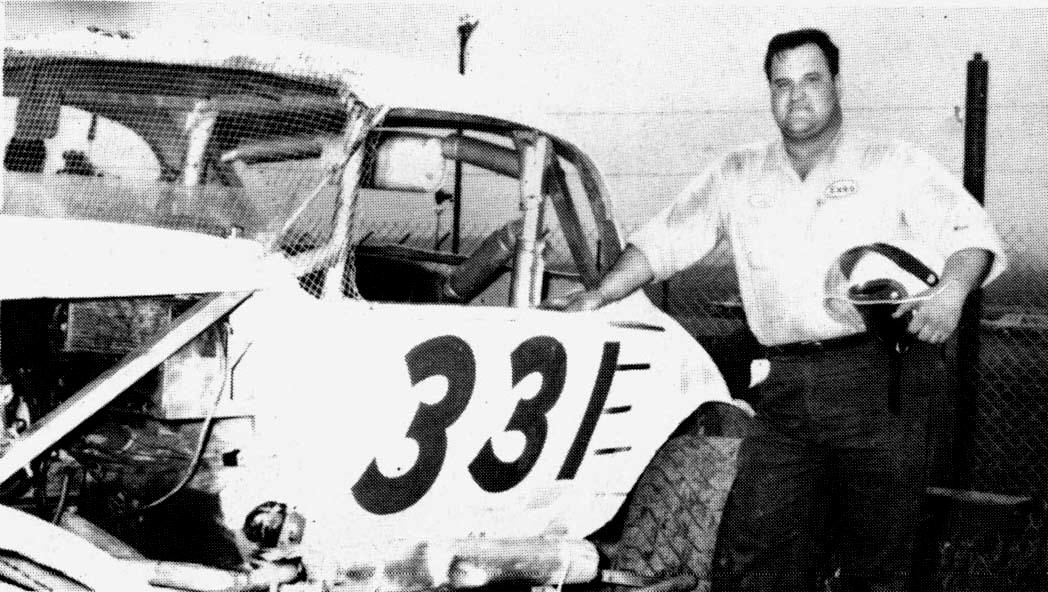 Bob Frazier Photo via Norm Vadnais
The car was eventually sold to Lefty Casey who came from Manchester, VT [rthe same place that had given us Gene Tetreault, Dexter Dorr, the Hoard family, Dave Brooks, and others]. Casey painted the car white and ran it in 1967 as #331. At some point, he must have sold it off to Ted Brown, who repainted it in his colors and put on the familiar #92. I have no idea how long Ted ran the car or whether it went on to someone else later. Given Ted's propensity to be rough on equipment, it probably didn't. But it was fun to see the car in that shot at the Bowl.
The next find was a photo of West Sand Lake's Bill Stevens. Stevens' black and red S29, a Ford, was there at the first Fairmont show in 1962. Stevens would make it out for races, but didn't seem to have much luck finishing. The car, perhaps a '40 Ford was real beauty. Wild Bill was at Fairmont that year on and off but he did make it to C.J.'s huge show at the end of the year at the Vermont State Fair in Rutland. I guess we had some access to the pits in the infield of the old horse track because I have a number of photos that could have only been snapped before the race. Always admiring the good looks of the S29, I took one as Stevens was just unpacking. The shot happened to get little Connie Stevens, helping out her beloved Dad, carrying an oil can.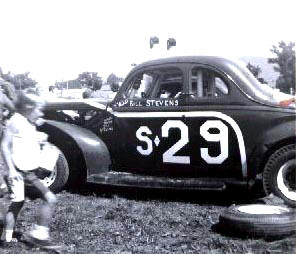 Ladabouche Photo
The Stevens S29 settling in at the Rutland fair show with a little
help from little Connie. Below – A high point for Bill was this
qualifier win at Otter Creek in 1962.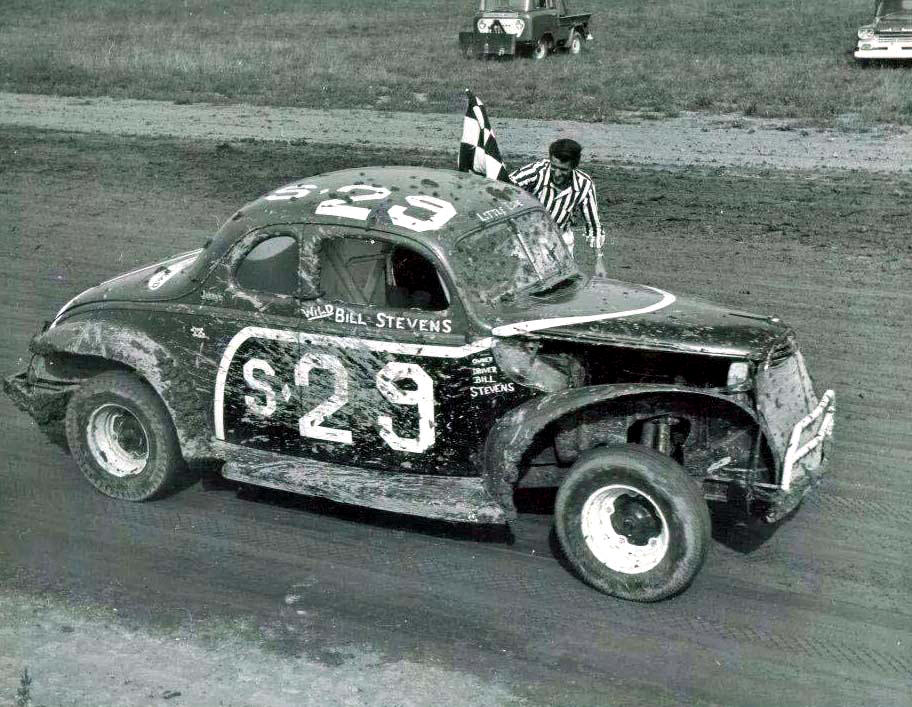 Bob Frazier Photo Courtesy of Connie Sanders

I got some great photos of various Stevens cars from that little girl, now Connie Sanders. My favorite, the treasure is a Bob Frazier shot of Danny Rumpf awarding the checkers to Stevens at Otter Creek Speedway in 1962. I didn't see Bill win much and I was delighted to get the shot while regretful I didn't see him win the race. It doesn't appear that Wild Bill Stevens raced much beyond the early '60's. The Hoffers bought the S29, re – named it as X9, and summarily wrecked it. But Connie has kept her dad in the forefront of Facebook members' memories.
Another [very recent] huge find came actually more from email, although my exposure on the Facebook page brought it about. Corey Kennedy, whose family was involved in early Rutland County area racing, had been communicating with me concerning Pico Raceway. My friend Ed Fabian of West Rutland, a real supporter of Pico history research, had spoken a number of times about the lesser - known car in the Romano family racing stable.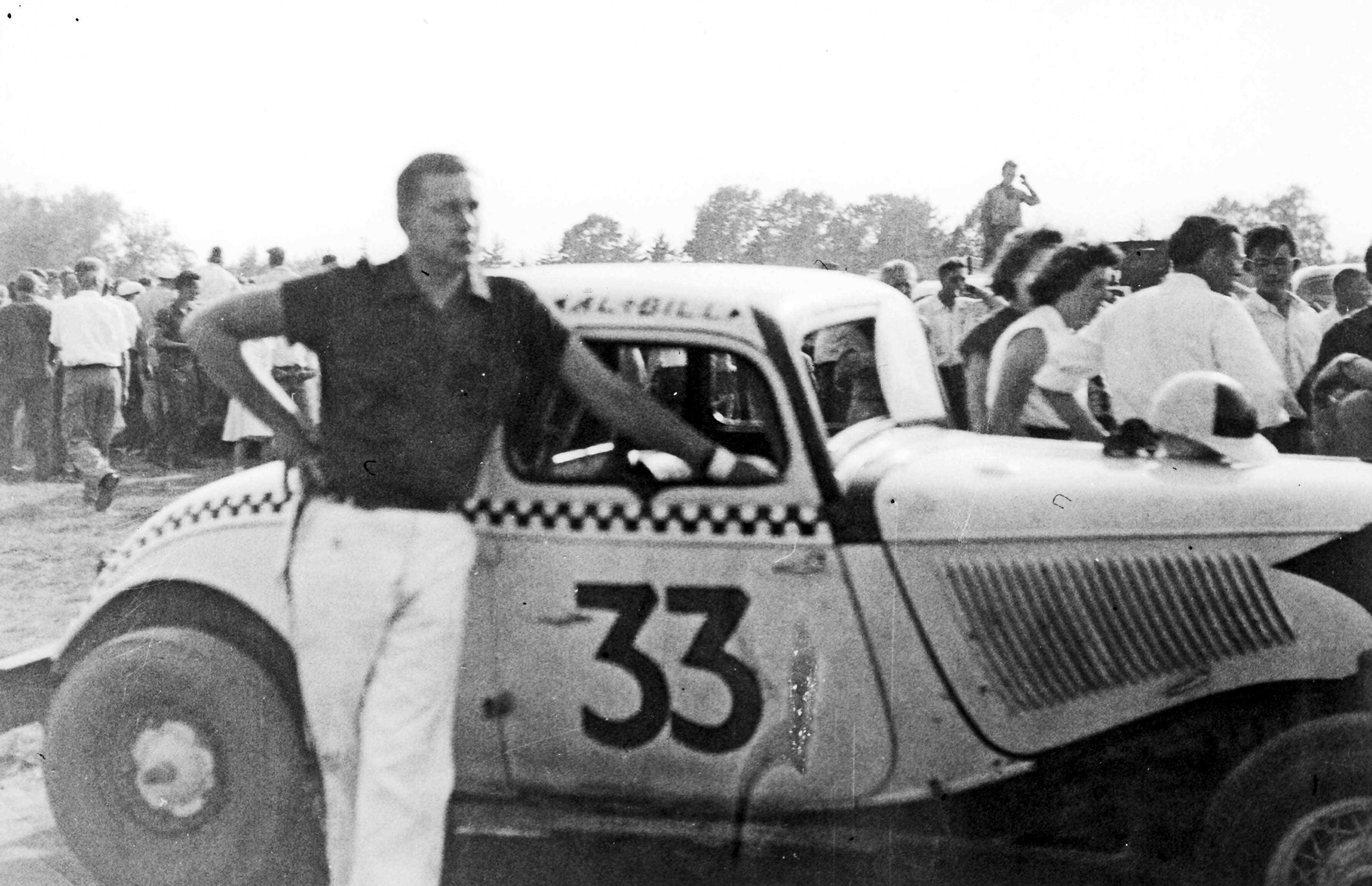 Gokey Gauthier Photo via Corey Kennedy
Big Bill Anderson, better known to most of us in racing as a crewman
for Chet Doaner, stands with the Romano 33. Below – Al
Romano, by the cement wall erected at Pico in 1952, with the 303. Further
Below – Al Romano, a few months before his passing, poses with
Ed Fabian's hot rod. It does kinda look like the original.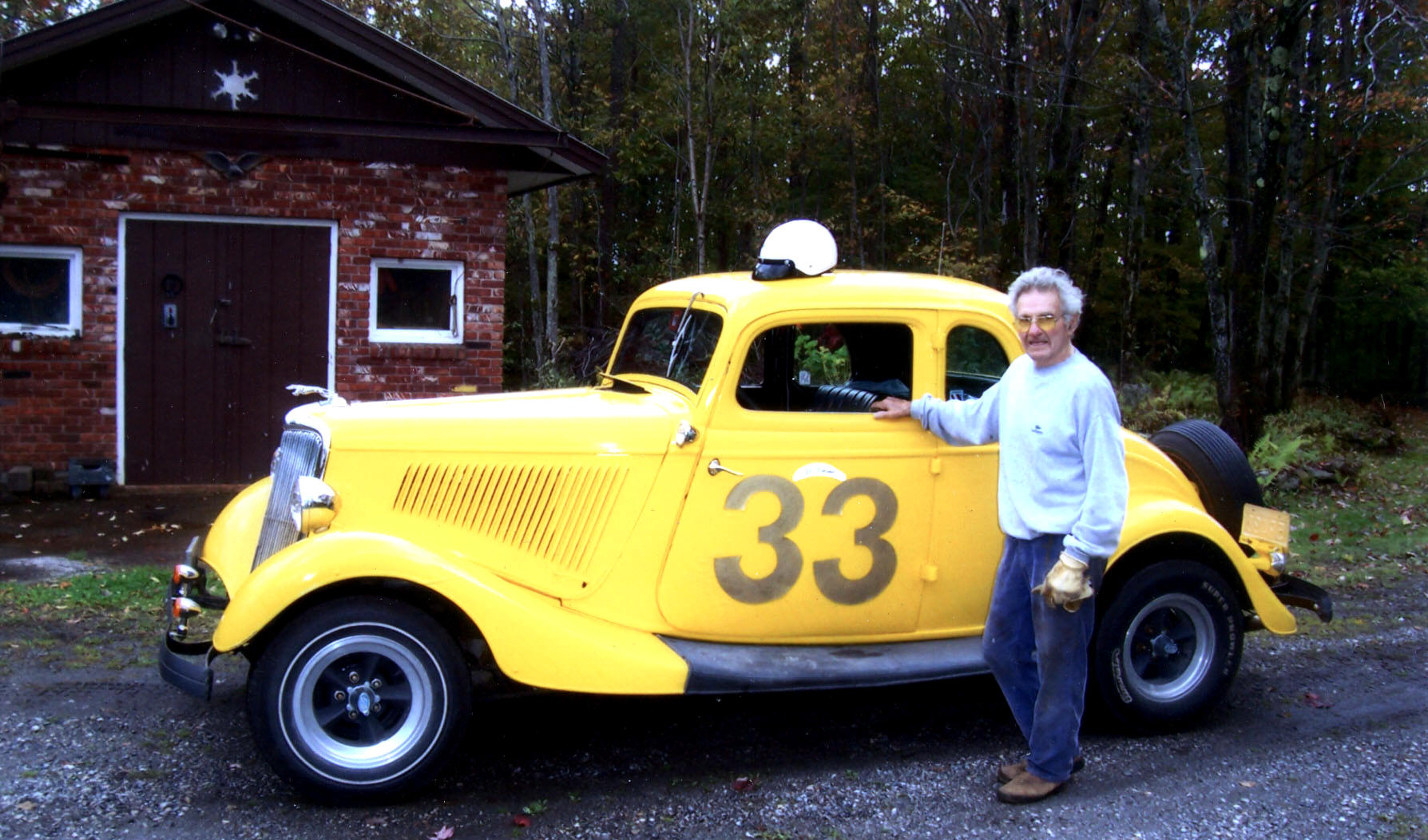 Ed Fabian Photo
Pasquale "Patsy" Romano, co – owner of the Pico Raceway, was supporting son, Al with at least two stock cars, the most famouis of which was Al's buzzing 303, "The Bumblebee". Ed had spoken of this car 33 enough to where he once took his yellow '34 Ford street rod and affixed the #33 on it to cheer up Al Romano, then in rapidly declining health. Corey Kennedy, ran across this treasured photo in an old family album. It showed Rutland's Big Bill Anderson and that car 33. Anderson had told me he drove this car some while Al had the better 303. This photo, probably taken by Gokey Gauthier, Corey's grandfather, clariified a lot for us historians. Being very young at Pico, I could only vaguely remember the cars, and I was pretty sure the Romanos had the 303 and a #111; but that was the first time I think I ever laid eyes on the 33.
I tried to get down to Devil's Bowl as often as I could but I was not only very involved with all going on at Catamount, but I had this part – time sign business as well. In one of the deeply – appreciated but rare visits, I happened to catch sight of a familiar car in an unfamiliar venue. Ripton, VT's wild Robert E. "Bucky" Dragon had purchased one of the famed John Rosati "67 Fords when Rosati broke up housekeeping on the Northern NASCAR Tour and went home to Agawam, MA to return to modifieds. I knew one of the Ford had gone to Dale Hatch, over in Groton, VT and had been driven by him and Russell Ingerson.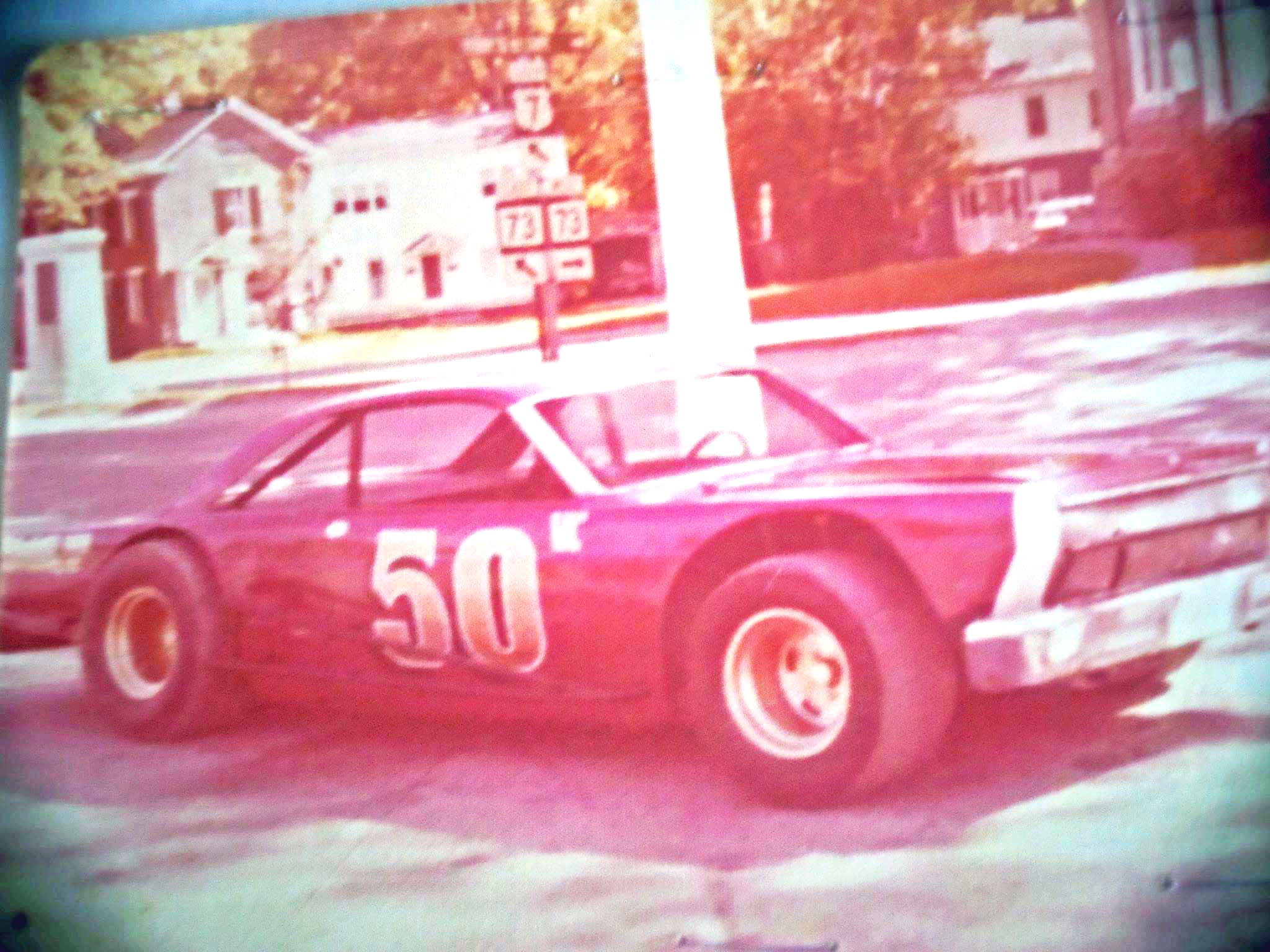 Courtesy of John Lutz
The former Rosati 36 as Bucky's bomber. Below – The car, when it
was a prominent Northern NASCAR entry along with its twin.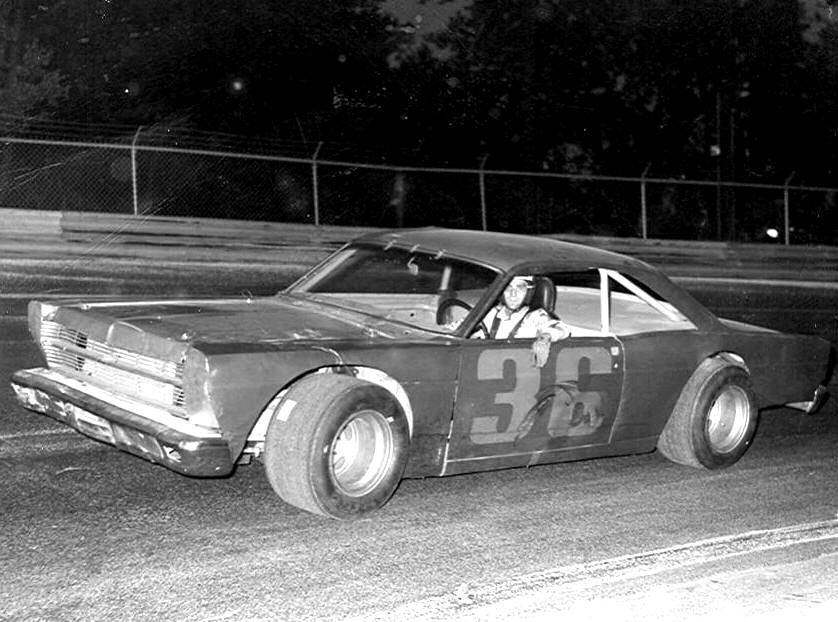 Shany Lorenzent Photo
The second car's fate was unknown until that night at the Bowl. The poor '67 Fairlane was effectively built by Fred Rosner – but not for dirt and certainly not for the erratic and rough Dragon. Bucky, no relation of the Milton, VT Dragon brothers, had a connection with Milton, however in that he had driven cars for Milton's Norm Cyr in the 1960's. The car, now painted red and sporting the number 50, bounced and banged around the dirt track at the Bowl as Bucky sought to hit everything in sight. He'd even make Wild Warren Pease feel wistful.
I know that Dragon was running the car with support and help from Brandon fuel dealer John MacDonough, who had been in the corner of Ed Foley for a number of seasons, years before. I don't think the Ford made it through an entire season, and I doubt it had any history after that. The two Fords #36 were legend with Catamount fans; it would have killed many of them to see it at the Bowl that year. I was, however, tickled to get to see it after all those years.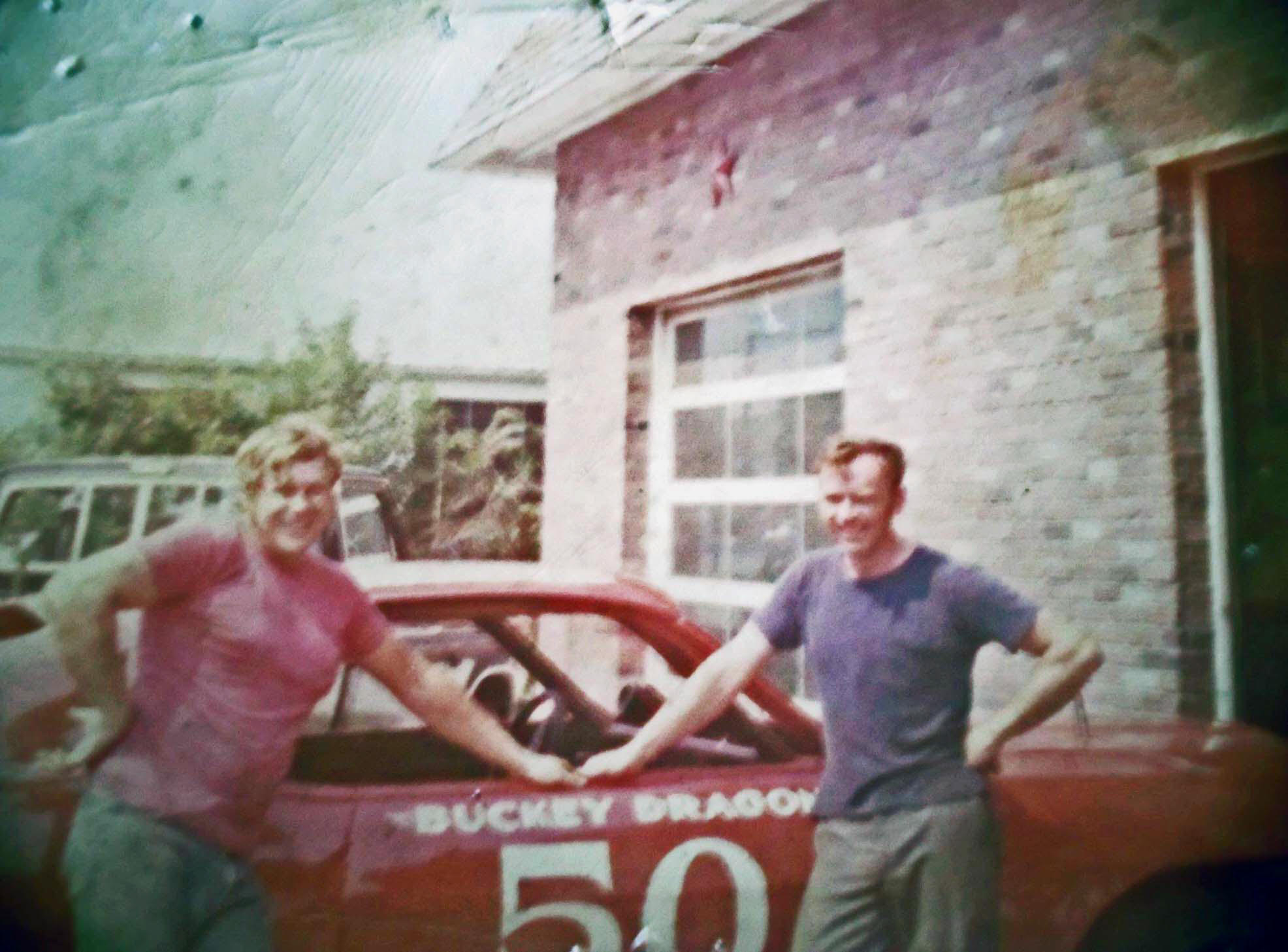 Courtesy of John Lutz
Robert E. "Bucky" Dragon [of Ripton], with supporter and sponsor John
MacDonough in Brandon. Below – Robert "Bobby" Dragon" [of Milton].
Both raced at the Bowl and are no relation. Confused yet ?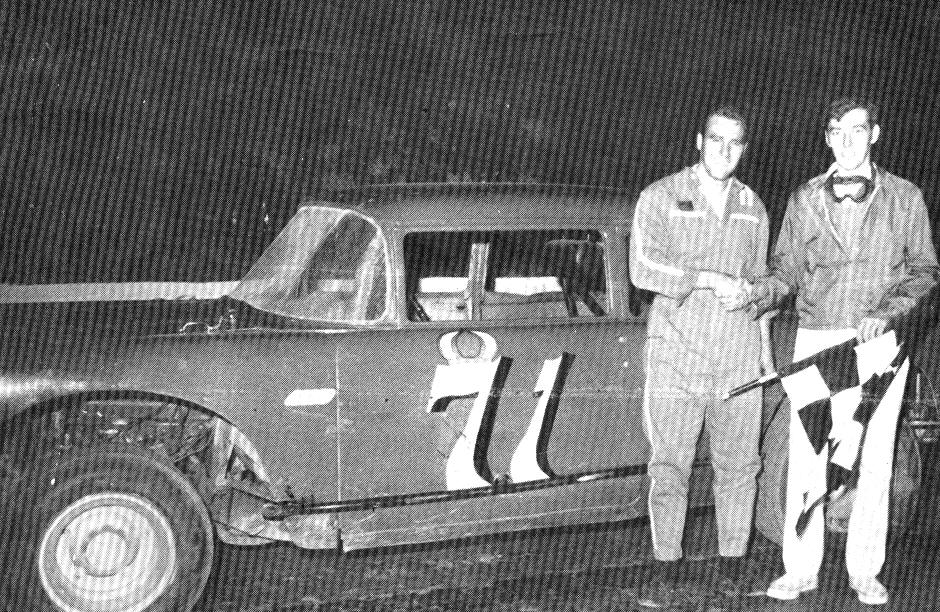 Bob Frazier Photo via Ed Fabian
The final photo [out of many in my Best Facebook Finds folder] is that of Warrensburgh, NY's Fast Eddy Keenan. Actually, at the time of this photo, Keenan probably was better known as the Gray Ghost – probably because of his propensity to run cars in primer. Keenan came to my attention at Devil's Bowl, in the late model division that had grown out of Fairmont Speedway's hobby class. Warrensburgh had been a hot bed of stock car racing, having had the Ashland Park race track there and having a number of large racing families such as the Duells, the Pennocks, the Bakers, and more.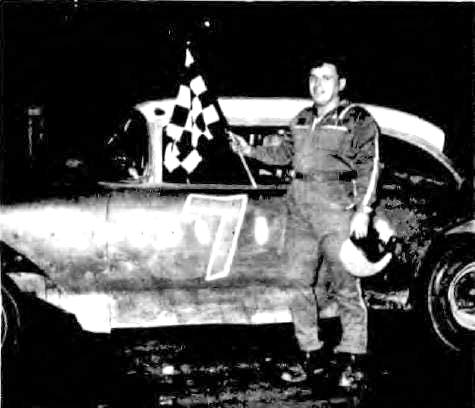 Bob Frazier Photo Courtesy of Justin St. Louis
Ed Keenan, in Victory Lane with his first ever win at Devil's
Bowl in 1969. Below – Bob Dragon gets away as Keenan
and Dave Dufford have a problem in the 1969 season.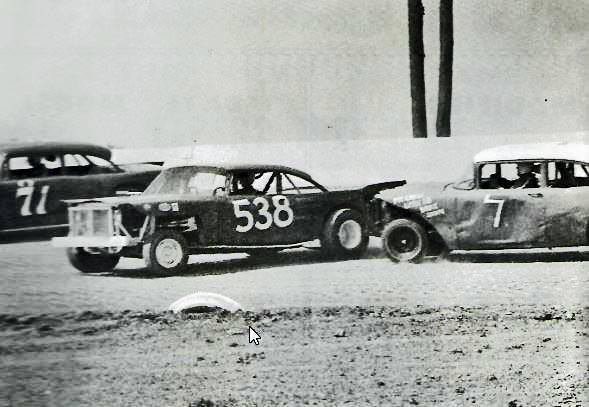 Bob Frazier Photo via Norm Vadnais

I doubt Ed ever ran at Fairmont but Rusty Duell, who ran with Ed in late model classes for years, had visited and managed to mangle a Studebaker there. Keenan may have been in attendance, as an onlooker or crew member. Keenan's early car were nothing to look at, but he was always fast and a real factor at Devil's Bowl before he branched out to other race tracks - probably including Fonda. Keenan had the '55 Chevy pictured in the first photos, but I believe he may also have had a '57 Chevy before getting into Camaros and other more sophisticated equipment.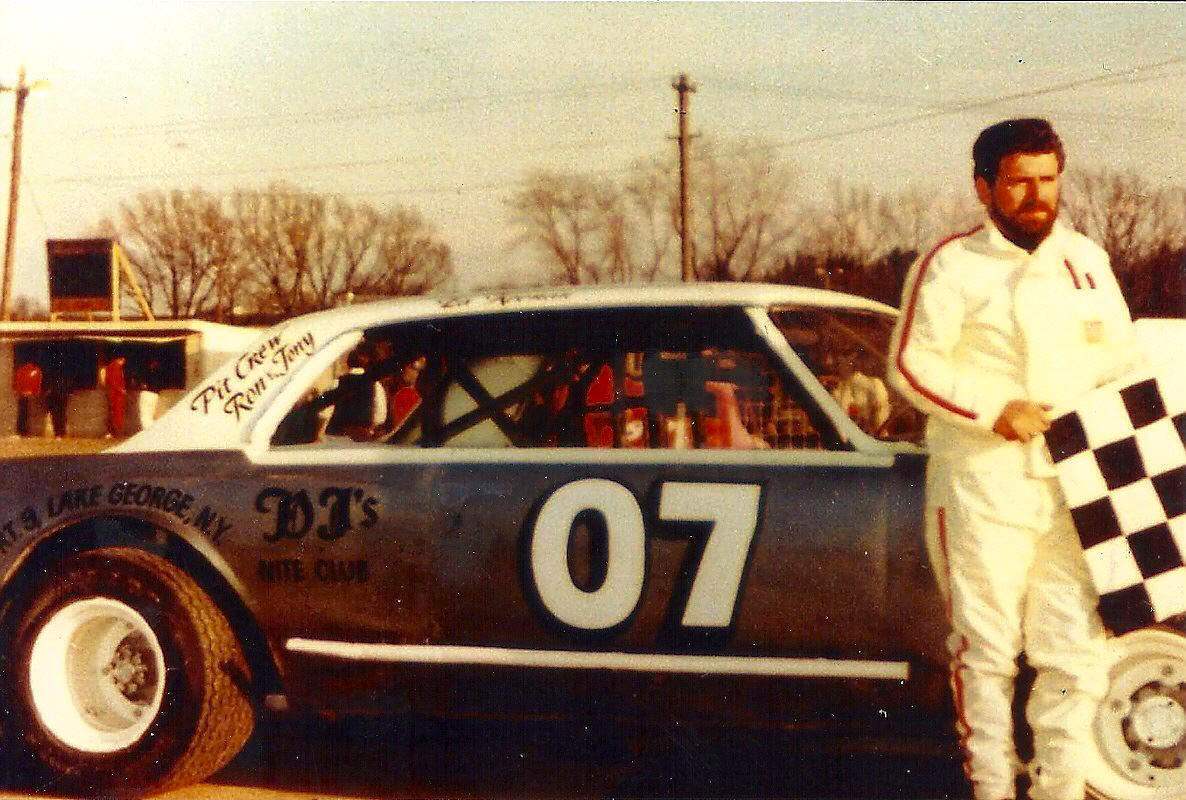 Courtesy of Marty Kelly, Jr.
Keenan, with more developed equipment some time in the 1970's.
Below – The Coonradt – powered Camaro, at speed at Fonda.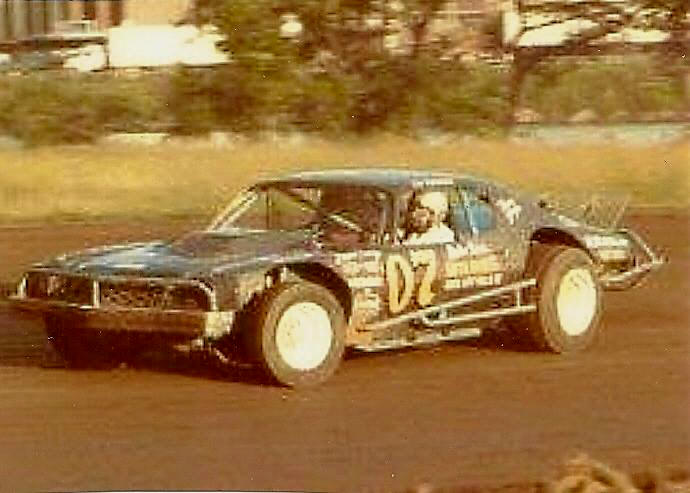 Courtesy of Marty Kelly, Jr.
At least with the Camaro, Keenan had amazing power from engines built by Dave Coonradt [another New York racing family]. As I spent more and more time with Northern NASCAR and Catamount in particular, I sort of lost track of what Ed Keenan was up to; but, he certainly was a popular figure in some of those early years at Devil's Bowl.
There are more photos in my "best finds" image folder. Maybe another time. I am just so happy these are popping up – It won't take much to lose stock car history from the old days entirely. Historian Rick Parry said, a week or so ago, he is uneasy about what will happen to his stuff when he passes. I guess we all are. Families clean stuff out, computer hard drives fail; and s@*%! happens.
Please email me at wladabou@comcast.net if you have any photos to lend me or information and corrections I could benefit from. Please do not submit anything you are not willing to allow me to use on my website - and thanks. For those who still don't like computers - my regular address is: Bill Ladabouche, 23 York Street, Swanton, Vermont 05488.
AS ALWAYS, DON'T FORGET TO CHECK OUT THE REST OF MY WEBSITE:
www.catamountstadium.com
Return to the Main Page
Return to the Main News Page
Return to the All Links Page
Return to the Weekly Blog Links Page