BILL'S [Somewhat] WEEKLY COLUMN/BLOG PAGE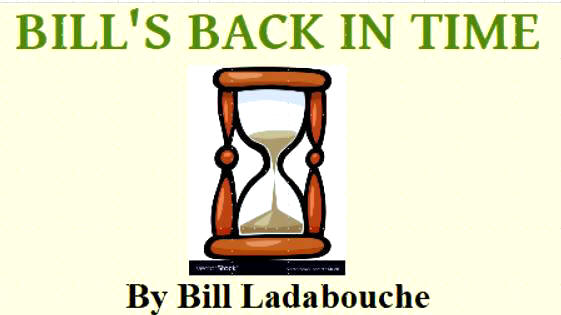 REMARKABLE HUDSON MEN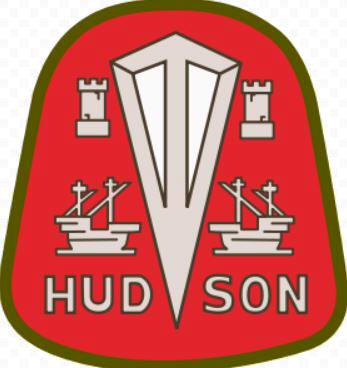 Courtesy of Wikipedia

After you give Henry Hudson his due, there are a number of men in early stock car racing in the Northeast who swore loyalty to that long bygone make of car known as the Hudson. Henry worked for the Dutch and explored territories before only having been previously known by the region's native inhabitants. That might explain the ship on the Hudson logo.
These auto wizards took a brand of car that was, for multiple reasons, destined to disappear into the depths of automobile history and ran its products until it was either no longer allowed or just too difficult to find parts for. The company, started before 1920 and named not for the explorer but for one of its founders, hit a number of milestones before fading out in the face of the massive Big Three car corporations after World War II.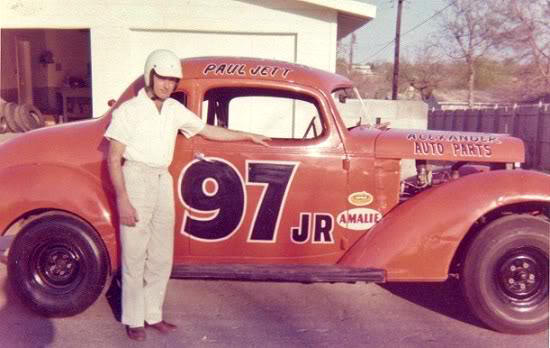 Source Unknown
The Connecticut – based Hudson of Paul Jett, shown here in 1961
is one of the prettiest Hudsons I ever saw. Below – This one, at
Airborne Park Speedway in the late '50's is the ugliest.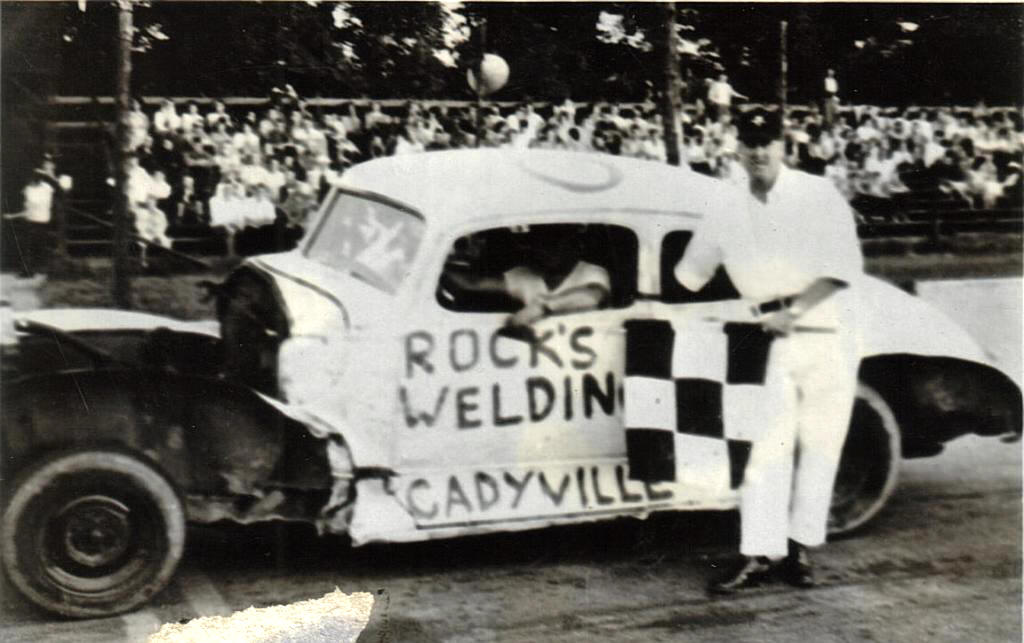 Bob Mackey Photo via John Rock
The Hudson company produced Terraplanes in the 1930's, These were favorites of many modified and sportsman teams for as long as they could find them – up into the early 1960's. The other high point in racing was the production of the Hudson Hornet, a low – slung passenger car that not only served as a great family vehicle but also seemed to be made just for racing. Hudson Hornets were very dominant in NASCAR racing until their sheer age caused them to be phases out.
So it is that, just like Fords, Chevies, Studebakers, Mopars, etc. there were car owners and builders who were fanatically loyal to Hudsons and fielded them until it was no longer feasible. I don't pretend to know a ton about anyone in this article; but, I do know enough to select them as some of these Hudson men who made stock car racing fun to watch until we got into the 1970's and things started to homogenize. I will include Al Green, Vern Baker, Phil Russell, and my late friend Steve Ladd, and an owner whose name I haven't learned yet among these people.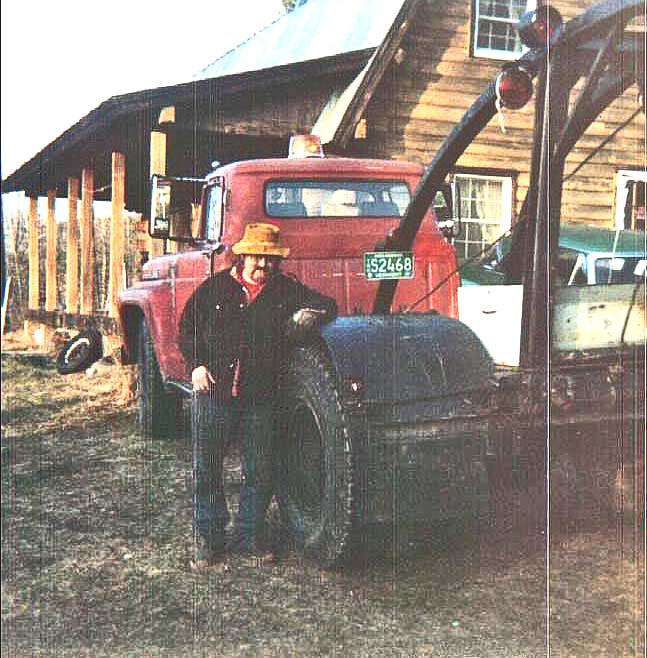 Courtesy of Alex Alexander
Steve Ladd, at home in Chelsea, with about the only vehicle
that wasn't a Hudson – his tow truck. Below – Ladd's Hudson Wasp
early '30's Bear Ridge stock car.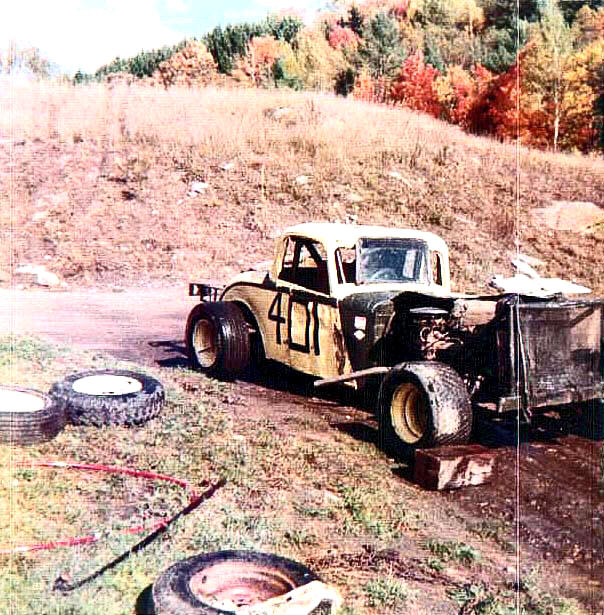 Courtesy of Alex Alexander
I will begin with an old college friend and perhaps the biggest Hudson fanatic that few people knew of – Steve Ladd. Not a huge racing presence, he was one of the biggest Hudson lovers I ever knew. Coming from the small and quaint Vermont village of Chelsea, Ladd's twangy drawl [spoken out the side of his mouth] belied a high intelligence that earned him good grades in college while most people thought he was just some hick.
I had the unique adventure of going over the New York state line one night with Steve because there, you could drink at 18. Upon returning, you come into Fair Haven, VT and encounter this railroad crossing after which the road drops dramatically. Steve had this '62 Plymouth, which launched into the air.
As passengers were screaming during the full three seconds in midair, Steve muttered out the side of his mouth, "Ain't nuthin' ser- ee -us ."
The car landed with a scraping crunch, and we all journeyed on back towards Castleton State College. I kind of grinned at Steve, who added, "See ? Toldja, it warn't nuthin" SEE – ree – us."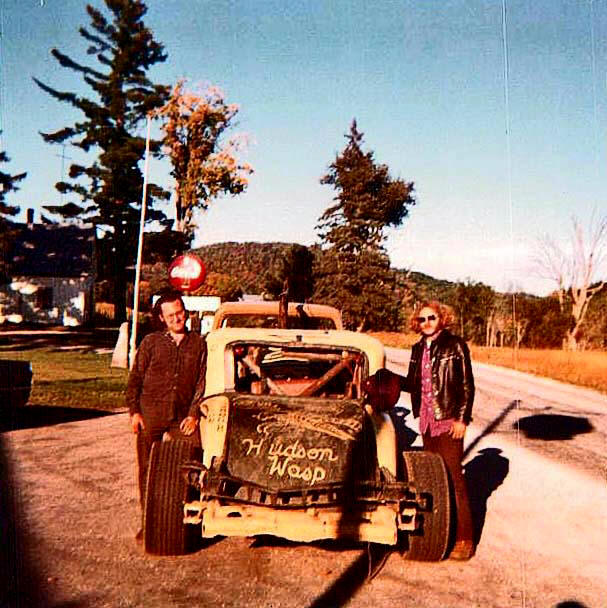 Courtesy of Alex Alexander
Steve and close friend Alex Alexander, with the Wasp ready
to go to Bear Ridge Speedway. Below – Alex, with what he says in
another Hudson they ran at Bear Ridge.

Courtesy of Alex Alexander

Steve did do some time teaching, but his passion was collecting everything Hudson he could afford to get his hands on. Living a life far too short in span due to an intense love for wine, Steve managed a staggering Hudson collection, liberally sprinkled around his property. He and friend Alex Alexander also managed to field some Hudson stock cars at nearby Bear Ridge Speedway, a fifth mile rural oval built by George Barber in 1968 to save the vanishing flathead and six cylinder GMC racing cars of past decades. They may have had the only Hudsons there.
Some time after Steve's passing, Alex sent me a photo of the Hudson Bear Ridge entry Steve and he had fielded. It didn't look like much, but I guess they did all right it at what was then a backwoods fifth mile bull ring, on top of a mountain, a few miles from the New Hampshire border by Interstate 91. When Stock Car Racing magazine did a somewhat tongue in cheek article on Bear Ridge in the late 1970's, it emphasized the bucolic nature of the facility and the accents of the participants. Ayup, one of them coulda been Steve.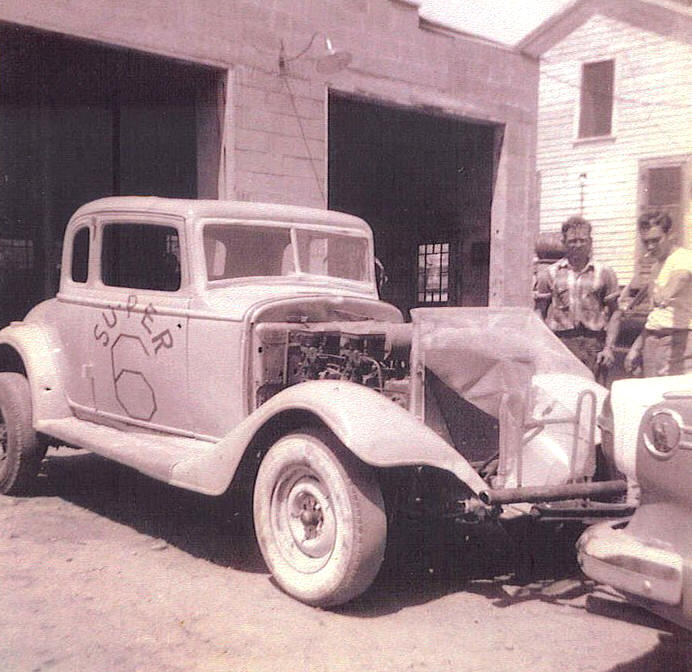 Courtesy of Warrensburgh Historical Society
This may be an an early photo of Vern Baker, with the newly – created
Super 6 – which would be piloted by Wally LaBelle. Below – Vern
fussing around the 6 PACK, the same car ten+ years later with driver [and no relation] Ed Baker.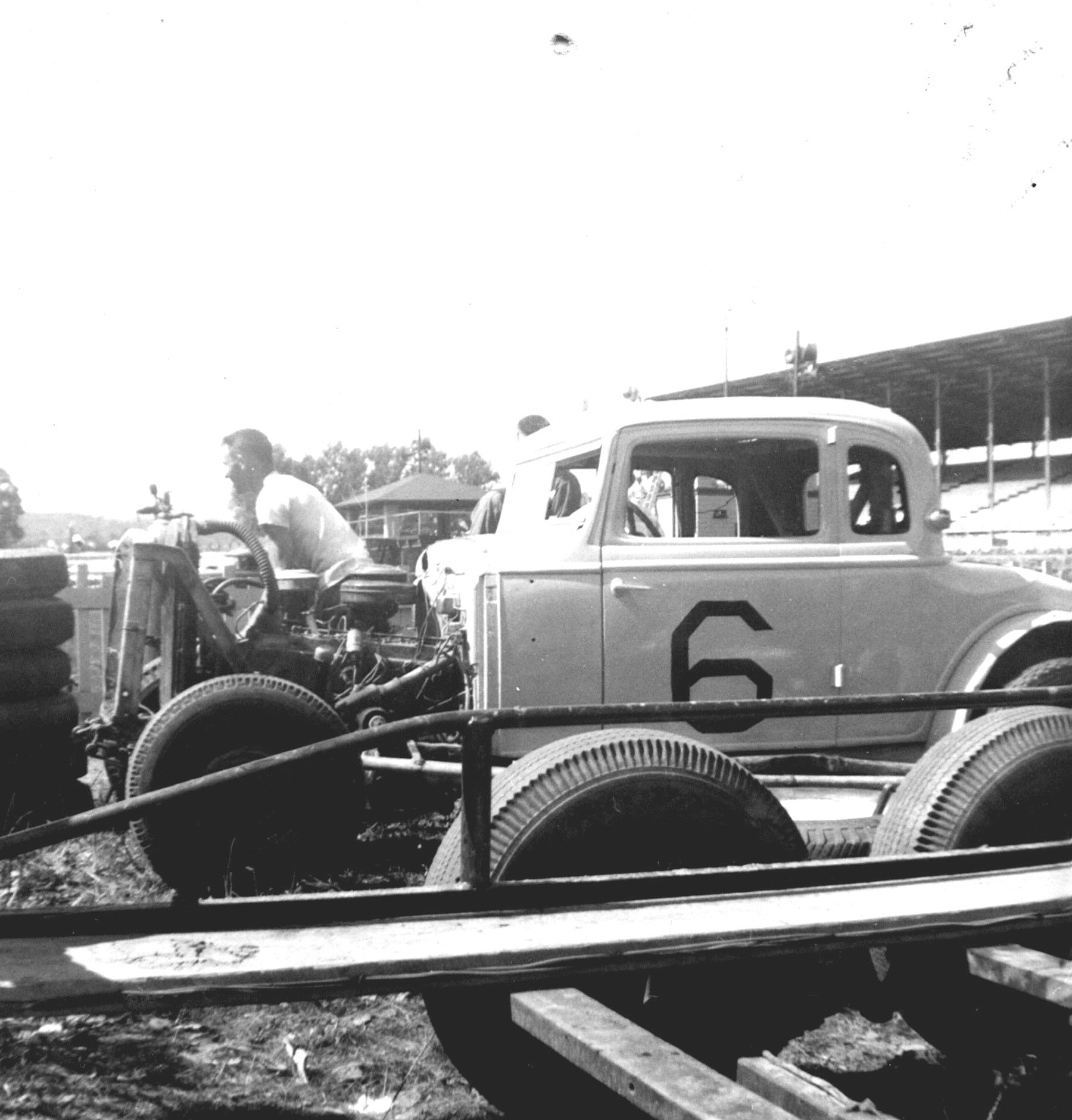 Ladabouche Photo

Another Hudson man who gravitated toward the older Hudson bodies was Vern Baker, from the Warrensburgh, NY area. The area encompassing Warrensburgh, Thurman, and Athol, NY has many Baker families. Vern, at one time, had a driver named Ed Baker, and they were not even closely related according to Ed.In the early 1950's, Vern constructed an early thirties Hudson coupe which he numbered "Super 6". [There was a lot of "super going on around the Warrensburgh Speedway at that time; another prominent car was a Chevy called Super 38].
Vern was able to land the services of Glens Fall, NY driver Wally LaBelle to pilot his yellow Hudson at Warrensburgh [sometimes called Ashland Park] and at other tracks such as Whites Beach Speedway, in Ballston Lake, near Saratoga. There is also 8MM footage proving they ran some at Stateline Speedway, North Bennington, NY, at Fairmont Park Motor Speedway in Fair Haven, VT, and maybe at Pico Raceway in Rutland, VT. If they followed the same circuit as the Brick Pennock - owned Maltbie Chevrolet – based Super 38 – they may have also run at Mettowee Speedway, North Granville, NY.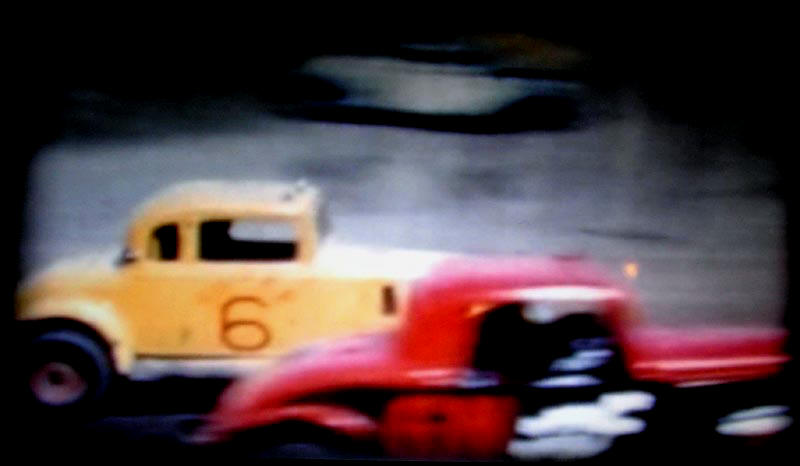 From Dan Ody's 8MM Old Speedways DVD's
Wally LaBelle and the Super 6 are seen in action at Whites
Beach Speedway around 1955. Below – This is almost certainly
LaBelle and the Hudson at speed at Stateline Speedway.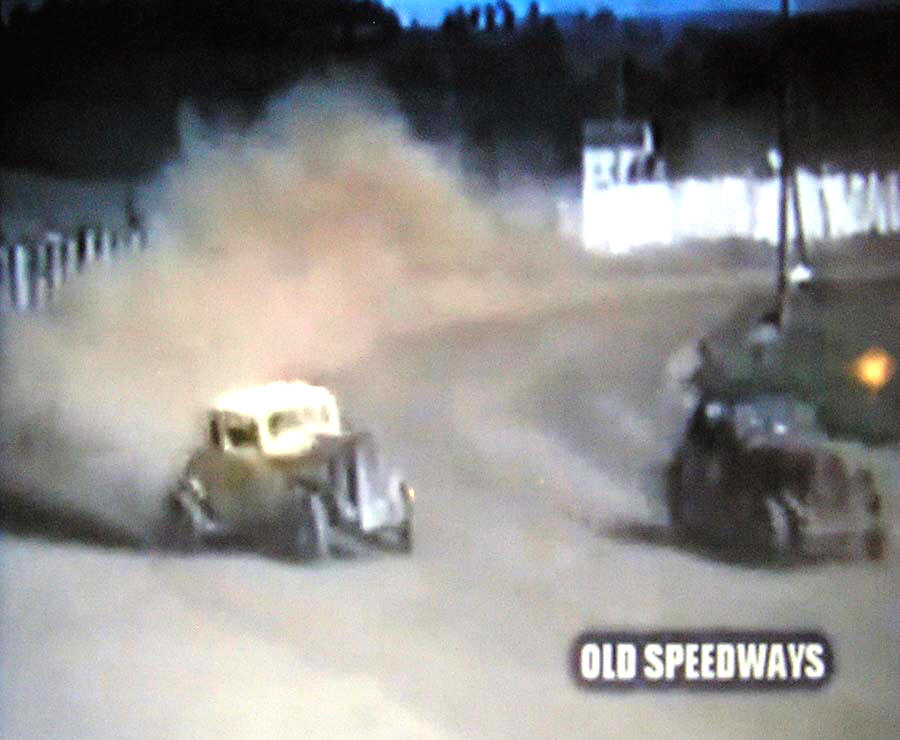 From Dan Ody's 8MM Old Speedways DVD's
After many tracks from that spate of track openings died out in the mid '50's, the Super 6 would have likely been restricted to Warrensburgh and Whites Beach, as both have newpaper articles and 8 MM footage showing they were running during that dry spell from around 1953 to 1960. Lovingly described by some of his West Gelns Falls neighbors as "pretty much crazy", LaBelle was a very successful driver and won more races than the team's fair share. It is not evident when he stopped racing; he once re – appeared around 1962 to take Ed Baker's place in the car once at Fairmont Speedway [and he may have won that day].
At any rate, even Warrensburgh closed by around 1960 – especially after a suspicious grandstand fire wiped out the spectator area at the old fairgrounds oval. When Otter Creek Speedway opened as a NASCAR track near Vergennes, VT in 1961, some of the Warrensburgh teams came over and tried their luck as hobby cars, taking a back seat to the more potent NASCAR sportsman cars that were coming up from the Fonda Speedway area. It is listed in a program that Vern's car [now called 6 PACK] and the Me2 of Wilbur Baker did show up at least once.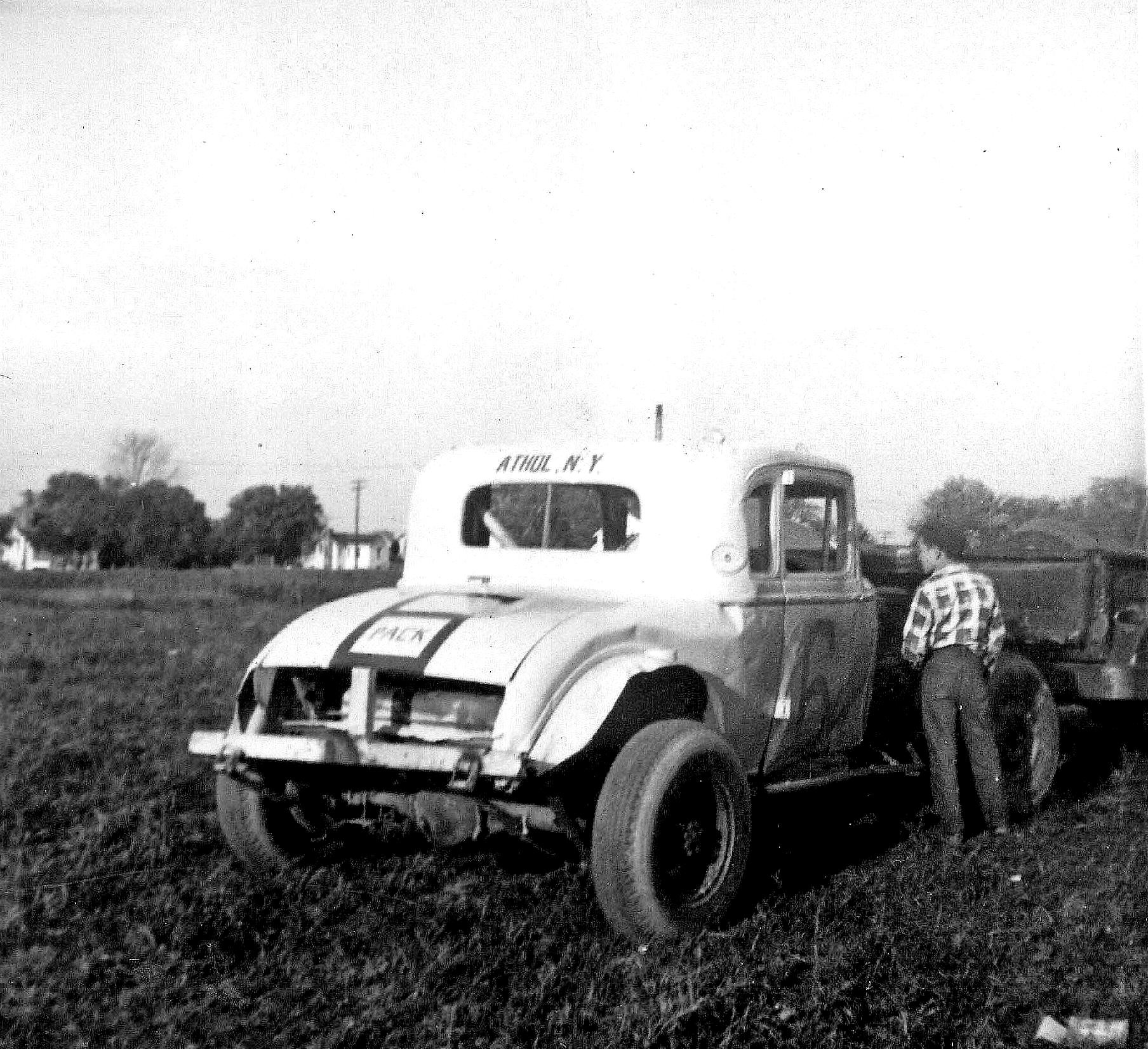 Ladabouche Photo
A young boy admires the 6 Pack after races at Fairmont
Speedway around 1963. Below – Vern Baker works around
the car in preapration to go home after the track had made him
replace the hood and fenders.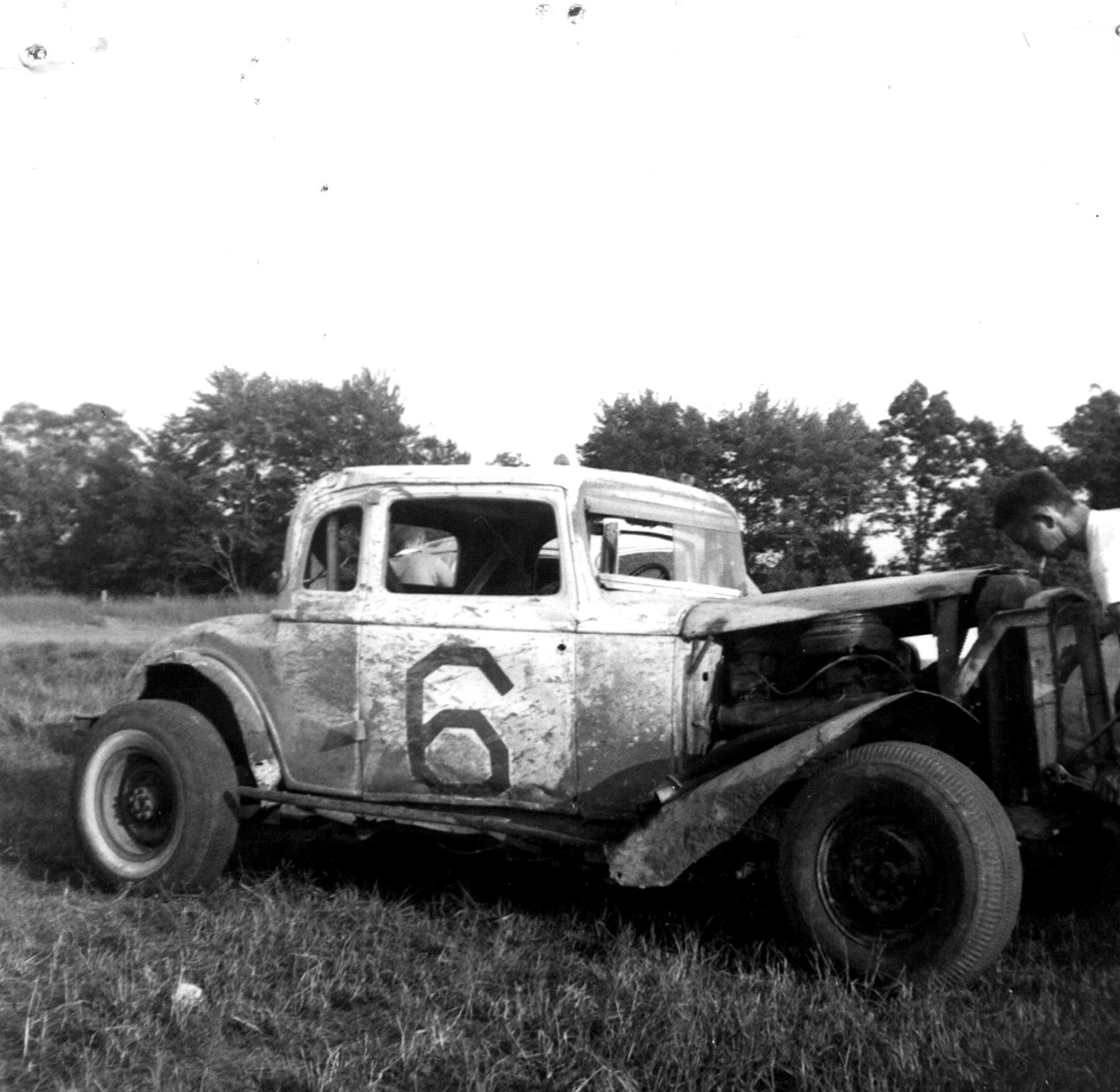 Ladabouuche Photo

Then, in 1962, C.J. Richards re – opened the long – dormant Fairmont Speedway. Running flatheads and GMC six cylinders, the track was a better place for some of the old Warrensurgh/ Whites Beach cars to compete. Vern would take the 6PACK down there with Ed Baker as his driver. The team was an immediate success, with Ed winning a number of features during that and the next season. Not too many of the other Warrensburgh cars fared as well. The Super 38 team, now in the hands of Dick Pennock [not a Hudson car] did run pretty well, too.
I got to talk to Ed Baker a few years ago when he gave me a surprise phone call. Ed verifies that the old 6PACK could be fast but that Vern's insistence on pinching pennies on parts often cost them feature wins as the yellow, aging Hudson would drop out near the end of races. The two unrelated would ride the old Hudson to a number of excellent finishes until 1964, when Vern came out with a newer Terraplane body and what was described as a Hudson crossfire engine. It never did much; Ed said it was the tight budgets that bit them the hardest.
Never saw either Baker after that at races. 1964 had been a total bummer. The old coupe wasn't itself. A low point came at one of the Vermont State Fair shows when Ed threw a wheel off the Hudson, and it went through the fencing, striking a spectator standing on South Main Street. The man was critically injured. Then the shortcomings with the new Terraplane about did it. I never saw either Baker at the races after that season.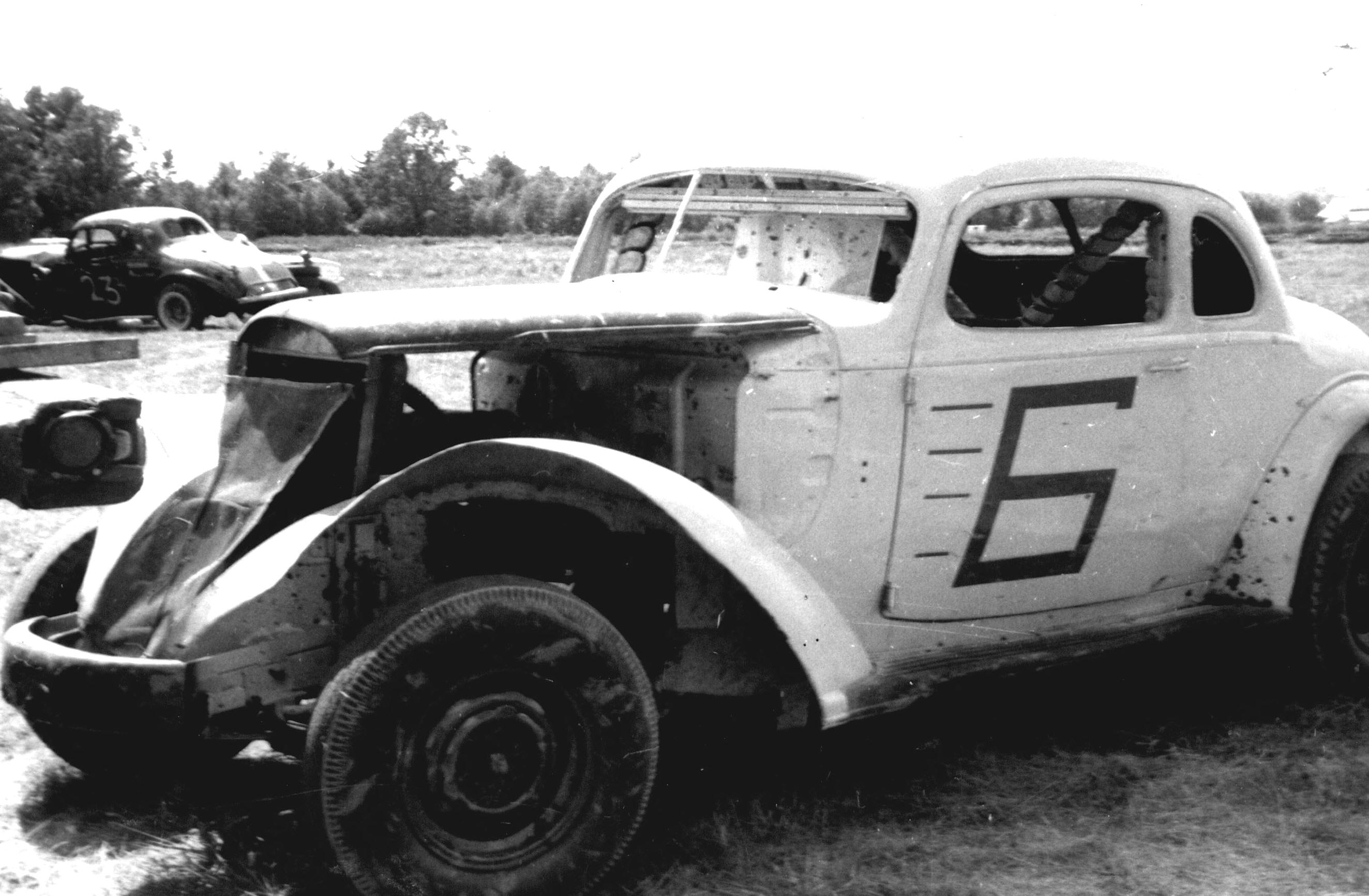 Bob Frazier Photo Ladabouche Collection
The less – than stellar crossfire Terraplane sits in the pit area
at Fairmont late in the 1964 season. Below - Ed Baker, at
speed on Fairmont around 1964.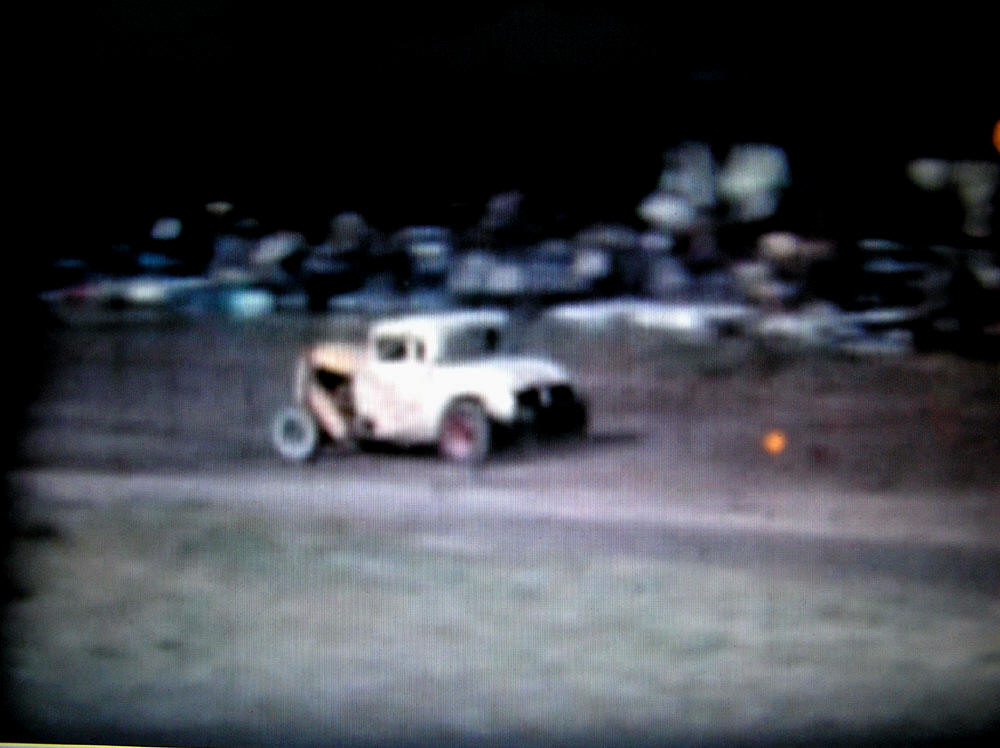 From Dan Ody's 8MM Old Speedways DVD's
Another combo of men from New York sometimes paired up and sometimes operated separately. Al Green, the older of the two, was often known as Pop. An engineer from Eastern New York, he would build a Terraplane coupe using the number 3 1/7. Anyone inclined to math knows this is the value of Pi, a ratio whose final decimal equivalent has never been reached. It's the p in the formula a = pir2, to find areas of circles.
The 3 1/7 was first a plain black coupe with simple lettering. Pop was all about performance, not car shows. I would imagine the car perfomed at such places as Arlington Speedway near Poughkeepsie, Dutchess County Fairgrounds in Rhinebeck, Route 66 in Averill Park, the Pine Bowl, and the like. I don't have information on any drivers Green used before Joe Messina. Messina and Green were apparently a very strong team in that region - perhaps even at Lebanon Valley Speedway in the early 1960's.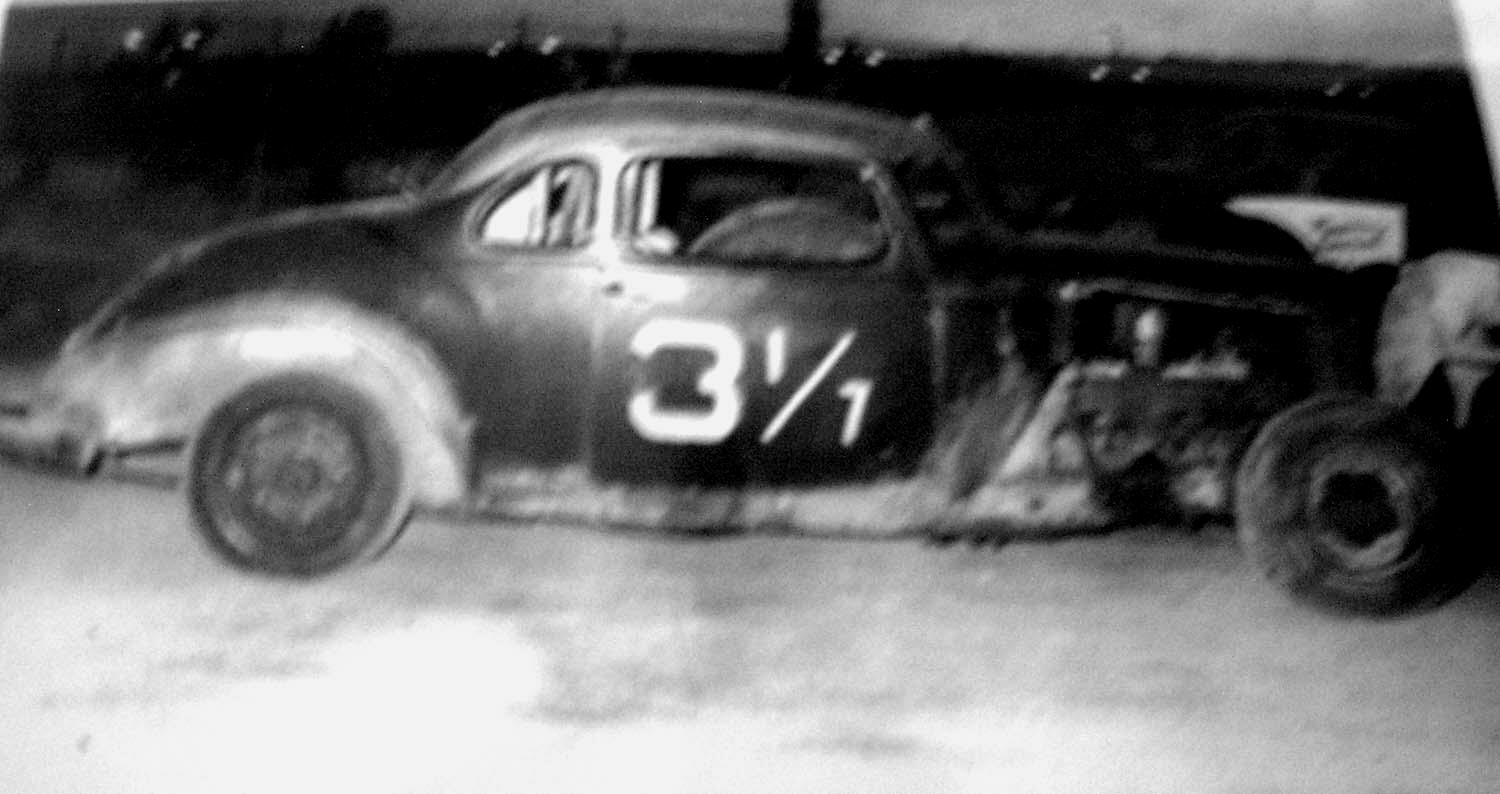 Courtesy of Bob Barber
The Al "Pop" Green 3 1/7, when it was apparently still quite new.
Below – This very blurry old photo shows Joe Messina [left]
with the Pop Green team and the black 3 1/7.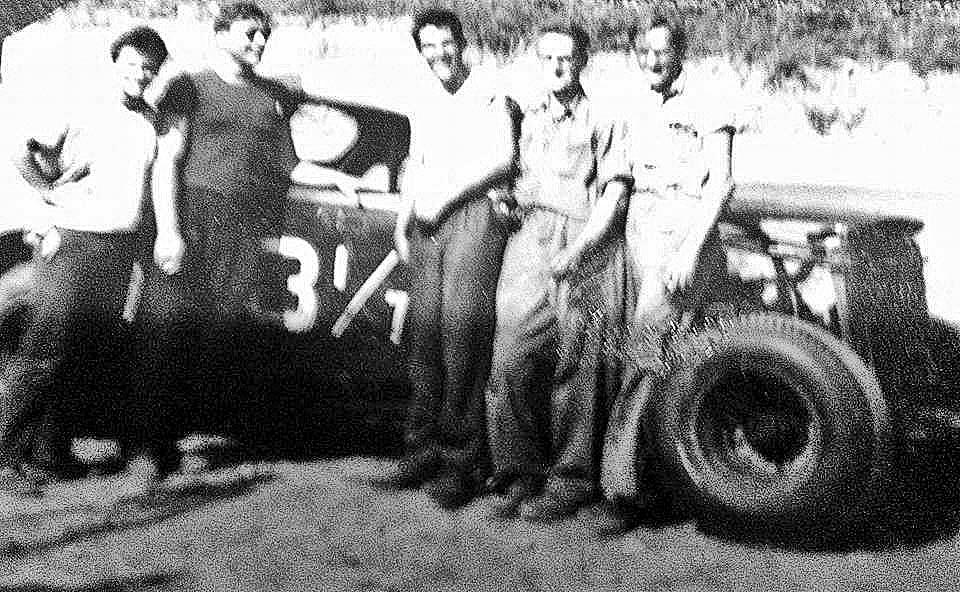 Courtesy of Sam Barlow

I haven't been lucky enough to get a ton of material on he car or the owner. I had one personal experience to draw from. One time, around 1963, Green and Messina showed up at Fairmont Speedway with a well – used white Hudson coupe numbered 3 1/7. At the time, I hadn't heard of Green, although Messina had appeared at the Rutland fairgrounds in 1961 with a Lebanon Valley program put on there. I would later hear a lot more about Joe, but no more about Green until I started doing this historical research.
Anyway, Messina was performing strongly with the big white coupe that none of Fairmont regulars had ever seen before. He looked like a shoo – in to be a feature contender, as many newcomers were at Fairmont because a.) their cars were not often thoroughly teched, and b.) the Fairmont regualrs wouldn't know what to expect from them. Messina's day was derailed when the Hudson through the outside front wheel, holding a big racing slick.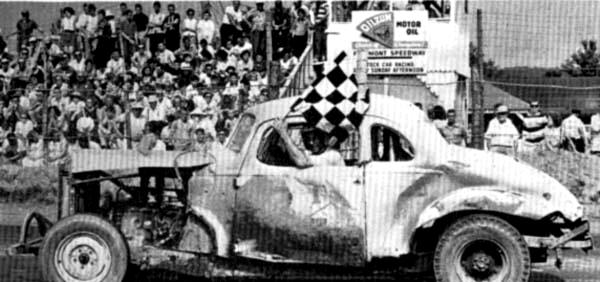 Bob Frazier Photo Courtesy of Ed Fabian
Joe Messina, with the Green car now painted white, taking a
heat at Fairmont the same day as the wheel coming off
the car into the stands. Below – Messina came with a Molitor - owned
Hudson at the Pine Bowl Speedway.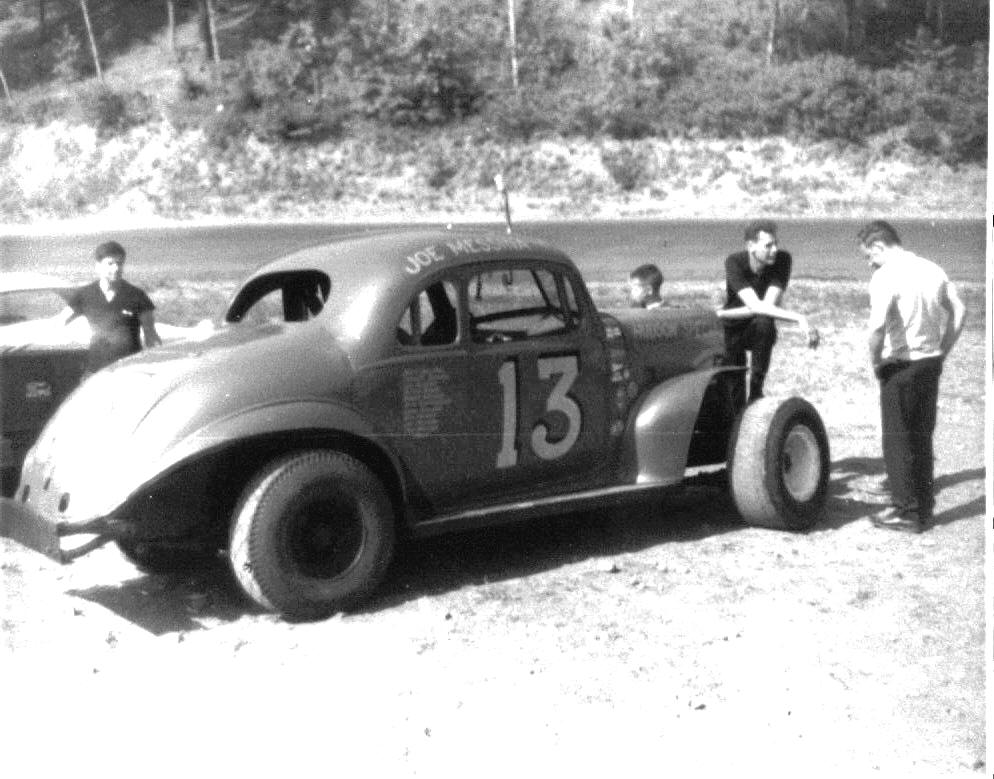 Ladabouche Collection

The wheel came careening down the frontstretch a bit, bounced, and then suddenly hit something and changed direction. The next bounce took it over the old flimsy catch fence. None of us in the bleachers had had time to really react. The hug flying object took a huge bounce, so near to a baby carriage as to actually cause it to move slightly. Then, it went off into some parked cars off to the north side of the bleachers, where I assume it raised some hell. Never saw the team there again. When I told Joe about the incident aroundd 2017, he was so upset I wish I hadn't related it to him.
Messina also had Hudsons of his own, more than likely engineered by Green. Joe's tended to also be Terraplanes, but were maroon colored #13's. I have a few shots of him at Pine Bowl, as well as a fair number of other guys with Hudsons such as Bob Zimmerman, Pete Peterson, and others. Joe's Hudson career came to a halt when he was tabbed to drive the highly – competitive Ken Tremont 115's – primarily at Lebanon Valley.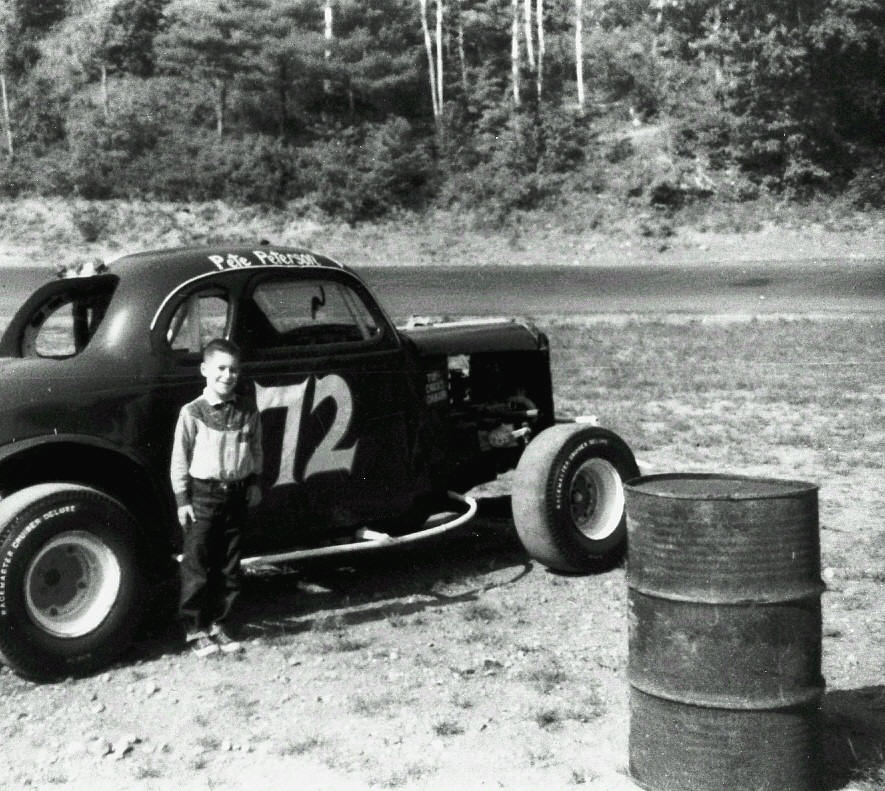 Courtesy of Phil Miller
Pete Peterson was a sometimes Hudson runner, usually at the
Pine Bowl. Below – Bob Zimmerman, often associated as
a car owner for brother – in – law Carl Fink, drives his
own Hudson with trademark Hudson at Stateline.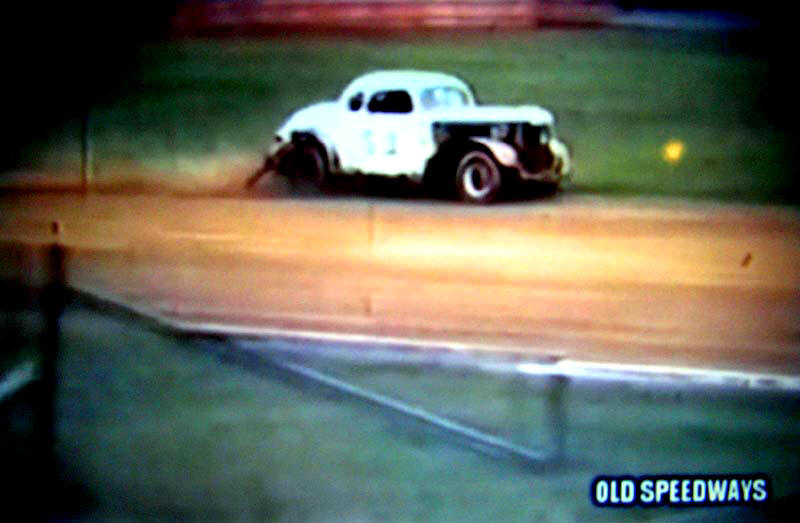 From Dan Ody's 8MM Old Speedways DVD's

Airborne Park Speedway in South Plattsburgh, NY was not so much a bastion of the unusla car, unless it was Studebaker. But there was one particular Hudson team that ran a car 0. Sometimes this car had a nicely – done professional letter job that said "This Time It's Hudson !". My best recollection of the driver is Shorty Carmichael, a man whose stature absolutely fit his nickname [no Pee Wee Griffin here].
The 0 Hudson had some great runs at Airborne, as well as at the Malletts Bay Raceway in Colchester, Vermont. The car is usually identified as being driven by Carmichael; but, there are two photos that show Dick Gushlaw, another early Airborne driver, also had success behind the wheel of the Hudson. Airborne did see Hudson action from Wayne Chandler's wrecky but fast 3Jr. and popular Morrisonville chauffeur Henry Jarvis had an A & W sponsored brown and orange #77 Hudson for a number of years. That one even raced in one of Airborne's famous ice races.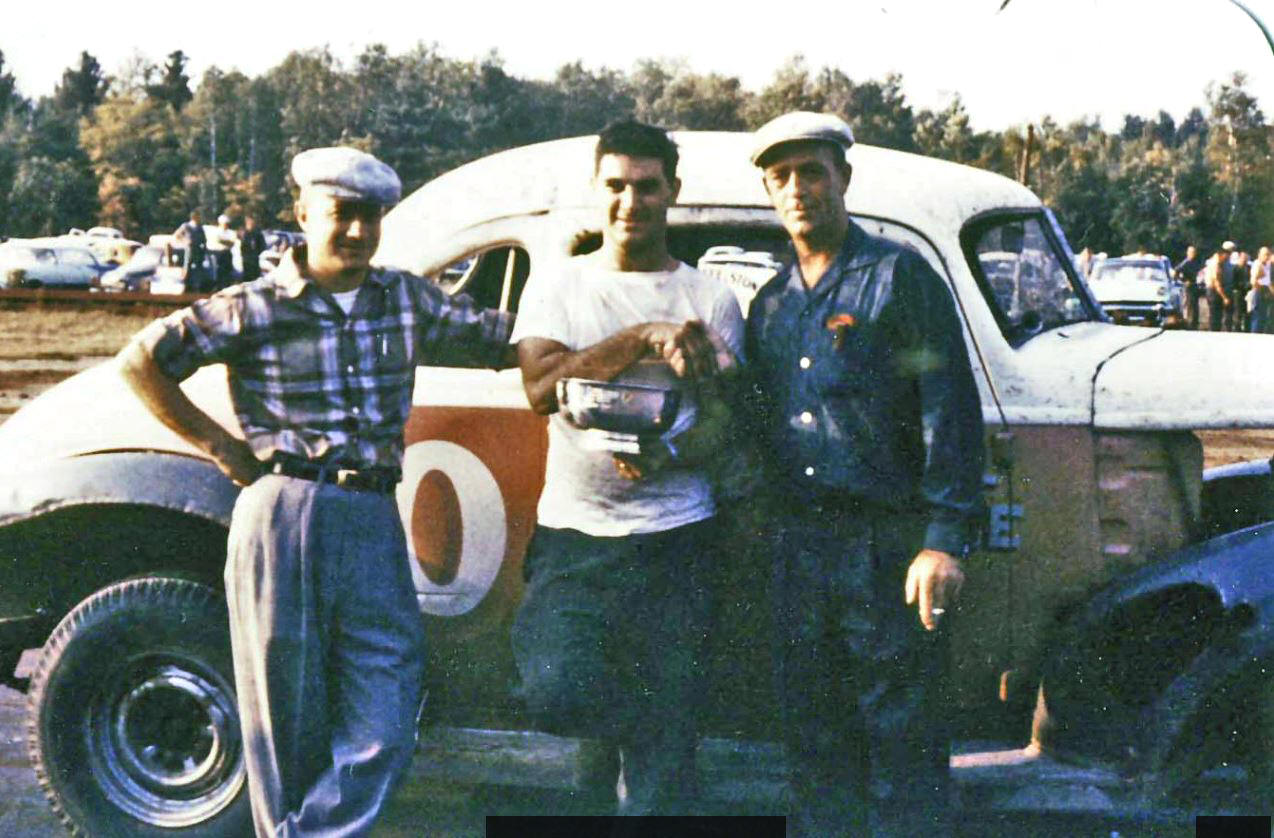 Bob Mackey Photo via John Rock
Dick Gushlaw stands in Victory Lane with the 0 Hudson and his
car owner, whose name I haven't ascertained yet. Below – Shorty
Carmichael, with the same car, around the end of the 1950's.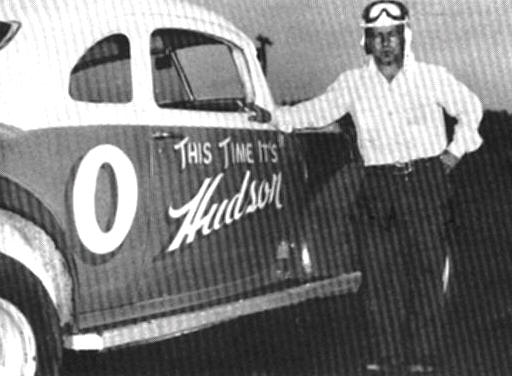 Bob Mackey Photo via John Rock

An absolute Hudson stalwart [and the last man to run a Hudson stock car competitively] was Gilsum. New Hampshire's Buddy Bardwell. In the early days, he did use Fords and such bearing his familiar #13; but, before long, Bardwell was running an early 30's white Hudson coupe which he kept going right through to when his health no longer allowed him to race in nostalgia races in New York.
Although my first memory of Buddy is winning Fairmont Speedway's opeing event on Memorial Day, 1962 with a Ford coupe, he had the Hudson going by the end of that season – running it at Claremont and Fairmont Speedways. He would be a contender for feature wins with the car until the tracks began to go over to the overhead V-8 engine. I am sure he ran it some, after that, at places like Bear Ridge.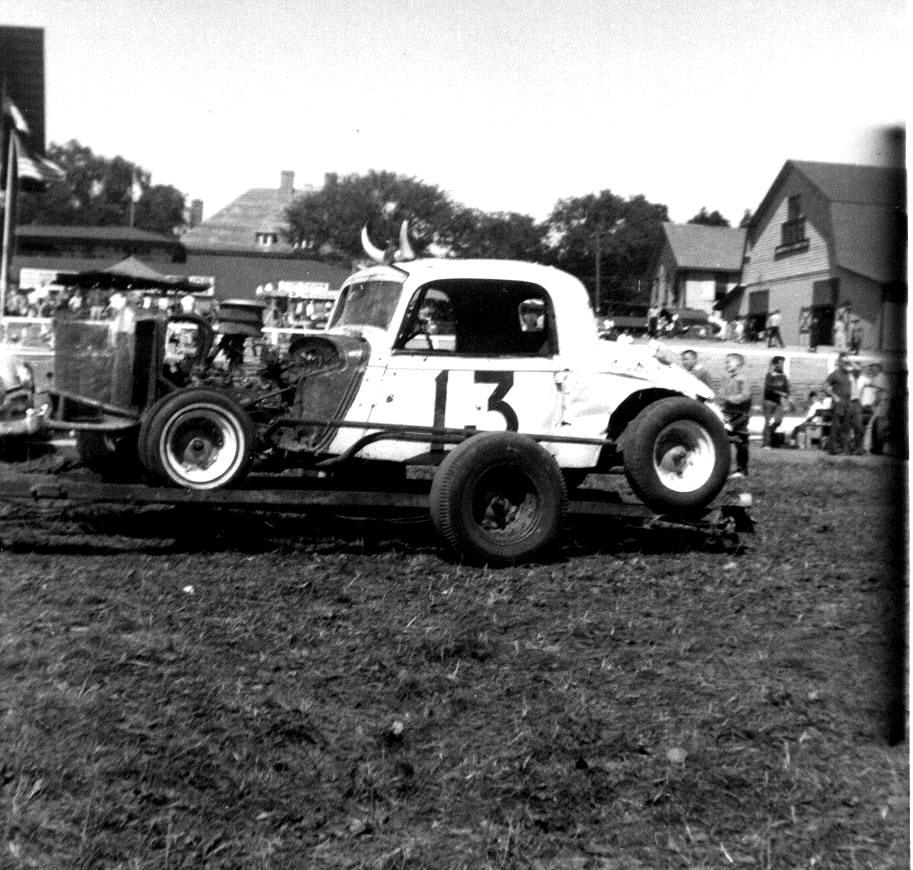 Ladabouche Photo
Buddy Bardwell tows into the huge Vermont State Fair stock
car program in 1962 with the fairly new Hudson. Below -
Buddy, in much more recent times, on vintage car touring
at a Ron Bouchard reunion gathering in 2007.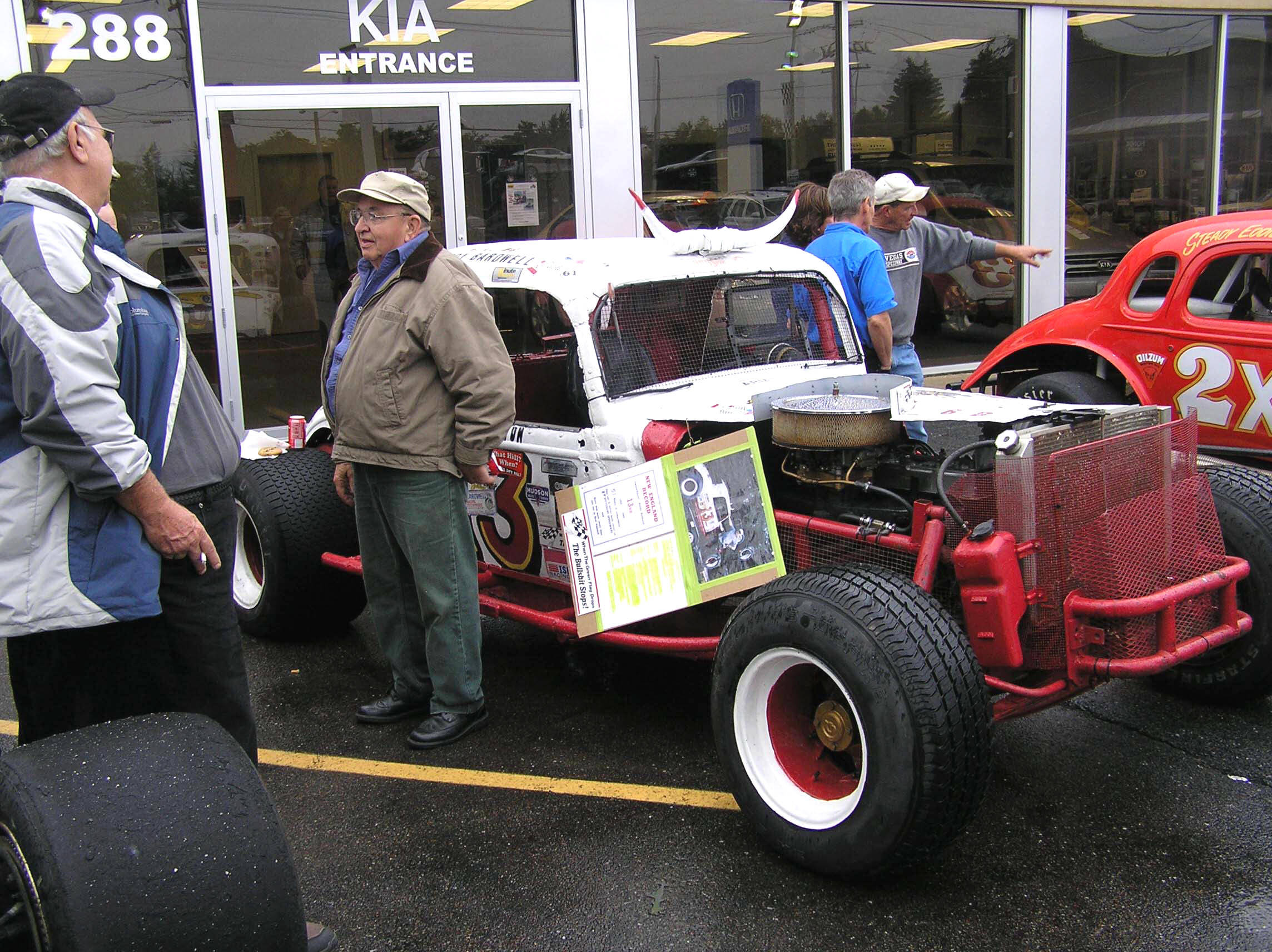 Ladabouche Photo
We lost Buddy not long ago and – with him – went the strongest support for a make of car I have ever seen.
Thunder Road International Speedbowl, once a bastion of the flathead coupe, did see the occasional Hudson entry. The one that comes to mind came out of the Sugarbush Mountain area and was built by young Carl Nelson and brother, Meriden. Carl told me he was too young to drive it, but I am embarrassed to admit I don't remember who he said they got to drive the car. Meriden drove in that era, but I don't think he ran the Hudson.
The Hudsons went the way of the Kaisers, the Essexes, the Hupmobiles, the LaSalles, and all the rest of the small brands that the big three made sure got snuffed out in the years leading up to the '70's. That left them free to produce some of the crappiest cars [in terms of quality workmanship] ever. After seeing a few Hudsons rambling around Bear Ridge until the '70's, we saw no more of them in serious stock car competition. Too bad – they were a cool car !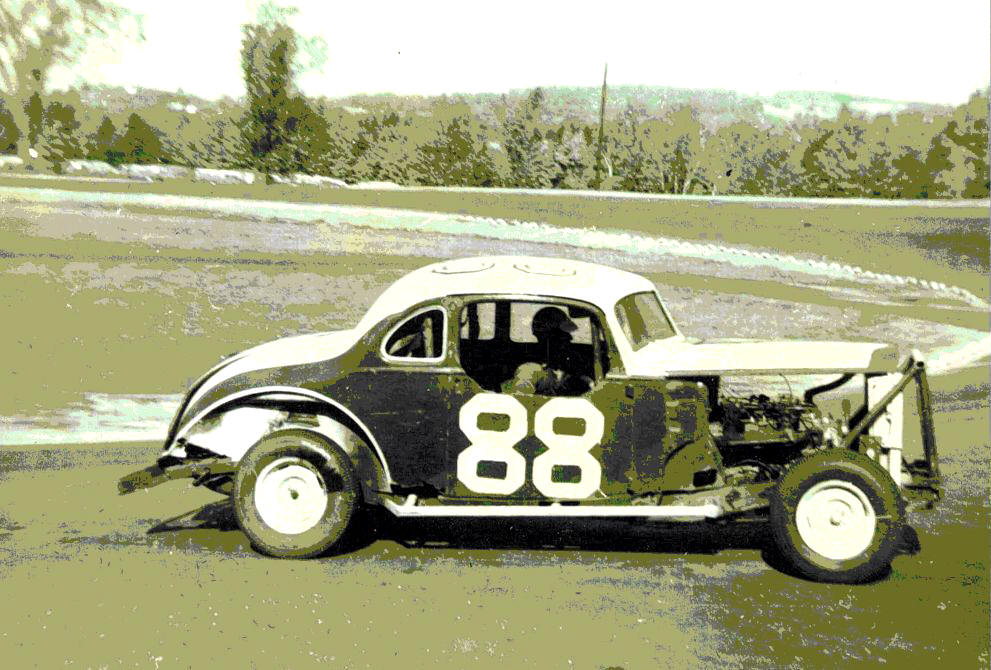 Courtesy of Buffy Nelson
The 88 Hudson built by Carl and Meriden Nelson, on the
track at Thunder Road. Hudsons were rare there. Below -
This Hudson of Gilles Bergeron raced in Quebec.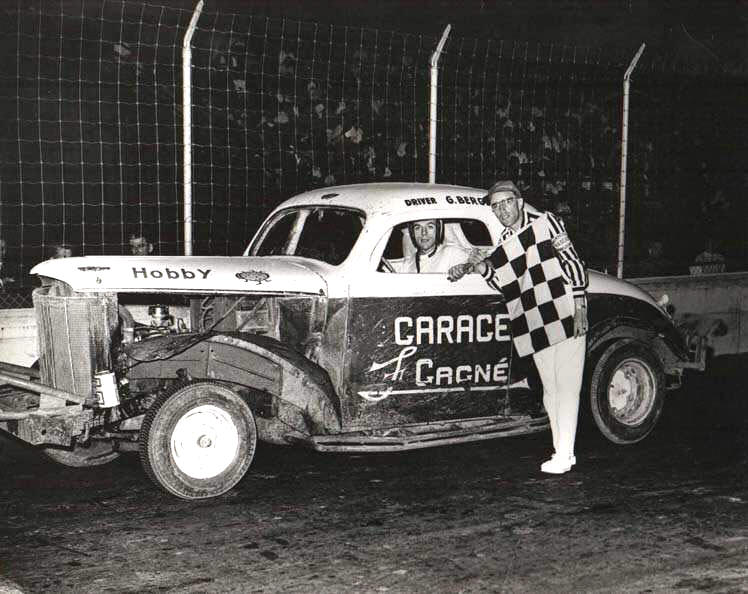 Bob Mackey Photo via John Rock

Please email me if you have any photos to lend me or information and corrections I could benefit from. Please do not submit anything you are not willing to allow me to use on my website - and thanks. Email is: wladabou@comcast.net . For those who still don't like computers - my regular address is: Bill Ladabouche, 23 York Street,Swanton, Vermont 05488.
AS ALWAYS, DON'T FORGET TO CHECK OUT THE REST OF MY WEBSITE
www.catamountstadium.com
Return to the Main Page
Return to the Main News Page
Return to the All Links Page
Return to the Weekly Blog Links Page