BILL'S [Somewhat] WEEKLY COLUMN/BLOG PAGE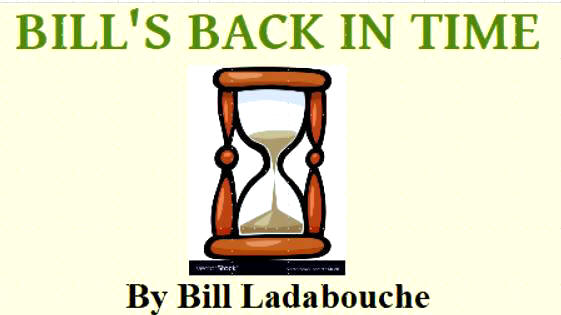 NASCAR'S EARLY DAYS
WERE LOADED WITH FIRSTS
You tend to think of NASCAR as this huge ultra – wealthy corporate sanctioning body with perhaps a little more influence over the sport than is balanced; but it wasn't always that way. While I'm not from the South, I never worked for NASCAR, and I have had only passing association with anyone way up in the organization, I still feel like I can at least reflect on those tentative first steps for the National Association of Stock Car Auto Racing. It also helps those really young readers for whom NASCAR has simply always been there.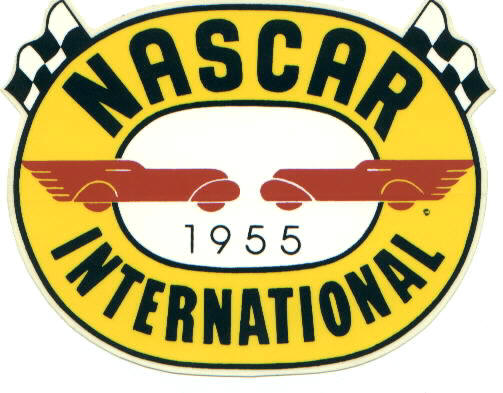 The NASCAR logo, as seen on this mid 50's decal, had the word "International" added on.
Perhaps the Frances thought something had been missed with the original name of the group. Who knows ?
Auto racing in the Western World had been going on ever since the car was invented. In fact, one of the first car races recorded happened right in Vermont. But, after seeing mostly open wheel racing prior to WWII, the sport branched out after the war, to include forms of racing that were more affordable to the millions of young people who craved speed and competition yet could not afford to compete on the same ground with Briggs Cunningham or the Ferraris.
Then, of course, you had the speed, driving skill, and mechanical brilliance that came with the moonshine industry in the Southeast. It was only a matter of time until these speed demons began wanted to put their mechanical and driving skills to the test against each other – not just the "revenooers". As racing began to involve bigger meets, it was evident to some that it needed to be organized.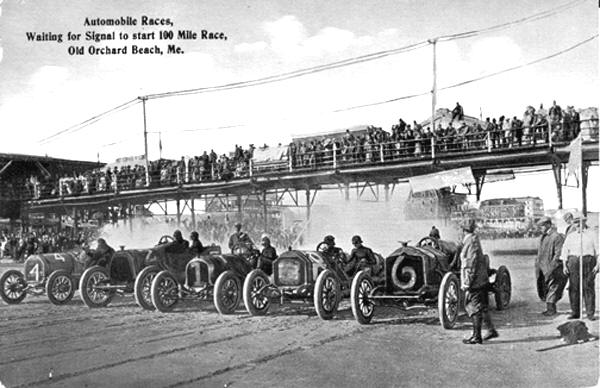 Courtesy of Marilyn Wilkinson
This 1912 postcard shows race cars about to go from the pier in Old Orchard Beach, Maine.
Racing started even earlier than that. Below – South Burlington, VT native Jackie Peterson with a somewhat homemade
sprint car. Most young men did not want to go this route after returning home with a yen for all things mechanical.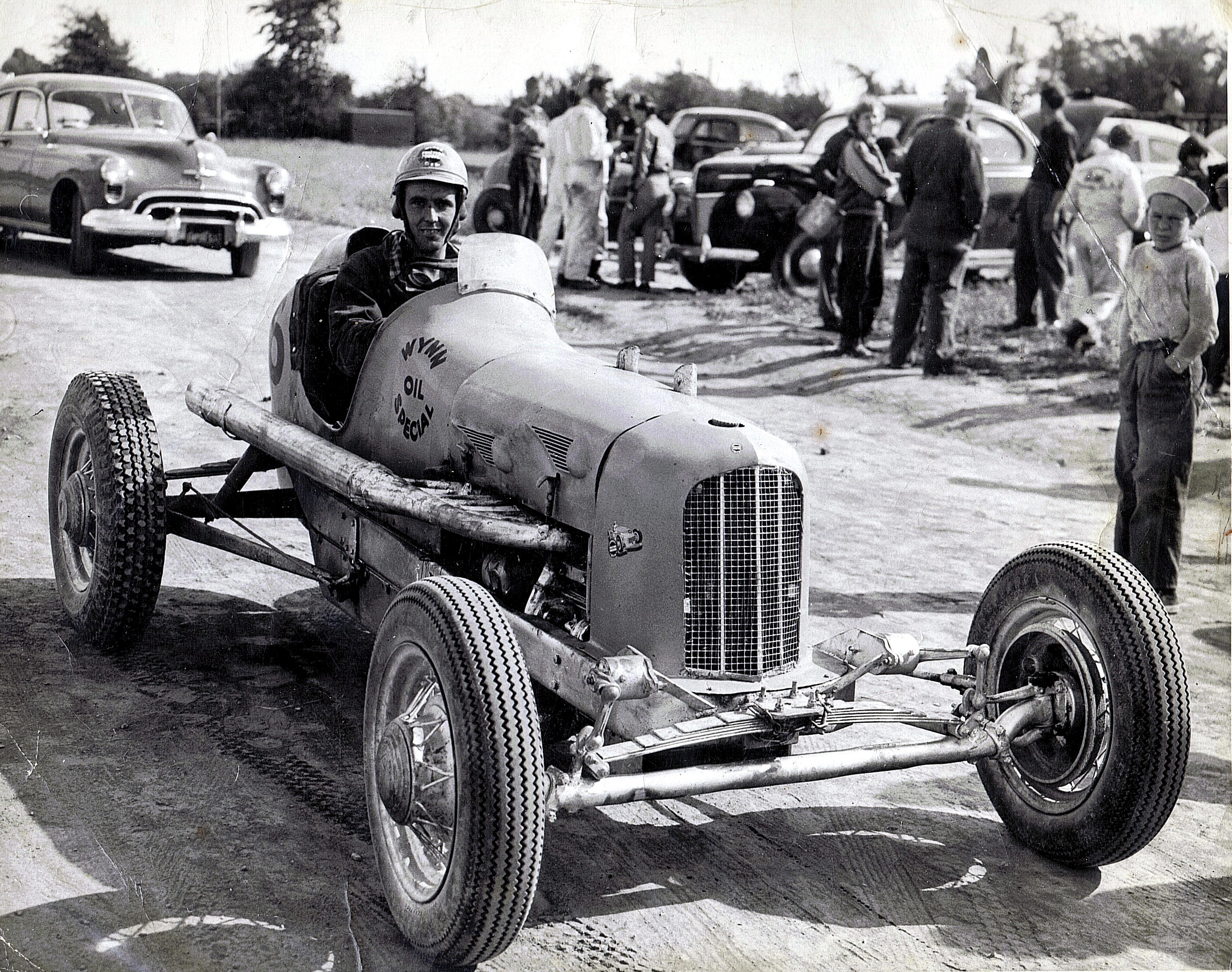 Peterson Collection

While there was some very limited jalopy – type racing prior to WWII, it really burgeoned in the late 1940's. There was first jalopies and roofless roadsters which were similar to the bucket T street rod and [at least at first] devoid of safety features. A real sissy might wear a helmet.
It was into this mess that visionaries like Big Bill France stepped. This is not an essay of exactly how NASCAR got started but suffice it to say he and some associates managed to convince a number of local hot rodders to start running races under some organization – as much for their own good as anyone else's. The pre Daytona International Speedway days of NASCAR were delightfully chaotic and probably a ton more fun than anything happening within that outfit today.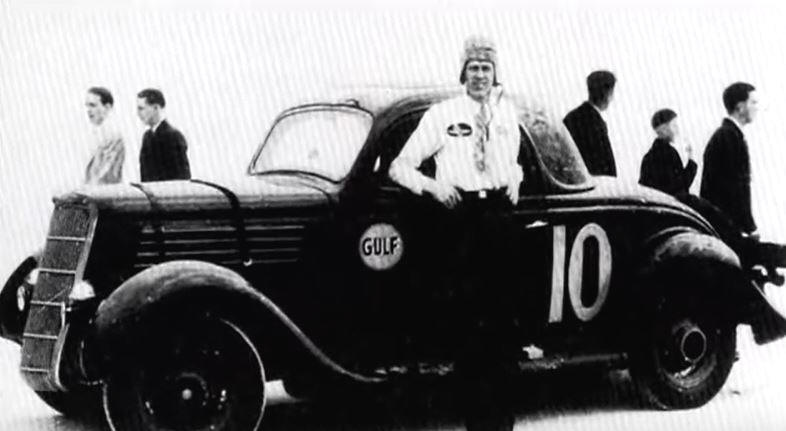 Old School NASCAR Site
Bill France, himself a race driver, was trying to organize some of the racing as early as 1936, but NASCAR
didn't develop until the 1940's. Below – An example of those less – than – safe roadster which raced in the
late '40's and early '50's. This is Alan "Rags" Carter, who is best known for stock car racing in
New Jersey and Pennsylvania.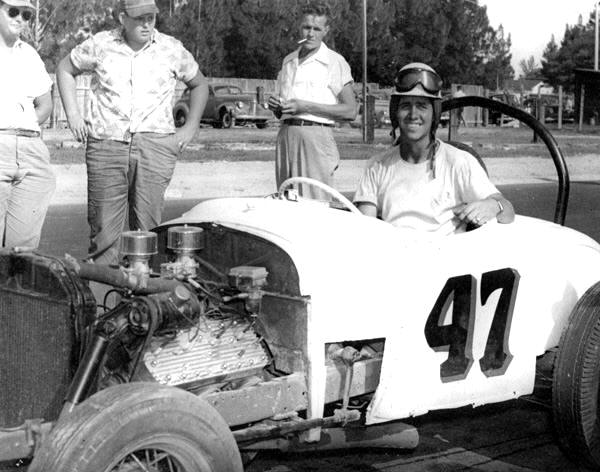 Alan Carter Collection
France, and others who wanted to take stock car racing out of the dark ages, kept trying to get it organized, partially succeeding on February 21, 1948 with the establishment of NASCAR. The rest is history, and includes many division changes, changes of logo, and obvious changes in what is considered a "stock car". That's readily available to anyone just wanting that surface research. But, some of the "firsts" in the early days are pretty fun things to realize.
The Old School NASCAR site says, for instance, that the Charlotte race of 1949 may have been the first time race regulations required all new stock automobiles to be run. The track was dirt – not the superspeedway that is there now; the field included Oldsmobiles, Mercurys, Nashes, Hudsons, Pontiacs, Studebakers, and a other makes that no longer exist. I am not sure any of the cars had a roll cage either.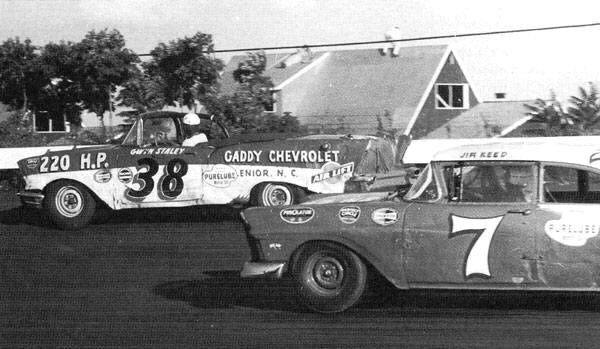 Joe Braig Collection via Lew Boyd
Peekskill, NY's Jim Reed [7 running against the great Gynn Staley] was a Short Track Division standout. Below -
Utica, NY's impulsive and leadfooted Chuck Mahoney also ran some of those events
in the earlier NASCAR days [perhaps mostly because some of those races were in his immediate region].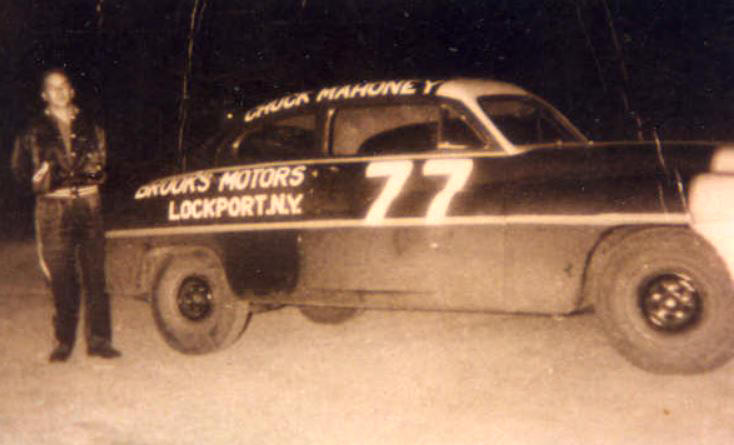 Courtesy of Midstate Club

One of the first NASCAR divisions, called the Short Track Division, was particularly interesting, as the Grand Nationals [now the Cup series] hadn't actually taken flight as it would in the 1950's. The Short Track cars drove in many locations, including northern venues like Langhorne. It also featured many more local drivers than you see today.
Some of those early drivers included three pioneering women: Ethel Flock Mobley [sister of the famed Flock brothers]; Sara Christian, and Louise Smith. None of these women drove much beyond the mid 1950's, but they laid the groundwork for the sparse number of women who would aspire to follow in their footsteps. It is unclear how much any of them raced in the Short Track or Grand National divisions; they clearly ran in modifieds when the class was one of NASCAR's top classes.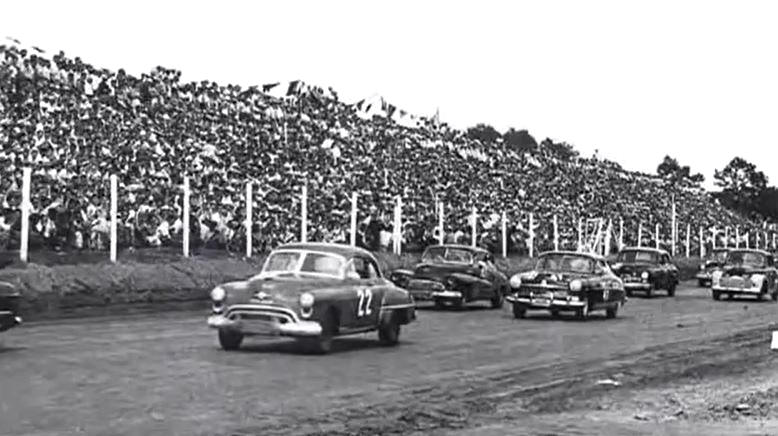 Old School NASCAR Site
Cars are lined up on a dirt Charlotte track for the first race
exclusively for Stock new American automobiles.
Below - Ethel Flock Mobley, with a daughter and her NASCAR
modified car [that was not very old at the time].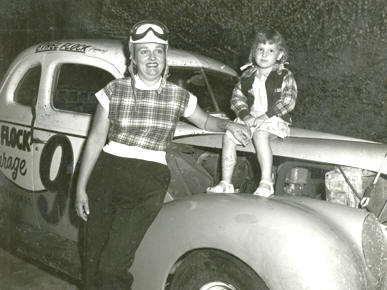 EncyclopediaofAlabama.org
I don't know much about Sara Christian. I know Ethel Flock got some support and exposure from being sister to Fonty, Tim, and Bob – brothers who were a hot commodity in the early NASCAR days. Quirky Tim and his monkey, Jocko Flock and the Hollywood – looking Fonty attracted a lot of media attention and some of that spilled over to Ethel. Louise Smith came from a family that I believe was in the salvage business and got some notoriety from some of her crashes, at least.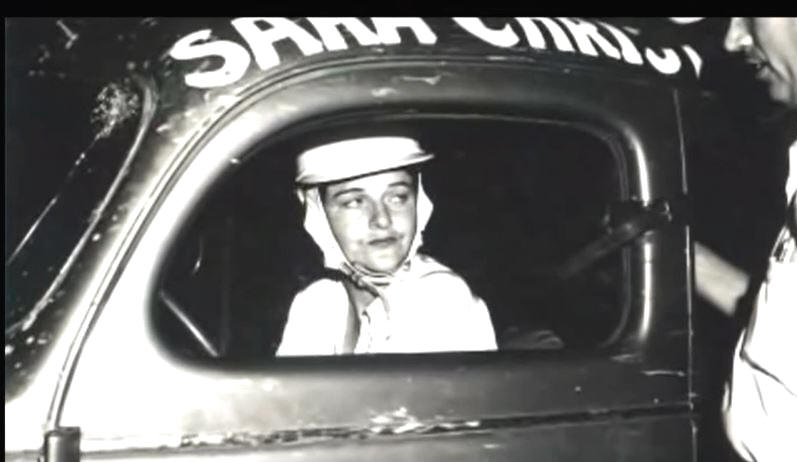 Old School NASCAR site
Sara Christian in what looks like another modified coupe.
Below – Louise Smith, with her iconic wreck aftermath
photos. She looks unfazed.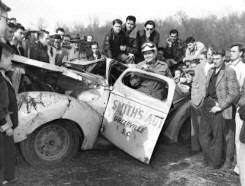 Flickeringmyth.com

One of the first really premier classes in NASCAR was modifieds. These full body / full fender coupes were not particularly old when they first started touring nand racing all over the East in the late '40's. Even as far north as New York and Maine, promoter Jack Kochman attempted to set up a weekly series with these cars and their stars such as Buddy Shuman. It was in this class that NASCAR sadly had its first fatality - Cliff Davis.
While many other venues were still featuring either roadsters, jalopies, or cars with the cages built around the outside of the body, the full – bodied NASCAR modified was not the modified we came to know. Rather, with alterations to motor and even a bit to the chassis, this was the antithesis to the supposedly – completely stock Grand National class [some of whose cars bore visual resemblance to a few of the new modifieds].
The modifieds morphed into more like what we know today while the Grand Nationals, while still starting out as showroom cars, did start having a few more modifications. A lot of the first Grand National changes were for safety, adding more roll bars and so forth. It has evolved into cars that don't have a single "stock" aspect left on them – save a slight resemblance to a modern body.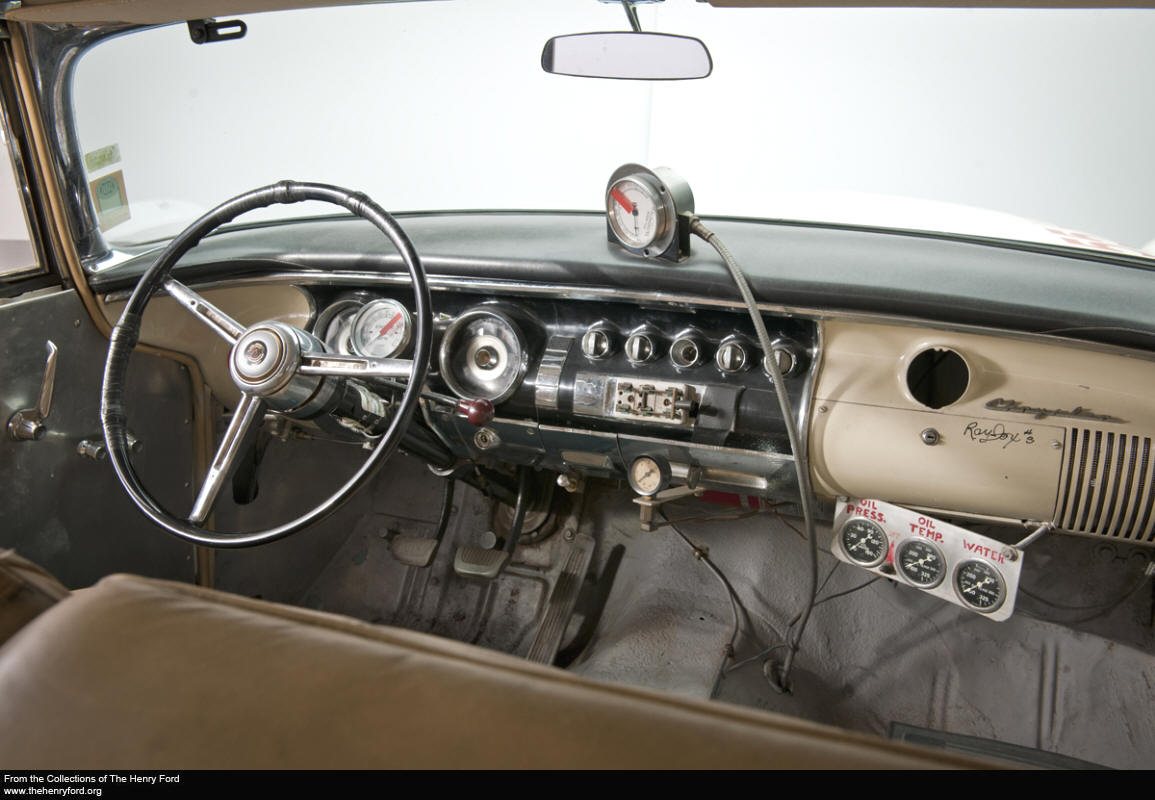 Henry Ford Museum Photo
This interior shot of one of the mid 1950's Kiekhaefer Chryslers
that comprised NASCAR's first big corporate multi – car
teams shows very little modification [or safety effort]. Below -
The 1947 season modified of future NASCAR official Al Keller
shows few modifications; they were all in the motor or drive train.
This was part of the W.O. Taylor team of Paterson, NJ.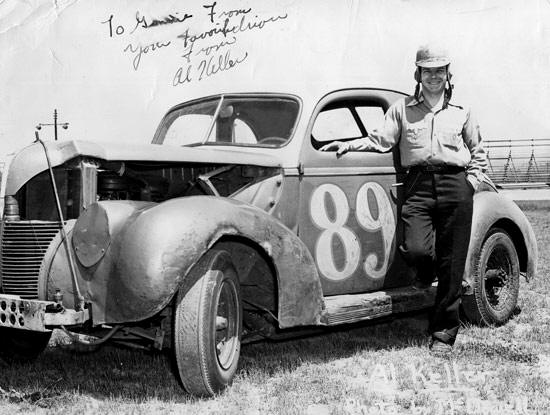 Ginny Ross Collection
Some of the early long distance races were first run by the modifieds – primarily on dirt tracks. There is an iconic photo of Red Byron, winner of one such race sitting – caked with red dust – drinking water out of a WWII surplus canteen. Other big races, even a other places like Langhorne, PA, were pretty difficult for racer and spectator alike. Compared to other stock car – type racing, it was fairly glorious; but today's drivers and spectators would be very hesitant to put up with the dusty, bumpy tracks and the rudimentary seating and pit area conditions.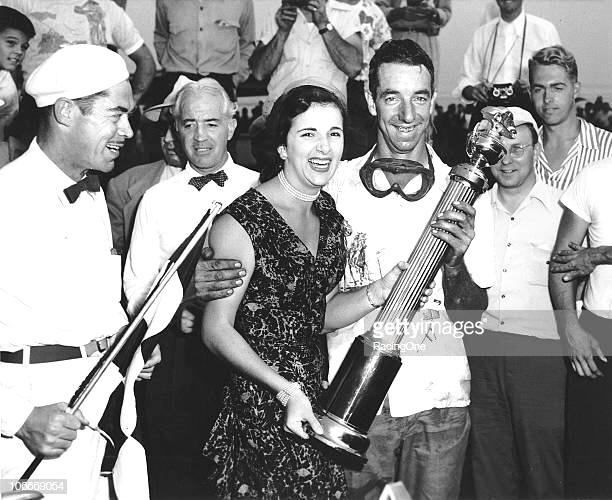 Getty Images
Grizzled moonshiner Herb Thomas was an early NASCAR winner at
Langhorne. Below – The early NASCAR GN cars weren't much
to look at – at Langhorne or anywhere else.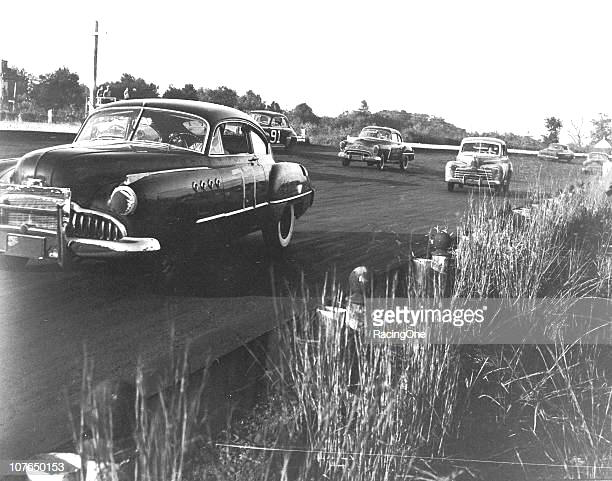 Getty Images
By 1950, Harold Brassington, wanting to have an event similar to the grandeur of the Indianapolis 500, had constructed a superspeedway [smaller than Indy] in Darlington, S.C. His event would be called the Southern 500. The name, while somewhat unimaginative, became iconic in NASCAR racing because, with Daytona not yet conceived, it was the big event in NASCAR racing.
Brassington [and Bill France's] first 500 winner was Johnny Mantz. They ran the NASC AR Grand National car, which was damn close to stock in those days. The cars were certainly not equipped to run 500 miles, nor were the tires. Mantz and his team smartly put truck tires on the car, and they lasted far longer than a ny of the others, allowing him [the slowest qualifier in he field] to take the win, perhaps by attrition.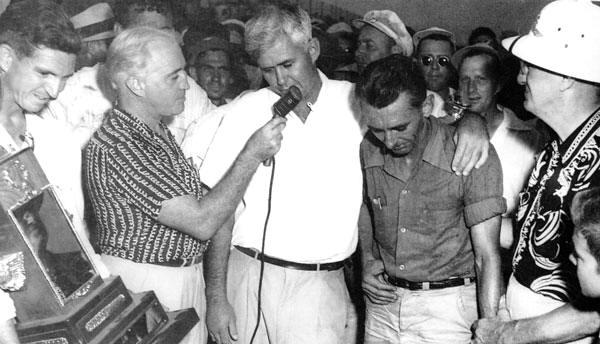 Courtesy of Tom Kirkland via Lew Boyd
Johnny Mantz is exhausted but feeling pretty proud after
out – planning the faster competition and winning the
inaugural Southern 500 in 1950. Below – The iconic photo
of Red Byron, having won a big NASCAR modified race
in the late 1940's. He is holding a WWII surplus canteen with
some water....talk about the perks of early racing !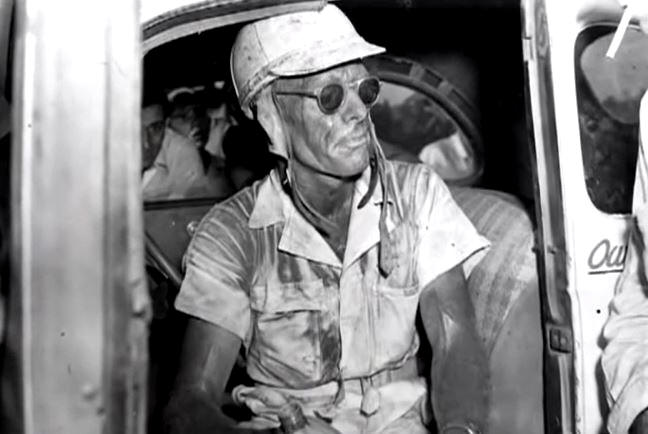 Old School NASCAR Site
NASCAR's Grand National cars would become more and more honed into racing machines while some of the support classes carried on the traditions of the earlier NASCAR racing. For years to come, NASCAR would still make its Grand National class carry on a "Northern Tour" to small tracks all over the Northeast. It was pain in the ass, and only those very serious about wanting the points title [along with a bunch of fringe teams] would put up with it.
NASCAR's top class eventually got to a place where it was no longer possible for almost any ambitious Saturday night racer to throw together some money and tow a car down South to compete. The Northeast's legendary Dave Dion was one of the last to try this and have any measure of success. NASCAR had moved from a group that featured almost exclusively Southeastern good ol' boys [with an occasional influx of Midwest drivers certain times of the year] to what it is today. Not much of a resemblance to the group that watched moonshiners bang around dusty fairground tracks in battered '40 Ford coupes.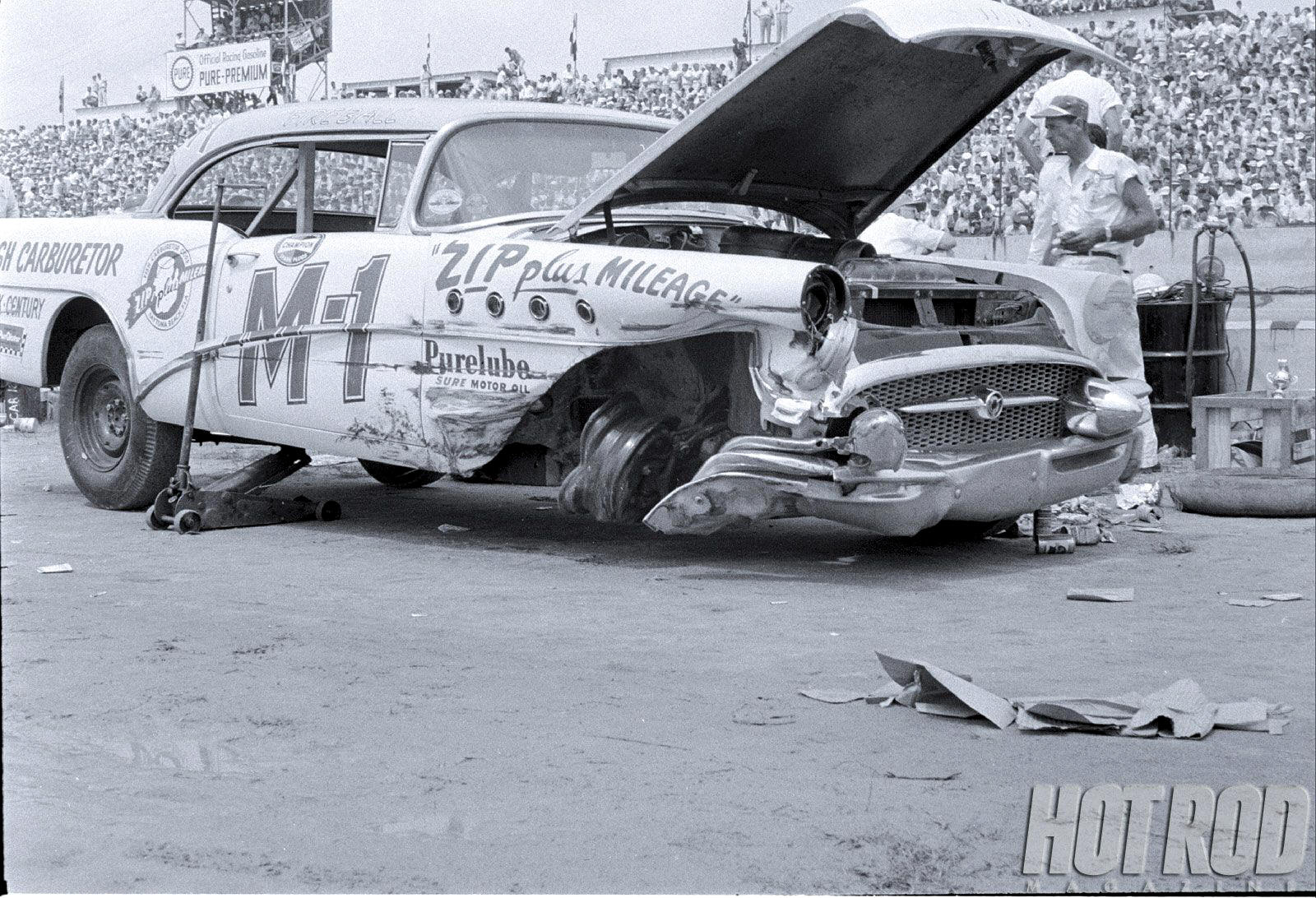 Hot Rod Magazine Photo
Even before Kiekhaeffer, the Fish Carburetor cars were a big
operation, even back into the modifieds.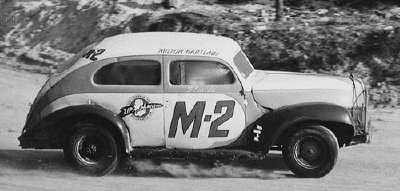 Auto-How Stuff Works.com Photo
Please email me at wladabou@comcast.net if you have any photos to lend me or information and corrections I could benefit from. Please do not submit anything you are not willing to allow me to use on my website - and thanks. For those who still don't like computers - my regular address is: Bill Ladabouche, 23 York Street, Swanton, Vermont 05488.
AS ALWAYS, DON'T FORGET TO CHECK OUT THE REST OF MY WEBSITE:
www.catamountstadium.com
Return to the Main Page
Return to the Main News Page
Return to the All Links Page
Return to the Weekly Blog Links Page