BILL'S [Somewhat] WEEKLY COLUMN/BLOG PAGE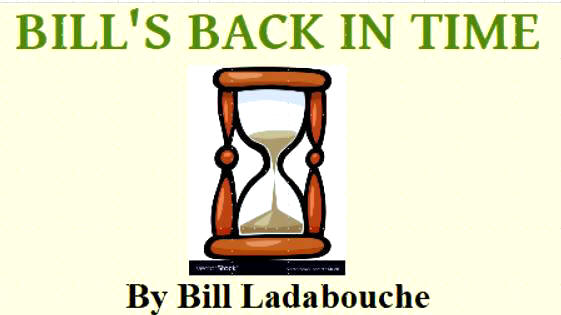 THAT HISTORIC FIRST FEATURE AT FONDA SPEEDWAY

Much of the writing here is taken from two sources: a piece in "Auto racing Memories" by Tom Neff and a section in the Fonda book written by Lew Boyd, Andy Fusco, and Jim Rigney. I have borrowed from these passages and added writing of my own to fully cover the topic as best I can.


All of those previous open wheel, roadster, and NASCAR modified races notwithstanding, the feature that really matters is that first Saturday night show at Fonda Speedway under the promotion of Ed Fuez and Jim Gage – which went off on May 30, 1953, at the Montgomery County fairgrounds' oddly – shaped horse track on the banks of the Mohawk River.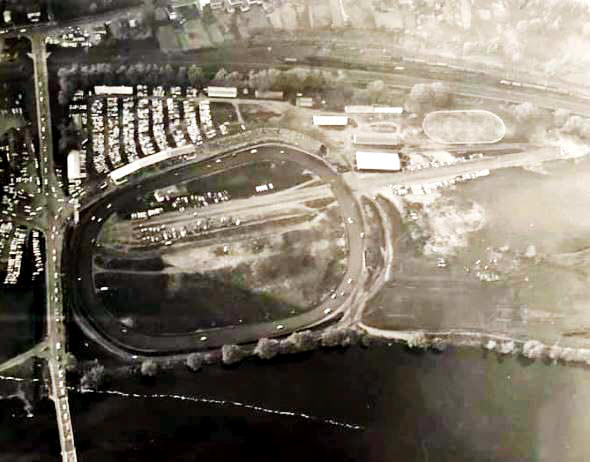 Frank Simek Photo via Tom Herbert
Oddly – shaped might be putting it mildly. There was almost
another straightaway between three and four, but you
certainly couldn't the track a tri-oval either.
The old track had been the scene of typical fair – related open wheel racing, some very early Twentieth Century "automobile racing", and an ill -fated attempt at a five track modified tour imagined by Jack Kochman in the late '40's. He had gone so far as to add improvements and lighting to the Fonda oval; but, the unmanageable travel demands of his tour killed racing at all the tracks soon after the tour began.
With regular stock car racing burgeoning as a sport throughout New York, a group most notably including Indy 500 winner Lee Wallard, Ed Fuez, and Jim Gage, Sr. had put some capital into lights, better barriers, and some track surface improvements to stage stock car racing there for 1953. They would make the wise decision of bringing in a NASCAR sanction, even though the organization was not very old yet.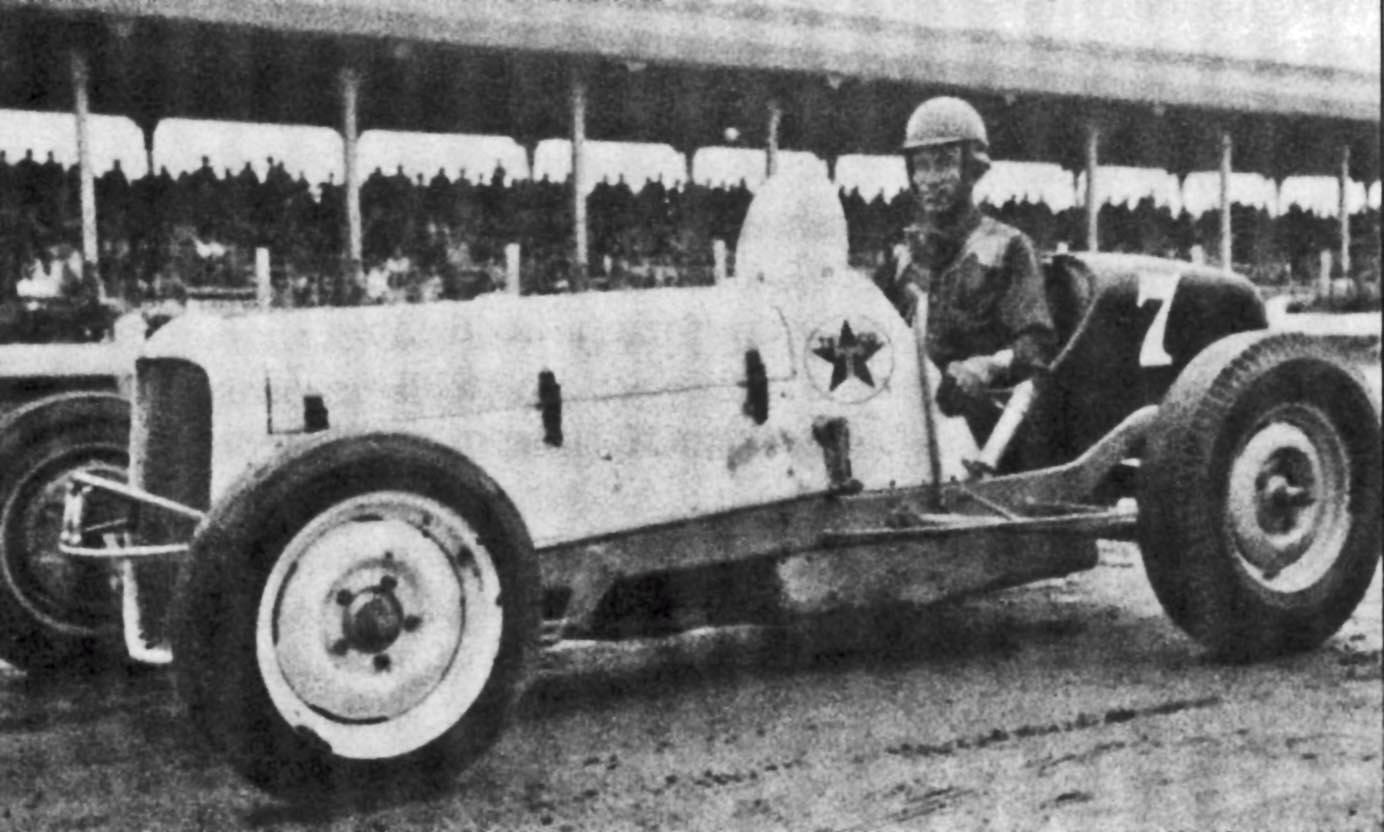 Images 24
Carl Sweigert Collection via Don Radbruch
Fonda had seen cars like future track offical Bob Whitbeck's
roadster and [below] the full – fendered NASCAR modifieds
of the Jack Kochman circuit prior to 1953.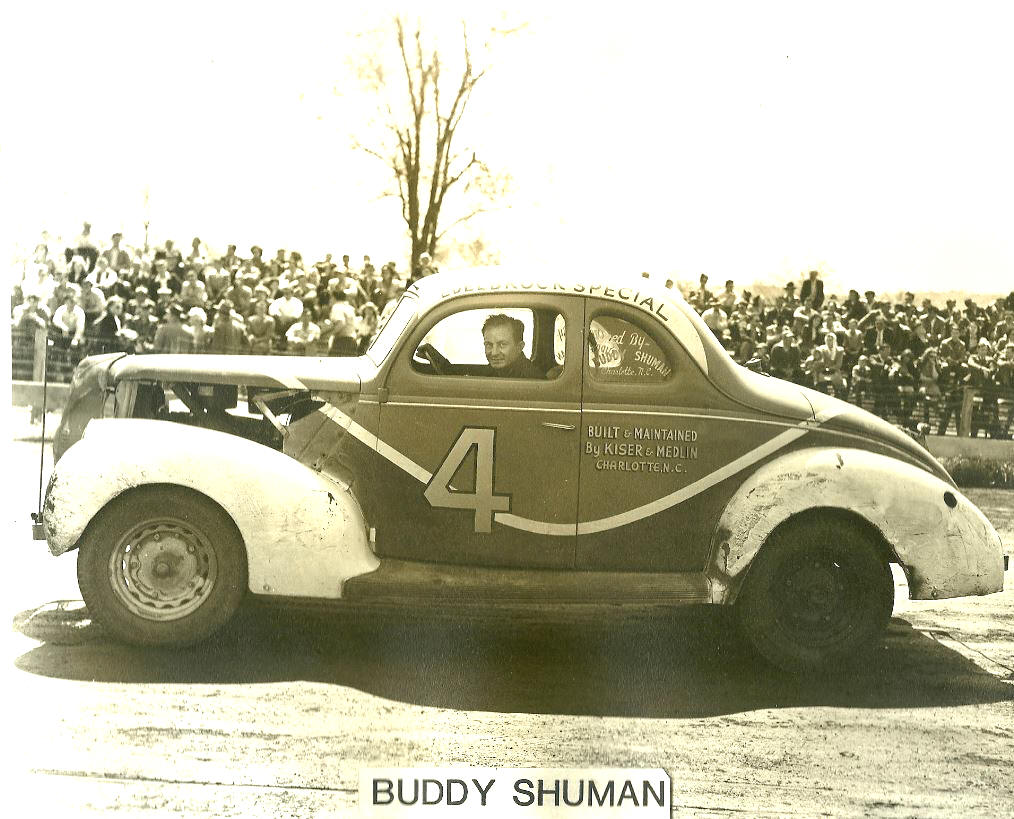 EMMR, NOTARC Collection
They would draw competitors from such venues as the McGregor Speedway, Wilton, NY; Hudson River Speedway, Schuylerville, NY; tracks in southern New England; Empire Raceway, Menands, NY; Whites Beach Speedway, Ballston Lake, NY; Brookfield Speedway, Brookfield, NY; and many more. When the promotion put out a promo photo early in 1953, it featured drivers Steve Danish, Herb Roots, Walt Roberts, and Spence Parkhurst. Ironically none of these men would race in that historic first feature: Danish would suffer engine trouble; Roots would not qualify; and the other two would put substitute drivers in their cars that night.
What's more, there was shuffling in the ranks of the track officials. Wallard [a AAA member] had been tapped to be track manager. When the AAA group found out he would be working for a NASCAR track, he was forced to resign in favor of Tom Carpenter, Sr. of Rutland, VT. Many area tracks used the triumvirate of Les King, photographer, Chet Hames, flagger, and Red Wildy, announcer. But King told the story of how he couldn't get a ride to the first meeting and his job was taken by legendary Fonda lensman Russ Bergh.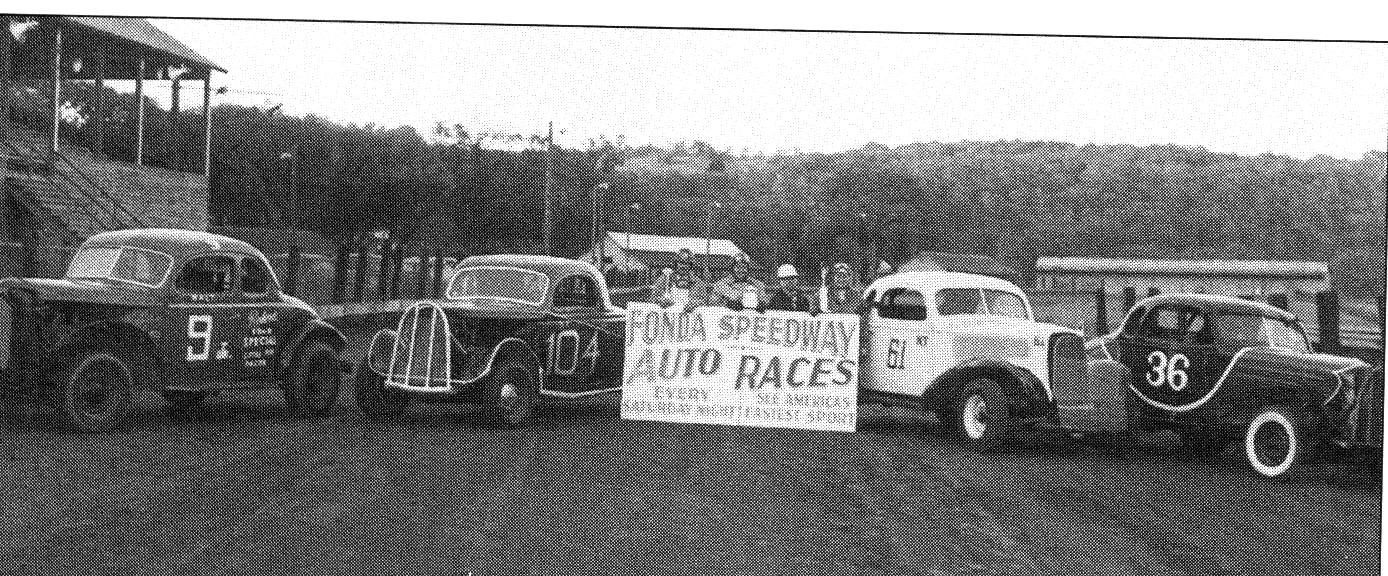 Ed Biitig Collection
Fonda's one practice session produced this promo shot of the
three drivers, none of whom actually raced in that first feature.
Below – Red Wildy would be the first announcer for Fonda Speedway
while Chet Hames [further below] would graduate from this
McGregor Speedway photo to be the famous flagger there.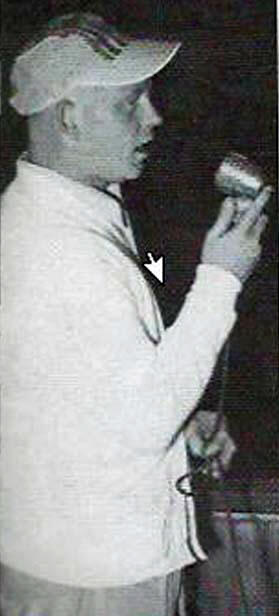 Ed Feuz Collection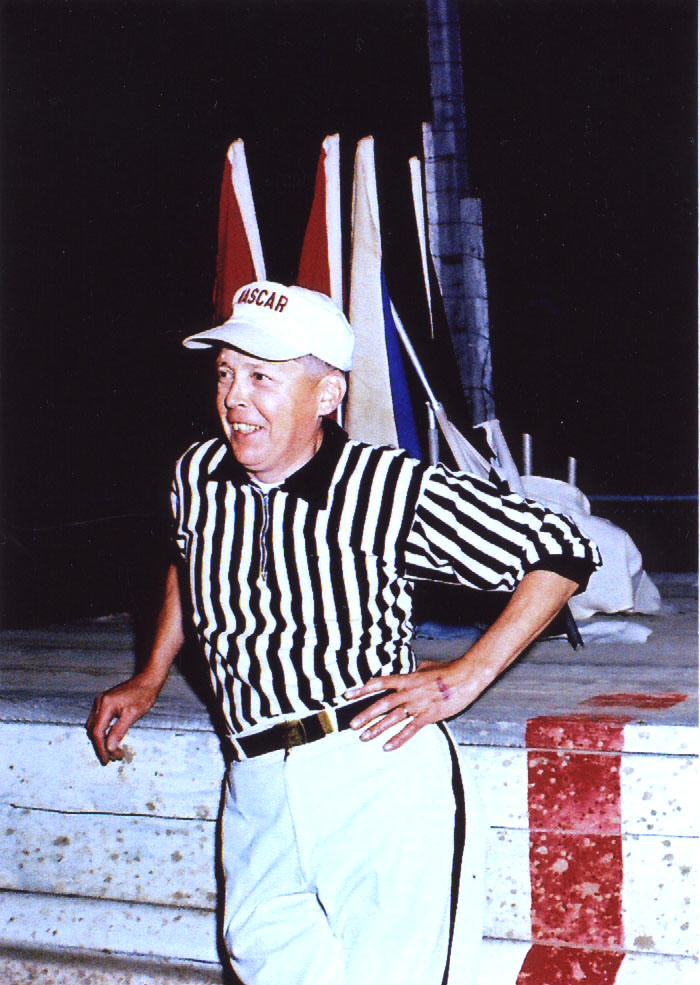 John Grady Photo


All that chaos notwithstanding, the track was poised to go for the May 30th date. From the Fonda book, there is a good account of events leading up to that first feature. With much better conditions than on opening night, the practice session held on the 23rd went off without a hitch and produced that promo photo of the four cars at the start / finish line.
The book goes on to say: "The car count was a respectable 25 teams. It was an eclectic bunch. The field included some genuine local stars of the time (like Steve Danish, George Gallup, and Jim Luke), a trio of youngsters who would become Fonda legends (Kenny Shoemaker, Jeep Herbert, and Don Wayman), three New England heroes (Hully Bunn, Dick Eagan, and Ballston Spa transplant Smokey Stover), and a host of lesser-known chauffeurs. Ironically, largely due to poor track conditions, it was these lesser-known drivers who would grab laurels on opening night.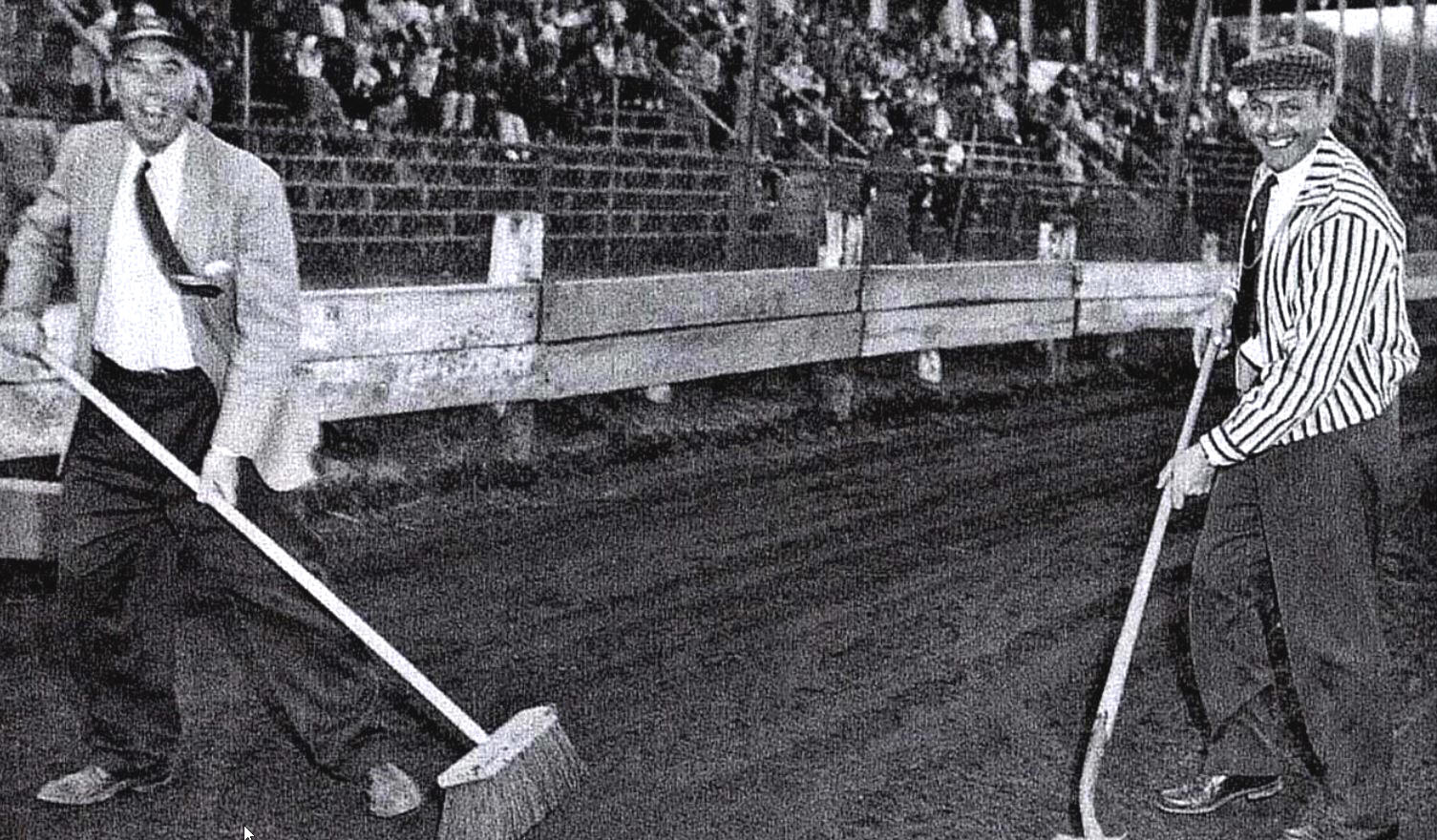 Ed Feuz Collection
Ed Feuz [right] clowns around on the track with partner
Jim Gage in 1954. However, in May of 1953 the track surface
was no laughing matter. Below – Herb Roots [104] and
Walt Roberts ply the Fonda track during the first
and only practice session on May 23, when the track was better.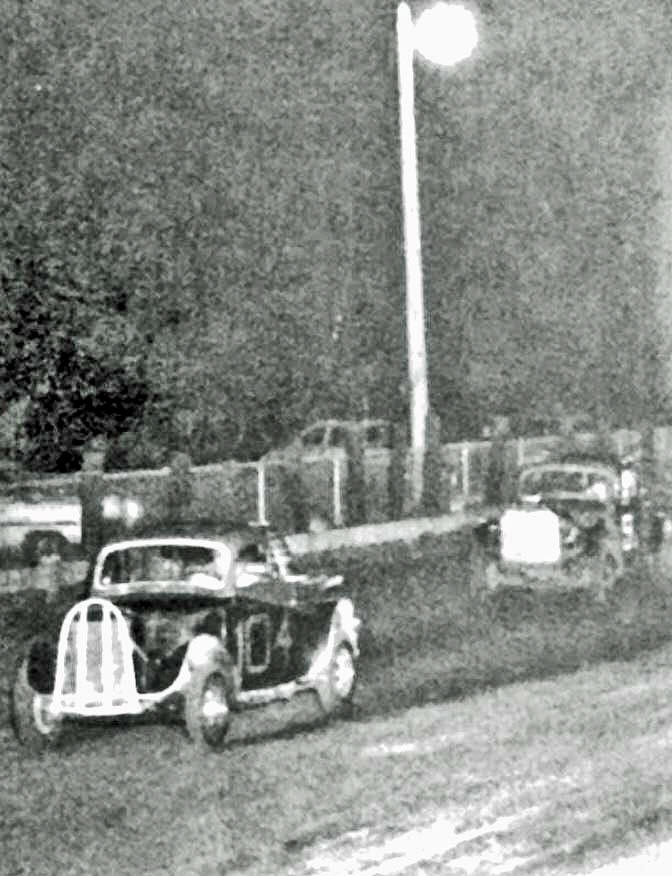 Ed Feuz Collection
"The track was awful that night," concedes Fuez. The rookie promoter had purchased calcium chloride from Solvay Process near Syracuse for dust control. After asking how to apply the chemical, Fuez was told by a Solvay Process consultant to disc it in four inches into the track surface. "Nobody told me that you then had to water and repack the track, and I didn't know any better," Fuez giggles today.
The result was predictable. After warm-ups the top four inches of clay had been blown up to the hubrail. The groove resembled a one-lane minefield."
Perhaps many in the crowd had no idea what a good dirt track surface should look like, so they were none the wiser. But, the drivers and teams knew what was in store: run that one groove or fall to the back. Besides the nine drivers mentioned above, there is record that Paul Brozyna, Paul Korman [Hal Kempeny's 113], Herb Roots, former NASCAR Grand National driver Chuck Mahoney, Fred Gerow, Jack McGregor, Link Pettit, Paul Lamb, Walter Pangee, legendary Wally LaBelle, Bob Truelove, Bill Lang, Bernie Ingersoll, and Jim Walker were also in the pits that night.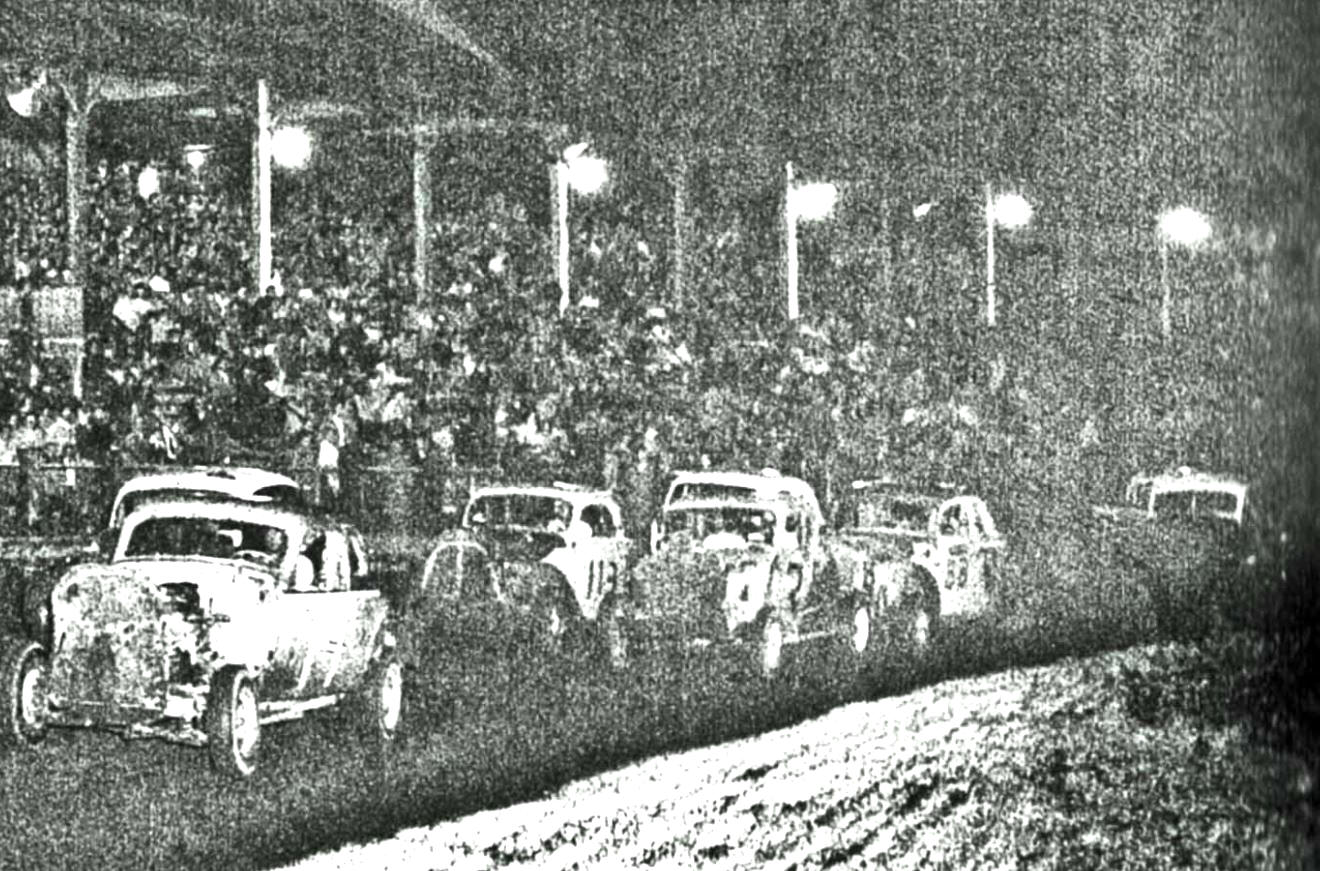 Ed Feuz Collection
Bob Ruchsdeschal [74] gets away from Truelove in the X [seen
above the 74's roof]. Other identifiable cars include Paul Korman [113],
Jeep Herbert [3] and Chuck Kotwicka [88]. Below – George Gallup
had earned the checkers of any kind in the Fonda Speedway era.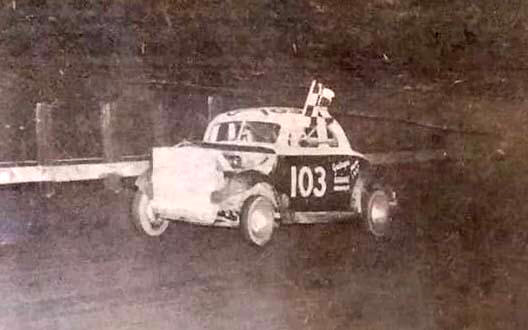 Courtesy of George Hunt
Tom Neff's article effectively describes the qualifying: "George Gallup earned the historic distinction of being the first NASCAR chauffeur to receive a checkered flag at this now venerable speedway by taking the first heat honors in his No. 103. A 24 year-old Kenneth Nelson Shoemaker copped the second heat piloting the Ted Vogel LV. When the third heat rolled out all eyes were on the white No. 61 Chevrolet coupe driven by 34 year-old racing veteran Steve Danish, but shortly after the green Danish pitted his normally-reliable mount as a result of engine problems. Dick Eagan, who made the long haul from Bristol, Connecticut took advantage of Danish's misfortune and motored to a win at the controls of the Walt Roberts No. 9Jr. Ford.
Twelve cars were now qualified for the feature. While the last chance pit crews prepared their cars for the consolation event, a 25-piece firemen's band entertained the fans. Paul Brozyna bested an 11 car starting lineup to take top consy honors with his 63 Jr., beating Bernie Ingersoll to the checkered flag. Johnny "Smokey" Stover finished in third spot followed by Chuck Mahoney who captured the fourth and final qualifying position. Most prominent among the nine drivers not qualifying for the main event were Steve Danish and Raymond "Hully" Bunn."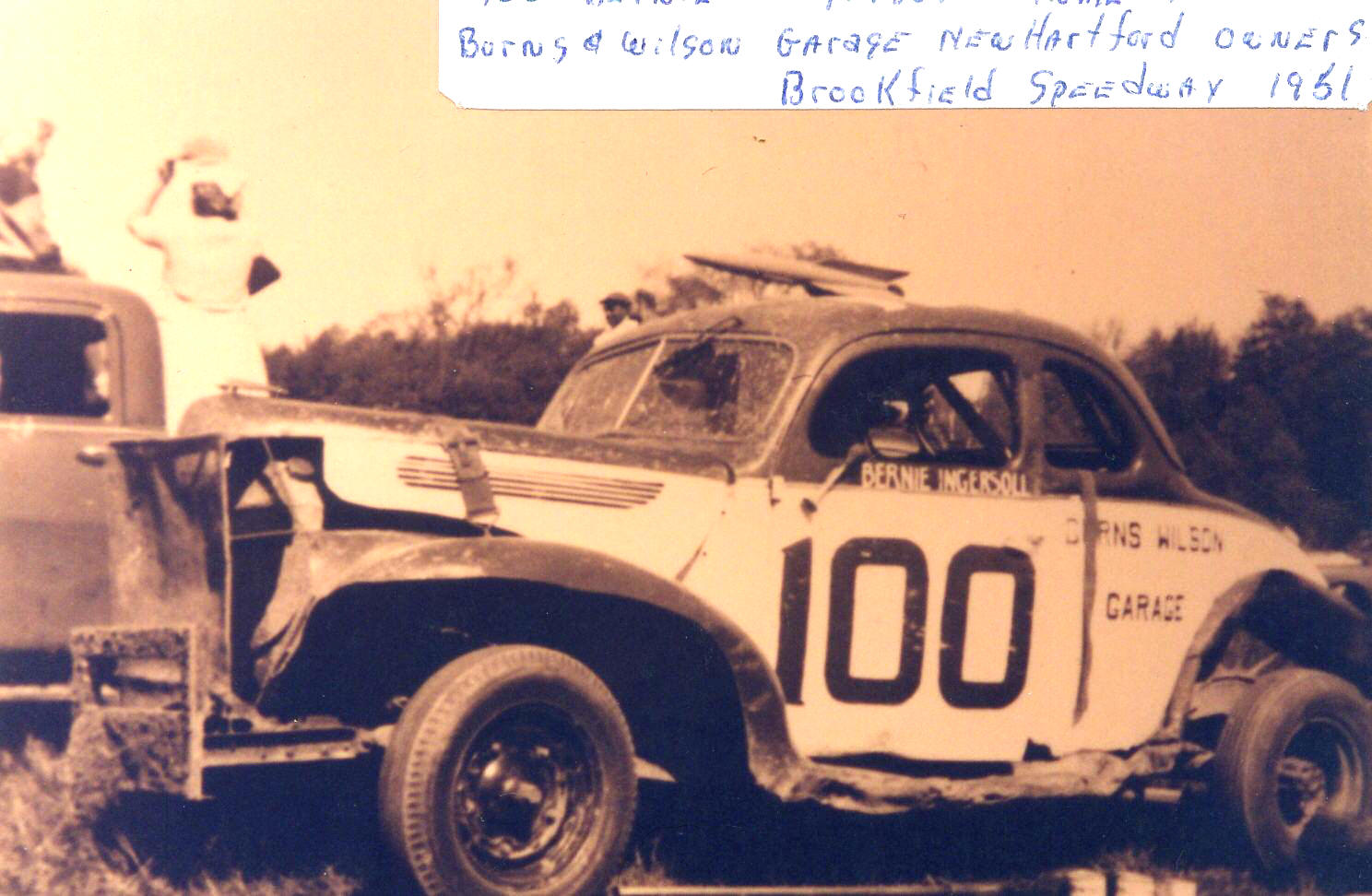 Courtesy of Rick Parry
Hardbitten Bernie Ingersoll got into the feature via the consi
in the well – known Burns and Wilson 100 car. Below - Young
Kenny Shoemaker, with the Vogel/Loomis LV car.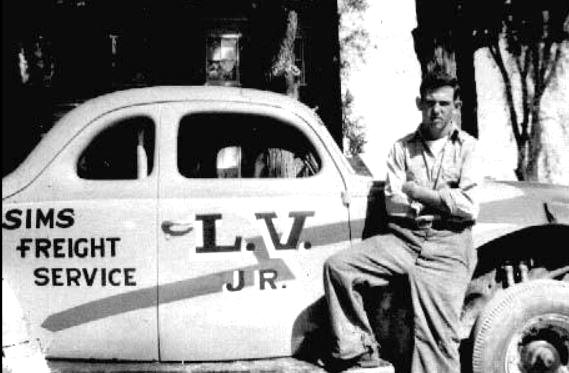 Vogel Family Collection
The Fonda book made the point that the terrible track conditions dictated how most of the racing would go. The book states :"Gallup and Shoemaker won heats one and two from the pole. Eagan and Brozyna won heat three and the consi, respectively, from the outside pole All four races had been wire-to-wire jobs. There'd be little passing this night."
Neff wrote: "While the 16-car field lined up for the start of the feature, track announcers Red Wildy and Phil Spencer introduced cars and drivers to the fans." The Fonda book refers to polesitter Ruchsdeschal: "Obscure Scotia, New York driver Bob Ruchsdeschcal started on the pole for the twenty-five lap feature and he nearly pulled off the upset of the half-century." He would head out onto the track with the X of Bob Truelove on the outside pole.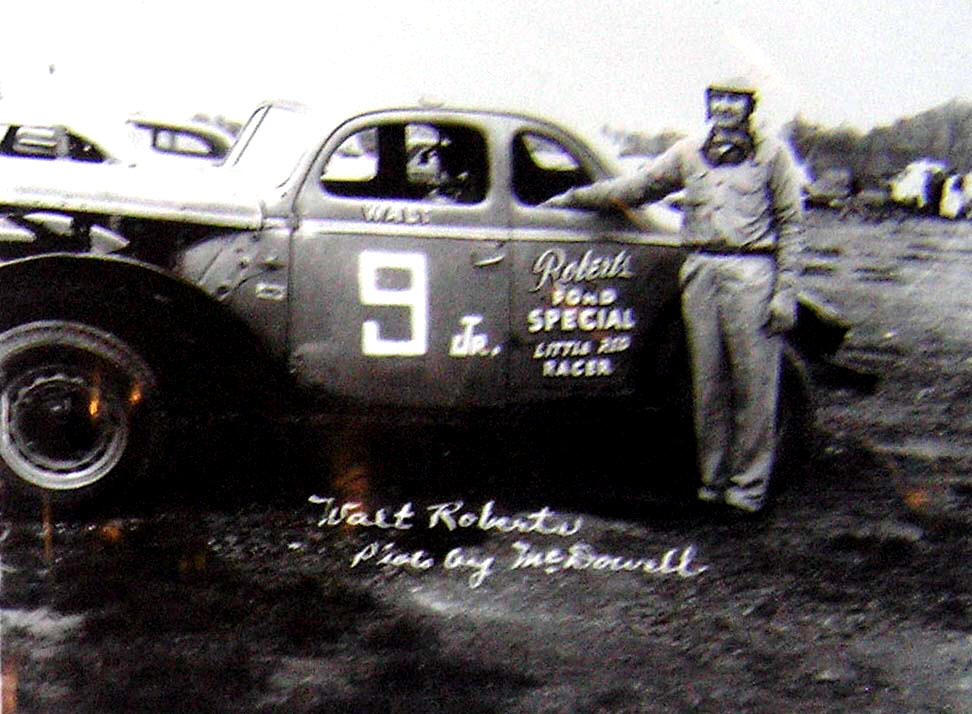 Bob McDowell Photo via Ken Gypson
Walt Roberts poses with his Ford. He would turn it over to
Dick Eagan for the first Fonda race. Below – Saratoga's
well – known Spence Parkhurst would turn his familiar
36 over to fellow Saratogian John "Smokey" Stover.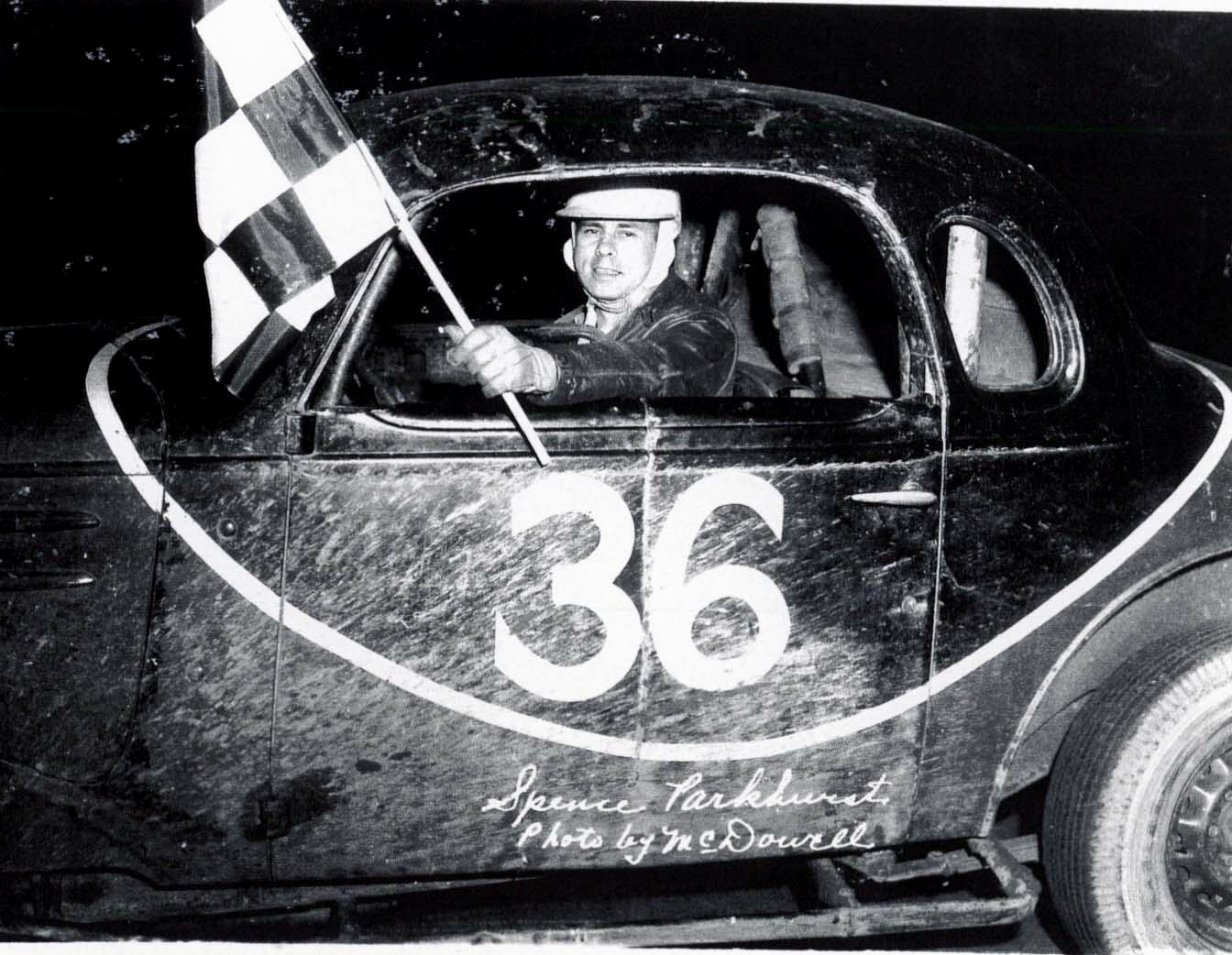 Bob McDowell Photo via Phil Miller
Neff writes:..."starter Chet Hames looked them over and unfurled his most historic green. Ruchsdeschal quicky took control and led into turn one, but before a full circuit was completed sixth row starters Ken Shoemaker and Dick Eagan caught the outside fence in turn two, bringing out the yellow. Shoemaker and Eagan refired their mounts and the LV and 9 Jr. rejoined the field."
This had been the biggest opportunity for the flamboyant Hames, who had seen his flagging career begin when another man, who was flagging at McGregor Speedway near Hames' home town of Saratoga Springs was hit by a car and refused to do any more. Chet had flagged at venues like Stateline Speedway in Bennington, VT and Pico Raceway in Rutland, VT before landing the Fonda job.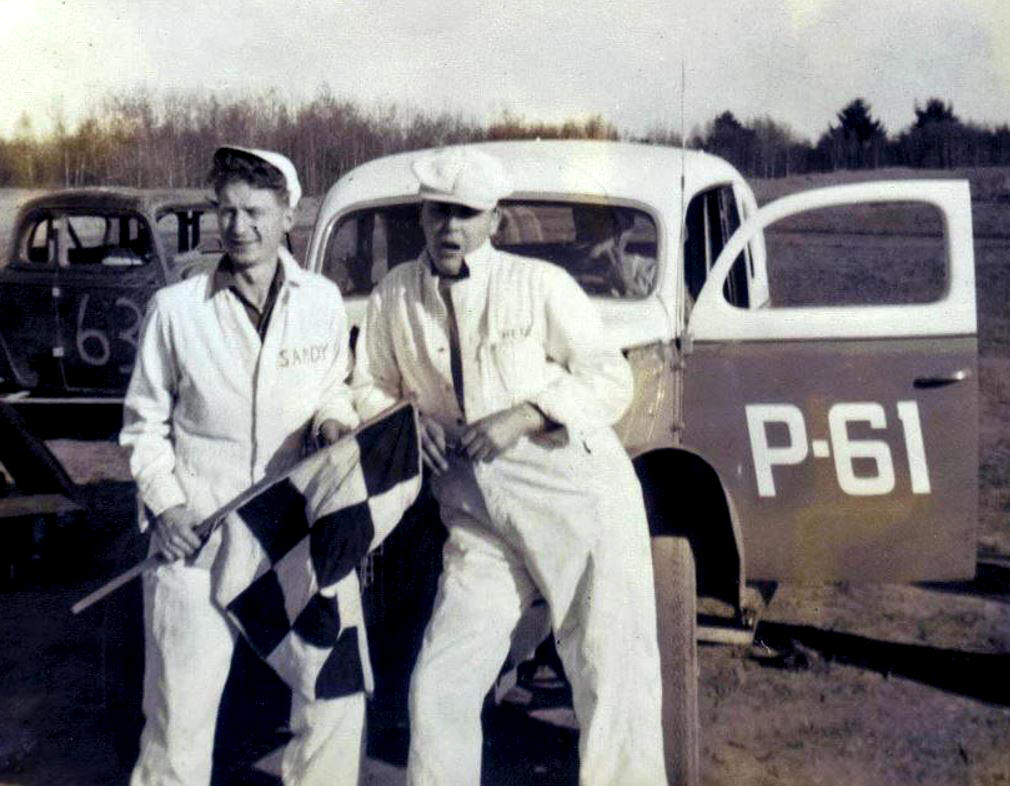 Courtesy of Joe Staiger
Chet Hames [right] stands with Frank Staiger at McGregor
Speedway with driver Harold Kyer in the background. It was
Staiger who handed the flags over to the Chet and began a
great career. Below – Chuck Kotwicka, with his feature
winning car 88. No idea why the native was on the side.
Farther below – the Kotwicka 88Jr, with someone named
Paul Lamb, failed to make the feature.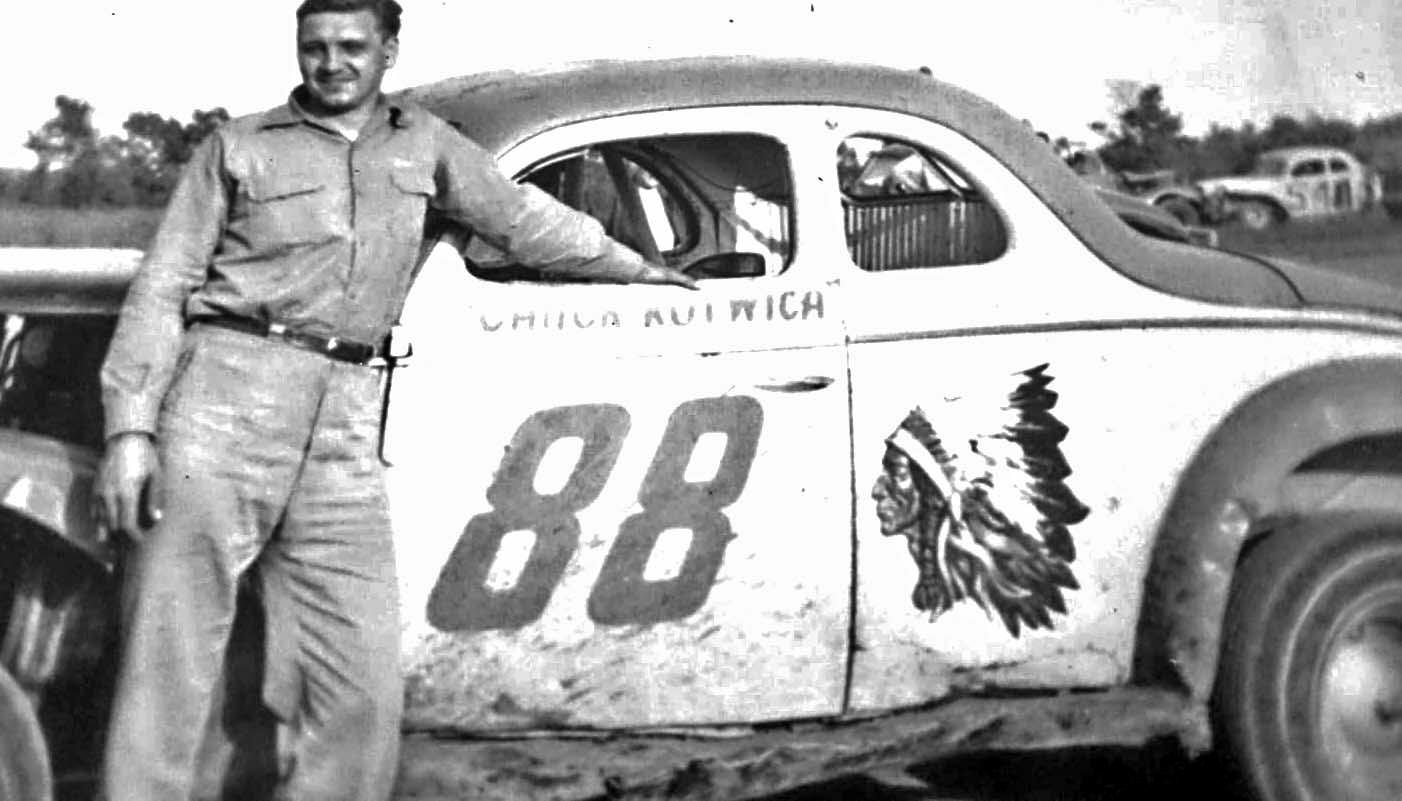 Courtesy of Rick Parry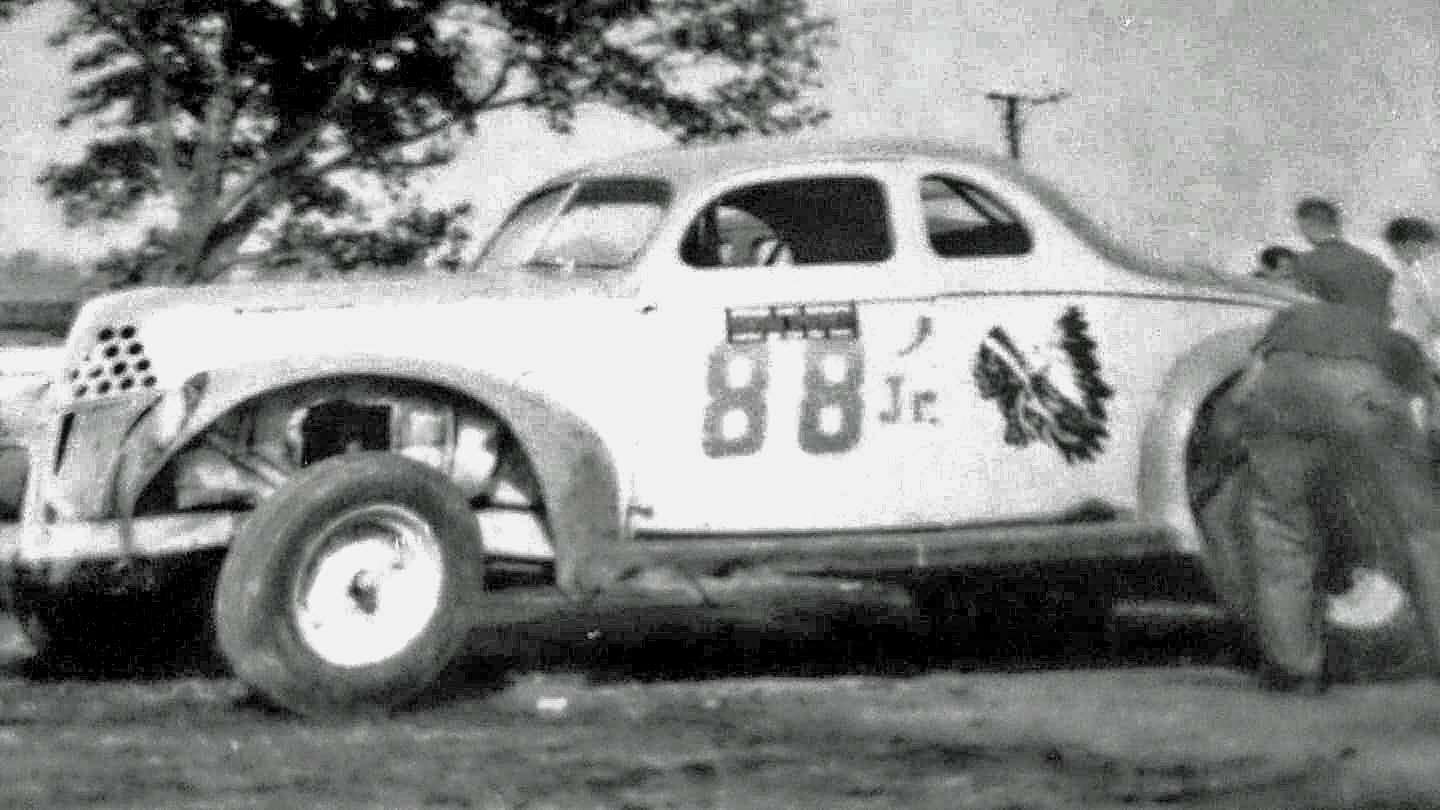 Courtesy of Rick Parry
By now, the windshields of all the cars except Ruchsdeschal and maybe one or two other frontrunners were so caked with mud from the track's last – minute efforts to water, that most could see virtually nothing. Some resorted to driving with their head part way out the window, if they could. Often proximity to the next car was measured by physical contact. It's a wonder someone wasn't serious injured.
Neff takes us through most of the race: "Ruchsdeschal again outpowered the field on the restart, led the pack through turns one and two, down the backstretch along the Mohawk River, past the small (since relocated) graveyard inside turn three, out of four and across the start/finish line to lead this memorable first lap. Before Hames prepared to signal the halfway mark, it appeared as if Ruchsdeschal and the No. 74 might dominate the race from the front row starting slot, but Fonda Speedway would become so successful and popular as a result of close, exciting racing, and the inaugural program would prove to be no exception.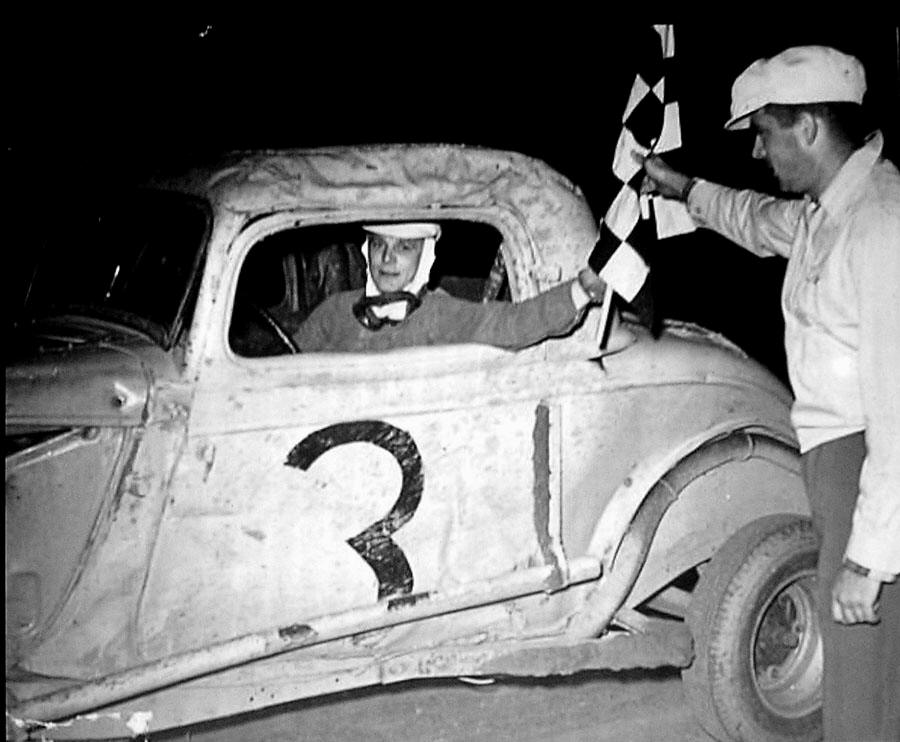 Courtesy of Otto Graham
Jeep Herbert ran this earlier version of the Bob Mott
3 in that first Fonda feature. Below – Paul Korman,
with the Hal Kempeny car he would have had that
night.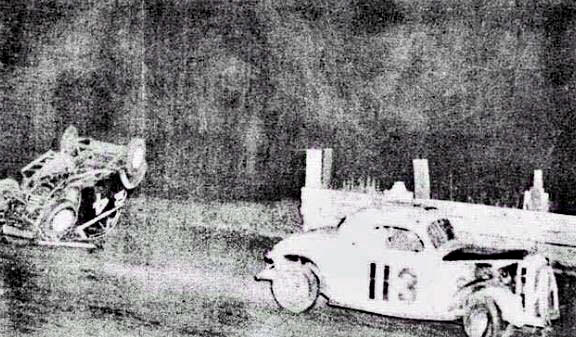 Russ Bergh Photo via Illustrated Speedway News
While the No. 74 appeared to be motoring to an unchallenged victory, Paul Brozyna was working his way through the field after the 63 Jr. 13th. When the No. 74 flashed under the crossed flags, the 63 Jr. in hot, tight pursuit. (Charlie) Kotwicka was running a distant third after watching Brozyna pass and using all his skills to fend off constant pressure from Paul Korman and "Jeep" Herbert. As the race neared its conclusion, Brozyna continued to try to find a way around Ruchsdeschal."
The Fonda book pointed out that Ruschdeschal [not exactly known as a speed demon] was going just fast enough to stay in the lead [or perhaps to stay in the good driving lane]. Brozyna had to know that, since he had blown by Kotwicka, Chuck had been reeling him while he struggled with Ruchsdeschal. The race had wound down to the final laps.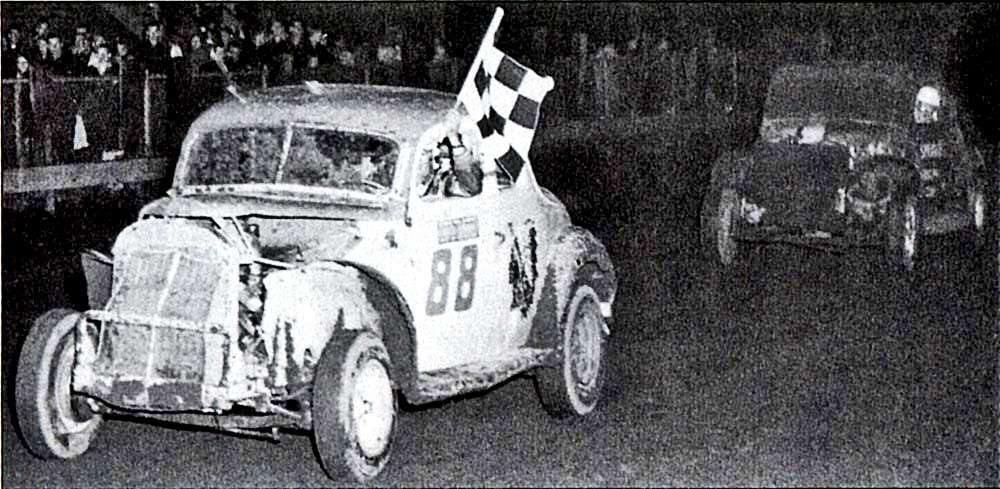 Russ Bergh Photo Feuz Collection
Chuck Kotwicka, who enjoyed a slightly less obscured windshield,
coasts around after winning while Paul Brozyna can see nothing.
Below – Brozyna, in Victory Lane at Fonda for the last race
of that inaugural season.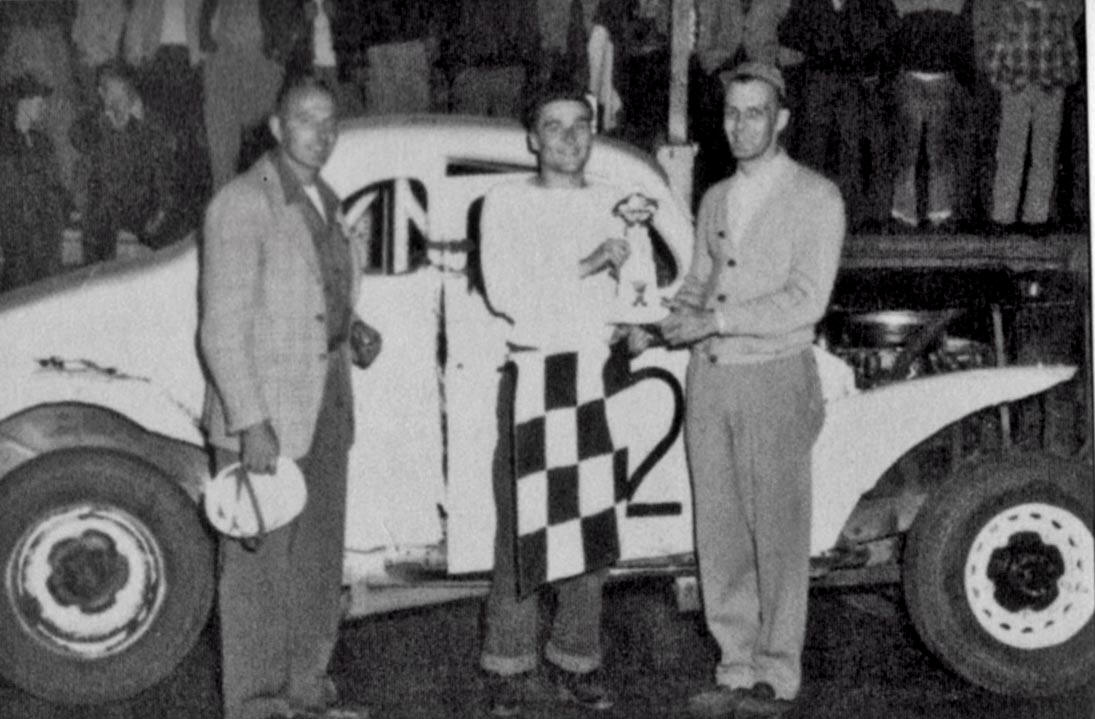 Courtesy of Otto Graham
Neff adds: "Suddenly, in turn three, the 74 and 63 Jr. tangled momentarily allowing Kotwicka to daring maneuver the No. 88 to the inside and beat the field to Hames' checkered flag. Ruchsdeschal and Brozyna quickly recovered and 63 Jr. finished second while the 74 salvaged a third place finish. Jeep Herbert chased Ruchsdeschal across the line finishing fourth in Bob Mott's yellow No. 3 coupe, followed by the Paul Korman driven No. 113."
The Fonda book is less diplomatic. It says how Brozyna let Ruchsdeschal "have it" going into the third turn and it took them both high at just the right time for Kotwicka to get by. It pointed out that Brozyna had not been shy about using the "Chrome horn" throughout his charge from the rear to the front and suggested that he might not have been able to see much out of his windshield at all.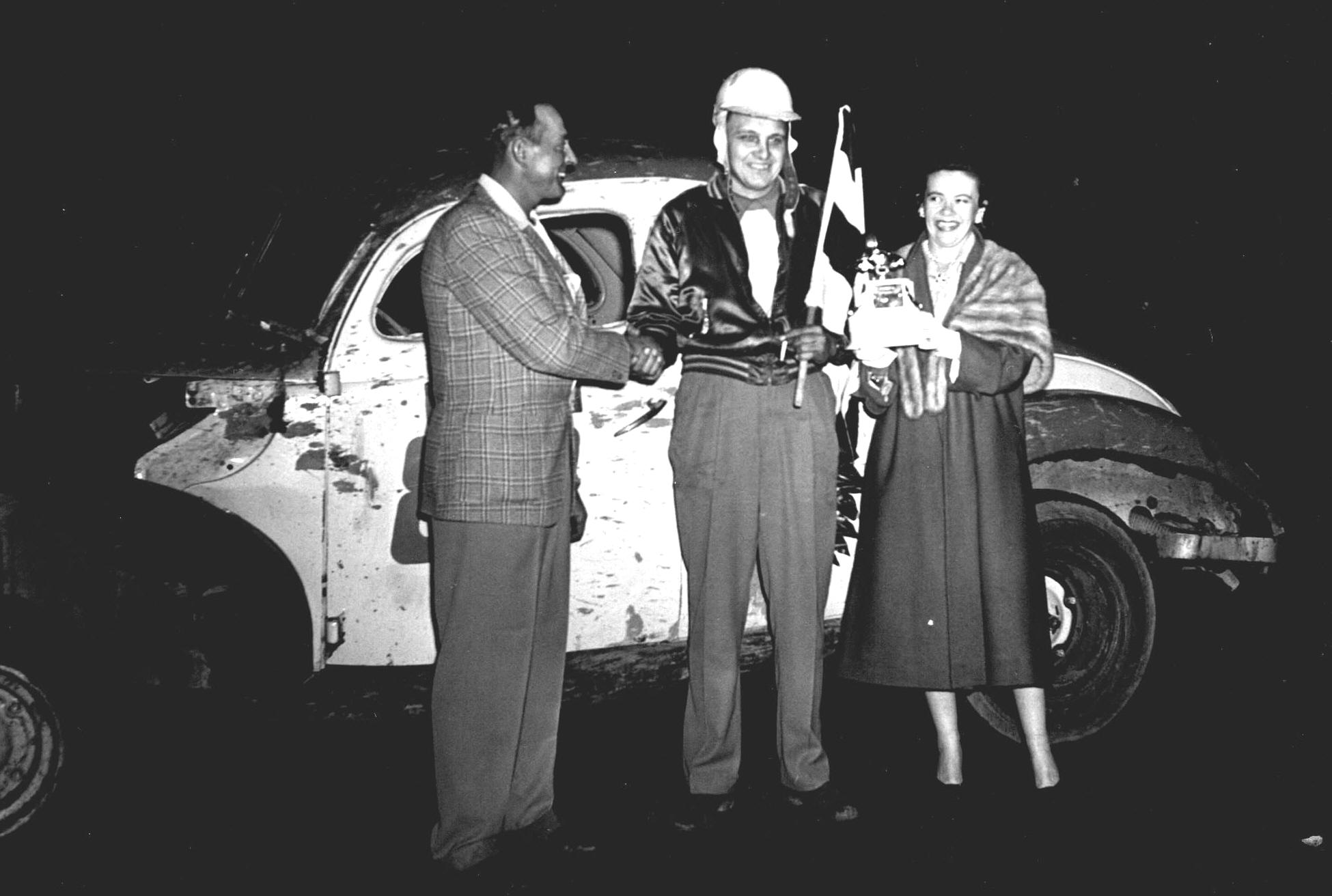 Russ Bergh Photo Fuez Collection
Chuck Kotwicka collects the loot from Ed Feuz and elaborately
attired Sally Whitbeck Gage. Gage, wife of promoter Jim,
had the racing pedigree from the Whitbeck family. Below - That
same car 74 Ruchsdeschal drove in Fonda's first feature is seen
here at Victoria, years later.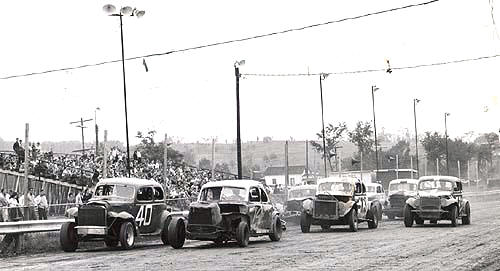 Russ Bergh Photo
Neff writes : (Charlie) Kotwicka parked the No. 88 in victory lane, received the winner's trophy from Sally Whitbeck (Gage) and returned home to Rome, N.Y. with the bulk of the $750 purse. This would prove to be Kotwicka's only career visit to Fonda's victory lane but it was certainly a memorable and historic visit. Chuck Kotwicka, as he is usually called, would be injured in a crash not too long after this and retired from racing.
Brozyna would drive for other owners. Ruchsdeschal, never much of a top draw, did race a little longer. His car from that race is seen in a starting field at Victoria Speedway many years later; but it is my theory that it had perhapsbeen bought by Wayne Coon by then. Ruchsdeschal would also take a turn at promoting the Whites Beach Speedway near Saratoga. Danish would go on to set a record for feature wins that season that stood for years.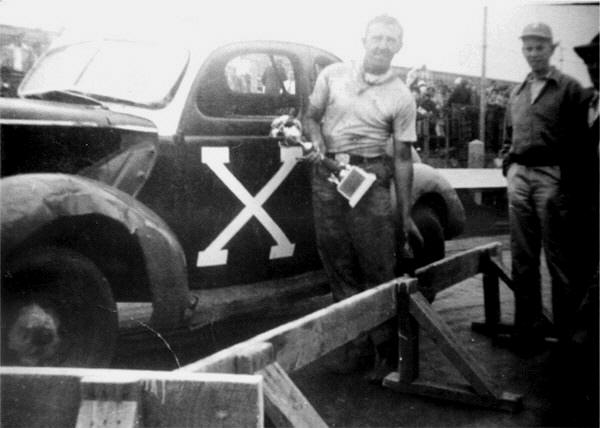 Courtesy of the Midstate Club
Hully Bunn, with the car he used in his Langhorne victory.
Below – Dick Eagan, with the car he ran at Langhorne
before spelling Bunn in that victory.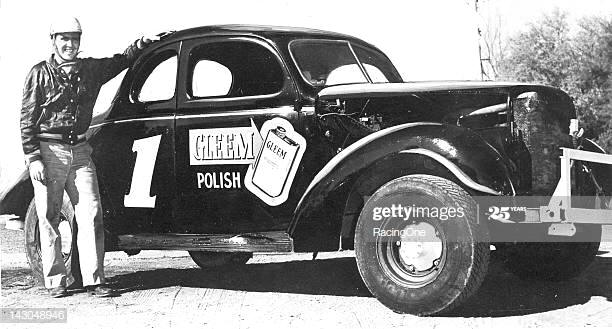 Getty Images
The Bob Mott yellow 3, driven that day by Jeep Herbert, would become a point of controversy at Fonda in the mid '50's and subsequently be banned due to a NASCAR rule about the age of the body; the statute was used somewhat conveniently at the time because the car was so dominant. Dick Eagan and Hully Bunn had combined for a Langhorne win, but would not run Fonda much if at all after that night.
In the annals of New York state racing, that was the night that was.
Please email me if you have any photos to lend me or information and corrections I could benefit from. Please do not submit anything you are not willing to allow me to use on my website - and thanks. Email is: wladabou@comcast.net . For those who still don't like computers - my regular address is: Bill Ladabouche, 23 York Street,Swanton, Vermont 05488.
AS ALWAYS, DON'T FORGET TO CHECK OUT THE REST OF MY WEBSITE
www.catamountstadium.com
Return to the Main Page
Return to the Main News Page
Return to the All Links Page
Return to the Weekly Blog Links Page