BILL'S [Somewhat] WEEKLY COLUMN/BLOG PAGE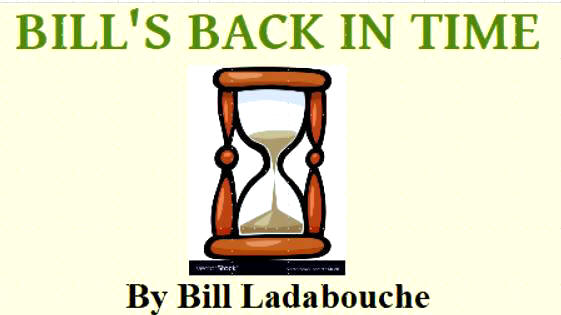 WHAT I RECALL FROM THE LEBANON VALLEY SHOW
AT THE VERMONT STATE FAIR IN 1961
I am more than sure that everyone is sick of hearing me talk [or, in this case, write] about the record – setting stock car program staged by C.J. Richards at the Vermont State Fair in Rutland in 1962. In fairness, it did set sports attendance records that lasted for decades and it was a darned good show; but, enough is enough [for now].
C.J. Richards intimated to me in one of our conversations that he had a hand in attracting the stock car show that preceded his – one year before – in 1961. No one seems to know how exactly the stock car program was conceived – but there had not been much in the manner of stock car racing in the region in years. Since the closing of the Pico Raceway – about a mile south of the fairgrounds – racing to be seen was scarce.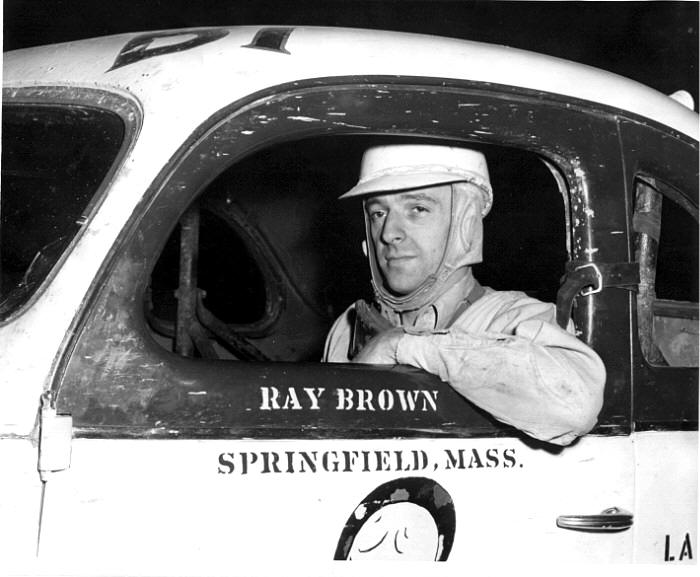 NE Vintage Mod Site
Ray "The Other Ray Brown" Brown poses for a early '50's
Rhythm Inn Speedway shot. Likely, it is he who won in
Rutland in 1951 and in that car. Below – The SCODA field is
flagged off at the fair in 1957. Further Below – This photo may
show Charles "Elf" Bettman blue VW], who is credited with winning the
SCODA race at the fair in 1957. The homemade car behind him could
be SCODA's famous Jake Jacobs.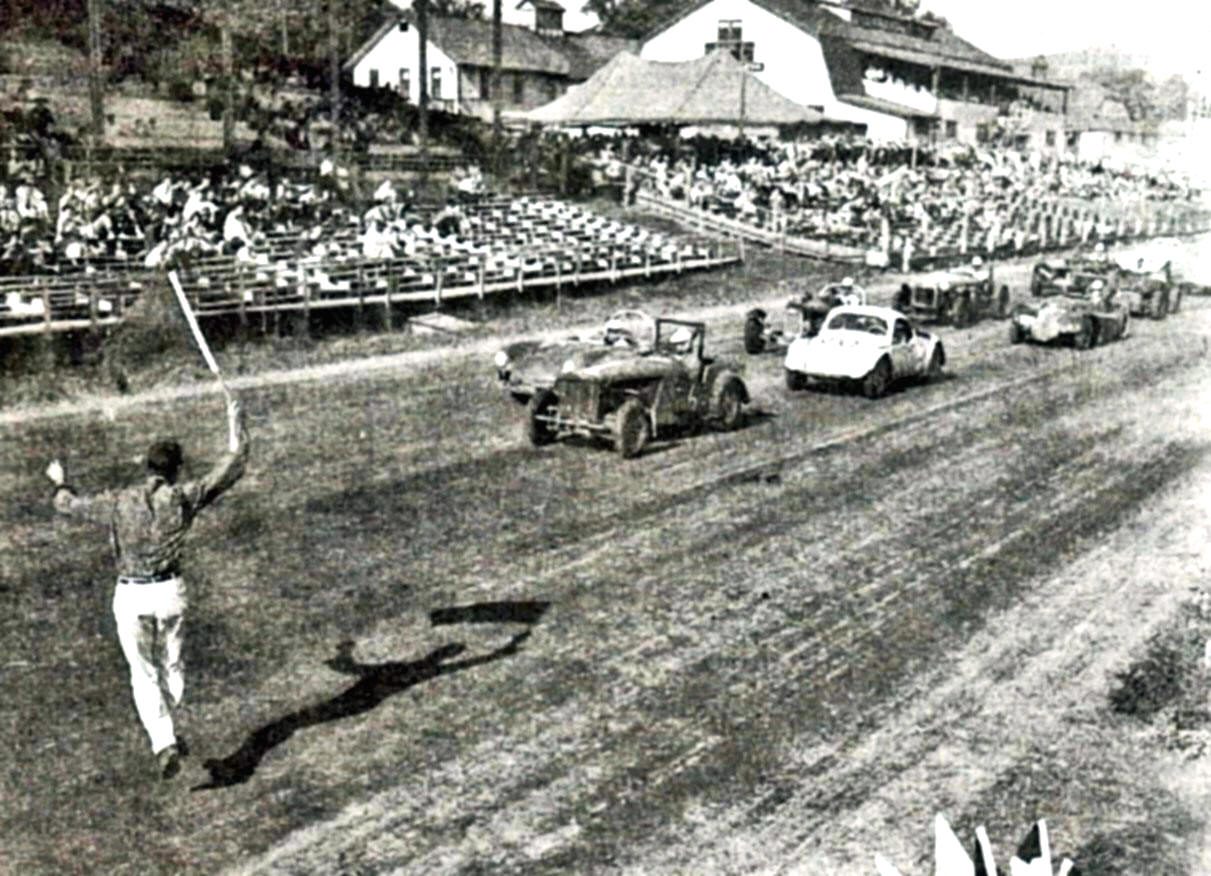 Aldo Merusi Photo - Rutland Daily Herald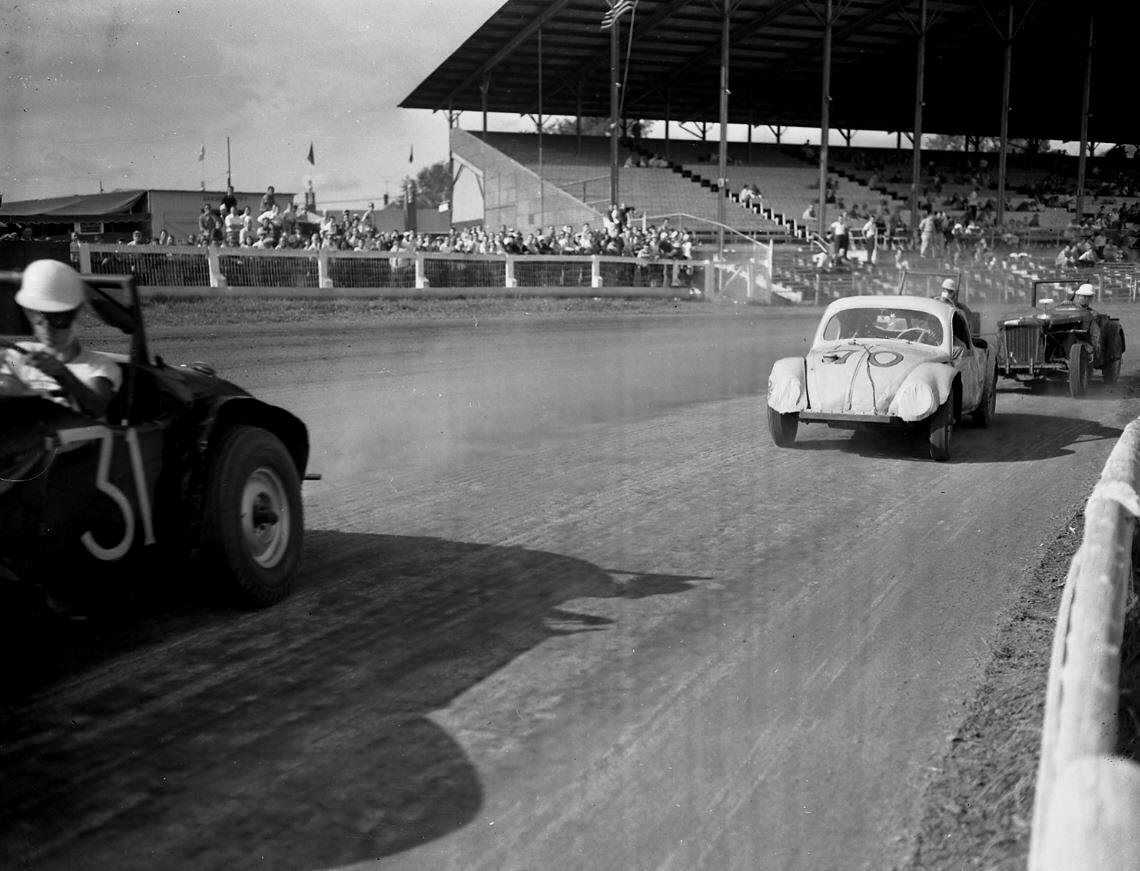 Aldo Merusi Photo via John Nelson
The Pico closure, for all intents and purposes, was in 1952. The fair had hosted some sort of stock car race in the mid 1950's that was won by Ray Brown. I don't know who sanctioned the race or whether the winner was Ray "Zero" Brown or [more likely] the Ray Brown from Massachusetts who ran tracks like Brattleboro Speedway and Rhythm Inn, in Massachusetts. It is likely it was he, as the other driver mentioned in notes was Rene Charland, who often raced in that circuit in the early days.
Then, around 1957, the Vermont State Fair featured a program by the Sports car Owners and Drivers' Association [SCODA]. These cars defied description, many of which barely resembled sports cars; they were more like sports/stock cars – often hybrids of various sports car parts in one car and very rough looking. I believe the race was won by Charles Bettman, in a Volkswagen while the predominant SCODA driver of that era, Jake Jacobs, was the most attention – grabbing car that day. Jacobs' chassis, motor, and transmission were all from different makes of cars.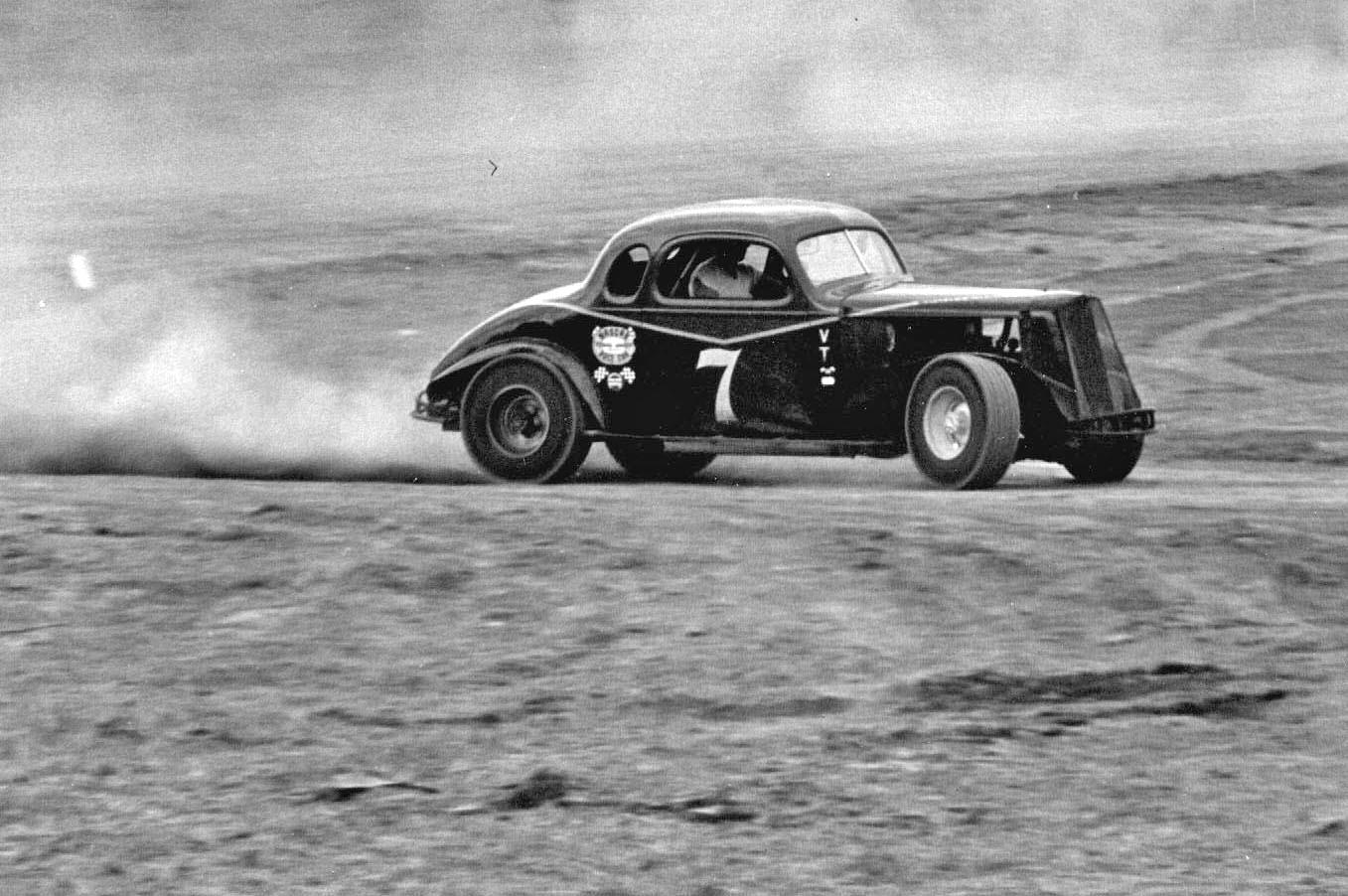 Bob Mackey Photo Courtesy of Cho Lee
We had seen some racing at Otter Creek Speedway that year, but the
show at the fair was far more entertaining. Below – Otter Creek afforded very poor sight lines
for spectators, due to the large distance to the track. Ironically, the man in the
foreground smokes as he watches smoke from Wayne Chandler's burning Hudson.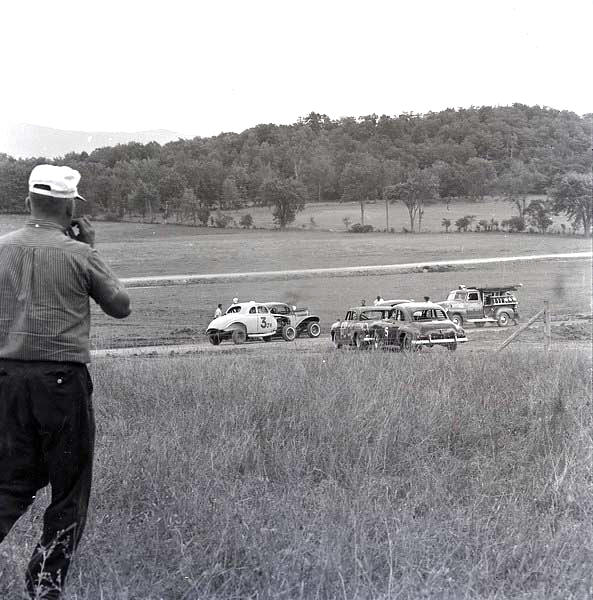 Bob Mackey Photo via Cho Lee

So, when it was announced there would be a stock car race at the fair in 1961, this was a big deal for those of us starving to see some racing. My uncle and I had started to see racing again, having attended a few shows at the rural, crude [but NASCAR sanctioned ] Otter Creek Speedway up North. We had also seen a race at Malletts Bays Raceway in Colchester around 1958 – and, of course, the bizarre SCODA spectacle.
There was a good crowd on hand that Sunday afternoon for the show. The announcer [who might well have been Uncle Art Stuarts] made it very clear that the cars mostly were regulars from Lebanon Valley Speedway, and he did a masterful job of getting the crowd [most of which was unfamiliar with the cars and drivers] to begin to identify with the stars being seen out on the horse track at the fairgrounds. While most of the cars were Valley cars, the promoter of the actual racing was Sam Nunis, who had previously brought open wheel racing to the fair there. He likely worked closely with Valley promoter Lou Spanier.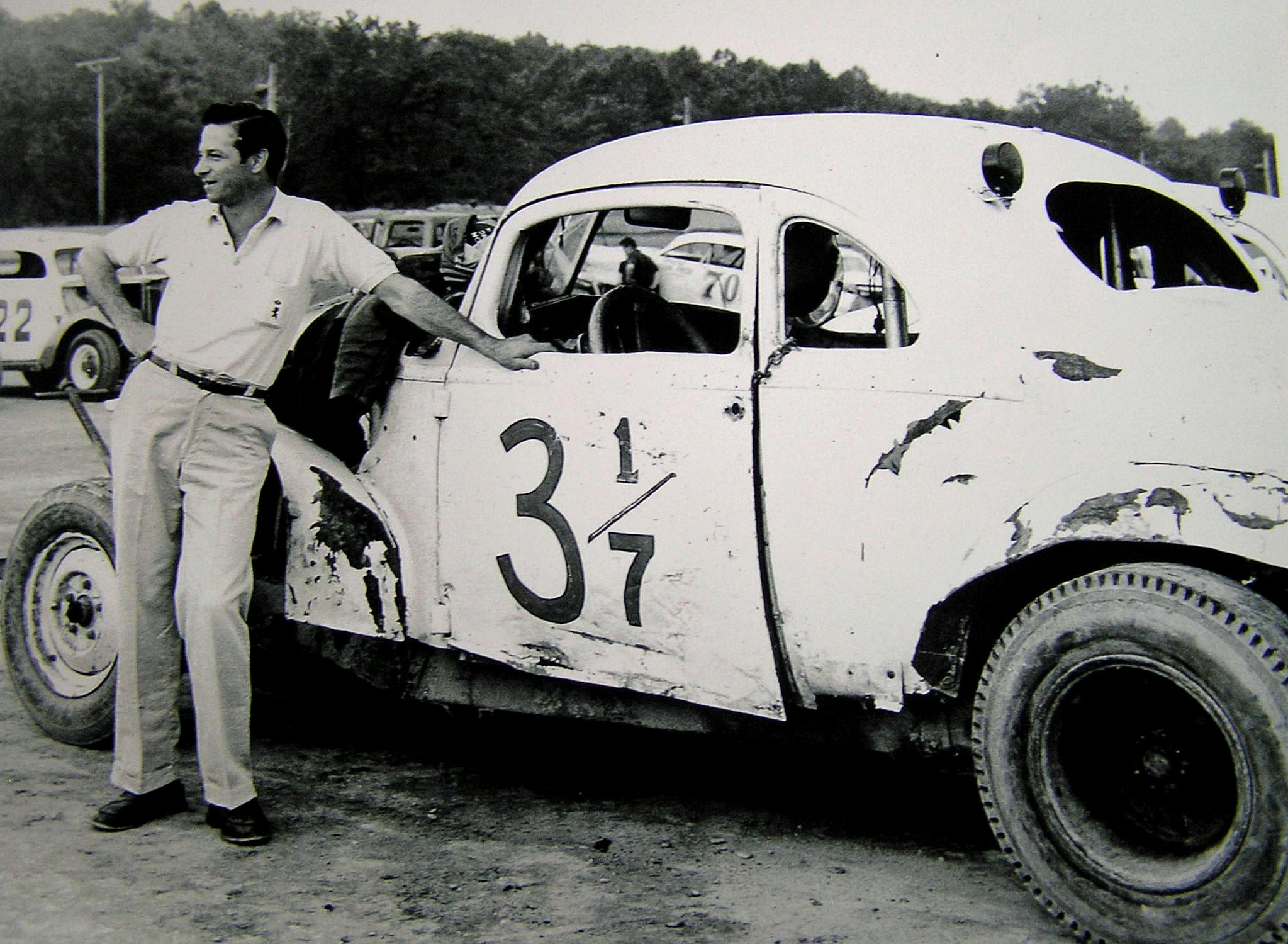 Courtesy of Ken Gypson
Joe Messina, shown here with the car he drove that day, ended
up as the winner. Below – Bill Webb may not have won, but
any photos of that day involve him and his maroon 33. He had
fans or family who took 8MM of him there, as well.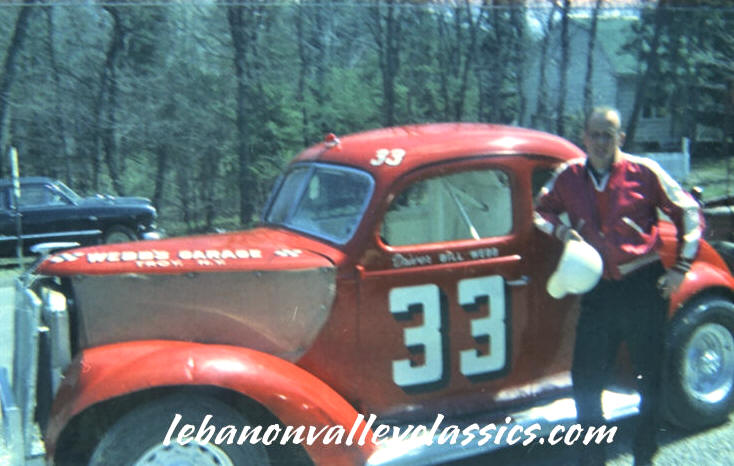 Lebanon Valley Classics

Butch Jelley, a Vermont driver who was then beginning to be a Valley regular, has insisted to me that the show was staged because the management and Valley officials realized the narrow, sharp – turned horse track with woeful retaining barriers was inadequate for an all – out, no holds barred race like was always seen at the Valley. Jelley claims it was agreed upon who would win and generally how the finish would go to avoid disastrous wrecks. Rhode Island's Don Rounds, another valley regular angrily refuted Jelley's claim, saying that the race was totally up for grabs from beginning to end.
There are some confusing things that have muddied up that race and how it turned out. Some old 8MM footage seem to indicate [as well as one race clear photo] that the race was won by Bill Webb and his red #33 coupe. However, the Uncle Art Stuarts book, considered the authoritative bible of sorts on early Valley racing, identifies the winner as Joe Messina, from Troy, NY. I think Jelley had also identified Messina as winner, running the 3 1/7 of Al "Pop" Green.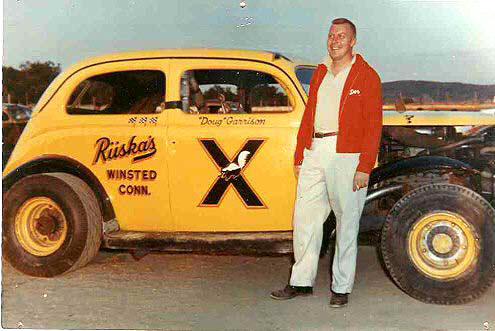 Source : Arnie Ainsworth
Doug Garrison, with the popular Martin Riiska yellow X.
Below – Butch Jelly, with the Ed Winn Y car a year after
the fair show.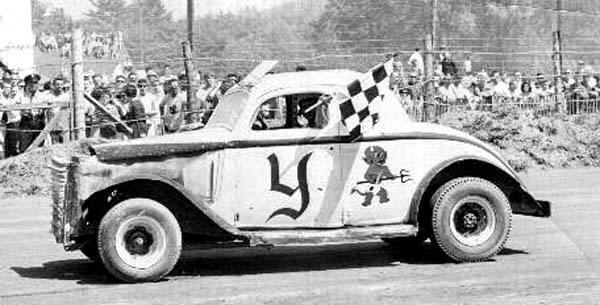 Bob Frazier Photo Ladabouche Collection

With guidance from the announcer, we began to pull for certain cars out on the track. There would be no one I had ever heard of, but I would leave with a number of names and car numbers to talk about for months to all my friends who could give a hoot in hell about any of it. We were told all about Doug Garrison and the Martin Riiska "Little Yellow X", a yellow sedan across whose number X was a cartoon skunk. The car was also called "The Little Stinker" What I know about it now is that it was a crossfire six engine that either dominated the day or blew up.
Another popular car with the fans around us was Don Rounds' light blue and white #101 RI. The car was well – kept and attractive [in direct contrast to Garrison's beat – up coach] and the Rounds car sported a small pirate flag that waved along as he competed. I don't recall how any of the cars actually finished. Butch Jelley was driving a '37 Ford simply numbered as "Y". Butch told me the Y came from two sources. Firstly, owner Ed Winn a Y – shaped exhaust system that incorporated the Venturi Effect; it also caused the car to belch flames out two football – shaped holes in the trunk. The other source of the Y was because when the crew wanted to try something new, their attitude was "Y Not !?"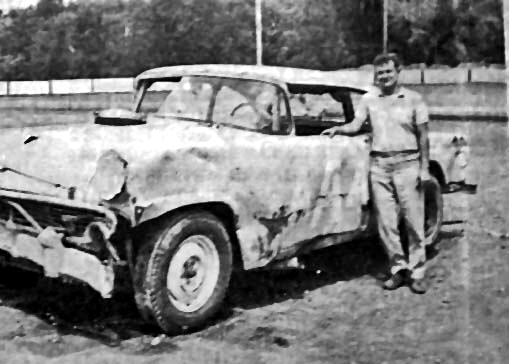 Courtesy of Mike Visconti
D.D. "Rebel" Harris was a notable that day in Rutland , and he
did go on to win the points title at the Valley that year with his
and Danny Mitchell's ugly but fast '55 Ford. Below - Sonny Rabideau and his
New Hampshire style cutdown did not fit in with the Valley boys that day.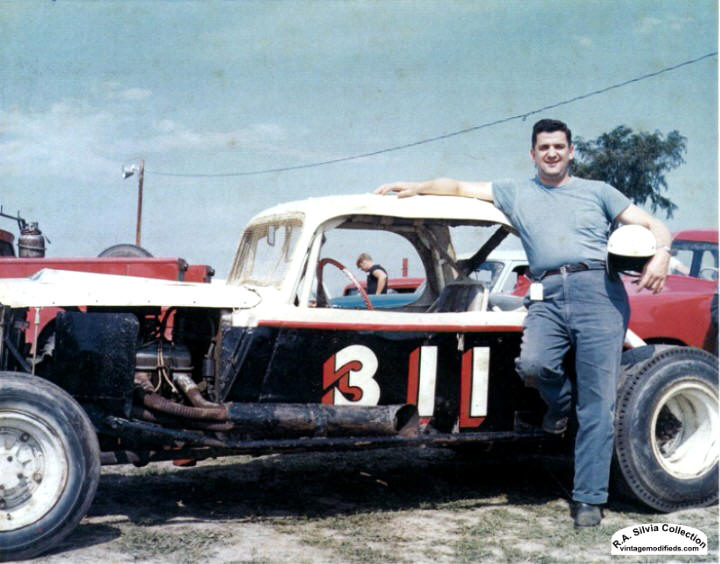 I particularly recall a car that was much lower and smaller than the roaring Valley cars. The Valley was in that period when you ran coupes and sedans if you had flathead or six cylinder engines. If you ran a heavier late model body such as a '55 Ford, you could have an overhead V-8. Sonny Rabideau, who would have raced against Rounds at Brattleboro Speedway or at the track in Keene, NH, had what was called a cutdown – a greatly reduced and lightened early '30's body. However, he still had a bombastic flathead in the car that was owned and maintained by Frank Smith.
Lebanon Valley regulars were notorious for hating it when "outsiders" ran at their track or – in this case – at one of "their" shows. So it was that was the small Rabideau #311 was eventually and summarily deposited into the turn one fencing. He ended up just missing the propane tanks located behind Roxy's French Fries on the Midway. Ironically, Rabideau would win the race staged by C.J. Richards, the following year, and another car would end up being pushed into almost the identical spot in the fence.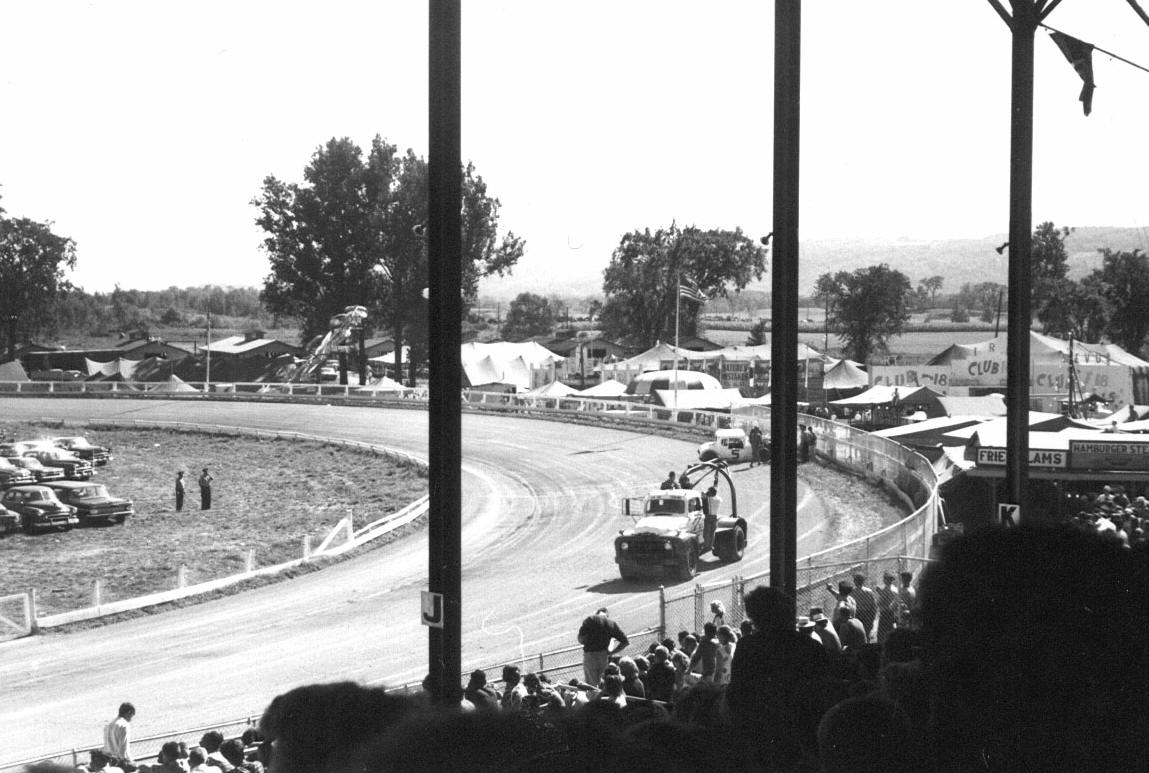 Norm Vadnais Photo
This shot shows the 1962 cleaning up of Vic Love's wreck -
"EXACTLY in the same spot as Rabideau had landed the year before.
The sign for "Fried Clams" is right where the propane tanks were.


I simply was not race educated enough to absorb all of what the Valley announcer was explaining, but I was aware that – while most of the cars seemed like the stock cars I was used to – there were the entries with much newer bodies. Albeit, most of the bigger late model cars' bodies were more battered than the old coupes with the heavier metal. D.D. "Rebel" Harris of Poughkeepsie [who may have won the points title that year] was running an almost lavender – colored car #AAA – what looked like a 1955 car. Harris, with partner Danny Mitchell, put on one of the more impressive shows of speed that afternoon.
Another late model entry was the 50 of Neal Dunstan, from Voorheesville, NY. I believe that this was also the time when Stretch Van Steenberg [and we loved that name] might have been running the #0 John Ryan '55 Chevy. He did also pilot a #1 sedan belonging to Ronnie Roosa, at that time. In stark contrast to these cars, apparent winner Joe Messina was driving a Hudson. The car, numbered 3 /1/7 by owner [and engineer] Pop Green, was a well – used hulk of a coupe that really went when it was running.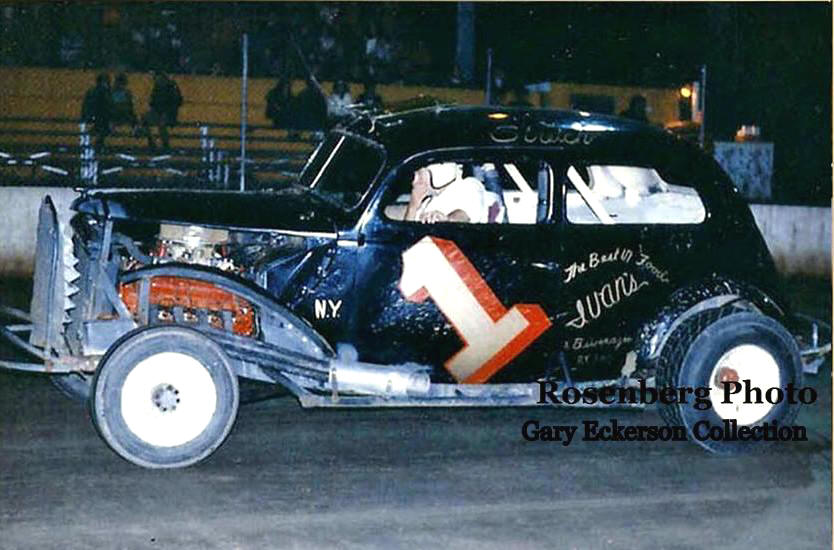 Gary Eckerson Collection via Chas Hertica
Stretch Van Steenberg would have run this Ronnie Roosa #1
at the fairgrounds show in 1961. Below – C.J. Richards wasted
little time in signing third place finishing Johnny Flach for
Richards' opening show at Fairmont the following year.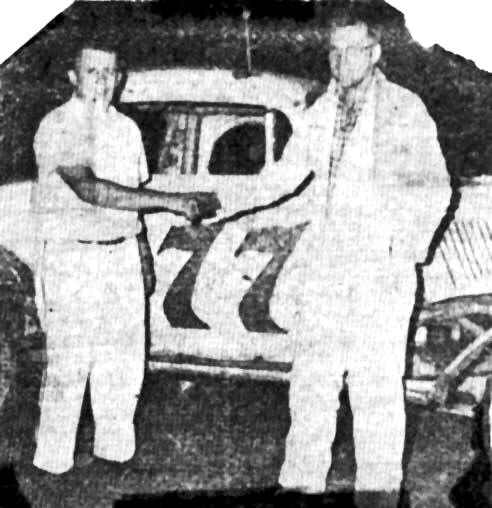 Bob Frazier Photo Rutland Herald
I also remember the name of Johnny Flach, with his white #77 Ford coupe. Running out of the Fred Searing stable from Oak Hills, NY, Flach also caught the eye of C.J. Richards, who went out of his way to sign Flach up for his inaugural program at Fairmont Speedway in 1962. Bill Webb, featured both in the 8MM footage and in the only photo I have of this day, did finish 7th in Valley points that year, but I don't know how he fared at Rutland.
I honestly can't recall what kind of car the great Howie Westervelt, from Ravena, NY drove that day. It would have either been one of Cliff Wright and Zautner brothers's Toll Gate Ice Cream cars or a late model Ford #5 he also drove around that time. That particular year, the vast majority of feature wins went to the triumvirate of Harris, Garrison, and Van Steenberg. They were definitely all at the Rutland fairgrounds.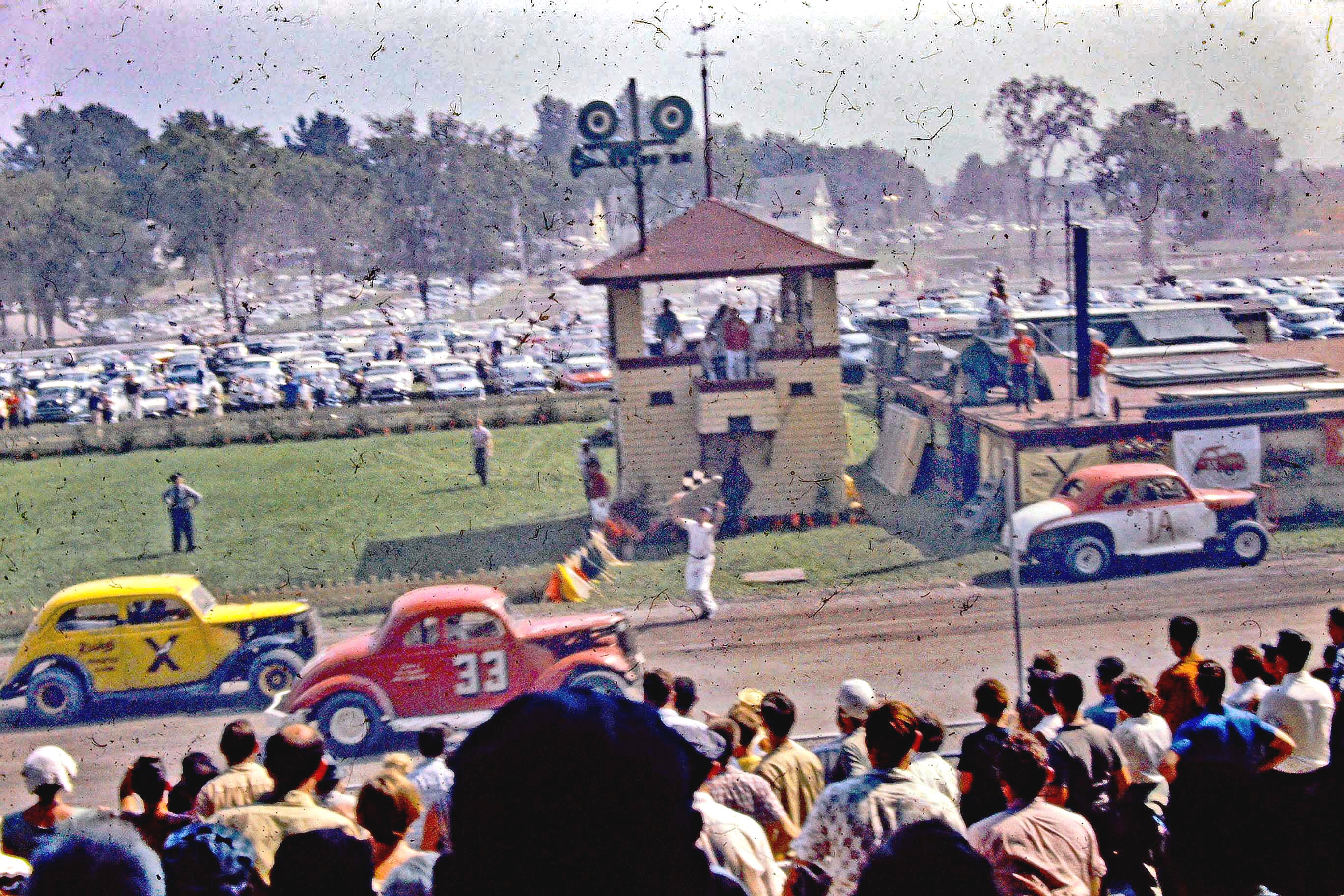 Courtesy of Big Bigelow Photographer Unknown
Up until recent years, I had only a few grainy 8MM captures of this show. Now I have this one photo that shows
Bill Webb beating out Doug Garrison in one of the races. The car 1A is an unknown local car,
apparently.
I didn't think much more of this show during the winter until Richards announced that he would be re – opening the long – dormant Fairmont track in Fair Haven in 1962. The names like Johnny Flach and Butch Jelley were being bandied about. As it would turn out, we would only see Flach once that year and it wasn't at Fairmont's opening, as advertised. Jelley would be there, as well as Winn team mate Frank Hatch. Rabideau would be slow to attend Richards' shows but would come oat the end of the 1962 to win big races and be Richards' version of the Vermont State Champion.
No matter whether the Valley show was staged or not is immaterial. It was entertaining to a racing – starved Rutland County and did not suffer any of the bad injuries that were seen at other racing shows at the inadequate track before the beleaguered fair committee shut future racing off for good. Jelley would end up driving the Riiska car, replacing Garrison. Several of the stars that day were getting on in their careers and didn't race for many more years. But it was great fun that September afternoon!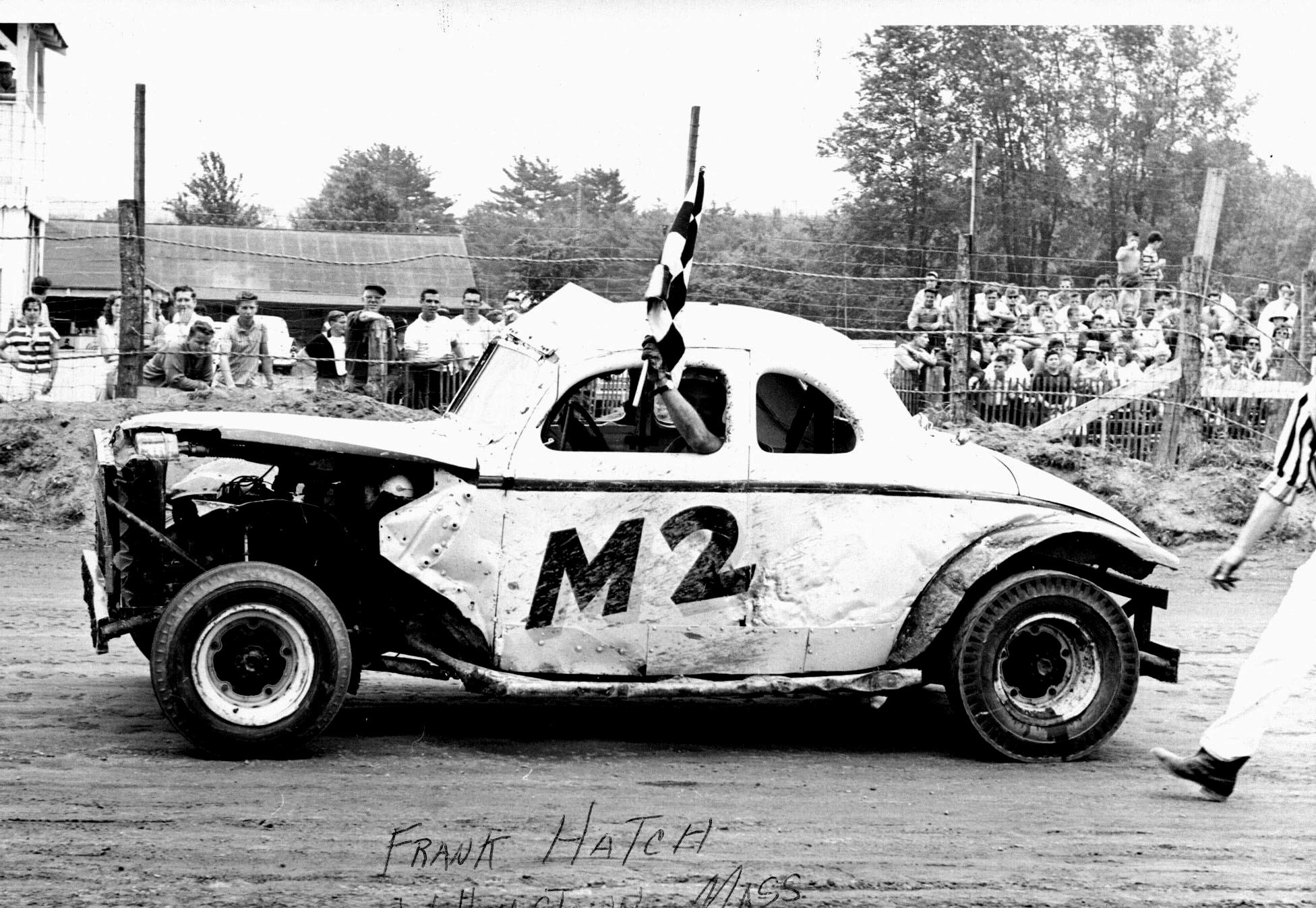 Bob Frazier Photo Courtesy of C.J. Richards
Butch Jelley team mate Frank Hatch, in the other Ed Winn
car, enjoys a heat win at the opening of Fairmont Speedway
in 1962, Below – Johnny Flach's car would appear at
Fairmont in 1963, in the hands of Stan Wetmore, once
Flach [patriarch of a four generation racing family]
retired.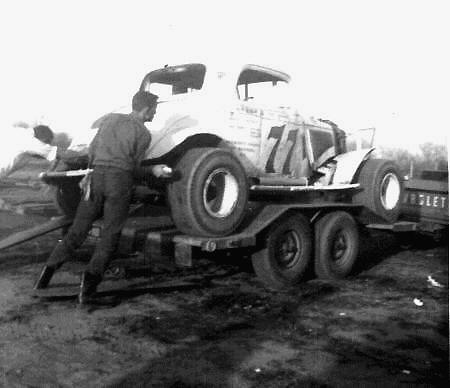 Ladabouche Photo
Please email me if you have any photos to lend me or information and corrections I could benefit from. Please do not submit anything you are not willing to allow me to use on my website - and thanks. Email is: wladabou@comcast.net . For those who still don't like computers - my regular address is: Bill Ladabouche, 23 York Street, Swanton, VT 05488 Swanton, Vermont 05488.
AS ALWAYS, DON'T FORGET TO CHECK OUT THE REST OF MY WEBSITE
www.catamountstadium.com
Return to the Main Page
Return to the Main News Page
Return to the All Links Page
Return to the Weekly Blog Links Page