BILL'S [Somewhat] WEEKLY COLUMN/BLOG PAGE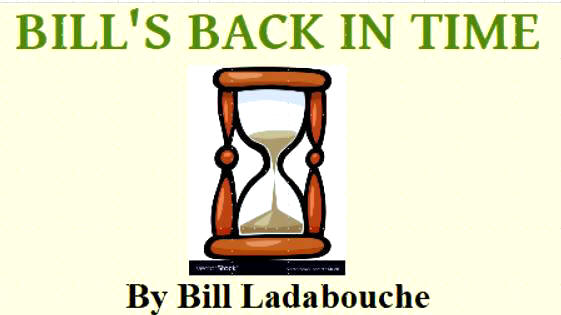 GETTIN' SOME NORTHEASTERN SPEEDWAY STUFF FROM PAUL

Recently, a package arrived in the mail. Since most of the stuff that comes in is about my wife's business, when something actually had MY name on it [and it isn't junk mail] I grab it quickly. It turned out to be a small selection of newsletter – like materials from a friend, Paul Mascitti. It appears that the Northeastern Speedway, one of the most organized venues in early stock car racing, had a regular newsletter that seems to have been way ahead of its time.
To frame this a bit, racing in most places around 1950 or 51 was a pretty crude affair; and, up in Vermont's Northeast Kingdom, a lot of the hastily – made bullrings did not even have fences or bleachers – let alone rules. Out of this, came the creation of the remarkable, if short – lived Northeastern Speedway – in Lower Waterford, VT. The brainchild of a group of race enthusiasts who mostly all worked in the big Ralston – Purina plant in St. Johnsbury, VT, the track was organized by a number of committees who took every aspect of making a speedway correctly into consideration.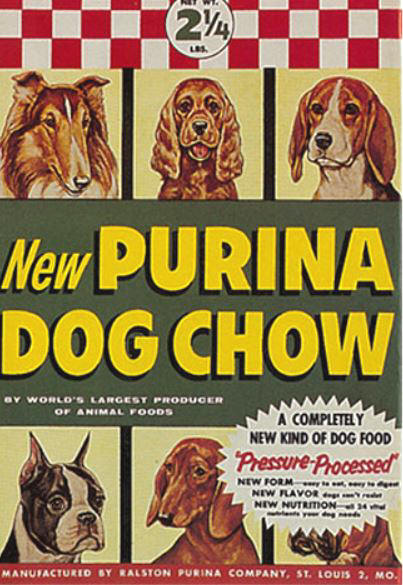 Chewy.com
Almost evrybody worked at the Ralston-Purina plant in St. J. Below - The crudeness of northern Vermont
tracks inspired the creation of Northeastern Speedway.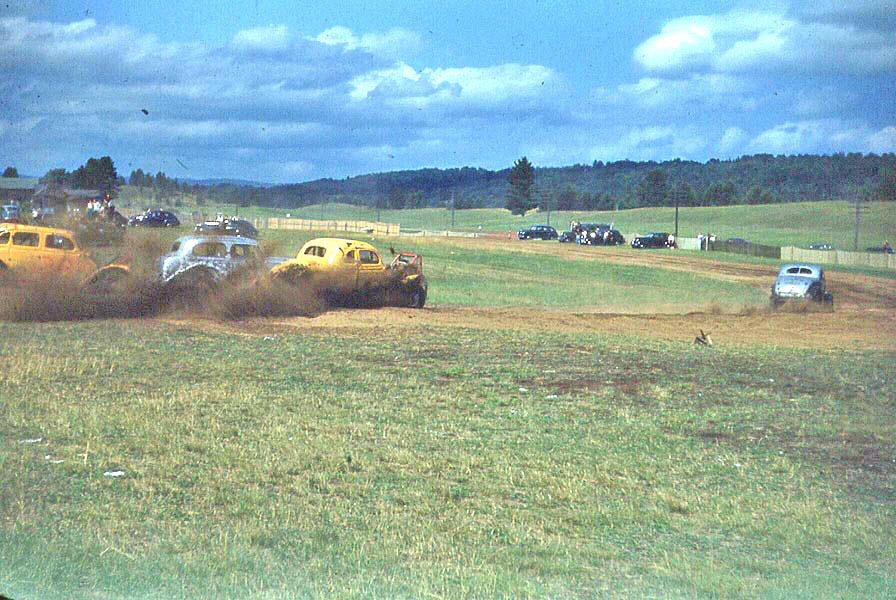 Courtesy of Biggy Bigelow
The result was a fifth mile track, sitting between St. J. and Littleton, NH, which offered those who had been racing in chaos to have a run at a well – run track. Inaugurated by local marching bands, and filled [both in pits and stands] by enthusiastic people from all over the region, the track was going so well that it deeply impressed its young announcer Ken Squier. Ironically, when Squier was inspired to build his own track in Barre, BVT – it sounded the gradual death knell of Northeastern.
Although Northeastern followed Squier's Thunder Road into the world of asphalt racing and it shared the same body of competitors, the Lower Waterford track eventually began to lose steam. By 1963 someone had paved the old fairgrounds track at Northfield, VT [the site of Vermont's first eve stock car race] and was running the T Road cars, as well. Then, as is to add to the problems, a track was started in Groveton, NH – not far away from Northeastern – a few years later. That track survives today as Speedway 51.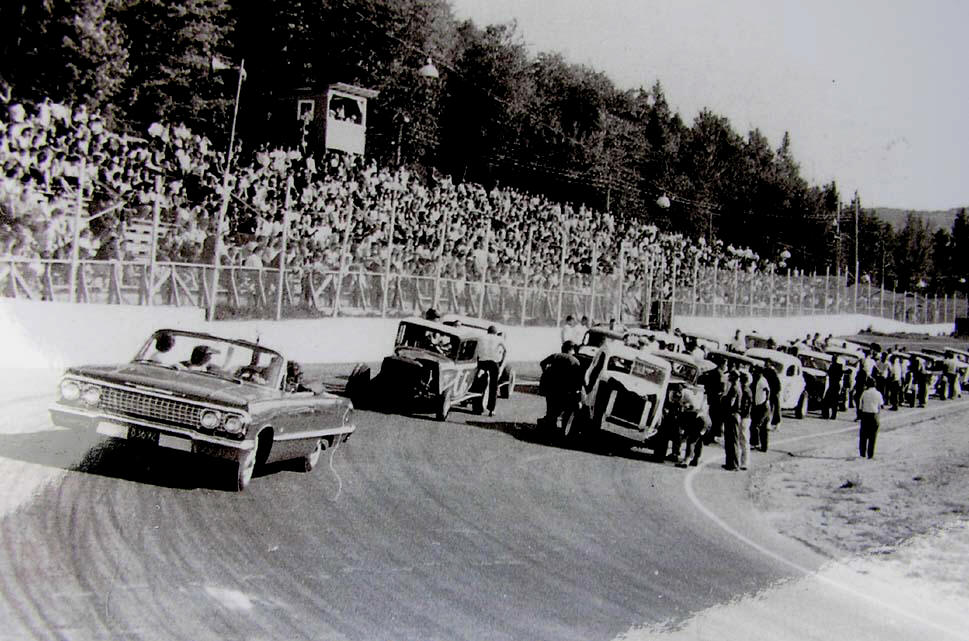 Courtesy of Andrews
Northeastern was a proud little fifth mile with good racing and [below] a lot of
local participation such as area marching bands and color guards.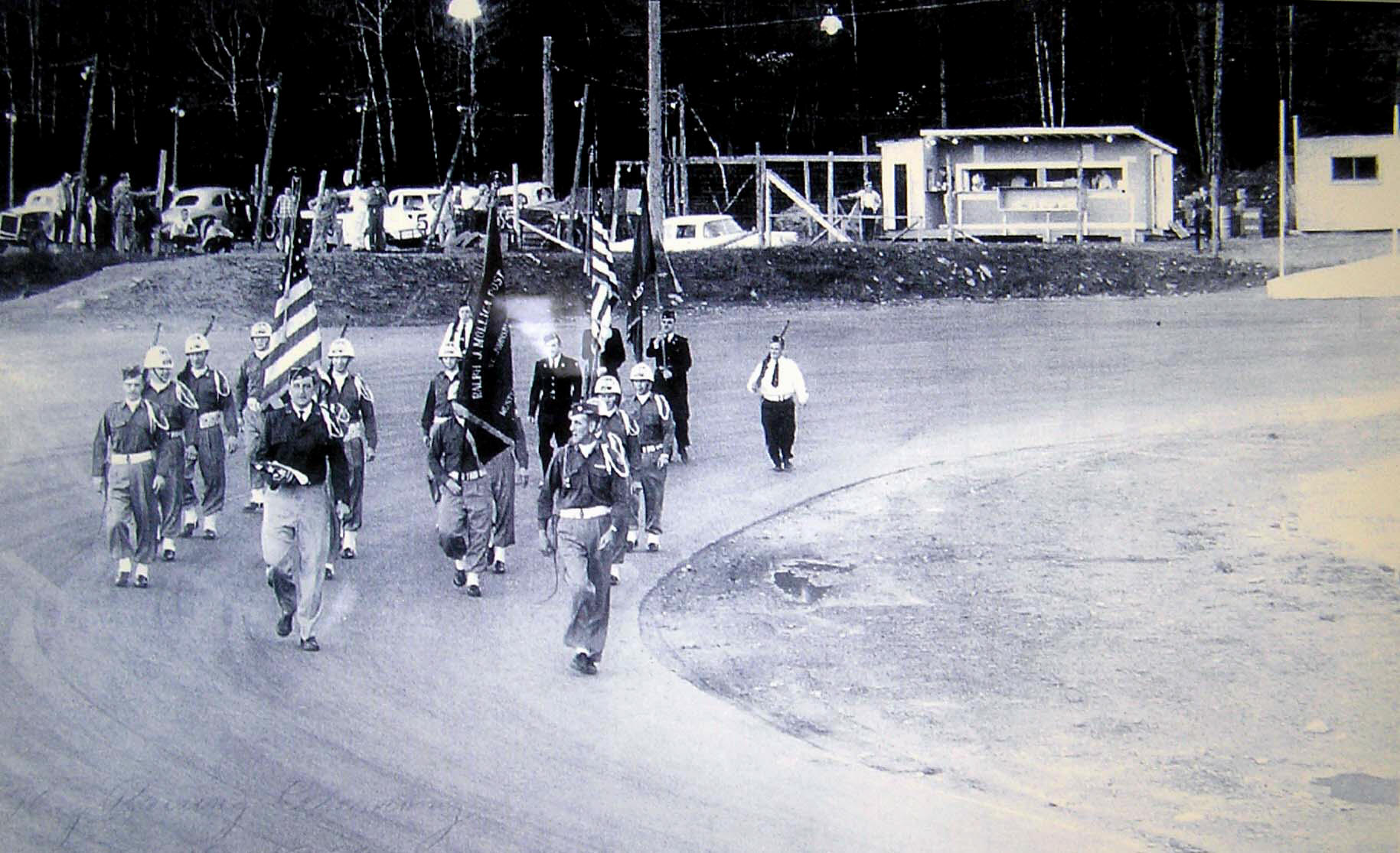 Courtesy of Cho Lee
At any rate, while it was prospering, Northeastern Speedway started putting out "Racing News", usually a three or four page piece printed out quite professionally. The publication, at fifteen cents, apparently came out a number of times per racing season. My friend, Paul Mascitti sent me a small sampling of these works – and they were very interesting, as most tracks from this or earlier eras had no such publication. In fact, it has been said that the new Groveton track never even got a full – time photographer.
Produced by a St. Johnsbury man named Al Aiken [who also raced at Northeastern], Racing News looks to have encompassed Thunder Road, as well – after it became evident the newer, flashier Barre track was not going away. It appears we have two newsletters from 1960, and two from 1961. The publication seems to have come from the area closer to Northeastern than T Road, as most of the sponsorship is from the St. Johnsbury area. Such giants of free trade as The Frosty Bar, Palmer Brothers Dry Cleaning, Grant's Bargain Annex, McKenzie Auto Parts, Portland Street Gulf, Shamrock Drive – In, McClelllan Stores, and Western Avenue Shell were all St. J. businesses. Bissell's Amoco Service, another local, belonged to one of the Northeastern drivers. Eventually, the Montpelier National Bank and the Star Printing firm were added from Thunder Road's neighborhood.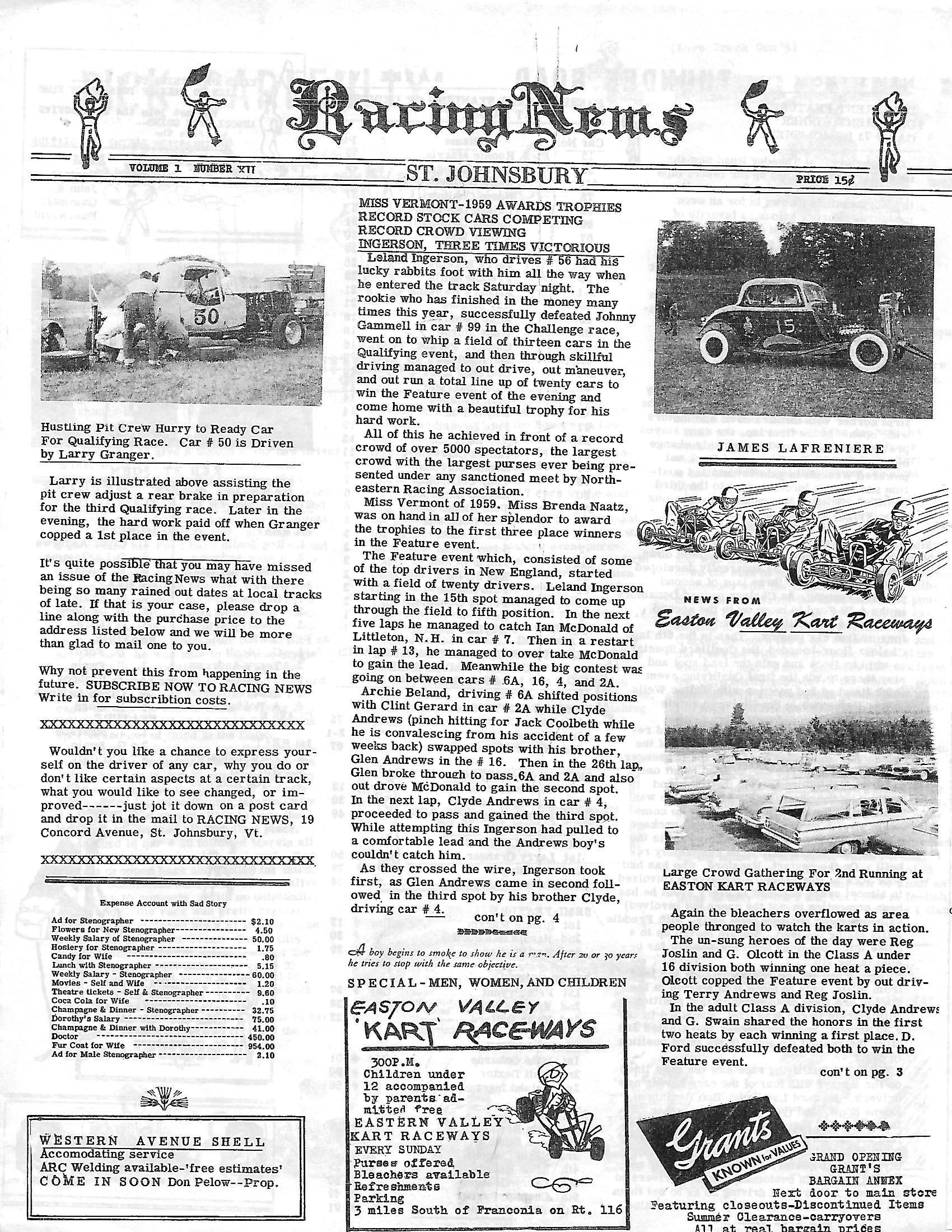 Courtesy of Paul Mascitti
The paper, prepared on that marvel of 1960's technology, the mimeograph - was way harder to
do than most of you can imagine. As a teacher who actually began in approximate era, I can
vouch for the intensity of the labor and the balkiness of the machine.
The inaugural 1960 season newsletter featured fairly clear photos of the Bud Messier #50 and driver Larry Granger. The same car, then up for sale, would be shown the following season in the same spot on the program cover. The Fred Daniels #33 of Rolo "Rip" Lowe was also seen on the cover, had won some sort of match race. Rowe would later surface as a player in the promotion of the track when it was starting to lose influence. Other photos were of rookie Leland Ingerson and Satch Hunt.
The 1960's newsletters give evidence that the season was a runaway for Oxford, Maine's Glenn Andrews, who ran a car #16 for a local owner weekly. He would end up with 175 points, 75 more than Lyndonville's Jerry Bigelow, a local survivor of racing at such raucous places as Webster Flats, Lyndonville, and other local bullrings. One of the papers tells the story of how rookie Leland Ingerson [the eldest of four racing brothers] picked a good night to win his first race as Miss Vermont 1959 was on hand to award the hardware.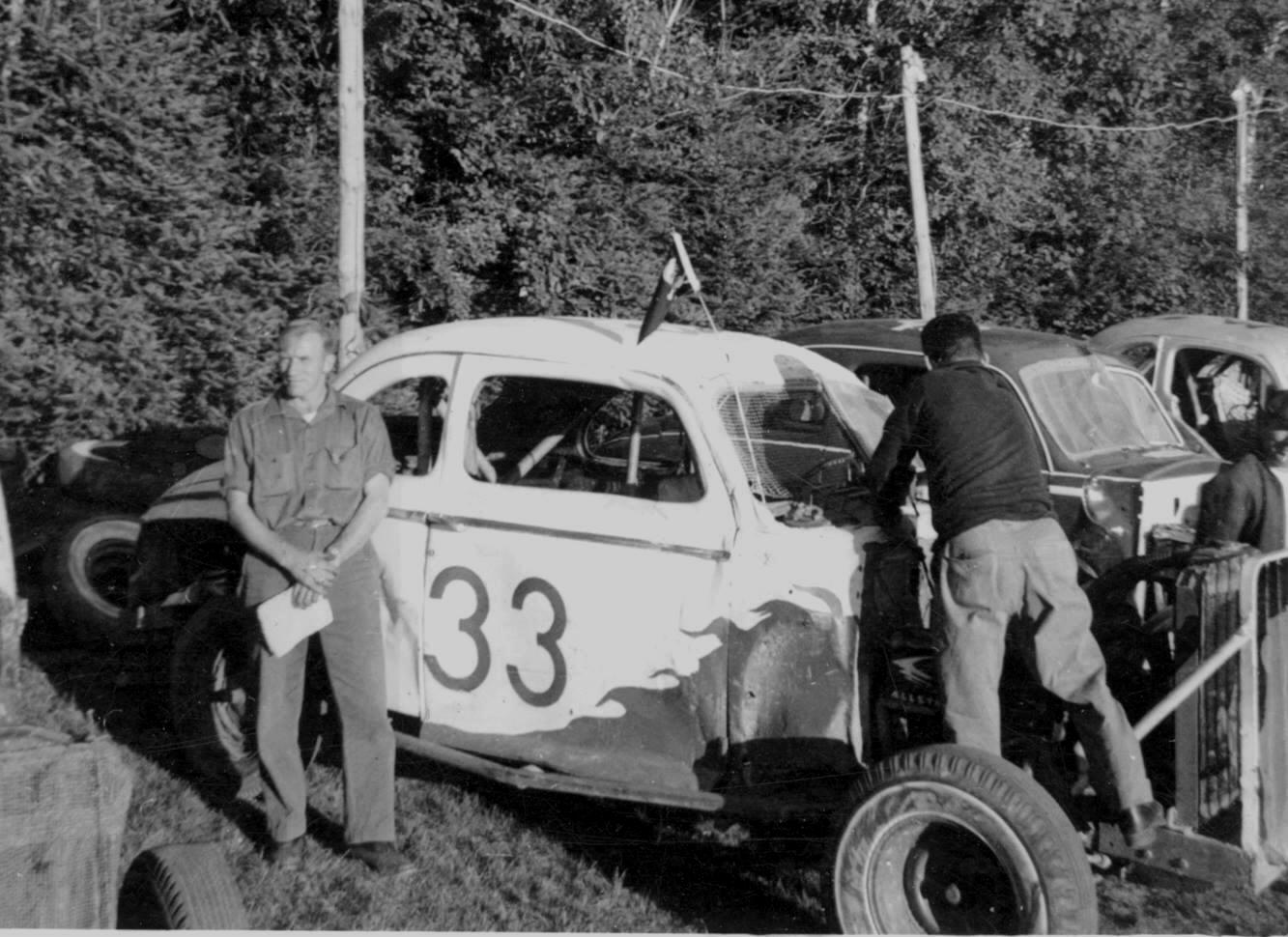 Courtesy of Julie Bigelow
Rollo "Ripper Lowe poses beside the 33 as Fred Daniels works on the car. Below -
Glenn Andrews made the very long trek along US 2 from Oxford, ME to get to
Northeastern and drive a locally - owned car 16 at Northeastern.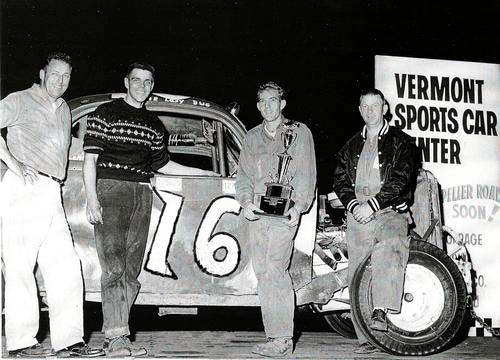 Courtesy of Biggie Bigelow
The track hosted a huge special race involving local businessmen who had a hand in supporting the track. The field included the usual garage owners and store operators; but it also saw the likes of Bert Bertolini [who would co-promote Can-am Speedway in Newport, VT decades later], future hall of fame announcer Ken Squier, NASCAR official Archie Blackadar, and even a town road commissioner.
The final standings showed an unbelievable number of drivers who had run at least once. Jimmy Saltus, who ran all the way over in Chittenden County, Vermont appeared as did Lloyd Severance, usually a Claremont NH regular who hailed from near Rutland, VT. Charlie Nadeau, who founded the Newport track along with Bertolini raced, as did NH driver Sylvio Bilodeau who would actually still be driving in 1980 when that track started running thirty years after Bilodeau began.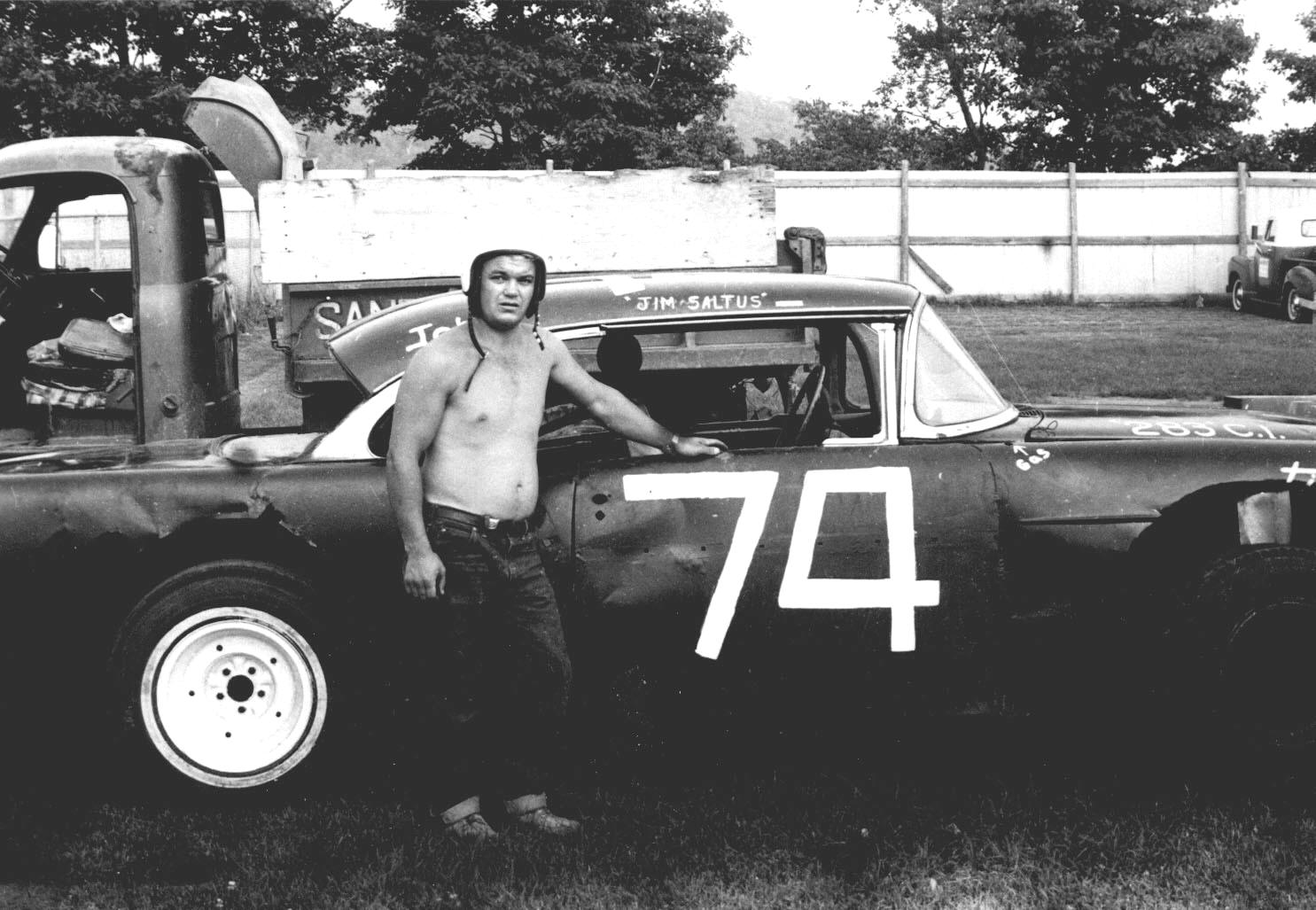 Courtesy of Cho Lee
Jimmy Saltus [above] was likely a one night stand at Northeastern, while Charlie
Nadeau, shown below at his own track, Can-Am Speedway around 1979, was
firmly ensconced in the region. Saltus would have had a coupe then.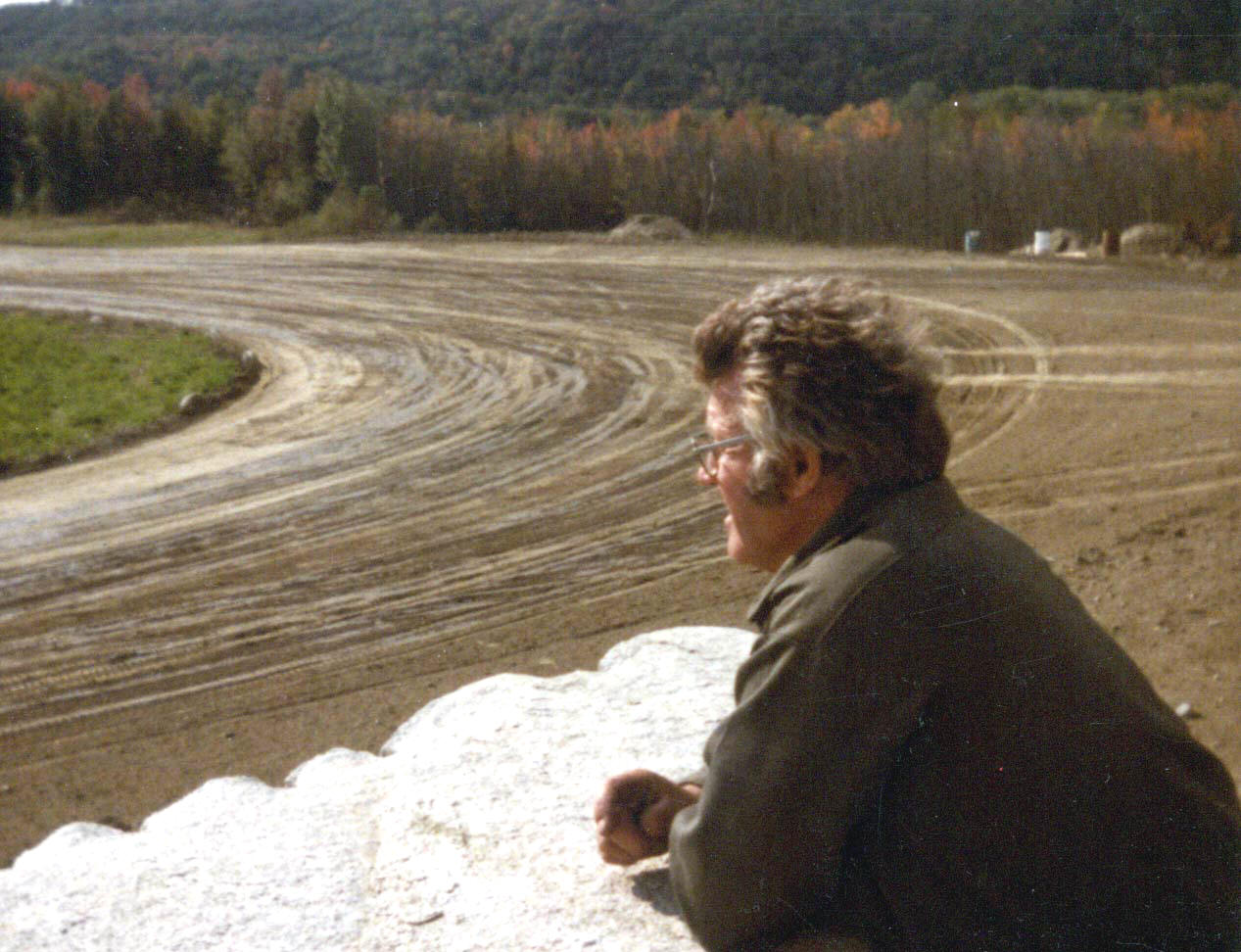 Ladabouche Photo
Ronnie Marvin, a huge, intimidating logger from Bethlehem, NH lingered around the second and third place in the Northeastern standings all season while dominating at Thunder Road. The following season he would replace Andrews in dominating Northeastern. Marvin's principal nemesis at T Road was New England legend Roy Pappy Forsyth, also of New Hampshire – driving for the equally legendary car owner George Barber of Bradford, VT [who would eventually found Bear Ridge Speedway].
While still scary, Marvin also became very good at what he did. Having teamed up with a well – to – do owner named Andy Cote, he ran his little #13 flat top flathead coupe in 1965, when NASCAR was taking over at T Road and at the new Catamount Stadium. Running against overhead V-8's all over the northeastern US and southern Canada, Marvin actually finished in the top ten in the standings for the NASCAR national championship – an amazing feat !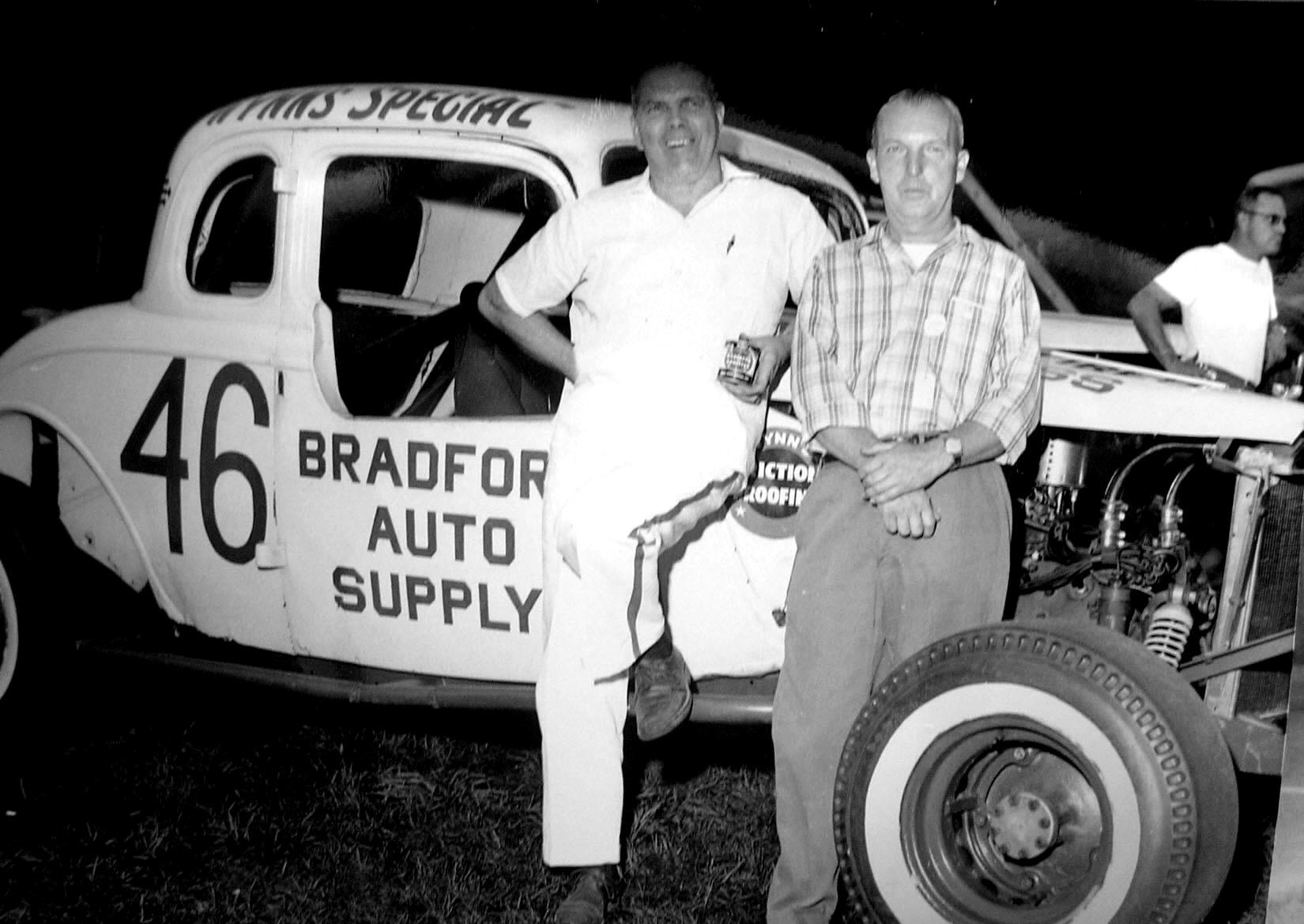 Courtesy of Cho Lee
Roy "Pappy" Forsyth was already a legend in New England by the time he and car owner
George Barber made it to Northeastern. Below - Intimidating Ronnie Marvin would get
into his Ford coupe and nearly fill the car, top - to bottom and sides.
One of the issues of the newsletter went into great detail about a flap concerning the engine in Forsyth's Bradford Auto Parts #46. Apparently the United Racing Club [another version of that popular sanctioning body name] had determined that lightening of rods in the engine did not fall under the umbrella of "balancing" or "reconditioning" and were not to take place any longer. This is interesting in that Forysth did not appear often in the top three of any races in 1960; however, he was a terror the following year.
One newsletter makes strong emphasis about how T Road played host to midgets, while not expressing what organization was represented. It made a point of mentioning the lone Vermont participant, Billy McDonald of Colchester [who happened to build the first house I ever owned]. McDonald would have run frequently against the aforementioned Jimmy Saltus at various tracks around Colchester, VT. Also mentioned was midget star King Carpenter, who sometimes ran the Bud Messier #50 at Thunder Road. Keith Ballard, who would become the 1961 Hobby Champion at Otter Creek Speedway near Vergennes, appeared all the way at Northeastern in the same year. A refugee from the shuttered Colchester tracks, Ballard appeared frequently at T Road.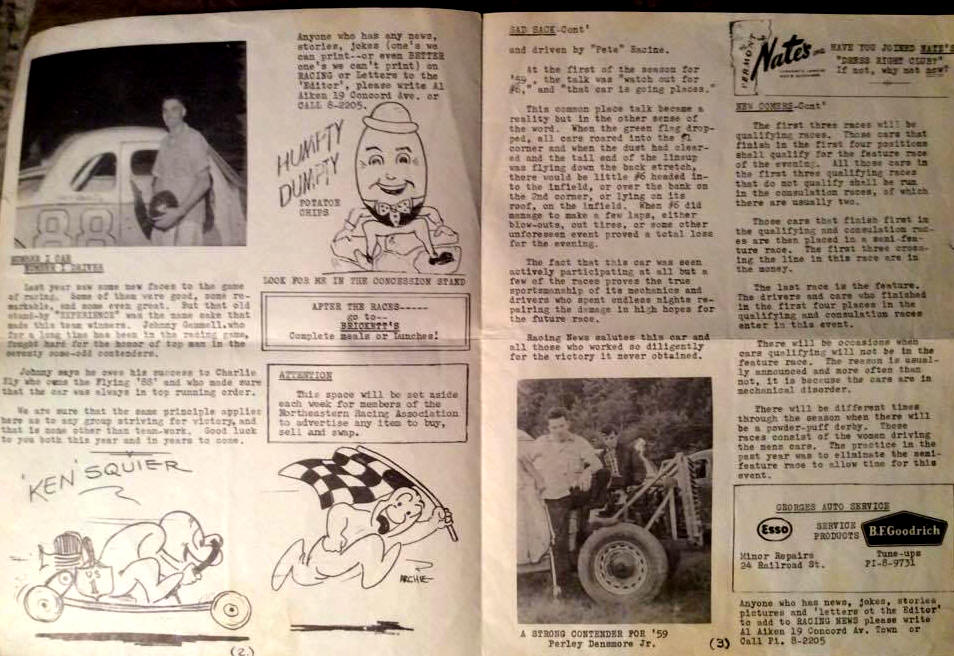 Courtesy of Edward B. Brown III
This copy of the Northeastern paper made as far as New Jersey where local historian Ed
Brown put it online as an unknown curiosity. Below - THe Bud Messier 50 coupe, ride
for many "drivers du jour" inthe 1960's. This driver was NH star Mike Cody.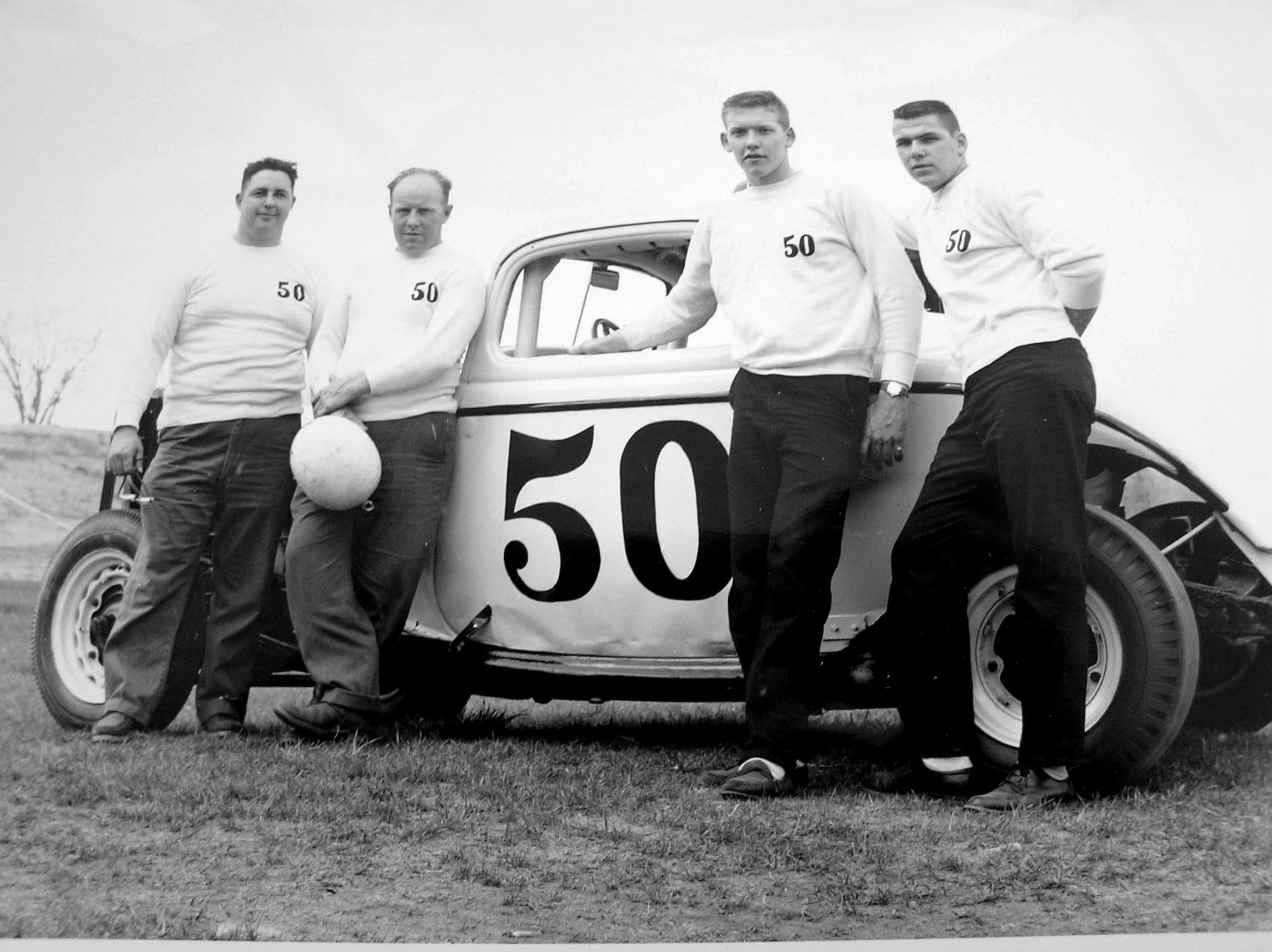 Courtesy of Cho Lee
A number of the old guard from the 1950 tracks around northern Vermont are seen listed in early results from the 1960 and 1961 seasons. Joining Jerry Bigelow, were Pete Racine, Perley Densmore, Jackie Coolbeth, Bobby Waugh, Bobby Bissell, Ned Lemieux, and Ken Fenoff as a few of these guys, most of whom gradually disappeared by around 1963. Vermont State Champion, Thunder Road Champion, and one of the United Racing Club founders, Johnny Gammell finished high in a good percentage of Northeastern and T Road standings.
An enthusiastic opening 1961 newsletter extols all the work done – particularly at Northeastern, by the URC. It is a sign of those less sophisticated times that the article mentions that the fence posts have been "gayly decorated". Expanded concession stands, better lighting, and something akin to safety barriers are mentioned. The fact that the pits had added a number of electrical outlets for the pit crews is fairly forward thinking for this neck of the woods at that time.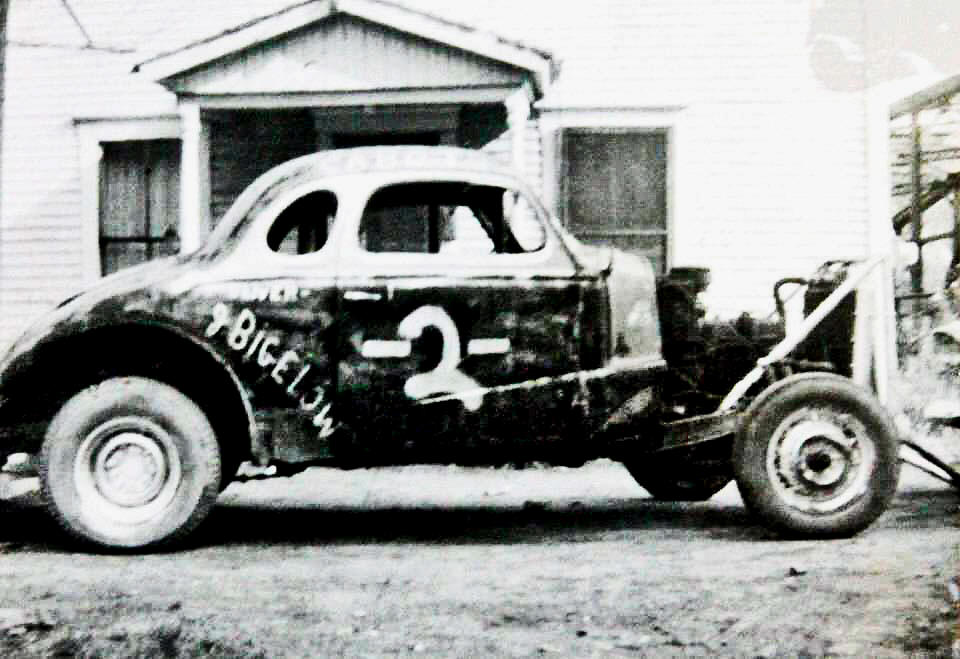 Courtesy of Bob Bigelow
Local racing legend Jerry Bigelow probably drove this car at some
of the earlier Northeastern programs. Below - Pete Racine, who
would become one of the guardian angels of the Northeastern
restoration project, drove in the same era as Bigelow.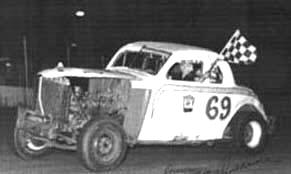 Courtesy of the Northeastern Speedway Site
It does mention that the lighting system remained pretty much the same at both tracks. This means regular incandescent bulbs, under enameled metal shades – dangling on wires above the track were that system. Sadly, T Road still has that system in 2017. This is stated right above the Grants Known Values ad with the $42 power mowers offered.
Go Kart racing was at a height about that time. Northeastern, in particular, seemed to be aligned with Easton Valley Kart Raceways, and it sometimes had some of its drivers run these karts in front of the Northeastern crowd on a Saturday night. Apparently. The small size of the speedway at Lower Waterford worked well for go karts but not for large fields of stockers. From what is stated in one article, only about 17 cars were sent out for a feature. It may be remembered, too, that t Road was originally built with a winding go kart track through its infield.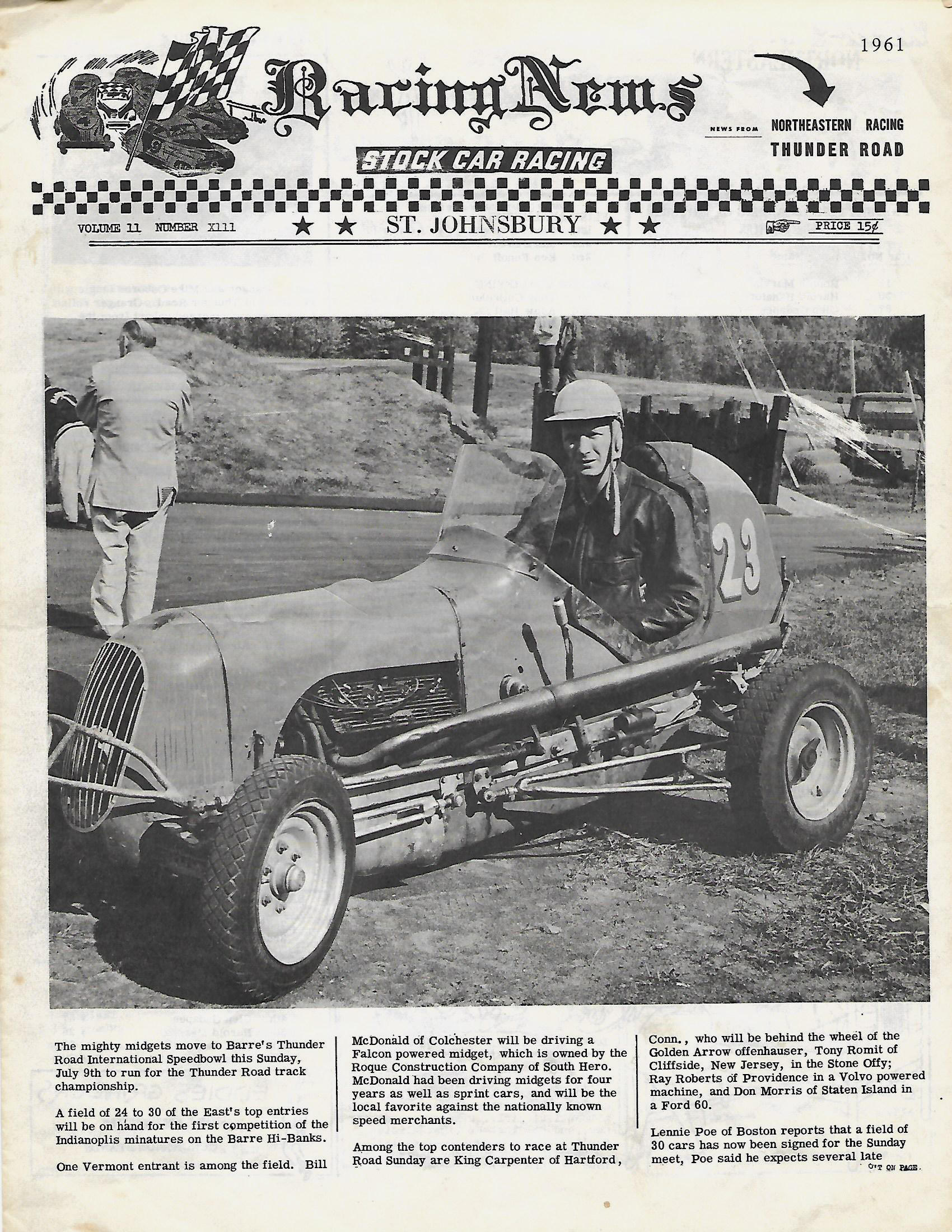 Courtesy of Paul Mascitti
This issue not only shows a more advanced print and layout but also gives
evidence of Northeastern's developing connection with open wheel
racing. Below - This page of a 1961 isssue whos the final point
standings from 1960. GIven the small points totals, the track must
have thrown points around like manhole covers.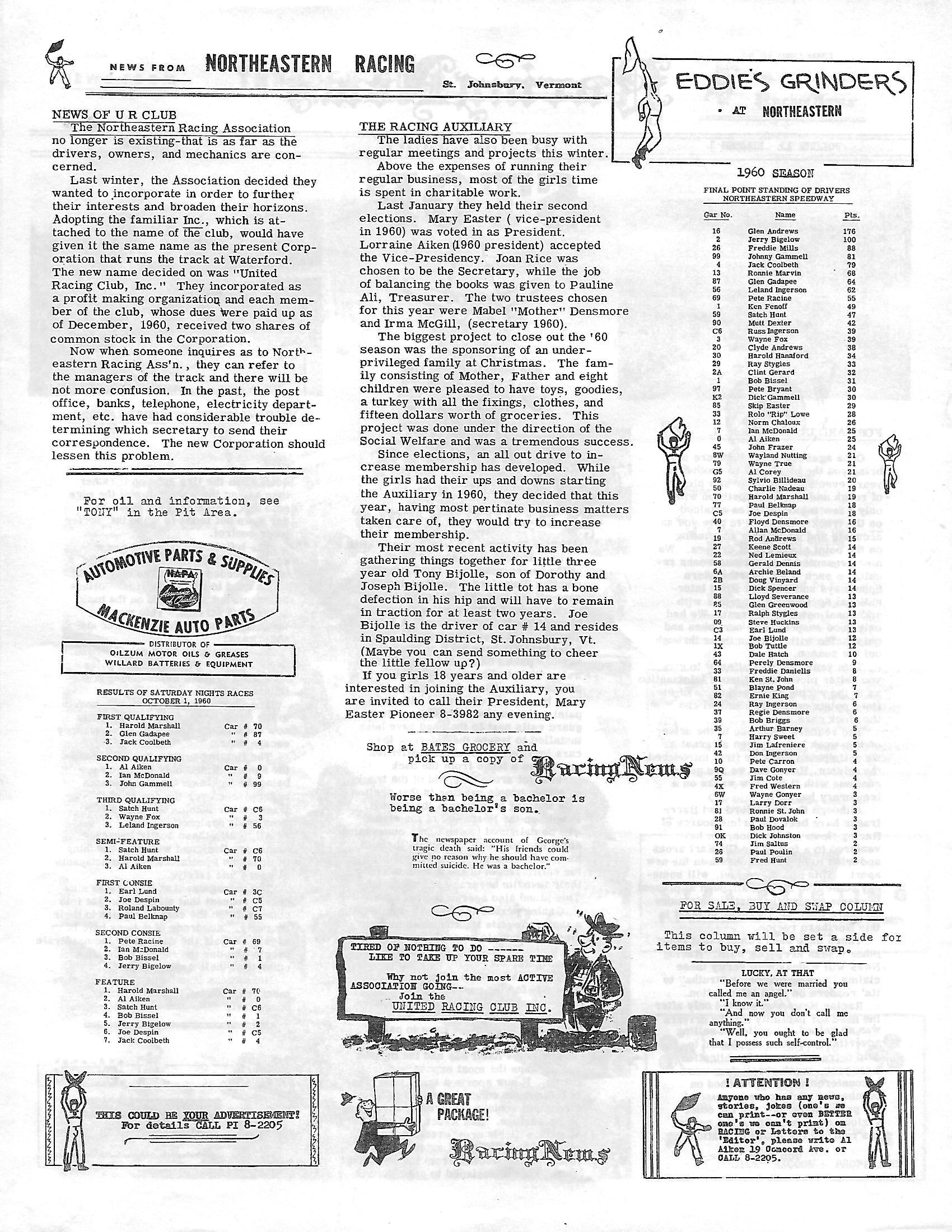 Courtesy of Paul Mascitti
The newsletter was always liberally sprinkled with humor such as the story about the good – looking girl who was about to visit a machine shop for some reason. The guide offered the following advice: "If your sweater is too big for you, watch out for the machinery as you go through; if you're too big for that sweater – watch out for the machinists". The track had such things as a "racing auxiliary", composed mostly of girls and women, who would do good deeds away from the tracks such as Christmas parties for needy kids and visiting kids who were missing schools due to surgeries and so forth.
Eventually, like so much of that early racing, the Racing News disappeared from the scene. Northeastern Speedway first tried going to only late model B Class cars and then had to bow out entirely. The track that had led the way in so many ways had fallen by the wayside, perhaps a victim to its remote location. Thunder Road still exists today, although Ken Squier no longer owns it. Very little remains of that time when folksy wasn't a bad thing. But, even back within that era, few places operated like Northeastern – and its Racing News chronicled much of that.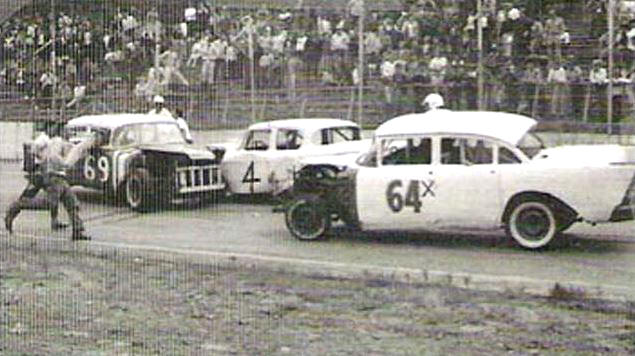 Courtesy of the Northeastern Speedway Site
Northeastern developed the B Class cars as a support class. Towards the end, the
struggling fifth mile tried running just the late models. The track died, but the
class became Catamount Stadium's famed Flying Tigers. Below - A page
with some of the light-hearted content it was known for.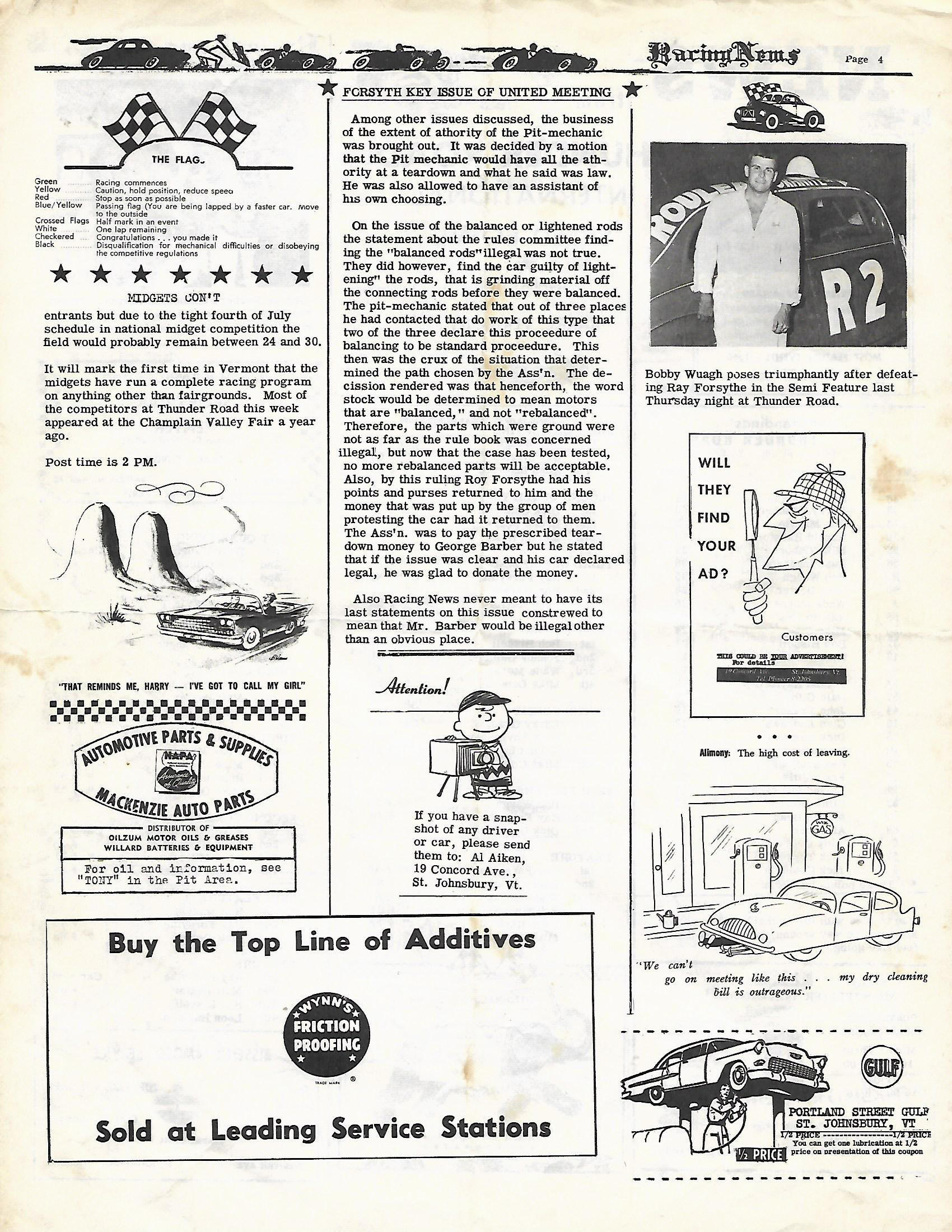 Courtesy of Paul Mascitti
When Ken Squier and Northern NASCAR teamed up with C.J. Richards and the CVRA in 1972, the NASCAR group adopted Richards' far superior program [produced somewhere near the Oswego Speedway], and that program was used years after the NN / CVRA association disintegrated. That program, still widely collected by nostalgia folks, was great; but, nothing will match that 1950's / 60's style down home folksy flavor that was found in the Racing News.
Please email me if you have any photos to lend me or information and corrections I could benefit from. Please do not submit anything you are not willing to allow me to use on my website - and thanks. Email is: wladabou@comcast.net . For those who still don't like computers - my regular address is: Bill Ladabouche, 23 York Street,Swanton, Vermont 05488.
AS ALWAYS, DON'T FORGET TO CHECK OUT THE REST OF MY WEBSITE
www.catamountstadium.com
Return to the Main Page
Return to the Main News Page
Return to the All Links Page
Return to the Weekly Blog Links Page