BILL'S [Somewhat] WEEKLY COLUMN/BLOG PAGE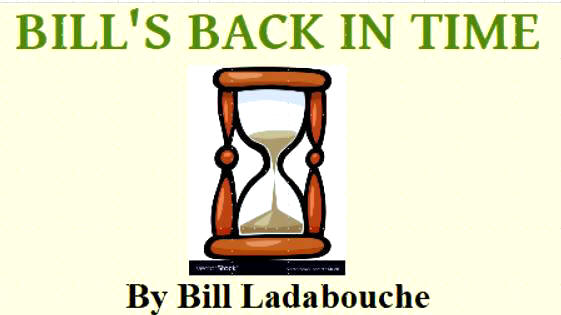 THERE IS A LOT MORE TO SMOKEY STOVER

To a lot of folks in my generation and older, the name Smokey Stover conjures up images of a very goofball cartoon character created and kept alive by cartoonist Bill Holman, until 1972. Smokey Stover was a crazy, Keystone Kop – like fireman who often tore around in a two – wheeled fire truck.
Holman, for whatever reason, had a hangup on certain words and phrases that he would sprinkle into the cartoon usually in little signs in the background of his comic panels. For instance, the word "foo". You would see things like signs for Foo Soap, and Smokey sometimes referred to himself as a "foo fighter" [which is likely where the hall of fame rock group got their name]. "Notary Sojack [whatever the heck that was] would also frequently be seen.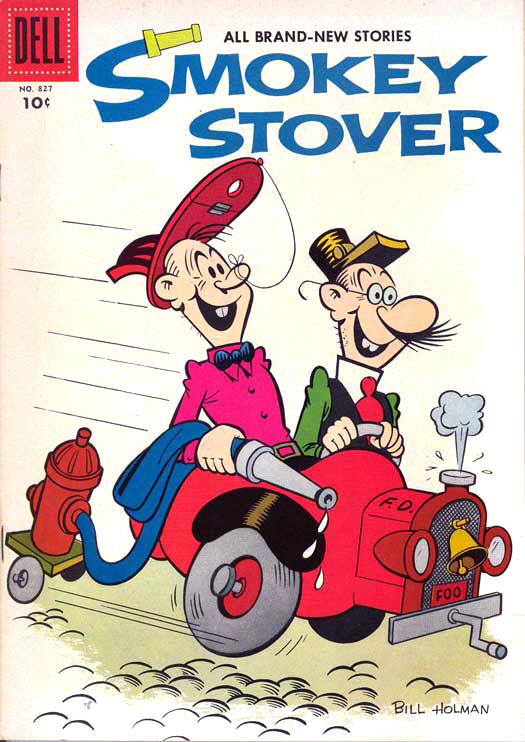 Dell Comics
Off goes the foo fighter with the two - wheeled whatever.
In the formative years of stock car racing after WWII, drivers with particular last names that were the same as a famous athlete or other familiar figure, would often end up with that nickname. Cases in point would be: most racers named Baker ended up being called Cannonball Baker after a prominent race driver; Edward Blanchard was dubbed Doc Blanchard after a beloved Army football hero; and my recently passed friend and historian Richard Graham was nicknamed Otto, after a famed NFL player.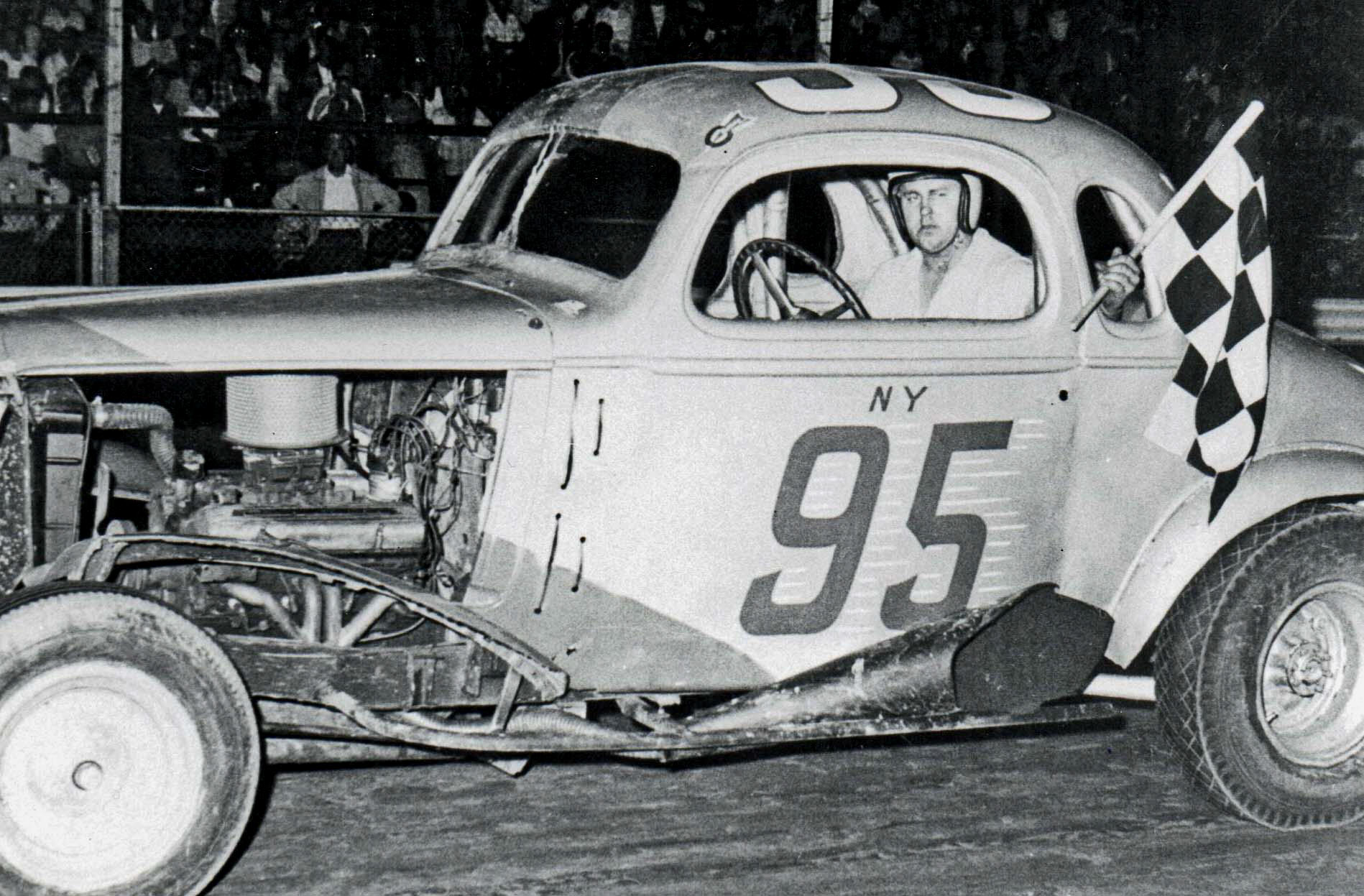 Russ Bergh Photo via Bob Novak
Gloversville's Edward Blanchard became Doc, after the famed
Army football player of post WWII. He also had that same 95
number Smokey had in the earlier 1950's. Below – Richard Graham,
driver, historian, and photographer also got his moniker from a
prominent 1950's footballer.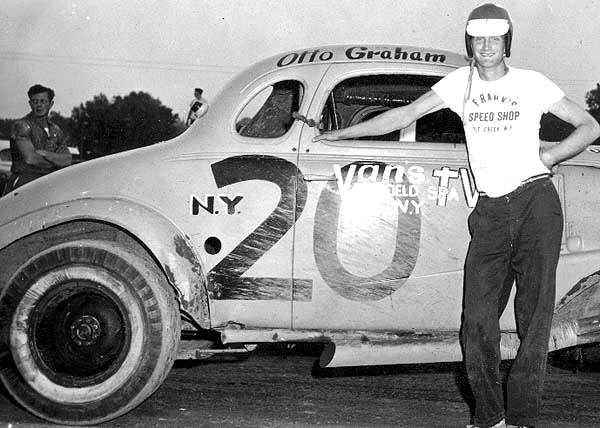 Russ Bergh Photo via Otto Graham
So it would naturally that come to be that John Stover, a young motor enthusiast from the Saratoga, NY area would almost inevitably be called Smokey. Although I had been doing some research that would eventually come to include McGregor Speedway – outside Saratoga in Wilton, NY, I had not run across the name of Smokey Stover until I came to own the Fonda Speedway.
In that book, done by Lew Boyd, Andy Fusco, and Jim Rigney, they discuss the sparse fields that often graced Fonda's first season in 1953. They make the point that, on June 20, 1953, there was such attrition that only winner Steve Danish and second place Johnny Perry were actually running at the end. They make the point that Smokey Stover [ a name I had not run across prior to the book] finished third while parked in the pits.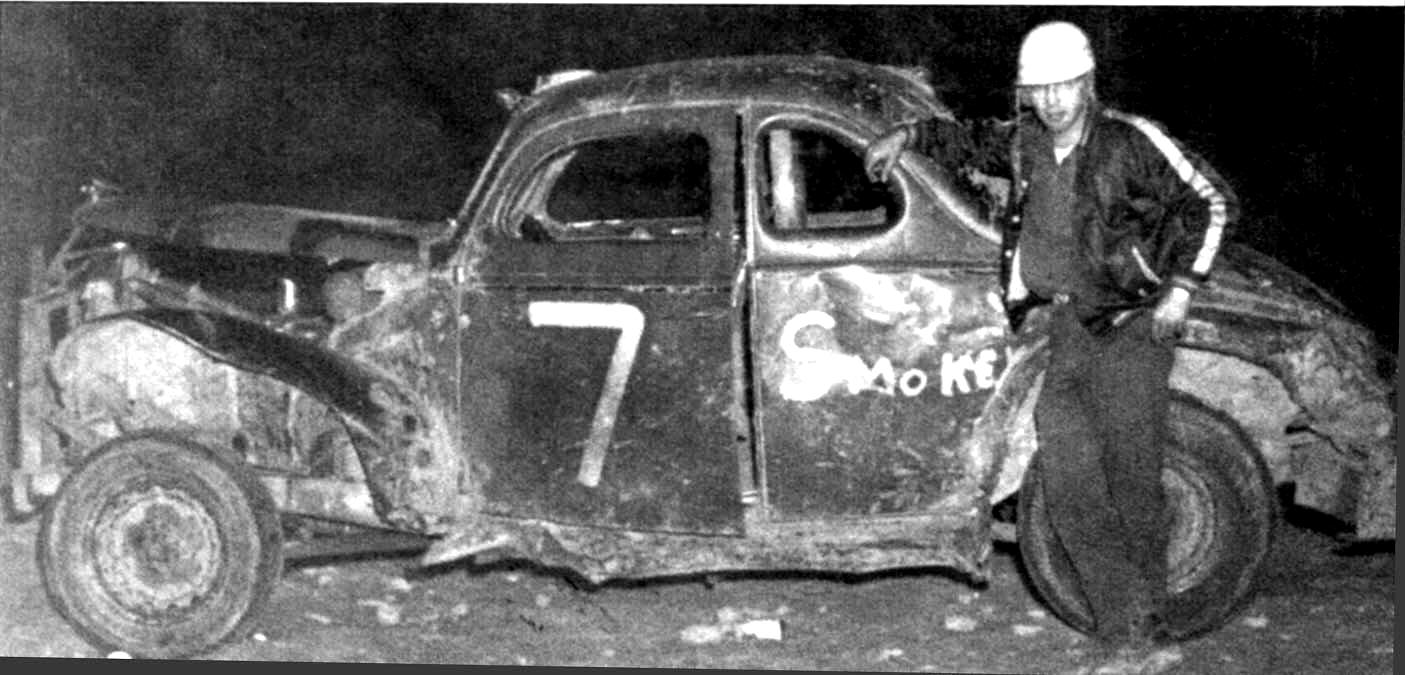 Russ Bergh Photo via Andy Fusco Collection
The first time most of us were introduced to Smokey Stover was this
shot of him and his well – used car 7 at Fonda. Below - This photo is the best one of Smokey [right],
as midseason runnerup to Al Wood [left] Smokey would go on to take the 1950 track title by Fall.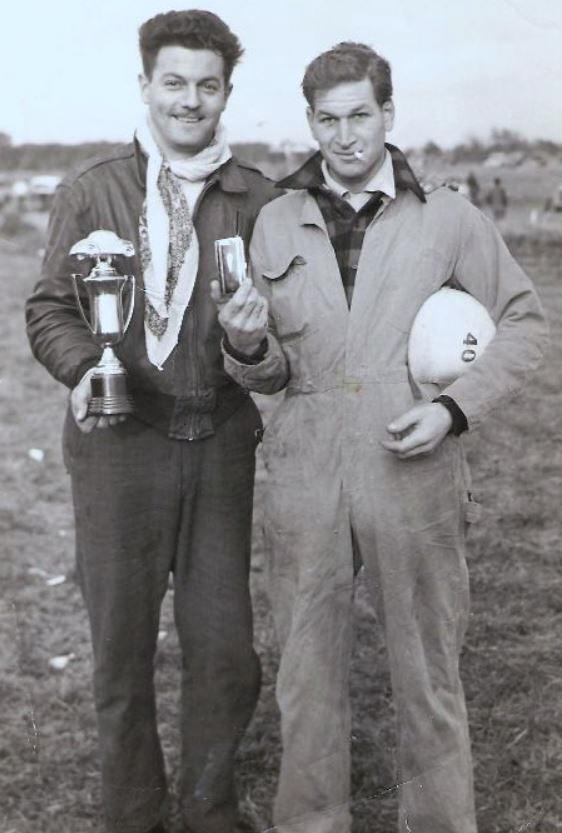 Stover Family Photo Collection via Tom Stover

The photo of Stover with his battered Ford Coupe number 7 is not exactly impressive. Had I given it more thought, he must have been actually doing pretty well to have been the next driver to be scored after Danish and Perry. I am not sure where this car came from, but it what John Stover had to run Fonda – at least that night. A simple number 7 and word "Smokey" were all that adorned the sides of the wrinkled, tired – looking Ford.
I never gave much further thought to Smokey Stover until I began to delve into the short – lived McGregor Speedway in Wilton, just barely outside of Saratoga Springs; and - as is so often the case - the subject in the ubiquitous photo became a person with a story to tell. Then the name of Smokey Stover did turn out as one of the several local men who were instrumental at getting the oval started. He is mentioned along with the likes of Thurlow and Kenny Woodcock, the Staiger brother – Frank and Joe, Al Moses, Chet Hames, Jack Barney, Spence Parkhurst, and others who had begun the little track partly as a protest of how they had felt one or some of them had been unfairly treated at the neighboring Hudson River Speedway in Schuylerville.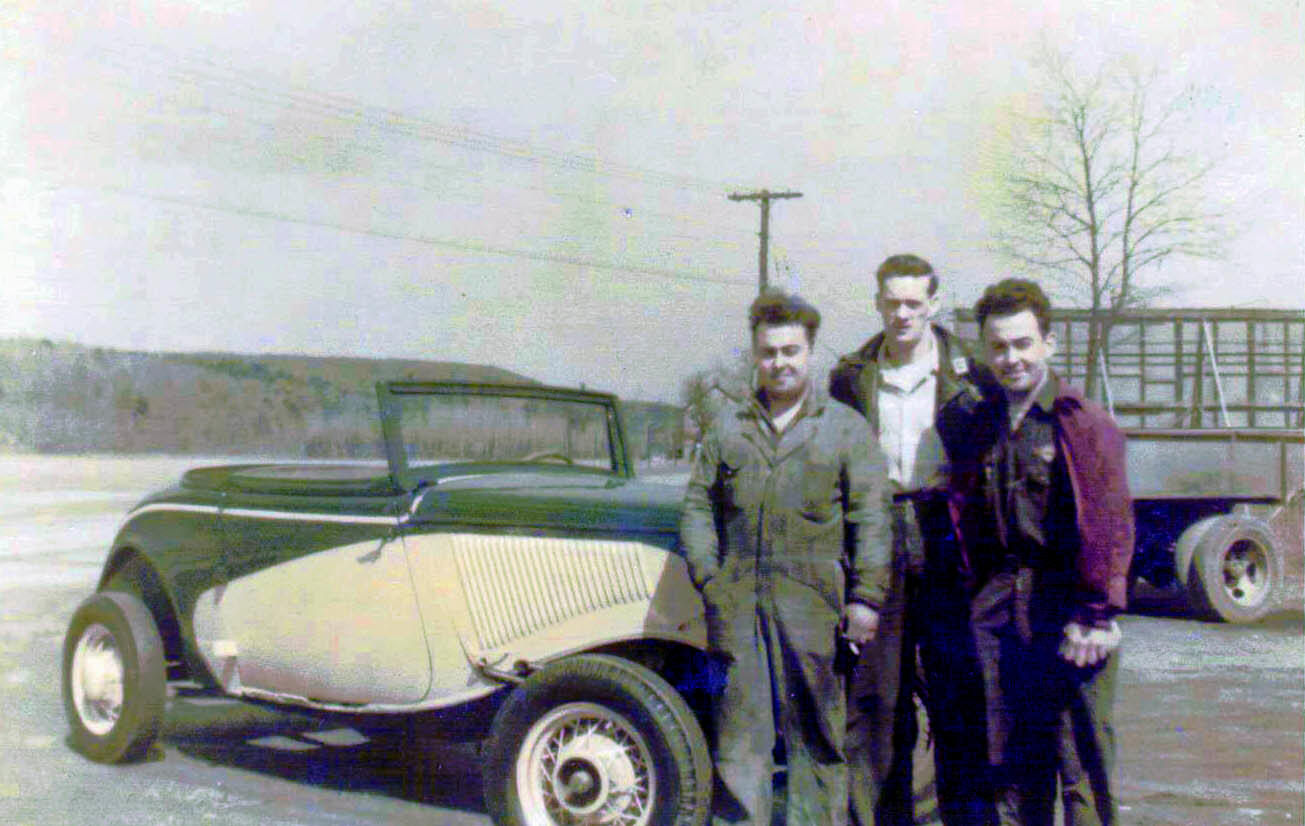 Photo Courtesy of Joe Staiger
From Left – Kenny Woodcock, Jack Barney, and Thurlow
Woodcock, with Thurlow's Cadillac hot rod. These were key
founders of McGregor Speedway. Below - Al Moses, another founder,
ran a roadster at McGregor.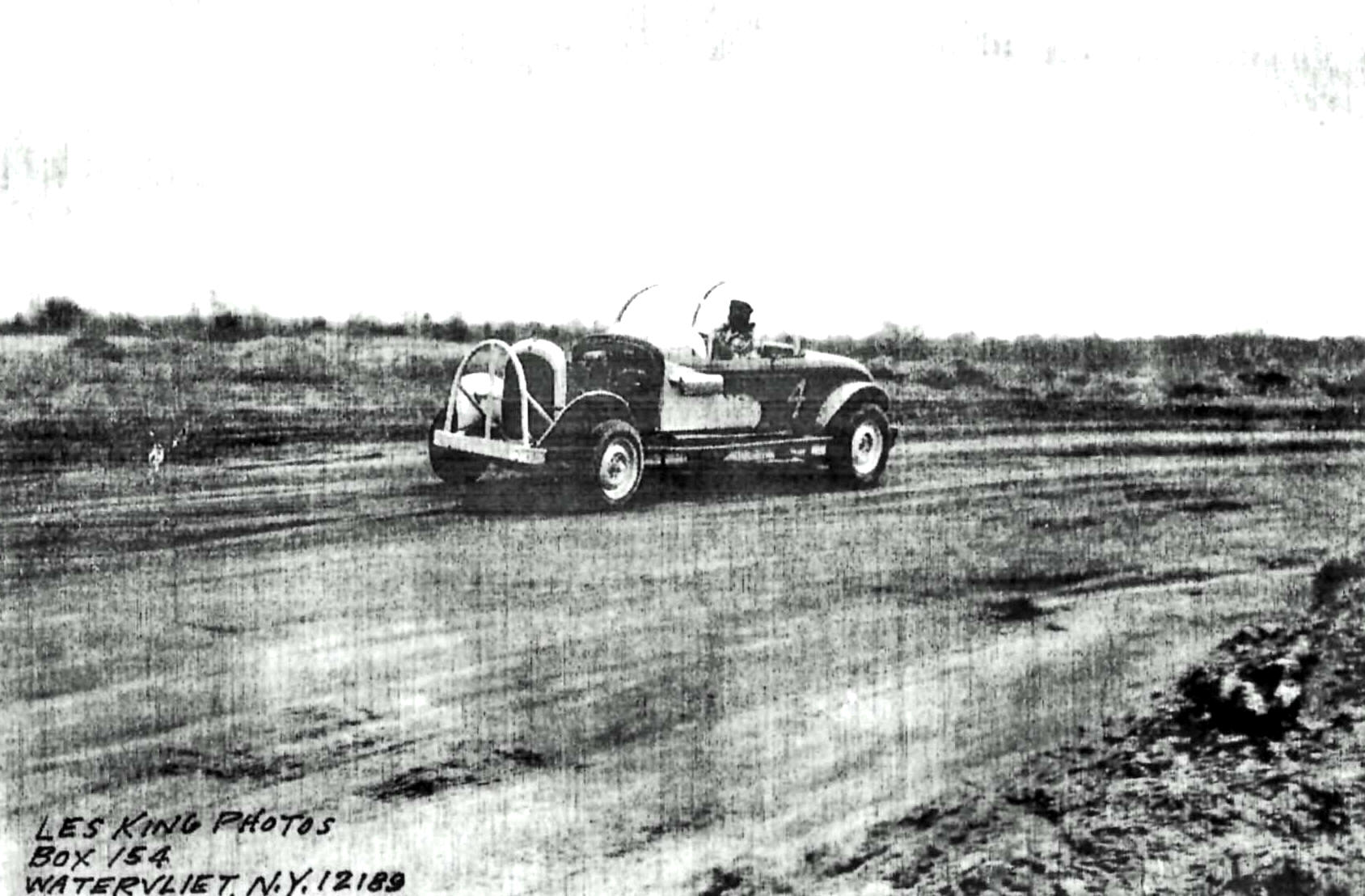 Les King Photo Courtesy of Gail Moses Remington

Again, there wasn't a lot on Smokey. Parkhurst was a far more well – known driver, particularly in my area; Thurlow Woodcock became know for establishing a a popular ski shop in Saratoga Springs; and Hames became a legendary flagger at Fonda. I had seen photos of Jack Barney at Pico Raceway and Stateline Speedway long before his name popped up with McGregor, and I had had some correspondence with family members connected to Staigers and to Al Moses when I began to give McGregor some attention on my website.
Then, very recently, I got an email from Tom Stover, a son of John "Smokey" Stover", and I began to see that there was a lot more to Smokey than I had previously known. He may not have raced around on screwy two – wheeled fire trucks with Foo Soap ads on the side, but he did get around the local racing world pretty well. I had noticed, upon getting my hands on a 1954 Fonda Speedway final points list that there was Smokey, 40th on a list of nearly one hundred drivers who scored points in that second season of The Track of Champions. Smokey was listed with a car 95, but I have no idea whose it was.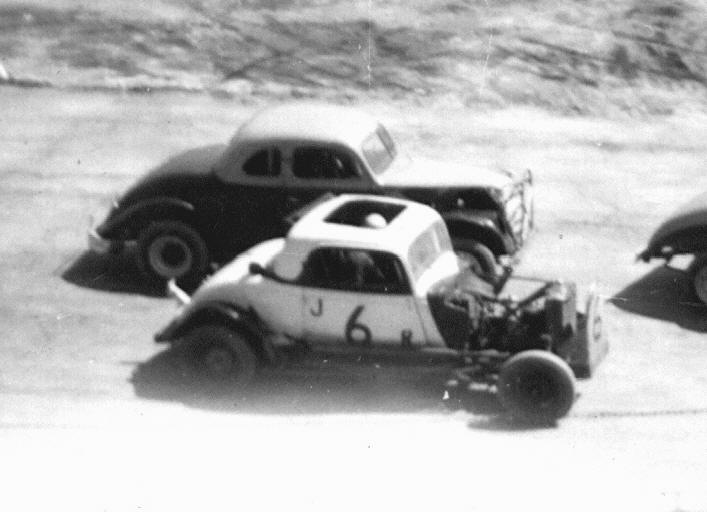 LeFrancois Family Photo via Jerry King
Jack Barney lines up his #6 at Pico Raceway.
Below – Barney races Jeep Herbert in the
first Bob Mott 3 at Stateline.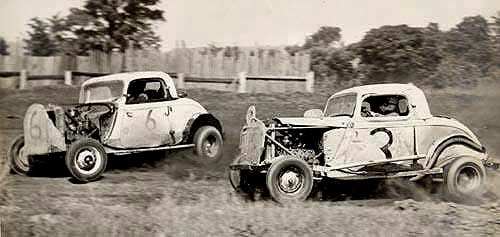 Herbert Family Photo
According to Tom Stover, Smokey had a propensity for the car number 42, That is odd to me because in the first two references to him that I ever found, he had cars without that particular number. 95 was popular with early car owner Ted Vogel of Granville and the number 7 was far too popular to even conjecture upon. Smokey would move his family to the Malta, NY area and would henceforth have a car 42, on and off for a number of years. I could swear I found one more instance of Stover with car 7 at some tracks such as Route 66 Speedway, Burden Lake, or the like, but I have tried to find the photo for Tom and cannot. Small wonder considering I currently am working with in excess of 22,000 images in 49 different image folders.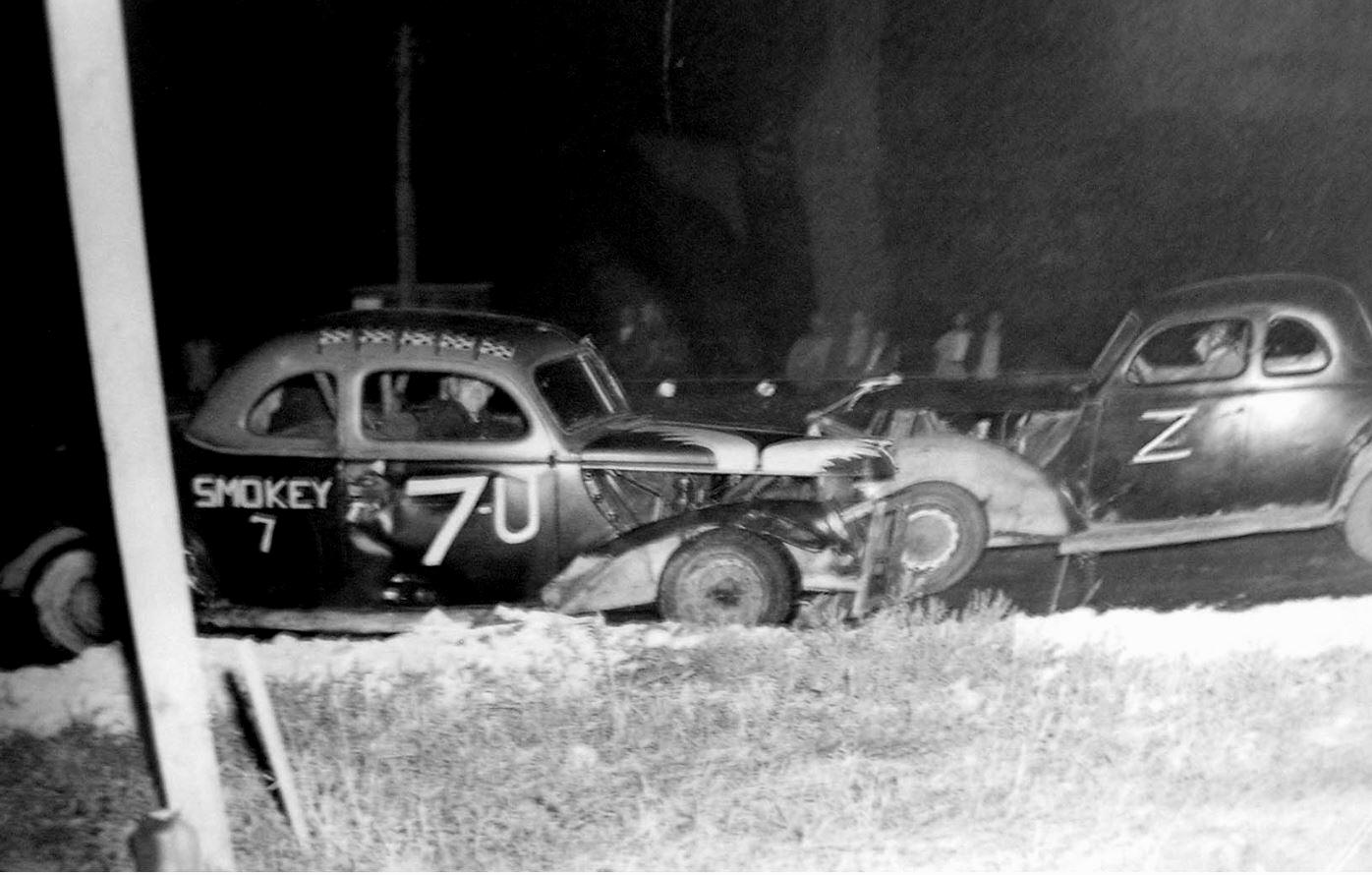 Courtesy of Ken Gypson
Smokey finds himseld against traffic at Route 66 Speedway. This is later than the Fonda picture and it
IS the missing photo I refer to above. Just found it. Below - A group works on the Stover car 42 in the 1950's. It is likely
Smokey has his back to you with the white rag in his pocket.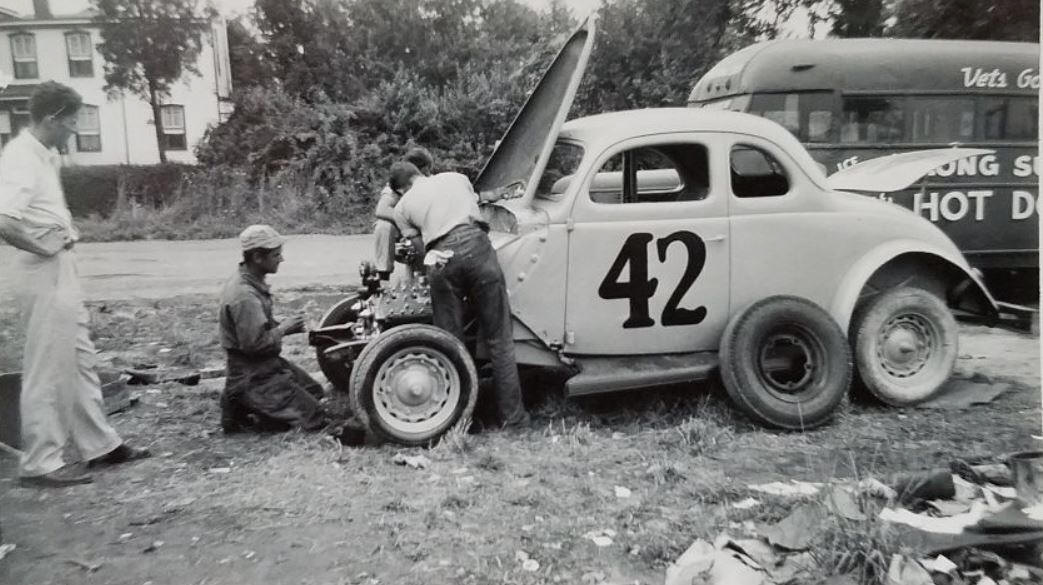 Stover Family Photo via Tom Stover
Tom has told me that Smokey ran Fonda and Stateline the most in the early days. I can't help but think he must have graced the dusty oval of my local Pico Raceway too – seeing as Parkhurst and Barney were regulars and Thurlow Woodcock did appear there at least once. He did travel [at least once] as far as Dover, New Jersey to race. That is a bit of a haul for a small local driver who likely had to flat two all that way with no interstate highways at the time.
Tom has told me how the inaugural season at McGregor Speedway was won by a driver named Al Wood, whom I had not heard of before. The swashbuckling Wood would walk around wearing a scarf [for the dust, no doubt] that made him look more like a WWI flying ace. Tom pointed out that the track got going by selling $10 shares of stock to everyone who was there. Apparently Smokey Stover was the points runnerup to Wood that first season. He received an engraved, personalized cigarette case with attached lighter as his award.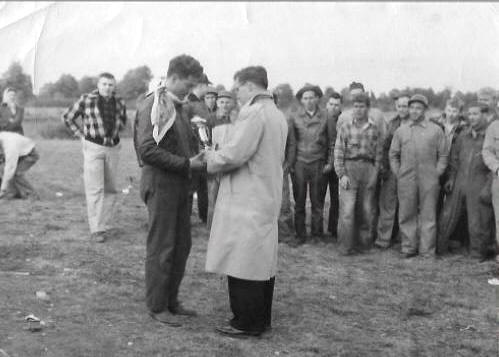 Stover Family Photo via Tom Stover
Al Wood would get the Midseason trophy, but [below]
Smokey won the full 1950 season title trophy [shown here
in some stage of disrepair].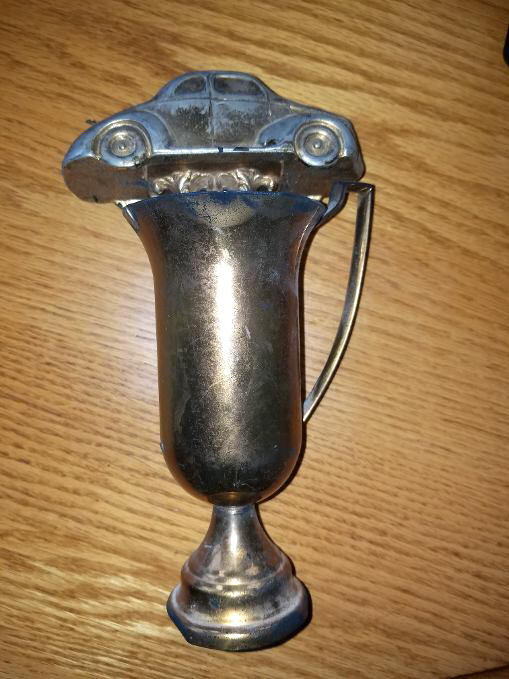 Stover Family Photo via Tom Stover
Tom writes :"Dad at times had his own cars and at other times raced cars that belonged to others. Dad once built a midget racer by hand forming the aluminum sheetmetal and welding the aluminum panels together. Smokey's preferred car was Ford. Smokey did like the number 42 later on,but I do see the number 40 on his helmet when he was awarded the cigarette case as runner up on points for McGregor." Tom goes on to mention that his dad also raced a car for "the Parkhurst boys sometimes. This makes sense as I noticed that Spence also had drivers run his car at places like Warrensburgh.
Tom went on to describe what his dad had told him about Parkhurst's best – known car – a black and red '36 Chevy numbered 36. [It is all second hand info as Tom was not born until 1957, when most of the guys we are discussing had retired. He writes:" Dad told me once that Parkhurst had a car with a Modified Chevy 6 cylinder engine with very high compression and run it on alcohol.They had made headers out of brass tubing and when it was run down the straights on the track it was so loud the people in the stands had to cover their ears. I'm not sure that car was run at McGregor,it may have been Fonda or Stateline. "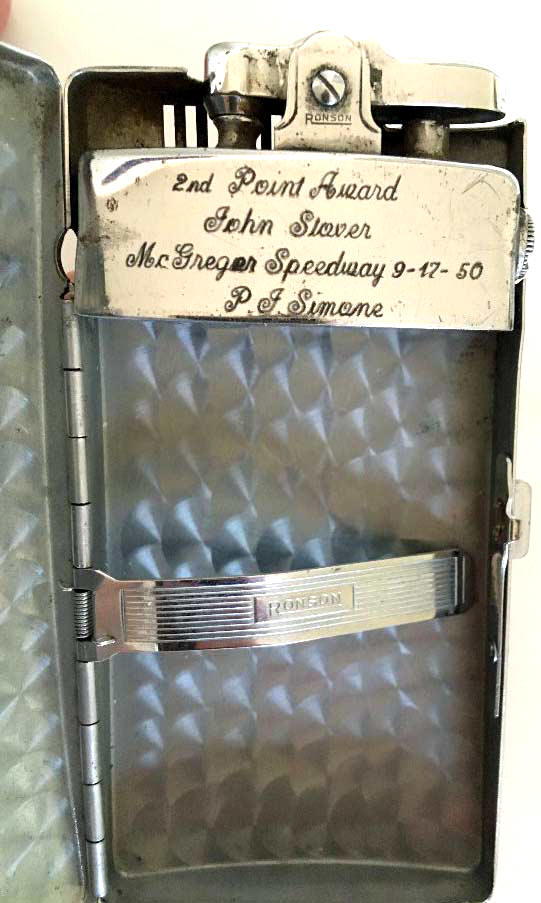 Stover Family Photo via Tom Stover
Smokey's midseason runnerup cigarette case seems neater
to me than the trophy he got later. Below – Spence Parkhurst
in his famous noisy #36 coupe.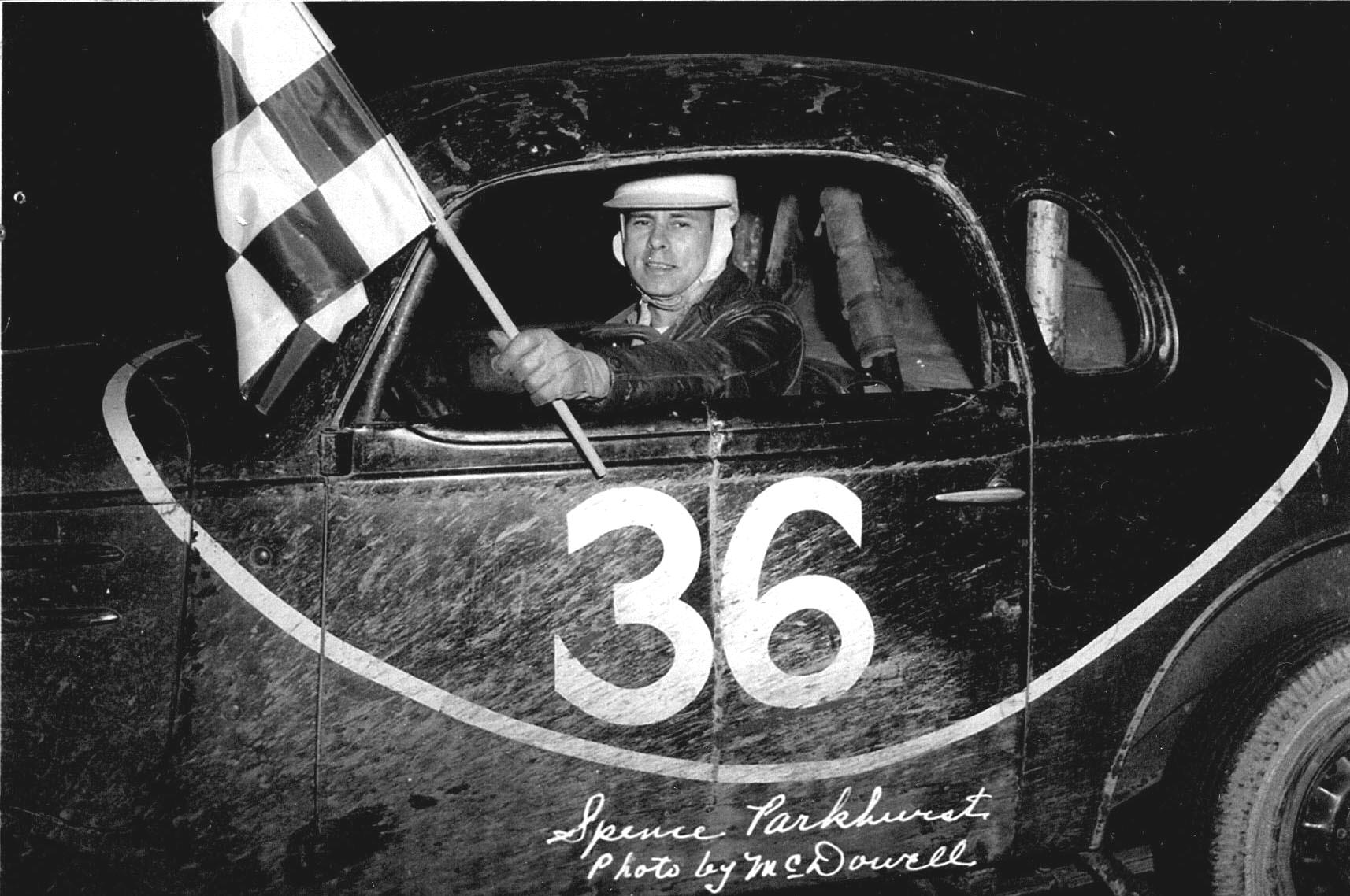 Bob McDowell Photo Courtesy of C.J Richards

I was too young to remember what the Parkhurst car did or didn't sound like, but I clearly remember my family talking about that name at the races I did get to attend. Loud cars at Pico were not a novelty. Al Romano's #303 was called the Bumblebee for good reason, and Manchester, VT's Dave Brooks had engines that were so tricked out, he never uncovered his engine compartments.
Tom goes on to say that the Parkhurst boys' father, named "Ace" was one of the best mechanics anywhere around at that time. Ironically, when Tom went to the local BOCES school to learn mechanics, himself, Spence Parkhurst was his instructor. His growing up where he did allowed him to rub shoulders with some of the other second generation of the Saratoga racing scene. He went to BOCES with George Baumgardner, Jr. and he also got to know Zene and Marcia Garnsey, whose father had operated Hudson River Speedway.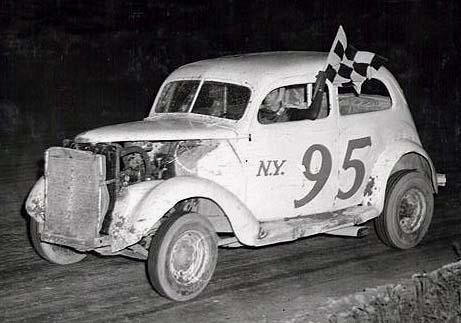 Vogel Family Collection
Smokey's Saratoga neighbor and forme open wheel driver
George "Baumie" Baumgardner at Stateline in Ted Vogel's
Sedan. He was a scourge down there in that car. Below -
Dave Brooks with his closely – guarded Mopar power.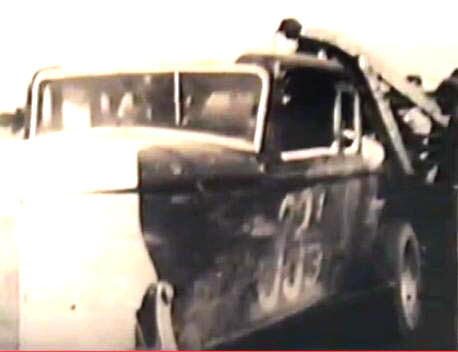 Courtesy of Bud Brooks

Tom experiences, particuarly when they moved to the Malta area, were very compelling themselves. He lived across the road from the Pemberton family, equally famous for the Dunster Drive – In restaurant, a stopping spot for tons of Albany – Saratoga Speedway folks and also reknowned for the sons who went on to big positions in the big leagues of NASCAR.
Tom was only minutes from the famed Bosley garage and the L&R Speed Shop. He talks of running errands for Don MacTavish and confirming what a nice human being the great driver was. He would know Steve Bosley and, I am sure, met a ton of figures like Rene Charland, Roland Belanger, and more. It had to be a great way for the son of a race driver to spend time in his hometown. Tom was in the front row of the stands the night of Charland's "French Barbecue" fire at Malta. He could see the paint wrinkling off the car and he witnessed Ed Flemke's brave rescue of Da Champ.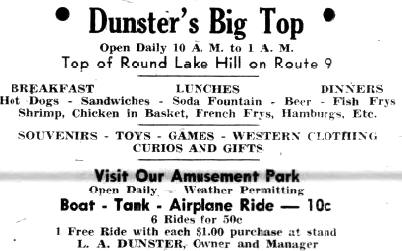 |
Ballston Spa Daily Journal
Tom Stover would spend a lot of time at Dunster's, as
well as the L&R Speed Shop [below].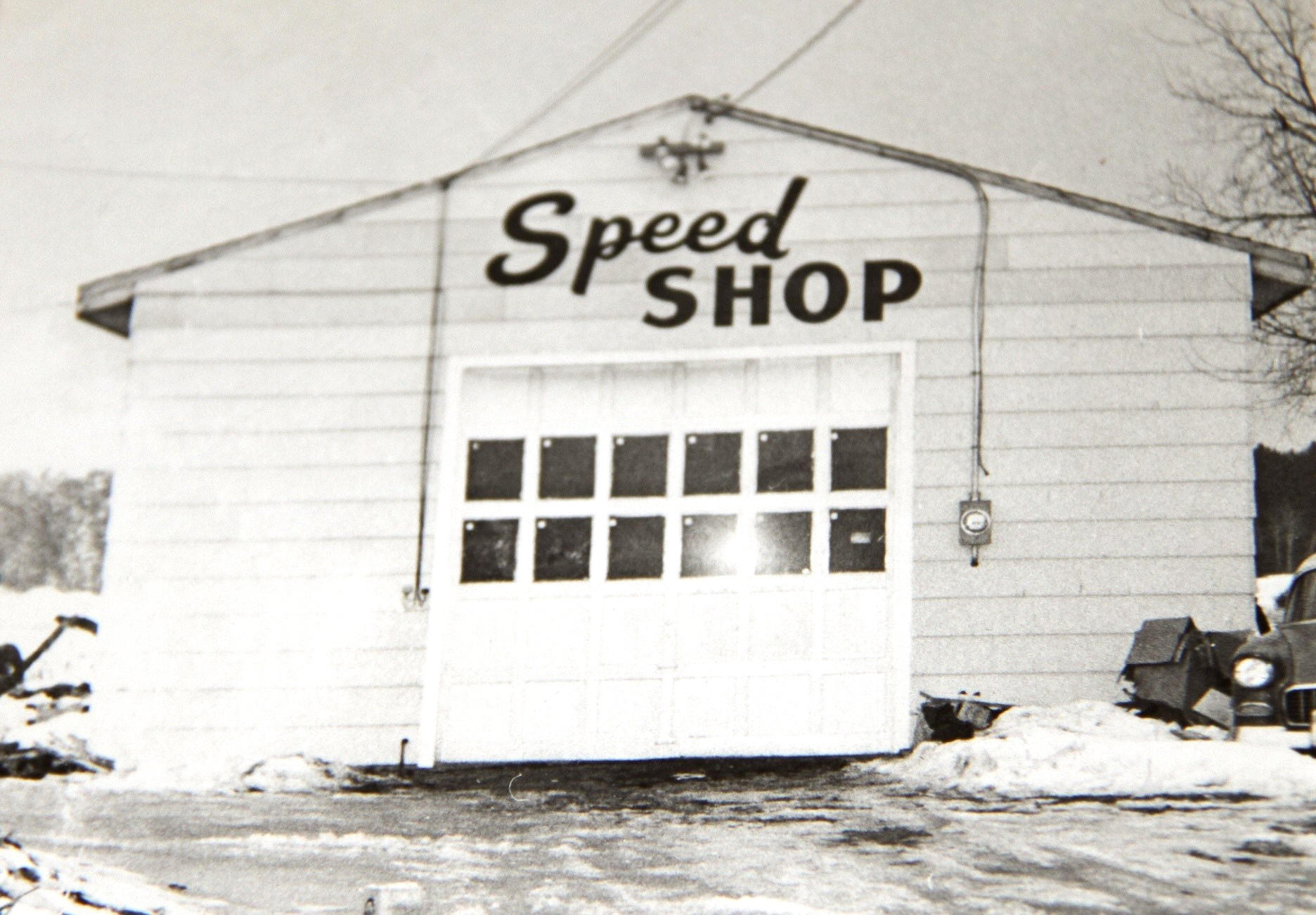 Courtesy of Mike Cranston
Getting back to Smokey, Tom points out there are precious few photos of his dad. Smokey was apparently an avid photographer himself and, thus, was usually taking shots, not being snapped. Smokey had at least one 1937 [or so] Ford coupe he built and numbered 42. We see shots of it as a flathead. Later, Smokey's car was #42 with a similar body that he ran for a while in the earlier years of Albany – Saratoga Speedsway. This makes me wonder if he had simply upgraded the Ford he had from before for NASCAR sportsman racing or whether it was a whole new car. At any rate, he didn't particularly like racing on pavement and Tom thinks he sometimes had Don Antolick drive the car.
Smokey did run that little bit at Malta, as well as some considerable time at Fonda and Stateline; but, clippings show that he was really a hot ticket at his hometown McGregor track. One clipping tells of how he narrowly missed being midseason high point man by nine points. We need to remember he often raced a heavier stock car against stripped down roadsters, driven by such stars as Art Pratt, who go on to race in USAC the following year.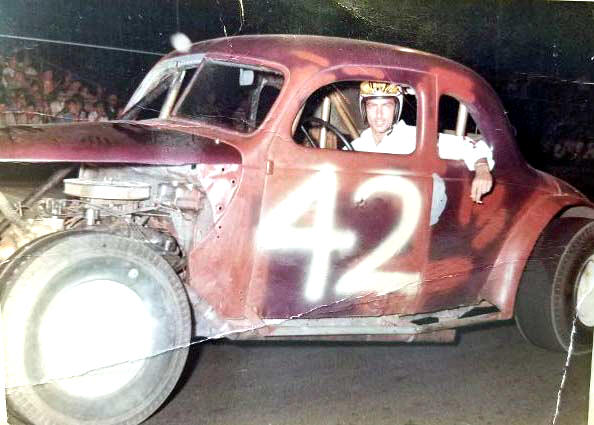 Stover Family Photo via Tom Stover
Future late model and modified star Don Antolick, in
Smokey Stover's last race car at Malta. Below – Elwin
Pennock and the Warrensburgh – based Super 38
would have provided Smokey with some competition
with George Baumgardner at the wheel. Seeing as
Smokey is in this photo [left], he may have gotten
to drive the car at McGregor.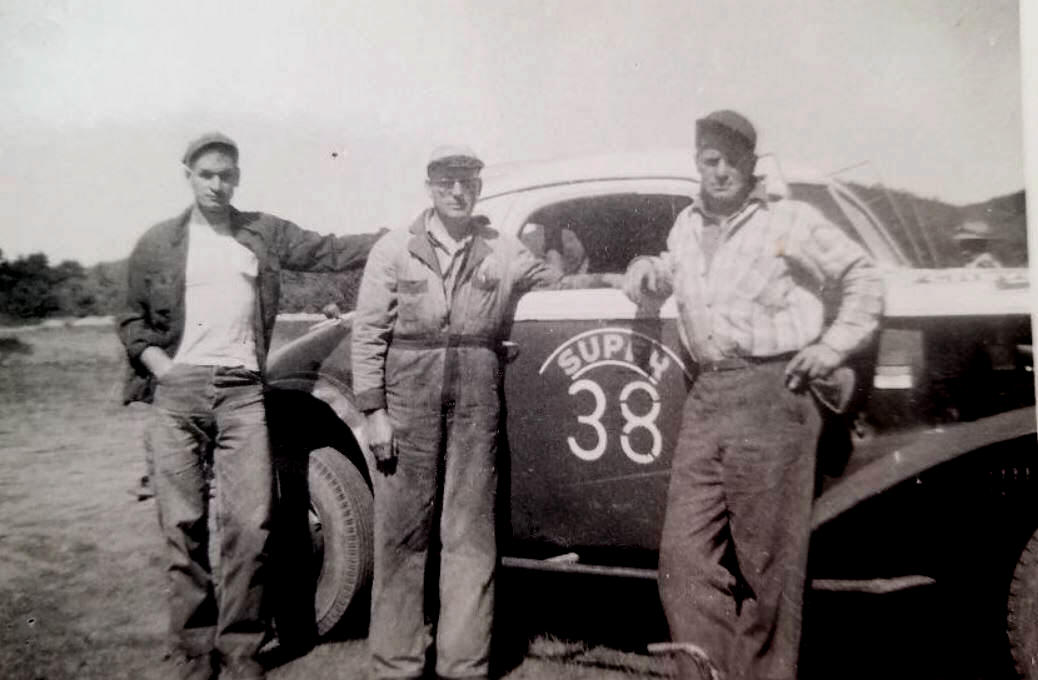 Stover Family Photo via Tom Stover
Another McGregor article tells Smokey did go on to win the full season track title. That was apparently in 1950, and -not much after that – the roadsters were eliminated from most tracks. Stover had to compete against a few very good regulars like Jack Barney and Parkhurst, while also contending with occasional invasions of early stars like Howie Westervelt, from down south in Ravena, NY, who would come in and try their luck. Harold Kyer and his P61 was another top regional runner.
One article says that- at the final race of 1950, which was actually won by Westevelt – Smokey was awarded a "handsome gold trophy" as the track champion. Tom says the trophy suffered damage over the years but he has what is left of it at his home in Central Bridge. Another article chronicles how Stover managed to win with his stock car despite repeated challenges from others in roadsters.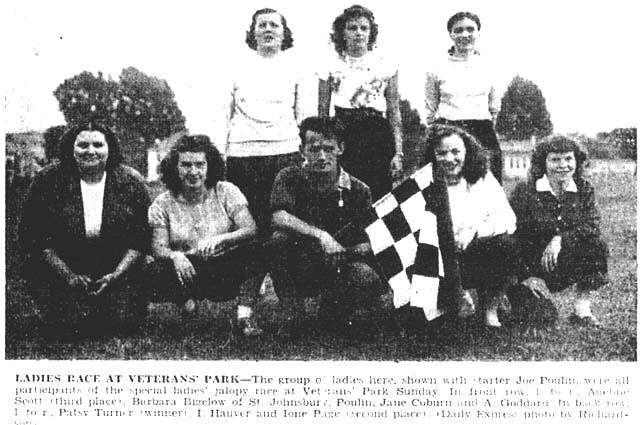 Courtesy of Scott Wheeler
Regular lady racers at the old Veterans' Park in
Newport, VT. Below – Nettie Geist and Betty Elder
share Victory Lane with starter Whitey Gorsuch
at New York's Cuba Lake Speedway, early 1950's.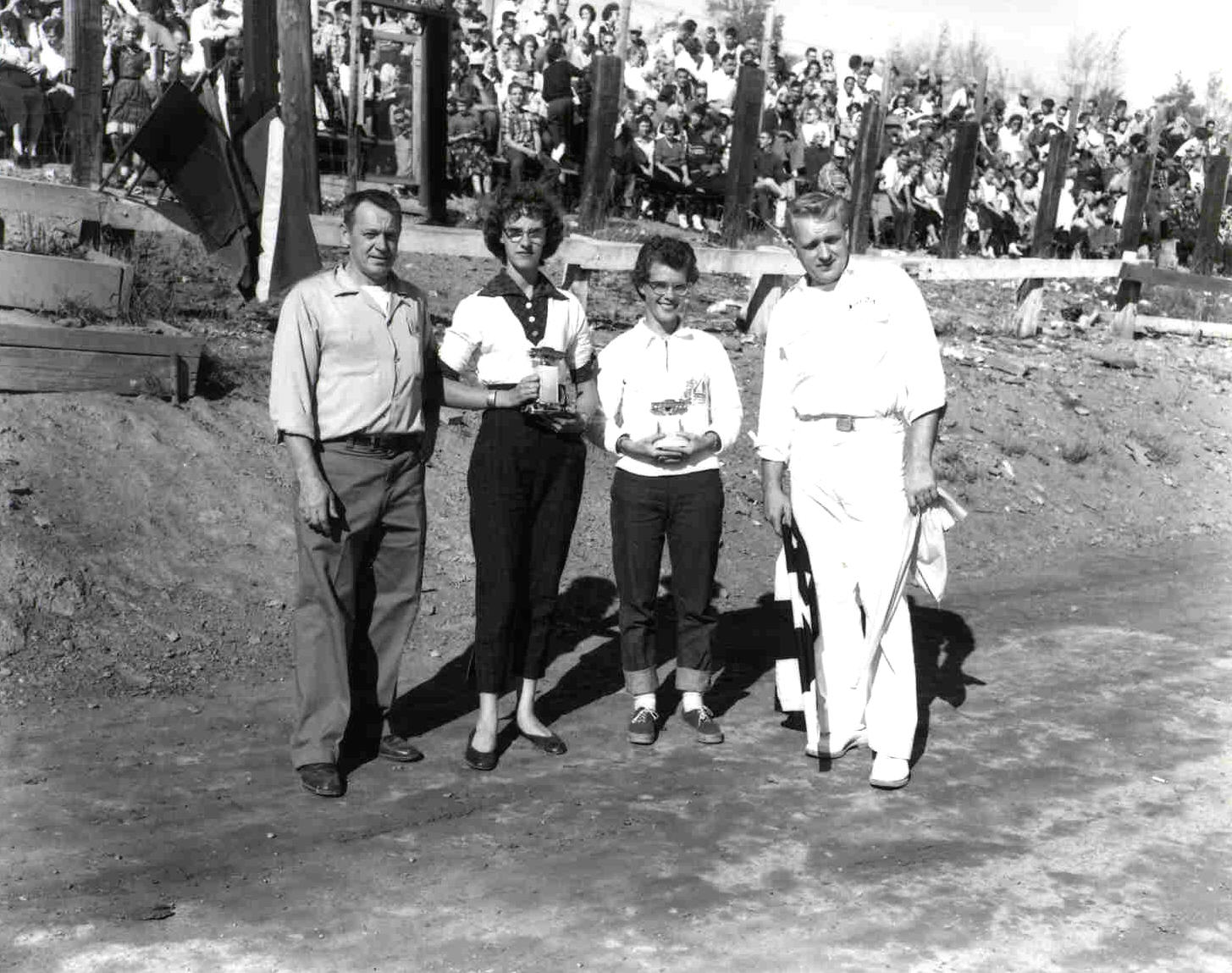 Via Dee Wallace

That article goes on to give good ink to the powder puff races at McGregor. Powder Puff racing was huge in the early 1950's everywhere. Tracks like McGregor, in New York, and the racing in Newport, VT, for example, had regualr weekly races for the wives of drivers and kept points. This particular article explains how Jerry Stover [Smokey's first wife] manged to wreck her husband's car in pretty good fashion that particular week.
Smokey Stover [like most early racers] was pretty adept at coming up with innovations to get a little edge on the competition. In the earlier years, this was probably more possible than later, when groups like NASCAR kept a closer eye on things. Tom writes: "[I] Was just thinking about those vintage racers. I remember dad saying they wasn't much for speed parts you could buy back then. Perhaps multi carbs and aluminum heads. The Ford flathead V8 had two distributors.(Split ignition dad called it.) Dad took a camshaft and cut it in half,turned one half 180 degrees and welded the cam back together. He set the distributors to fire Two cylinders at once just to see if it would be more powerful. Pretty ingenious. Always trying to get the edge. " Without a doubt, Smokey would have raced that at Stateline against Jerry King, "The Rutland Rocket" who had allowed me to photograph a homemade two barrel carb he had designed and which he used at Stateline.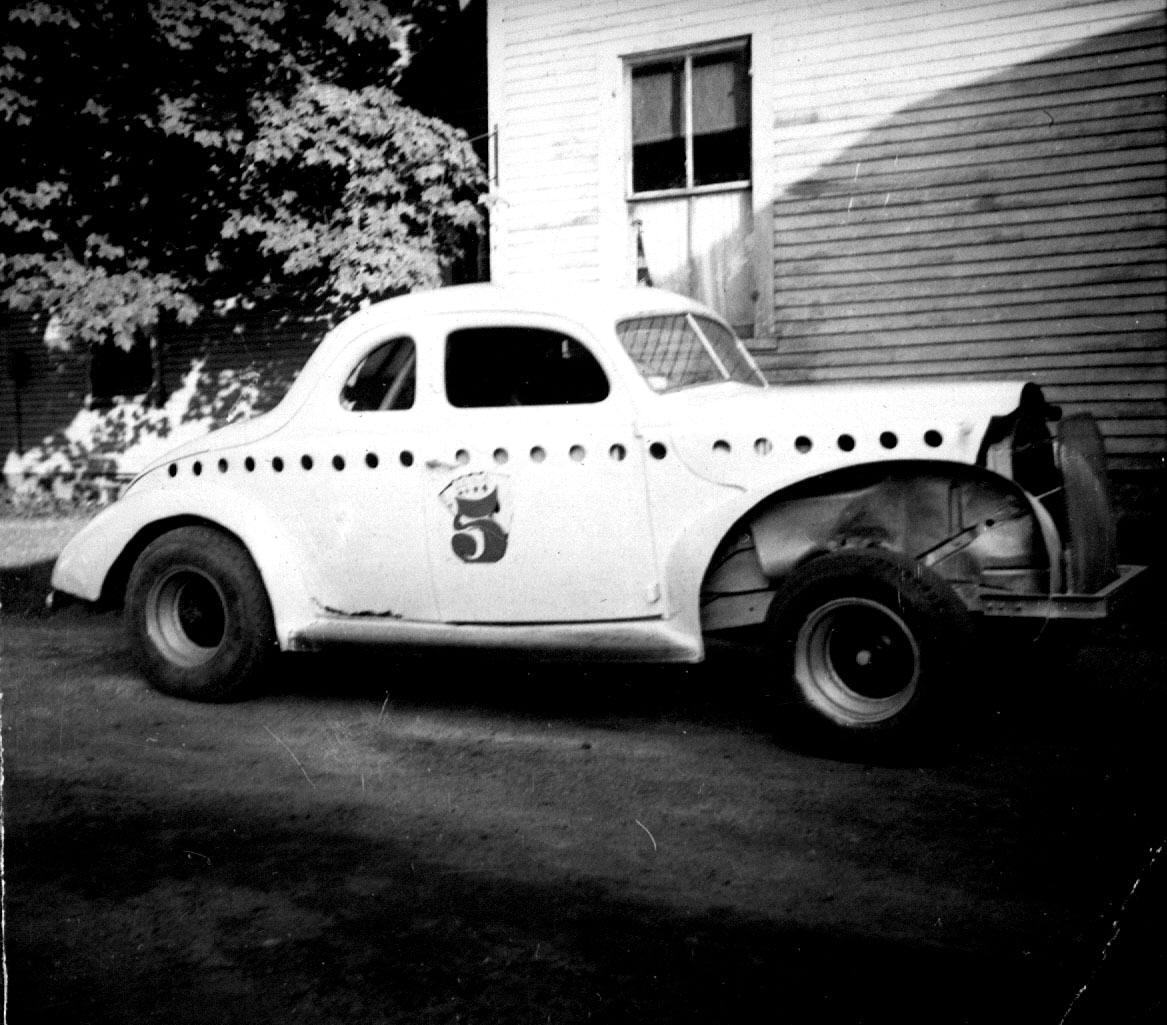 King Photo Collection
Jerry King's Stateline Speedway car that would have
raced against Stover at that track. Below – The homemade
carburetor Jerry built that was used in his Stateline
"Rutland Rocket" car. Thanks God I photographed it;
his gun shop and his memorabilia went up in smoke later.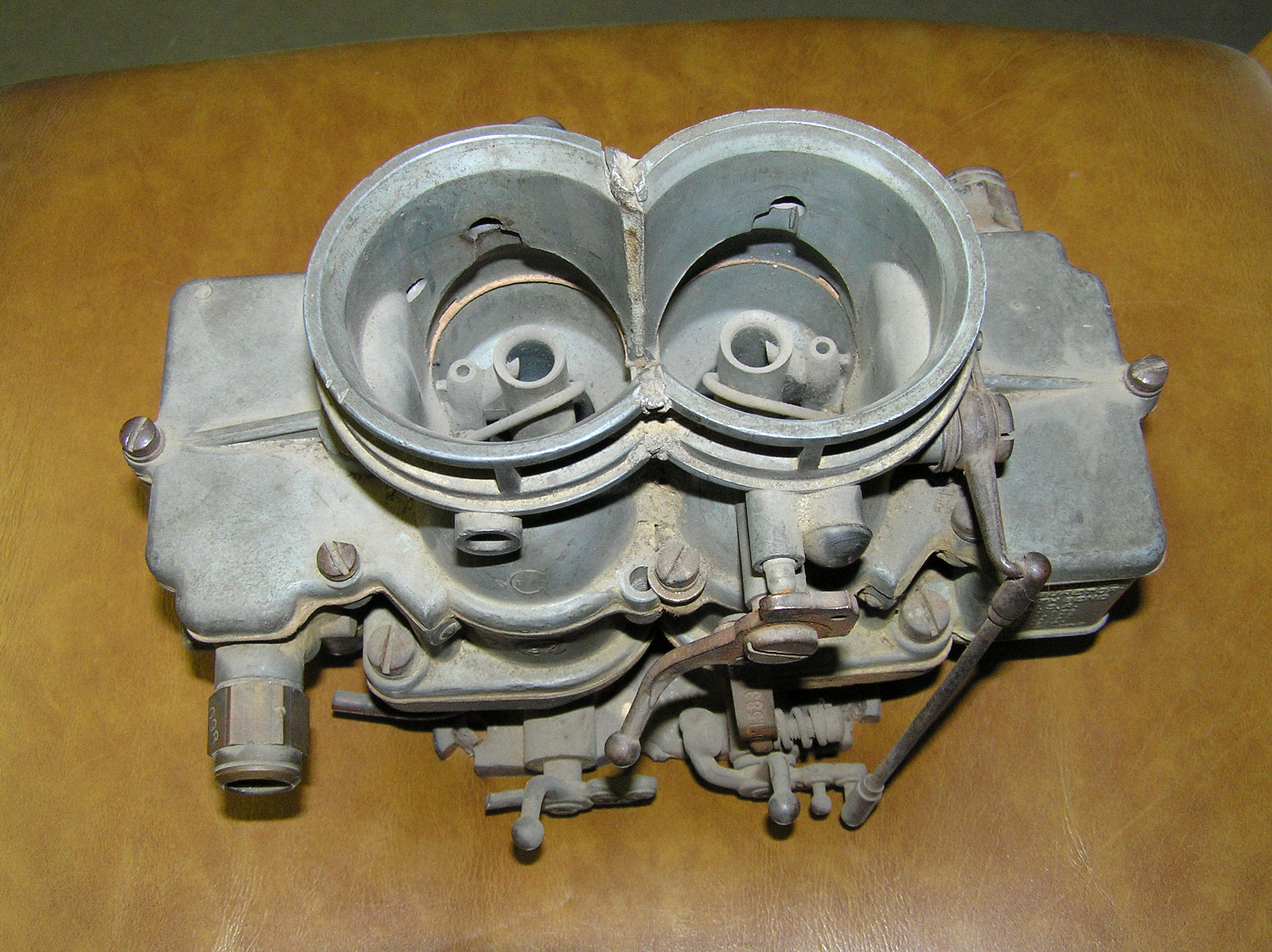 King Photo Collection
I have no doubt that we will never know the full and interesting stories of a lot of these little guys in stack car racing unless we get lucky and have someone like a Tom Stover step up and share the details about their dads, their uncles, their grandfathers, or whoever. Somewhere out there right now is someone with stories about some driver whose name I have seen but about whom I know next to nothing. Thanks to Tom, and I hope the next man is now scanning through the old family "stuff" to find out more about some old driver or owner.
Please email me at wladabou@comcast.net if you have any photos to lend me or information and corrections I could benefit from. Please do not submit anything you are not willing to allow me to use on my website - and thanks. For those who still don't like computers - my regular address is: Bill Ladabouche, 23 York Street, Swanton, Vermont 05488.
AS ALWAYS, DON'T FORGET TO CHECK OUT THE REST OF MY WEBSITE:
www.catamountstadium.com
Return to the Main Page
Return to the Main News Page
Return to the All Links Page
Return to the Weekly Blog Links Page