BILL'S [Somewhat] WEEKLY COLUMN/BLOG PAGE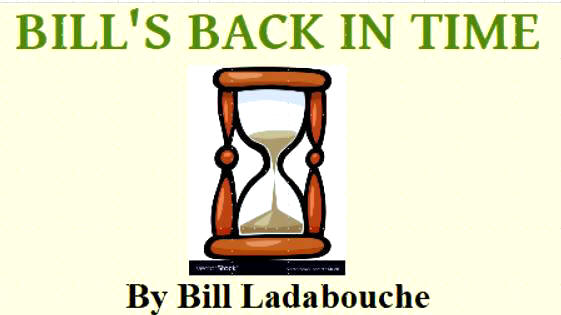 What's With The Damned Fractions !?
I was pretty young the first time they took me to Pico Raceway. I don't remember much about it, although it obviously made a big impression. I'm still glued to early racing and spend way too much time working to preserve memories of it. I can clearly recall three things for sure: 1.) Ollie Palmer having a car numbered J-O [which I thought was odd], 2.) Jeep Herbert driving past the stands in Bob Mott's 3 [his goggles, the way that car sat, and that Cromwell helmet], and 3.
I can still almost hear the announcer, Red Wildey intoning 6 and 7/8, George Connors. [I thought he was counting "six, and seven eight" which I thought was strange. We hadn't had fractions in kindergarten. So, along with one of those little plastic stock car toys every track sold, I have that and a few other things to take away from my first visits to stock car races. But I always wondered: What the hell is it with these oddly – specific fractionalized car numbers ?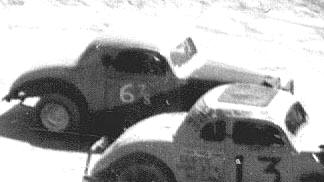 Courtesy of Jerry King
"SIX ! And 7 eighths ! George Connors !" next to John DeGraff at
Pico Raceway in 1952. Below – Apparentlly this NESMRA
official is puzzled as to why Lee Allard has a fraction for
his supermod's number.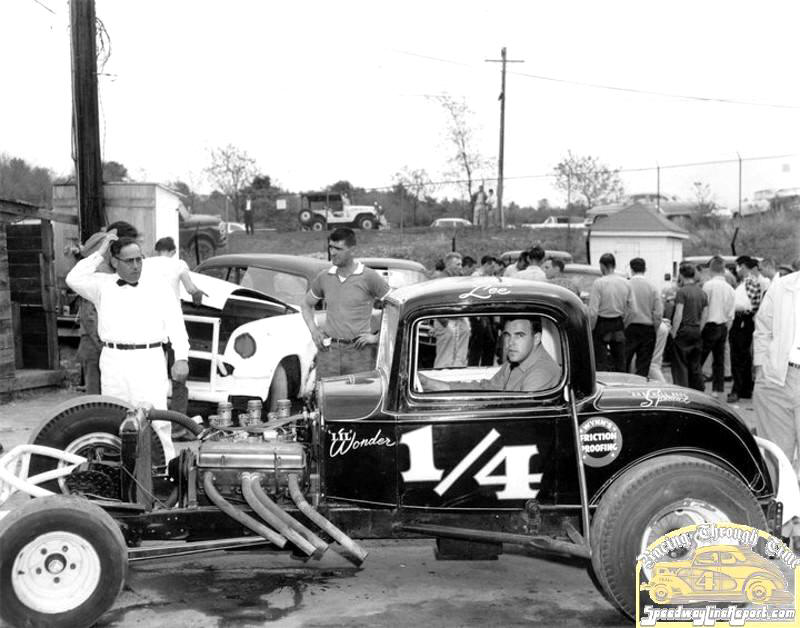 Courtesy of Tom Ormsby
Some made perfect sense. Wes Moody's pal Jimmy Hoyt had an early Plymouth car he numbered 5 ½. Wes explained that Hoyt had bought the former Henry Caputo Plymouth coupe [numbered 11] and chose to number his Plymouth by exactly half of the Caputo numeral. Prolific car builder Julius Mestyan of Fair Haven built several black and silver Ford coupes in 1962 and 1963. He sued every variation of the number 6: 6, 6Jr., etc. Finally he had to resort to 6 ½, as well.
But 6 7/8 ? It didn't make sense that first time with Danby, VT's George Connors. But then, I hear of at least three other teams [none of whom knew each other] who used exactly the same number – 6 7/8. I wondered was this some esoteric secret among the technically savvy in the racing world ? Some sort of gear ratio or piston setting or what the hell ever ? Was told by several sages – no , probably not.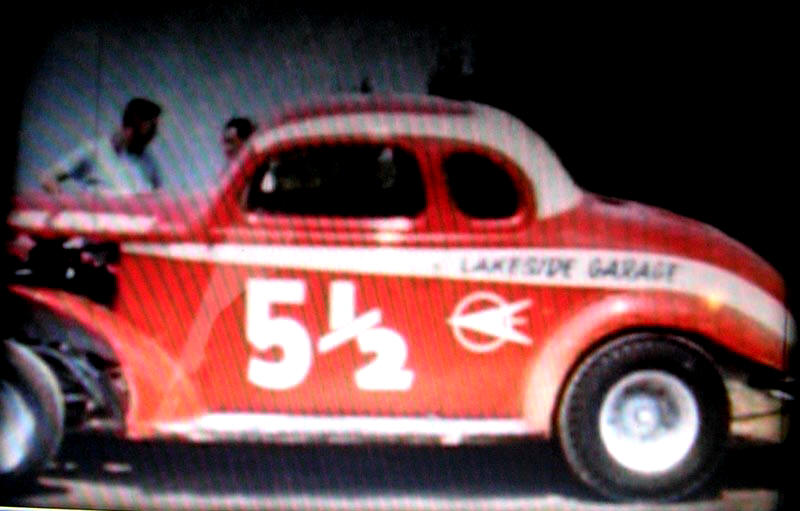 From Dan Ody's 8MM Old Speedways DVD's
Jim Hoyt pauses at his father's Saranac Lake Speedway
during the shake down cruise of his beautiful Plymouth.
Below – One of the racing Coonradts from New York
had a similar car number. This might have been Harry.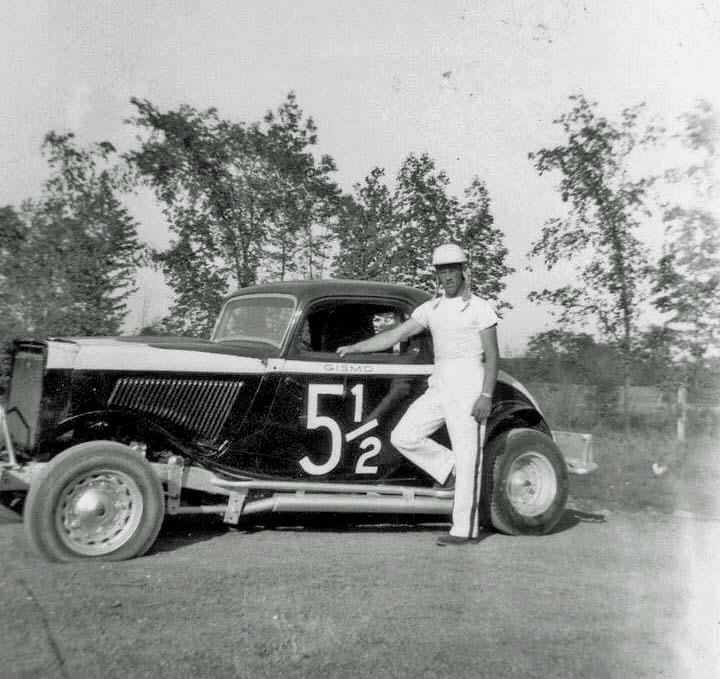 From the Coonradt Family Collection
So what then ? Over the years since then, I have always had fractionalized stock car numbers noted in the back of my mind. They aren't plentiful. But, when I started doing this work I ran into all those other 6 7/8 cars. George Connors ran for a few years in the early to mid 1950's. After the end of Pico Raceway's short life, I know he traveled at least once to Warrensburgh, NY to race there. I imagine he tried venues like Mettawee Speedway in North Granville, NY and the highly – competitive Stateline Speedway in North Bennington, VT.
Connors didn't amount to much, but his nephew, Paul – after watching a few races at places like the abovementioned tracks, moved down to Florida where he took up racing on the side. Paul went on to a career he couldn't have imagined when he grew up in Danby. He is in the Florida racing hall of fame for his tremendous late model sportsman career. He raced in NASCAR's Grand Touring division, fielding the very first AMC Javelin, and he also raced [mostly for Buck Baker] in the Grand Nationals for a while.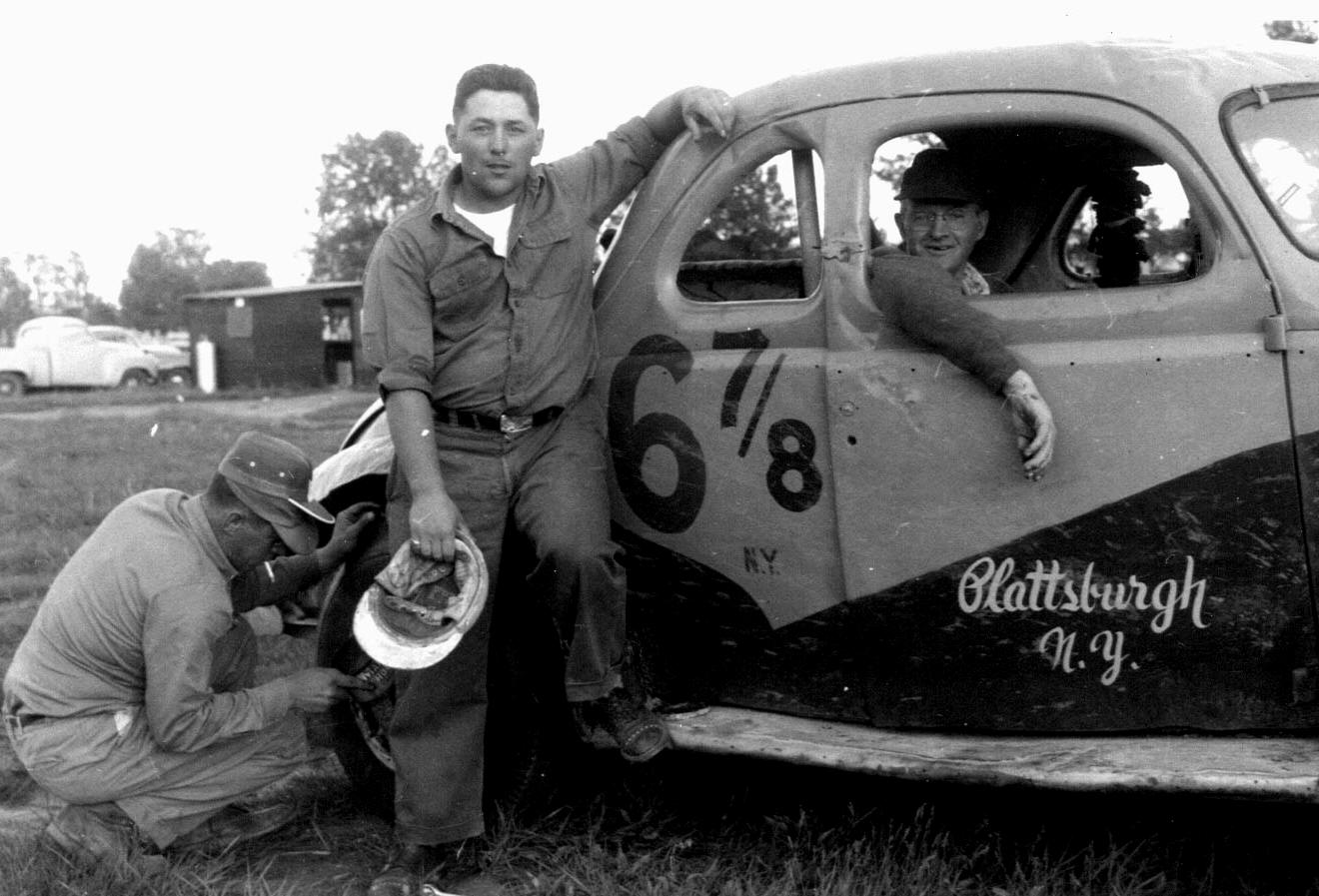 Courtesy of Gary Nephew
Car owner George Palmetier sits in his car as driver Dick
Nephew poses and Ben Nephew works. That was Palmetier's
usual modus operandi. Below – Charlie Trombley's unusal
5 and 7/8 likely came from the Palmetier car.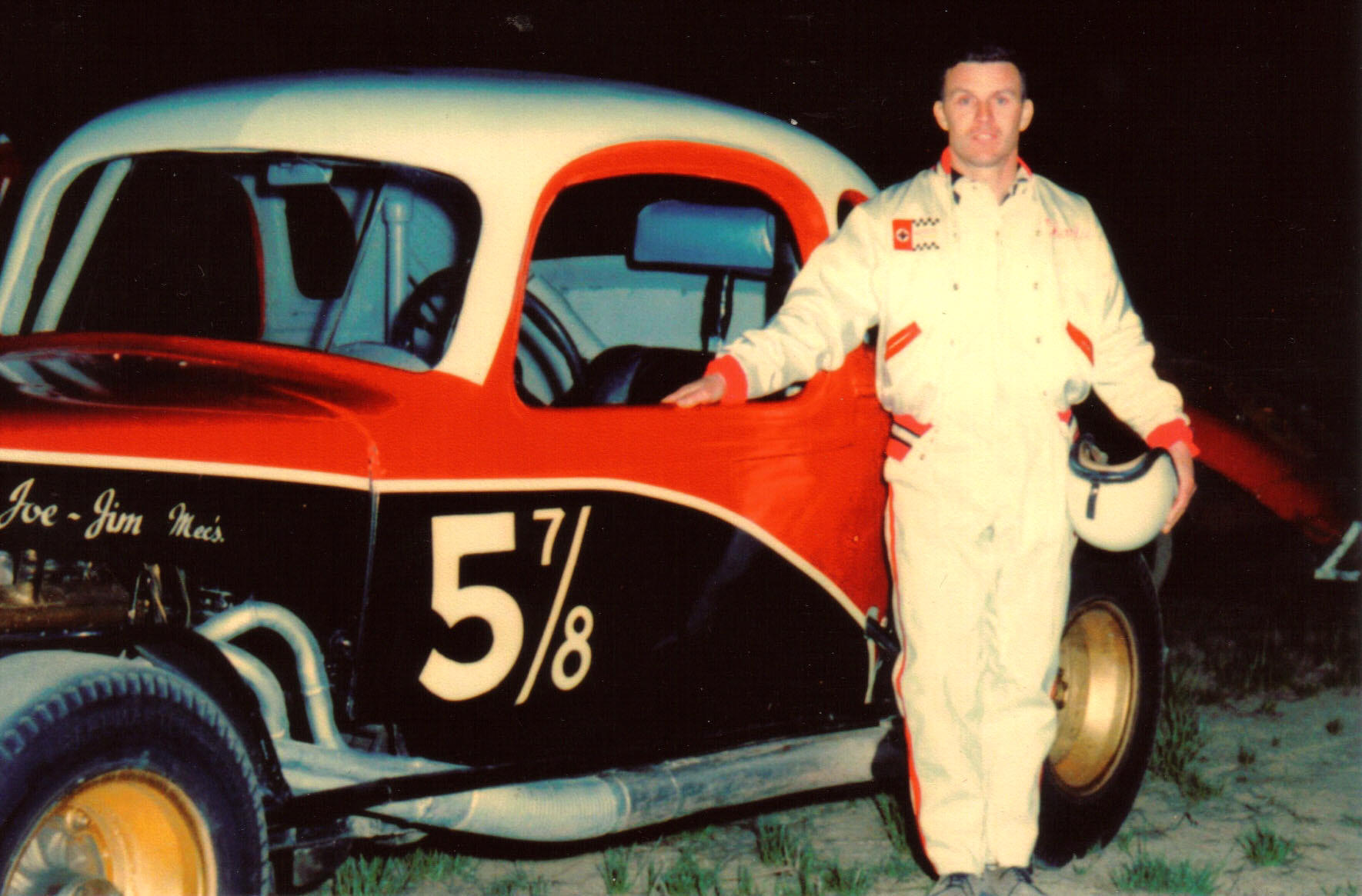 Bob Mackey Photo via John Rock
The second 6 7/8 I became aware of was that of northern New York car owner George Palmetier. The hard drinking, bespectacled Palmetier fielded a yellow '37 Ford coupe with that number on the side; and guys who knew him insist that 6 7/8 was his hat size. That must have been quite a pumpkin, as I am considered to have a large head and my size is quite a bit smaller than that. The Palmetier car was raced at places like Airborne Park Speedway, Malletts Bay Raceway, St. Lawrence Valley Speedway, Fort Covington Speedway, and even tracks in Canada.
Palmetier had some of the best drivers of that era. He started with local driver Rusty Reed, and he later had Dick Nephew and Jackie Peterson in the car. Not bad considering Nephew was not only a track champion but he was 1961 NASCAR National Sportsman Co – Champion in 1961 with Bill Wimble. Peterson, a mostly deaf sprint car driver, was a Vermont state champion and had feature wins at many tracks all over the Northeast and Canada.

Source Unknown Likely an Irv Conron Photo
C.D. Coville thinks this car 6 and 7/8is that of his father
at Whites Beach Speedway. Below - Whites Beach also
had this unusual 1/5 fraction car.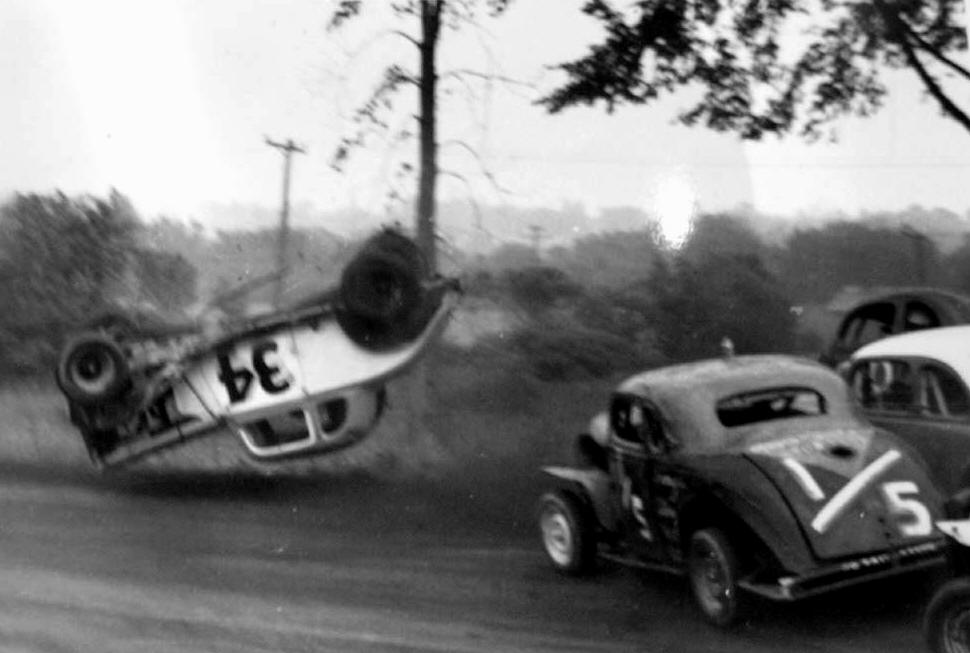 Irv Conron Photo
An off shoot of the Palmetier number was the 5 7/8 of Charlie Trombley, a neighbor of Nephew's from Mooers Forks, NY. The red and black car was distinctively color schemed, influenced by its original sponsor Ross McNaughton. The team had a good driver and an exceptional mechanic named Paul Conover. Charlie's only claim to the odd fractionalized number was his original admiration for what Palmetier's team was accomplishing.
Another car came to my attention while looking at two bygone New York tracks: Whites Beach Speedway, Ballston Lake and the Pine Bowl Speedway, near Troy. I was later told that the car in question would be D.C. Coville, who just happens to be father of the enormously popular modified driver C.D. Coville. I think D.C was Don, and he seemed to run the best at Whites Beach, a second level track located near Saratoga. There was also a shot of a car at Pine Bowl that looked like a real hobby class car nearing the same 6 7/8; but. I don't know if that one and the car shown at Whites Beach are the same guy.

Courtesy of Edward B. Brown III
Apparentlly Ed Nicholds had a similar inspiration to
several others. Below - Manhawkin [NJ] Speedway's Marvin
Inman was another of many to use the unuual car number.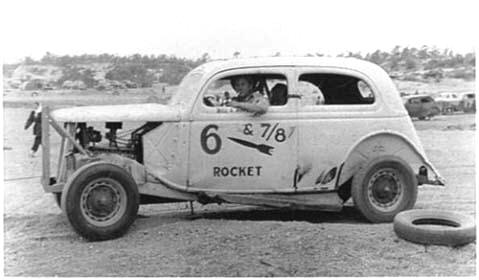 From the Benny Nero Site
The fourth 6 7/8 turned out to be a New Jersey region driver named Ed Nichols. Facebook pages that center around vintage stock car racing are loaded with photos of his car because someone had provided them. New Jersey racing history enthusiast Edward B. Brown III hosts such a page and has offered a number of Nichols' car photos. I don't recall reading, however, why he used the number. He seemed to at least begin his racing career in the 1950's, and Ed probably continued racing into the 1960's.
Apparently the other car came from approximately the same neck of the woods as Nichols. I found a photo of a white sedan with that same number and read somewhere that this was a guy named Marvin Inman. Later, the photo appeared somewhere else with the caption insisting that the car ran at Manhawkin Speedway, one of several 1950's New Jersey tracks that did not survive into the '60's. I know nothing else about it except that – again – someone in that era used that strange number.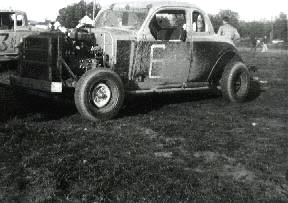 Ladabouche Photo
One of the large Julius Mestyan stable was this 6 ½,
often driven by veteran Skip Wilcox. It sits next to Red SMith's 33 1/3,
the only other fractionalzied car of the tgime at that track.
Below – One of Marty Harty's 28 9/10 cars, as it appeared at Thunder
Road with local driver Mike Osborne.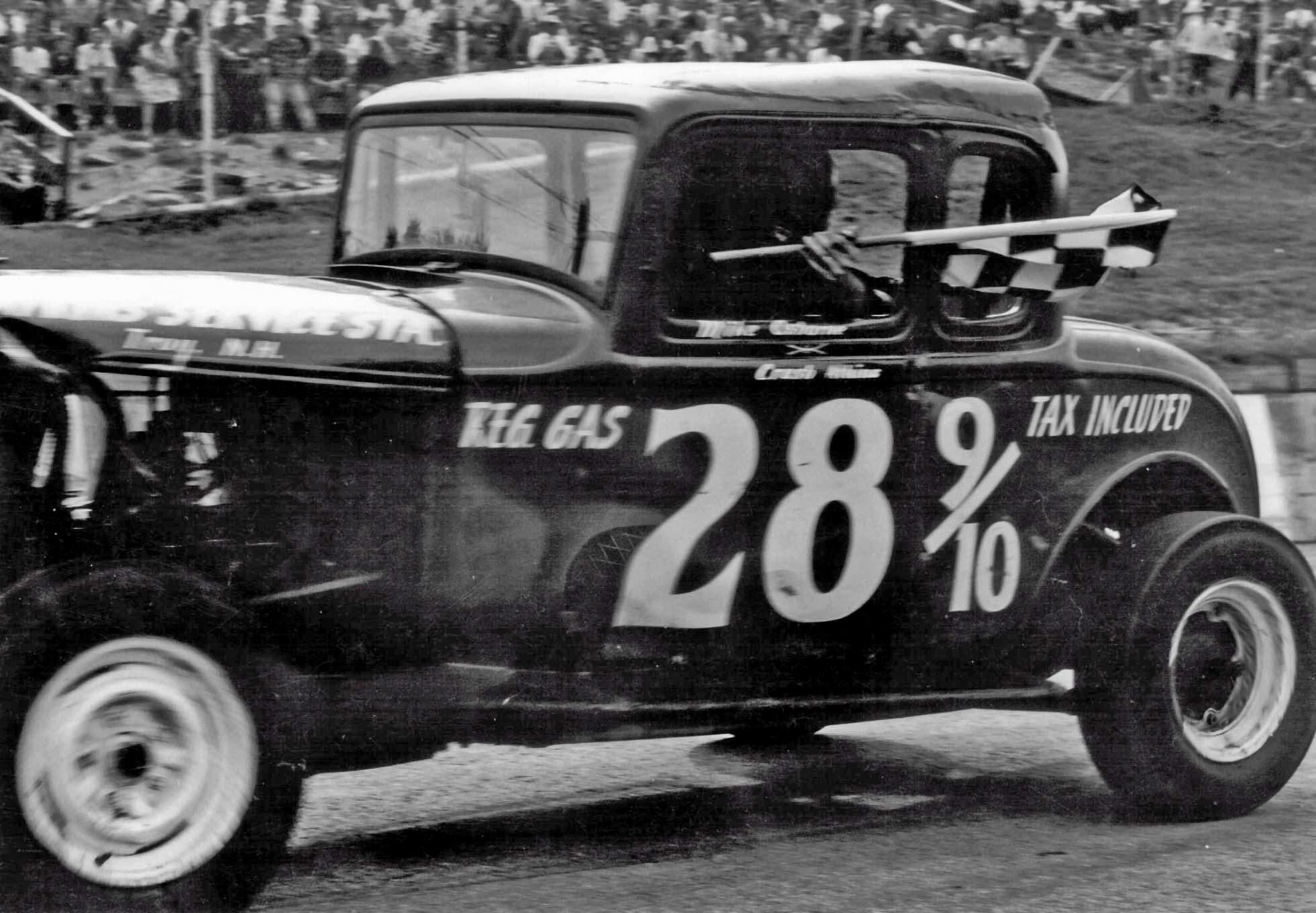 Courtesy of Mark Austin
I haven't run into any more 6 7/8's since then. I have seen another Whites Beach car numbered ½ run by a Leon Reed from Ballston Spa. The Fairmont Speedway program of 1963 listed a car 28 9/10, Ralph Atkins of Troy, New Hampshire. I found out that this man, a major supporter of the great New England car builder Marty Harty, had this number on some Harty cars as the current price, at that time, of gasoline at his gas station in Troy, NH. In fact, a couple of cars bearing that number appeared at various program early in the history of Thunder Road, being driven by Harty driver Roger Lancey or at least once by Ernie Gahan.
Of course there was Red Smith's yellow Hudsons, numbered 33 1/3, from Athoi, NY [ a small hamlet near Warrensburgh]. That was undoubtedly a result of the rpm speed of those big vinyl records that were used for albums for so many years. Smith may have gotten the idea from Manchester, VT's super – fast Dave Brooks, whose 33 1/3's used to visit the Warrensburgh track about the same time as George Connors, whose town of Danby was quite close to Manchester.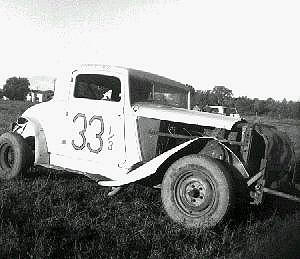 Ladabouche Photo
This Red Smith Hudson replaced one he had crashed weeks
before at Fairmont Speedway around 1963. Below – The
mysterious and potent Dave Brooks 33 1/3 always had the
engine covered. This is at the old Manchester [VT] fairgrounds.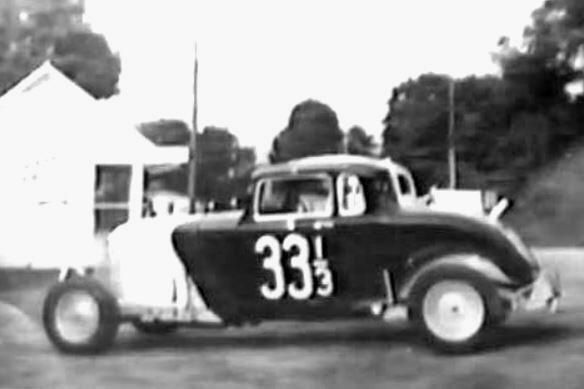 Courtesy of Bud Brooks
Finally, you get the really deep thinkers. I was sitting in the stands at Fairmont Speedway around 1963 when a rarely seen white Hudson coupe came to race. The driver, Joe Messina, was familiar to us not only as a Hudson driver but for the fact he had appeared at a Lebanon Valley – managed race at the fairgrounds in Rutland, VT in 1961. The number was the first thing that zinged us: 3 1/7. The other zinger was the fact that the Hudson threw a huge wheel with racing slick coming down the front stretch and it bounced, landing scant feet from a baby carriage in the spectator area.
I would find out many years later when doing this work that the car belonged to Al "Pop" Green from the Troy, NY area. An engineer by avocation, Green also taught classes as well as loving to field Hudson cars. The coupe started out a simple, unadorned black and later apparently got the white paint. 3 1/7 ? It is pi – the ratio that goes with a – Pi times r squared, the formula for getting the area of a circle. 3 1/7 is so complicated and mysterious that mathematicians have NEVER been able to convert it to a finite decimal [like ¼ = .25]. So there you have the most interesting of all these fractionalized car numbers.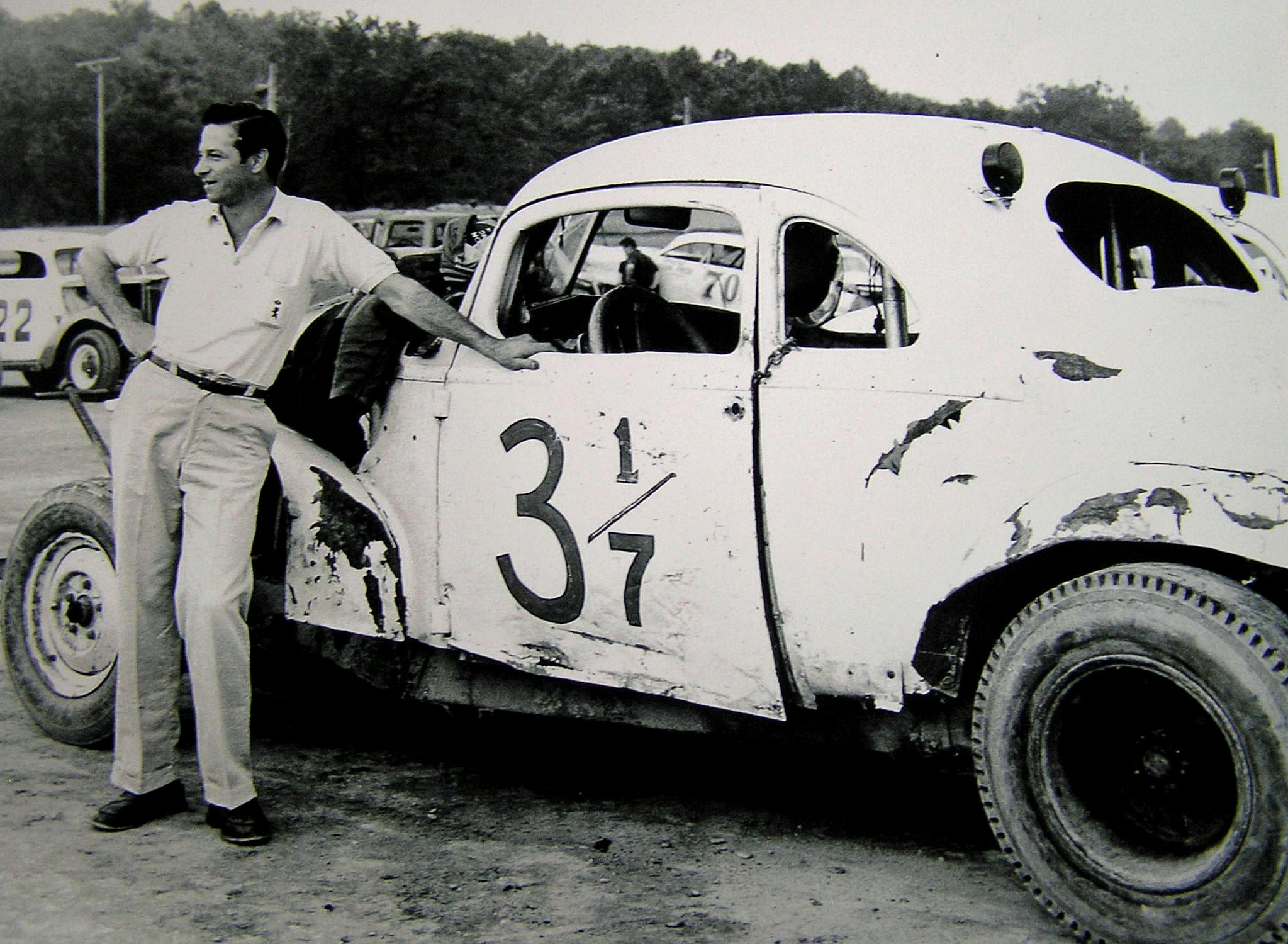 Courtesy of Ken Gypson
Joe messina poses with the Al Green 3 1/7 Hudson. Below -
A Fonda restart has Chuck Flihan's 3 7/8 chasing the
25 of Nick Carter.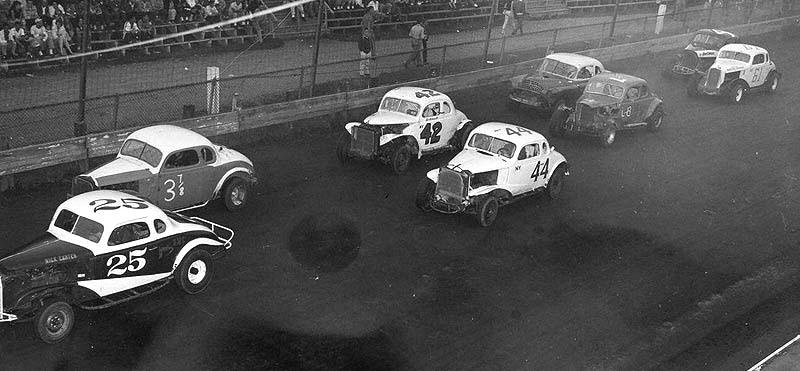 Russ Bergh Photo
There have been a number of other cars which had a fraction on them somewhere. Fairmont had a car 22 ½, run by Rutland's Kent Davis; Pine Bowl had Herb West, from Pittsfield, MA with a 1 ½. Utica, NY's Chuck Flihan, a regular at Utica – Rome Speedway, would appear on Fonda program driver rosters for a while, perhaps coming to the Track of Champions once in the early season. That number 3 7/8 is another head scratcher, as certainly I hope it's not his hat size. He'd have to be Zippy the Pinhead.
I do know Flihan could appear at Fonda because there is a photograph of an early Fonda start, complete with flagger Chet Hames on the track, that shows Chuck Flihan on the outside pole of a 1950's heat race. This is maybe at the very beginning of "The Golden Age" 1959 through about 1965] with all the names like Danish, Wimble, Lazarro, etal. Flihan is racing with the likes of early drivers like Nick Carter, Dolgeville; Schooch Schoonmaker, Coeymans Hollow [mostly a Valley driver]; and Carl "Leadfoot Taber. But, in that same heat was Bobby Adams, Utica; Lou Lazarro, Utica; and legendary Steve Danish whose career went from the early years through the Golden Age. Flihan had around 100 points at Fonda in at least one season. The number origin will remain a mystery, I guess.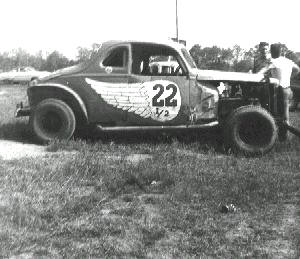 Ladabouche Photo
The 22 ½ of Kent "Dizzy" Davis sits at Fairmont around 1963. Davis
had a brief run as its second owner. Below – Oxford Plains
Speedway's Ray Fanning may have had the best fraction idea of all.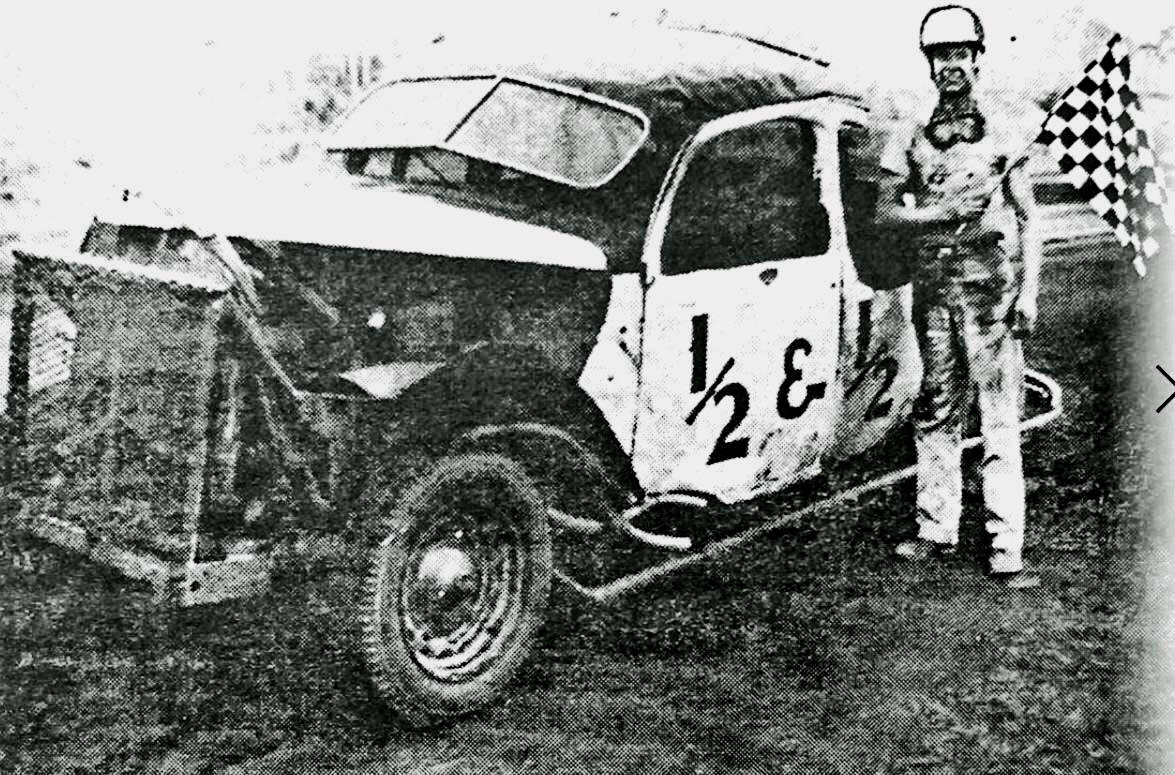 Courtesy of Zeke Trask
Charlie Trombley had the most successful run with a car with a fraction number; most cars with a fractionalized number did not make much of a dent in the notoriety department. I'm sure that several other cars with fractions in the numbers were left out her, but ya can't win 'em all.
Please email me if you have any photos to lend me or information and corrections I could benefit from. Please do not submit anything you are not willing to allow me to use on my website - and thanks. Email is: wladabou@comcast.net . For those who still don't like computers - my regular address is: Bill Ladabouche, 23 York Street,Swanton, Vermont 05488.
AS ALWAYS, DON'T FORGET TO CHECK OUT THE REST OF MY WEBSITE
www.catamountstadium.com
Return to the Main Page
Return to the Main News Page
Return to the All Links Page
Return to the Weekly Blog Links Page