BILL'S [Somewhat] WEEKLY COLUMN/BLOG PAGE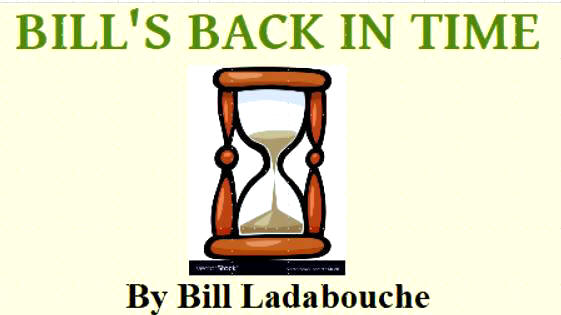 WHERE TO GO - ON AN OFF NIGHT IN 1961

As anyone from the Northeast knows, 1961 was a compelling and pivotal year in the rank of the NASCAR sportsman cars. Drivers such as Bill Wimble, Dick Nephew, Rene Charland, Jack Hart, Jean – Paul Cabana and others who were in serious contention for the national title were looking for any way to pick up precious points.
The "national championship races" were a great way to get more points than on a regular night a the weekly bullring. However, to get the really big points, you had to be at Speedweeks in February and also to hit some other important shows down South. Up here, it was also no secret that cheap [ie, not much competition] points could be picked up if you were willing to journey up to the unlighted cow pasture track called Otter Creek Speedway [Vergennes, VT] on a Sunday afternoon.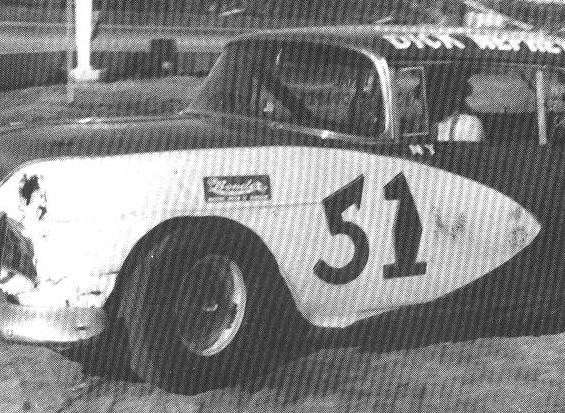 Courtesy of Gary Nephew
The small but much – needed Allie Swears operation out of Glens Falls, NY would offer cars to Dick Nephew for Speedweeks
and also the occasional weekly track gig [below], as well. Here, he even won one at Fonda with that car.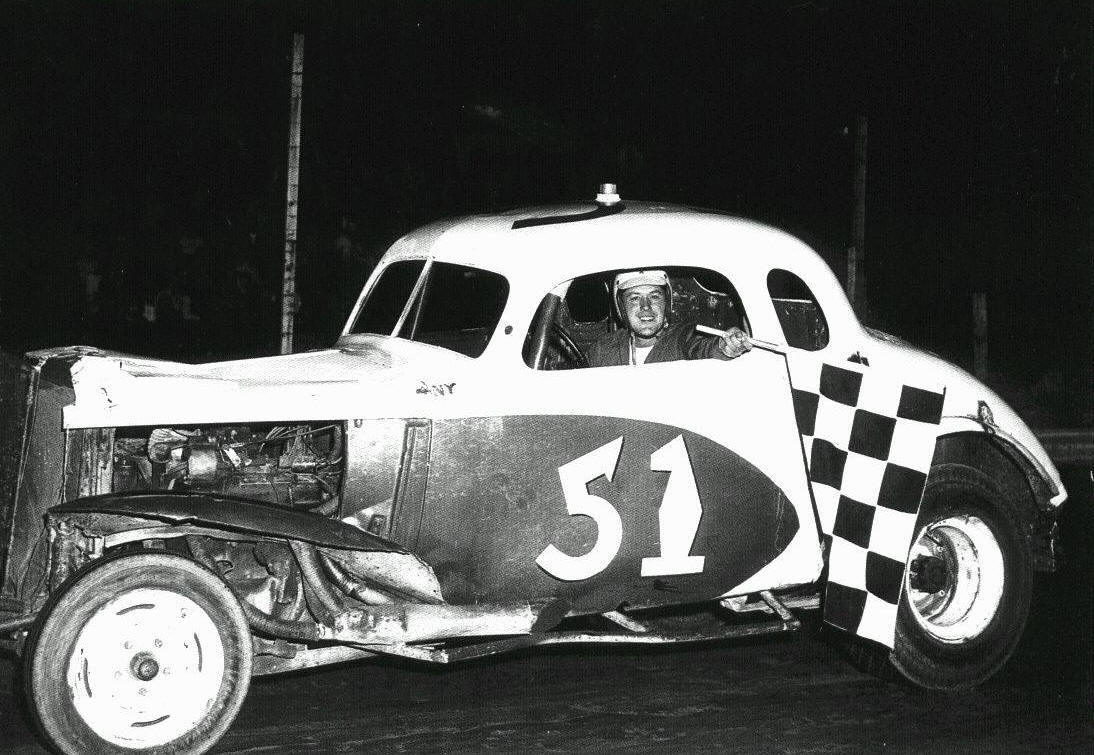 Courtesy of Gary Nephew


A few of the New York title chasers from Fonda and Plattsburgh, NY's Airborne Park Speedway would use Otter Creek for easy points. Others, like Ken Shoemaker [driving for Chris Drellos], used it as a kickoff to a few days off out in the country. Shoemaker loved the track and had the best results there of anyone.
With the national title ending up in a dead tie between Wimble [ now a Fonda regular] and Nephew [an Airborne regular], it is clear a lot of points chasing was done. I pretty much knew Wimble had the regular shows at Fonda and - perhaps Montgomery County near Rochester; Nephew seemed to have the edge, running Airborne, Saranac Lake, and at least three tracks in Canada. What I never knew until recently is that Wimble had another ace up his sleeve – Empire Raceway in Menands, NY.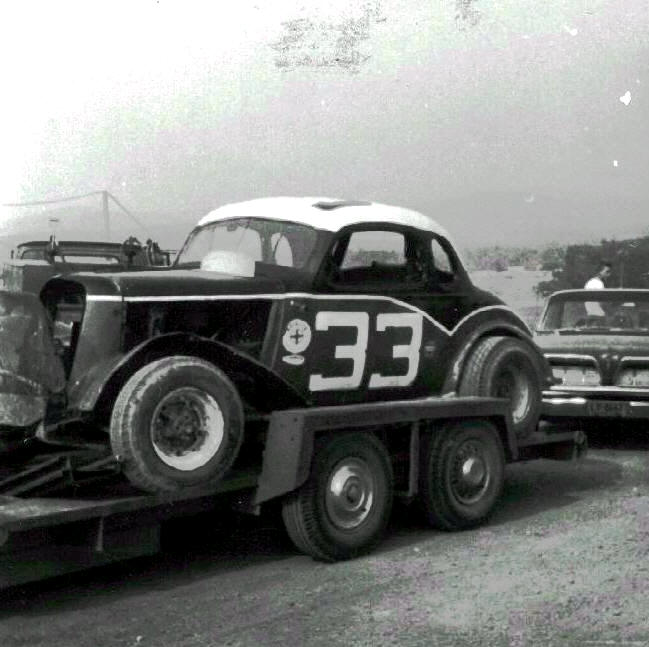 Ladabouche Photo
Bill Wimble's 33 is seen leaving Otter Creek Speedway after a points – counting race. Below - Wimble,
with one of the cars he would use during his years of running Speedweeks.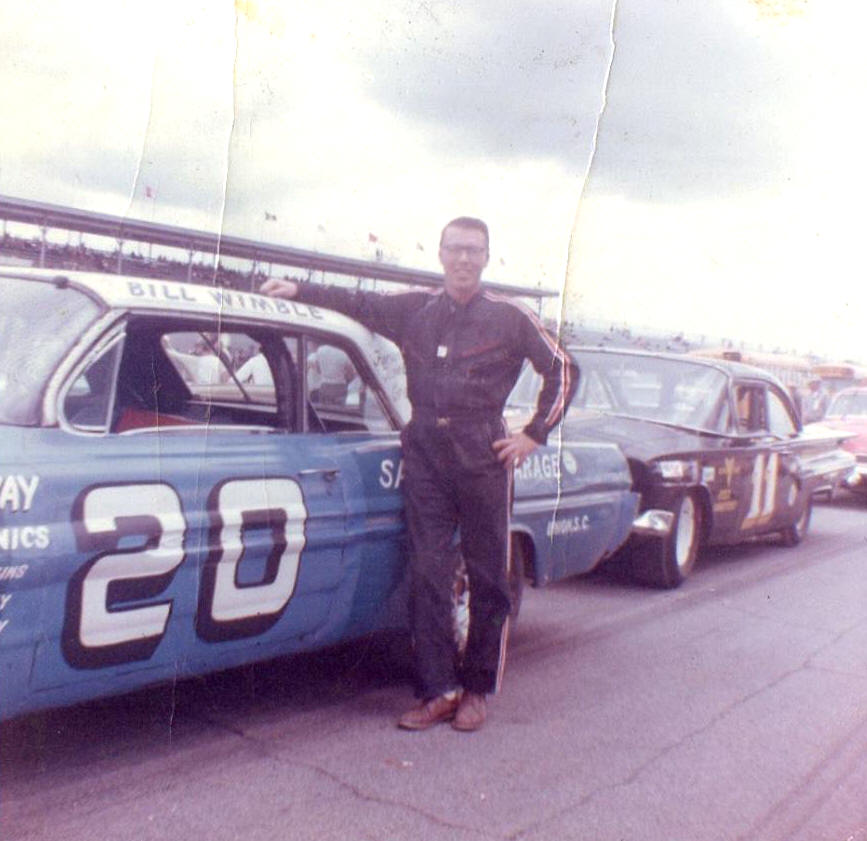 Courtesy of Mike Cranston
Empire had never been identified as a NASCAR track, as far as I knew. It was a smaller paved track tucked in near a bunch of other businesses near the Hudson River in Menands. Built originally to run open wheel cars, it had first become a somewhat rare opportunity for local stockers to try their hand at pavement, but it seemed to run more with guys who frequented Pine Bowl, Riverside Park [Mass], and even Rhinebeck – not NASCAR tracks.
Somehow, all of a sudden, I happen upon a page of 1961 NASCAR points and there is Empire ! Now, in 1961, Victoria had not become "the other place to run" for Fonda's NASCAR sportsman teams yet. We have all heard the stories of their running there under assumed names and all that. Maybe that was because Empire WAS running NASCAR and I never heard about that. The track must have been running on an offbeat night, given the names who finished in the top 20. Much like Victoria, it was a strange mixture.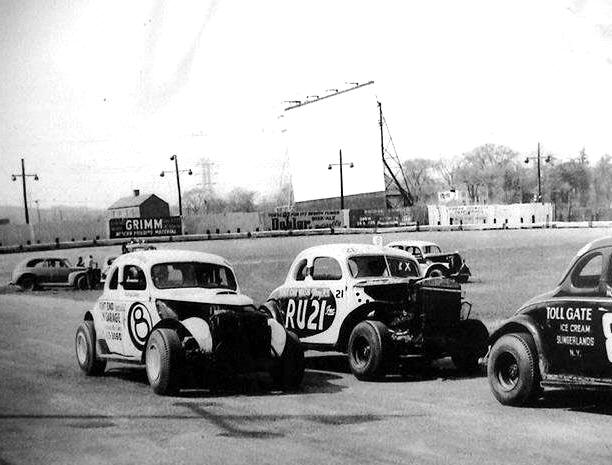 Courtesy of Joe Grossetti
An early at Empire Raceway in the 1950's. Top stars Dick Dixon [8 Ball], Link Pettit [RU21], and Howie Westervelt
were not, at that time, NASCAR teams. Note how the track is right next to a drive – in. Below – At some point,
the track must have gone with NASCAR, as evidenced by Steve Danish [61] running there.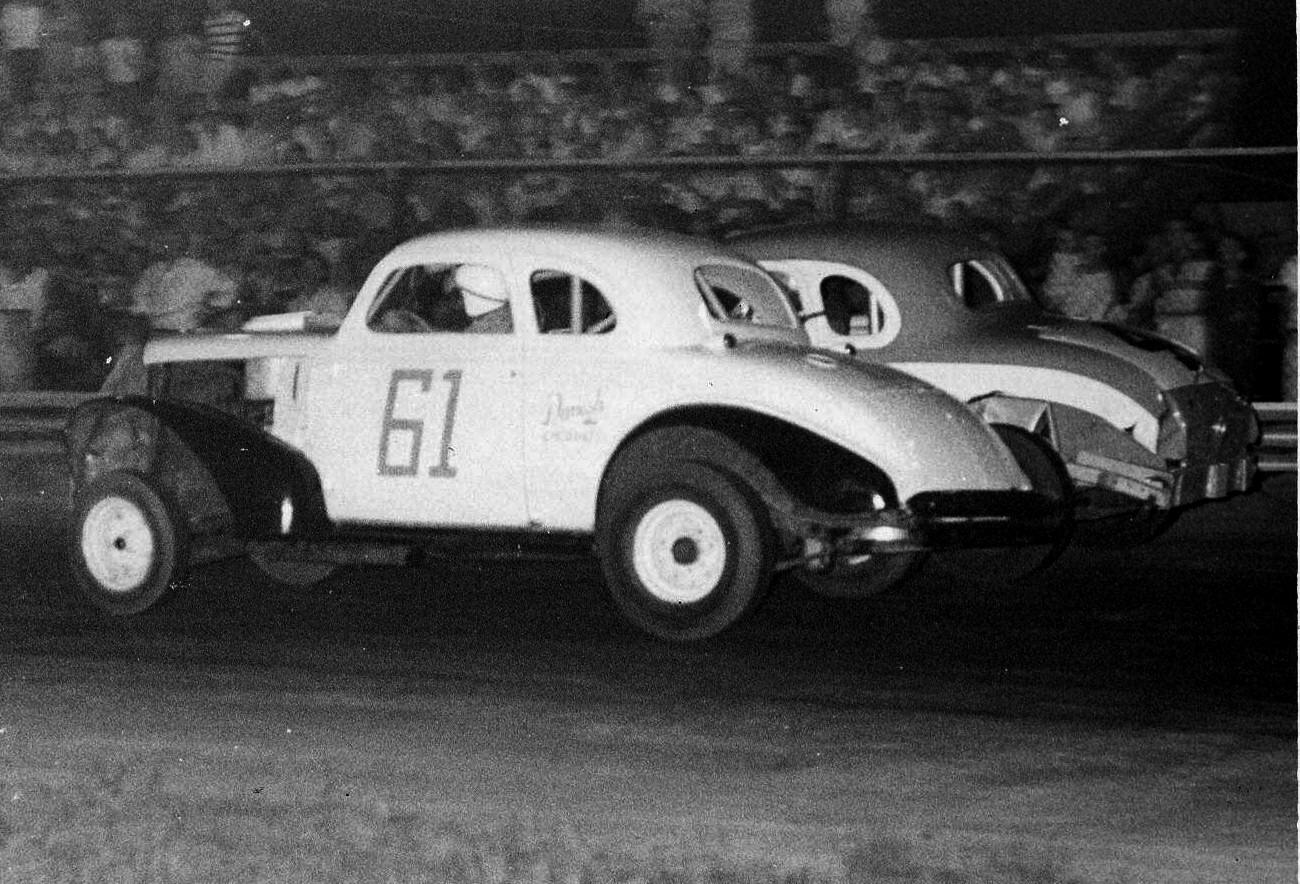 Danish Family Collection

For sure, Empire Raceway was a place to go on an off night. The track title went to Rene Charland, then just beginning to be a national points chaser. Unlike in the next few years, his name was not showing up high in the points at Fonda then. I'm sure he leaned heavily on Stafford Springs or other New England tracks to get his points; but, apparently, Empire was on an off night and Charland was one of the few to be there pretty much every week that year.
The factor of being able to make several shows played a big role in who finished where at Empire in 1961. Charland beat out Pete Corey [a man you'd expect to be running there] by over 100 points, suggesting that he showed up more than anyone else. Corey, still running for A.C. Caprara then, was a flyer ! Third place, a full 200 points behind Corey, was likable Connecticut driver Ron Narducci, who would rub wheels with the Empire Staters at Fonda, Stafford Springs, and a few other venues.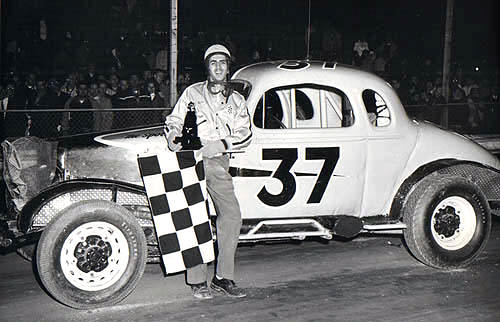 Russ Bergh Photo Ladabouche Collection
Pete Corey, with the A.C. Caprara 37, which he would have
been running at Empire in that year. Below – Ron Narducci
dicing with Tom Kotary at Fonda with the car he may have had in 1961.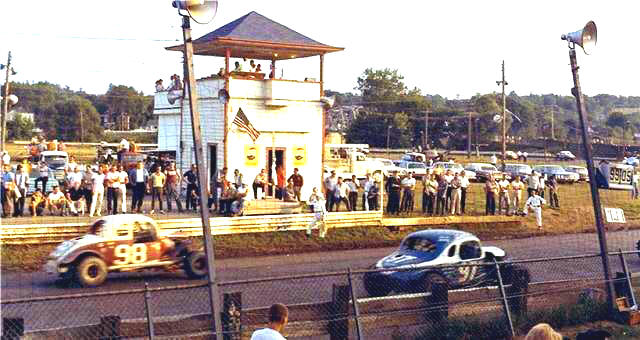 Russ Bergh Photo

Fourth place was even stranger: finishing a scant 30 points behind Narducci was a Ridley Park, Pennsylvania driver named Jim Smith. While that sounds suspiciously like a racing name, there was no need to hide ones identity at a NASCAR track. Smith either used a local car or actually hauled all the way from Ridley Park frequently. Ridley Park was a mind – boggling distance from Menands, deep in the heart of that PA/NJ/NY region where guys raced at Flemington and such. With some interstates as yet uncompleted he either was driving around 7 hours one way or knew someone with a private plane.
Then it gets fun. Fifth was journeyman Delanson, NY driver Wayne Coon. Not one to have equipment as good as the "big guys", Coon did seem to do better around that time. I saw him once at Otter Creek in 1961. Coon edged out Jack Sleicher by 18 points. Sleicher, at least for some of his career, was a Pine Bowl Speedway regular; apparently he ran NASCAR then. The future 1966 NASCAR National Modified Champion, Ernie Gahan [Dover, NH] was seventh; not that surprising seeing as he would leave Dover weekly and travel to New York, racing there until he's sometimes go home by Monday.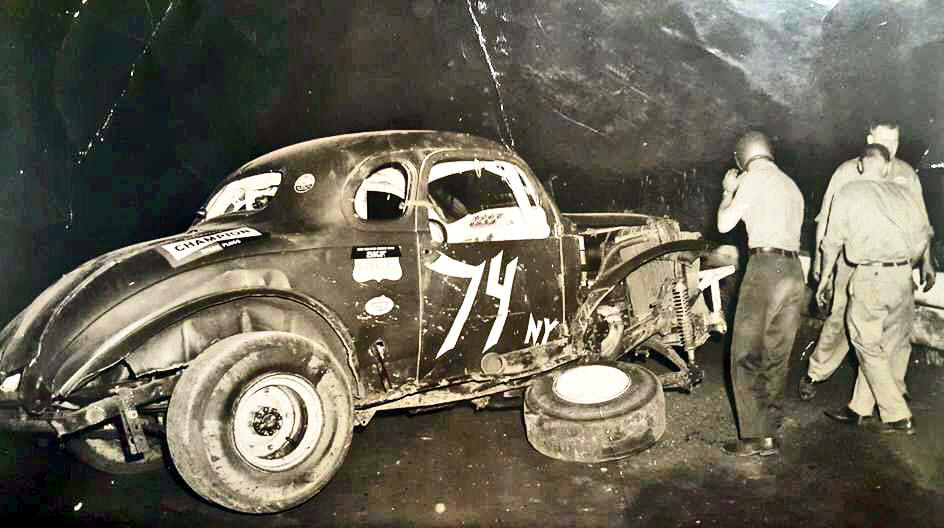 Courtesy of Johnny LeClaire
This is said to be Wayne Coon, surveying damage to his George
Hall – owned 74. Below – Ernie Gahan raced well enough and kept
his equipment sound enough to make a living driving NASCAR coupes in states away
from New Hampshire, his home.


The part is absolutely delightful. Mooers Forks, NY's Dick Nephew and Lisbon, NY's Bill Wimble are eighth and ninth – two points apart. They finished the race for the NASCAR National Sportsman Championship that year TIED, so Empire was a microcosm of that entire season's legendary points battle. Running Empire, for Wimble, was a lot less effort than for Nephew, whose base of operations was almost literally on the Canadian border in northeastern New York.
Tenth place was taken down by another man who did not usually venture to New York to race. Tony Mordino of Waterbury, CT, a fixture at many of those paved ovals in Connecticut and Massachusetts, must have made a few trips to Menands [perhaps because of the odd night they raced]. The next three were temas one would expect to see running there: Howie Westervelt, a veteran who bounded back and forth between Fonda and the Valley; Irv Taylor, another veteran from nearby Rexford; and Eddie Pieniazek – then driving Richard Welch's 77 out of Schenectady.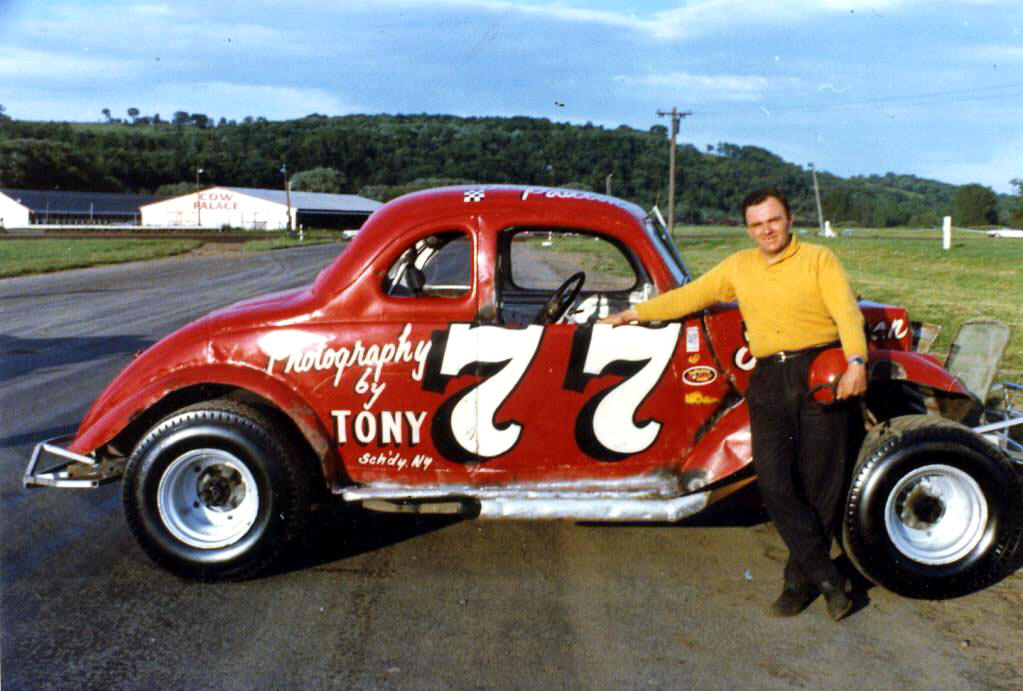 Russ Bergh Photo via Ron Wetzler
Ironically, both Irv Taylor [above] and Eddie Pieniazek drove the
Richard Welch 77 in this approximate time period. I would have to
guess Pieniazek [below] had it at Empire, judging the year.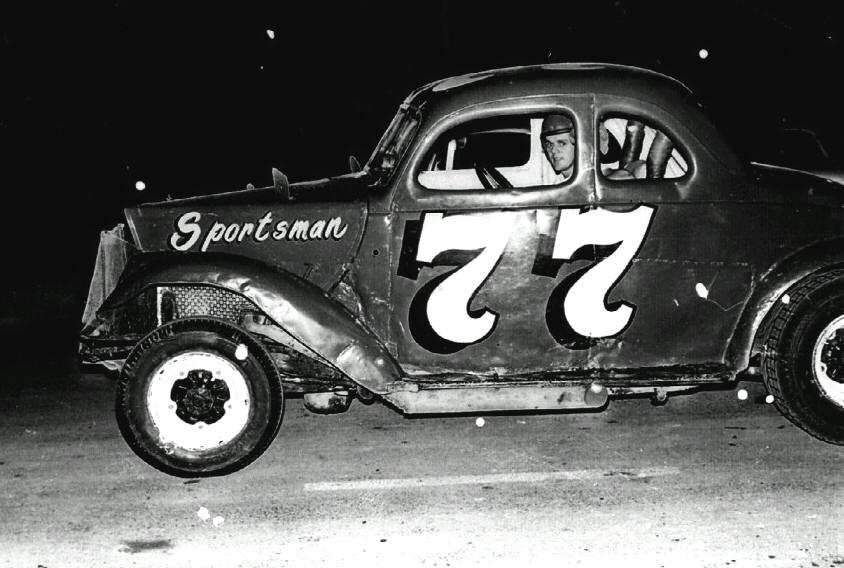 Russ Bergh Photo Ladabouche Collection
Next comes a name you see usually with racing in that region of Orange County, Middletown, NY, Old Bridge Speedway, NJ and some southern New York ovals – John Gouveia. He was making good finishes in the national points races then, so it isn't a complete surprise. Actually about everyone from Mordino down had so few points that they weren't racing at Empire much. Eleventh place Westervelt down to eighteenth place Ernie Reid were only separated by 20 points.
Fifteenth place finisher Jeep Herbert, from nearby Rotterdam, was another veteran who – like Taylor and Pieniazek usually drove for a car owner.
Following Jeep was a man who did run Fonda , from time to time, but who was largely associated with the Midstate track at the Morris, NY fairgrounds. Harold Betts may be best remembered for taking the racing name of Bugs Bunny; but, unlike all the others who used one, his name stuck. I recall Fonda announcer Mike Valchovic intoning in his nasal, singsong style: "Buuuugs BUN – NEEEE, from CO -bul - skill".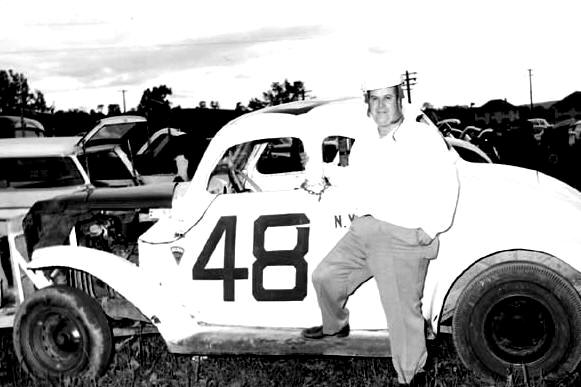 Courtesy of Otto Graham
Harold "Bugs Bunny" Betts with an earlier car. Below – Johnny Gouveia,
who was also running tracks like Old Bridge, NJ that year from out of
White Plains, NY.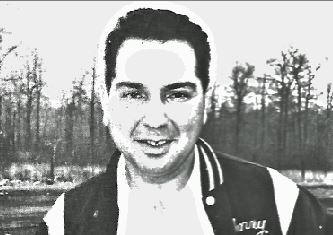 |
From Cavalcade of Auto Racing

Behind Betts was a man who, again, became much famous for something other than driving a stock car. Roland Belanger, from all the way down to Hartford, CT, must have liked what he saw in New York because he settled down near Malta and partnered with Lennie Bosley in the famed L&R Speed Shop. What's more, Belanger's 302 coupe became a fixture up here with drivers like George Pendergast, Paul Hamel, and many more.
Ernie Reid, ordinarily a regular at the same tracks as Dick Nephew, hauled down a couple of times from Massena, which is right on the St. Lawrence river. Another driver for hire, he had run cars for a large number of owners, going back into the 1950's. Ninteenth place Edward "Doc" Blanchard was the ultimate journeyman. He had begun running a car for Herb Roots, Sr. and had made trips all the way to us in Vermont at times. Blanchard was seen by the racing world when Stock Car Racing magazine put a shot of Don Diffendorf's red, white, and blue sedan on the cover; Doc's Valiant was running alongside.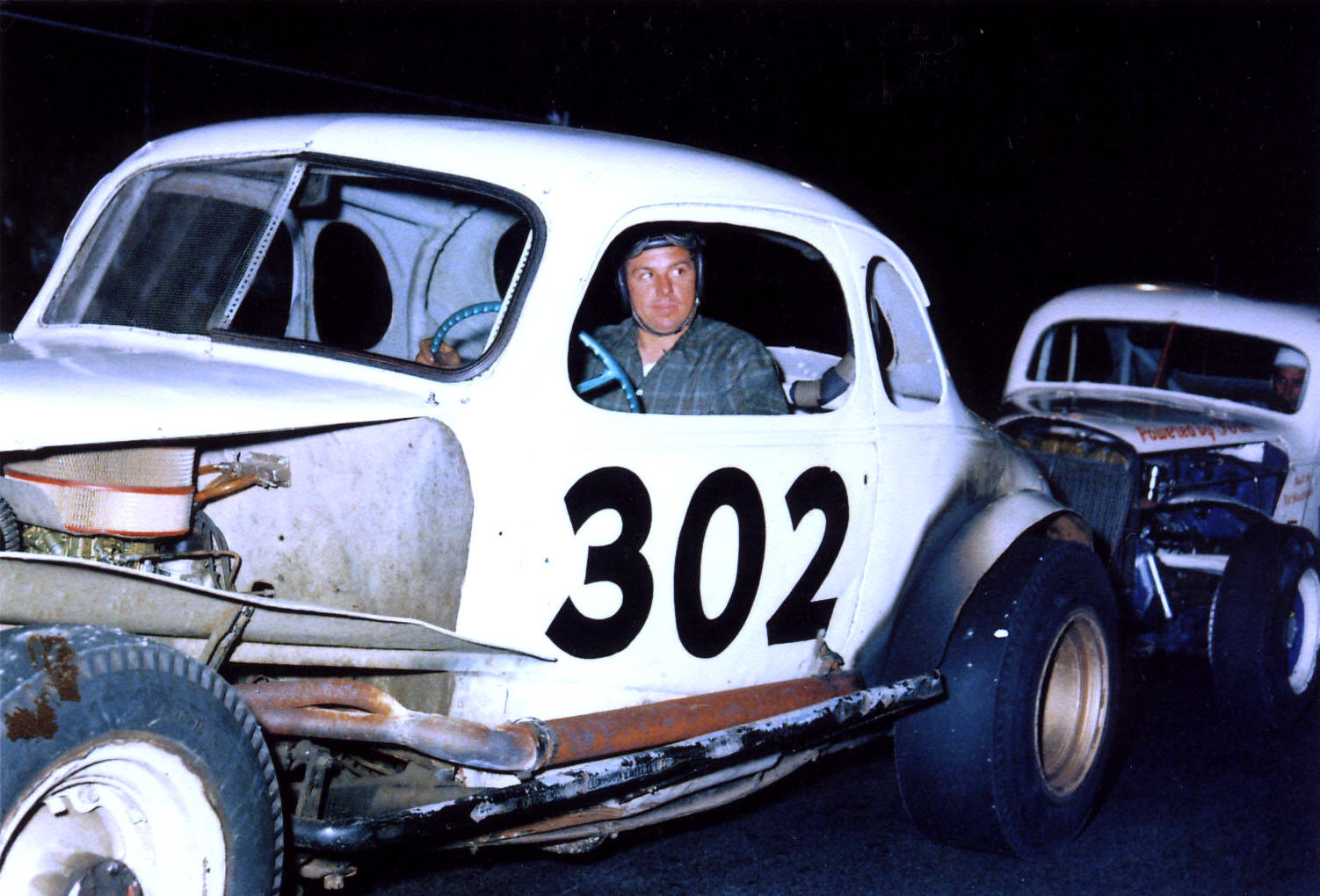 John Grady Photo
The Roland Belanger 302 [when fairly new] at Malta. That
car and driver George Pendergast would lead the points at
Albany – Saratoga for ages around 1965. Below – Ernie Reid
may have run this Ross Reil car in a good points chase in 1961.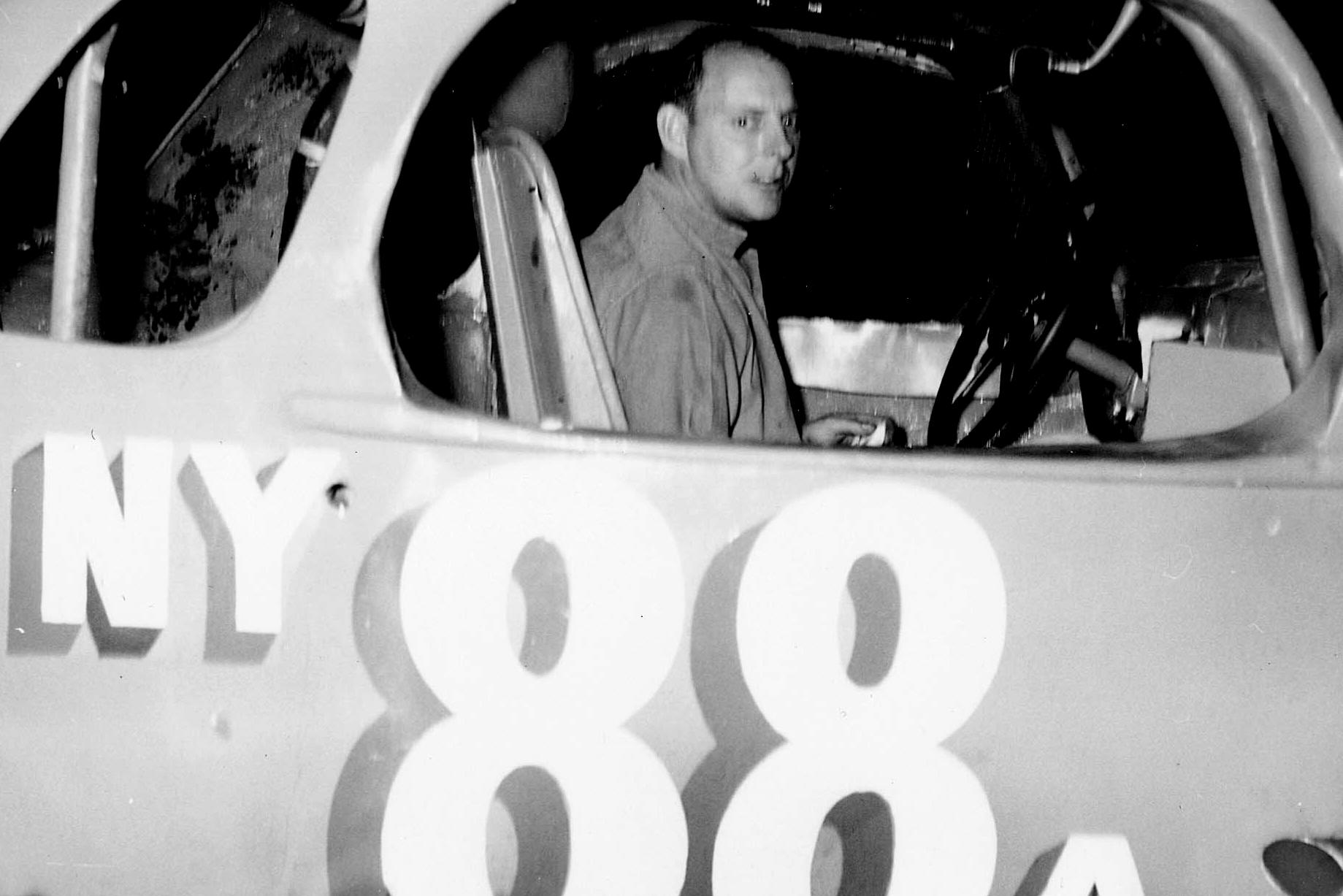 Bob Mackey Photo
The top twenty were rounded out by Bill Fowler. Fowler had started in he racing game at Pine Bowl with Jim Brush of the famed Brush Radio #27. Fowler would branch out to his own spinoff 27Jr. Apparently, driving was not his thing as he would seek out Westmere veteran Jolly Ollie Palmer to drive the car soon after. Fowler's 27Jr would be a fixture up into the 1970's with a string of drivers that included Shoemaker, Charland, Robbie Kotary, and Jerry Pennock.
That season at Empire Raceway seemed to attract two types: those who were chasing every NASCAR point they could get and those local who just wanted somewhere to race besides the terribly – competitive Fonda. Nephew and Wimble, tied for the national title; Jim Smith finished third [just ahead of another well – traveled Pennsylvanian Jack Hart;] Charland was fifth [and would go on to four consecutive national titles after that]; Reid would finish tenth; Gouveia would take twelfth – ahead of Corey; and Westervelt would take twenty – first, just ahead of Narducci.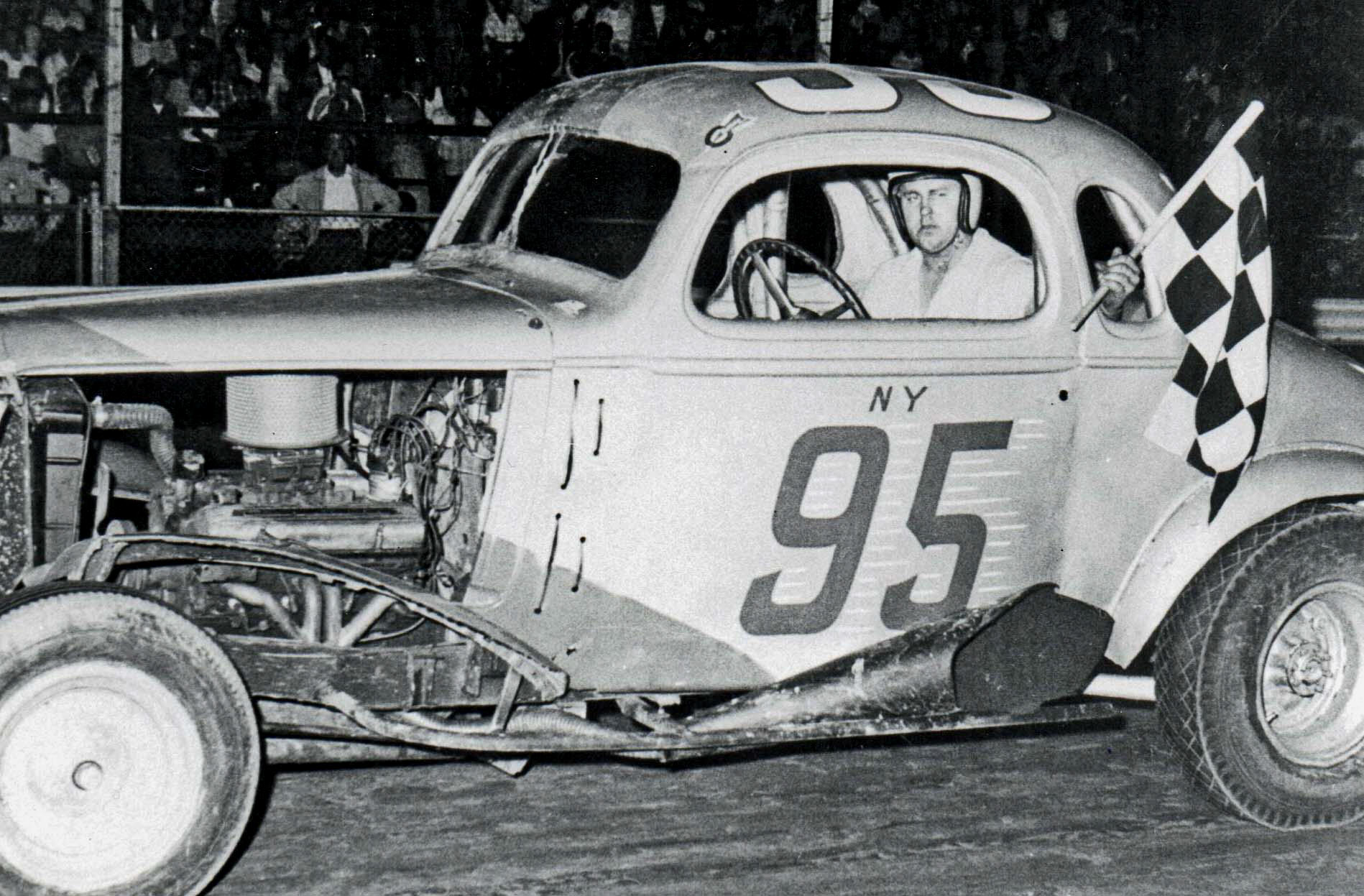 Russ Bergh Photo via Bob Novak
Doc Blanchard, with a car he would have had around this time.
I saw with it at Otter Creek Speedway. Below – Doc's more
famed pavement Valiant on the magazine cover.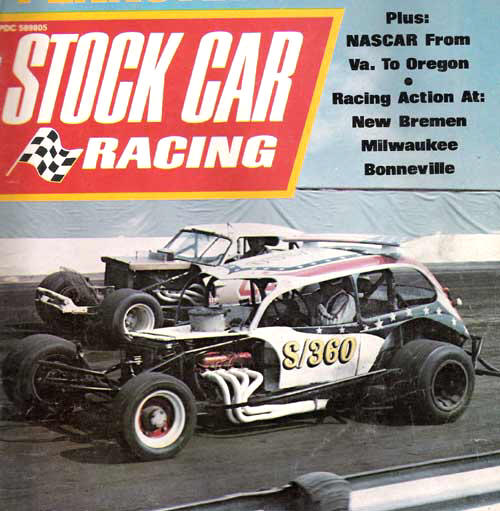 Photographer Unknown
The best part of that season at Menands was not the points chase – it appears that either not everyone who raced there was qualified to get points, there was only a handful of races, or only a handful of teams made the show with any regularity. Running on an off night became the things for a bit during the 1967 – 73 run of the All Star Racing League. But, the mixture is best thing. Much like Victoria Speedway later, Empire drivers in 1961 were coming from dozens of tracks, at least four states, and a wide range of racing budgets. It must have been a hoot to go there, if you didn't live too far away.
Please email me if you have any photos to lend me or information and corrections I could benefit from. Please do not submit anything you are not willing to allow me to use on my website - and thanks. Email is: wladabou@comcast.net . For those who still don't like computers - my regular address is: Bill Ladabouche, 23 York Street,Swanton, Vermont 05488.
AS ALWAYS, DON'T FORGET TO CHECK OUT MY WEBSITE
www.catamountstadium.com
Return to the Main Page
Return to the Main News Page
Return to the All Links Page
Return to the Weekly Blog Links Page