BILL'S [Somewhat] WEEKLY COLUMN/BLOG PAGE

BILL'S BACK IN TIME
By Bill Ladabouche

THREE GUYS - THREE DIFFERENT DIRECTIONS
There's this photo I have had and enjoyed for decades. It came fro the Rutland Herald and was put into the paper back when C.J. Richards was still actually tying to forge a relationship with that paper to help promote his relatively – new race track called Devil's Bowl. Simply put, it shows three area men working on the newly – obtained sportsman coupe of Rutland driver driver Chet "The Jet" Doaner.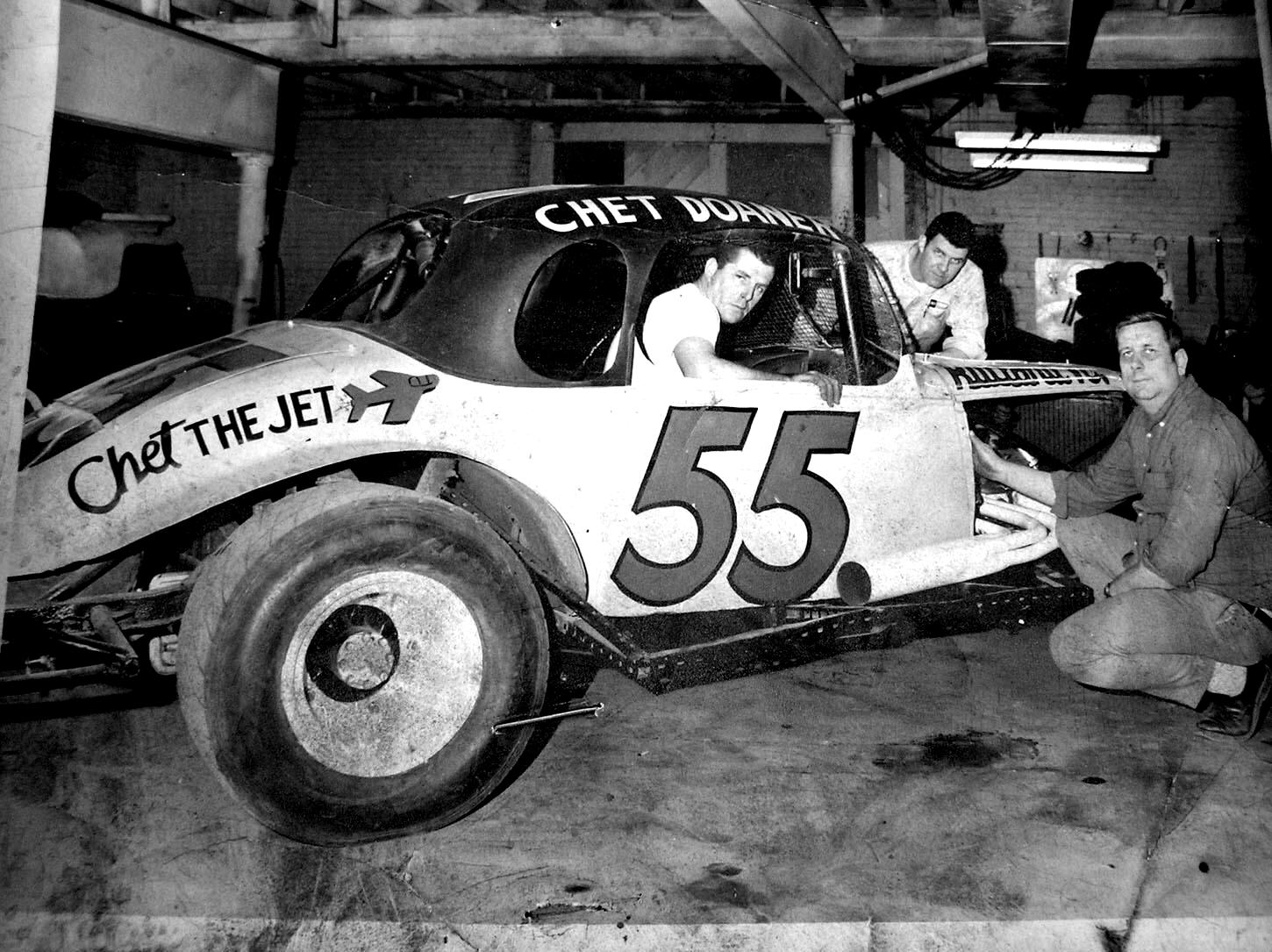 Rutland Herald Photo Ladabouche Collection
Chuck Blanchard [in car], Bill Anderson [right], and C.J. Stewart pose with
Chet Doaner's former Pete Corey coupe in Rutland in 1968.
The road to get to this photo is interesting in itself, but the stories resulting after it are also pretty compelling. Doaner, a local hardware store employee had already made somewhat of a name for himself racing go – karts before showing up at Fairmont Speedway around 1963 or 4 with a flathead coupe he had bought over at Claremont Speedway in New Hampshire. He made a pretty good splash that year, winning rookie of the year awards.
Encouraged by the first year, Doaner returned with an even better Claremont flathead coupe the following season. I recall him as being right up in the forefront of many races. However, my best recollection of that car was him speeding by the grandstands, the flathead spitting raw fuel out at us as it had completely blown a spark plug out.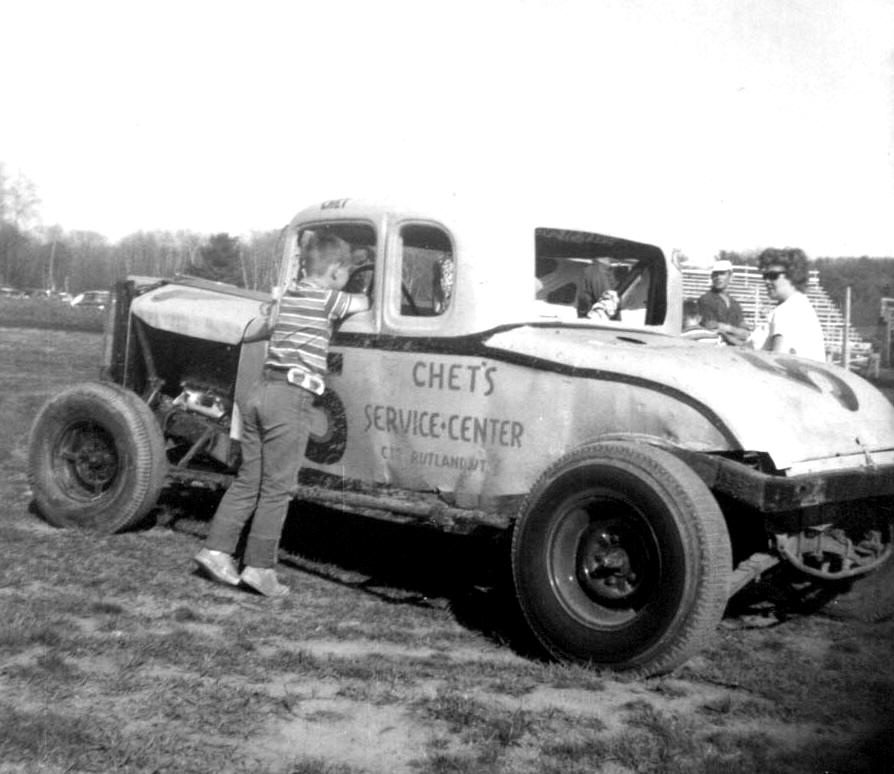 Ladabouche Photo
Chet Doaner's first car was not much to look at but he drove it to a rookie title at
Fairmont Speedway. Below - The second car was much faster [when it wasn't spitting
out plugs].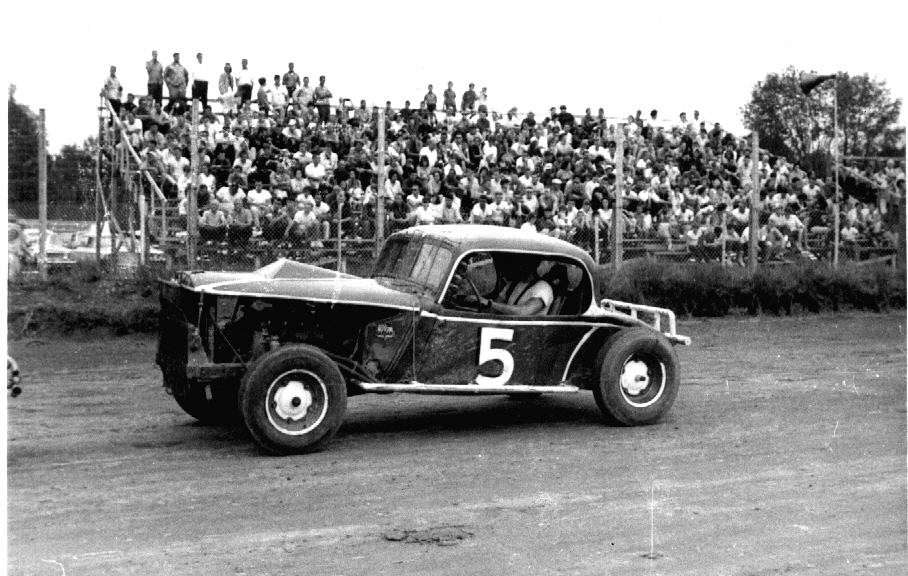 Courtesy of Chris Companion

Chet would then team with a Rutland racing figureI remembered from back in the early days at Pico Raceway – Al Romano. Romano, known as a tough driver in the early 50's, was also an ace mechanic. He took a 1936 Chevy coupe, chopped and channeled it, and ended up with a sportsman car that vaguely resembled a red bullfrog. If it reminded me of any race car, it would probably have been one of those strange little Wisconsin supermods that guys like Fuzzy Fassbender raced at tracks like Hales Corners.
Doaner had a fair enough year with the bullfrog car, but, in 1966, when C.J. Richards announced he would be leaving Fair Haven and building Devil's Bowl up the road at West Haven, Doaner left the bullfrog car for a Corvair – bodied sportsman that served him through the 1967 season. Then like competitors like Vince Quenneville and Ed Allen, he sought out a prominent builder to buy from to compete with hotter cars coming in from Fonda nd the Valley.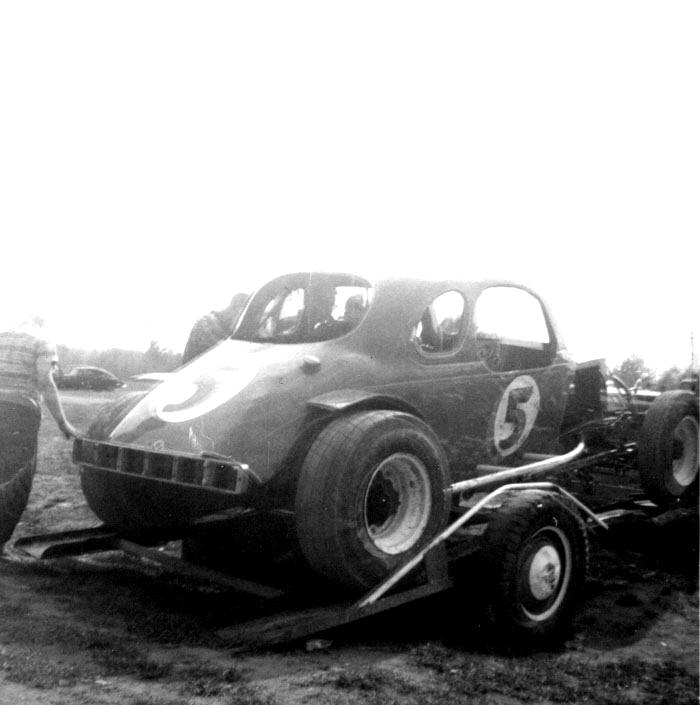 Ted Vogel Photo
1965 came, and with that came the bullfrog car. Below - When Devil's
Bowl opened, Chet came out with this Corvair – bodied sportsman.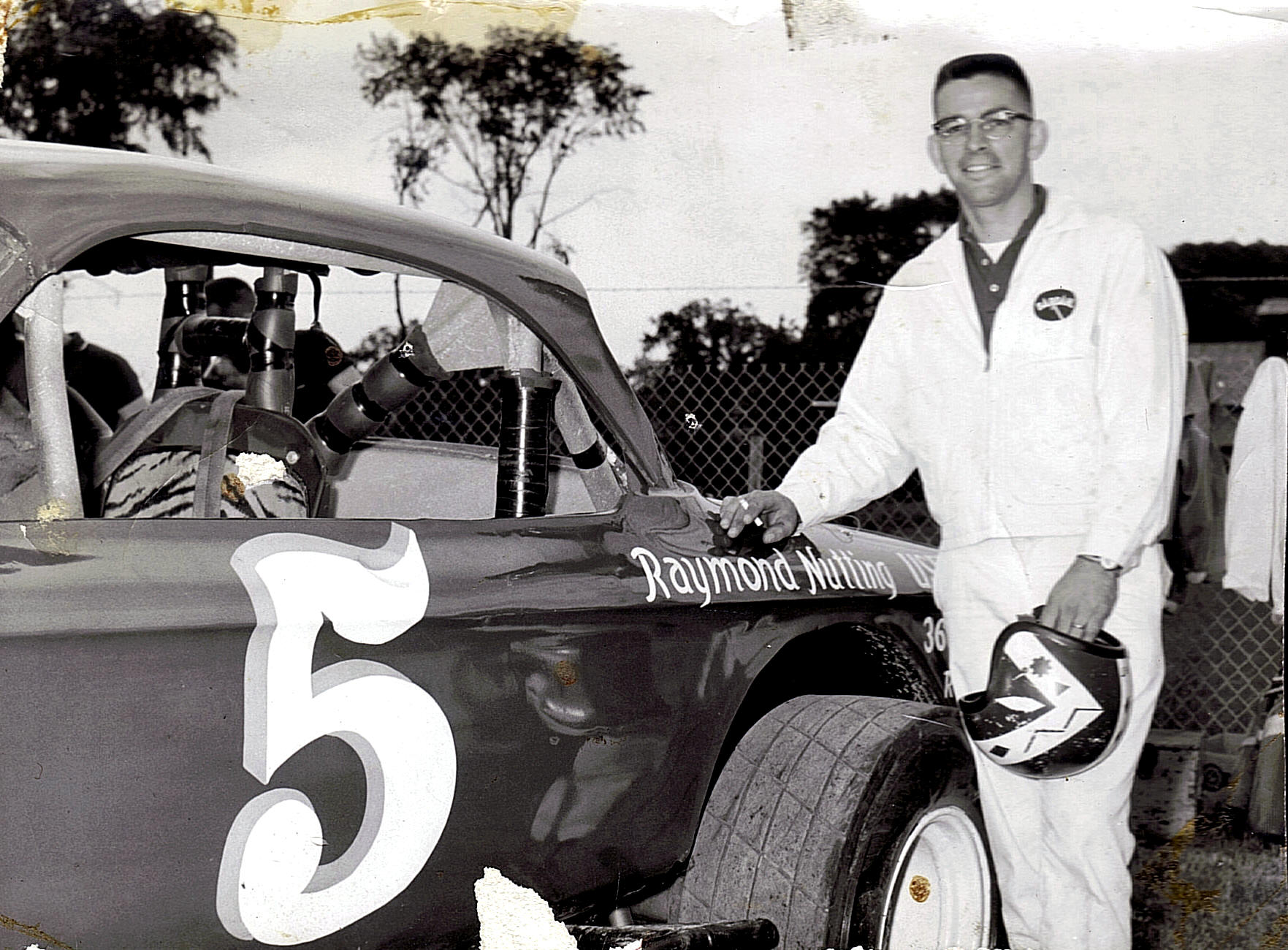 Courtesy of Mike Richards
Doaner would ende up buying one of Pete Corey's similar modifieds, the 3NY and the 1NY. Corey had visited the Bowl with the 1NY, having taken out he injected motor and putting in something legal for Devil's Bowl. I think that is the car Doaner came home with. Doaner, who had had a number of crew chiefs like Romano and Bruce Utley, now had assembled a crew of Big Bill Anderson [a former team mate of Romano's in the old days], C.J. Stewart, a Ford dealer from the tiny town of Cuttingsville, and future track official Chuck Blanchard. These are the men in the photograph.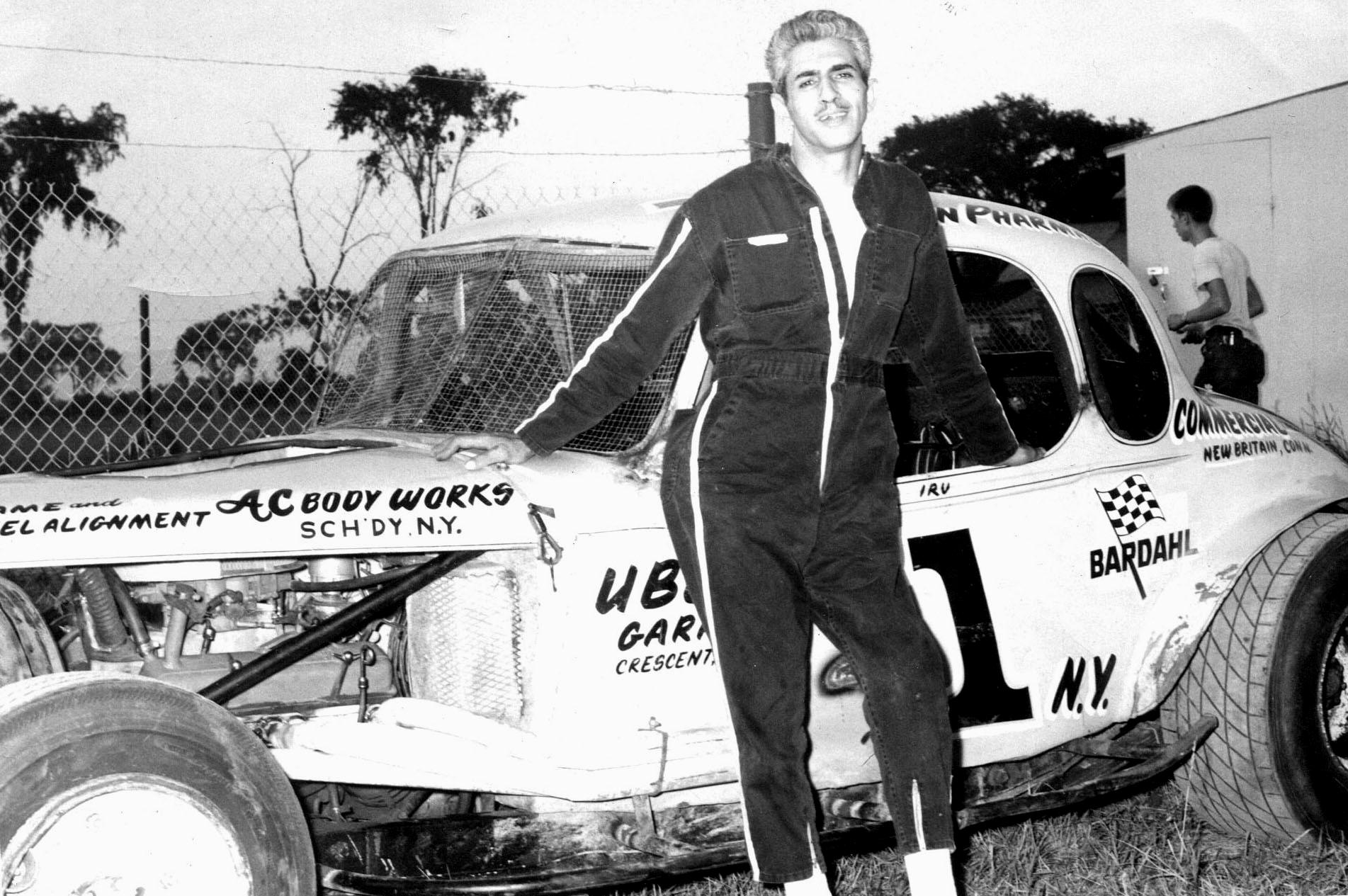 Bob Frazier Photo Courtesy of Norm Vadnais
Pete Corey posess at Devil's Bowl with his 1 car [usually driven by Irv Taylor]. Notice the hood has the opening for
injector stacks that have been removed for the night. Below - Doaner became Chet the Jet after getting that car and his trio of crewmen.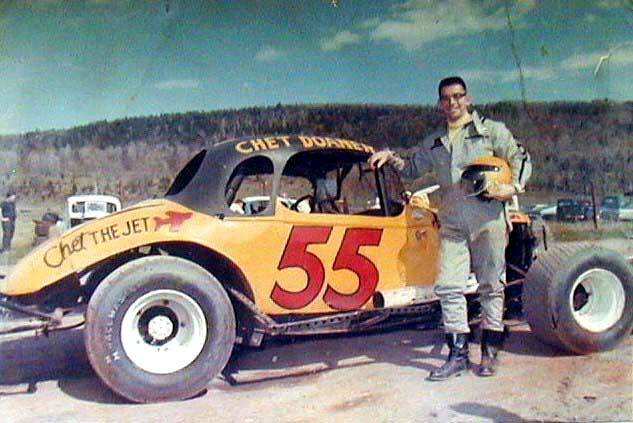 Bob Frazier Photo Ladabouche Collection


Doaner would run well with the Corey car, facing what might have been the stiffest and most even – matched competition the Bowl would ever see in 1968. Doaner would run the dirt until the bowl was paved in 1970. When Richards hooked up with NASCAR and went to unpopular pavement late model sportsman cars, Chet would briefly give it a try with a 1966 Chevelle. Like most of the other Devil's Bowl dirt regulars, the Northern NASCAR late model circuit was largely an exercise in frustration. Soon, I had lost track of Chet the Jet – but not his crew.
Chuck Blanchard first became a track official for C.J. 's Devil;s Bowl and Airborne tracks. Later, he would move up near me in Milton, Vermont. He would continue to serve as a Northern NASCAR official. His wife, Clare, would work for the school system, at which I also worked. I never got to know Chuck , Jr., but Gene Blanchard was a student of mine and a star on my sixth grade basketball team. I don't know if Chuck actually moved again; but I would see in photos of pit stops at places like Daytona, obviously a NASCAR official of some value. I know Clare served as a scorer at Catamount for some time.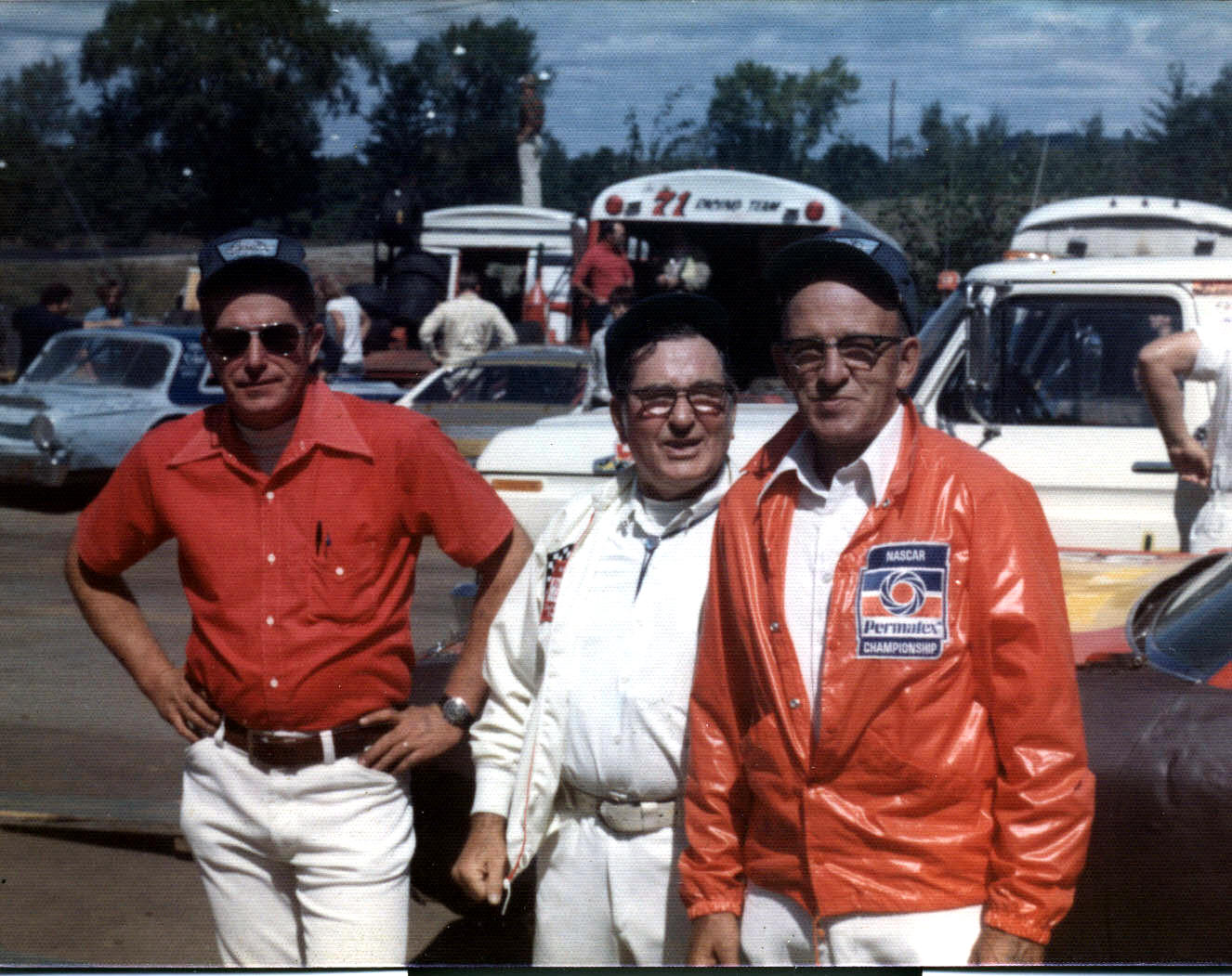 Courtesy of Cho Lee
Chuck [left] poses at Catamount with Chief Pit Steward Archie Blackadar and another Northern
NASCAR official. Below – Clem Despault sits in his Plymouth late model
as Chuck checks something out in the background.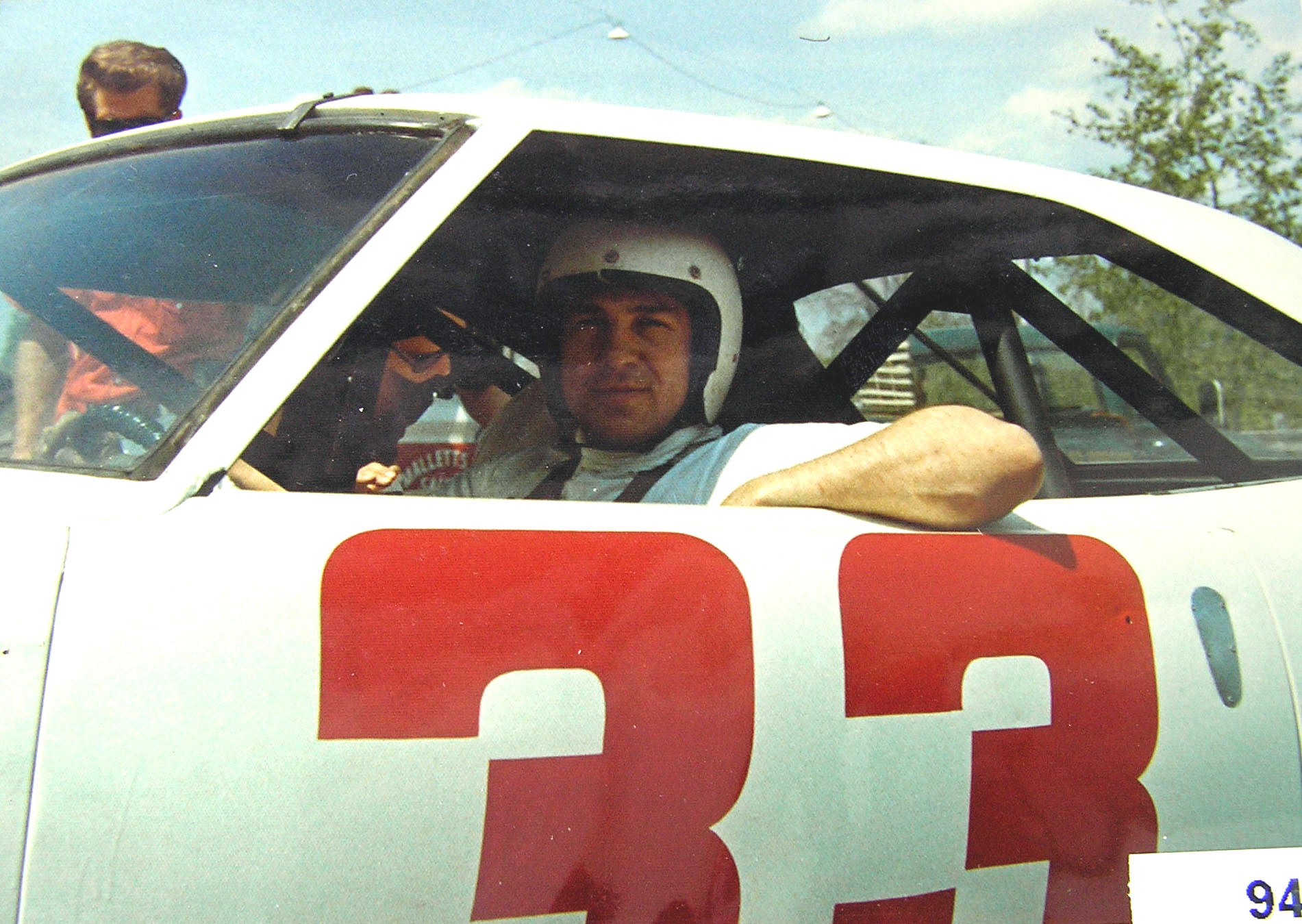 Courtesy of Cho Lee
|
Bill Anderson had been around the Romanos before they and two other partners had constructed Pico Raceway, a short – lived but nice race track near Rutland. Bill had driven one of the Romano race cars at the rustic track in West Lebanon, New Hampshire that was owned by the Goodwin family. Bill, best known around Rutland as a clothier and co – owner of the Carbine – Anderson mens' store, would remain around until the track closed. After that, I don't think he did much with the racing scene.
Big Bill told me at the only interview I got to have with him that he and Al Romano took a few trips to West Lebanon, NH to that track owned by the Goodwin family, two of shose sons raced there themselves. Bill maintained the family was not nuts about anyone coming in from "the outside" and beating their boys. Harold Hanaford [the recently deceased New Hampshire racing legend] concurred with this. Romano and Anderson were often put off the track by locals. Anderson says they had a car numbered 8Ball but most of his limited driving came with a Romano team car #33. Signage on the door shows that both he and Al drove the car before Al took over the far - superior 303 car.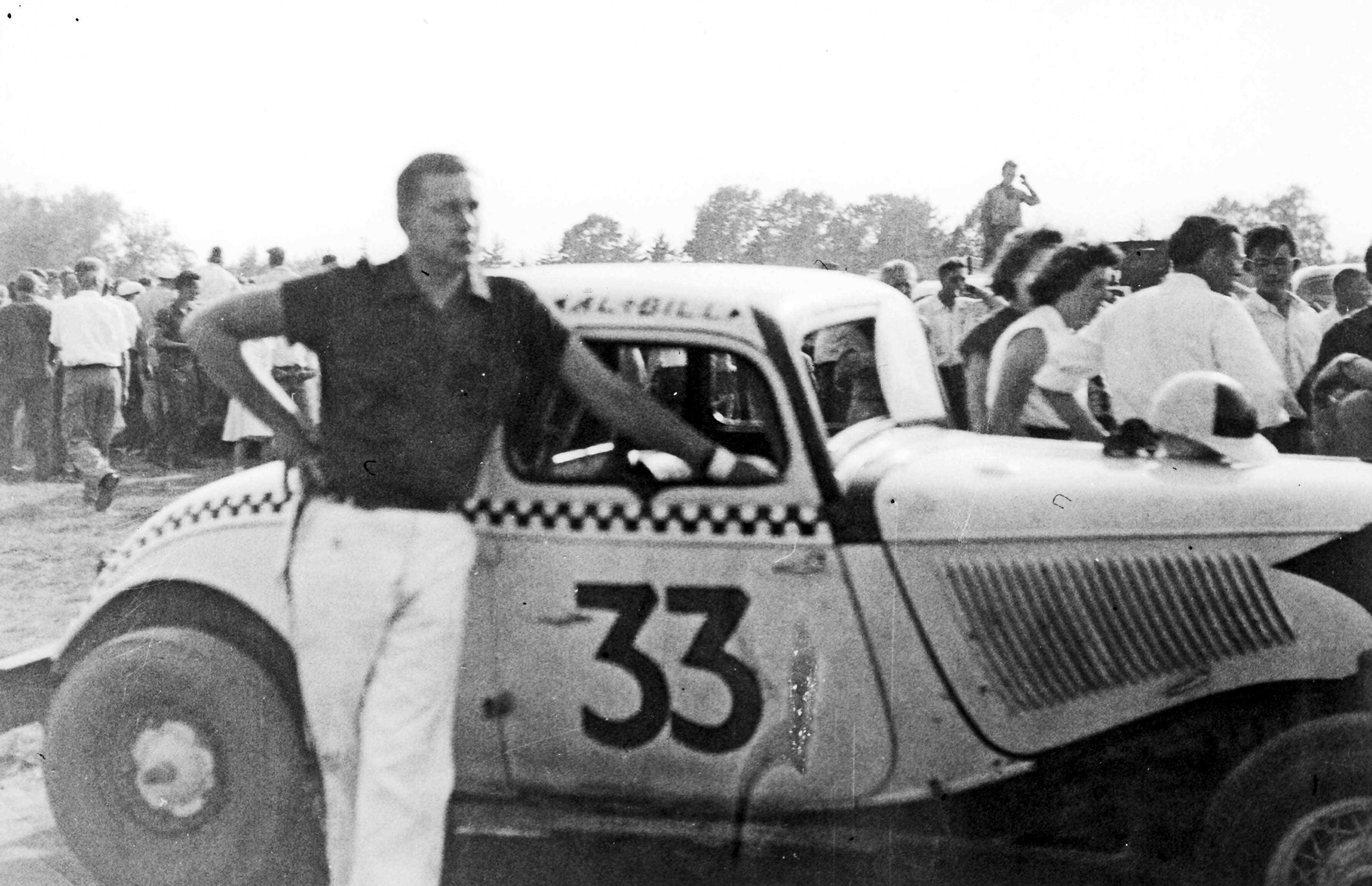 Courtesy of Corey Kennedy
The car 33, one of the Romano family team, was driven by Bill Anderson there in 1951.
Below – The Dion Torino bearing the Stewart sponsorship.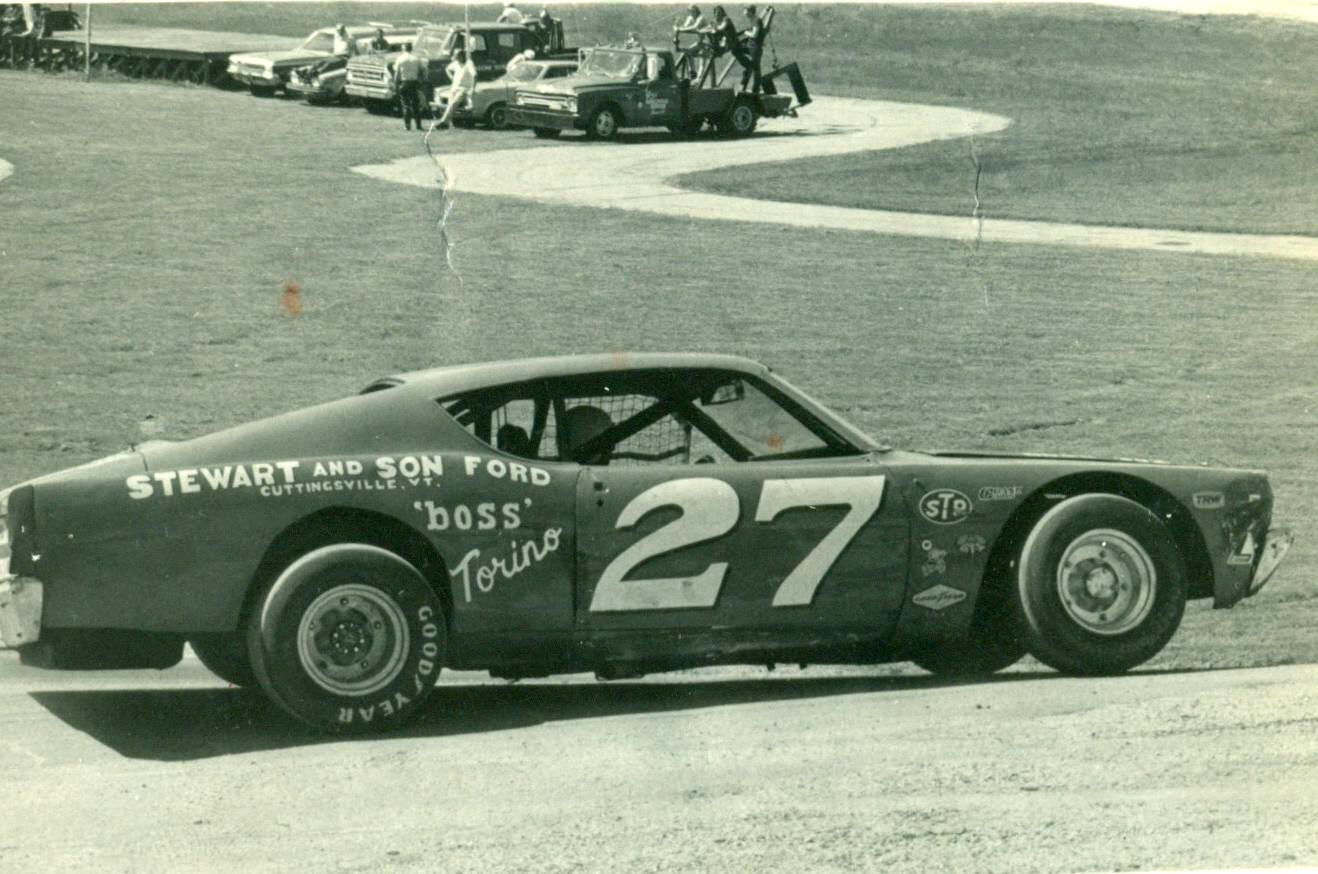 Courtesy of Stephen Beattie

C. J. Stewart was probably the best – known of the three former Doaner crew. Having taken over the small but effective Ford dealership known as J.C. Stewart Ford, he had followed Dave Dion's early impact on the difficult Northern NASCAR circuit. Once they had installed the dry sump system in their Fairlane, the Dions were positively superb- particularly on banked tracks like Catamount and Thunder Road.
When Stewart came on board as a major sponsor with the Dion brothers, the car was on the cutting edge of many innovative ideas on the circuit. Not hat they spent money excessively, but he Dions tried things and many of their efforts bore fruit. I recall seeing Stewart standing in the pits at Catamount wearing a Good Year hat. In those days, you ran whatever tire you wanted, providing they were not of some illegal compound or specification. These were the years when the circuit was not just a battle of star drivers or makes of car; but, Good Year, Firestone, Hoosier, M&H, and McCreary all appeared on their various cars.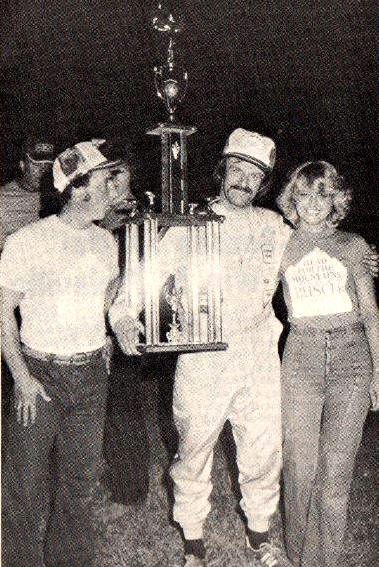 Denis LaChance Photo
Dion, in Victory Lane with Miss Busch. Stewart, in the background at left,
always stayed out of the limelight. Below - I think that is Stewart,
standing on the track at Catamount, talking to Dion fans.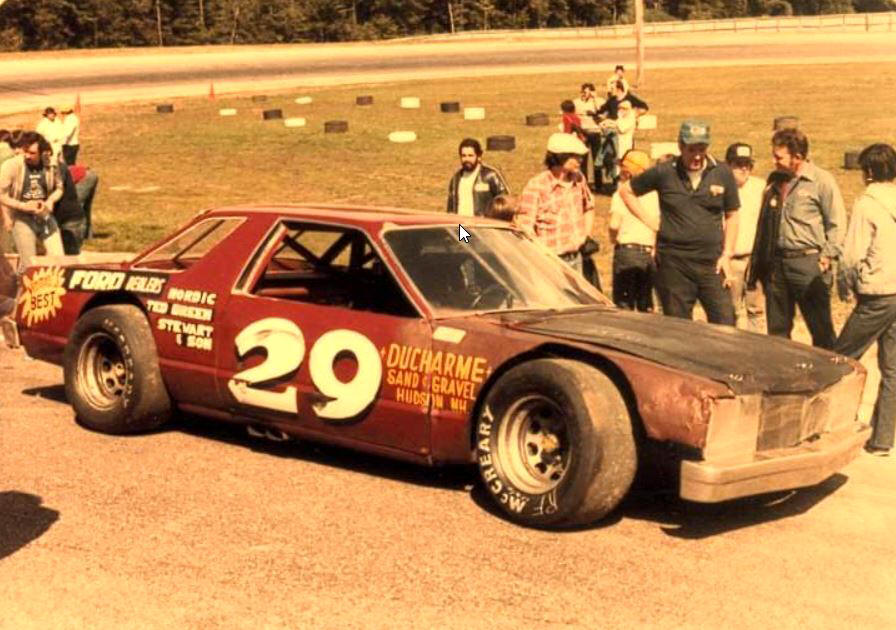 Source Unknown
Dion would go into that vexing 1973 season [with the five track a week schedule] and – along with Bob Dragon and a few others – really established himself as a bona fide superstar with not only Northern NASCAR but with late model sportsman racing in general. Southerners surely knew his name [and they were still kind of jaded at that time, convinced of their superiority].
Eventually Dion, Stewart – or maybe both – would forge the Stewart Ford sponsorship into one of the Green Mountain Ford Dealers. That would limit Stewart's visibility somewhat and he would not be seen as much as before. But, if you went back into the 1970's and asked for a prominent late model sportsman sponsor, his name would very likely pop up.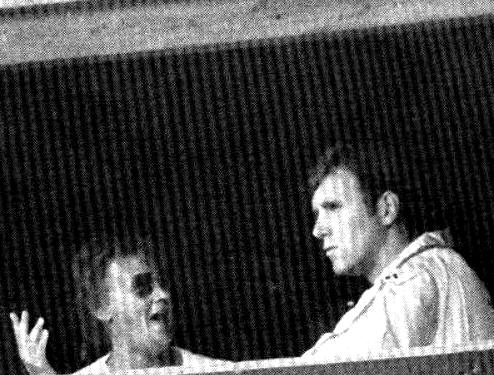 Source Unknown
Bob Dragon discusses a scorers' decision with Clare Blanchard. It very well could have involved the Dion car C.J. Stewart sponsored then.
One thing that is great about sports – and racing in particular – there is room for the prominent figures of earlier days to have meaningful role in the present day proceedings. That was certainly true of that 1968 sportsman racing crew that Chet Doaner put together for his yellow and black "Chet the Jet" #55 car ! Younger people around racing today don't always notice the gray – haired guy sitting in the background near one of the new cars of the 21st century; but – chances are – he was the young hot shot, in some capacity, some years ago.
Please email me if you have any photos to lend me or information and corrections could benefit from. Please do not submit anything you are not willing to allow me to use on my website - and thanks. Email is: wladabou@comcast.net . For those who still don't like computers - my regular address is: Bill Ladabouche, 23 York Street, Swanton, Vermont 05488.
AS ALWAYS, DON'T FORGET TO CHECK OUT THE REST OF MY WEBSITE
www.catamountstadium.com
Return to the Main Page
Return to the Main News Page
Return to the All Links Page
Return to the Weekly Blog Links Page