BILL'S [Somewhat] WEEKLY COLUMN/BLOG PAGE

BILL'S BACK IN TIME
By Bill Ladabouche
The Vermont – Airborne Pipeline
A recent announcement that established Devil's Bowl's Mike Bruno as a director of racing at Airborne Park Speedway attempted to sound like the concept was something new and unique. While apparently a good idea and necessary both the hiring of Bruno in this capacity and the plans of the two tracks towards cooperation are nothing new. Airborne's principal owner, Jamie Atkins, simply does not want to have to take over most aspects of running the track in the wake of Mike Perrotte's departure.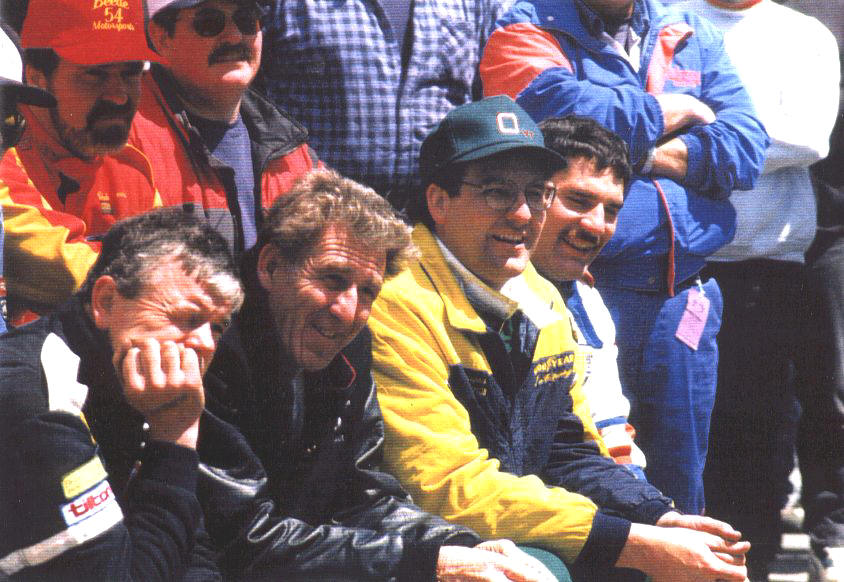 Dragon Family Photo
This ACT pit meeting from Thunder Road around 2004 speaks volumes. Mike Bruno [front row seated far right] is running a late model in the ACT. Brent Dragon [yellow clothes] currently runs races at Bruno's Devil's Bowl track. Beaver Dragon [2nd from left] regulates Vermont tracks as a racing commissioner now. Below – Maurice Broderick[left], who first reached out to Vermont and C.J. Richards. Here he is shown with his photgrapher Bob Mackey and offical Ken Duquette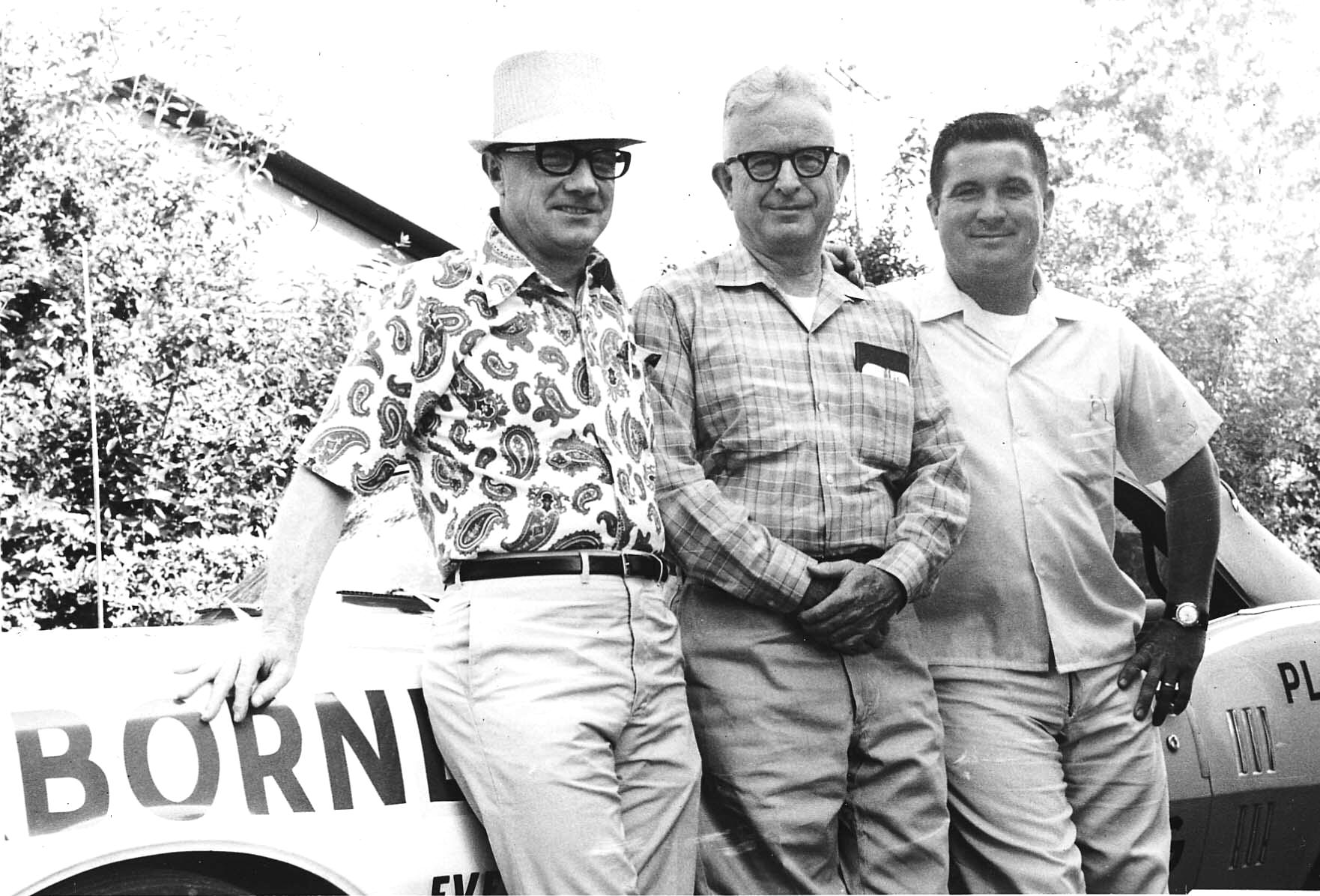 Bob Mackey Photo Courtesy of John Rock


There has been a special connection between Vermont and the 60 year – old Plattsburgh tracks since the latter's inception in 1954. When the triumvirate of Maurice Broderick, Bert Blake, and Lyman Burnell started Airborne, there were not many local Plattsburgh area men racing in stock cars, whereas Vermont had been running such races at many tracks [22 simultaneously in 1951] for at least five years prior to the New York track. The result was that, in the first year of Airborne's operation, Vermont drivers [along with a number of cars from the Canton, NY area] not only filled the Airborne fields at first but dominated the action.
Burlington, Vermont's Bob Bushey still holds a record for the most feature wins in a season at Airborne, accomplishing this with fast, cutdown, lightweight cars typical of what were racing in the Colchester, Vermont area at the time. Bushey was joined by the likes of Jackie Peterson, South Burlington; Gordy Owen, Williston; Frank Hart, Alburgh; and Rex Shattuck, Burlington – to name a few of the Green Mountain State contingent. A group from the Bouquet Valley area well south of Plattsburgh had been racing open wheel cars all over the region for six years; but, those New Yorkers from the area trying stock cars were few in number and light on experience.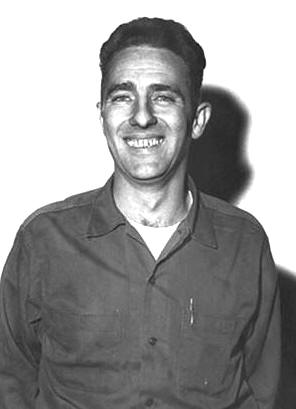 McIver Photo Courtesy of Cho Lee
Vermonter Rex Shattuck won the first Airborne feature with only seven cars in the race. [Below] Bob Bushey,
another Vermonter, ruled the roost at Airborne that first year with something like seven victories.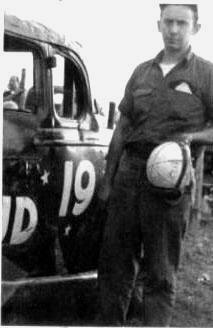 Bob Mackey Photo Courtesy of John Rock


Somewhat into that first season, the locals began to come along and the racing, from that point on, at Airborne was a nip and tuck battle with the locals and the various invaders each claiming their share of wins. New York locals such as Dick Nephew, a future national champion from Mooers Forks and his neighbors, the Trombley brothers were among the best developing Empire Staters. Others included Rusty Reed, George Bridges, Ernie Reid, and another northern New Yorker from further west – Bill Wimble, of Lisbon.
Then, too, New Yorkers started to pour in from further away. Waddington's pugnacious Sterling "Buck" Holliday and his temperamental car owner Floyd Geary were probably the best of these. Eventually, into the second season, the track [because of its convenient Friday night racing] was attracting some of the best from central New York and the Capital District, as well. The 1955 point standings show an eclectic mix of Vermont, Plattsburgh area, and central New York in its best finishers. Wimble, now driving the light and potent Gaylord Rowe T-800 Ford beat out the already – famous Steve Danish of Cropseyville for the title. Vermonters Bob Bushey and Red Dooley were next, with fifth going to a local named Al Plummer, who all bust disappeared after that season.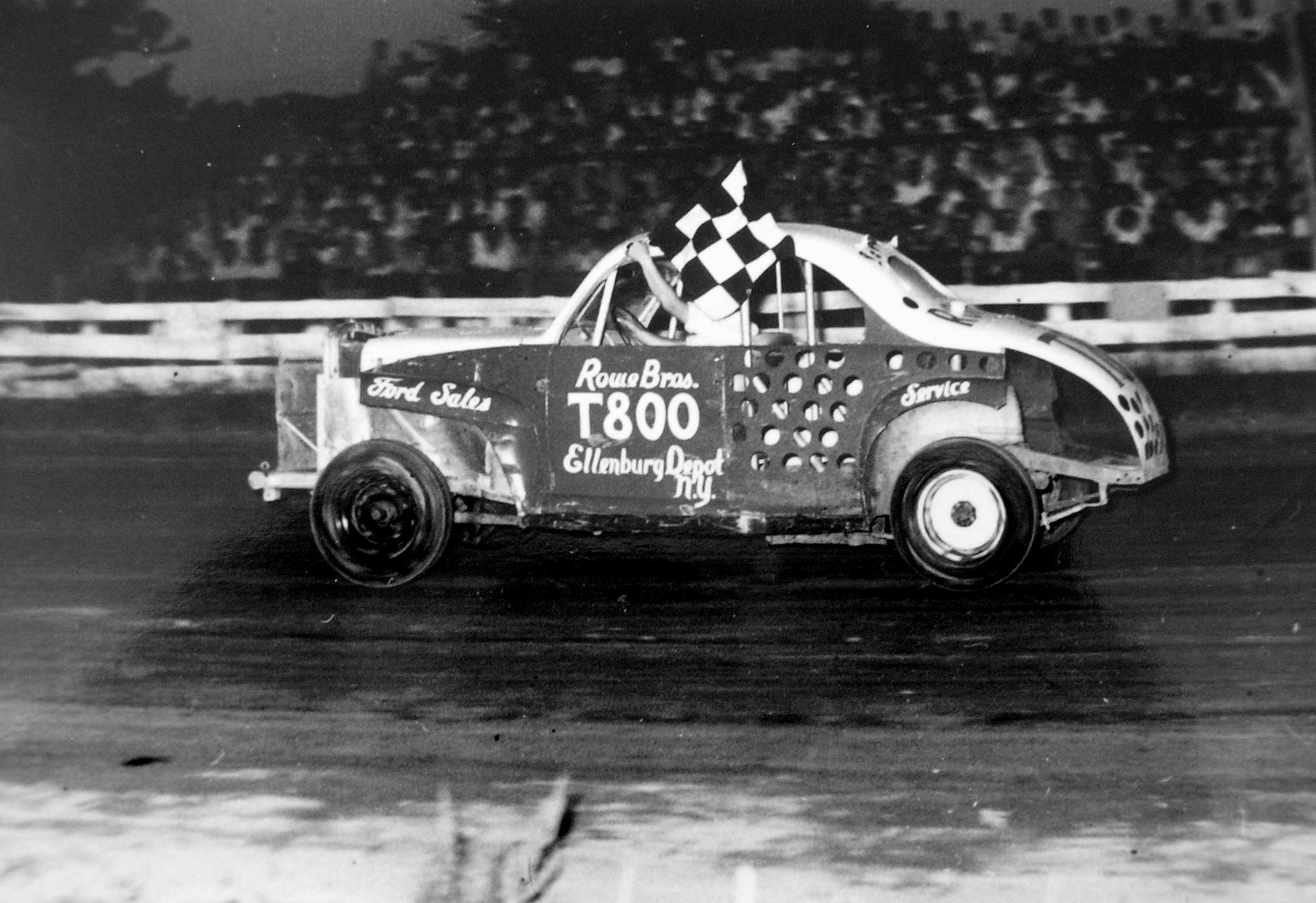 Gaylord Rowe Family Photo Courtesy of Gary Nephew
Airborne began to go into the big time by its second season and the Vermonters would start to fall back a bit. [Above] Bill Wimble, with the potent Rowe T-800 barely edged out Steve Danish [Below] for the 1955 track championship.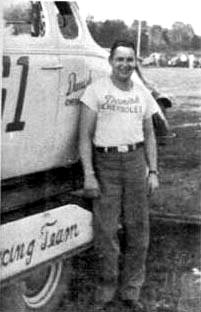 Bob Mackey Photo Courtesy of John Rock

By the end of the 1950's with the track joining NASCAR and the track eventually paved, the Vermonters started dropping out. There was some interaction between Airborne and the now – NASCAR – sanctioned Colchester – Bayview Speedway [the last and best known of the five Colchester tracks to have operated]. This was getting into the era of northeasterners chasing the NASCAR National Sportsman Championship, and points would be gotten wherever they could be. Wimble, who won the title in 1960 and Nephew, who tied Wimble for that honor the following year, would run anywhere they could to gain points.
Colchester – Bayview died out by 1960, and – the following year – a rustic track opened in Hi Monroe's pasture near Vergennes. Monroe and partner Lee Tucker had the foresight to grab Colchester – Bayview's NASCAR sanction, which meant the dusty half mile would attract a number of New York state sportsman stars seeking easy national points. Nephew, Bob Bruno, Ernie Reid, and Jim LeClaire were among the Airborne drivers making regular stops at Otter Creek Speedway to race against the likes of Ken Shoemaker, George Baumgardner, Paul Marshall, Dutch Reed, Nelson Moore, Doc Blanchard, and more from the Capital District [and Fonda Speedway]. A few refugees from the earlier days of Airborne such as Shattuck and Dooley also ran in a hobby class along with future late model hall of famer Beaver Dragon and Dirt hall of famer Ed Foley.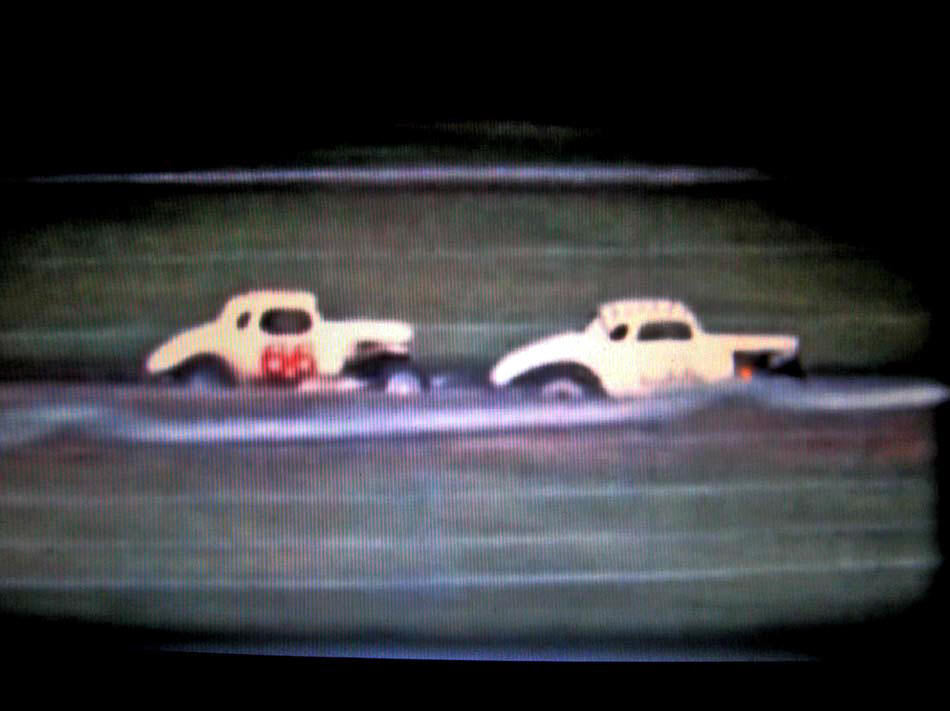 From Dan Ody's 8MM Old Speedways DVD
Otter Creek's first year featured a number of Airborne runners including Jim "Sapphire" LeClaire in the Tucker C37 and Bob Bruno [66]. Below – By 1965, New York and Canadian sportsman coupes had invaded both Catamount and Thunder Road. See Airborne regulars Bob Bruno [66] and Charlie Trombley [5 7/8] in the rear.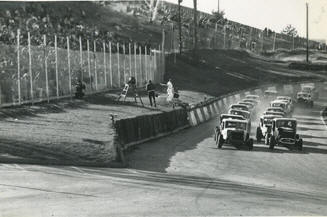 Bob Mackey Photo Courtesy of John Rock
After the 1962 season until around 1970, interaction between Airborne and Vermont was sparse, at best. Vermont's Northeastern Speedway and Thunder Road were taking most of the northern competitors, while C.J. Richard's Fairmont and Devil's Bowl speedways were doing the same further south. It could be argued that the biggest reason northern Vermont drivers were staying home was the creation of Catamount Stadium, a splashy, state – of – the – art track just north of Burlington in 1965. But, in actuality, the major portion of its first seasons' fields were from New York – both in the sportsman and Flying Tiger divisions. For a year or so, New York drivers from both Airborne and the bucolic Saranac Lake Speedway were not only populating the support division at both Catamount and Thunder Road, but they were dominant.
Jim LaFountain, a Ford driver from Peru, along with Bob Brunell, Joe Bruno, Richard Brown and others were having their way in Vermont, as the locals were learning how to handle late model support division iron. Eventually, the Dragon brothers, Tom Tiller, Ron Barcomb, Art Taylor, and a big contingent from New Hampshire became good enough to where the New Yorkers tended to stay across the lake. Then, for a few years, there truly wasn't much racing traffic going either way on the Lake Champlain ferries.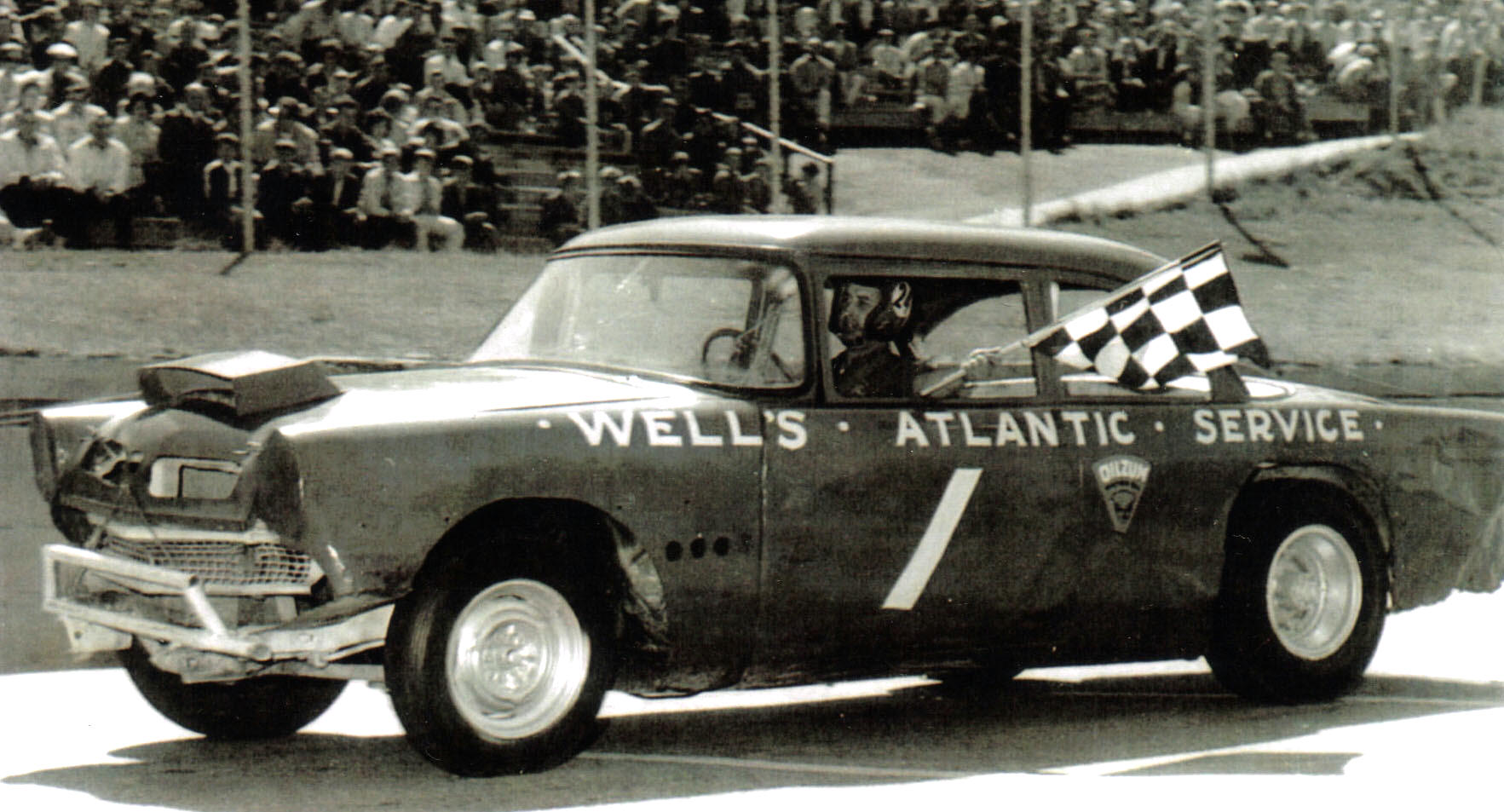 Bob Mackey Photo Courtesy of John Rock
Peru, NY's Jim LaFountaine [Above] and Milton, Vermont's Beaver Dragon
were the first two serious rivals in the support divisions at both Airborne and in Vermont.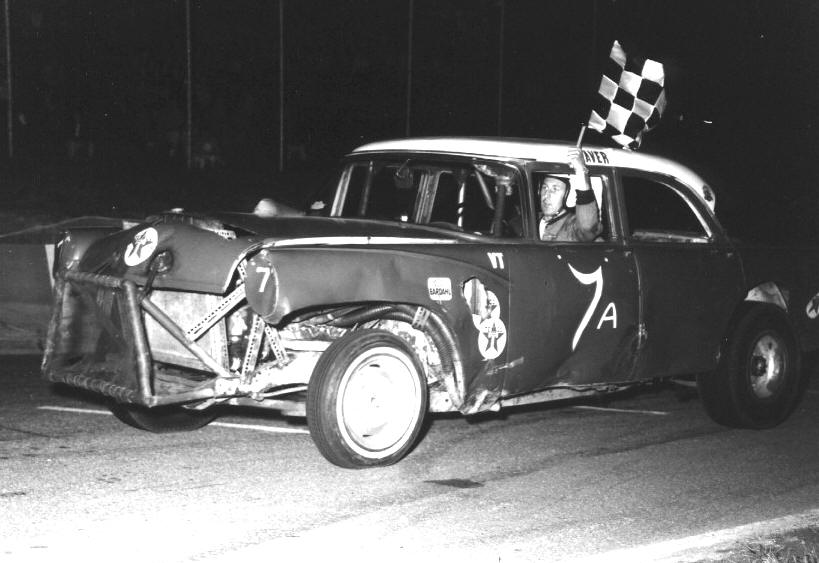 Courtesy of John Bourgeois
Around 1970, C.J. Richards made the momentous [and locally unpopular] decision pave his Devil's Bowl Speedway – with its in – house supply of the best racing clay anywhere around. While his local competitors deserted by the dozens, the paved track re – attracted cars from Airborne Park Speedway. Among the New York regulars now showing up for Richards was Dick Nephew, Denis Giroux, Marcel Godard, Joe Thomas, and Ed Pieniazek. Now some Vermonters were joining the group in the persons of the Dragon brothers [who had exiled themselves from Catamount] and Vermont's mercurial entrepreneur and racing pioneer, Black Jack DuBrul.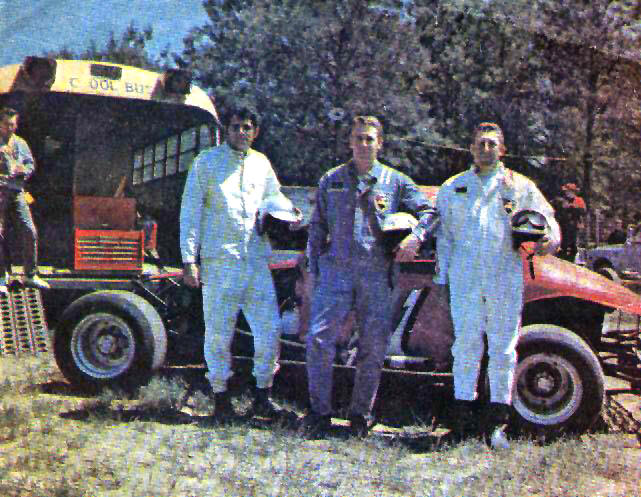 Burlington Free Press Photo
Vermonters Bob Dragon [left], Jack DuBrul, and Beaver Dragon were all taking time away from Catamount
to try their luck with the pavement modifieds in 1970 at Airborne.

Devil's Bowl and Airborne became a circuit, running Saturday and Sunday nights. Albany – Saratoga Speedway in Malta, NY, created the same year as Catamount, seemed to be the third track in the series. This had to be an interesting setup, as Airborne probably was still NASCAR, and the Bowl would not be until around 1972 – when it converted to late models. It is not clear whether Albany – Saratoga had the NASCAR sanction then or not. This was a golden age of modifieds, in the face of a time of change for Catamount, which had ditched the coupes in favor of developing a late model sportsman program.
1972 would usher in the next extensive relationship between Vermont and Airborne. With the flourishing of the Northern NASCAR circuit at Catamount, Thunder Road and even Devil's Bowl, Richards' influence at Plattsburgh helped establish Airborne as the Friday night stop for the burgeoning taxi cab division which was now attracting cars from all over New England and a few spots in Canada and New York. Airborne, whose flat track surface was now beginning to deterioriate, was a favorite spot for Beaver Dragon and the young Massachusetts sensation Joey Kourafas, each of whom won a track title there.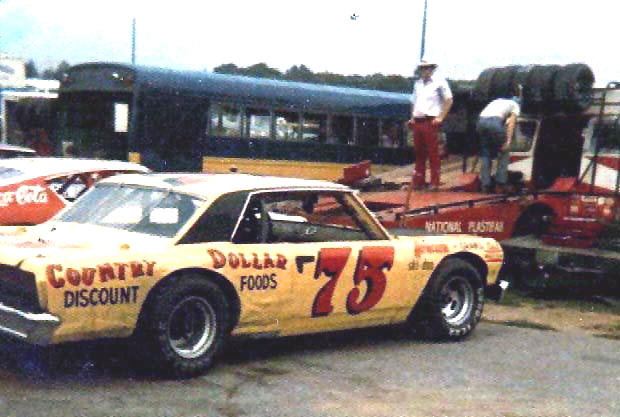 Ladabouche Photo
Beaver Dragon, whose 1973 car is seen here, was nearly unbeatable at Airborne then. [Below] – Bob Brunell
was one of the few Plattsburgh area racers who was fully committed to Northern NASCAR.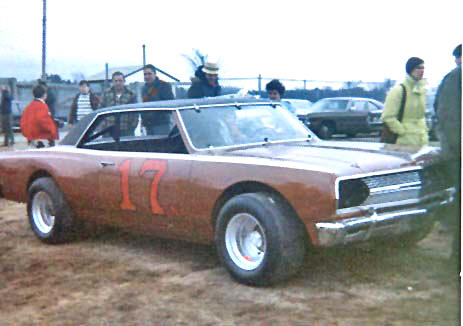 Ladabouche Photo

The Northern NASCAR circuit endured at Airborne and Devil's Bowl until the end of the 1974 season, after which the former broke away from NASCAR and ran its own late models while the latter tried to go back to modifieds. [The Bowl would eventually go back to dirt when exigent circumstances force the removal of its asphalt in the middle of the night. This ushered in the second big period of little cooperation between any Vermont track and Airborne. The Plattsburgh oval would literally struggle along for years before the long, flat original track was torn up in the early '80's and a dirt third mile was carved out.
Before long, C.J. Richards was back in the driver's seat at Airborne for the second time. Despite his claims to have narrowly escaped treachery from remnants of the Broderick era, he began to put money into the track and established a circuit with Devil's Bowl. After using local legend Wes "Slugger" Moody, one of his CVRA drivers at Devil's Bowl for years as the promoter in 1984, Richards and the CVRA were in full control for a number of seasons. Airborne and Devil's Bowl were featuring an almost – identical field of entries during this time, which may be best known as the time Richards daringly dispatched big block motors on his circuit in favor of the 358. He would remain at Airborne until almost the end of the 1980's.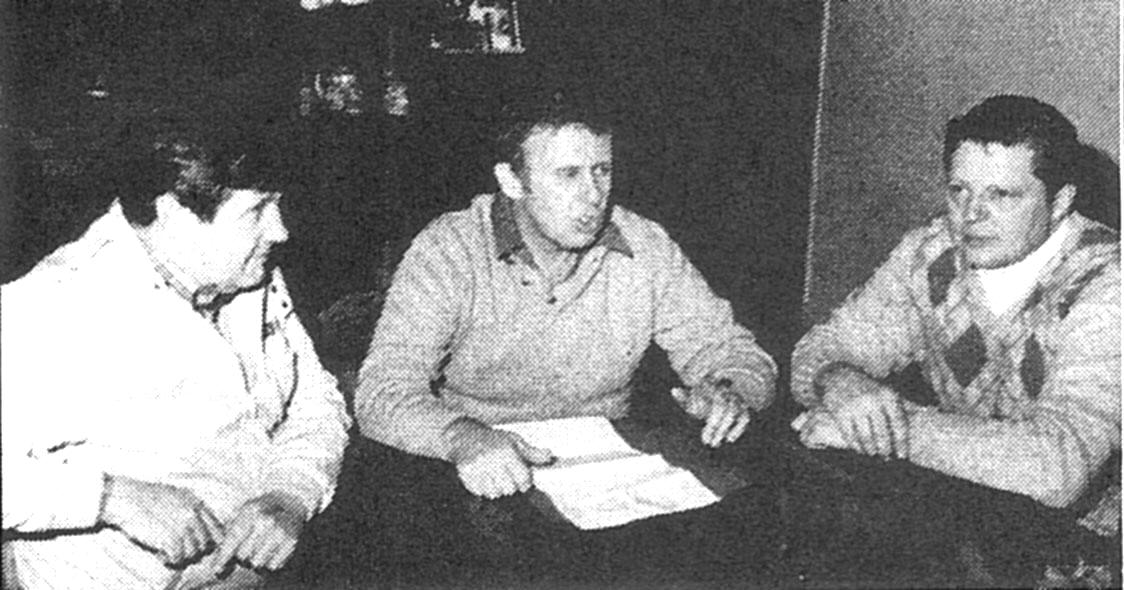 Courtesy of Shawn Byrne
The brain trust behind C.J. Richards' second involvement with Airborne: left – Richards, Tom Perry, and Wes Moody. This lasted only one year and did not end amiably. Below – A new road cuts through the middle of what was Catamount Stadium. The chopped up front stretch and still – intact wall are seen in the background.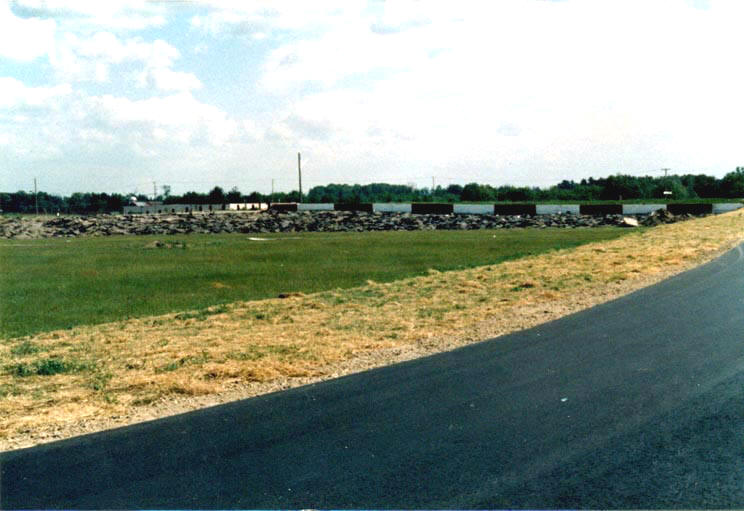 Courtesy of Steve Pecor

During this second CVRA administration, Catamount and Thunder Road had grown their late model circuit monumentally, branching out to a tour that still exists, in some ways, in today's ACT tour. Except for occasional races there, northern Vermont had nothing to do with Airborne during this time. However, as the New York track again fell on hard times in the late '80's, ACT's Tom Curley and Ken Squier bought the facility. Catamount Stadium had been closed in 1987, and the group needed another local base for its racers when they were not touring. Catamount had best served that purpose before.
Keeping the approximate oval that Richards had laid out, Curley went about paving the track and adding a few of his own touches. Airborne would now be running ACT cars, including the predominant late models and the Tigers, a lower – cost advanced street stock class which had borrowed the name from the old Catamount support class of the 1960's. While being part of the ACT rank and file in theory, Airborne developed its own cadre of competitors – particularly in the Tigers and the four cylinder classes. In fact, there was developed an offshoot class called "B Tigers", which had cars with fewer amentities such as no jacking bolts.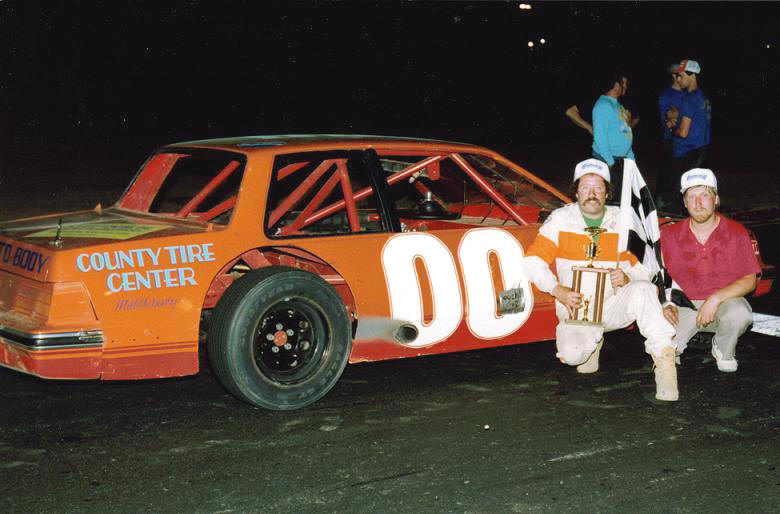 Courtesy of Andy Boright
Vermonter Steve Miller takes a Tiger sportsman win at Airborne around 1990. Below – Sherrie Meunier from
Fairfax, VT won an Airborne Renegade championship around 2008.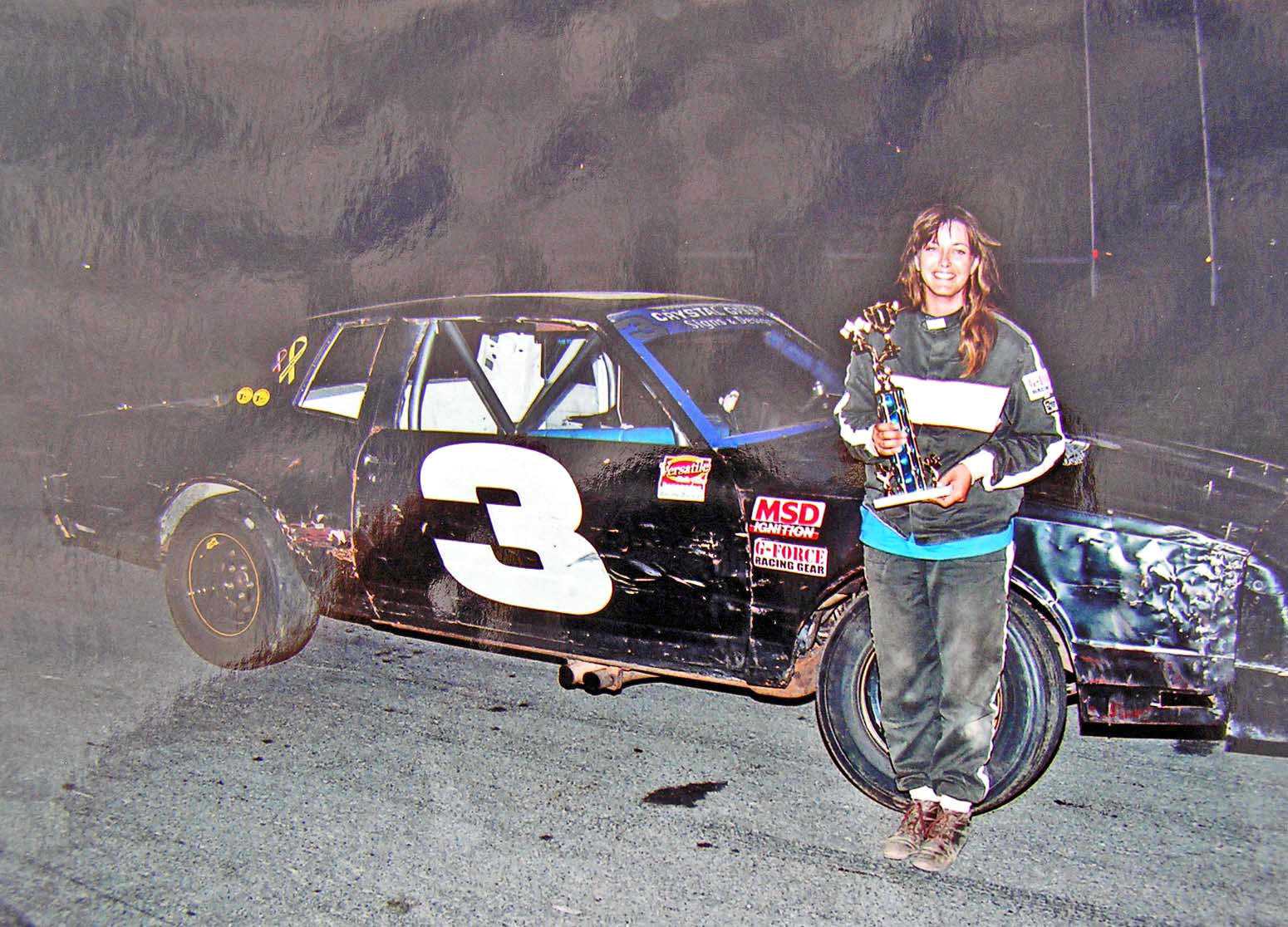 Courtesy of Phil Butler

The B Tigers, which seemed to be mostly Monte Carlos, soon had created their own identity. The class most unique and signature to Airborne today, the class became known as Renegades, so named partly because of the trouble many of its members gave Curley and the ACT officials. Today, the Renegades remain a stable and virtually unchanged class. Airborne was running along well enough in the Curley administration, the track even inheriting some of Catamount's signature races like the Spring Green. However, Curley and the Plattsburgh locals never got along.
Around three or four years into the twenty – first century, Tom Curley had had enough of the unruly Airborne racing scene and basically left. This would usher in another period in which there was no formal relationship between any track on the east side of Lake Champlain, and Airborne. First, the track needed simply to be rescued. Enter, Mike Perrotte, a modified driver from Morrisonville and a frequent CVRA competitor, along with benefactor and car owner George Huttig of Elizabethtown. With Huttig financial help, Perrotte would lease the track from Curley and Squier while introducing the seldom – attempted idea of running dirt modifieds on pavement.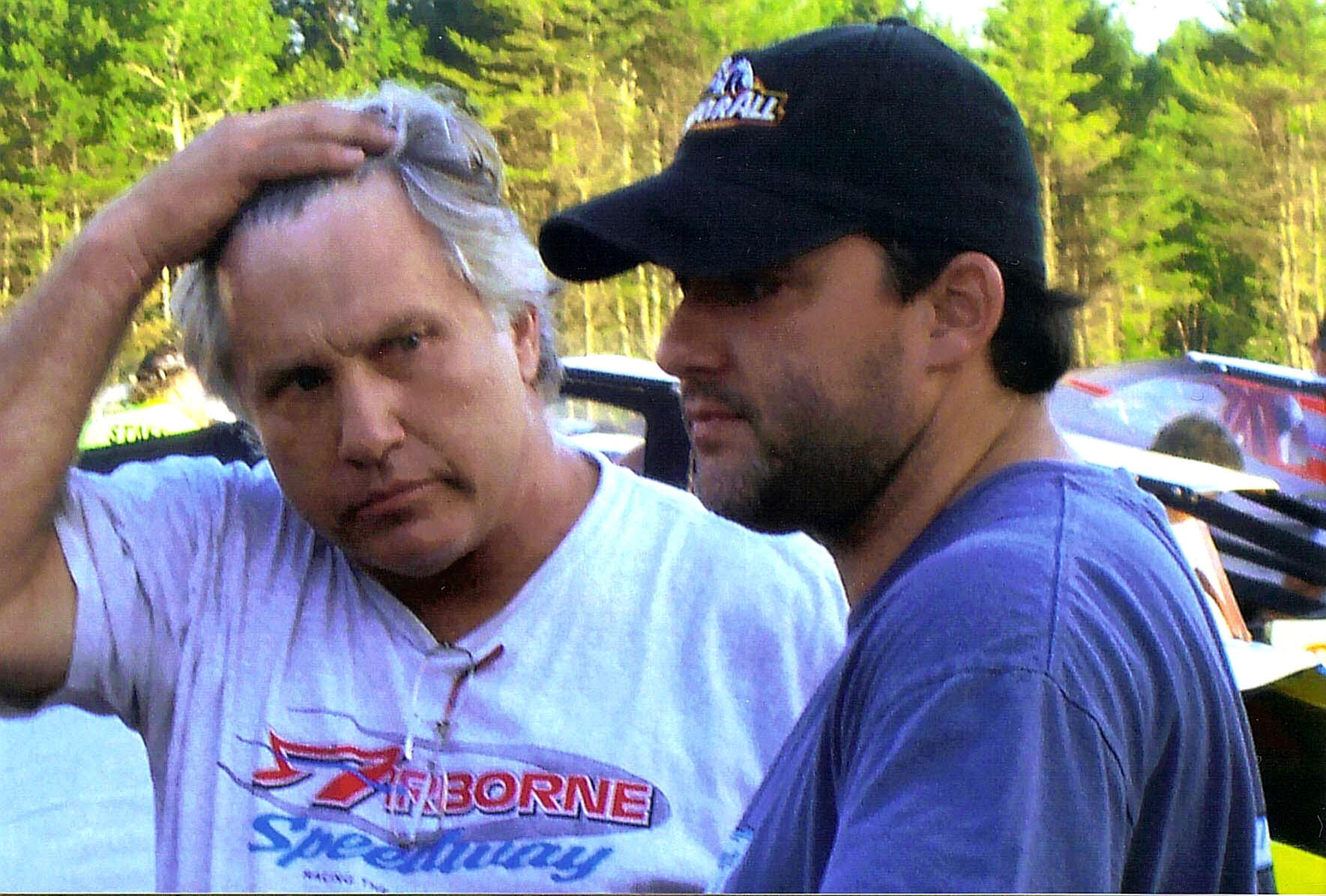 Ladabouche Photo
Mike Perrotte, shown in 2009 with Tiny Stewart at Airborne and with
ACT's Tom Curley at an April ACT race at Airborne more recently.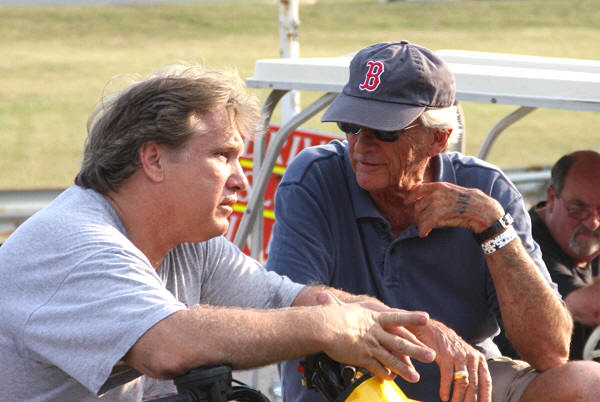 Alan Ward Photo

The first seasons were adventurous, as modified drivers pretty much attempted to run dirt modifieds on pavement with dirt setups. In time, they found what would work and the division became a fairly successful experiment. Airborne's return to health without the ruling hand of the ACT upon made it seem as a sort of sanctuary for a number of Vermont competitors who strongly wished to race, but not with anything to do with the ACT. Steadily, the Vermont runners filtered back into Airborne – often by the family: Milton's Turner clan came to race, as did the Terrys, the Rabtoys, the Boutins, and a new name – the Bartemys. Although, in the mid to late 2000's, there was absolutely no formal arrangement with any track in Vermont, the fields at Airborne were easily 50% from Vermont.
Finally, the Perrotte group was able to actually purchase Airborne away from the ACT group. Perrotte had a percentage of ownership, as did his principal financial supporter developer Steve Fuller. An untold amount of money had gone into the track's electrical infrastructure, including a huge generator to run the shows. This was done by North Line Utilities and Jamie Atkins, who parlayed that into a sizeable ownership share in lieu of repayment. With Fuller as principal owner and Atkins as secondary, the Airborne organization seemed to be a smoothly running machine until Fuller would tire of the venture and expect to be bought out by the other owners.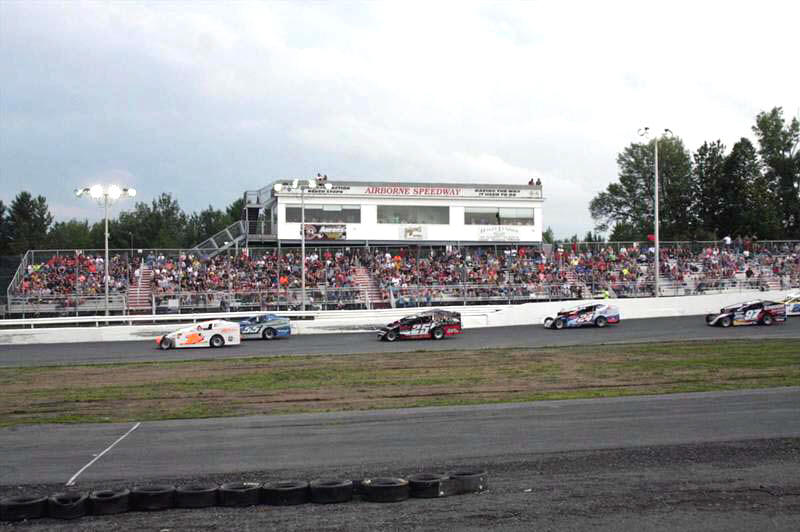 Alan Ward Photo
The combination of Fuller and Atkins put a lot of money into the infrastructure at Airborne in a few years' time, not the least of which was the
second sponsor building at right. Below – The track boasts one of the best tech inspection areas in racing – this building.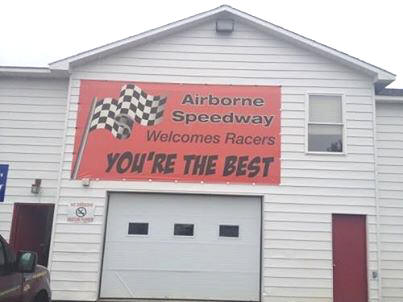 Ricky St. Clair Photo
Eventually, remains of the ACT influence wore off. The Airborne Tiger sportsman cars became more technical and racier than those at Thunder Road; the four cylinder division evolved from the ACT street stock to a mini modified car; and, through it all, the Renegades stayed the same while prospering. Barring a major factor to stem the progress, Airborne and Vermont would have gone their separate ways indefinitely, each seeming to be doing very well. But, like any other era in racing – major factors would rear their heads.
Firstly, in 2011, the Richards family, not having much success at Devil's Bowl, decided to again pave the speedway. Again, it was received terribly by the area fans who again deserted in droves. One theory is that the family figured it would be much easier to sell a paved track seeing as few people these days know how to prepare a dirt racing surface any more. Then, too, there might have been a hope somewhere that the Bowl could somehow piggy back on the success being enjoyed by Airborne, which was going great guns around 2011.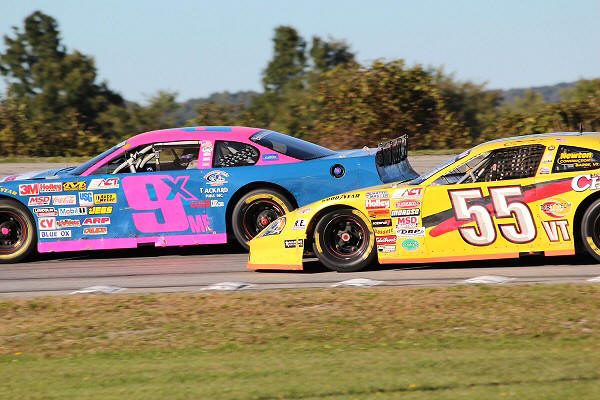 T.J. Ingerson Photo
Factor One: Emily Packard [9] and Brent Dragon battle on the paved Devil's Bowl Speedway in 2012.
Below – Factor Two: Todd Stone was one a group of Troyer drivers who dominated otherwise top Airborne regulars like George Foley [34].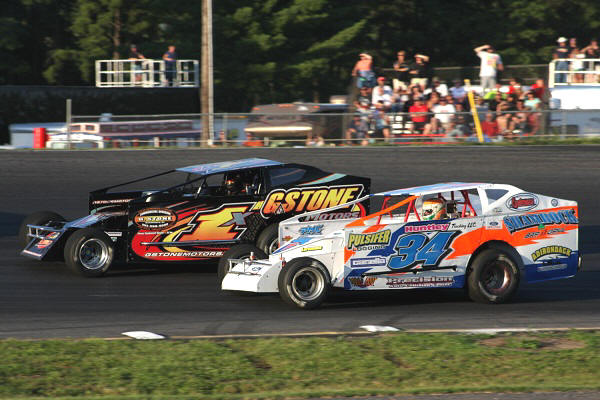 Al Ward Photo

The second major factor seems to have been the decision by Airborne to allow more and more pavement specialization with what were supposed to be dirt modifieds. This led to the 2012 introduction of "the Troyer" by Patrick McGrail, a well – to – do Canadian driver. The Troyer, while looking on the outside like a dirt modified, was anything but underneath. Couple that with the use of very expensive power plants by a number of the teams and – by 2013 – the poorer teams were coming to the track to maybe race for fifth place. By that season, at least six teams had Troyers.
The Airborne modified fields were falling off, week by week, as underfunded local drivers were out of money and tired of being blown off the track by the Troyers. One driver admitted that, when his car was dialed in right, he didn't even have to lift in the turns. Airborne had also introduced a budget modified [or sportsman] class. This was not a novel idea - the CVRA had installed budgets around 2010 and had around 40 at some of their shows at Malta.

Then came the third major factor. ACT late model, CVRA dirt modified, and Airborne pavement modified driver Mike Bruno, of Vermont, took over Devil's Bowl in 2012 and brought it under the NASCAR sanction, ensuring that his few, but growing mods would be running under the Whelan banner. This ensured that his champion that year, veteran shoestring runner Ron Proctor, received one of the best awards packages from NASCAR anyone had seen in years. People all throughout the area were now watching.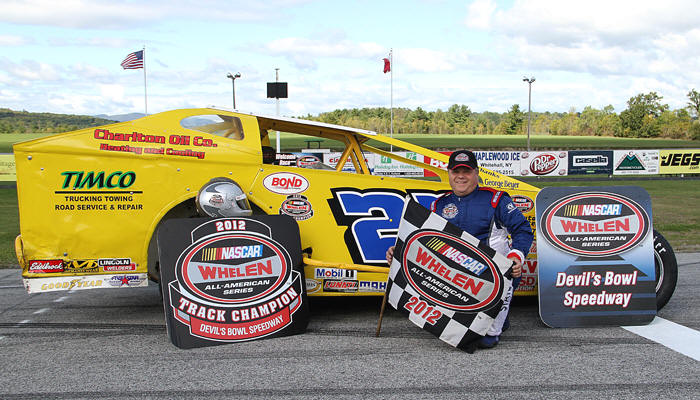 Devil's Bowl Site Photo
Factor Three: Ron Proctor's NASCAR championship, with all its rewards, gave hope to lower budget racers everywhere.
Factor four: Mike Perrotte, seen here talking with Bruce Richards before the latter decided to get out of Devil's Bowl,
ended up doing the same thing at his beloved Airborne two years later.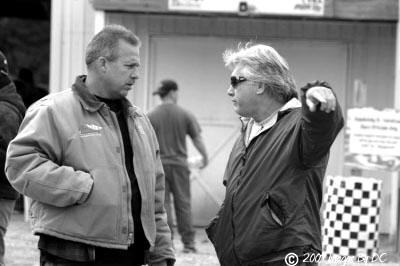 Photographer Unknown

Perhaps the final factor came about in the first part of 2014 when Mike Perrotte, arguably the savior of Airborne, sold out his third of Airborne and left due to philosophical differences with majority owner Jamie Atkins. Atkins had the majority opinion with the departure of Fuller, and this was apparently not working out smoothly with Perrotte, who could be said to be the face of Airborne in recent years. Without Perrotte to do the everyday job of being the promoter and director, Atkins would have to look about to fill that void with a committee of sorts. Enter Mike Bruno.
As the annual Crete Civic Center Champlain Valley Motorsports show was on in April, rumors were flying as to how the track was to be run. So rife were those rumors that Atkins and Bruno would release the announcement the following day that Bruno would be something of a race director while track management would remain with Sherm Hamel. Little was to be found out at Crete, as the track booth was manned by North Line Utility employees who were not familiar faces at the track.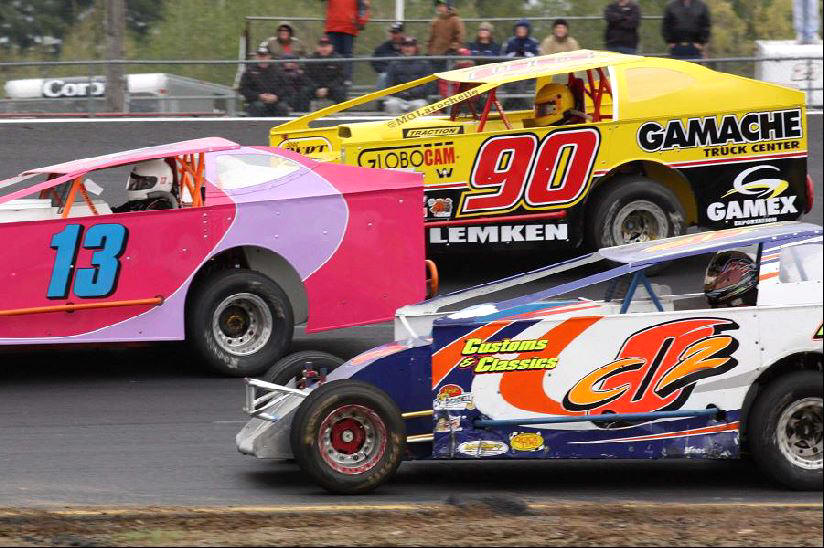 Leif Tillotson Photo
Atkins and Bruno face the dilemma shown in the above photo: Martin Roy, in a big dollar pavement modified blowing off Colleen Salisbury and Craig Reyell in cars that Perrotte had envisioned as being competitive at his track.
Along with the Bruno announcement came the information that the two tracks – almost totally unique in what they run for divisions – would try to cooperate on rules and divisions in 2014. This brings us full circle around to the days of C.J. Richards and Maurice Broderick doing much the same thing as long ago as 1970. Neither track has enough cars, and this would seem like a viable solution to that problem; but, many of the competitors at both places simply cannot afford to travel between the two tracks.
The new organization will likely try to point to a few teams who had successfully managed to run at both Plattsburgh and West Haven in the same season. Robert Gordon, a Milton driver who never got to race at Catamount, had run in the Renegades for years at Airborne before winning a Renegade title at Devil's Bowl in 2012. His NASCAR awards far outstripped anything he had gotten in previous years. Long – time modified veteran Leon Gonyo, of Chazy, NY ran in the modifieds at both tracks for two years, using an older backup car at the Bowl.
It remains to be seen how this will work out. Tracks all over the nation are in transition, all struggling with dwindling fields. Even the hallowed Thunder Road no longer has anywhere near as many support class cars as it did just three years ago. The Road, too, is rumored to be purchased by new owners soon. This could eventually turn into a real symbiotic relationship in which Devil's Bowl and Airborne share cars from two divisions, and – just maybe – Thunder Road and Devil's Bowl may share late models. In the background of that last combination is Atkins, whose son is running ACT late models now. Airborne still hosts at least two ACT late model shows a year.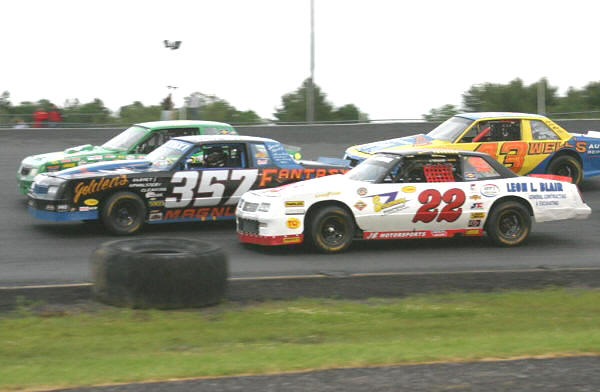 Alan Ward Photo

If nothing else, 2014 ain't gonna be dull.
Please email me if you have any photos to lend me or information and corrections I could benefit from. Please do not submit anything you are not willing to allow me to use on my website - and thanks. Email is: wladabou@comcast.net . For those who still don't like computers - my regular address is: Bill Ladabouche, 23 York Street, Swanton, Vermont 05488.
AS ALWAYS, DON'T FORGET TO CHECK OUT MY WEBSITE
www.catamountstadium.com
Return to the Main Page
Return to the Main News Page
Return to the All Links Page
Return to the Weekly Blog Links Page