BILL'S [Somewhat] WEEKLY COLUMN/BLOG PAGE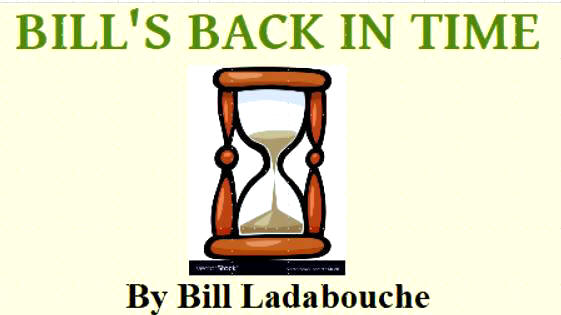 THE JOLLY ONE

Jolly Ollie Palmer was one of the first race car drivers I can remember. The folks talked of Steve Danish and, of course, our neighbor Steady Tony Provencher. We were familiar with Al Romano and his #303, the Bumblebee. Some of the bigger race fans who were friends with my fairly racing – neutral parents would talk of some of the bigger names like Pete Corey, Jeep Herbert, and Spence Parkhurst. However, given my young age and limited trips to a race track, I tried to recall every detail I saw when I did get to go.
Rutland, Vermont's Pico Raceway was in its second year of competition in 1952, when I would be five, going on six. I remember that the pits were always in the infield, and that infield could get pretty darned muddy. I recall the John L. Cootey Pontiac wrecker having to come in to haul the regular track wrecler out of a quagmire it had become lodged in while trying to extricate somebody's battered coupe.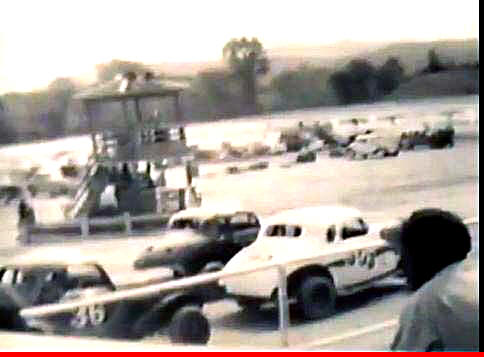 Courtesy of Bud Brooks
This partial shot of a Pico Raceway lineup shows heavy hitters
Al Romano [303] and the 36 of Spence Parkhurst. Below – Up and
Coming Great Barrington, MA star Link Pettit, on the gas in
turn three at Pico around 1951.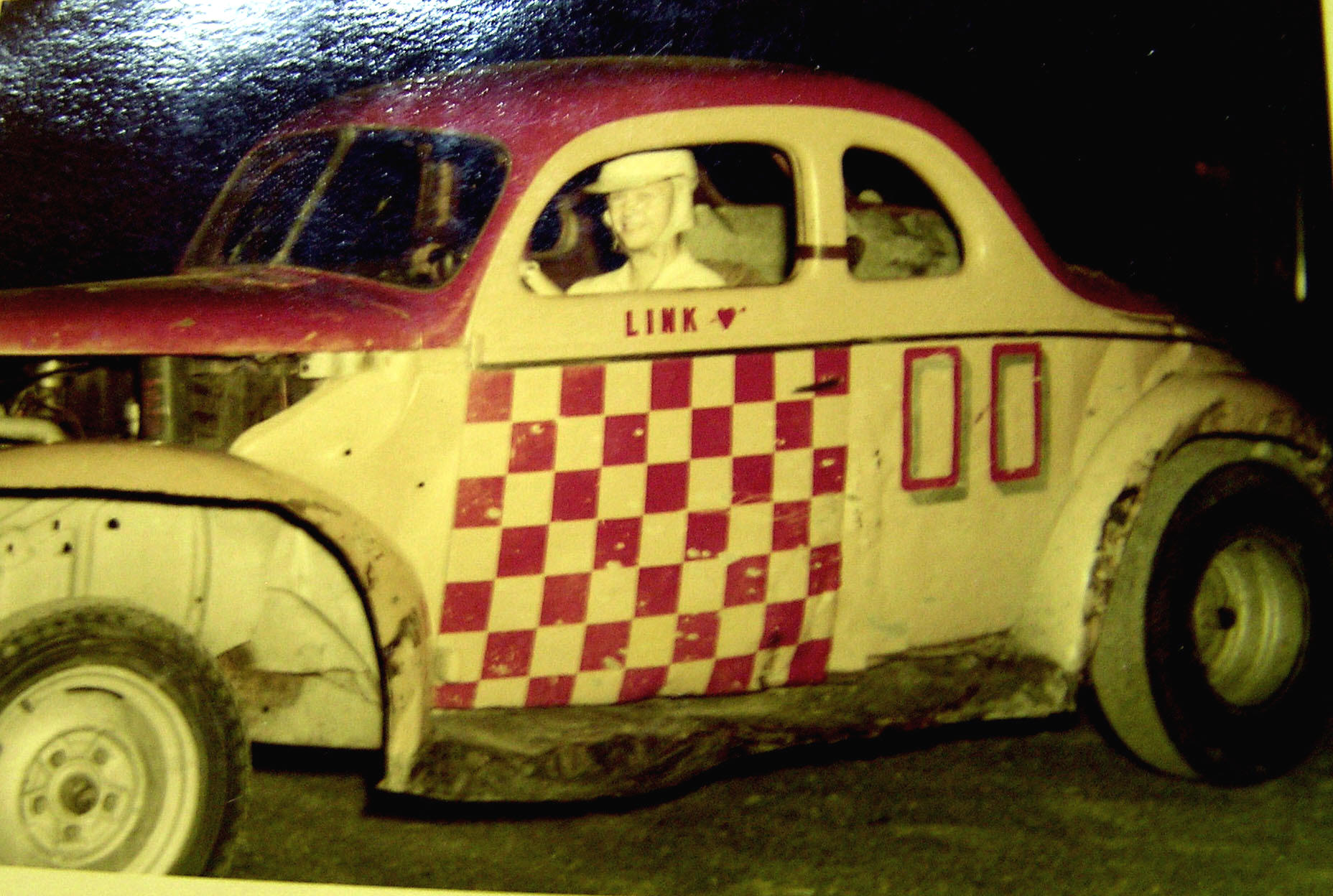 Les King Photo Pettit Collection
I honestly can't recall much from that program, but I have a vivid memory of a driver who would turn out to be Jeep Herhert, going by the stands with his Crowell helmet and goggles, bucking along in Bob Mott's 3NY. I was also old enough to know that there was a car with no numbers at all – just the letters J-O. I always thought about that car over the years in which we go to see no racing in the Rutland County area, and I finally had someone tell me that this car had to be that of Jolly Ollie. It made sense.
There would precious few chances to go to racing for many years, and none of the widely scattered races my uncle could get us to involved this J-O car. Apparently, while sometimes driving one of his own J-O's, Palmer, from Westmere, NY [near Albany] would drive cars such as Bob Brush's Brush Radio 27 at Pine Bowl Bowl Speedway or perhaps a 4 Jr. car at the same track.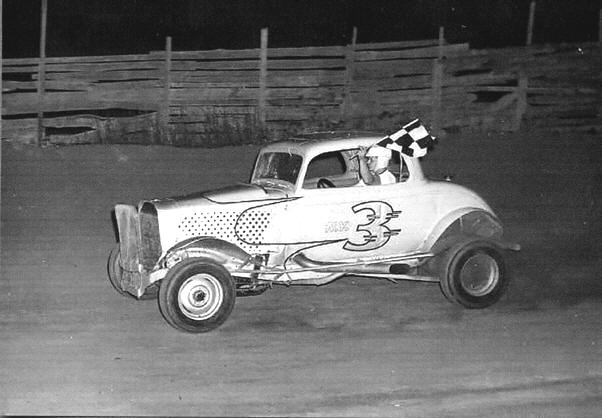 Herbert Family Collection
Jeep Herbert, in the closest photo to what the mental image I
can still conjure up from Pico Raceway. This happens to
be at Stateline. Below – This may well have been the car I
saw Palmer with at Pico. Check out the exhaust stack on
the truck. Bob Rucksdeschel's 74 is in background.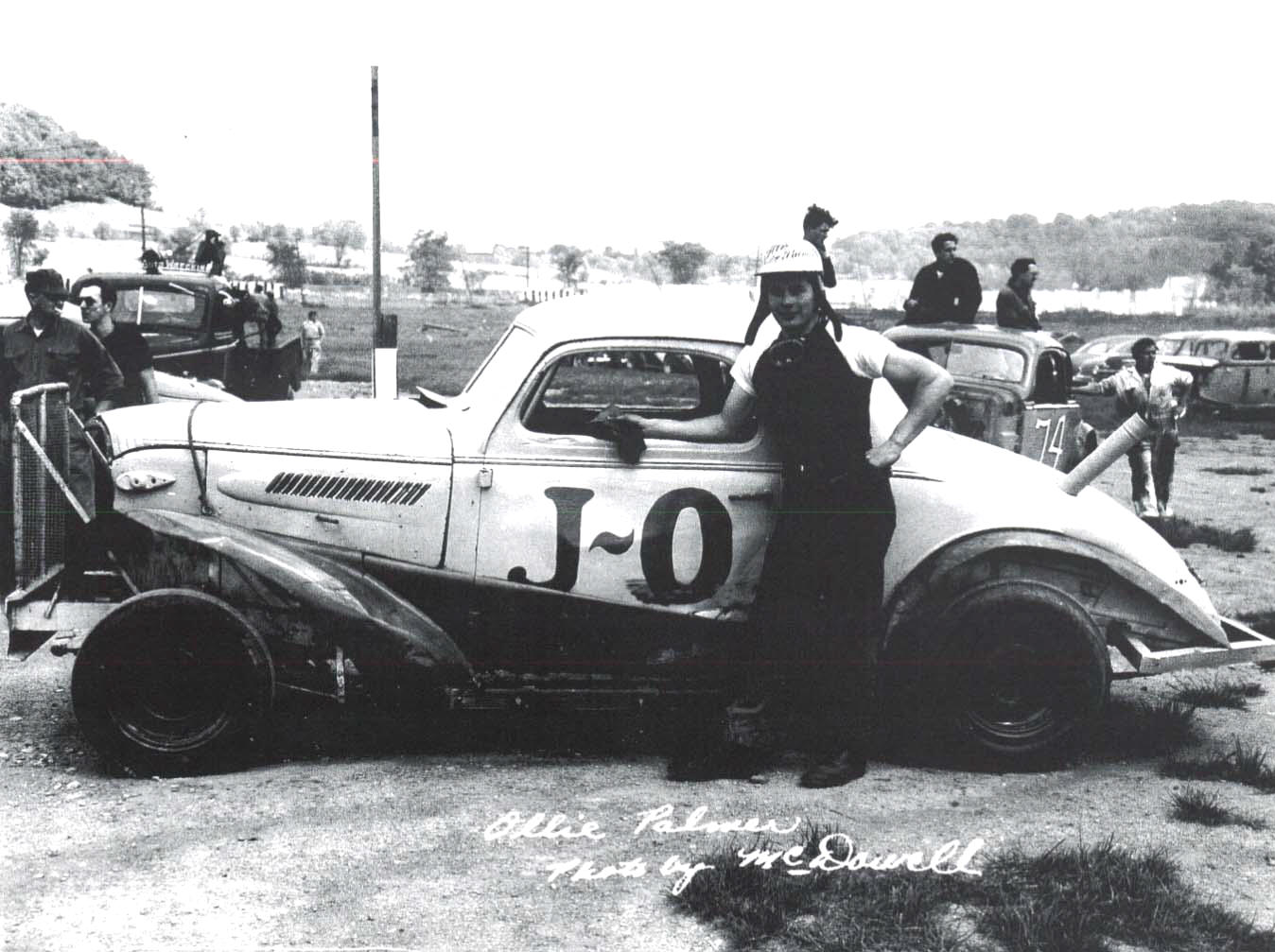 Bob McDowell Photo via Phil Miller
Palmer, whose brother Lee also raced successfully, also spent quite a bit of time at the Stateline Speedway, which sat on the NY/VT line in both Cambrdge, NY and North Bennington, VT. My folks just called it "Bennington". We tried going once when I was young and we got rained out. I couldn't tell you if the J-O was one of the muddy cars trying to keep the track run in while vainly waiting for a break in the weather.
Not much more was thought of the J-O or Palmer as I finally got to see some racing in Waltham, VT [Otter Creek Speedway] near Vergennes, or at the newly re-opened Fairmont Speedway in Fair Haven, Vermont. However, about the time we started going to Fairmont, my uncle and I also started to venture west to Fonda Speedway on a few occasions. So, by 1963, I was pretty familiar with a lot to do with Fonda and its cars. After all, several New York sportsman team were semi – regulars at Otter Creek seeking easy NASCAR points.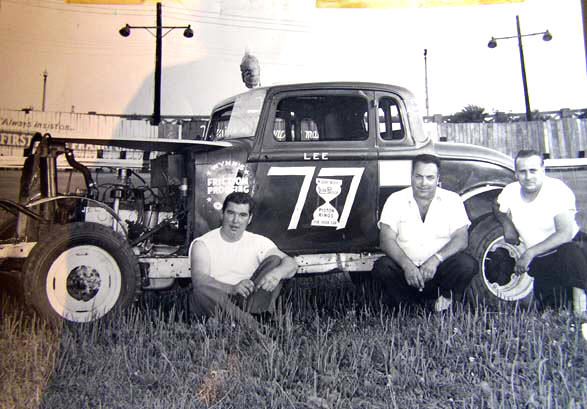 Hackel Family Collection
Lee Palmer, with the Bob Hackel, Sr. team in the 1950's. Below -
Ollie Palmer with the first 27Jr. car, which likely led to his
ride in the Fowler 27jr. later. It could have been Jim Brush's car but
was probably Bill Fowler's. This is Pine Bowl , 1950's.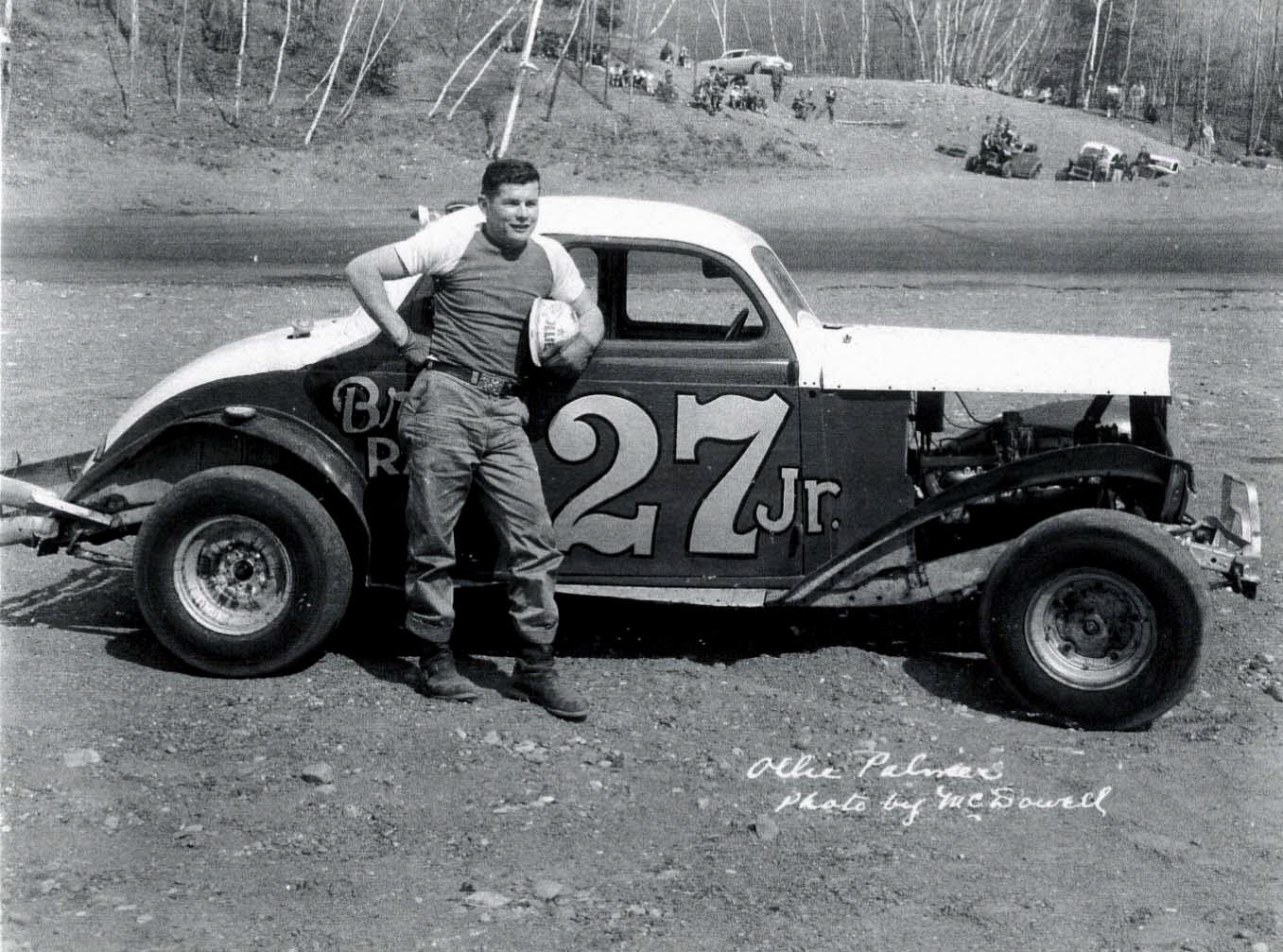 Bob McDowell Photo via Phil Miller
So it was that, at the beginning of the 1963 [or maybe 64] season, we saw a red and white sportsman coupe numbered 27Jr. I have to believe that the Bill Fowler 27Jr was an offshoot of one of Palmer's earlier rides, the Brush 27. Fowler and Brush were associated at Pine Bowl. So, here we were in 1963ish, and all of a sudden Jolly Ollie re-surfaced in that 27Jr. A man who had been driving one sort of stock car or another since 1949, was back for his fourteenth season, at the very competitive Fonda oval where some of the best of NASCAR sportsman teams ran every week.
As nearly as I can figure, the 27Jr had started out with the massive Paul Marshall as driver but, for whatever reason, he had vacated the ride and Ollie picked it up – perhaps due to his past experience with Brush at Pine Bowl. Now Ollie Palmer had had rather mixed success with the irregular, tricky Montgomery County fair track at Fonda. He had put one of his J-O's squarely on its roof in the middle of the frontstretch in 1956 [and little did he know he would do almost exactly the same thing with a 27Jr eight years later.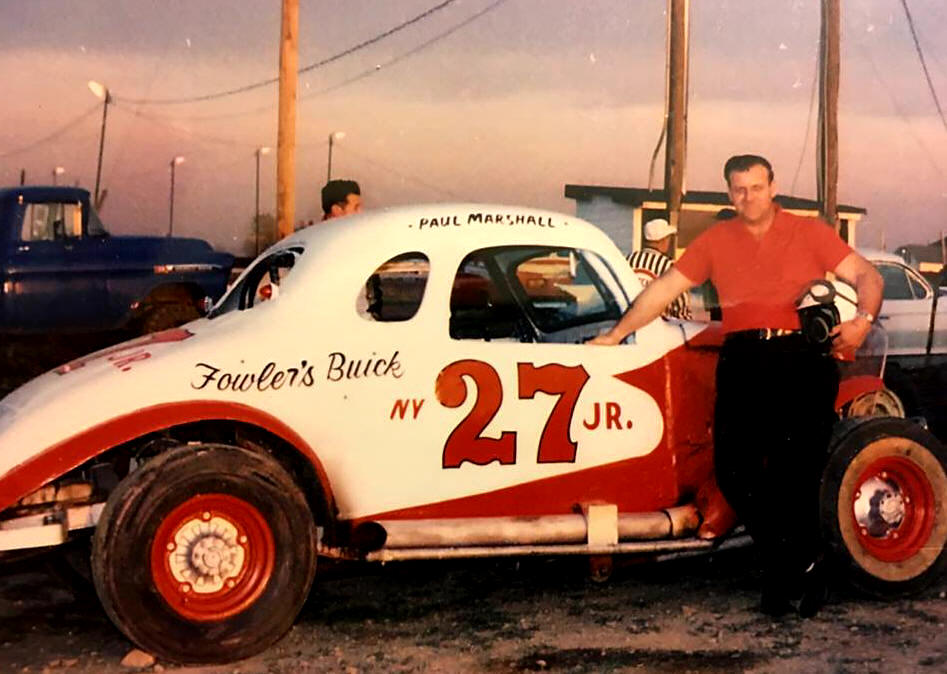 Russ Bergh Photo via Rick Parry
Big Paul Marshall with the first version of the 1960's
Fowler car. Below – The car arrives at Fonda during
the time Ollie Palmer was driving it. It's a little more
bob-tailed here. Skies sure look threatening.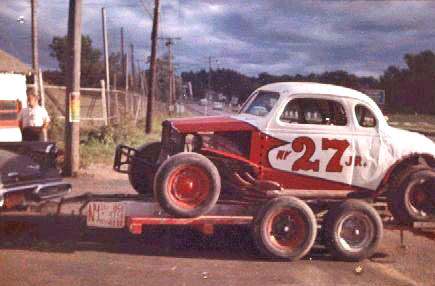 Ladabouche Photo
I would get to see a better look at the Fowler car when, at the end of the season, the team would come to our local Fairmont track along with a few other Fonda cars. Ordinarily, the sportsman cars were deemed illegal at Fairmont because they were powered by overhead V-8 motors and the local cars were flatheads and GMC six bangers. While the other cars had substitute drivers, Ollie Palmer did drive his own car that day.
Fowler would, as a car owner, have a number of cars – but he first NASCAR sportsman was that one driven by Ollie Palmer. I believe that Palmer had spent some time at Fonda driving a non – competitive car #333 that was also driven at times by Ron Quackenbush. Palmer had apparently done well enough to land the Fowler job after Marshall left. The next 27Jr, another sportsman, I never saw. It had an odd candy – striped graphic package. This is the car Palmer dumped at Fonda.
F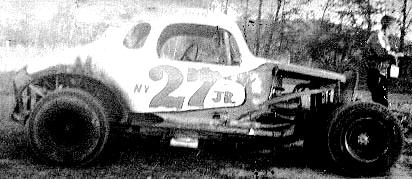 Ladabouche Photo
The Fowler car at Fairmont late in the 1963 season. Below -
Ollie, with the unusual candy striped 27Jr. in 1964. That
helmet was pretty outdated for that year.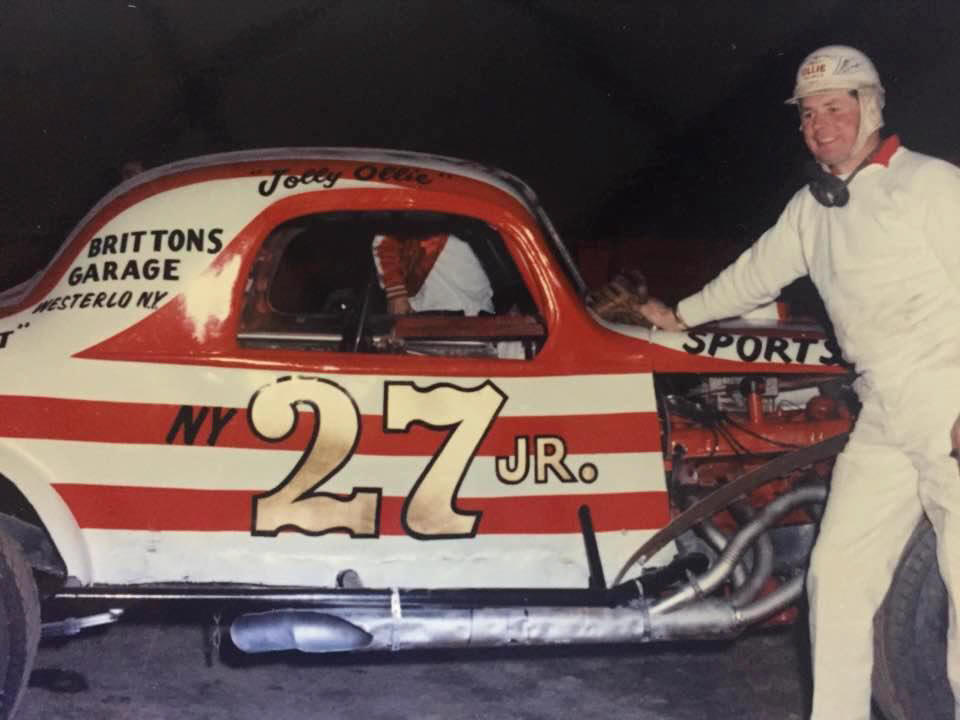 Russ Bergh Photo via M.E. Jordan
I did learn from the Fonda book that his own car, the J-O did not stand for "Jolly Ollie", but rather stood for co – owners Joe Batcher and Ollie Palmer. He had, according to the Fonda book, nearly gotten badly injured in the J-O crash; but, he wasn't as lucky with the 27Jr, eight years later. As the Fonda book points out, Jolly Ollie clipped the rear of a car he was trying to pass on the same frontstretch, flew very high I the air, and landed on the roof. Palmer suffered an injured back and his helmet was damaged when the cage collapsed.
This time, while he was still in the hospital, he was visited three times [and none of them were from Christmas spirits]. His wife, according to the Fonda book, said he would stop racing if he still wanted to have a marriage. His boss stopped by and made the same ultimatum about his job. The third visit almost complicated the other two; Joe Leto came to offer Palmer a ride in his top notch race car. Fortunately, Palmer was mature enough to turn down the offer to save his marriage, his job, and probably his health.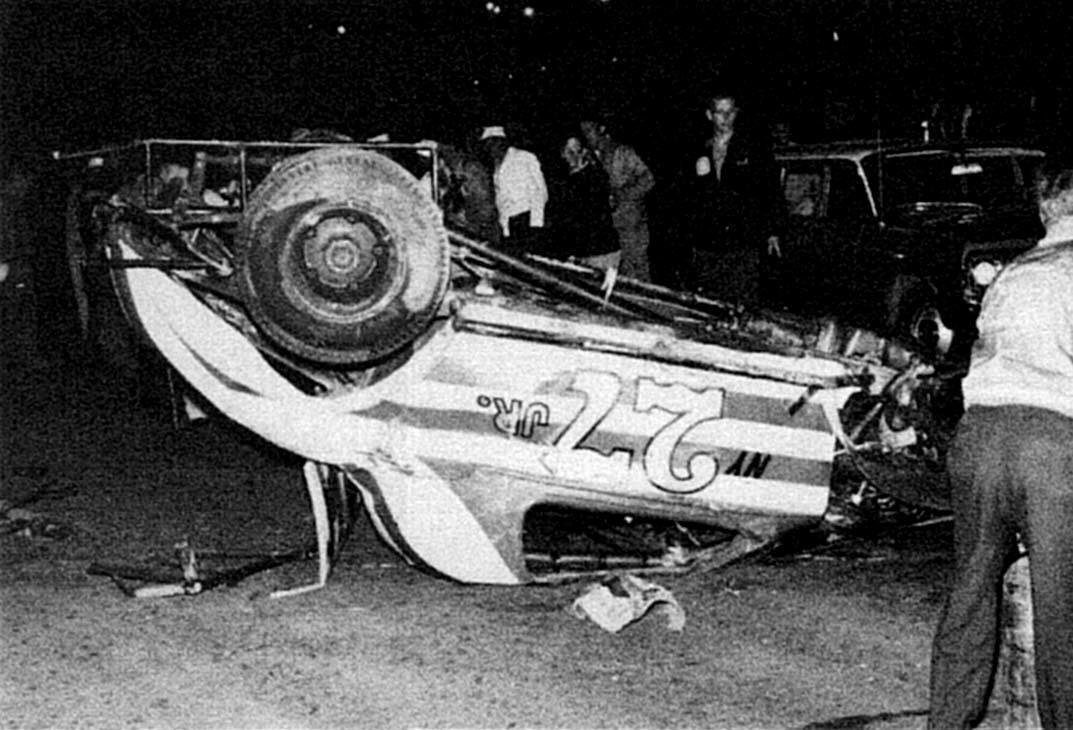 Russ Bergh Photo Ed Feuz Collection
The striped 27Jr on its roof in 1964. Below – The 333 he briefly
tried some time before the 27Jr gig.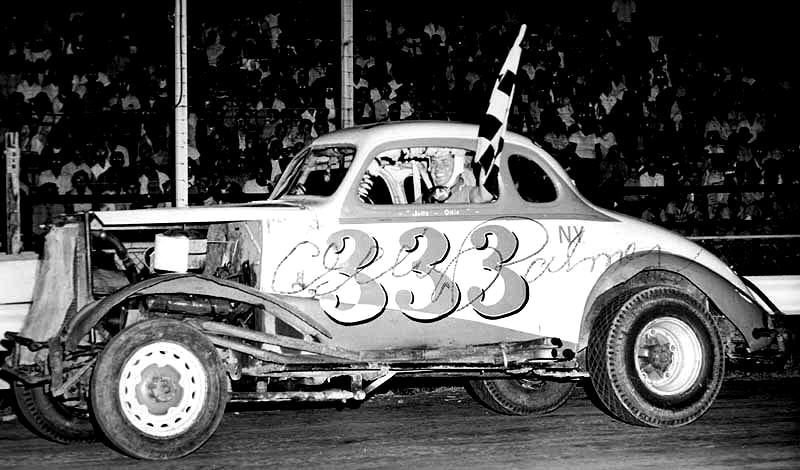 Russ Bergh Photo via Mike Russo
Ollie lived into his eighties, living in Delmar, NY. I attended a NESCOT breakfast around 2008, at the invitation of Carl Fink. I got to meet Lee Palmer, who was in pretty poor health at the time. He said Ollie usually attended those events, but it was my bad luck that he skipped that particular breakfast. If I am not mistaken, both brothers are gone now.
Bill Fowler would replace Palmer with Robbie Kotary, one of the tempestuous racing brothers from Rome, NY. Robbie would drive the car for quite a while. He was apparently really into the job, coming to Fonda every week with a special 27Jr outfit on including monogrammed string tie. Later, Fowler drivers would include Jerry Pennock, Rene Charland, and Ken Shoemaker. There were more; I just can't remember them.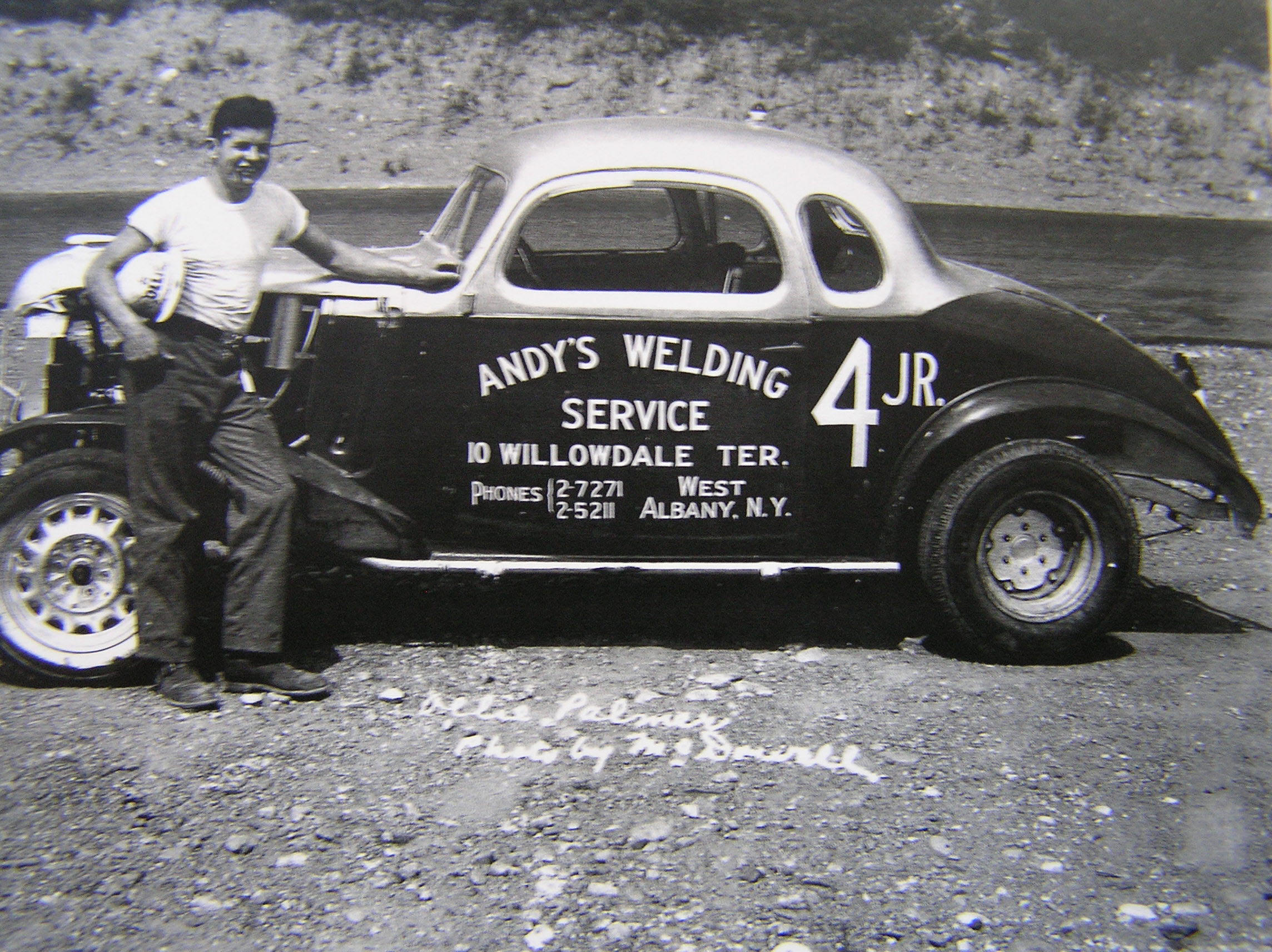 Bob McDowell Photo via Ken Gypson
Two more Jolly's. Ollie had this nice looking 4Jr car at Pine Bowl some
time in the 1950's. Below left – My first J-O photo. Acquired from
Danny Ody's booth at Camelot Antique Center. I wonder if the
broken hand is from that 1956 Fonda wreck. Below - right- I see Stateline
was getting a visit from Buck Holliday that day.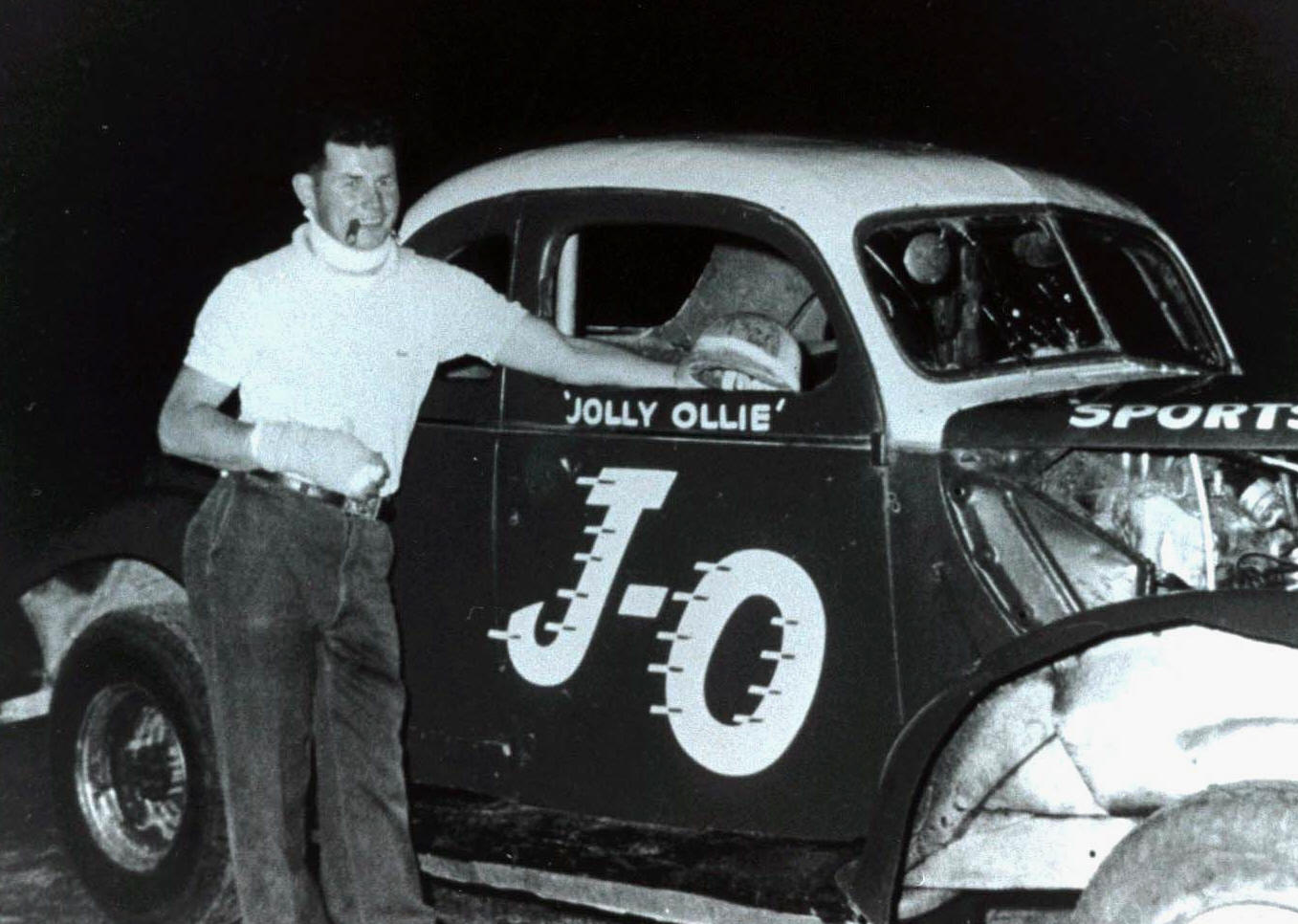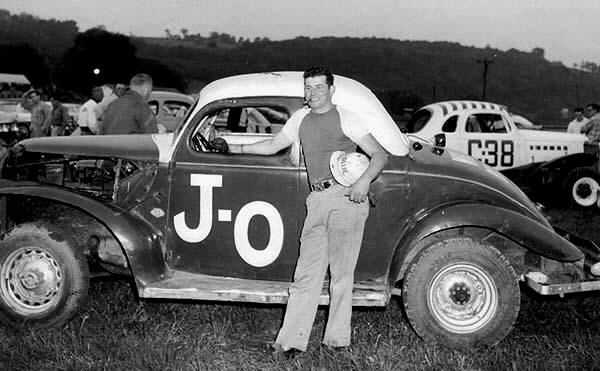 Via Dan Ody

New York racin' folk will remember Jolly Ollie Palmer, his smile, and his trademark cigar for many years to come until all of us old farts are gone.
A FEW OTHER OLLIE WRECK SHOTS

Frank Simek Photo [Obviously]

Photographer Unknown via Scott Belknap

Photographer Unknown via Scott Belknap

Times Record, Troy



Jim Kelly Photo


A different 27Jr - Same result.


Russ Bergh Photo


The 1956 debacle.
Please email me if you have any photos to lend me or information and corrections I could benefit from. Please do not submit anything you are not willing to allow me to use on my website - and thanks. Email is: wladabou@comcast.net . For those who still don't like computers - my regular address is: Bill Ladabouche, 23 York Street,Swanton, Vermont 05488.
AS ALWAYS, DON'T FORGET TO CHECK OUT THE REST OF MY WEBSITE
www.catamountstadium.com
Return to the Main Page
Return to the Main News Page
Return to the All Links Page
Return to the Weekly Blog Links Page