BILL'S [Somewhat] WEEKLY COLUMN/BLOG PAGE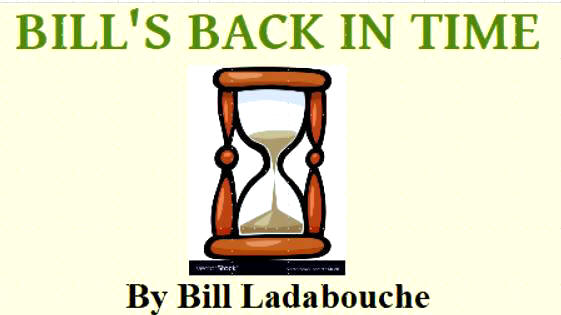 THOUGHTS ABOUT RED WHILE SITTING HERE
WAITING FOR COVID – 19
Isn't this some world we have inherited ? A month ago the Corona Virus was something that was happening in China; now it's closing in on us up here in northern New England. Between the fact the bride and I are in our 70's and the fact that we run a small care home – there is plenty to worry about. I am hoping all this work I'm doing on racing in the past few days will help get my mind [and maybe others as well] off the crisis.
My most recent image folder on the computer [number 54] is growing by leaps and bounds as people have more time to put material up on the various Facebook pages. I figured there has got to be some ideas in there some place. In scanning through the three Fonda Speedway memories pages, I have found a number of submissions from Joe Achzet, concerning a popular 1950's Fonda driver named Red Knoblauch.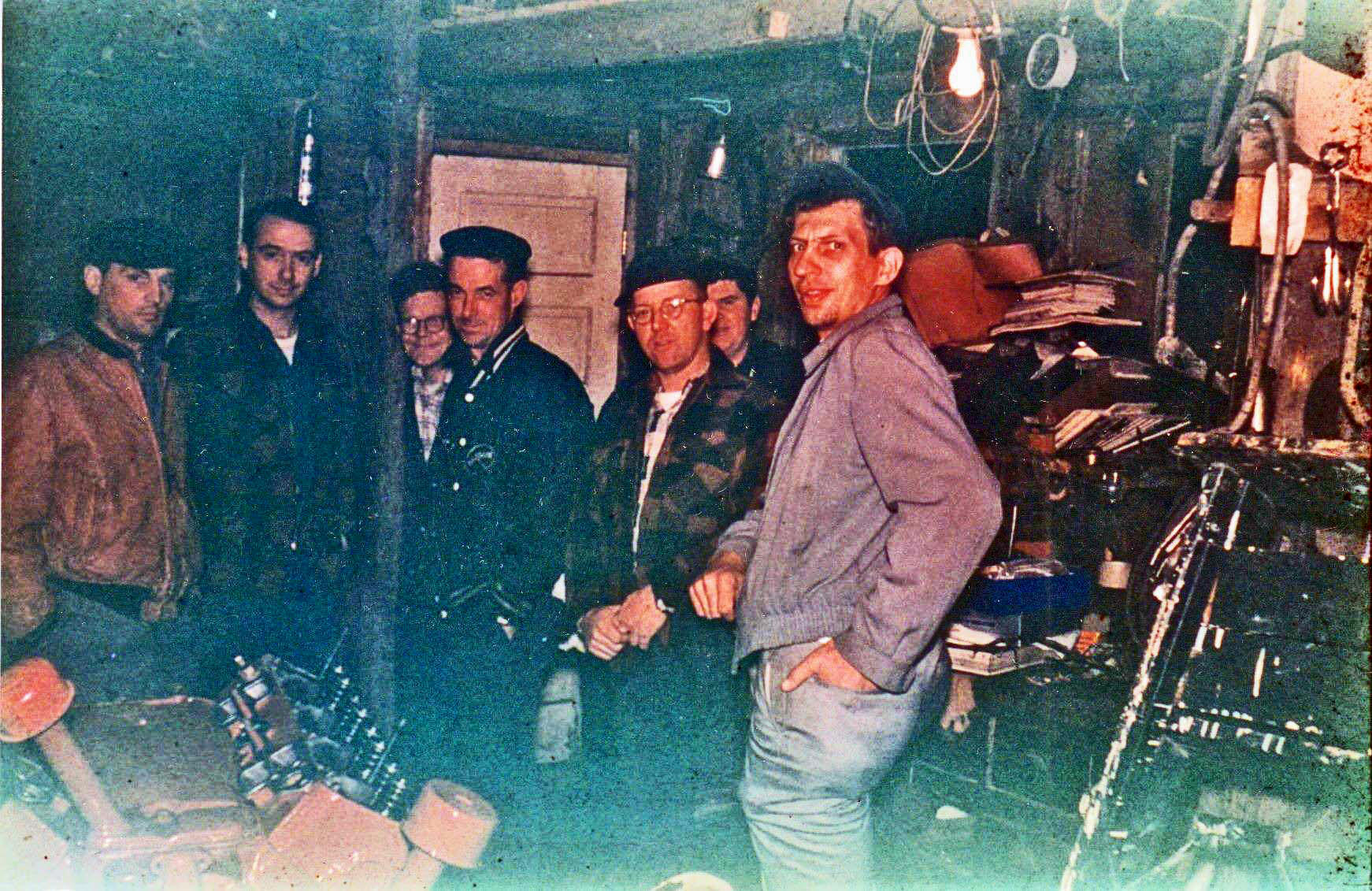 Courtesy of the Achzet Family via Annette
Red Knoblauch [2mnd from right with glasses] with some the gang at
headquarters in Johnstown: [left ] Mario Locatelli, Tony Achzet,
Bob Gessinger, Bill King [another car owner], and Frank Simek, Sr [
father of the reknowned photgrapher]. Below – one of these galoots is
said by Annette Achzet to be Red, at a Johnstown diner with pals.
Happier times - no COVID-19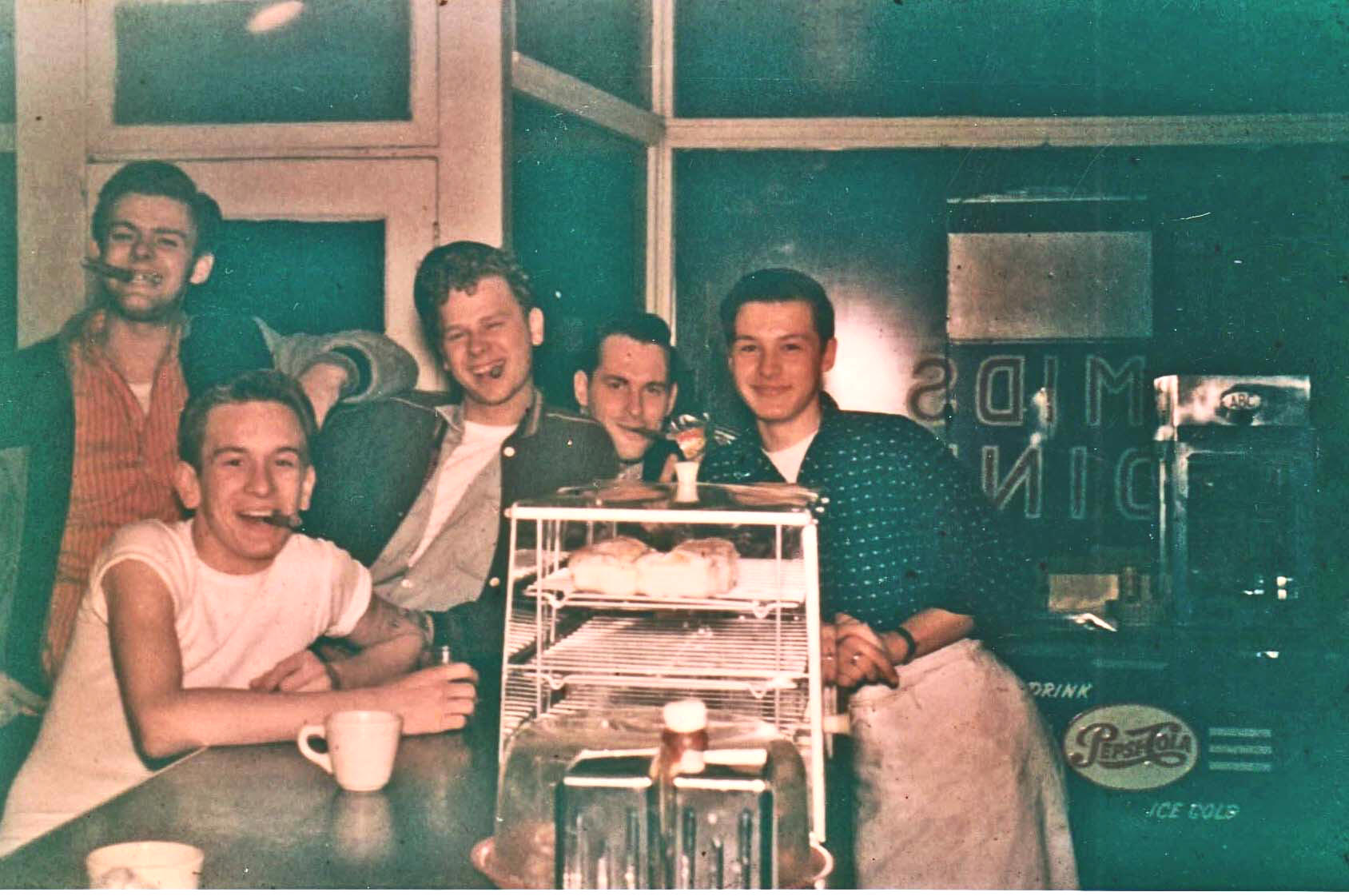 Courtesy of the Achzet Family via Annette
Red never made a huge dent in the grand scheme of things but, by all appearances, he was a tremendously popular figure at Fonda, as well as in his home town [which I think was Johnstown, NY]. Now I am going to be honest, I only saw Red on the track once and I don't live anywhere near the area that suppies so many drivers and cars to Fonda Speedway; so, I am sort of talking out my rear on this topic. But I wanted to give what seems like a great guy and his circle of equally great guys a little ink; so here goes.
From what I can gather, Red Knoblauch was probably not racing before the Montgomery County fairgrounds track was opened as Fonda Speedway in 1953. One photo did suggest that he ran a bit at the track at Sharon Springs, NY in 1955; but I can't determine if he was already running nearby Fonda as well. I'd say he likely was. Red Knoblauch always seemed to run cars that were either numbered 13 or some variation of that numeral. So much for worrying about racing jinxes.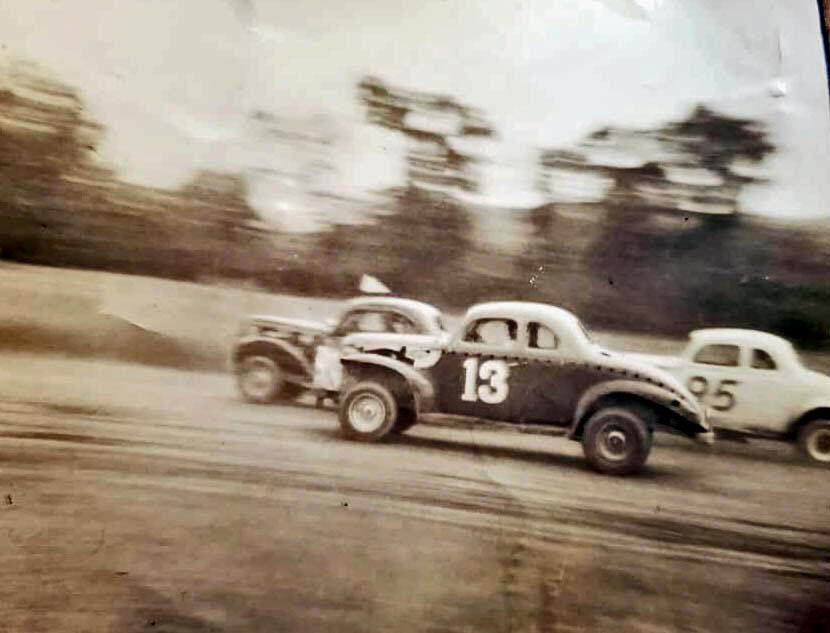 Courtesy of the Achzet Family via Joe
Red, on the track at Sharon Springs in 1955. Below – Red, still in
helmet, ready for his ride after winning a qualifier at Fonda in 1955.
REDKNOBLAUCH_WHEELBARROWRIDE Images 24
From the Ed Feuz Collection
Knoblauch had a large circle of people he associated with and – as far as I can determine – some of these guys were very instrumental in getting racing going in that region right at the ground floor. Perhaps the most prominent of these was Tony Achzet. The few photos I could find suggest that the racing gang hung out at John Miller's gas station [likely in Johnstown]. A number of photos I have seen involve Knoblauch, Miller, a number of Achzets, Frank Simek the elder, and more.
Other Johnstown figures include the racing Romano family, George Baumgardner's buddy Red Cromer, my friends the Starin family, and more. Other teams and drivers from nearby Gloversville seemed to intertwine with the Johnstown racing community to an extent where you can't separate the two. Red Knoblauch was well thought of sufficiently to get his own personal reference in the Fonda Speedway history book that was written by Lew Boyd, Andy Fusco, and Jim Rigney.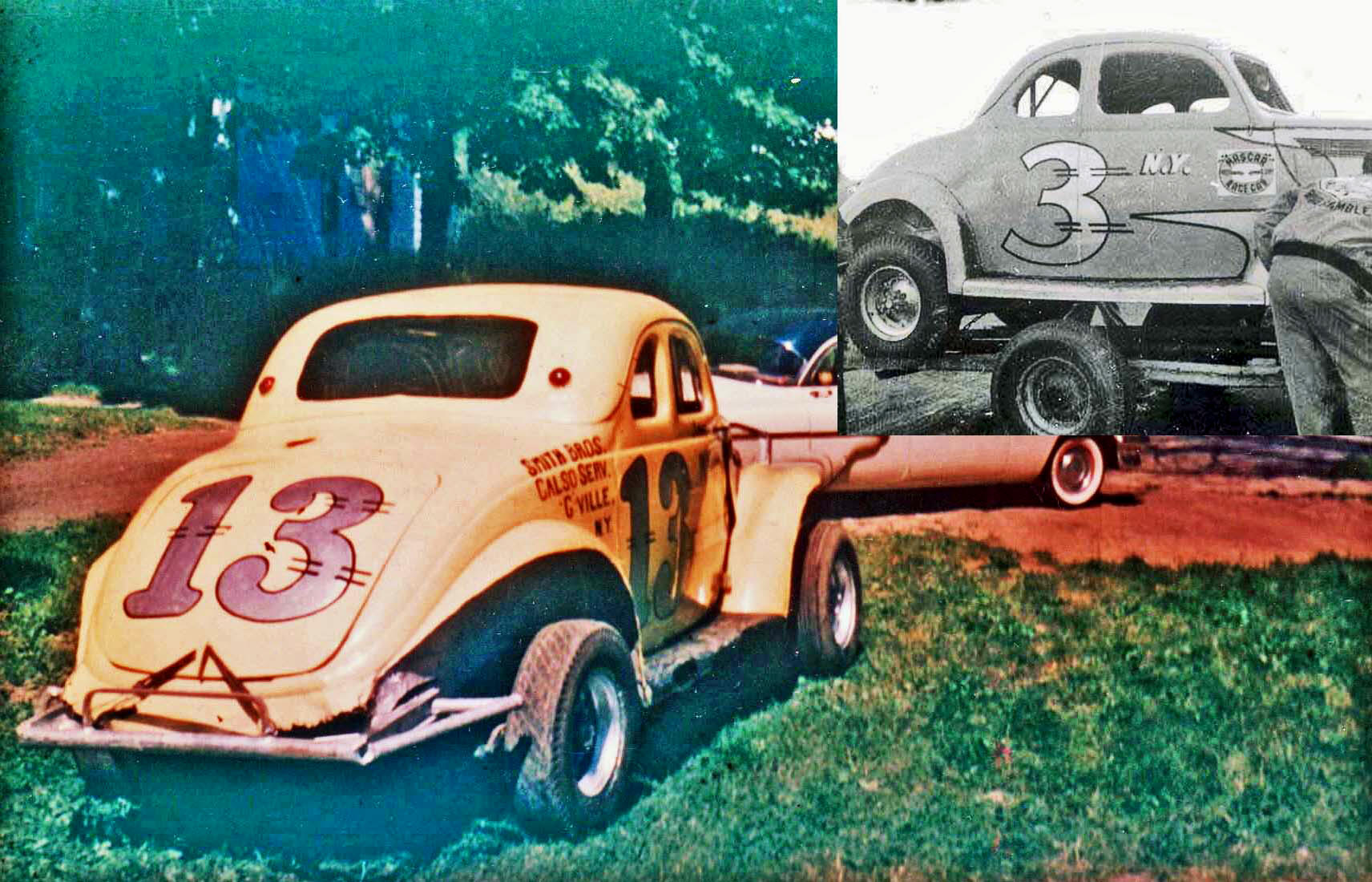 Courtesy of Annette Achzet With My Insert
This shot shows the strong resemblance of the Knoblauch car
to Bob Mott's 3 which Corey drove. Below – That same car, buried
at Frank Simek's house in Johnstown in January of 1959.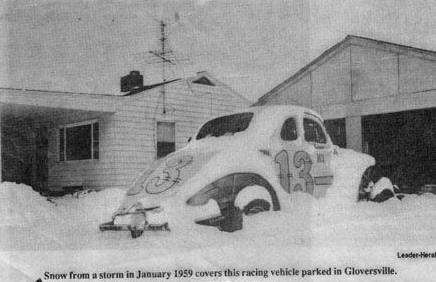 Frank Simek Photo
Red and his buddies could build a car that would go. He was calling his car "The Woodchopper Special" before anyone had seen those Koszell 15's that Gahan drove at Fonda. It is evident that Red did not always get the most out of the car; but, one night, he handed The Woodchopper Special over to a young Kenny Shoemaker whose regular ride was down. Shoemaker, ever the competitor and great chauffeur, actually won the feature with Red's car.
The story in the Fonda book refers to the popular but not always rapid Knoblauch racing effort. Apparently, Fonda official Pete Slovik and his buddy Dave Talmadge good - naturedly bet Red that if he EVER won a race, they'd give a wheelbarrow ride all the way around the track. Well, in 1955 [perhaps with all that extra practice at Sharon Springs] he did win a heat and the pair dutifully paid off their debt with a wheelbarrow ride a delighted Red – still wearing his helmet for good measure.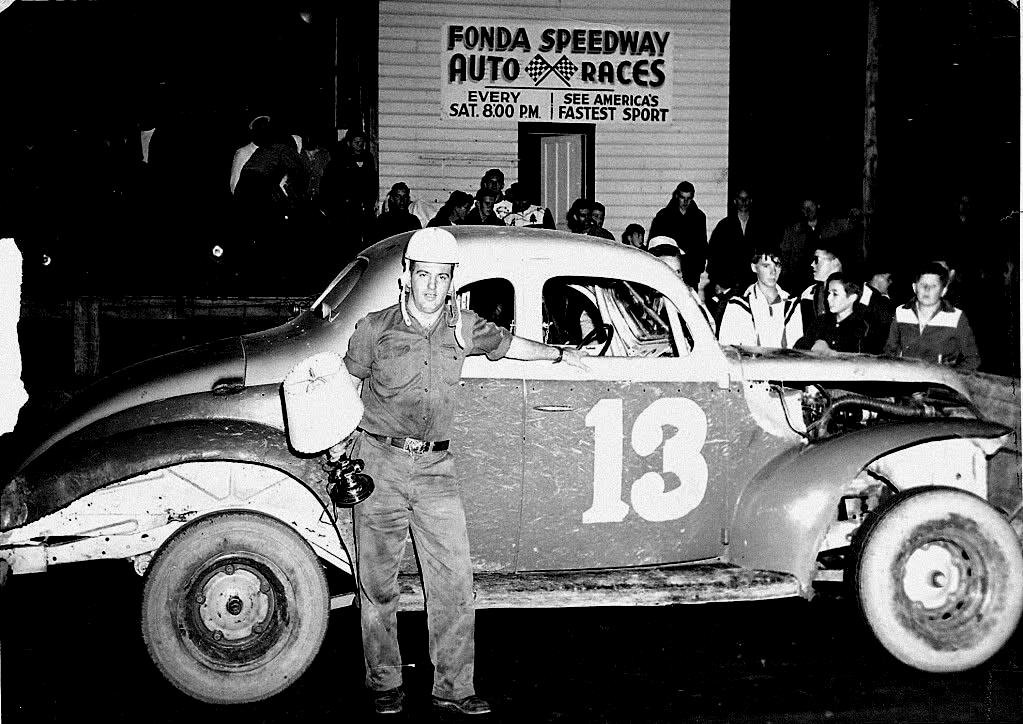 Russ Bergh Photo via Dan Ody
Ken Shoemaker proved that Knbolauch and friends could put
together a winning car as he wheeled Red's Woodchopper Spl.
To a Fonda win in the mid 1950's. Below – Red's other
driver for hire was Johnny Perry, seen here with Red's 13A.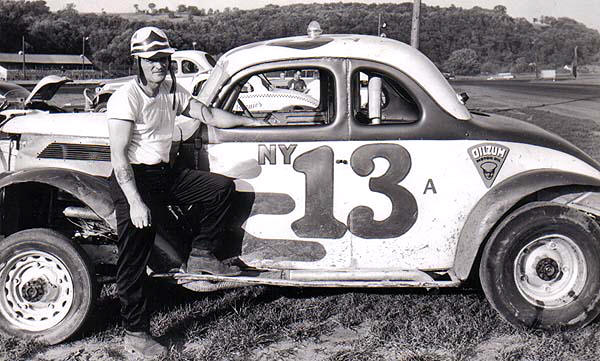 Courtesy of Otto Graham
Red Knoblauch, it would seem, had a good sense of humor. One of his #13 Fords was painted, in one particular year, with the exact colors and color scheme as the Bob Mott #3 NY that was driven by Pete Corey at the time. The Mott car was of some notoriety because it was built under protest after Fonda chose to honor a particular NASCAR edict that banned cars whose bodies were earlier than 1936. [This was due to the fact those cars did not have sold roofs].
From any distance, the only discernable difference [besides maybe tow vehicle] was the fact that Corey's car was 3 and Knoblauch's was 13. It seemed like every week the watchful fans would get all worked up that "Corey is here" before realizing it was just Johnstown Red and his cronies. I suppose that, when you raced mostly for the fun of it, there had to be some extra fun it. The cars certainly were not mistaken once the action commenced.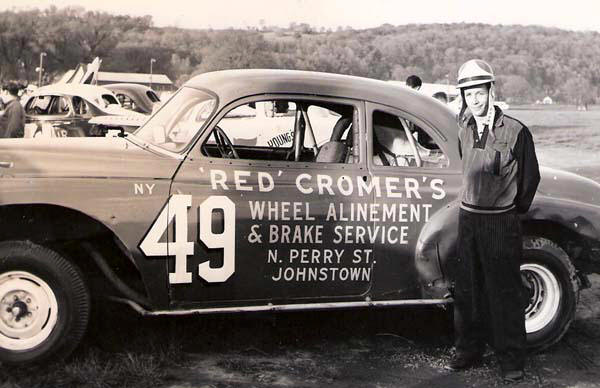 Russ Bergh Photo via Otto Graham
Other Johnstown car owners included garage owner Red Cromer.
Here, George Baumgardner, a favorite hired driver for Johnstown
area cars, poses with Red's car. The 49 was one of a few favored
Gloversville/Johnstown numbers, along with 95, 13, 71, and of course
the Romano 97. Below – Red Cromer's establishment.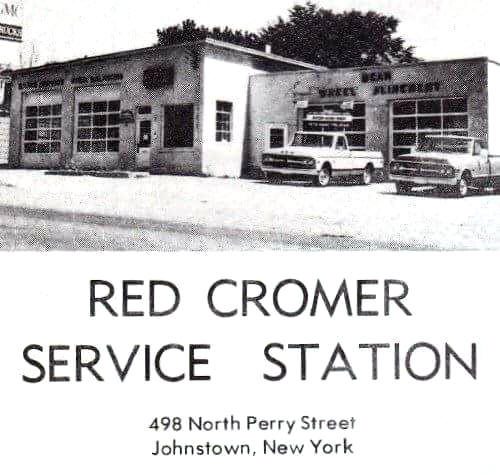 Courtesy of Scott Belknap

Towards the end of the 50's, Red would field a different car – a #13 A which seemed to be mostly driven by journeyman driver Johnny Perry. Perry, whose brother Al had raced in the early 1950's, had had stints in the Smith brothers cars [S-5 and S-55] along with the likes of Otis Eaton and others. He and Knoblauch would race the car as far away as Airborne Park Speedway in Plattsburgh, NY around 1960 or 61.
I never heard much else about Red Knoblauch. One year in the Fonda program [maybe around 1963] there was s listing for "113, Re Knoblauch, Johnstown" but in the times we visited Fonda that year I never saw it. I think Rebel Ross, usually a Whites Beach Speedway regular, may have driven a 113 while I was in attendance but I don't know if that was his or Red's car. I know Ross [AKA Dale Horton] was from around Broadalbin and was almost certainly part of that close knit racing community around Johnstown and Gloversville, along with the Blanchards, the Roots, the Bennetts, the Kollars, and more.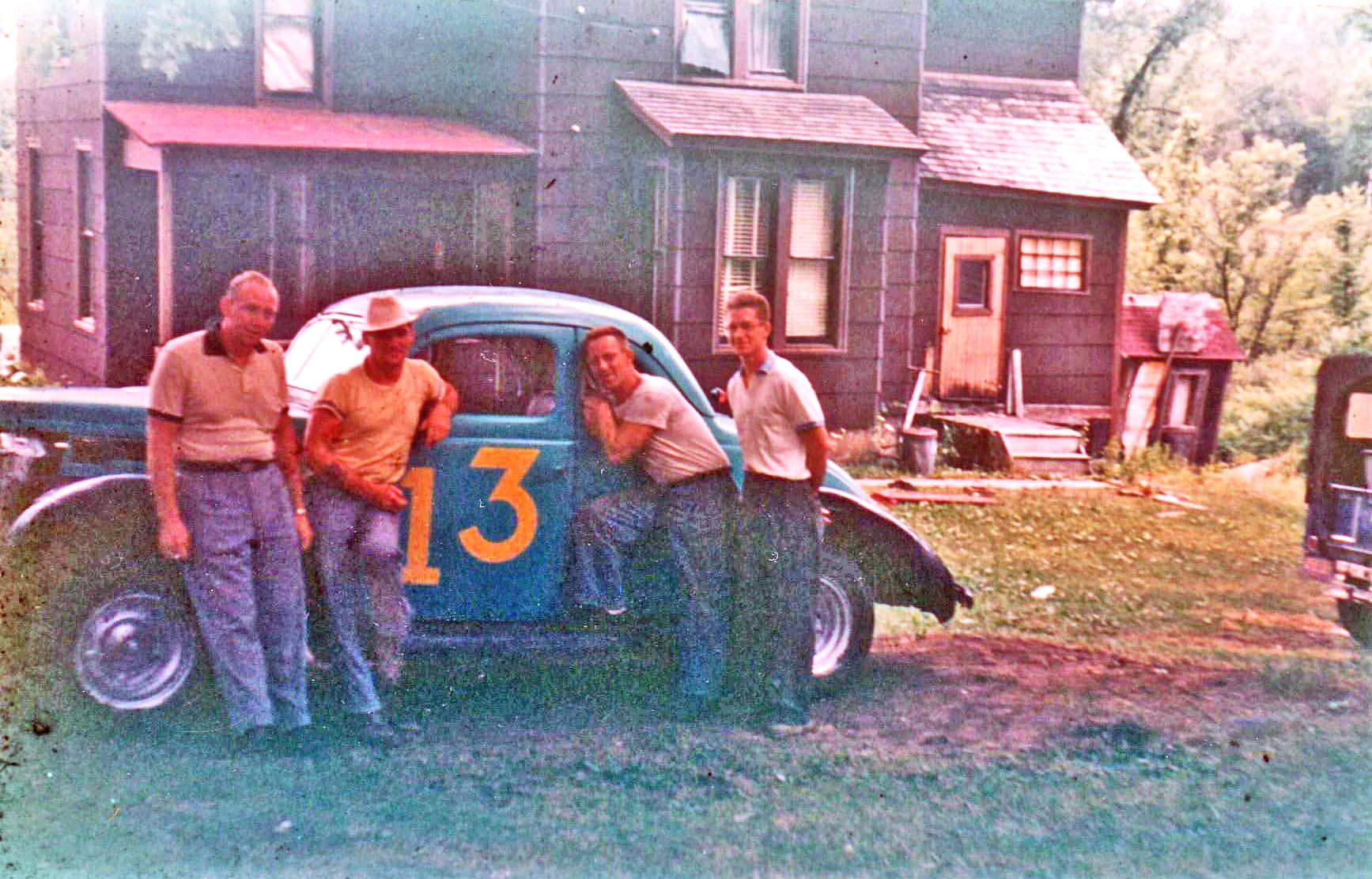 Courtesy of Annette Achzet
Red Knoblauch [rt] with friends and crew that included
Tony Achzet [maybe 2nd from left]. The Achzets went on to have a
a key role in a pretty legendary car themselves in the 81a – that
was driven by a number of drivers including Shoemaker [to a win].
The photo shows Don [rt], Lee and Jeff McWalker [ctr].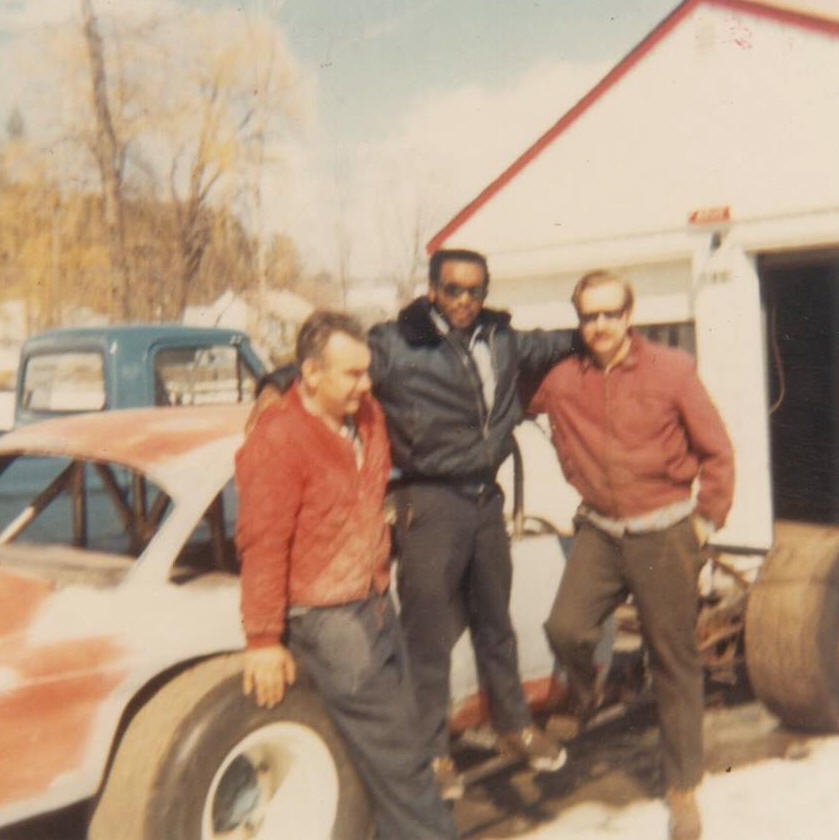 Courtesy of Annette Achzet
You can talk all you want about the Lapes, the Johnsons, the Danishes, the Lazzaros, and the rest of the stars; but, without the Red Knoblauchs of the world, I seriously doubt Fonda would have been what it ultimately became back in its glory days.
Please email me if you have any photos to lend me or information and corrections I could benefit from. Please do not submit anything you are not willing to allow me to use on my website - and thanks. Email is: wladabou@comcast.net . For those who still don't like computers - my regular address is: Bill Ladabouche, 23 YorkStreet,Swanton, Vermont 05488.
AS ALWAYS, DON'T FORGET TO CHECK OUT THE REST OF MY WEBSITE
www.catamountstadium.com
Return to the Main Page
Return to the Main News Page
Return to the All Links Page
Return to the Weekly Blog Links Page