BILL'S [Somewhat] WEEKLY COLUMN/BLOG PAGE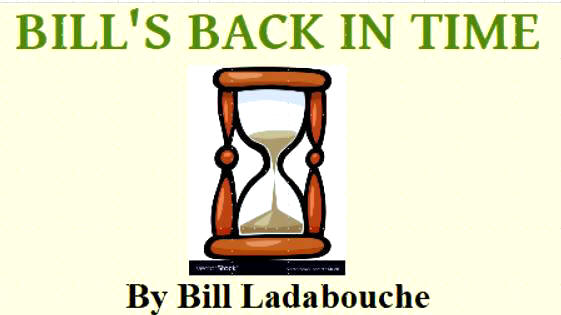 Column 15 Re-Visited: Mystery Visitors to My Tracks
When I recently took a look at some of my old columns I had done for "Racin' Paper", I stumbled across onecalled "Tracking Names Down". It was about some cars that had visited Fairmont Speedway in its early years and had left somewhat of a mysterious mark. My initial response was just to repair some broken photo links; but then, I realized I shouild probably beef up the piece with some additional learned information. So, here goes.
The column started with: Sometimes, tracking down the true story of a particular car or driver from the past can be so close to impossible that it takes forty years [and a little coincidental luck] to unwrap the mystery. One such case rested with a nondescript maroon #19 coupe thatr happened to appear unceremonioously at Fairmont in 1962. The car arrived, one late summer afternoon, in the body of an old Ford dump truck. Nothing much was said of the car during pre-race practice, although I was always fascinated by - and attention - newcomers. The sometimes distorted public address system boomed out the lineup of the heat in which the car was seated. It was said to be driven by Tom Bennett, from ????* Bay.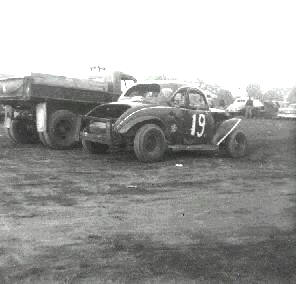 Ladabouche Photo
Red Lamphere's 19 sits beside the dump truck it came in at Fairmont Speedway. Below - The 19 appears on the track, in
a 1962 lineup with temp driver Tom Bennett at the wheel.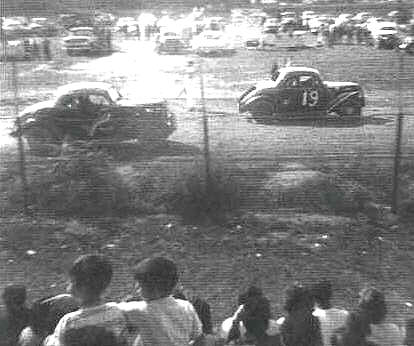 Ladabouche Photo

I couldn't make out what the first part of the address was through the feedback, so I concluded it must have been Malletts Bay [as I had been to one race at that now - defunct northern Vermont track around 1958 - and it was the only racing "Bay" I could think of. Then, in late 2005, my friend and fellow history buff Len West sent me four photos from the 1962 season at Fairmont Speedway. Coincidentally he must have taken his camera to the track on the only week Tom Bennett ever made an appearance at Fairmont. It was the second time I had ever gotten of that car.
That second photo was a lucky stroke for thoseof us that love the obscure, but it still didn't explain much about the mystery. Now armed with two photos, I continued to try and talk with old hands from the Malletts Bay days; but no one was admitting the slightest familiariy with the car or that driver name. We considered all of the possiblities in the township of Colchester from that era: either of the Malletts Bay Raceways, Ivanhoe Smith's Colchester Raceway, The Green Mountain track on Williams Road, and even the oldest - the Sunset Speedway further into town. Nothing.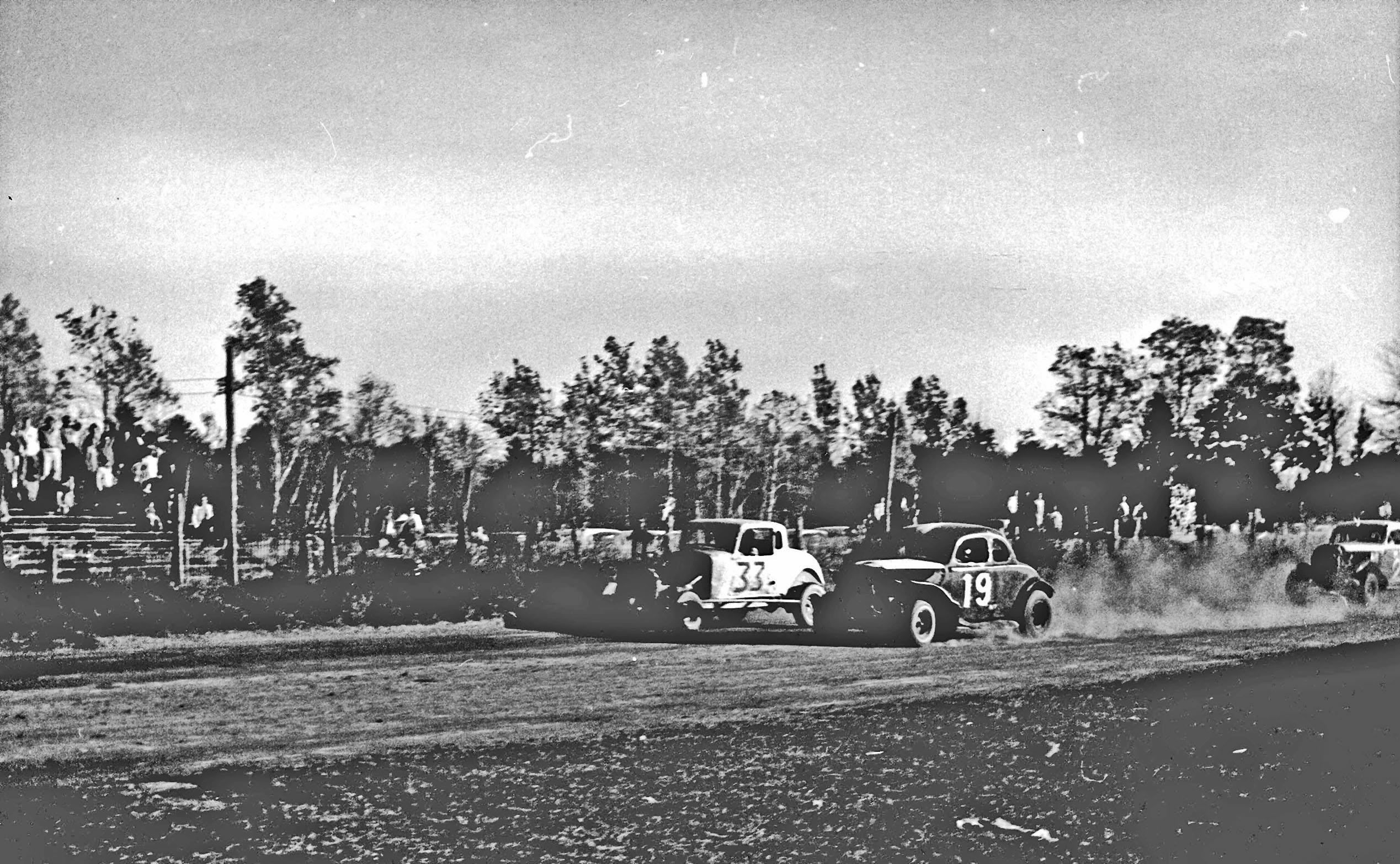 Bob Frazier Photo via C.J. Richards
Tom Bennett brings the 19 up beside the 33 1/3 of Red Smith at Fairmont. All three cars here
were from Warrensburgh Speedway [or Ashland Park] Below - Rapid Ralph Palmer,
with a Former Johnny Jones Warrensburgh car at Fairmont a year after the 8 Ball.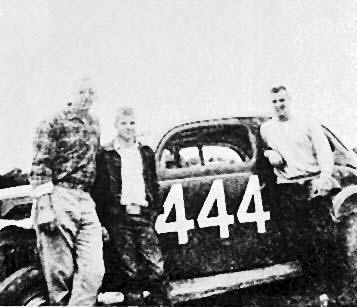 Bob Frazier Photo via Cavalcade of Auto Racing
One Saturday night around 2006 or 7, I found myself at Mike Perrotte's Airborne Speedway. Then trying to foind out more about the old Ashland Park [or Warrensburgh Speedway], in Warrensburgh, NY. I was visiting the hauler of modified driver Terry Hayes [from Warrensburgh], and I was referred to a Bruce Keith, a young man who seemed too young to have any realistic memories of that era, himself. As it turned out Keith's mother had not only been a scorer at that track but was an avid historian. Although she had since passed on, Bruce had learned a lot from her.
Meanwhile Bruce had motioned to another man sitting quietly nearby beside a pile of racing tires. The large, crew cut, older man turned out to be "Rapid Ralph" Palmer, a former driver from Glens Falls, NY. Between the two, the truth about the maroon 19 and its driver tumbled out. The car turned out to be a regular at Warrensburgh, not Malletts Bay. The one was on Red Lamphere, from Lake George, NY, and apparently also a regular at the Whites Beach Speedway in Ballston Lake, near Saratoga. Bennett, as it turned, was a driver at both venues, did come from some New York town ending in Bay, and was not Lamphere's usual driver.
Bruce Keith pointed out that the Warrensburgh and Whites Beach tracks had sometimes been loosely linked, even sharing some of the same officials [such as Mrs. Keith]. By 1962, Warrensburgh had been closed at least for a year, and I am not certain much was happening at Whites Beach either. Fairmont Speedway had gotten a lot of its entries from those two venues. Although orphaned from those two New York tracks, Lamphere and Bennett apparently did not find Fairmont to thier liking, as I never saw the car again. I would end up with one more photo of the 19 at Fairmont [ironically in the photo with two other former Warrensburgh cars].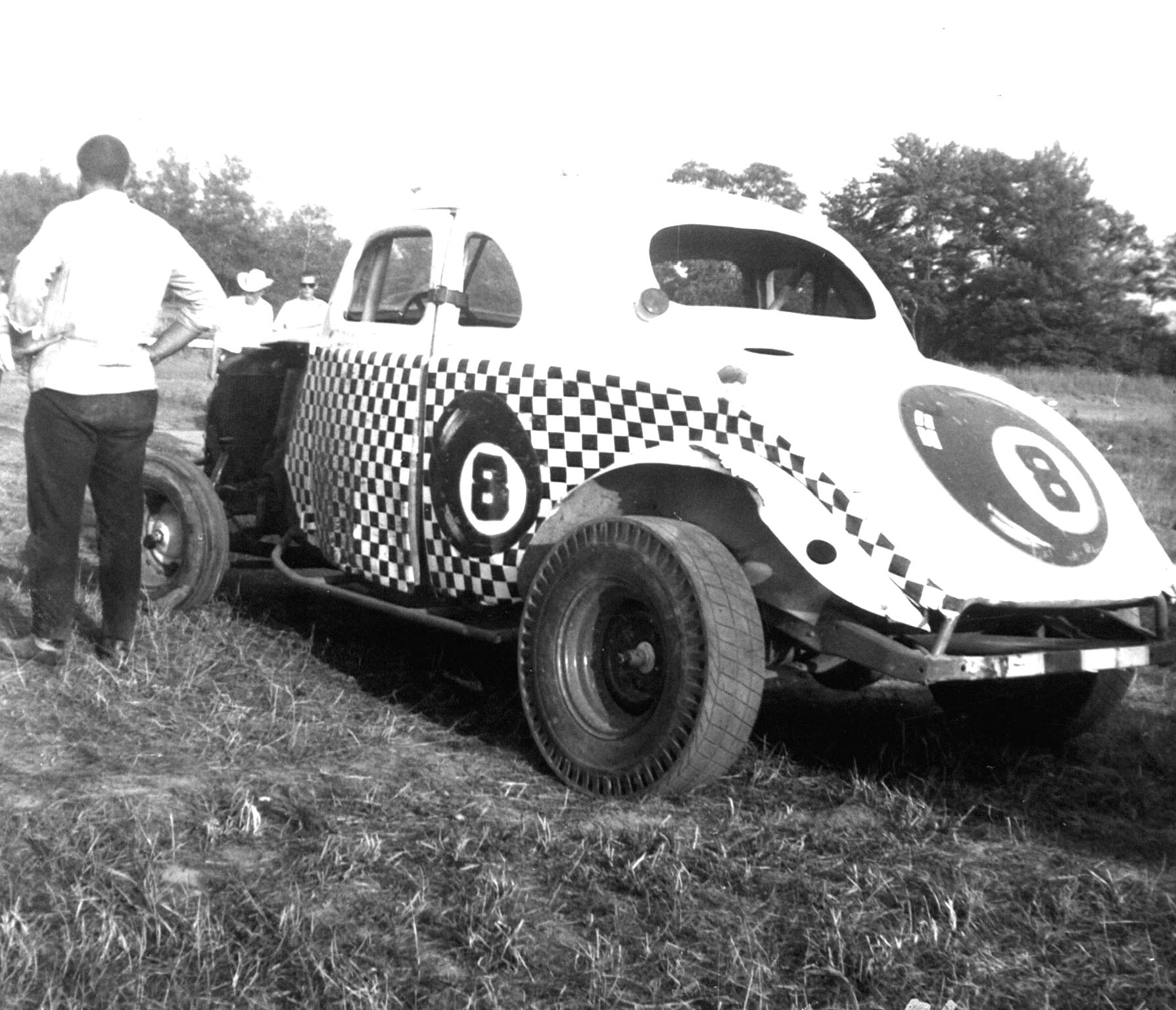 Ladabouche Photo
Red Lamphere's 19 sits beside the dump truck it came in at Fairmont.
This bring us to a car not mentioned in that original column, but which was one of my longest lasting mysteries ever. EIther that year or the next, a white #8 Ball came to Fairmont. The '37 Ford had a professionally done eight ball and so large a checkered portion on each side that it must have taken that sign man a very ong time to put on. I never got the name of the driver or anything else about the car in its one visit. It never appeared anywhere in any other photo, either. As the years wore on, I would always mention the car, even putting on a page on my website that featured mystery cars. No results.
Finally, around 2015 or so, I happened to strike up a conversation with Rick Huff, a guy who had shown up with the Jessey Mueller entourage on a few occasions at Airborne. I think I had brought up the fact that the Meullers came from very close to Warrensburgh, which led to talk about old cars from there. Somehow, an 8 Ball popped up in the conversation and I pounced on exactly which one he was talking about. It certainly appears that it was that same car that showed up at Fairmont that day. The car apparently belonged to an Art Wilson, from Chestertown, NY. He usually had a driver named Roger Bolton [who was probably there with the car that afternoon in Fair Haven]. With the end of that 52+ year mystery, it leaves few cars left that I haven't indentified.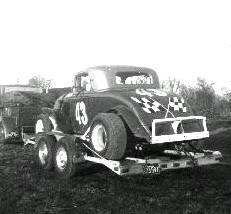 Ladabouche Photo
The 43, as it arrived at Fairmont around 1963. We still don't know who owned the thing. Below -
Driver - for hire Don Wayman was a regualr in the 43, seen here at its ESSO home base.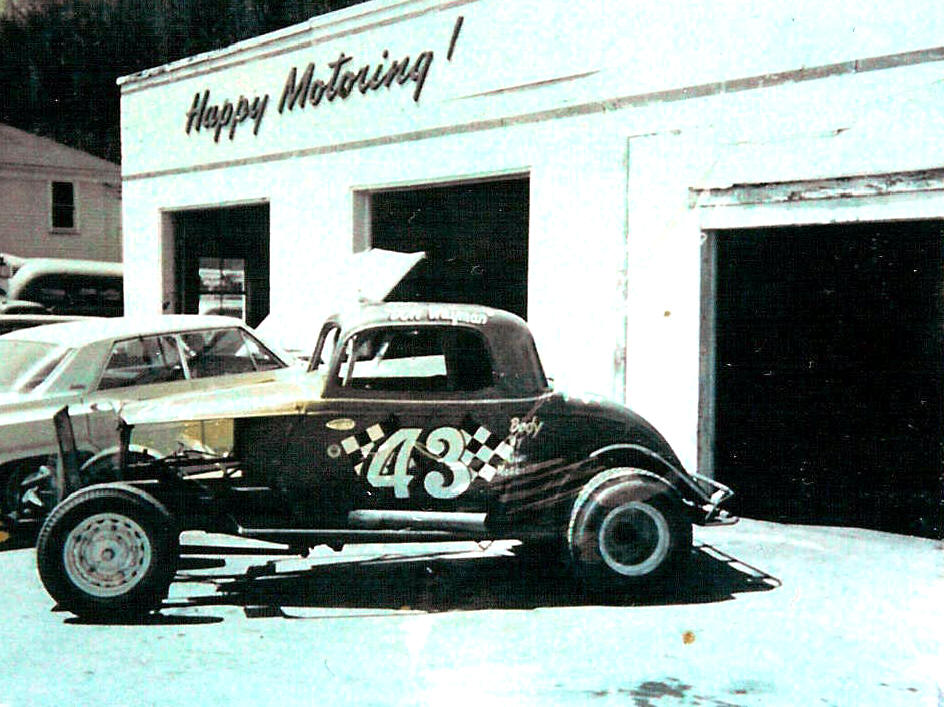 Source Probably Jeff Ackerman
Another Fairmont ,mystery car that took a longtime to sort out was a blue and gold'34 Ford coupe that was trailered into Fairmont around 1964, to be driven by local legend Moran "Sonny" Rabideau, A Claremont and Fairmont regular who was destined to be inducted into the NEAR hall of fame by 2003. I ahd always figured it was a Lebanon Valley car , as it had that Valley look to it and it had equipment that was not generally seen on many of the Fairmont cars. It couldn't have been a Fonda car, as NASCAR had outlawed the pre 1936 bodies by then. It had a professionally done #43 with checkered flags on each side. I am not sure how Rabideau did that day or why he hlanded that ride, but I am sure he didn't win the feature.
Nothing was heard of the car at Fairmont again and nothing about it was seen in our area again. I had occurred to me that the car was set up a lot like that of Ralph "Rufus" Chittenden, a New York driver who appeared at Fairmont on a number of occasions. I ahd always figured Chittenden was another regular at the Valley until I noticed him and his car featured on the Onteora Speedway page in Cavalcade of Auto Racing. While he may have run the Valley, I found out that Chittenden ran tracks like Onteora and Mid State Speedway in Morris, NY.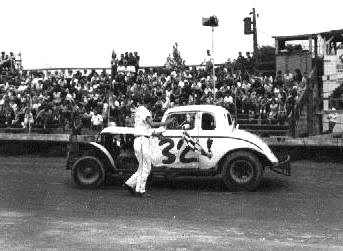 Bob Frazier Photo
Ralph Chittenden, winning one at Fairmont. Below - The Midstate Speedway car of
Stitch Mauriano was also similar to the mystery 43.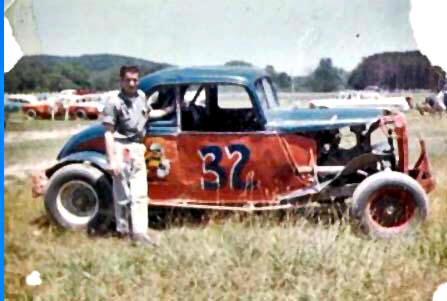 Courtesy of Rick Parry
When I first got into the stock car racing history game, one of my inspirations was central New York photographer RIchard "Otto" Graham. Otto made a lot of photos available from the Morris track, as well as places like Fonda, etc. Between him, Rick Parrfy, Jeff Ackerman, and others, a photo of that #43 finally surfaced. It turned out to be a car that often did run Mid State and was driven [at least sometimes] by famed driver - for - hire Don Wayman, of Cobleskill. Wayman was certainly familiar to me as a Fonda driver for various teams; although, I never did find out who owned the car. The photos of it are outside of a vintage ESSO station somewhere in central New York.
The next Fairmont mystery car did not appear long enough or make a big enough splash for me to even have a clear idea who was driving it. All I could rmember - despite the photo I did take, was the sky blue and white color scheme and a mistaken impression I had gotten that it was driven that day by Butch Jelley, a Lebanon Valley star who occasionally made visits to Fairmont with Ed Winn's Y before he landed the ride with the Martin Riiska yellow X. The car had obviously been professionally lettered with the number 39 [perhaps in reference to the body's year of manufacture] and carried a reference to the U.S. Air Force on the side. I found that odd because no branch of the service was advertising on bull ring cars in that era.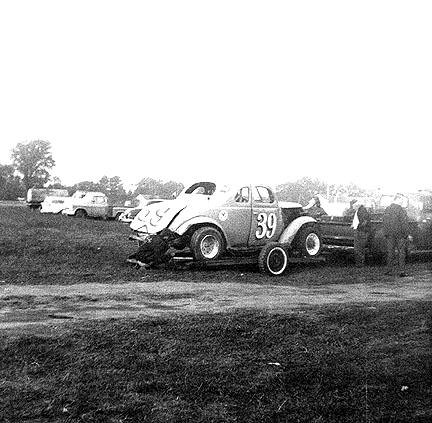 Ladabouche Photo
The Jim Langenback/Ed Zackenback/ Butch Jelley [whatever the hell] U.S. Air Force
car 39, as it sat in the pits at Fairmont in 1963.
As it turned out, the car did not seem to be running very well and didn't amount to much. I had later heard that a driver named Ed Zackenback, who I think had appeared once at Fairmont with a car Z1, was the driver. Even that was wrong - it was Jim Langenback, whose fame in Vermont came later as the guy who veered off the tgrack at Devil's Bowl and pooned C.J. Richards' nice Plymouth Supe Bird pace car. Langenback did have a fine career at tthe Valley. Thanks to my friend Russ Blake, we had finally solved the mystery of the 39. If Jelley had anything to do with it, it would have been in the role of a last - minute fill - in driver. Nonetheless, the U.S Air Force car appeared to drive more like a U. S. Army tank and never returned.
One of the hardest mystery cars to solve for a while was partially because I had been given that photo by a friend who had my camera with him at a race I couldn't attend. There was this 1937ish Ford [that apparently had not actually made the show that day] bearing the number of Lazy 1. The car had a reference to Defreestville, NY on the side. Later on, as I did this history work, I came to know that this was obviously George Gowie, a veteran driver who had started out in the earliest days of local stock car racing and who was a fairly well established figure at Lebanon Valley by the time he was running that version of the Lazy 1.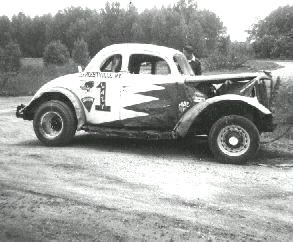 Ladabouche Collection
George Gowie's Lazy sits at Fairmont , where my friend photographed it for me.
NO ONE remembers seeing the car and there are no records of what GG
accomplished that day. Below - Here, he obvioously accomplished
something at Lebanon Valley.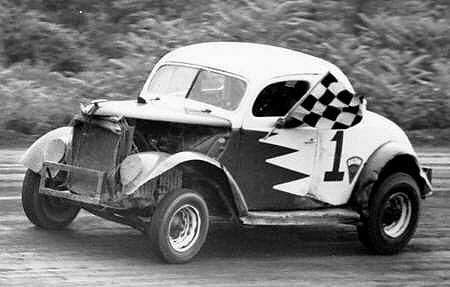 George would be forever memorialized at the Valley by a particularly violent crash with another [perhaps later] Lazy 1 that left it twisted. I think Ray Williams shot the photo of that twisted1934 Ford coupe as it sat after the wreck. Over the years, thanks to Dan Gowie, I have enough photos of George's cars to gave a special page for him on the webste. One of them is that same Ford that appeared at Fairmont, that Sunday afternoon in my absence. I have a few more mystery cars from Fairmont that still aren't solved, and I would have to say the Art Wilson 8 Ball holds the record for the longest time it took to ID a car [at least until I find out about one of the unsolved other cars].
There are fewer mysteries at the old Otter Creek Speedway track near Vergennes, Vermont as it had a short life. The track went through three names in five year span and I only saw racing in tis first three years. One Sunday afternoon, when the track was featuring NASCAR sportsman cars [the final NASCAR was sanctioning the track], a yellow and pruple car showed up with very little attention paid. After apparently either breaking or not being allowed to run, it appeared up behind the grandstands on a decrepit flatbed truck, probably to watch a few races before the long drive back to Connecticut.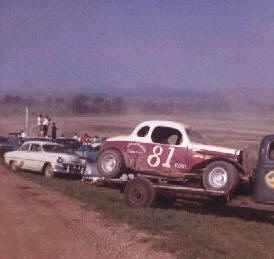 Ladabouche Photo
The "George Stevens" [John Narducci] 81CT sits behind the announcer's stand
as you can vaguely see the track down in the distance at Otter Creek Speedway.
Below - The 81, in happier days, at Stafford Springs [CT] Speedway.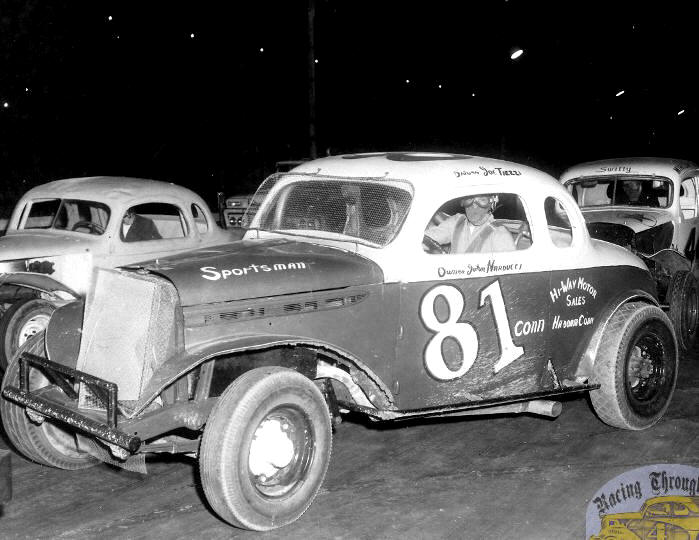 Shany Lorenzet Photo via Dave Dykes
I man reasonably sure the car was announced as "George Stevens", although the Otter Creek PA system left a lot to be desired. For around 48 years, that was the way it stood - George Stevens in the 81CT. The my wife and I were attending one of the Saratoga Auto Museum's Lost Speedways conferences, and we were listening to a slide presentation when the81 came up on the screen. Turns out, it was actually the John Narducci - owned car and was driven most of the time by Ivertown, CT drive Joe Tiezzi. Narducci, an uncle to Ron Narducci, proabably never bothered tgo haul that car that far again, given the condition of the old flatbed truck and its lack of success in northern Vermont that day.
My final mystery car also turned out to be just as mysteriuos a driver story. The 1962 Vermont State Fair show put on by C.J. Richards produced a number of cars, some of which I still haven't figured out. One mystery that lasted about as long as the 81CT case was a #A11 that came and quietly performed at the race. left, and was not commented upon by anyone thereafter until I started getting photos of that race. Having absolutely no idea of car owner or driver, I would see the car in at least three good photos of that 1962 program.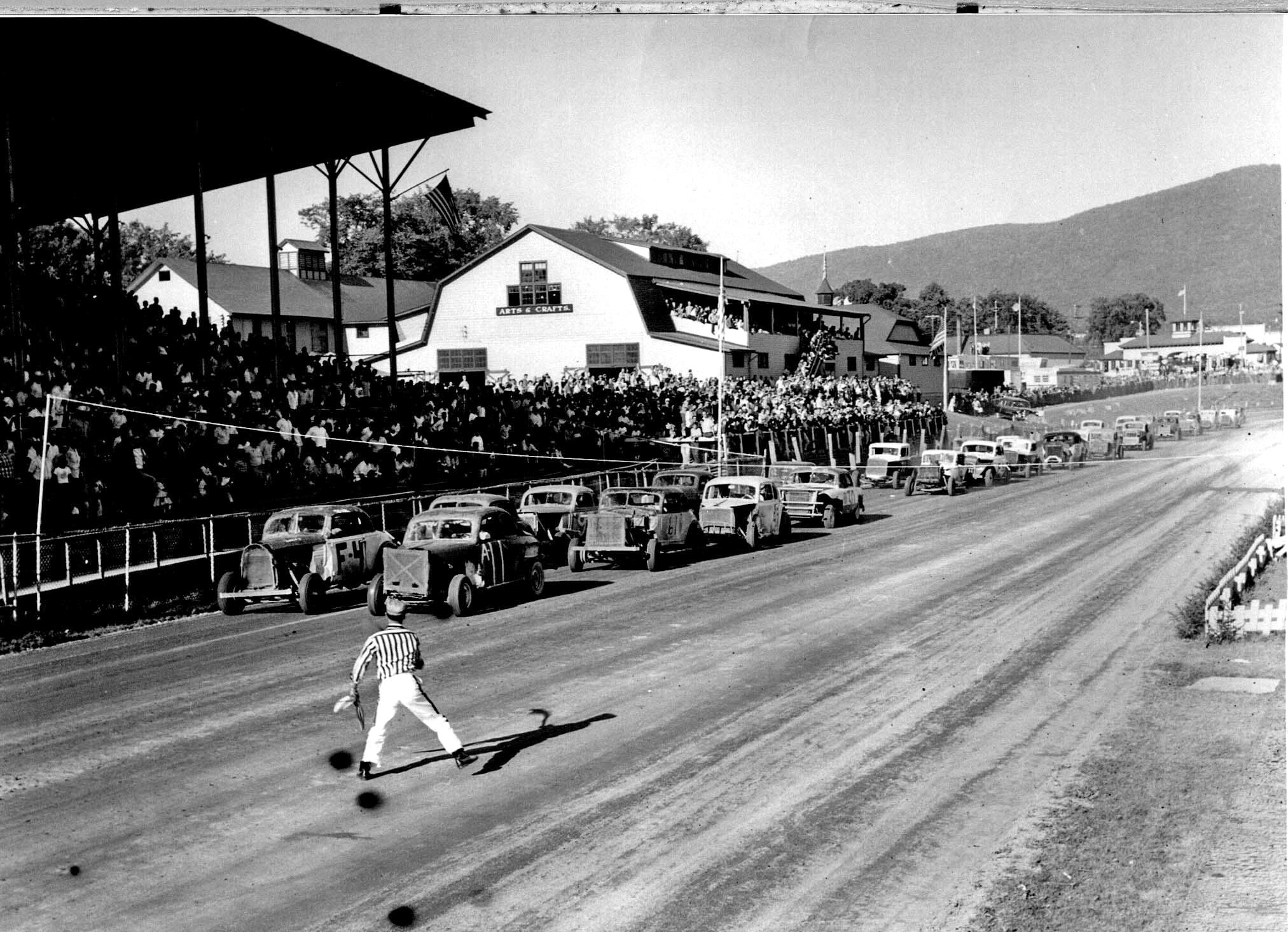 Bob Frazier Photo via C.J. Richards
The A11 sits on the inside pole as Danny Rumph flags off the field at C.J. Richards' record - setting 1962 fairgrounds show.
Below - The A11 can barely be seen at far right next to the F4 as the feature was being lined up in front of the
grandstands. The car 61 following nearby was John Ballantine.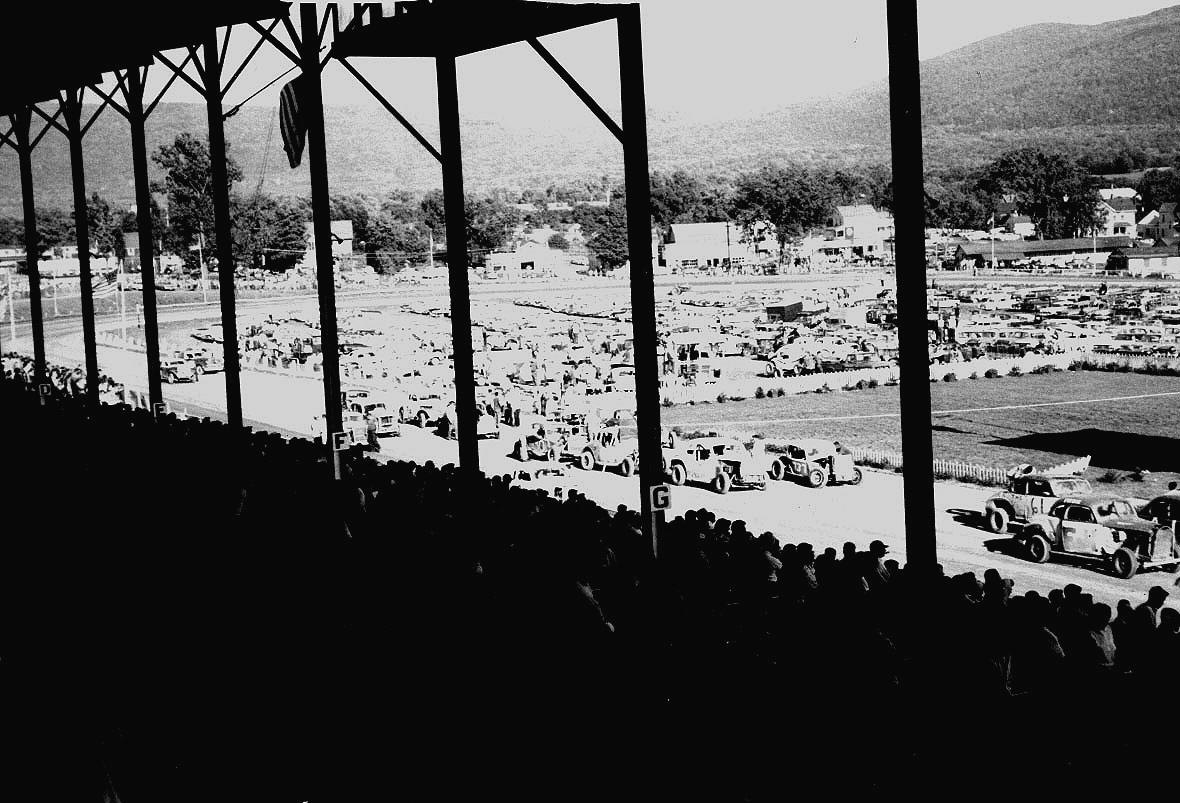 Norm Vadnais Photo

Time would march after my cousin, Norm Vadnais and my friends, the LaFond brothers had given a good set of Bob Frazier photos of events in that record - breaking
[and somewhat disastrous] racing show of the Fairmont Racing Association. The race was nearly called off in midstream by the Vermont State Police after two different massive pileups caused mostly by the lowering sun of September and the dusty conditions that were worsened by an unrelenting sun and by the fact the fair commision would not let Richards bring his
own, larger water truck to use.
Shots by Frazier show the A11 starting the race on the inside pole and sitting, waiting for the cleanup fro mthe first pileup that ended the life of the poor Beryl FItzgerald F4, the car that had taken the green beside him. Norm Vadnais captured the A11, sitting [again unscathed] in the middle of the pack under a red flag wating for them to untangle the second pile on turn two. The car was never seen again, as far as I can tell, and nearly forgotten until it resurfaced in the Frazier photos.


Bob Frazier Photo via the Rutland Herald and Barb Laduc.
The F4 of Beryl Fitzgerald, who started
the feature next to the A11, sits twisted at far left after the first of two major accidents in the
show. The A11 emerged unscathed, having fallen back a bit. It was sitting here safely
behind Johnny Spafford's 77. Below - A slightly dazed Joe D'Avignon walks away from his
car shaking what might be an injured arm as the mystery driver we now know was future
;Fairmont hobby legend Lennie Wood, sits in the A11 abnd taked it all in. he wouldn't have been phased.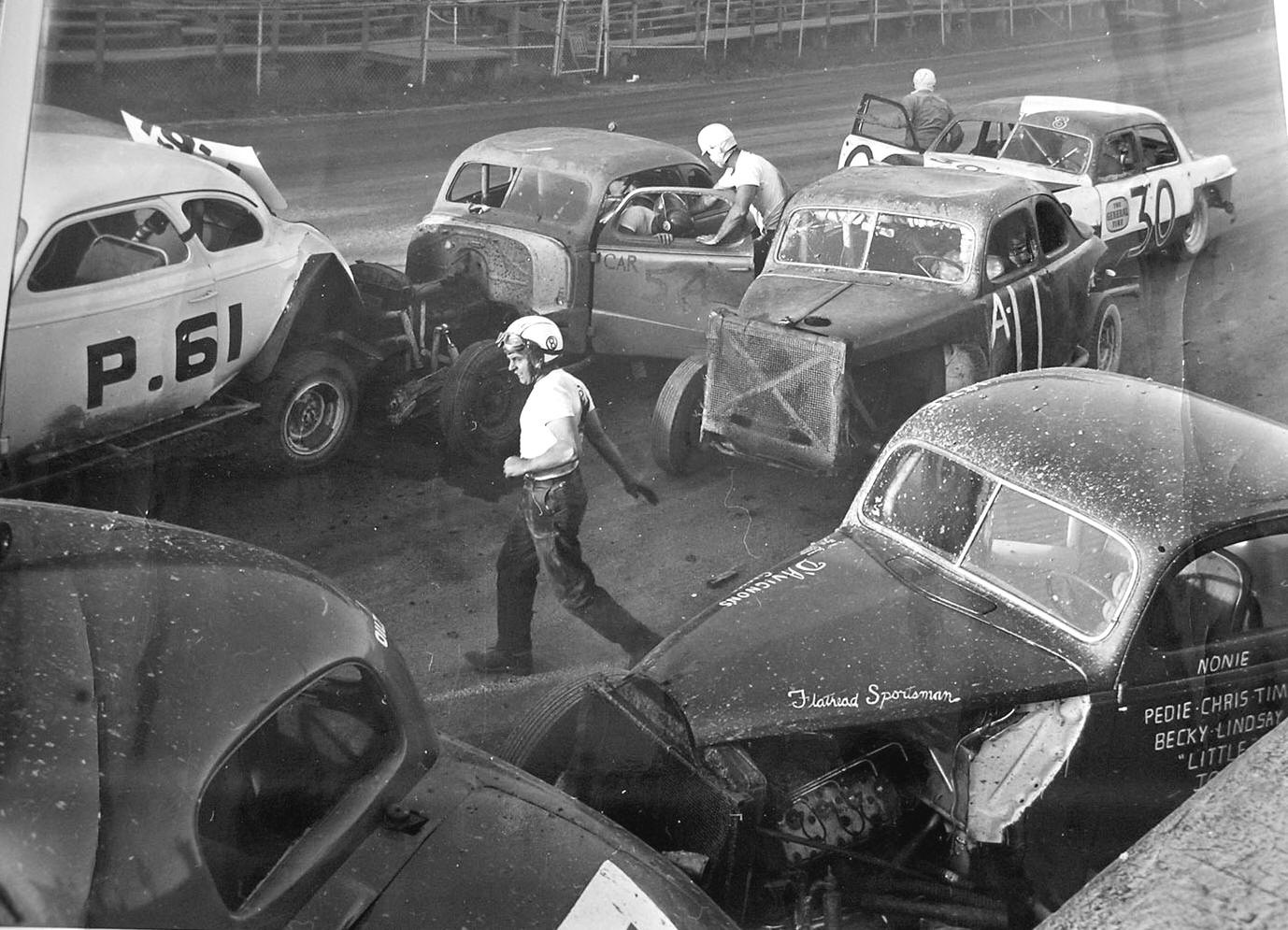 Bob Frazier Photo via The :LaFond Family
As time went on, someone [and I am sorry I don't recall who] told me that this A11 belonged to one Ralph Morse from Sunderland, VT, which was a lot closer to Lebanon
Valley Speedway than it was to Fairmont. Morse, a brother of the famed 1950's driver Charlie Morse [Ed Winn's OK Rubber Welders #467]. Morse had tapped a nearby young
man named Lennie Wood to drive the Ford coupe. Wood would go on to drive John Maguire's F30 out of Pawlet, VT and become the legendary "Unbeatable Lennie" Wood -
who woould race the entire 1965 season at Fairmont and never lose a race he finished in [except at the hands of Chuck Ely, who had a far superior, rules breaking Lebanon Valley late model].
There are still at least two cars from the Vermont State Fair show that remain unnamed. C.J. had made the race open to anyone whose car fit the fairmont Racing Associaition rules
closely enough where they bore no real advantage over his locals. This brought in cars that had been regulars at the Otter Creek Speedway [ a track that Richards was beginning to gert his fingers into] and other venues. I know there is a hastily renumbered '37 Ford #X and a car 13 that I still know nothing about. Then, there is a 1949 Ford or Mercury numbered 30, that had raced a time or two at Fairmont, that we still can't indentify.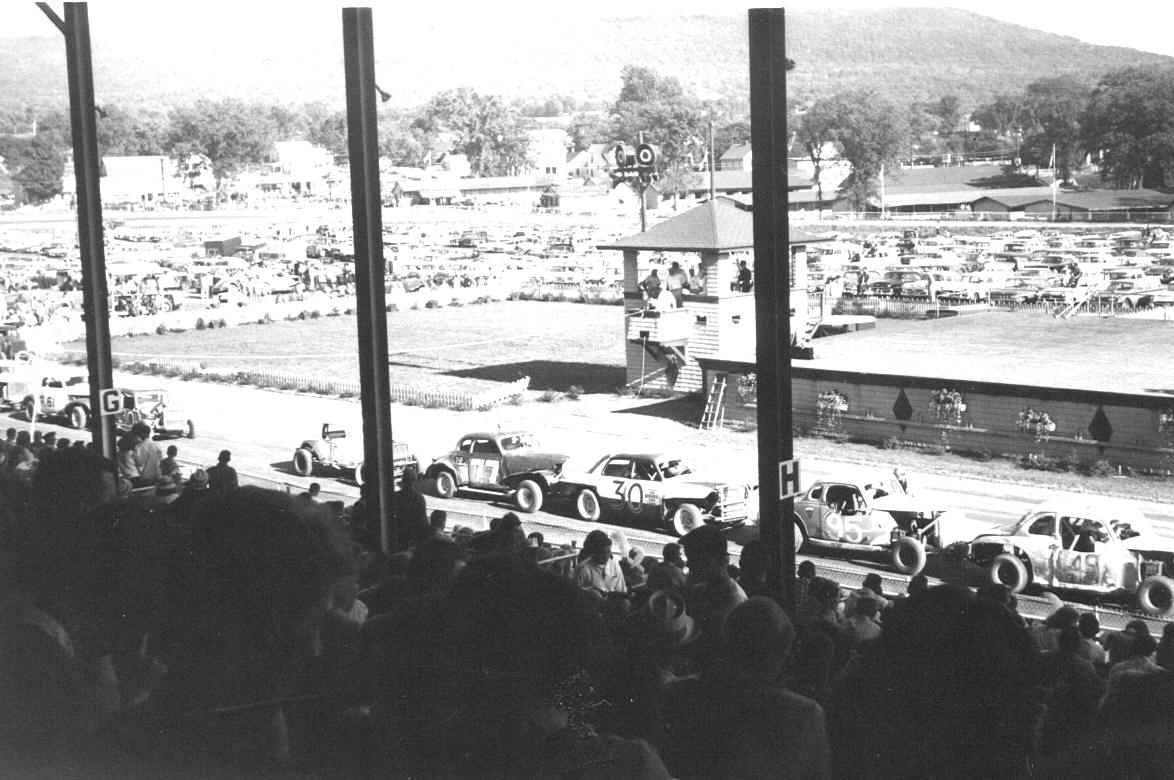 Photo by Norm Vadnais
Thjis lineup at the Vermont State Fair shows clearly the mysterious car 30. Below - this shot of the pits from the granstands
shows the unknown car 13, as it sits near several of the familiar local cars. It was definitely not Buddy Bardwell.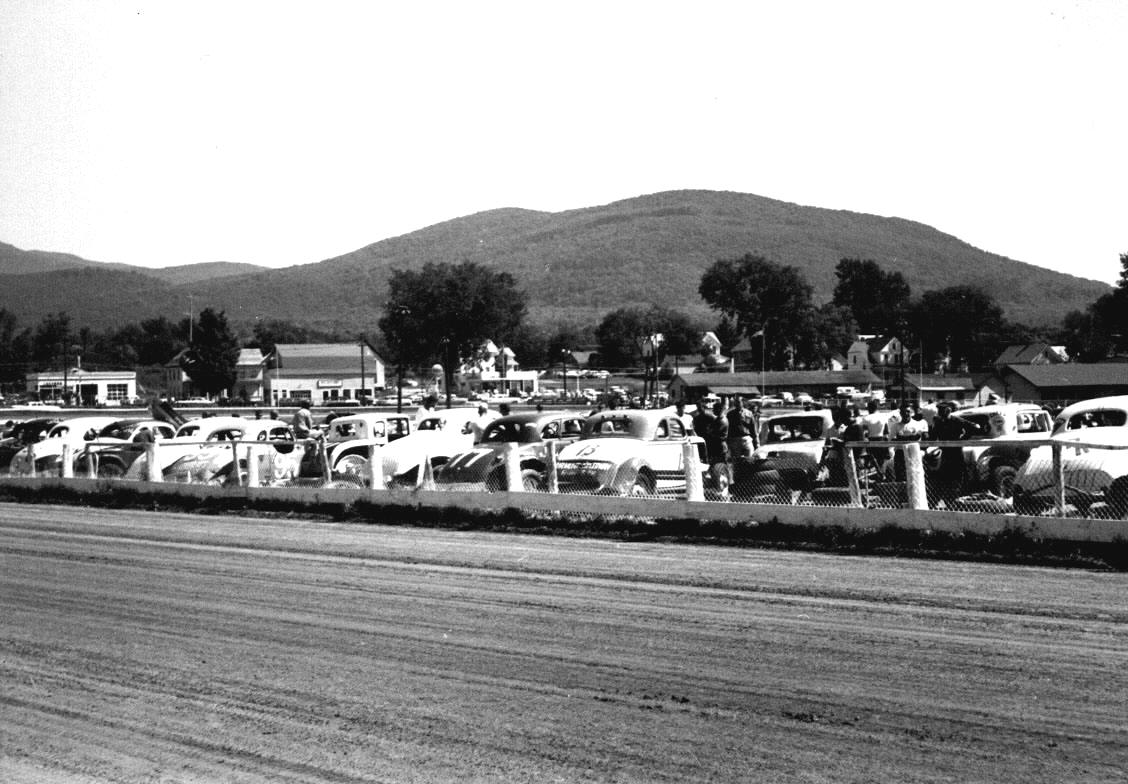 Norm Vadnais Photo
Oh well, that's what makes this work challenging [and fun, usually].
Please email me if you have any photos to lend me or information and corrections I could benefit from. Please do not submit anything you are not willing to allow me to use on my website - and thanks. Email is: wladabou@comcast.net . For those who still don't like computers - my regular address is: Bill Ladabouche, 23 York Street, Swanton, Vermont 05488.
AS ALWAYS, DON'T FORGET TO CHECK OUT THE REST OF MY WEBSITE
www.catamountstadium.com
Return to the Main Page
Return to the Main News Page
Return to the All Links Page
Return to the Weekly Blog Links Page