BILL'S [Somewhat] WEEKLY COLUMN/BLOG PAGE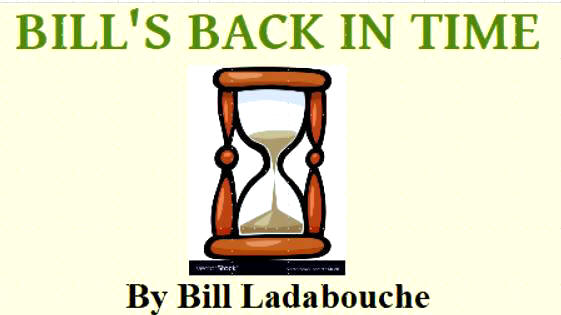 THAT MUST HAVE BEEN QUITE A TOWN !
THAT MUST HAVE BEEN QUITE A SCHOOL !
Whiting, Vermont is not much more than a wide spot in the road – found somewhat between VT Route 22A and US Route 7, in Addison County. A small, typical farm town in that most rural and agricultural of Vermont counties, the community school was equally small. Sandwiched in there, almost all in the same grade [and maybe the same room] were three men who made a big splash in the history of Vermont stock car racing.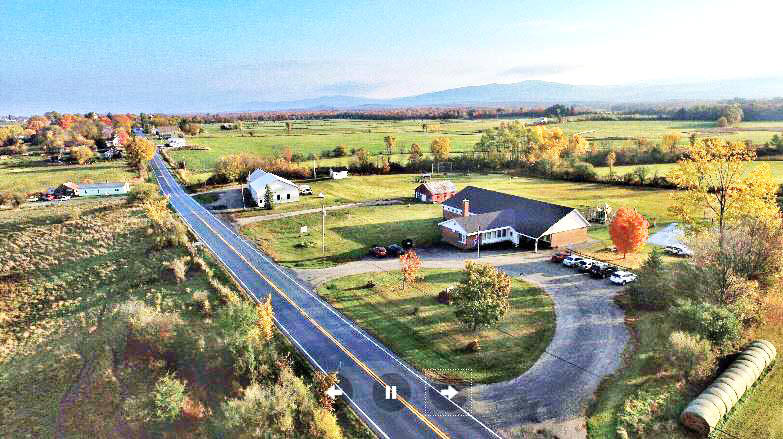 WhitingVt.com
This tiny elementary school is not the one the big three
would have attended, but it is still indicative of how
Small the town is.


At that tiny school – perhaps all in the same grade, were Fairmont and Devil's Bowl star Rudy Charbonneau, Vermont Hall of fame driver Vince Quenneville Sr., and prominent owner/builder Norm Scarborough. Charbonneau would have a close relationship in his early years with Leicester, VT driver Ed Foley, eventually having his own car and winning the 1964 Vermont State Championship at Fairmont Speedway.
Quennevelle, after a brief driving experience in a Chet Streeter car at Malletts Bay Raceway, would spend a tour of duty in the U.S. Air Force. When Vince got out, he went back to being around the sport of stock car racing, maybe even helping around Streeter's car at the new Otter Creek Speedway in Waltham – in the very northernmost part of Addison County.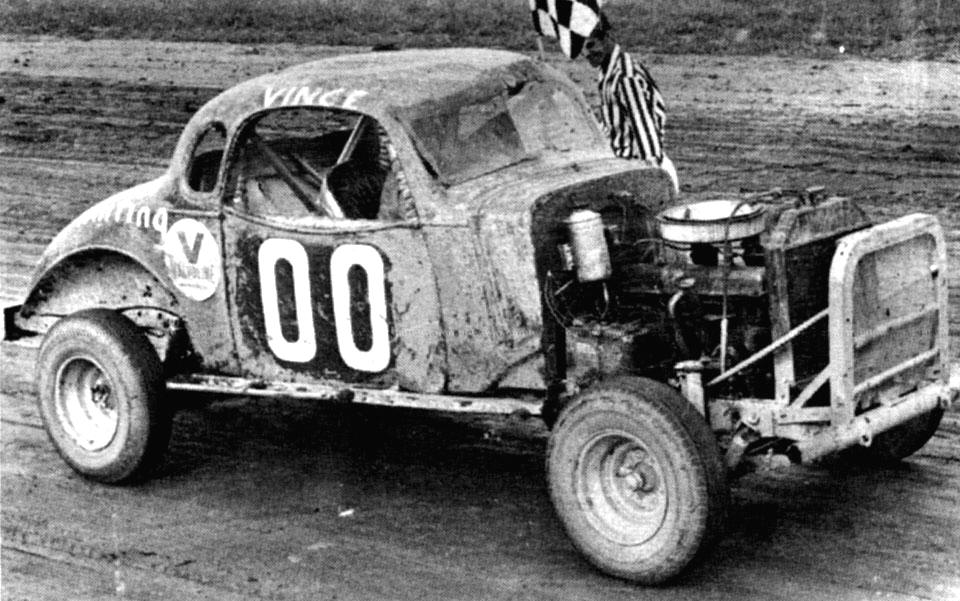 Bob Frazier Photo via Norm Vadnais
That first Scarborough car, with a heat win, at either Otter
Creek Speedway or Fairmont Speedway. Below - Vince
[seen over the hood] looks tired and maybe discouraged
after a 1962 race late in the season at Fairmont.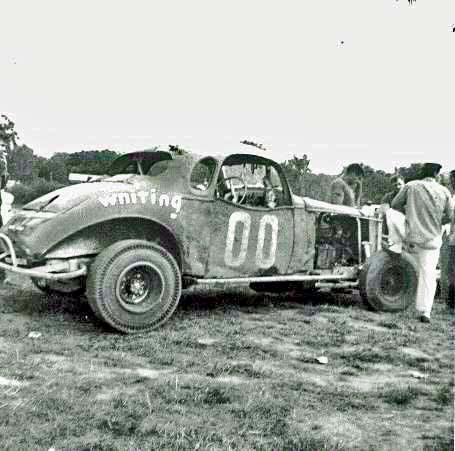 Ladabouche Photo

This track's opening would spur Quenneville and his Whiting friend, Norm Scarborough to construct their own car and run towards the end of that season or at the very beginning of the next. Scarborough would eschew the favored Ford flathead motor in favor of the GMC six cylinder truck powerplant. The 00 debuted, still in unpainted form, at Otter Creek – probably racing against Chet Street and others like Foley, with whom Charbonneau was working.
Introduced as "Vincent Quenneville" Vince was probably mistaken by some as the first Quenneville to race at the track – John Quenneveille. John [who apparently was no relation to Vince] occasionally drove the Phil Russell – created yellow and black car numbered "Checkmate", a Hudson. John would not go on to great distinction while Vince would earn hall of fame honors and a ton of wins.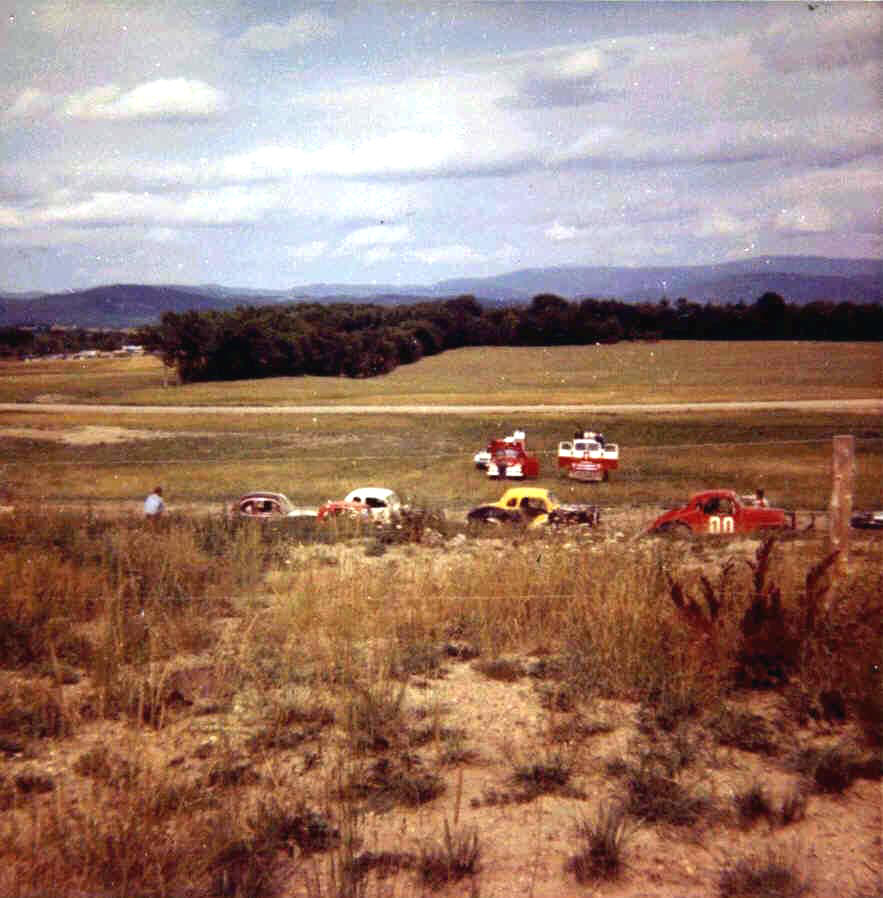 Ladabouche Photo
Vince's red 00 is lined up in front of John Quenneville
in the yellow and black Checkmate at Otter Creek.
The two were not related. Below – Vince [2nd from left]
works his way through the hobby cars at Otter Creek
to make as much progress as possible before the overhead
V-8 sportsman cars came from the rear and passed the hobbies by.
Vince's main local rival Ed Foley leads.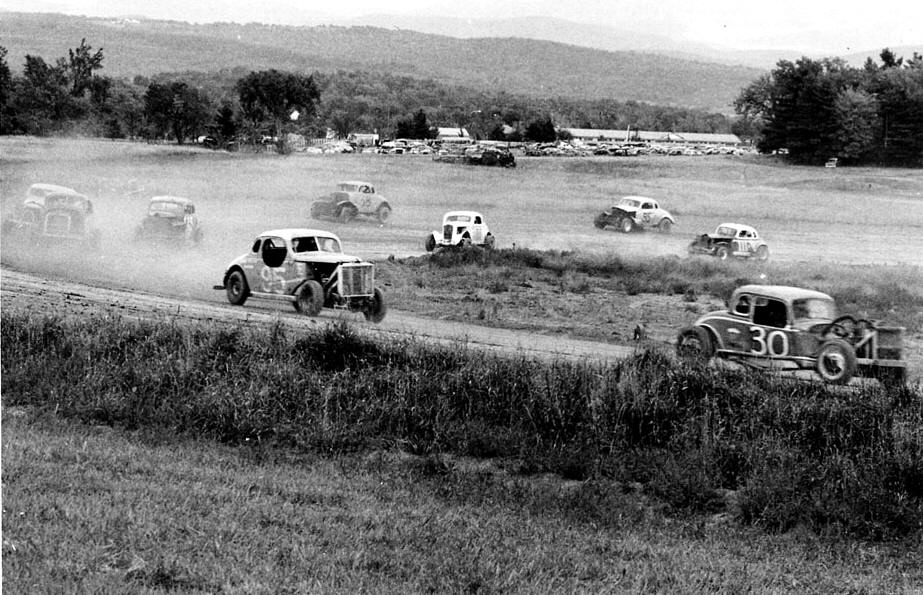 Bob Mackey Photo

The 1936 Chevy 00, now painted a plain red, would continue to run Otter Creek while also going to the newly – re-opened Fairmont Speedway in Fair Haven in 1962. I recall walking around the pits at Fairmont after a race, as the sun was beginning to set one Sunday. I was drawn to the 00 because we had seen in for almost a year – more than most of the cars then running Fairmont mostly from New Hampshire and the Glens Falls area of New York.
Someone quietly pointed out that the large, fat, redheaded man with the glasses by the car was Norm Scarborough, the car owner. Norm had blossomed out with a little snippet of the song "After The Ball is Over" and was puttering away at something to get ready to stiff hitch back to Whiting. He seemed like a big, jolly man; but, that was not often the case with the big guy who friends came to call "The Fat Rabbit".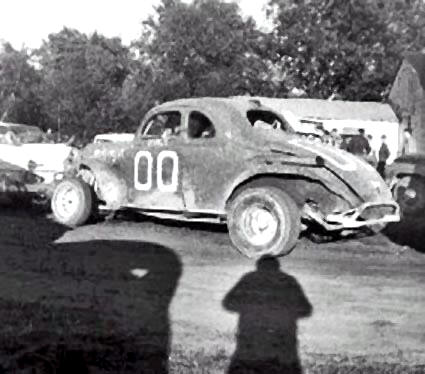 Ladabouche Photo
The Scarborough 00, the former Hoffer X9, sits by the
payoff shack at Fairmont. By now, the team was
becoming more successful. Below - The Visconti
version of the 2nd Scarborough car.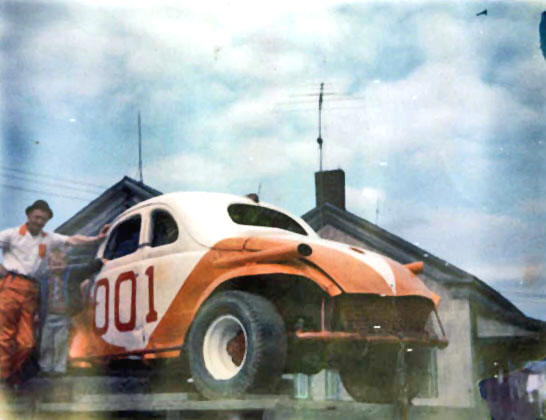 Visconti Family Photo


The following year, when Scarborough purchased Bob Hoffer's unique-looking and underachieving 1940 Ford in 1963, things started to heat up. With that car, also painted the same plain red but sporting Hoffer's trademark exhaust pipe extensions sticking out of the trunk, the team would be feature winners by year's end. This would start a brief trend where Norm would sell off his present car to Granville, NY's Art Visconti and then buy a car from someone who had already built it into a stock car.
The car that was purchased was the X9 Ford coupe of Argyle, NY's Bob Hoffer. The under-performing coupe with the trademark exhaust pipes sticking out both sides to the trunk was painted the same plain red, numbered 00, and put our on the Fairmont half mile dirt track. Vince would eventually win with this car before it was also sold to Art Visconti at the end of the 1963 season.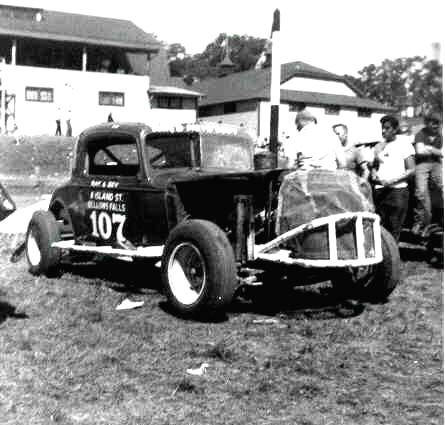 Ladabouche Photo
The Bruce Wylie 107 sits at the Vermont State Fair race
program in 1962, first time it had been seen by Fairmont
regulars. Below – The car, a year later, after Scarborough
had bought it out of New Hampshire for Gauthier.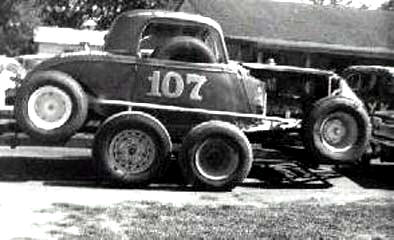 Ladabouche Photo


Sometime after that 1963 season – for reasons I don't know – Vince and Norm parted ways. While Quenneville went with local plumbing and heating contractor Gael Dundon, Norm looked toward New Hampshire to buy his next car and towards the Glens Falls area for his next driver. Apparently, when he had seen the car at C.J. Richards' big show at the Vermont State fairgrounds, Norm had been impressed with Bruce Wylie's three window coupe numbered 107. Since the 1962 fair show, the car had been sold to someone else who changed its maroon paint to blue, but kept the number 107 while dubbing the car "The Moonlite Gambler".
Scarborough would put veteran Roger Gauthier, who had been running second level cars at Fonda Speedway, at the wheel. The Scarborough/Gauthier combo was very dominant at Fairmont in 1964, winning multiple features. Gauthier would go on, with a different car owner, to win the track title in 1965. Norm Scarborough would be introducing a new driver. 1965 was a vary pivotal year in Vermont racing; this was the year most existing tracks moved from flatheads and sixes to overhead V-8's [and it was the year Catamount Stadium opened].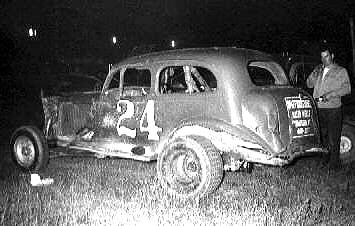 Ladabouche Photo
The Scarborough sedan sits in the Fairmont pits in 1965. Car
owner Clayton Ryan is checking it out at right. Below -
The Scarborough replacement coupe came in later in 1965.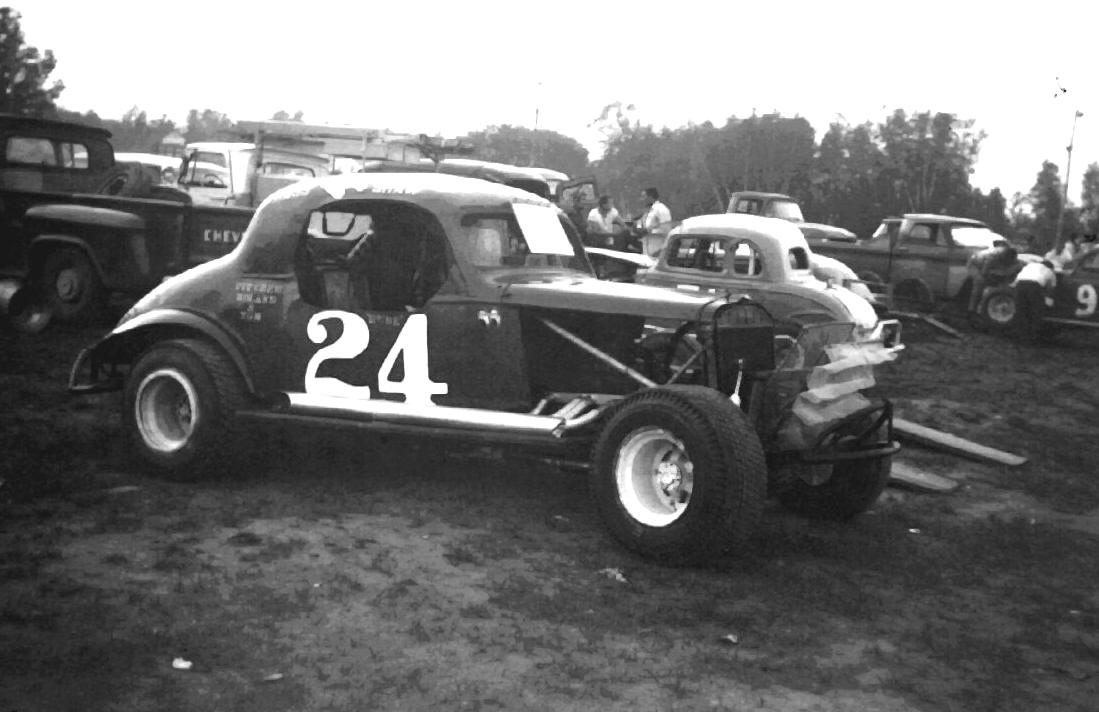 Ladabouche Photo

Norm would decide on a wild young blonde man named Russ "Rube" Shaw as his new pilot. The impulsive Shaw, a water well drilling worker, would start out with Norm's new creation, a 1936 Chevrolet numbered 24. Fairmont Speedway was no easy place to run in 1965, with many strong teams including those with the two former Scarborough drivers: Vince Quenneville, Sr. [Gael Dundon's 3] and Roger Gauthier [Al Ryan's 28].
The 24 sedan, when not off the track on its roof, was very much in the thick of things in most features. Shaw would bellow down the long Fairmont frontstretch, backing off as late as he could with blue flames poofing out the exhaust pipes. I don't know what Norm was burning in that thing, but every pass by the stands would be a long varoooom, followed by a pop [and then the flames]. I believe the rookie won at least one feature that season.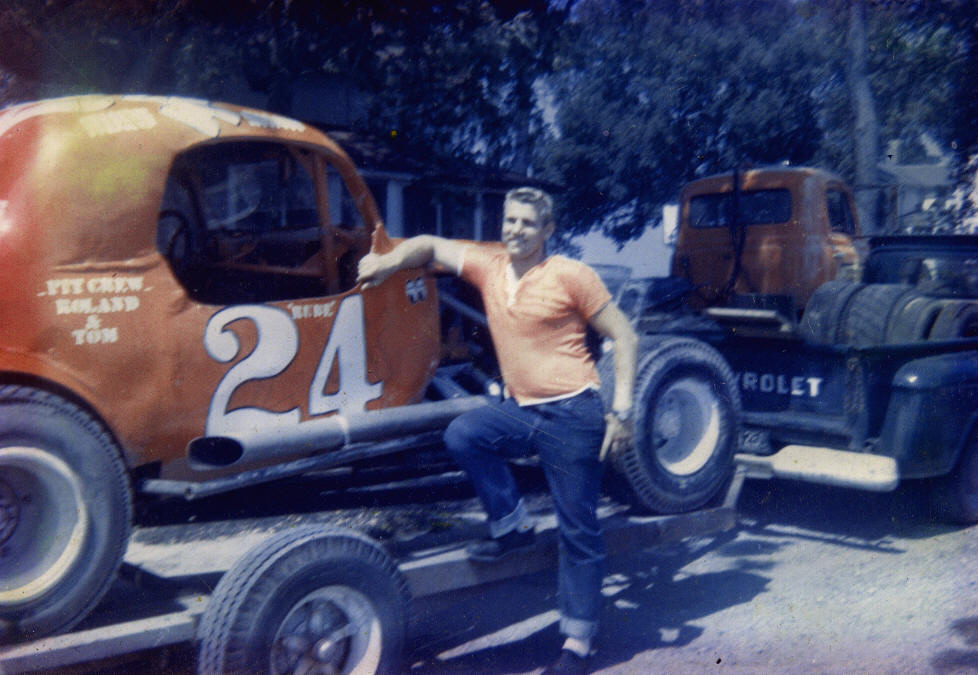 Russ Shaw Collection
Russ Shaw poses with the replacement coupe in 1966, before
the advent of the Mustang. Below – The first showing of the
Mustang came in 1966. Pretty rough looking at the time.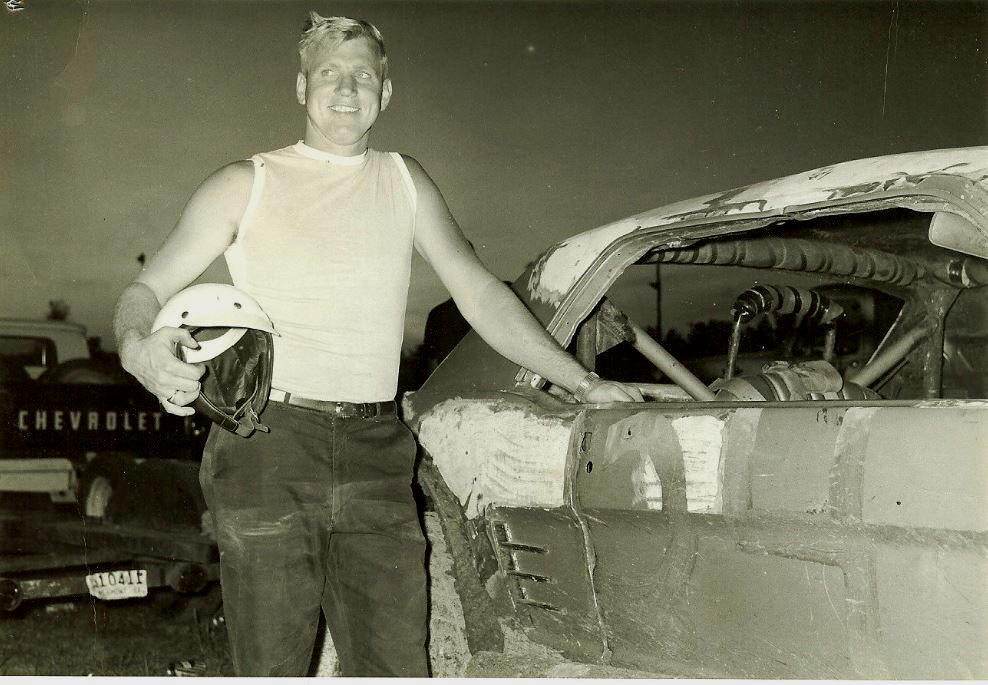 Bob Frazier Photo via Bob Kilburn
Shaw would finally put the sedan out of its misery before the year was over and Scarborough built a three window coupe to finish out the season. The sedan ran most of the year, but there are more photos of the coupe. Norm would stick with Shaw for the 1966 season – Fairmont's final year. We watched the coupe run that season, at first, but Scarborough had a Mustang – bodied car being built. He put Shaw in the Mustang right away; but, he became tired of how hard Russ was on the equipment and managed to lure Gauthier away from the Ryan team to finish out the year.
When Devil's Bowl was inaugurated in 1967 – track problems and all – the Scarborough Mustang was pretty well dialed in and Gauthier was considered one of the new track's headliners. Ironically, at one moment in time, Norm put old friend and former driver Vince Quenneville in the car for one program. Perhaps the Quenneville / Dundon 3 [a former Jack Dubrul and Dooger Jones car] was down that night. It must have sparked something, because – by 1968 – they were back together.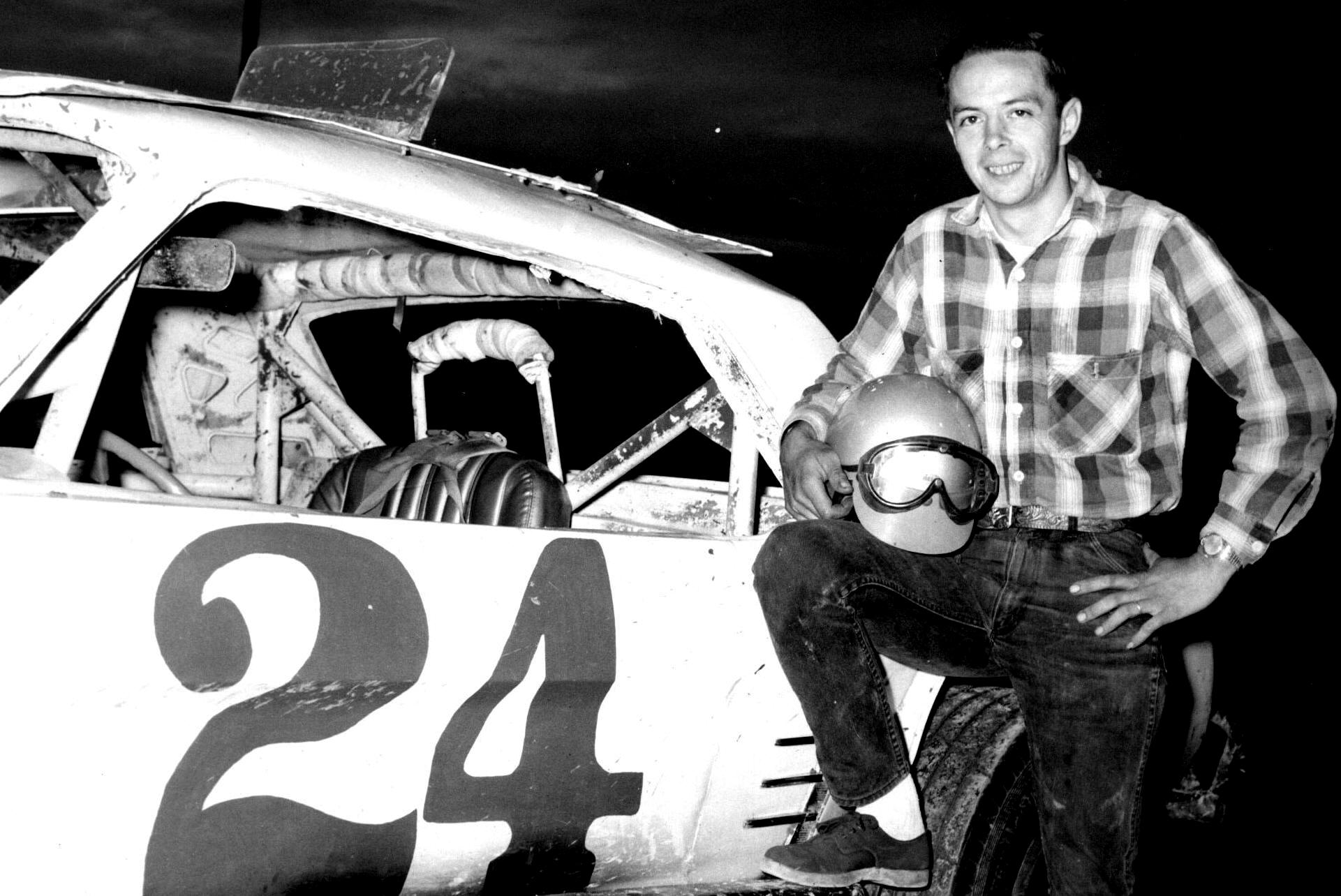 Bob Frazier Photo via C.J. Richards
Roger Gauthier had the most time in the driver's seat of
Scarborough's iconic Mustang. Below – Even old friend
Vince Quenneville got a chance with the Mustang.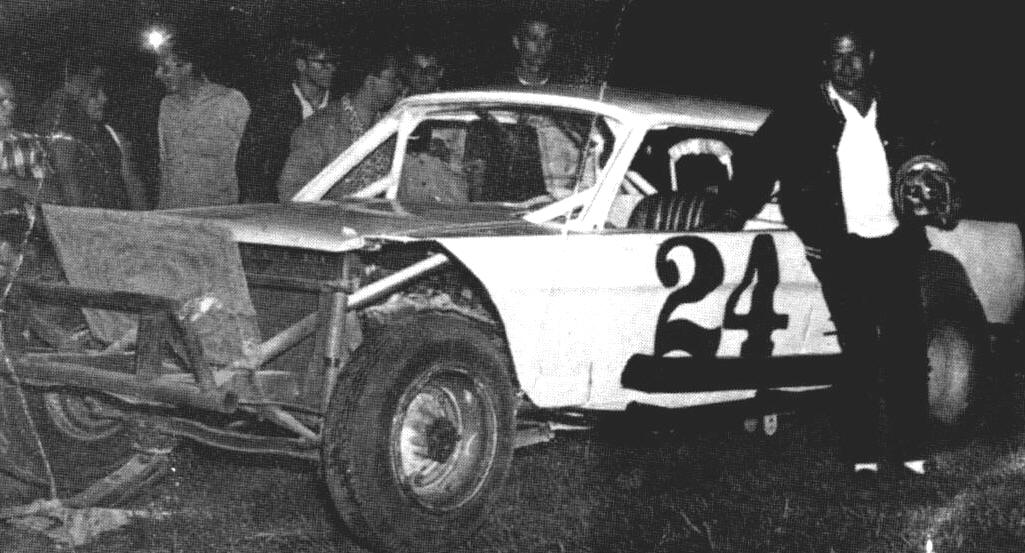 Bob Frazier Photo via Norm Vadnais
There were times in the 1967 season at Devil's Bowl when that former Dorr coupe was numbered 3, and times when it shows up in photos as 38. I can only guess, but maybe Dundon sold out to Scarborough and the 8 was added on. I am really not sure. The former Dorr car, with its iconic periscope rear view mirror sticking out of the roof, was sold to Bob Harrison. Norm would get busy building again his famed Mustang having disappeared somewhere.
What came out of that 1967-8 offseason was a long – framed coupe with a shortened body. The Quenneville 38 was an effective runner, good enough to win the 1968 Bowl championship against very tough competition from locals, Fonda drivers, and Lebanon Valley drivers. Devil;s Bowl's Sunday night schedule had attracted more and more top teams to run there at least semi – regularly. Then a dark cloud descended over the Whiting team's sunshine of success.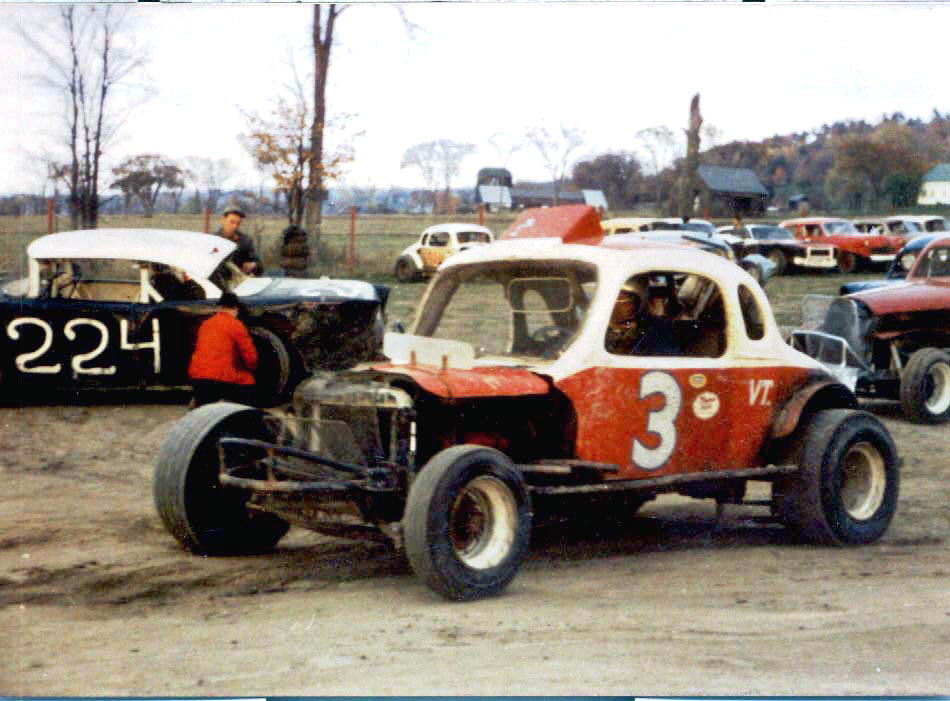 Bob Frazier Photo
Vince with the former Dooger Jones - owned 8VT car, numbered as 3,
at Devil's Bowl in 1967. Below – Same car as 38. Had Norm
bought it by then ?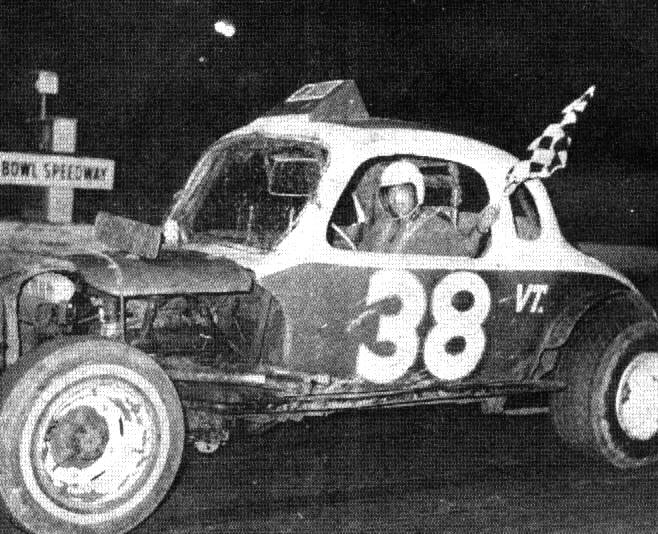 Bob Frazier Photo

C.J. Richards' good friend, the legendary [and full – time] driver Wily Will Cagle began running the Bowl with his Bob Rossell – built, square – tubed sedan #24. Cagle ran roughshod over the Bowl competition in 1969 [and the fields were full of top runners]. Seldom, did anyone win except Cagle. The Scarborough long fram car was still fast, but not fast enough. Norm decided not to take this sitting down.
Many weeks, as Cagle's car would sit there in the Devil's Bowl pits, Norm would be seen pacing back and forth around the periphery of Cagle's pit space. Legend has it that the Fat Rabbit was actually measuring certain lengths on the Cagle car. There is another popular story that Cagle stored the car [he had several] at a local business garage during the week. Supposedly, Vince and Norm would get into the garage and take real measurements on the sedan.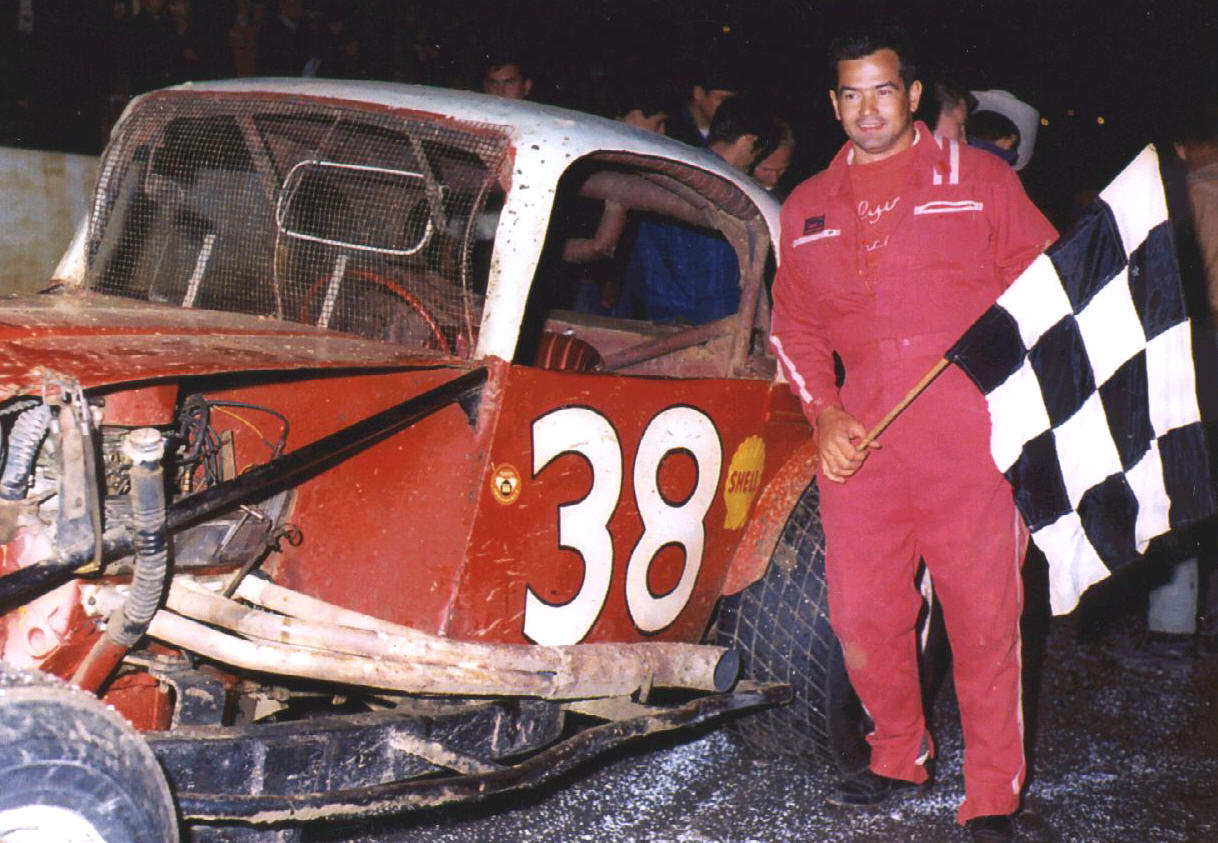 Quenneville Family Collection
Vince and the 1968 D Bowl championship Scarborough
car. Below – Will Cagle with the car that was faster
than the long – framed 38 coupe.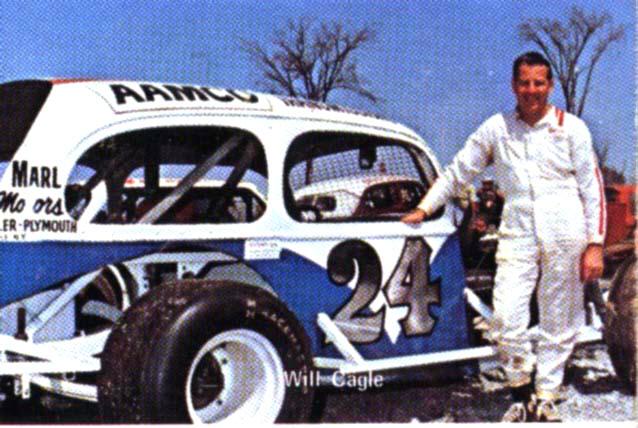 Bob Frazier Photo

Scarborough went to work, building a sedan that was, in some ways like Cagle's and – in other ways – was pure Scarborough. This primered, odd – looking rig debuted late in 1969 and defeated Cagle, head to head. [Again that popular lore] Some people claim that Richards and Cagle conspired to let Vince win that race; but, that is considered close to not believing in God to most of the Devil's Bowl local regulars.
Whether or not the "Cagle Killer" car was better than Will's or not could never be proven. Cagle would soon sell the 24 to Brandon, VT business man Curt Scarborough, who was already running a car he had bought from Ed Foley with Lebanon Valley star Tommy Corellis at the helm. Prescott had bought the coach partly because he thought he was getting an illegal car off the track. He was livid when they tore it apart and found out it was actually not only legal, but wasn't even stretching any limits of the rules.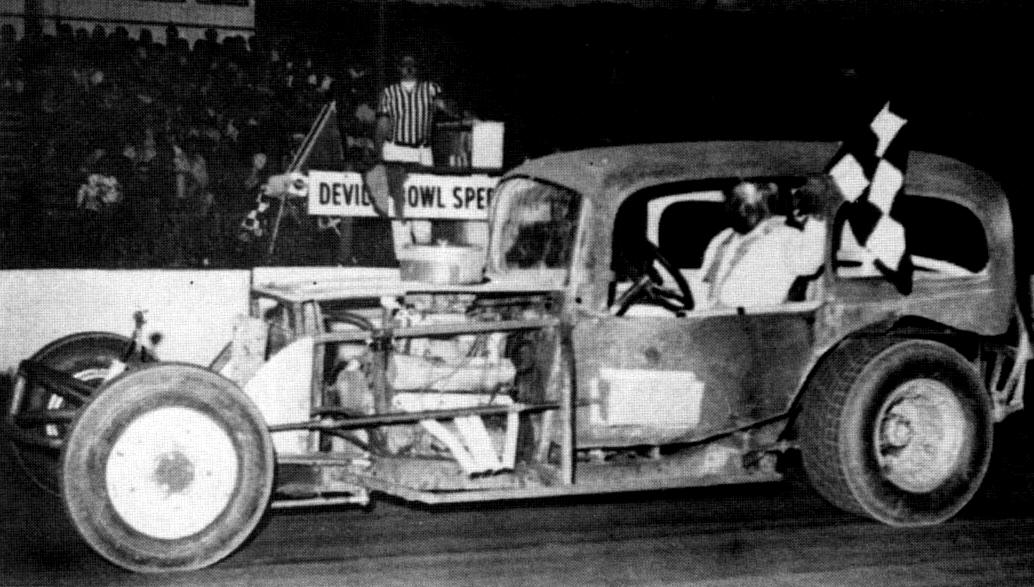 Bob Frazier Photo via Norm Vadnais
Vince with the just – completed "Cagle Killer" sedan at
D Bowl in 1969. Below – the same car, now the Austin
Dickerman 357 "Banana Wagon" - winning here at
Lebanon Valley Speedway.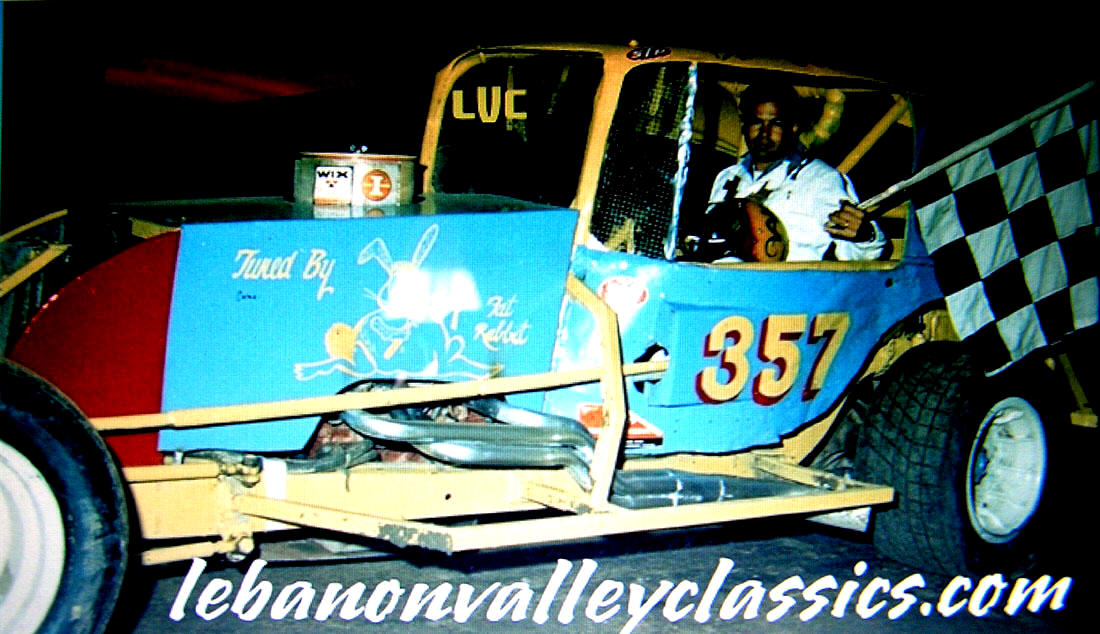 Via Lebanon Valley Classics
The Prescott car would be driven often by Butch Jelley who had sometimes drove it for Cagle. It did most of its running at the Valley. The Red and white #38 Rutland Auto Parts sedan of Scarborough's was bought by flamboyant Brandon auto dealer Austin Dickerman, painted a loud light blue and screaming yellow, and re – numbered as 357. The car must have actually been good because Quenneville was very impressive with the car at the Bowl, the Valley, and even in Canada.
After a considerable run with Dickerman, Scarborough finally left the racing scene – perhaps for health reasons. Quenneville would go on to win for years until his untimely death at his job as a truck driver – hit by a drunk driver. The Dickerman 357 legend would live on in his 357's with drivers like Butch Jelley and Eddie Delmolino – at tracks like Fonda and the Valley. You would never had gone up to the Fat Rabbit and – for one minute – realize just how clever and successful he was if you only judged the book by its cover. But Norm Scarborugh will live on as arguably Vermont's greatest car builder – at least for his era.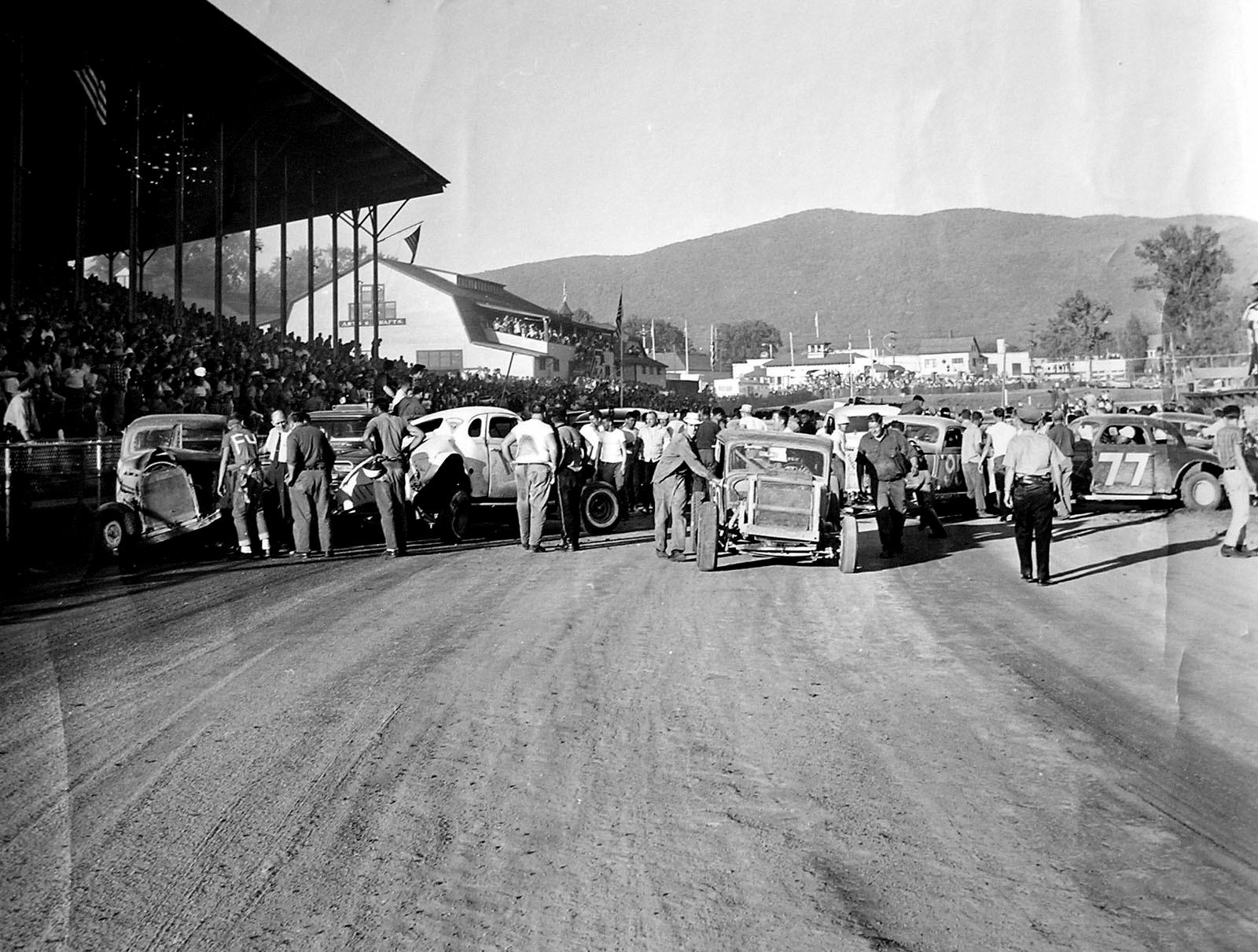 Courtesy of the LaFond Family
Rudy Charbonneau [seen in white hat in the front center] is seen at the huge 1962 Fairmont Racing
Association program at the Vermont State Fair pushing Ed Foley's unscathed #30 away from the
race's first of two massive pileups. Below -Rudy's first car, at Fairmont Speedway in 1963.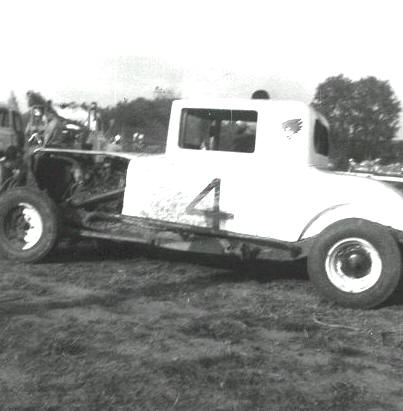 Ladabouche Photo
But what of the third Whiting Elementary classmate Rudy Charbonneau ? A Vermont state racing star in his own right, Rudy was first seen helping out with the early race efforts of Ed "Peanut" Foley, from Salisbury. He would function, along with many others from that general racing community of Whiting / Brandon/ Salisbury, and so forth to crew whenever needed for any local team. Obviously, at some point he had it in his mind to follow friend Vince into the driving roles.
He would debut with his own car some time in 1963 without much fanfare. The body type [which I really don't know] was rather unusual - a very square little
#4 car, painted plainly in white. Charbonneau woould run respectably the rest of the season with that coupe with the high center of gravity before building himself a
much more effecient, lower car for the 1964 season. The kids liked the cartoon woodpecker on the side. Charbonneau would cap off the season with a big upset win
the 1964 Vermont State Championship at Fairmont.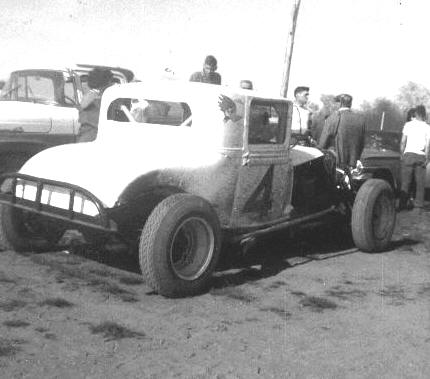 Ladabouche Photo
The trimmed down 1964 version of the first car. It earned him a Vermont State
Championship. Below - One of his Devil's Bowl cars.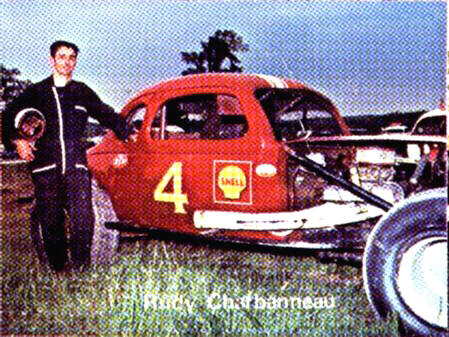 Bob Frazier Photo
I don't recall if he raced much in the final Fairmont seasons of 1965 and 1966, but he re-appeared when C.J. Richards opened his new Devil's Bowl Speedway.
as was the rule by then, the 4VT was an overhead V-8 sportsman car. Charbonneau would run the track for a few more seasons and then - as the track went to
asphalt, he seemed to retire. Not being able to spend much time at the Bowl in the '70's, I don't know if he ever raced again. The last sportsman coupe sits at the Charbonneau farm, a tree growing up through it; but Rudy nver wanted it to be restored for whatever reason. There is no one left from that class of Whiting, but their
influence lives on through Vince Quenneville, Jr. and through the members of the Charbonneau and Scarborough families who still play roles at Devil's Bowl.
Please email me at wladabou@comcast.net if you have any photos to lend me or information and corrections I could benefit from. Please do not submit anything you are not willing to allow me to use on my website - and thanks. For those who still don't like computers - my regular address is: Bill Ladabouche, 23 York Street, Swanton, Vermont 05488.
AS ALWAYS, DON'T FORGET TO CHECK OUT THE REST OF MY WEBSITE:
www.catamountstadium.com
Return to the Main Page
Return to the Main News Page
Return to the All Links Page
Return to the Weekly Blog Links Page