BILL'S [Somewhat] WEEKLY COLUMN/BLOG PAGE

BILL'S BACK IN TIME
By Bill Ladabouche
THOUGHTS ON HOMER FROM ME AND LEWIE
I guess the first time I ever heard of Homer Drew was at my first visit to Oxford Plains Speedway, during my first honeymoon, in 1969. It wasn't that he was running there, because he wasn't; but, somehow, his name came up in my section of the grandstands and I have always tended to listen to what people were saying about whom – particularly when I was not familiar with the subject.
I never thought much more about him, being newly – married, having been made to switch to an entirely different grade level of students in only my second year of teaching, and looking to other distractions like thinking about buying a our first house [which you could actually still do in 1969]. I had just found the name interesting and had noted the enthusiasm and respect with which his name was being discussed.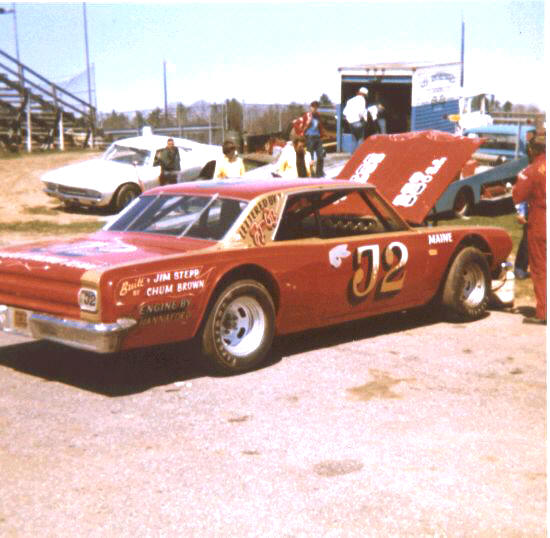 Ladabouche Photo
My first interest in this car was the Joe Tufts sign work, being a sign man myself. But then, it was
driven by this heeyah Homah Drew feller from Downeast, ovah they –ah. Ayup.
So, it was not entirely an unfamiliar situation when, during the great rise of the late model sportsman cars in Vermont in the early 1970's, a darn good – looking 1964 Chevelle came down from Maine and the driver happened to be none other than Homer Drew. When one of the mechanics called out to a man named "Ho-mah", I knew that was the guy. The Seavey #J2 was one of the best – looking cars to run at Catamount Stadium that season, although it did not make any great impression that day.
The J2 had a good pedigree, being owned by Seavey, a businessman from Maine. The name Seavey is quite prominent in Maine – in a variety of businesses. There was always a sign painted on the side of the J2 by noted Scarborough, Maine sign painter Joe Tufts that said: "Engine by Hannaford", referring to highly – respected Hollis, ME engine man, Goodwin Hannaford. Although that Chevelle never really lit the world on fire, subsequent Seavey late models, usually Camaros, did.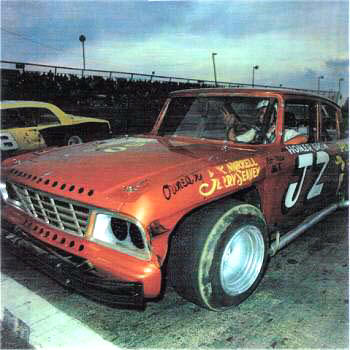 Source Unknown
Homer wasn't with Bushley long before Jerry Seavey also was using him to drive another superior car. Above – A Studebaker – bodied
Seavey car at Oxford or Unity. Below – The potent and most successful Seavey entry, the Camaro.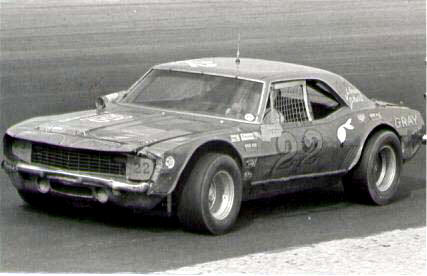 Source Unknown - Possibly MVRCA

Between the success of his racing in the Seavey Camaros, numbered J2 and later 22, coupled with what he had accomplished in Bob Bushley's Beech Ridge super modified rigs, Homer Drew had done enough for a very early nomination into the Maine Motorsports and the New England Antique Racers' halls of fame. I can't speak for certain While Drew ran Bushley cars only at tracks like Beech Ridge, which featured the super modified type of car, it almost a certainly that the Seavey cars saw at least some time at Oxford Plains, underscored by Homer's participation in the first version of the Oxford 250 in 1974 [a 200 lappah].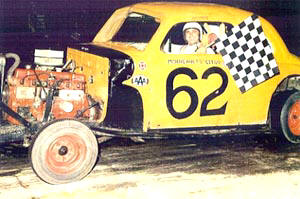 From the MVRCA Site
Homer was pounding this Class B coupe around Beech Ridge when he was first noticed by Bob Bushley.
Below – Homer in Victory Lane with another homely Bushley rocket ship.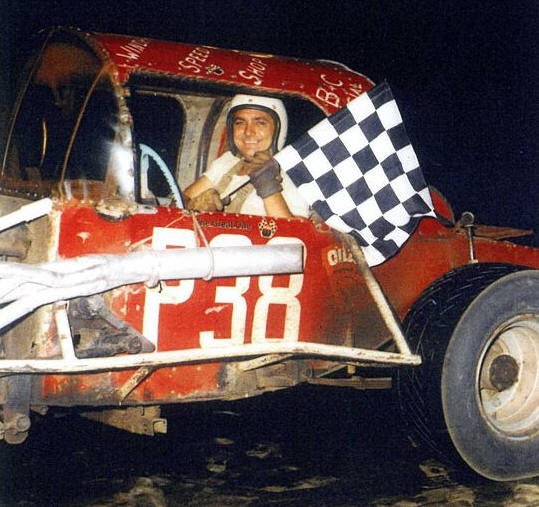 Bushley Family Collection

Drew, a native of Raymond, ME near the shores of Sebago Lake, was described by an article by Maine Racing News as Maine's greatest stock car driver. That is, of course deserved but also arguable, given the number of tremendously accomplished drivers in the history of the state; but, it shows the esteem with which Drew is held. According to Lew Boyd in one of his "tearoffs" columns, it was early Maine race car driver Bob Bushley who discovered Homer.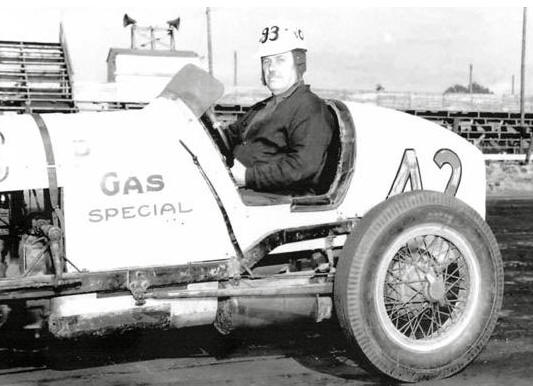 Bushley Family Photo
Bob Bushley had forged quite a driving career of his own before meeting Drew. He drove this Tommy Phelps big car at many
big races before returning to Maine. Below – Bushley, with the Glance P-38 at Beech Ridge.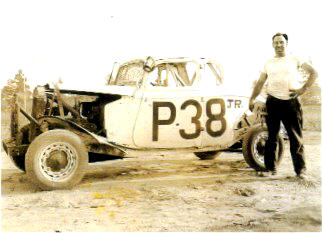 Bushley Family Photo


Bushley, of the same town of Windham as Seavey, had a propensity for numbering his cars with the identification numbers of World War II fighters or bombers. He appears in some early driver lineups in the Keene, NH area, named as driving a car B29. I can't tell if this accurate or whether the archivist simply mixed up their planes; but, his cars in Maine were always known as P38. Bushley had driven Tommy Phelps' "big cars" – even at Indy before coming back to Maine to pilot the Andrew Glance P38's at Beech Ridge.
Bushley drove the Glance cars for a while before noticing a hardbitten young truck driver who was wheeling Class B car at the Scarborough track. Putting aside his ride, Bushley took inspiration from a Massachusetts A –framed supermodified and built a super – ugly, but very innovative super for Drew to drive at Beech Ridge. As they say, the rest is history. Drew was a n absolute natural, taking very little time to reach virtuoso driving levels while Bushley refined his building and adjusting skills. The Bushley supers got faster and lighter but no less homely, as Drew carved a path into fame on the New England ovals that featured those odd little supers.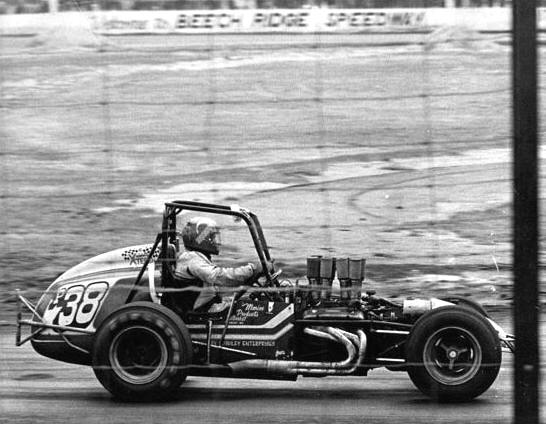 Bushley Family Collection
When the occasion arose, Homer found it no harder to take on a full - fledged sprinter.
When Bob tragically lost his son, Robert, Jr to a sprint car accident, Homer was able to climb into the replacement car and drive it as easily as he had the supers. When the Ridge got rid of the supers by the end of the 1970's, the team acquired a Len Boehler Pinto, re – unnumbered it P38, and went back to winning. Drew even won a big race in memory of Bob Bushley, Jr. with a broken rear main spring leaf. Eventually, Bushley would begin to wind down his racing activities. Homer, who apparently had been running for Seavey while also tooling the Bushley cars, would do the same. That would be pace that would exhaust many younger men.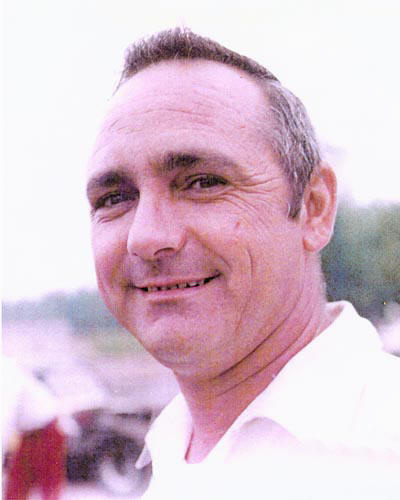 NEAR Website
Homer Drew
In his wonderful article on Bushley, Lew Boyd made quite a bit about Drew racing "above" the Piscataqua River bridge that leads traffic into Maine from Portsmouth, NH. Homer Drew definitely made more of a dent in racing above that bridge. Homer was inducted into the two halls of fame at almost the same time. He did not live long after these inductions. He left the world behind as quickly as he used to leave those fields of rivals behind.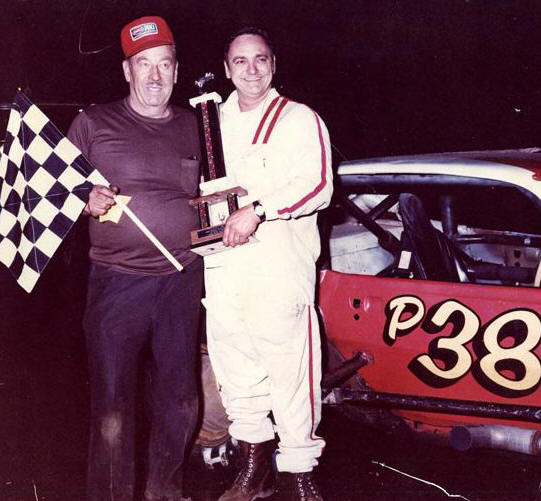 Courtesy of Lew Boyd
Please email me if you have any photos to lend me or information and corrections I could benefit from. Please do not submit anything you are not willing to allow me to use on my website - and thanks. Email is: wladabou@comcast.net . For those who still don't like computers - my regular address is: Bill Ladabouche, 23 York Street, Swanton, Vermont 05488.
AS ALWAYS, DON'T FORGET TO CHECK OUT MY WEBSITE
www.catamountstadium.com
Return to the Main Page
Return to the Main News Page
Return to the All Links Page
Return to the Weekly Blog Links Page