BILL'S [Somewhat] WEEKLY COLUMN/BLOG PAGE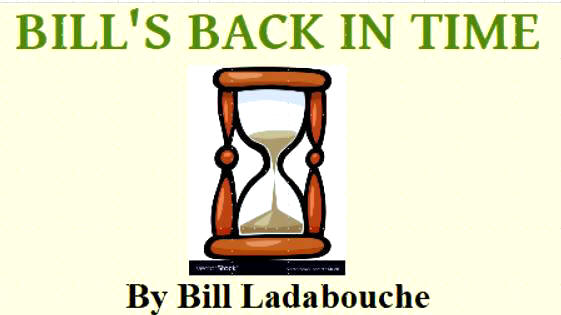 LITTLE DID THE CAVALCADE KNOW
The 1960;s was the principal decade of the Cavalcade of Auto Racing. The brainchild of Jim Moffatt, it began as a large pictorial yearbook of sorts that acted as a very effective publicity tool for the Oilzum company out of Worcester, Massachusetts. The Cavalcade seemed to begin as a one – issue publication, but it soon was coming out multiple times a year.
Starting out with heavy gloss thin cardboard covers, it went from the one issue a year, to about four per year, to later becoming a totally newsprint kind of periodical. I don't know when it it stopped circulating, as I had not lived near anywhere that sold it in several years.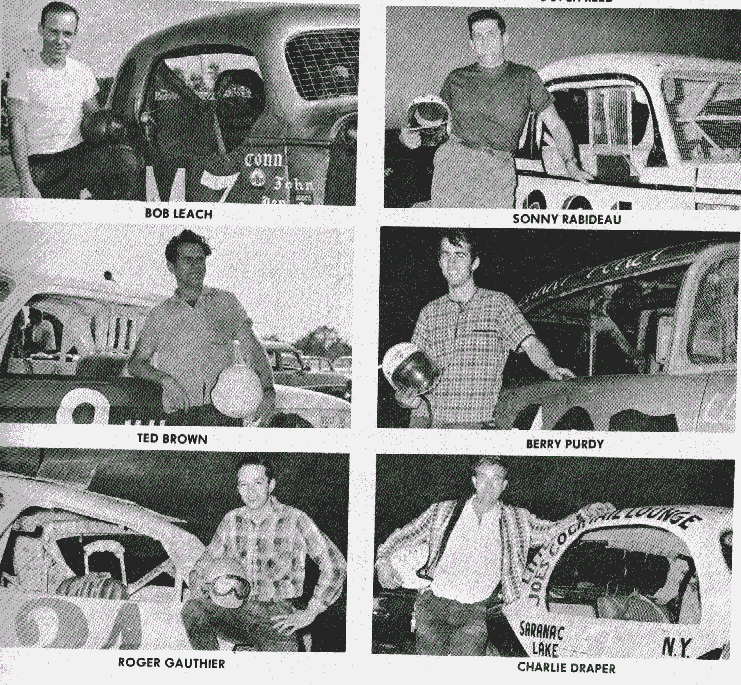 Bob Frazier Photos Cavalcade of Auto Racing
The 1966 issue showed what was assumed to be typical Fairmont
Speedway participants for that season. Below – The cover to an
earlier Cavalcade of Auto Racing.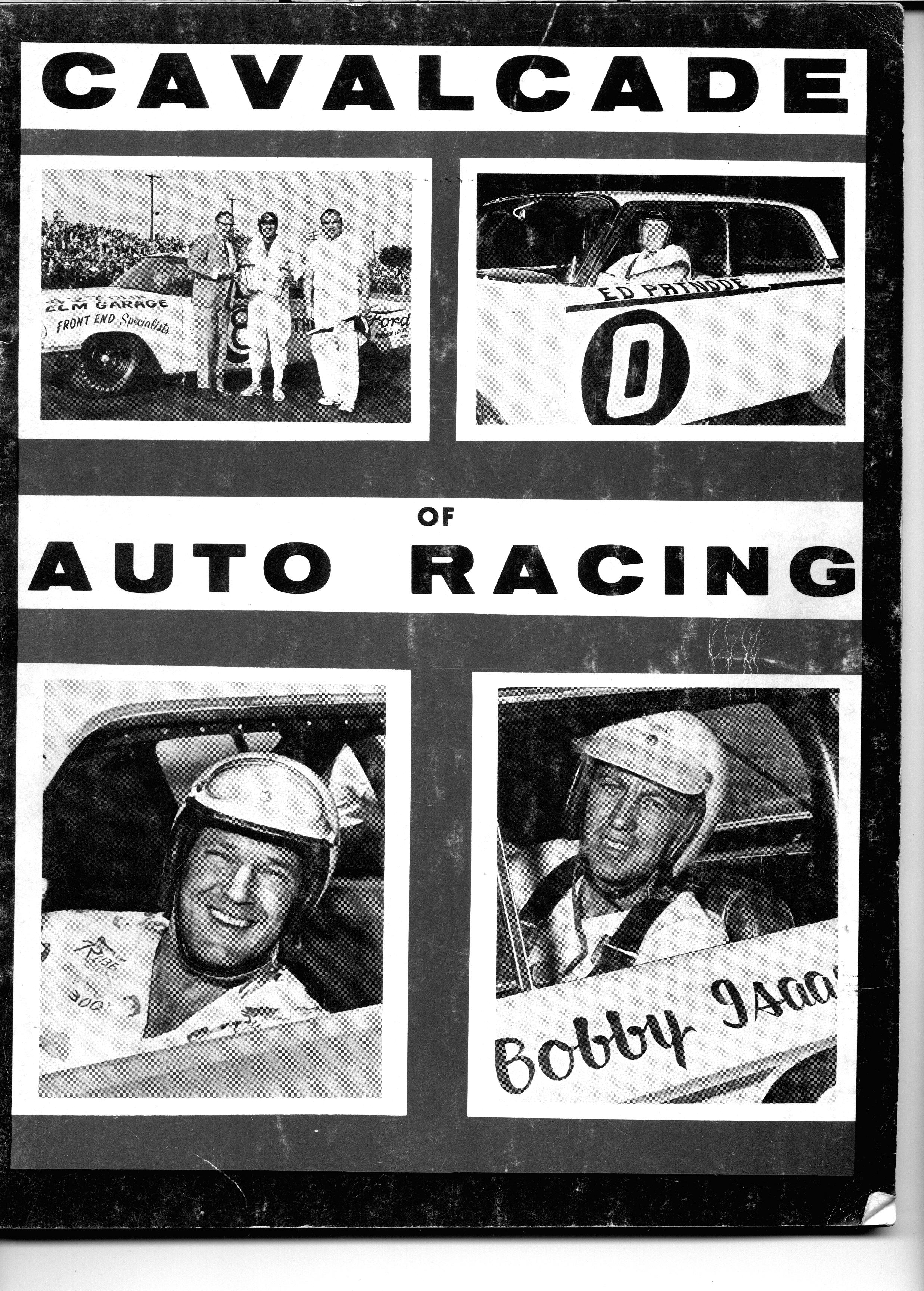 Cavalcade of Auto Racing
Many track chose to put photos of some of their competitors in the magazine, and it had tracks that ranged from both coasts and in between. I remember buying my first Cavalcade of Auto Racing at Fairmont Speedway late in 1963. I took it to C.J. Richards' show at the Vermont State Fair and had my favorite driver, Howard Stevens of Claremont, NY, sign it. I still have it.
The publiciity savvy C.J. Richards kept photos of his track in the Cavalcade for several years, until those sections of photos started to be de – emphasized. It was not always clear how contributors chose the photos that would represent their tracks; but – often – some of the featured drivers or teams were not regulars. C.J. was one of those whose choices were sometimes a little odd.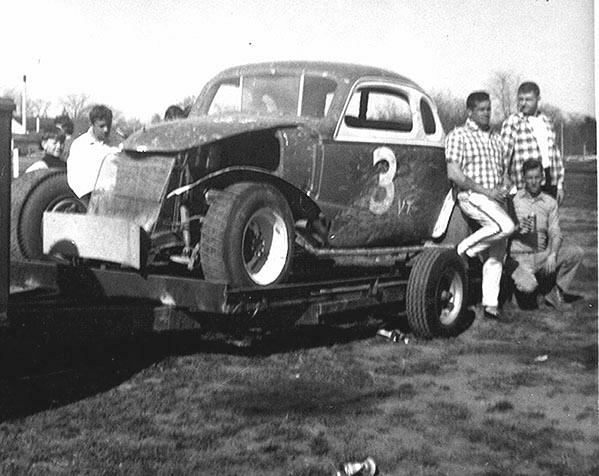 Ladabouche Photo
Vince Quenneville, Sr [foot on car] and new owner Gael Dundon
[kneeling] were some of Fairmont's bigger supporters. Below -
Charlie Laduc started out at Fairmont with a hobby car and
ended up with this Ford sportsman.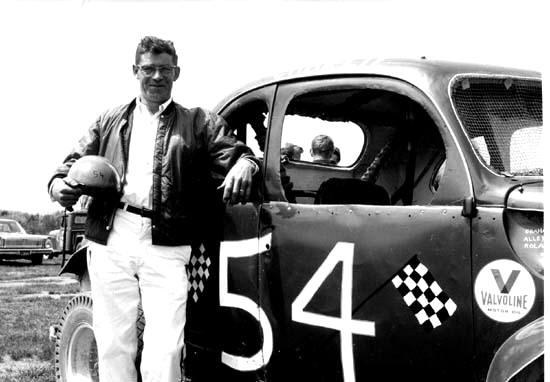 Bob Frazier Photo via C.J. Richards

I came upon this one page from the Cavalcade -one of the issues from either 1965 or 66 – [I'm tending towards 1966]. I looked at what was in there for drivers and decided – while all of them were not C.J.'s loyal regulars – the photos certainly had some interesting backgrounds behind them. With his mid 60's track being regularly raced by the likes of Vince Quenneville, George Rogers, Roger Gauthier, Dutch Reed, Charlie Laduc, Nelson Moore, Mert Hulbert, the Unbeatable Lennie Wood, and many more, this Cavalcade page showed Bobby Leach, Ted Brown, Barry Purdy, Charlie Draper, and then regulars Cecil Bosworth and Gauthier.
The first photo was of Connecticut's Bobby Leach and his blue coupe M3, with the distinctive Olde English letter style on the numerals. I believe Leach was from Stafford Springs – and that car numbered M3 had been a fixture for a while. Leach eventually became a regular at Lebanon Valley, including a notable stint with the Arnold Fleury 52 sedan, the car that caused such a stir at Devil's Bowl around 1969 in the hands of original owner Will Cagle. Leach is shown on the pole in a feature lineup at Fairmont in 1965; but, I don't recall anything out of the ordinary in his time there.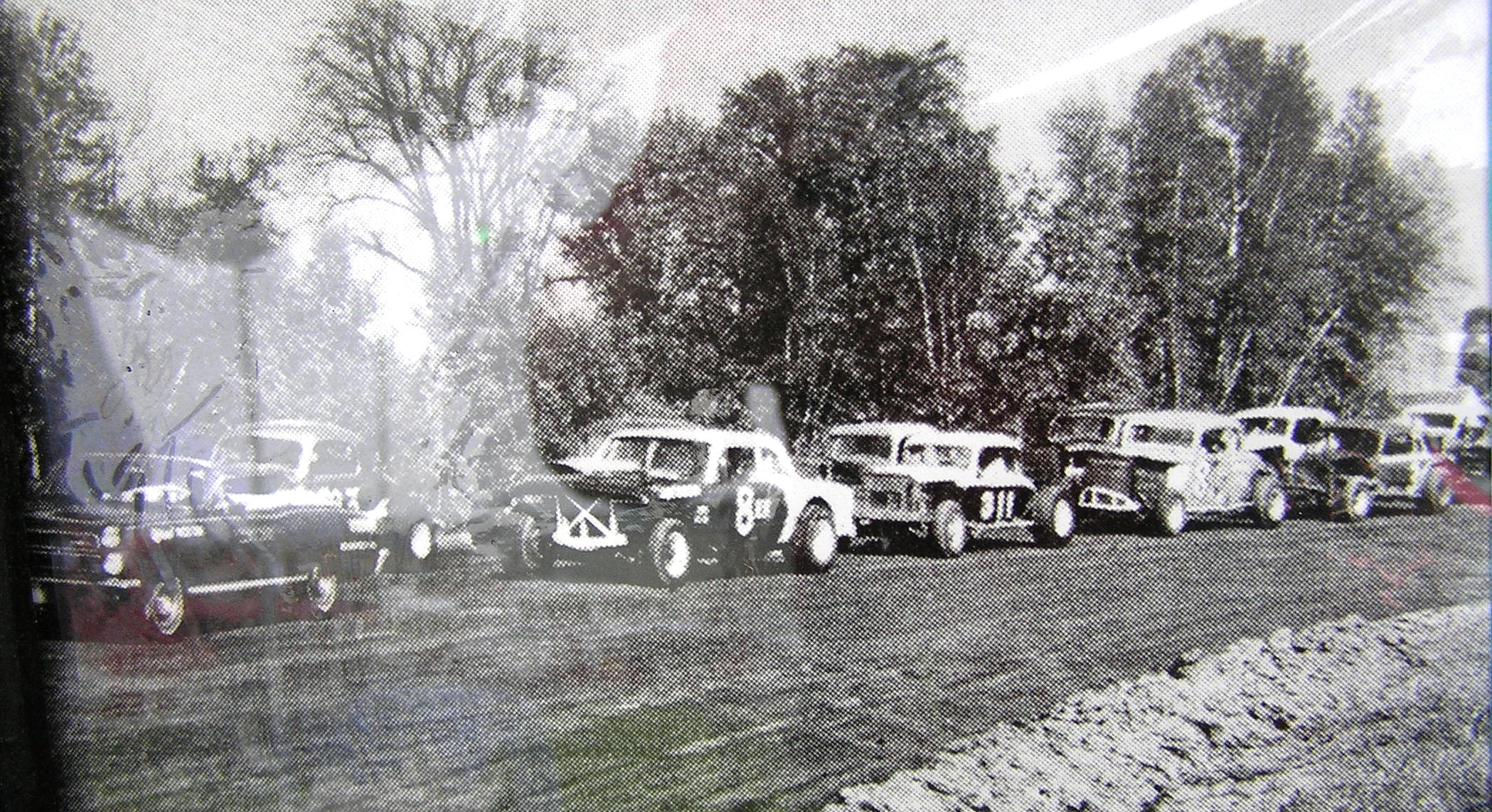 Bob Frazier Photo
This 1966 Fairmont feature lineup actually does have Bobby
Leach [M3 on pole], Ted Brown in the 8NH, and Rabideau [with his former 311 ride]. Below – Leach,
around 1970, driving the infamous Rossell – built sedan that terrorized
Devil's Bowl in the hands of Will Cagle. By now, it is owned [third hand] by Arnold Fleury.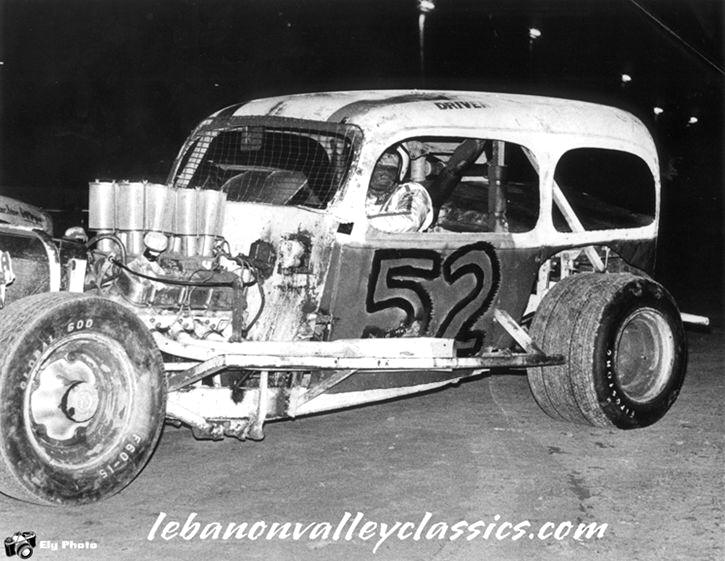 Lebanon Valley Classics
The second face on the page was that of the familiar Claremont and Fairmont driver Moran "Sonny" Rabideau. He had an enviable run at both places with the Frank "Stroker" Smith cutdown #311. Beginning in rough family cars in the early 1950's, Rabideau had forged a hall of fame career while also being a leading machinist at Angell's Automotive in his hometown of Brattleboro, In this photo, however, Rabideau is standing by what I know to be a yellow and black #302 coupe. There's a story behind that.
Since back into the 1950's Rabideau and Smith had been dominant with the cutdown black and white Ford coupe. When Fairmont re-opened in 1962, the team did not race there at first; later in the season they came and dominated – including the big race at the Vermont State Fair in September of 1962 and the Vermont State Championship in October. The pair continued this success until Fairmont made the conversion over to the overhead V-8 sportsman in 1965.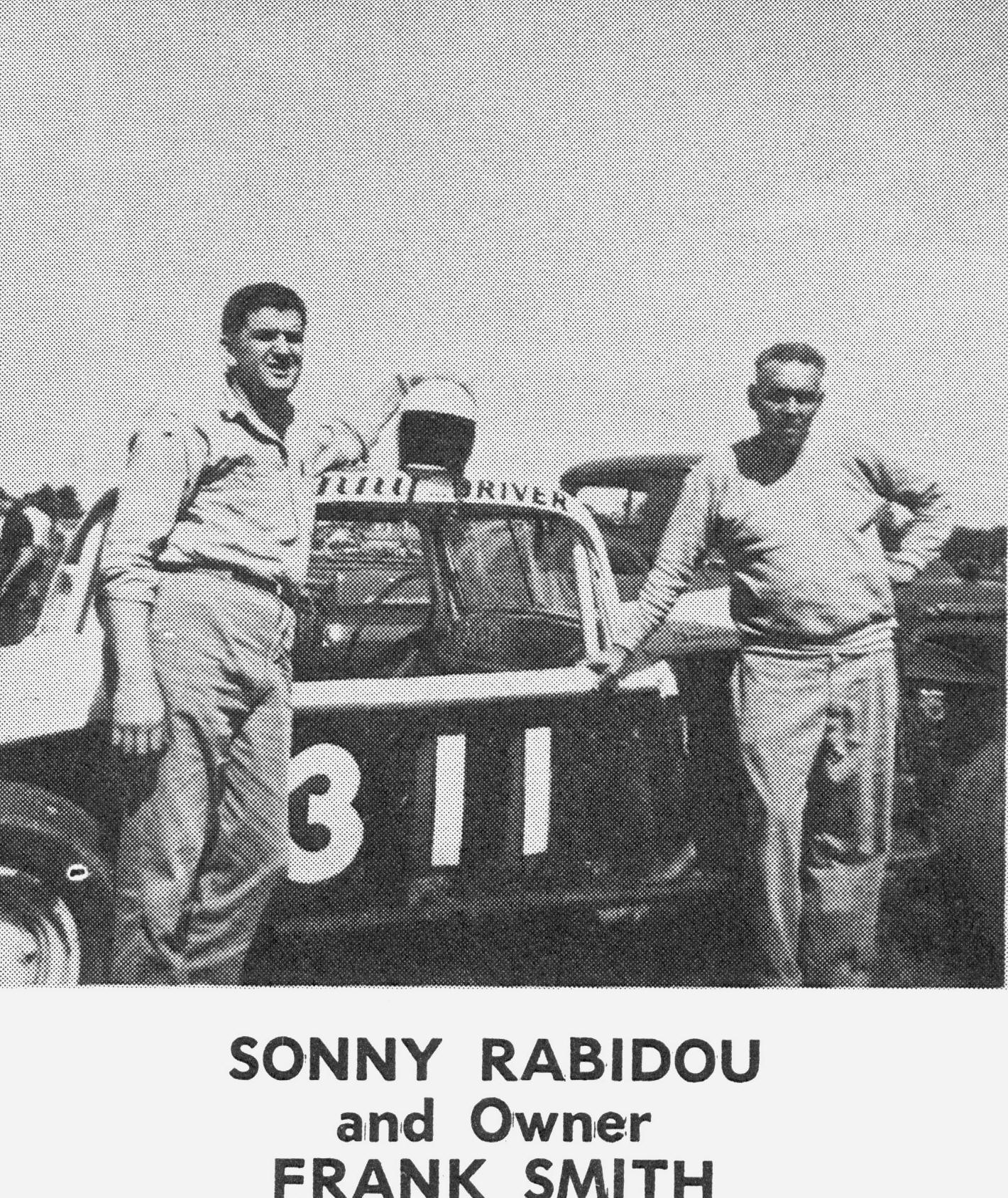 Bob Frazier Photo
Rabideau [left] and Frank Smith with that dominant
flathead coupe around 1962 – another Cavalcade feature.
Below - Rabideau after his 1962 Vermont State
Championship win in 1962.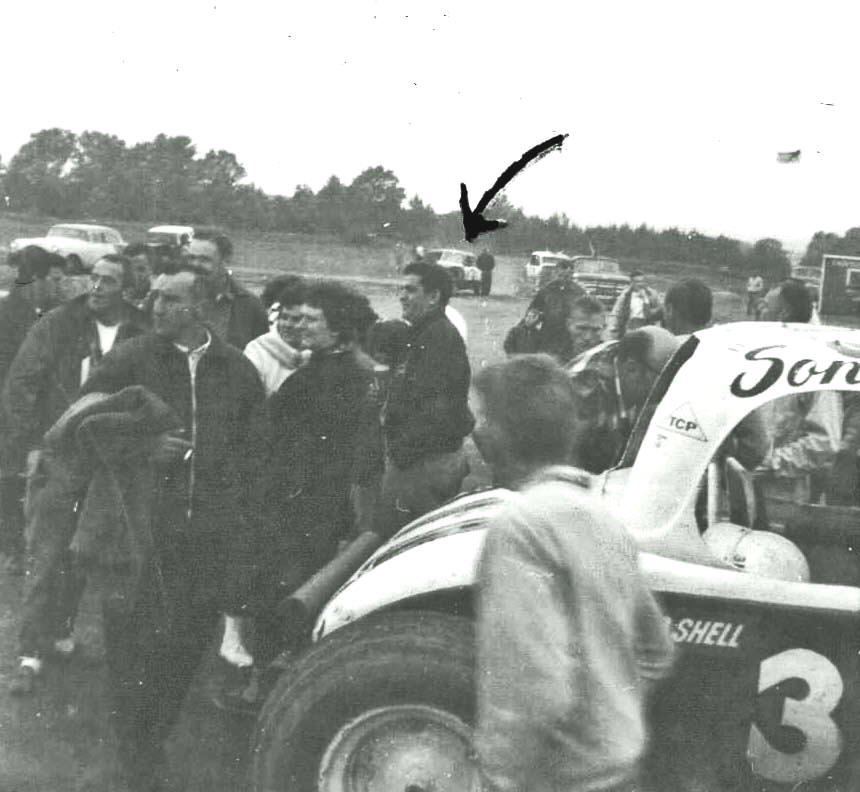 Ladabouche Photo
In that season, Rabideau was still outrunning the competitor for a while; but, eventually, the Fairmont regulars got the hang of their sportsman cars and the 311 team began blowing motors trying to keep up. After a while, you didn't them at Fairmont much. At the same time, Claremont, NH's Howard Stevens and his car owner, Rutland, VT's Leo Vallancourt were leading the Fairmont points, having converted their former Claremont car to the overhead V-8 and riding the success of that motor in a lighter car.
Things continued well into the latter part of the '65 season for Stevens and the 333 when – suddenly one night without any warning – Rabideau was seen at the track talking to his good friend, Vallancourt. Word got over to us at the 333 pits that Rabideau had, in fact, bought the car. The 333 team members who were not in the most inner circle were taken by complete surprise, given the degree of success the car was having.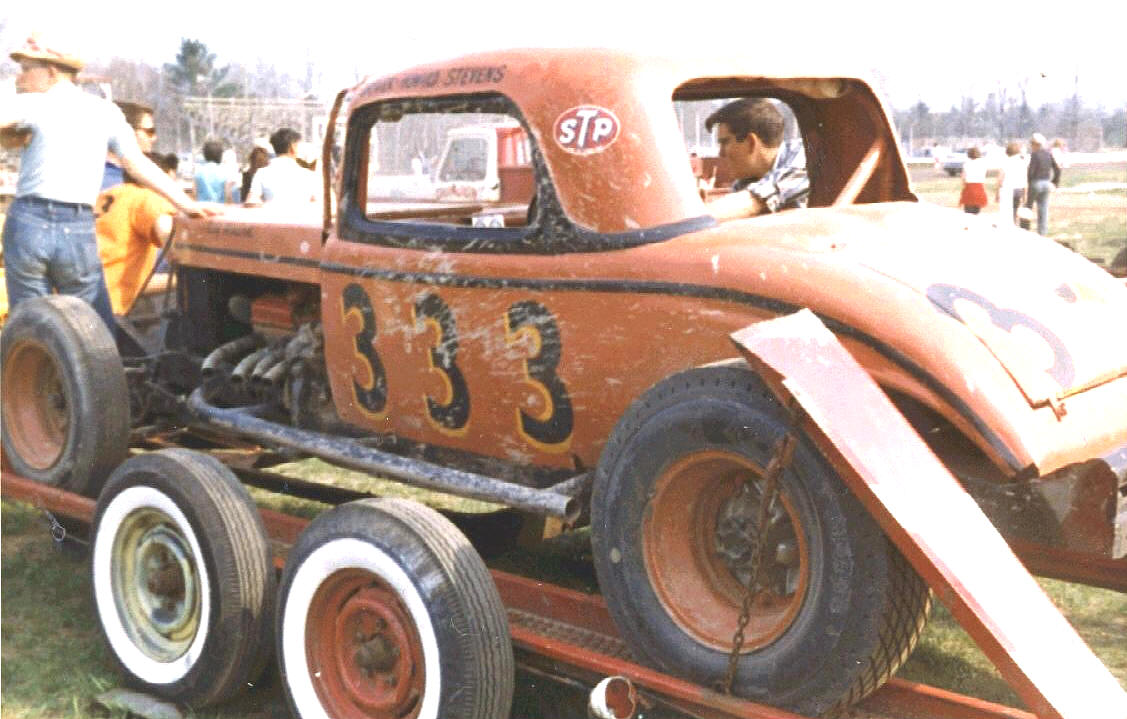 Courtesy of Val Blicarz
The Howard Stevens / Leo Vallancourt car during its
points run in 1965. Below – The same car after having
been bought by Rabideau.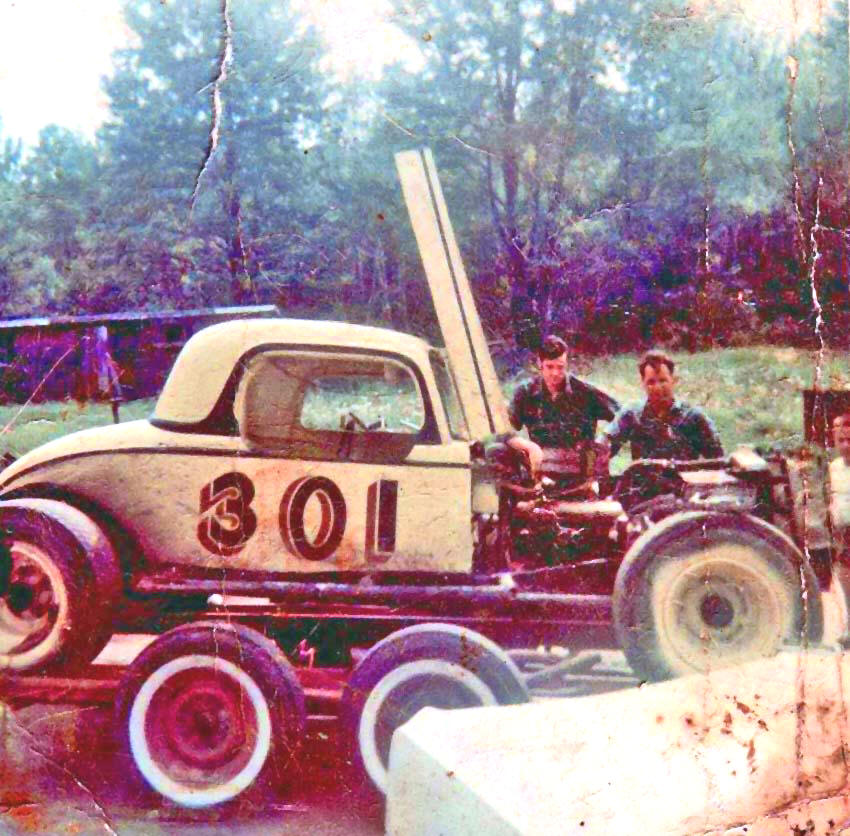 Courtesy of the Davis Family
Rabideau would show up at Fairmont shortly thereafter with the familiar orange paint changed to a creamy yellow, with black. I might be a little prejudiced because I was an informal crew member and a huge Stevens admirer; but it did not seem like Sonny was getting out of the car what the soft – spoken Howard had. At any rate, I thought it odd when I saw Rabideau and out purloined car on that Cavalcade page for Fairmont because he drove there only a small portion of that season. He apparently had come enough in 1966, the following season to merit that spot on the page.
The next guy, Ted Brown, was far from unfamiliar to Fairmont fans; it was just that they hadn't seen much of him with the Canfield 8NH Falcon. A wild driver [but very successful], Brown had shown up at Fairmont with a silver and blue #92 sedan, the rear of which resembled Swiss cheese due the number of holes drilled in it for less weight, air flow, or something. Brown is widely remembered for wrecking that car spectacularly, with that lightened body not standing up real well to the impact.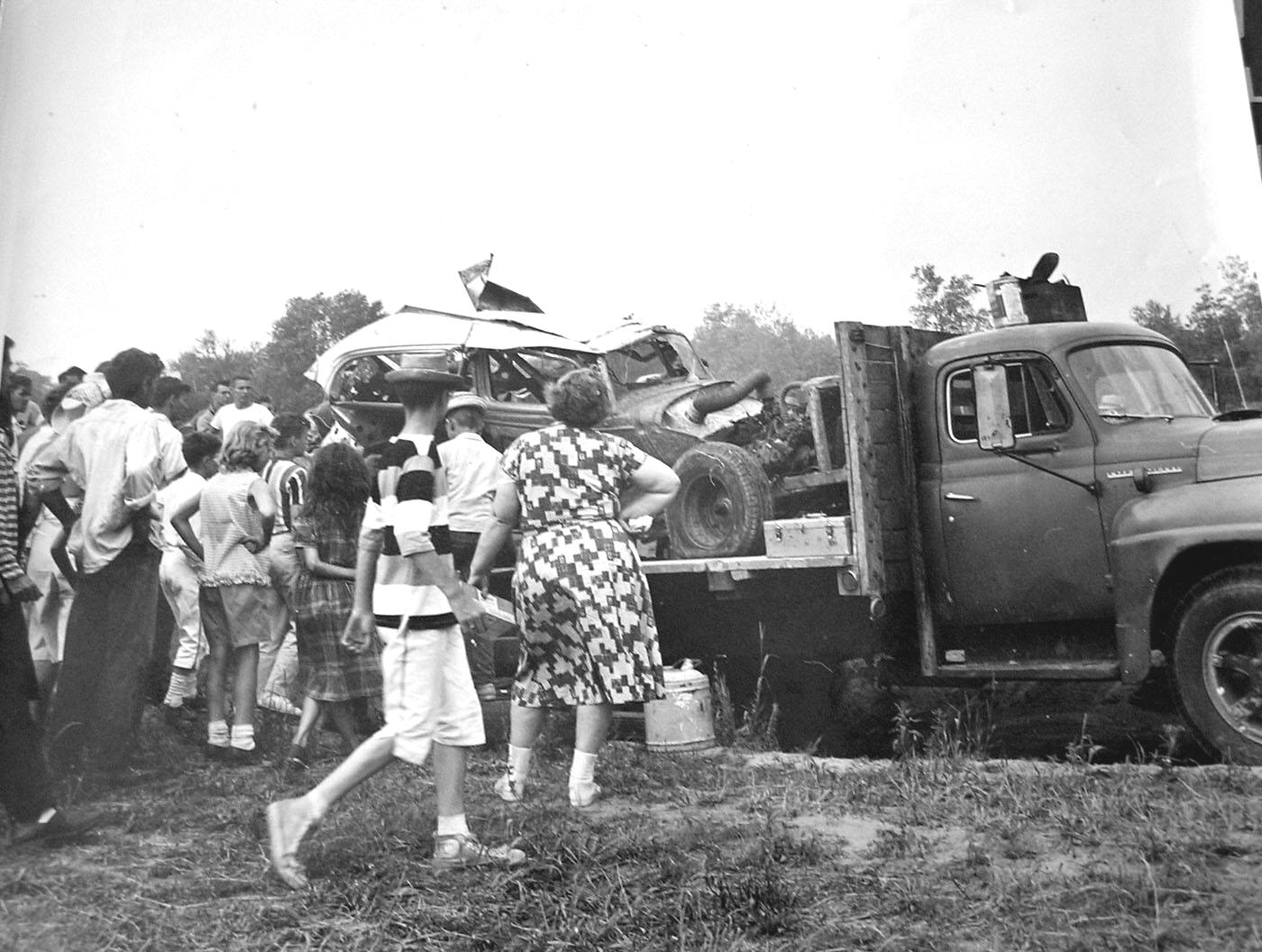 Bob Frazier Photo via the LaFond Family
Ted Brown [white shirt hands on hips] is among those looking at the remains of his very fast sedan
after a 1962 Fairmont wreck. Below – The iconic coupe he did so well with at Vermont tracks.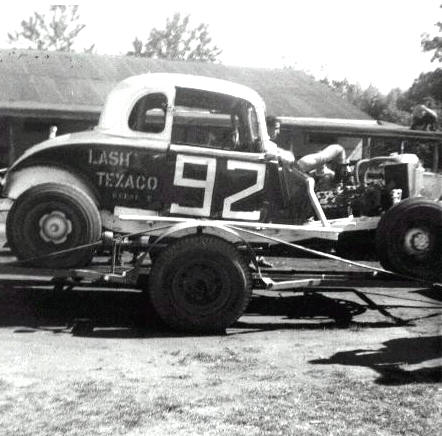 Ladabouche Photo
Brown would soon return with what would become his signature car, a 1934 Ford coupe painted up just like the doomed sedan. He's race at Claremont, Fairmont, and even Otter Creek Speedway as a definite crowd favorite. Once, at the long, bumpy, dusty Otter Creek track, he started last in a feature field and was leading the race before the completion of one lap. While the field had slowed a little for turn three and the two columns of cars had separated, Brown accelerated dramatically, flew down through the entire field in the midst of the two columns of cars, and came out of turn four ahead. The crowd, sitting way up a on a hill above the track, let out with a roar [at a place where the crowd's big distance from the action made for rather quiet bleachers].
Ted's friend, Curt Dragon, was still fielding a car in 1965 at Fairmont; but, he was running it with driver Art Johnson. Brown had decided to drive for the well – prepared Canfield 8NH team and its new Falcon car. I would have to assume he ran it at Claremont, as well. I don't recall that he won much with the car; but his familiarity with C.J. Richards caused his photo to make that page in the Cavalcade when track champ from the previous season, Roger Gauthier did not rate.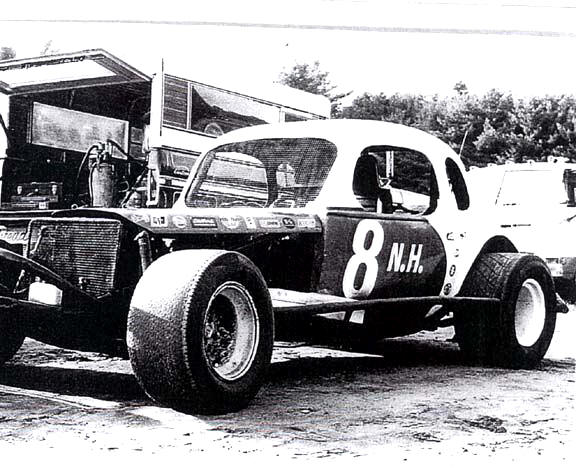 Canfield Collection via Racers Bored Site
Donnie Miller with an earlier 8NH car. Below – This
grainy shot shows Brown on the Fairmont track with
the 8NH Falcon.



Ted Vogel Jr Photo
The next photo is the only one Richards chose of his support class, the hobby cars. A lower cost late model class that had been rapidly improving since its inception in 1963, the hobbies were poised to become the late model class when Richards opened Devil's Bowl in 1967. The class had its regulars and loyal track supporters. In 1965 the Unbeatable Lennie Wood had become legendary, never losing a race in which he finished until being bested by Lebanon Valley regular Chuck Ely in a car that was allowed to have more goodies than Wood's car.
The 1966 season would be very controversial as young local Graham Trudo had built a 1950 Ford that could be best described as a low cost modified. The car had the engine in the friont seat and Trudo drove from the back. It was so good it could run with the sportsman cars up at Saranac Lake Speedway. Loyal regulars included Wood, Tim Baker, Ralph Soulia, Vern Hall, Charlie Towslee and more; but Barry Purdy, another of those Lebanon Valley invaders, was the one who got his photo on the Fairmont page.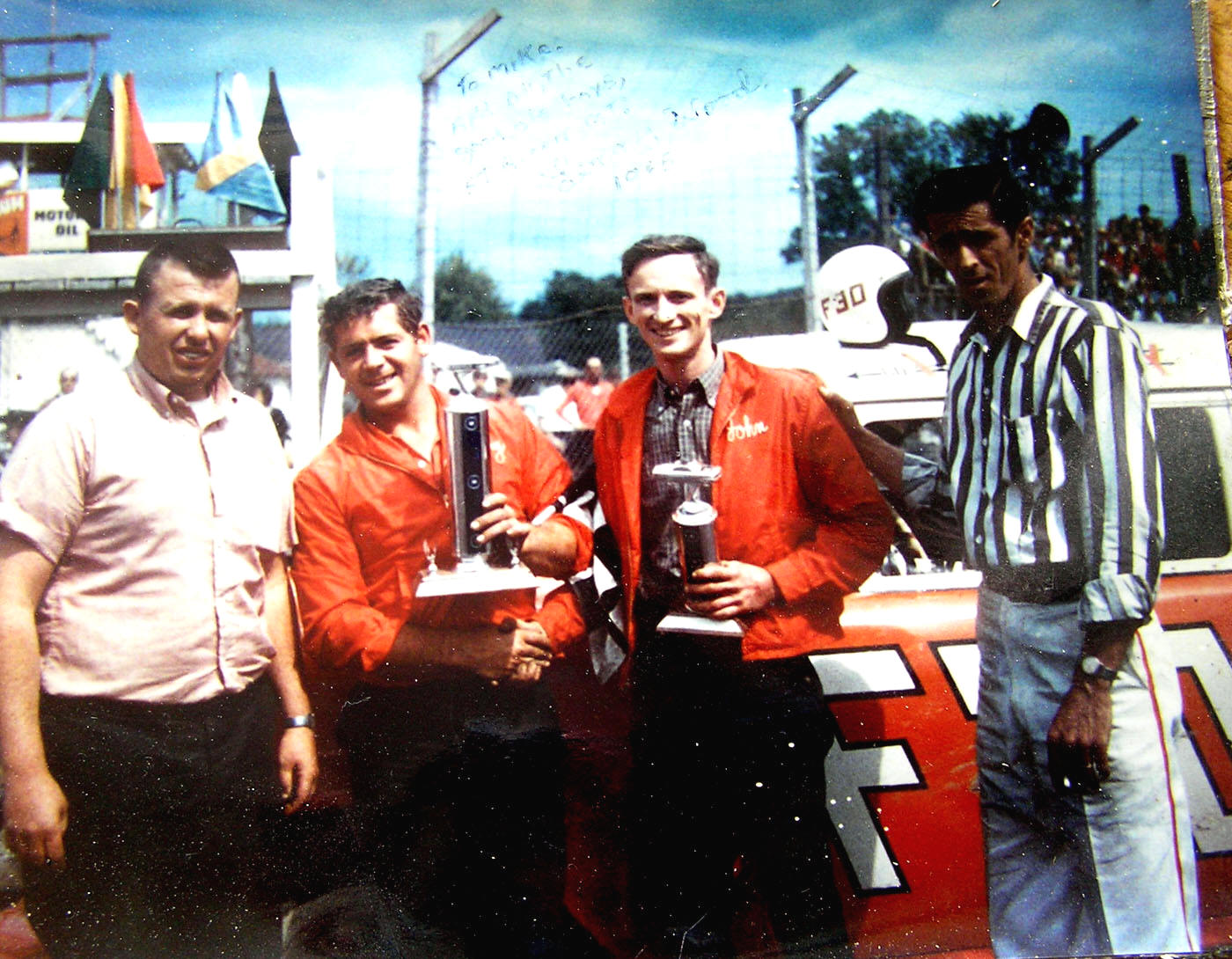 Bob Frazier Photo via Dave Wood
Lennie Wood was unbeatable in 1965 [above] and Graham
Trudo was nearly so the following year [below] but Barry
Purdy got the spot on the Fairmont page in 1966.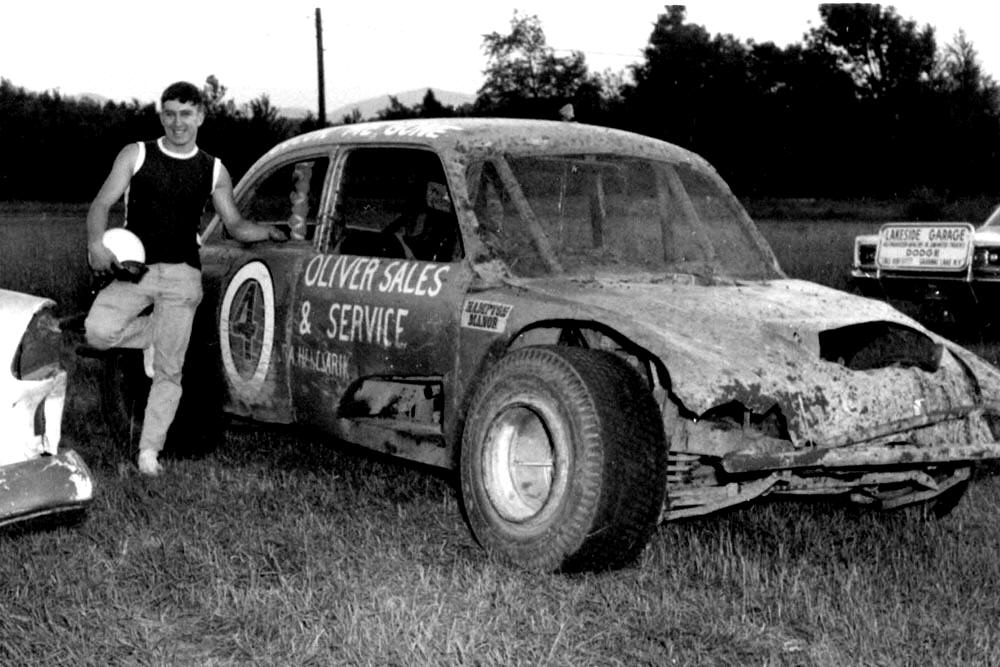 Bob Mackey Photo via Mike Watts, Sr.
Purdy would on to run his #167 Chevies even more regularly at the new Devil's Bowl track in 1967. By then, the local cars had been allowed to upgrade to where he was not as dominant [and the Trudo car had been outlawed by the end of the '66 season]. The late models would develop into a very impressive group, with many Valley cars running against totally equal local cars and even a few cars from New York. Purdy, just after beginning to run a sportsman coupe at the Valley, was killed in a traffic accident which is still being investigated to this day.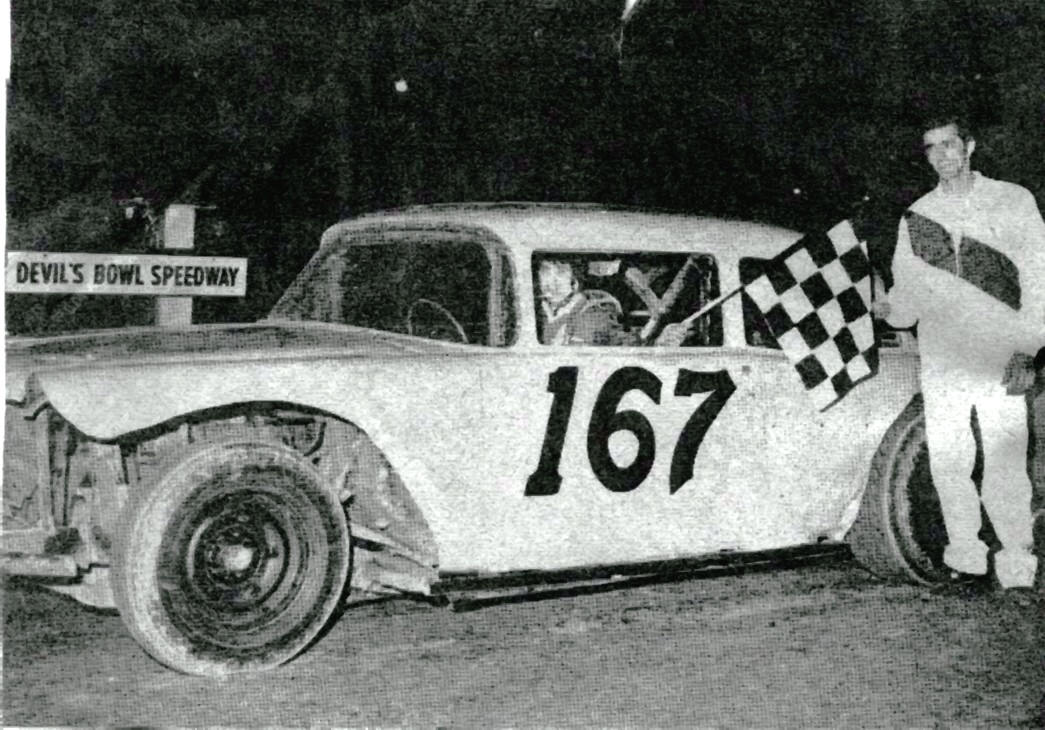 Bob Frazier Photo
Barry Purdy wins another one at Devil's Bowl in its
inaugural year.
Fifth on the page was perhaps C.J.'s most consistent supporter of all of them – Roger Gauthier, from Fort Edward, NY. Gauthier, one of that cadre of what I call "the Glens falls drivers", had banged around places like Fonda and Whites Beach – never having exactly top shelf equipment. He had a run with the Joe Romano 97 at Fonda briefly, as had his pal, Dutch Reed. Gauthier had landed a good ride in 1964 when Norm Scarborough, having parted ways with his lifelong friend Vince Quenneville, Sr., had purchased a Bruce Wylie Ford coupe and added his own touch. The #107 Moonlight Gambler" car was a top runner that year.
In 1965, when everyone was running to get an overhead V-8 sportsman somewhere, Gauthier signed on with new car owner Al Ryan, another of that buch which included Quenneville, Scarborough, Rudy Charbonneau, and others. Ryan would field the car in which Gauthier would win the 1965 Fairmont Speedway title, after Howard Stevens' car was sold out from under him while leading the points. In 1966, Gauthier may have begun the season with the irracisible Ryan, but -when Norm Scarborough had tired of his young driver tearing up his equipment, he sought out Gauthier to drive his new [and still quite unique] Mustang #24.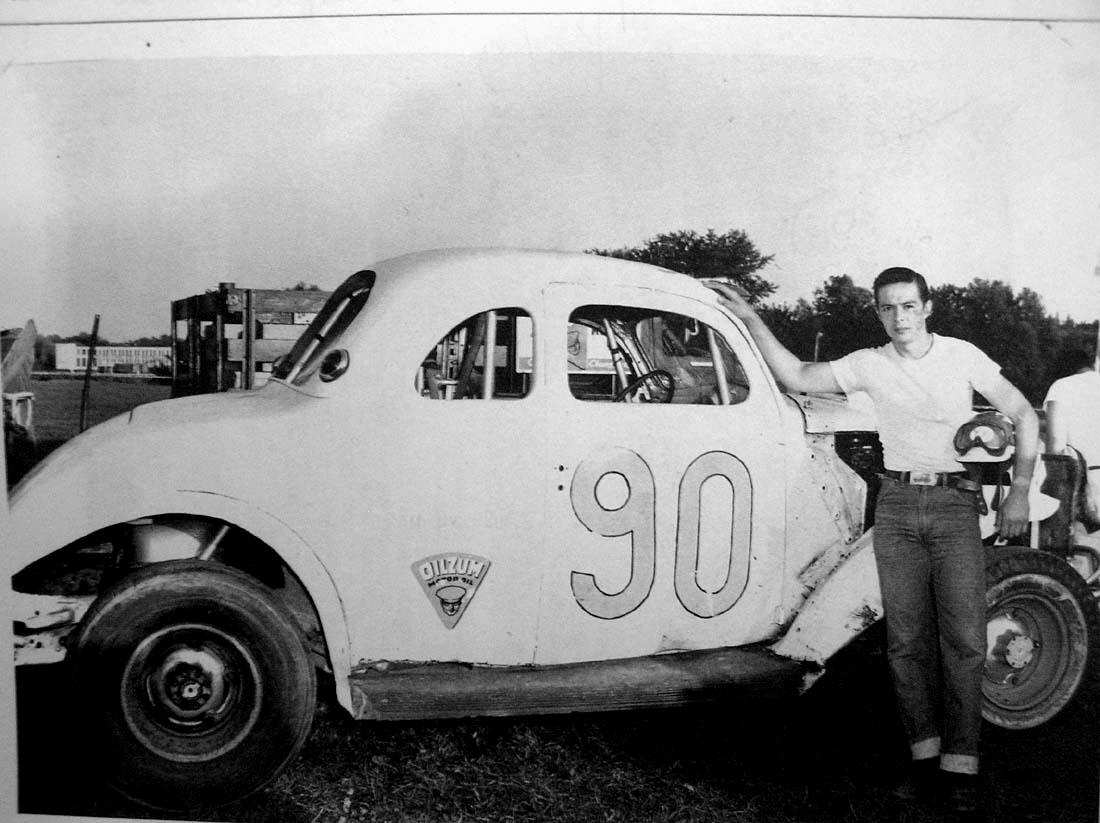 Russ Bergh Photo Gauthier Collection
Roger Gauthier with one of his earlier rides at Fonda,"
the Bill King 90. Below – Gauthier with the potent
Scarborough 107, perhaps with son, Chip.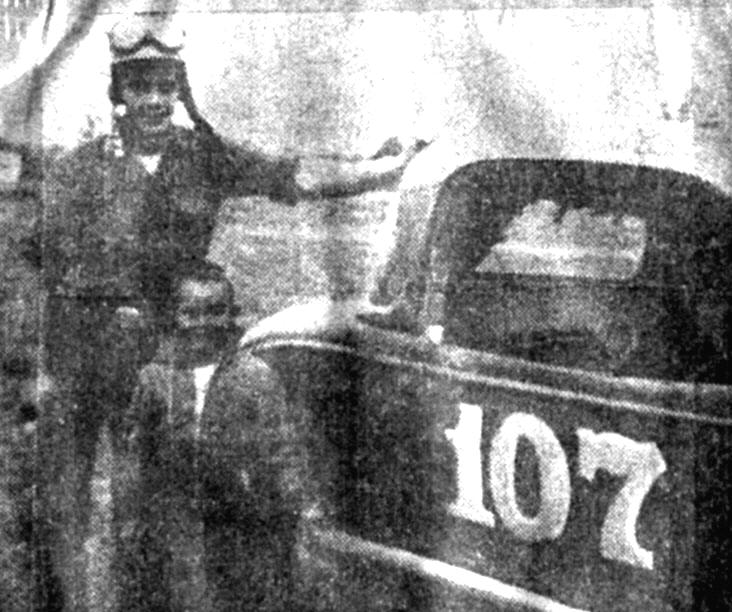 Bob Frazier Gauthier Collection
The Cavalcade photo shows Gauthier with that Mustang, and he would drive it at Devil's Bowl – the following year – until he ended up suffering a broken neck while substituting for Beaver Dragon at a race in Canada. Gauthier had also had a stint with the Charles Habreckj 53 at Fonda, although the beautiful coupe was as heavy as a tank and didn't accomplish much. Gauthier left racing as an accomplished and very well – liked driver.
Our final mugshot is that of Charlie Draper. Draper, from Wilmington, NY at the foot of Whiteface Mountain, was a tall drink of water who had been recently driving for Shirley Wallace. Wallace was an amazing builder and fabricator, doing most of the creations in Arto Monaco's Land of Make Believe amusement park in Jay, NY. Wallace had Charlie driving a black and yellow three window coupe #1 NY.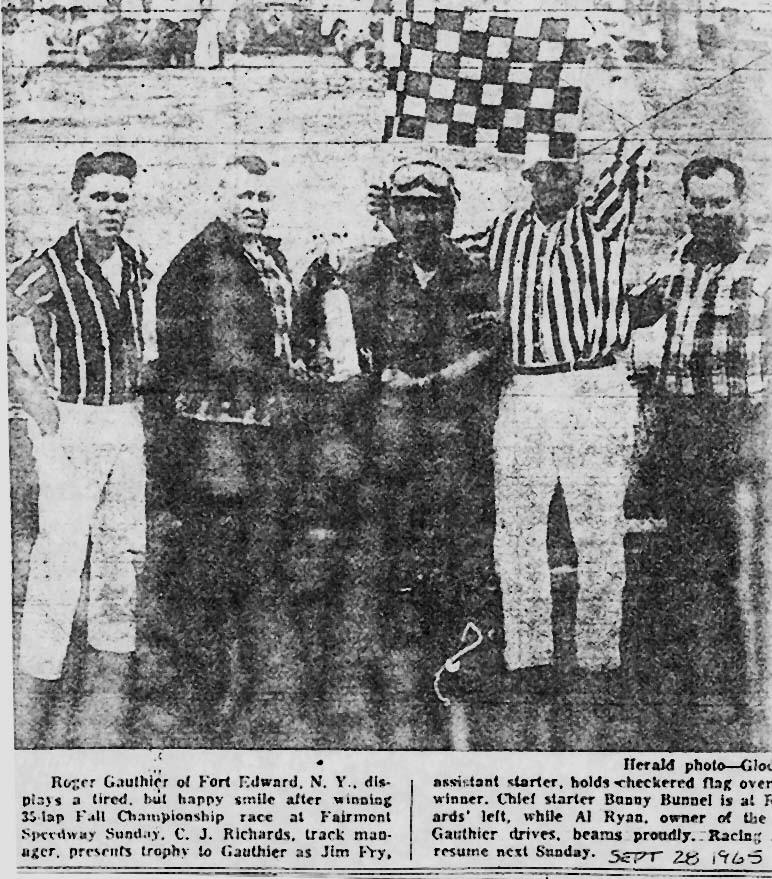 Courtesy of Marty Kelly, Jr.
Gauthier in Victory Lane with Ryan during that great
1965 year at Fairmont. Below – Charlie Draper with his
former Shirley Wallace coupe.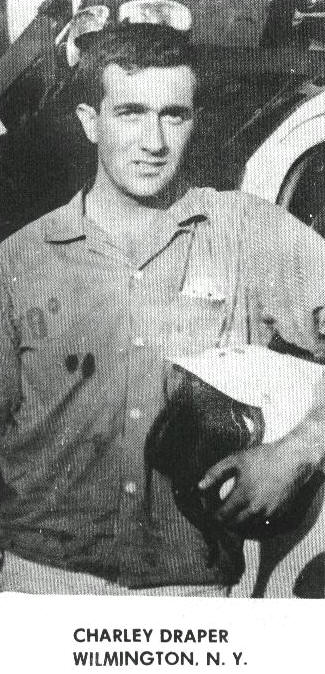 Bob Frazier Photo
Eventually, Draper would buy the car from Wallace, and that is when he spent a month or so running at Fairmont. Draper was the ultimate "rabbit" at the 1966 track in Fair Haven. Always starting on the pole, he would jump out ahead, leading the race by a seemingly insurmountable margin before the Mert Hulberts, the Vince Quennevilles, the Dexter Dorrs, and the other top guns would run him down and swoop on by.
Wes Moody says it was worth the price of admission just to see Draper load his car after the races at Saranac Lake Speedway. The hauler was one of those U Haul things they use to recover trailers and transport them to another dealer – tall and not very long. Draper would get a rousing head start, charge over to the hauler, crash up onto it, and stop just short of going over it and onto the roof of the truck ….EVERY WEEK ! After a while, we didn't see Charlie at Fairmont any more.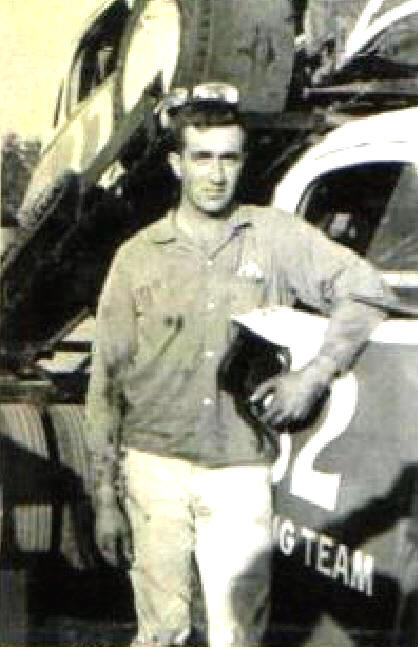 Bob Mackey Photo via John Rock
It is probably no coincidence that Bob Mackey had Charlie Draper
stand next to his hauler for this portrait. This time, it seems to have
a Rod Ritchie #32 loaded on it.
Choices of photos for the Cavalcade pages could be strange. Both Catamount Stadium and Devil's Bowl used photos from the previous year as they had not yet had racing seasons when they first presented in the magazine. Catamount had to use Thunder Road photos [actually very atypical of what would run there in 1965] and the Bowl used old Fairmont shots that were actually fairly representative of what early Bowl racing looked like.
I miss that Cavalcade; I still have a few. Even more, I miss the old tracks and the racing that those pages displayed.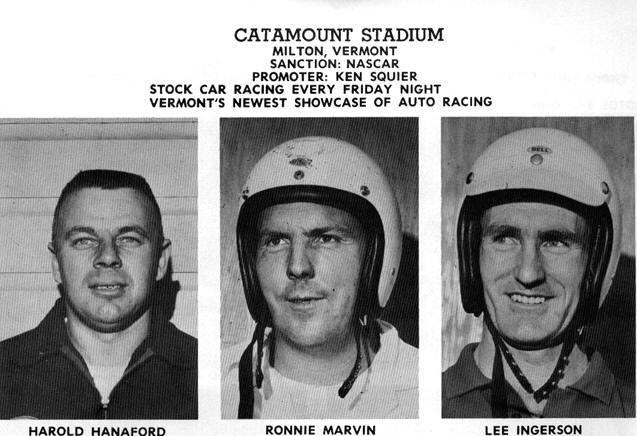 Cavalcade of Auto Racing
Catamount Stadium used these photos from Thunder Road in
its first Cavalcade entry because it hadn't raced yet. Below -
C. J. Richards used old Fairmont photos to do the same thing
for his upcoming Devil's Bowl inaugural season. Does it look
familiar ? The one above had "Fairmont Speedway" above it.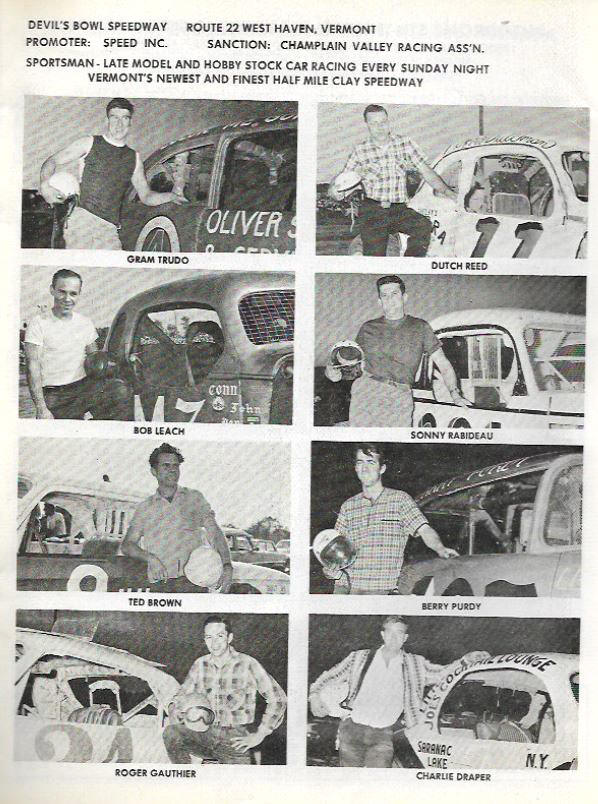 Cavalcade of Auto Racing
Please email me at wladabou@comcast.net if you have any photos to lend me or information and corrections I could benefit from. Please do not submit anything you are not willing to allow me to use on my website - and thanks. For those who still don't like computers - my regular address is: Bill Ladabouche, 23 York Street, Swanton, Vermont 05488.
AS ALWAYS, DON'T FORGET TO CHECK OUT THE REST OF MY WEBSITE:
www.catamountstadium.com
Return to the Main Page
Return to the Main News Page
Return to the All Links Page
Return to the Weekly Blog Links Page