BILL'S [Somewhat] WEEKLY COLUMN/BLOG PAGE

BILL'S BACK IN TIME
By Bill Ladabouche
THE TROUBLE WITH EMPIRE RACEWAY


It is next to impossible to find out information on the track variously known as Empire Raceway and Menands Raceway, once located in the New York community of the same name. Probably, if one lived in that region, one could spend hours poring through microfilm in local libraries; and, certainly, the chances of running into people familiar with the track would be much better living there. I don't have that luxury, but I wanted to give a seemingly very important old, bygone oval a little ink. So, here goes.
So, that lack of information IS the trouble with Empire Raceway. From what I can learn, an organization started up the track in a very good location near the Hudson River in the Summer of 1947. There are people who claim it didn't open until 1948; but, then, how could midget racing results come out dating from June 12, 1947 ? The track that was constructed was a quarter mile asphalt oval – quite rare in those days – particularly in dirt – happy New York State.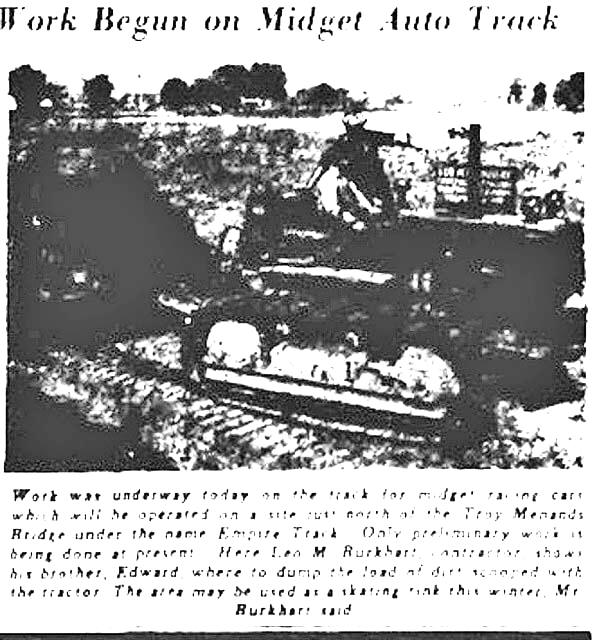 =Source Unknown
This grainy old newspaper photo shows the track being built in 1947. Below- A look over the
fence at what Empire looked like, from a different perspective.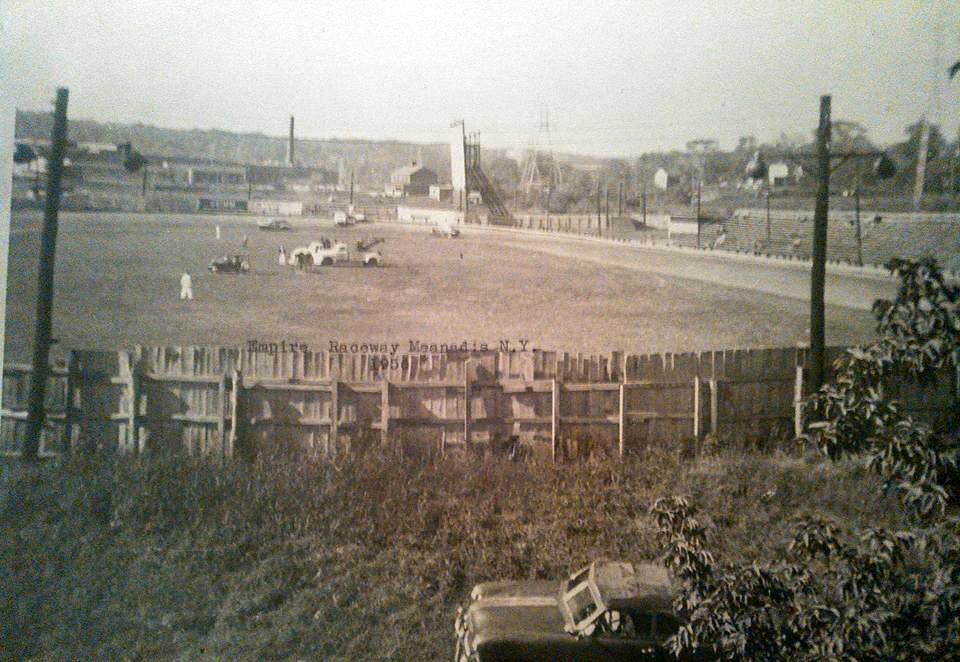 Courtesy of Sam Barlow

The location was well chosen. Wikipedia says :" Menands /mᵻˈnændz/ is a village in Albany County, New York, United States. The population was 3,990 at the 2010 census. The village is named after Louis Menand. The village lies inside the town of Colonie and borders the north city line of Albany." Sitting between Broadway Street and NY Route 378, the track was accessible easily in that era before many interstates were operating.
As a matter of fact, the few sources that say anything about Empire Raceway all like to allude to how spectators not wishing to pay to attend the races would sometimes climb onto the Rte 378 bridge over the Hudson River and they could actually see some of the action. The track was also sandwiched in with a drive – in theater and some large electric power line towers. Busy area, to be sure. It must have been interesting when the track held night races with the drive – in trying to run shows nearby.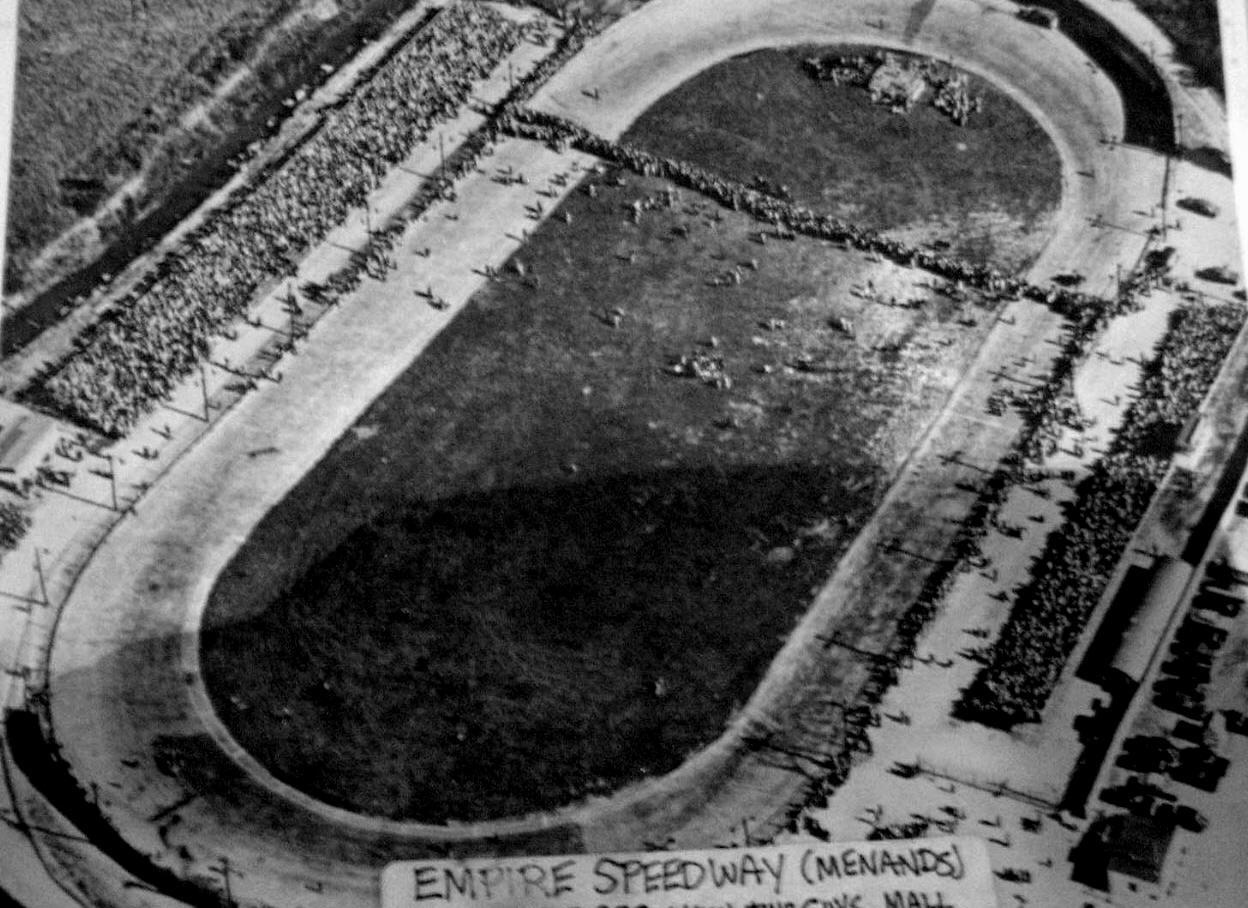 Courtesy of Dan Ody
Empire, with a busy midget program underway in the 1940's. Below - This shot shows not only the close proximity
of the track to the drive – in theater, but the quality of competition that includes RU21 Link Pettit, Dick Dixon's 8 Ball, and Howie
Westervelt in a Cliff Wright/ Bob Zautner car.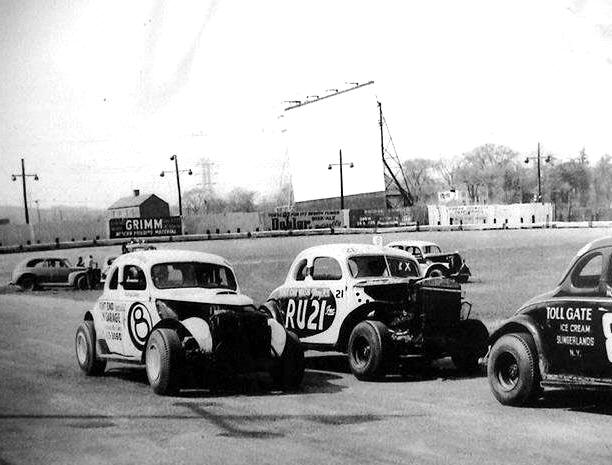 Courtesy of Joe Grossetti

As was said, the only racing at the small paved track for a few years was open wheel – possibly exclusively midgets. The first midget feature winner on that June program in 1947 was Red Marlowe, who, I must admit, is not a particularly familiar name to me. The American Race Drivers Club [ARDC] may have been where most of the Empire participants came from. That summer, names [besides Marlowe] such as Bill Schindler, Len Duncan, Walt Fusco, Ted Tappett, John Ringger, Art Cross, Chet Gibbons all saw Victory Lane in a season that went deep into October. Schindler was, by far, the most successful with five wins.
The following year, different names appeared in the winner's circle right away in the persons of Al Keller, Tony Bonadies, Ray Nestor, and Mike Nazaruk. It was not until June 28 that a winner from last year could see checkers – that was Art Cross. Keller, who not only return to the track as a stock driver, but who would become a prominent NASCAR official, won five that year. Henry Renard started off the '49 season hot, in a season that saw wins by legendary names like Dutch Schaeffer and Nick Fornoro, There would be three more midget races in 1959 won by Schaeffer and Johnny Kay; but largely the track was set to switch over to stock cars by 1950.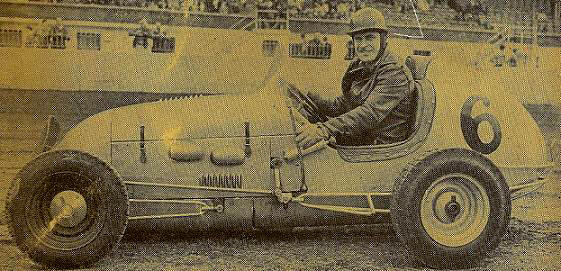 Source Unknown
The great Dutch Schaeffer sits in his midget at Empire in 1949. Below – A match race from the open
wheel era shows Bob Hart [87] in Cliff Wright's big car against a midget racer.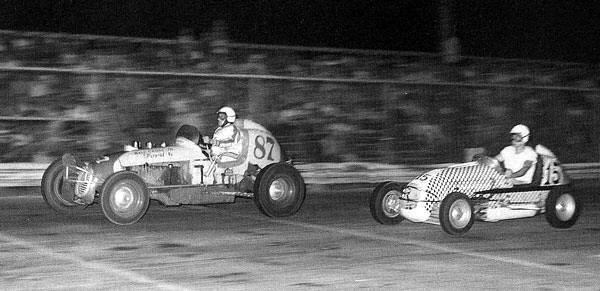 Les King Photo Courtesy of Lew Boyd

From those three years of midgets, some of Empire's stock car stars would come. Al Keller, would come up with one of W.O. Taylor tricked – up coupes from Paterson, NJ while Ted Tappett would also appear on his way to a future career in much bigger league racing. It is quite likely that midget star Joe Csiki, who also ran some some stockers at Riverside Park Speedway in Agawam, Massachusetts may have also done this. Riverside and Empire often shared competitor – given they didn't run on the same night.
Empire Raceway [later known as Menands Raceway] would see some of the best racing talent the Northeast had to offer in its stint of stock cars that lasted until 1963. Besides Keller and Tappett, the track would see the likes of Dick Dixon, Steve Danish, Pete Corey, various drivers in the prominent Gordon Ross 19, Bob and Stan Disbrow, Huck Spaulding, Jokko Maggiacommo, Ray "Zero" Brown, South Carolinian Johnny Rogers, Kenny Goodermotte, Doug Garrison, George Welch, Link Pettit, Frank Blum, Harold McCarthy, Joe Messina, Bob Devine, Bill Slater, Chick Stockwell, Jim Reed, Rene Charland, Stretch Van Steenberg, Gene Bergin, Danny Gallulo, Bill Greco, Buddy Krebs, Chuck Irving. D.D. "Rebel" Harris, Eddie Flemke, and Tony Mordino were some of these standouts.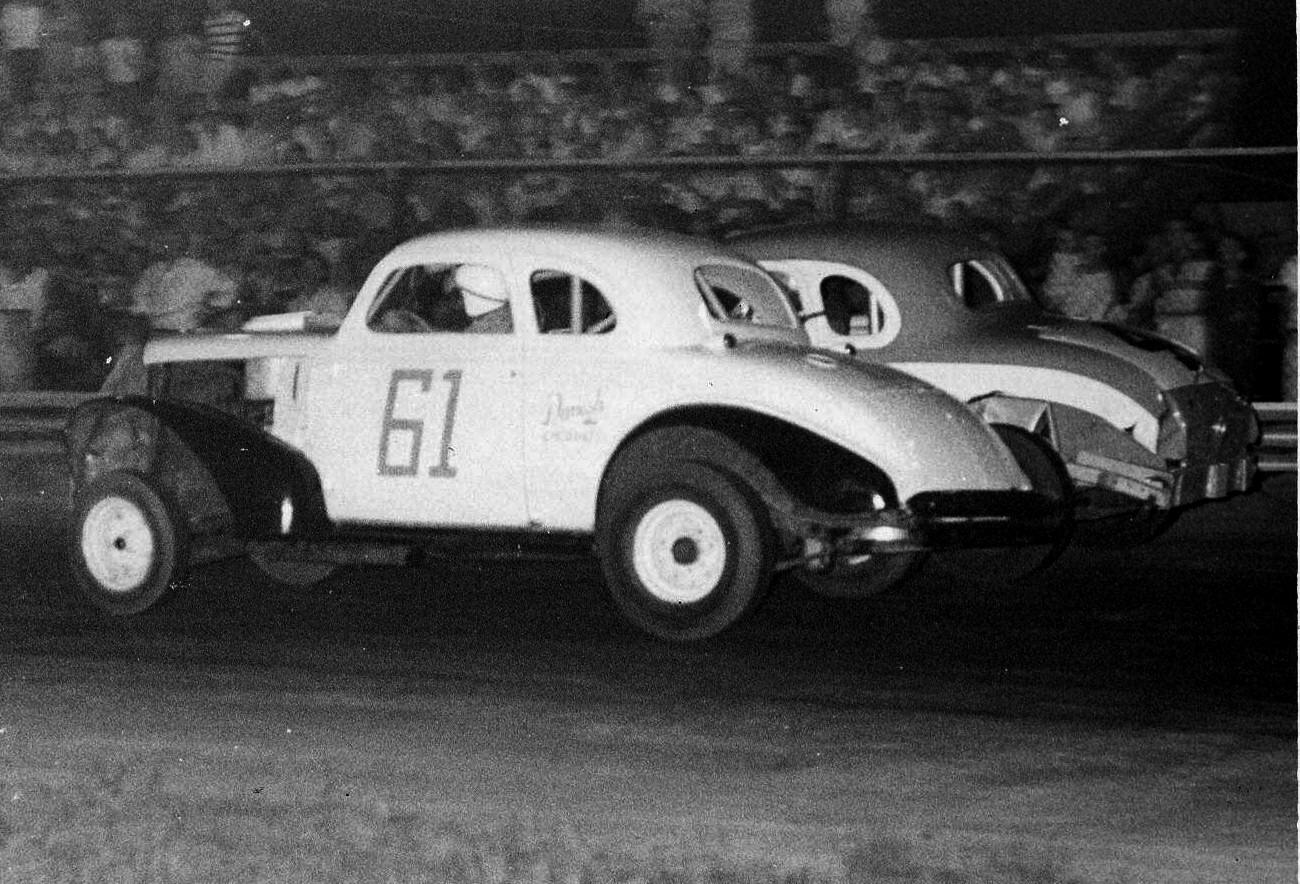 Danish Family Photo
The year Steve Danish [61] ran Empire was unusual in two respects: running a paved track and using a body other than a '36 or '37 Chevy.
It appears he is racing against an early Sharkey Gaudiosi coupe running in the outside groove. Below - This action shot shows the Gordon Ross
car [19], probably with Bob Tator. 89 is Al Keller in a W.O. Taylor car, and the 0 is Ray Brown.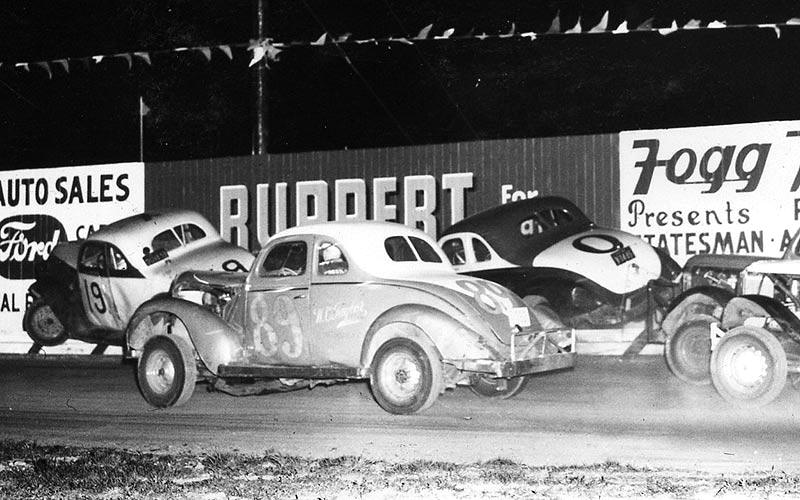 Courtesy of Ginny Ross Collection via Dick Hansen
Besides those drivers, a few prominent car owner/builders also came from Empire. Former midget driver Cliff Wright, who would be a major car owner, began at Empire with a driver named Jerry Papp. Wright would go on to feature drivers like Howie Westervelt, Don Wayman, Ken Shoemaker, and Don MacTavish in his cars. Former roadster driver Bob Whitbeck also went over to stock cars at Empire. While lighting no major fires as a driver in the stockers, he would build amazing cars for the likes of Jeep Herbert, Pete Corey, and Shoemaker. Former midget driver Hoppy Redner also likely saw some action at Empire. Another open wheeler, Walt Cross, became a stock car owner.
Participants in these years of racing at Empire went off in many directions: Ted Tappett: Formula One; Al Keller: NASCAR management; Danish: very little more pavement, but a brilliant dirt career; Charland: four NASCAR national sportsman championships; Reed: championships in the 1950's NASCAR Short Track Division; Welch: ironically and sadly, he would go on to NASCAR sportsman racing but would die as a flagger at Empire; and many of them would attain track championships and other huge accomplishments. Lebanon Valley flagger Marty Berberwyk got his start at Empire – perhaps to replace Welch.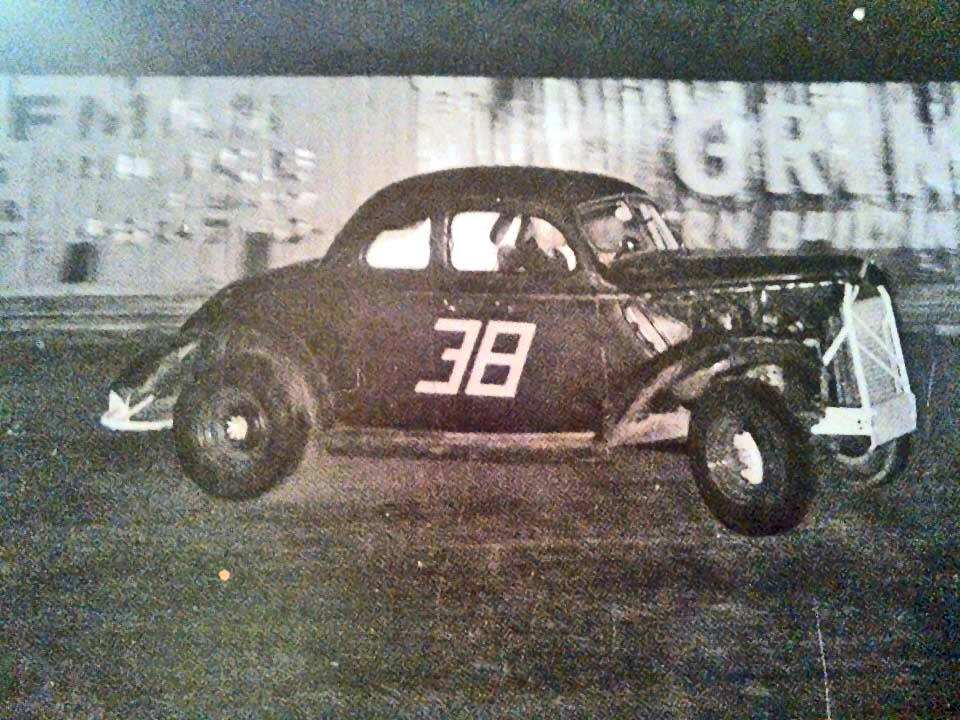 Courtesy of Sam Barlow
Jerry Papp, Cliff Wright's first driver, spins the first Wright 38 at Empire.
Below – George Welch, as a flagger at Empire before his accident.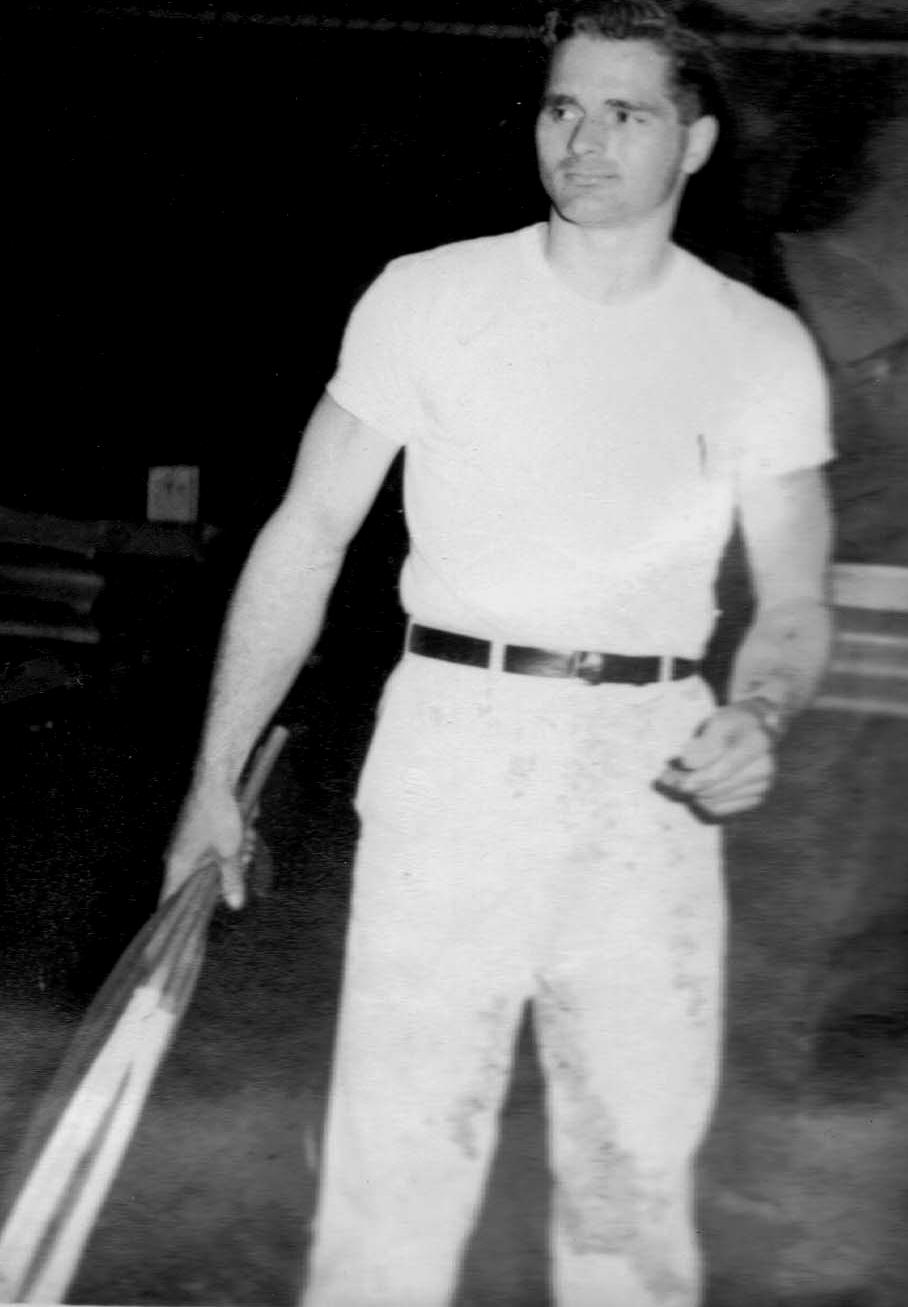 Courtesy of the Starin Family
Empire, as a track from the 1940's and '50's, was way ahead of its time in many respects. Being a paved track was only the beginning; night races were something very rare in that era. The track actually had a device installed to cover photo finishes. The level of competition at Empire Raceway was staggering for a track with so little notoriety. The unique location, along with fairly strong fan support, also lent to the track's mystique.
Although many racing organizations sprung up in the 1950's, The Tri City Racing Association that came to run Empire was one of the bigger ones. Along with the Triangle Racing Association that ran New Hampshire, Massachusetts, and Vermont tracks, Tri City operated not only Empire, but also the red hot Stateline Speedway, in North Bennington, VT. Promoters and Tri City officials Carl Ruopp and Bill Thompson were innovators. I recall they made an attempt to re-open my home track, Pico Raceway, which had lay dormant for two years. They managed one actual show.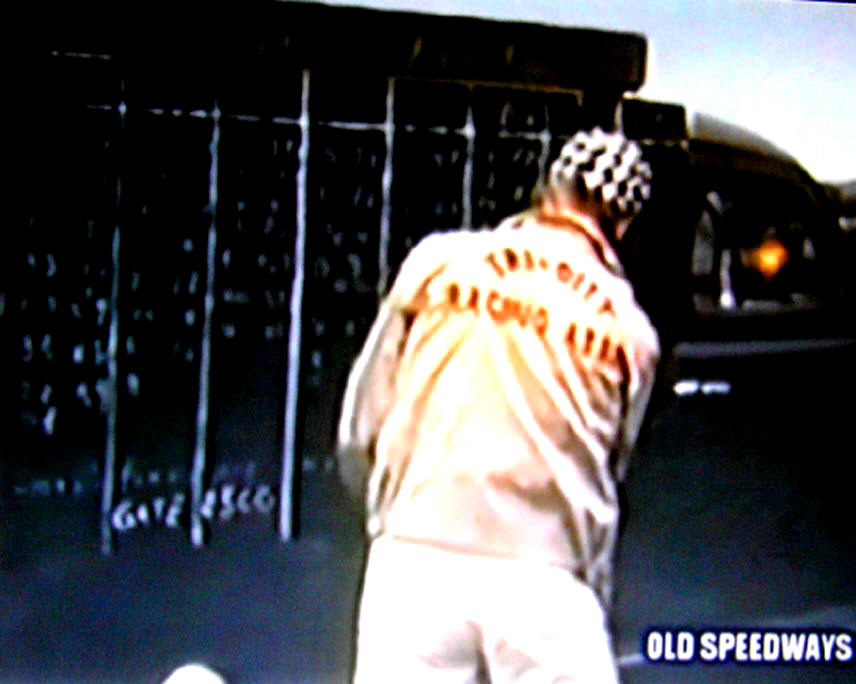 |
From Dan Ody's 8MM Old Speedways DVD's
A Tri City Racing Association official fills out a lineup at Stateline Speedway, one of the track the group operated at the time.
Below- Future superstars Pete Corey [left] and Rene Charland clown around the Sharkey Gaudisi car at Empire.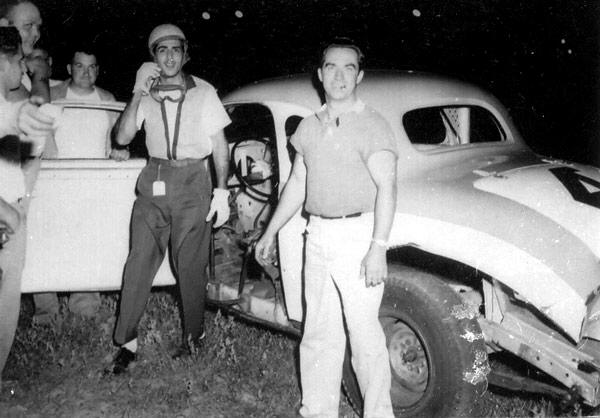 John Grady Photo via Lew Boyd
The official track photographer was Robert McDowell, one of the most prominent racing photographers in that region, along with Les King – who most likely was the chief photographer in the midget era there. Empire, along with the Rhinebeck Speedway, the Arlington Speedway near Poughkeepsie, and the bucolic Pine Bowl Speedway near Troy enjoyed a close relationship with Southern New England racers – particularly at Riverside Park, Agawam, Massachusetts. All those names like Charland, Flemke, Bergin, Greco, Gallulo, and many others were Riverside regulars. The Bay State track was also a short paved oval, which might have made it easier for the New Englanders to master. While Empire fought for space with a drive – in, Riverside was part of an amusement park, whose roller coaster loomed above the track grandstands.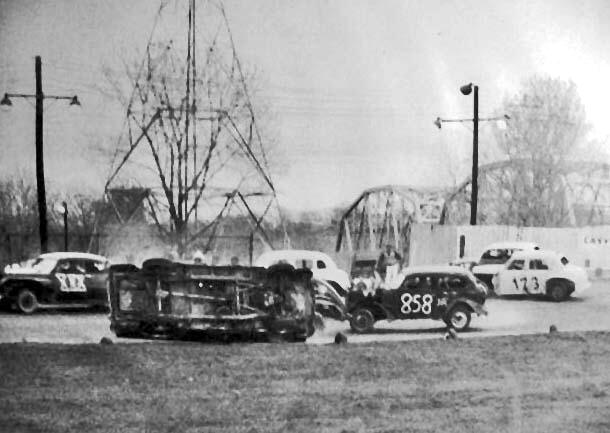 Courtesy of Stevens Family
This shot shows how Empire was penned in. Power lines and the aforementioned bridge over the Hudson are visible.
It is said that Wild Bill Stevens' car is hidden behind the overturned and I think 858Jr was a team mate.
Below - This shot of Gary Colturi shows the rollercoaster above Riverside Park Speedway.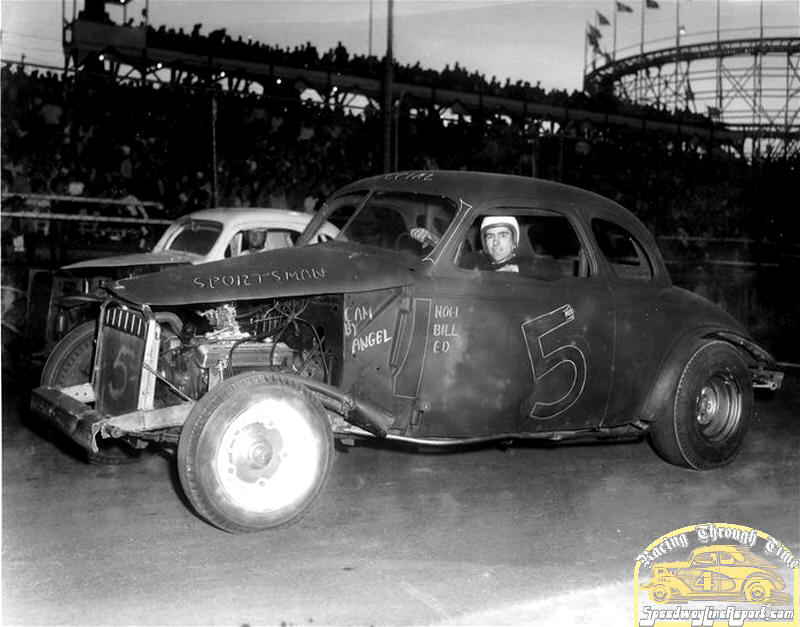 Courtesy of Dave Dykes
The end of the 1950's was a pivotal time in stock car racing. Just as 1950 seemed to be the year many tracks opened, 1959 was one in which precious tracks like Stateline, Colchester - Bayview [Malletts Bay, Vermont], and others closed. Empire lasted into 1963, but the big names were gone, as was the quality of the programs. Eventually the property was sold to be developed as a Two Guys department store. This was the era of chains like Ames, K Mart, and more. The property would end up as a Bank of America location – and that is now closed.
Not only did the track have dozens of big name competitors, but its backbone was always the little guys. Local racers like George Proctor would start there and go on not only to have a very good racing career, but would begin a long line of racing Proctors that goes on to this day. It was the place for brothers – in – law Carl Fink and Bob Zimmerman. Fink would go on to a wonderful career, including having one of Fonda Speedway's all – time most spectacular crashes in Zimmerman's car. One scorecard shows the penciled – in names of many familiar area drivers like the Palmer brothers – Jollie Ollie and Lee; Proctor, Merwin Hommel; Nels Grignon; Fred Searing; Irving; Messina; Pete Peterson; and John Knighton – all guys who also raced the Pine Bowl and most of whom went on to Lebanon Valley Speedway later.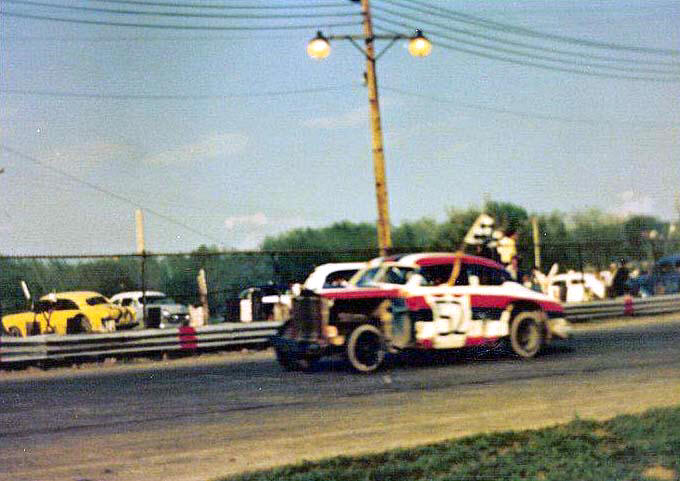 Courtesy of Proctor Family
George Proctor tools his '49 Lincoln around Empire. This might have been his first use of his trademark #52.
Below – John Knighton, who had raced Proctor at both Empire and the Pine Bowl Speedway.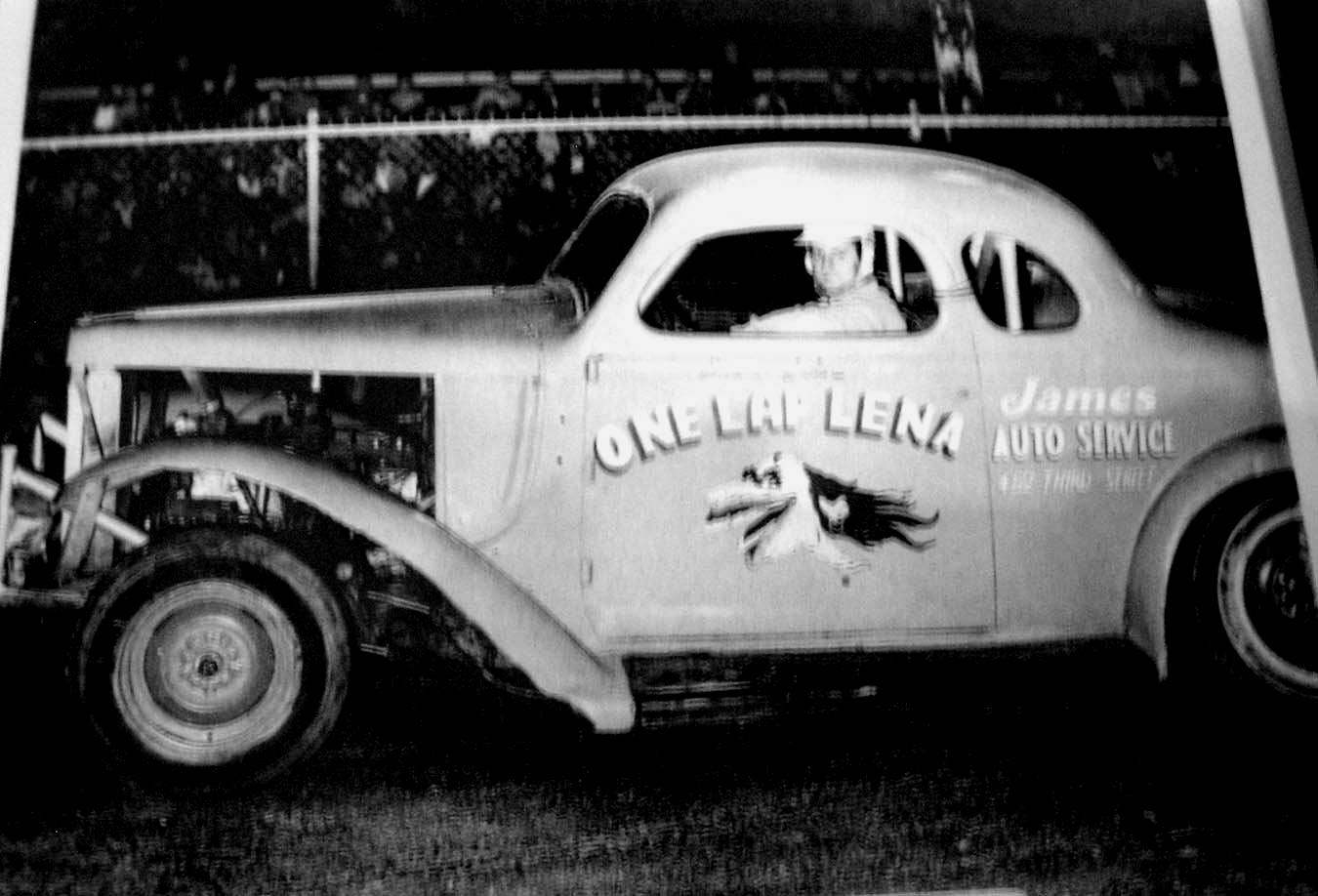 Courtesy of Dan Ody

Whether it was the high – charged invaders like W. O. Taylor's pair of coupes out of Paterson, NJ [driven by Al Keller and Tommy Coates], the numerous big names from Riverside Park; the budding local stars like Link Pettit and Joe Messina, established local stars like the former roadster driver Howie Westervelt, Georgetown, Connecticut's multiple feature winner McCarthy, or someone few ever heard of like Fred Bilyou – Empire must have been quite a place to attend races back in those heady days of the 1950's.
Nothing to show for it now but an empty parking lot near the Hudson River.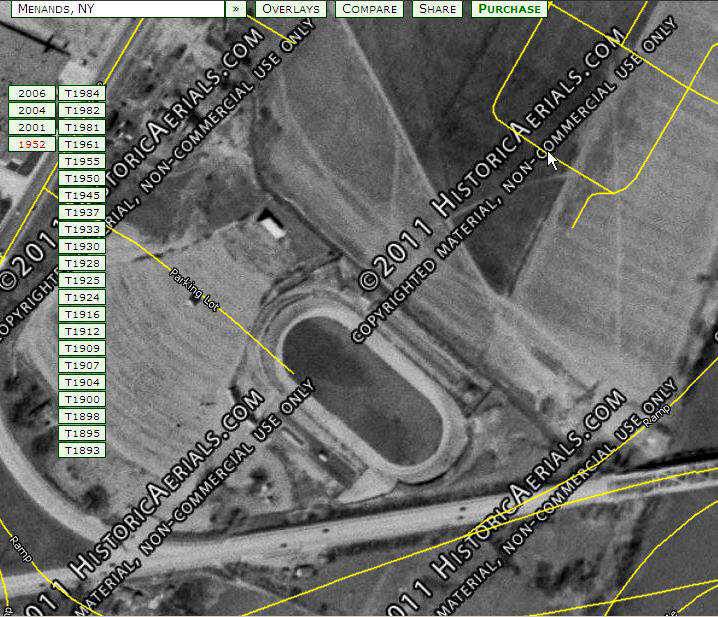 From Historic Aerials.Com
This pair of contrasting aerial views show the track in 1952, under full operation, and then
[below] the way the same property looks with the closed bank in 2001.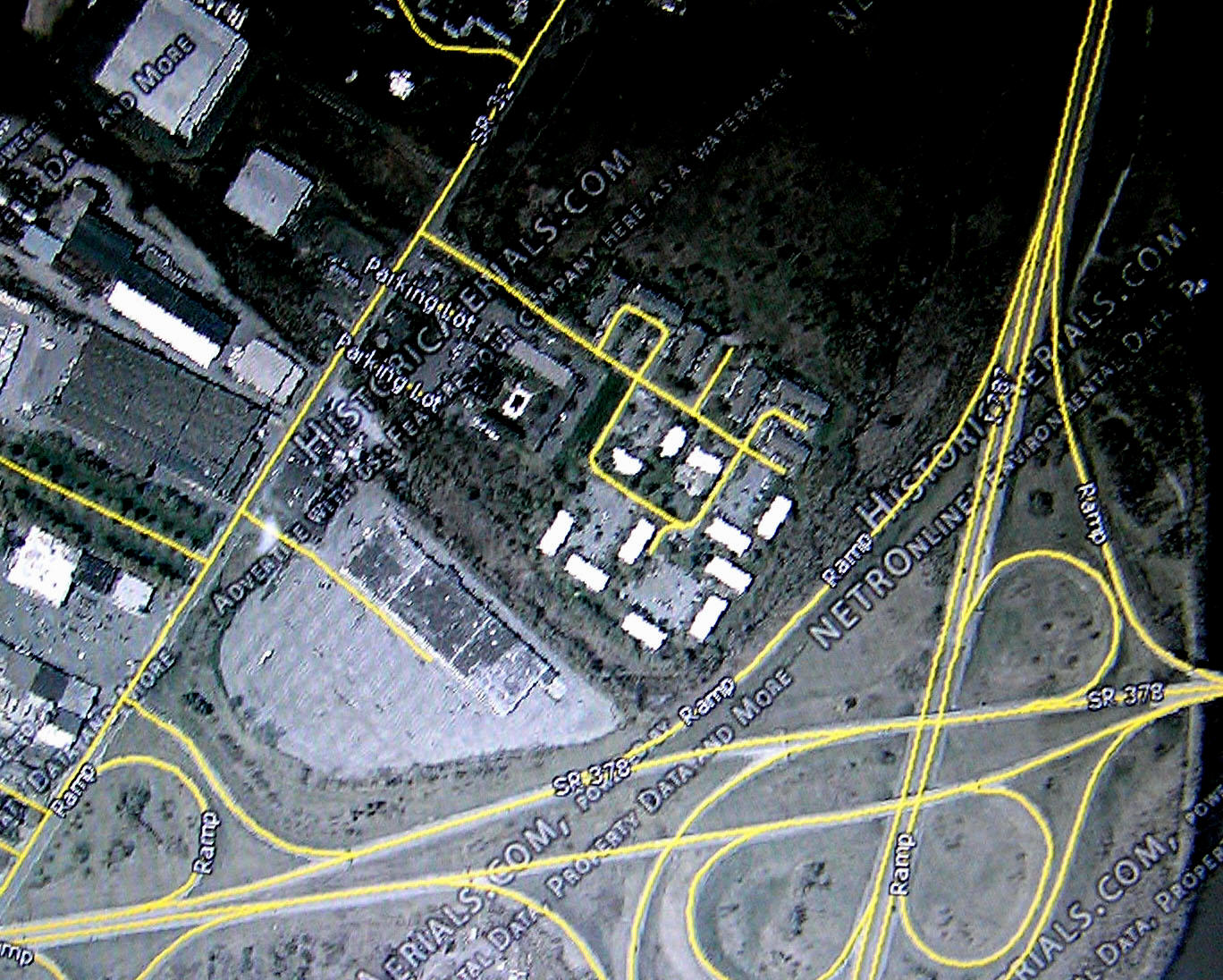 From Historic Aerials.Com
Please email me if you have any photos to lend me or information and corrections I could benefit from. Please do not submit anything you are not willing to allow me to use on my website - and thanks. Email is: wladabou@comcast.net . For those who still don't like computers - my regular address is: Bill Ladabouche, 23 York Street, Swanton, Vermont 05488.
AS ALWAYS, DON'T FORGET TO CHECK OUT MY WEBSITE
www.catamountstadium.com
Return to the Main Page
Return to the Main News Page
Return to the All Links Page
Return to the Weekly Blog Links Page