BILL'S [Somewhat] WEEKLY COLUMN/BLOG PAGE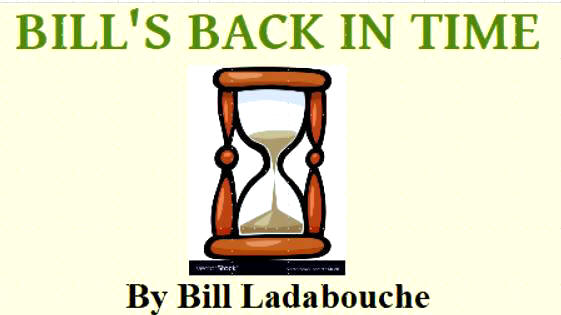 | | |
| --- | --- |
| | However you feel about this topic, pleqase know I have turned myself inside out trying to cover it as fairly as I can. |
FLOYD'n BUCK:
Changing Perceptions of a Prominent Car Builder
It is difficult to form thoughts or memories of famed northern New York stock car owner and builder Floyd Geary without two qualifiers – a small dose of temperament and Buck Holliday. I am finding that, while Geary did have the vast bulk of his car ownership laurels with Holliday, the temperamental aspect was only one small part of an otherwise very likable man. This may seem a little disjointed, but information kept seeping in when I would think I had the piece done.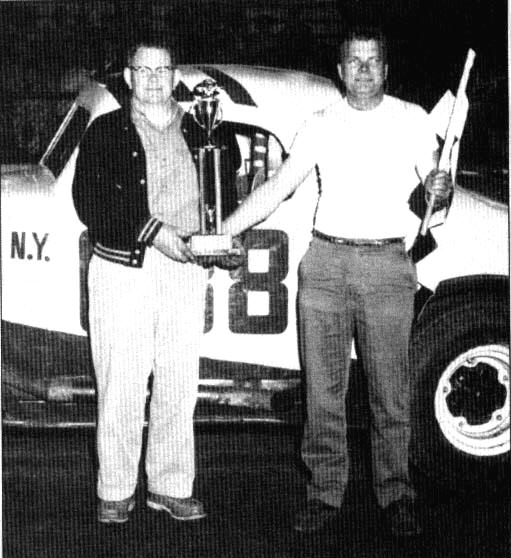 Ladabouche Collection Photogrpaher Unknown [Maybe Russ Bergh]
Buck n' Floyd. One of only two photos of Floyd that I have.
I am setting out to write this about Floyd, but that means a lot of the material will have to be about Buck Holliday in order to give Floyd his full due. My website page on the two is entitled" The Page for Buck Holliday and his Temperamental Car Owner Floyd Geary". While not entirely false, I am finding this may not be the most fair portrayal of Geary, having communicated with, and read material from, people who grew up around him.
At first, I was only told certain stories about Floyd Geary. Part of my writeup to go with all of the Buck Holliday photos included this "Geary was known to be a pretty tempestuous character, himself, once nearly braining his then - house driver Bill Wimble by throwing an object across the garage in a fit of rage. One time, Vermont car builder Royce Tucker and his team built a 1937 Pontiac coupe, painted it up with the striped roof like a Geary car, and even numbered it C37. When Geary came to Vermont to buy an engine, he spotted the car, nearly had a seizure, and stormed off telling them where they could stuff their engine . " His neighbors will staunchly maintain that they don't know this Floyd Geary at all.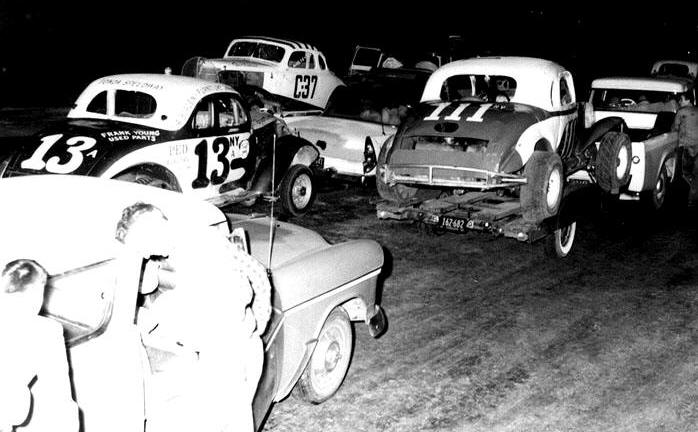 Bob Mackey Photo via John Rock
That damned Vermont contraption, the Royce Tucker – built C37 sits in the payoff line at Airborne around 1961.
What's worse, it wasn't a Chevy – it was a Pontiac. Below – Lisbon neighbor Bill Wimble occasionally sought
out Floyd when was running early cars like this one, Daryl Cloce's 21. That's Wimble sitting back on the red and
white Rowe car.


Bob Mackey Photo Courtesy of Mike Watts, Sr.
Floyd Geary did operate a car repair garage in Lisbon, NY, also the home town of two – time NASCAR National Sportsman Champion, Bill Wimble, who was a dairy farmer there. According to Bill Borgeest, Jr, - son of one of Geary's earlier drivers – Floyd was a Chevy man through and through, almost to a ridiculous extreme. According to the younger Borgeest, a person driving into the Geary garage with a Ford or a Chysler product might well be told that they would have to get it fixed elsewhere [the point being, why the hell bother to even work on such a car !]
Roger King, who grew up as a close neighbor and townsperson of Geary, wrote a tribute upon Geary's passing. He spoke of a kinder, more patient Floyd Geary, who would tolerate his son and King being continually in the way, riding their tricycles in the garage underfoot. He also described instances where Geary would take his specially – constructed "doodlebug" snowplow and make sure everyone around him was rescued from those horrible snowstorms Lisbon [and that whole area of New York affected by Great Lake effect snows] would endure. Kings points out Geary often declined pay.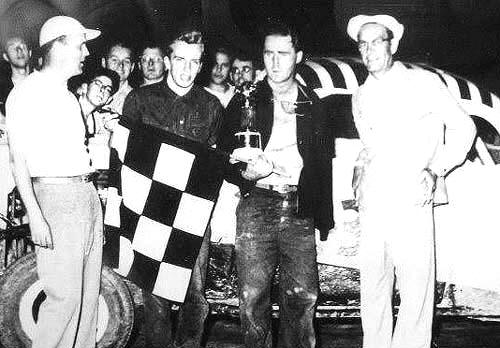 Courtesy of Borgeest Family
Early Geary team members in Victory Lane. It is likely at Airborne, seeing as Chief Pit Steward Kay Hanson is seen at left.
Bill Borgeest [2nd from left] and Roger Craig are seen. Below – Borgeest flies the checkers with an early version of the GM6.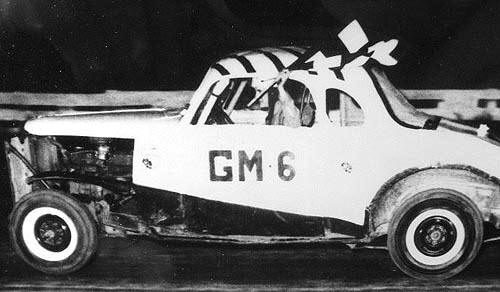 Ladabouche Collection
Apparently, while busy either with body work or mechanic repair for customer – or with the constant work needed to maintain one of the Northeast's best stock cars, Floyd Geary would always stop and fix the boys bicycles [or later, their cars] and would never take a cent. Floyd Geary also opened and maintained a restaurant business in Lisbon, likely near his garage business.
Roger King, referring to himself and his pal Roland Geary, said: "Our favorite place to play was at Floyd' s garage , racing around the garage with our wagons, tricycles an so on. Needless to say ,he could have gotten along without our being underfoot, and usually always in the way, and I am sure without the devilment children at that age get into. Despite our being underfoot, and always in the way, he never asked us to leave, never raised his voice in anger or swore at us ,which believe me he had plenty of reasons that he could have. Such a man was Floyd Geary. " That is considerably different than my characterization and, yet, both are largely true.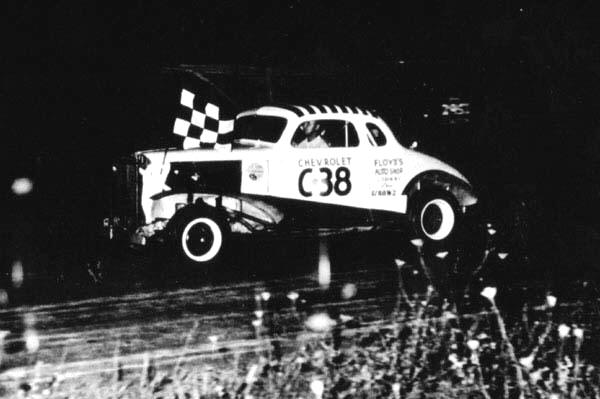 Courtesy of Craig Revelle
Roger Craig flies the checkers after a win at Fort Covington.
[Below] - The Geary GM6 car, photographed at Fort Covington.
It is likely Borgeest was the driver.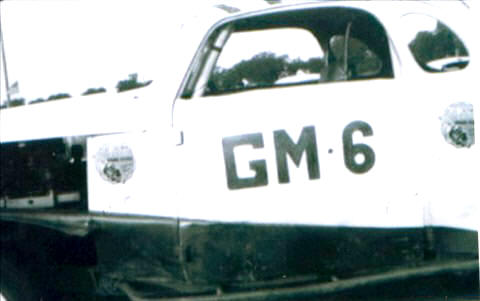 Speedways Nostalgia Photo
According to King, Geary began building race cars as a hobby in 1951. It is likely he may have tried driving them, himself, at first, as most prominent car owners did. He had the nearby Canton, NY track St. Lawrence Valley Speedway [later Canton Speedway] as a convenient place to hone his car building and tuning skills; and those skills became unusually good, fast. That area of New York was full of venues where he and his drivers could try their luck. Besides Canton, there were such ovals as the lengthy Fort Covington Speedway – the track having possibly the best clay ever seen [but uproariously rowdy]; the track in Watertown, NY; tracks across the border in Quebec and Ontario; and more.
Geary started out with car number GM6, which Borgeest ran. He also would soon have his trademark C38. Borgeest pointed out in one of our correspondences that Geary was nearly deaf. He would tune an engine by feel – never using a timing light. I know this is possible because my old friend and racing champion Jackie Peterson, another almost totally deaf man, would do the same with his race engines. It is likely that Peterson and Geary crossed paths regularly at Fort Covington in the late '50's or early '60s. They probably knew each other well but didn't talk much, I suppose.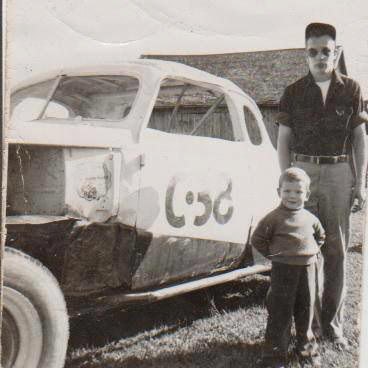 Borgeest Family Photo
Bill Borgeest, Sr stands by Geary's C38 with son, Bill Jr. Below – Dick Woodley with the Geary B29, apparently a C38 renumbered.
GM6 notwithstanding, I don't know if Geary's car numbers were meant to honor WWII combat planes..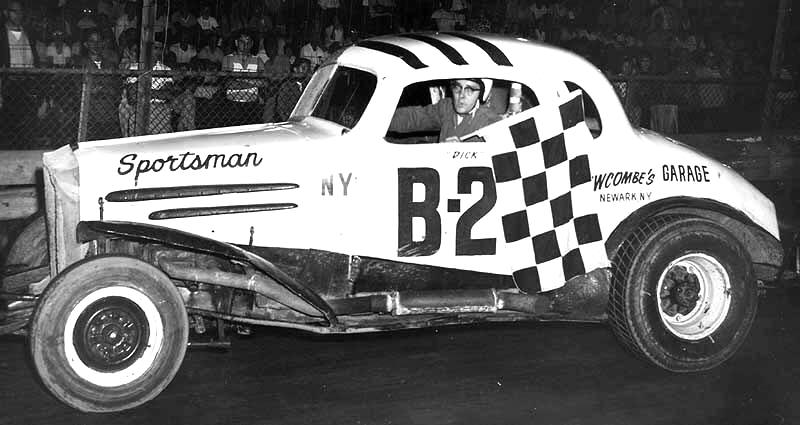 Courtesy of Mike Russo
A very early driver of a car GM6 at Lansdown Stadium near Ottawa was Bill Dalton; although, it is not known is this GM6 was an early Geary car or not. Borgeest was the main driver of the GM6, although Buck's brother, Sherwood Holliday may have taken some turns in the car, as well. Reggie Roy was thought to be the original driver of the GM6, so I don't know where that leaves Bill Dalton. Woodley would drive a Geary car B29, which looked pretty much like of the C38's renumbered. According to Borgeest, another Geary driver was Roger Shirley, but it not clear what car he drove.
The way the story goes with the GM6, Geary had fielded such a potent GM straight six motor that Reggie Roy, in his first race with the car, slowed at the end of the race because he had gotten so far ahead of the rest of the field that he thought the race had actually ended and that he had somehow missed the display of the checkered flag. Roy would be seriously injured in a non – racing accident, opening the door for Bill Borgeest, who is the man most associated with the GM6 racing effort.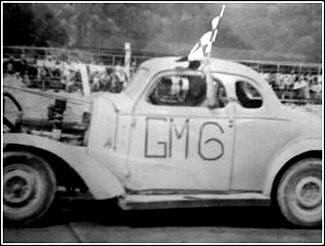 Courtesy of Craig Revelle
Bill Dalton and the mystery GM6 at Lansdowne Stadium near Ottawa. Below - Cliff Kotary
seen towing into St. Lawrence Valley Speedway in the 1950's.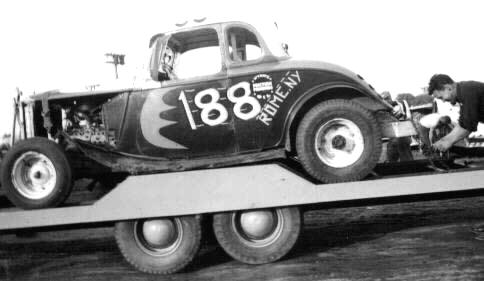 Courtesy of Rick Parry
In this early race period, mostly at Canton, comes another reference to Geary and his fixation with Chevy excellence. It seems that the Canton tracks paid better than almost any other track in New York. Rome, NY's Cliff Kotary, The Copper City Cowboys and one of the best – known NY drivers of the era, once said : "The Saint Lawrence Fairgrounds was always packed and paid $45 for the heat, $85 for the semi and $500 to win, that was a lot of money! We always ran for the money, we had to make a living at it and never ran for points. We moved around a
lot, went where they paid the most and for some reason up North they paid a lot more than they
did down here."
This little invasion put him and his Ford [Geary HATED Fords] in Floyd's cross hairs. He was even more determined and motivated to put an unbeatable product on the track to beat that carpetbagger, coming up from Rome to take all the local prize money. It made no difference to Geary that Kotary had even won races at the prestigious Syracuse track. It is likely that Geary was fielding two cars by now, and they were most likely to be the GM6 and the C38. Craig started out in the C38 before Holliday, and would have been one of those leading the charge against Kotary at the old fairgrounds track in Canton.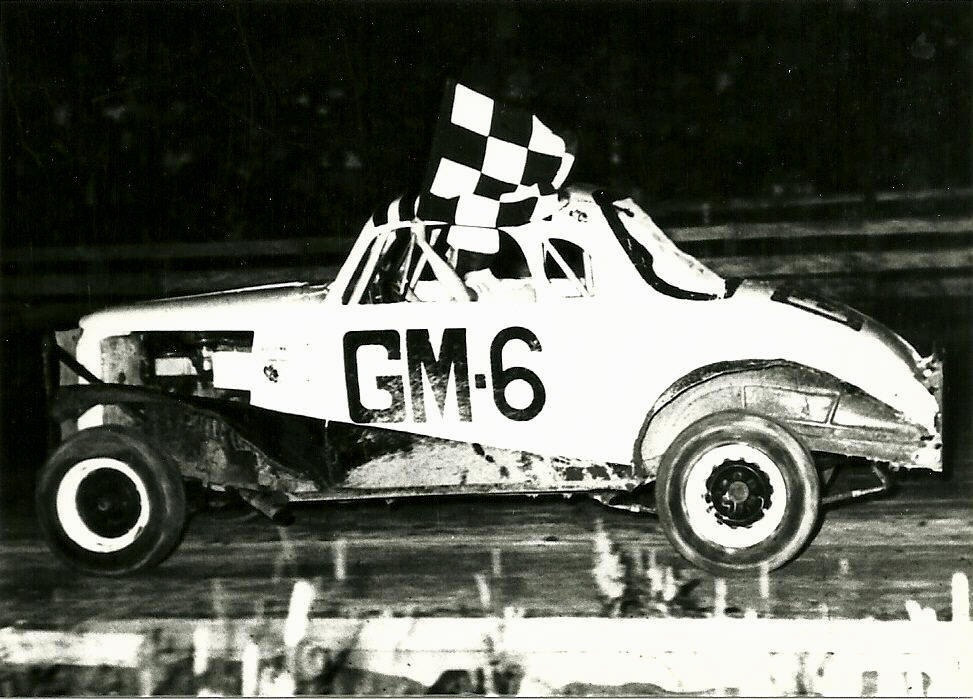 Courtesy of Dawn Borgeest
Bill with another win somewhere. Below – I had always thought this was
Sherwood Holliday, but now it looks more like Bill Borgeest.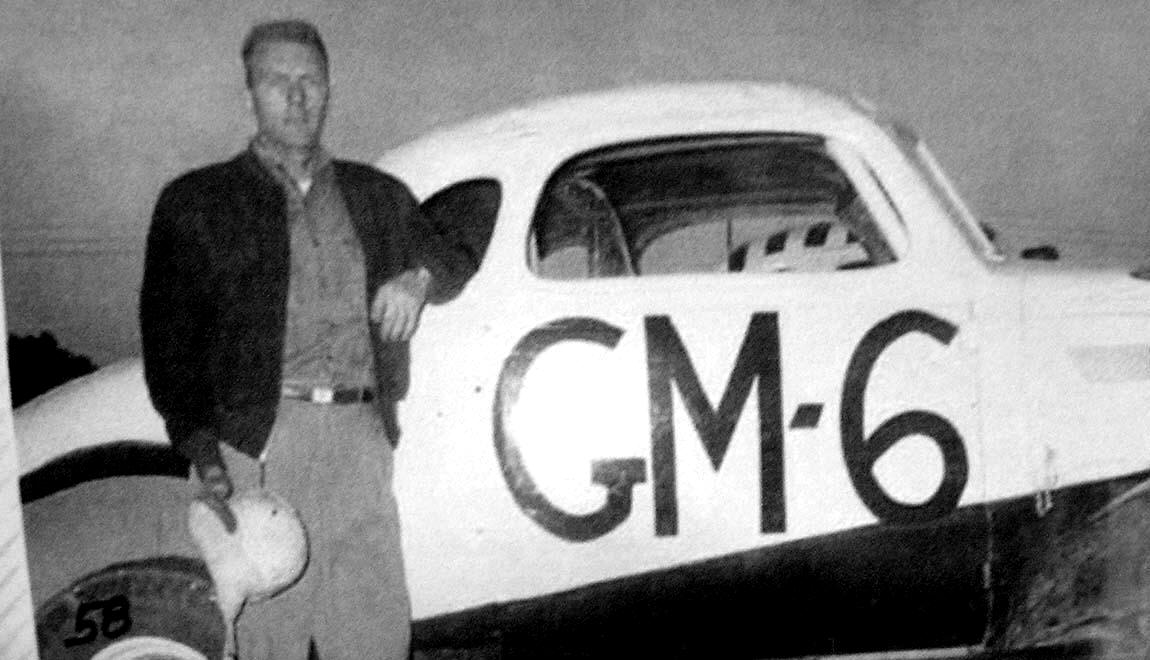 Bob Mackey Photo via John Rock
However, it is clear that Bill Borgeest notched a number of victories in the GM6, as well. One particular photo shows him and Craig, in a victory lane somewhere down state. This assumption is based on the fact that one of the other men shown in the photo looks a lot like Bob Whitbeck, and Whitbeck worked as an official at Fonda sometimes, and was around Lebanon Valley, as well. Another photo suggests that Borgeest may have had a run or two with the C38, too.
With all due respect to the Borgeests, the Woodleys, the Shirleys, and the rest – the signature cars in the Floyd Geary racing tour de force were Holliday's C38's. After the Geary stable was pared down to just the C38 and Holliday, Geary took even more time to keep one of New York's premier cars finely prepared. There are photos from as alte as 1958 that seem to indicate Floyd was still fielding the GM6; but, soon after that, he stopped with the six banger and concentrated on Holliday and the overhead V8 C38.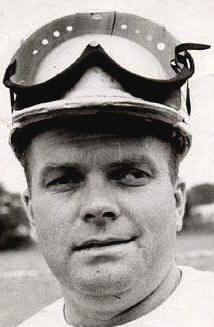 Source Unknown
Then along came Buck Holliday. Below – Buck poses for a
photo after one of his 7 wins at Fonda. At right is a young Dave
Lape.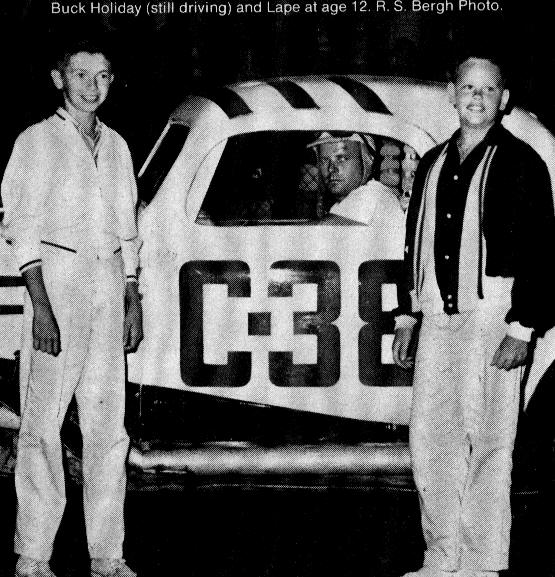 Russ Bergh Photo
Roger King makes reference to the extensive work in his tribute to Geary: " Floyd' s hobby was building and racing stock cars, and It was my pleasure , along with a lot of others, to have spent many hours , often until three or four o'clock in the morning, getting the race car ready for racing. It seemed to be a ritual, race one night, repair the car for four or five nights, race it again, repair again, over and over. I t was his love of the sport that kept him going, when others, faced with the many disappointments, would have said ,"forget it. "
The Geary C38's always looked black and white because most of the earlier race photography was done in that or grayscale. Apparently they were white, with a shade of blue. Dave Wager wrote, of Geary's C38 :"This little '36 Chevy was maybe the best lookin Sportsman coupe I ever saw. Refrigerator white and dark navy blue, it was always well maintained and always fast."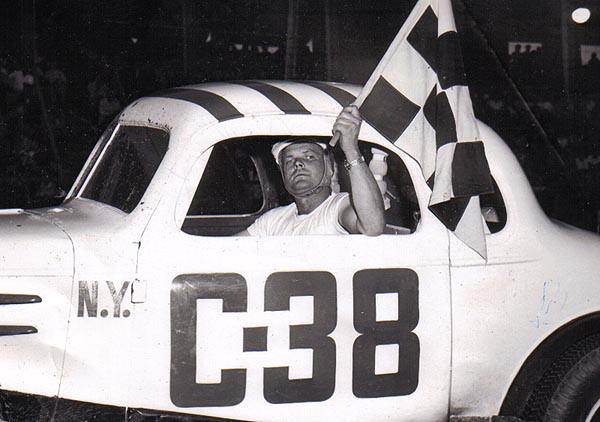 Courtesy of Jo Towns via Otto Graham
Above – I came down and beat all of you at your own track,
so whadda YOU gonna do about it ? Below- The softer side
of Buck Holliday – probably at Airborne.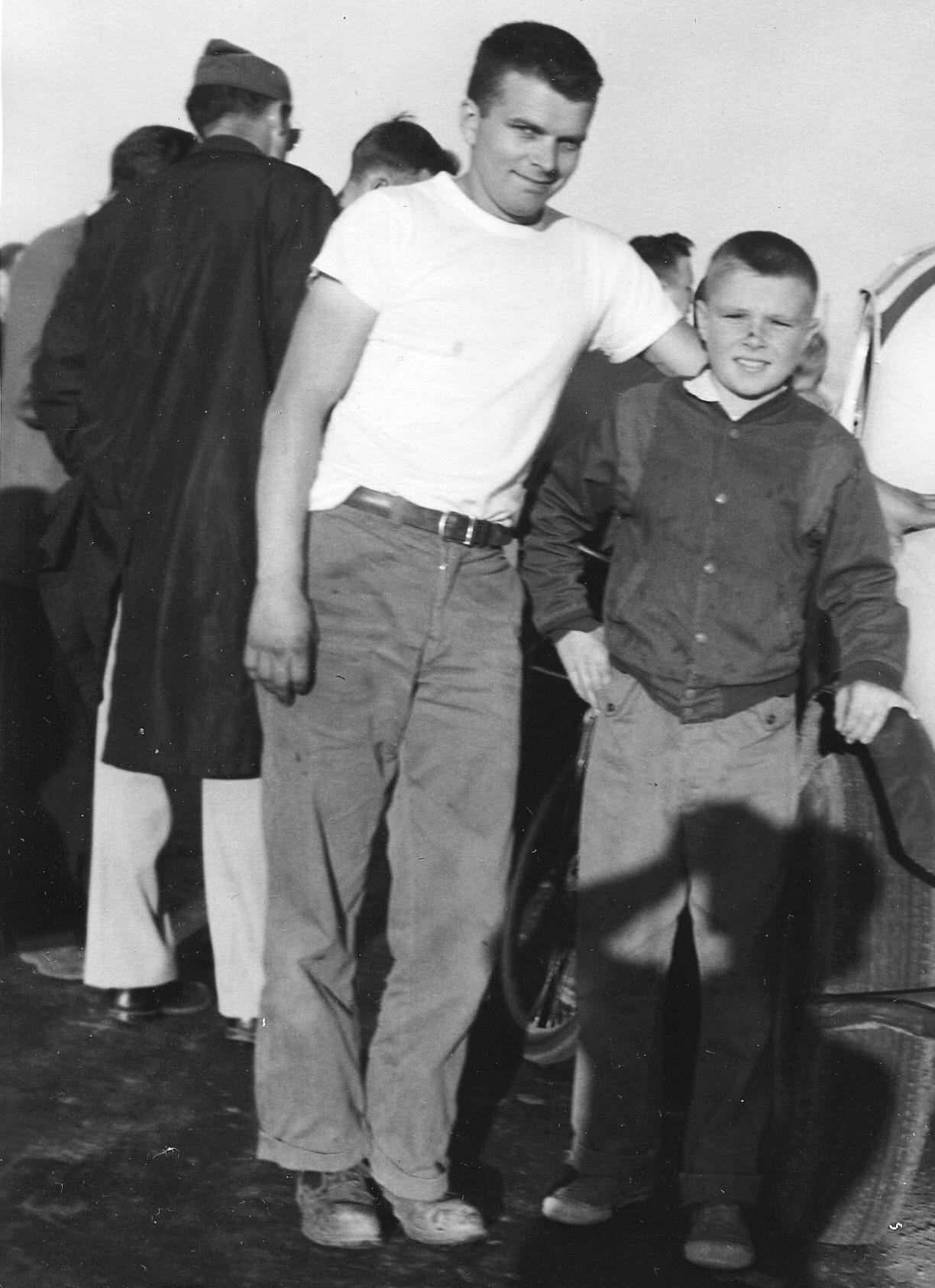 Bob Mackey Photo via John Rock

This was in reference to the trips the team would make to Fonda. It was well known that the regulars at Fonda [and the were a prominent bunch] did not care much for "outsiders" coming in to try and show them up on their own turf. They were still smarting from Don Stumpf coming in with a Wall Stadium pavement car and dusting their asses one night in the late '50's. What seems to be a fact is that, in that Golden Era of Fonda racing, a car with a pavement setup would run so well at the irregular old horse oval that it was almost an unfair advantage. Successes by Rene Charland inb the Czepiel 888 and Ken Shoemaker with the Judkins 2X bore this out.
Nonetheless, Northern New Yorkers weren't eagerly accepted. Lisbon's Wimble was accepted because his car from from Sherburne, a town ear Fonda; but Lisbon's Geary entry was not. It didn't matter to Geary, Holliday, Dick Nephew, or Wes Moody if they liked them at Fonda or not. Holliday and Geary won multiple features at Fonda around 1960 when they weren't doing the same at Airborne, Fort Covington, or somewhere in Canada. In the 1960 and 61 seasons, Holliday and Geary won seven Fonda features [often two weeks running] with another four top three finishes. They were, by far, the most successful of the Northern invaders.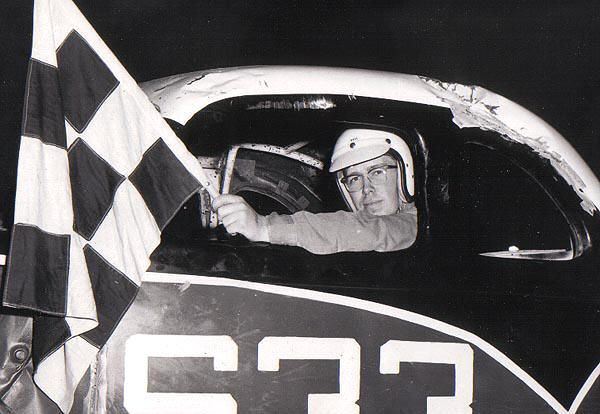 Courtesy of Jo Towns via Otto Graham
Northern NY Native Wimble fit in at Fonda because his S33
was a locally – fielded car. Below – Bob Bruno was not as
welcome there, which didn't deter him any from winning one.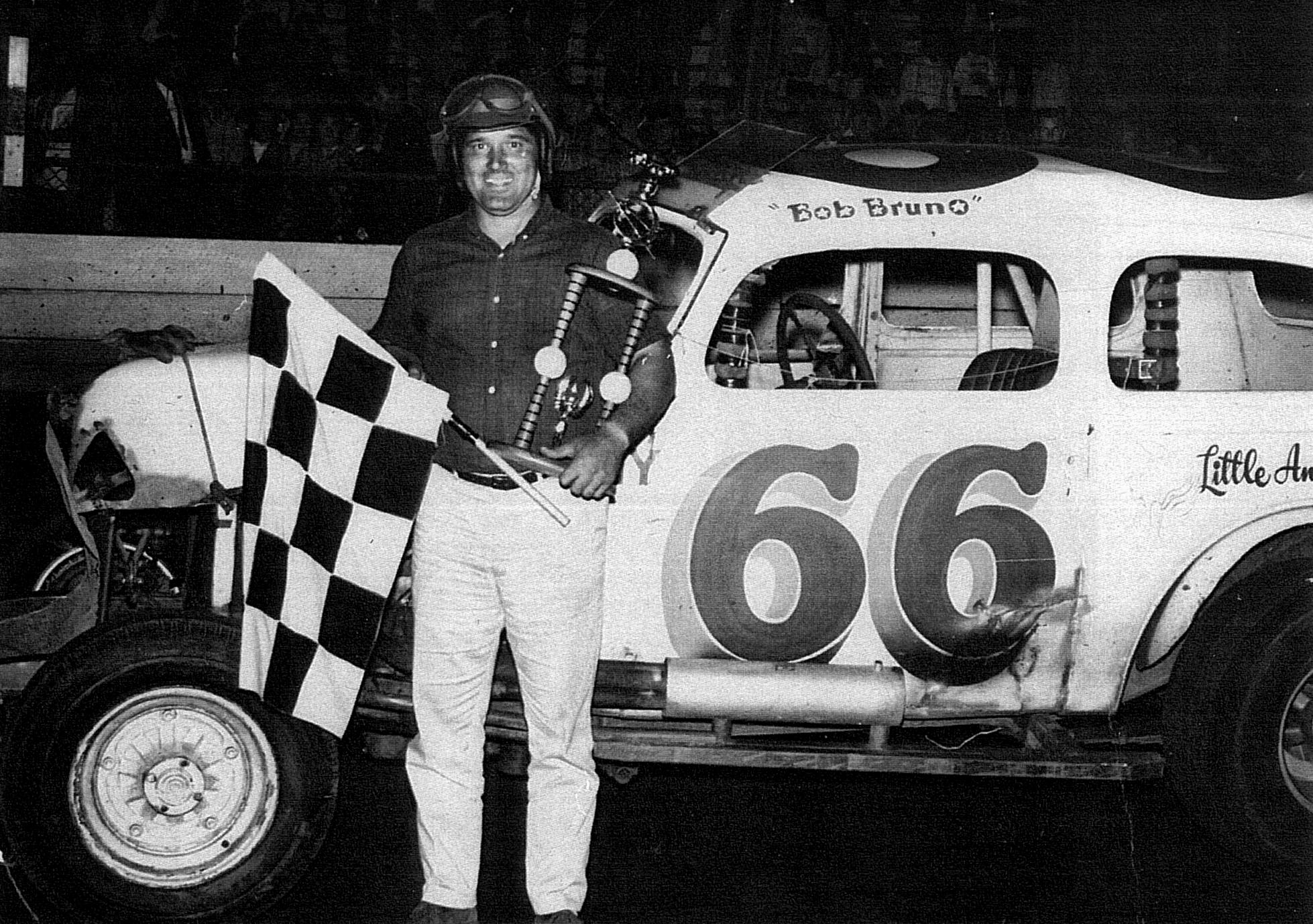 Bruno Collection Courtesy of John Rock
Please email me if you have any photos to lend me or information and corrections I could benefit from. Please do not submit anything you are not willing to allow me to use on my website - and thanks. Email is: wladabou@comcast.net . For those who still don't like computers - my regular address is: Bill Ladabouche, 23 York Street, Swanton, Vermont 05488.
AS ALWAYS, DON'T FORGET TO CHECK OUT MY WEBSITE
www.catamountstadium.com
Return to the Main Page
Return to the Main News Page
Return to the All Links Page
Return to the Weekly Blog Links Page