HALL OF FAME VERMONT DRIVER
The first time I saw Vince Quenneville, Sr. was at Otter Creek Speedway, in Waltham, Vermont, in 1962. Otter Creek had opened as a backwoods NASCAR sanction in 1961 and had enjoyed being the only race track in Southern Vermont for one year. But, the following year, C.J. Richards had re-opened the old Fairmont Park Motor Speedway in 1962, and some of his regulars were showing up at Otter Creek, as well.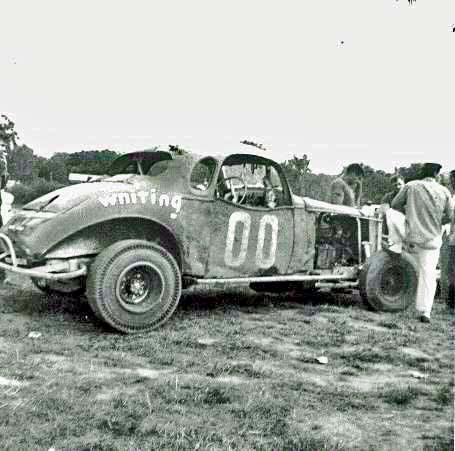 Ladabouche Photo
Vince, Sr. [head down in front of car] talks to crew and friends after a Fairmont program.


One of the new Vermont cars at Otter Creek was a plain, red 1936 Chevy coupe numbered 00, the driver of which was identified as "Vincent Quenneville". We were already familiar with the Quenneville name, as one John Quenneville had run the #Checkmate there before Vincent, whom I had mistakenly assumed was his brother. The Checkmate, a Hudson, ended up fairly successful in the hands of Sudbury's Phil Russell at Fairmont. But, Quenneville stayed mostly at Otter Creek, at first.
The following year, the red 00, now known to be built by the giant curmudgeon, Norm Scarborough of Whiting, began running at Fair Haven, as well. Quenneville was showing potential right away. The first red 00 was sold to Granville, NY's Art Visconti and the Quenneville/Scarborough tandem arrived in 1963 with Bob Hoffer's 1940 Ford - bodied X9, which became the next nondescript - looking plain red 00. Quenneville raised hell with the car that year, winning races and scoring high in points before they sold it to the same Art Visconti as season's end.

Ladabouche Photo
The Scarborough Ford sits in the paybooth line after a
feature race at Fairmont in 1963.

Following this, Scarborough branched out with a new #107, hiring Roger Gauthier. Quenneville began a highly-productive arrangement with plumbing and heating contractor Gael Dundon of Whiting. Running red and white #3's the team embarked on a three - year relationship in which they became a dominant team on the CVRA scene. Dundon's 1937 Chevy coupe looked as good as the coupes being run at tracks like Fonda and Lebanon Valley in that era. By 1965, the Dundon coupe had been reduced to a dented wreck, although still potent; but the two split and Quenneville went back to Scarborough, who began fielding a succession of red and white #38's at Devils Bowl.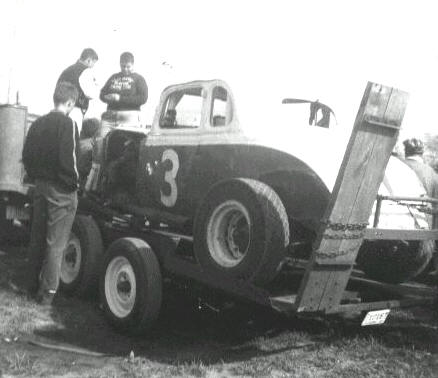 Ladabouche Photo
The first Dundon car was an immediate winner at Fairmont, as well as Otter Creek.

One of the high points of this relationship was during a time when Will Cagle was running rougshod over the Devil's Bowl competition. The grumpy but brilliant Scarborough constructed a modified sedan that was extremely close to Cagle's coach. Quenneville beat Wily Will more than once. When Devil's Bowl was briefly paved, Quenneville hooked up with NASCAR - running at Catamount, the Bowl, Thunder Road and elsewhere. But never was particularly successful with his Chevelles, despite considerable support from C.J. Richards, who desperately wanted at least one of his Devil's Bowl regulars to be successful on the pavement circuit.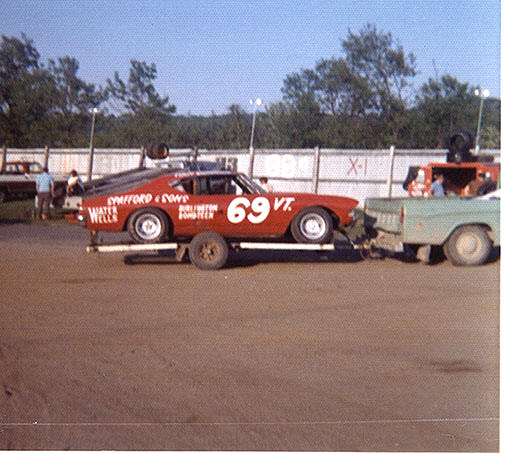 Ladabouche Photo
The Quenneville Chevelle, finally lettered, arrives at Catamount for a Saturday night show in the summer of 1972.

As Quenneville's career moved on, he ran for Austin Dickerman, Jack Ryan, and others before his untimely death on the highway. I don't know what year that was, and I don't care to know. I miss Vince too much to care.

Ladabouche Photo
This photo, from the
distant bleachers, picks
up Quenneville's 00 in
an Otter Creek heat
in 1962.


Courtesy of Ed Fabian
Vince, Sr. with a
young fan at Devil's
Bowl/


Ladabouche Photo
The Dundon team poses
after a feature win at
Fairmont. This is the
beautiful coupe they built
for 1964. Left- Vince,
Gael, and crewman.

DBowl Program Photo
The Scarborough
coach

Cavalcade of Racing Photo
With the Dundon '37
Chevy at Fairmont.

Rutland Herald Photo
The 1st Scarborough
38, a former Dexter
Dorr modified.


Courtesy of Neal Davis
The 1st Scarborough-
built 38.

Courtesy of Ed Fabian
Norm Scarborough
oversees work on the
38 in the DBowl pits.

Photo from Saratoga
Automobile Museum
A Devils Bowl win
with the ex-Dorr
modified, around 1968.


Dragon Family Photo
This is Beaver Dragon's
Devils Bowl car. The
circumstances are
unknown.


Mike Watts Photo
Vince takes a win
at Saranac Lake,
around 1965.

Courtesy of Ed Fabian
Vince leads Wes Moody,
with the infamous
Scarborough coach.

Photo from Saratoga
Automobile Museum
Two D Bowl programs
honor Quenneville -
the 2nd after his death.

DBowl Program Photo
The Northern NASCAR
late model, in 1972.

Ladabouche Photo
The 1968 Chevelle
before it was painted
and lettered.


Catamount Program Photo
Vince sets off a disaster
in a Catamount heat.
This is the 2nd Chevelle.

Photo Source Unknown
The 1st Chevelle,
better photo.

Courtesy of Dan Nolin
The 2nd Chevelle
at speed at T Road.


Courtesy of Ed Fabian
Vince at Devil's Bowl
with the 2nd [and
better] Chevelle.

Courtesy of Andy Boright
Running for Austin
Dickerman, in
Canada.

Courtesy of Andy Boright
Late in the frustrating
1972 season. C.J.
Richards stands behind him.


Norm Vadnais Photo
Running on Fairmont with
the lowered Dundon
36 Chevy in 1966.


Courtesy of Arnie Ainsworth
A newer 38 coupe
at Lebanon Valley

Courtesy of Norm Vadnais
Norm Scarborough and his wife
join Vince and Barb for awards.

Courtesy of Ed Fabian
A spin. I recognize
333 Rabideau, 9, Chuck
Kress, 123 Claude Hoard,
211, Ed Foley.


Courtesy of Norm Vadnais
Chasing Cecil Bosworth
in the Taggart 0, around
1965.


Courtesy of J. Colburn
The last victory - with
car owner Jack Ryan.